For the upcoming Halloween season, we are sharing some Halloween porch decor ideas for a spooky Halloween style. If you are interested in doing a little more this Halloween, consider some of these ideas. The occasional chrysanthemums, pumpkins, and bales of hay are great. But if you want a boost in your Halloween decor, we will show you some fantastic ideas to use.
Add Some Spookiness – Halloween Porch Decor Ideas
You'll find there are numerous ideas for your porch to use. In this post, we are sharing ideas that aren't downright scary but mildly spooky. Take a look at these ideas and maybe you'll use one or two on your porch.
Crawling Spiders
Get those crawling creepy spiders outside on your walls, doors, and windows. Totally spooky decor.
Greet Your Guests with a Skeleton Wreath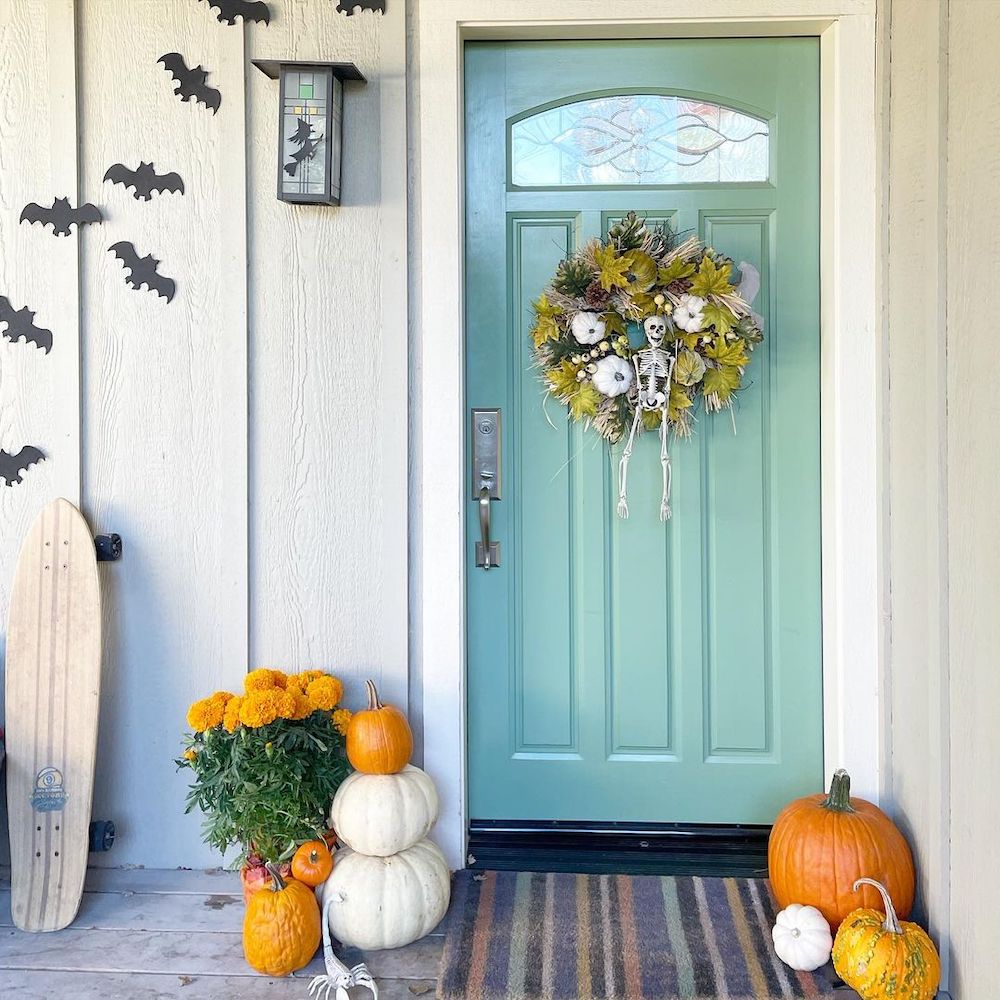 Design a wreath with a skeleton or two on your front door. This wreath has a jovial skeleton greeting house guests for the Halloween season.
Welcome Guests with Casper-like Friendly Ghosts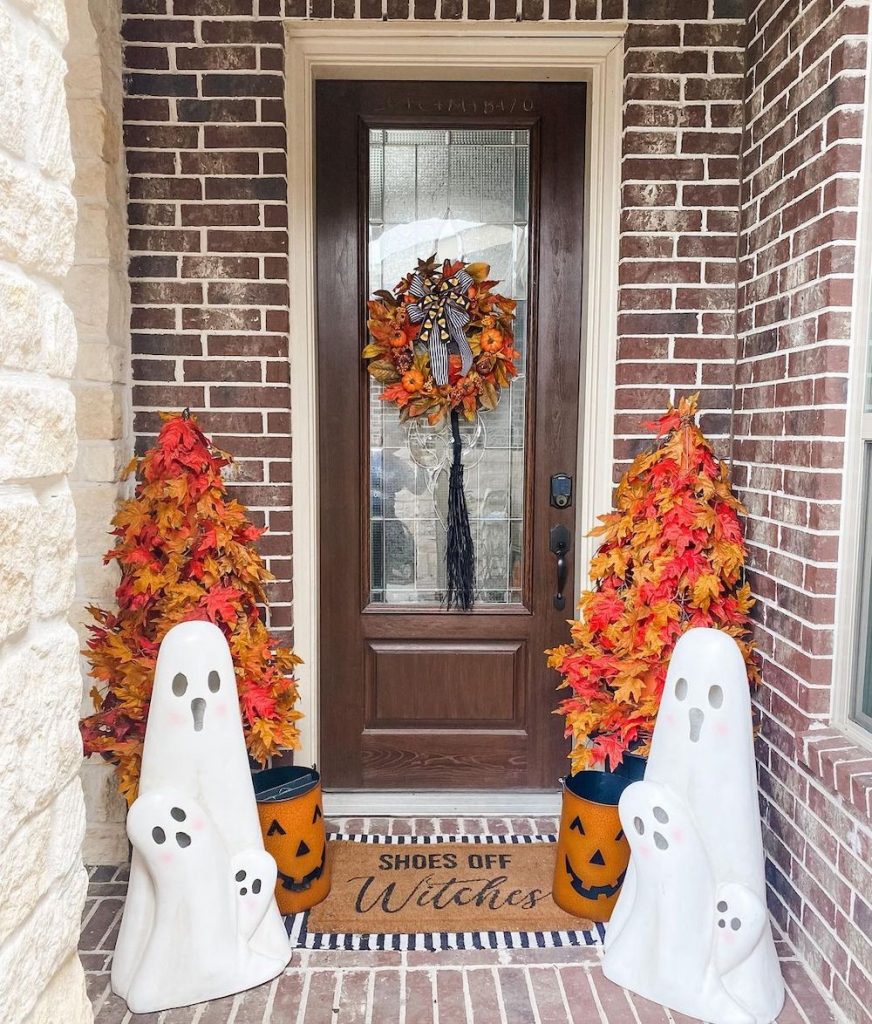 In this porch decor idea, a couple of friendly ghosts greet your visitors. Easy front porch decor for a spooky Halloween style.
Display Near Black Plants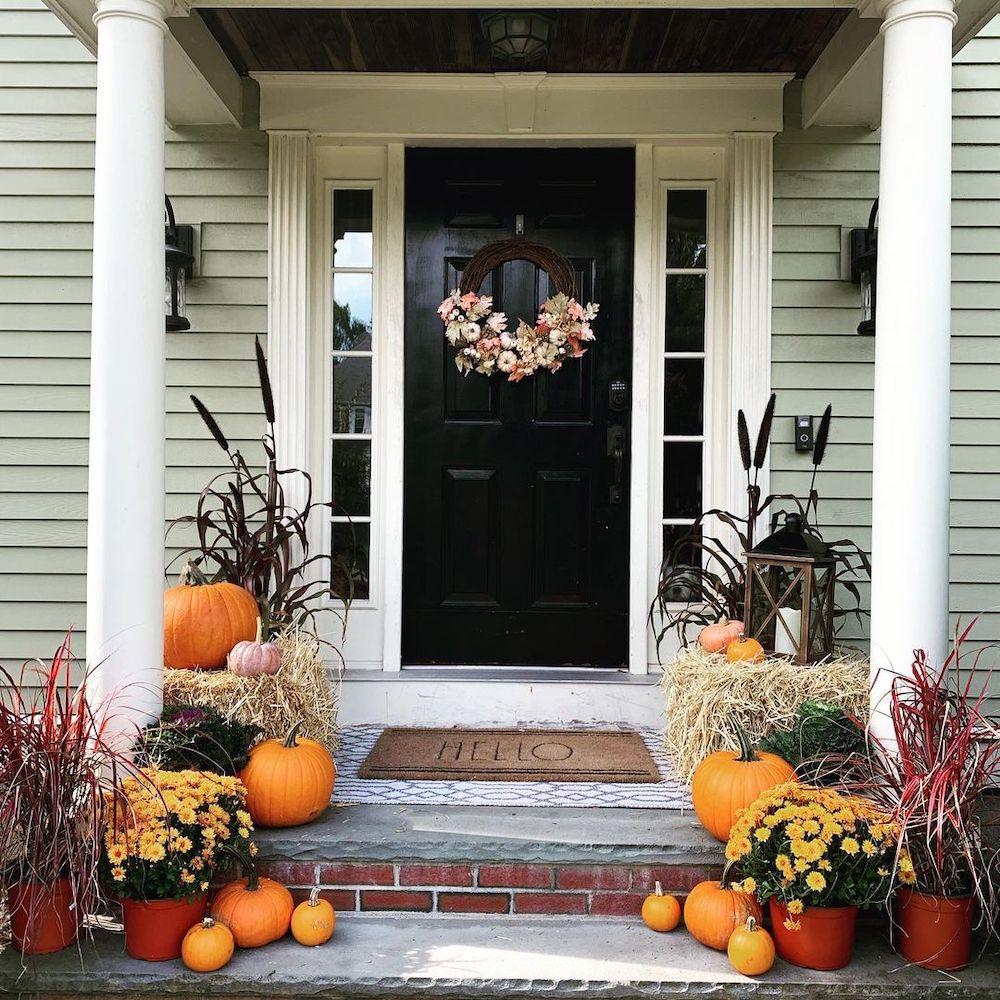 Using black foliage on the front porch adds to the festive spirit of Halloween.
Hang a Pair of Owl Wreaths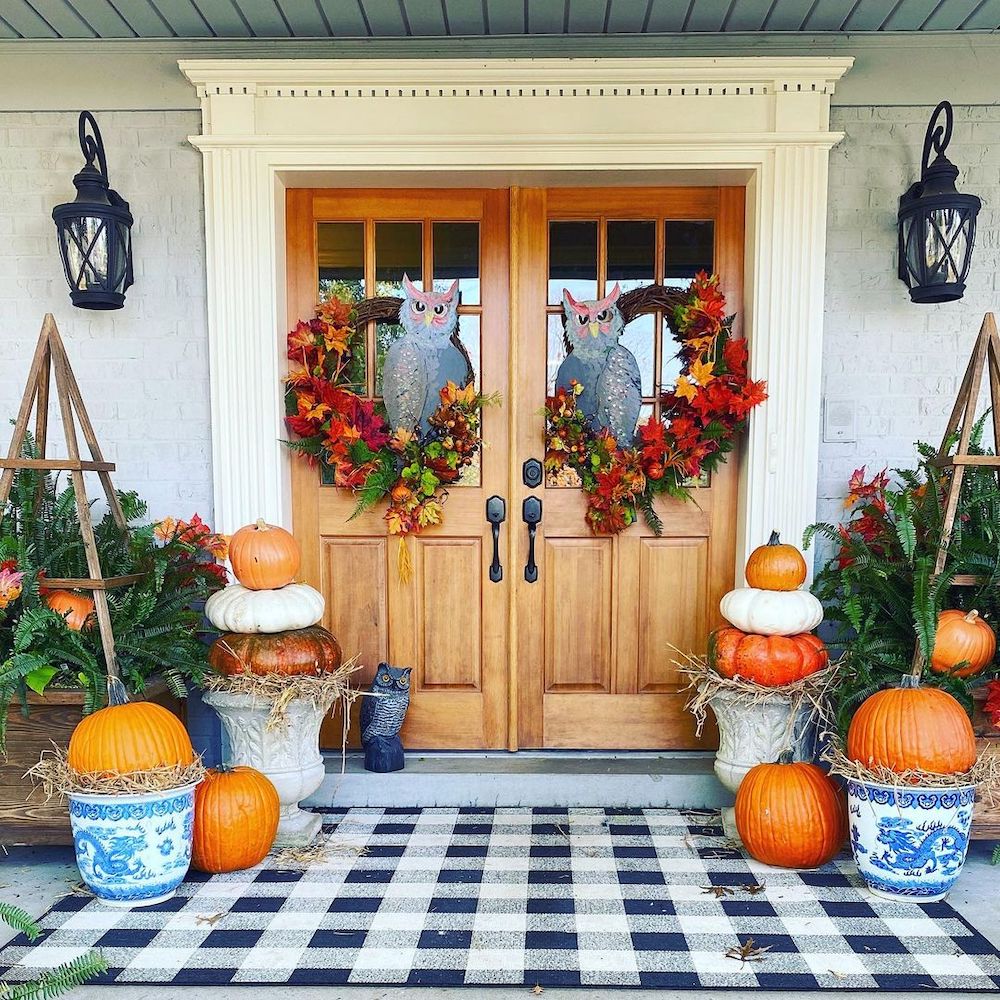 Display a set of wreaths with owls for a creepy feel. Although owls are not considered aggressive, they at times give an eerie feeling to a scene.
Have Frank Greet Them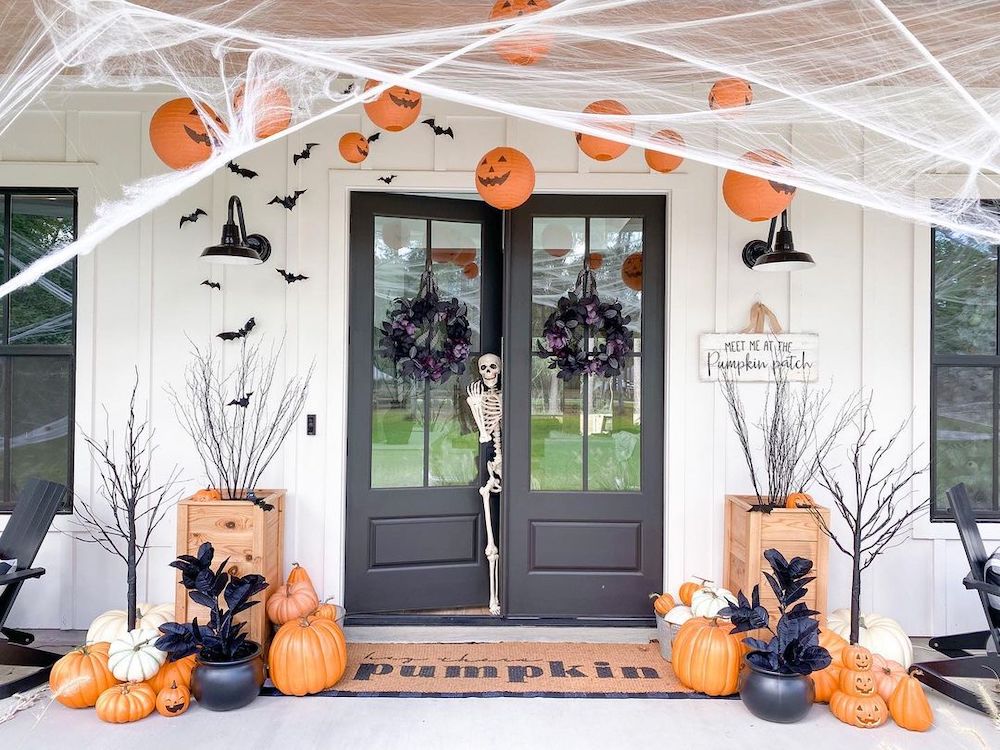 Frank the skeleton greets your house guests at this home. Add some bats with cobwebs across the porch and you are all set.
Suspend a Set of Mummies – Halloween Porch Decor Ideas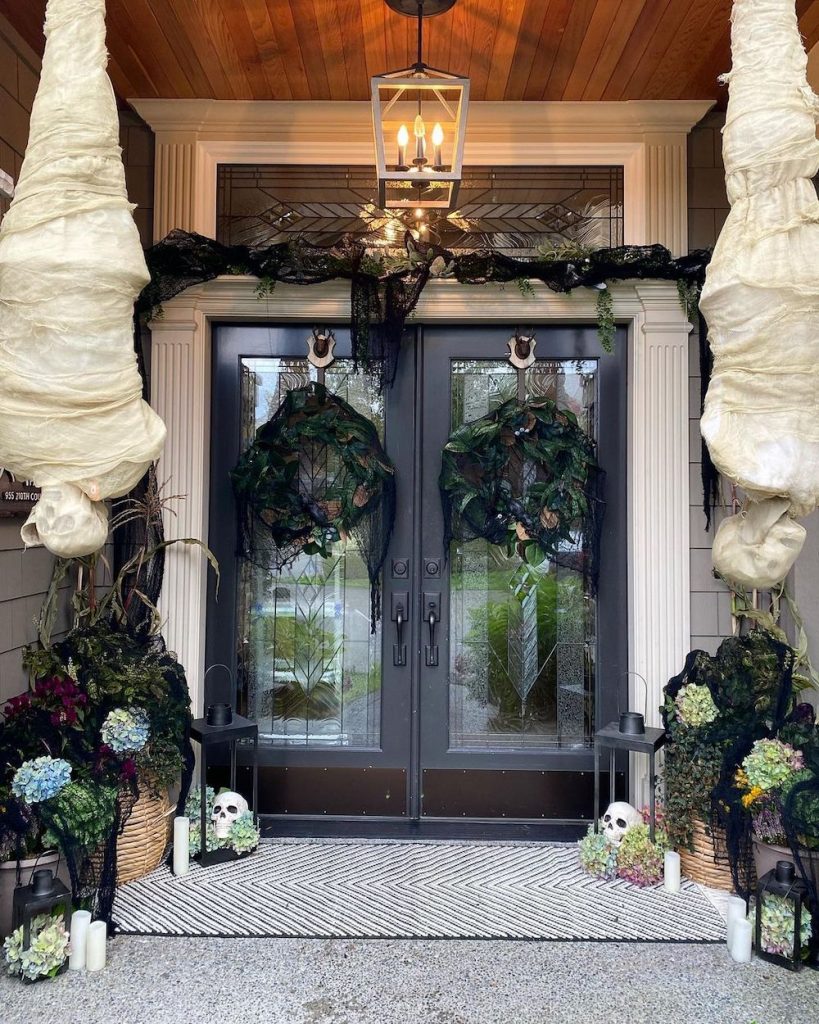 From your porch ceiling, suspend a set of mummies to spook your guests this Halloween. Isn't this the coolest?
Show Off a set of Skeletal Bats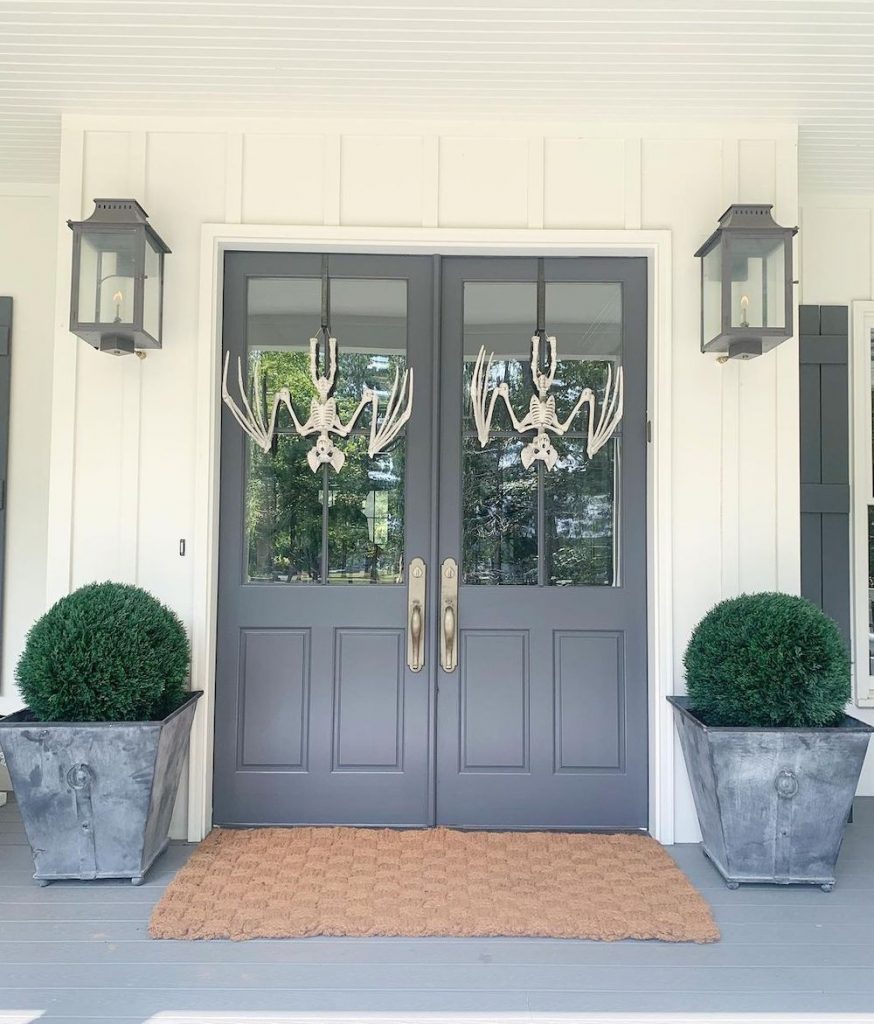 Although bats are not dangerous, many people fear them. Most likely because of their appearance. So, bats are perfect for adding some eeriness to the front porch.
Lay Out the Warning Mat – Halloween Porch Decor Ideas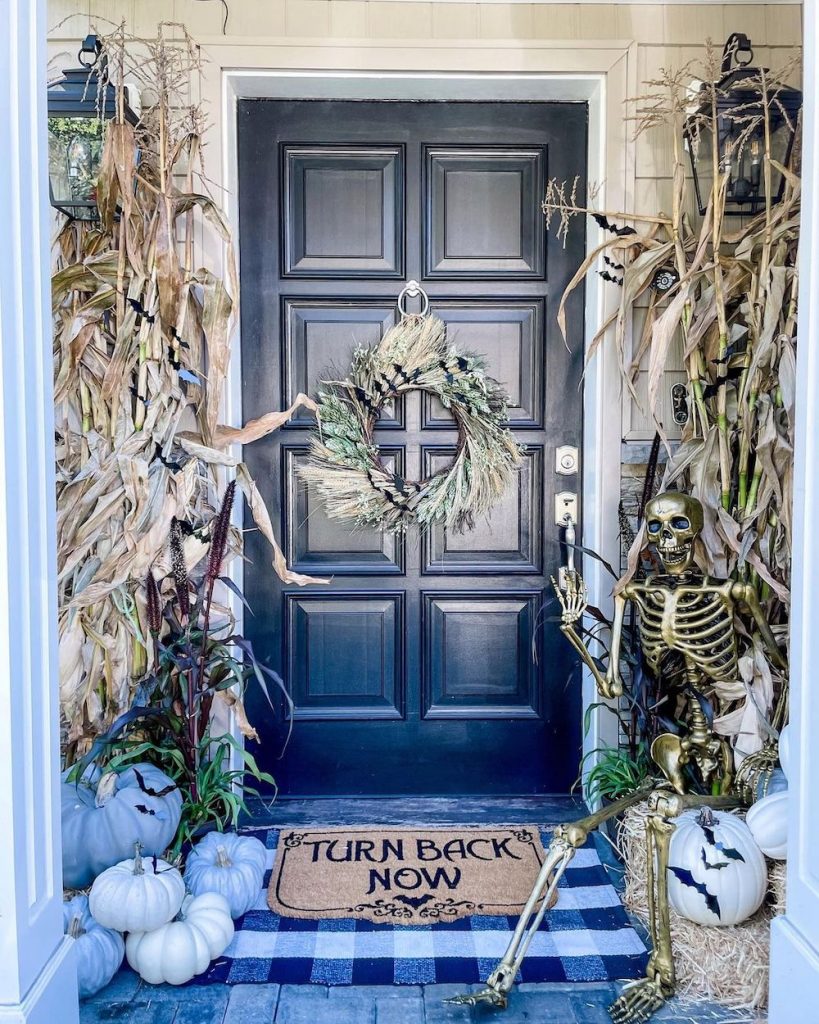 In all fairness, your guests have been warned to stay back. A perfect mat that gives off a little spookiness vibe to the porch.
Hang a Group of Witches Hats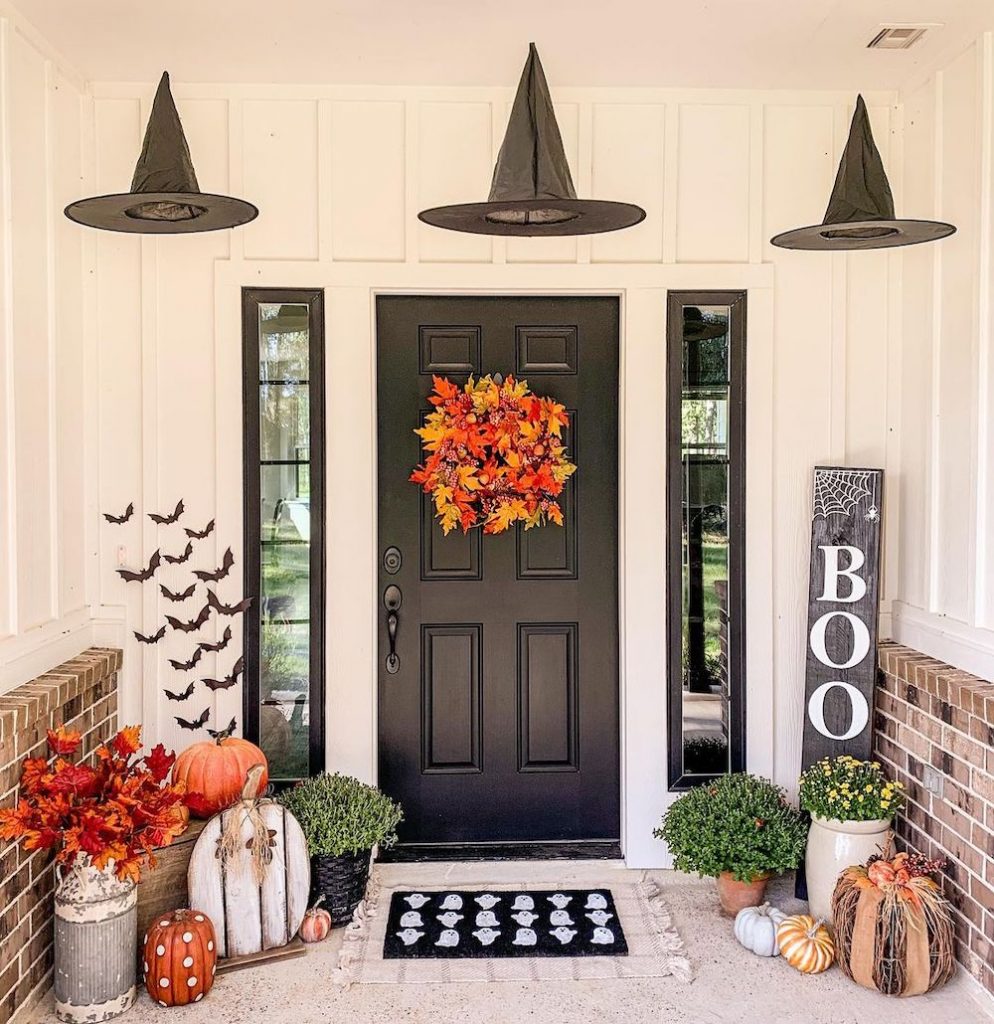 Suspend a few witch hats from the porch ceiling. Incredibly spooky and delivers the right amount of spookiness effectively. Don't you think so?
Prop Up a Mini Witch – Halloween Porch Decor Ideas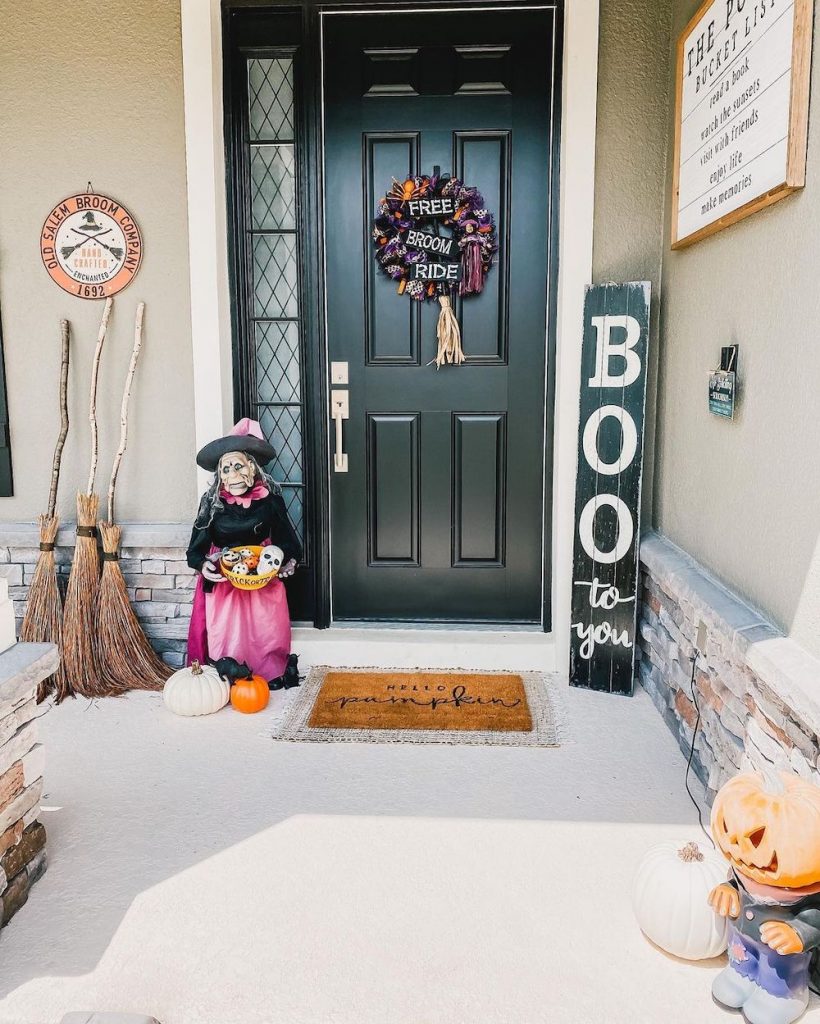 Let a miniature witch greet your Halloween guests this season. In this display, the witch holds the basket of treats. Nothing more spooky than having to take your treats from a witch.
Turn it into a Graveyard – Halloween Porch Decor Ideas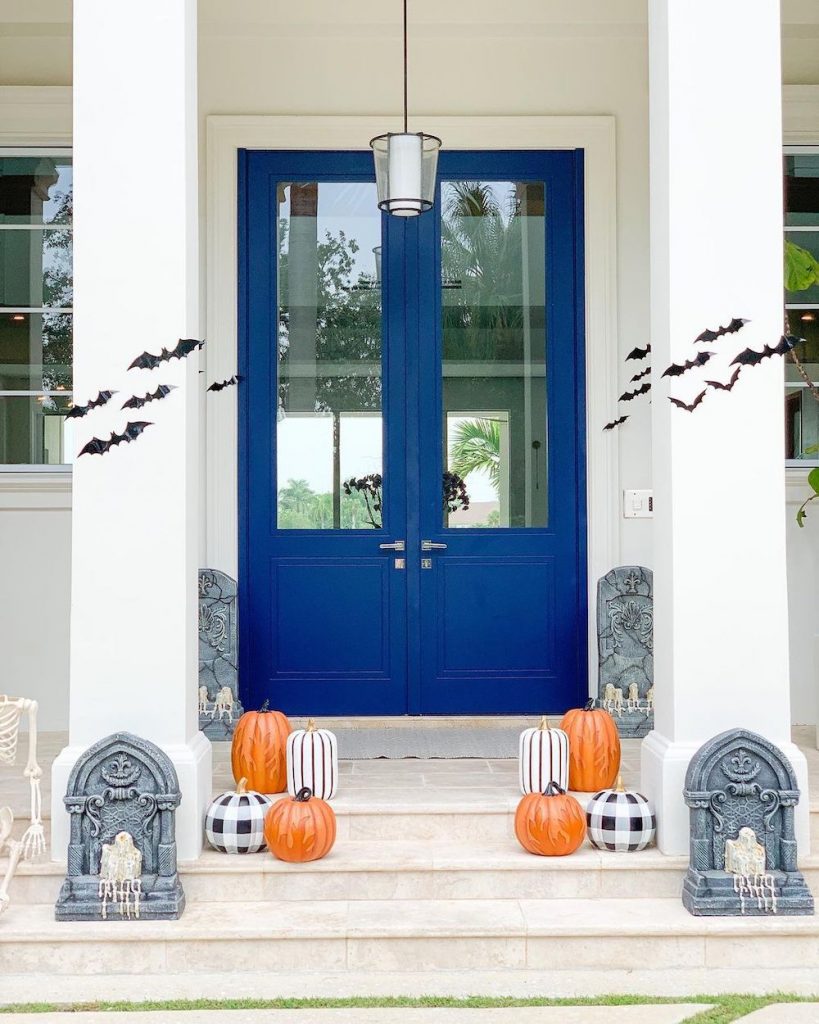 Make your front porch into a graveyard this Halloween. In this clever display, the design features multiple tombstones and pumpkins along with bats.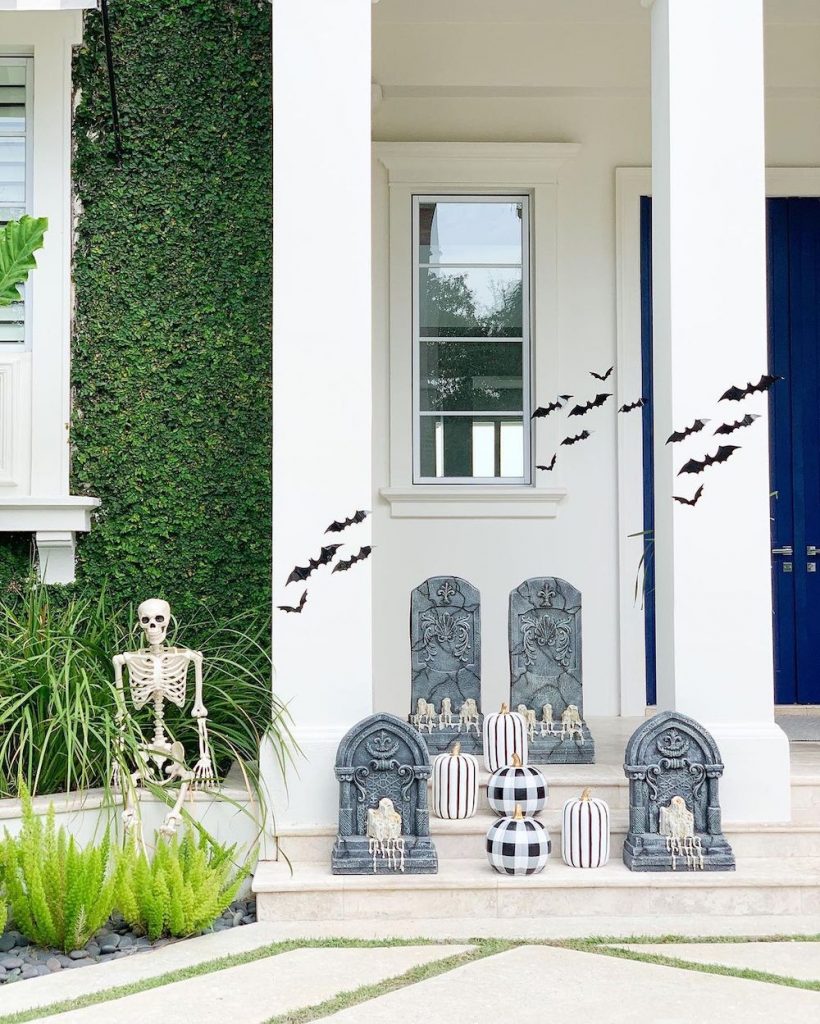 Go with a Black Decor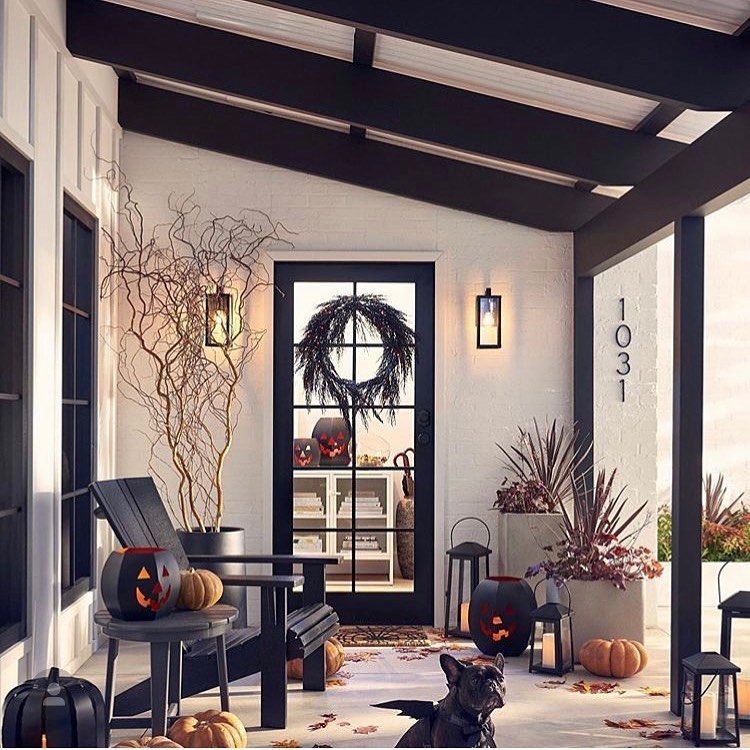 As a contrast against a white background, the porch display features black accessories. From black pumpkins to black plants and furniture. Makes for a striking Halloween-style decor.
Paint an Octopus on the Front Door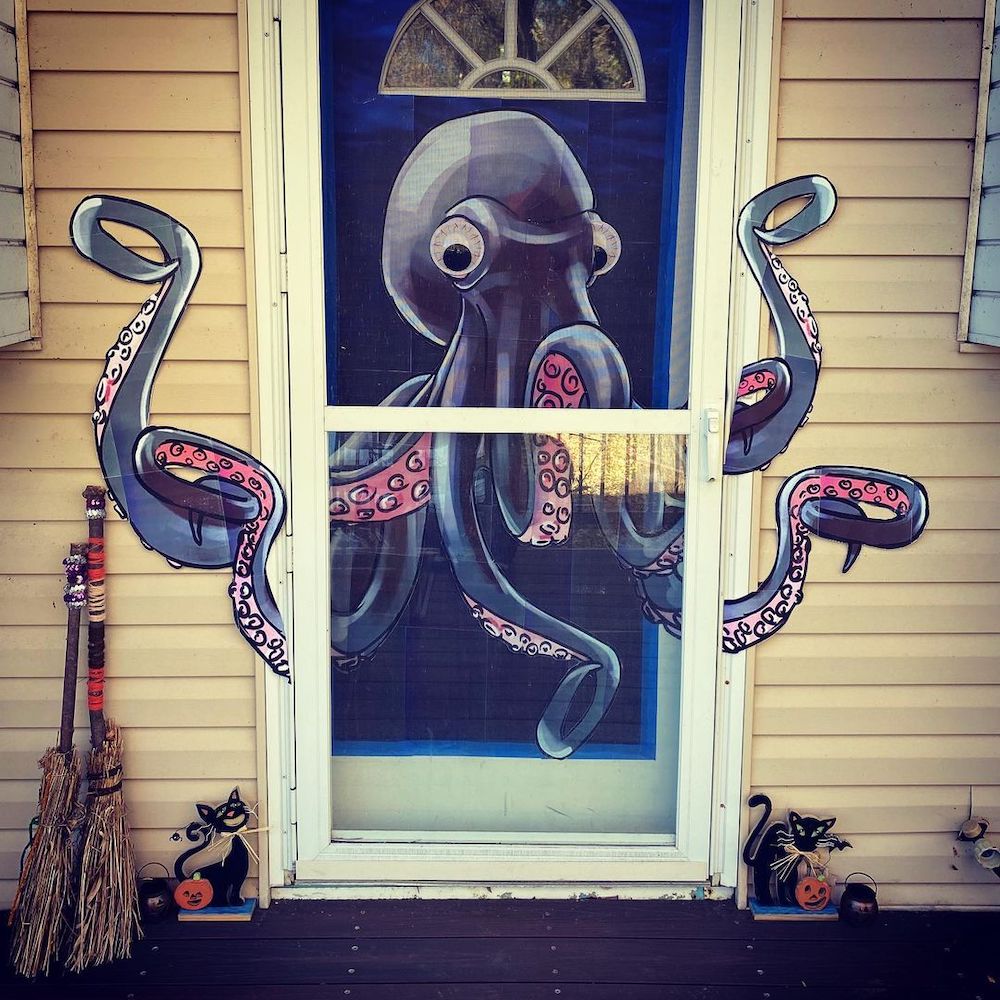 This is incredible. An octopus greets your guests this Halloween. Dare those kids to ring this doorbell!
Light it Up – Halloween Porch Decor Ideas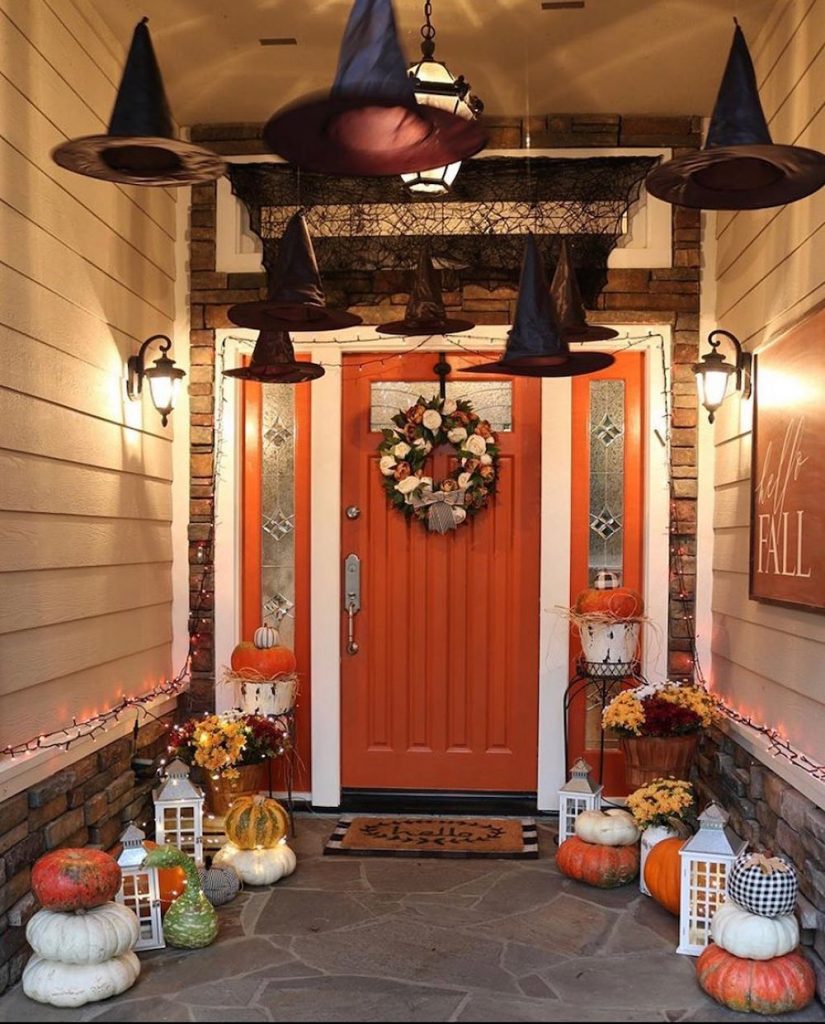 Use lanterns and string lights to light up the front porch. Lighting alone can create an illusion of creepiness.
Quick Accents – Halloween Porch Decor Ideas
Our list of Halloween porch decor ideas has ended. We hope our list has inspired you to create a spooky front porch style this Halloween season.
For fall decor inspiration, be sure to check out our other posts.
Reach out to us with any questions. We are always ready to help you out. Thank you for stopping by our blog.
Wishing you a spooky Halloween this year!
Mary
Pin this for Later: