Dough bowl styling ideas for fall decor. Dough bowls are beautiful wooden bowls and are very popular as styling accessories for the home. Another name for dough bowls is trencher or trough. This is because these bowls were initially designed like a trough. In more recent years, the dough bowl has been restyled in a rounded cut-out shape. Originally the purpose of these bowls was for making bread dough. And part of the daily meal preparation routine.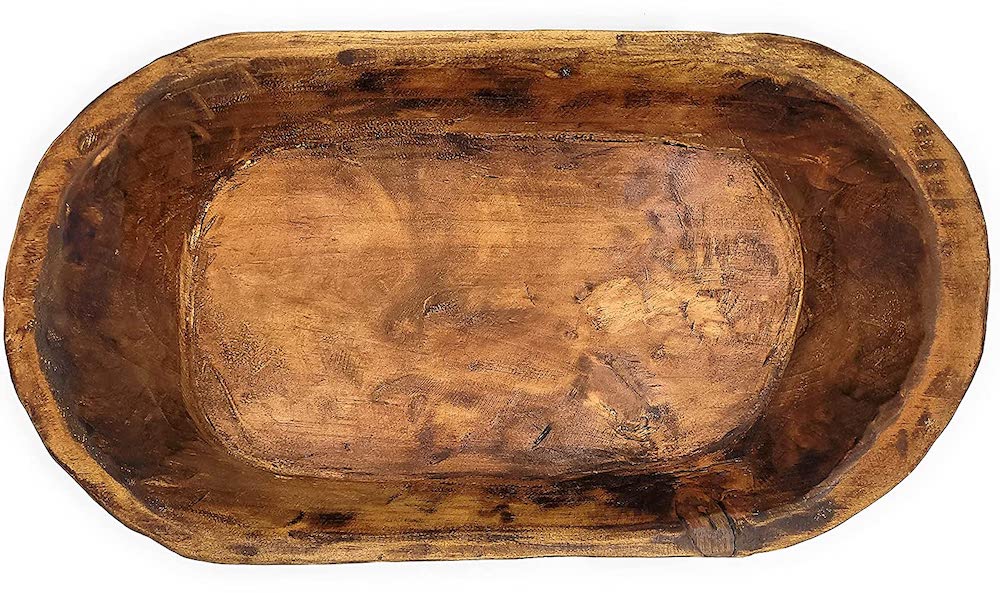 Vintage dough bowls are much sought-after due to their uniqueness and large style. Some dough bowls are quite long and provide a fairly large space to decorate. Dough bowls can be styled with fall seasonal accents such as pumpkins, gourds, acorns, and apples. Larger bowls can hold candles, candlesticks, and lanterns. And adding greenery to a bowl brings an earthy organic look to the dough bowl.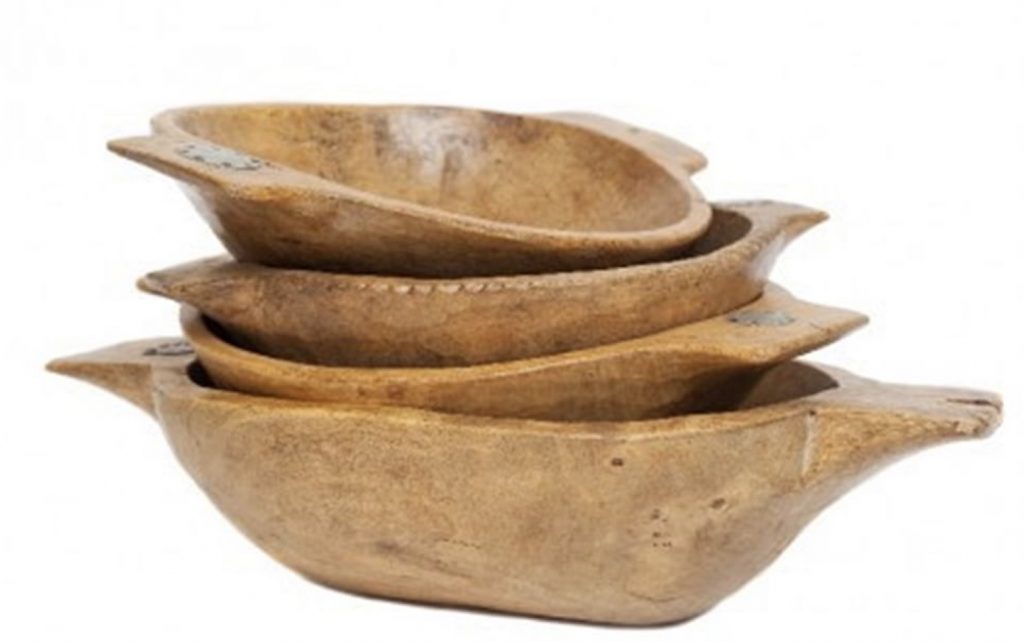 Style a dough bowl as a centerpiece on a dinner table, console table, or kitchen counter surface. They work equally well when the dough bowl is decorated on a coffee table, a sideboard, or bookshelf. And these dough bowls look great in boho, rustic, farmhouse, or coastal style homes.
Take Your Inspiration from the Seasons – Dough Bowl Styling Ideas
Keep your dough bowl styled according to the seasons. There is no better designing inspiration than from the outdoors. For the fall season, pumpkins are always the go-to decorative pieces. But don't overlook acorns, gourds, apples, and scarecrows. For inspiration on decorating your dough bowl, take inspiration from one of the talented designers below. Take a look.
Brighten Your Table
Use flameless taper candles in the dough bowl. These candles will not only brighten the table but provide ambiance during the Autumn meal. In this design, the designer used orange foliage, woven balls, and pumpkins. Simple and easy to style.
Style it Rustic – Dough Bowl Styling Ideas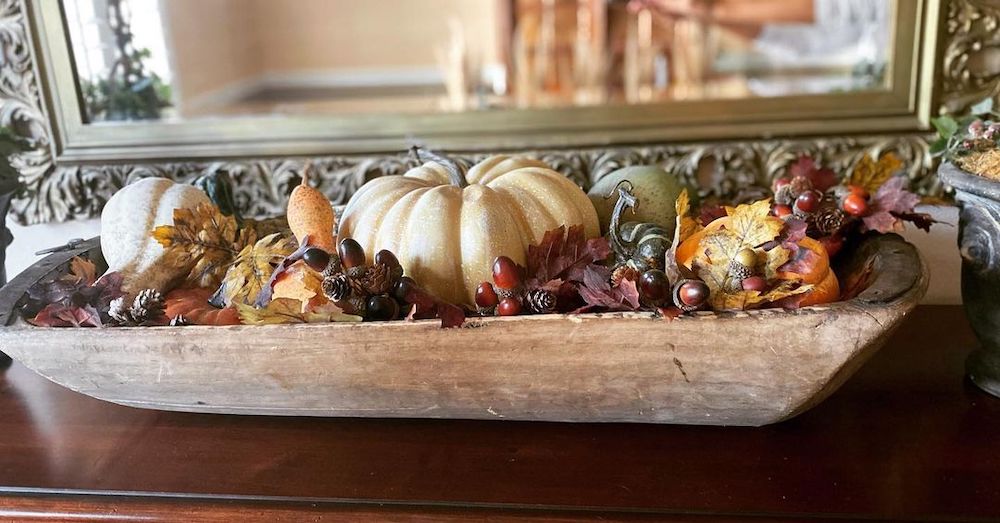 For a more rustic design, decorate your bowl with a single pumpkin and gourds. As a filler, use oak tree foliage and acorn branches. We love the rustic feel of this dough bowl.
Give it a Succulent or Two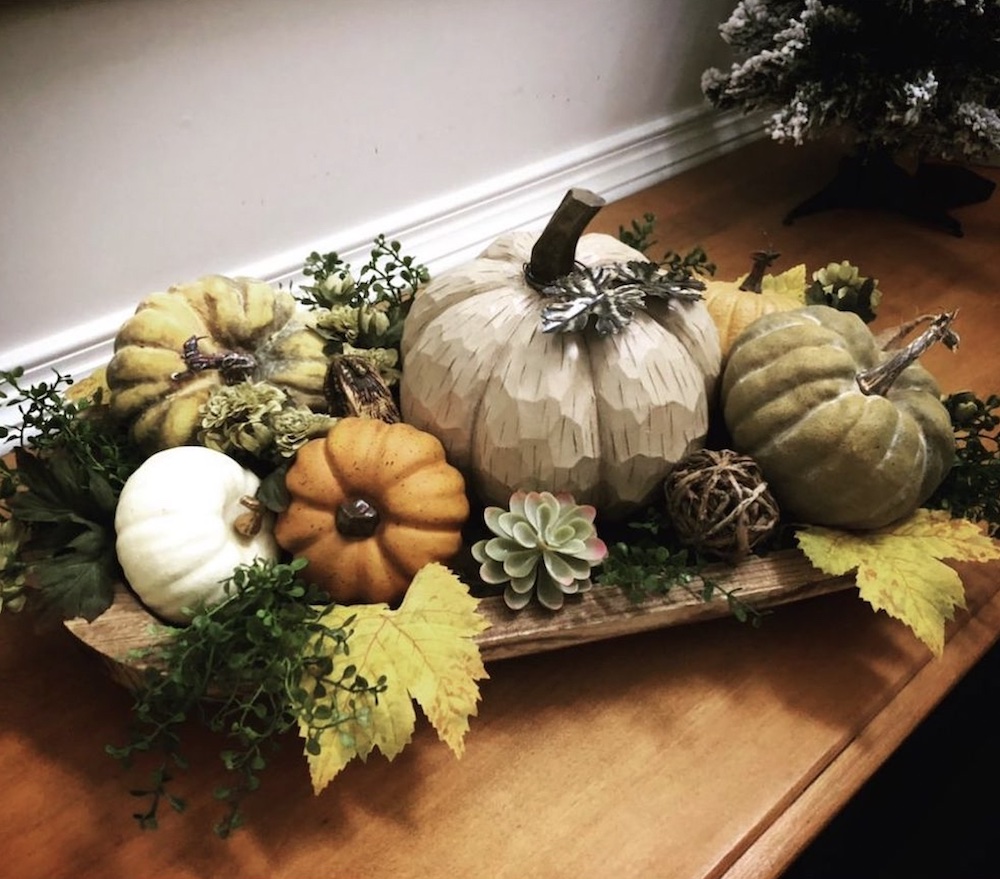 Plant a succulent or two next to the faux pumpkins and greenery. In this arrangement, the designer tucked a small succulent beside the large, center, white pumpkin. The succulent resembles a flower with multiple petals.
Toss in a Few Pine Cones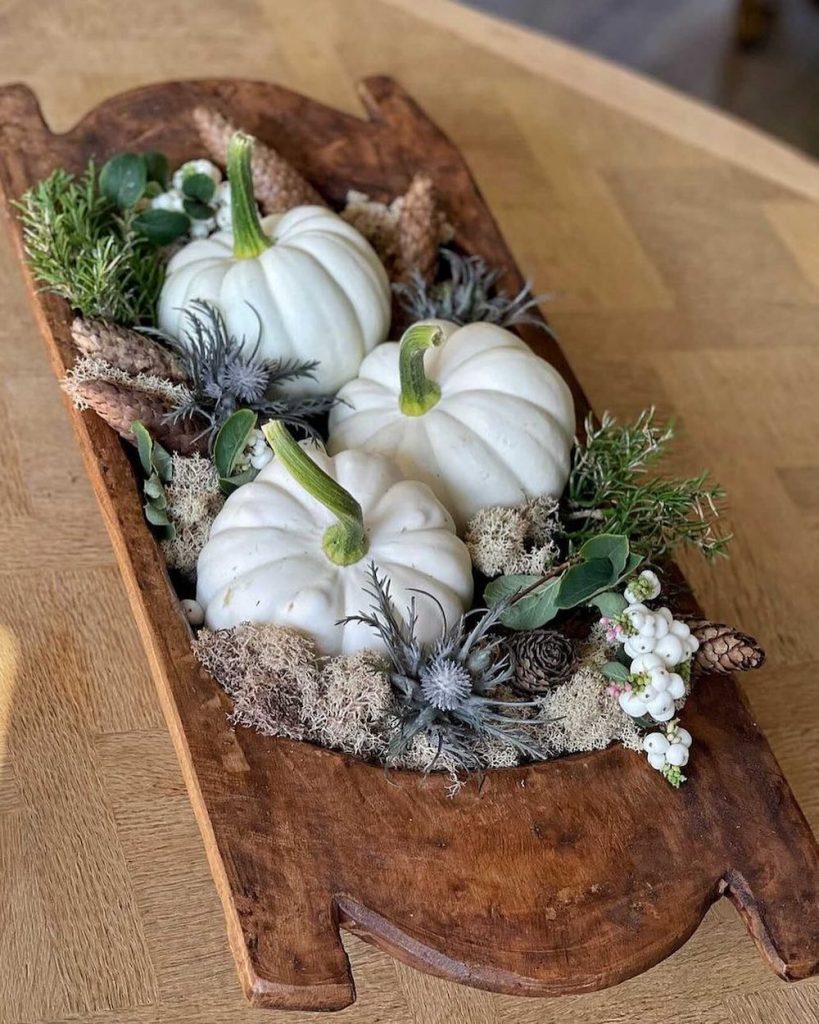 Use a few pine cones with pumpkins and some interesting mini live plants. The white pumpkins stand out against the grey-green plants.
Slide a Cluster of Berries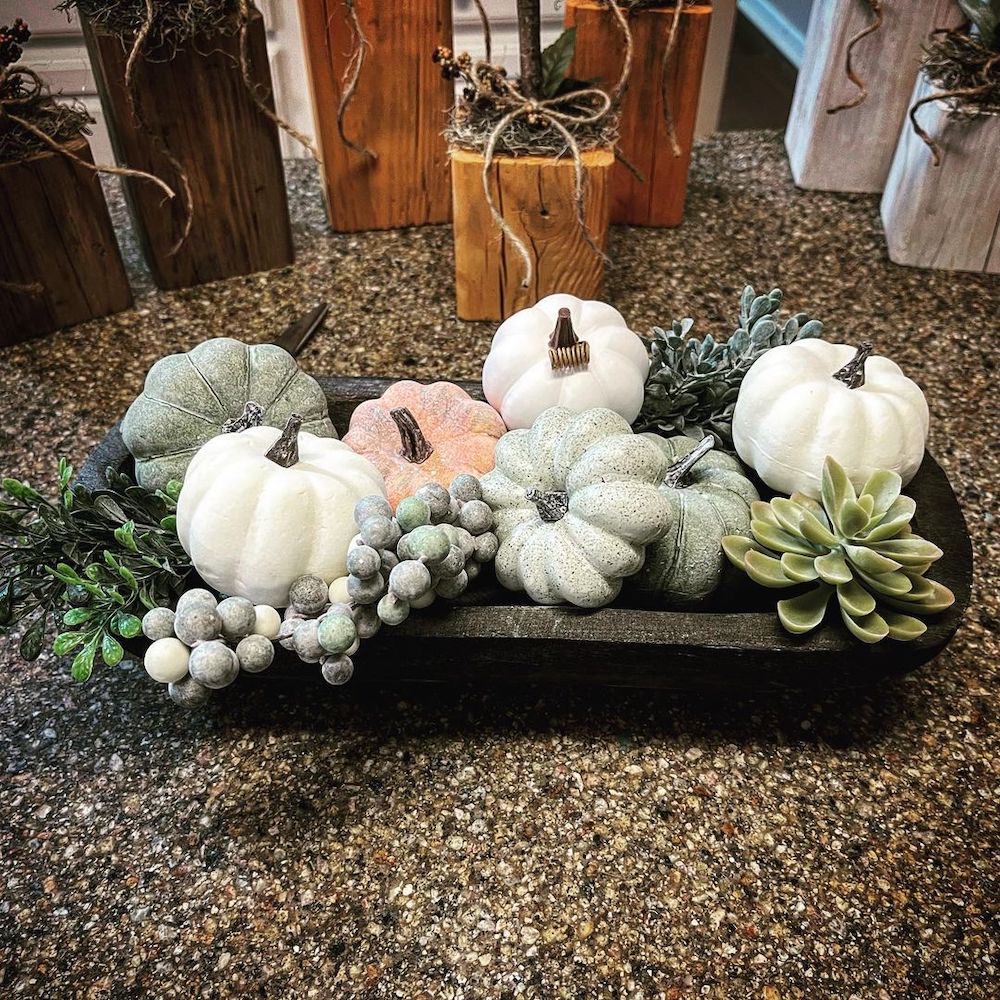 Lay a cluster of faux berries next to a grouping of miniature pumpkins.
Design it in Copper Tones – Dough Bowl Styling Ideas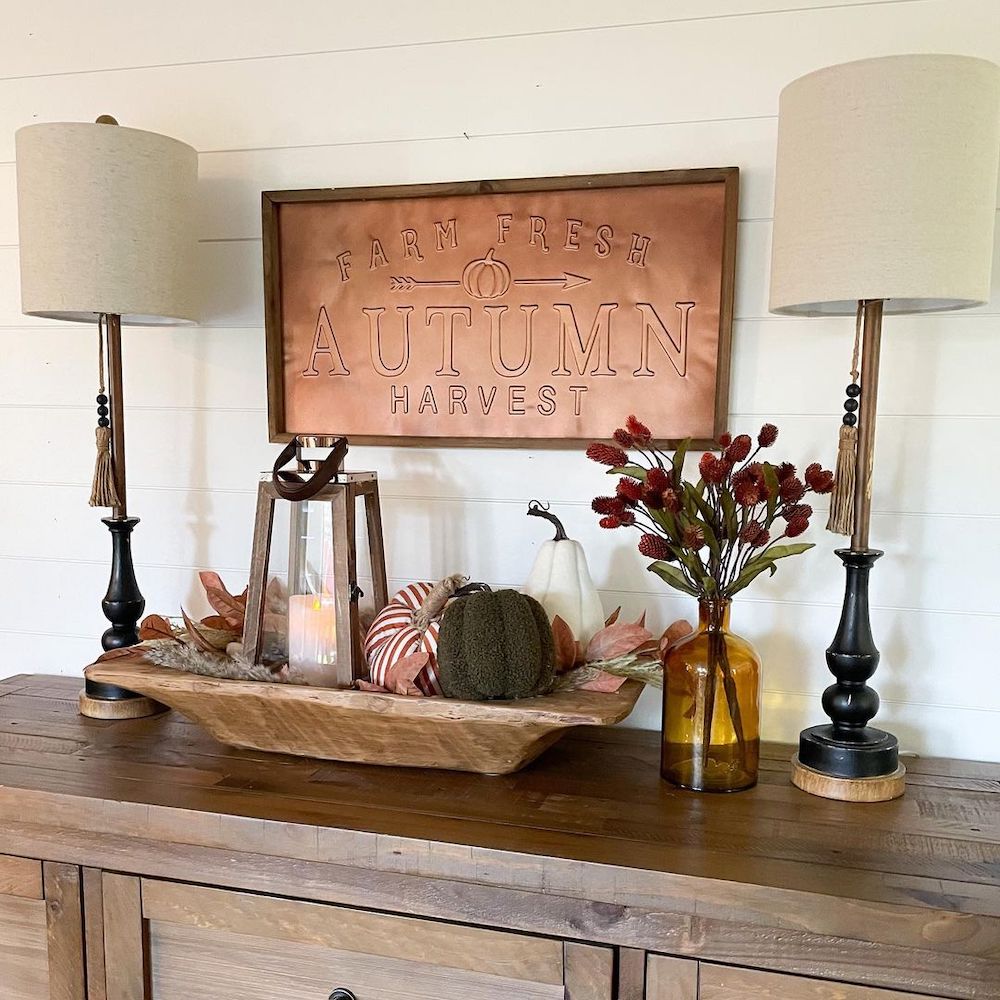 Style your dough bowl using copper and amber tones. In this styling, the design includes copper-colored wall art. A striped copper and white pumpkin rest inside the copper-colored foliage in the dough bowl. An amber vase sits to the right of the bowl to add even more copper tones to the style.
Work in a Little Rattan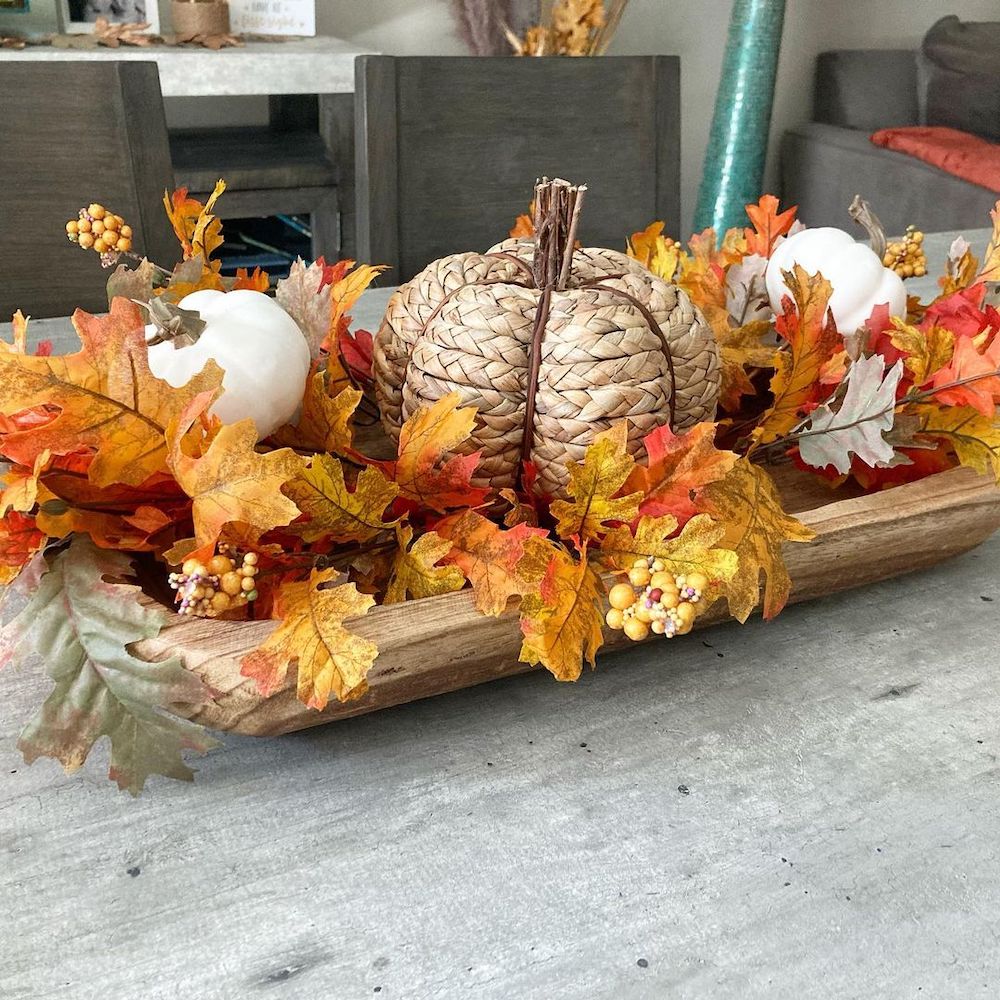 For a natural look, work into your design a little rattan pumpkin. Nestled among the fall foliage are three pumpkins. A great mix of fall colors and pumpkins.
Create a Bountiful Harvest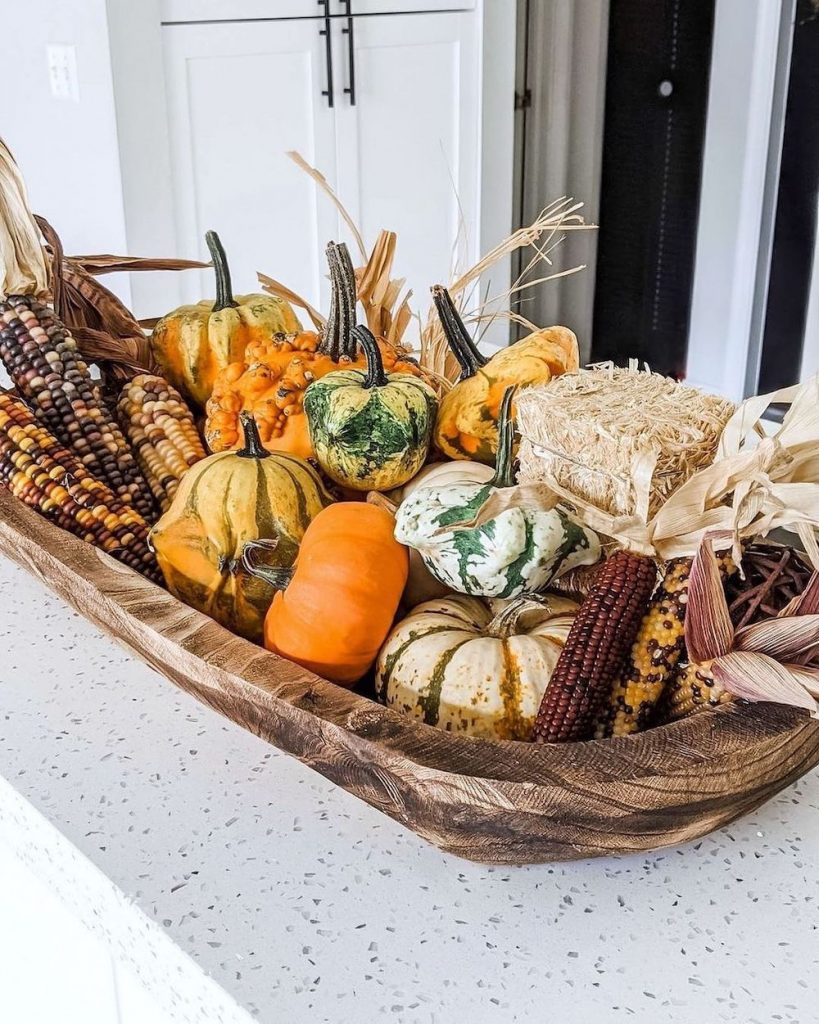 Fill your bowl with the colors of the fall season. Substitute your cornucopia with a wooden dough bowl. Gather some Indian corn, squash, pumpkins, and a small bale of hay. What a colorful fall display!
Invite Your Eight Legged Friends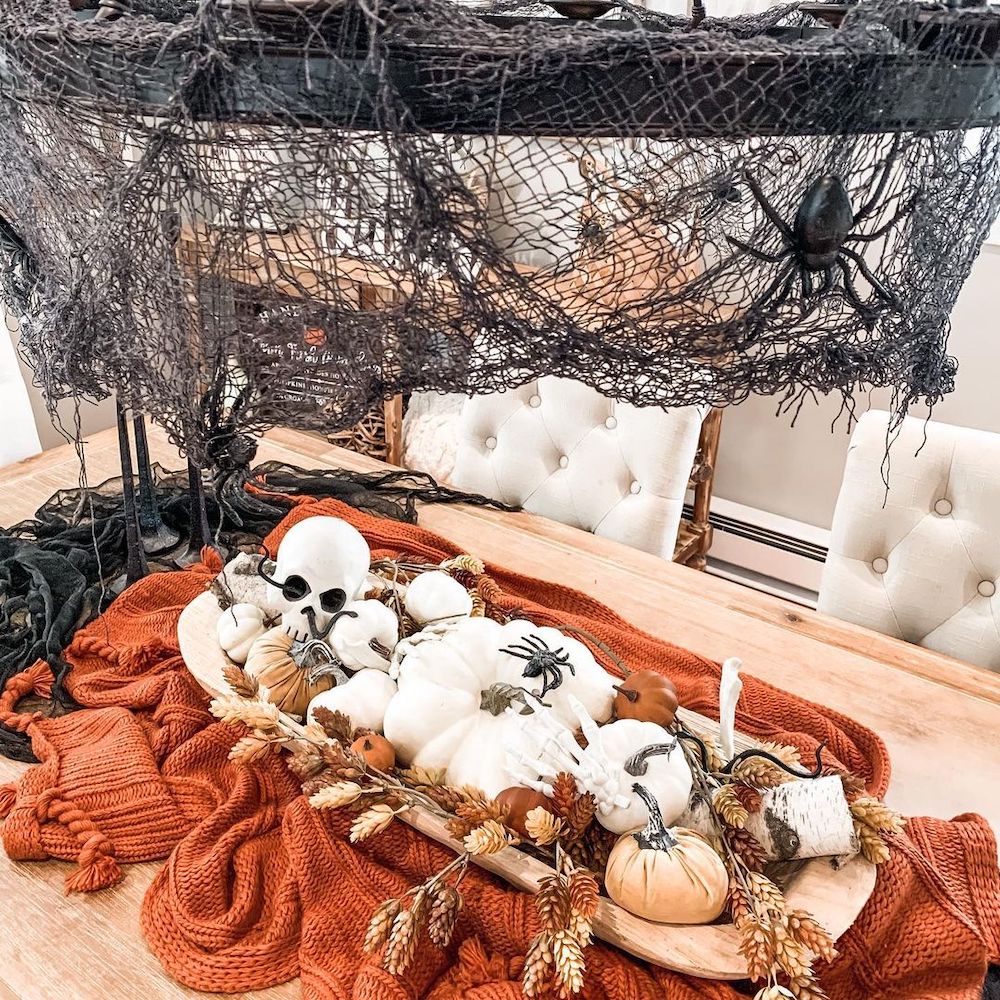 Bring your eight-legged, crawling friends to the celebration. Style your dough bowl for the upcoming Halloween celebration. Add a few bones so they can mingle with the "others" such as pumpkins and other creepy crawling bugs.
Be Sure to Give Thanks – Dough Bowl Styling Ideas

Include a message in the dough bowl centerpiece. In this display, the designer included a "give thanks" message for the fall holidays.
Make it Neutral – Dough Bowl Styling Ideas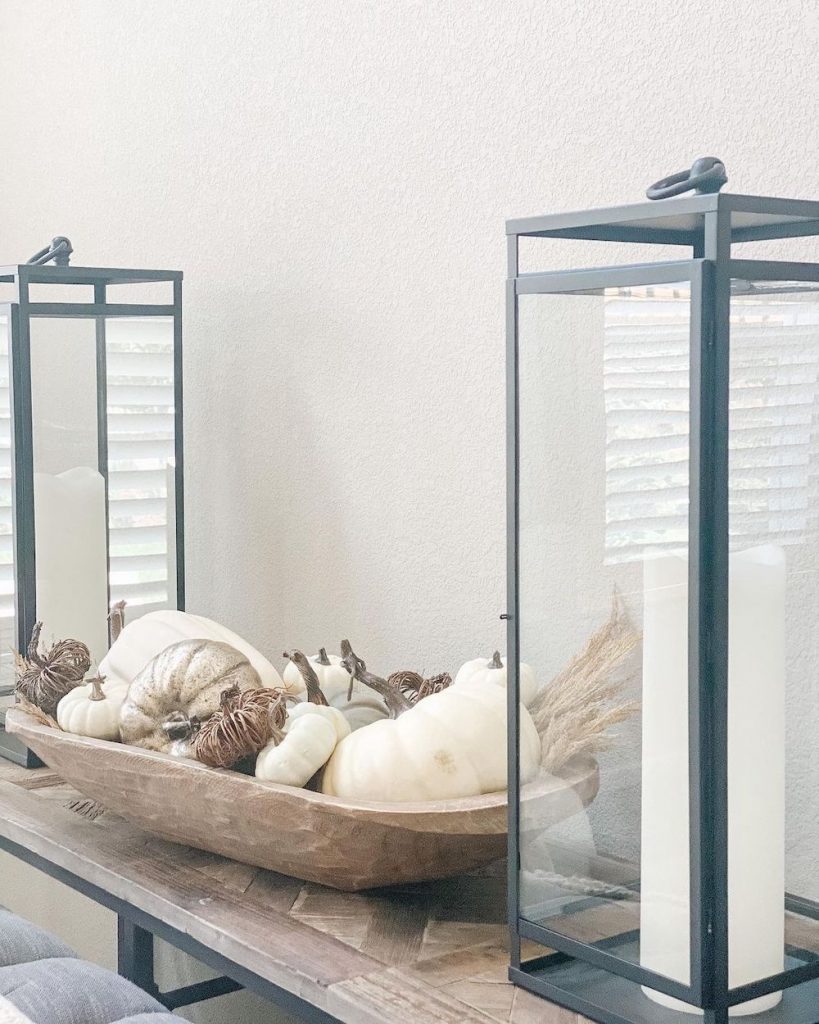 Style it in neutral colors using lighter shades and a silvery pumpkin too.
Show Off Your Best Glassware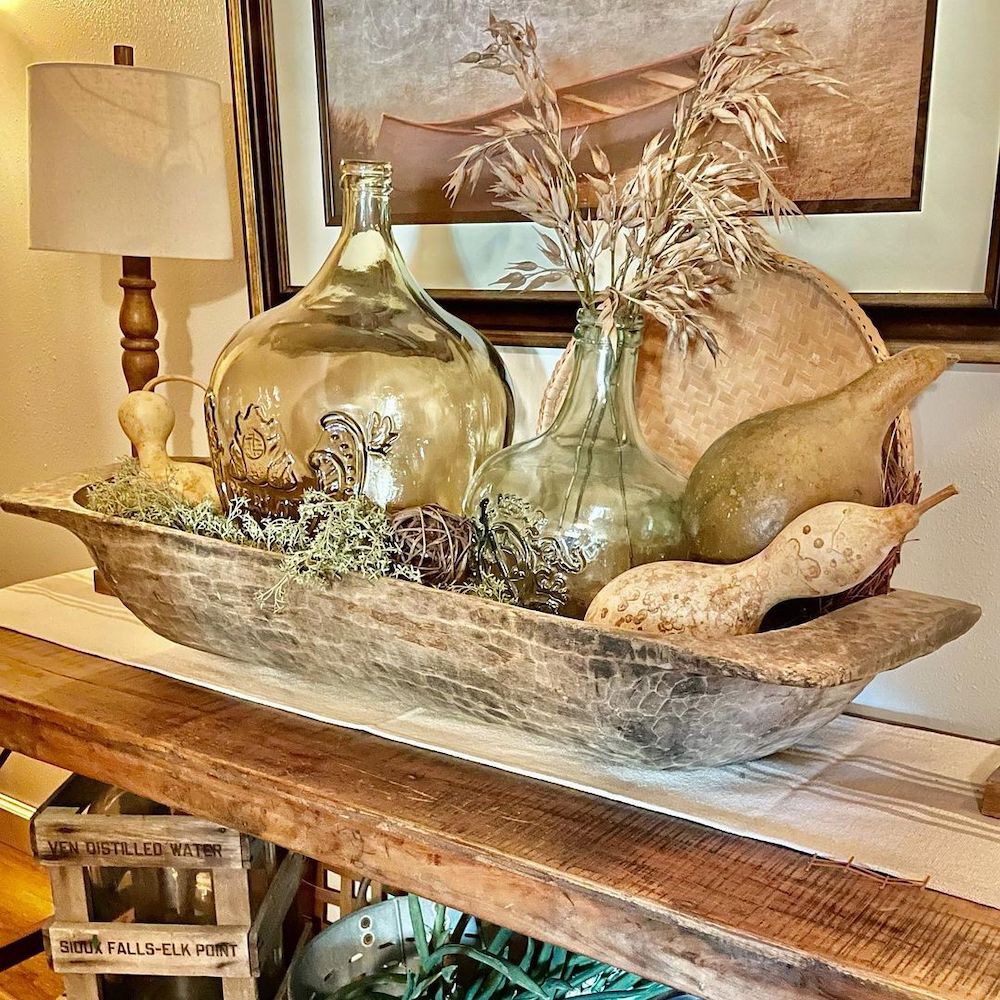 Display a couple of embossed glass jars in your bowl. Add a rattan tray in the back with a trio of neutral gourds. Tuck inside some willow for an earthy accent.
Fill the Base with Decorative Balls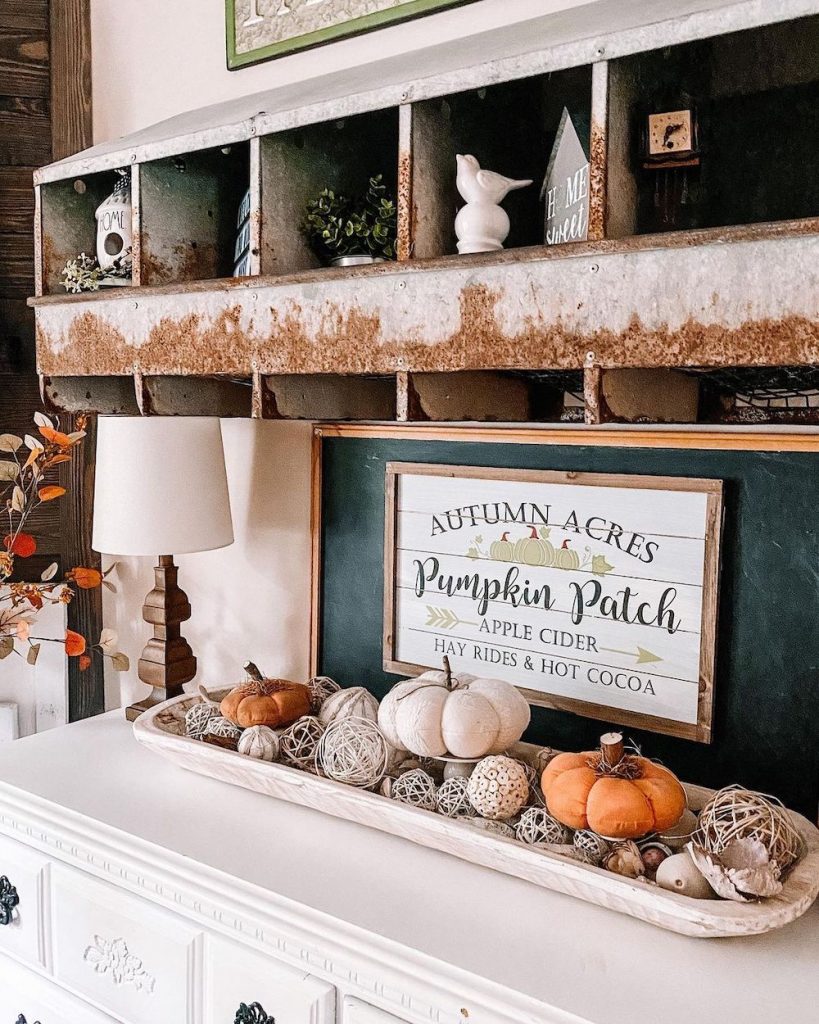 Style it on a sideboard. Elevate your best pumpkins then fill in the base full of neutral-colored decorative balls. Decorative balls are made of willow and natural wood circles. Be sure to mix a variety of ball sizes.
Drape a Strand of Wooden Beads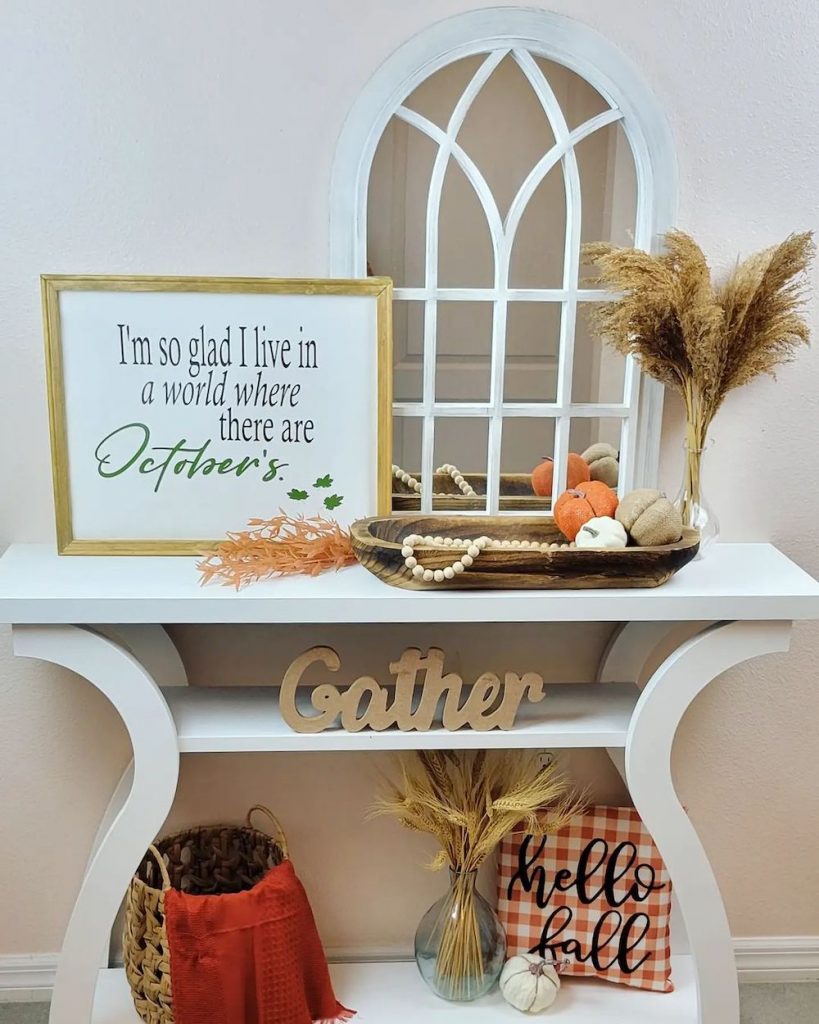 For a minimalist look, add three miniature pumpkins and a strand of wooden beads. To complete the overall look, add dried flowers and a piece of fall wall art. A perfectly fall-styled console table.
Place a Topper Over a Pumpkin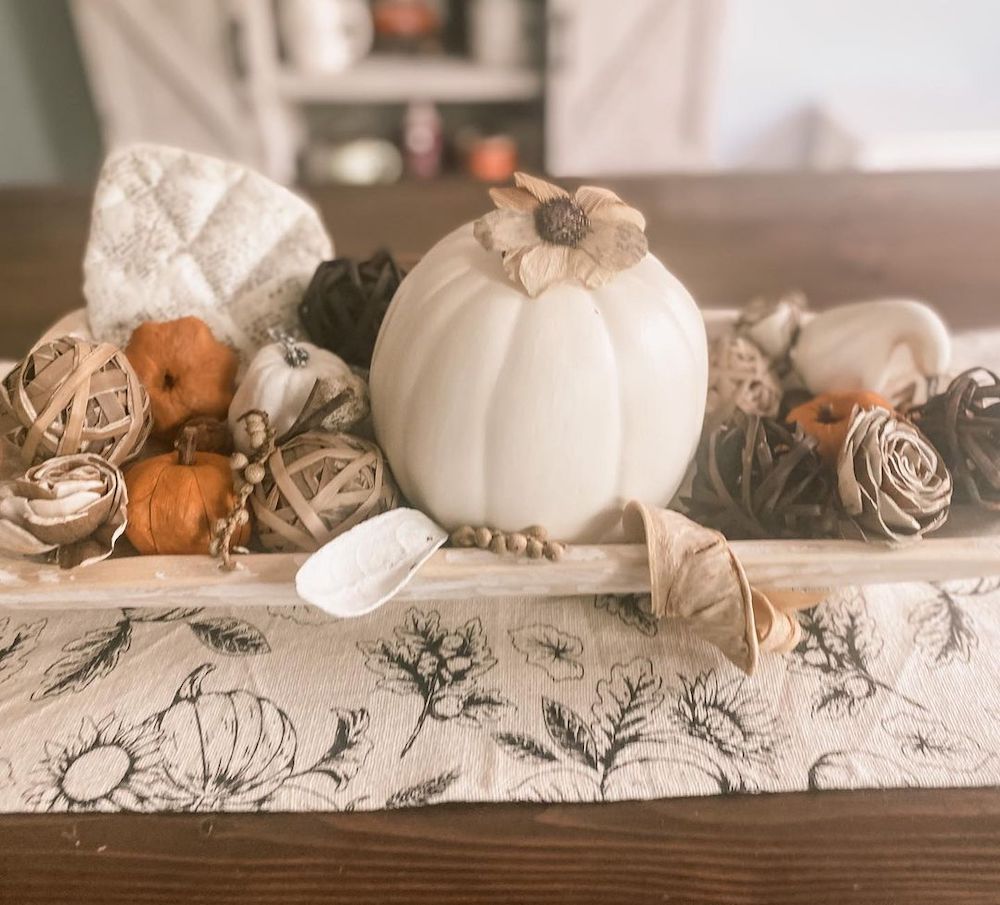 Give your pumpkin a prominent spot in the bowl. Top it off with a neutral flower. Follow with a fabric leaf in the background. Finish it off with a variety of pumpkins, gourds, and decorative balls.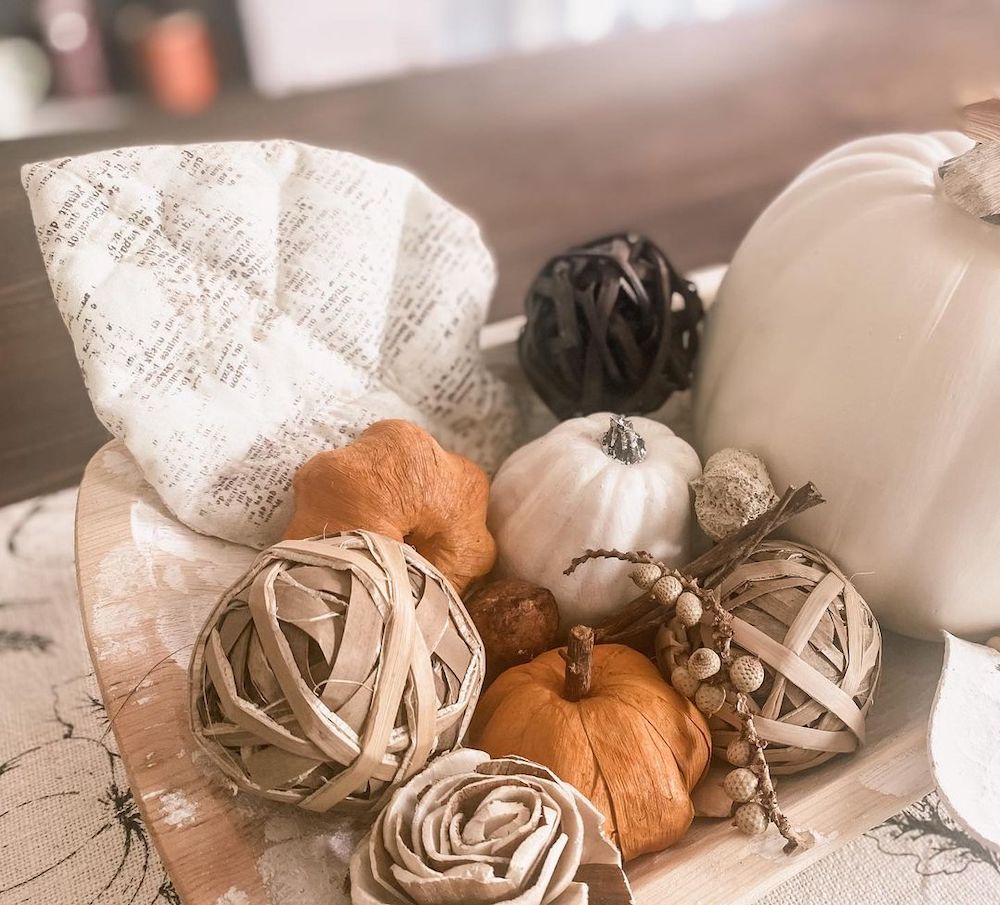 Weather Your Pumpkins – Dough Bowl Styling Ideas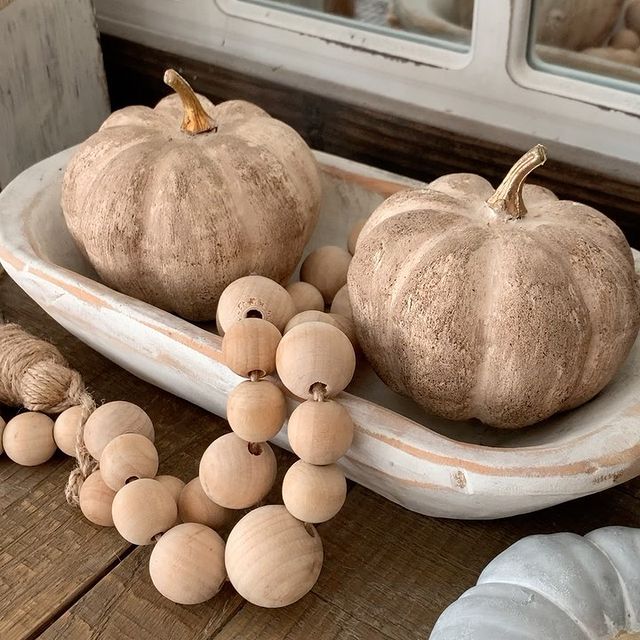 In this bowl design, at_home_with_britt shares her clever weathered pumpkin DIY. Transform your pumpkins into weathered, aged pumpkins in this creative DIY post.
This is the end of our list of dough bowl styling ideas. Hopefully, you found several ideas that inspire you to create your own dough bowl design. Welcome the fall season with a festive dough bowl inspired by the outdoors.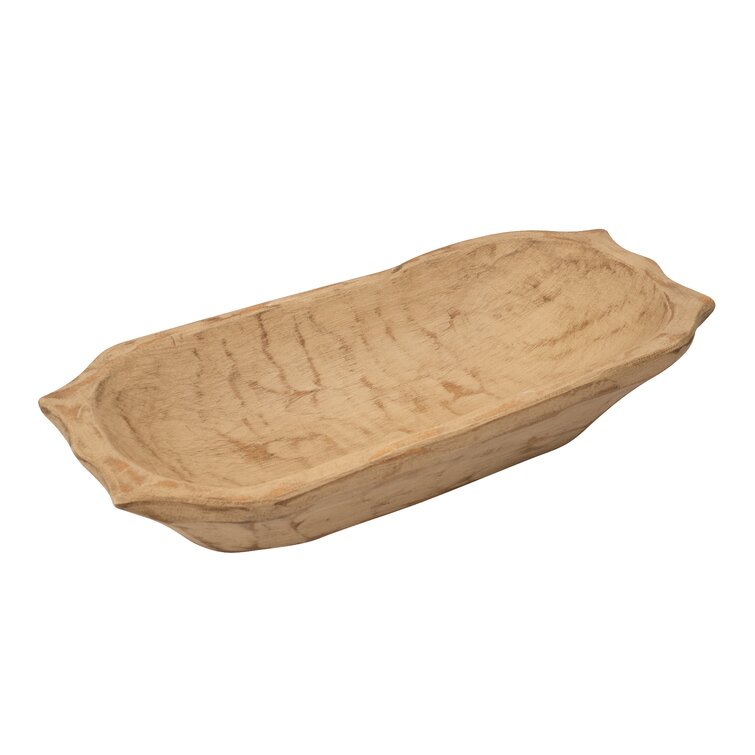 Dough bowls fit into many decor styles. Although these bowls are commonly seen in farmhouse decor styles, they can be used in other decors. Use these bowls in homes with a rustic, boho, modern farmhouse, and coastal decor. And they are useful in many rooms. Don't confine your dough bowl to just the dinner table. Dough bowls look just as well on a sideboard, console table, and kitchen countertop.
Enjoy our other fall decor related posts for additional ideas.
Reach out to us with any questions. We are always ready to help you out. Thank you for stopping by our blog.
Mary
Pin this for Later: