Styling bookcases guide for creating the absolute best decorative bookshelf. Just simply follow our easy styling tips. Styling a bookcase might appear daunting at first. But we can assure you that with the right know-how and accessories, it is easier than you think. In today's post, we are sharing our absolute best styling tips for creating the perfect bookcase that you'll be proud of. Our tips will guide you through the process step by step.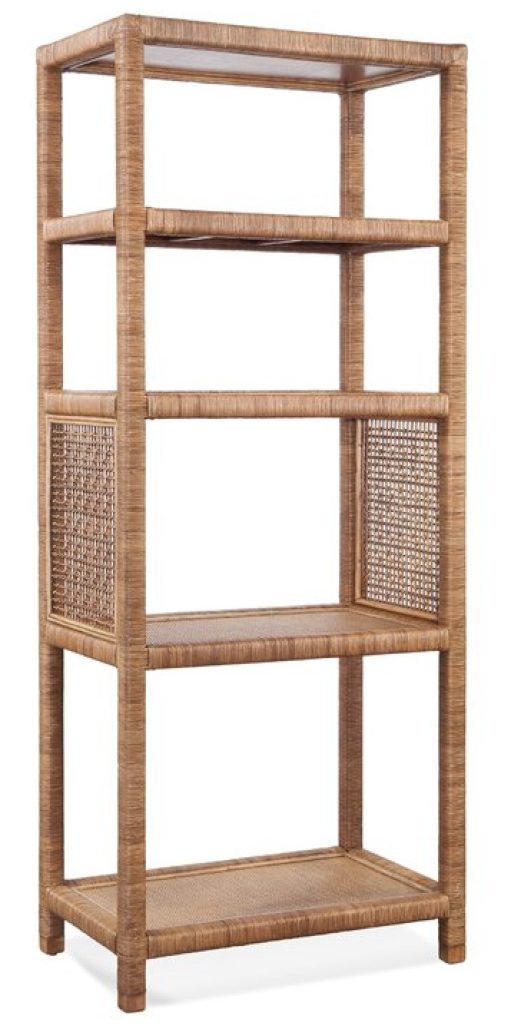 In an earlier post, Best Coastal Tray Styling Ideas we talked about creating a vignette within a tray. Styling a bookcase involves styling every shelf within the bookcase. So when styling a bookcase, every shelf within the bookcase has a cohesive appearance. In other words, the shelf decor appears as if all the shelves of the bookcase belong together.
Styling a bookcase is a matter of placing accessories in an attractive manner. Luckily, if you aren't happy with the placement of the accessories, you can easily move them around. Or substitute one accessory for another. You can rearrange these accessories until you are satisfied with the look and style.
Easy Ways to Styling Bookcases Guide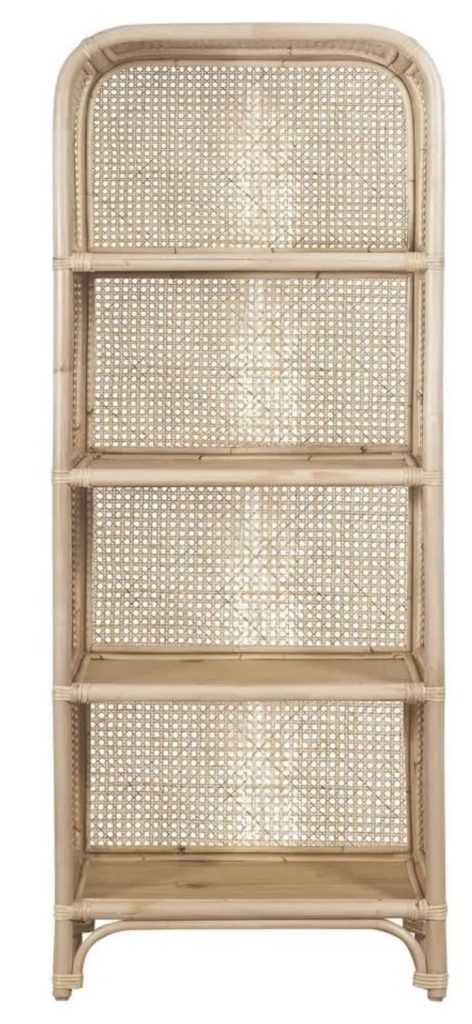 Follow these first steps to begin your styling adventure.
Gather Accessories
Assemble the accessories or objects for the bookcases. As you collect your decorative objects, keep in mind the shelf size of the bookshelf. And the height of each shelf too. If you have adjustable bookshelves then you'll have some flexibility and can use taller objects. The average spacing between shelves is about 8 to 12 inches. This amount of space can accommodate small to average size books in a standing or vertical position. However, larger books can be used but in a horizontal position or on its side.
After you've gathered your accessories. You are ready to start your adventure in styling.
Begin placing the larger accessories first. In some instances, a large object will fill the entire shelf. Then there is no need to add other objects to the shelf.
Add a light source such as electric candlesticks or small lamps. This is especially important if the bookshelf does not have built-in lights.
Stack books horizontally or line them up. Books that are stacked provide a stage for smaller decorative objects to rest on.
Bring out your best artwork or favorite family photos.
Fill in empty spaces with decorative objects. Change things up by including objects with different textures, finishes, and shapes.
Go green with houseplants. If you don't have a green thumb then use a faux houseplant or vase full of flowers.
Take a look at our styling tips to create the perfect bookshelf design that you'll love.
Stack Your Books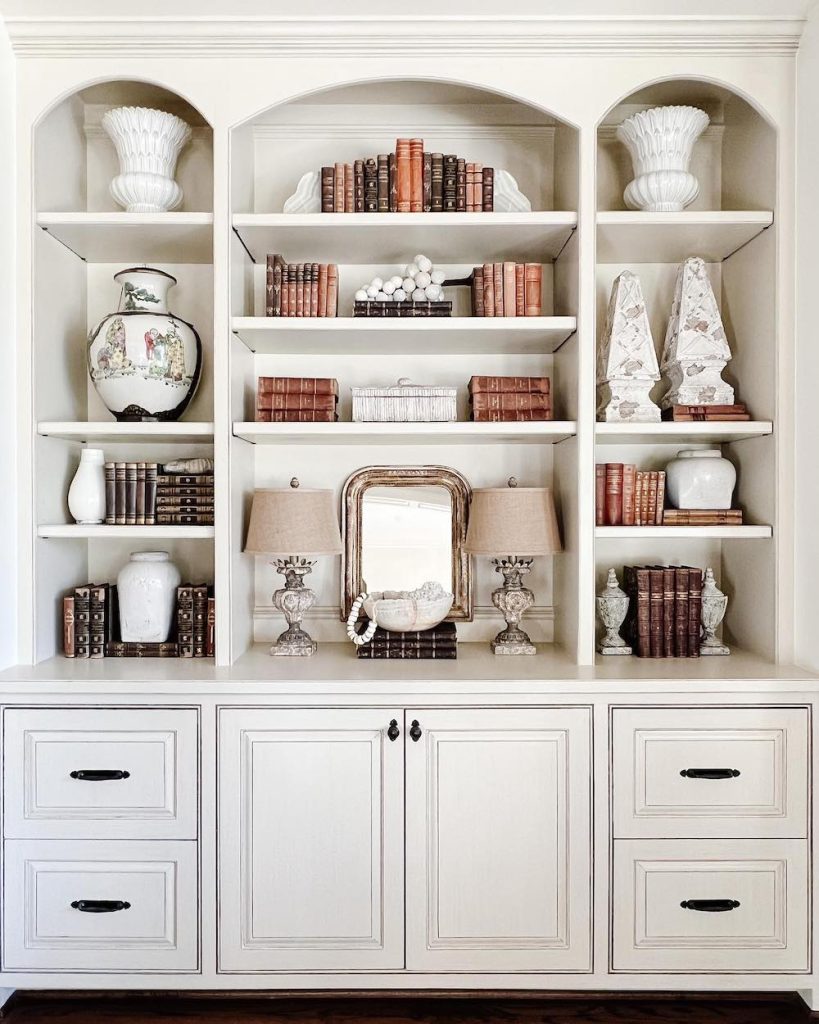 Keep those books stacked neatly. Stacking books horizontally provides a platform for a decorative object. Group books by either the size or color of the outer book cover. Mix it up in groups of stacking and standing books. Mixing up groups of books gives this space visual interest. In this display, the styling brings a cohesive look to the entire bookshelf.
Pick a Theme – Styling Bookcases Guide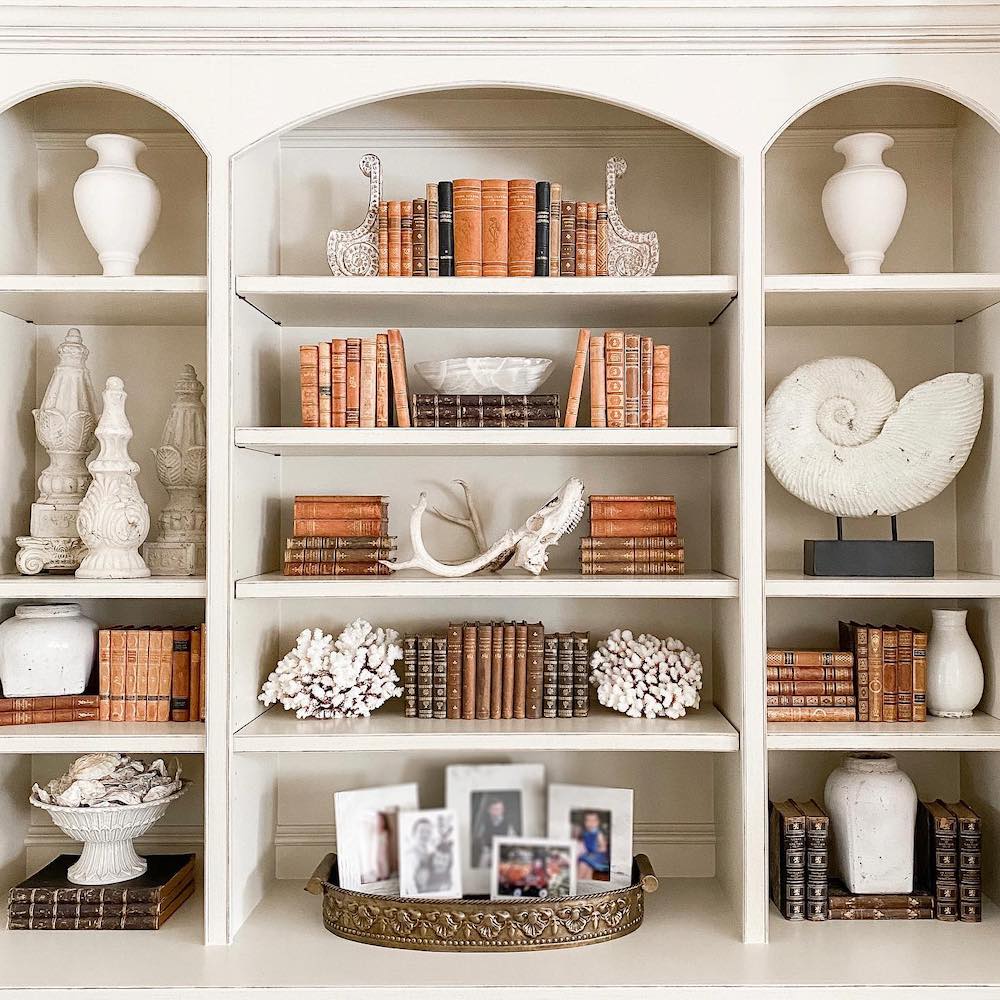 Give your space a theme when styling a bookshelf. Of course, you don't have to use the same theme year-round. That's the beauty of the styling vignettes and bookshelves. They can have many looks, styles, and seasons. Change it up from season to season. For a Summertime coastal style, add shells, coral, or driftwood to your bookshelves. Personalize it with family vacation photos or mementos.
Go Green – Styling Bookcases Guide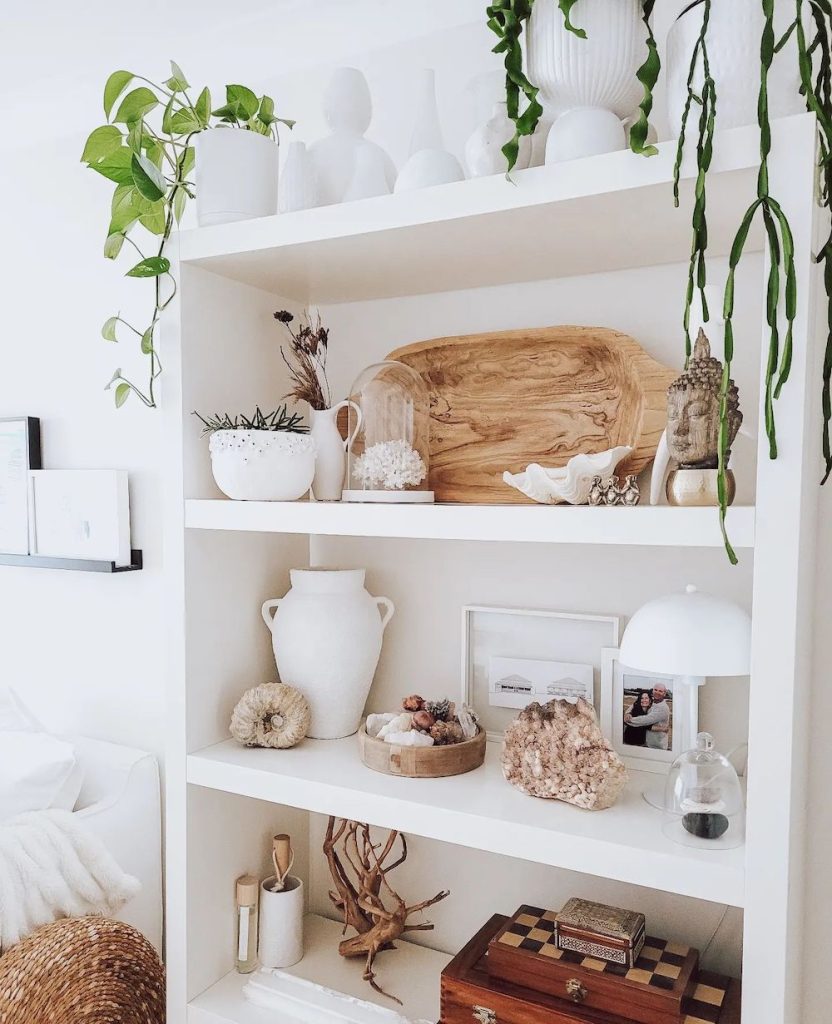 Grow a houseplant on your bookshelves. If you don't have a green thumb, they consider using faux greenery. However, houseplants not only improve indoor air quality, but studies also show that plants can reduce feelings of anxiety and depression. Give houseplants a try for decorating your home.
In this coastal-inspired image, we love the warm wood tones against the white shelves. The clam and cloche coral specimen provides contrast against the wooden dough bowl. Add a family photo as a personal touch to this bookshelf styling.
Start Big Then Go Small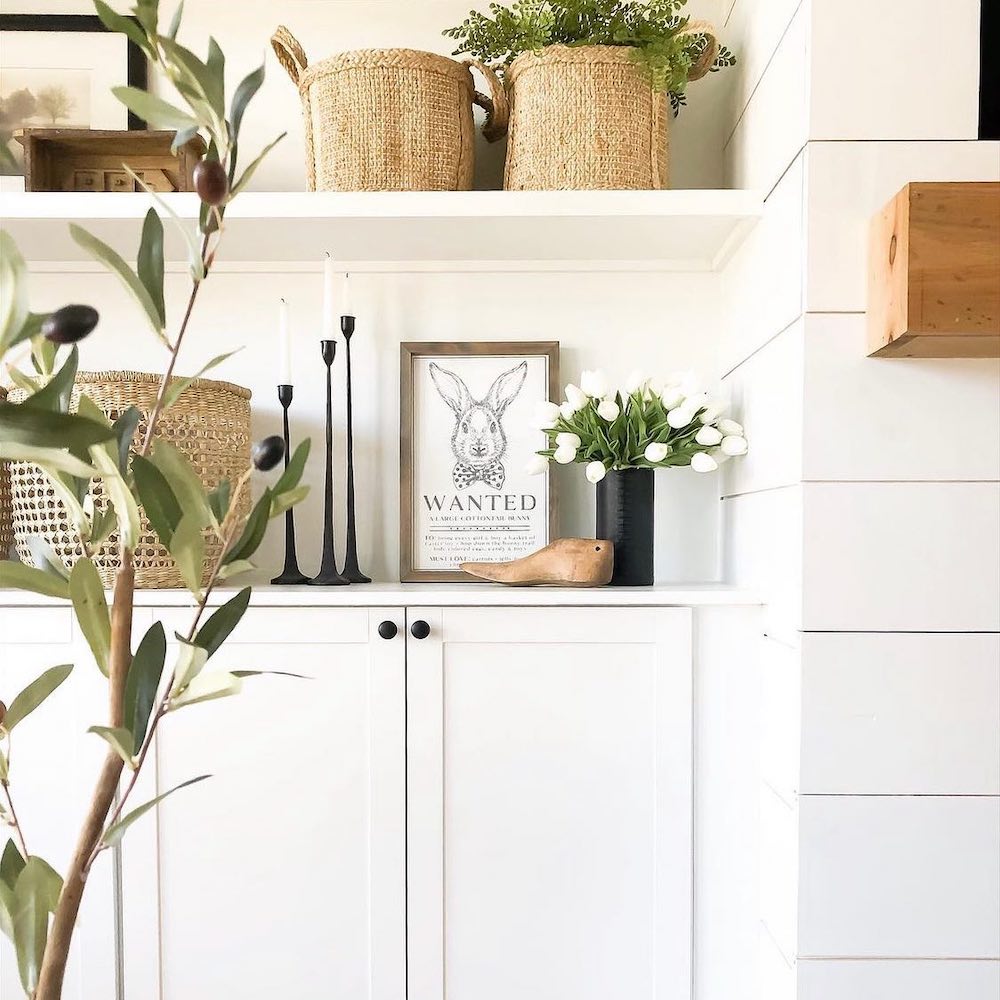 Select accessories of different sizes. Mix taller and bigger accessories with smaller accessories. Start out placing the larger and taller accessories first. Then place the medium size objects followed by the smaller objects.
In this inspirational idea above, the tall candlesticks are a good color and size contrast to the smaller, wooden shoe tree. Likewise, mix textures and finishes of the various accessories. The warm tan texture and colors of the baskets and wooden shoe tree blend nicely with the black cylinder vase. All are displayed behind the faux olive tree with black olives. A design executed brilliantly. Don't you think?
Show Off Your Artwork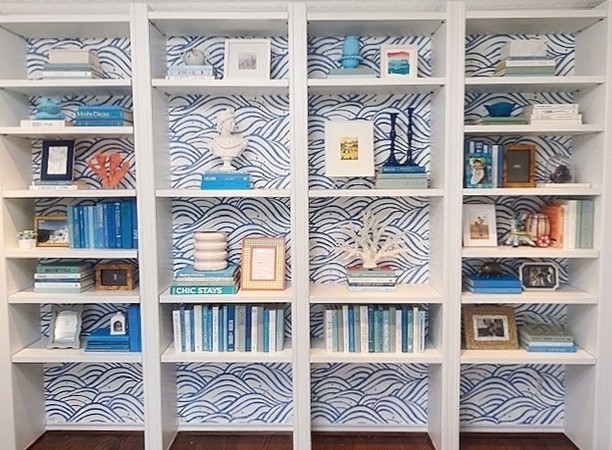 Give your artwork a stage to be admired. Add works of art to your bookcase for instant visual interest. In this inspirational idea, the designer uses coastal colors of blues, greens, and whites in most of the accessories. And for a whimsical look, an ocean wave wallpaper was added to the back wall of the bookcase.
Present Your Collection – Styling Bookcases Guide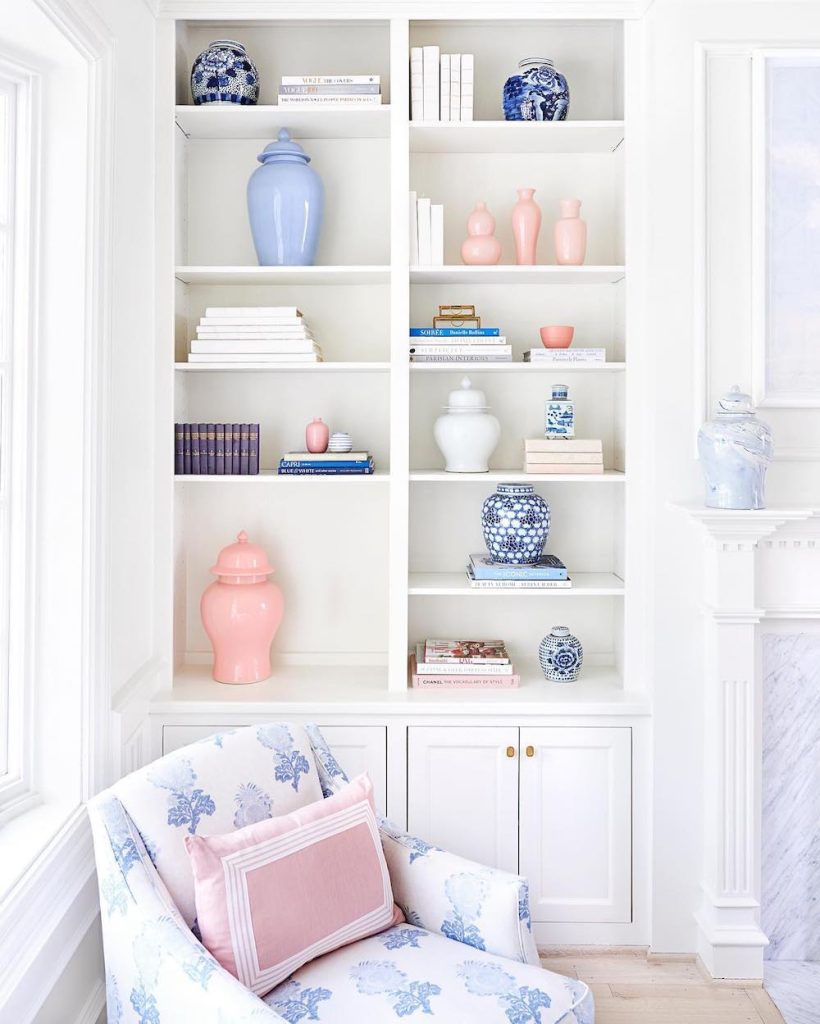 Set up your favorite collection of ginger jars, vases, or other objects. Mix it up with solid and patterned ginger jars and vases for a cohesive and well-put-together space. Style your collection for all to see and admire. Love those pretty pinks and blues against the white shelving.
Personalize It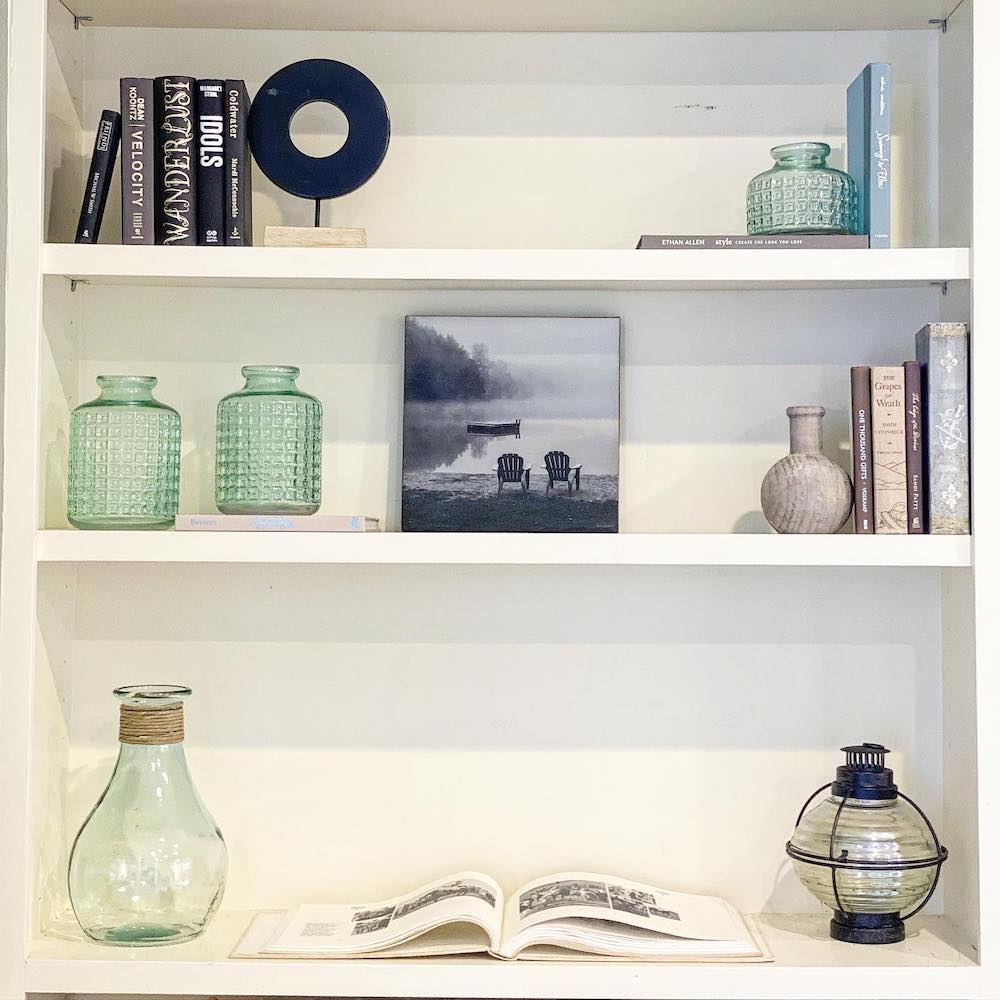 Make it personal. Use personal photos of your favorite family vacation spot. Mix in decorative objects that contribute to the personal family photo.
Light it Up – Styling Bookcases Guide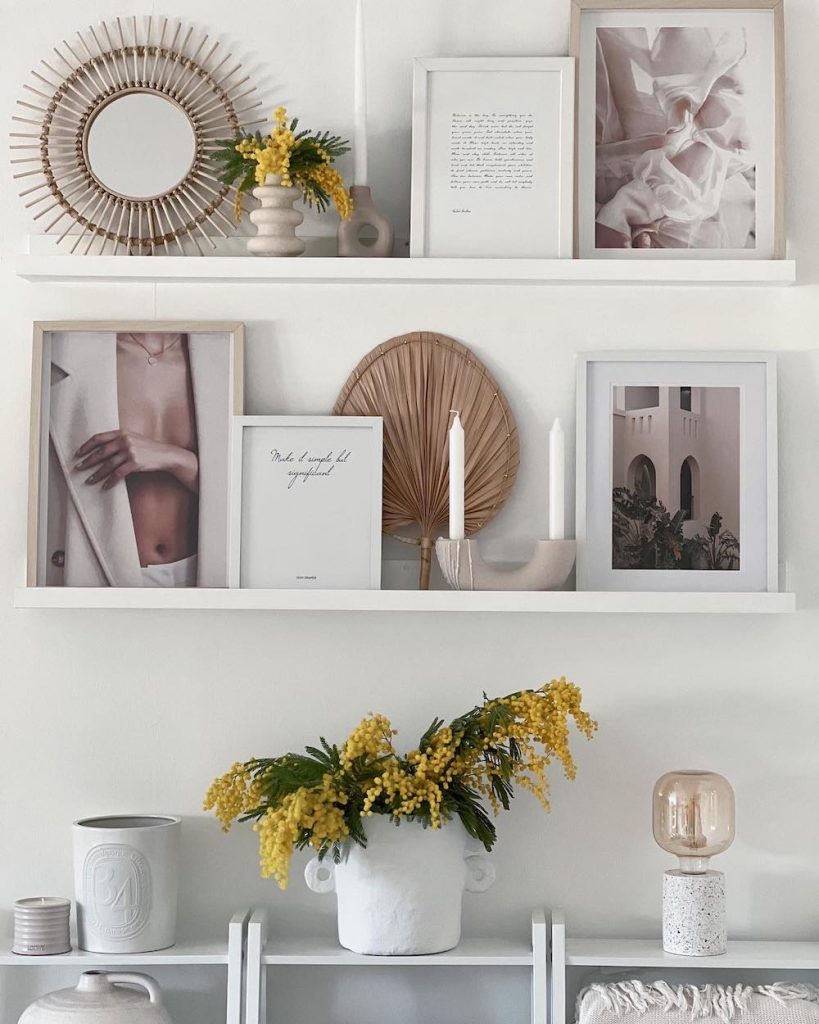 Add a light source to your bookshelves. Bring in candlesticks or a small lamp that adds brightness to the shelves.
Style it Coastal Blue and Green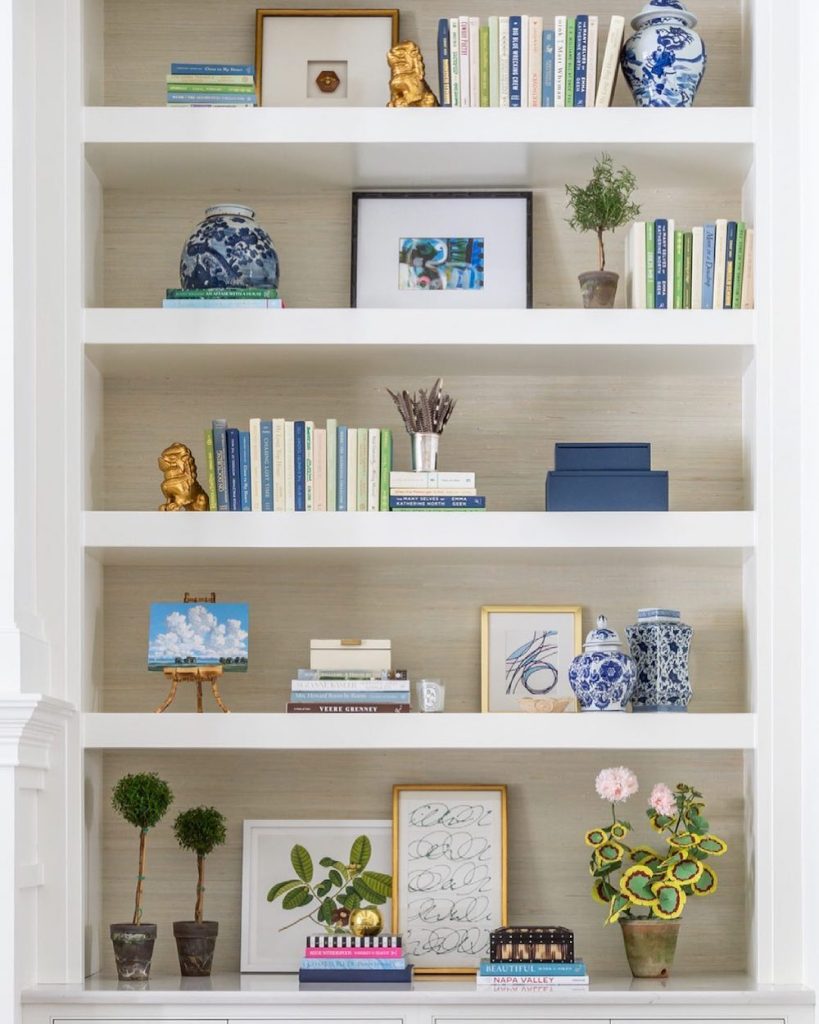 Design bookshelves with coastal blue and green colors like these gorgeous shelves. Add a little gold accent color to every shelf for a strong visual presence.
This ends our styling bookcases guide for the perfect bookshelves. Did you find some ideas that you are eager to try out? Hopefully, our guide helps you create a beautifully curated bookcase.
If you are on the lookout for bookcases, we have selected a group of free-standing bookshelves that you'll want to have. We are certain that you'll love the look of these bookcases. Take a look at our selection of beautiful bookcases for the home.

Check out our coastal decor post for additional ideas – 12 Ways to Add Coastal Decor to your Home as an additional coastal resource. Find great tips and tricks for styling a coastal home, in this important post. We hope you found a bookcase that suits your home's needs and that you love!
Enjoy our other coastal decor related posts for additional ideas.
Inspiring Coastal Bookshelves Decor Ideas
Best Sofa Beds
Coastal Beds
Coastal Mirrors
Best Coastal Bookcases
Thank you for reading our blog at Finding Sea Turtles. Reach out to us with any questions. We are always ready to help you out.
Mary
Pin this for Later: