Today I thought I would share with you some coastal themed decor objects that I discovered which might come in handy for either refreshing your beach home decor or if you're new to your home then starting fresh.  Most of these suggestions are small objects that have great impact on your decorating.  They lend themselves to either a contemporary decor setting or stylist coastal home.  As you'll see, you don't have to spend a small fortune to give your home that clean, well put together look.
Retro Marble Object – Motorcycle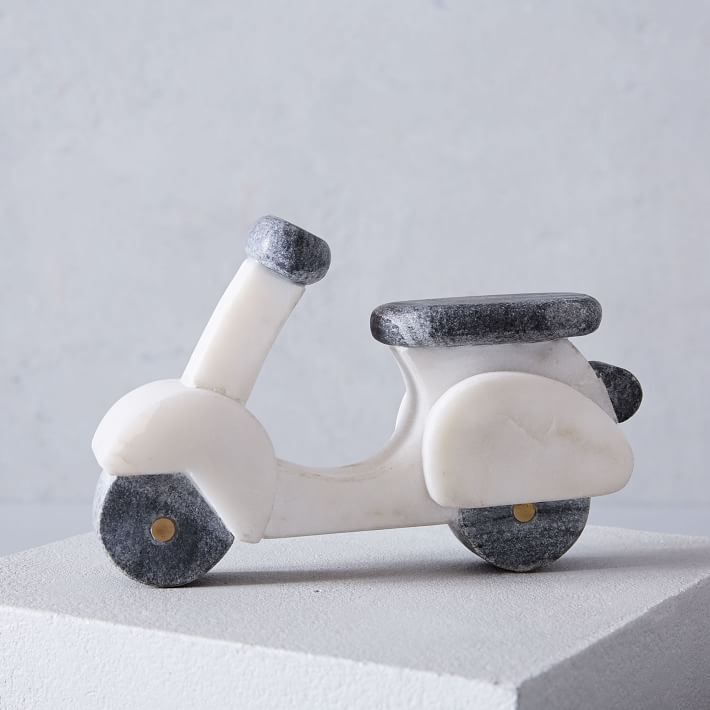 This hand-cut and hand-carved marble Retro Motorcycle is reminiscent of that island life style we have such fond memories of.  At just 4.5" tall, it is a perfect piece to add to a tablescape or place on the coffee table tray.
Honeycomb Studio Porcelain Turtle Doves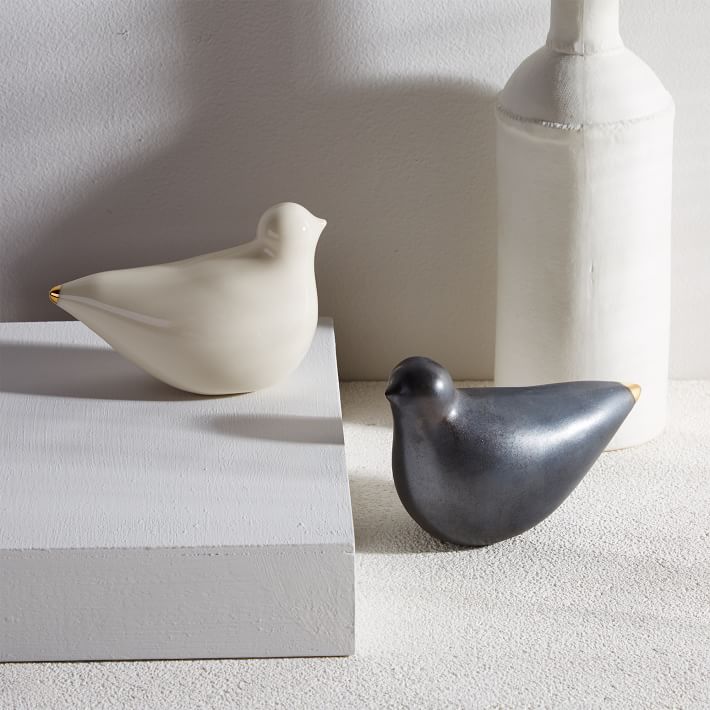 Turtle Doves made of porcelain and a 22-karat gold tail tip are a simple yet refined.  The Turtle Doves would like quite happy perched on a ledge of a bookshelf or as part of an ensemble featuring a coastal theme coffee table tray.  The Turtle Doves are available in white porcelain or black porcelain and stands at 3.5" tall.
Blue & Green Decorative Sphere
The blue and green decorative sphere are finished in gold and silver leaf over the blue green glaze.  The blue green sphere are ceramic and 4" by 4" size.  They are eye-catching as the light reflects from the metallic sphere.  The sphere can be added to other spheres to form a group of spheres or displayed alone with a group of coastal theme objects.
Clear Fossilise Jellyfish Art Glass Sculpture  
Hand-blown glass table top sculpture featuring the Jellyfish.  Unusual and an attention getter, this jellyfish art glass sculpture will stand out among your coastal treasures.  Perfect piece for your tablescape!
Coquillage D'or Standing Shells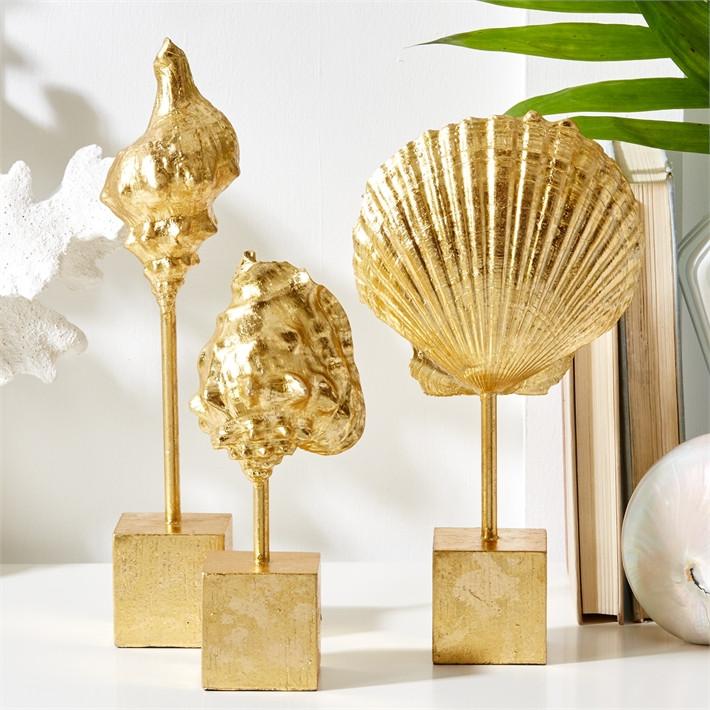 Gorgeous and luxurious gold shells are a striking visual that you are drawn.  Now we know why She Sells Seashells by the Sea.  With golden seashells as beautiful as these are, we all would be selling seashells too!  These gold shells are approximately 13.5" tall and perfect for a coastal coffee table tray along with a few books and a nice scented candle.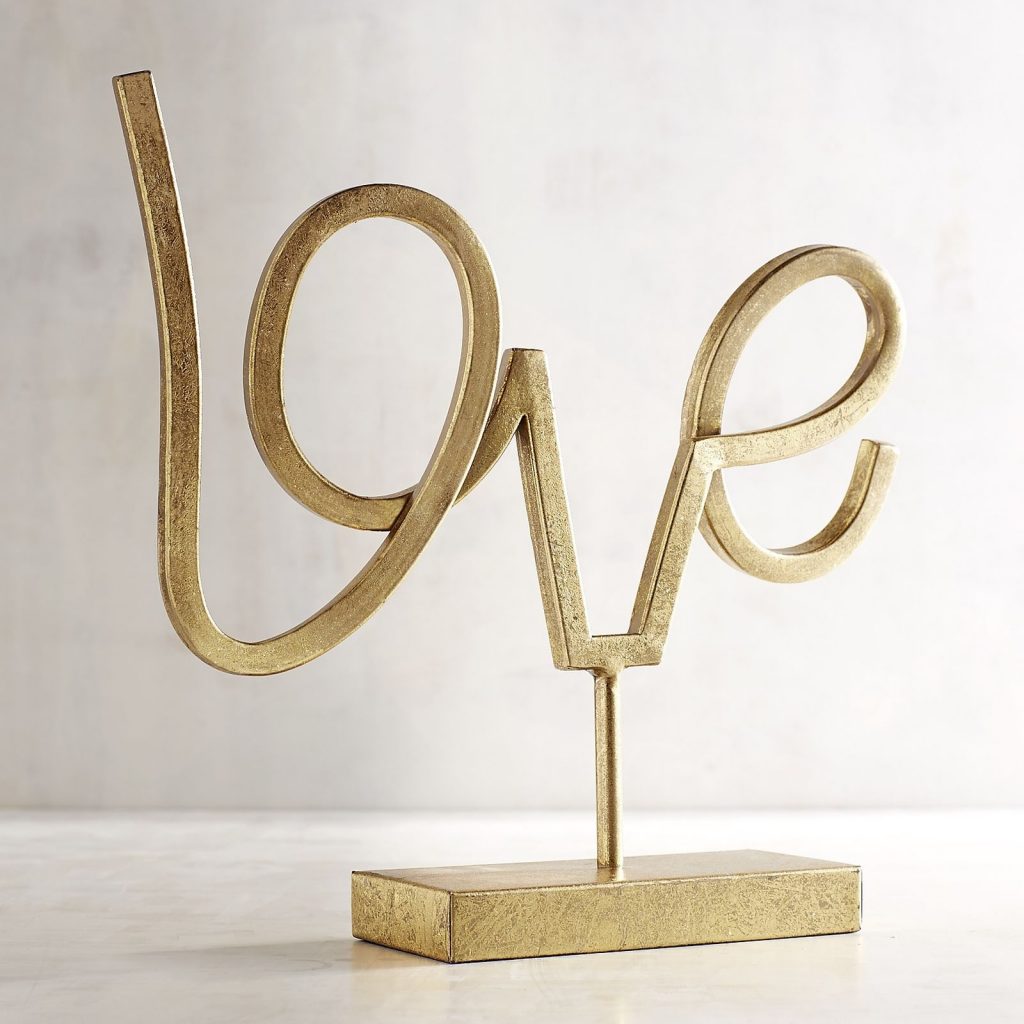 The Golden Love Sculpture is a flowing font with simple lines that stands out.  Perfect gift for your friend's coastal home or for your own seaside cottage.  At 12.4" tall, it makes a great standout on a tablescape.
Gold Paperclip with Marble Stand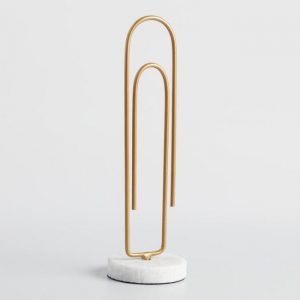 Gold paperclip is oversized but all of 12.25" tall.  The paperclip is stylish and rests on a smooth white marble base.  The gold paperclip can be used as a paperweight, art object, or to display that "First Day of Summer" beach party invitation.  Great addition to organizing your summer packed activities!
Port Charlotte 3 Piece Sculpture Set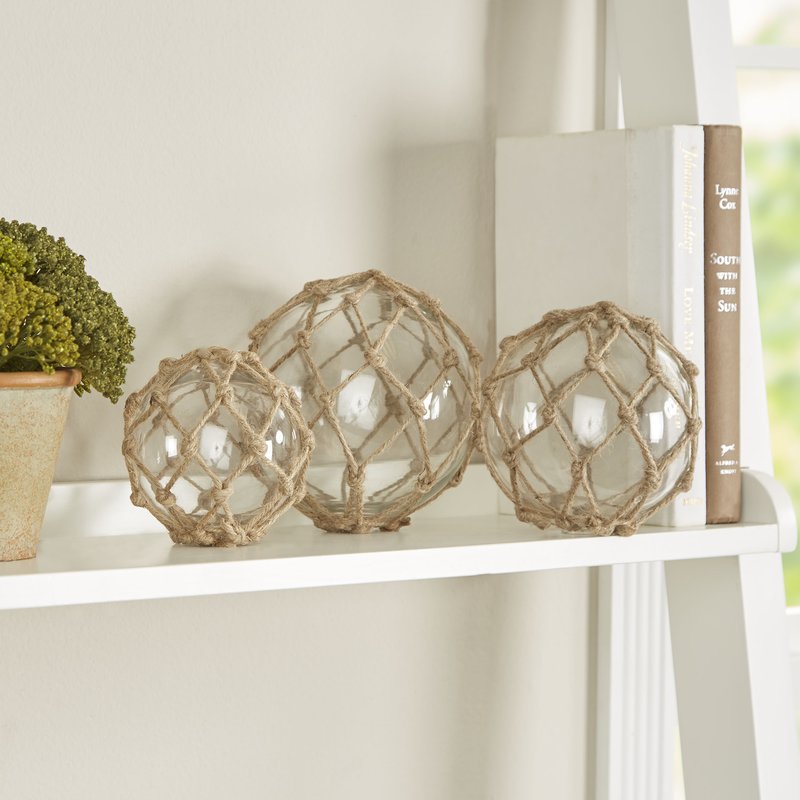 Port Charlotte sculpture set of 3 stylish orbs fuse the elegant glass design with the rope inspired detail to create a true nautical vignette.  Display the Port Charlotte sculpture orbs alone or add to a tablescape on your coastal coffee table tray.  There a so many ways to display these orbs that you'll want more!
So there it is, 8 Small Accents with Big Impact on Coastal Decor.  As you can see these small accents can add enough interest to your home without being too trendy or expensive.  They are small but mighty when put to work in any setting or in your coastal home.  Thank you for stopping by, I hope this post helped you with your decorating needs.