Easy DIY Thanksgiving centerpiece ideas for the Thanksgiving dinner table. Searching for a quick centerpiece for your Thanksgiving dinner meal? We offer three quick and easy ideas to create a centerpiece. And so affordable too! 
A quick DIY Thanksgiving centerpiece to adorn your table. Short on time? Not a problem. These three easy centerpiece ideas can be assembled quickly. In fact, your kids can put these together. 
Celebrate all your blessings this Thanksgiving with a well decorated table. Remember a bountiful meal needs a centerpiece worth of the Thanksgiving season. Welcome Thanksgiving Day with one of these festive centerpieces.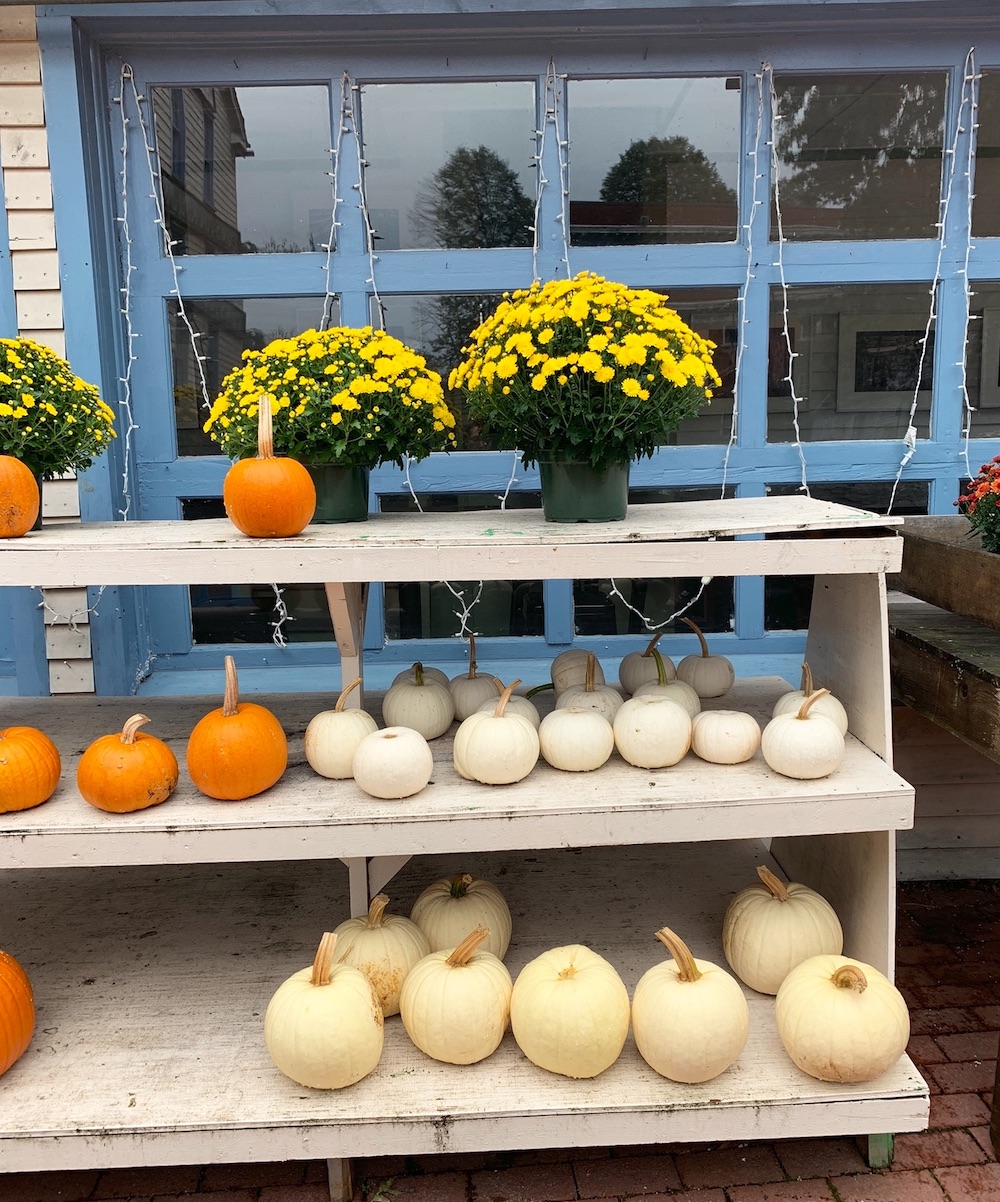 Our first stop is to pick up some lovely pumpkins. Comstock Ferre Seed Store in Old Wethersfield, Connecticut is the perfect place to shop for pumpkins. We selected two Casper pumpkins for the centerpieces. The Casper pumpkins were $4.99 each! A little pricey. But so beautiful! Country stores and nurseries will have a larger selection of pumpkins, gourds, and cornstalks. We try to support our local growers and shops when possible.  
Three quick and easy centerpieces for the Autumn and Thanksgiving dinner table. Take a look. And let us know what you think.
Casper Pumpkin on Bronze Platter – DIY Thanksgiving Centerpiece Supplies 
Supplies include one Casper pumpkin. Two Chrysanthemum with white berries and raffia pics. And an oval bronze platter or tray. The platter color works beautifully with the Autumn and Thanksgiving colors. Platter purchase in a previous year at Home Goods. Platter is a Julia Knight design.  
The creamy white chrysanthemum pics have white berries. Green foliage and raffia. Purchased for $1.34 each at Walmart.  
2. Casper Pumpkin DIY Steps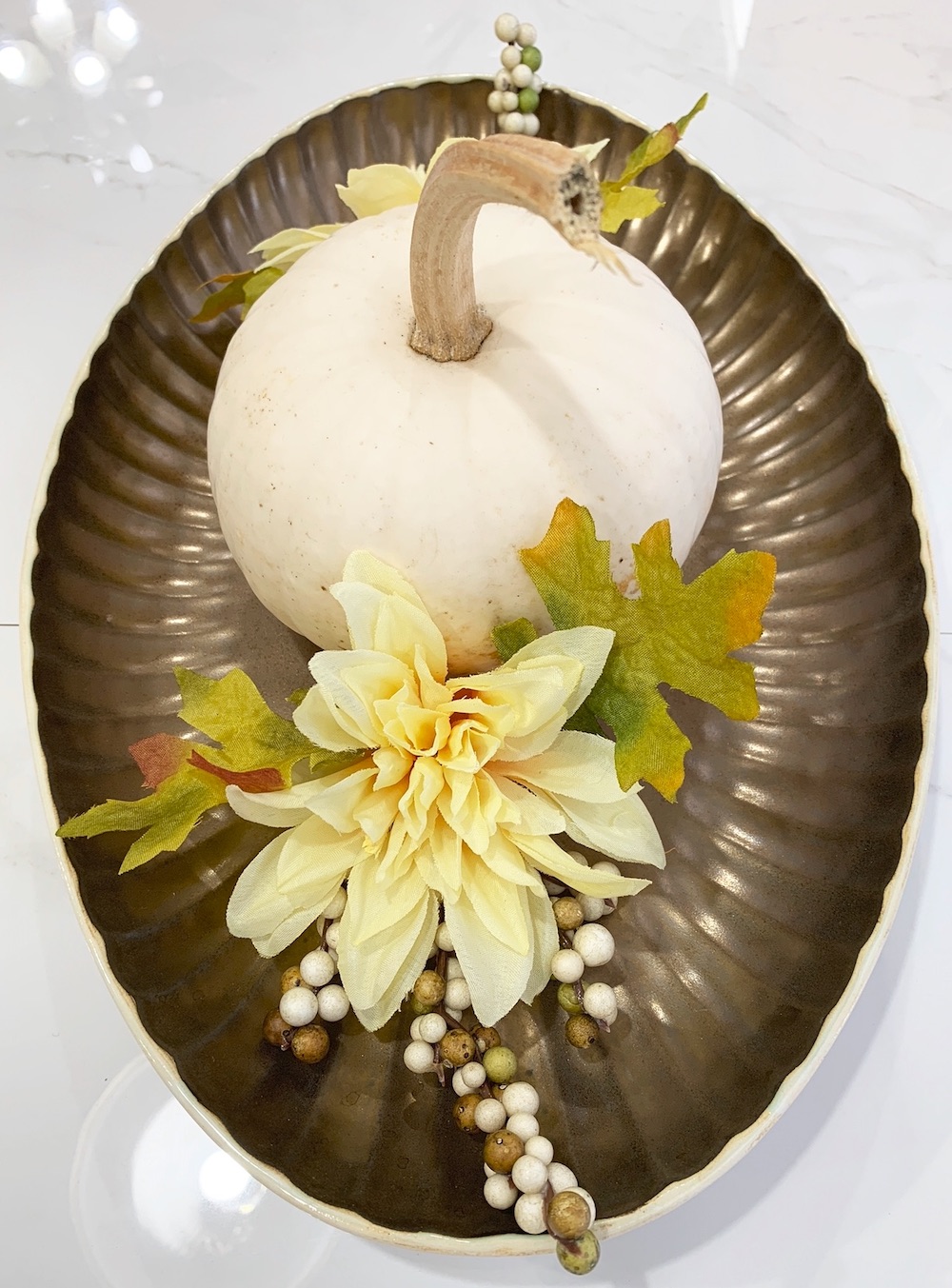 First, place the Casper pumpkin in the center of the bronze platter. Second, unravel the two pics. So that the pieces are separated. These pics have a mum floral with greenery, raffia, and berry sections. Remove the creamy white mum from each pic. We left the maple leaves attached to the mum section. The remaining foliage was not used. Next, separate the white berry section so that each berry stem is exposed. Then, place the white berry section at each end of the Casper pumpkin. Finally, add one mum to each side of the pumpkin.  
3. Bronze Platter Centerpiece – DIY Thanksgiving Centerpiece Finished!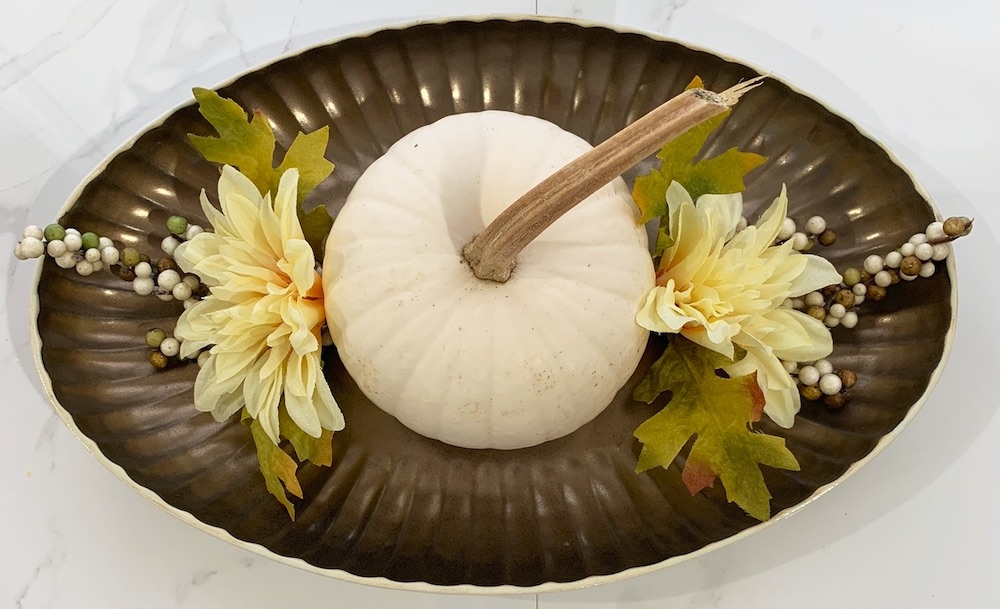 The finished centerpiece. Bronze Platter with Casper Pumpkin Centerpiece.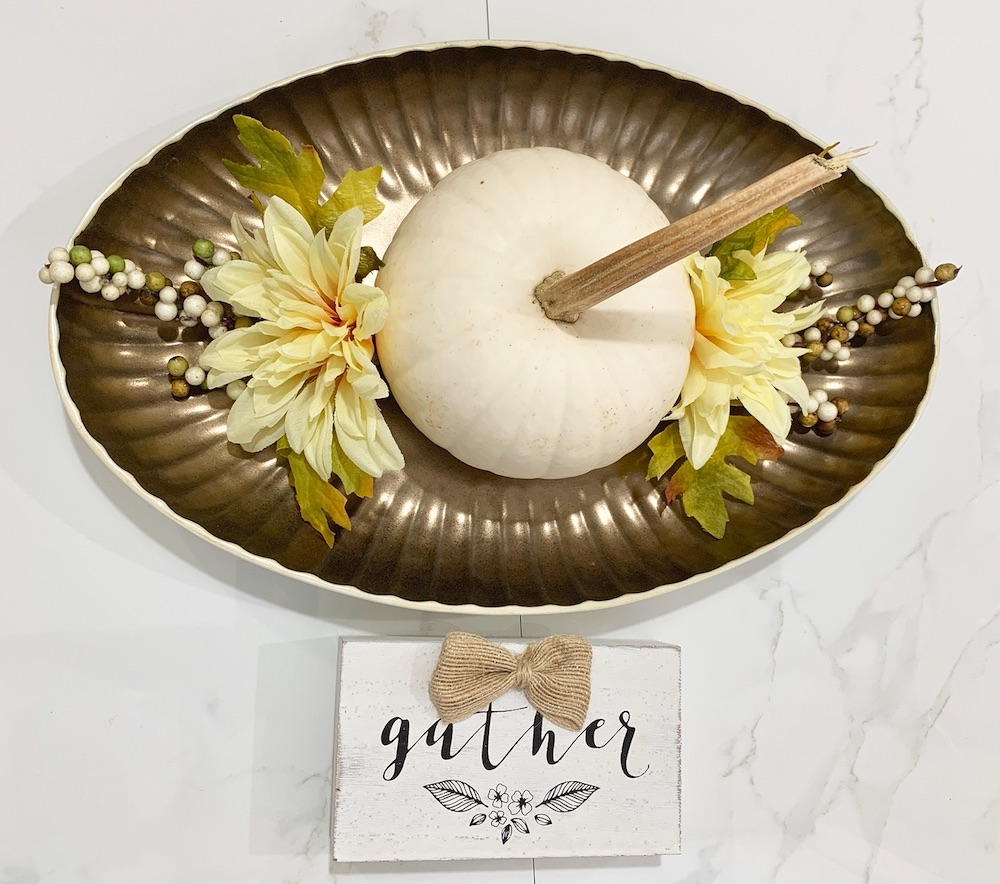 As an option, add a simple message to the centerpiece. Messages such as gather, blessed, or thankful. And more importantly, so appropriate for the Thanksgiving Holiday. We placed our Gather sign in front of the platter.  
Casper Pumpkin on Turquoise Platter – Supplies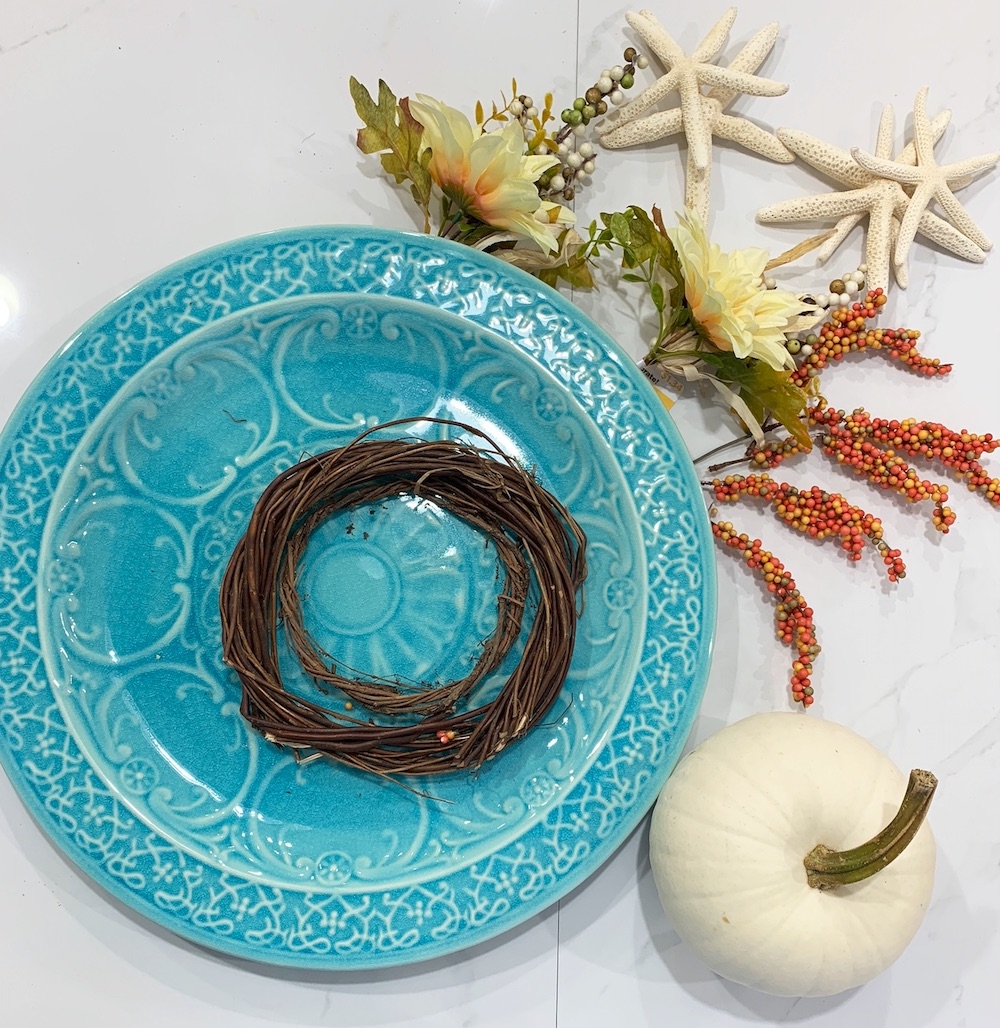 One Casper pumpkin. Two Virginia Creeper vine wreaths. Orange berry pics. And four creamy white chrysanthemum pics. In addition to the round turquoise platter. 
Casper pumpkin is from Comstock, Ferre Seed Company. Vine wreaths were made from Virginia Creeper vine. The Creeper vine was taking over one side of our yard. Easy to remove since the vine grows closer above the ground surface. As we removed the vines, we wrapped it into a circle wreath size. We created about 8 or 10 of these wreath vines. Vine leaves slowly dried out. And best of all, the vine maintained its shape. Vine wreaths can be used several years for various projects.  
Orange berry pics from the Dollar store. Two pics – each has several stems. Next, the creamy white chrysanthemum pics from Walmart. Four mum pics cost $1.34 each. Finally, the round turquoise platter was a previously purchased platter. We've used this platter for many projects over the years.    
 2.  Casper Pumpkin on Turquoise Platter – DIY Steps 
Place the wreath in the center of the platter. Add the Casper pumpkin inside of the wreath.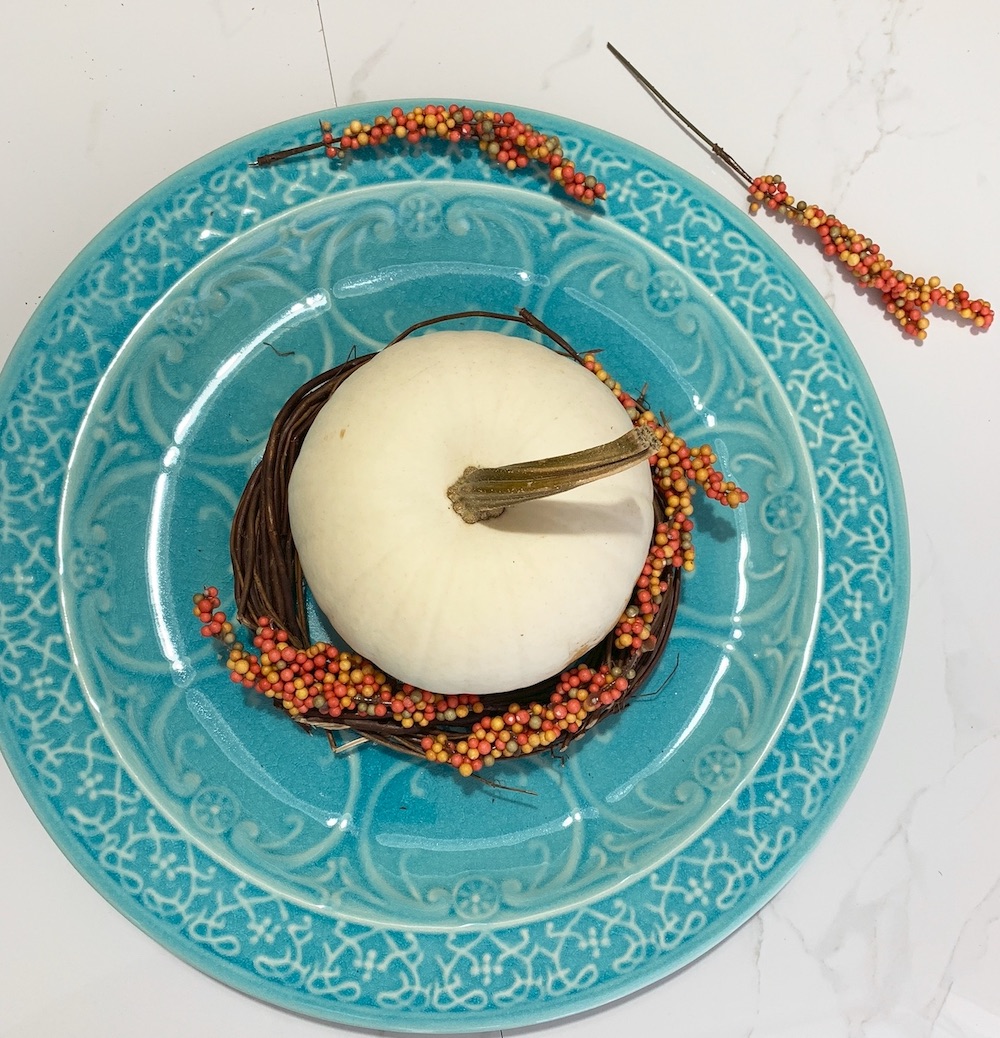 Separate the Orange berry pics into strips. Next, insert the orange berry pics into the vine wreath. Cover the wreath with the orange berry pics. Add extra orange berry pics for a fuller wreath. Likewise, add yellow berries to mix with the orange berries for a different look. 
Finally, remove the creamy white mums from the pics. Place each mum around the center pumpkin. And if you'd like more mums add more. 
3.  Turquoise Platter Centerpiece – DIY Thanksgiving Centerpiece Completed!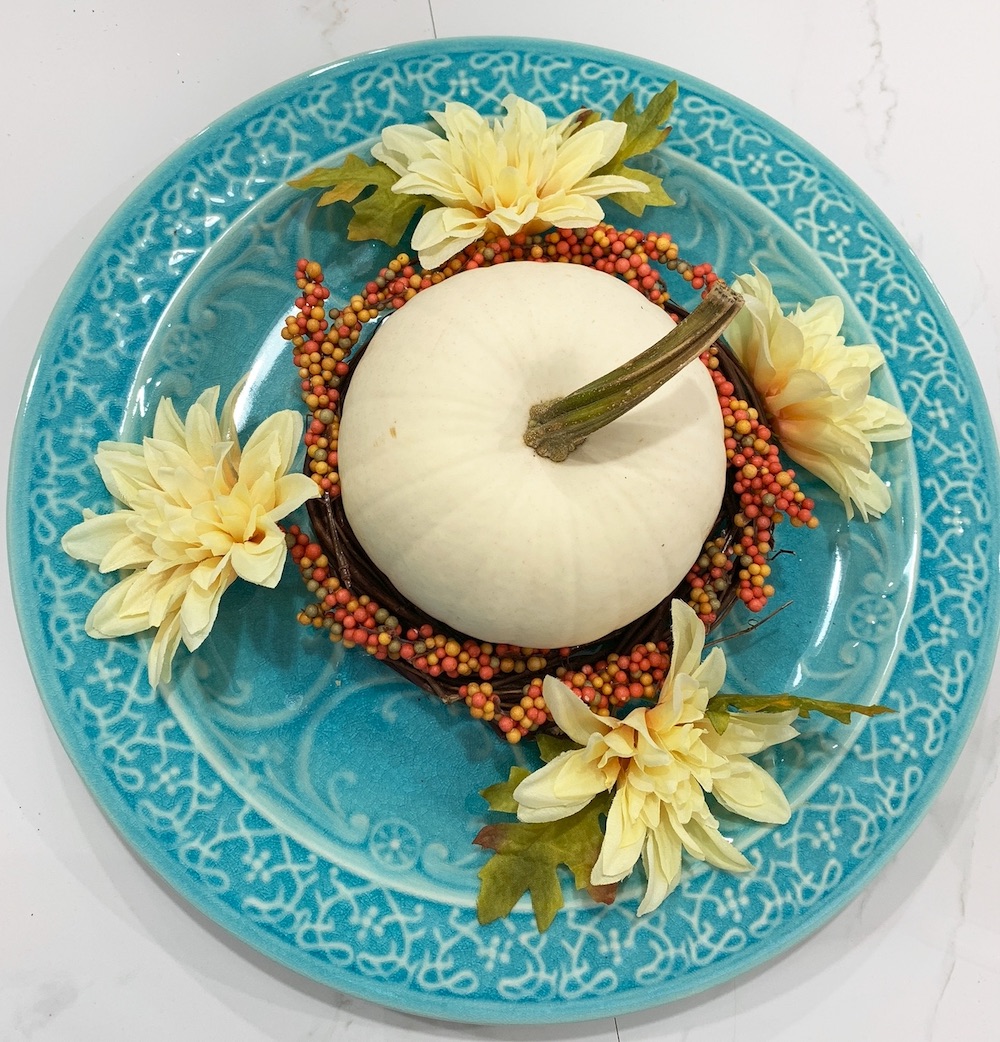 This is the finished centerpiece. The total cost of the centerpiece was under $13! The costliest item was the Casper pumpkin. 
4. Finger Starfish Turquoise Platter Centerpiece – Alternative DIY Centerpiece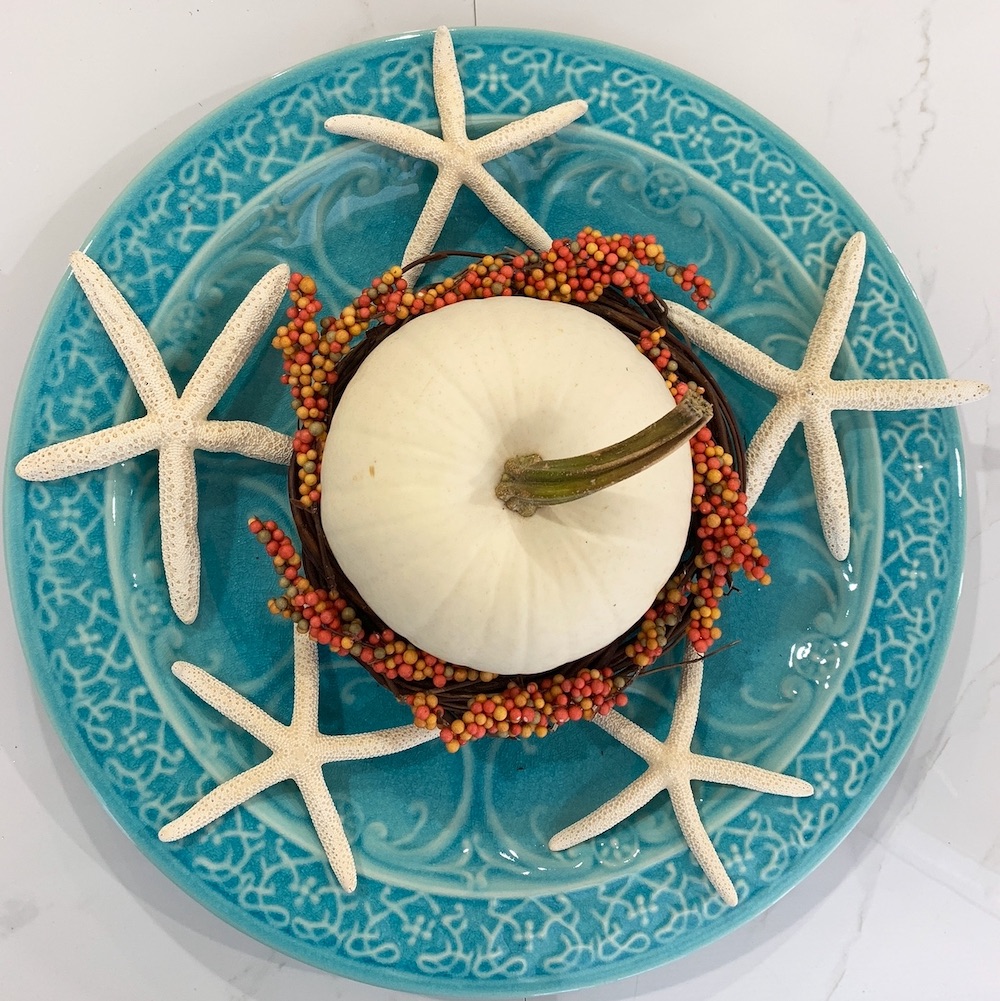 We placed five finger starfish instead of the mums as an alternative. An option for a beach home Thanksgiving centerpiece. The finger starfish were reused from a previous project.  
This concludes our three ideas for a DIY Thanksgiving Centerpiece. Easy to make. And more importantly, affordable. Reuse what you have on hand when possible. And don't forget to search your yard for pine cones or acorns for Fall decorations. This will keep costs way down.    
Interested in Autumn decor? If you found this helpful . . .
You may also enjoy some of our other Autumn decor related posts. 
Thanksgiving Centerpiece for the Thanksgiving Table
25 Affordable Thanksgiving Decorations for a Festive Home
26 Farmhouse Fall Wall Decor to Welcome Autumn    
If you have any questions, feel free to reach out to us. We always are ready to help you out. Thank you for dropping by.
Mary