Spa bathroom ideas to transform your bathroom into the perfect home spa. Pamper yourself without leaving your home. Create a space where you can relax and unwind after a long day with the kids or after work. And this spa treatment doesn't require an appointment.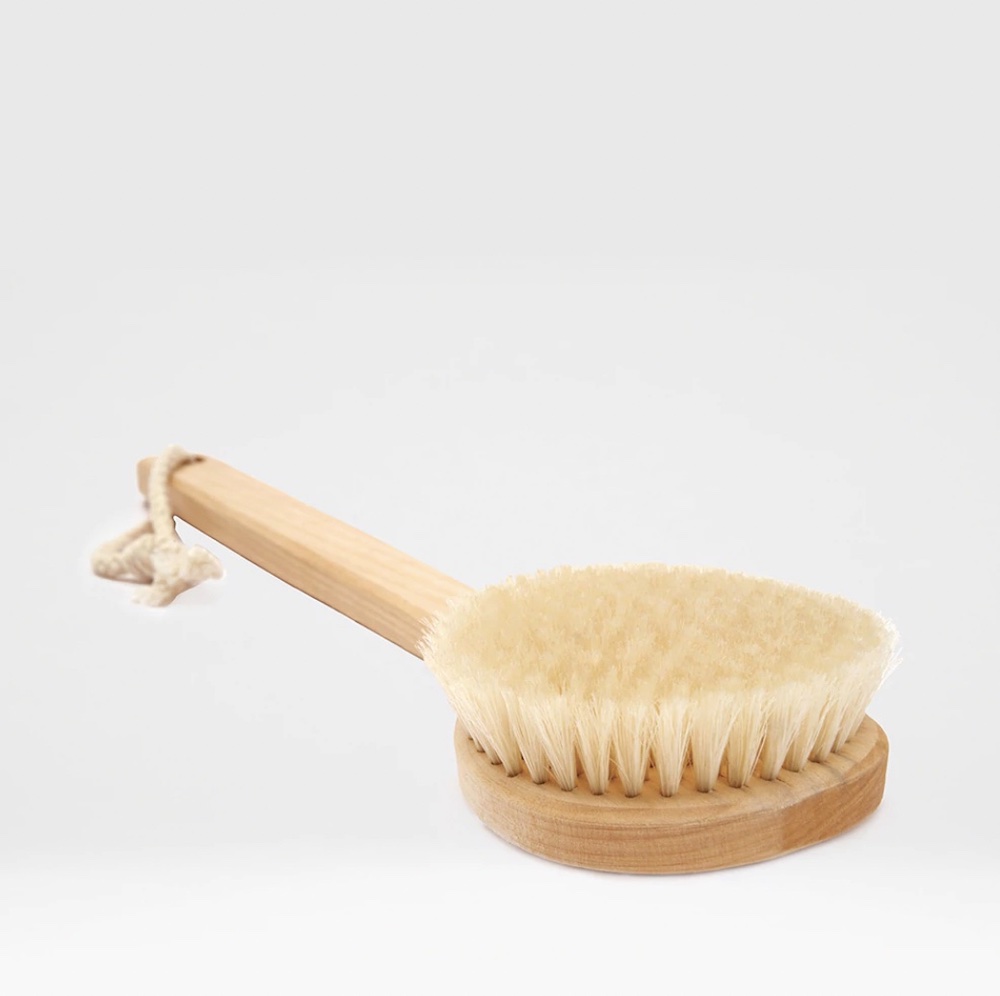 With a few accessories, you can convert your old bathroom into a new and exciting spa bathroom. Here are a few accessories that you can add to your home bathroom. Add a teak shower bench to keep bathing essentials within easy reach of your bathtub. Play some soft relaxing music on a Bluetooth speaker. Light up a few fragrant candles. Use a bar of soap that energizes your mood. Keep a fluffy, soft towel close by to dry off once you step out of your bath.
Refresh Your Space – Spa Bathroom Ideas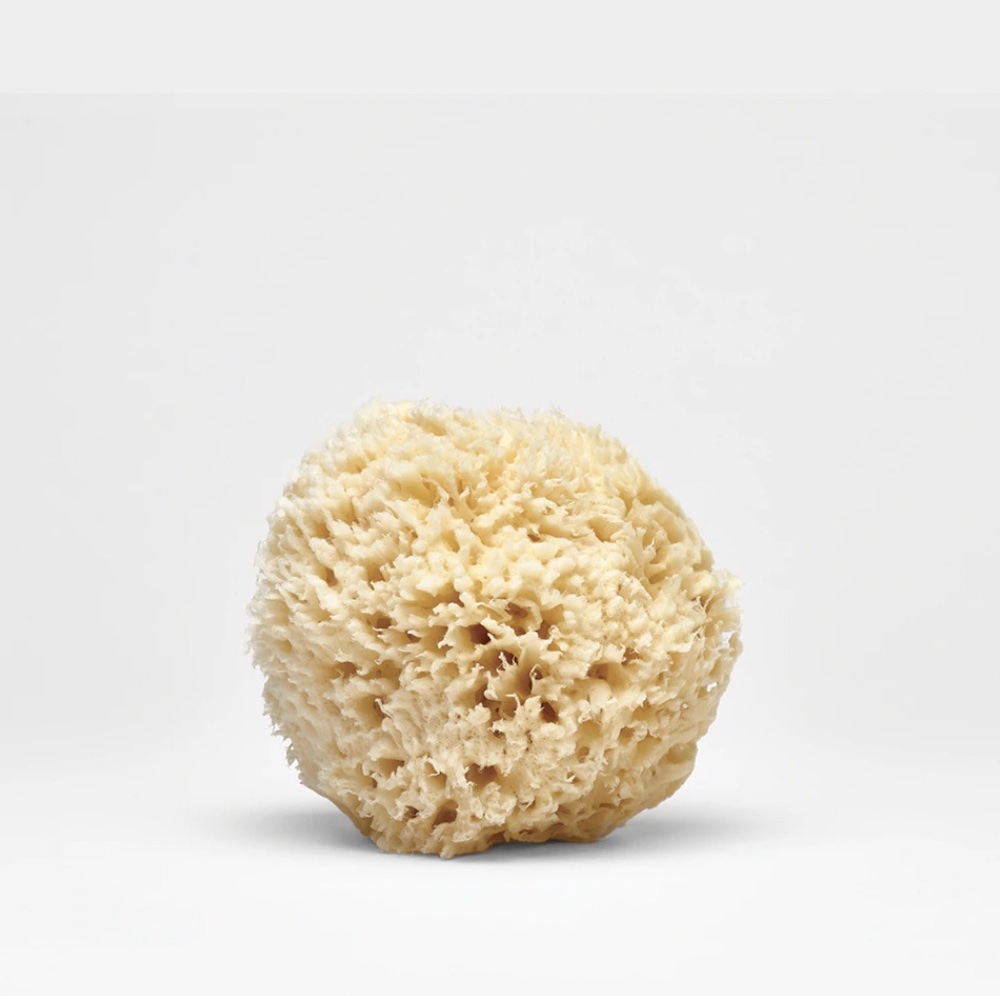 In today's post, we are sharing ideas for styling the perfect home spa bathroom. Using a few quality accessories you can transform your bathroom into a home spa. Pamper yourself every day after work if you like.
Now we begin with our inspirational styling ideas for a home spa. Take a look. Be sure to drop us a line below in the comment section. Let us know all about your spa-themed bathroom accessories.
Let the Light Shine Indoors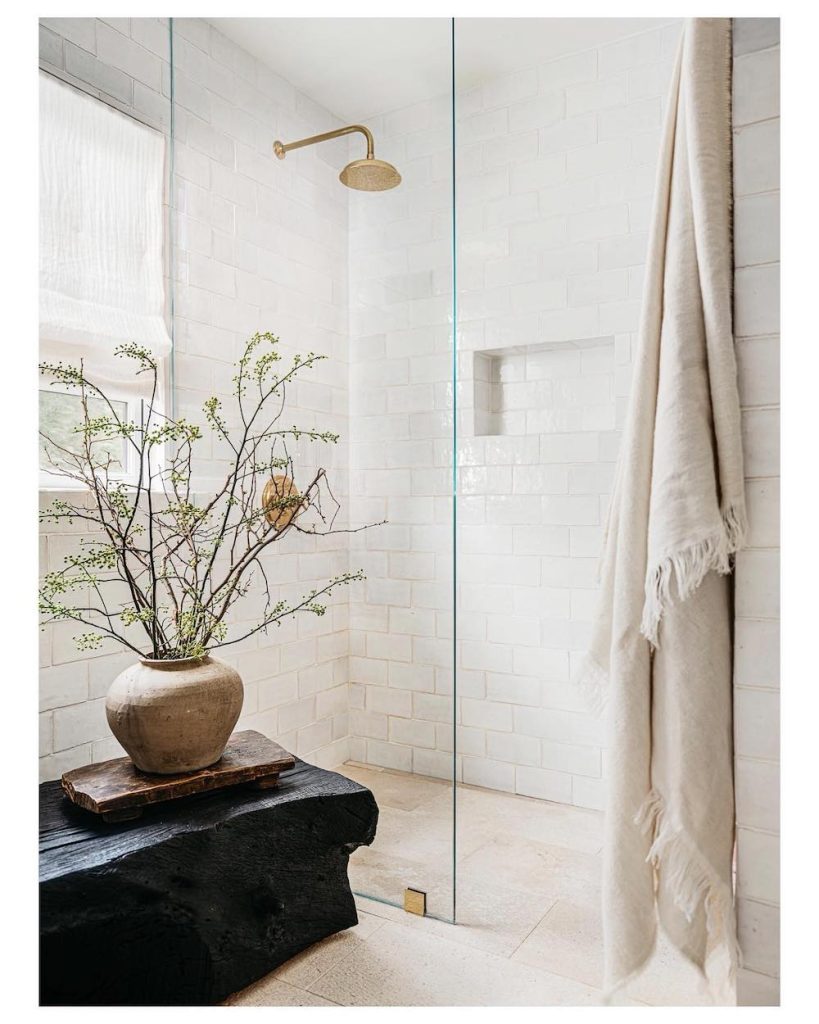 Create a space where natural light streams indoors. We love those brass fixtures.
Go Green – Spa Bathroom Ideas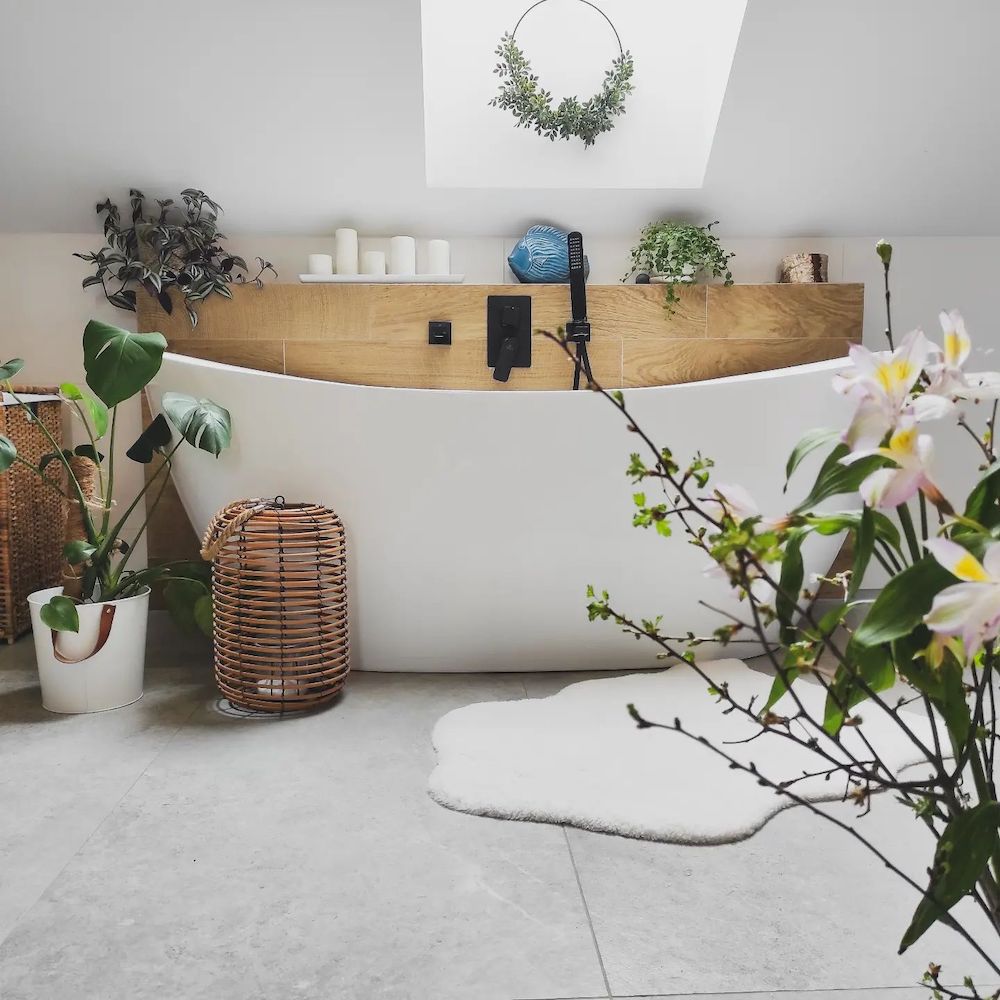 Give it a green thumb appeal. Grow houseplants that thrive in a moisture-filled room. Houseplants are not only pleasing to the eye but many can help clean the air.
Use Warm Wood Features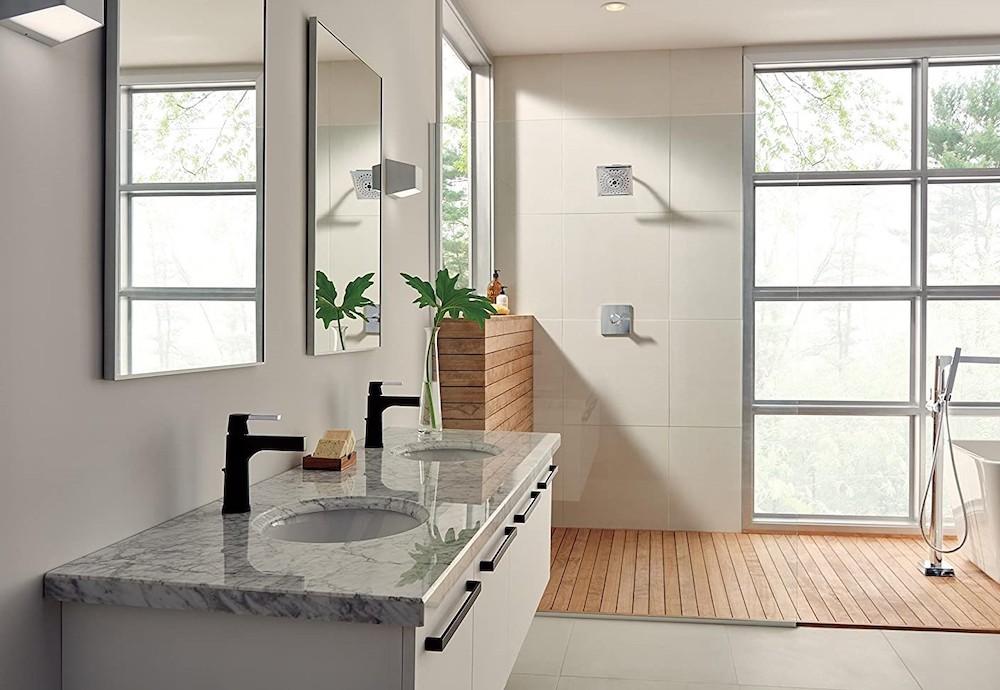 When possible, add wood-like accents to give your space a warm feel to it. In this neutral bathroom, the shower floor and side vertical half wall provide contrast as well as visual interest.
Light Up a Fragrant Candle – Spa Bathroom Ideas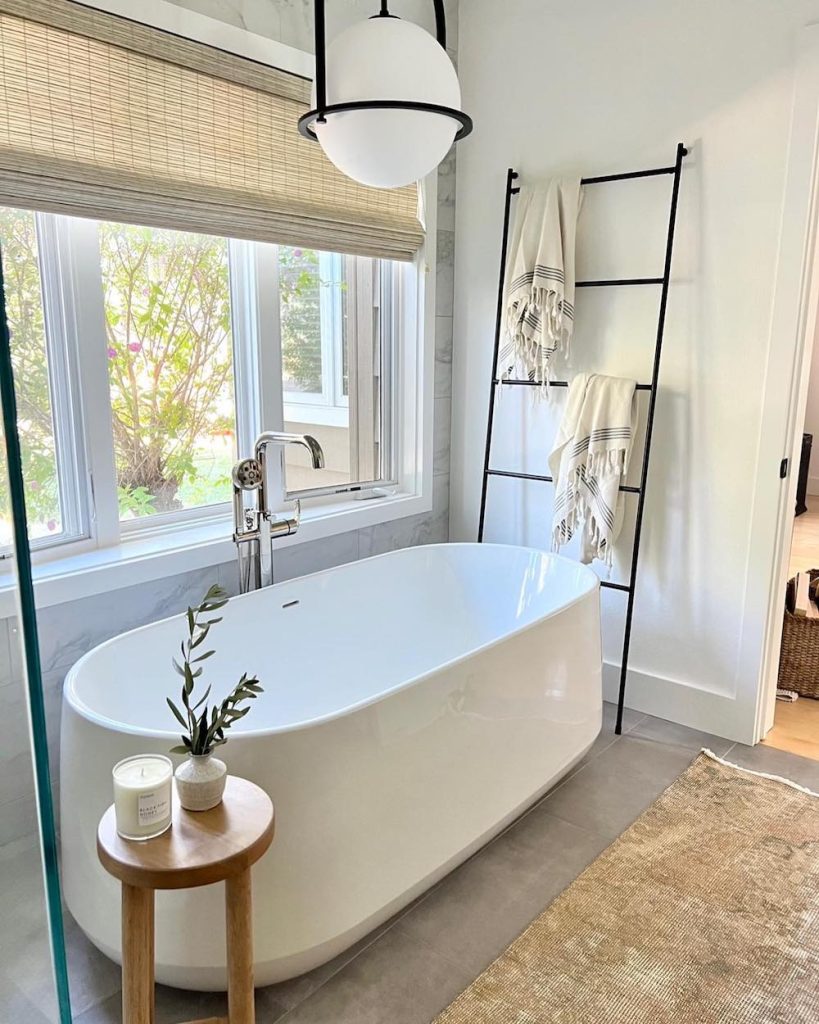 Let a candle fill your bathroom with your favorite fragrance. Or if you prefer use an aromatic diffuser. Fragrance can set the mood for your self-care downtime.
Bring a Scrub Brush to the Bath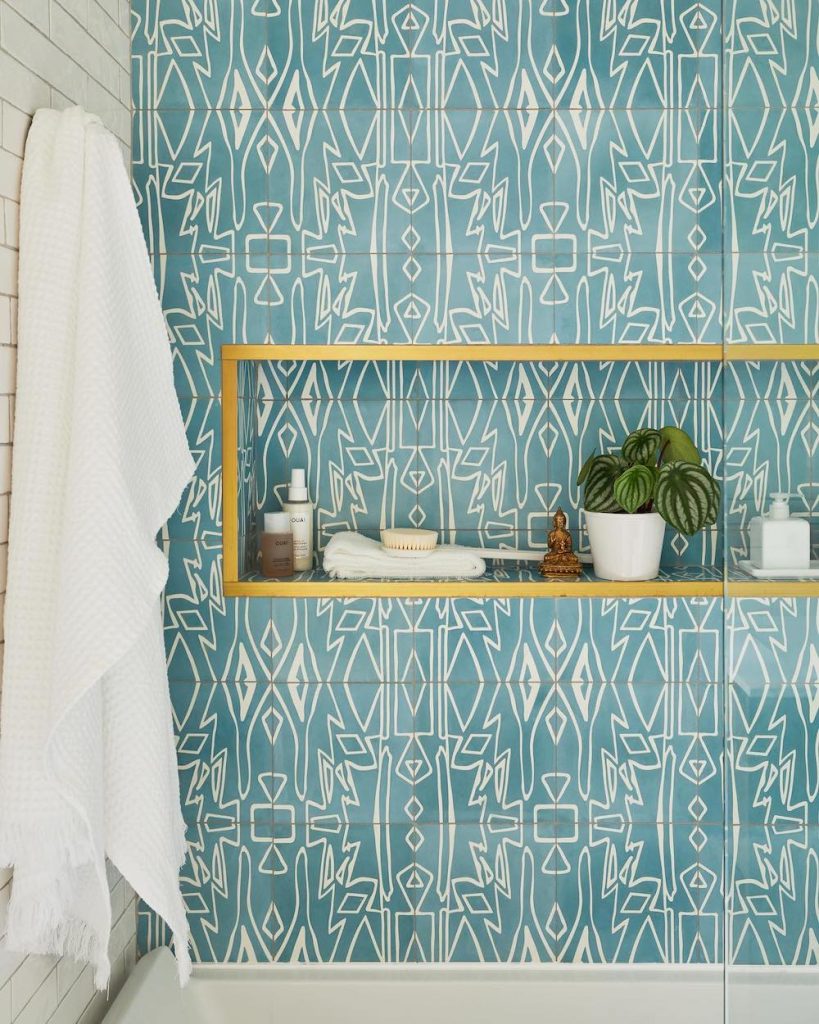 Use a scrub brush for those hard-to-reach places such as your back. In this inspirational image above, the blue and white tile adds a great backdrop to the gold outlined storage shelf. The perfect spot to keep your bathing essentials neatly organized.
Keep a Towel Warmer Ready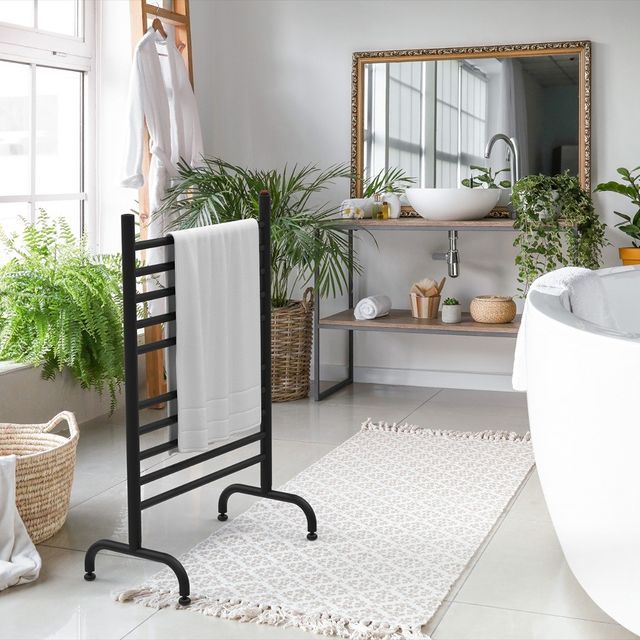 Place a freestanding towel warmer close to your bathtub. Once you step out of the tub wrap yourself up in a plush and fluffy spa towel. After a long refreshing soak in the tub, stay cozy with a thick towel wrapped around you.
Enlist the Help of a Workhorse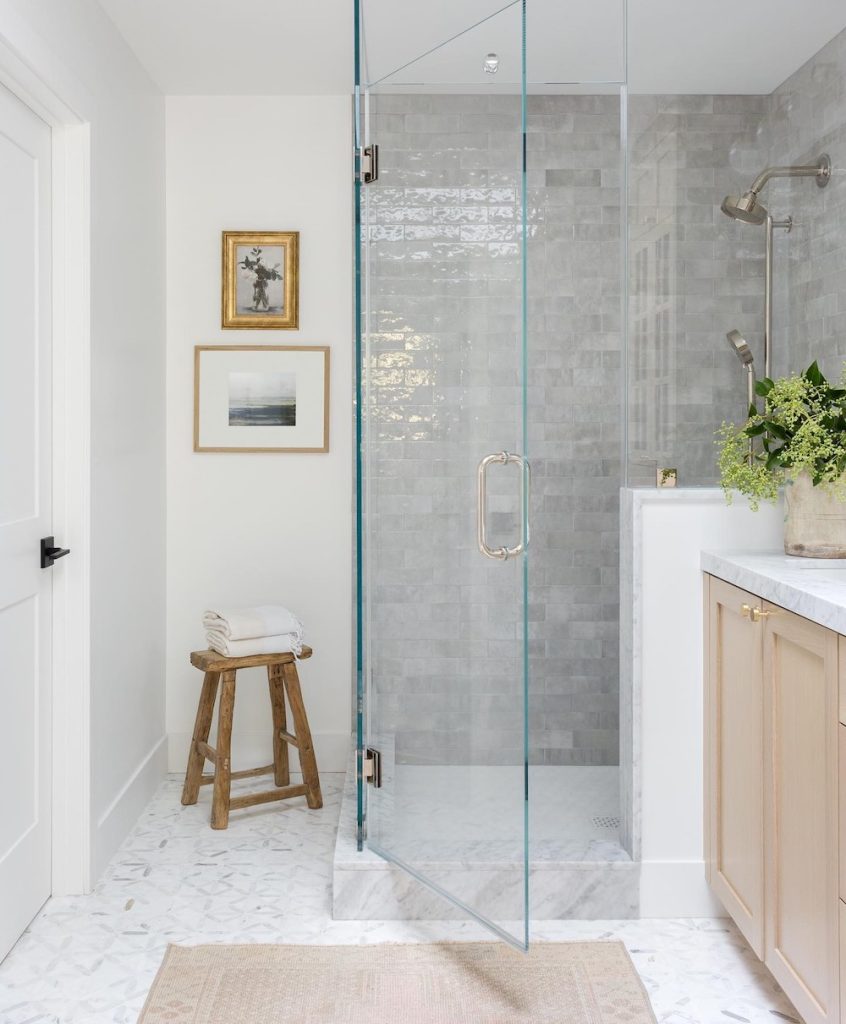 Use a teak shower bench for keeping bath towels accessible as well as other bath essentials.
Give it a Moroccan Style – Spa Bathroom Ideas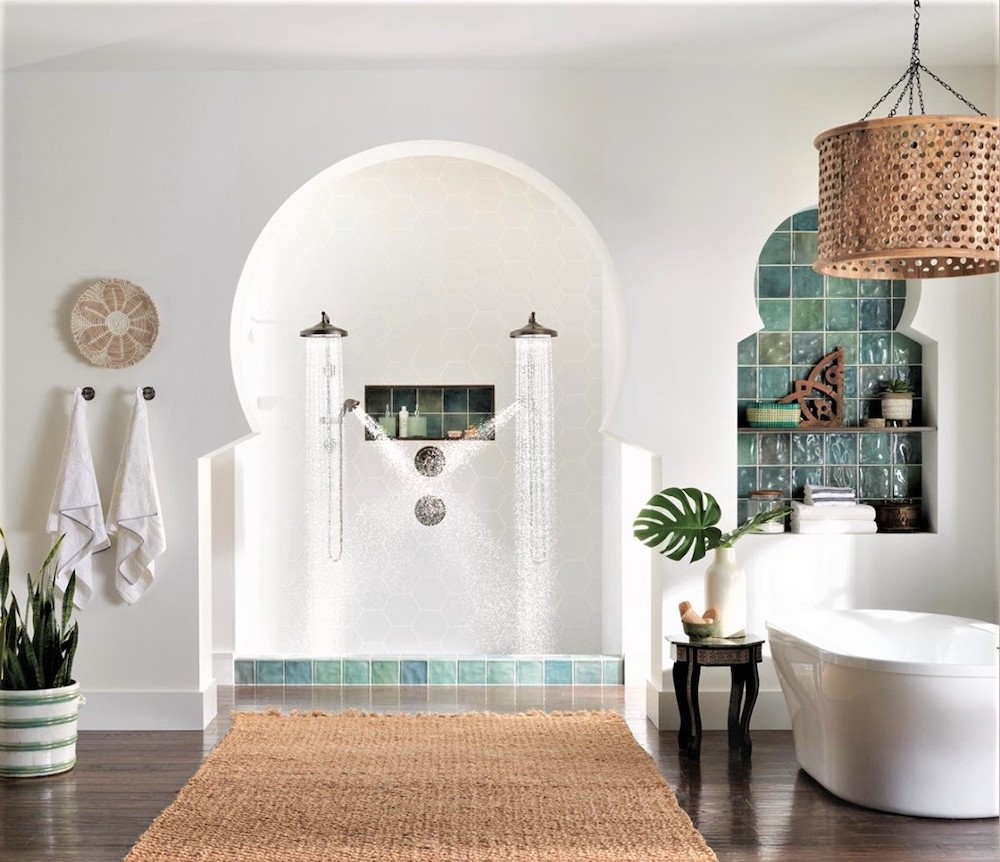 Design it with a Moroccan theme. We love the keyhole opening that leads to the shower area. Decorated in the beautiful ocean-like colors.
Use an Aromatic Diffuser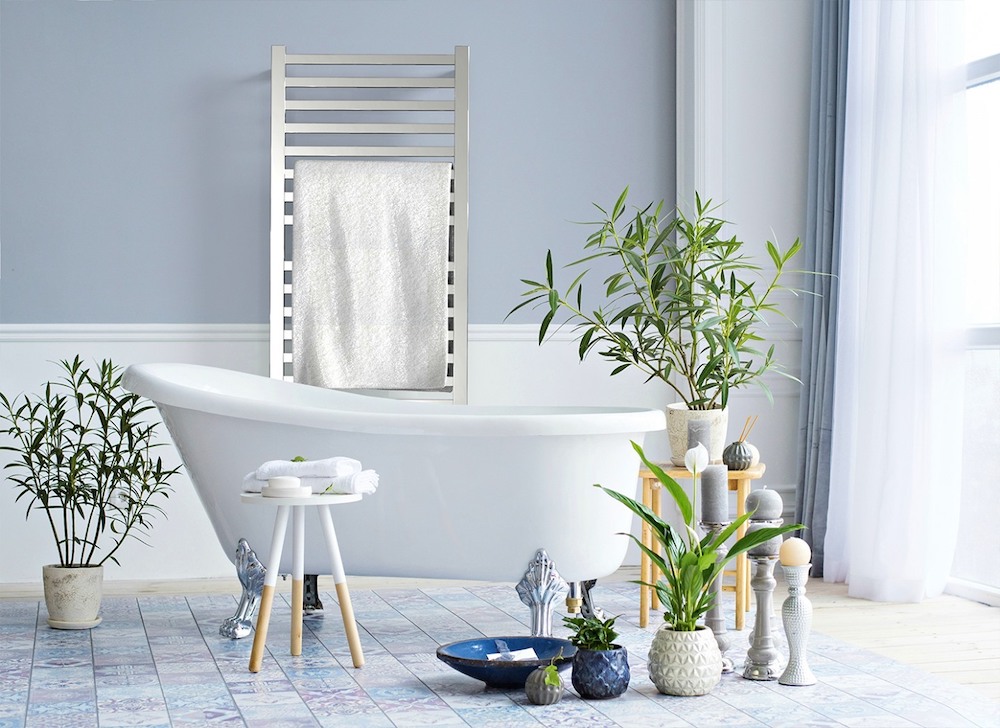 Add a relaxing fragrance diffuser next to the bathtub. Surround yourself with luxurious candles and houseplants.
Keep Your Cabinets Stocked Full of Soft Towels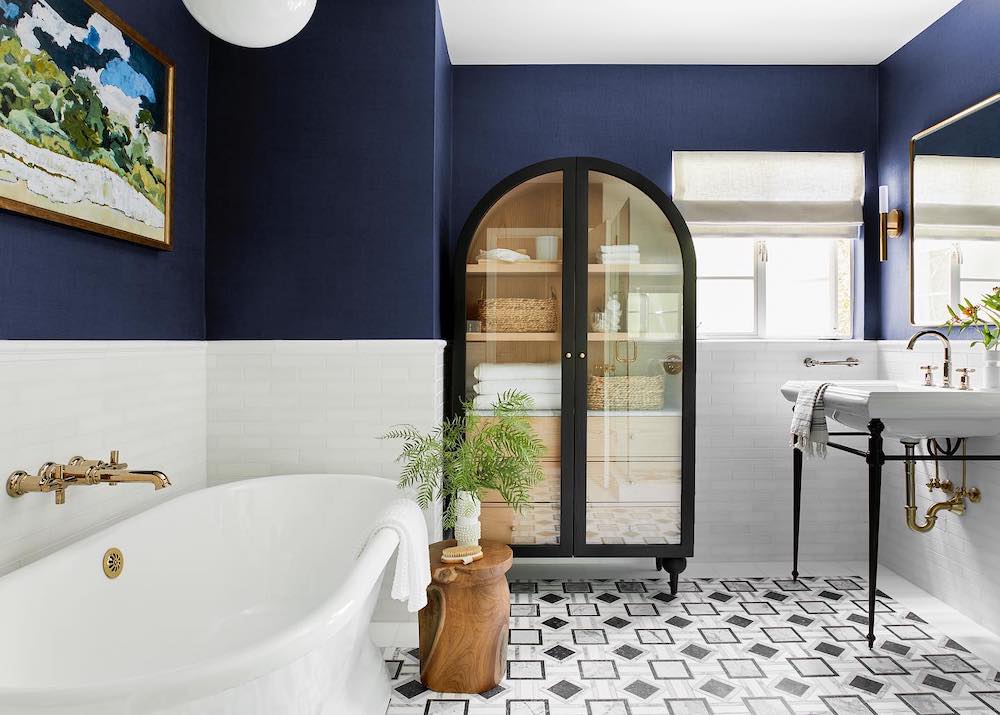 Fill your cabinet with the best fluffy and absorbent towels for a quick dry-off.
Use a Wood Tub Tray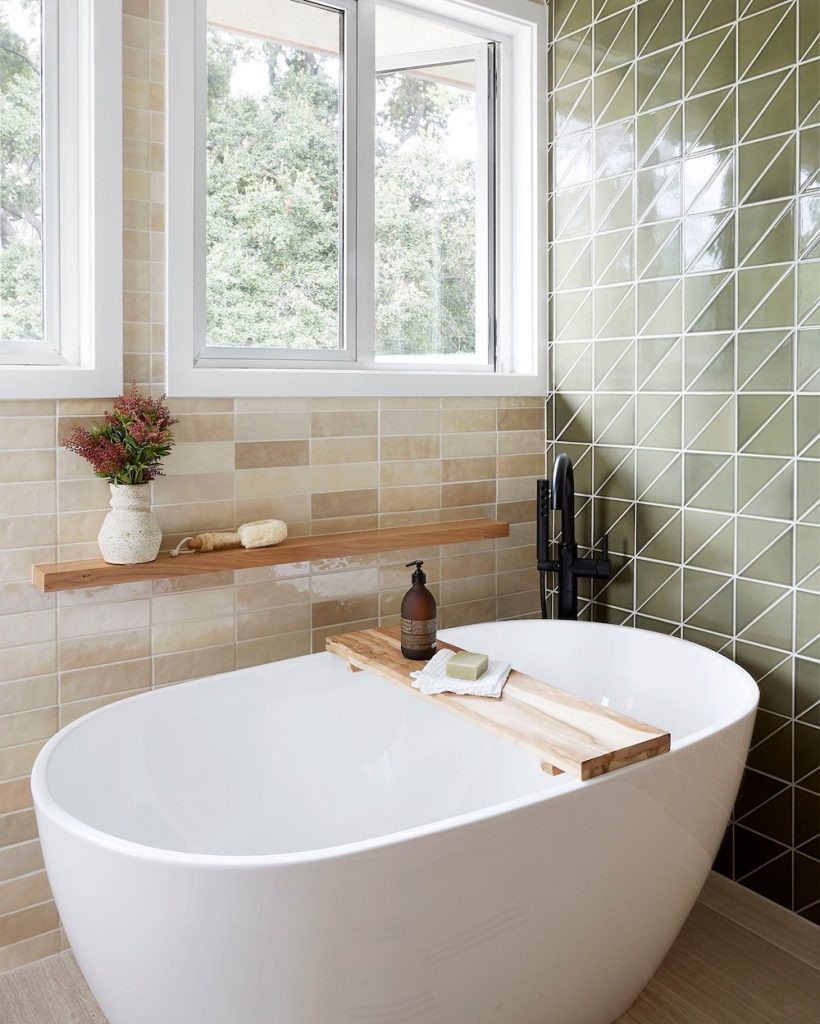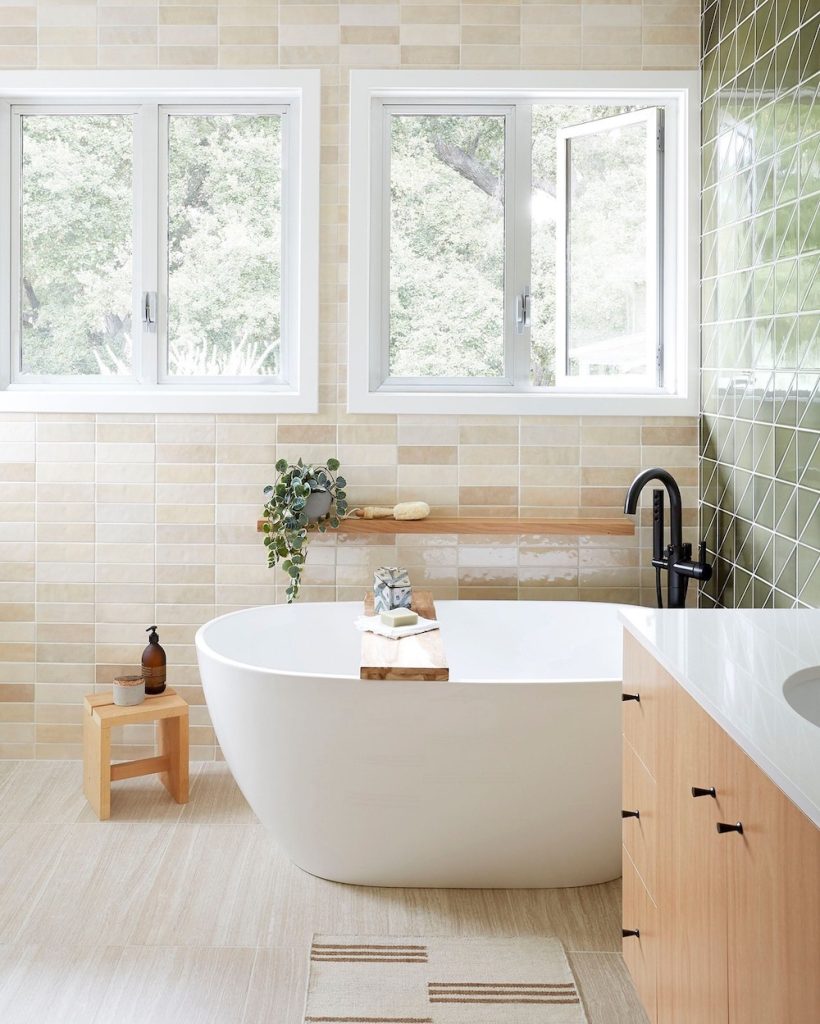 Stock a few bath essentials on your wood tub tray. The perfect place to keep a bar of soap, body wash, body brush, and more.
Give it a Room with a View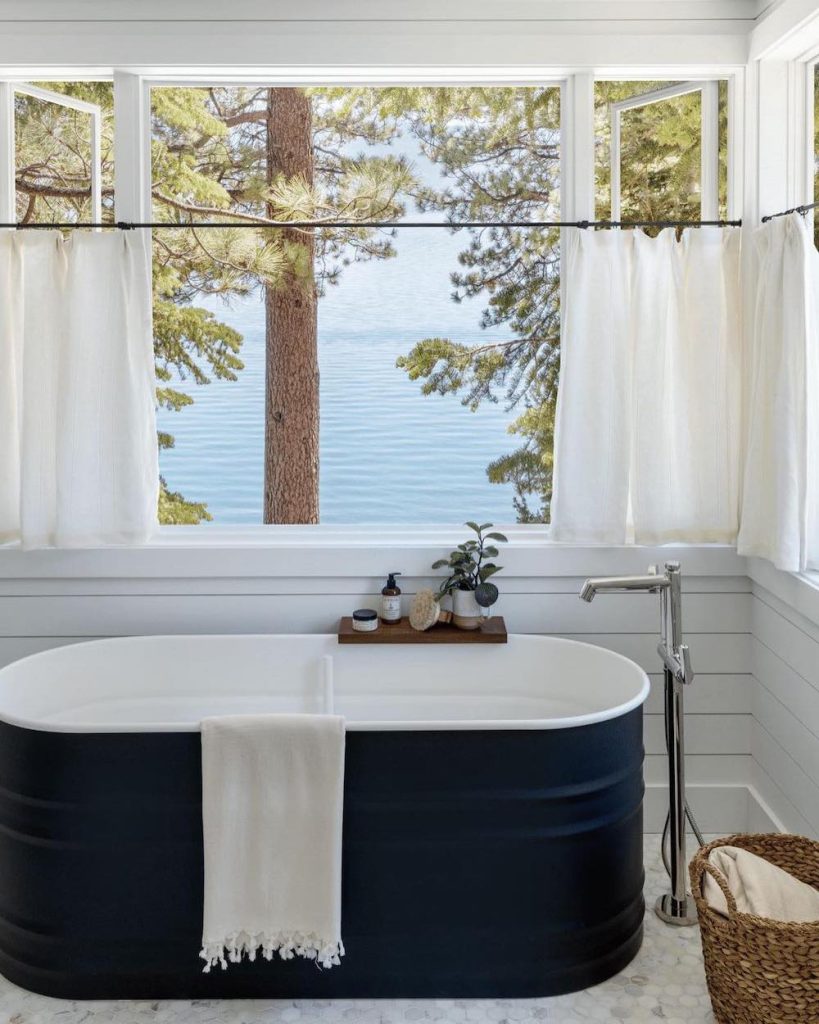 Design your spa in a room with a glorious view. In this case, a view of Lake Tahoe. Unwind while soaking in a tub after a long, busy workday.
Bring Natural Elements to the Room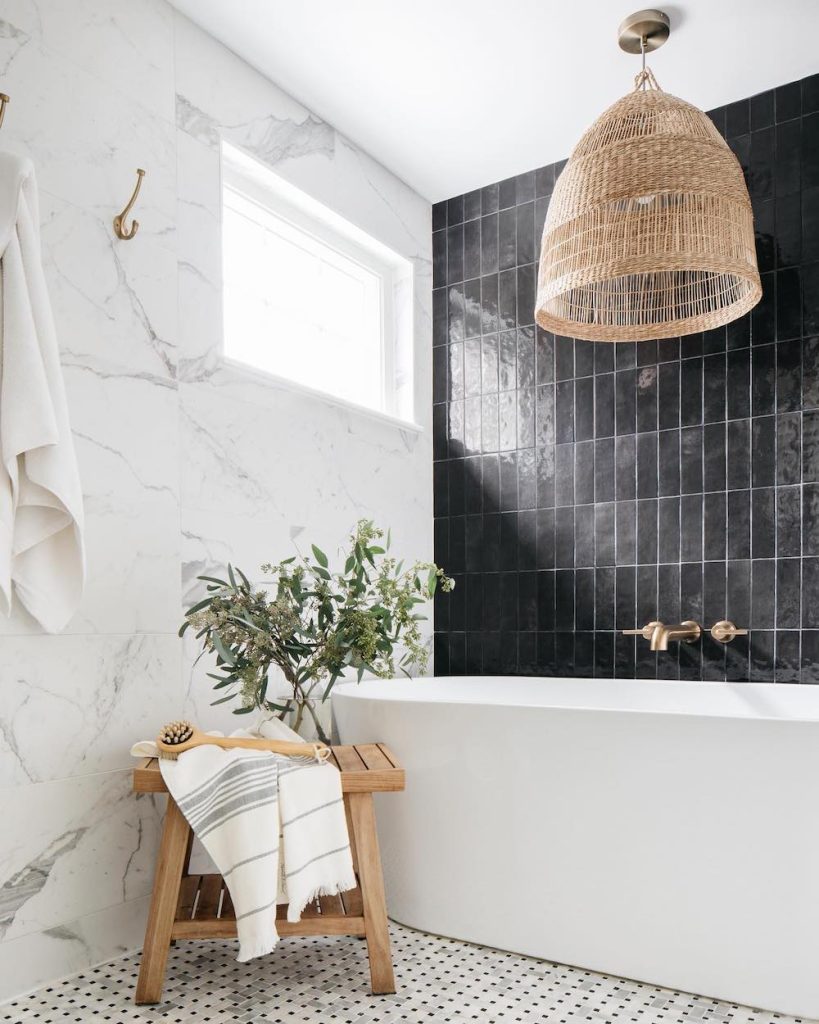 Give your space some natural elements. And there is no better way to incorporate natural elements than with rattan. The rattan pendant adds a warm look to the room. Rattan is sustainably grown and does not require massive production facilities that pollute the environment. It is an excellent choice when using sustainable home decor products.
Fill a Wicker Basket – Spa Bathroom Ideas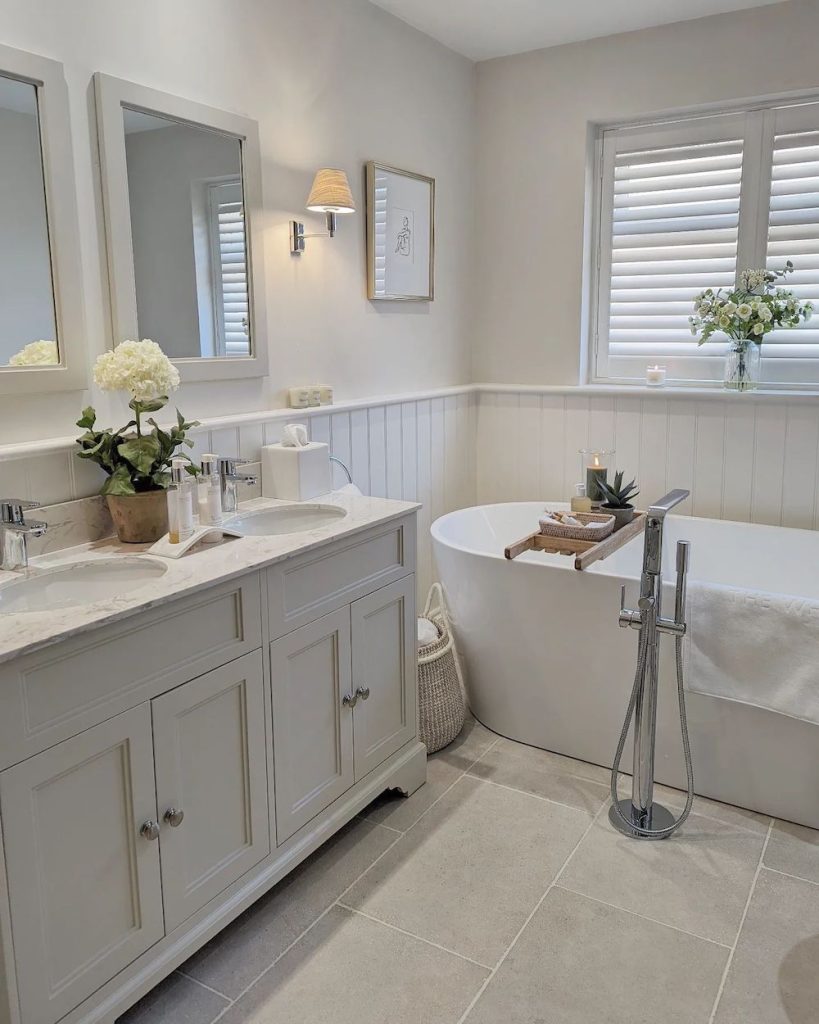 Keep a wicker basket filled with soft towels. Baskets are a great way to store extra bath linens.
Let the Cool Breeze Flow in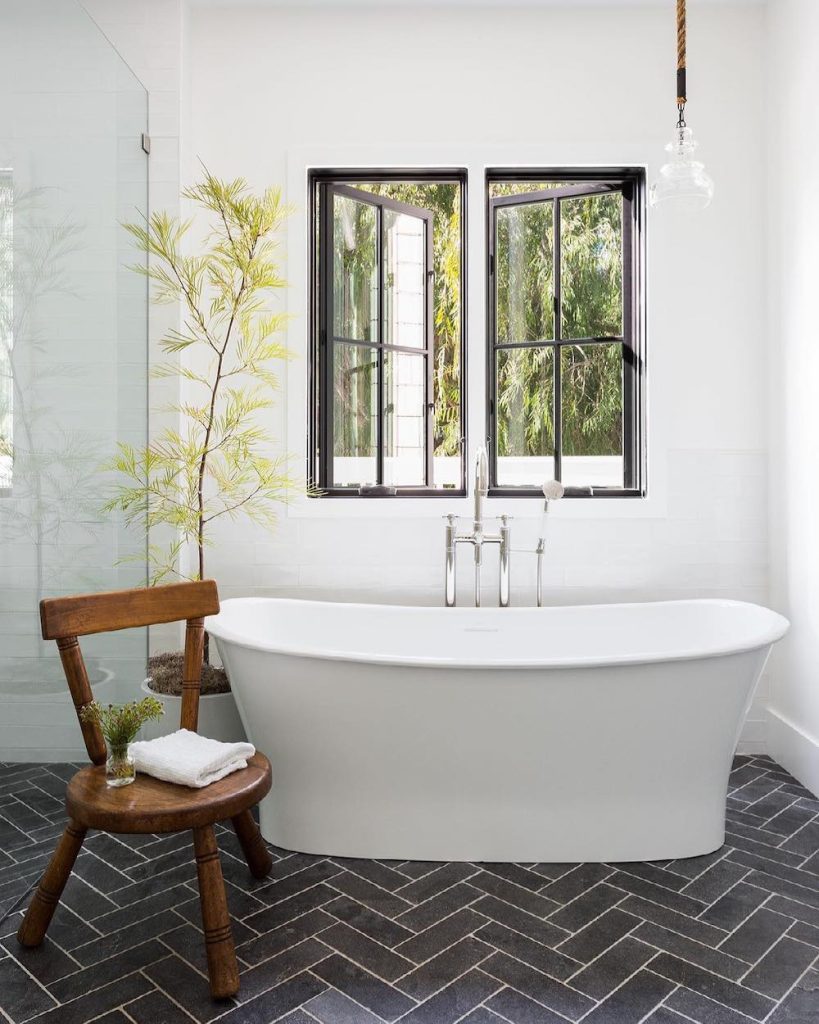 Open the windows. And let the cool, fresh air blow in.
Install a Functional Wall Niche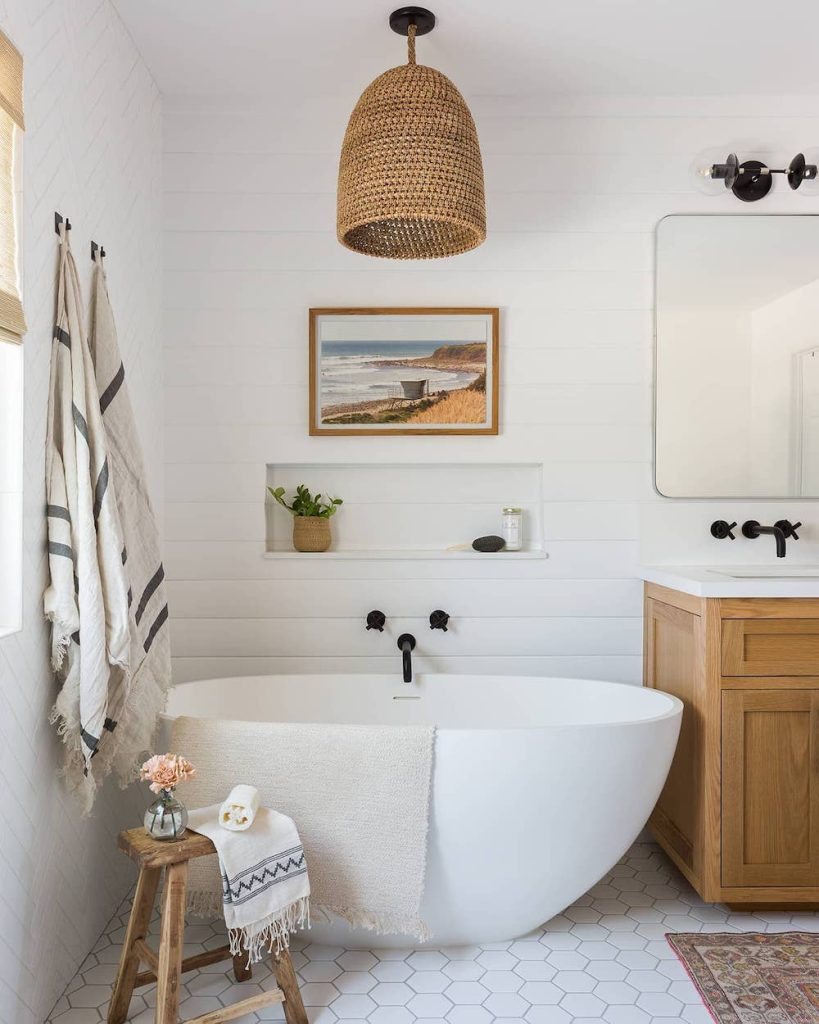 Build a gorgeous and functional wall niche for your bathing supplies. Top it off with wall art of an ocean view. Beautiful!
Install a Wall Mounted Towel Warmer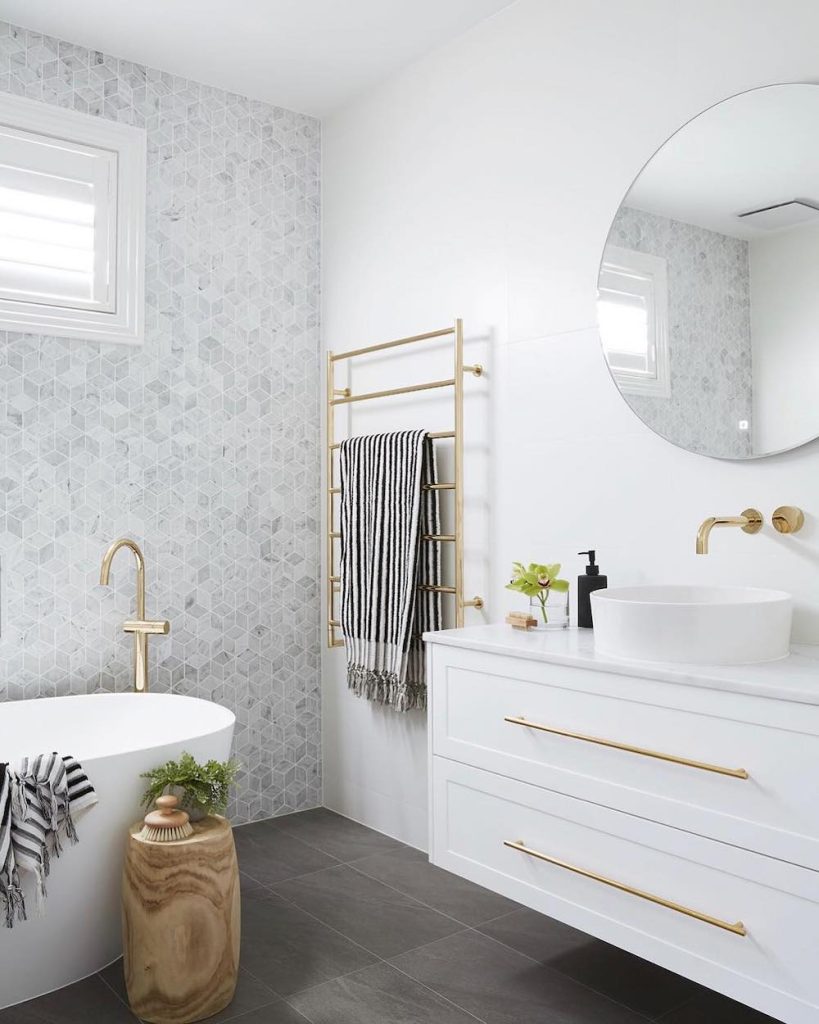 Every spa bathroom needs a towel warmer. In this inspirational idea, the wall-mounted towel warmer is within easy reach of the bathtub.
In need of a few spa essentials to get you started with your spa bathroom makeover? Take a look at these essentials for the bathroom. We think you're going to love these!

This ends our inspirational list of spa bathroom ideas for your home. We hope you found some great ideas for your bathroom. Take a look at our other posts for spa decor ideas. Be sure to tell us about your bathroom decor projects in the comments below. We always love hearing from our readers and their projects.
Enjoy our other spa-related posts for additional ideas.
Home spa bath accessories
Spa Towels
Teak shower bench ideas
Teak shower benches
Houseplants
Drum tables
Reach out to us with any questions. We are always ready to help you out. Thank you for dropping by and taking a look at our blog.
Mary
Pin this for Later: