For a relaxed easy going decor, these Farmhouse sofas offer both style and comfort.   
Farmhouse sofas in neutral and earth tones lead the way for a farmhouse styled home. Sofas that are not only functional but stylish, family friendly, and within a family's budget. Farmhouse style fits right into Modern Farmhouse, Rustic, and Country aesthetics. Furniture pieces that feel lived in and comfortable along with the worn look of distressed finishes is what Farmhouse is all about. Decor in the Farmhouse style, are easy furniture pieces that are adaptable for use with many decor styles.   
Although a coffee table is considered the workhorse of the room, it is the sofa that sets the stage. A sofa sets the decor look for not only the room but beyond especially in an open floor plan. Then sit back, kick up your feet, and relax. The look of neutral colors goes a long way. Since those furniture pieces are easy to update. Simply changing throw pillows and accessories brings a whole new look. Neutral colors lends itself to the seasonal, quick updates throughout the year.    
We've rounded up 16 Farmhouse sofas for all budgets that you are going to love. Take a look at and let us know which are your favorites.  
Lauryn Farmhouse Sofa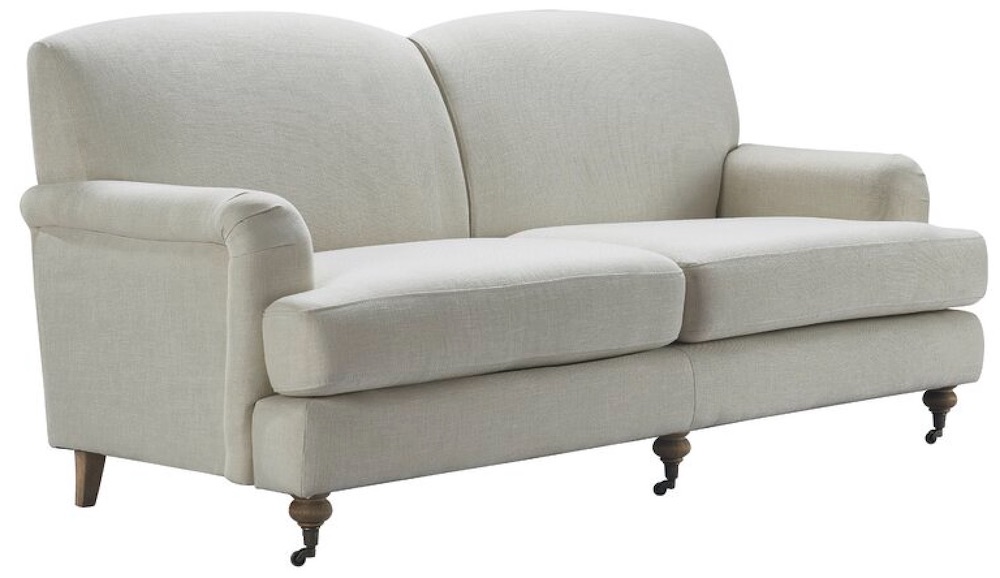 This Farmhouse inspired design has neutral Ivory Linen fabric. The Lauryn Sofa, is a perfect Farmhouse look and a comfortable size. Supported by solid wooden legs which have a black finish. At the bottom of the front sofa legs, a metal roller provides ease in movement. This piece measures 36 inches high by 61.5 inches long with a diameter of 32 inches. 
2. Karalynn Square Arm Sofa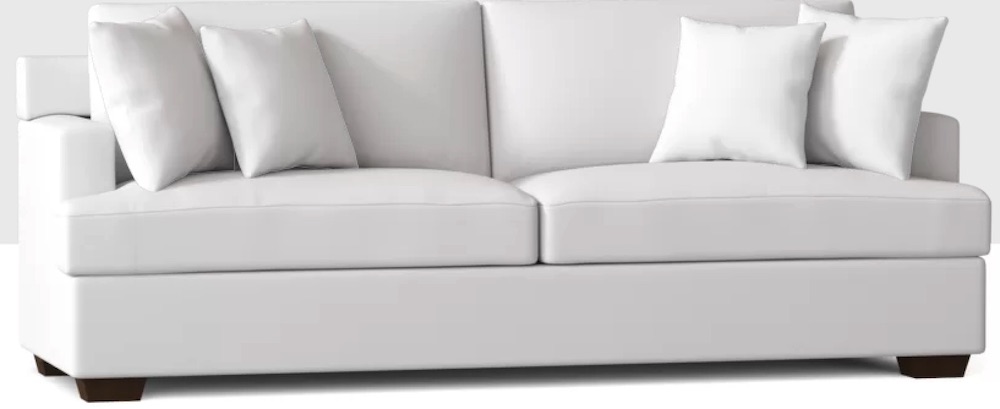 With its clean-lined solid wood frame, the Karalynn Square Arm Sofa is covered in Spinnsol Optic White fabric. The sofa measures 36 inches high by 90 inches wide with a depth of 32. Certainly, a great comfortable roomy sofa for the all important family time.  
3. Ernest Farmhouse Sofa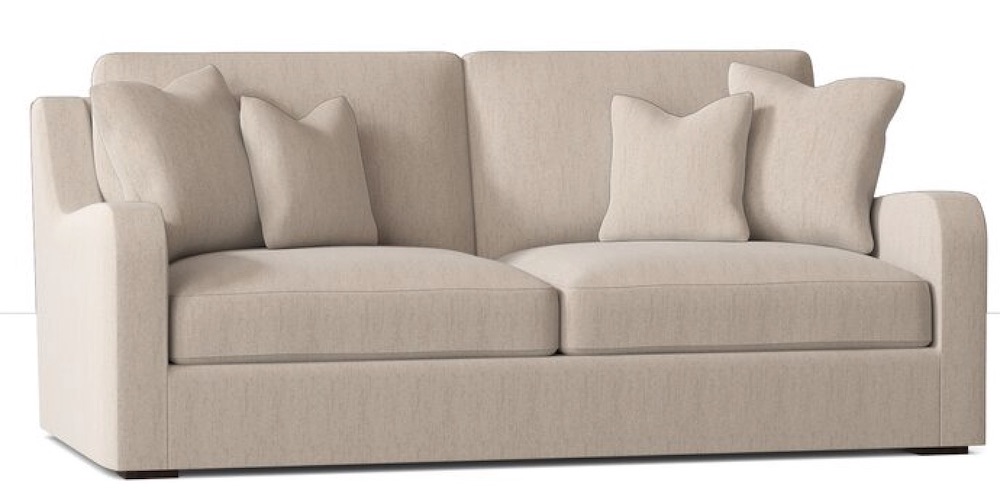 Along with its sloped arms and down-filled cushions, the Ernest Sofa is covered in Curious Pearl fabric. This beautiful neutral colored sofa measures 35 inches high by 88 inches long with a depth of 47 inches. The support for the sofa legs are black walnut color. Toss pillows are included with the sofa.  
4. Clausen Recessed Arms Sofa 

For a roomy place for guests to sit, the Clausen Sofa is upholstered in Bihar Natural fabric. Bihar Natural fabric is a cotton, linen, and rayon blend fabric. The sofa measures 29 inches high by 93 inches wide with a diameter of 41 inches. Seats are constructed from a down feather blend.  
5. Eton Upholstered Sofa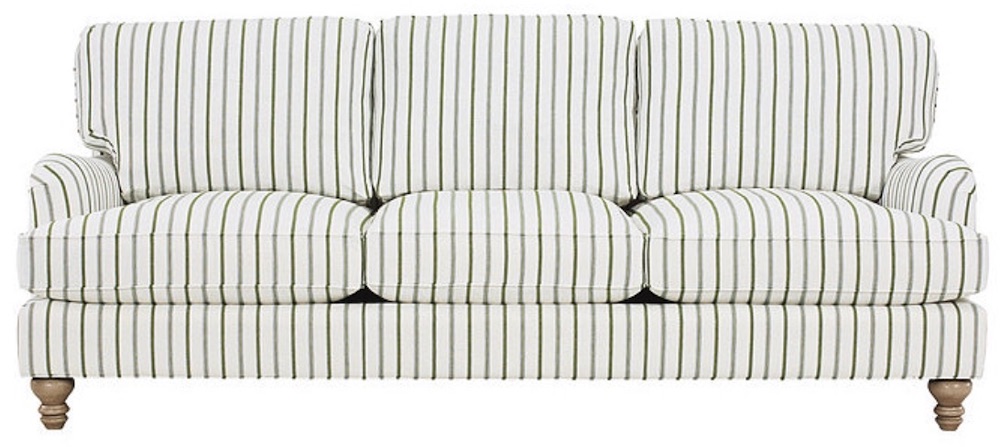 Inspired by Country and Farmhouse furnishings, the Eton Sofa has Conley Stripe Fern fabric. The Eton sofa measures 34 inches high by 85 inches long with a depth of 38 inches. Furniture that is constructed for added stability, this piece has turned feet in a Latte stain finish.     
6. Madison Square Arm Sofa 

Generously sized, the Madison Square Arm Sofa has Bull Natural fabric with leg stain in Black Walnut. This seating piece measures 26 inches high by 94 inches wide with 42 inches in diameter. With the low profile and dust ruffle, the Madison sofa is big on style and comfort.  
7. Slub Ivory Slipcovered Sofa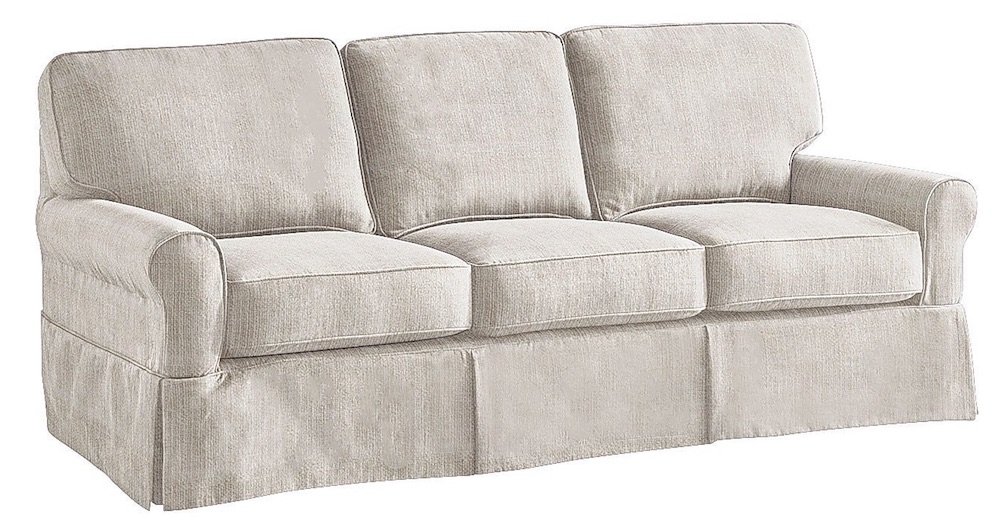 The soft slub ivory fabric that covers the Slub Ivory Slipcovered Sofa is comfortable and durable. This family friendly sofa measures 36.5 inches in height by 88 inches long with a diameter of 38.5 inches. A nice comfortable size for family events and celebrations
8. Cameron Upholstered Sofa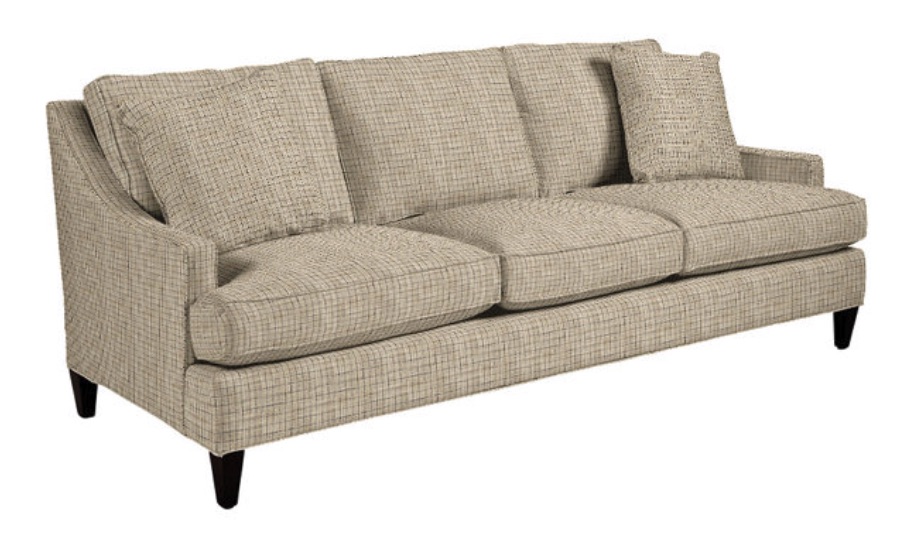 Designed for the casual lifestyles of today, the Cameron Upholstered Sofa is covered in Blake Indigo fabric. The overall measurements are 35 inches high by 89 ¼ inches long with a depth of 37 inches. In addition to the curved armrests and tapered exposed legs, the sofa brings a casual refined style to the home. 
9. Rosalie Recessed Arm Sofa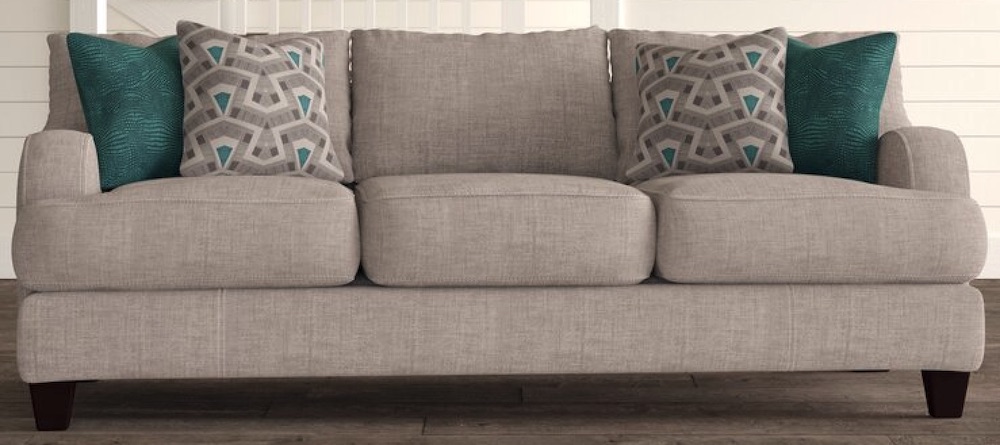 Upholstered in soft, light gray Quartz color fabric, the Rosalie Recessed Arm Sofa is a nice roomy sofa. With its leg stain finish in Dark Walnut, the sofa exudes Modern Farmhouse style. The Rosalie measures 35 inches high by 93 inches long with 40.5 inches in diameter. Best of all the neutral sofa includes four toss pillows, this Farmhouse style is big on comfort.  
10. Copenhagen Chenille Sofa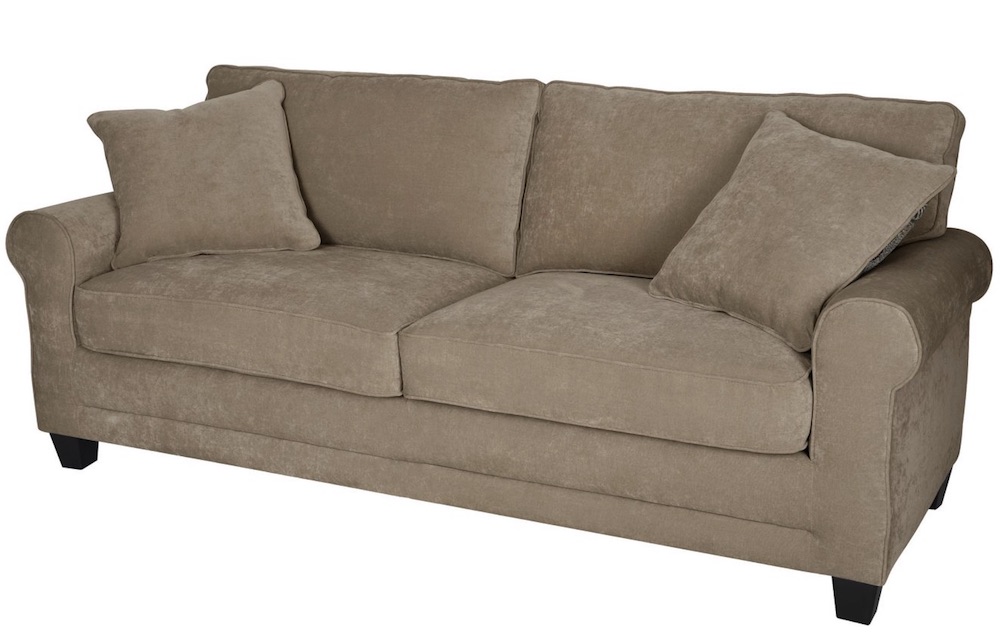 In a neutral earth tone of Tan fabric, the Copenhagen Chenille Sofa is a cozy sofa for reading, relaxing, and entertaining. The Copenhagen sofa measures 36 inches high by 72 inches long with a diameter of 36 inches. 
11. Cedric Recessed Arm Sofa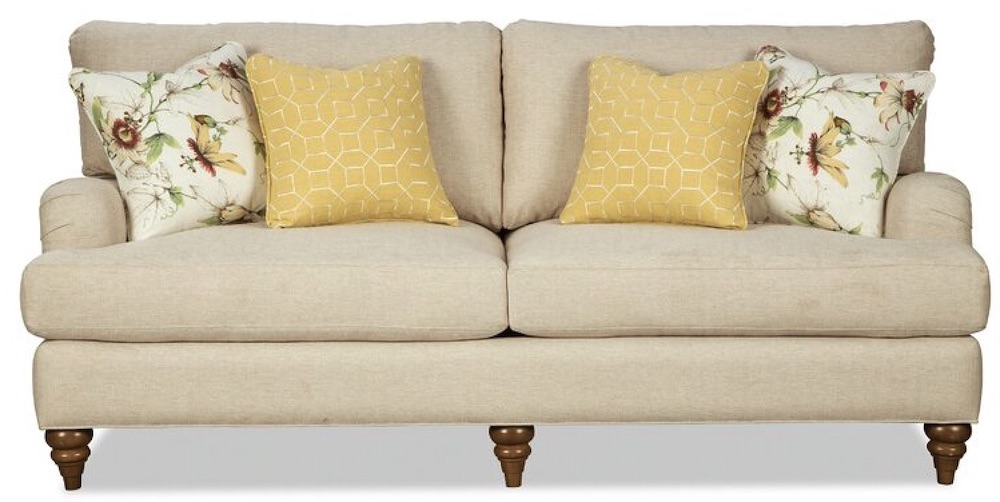 Along with the comfy Country home inspired details, the Cedric Recessed Arm Sofa has tan fabric covering with a Latte leg stain finish. The Cedric Sofa measures 38 inches high by 84 inches long with a depth of 45 inches. Gorgeous tapered turned legs in addition to the loose pillows make this sofa design so attractive. Perfect for all your entertaining needs. 
12. English Arm Sofa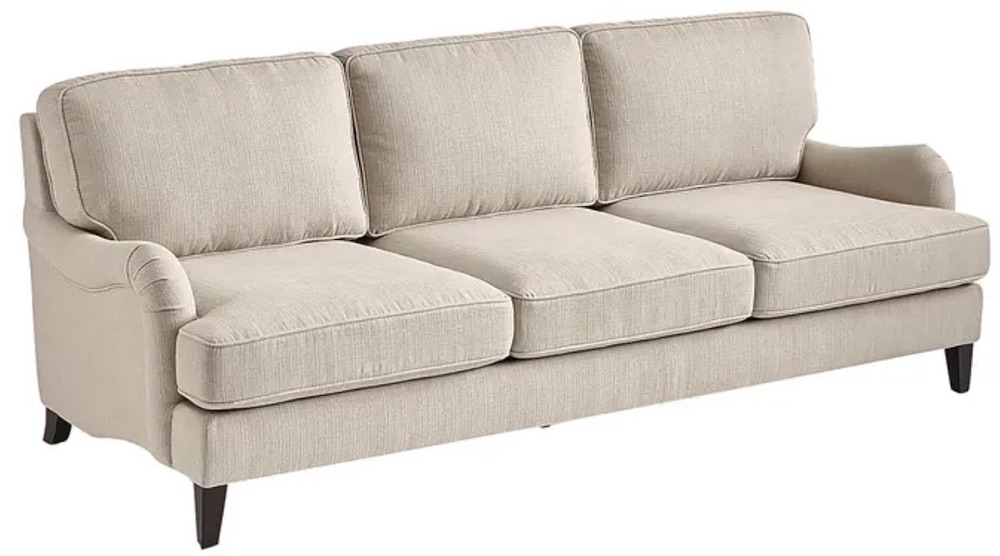 For a Classic country styling, the English Arm Sofa has Linen Tweed fabric. The sofa measures 32.8 inches high by 87 inches long with 35.8 inches in depth. We love this warm earthy color!
13. Carson Recessed Arm Sofa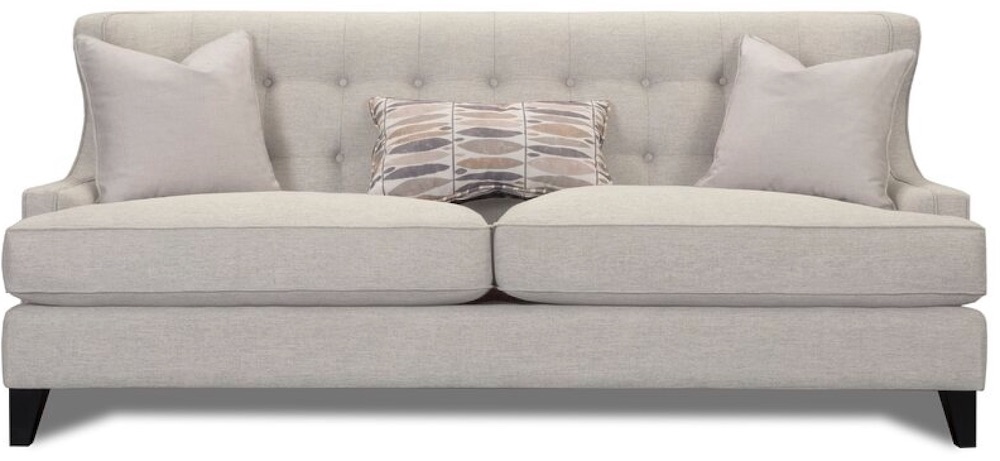 Alongside its Modern Farmhouse appeal, the Carson Recessed Arm Sofa is the perfect size for small space living. Upholstered in a cream colored fabric, the Carson has button tufting along the back side. Measuring 35.5 inches in height by 79 inches long with a diameter of 35.75. Included with the sofa are accent throw pillows for additional comfort. 
 14. Carly Farmhouse Sofa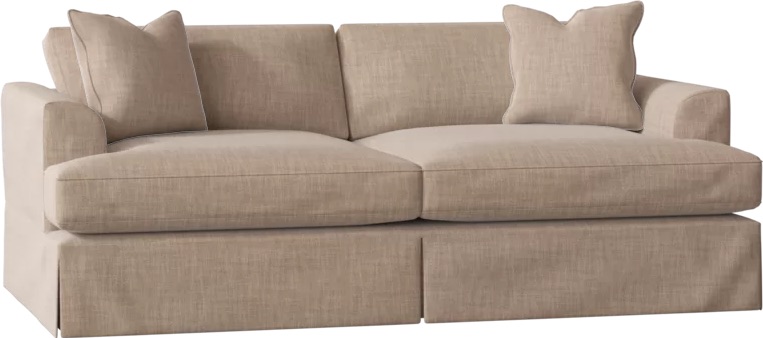 Inspired by neutral Country details, the Carly Sofa is upholstered in Conversation Linen fabric. The Carly sofa measures 29 inches high by 75 inches long with 41 inches in diameter. Two fabric matching toss pillows are included with the sofa.  
15. Cassandra Farmhouse Sofa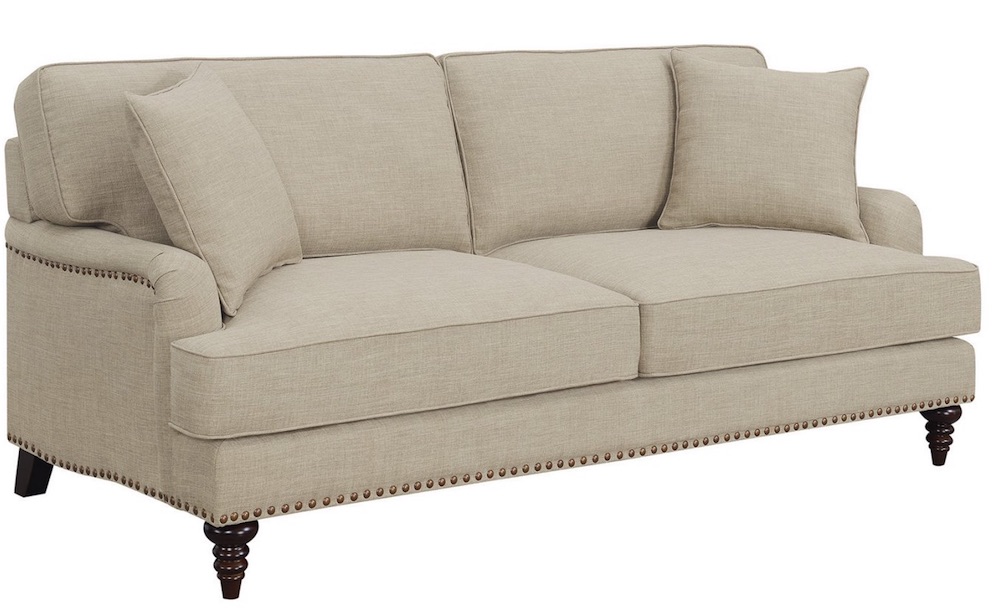 Inspired by Country houses of yesteryear, the Cassandra Sofa is covered in Natural color fabric. This sofa furniture measures 36 inches high by 79 inches long with 35 inches in diameter. The Cassandra Sofa has carved turned legs with low arms for easy access. Country charm at its best!
16. Grandstand Fawn Sofa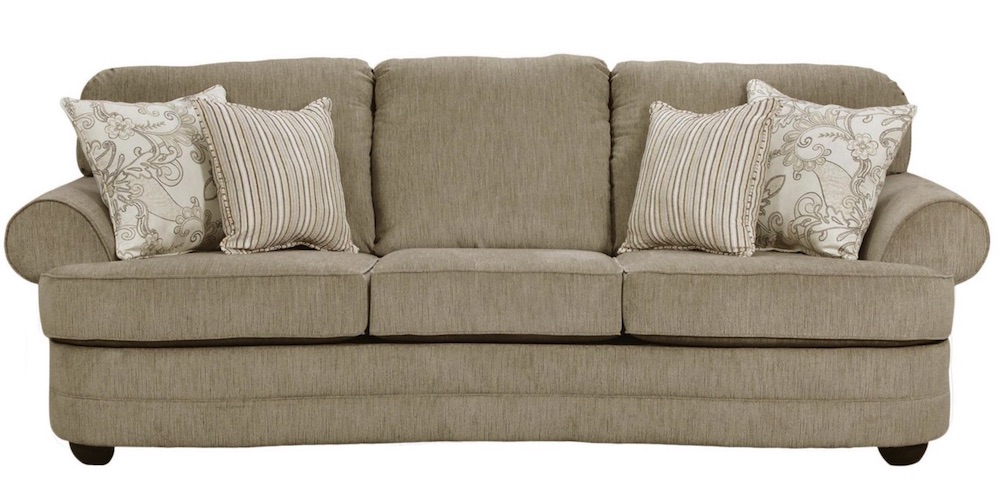 With its many Farmhouse inspired details, the Grandstand Fawn Sofa is covered in Fawn colored fabric. The Grandstand sofa measures 39 inches high by 103 inches long with a 44 inch diameter.  
This completes our list of Farmhouse sofas for all budgets. From Country to modern Farmhouse living, these Farmhouse sofas transform a home decor to a relaxed, breathe easy style. Sofas perfect for family gatherings, neighborhood potluck dinners, or informal entertaining. So, which are your favorite sofas? We love them all! Let us know in the comments below what you think.  
And of course, if you need additional inspiration for all things Farmhouse, take a look at our other Farmhouse Decor posts. 
Interested in Farmhouse Decor? If you found this helpful . . .
For additional decor inspiration, you may enjoy other Farmhouse Decor related posts.   
12 Affordable Farmhouse Coffee Tables 
18 Farmhouse Armoires with Country Appeal
33 Simple Farmhouse Table Lamps
21 Farmhouse Nightstands for Nighttime Necessities 
For any questions, reach out to us. We are always ready to help you out. Thank you for stopping by our blog. 
Mary