Natural rattan sofa ideas to help create a warm and inviting home. Whether you are refreshing your living space or completing a recent remodel, rattan sofas provide warm tones to the home. With the summer season here, you'll want your home to look its best. Get your home in tip-top shape for the season. In today's post, we are sharing ideas for styling a natural rattan sofa in your home.
Accommodate up to 3 guests with these full-sized rattan sofas that are exceptionally comfortable. Many have fabric choices that are available in performance fabrics which are a cinch to clean. Durable, stylish sofas that can withstand any spills or mishaps. Made organically with sustainably sourced materials. And these high-performing sofa materials are ideal for family and living rooms.
Wicker or Rattan What is the difference?
Trying to decide between wicker or rattan? Well, first of all, they are different. Rattan is an organic material that grows in a tropical climate. Primarily found in Asia, Africa, and to some extent in Australia. Found growing in a creeping manner on the forest floor. Harvested by the local native farmers. When rattan vines reach maturity, the local natives gather the mature rattan reeds. Highly durable rattan material grows in various widths. Sorted and labeled, the material is sized for future use. The reeds are then prepared for use in weaving household accessories, and furniture making.
Second, there is wicker which is the method of wrapping the rattan material. In the image above you can see the wrapping of rattan reeds over a sofa frame. This wrapping or weaving in the case of a basket is referred to as wicker. It is a weaving process of using a material to create a basket or furniture piece. There are two basic types of weaving processes. Woven loosely rattan is primarily used to create intricate, ornate patterns. Woven tightly for strength and durability. Notice a peacock chair has two types of woven processes. First, a tightly woven pattern is constructed on the seat and base of the chair. For the chair back, a lightly or loosely woven pattern is utilized to create an intricate design. A beautifully designed chair that is both strong and durable.
Characteristically Rattan – Natural Rattan Sofa Ideas
Beyond its beautiful natural coloring, rattan is durable and a highly sustainable organic material. It can withstand extreme weather conditions. Perfect for areas with high humidity and higher temperatures. Rattan is naturally resistant to insects. Equally important is that rattan is lightweight and can be quickly transported to another area of your home. The flexibility of rattan material allows it to be easily manipulated and woven into furniture and accessories such as trays and baskets.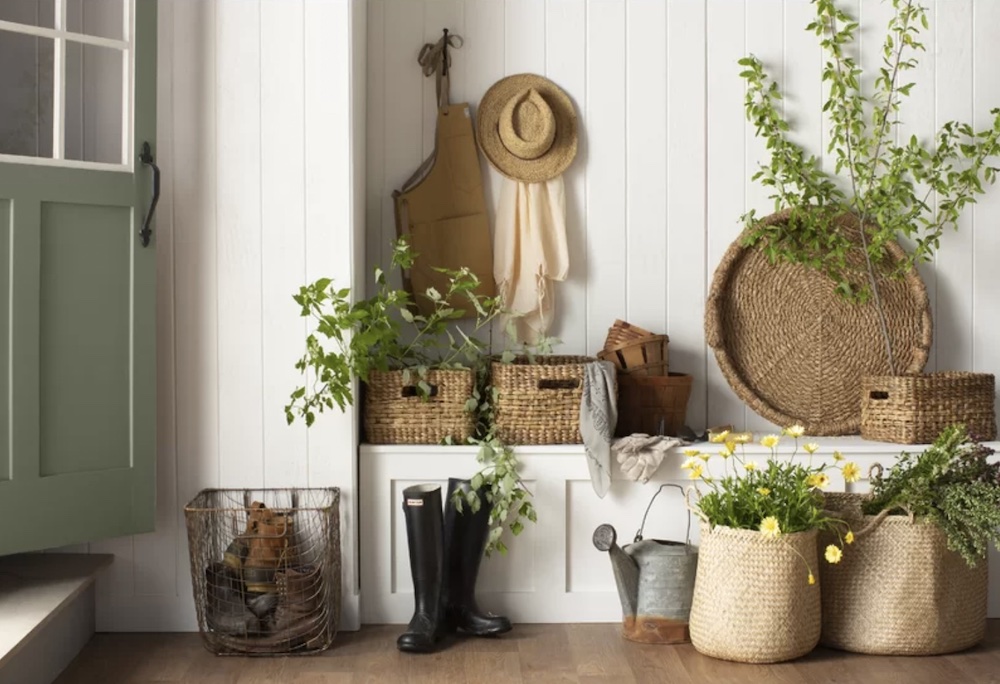 Rattan furniture is a type of furniture made from a natural material. This rattan material is harvested from the depths of tropical forests in Asia and Africa. Wicker is the method commonly used to wrap rattan around a furniture frame. The wicker method is used for both natural rattan and synthetic rattan. Natural rattan is strictly for interior furniture making. And synthetic rattan is for outdoor patio furniture construction.
Iconic Rattan – Natural Rattan Sofa Ideas
Refresh your home's appearance with a natural rattan sofa. Perfect for a family room or any other living space. Rattan sofas come in many styles for you to select from. Below we show the many ways you can style your rattan sofa.
We begin our list of ideas for your natural rattan sofa. Take these pro tips and make them your own at home. Take a look.
Start with a Vintage Belladonna – Natural Rattan Sofa Ideas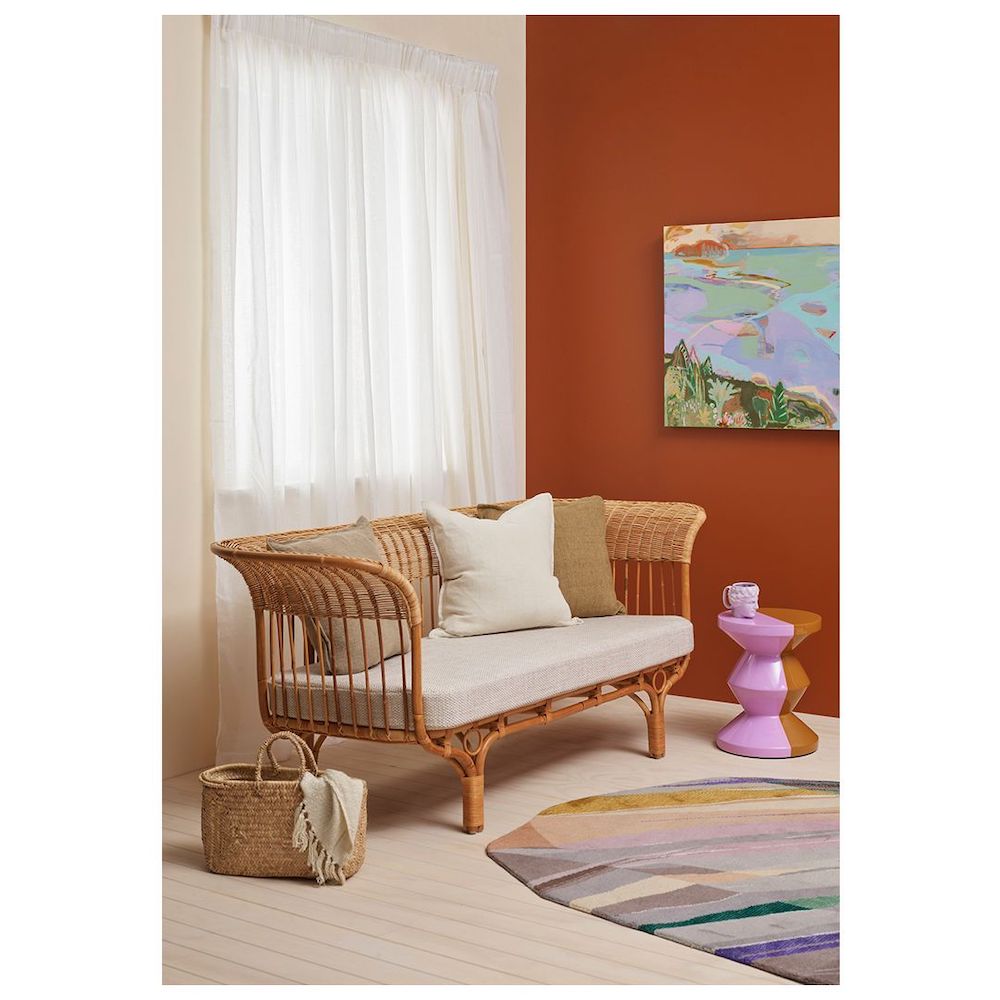 Begin with the Belladonna sofa. A 1951 design from Franco Albini and Franca Helg. Build your decor around the vintage rattan sofa. Hang wall art on a freshly painted wall. Then relax and enjoy the view. The versatility of rattan furniture is on display here. It easily fits in with modern furniture as well as traditionally styled furniture. Style it in a coastal, bohemian, or contemporary decor.
Go for an Iconic Rattan Look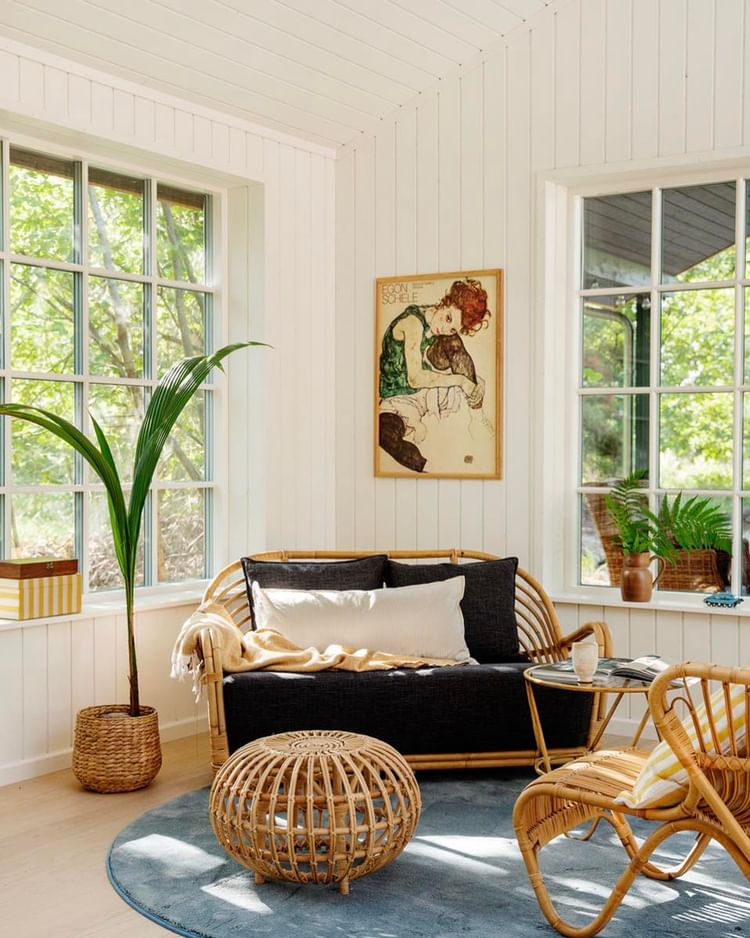 Drop your sofa in a corner between two large windows with streaming natural light. Cluster a few other rattan furniture pieces near the sofa. Include your favorite wall art. Slip in a few live plants for some greenery. Then you've created an iconic look.
Mix in Ceramic Garden Stools – Natural Rattan Sofa Ideas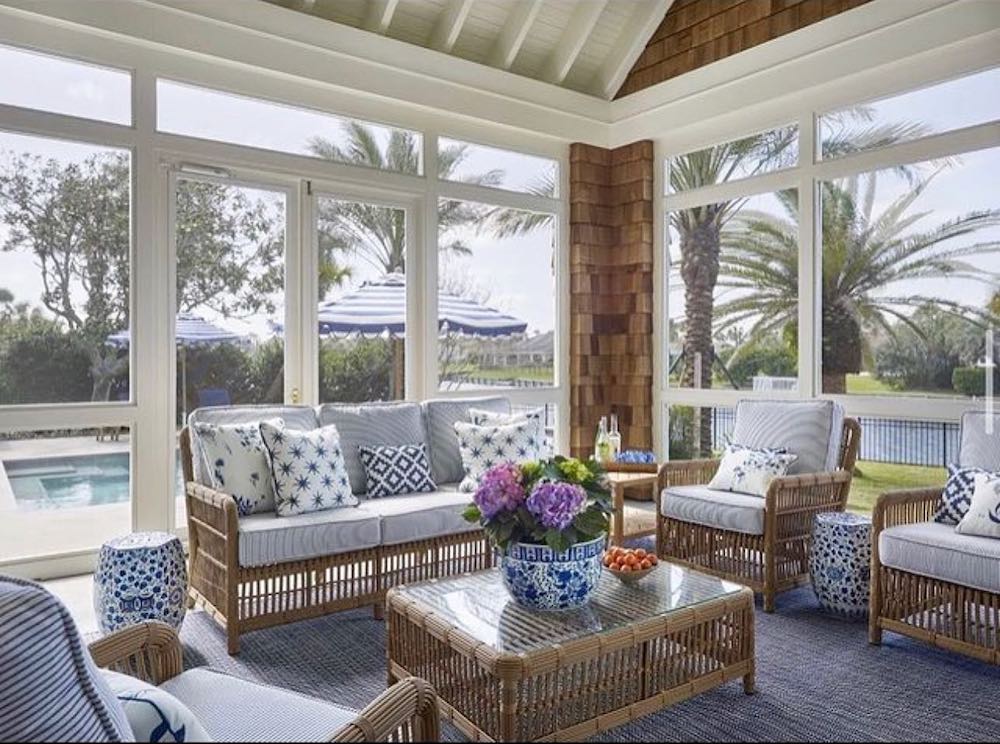 Bring in a set of ceramic garden stools as side tables. Continue the blue, white, and natural palette of the room going. Rattan mixes well with many other textures and materials.
Go for the Green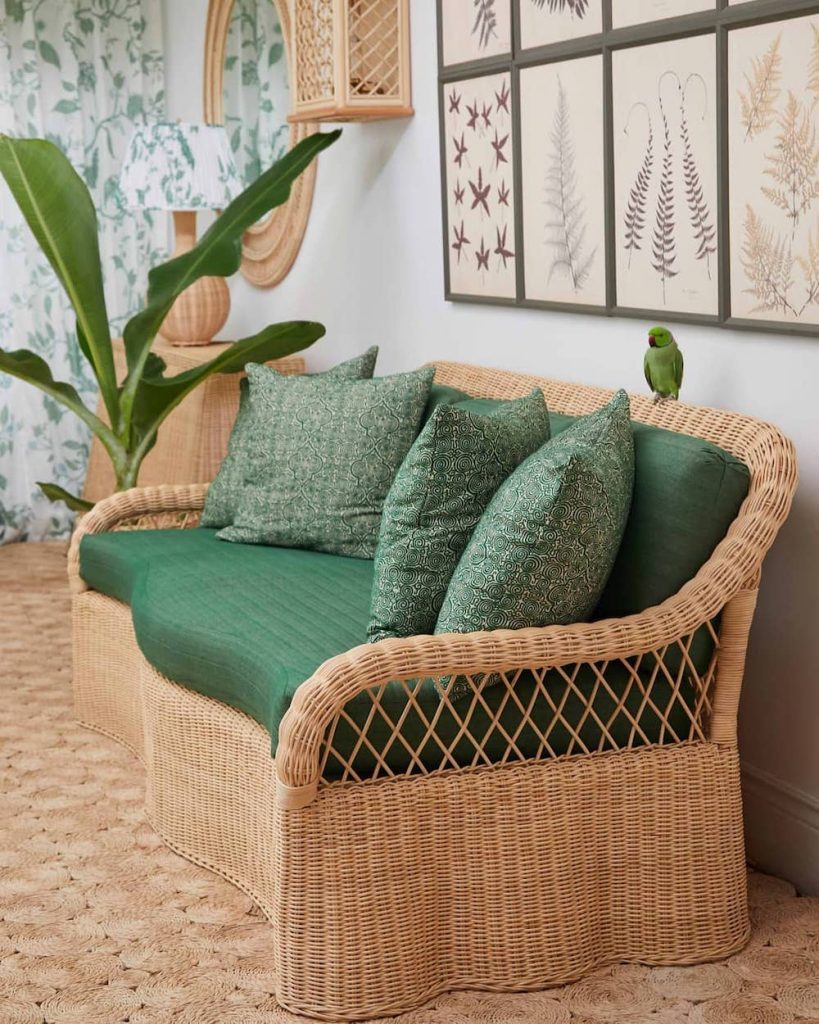 Keep it lush with a green color scheme. Add a few other rattan accessories for an inclusive style.
Style it with Light, White, and Bright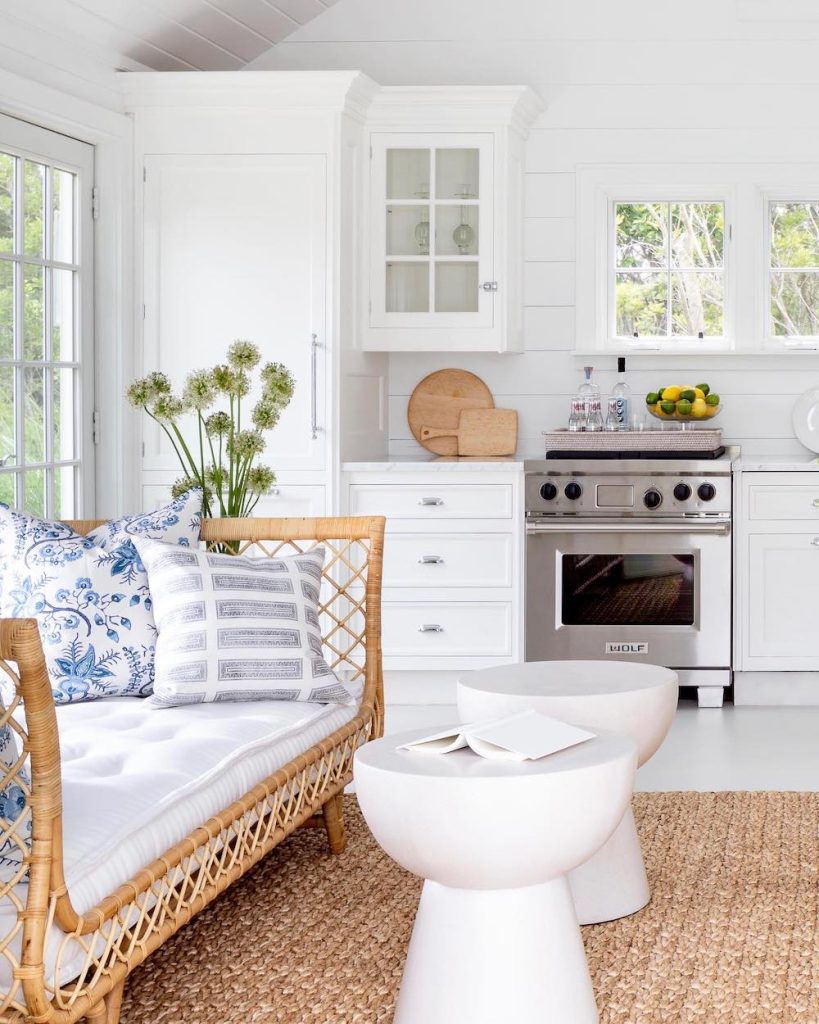 Tie it all together, the warm wood tones of the rattan and wooden boards paired with the white furnishings. Add a set of modern end tables in front of the rattan sofa for a quick drink or meal. And for entertaining guests, corral an assortment of mini bar refreshments in a rattan tray on the stainless steel stove for an early evening cocktail.
Covered Porch Entertaining – Natural Rattan Sofa Ideas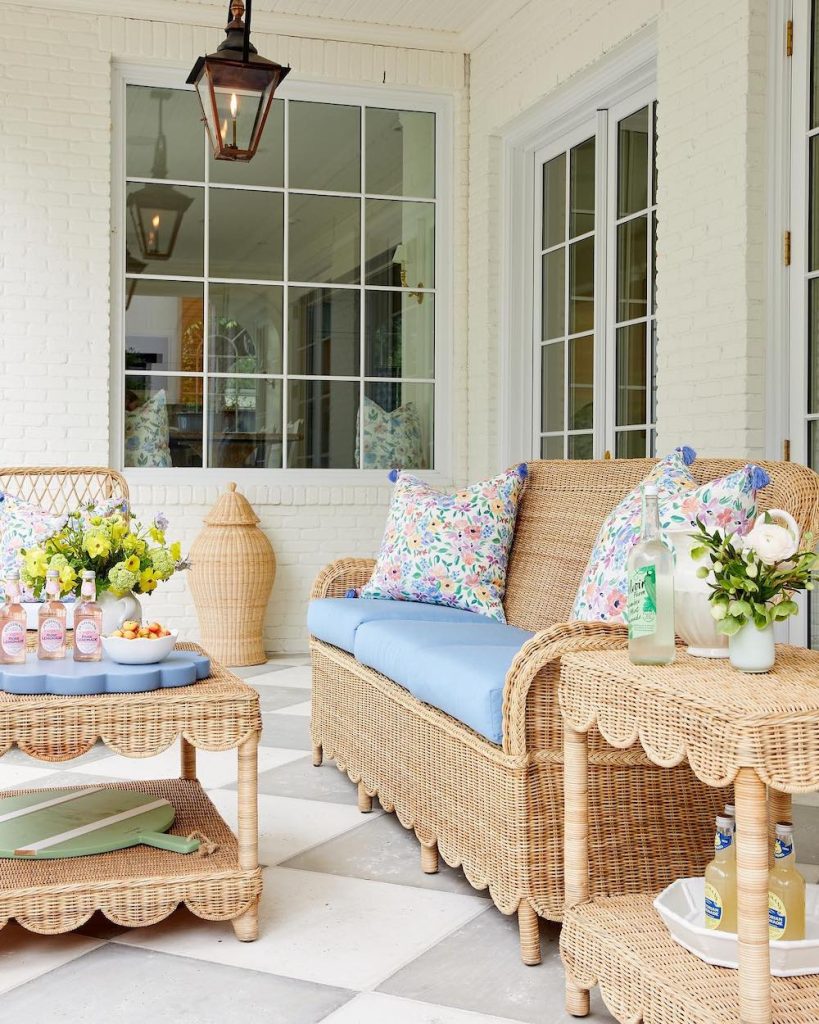 Keep your guests cool with refreshments on the covered porch with a gray and off-white checkered floor. Use serving pieces in pastel blues and yellows.
Style it with a Vintage Bohemian Look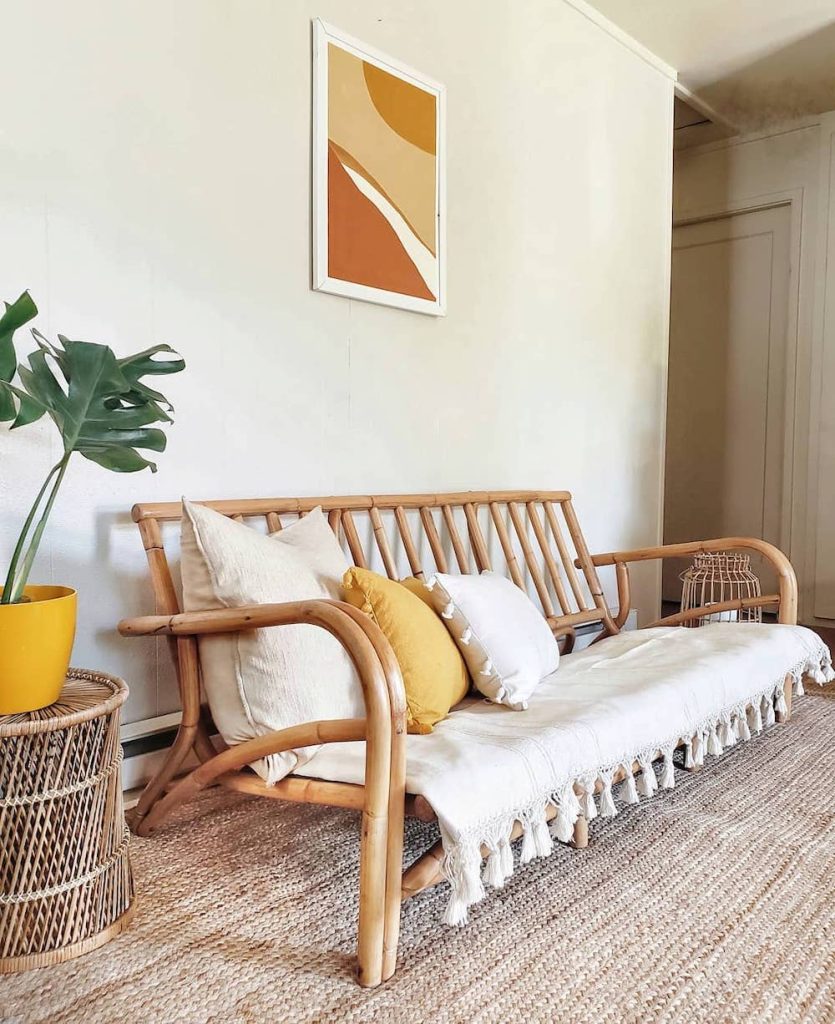 Use materials with lots of texture. Loaded with texture from the tossed pillows, sofa throw, and area rug. Create a room that is visually pleasing.
Mix Mid-Century with Safari Details – Natural Rattan Sofa Ideas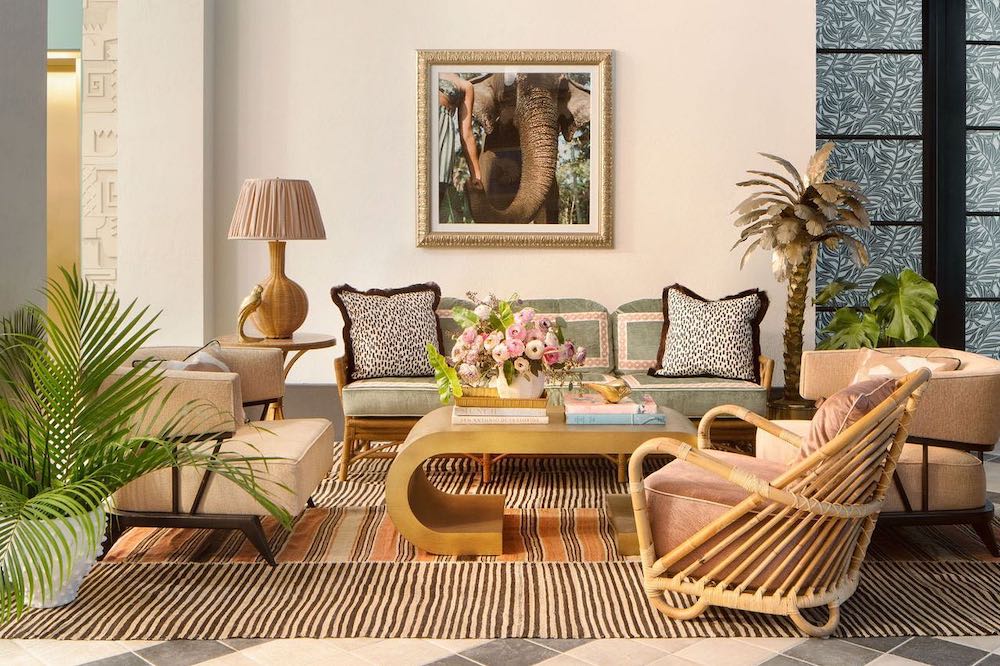 Bring the outdoors in. Style it for a Safari Expedition with earthy tones and houseplants.
Create a Cocoon Reading Nook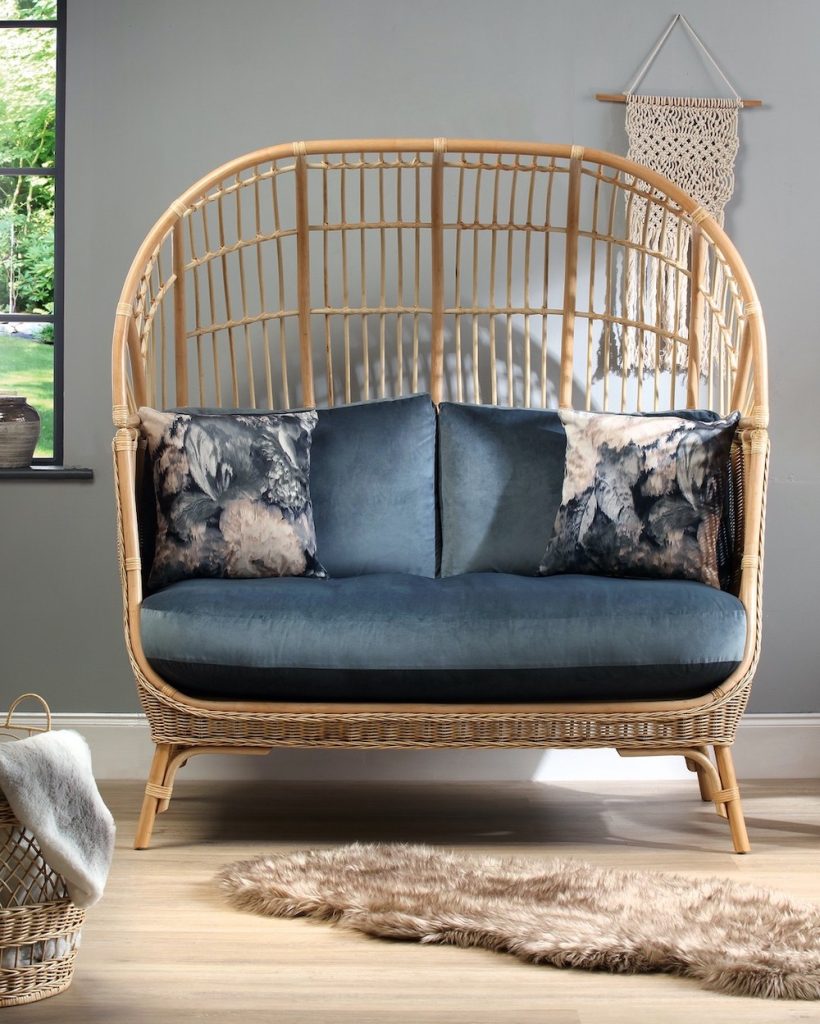 Design a reading nook using a cocoon sofa. A spot to recline and catch up on your reading.
Stay Cool in a Sunroom Jungle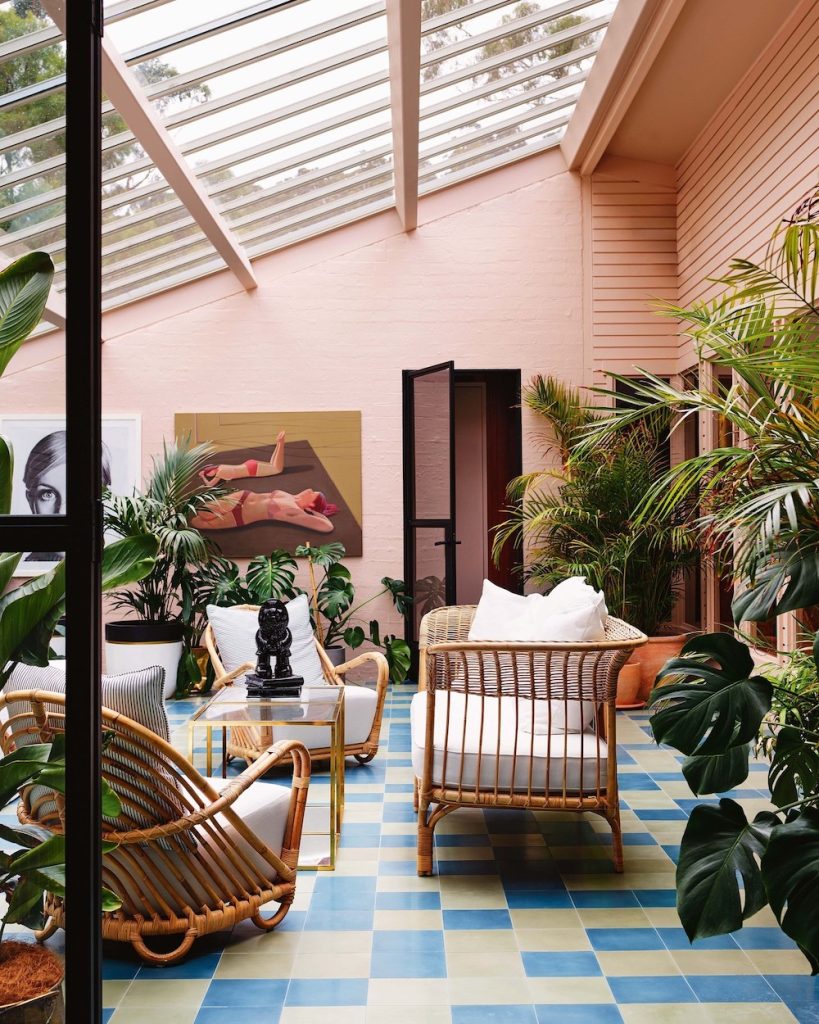 Style a sunroom garden jungle with a rattan sofa. Lounge in a plant and sun-filled room.
Keep it on a Sunny Porch – Natural Rattan Sofa Ideas
Pair your sofa with sturdy country furniture. Surrounded by flowering potted plants. The curtains act as a backdrop for the sofa keeping the sun out but letting the cool breeze flow through. Painted wood tile floors add even more interest to the covered porch.
Fill the Roof Terrace with Hygge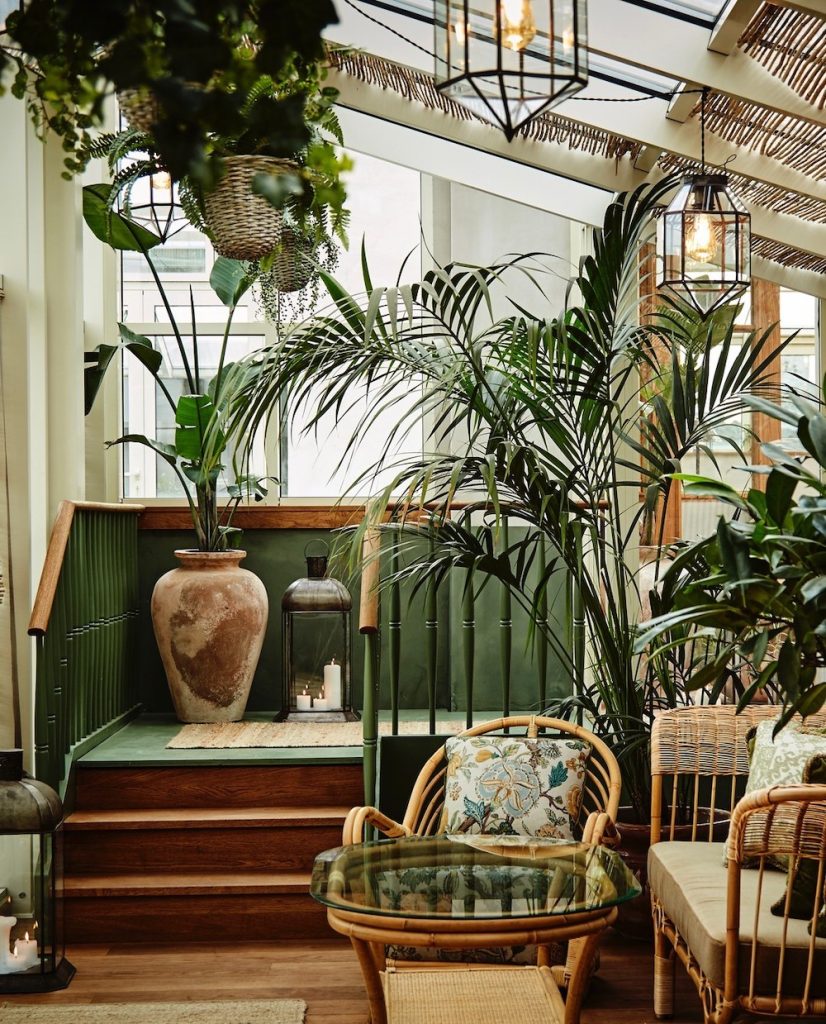 Blend rattan furnishings with lush greenery for a bohemian ambiance. For evening lighting, use candle-filled lanterns and ceiling light fixtures. The roof terrace is the perfect escape for a relaxing meal or lounging space.
Mix Whites and Pale Blues for a Porch Setting – Natural Rattan Sofa Ideas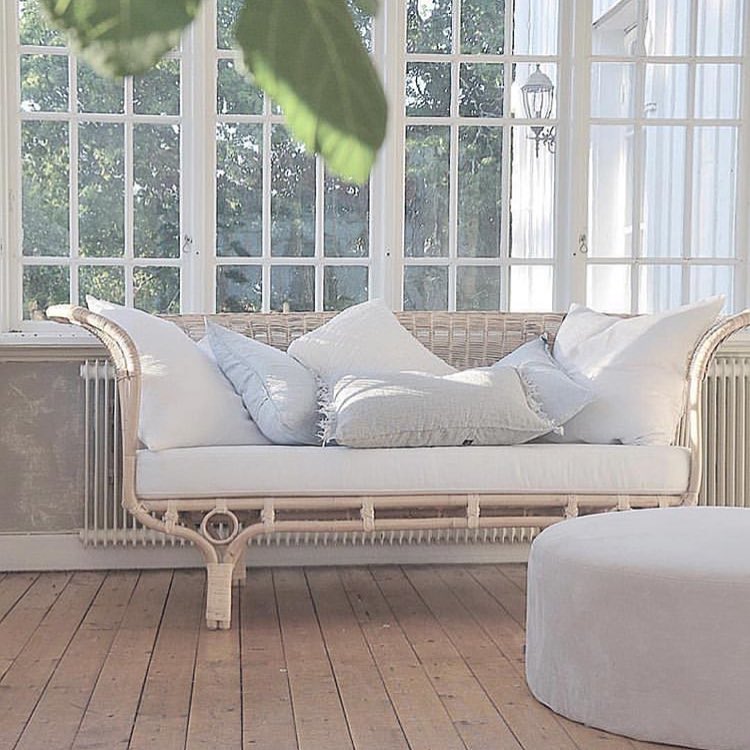 Position your rattan sofa in front of a large row of windows. Allow the natural sunlight to stream over the white finished sofa and toss pillows. The blend of whites, along with a touch of pale blues, creates an amazing tranquil mood. What an inviting place to sit, relax, read, or even share a cup of tea!
Celebrate Porch Season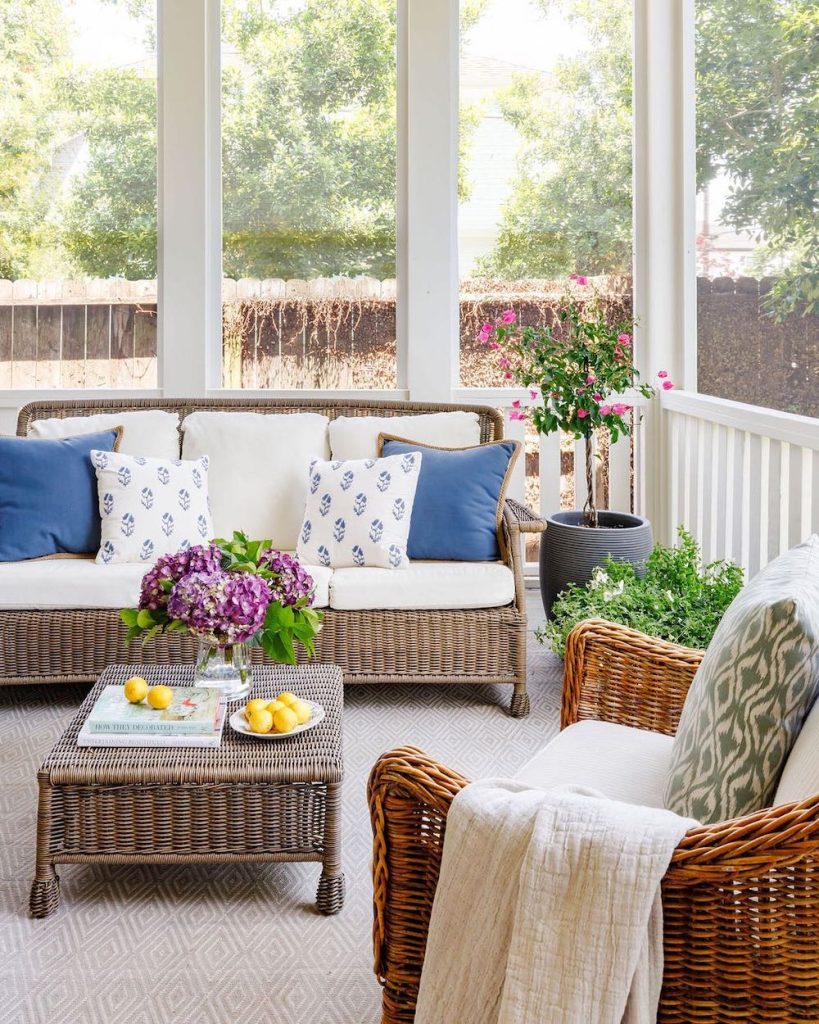 Group together an indoor setting for serving house guests fresh lemonade. The furnishings in this screened-in covered porch brings all the right elements together. A perfectly styled porch for fun and celebrating the sunny season.
Pair it with Faux Bamboo – Natural Rattan Sofa Ideas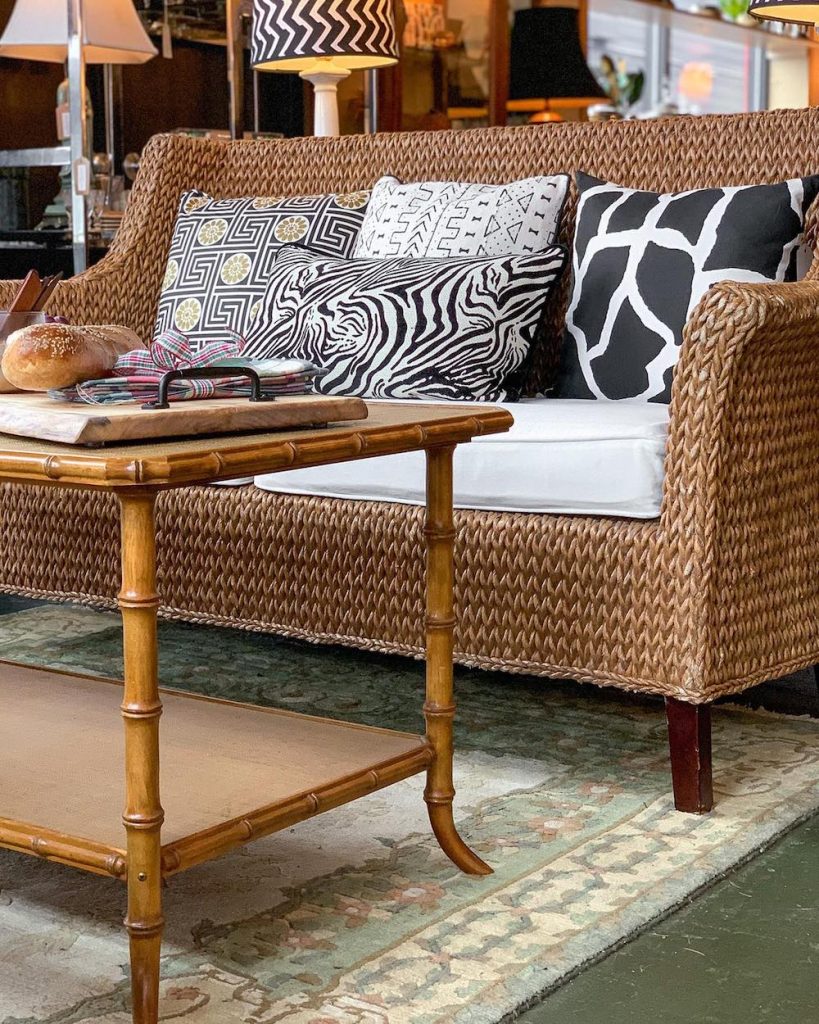 Make it dramatic with bold black and white toss pillows. Spread pillows in animal prints and geometrical prints across the sofa. And for added visual interest, add a faux bamboo table to create a spectacular room setting.
This ends our list of natural rattan sofa ideas. We hope you found a few ideas to style your natural rattan sofa. Above all, remember that there isn't a right or wrong way to design your living areas. Go with what you feel is right for your family and their needs.
Indoor Spaces – Natural Rattan Sofa Ideas
If you are in search of a rattan sofa for your home, below are our picks of rattan sofas. Take a look. Drop us a line in the comment section below. Let us know about your decor project. We always love hearing from our readers.
Keep it relaxed. The combined beauty of earthy tones and natural organic materials creates a tranquil and restful home. Design it with a rattan sofa for a timeless style. And then you'll be ready to bring the summer on.
This ends our list of natural rattan sofa ideas for the home or patio. Design the home space you want with a relaxed, laid-back style using a wicker rattan sofa. Be sure to take a look at our other posts for home and patio inspiration.
Enjoy our other home decor-related posts for additional ideas.
Decorate your home with these great ideas this season. Try these posts for additional decorating ideas this Summer season.
Patio Sofas
White Wicker Sofas
Polywood Benches
Adirondack Chairs
Acapulco Chairs
Wicker Patio Sofas
Outdoor Patio Umbrellas
Outdoor Chaise Lounge
Reach out to us with any questions. We are always ready to help you out. Thank you for dropping by and taking a look at our blog.
Mary
Pin this for Later: