Wicker patio sofa ideas to keep your patio and deck always looking their best. Being outside to relax with family and friends is always enjoyable. Sometimes the best place to be outdoors is on furniture with all the same comforts and quality as indoor furniture. We share stylish outdoor sofa ideas for patios, porches, decks, and other outdoor areas in today's post. Ideas that provide a comfortable place for entertaining house guests.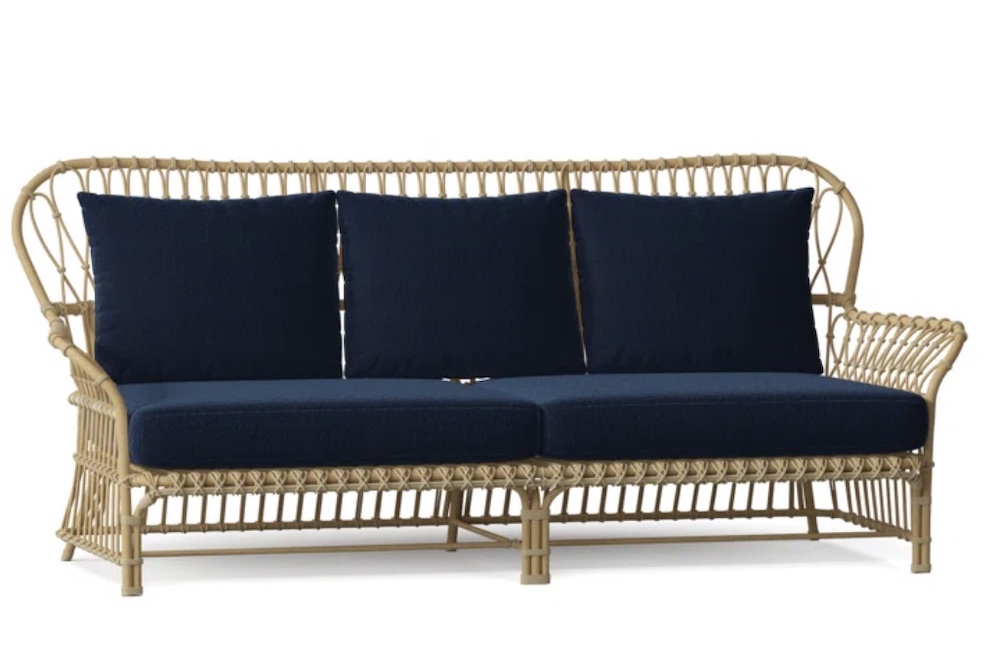 First of all, what is a patio sofa? Known by three other names. Call a patio sofa by these names – patio, outdoor, or garden furniture. Designed for outdoor use, this furniture stands up to summer weather conditions. And often made from weather-resistant materials such as rust-proof lightweight aluminum. In this post, we'll share ideas for outdoor patio sofas with a rattan wicker-type frame cover.
Are Rattan and Wicker the Same?
First, let's clarify the difference between rattan and wicker. There is a difference between rattan and wicker. Rattan is the organic material that is used to create a basket or furniture piece. It grows in a creeping habit in Asia, Africa, and Australia. Harvested by local farmers once the plant has matured. Followed by the preparation phase of harvested rattan strips by the skilled crafter.
The furniture crafter starts with a furniture frame. Then wraps the rattan strips around the frame base in a particular pattern. The wrapping process of the rattan strips around the frame is called wicker. Wicker is the actual process of weaving or wrapping the frame with natural rattan. Woven around the frame in either loose patterns or tightly woven patterns. Tighter woven patterns give strength to the furniture. At the same time, a loosely woven pattern is used for more intricate, decorative designs.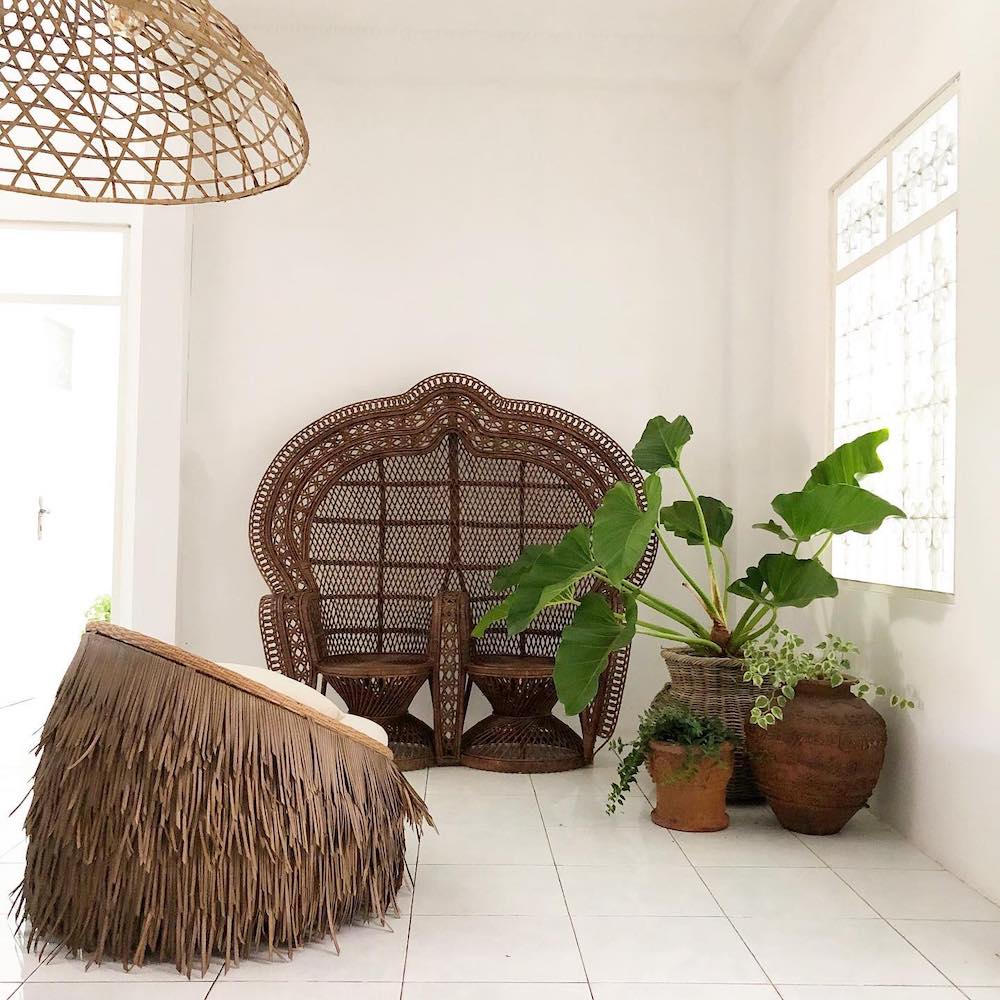 In this Peacock chair image above, a tightly woven design is used for the base and the chair seat. This strengthens the chair and provides support. To create a decorative design, a looser woven pattern is used on the chair's back. In a nutshell, rattan is the all-natural material used in the wicker process. Wicker is the method used to weave a basket or attach the rattan to a furniture frame.
What to Look for in an Outdoor Patio Sofa?
The beauty of outdoor furniture is its ability to resist water. Outdoor furniture can withstand the weather elements and still maintain its beauty. Natural rattan furniture is beautiful however, it is not the best choice for an outdoor deck or patio. Luckily, rattan-like furniture was developed to provide the look of rattan. This rattan-like furniture is made from all-weather materials. It is sometimes referred to as resin rattan furniture. Designed for outdoor use and treated to resist moisture. It is a far better solution for the outdoors and those living in wetter climates.
One of the best materials for outdoor furniture that holds up to wetter climates is aluminum. Resin rattan is sometimes woven over an aluminum frame. Aluminum is lightweight, and in windy climates or by the shore, you risk being damaged by wind gusts. Outdoor patio furniture is designed to remain outdoors during warmer seasons. Although, during the colder months, the weather can damage the outdoor furniture. It is best to store your resin rattan furniture in a protected area away from winter weather.
The Right Patio Sofa Size – Wicker Patio Sofa Ideas
Follow this guideline to determine the right sofa size for your outdoor space. Maximize your outdoor enjoyment with a perfectly styled deck or patio. Furnish your outdoor space according to your lifestyle and the size of your patio or deck. First, you'll need to know how much space you must work with. This is especially important if you live in an apartment.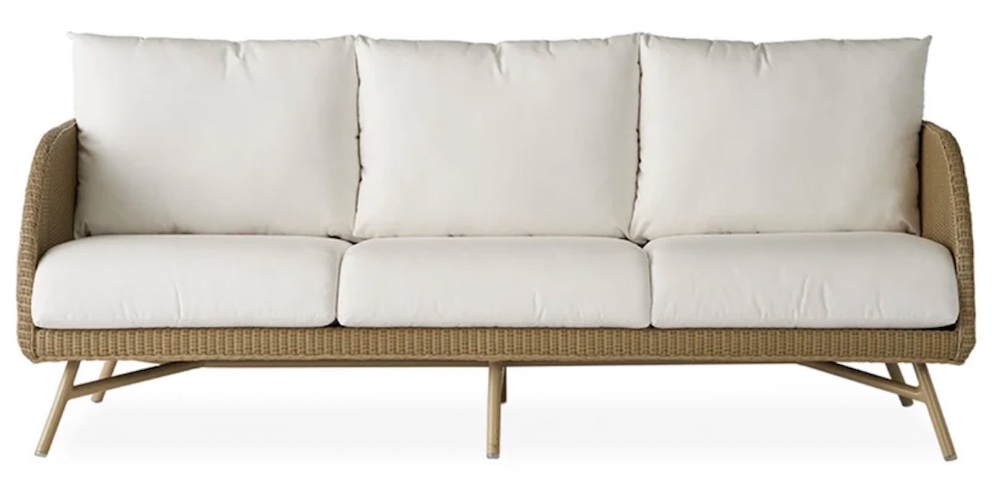 Measure your deck or patio size. Round up to the next whole foot. For example, if your area is 9 feet and 8 inches then round up to the 10 feet size. You are simply getting an estimate of the surface area. Multiply the length by the width once you have the measurements. This is to determine the square footage of the area.
Allow between 30 to 36 inches of space between your patio sofa and the surrounding outdoor furniture. If you are furnishing a smaller outdoor space, allow 20 to 24 inches at the very least. Between the couch and a coffee table, allow a distance of 14 to 18 inches. This is sufficient enough space to reach for a drink or plate of food on a coffee table.
Style it with Wicker – Wicker Patio Sofa Ideas
Boost the appearance of your outdoor living space with a wicker patio sofa. Perfect for a deck, patio, or near a pool area. There are many styles to select from.
We begin our list of ideas for your wicker patio sofa. Take these pro tips and make them your own at home. Take a look.
Place in a Natural Setting – Wicker Patio Sofa Ideas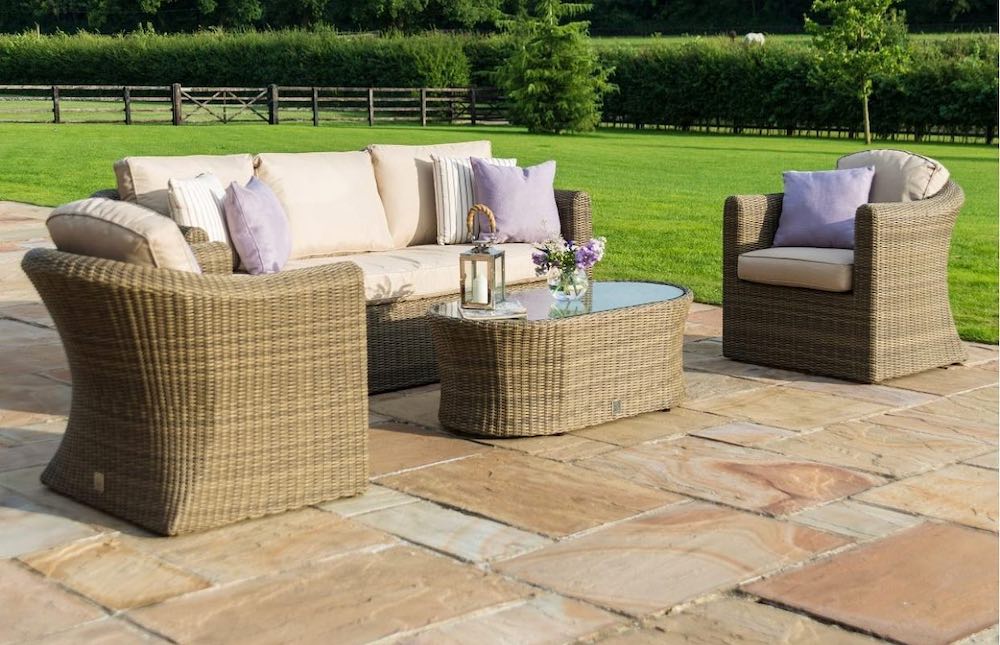 Fill a vase with fresh lavender flowers and matching lavender toss pillows. What a refreshing look! Don't forget outdoor lighting when the sun sets.
Stay Cool Under a Pergola – Wicker Patio Sofa Ideas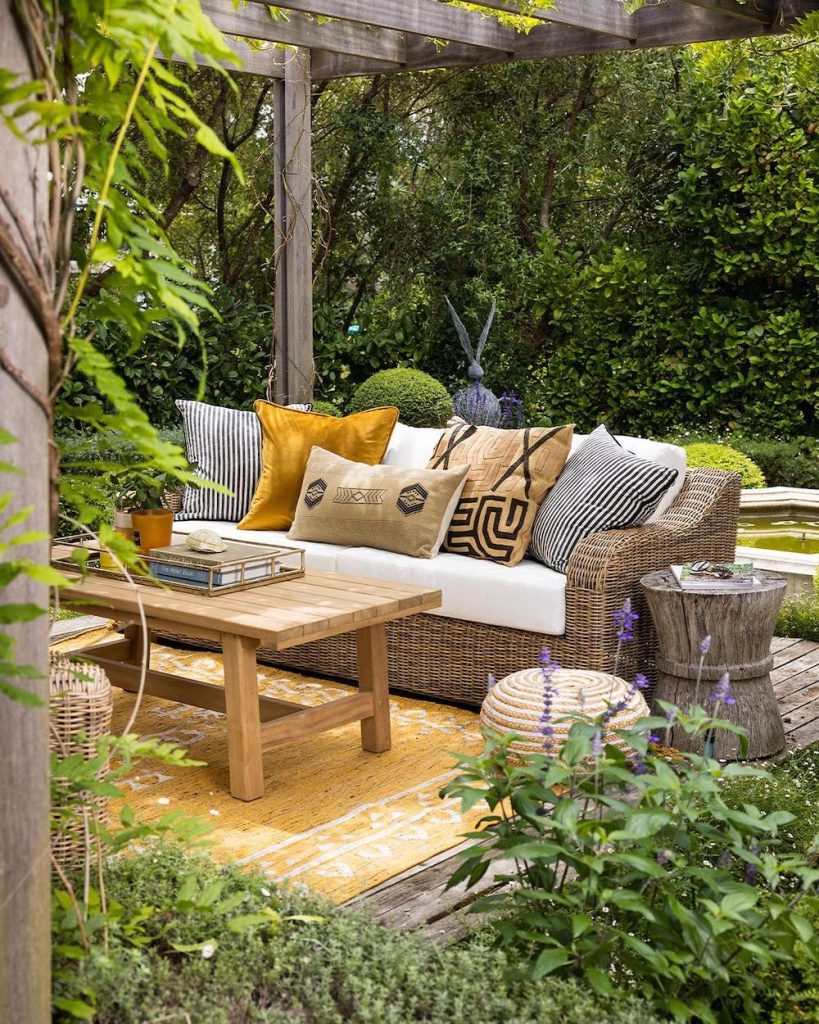 Make your outdoor setting as comfortable as possible. Be by your poolside, patio, or garden, and a pergola offers you a spot to stay cool on your sofas. The wisteria-wrapped pergola provides beauty and fragrance to this space.
Surround Yourself with Nature – Wicker Patio Sofa Ideas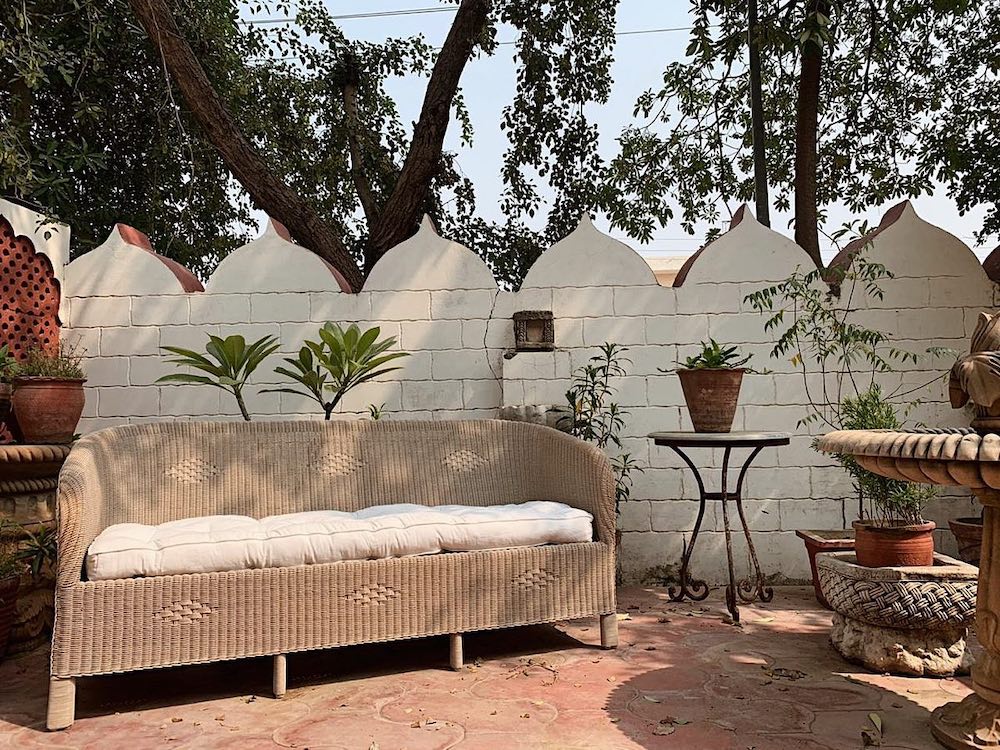 Add greenery to your patio. Using native plants is always a good start. Keep a water fountain going to add to the tranquility of the setting.
Light Up Your Patio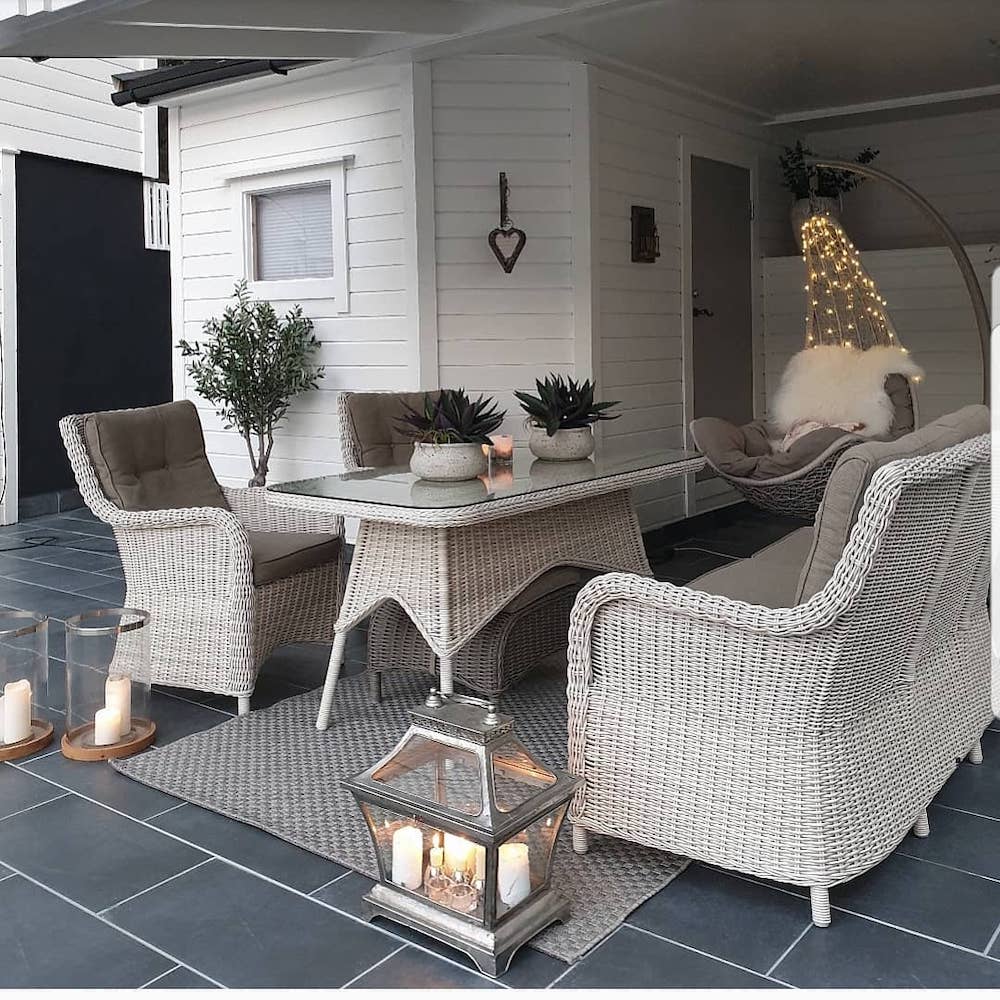 Brighten your patio using both candles and exterior lighting. Let the party continue well into the night.
Create a Beautiful Balcony Life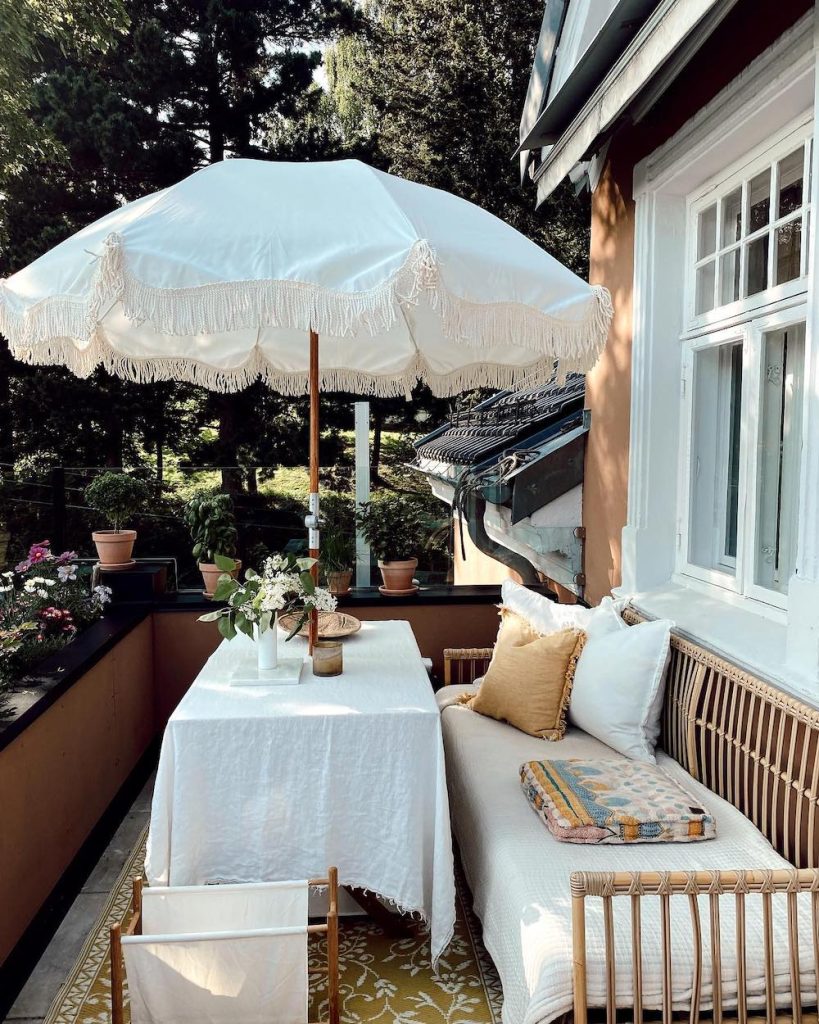 Bring the comforts of indoors outside. Cover the outdoor table with a tablecloth. Add toss pillows to the patio sofa for more comfort. Keep the patio umbrella out for added shade. Line up a few potted plants on the patio ledge to add color and a bit of privacy.
Style it Bohemian – Wicker Patio Sofa Ideas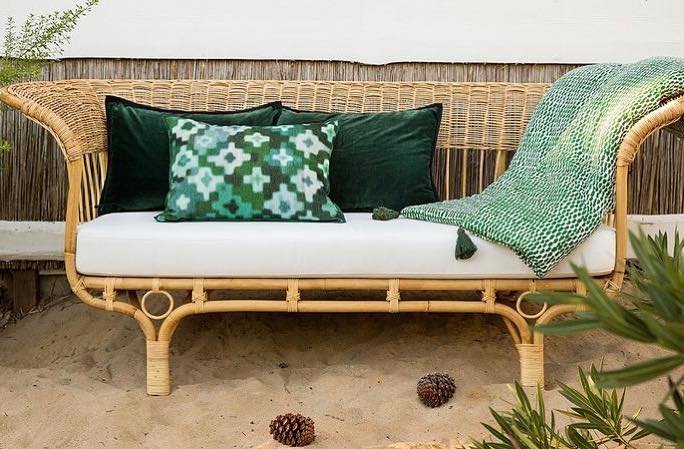 Drape is a throw within reach for those chilly evenings when temperatures begin to drop. Make it an organic Bohemian patio.
Enhance the Tropical Setting – Wicker Patio Sofa Ideas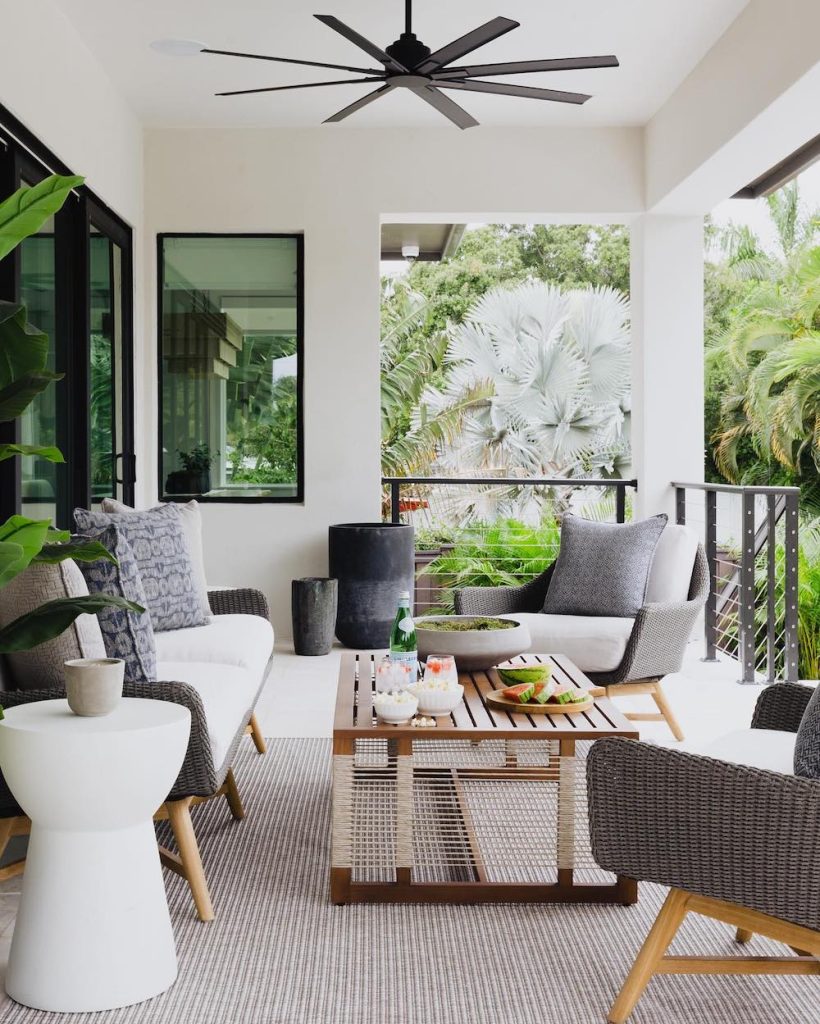 Go for modern mid-century decor. The upstairs patio furniture is an extension of the main home. And the beautiful landscape further enhances the patio sofa and chairs.
Go Organic – Wicker Patio Sofa Ideas
Grow an outdoor room with walls full of greenery. In this outdoor area, the ceiling beams filter light from above. It also features hanging baskets. Cover your walls with live plant material as in this image. From top to bottom, three walls have live plants. A special place for a break from life's challenges.
Make it Cozy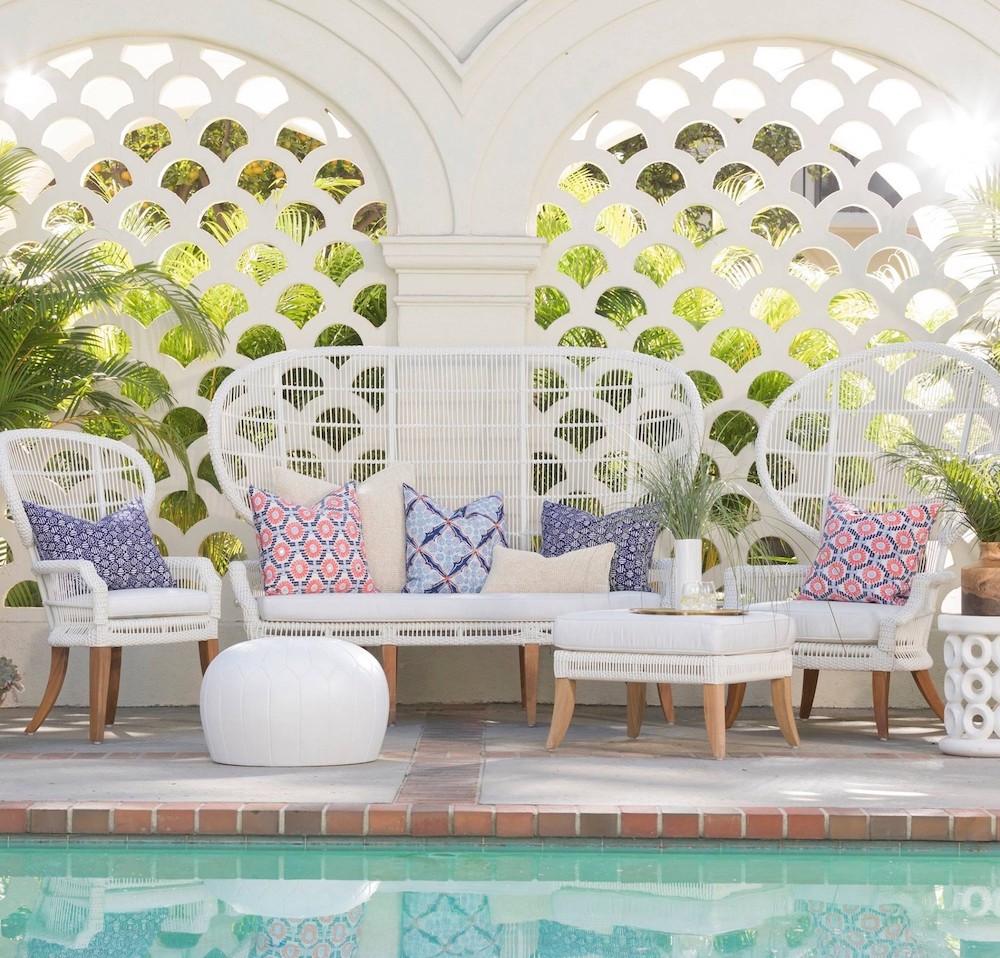 Add a few toss pillows to your patio sofa. Nothing keeps it cozier than a few decorative pillows.
Create a Reading Nook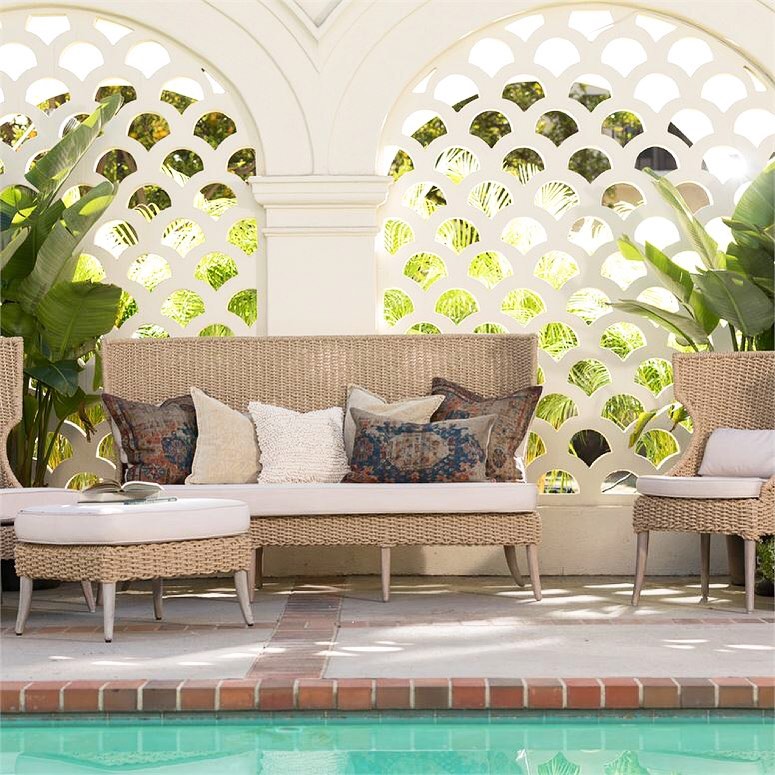 Stock a few of your favorite beach reading books poolside. A perfect spot to lounge after a swim and do a little reading.
Make them Green with Envy – Wicker Patio Sofa Ideas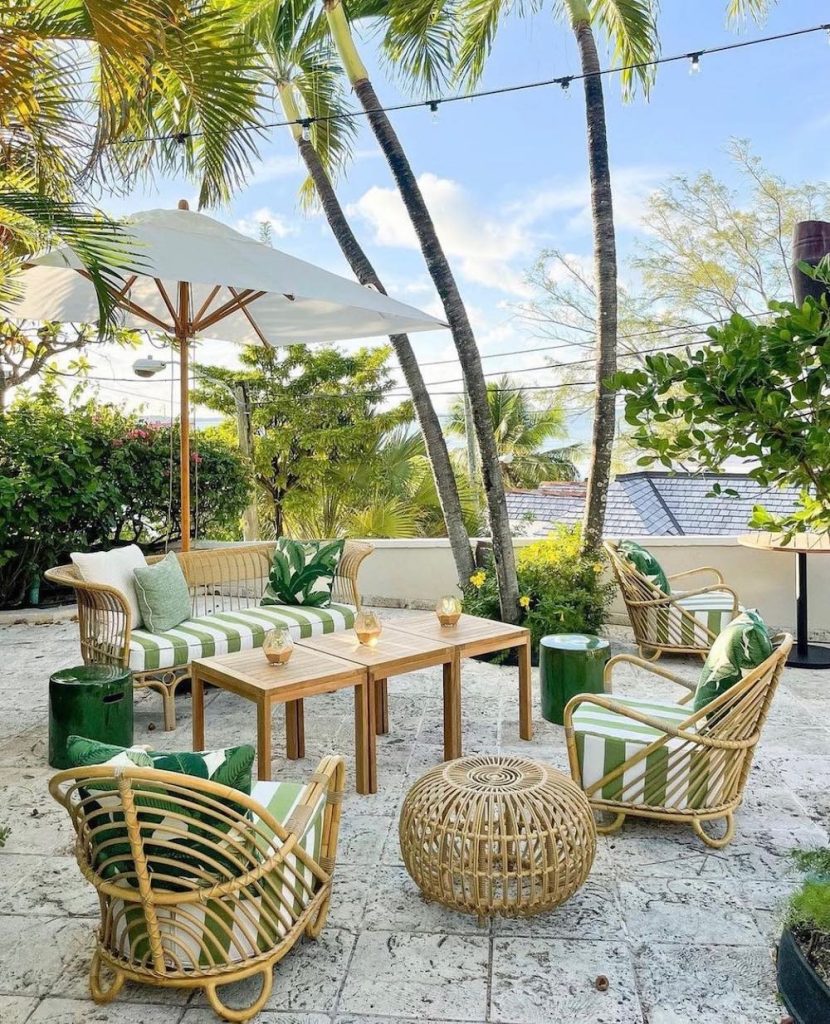 Style your patio sofa with a bold green and off-white striped cushion seat. The off-white toss pillow and umbrella cover go very well with the green. Create a patio setting that'll make your guests green with envy.
Create a Calmness on the Patio – Wicker Patio Sofa Ideas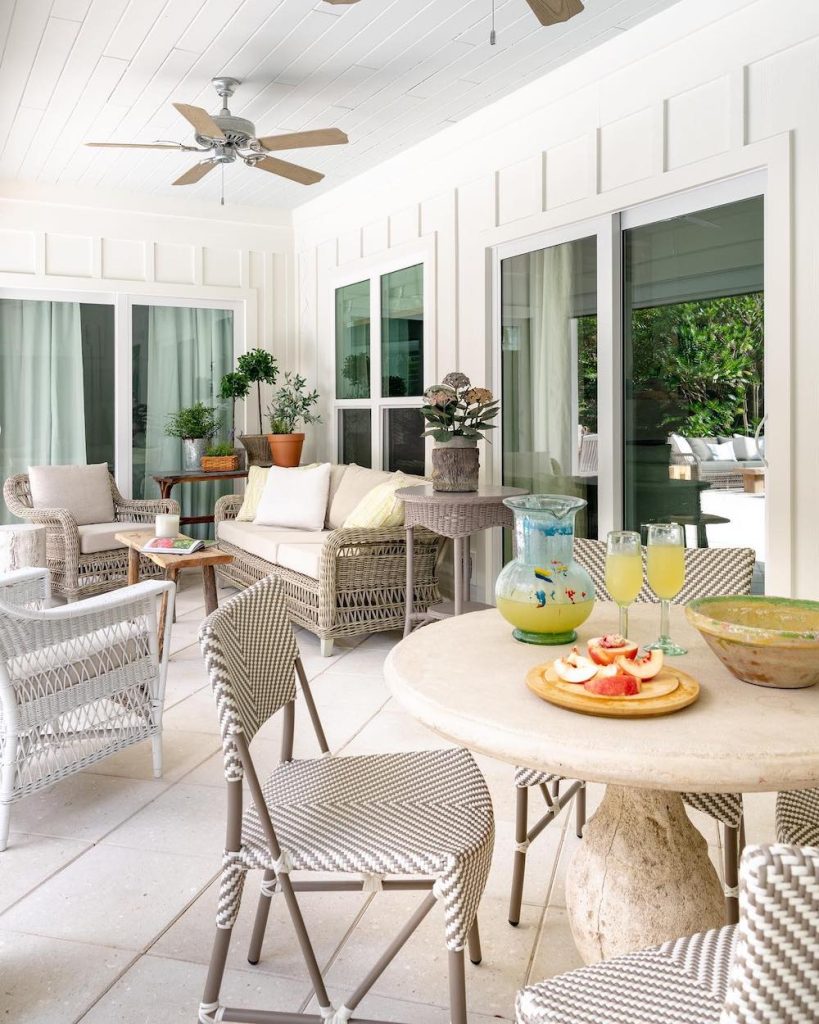 Mix it up with a variety of textures on the patio. Give your patio sofa a panel vertical siding background with a diagonal tile floor. Install a ceiling fan for extra comfort during those hot, steamy days. All in a creamy, off-white neutral color.
Style it with a View of the Ocean – Wicker Patio Sofa Ideas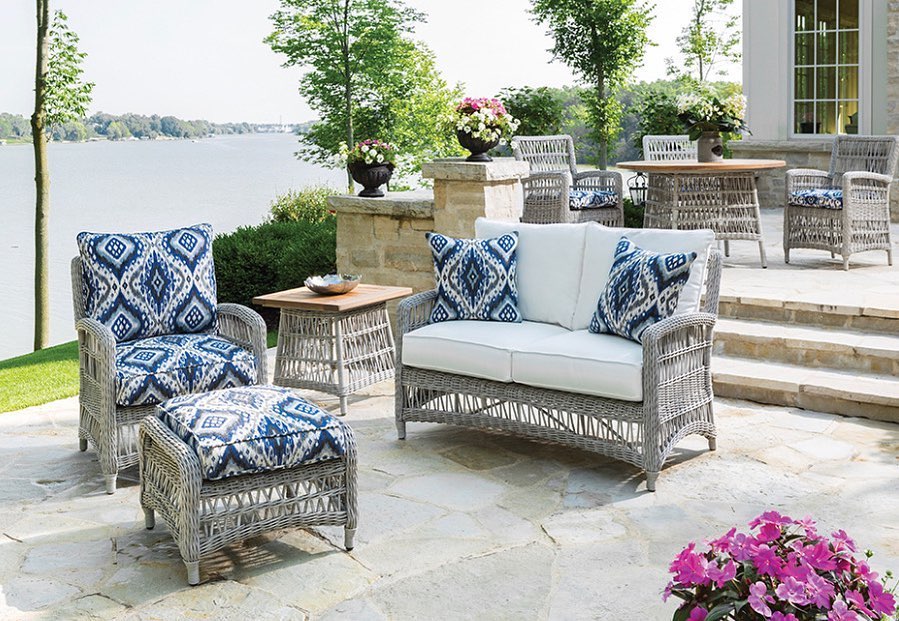 Create a grouping of wicker patio furniture that overlooks the lake. Soak up the sun while you relax.
Create a Privacy Wall Setting – Wicker Patio Sofa Ideas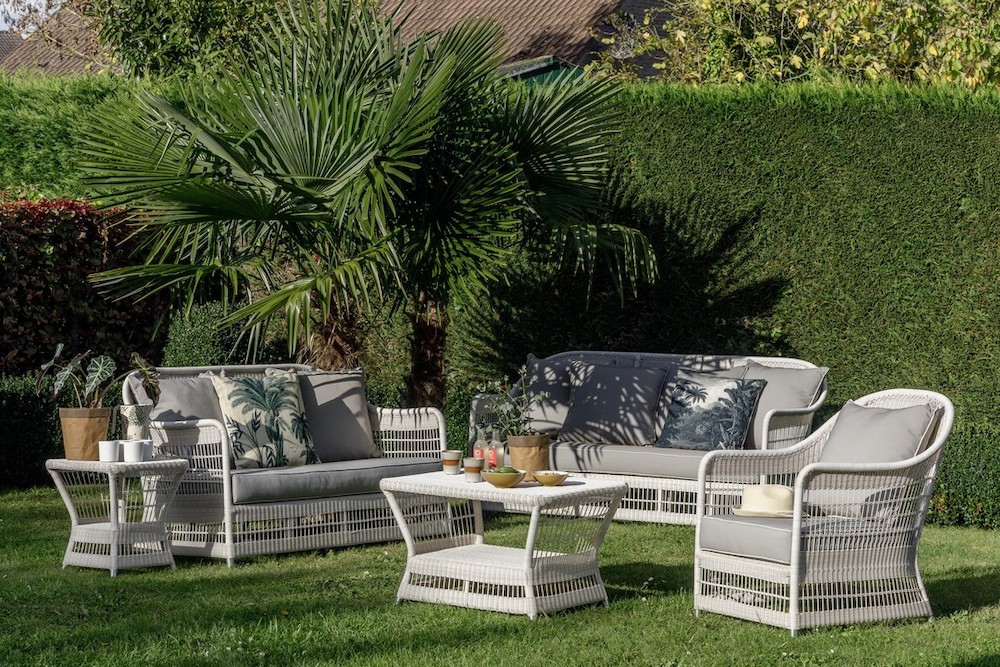 Place your furniture next to a privacy hedge. Create a barrier to muffle noises from the surrounding homes. Make it your private oasis.
This ends our list of wicker patio sofa ideas for the patio and deck. Keep your patio just as comfortable as the interior of your home with the right patio furniture. Greet your house guests on the patio or deck furnished with outdoor furniture. Remember, there's no right or wrong way to design your outdoor space. Let your imagination guide you to creating the best patio ever.
If you'd like to decorate with a wicker patio sofa in neutral colors, take a look at these gorgeous sofas. Ideal for the patio, deck, or terrace.
Select any of these sofas to decorate your home with. Each piece makes for an inviting patio space. And don't forget to share with us which sofas are your favorites. We love to know what you are thinking.
Be sure to take a look at our other posts for patio and garden inspiration. Drop us a line below in the comment section. Let us know all about your favorite patio decor projects for your house.
Enjoy our other home decor-related posts for additional ideas.
Decorate your home with these great ideas. Ideas for both the interior and exterior living spaces. Try these posts for additional decorating ideas this Summer season.

White Wicker Sofas
Deck Boxes
Polywood Benches
Adirondack Chairs
Acapulco Chairs
Outdoor Patio Umbrellas
Outdoor Chaise Lounge
Wood-Burning Fire Pits
Reach out to us with any questions. We are always ready to help you out. Thank you for dropping by and taking a look at our blog.
Mary
Pin this for Later: