With Spring around the corner, you might be looking for some balcony decor ideas for a quick refresh. Some people can't see the potential that a balcony has to provide a comfortable home outdoor space. A relaxing space with fresh air and sunshine. And a spot for an intimate dinner, a cozy place to unwind, or even entertain a small group of friends. The possibilities of uses are endless, just as the options to decorate are many.
Do you have a bare balcony? Or maybe you are lacking a few items to fill in a partially furnished balcony? Either way, we have some ideas to help you transform your balcony into a mini oasis. A place to celebrate the Spring and Summer seasons.
We'll show you a few ideas to help you get your balcony ready for warmer weather. Don't neglect your balcony, after all a balcony is an unpolished gem waiting to be adorned. Take a look at our ideas to decorate and use for the all too often overlooked balcony. Go from plain to stunning with these ideas and tips.
Relive the Tropics Everyday – Balcony Decor Ideas
Start out with a rug. Protect your feet from the intensity of the hot summer sun. Of course, outdoor floors can be cold too. An outdoor rug provides a barrier between your feet and the floor no matter the temperature. Don't you love this setup? Warm beige, sand, and white-colored decor with just a little greenery.
2. Build a Dual Purpose Screen for Garden Plants and Privacy
Build a dual-purpose screen to divide a balcony that is shared with a neighbor. The plant stand not only holds plants but acts as a privacy screen. Grow plants that either cascade down or upright Sun-loving plants for even more privacy. As the plants mature, they fill in any openings in the screen.
3. Go Natural with Reed Fencing as a Privacy Barrier
As an alternative to a plant stand screen for privacy, install a natural reed fencing section. The natural reed is beautiful however, not as sturdy as the plant stand so secure it well to your balcony rail structure. We love the mix of linen fabrics and natural textures of the reed and rattan.
4. Drape Fabric from the Ceiling for Warmth
On cooler days, drape a piece of fabric to protect you from the cold and wind. Not to mention that this fabric will come in handy on days when the sun is at its full strength over the Summer months.
5. Live a Balcony Life – Balcony Decor Ideas
In a larger balcony, create two spaces. One space for a sitting area and another for a dining area. Each space has its own dedicated lighting.
6. Light Up Your Balcony
Another ingenious idea for lighting your balcony is to install lights from the ceiling hanging down. In this beautiful Girl and the World idea, all the ceiling lighting is connected to a single remote control device. Pretty, cool!
7. Style in Silver, Gray, Black, and White
Create a reading nook in silver, gray, black, and white. A perfect spot for reading or even planning your next decorating project. We love combining these colors and container plants with silvery-green foliage. This combination really stands out.
8. Go Wild with Pink
Add pink accessories to your balcony. In this case, pink flamingos make the ideal mascot for this space. A neutral background with a pink lantern, chair, drinks, and flamingo pillow. Include a few tropical plants and some lighting for nighttime use.
9. Set Up a Swinging Hammock
Hang a swing from your balcony. And when you need a break take a quick snooze.
10. Make the Most of Your View – Balcony Decor Ideas
Longing for those Summer sunsets? If you are lucky enough to have a scenic view, don't compete with the views. Add lights for evening celebrations.
11. Add Layers of Pillows for Maximum Comfort
Layer pillows on your sofa to maximize your comfort. Be sure to include a throw for those chilly nights.
12. String Bunting Across the Balcony
String bunting across the balcony to celebrate the evening, Springtime, Memorial Day, the first day of Summer. Celebrate each and every day.
13. Make it Organic
Make your outdoor space organic. Use natural products such as rattan, linen, greenery plants. And best of all these earth tone colors blend fabulously well together.
14. Soak in the Sun – Balcony Decor Ideas
Soak up the sun in style on a balcony with greek key fencing. And don't forget the tulips!
15. Watch the Sunset – Balcony Decor Ideas
Watch the evening Sunset from your balcony. Gather a couple of lanterns, bench, and throw for a relaxing evening.
16. Bistro Table for Two
A small bistro table and chair set in aqua make this a private outdoor space. Add a few lights, greenery, and even candles.
17. Create an After Hours Work Space
Create an after-hours workspace on this balcony. Some sheer curtains provide a little privacy.
18. Live a Green Life
Add container plants to your balcony. Green plants add so much to your mood and improve overall health quality. Add compact plants or plants that are fragrant.
19. Take a Cat Nap
Create a space to take a nap on your balcony. Pile layers of pillows to soften the space.
20. Enjoy the Sky View – Balcony Decor Ideas
Arrange your furniture to maximize the view of the sky. Add a couple of tables for drinks and snacks.
21. Breezy Afternoon
Make your sofa swing. Suspend your sofa from the ceiling so that you can enjoy a swing with your favorite pals.
22. Inhale the Ocean Air – Balcony Decor Ideas
Enjoy the fresh ocean air if you are lucky enough to live near the ocean. All you need are two cabana sling chairs and a side table. Then relax.
23. Lounge in the Morning Sun – Balcony Decor Ideas
Add greenery with fragrance. And greenery that repels insects such as mosquitos. Lemongrass, in particular, is great for repelling mosquitoes.
24. Take the Afternoon Off
Enjoy the late afternoon day on the balcony. Especially if you work indoors, a great time to be outside for some fresh air. Add some storage options to the balcony area for those rainy days.
Kick Up Your Heels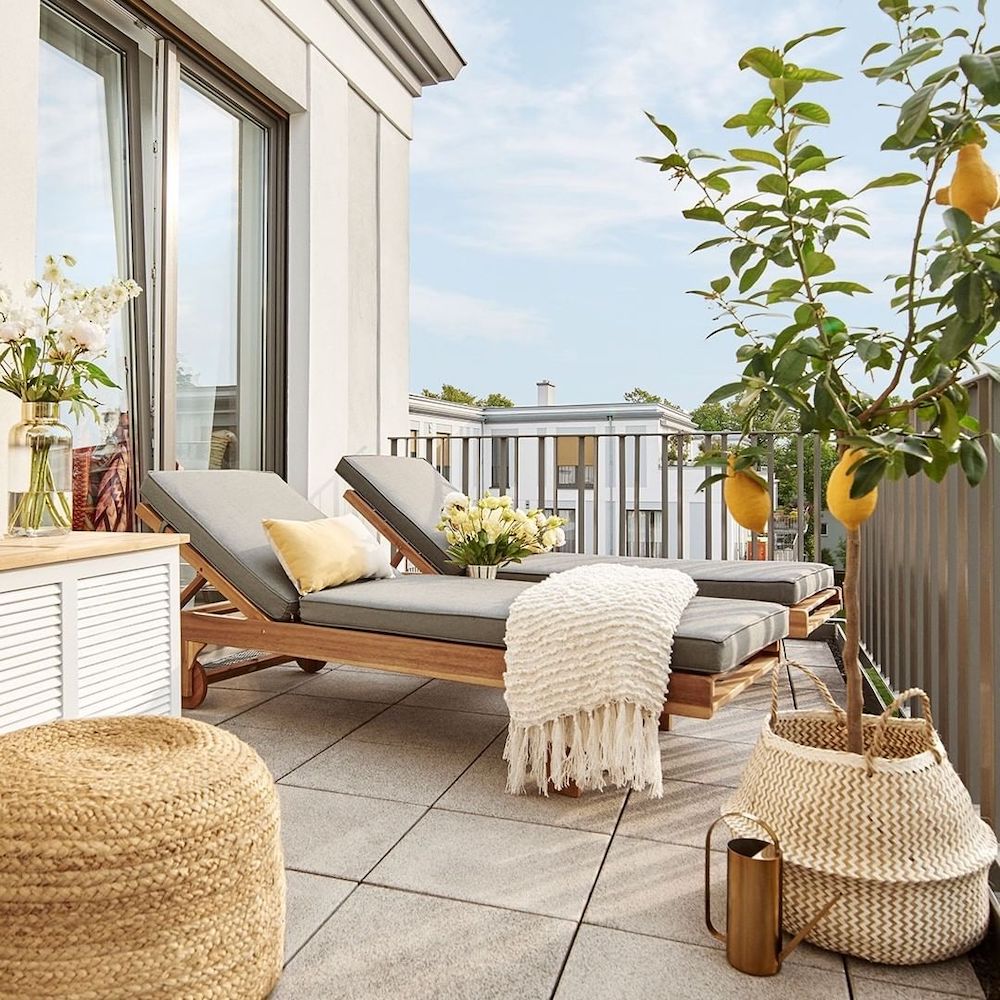 Lay back and relax with a buddy on this charming balcony. Soak up that sun and take in that vitamin D.
In apartment and condo spaces, a balcony may be the only outdoor space that is entirely yours. Make that outdoor space a comfortable one, a place to unwind after work and school. With a little thought and planning, you can transform your balcony space into an oasis that you'll want to show off. Make your home balcony stand out with the use of sustainable and eco-friendly balcony decor ideas. Take your balcony from plain to stunning with these balcony decor ideas.
This is the end of our list of balcony decor ideas for your home. We sincerely hope that you found some ideas that you can put to use in styling your outdoor balcony. Have you tried any of these decoration ideas? We loved the string of lights suspended from the ceiling from Girl and the World. Although we must admit hanging lights from the ceiling is a challenge when you are fearful of high places! Nonetheless, we love the look of nighttime lights on our balcony.
Enjoy our other decor related posts for additional ideas.
Inspirational Coastal Wall Art Ideas
Versatile Garden Stools for Outdoor Living Spaces
Benches to Accent Your Gardenscape
Best Outdoor Bistro Sets
Outdoor Rugs for Outdoor Spaces
Wood Burning Fire Pits for Your Patio
Reach out to us with any questions. We are always ready to help you out. Thank you for dropping by and taking a look at Finding Sea Turtles blog.
Mary