Adirondack chairs are known for their incredible comfort and classic style. Made from wood or several plastic materials. The most important necessity for a Summer patio chair is deep comfort. For relaxing long hours outdoors, you'll want a strong chair that remains comfortable even after many hours of use. And that chair is the Adirondack chair without a doubt. Another important factor when selecting a patio chair that withstands summer weather conditions at the shore, in the mountains, or your backyard.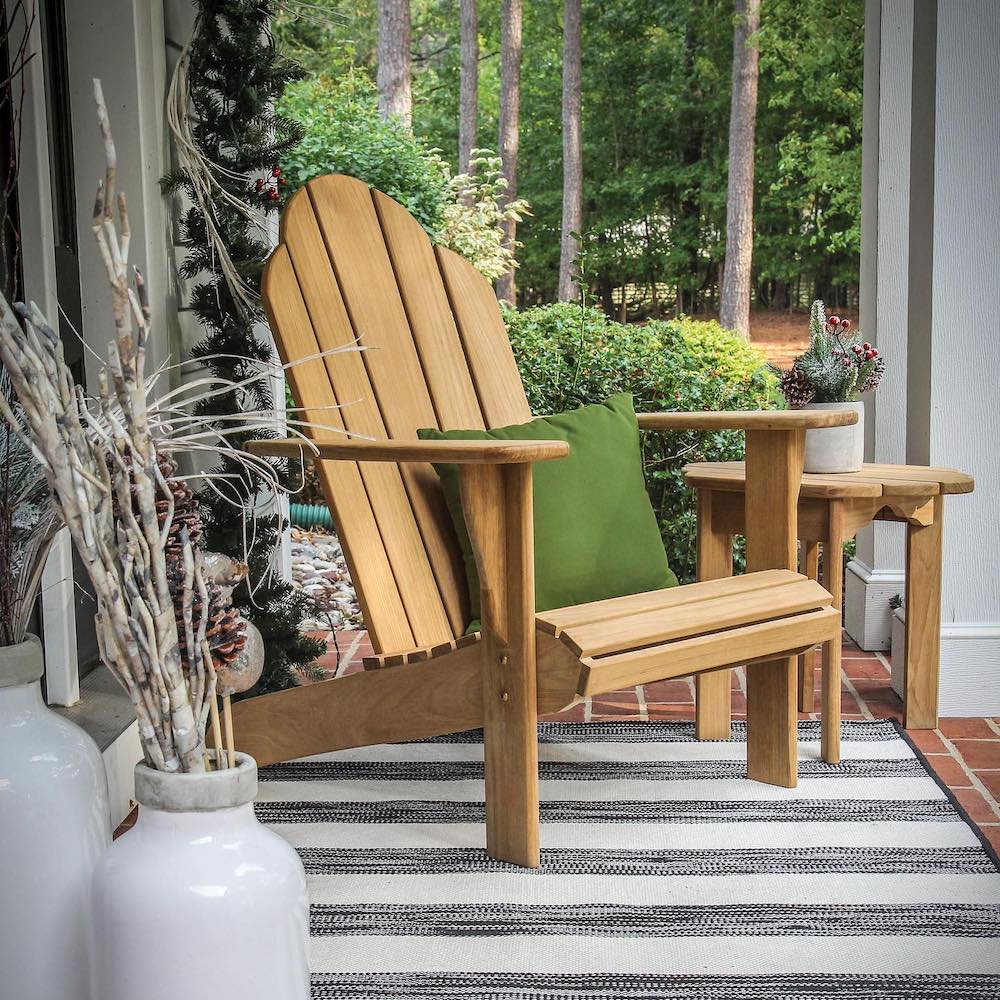 You might wonder what exactly makes the Adirondack chair so special. For starters, the appearance of the chair. It easily adds a sophisticated look to any area of the home. The size of the chair frame alone gives an aura of prominence and that of a carefree lifestyle. A wide-fanned back side with wide armrests provides this chair with its instant appeal. Perfectly oversized to sit curled up with a throw or with a little one on your lap.
Immensely popular today. Designed right after the turn of the century, the Adirondack chair has never been more popular. Use these iconic chairs indoors or outdoors. Adapted to suit many decor Styles, the rustic design is much sought after. In today's post, we are sharing our love of Adirondack chairs with a laid-back style.
The Origin of Adirondack Chairs
Based on the Lee family's desire to gather together outdoors in a comfortable setting, Mr. Thomas Lee designed the first chair. That was in 1903 during a family vacation to Westport, New York. Westport is located near the Lake Champlain region of New York. Mr. Lee developed 20 different prototypes before settling on this particular design. He hoped to create the best outdoor lounging chair around.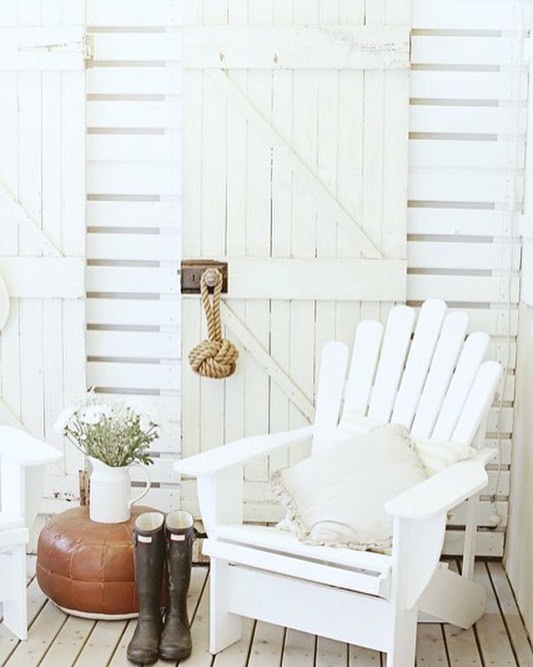 A friend of Mr. Lee's asked him if he knew of any work opportunities. The friend was searching for a way to increase his income over the upcoming winter months. The friend was Harry Bunnell, a local carpenter. To help his friend, Mr. Lee shared his plans for what at the time he called the "Westport chair". Mr. Lee encouraged Harry Bunnel to build and sell the outdoor chair for additional revenue. Harry Bunnel did and the chair was a massive success throughout the region and into the New England states.
In 1905, Bunnel filed a patent for the design without Mr. Lee's consent. Then he began manufacturing the chair called the Westport. The durable chair is built to withstand the outdoor elements. Today, the chair is frequently seen at beaches, lawns, camps, resorts, parks, cafes, and outdoor shops.
What Differences Between the Cape Cod, Westport, Muskoka, and Adirondack Chairs?
Initially, the design submitted by Bunnel was called the "Westport Chair". Named after the town the chair was originally made in. From the town of Westport, the chair later made its way to a convalescent home in the nearby Adirondack Mountains. The convalescent home specialized in treating patients suffering from tuberculosis. Used throughout the Adirondack Mountains in convalescent homes and health spas. These medical homes and spas cared for tuberculosis patients being treated. Each treatment center had outdoor settings for patients to breathe the healing fresh air of the Adirondacks. Bundled patients could comfortably sit on an Adirondack chair as they received healing treatments. At this time is when the chair became known as the Adirondack chair.
Chair Size Differences – Adirondack Chair
As the chair gained popularity, it made its way north to Canada. In the Muskoka community, a popular destination with summer visitors from Ontario it landed in the summer cottages. Originally called the Westport Plank Chair. Named after the town where it was first designed and built. In the Muskoka community outside of Ontario, the chair evolved in design and name. Three things were noticeably different with the appearance of the Muskoka chair. First, the chair was 2 inches shorter than the original chair. Second, the armrests of the chair were 2 inches smaller than the Adirondack chair. And third, the chair had a slightly curved yoke. This newly designed chair came with a different name. Named Muskoka Chair after the summer vacation cottages in this area.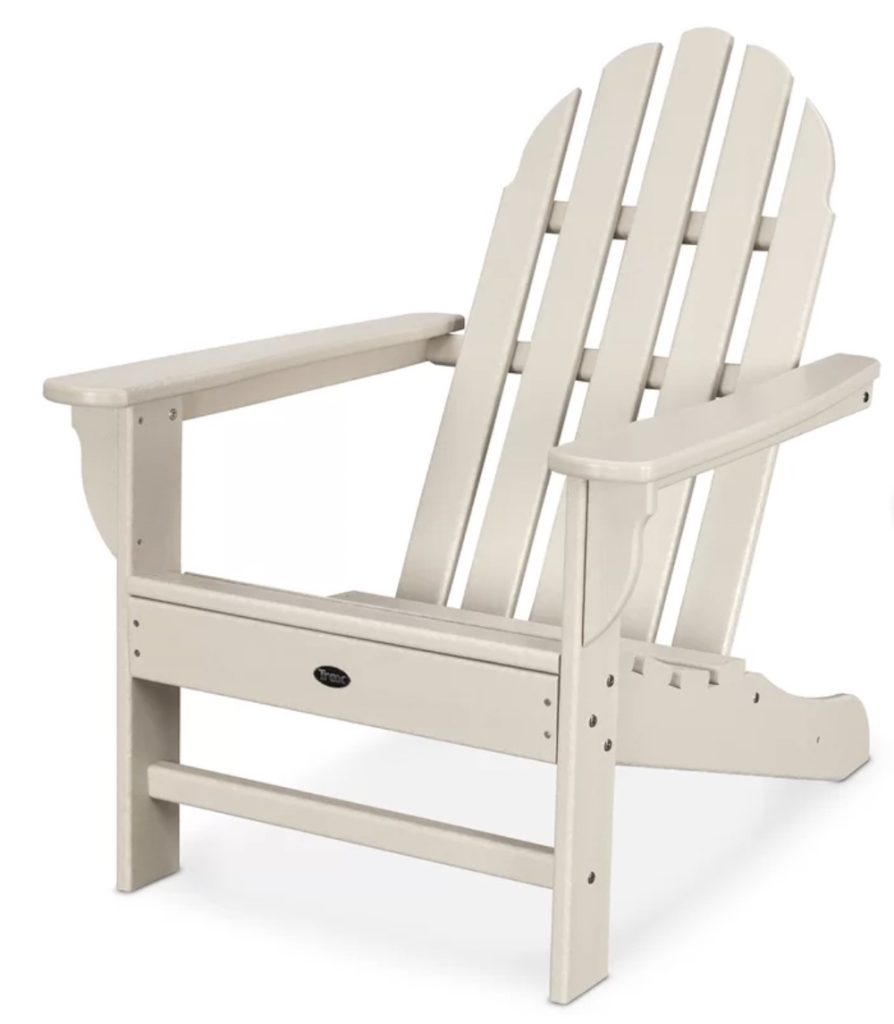 In the image above, you'll see the Cape Code chair. The Cape Cod chair is also known as the Adirondack Chair. Order these chairs in a variety of colors with numerous features. This particular chair features marine-grade hardware which is ideal for coastal communities where salt air is prevalent.
There really is no difference between a Cape Cod, Westport, Westport Plank (the original name of the chair), or Adirondack chair. However, the Muskoka Chair has a slight difference in design. The Muskoka chair features a curved yoke and is smaller in size than the mighty Adirondack Chair.
American Deck Chair vs. Deck Chair
The Adirondack chair is referred to as the American Deck Chair as well. Mr. Lee wanted to design the "perfect outdoor chair" for his house by Lake Champlain. The chair slant allows for easy accommodations for those in rugged terrain commonly found in mountainous regions.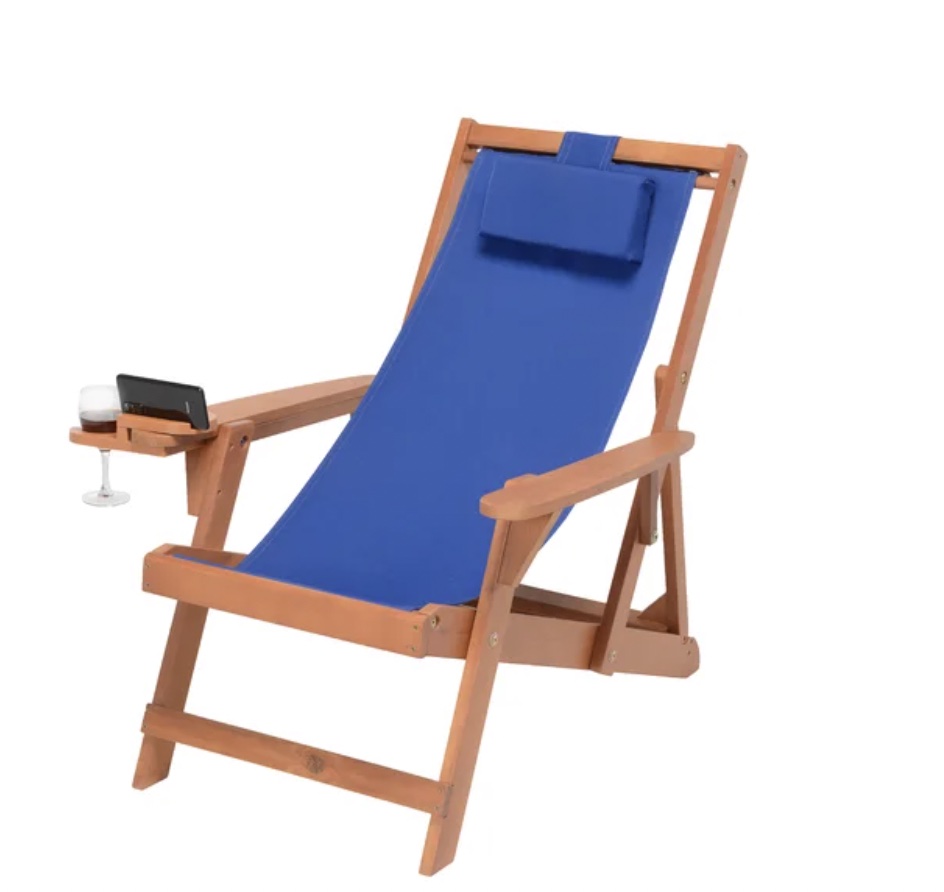 However, a traditional deck chair as seen in the image above, is a simple, wood chair that folds. A woven strip of fabric usually weatherproof supports the back and seat. The portable folding chair is typically found in beach resorts especially along British beaches and on cruise ships.
In 1855, John Cham submitted a patent design for this basic wooden folding chair. Used on cruise ships due to their portability and simple design, these were popular chairs. In this instance, the chair's name eludes to the usage of the chair.
What is Polywood Furniture? – Adirondack Chairs
One type of popular Adirondack chair is made by the Polywood company. These chairs are made from unrefined high-density polyethylene or HDPE material. HDPE material is manufactured from recyclable waste. Polywood furniture is highly durable and holds up to rain, snow, and UV rays. And unlike wood furniture, Polywood does not rot, splinter, or crack. Keep in mind that these chairs are made from recycled plastic. They do not absorb moisture and are resistant to insects and pests.
Furniture made from HDPE material is capable of retaining color. Due to the UV stabilizers, the furniture experiences limited fading over time. However, you may notice some fading on brighter colors such as the Sunset Red or Yellow. Keep your Polywood furniture outdoors year around. This unbreakable furniture aside from periodic seasonal cleaning requires little maintenance. Whether you use this furniture by the beach or poolside it withstands saltwater, chlorine, and mildew.
Overall, Polywood furniture holds up beautifully outdoors in a variety of weather conditions. Expect the average life of a Polywood chair or furniture piece to be 15 years. Built to last, Polywood furniture is highly resistant to mold and fading. It maintains its classic appearance throughout its lifetime.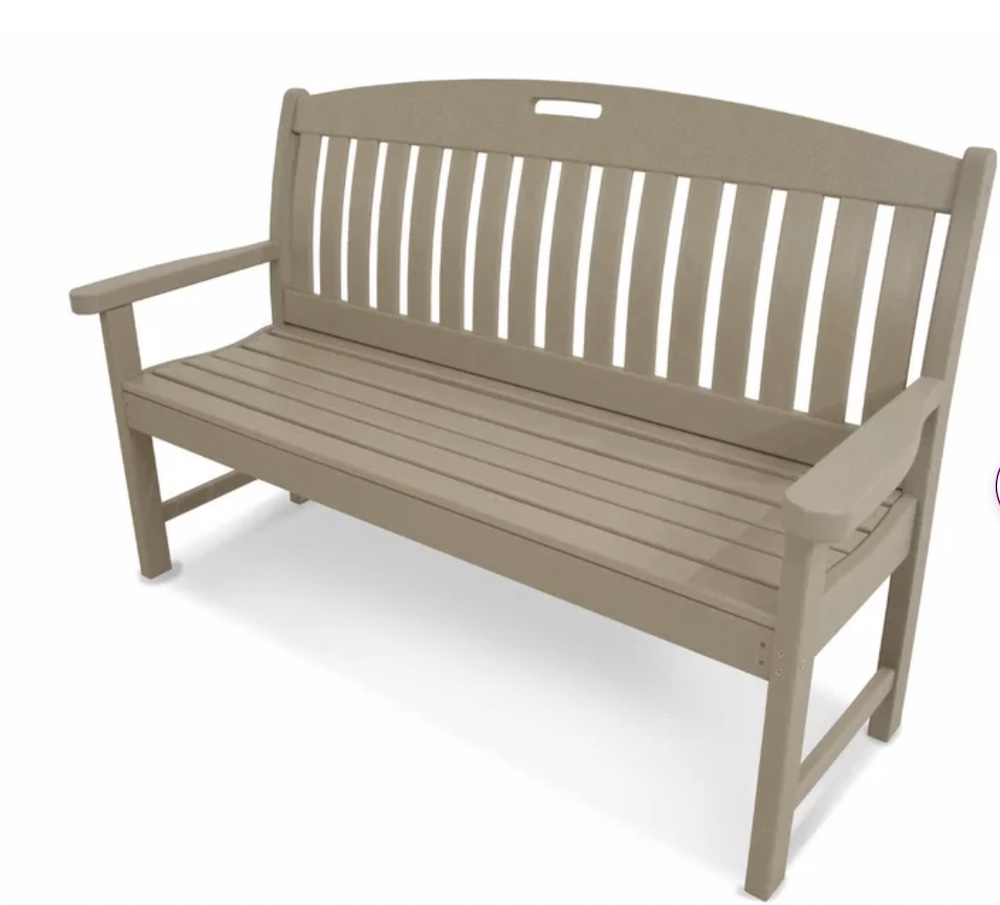 Drawbacks of Polywood Furniture
As perfect as the furniture is, there are a few downsides to the Polywood furniture. First of all, Polywood furniture cost more. Consider your budget if you are wondering whether Polywood is worth the extra money. Think about the many benefits of having Polywood furniture. All-weather furniture to made to handle a variety of weather conditions. Durable furniture that won't succumb to rot, cracks, splinters, or an infestation of bugs. Fade-resistant furniture that is easy to maintain and withstand saltwater and chlorine conditions.
Second, it is a solid piece of furniture that is heavy and difficult to pick up. Don't move Polywood furniture on your own,/ solicit help when you need to move the furniture around the yard or from space to space. It is cumbersome.
Third, some colors such as black or dark brown tend to heat up when left in the direct sun. Stay alert to this if you have darker-colored chairs especially when you have younger children around. Think twice before you select a darker color and where you intend to place your chairs. Polywood chairs are heavy and not so easy to move around.
Lastly, this type of furniture will never conform to your body shape even over time. The firmness and solid nature of the material that Polywood is made from is solid and holds up.
Cleaning Tips for Patio Furniture – Adirondack Chairs
Keep Polywood Furniture Clean with soap and water. Avoid any harsh chemicals, simply wash with soap and water to clean Polywood.
Polywood is a brand name. The founder of Polywood is Doug Rassi, who is the CEO as well. Over 30 years ago, Mr. Rassi recognized the need to reuse and recycle plastic waste. This is what led him to use plastics as a material to develop patio furniture that uses recycled plastic materials. This new product Polywood resembles natural wood. Mr. Rassi's company manufactures a whole range of outdoor furniture.
Consider Other Brands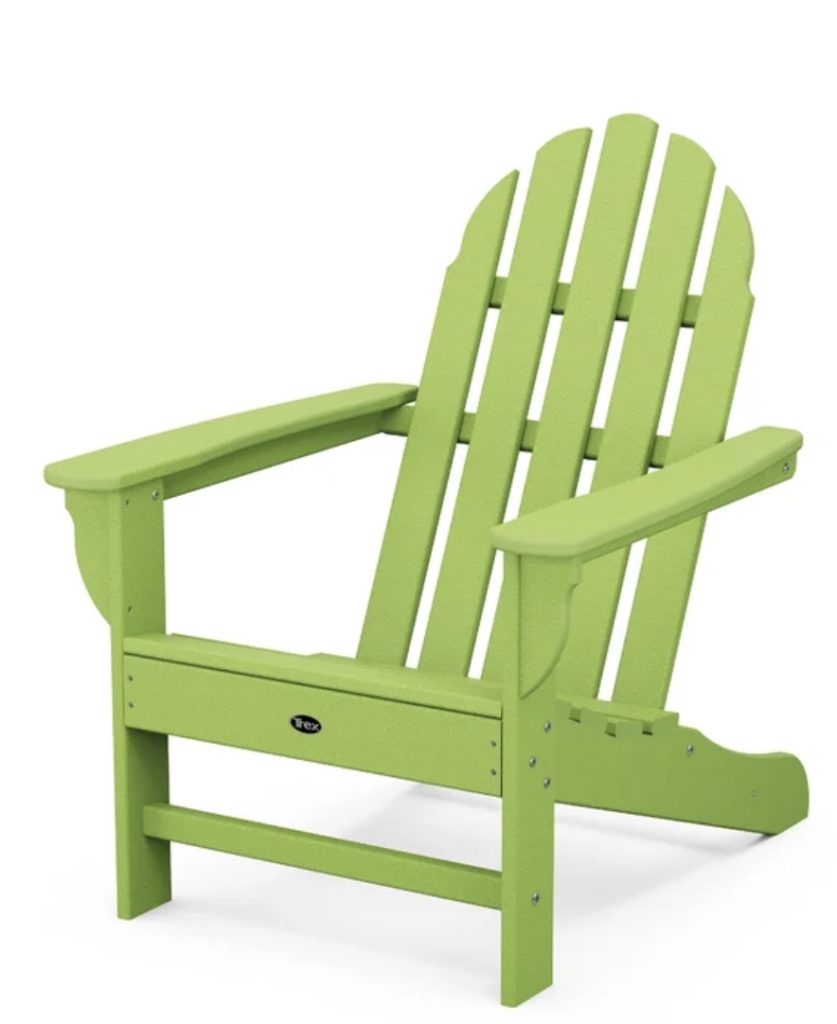 Shop for brands that are similar to Polywood. Those brands include Cope Plastics, Supreme, Nikamal, and Jardin. Another company, Trex creates outdoor furniture using Polywood lumber. This is a durable plastic material made from HDPE with UV-inhibited pigment systems and foaming compounds. Trex Outdoor furniture does not have a natural fiber.
Choose Sunbrella-covered cushions for longer-lasting comfort. Trex Outdoor is part of the Trex Decking system. Protect your outdoor furniture from harmful UV rays with Trex Outdoor Furniture. Reduce fading with the use of Polywood lumber.
Winter Patio Furniture Storage Solutions
Patio furniture is made to hold up in most outdoor weather conditions. Although, the winter season can wreak havoc on your outdoor furniture if left unprotected. Before the beginning of the winter season, prep your furniture for the winter months. Clean your furniture at the end of the summer season. Repair areas that appear damaged. Apply protective sealants and allow sealants to dry thoroughly before covering. Cover your outdoor furniture with water-resistant furniture covers. Shapes and sizes are abundant in furniture covers.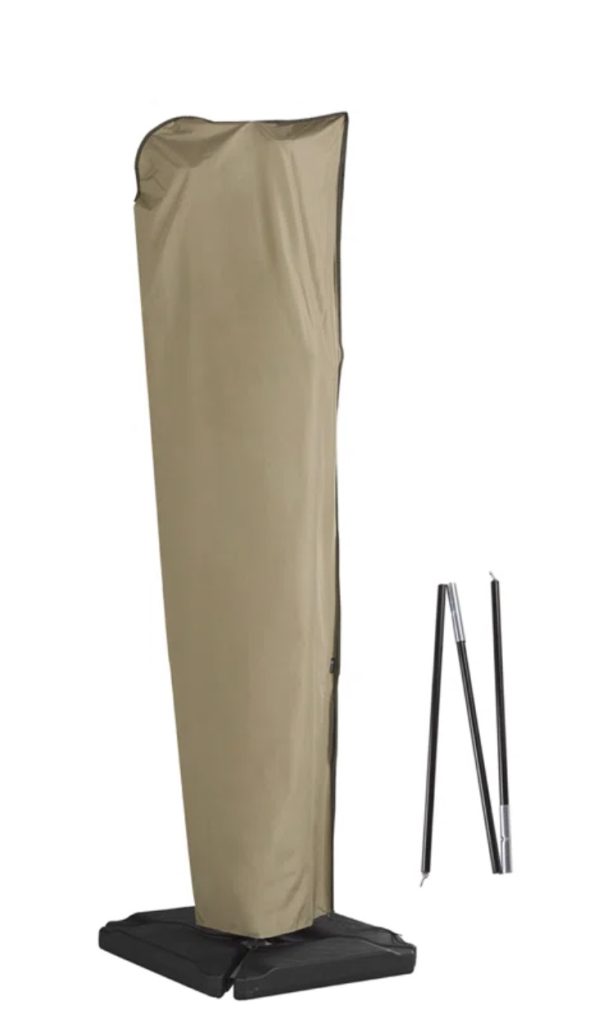 Patio furniture made from aluminum, plastic, concrete, and even teak can remain outdoors year-round. Whereas, wicker, iron, or steel-made outdoor furniture can be badly damaged from moisture and cold weather conditions. Cover and store this outdoor furniture indoors or underneath a protective covered area over the winter months.
Which Material is Best Plastic or Wood? – Adirondack Chairs
Select a plastic chair to save money and for ease in maintaining as well as cleaning. Go for a wooden chair if you want the warmth that wood brings to a patio setting. A bit more costly, wooden chairs require regular maintenance especially when kept outdoors. Painting, staining, and waterproofing wooden chairs requires time and money to keep them in the best shape possible.
Made from hard plastic material, resin-made chairs lack organic materials. Expect inexpensive plastic chairs to only last a season or two. Resin chairs will last a bit longer if stored indoors over the winter season. Go for a reliable and maintenance-free chair made from Polywood. Made from recycled materials such as HDPE and withstands the harsh winter weather.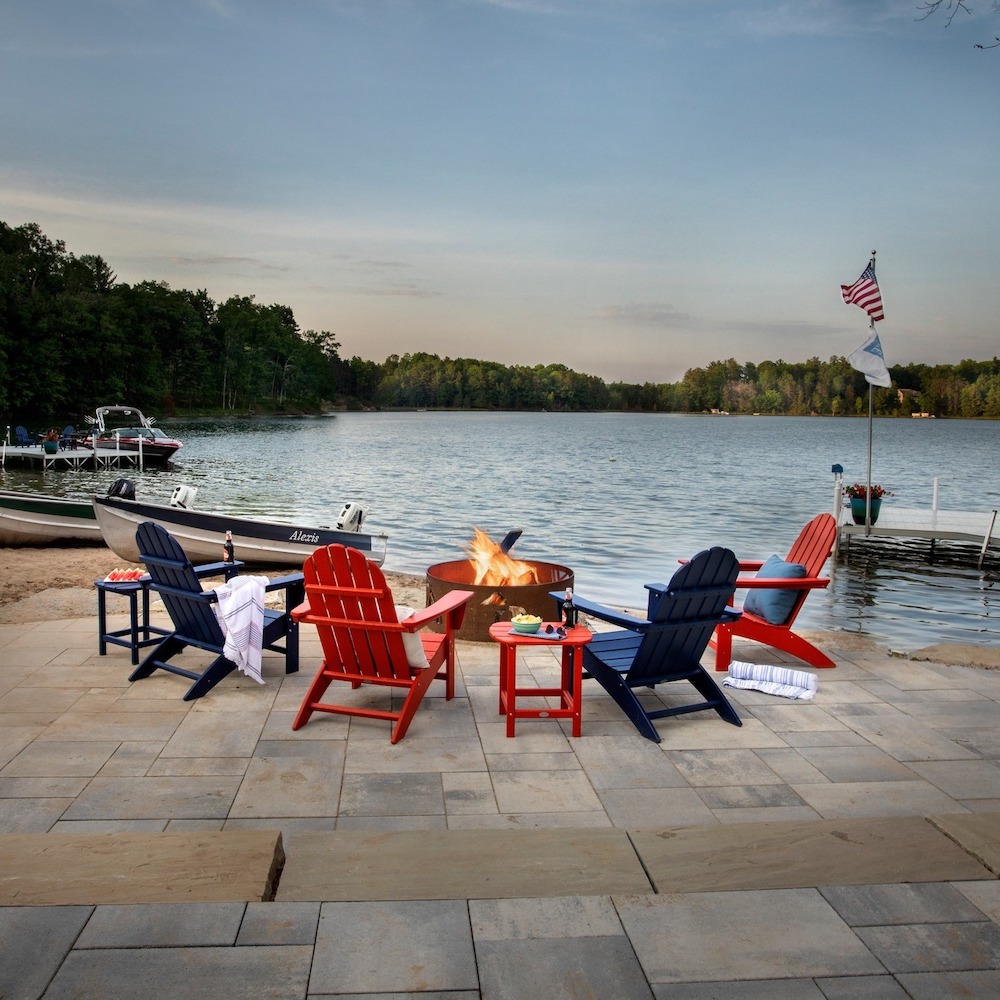 Design an outdoor area with Adirondack Chairs for your family and friends to gather around. Select chairs from these sources to create an amazing patio setting. Great-looking Adirondack chairs for your home. Here is our list of chairs in classic style. Treat your family with the iconic Adirondack chair at your next family event. Take a look. Drop us a comment below in the comment section. Let us know about your home decor projects.

This ends our list of Adirondack outdoor chairs. Go for comfort, durability, and protection from the elements with an Adirondack patio chair.
Take a look at our other outdoor-related posts for inspiration. Be sure to tell us about your home and patio projects in the comments below. We always love hearing from our readers.
Enjoy our other Patio-related posts for additional ideas.
Decorate your home with these ideas this season. Try these posts for additional decorating ideas this Summer season.
Acapulco Chairs
Wicker Patio Sofas
Outdoor Patio Umbrellas
Outdoor Chaise Lounge
Wood-Burning Fire Pits
Patio Conversation Sets
Reach out to us with any questions. We are always ready to help you out. Thank you for dropping by and taking a look at our blog.
Mary
Pin this for Later: