Acapulco chairs bring a lively vibe to any home setting. Named after the sun-filled beach resort city in Mexico on the Pacific coast. Popular around the world because of its bright-colored and festive tropical design. Frequently seen at beaches, resorts, parks, cafes, and shops. Give your backyard patio or porch area a pop of brightness this year with this festive and trendy chair.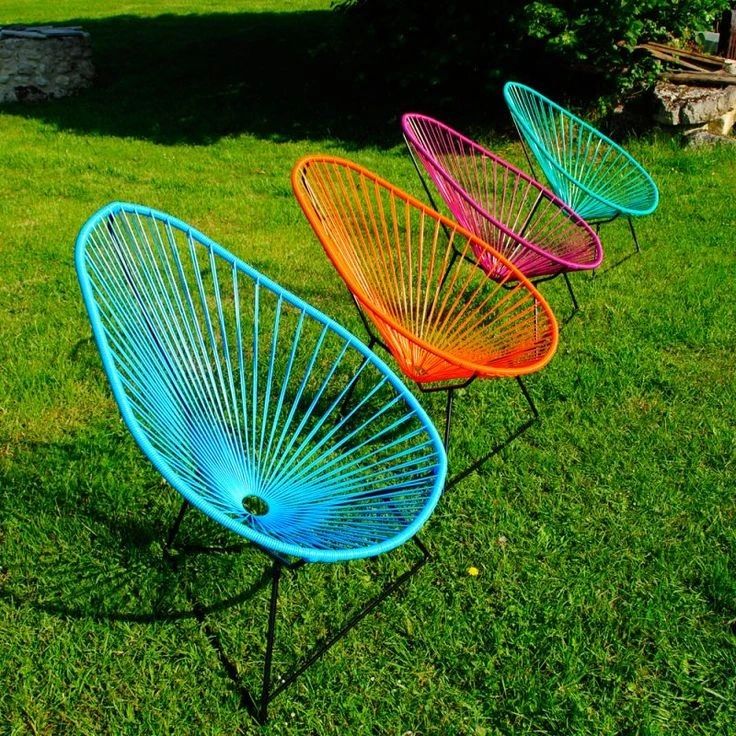 Designed in Mexico during the 1950s, the classical Acapulco chair has a distinct look. Made from steel and plastic the chair has a mid-century modern style. Hand-woven stringed fibers are stretched and wrapped across the egg-shaped chair frame. And of course, there are newer chair styles that take their inspiration from the Acapulco chair. In today's post, we are sharing the classic Acapulco patio chair perfect for all your Summer celebrations and festivities.
Classic and Always Popular Patio Chair – Acapulco Chairs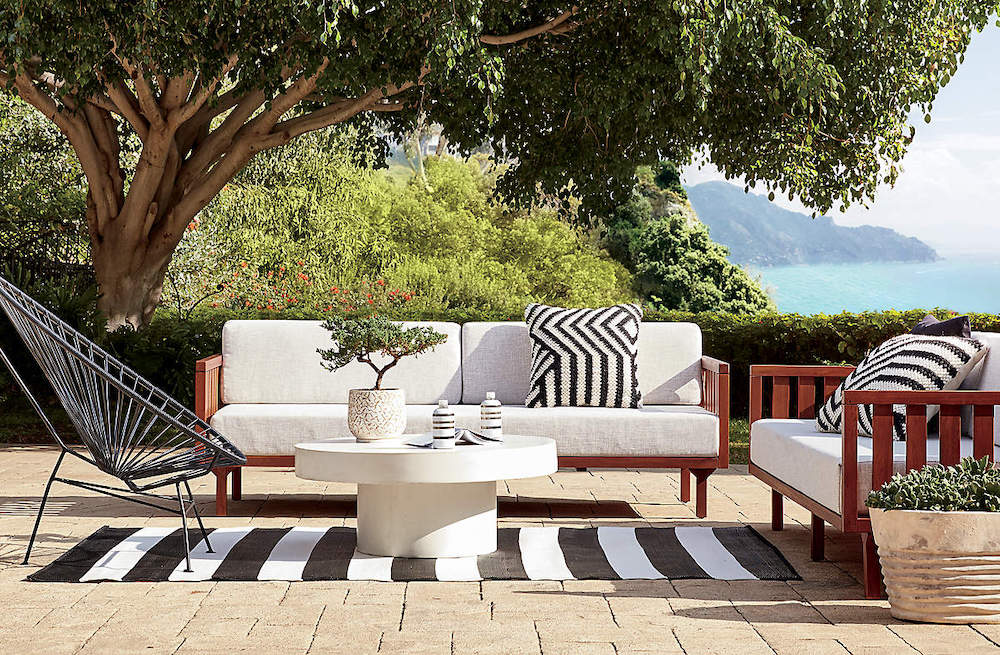 These patio chairs are pure comfort which is due to their design. They recline back slightly which adds to the comfort. The design is built with durability and sturdiness in mind. Made to withstand damp climates and wet weather conditions, Acapulco chairs are incredibly durable chairs.
Use these chairs indoors and in outdoor spaces because most Acapulco chairs are weatherproof by design. Made out of three materials that include nylon, PVC, and HDPE also known as high-density polyethylene sheets. The combination of these materials not only adds strength but provides a solid base structure. Construction from these materials is what makes them especially suitable for outdoor use. They can withstand places where humid and wetter climates are found. Because of the well-constructed design, an Acapulco chair holds up to 440 pounds. Therefore, making it a great seating option.
Are Cushions Waterproof?
Cushions made from water-resistant material can endure light rainfall outdoors. However, during a heavy rain pour it is best to protect your seat cushions from a storm. Cover any patio furniture with waterproof patio covers or bring the cushions indoors, especially during a wind storm.
Seat Cushion Protection Steps – Acapulco Chairs
Protect seat cushions from the outdoor elements with this two-step process.
First, clean the cushions and chairs using a sponge and a mild soapy warm water mixture.
Second, once the seat cushions have thoroughly dried, spray them with a good, quality fabric protector. Remember to test the fabric protector on an area that is less noticeable before spraying the entire cushion. This will ensure the material does not bleed or discolor the cushion or chair itself.
Storing the Acapulco Chairs
Of course when not in use, store these beautiful chairs easily by stacking them. Most Acapulco chairs are stackable which provides an easy way to store them.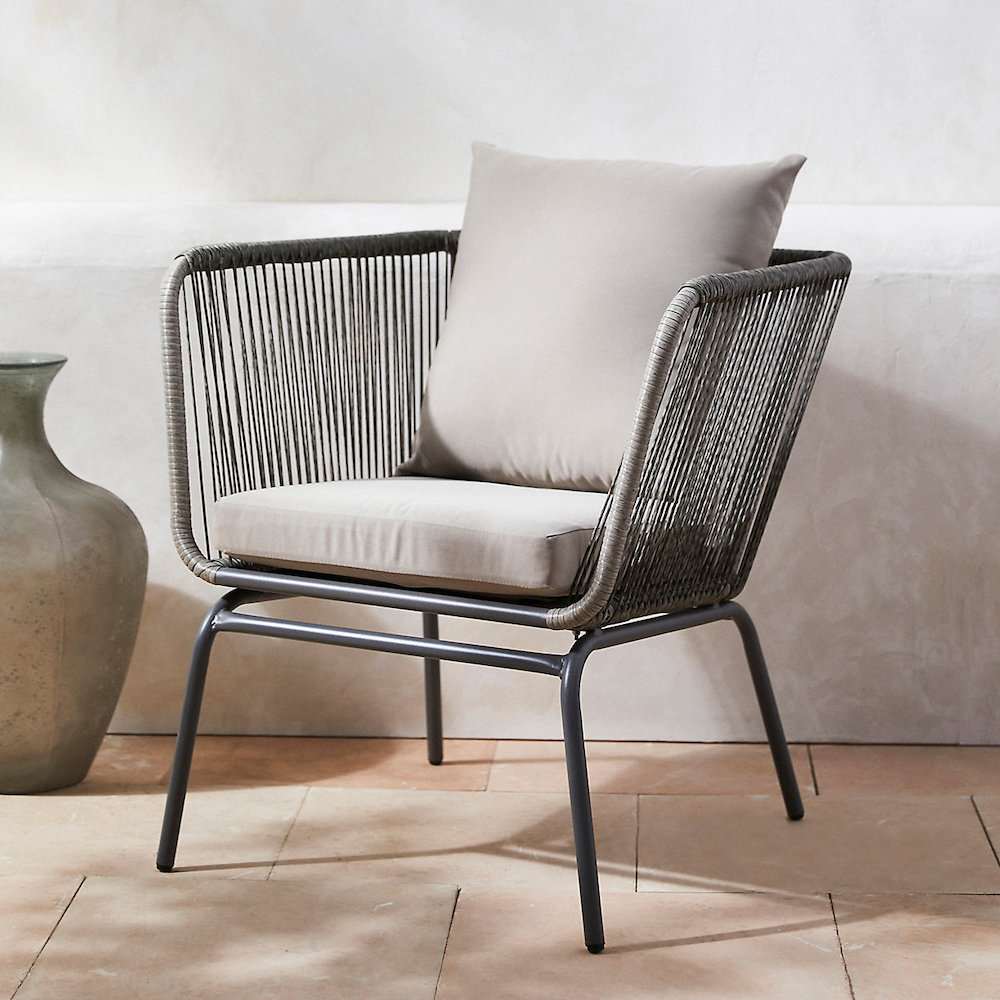 Consider a newer and more current version of an Acapulco chair for your home. In the image above, this patio chair is an updated version of the classic Acapulco patio chair. Update versions of these chairs tend to be less pricey than the originals. Original chairs from the 1950s and 1960s are a rare find as well as costly. That is why original patio chairs are expensive.
After searching numerous online sources for these fabulous patio chairs, we found great-looking Acapulco chairs. Here is our list of patio chairs in classic mid-century style. Perfect for your next family event. Take a look. Drop us a comment below in the comment section. Let us know about your home decor projects.
This ends our list of Acapulco patio chairs. Go for comfort, durability, and protection from the elements with an Acapulco patio chair.
Take a look at our other outdoor-related posts for inspiration. Be sure to tell us about your home and patio projects in the comments below. We always love hearing from our readers.
Enjoy our other Patio-related posts for additional ideas.
Are you interested in more ideas for decorating your home this season? Try these posts for additional decorating ideas this Summer season.
Wicker Patio Sofas
Outdoor Patio Umbrellas
Outdoor Chaise Lounge
Wood-Burning Fire Pits
Patio Conversion Sets
Reach out to us with any questions. We are always ready to help you out. Thank you for dropping by and taking a look at our blog.
Mary
Pin this for Later: