The amazing outdoor garden stool. Searching for extra seating for family gatherings? The affordable outdoor garden stool may be what you need. Stylish, versatile, and budget friendly.
Garden stools are better than ever these days. These tough little guys can handle quite a bit. So many uses. Compact for small spaces. Portable for moving from one room to another. Or for moving indoors to the outdoors and back inside. Use garden stools for last minute seating. As a side table for a glass of fresh lemonade. Or use them as a plant stand.
There is no end to how these compact stools can be used. Garden stools work in every room of your home. And outdoor spaces as well. Perfect for front porches. Indoor entryways and hallways. Use in patios, on decks, and in the garden of course!
This multi-purpose work horses are amazing. And many are stylish that fits in many home decor. Perfect for small spaces and small patios. When space is limited you need furnishings that can fit many needs. A garden stool is a perfect choice for college student housing, newlyweds, first time homeowners, and can carry you through many years of life. Garden stools are portable and weight considerably less than upholstered furniture. It is a great buy that performs many years.
We have rounded up 10 outdoor garden stools that we love. Stools that are both functional and stylish. These stools can take you through many years of living. Take a look. Be sure to let us know what you think.
Imperial Scroll Garden Stool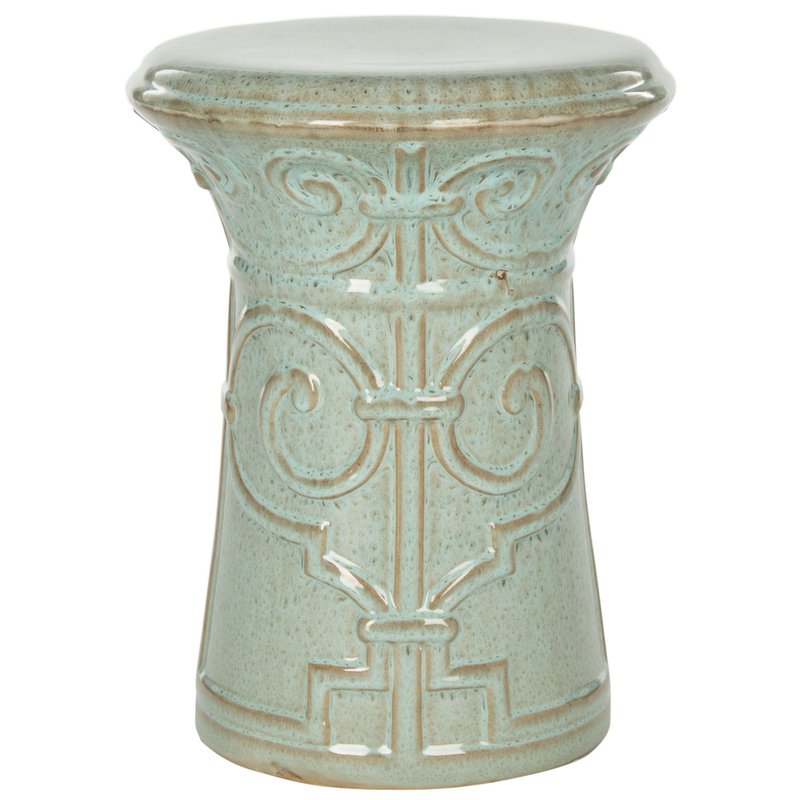 Imperial Scroll Garden Stool is a beautiful scroll damask design stool. Made of ceramic materials and then glazed for a beautiful finish. The stool has a smooth, glossy, polished finish. Tops out at 15 ½ inches tall. This lovely Imperial Scroll design is ideal for indoors or outdoors. Use as a side table, additional seating, or even as aa plant stand.
2. Elizabella Garden Stool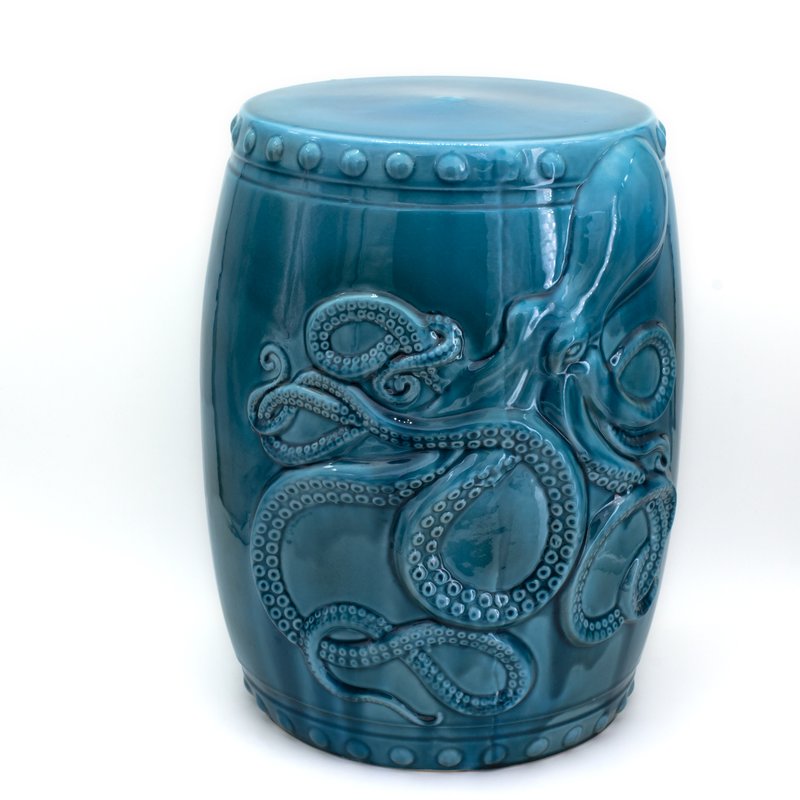 Elizabella Garden Stool has beautiful ocean blue colors. Reflection of the Summer water in Eastern Italy and the Adriatic Sea coast. Made of ceramic and drum style garden stool. Perfect for a beach theme space or pool side area. Topping out at 17 ¾ inches tall. Great indoor or outdoor piece. Doubles as a side table or plant stand.
3. Beijing Filigree Garden Stool
Beijing Filigree Garden Stool is an elegant Chinese fretwork designed stool. The stool tapers down from the top. Stunning classic Asian decor for indoor spaces as well as outdoor spaces. Garden stool is 11 inches wide and 18 inches tall. Made of ceramic. Timeless Chinese beauty.
4. Emissary Garden Stool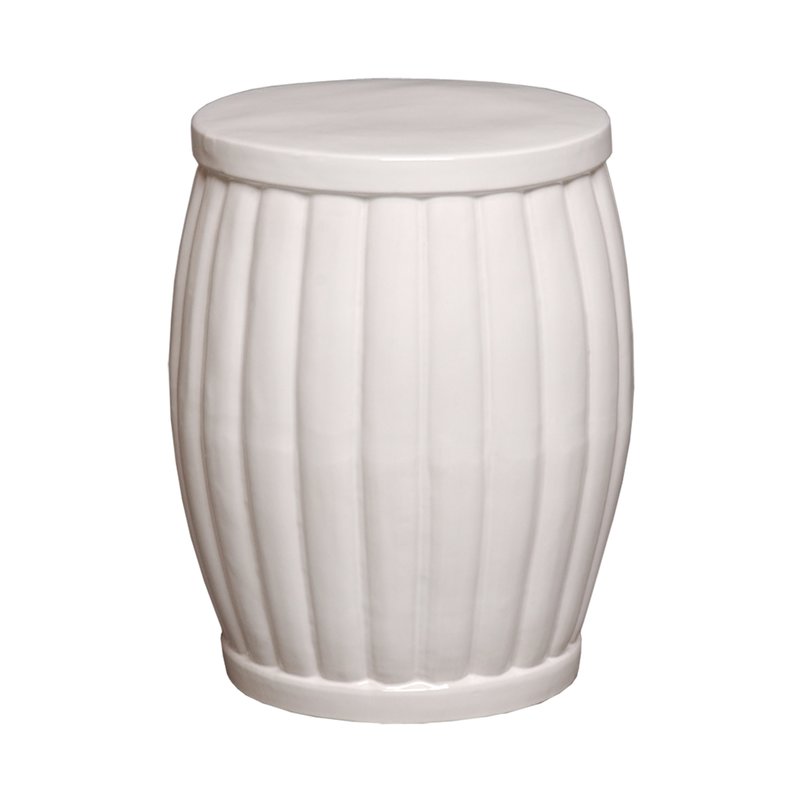 Garden Stool is a fluted ceramic stool. The garden stool has a flat surface. Ideal as a book table, plant stand, or side table. Use indoors or outdoors. At 14 inches wide and a height of 18 ½ inches tall. Stylish and hard working decor at its best.
5. Marina Ceramic Garden Stool
Marina Ceramic Garden Stool is made from wavy textured all-weather ceramic material. Portable and lightweight. The stool weighs a mere 15.9 pounds. A simple, modern design for a front porch, entryway, or patio. All-weather glaze for durability. Use as extra seating, side table, or foot rest. Ideal for indoors and outdoors. Great for an door porch or garden space.
6. Green Medallion Garden Stool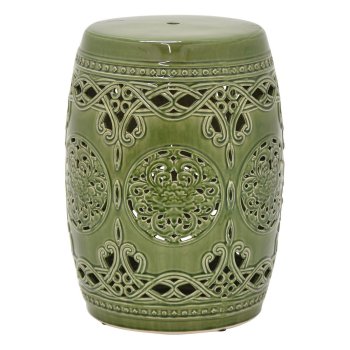 Green Medallion Garden Stool has intricate scrollwork and medallion design. Elegant and classic Asian decor. Made of ceramic with a glossy green finish. Suitable for indoor and outdoor styling. The green medallion stool tops out at 18 ½ inches tall. Perfect as an end table on a patio or deck.
7. Robin's Egg Blue Glaze Stool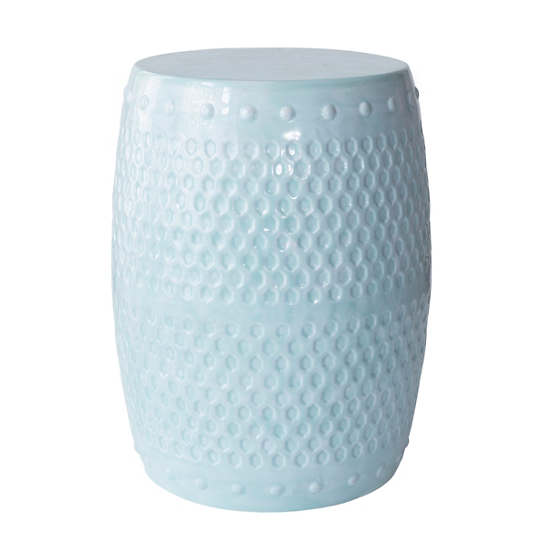 Robin's Egg Blue Glaze Stool is a powder coated iron garden stool. The glaze stool has a hand etched pattern with distressed look. Each glaze stool is uniquely made. Use indoors or outdoors. Side table, porch seating, and garden plant stand are some of the many uses of the stool. Reaches 18 inches in height with a 14 inch width. Delivers a lovely serene decor to your home.
8. Celine Garden Stool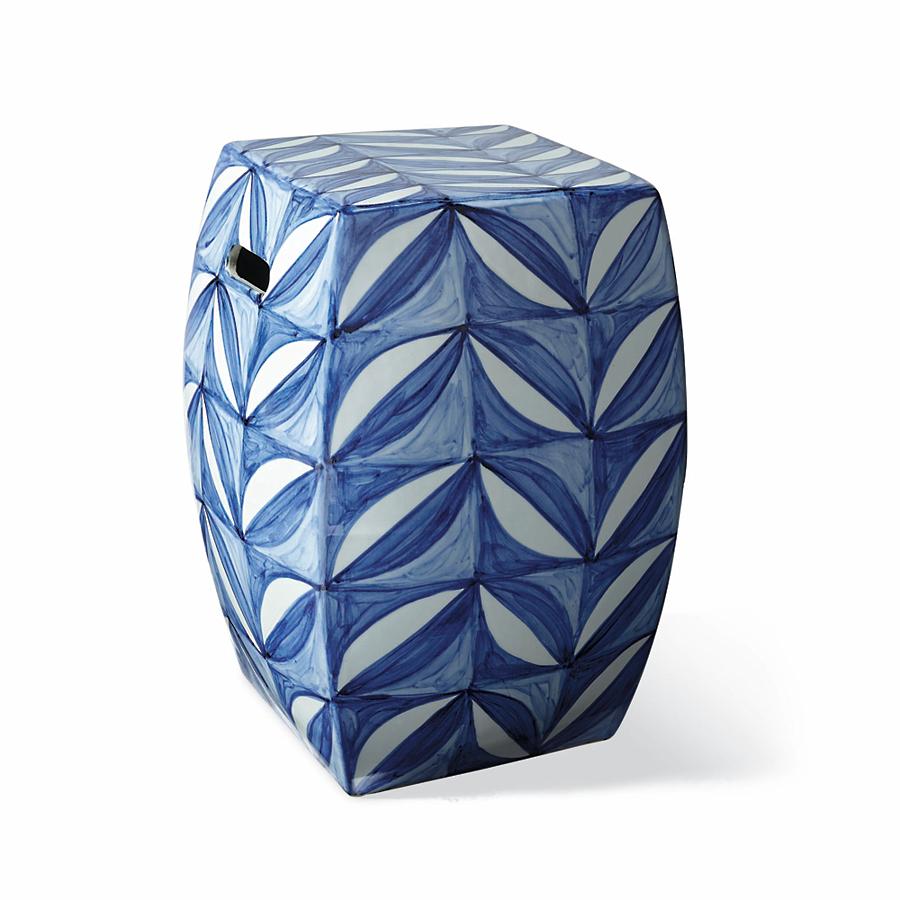 Celine Garden Stool is the geometric motif artwork of Italian designer, Gio Ponti. Handpainted in tranquil shades of blue with white. Made of ceramic and has airy cutout handles for quick transport. The Celine garden stool is 16 inches tall. Decor for sunrooms, patios, decks, or porch spaces. Use for quick seating, a side table, or as patio decor.
9 . Bisbee Metal Garden Stool
Bisbee Metal Garden Stool is a versatile, drum shape stool. Made from durable metal in an antique silver finish and vintage patina. The metal has intricate, patterned cut-out design for a bohemian style. Tops out at 19 inches high with a 17 inch diameter. Use on a porch, patio, deck, or Sunroom.
10. MoDRN Teak Wood Garden Stool
MoDRN Teak Wood Garden Stool is made of durable teak wood. Naturally resistant teak is a perfect material for an outdoor stool. Design is an open, cage-style frame with a solid, round top. Use indoors or outdoors. The Teak Wood stool is 12 inches wide and 18 inches tall.
These 10 stylish garden stools are perfect for outdoor living spaces.
If you use garden stools, be sure to let us know how you make out. We'd love to hear about your garden stools uses.
Interested in decorating outdoor spaces? If you found this helpful . . .
You May Also Enjoy some of our other outdoor space related posts.
8 Garden Benches for a Restful Break
8 Bold, Outdoor Bistro Tables for your Patio
Patio Chairs that Keep Cool During Hot Summers!
8 Beach Worthy Lanterns to Illuminate your Coastal Home
8 Things You Need for a Perfect Dinner on the Beach
And if you have any questions, feel free to reach out to us. We always are ready to help you out. Thank you for dropping by.
Mary