Gorgeous beach lanterns coastal home. Keep your patio open past sunset with outdoor lighting. Outdoor lighting is essential once the Sun goes down. However, lighting sourced from electricity is often insufficient for evening activities. Supplement your outdoor patio lighting with portable lanterns that can easily be moved from one spot to another wherever it is needed. Fortunately, there are many lanterns to pick from. Lanterns that will keep outdoor activities going this Summer and Fall until you are ready to bring the party inside.
These outdoor lanterns are available in many sizes, and shapes, and are sourced from various materials. Some of those materials include rattan, metal, ceramic, and wood. As a courtesy to you our reader, we have rounded up 8 lanterns for your outdoor dinner parties and family get-togethers.  
As you'll see, these coastal-styled lanterns are beautiful and can easily be used on a porch, patio, or balcony. Take a look at these lanterns. Be sure to let us know what you think. 
Go Natural with the Rattan Bulb Hurricane Candle Holder

Oh, the lure of rattan! These beautiful rattan candle holders with their warm colors make the perfect table light. Shield your lighting source from the brisk ocean winds with the glass insert. Select from three different sizes to light up your evenings.
2. Elevate Your Lantern with the Rattan Tabletop Lantern – Beach Lanterns
Love the coastal look? Made with a handy rope handle for ease in transporting the lantern or hanging from an outdoor hook. We love the look of rattan in our home. A great feature is that this lantern stands elevated from its surface for even better lighting.
3. Light up your Patio with the Modern Round Floor Metal Lantern
Brighten your patio with the Modern Round Floor Lantern. The light source projects a glowing diamond pattern. Use a single lantern or a cluster of lanterns to light up your outdoor space. Perfect for late evening gatherings.
4. Lift Up your Wood & Rope Lanterns
Warm wood tones with a rope handle, the Wood and Rope lantern is slender enough for a tabletop lantern without taking up too much space. An alternative to a solid metal lantern, this lantern has warm earthy colors.
5. Iron your Space with the Kaylani Decorative Iron Lantern – Beach Lanterns
Crafted from iron in a cage-shaped frame. Finished in black with a D-shaped handle. So, why not add little iron accents to your outdoor decor style?
6. Show Off your Asian Style with the Ora Large Black Wire Lantern
Give it an Asian-styled look with the Ora Black Iron Lantern. Hung from Chinese fishing boats in years past, but can now grace your Patio table. Made from black coated iron in an open weave pattern. One of our favorite lanterns!
7. Give the Patio a Glowing Light with the Malta Lantern – Beach Lanterns
Polish the chrome with trim clean lines, the Malta lantern adds simple coastal elegance to any space. Select from four different sizes. Such a classic beach house look!
8. Make it Blue with the Harper Lantern
Style your outdoor space blue – the coastal color of blue that is. Use in the center of your patio table or in another area of the patio. This lantern looks perfectly happy on a front porch, balcony, or patio. Choose from two different sizes.
This is the end of our beach lanterns list. Do you have a favorite lantern that you like? We especially like the rattan and wire lanterns since they create a nice coastal lighting ambiance. All of these lanterns will make your outdoor space look cozy and comfortable. We love all these lanterns because each one creates a special nighttime lighting effect! Hopefully, you found a lantern that fits your home needs, space, and budget. 
Enjoy our other coastal decor-related posts for additional ideas. 
16 Rattan Lanterns for your Beach Home
Best Picnic Baskets for Families on the Go
17 Outdoor Chaise Lounge for Patio
8 Picnic Tables for Family Fun
Best Camping Tables for Families on the Run
Thank you for taking a look at our blog and stopping by Finding Sea Turtles blog. Reach out to us with any questions. We are always ready to help you out.
Mary
Pin this for Later:
Save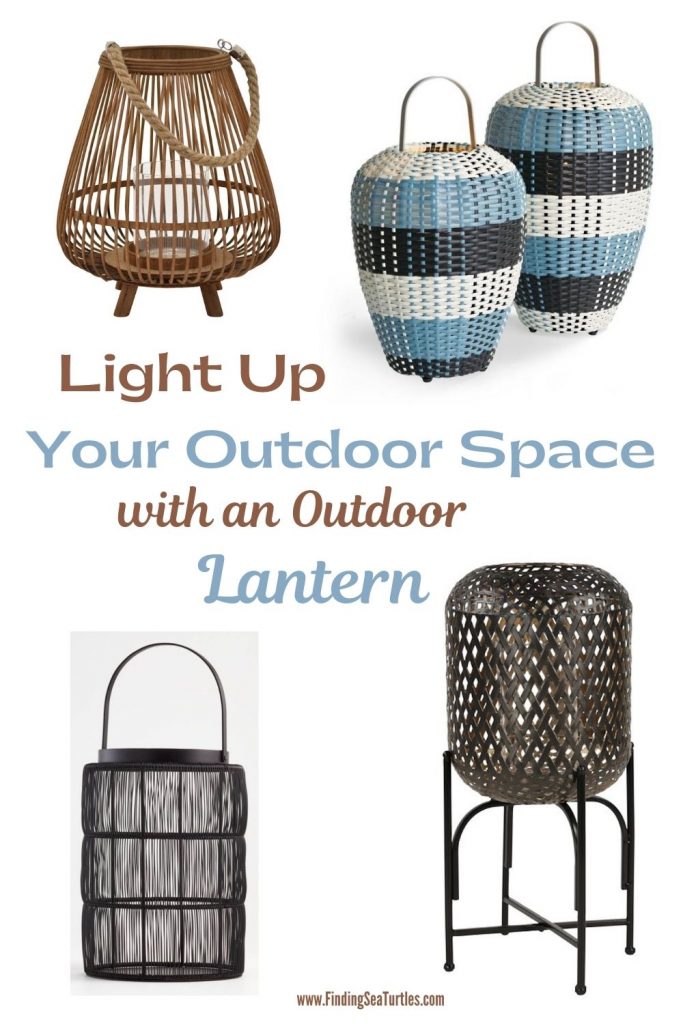 Save
Save
Save