Inspirational rattan pendant lights and ideas for your Summer home. If you need some inspirational lighting ideas for your home, then this post is for you. In today's post, we are sharing ideas for using rattan pendant lights. Pendants are popular lights for kitchen islands as well as other rooms throughout the house. Over a kitchen island, pendants create ambience and provide much needed task lighting. Although pendant lights are used more commonly over a kitchen island, they can easily be used throughout the home. As you'll soon see, these lights are just as effective in other parts of the home. And we'll show a few ways that these lights can be used.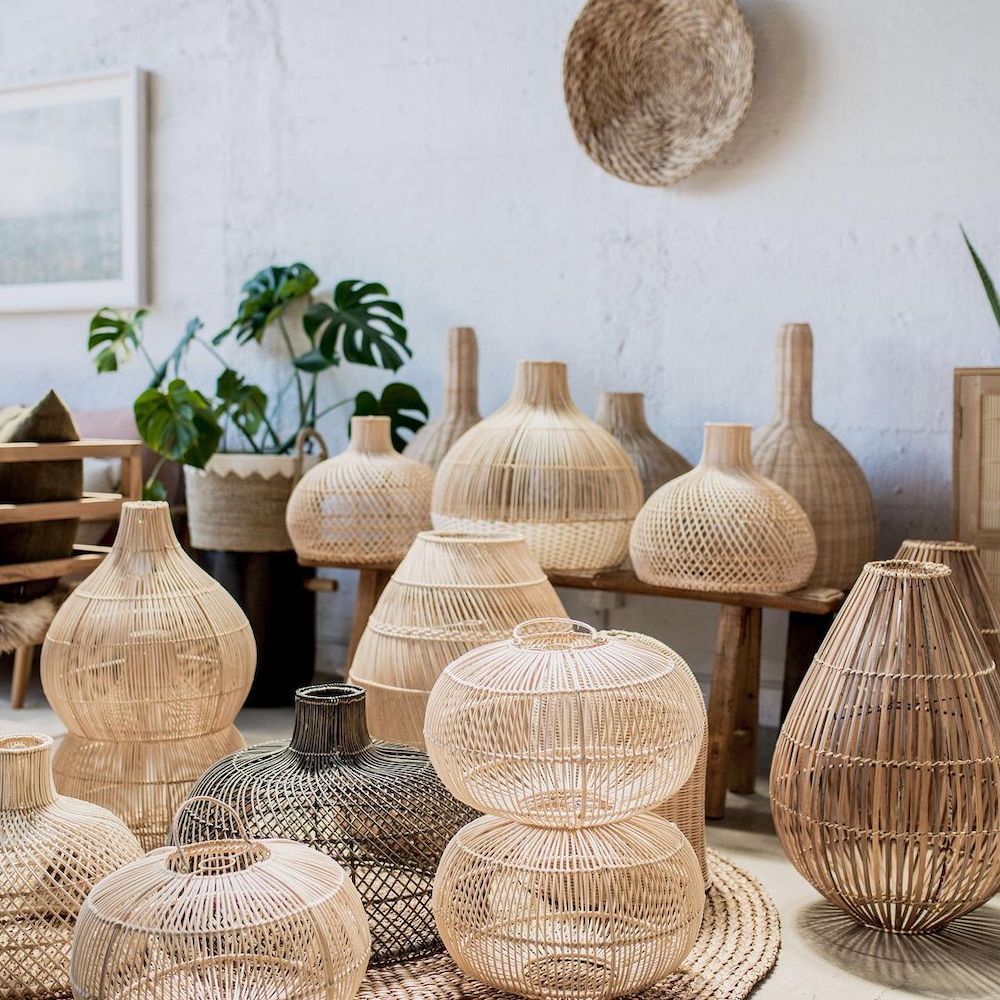 Rattan pendant lights can change the look of any room. Versatile and fit into a variety of decor styles including coastal, modern coastal, bohemian, and island decors. In a coastal or beach decor setting, rattan pendants can elevate a room's style. Hang a rattan pendant light over a kitchen island, in a dining room, bedroom, living room, entryway, and bathroom for instant visual appeal. 
Types of Lighting – Inspirational Rattan Pendant Lights 
Lighting itself can work wonders for a room. Set the mood and ambience with lighting in an inside and outside home area. A material such as rattan has the ability to transform a room to look like a faraway tropical place. Pendant lights provide overall lighting for the room. Based on the size and type of pendant light, they can be used as task lighting for specific tasks. Accent lighting focuses on a particular area or object. And accent lights highlight an area to create visual interest.      
Tips for Shopping for a Pendant Light
Be sure the light you buy will fit the room you want to install the light. Measure and double check your measurements for the space you would like to install the pendant. Avoid buying a pendant light that is either too small or way too big for your space. Here are a few tips to consider when shopping for a pendant or pendants.      
Use pendants and mini pendants as a single light source or in groups of 2 or more for larger spaces  

Determine the number of pendants to use based on the room size 

Larger pendants have more coverage, so in a group setting you'll need fewer of pendants to light the area  

Allow a minimum of 6 inches above a door for clearance when hanging pendants so that the pendant bottom is well above the door (clearance)  

Most important of all -> it is best to use a licensed professional when installing light fixtures. Do not attempt to install the fixture yourself. 
On to our inspirational rattan pendant lights for your home. We've listed 26 different rattan pendant lights as an inspiration to you. Refresh your home with any of these ideas from our list. As an additional resource for coastal decor, be sure to look at out post – 12 Ways to Add Coastal Decor to your Home,   
Inspirational Rattan Pendant Lights for the Home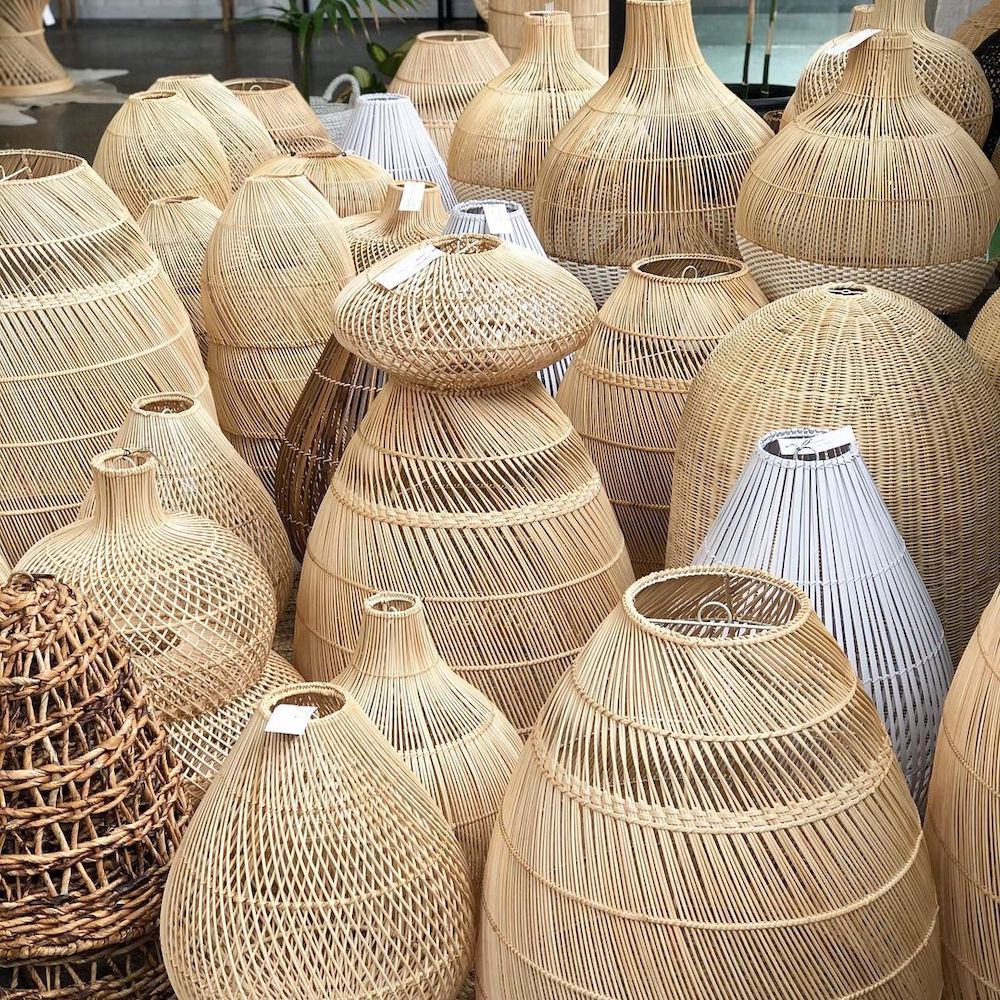 In this post we are sharing inspirational rattan pendant lights for your home. We are sharing ideas that show a variety of rattan pendant lights in rooms throughout the home. Rattan pendants are available in many shapes as well as colors. You'll be amazed at the many beautiful lights there are. So, no matter the size of your home update, use these ideas to help you style your home with pendant lights. It is our hope that you find these ideas both informative and helpful. Take a look at inspirational rattan pendant lights.
Hang a Row Over a Kitchen Island – Rattan Pendant Lights  
Stay Natural with these Pendants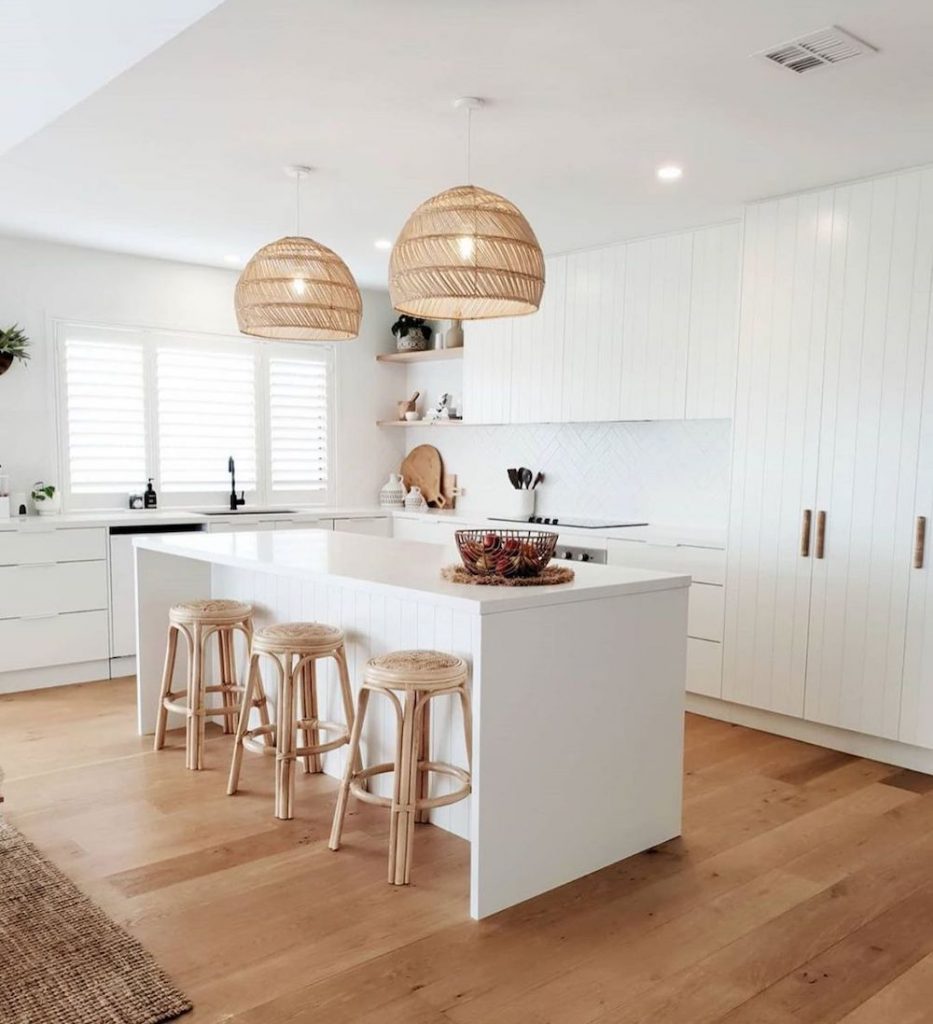 Keep it natural with these double rattan pendants over a kitchen island. We love the contrast between natural rattan pendants against the crisp white kitchen counter and walls. Open shelves in the back corner provide a place to add decorative accents such as the wooden bread boards. 
Create a Balance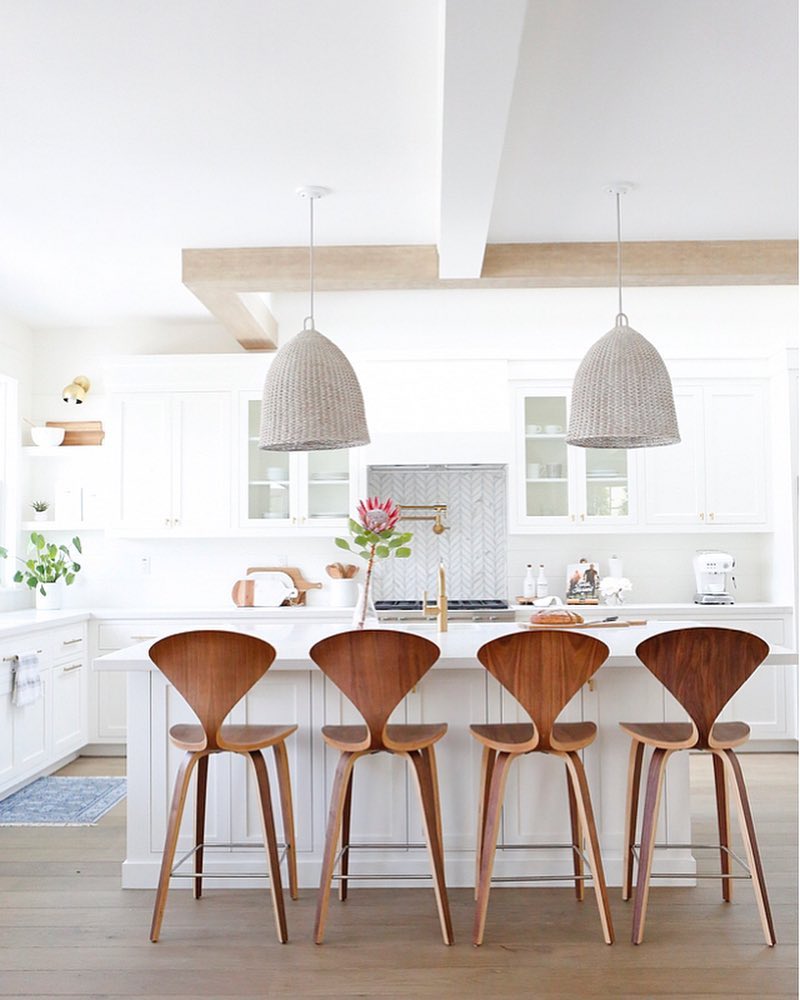 Hang a set of white bell shaped pendants over the kitchen island. Create the perfect balance of warm wood tones against the white background. The walnut counter stools add visual interest to the counter space.    
Blend Patterns – Inspirational Rattan Pendant Lights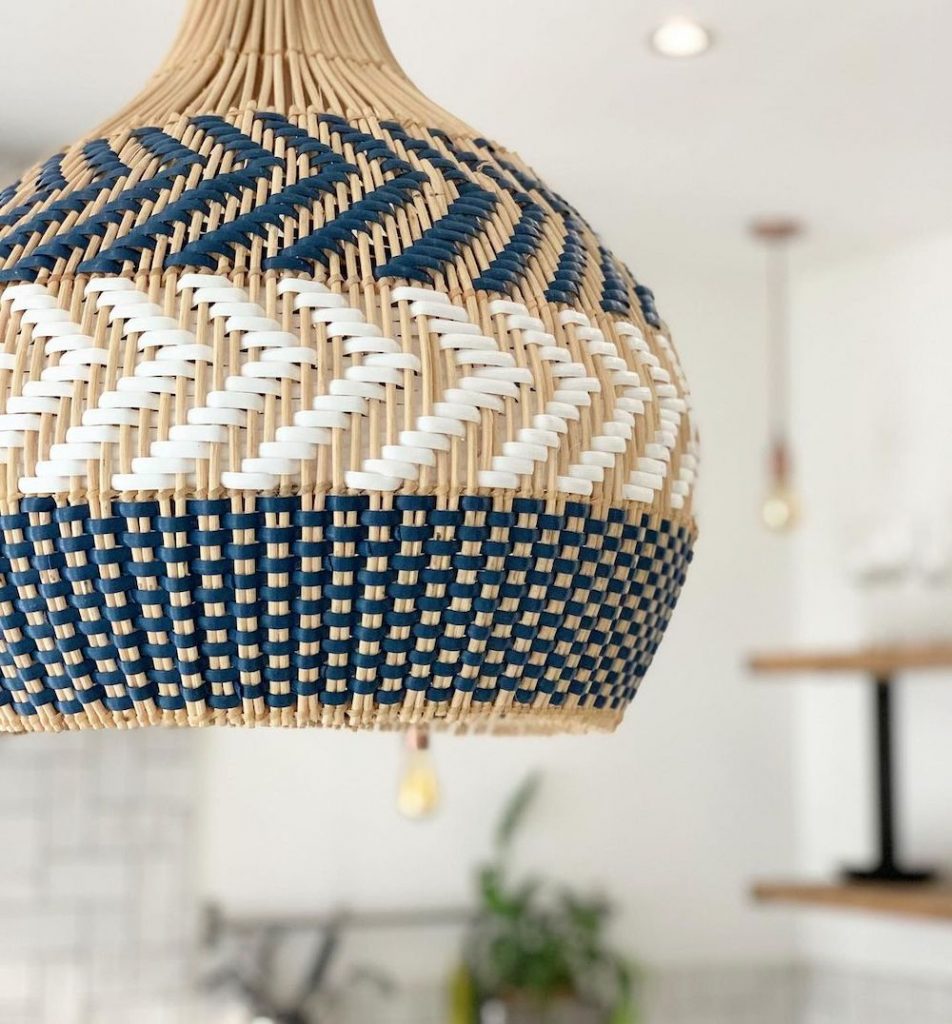 Combine beige with navy and white rattan for a chevron and basket weave patterned pendant light. A striking light design for the home. 
Show Off Your Curves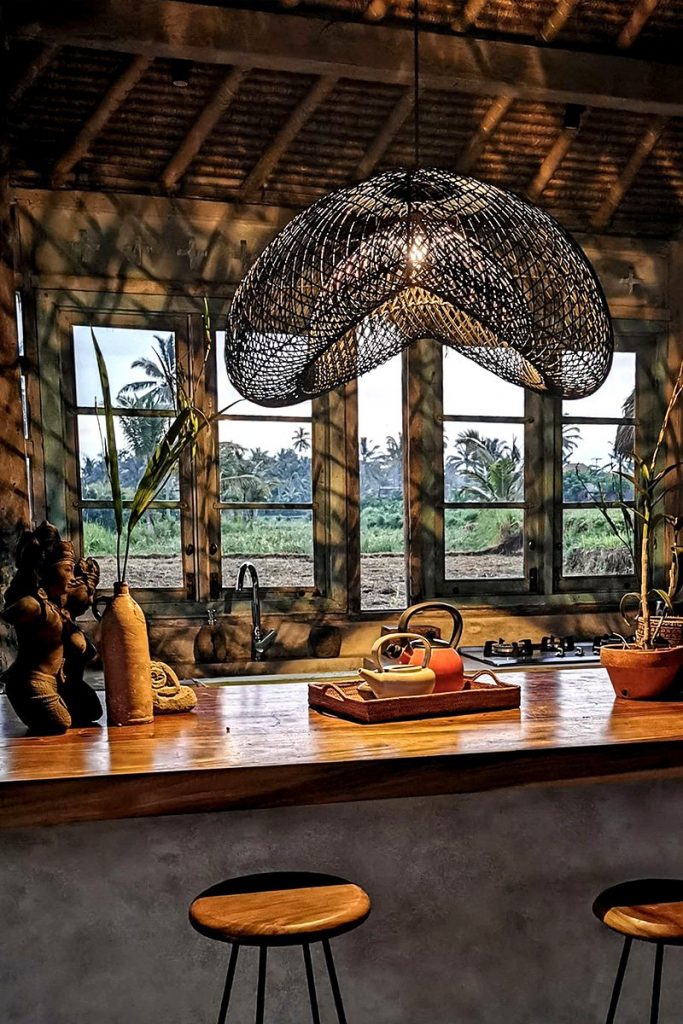 Boldly show off your curves, the curves of your rattan pendant lighting. Isn't this just beautiful? Shaped like a curved open disc that softly diffuses light through the natural fibers of the pendant shade. Amazing rattan pendant! 
Awash in White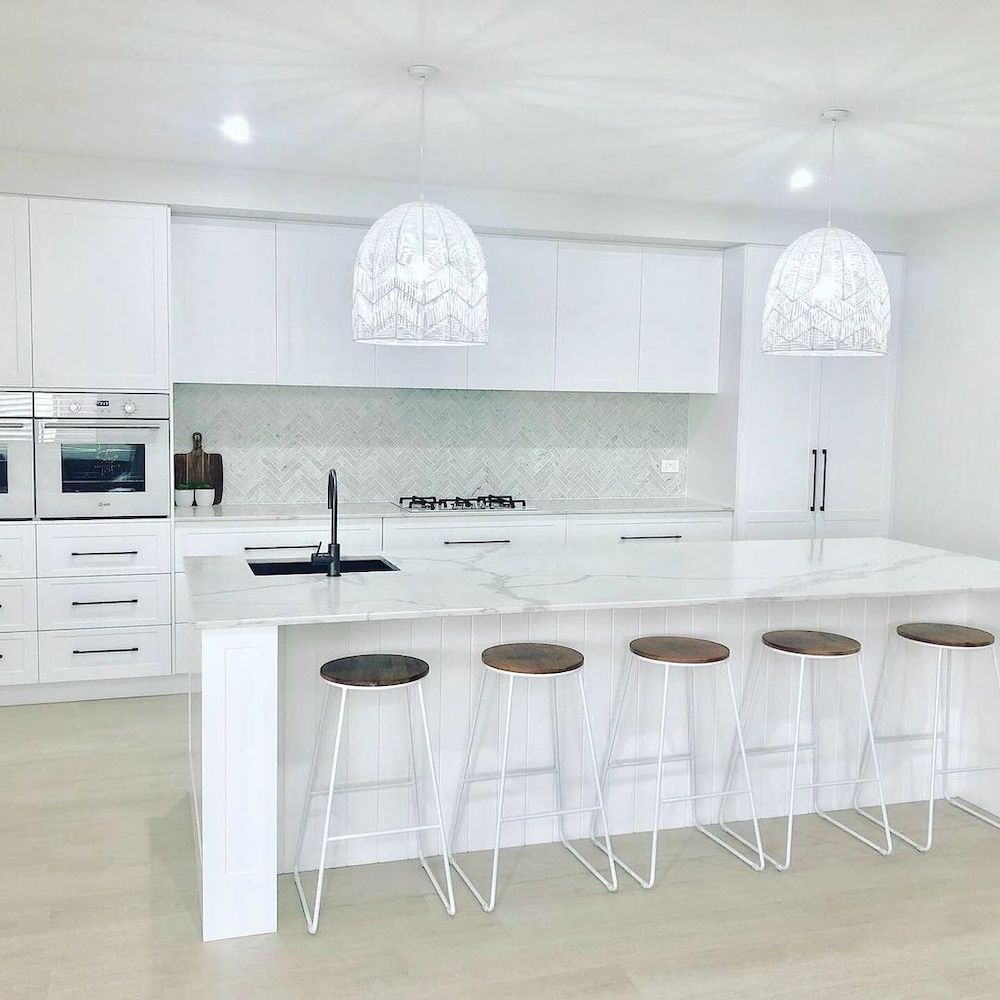 Hang White Wash pendants over your kitchen island for an ultra modern coastal style.  
Go Green with Plants and Sustainable Design Ideas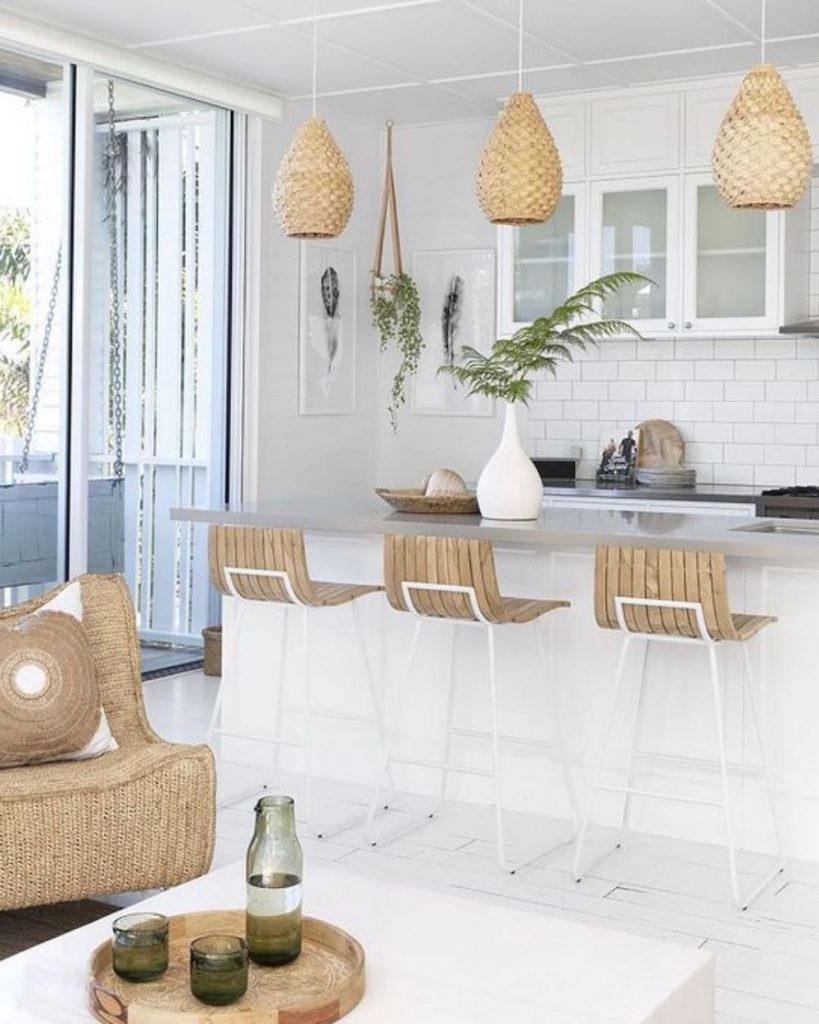 Implement green throughout your design. Incorporate sustainable design ideas in your home. Remember natural, organic, and simple decor ideas are the best direction to follow. Grow indoor plants. Plants not only make beautiful home accessories but are helpful in so many ways. Many indoor plants improve air quality, eliminate common toxins and pollutants in the air. Plants are also known as mood lifters which is beneficial for those living in colder climates during long Winter months. Check out our post – Air Purifying Plants for the Home for more information. 
 2. Brighten the Dinner Table              
Go Big with a Rattan Light – Inspirational Rattan Pendant Lights
Hang a larger size rattan light over a pillar dining table for a bigger impact. 
Black is Always Beautiful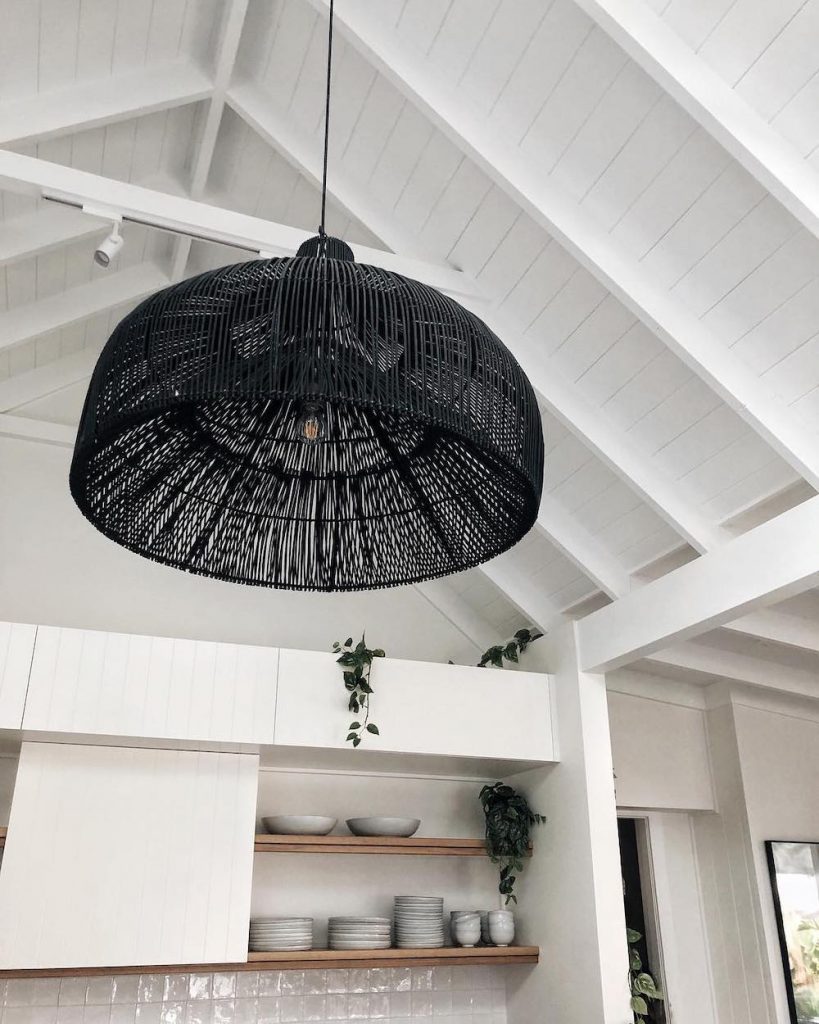 Create contrast between this gorgeous black rattan pendant and the open paneled white ceiling. So striking and makes the room appear elegant. Black is always beautiful, don't you agree?
Style it Grey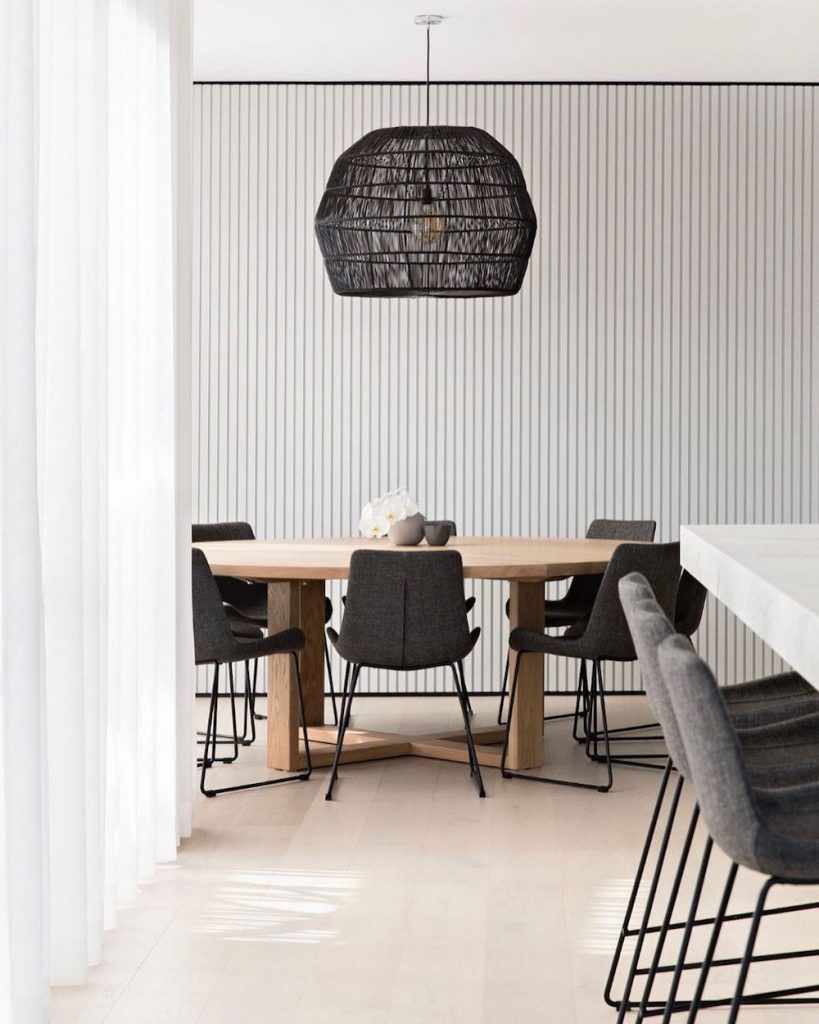 Paint it grey. Tile it grey. Upholster the bar stools in grey fabric.  
Give Light to a Dark Space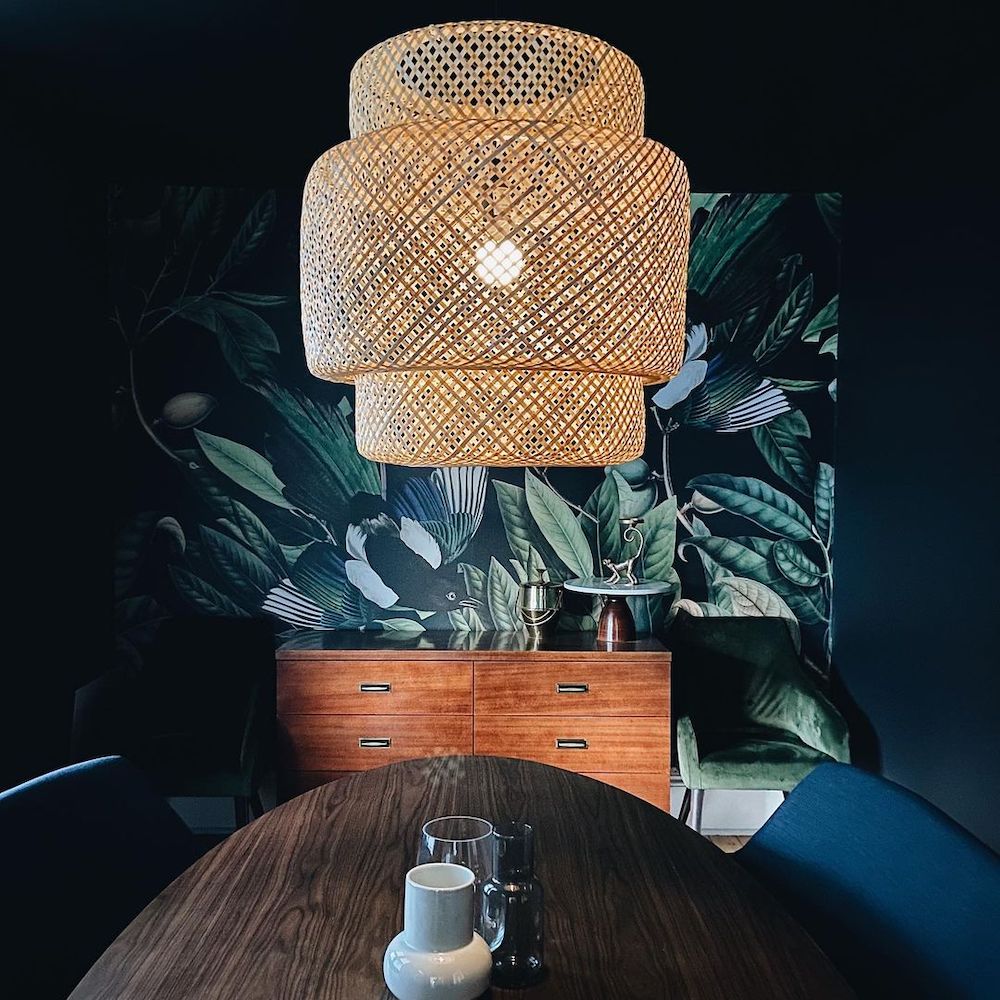 Not only add a lighting fixture but use a lighter shade against darker surroundings. A visual treat for the eyes.  
Pretend it's the Summer in Your Home all Year Long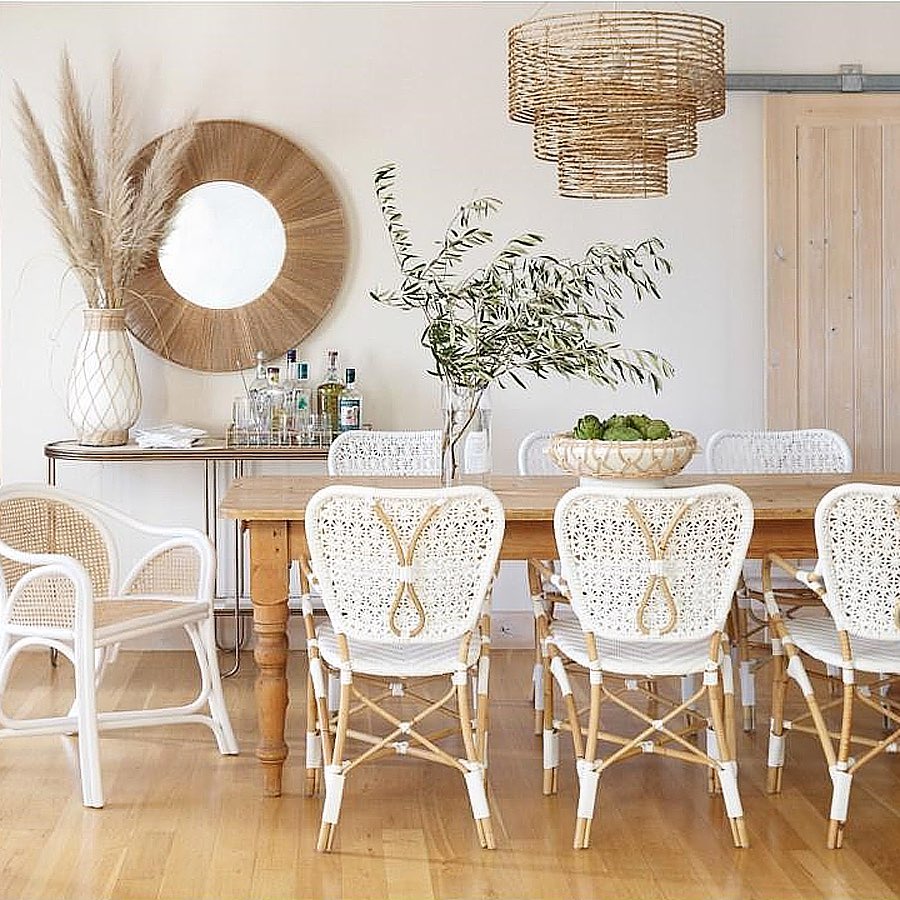 Use warm, neutral colors in the home to extend the Summer season. Stunning pendant above the dining table.   
Add Woven Organic Texture to Your Decor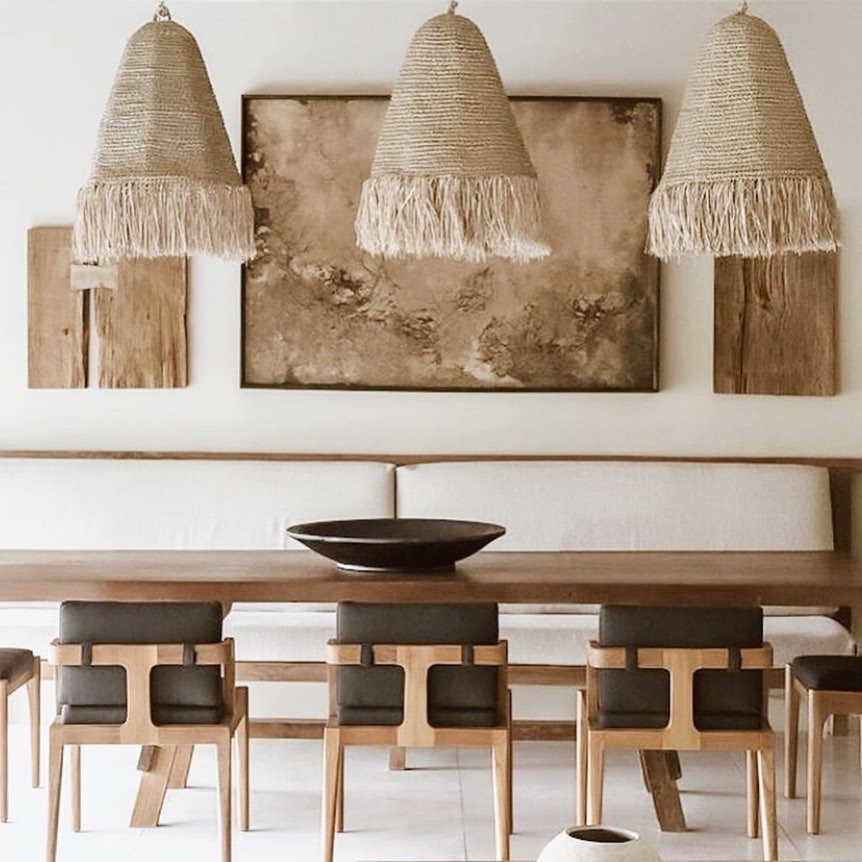 Dining table and chairs of warm wood tones below three organic fringed bell shaped pendants. Many shades of brown against a cream background.  
Mix it Up – Inspirational Rattan Pendant Lights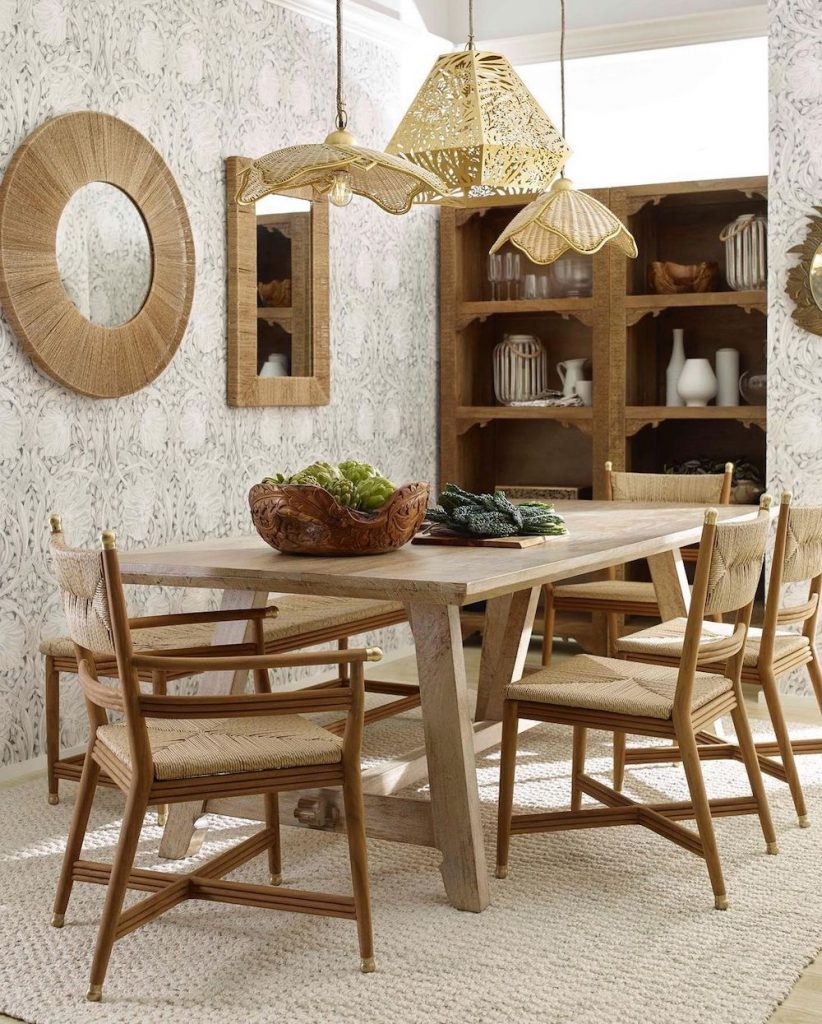 Hang three different rattan pendants over the dining table. Same material but different designs. Display two rattan mirrors in different shapes. Creamy white ceramic vases in various shapes. Use the same material but change up the designs. These objects serve the same purpose but each is designed differently. What ties the entire dining room is the similarity in colors, the beige and cream. A relaxed, easy going style.  
3. Make a Good First Impression in the Entryway   
Stunning in Black  
Make a stunning entrance using a black rattan pendant. Amazing design details that stand out against the neutral background colors.    
4. Create Ambience in the Living Room – Inspirational Rattan Pendant Lights 
Bring your Love of the Beach to your Home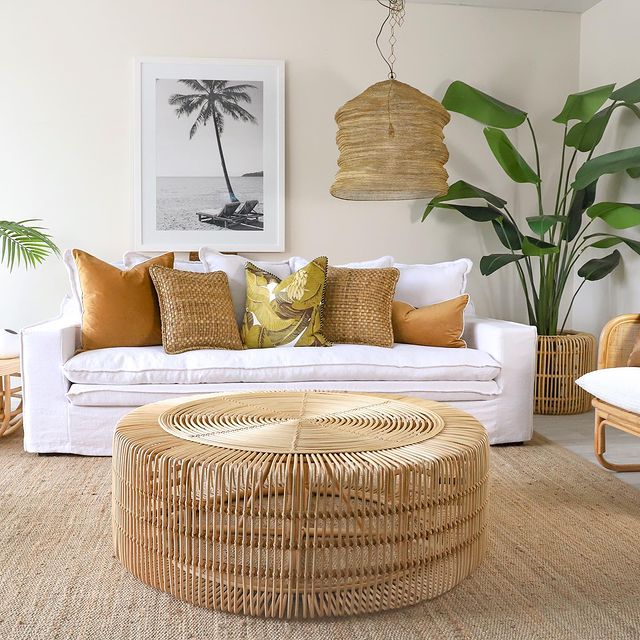 Tap into your love of the beach with this decor style. Golden rattan colors against the white sofa and cream colored wall creates a warm, inviting look. The cylinder shaped accordion style rattan pendant and banana-leaf like plant gives this space a very tropical look.    
Make Your Ceiling Standout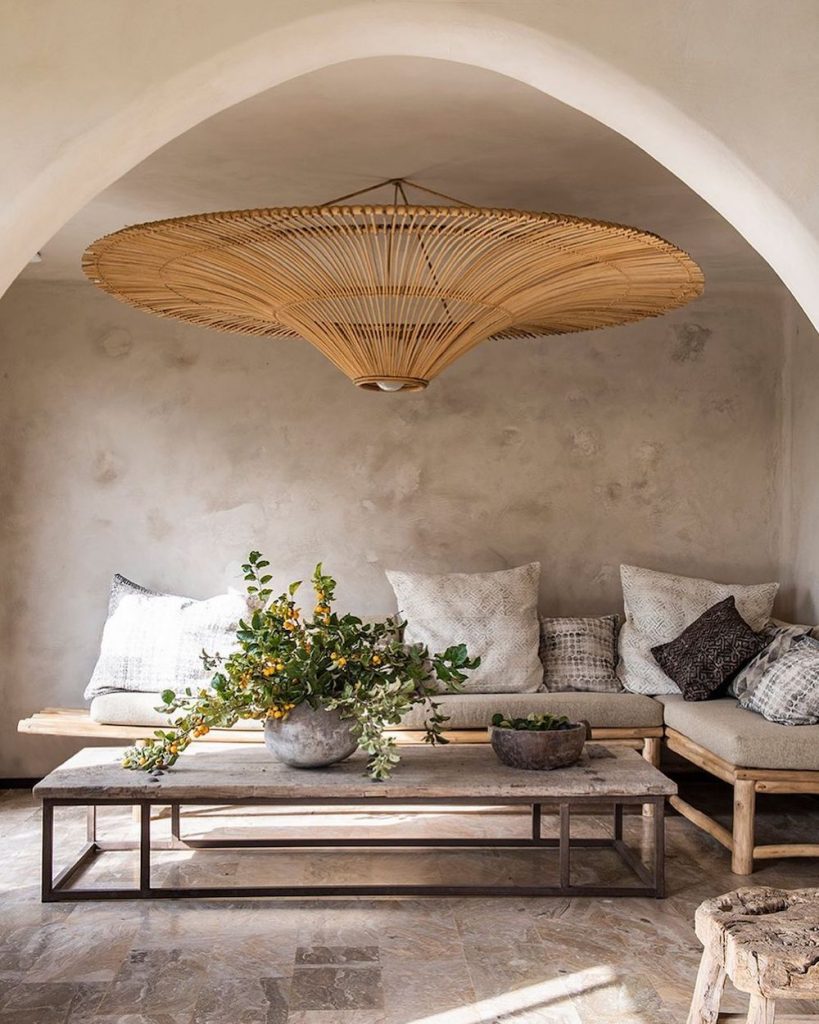 Add a statement piece like the large, round pendant-like rattan light. Create visual interest for your ceiling.  
5. Change it Up a Bit in the Bathroom 
Give Your Bath Space a Spotlight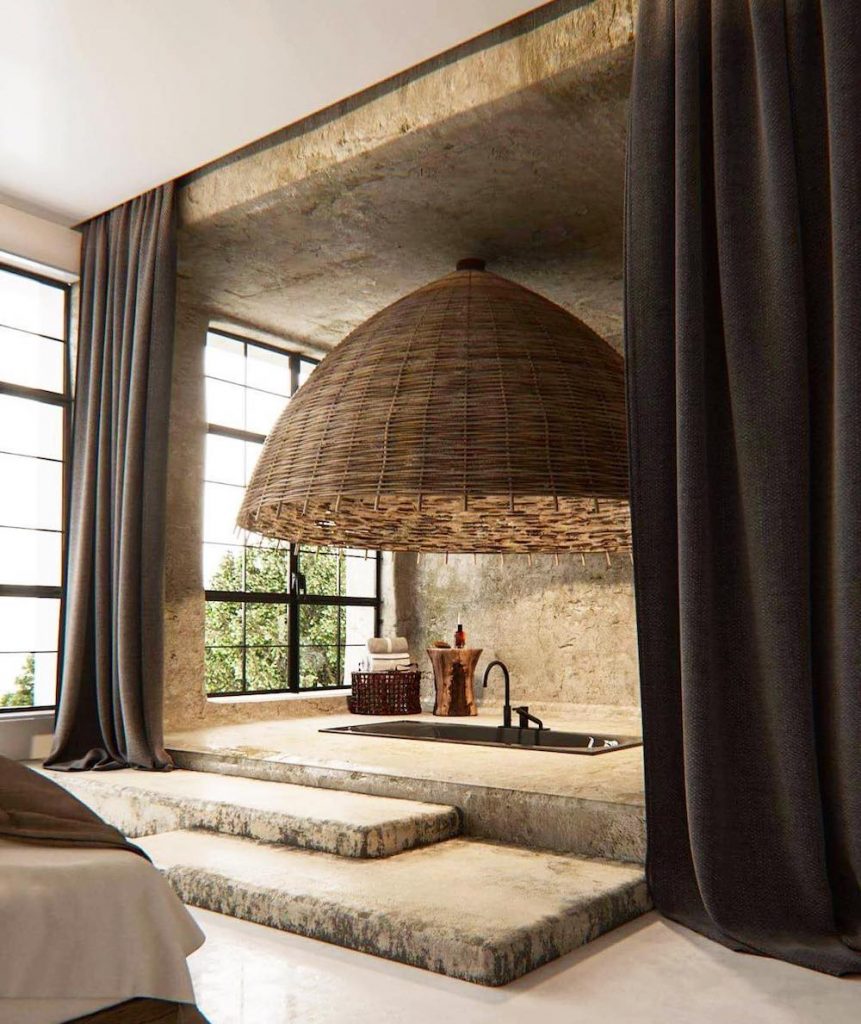 Cover your sunken bathtub with a light from above. 
Style it Vintage – Inspirational Rattan Pendant Lights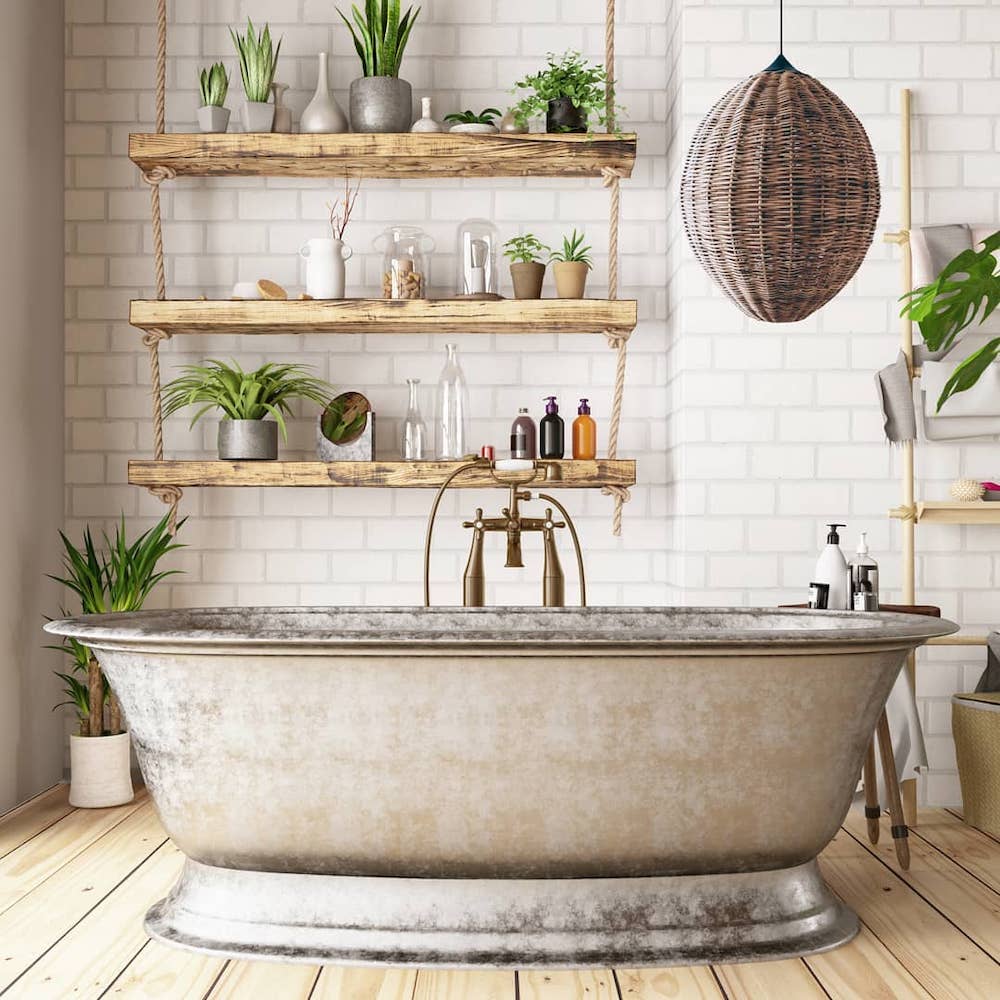 Soak in this vintage style bathtub under an egg-shaped light. Pendant of warm earthy tones softens the decor.  
6. Style a Bedroom with a Rattan Pendant Light 
Throw a Garden Party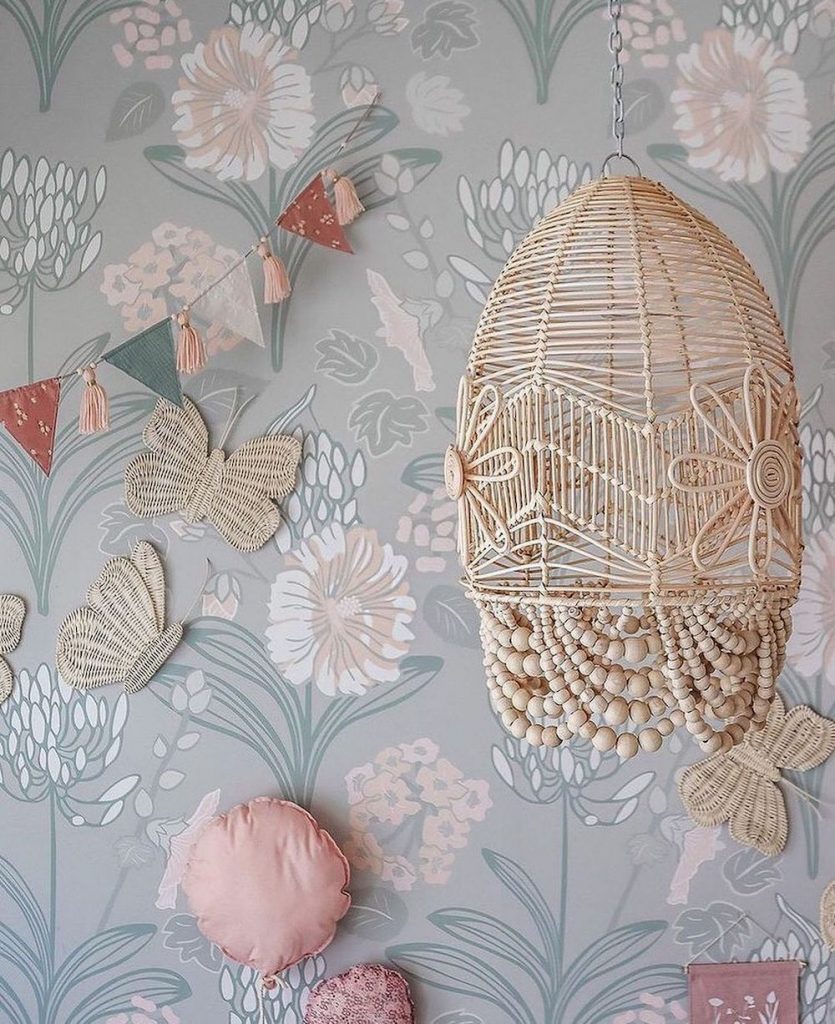 String the banner and pink tassels across one bed. A tulip-shaped mini floral pendant hangs between two groups of rattan butterflies.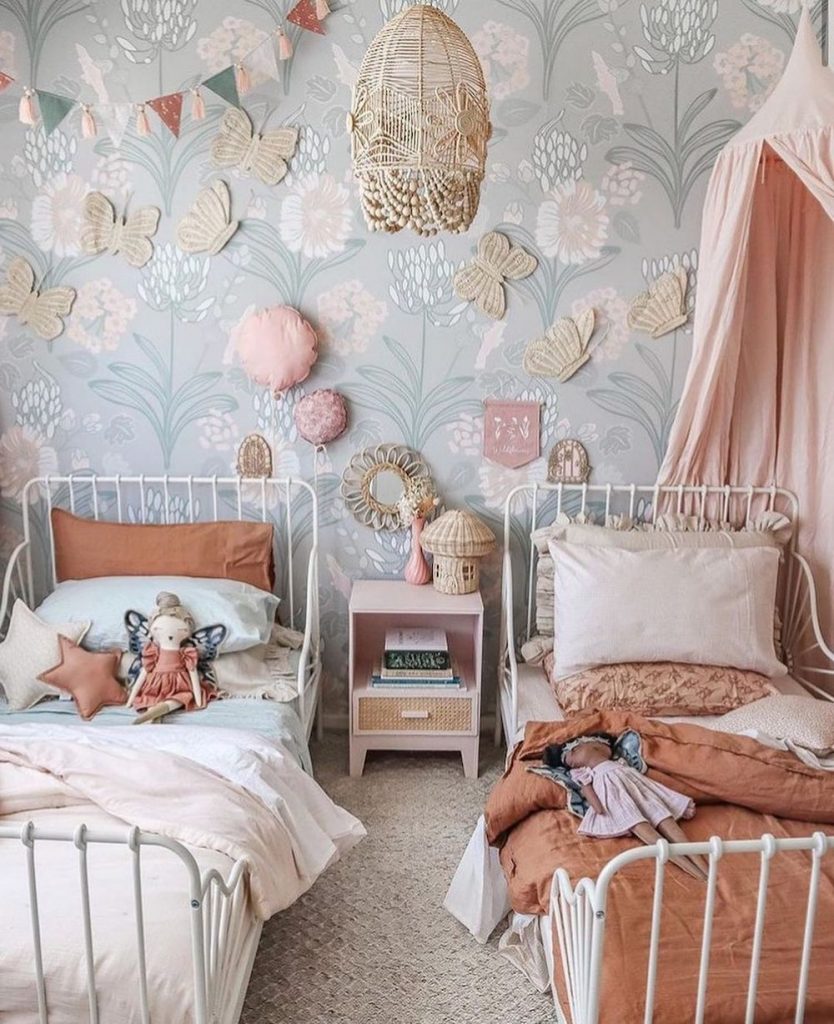 A garden fairy and wicker mushroom house completes the garden theme of this little girl's pink bedroom. 
7. Deck the Outdoors – Inspirational Rattan Pendant Lights  
Play Up Your Porch Perfect Style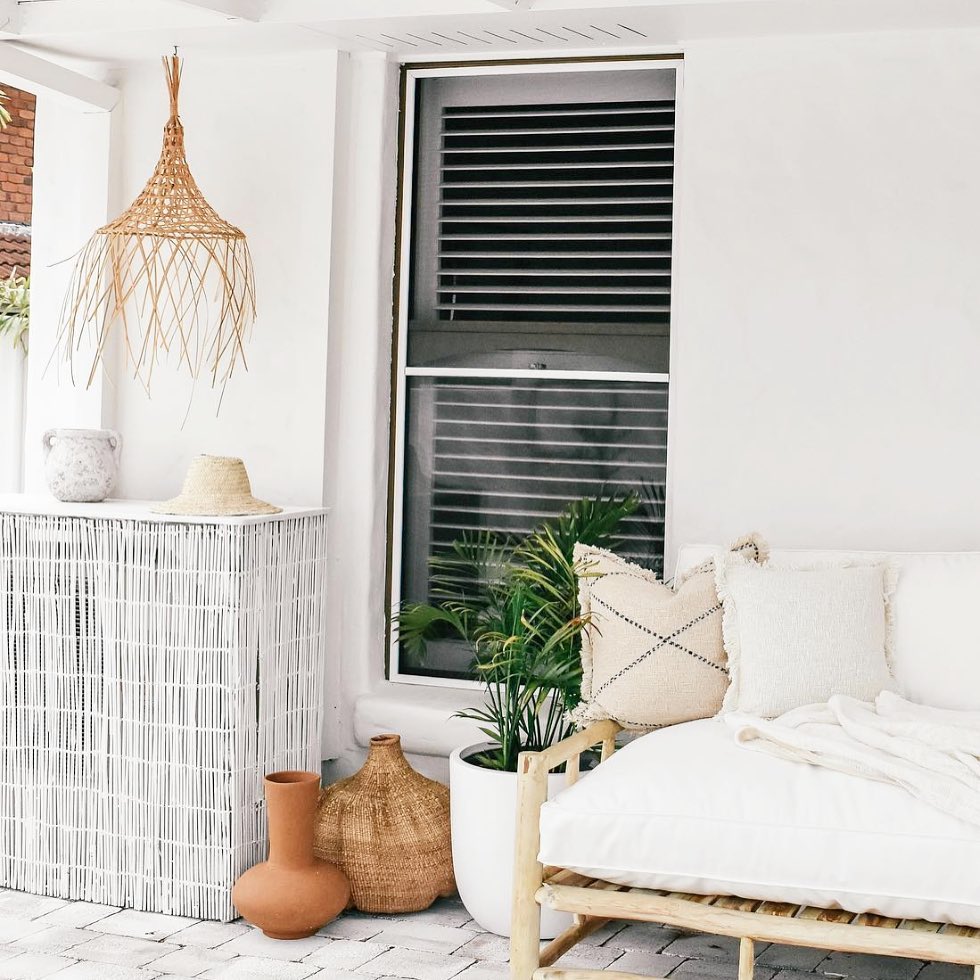 Wave to the neighbors as they stroll by from this front porch. A beautiful spot to lay back and enjoy the day. Cute mini pendant lights up the front porch with a sofa nearby. 
Light up the Patio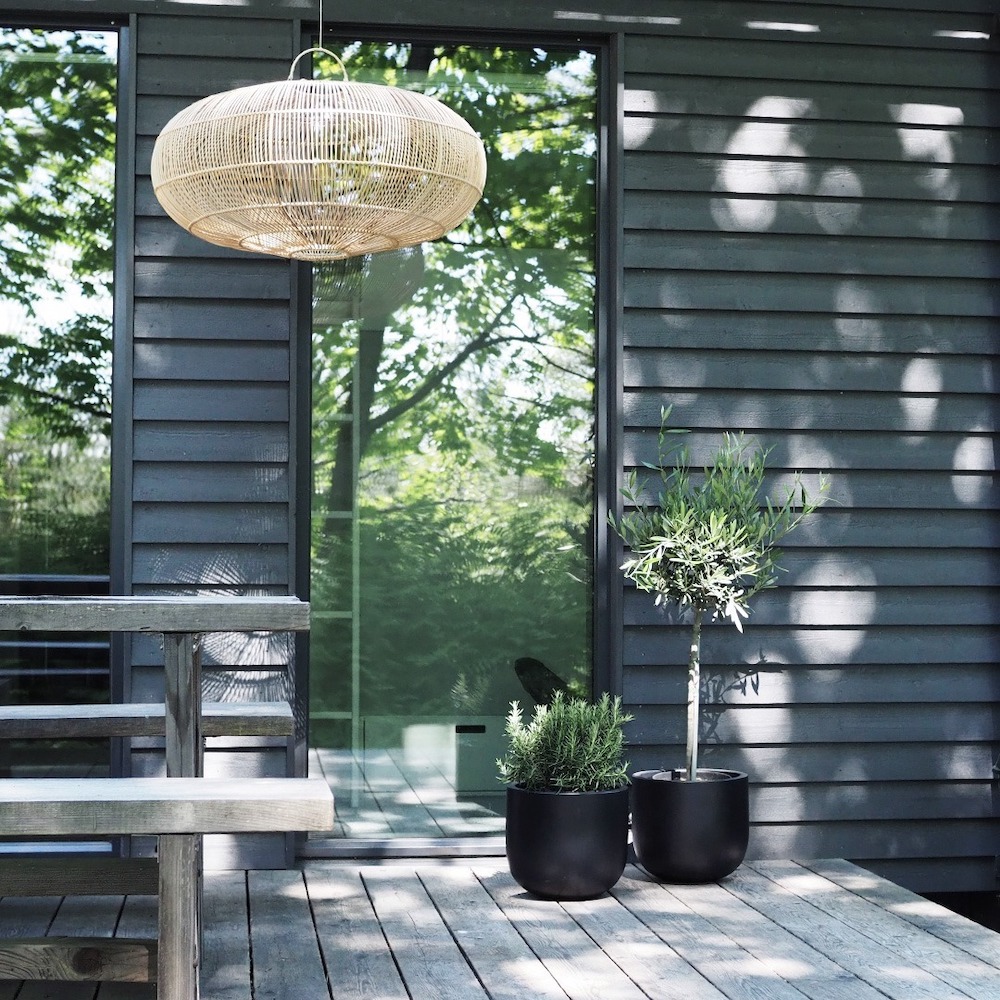 Get your picnic table ready for the Summer. Then take time to make your Summer picnic plans. Keep your outdoor activities going after sunset with a round rattan light.  
8. Take it on the Road 
Refresh your Caravan 
Need to refresh your caravan? Add a rattan pendant for a stylish decor. 
9. Color Your Lamp Shade – Inspirational Rattan Pendant Lights 
Spread a Little Color in Your Home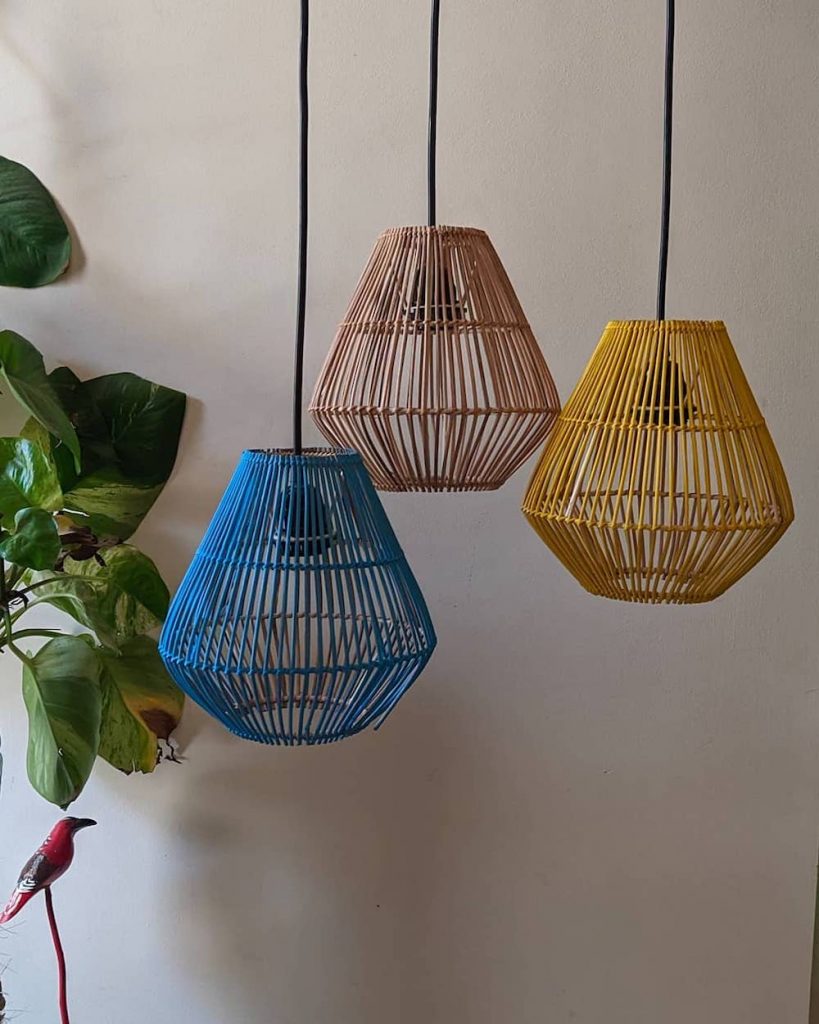 Splash a little color with a lamp shade. Cool rattan shade colors add color to your home. 
Add a Little White to Your Shade – Inspirational Rattan Pendant Lights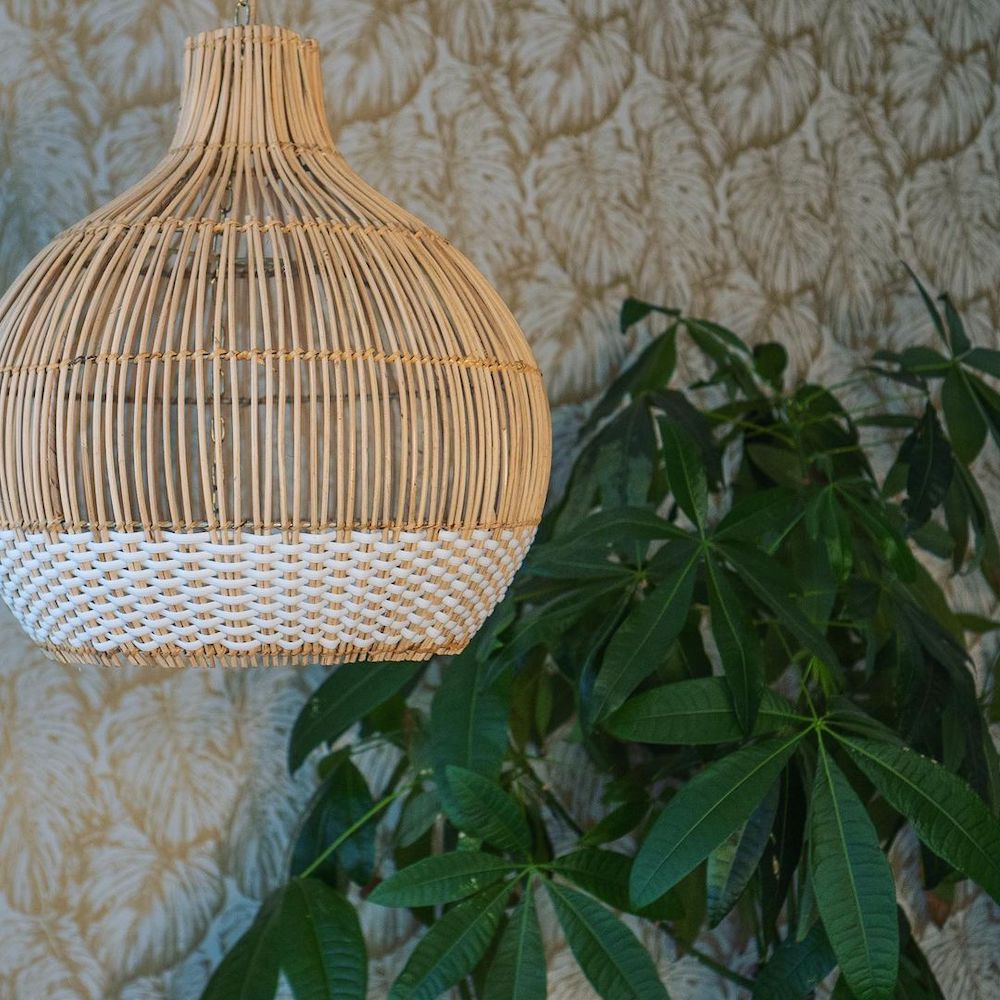 Give your home a Summer time look with a rattan shade edged in white basket weave.  
Decorate with a Circle Chain Patterned Rattan Pendant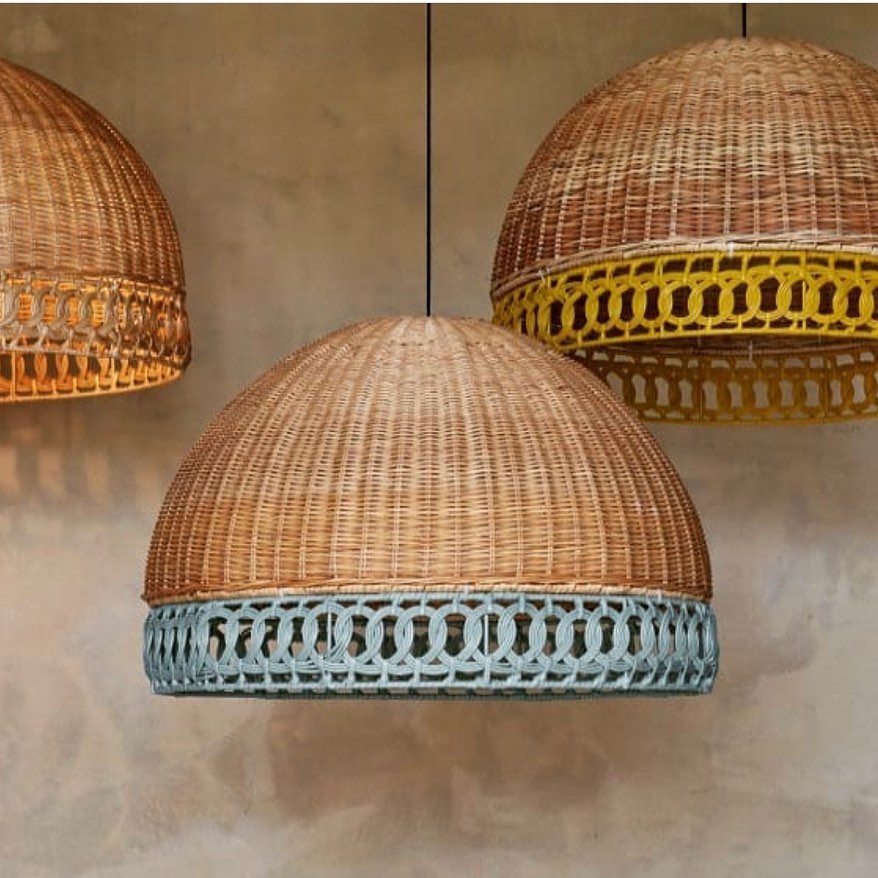 Hang a colored circle chain edged rattan shade. Select from several colors.  
Go with a Concave Circular Design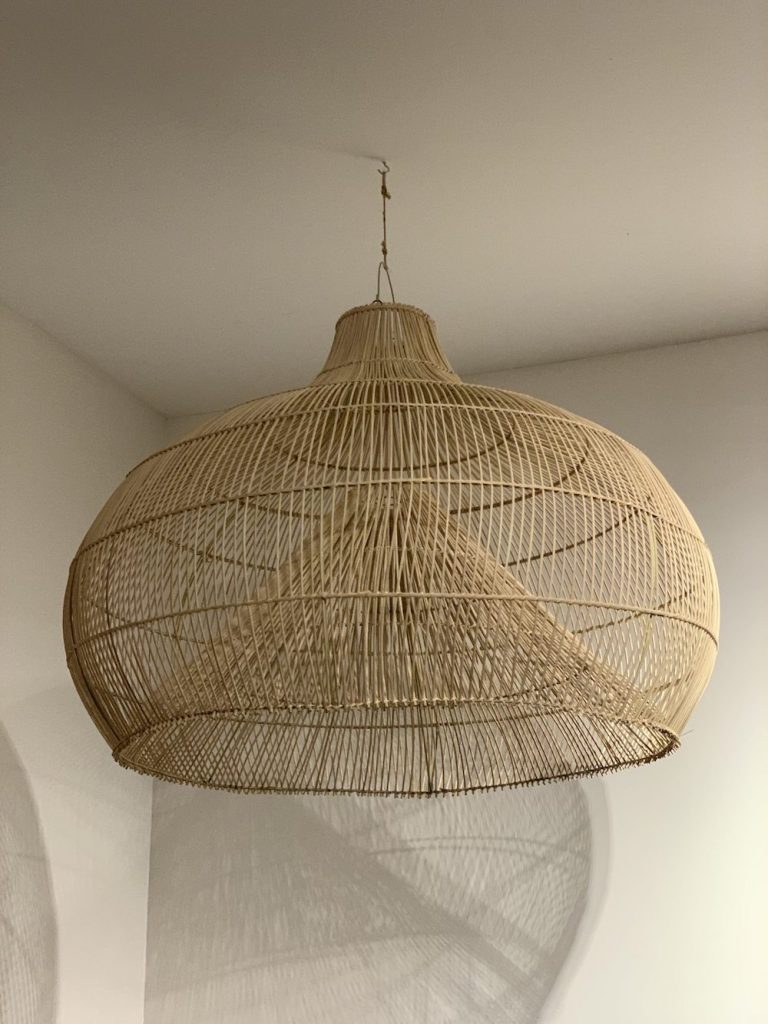 Concave shaped circular design large pendant light adds a spectacular dimension to your ceiling. 
On a Final Note .. 
This is the end of our list of inspirational rattan pendant lights for the home. Hopefully you've found a few ideas that you can use for decorating your home. Is there a pendant style that you especially liked? We feel every pendant light has its own unique qualities. We hope you found a few styling ideas with a rattan pendant light for your home. 
Enjoy our other coastal decor related posts for additional ideas. 
31 Coastal Table Lamps We Love
19 Coastal Dining Tables for a Summer House
27 Coastal Dining Chairs with Seaside Style
Best Inspirational Coastal Dining Rooms 
Coastal White Sofas for Beach Homes
Coastal Console Tables with Seaside Style 
Thank you for taking a look at our blog. And stopping by Finding Sea Turtles blog. Reach out to us with any questions. We are always ready to help you out.  
Mary