Nautical bunk bed ideas for endless Summer fun with the family. Remember those summer beach days when you had get-togethers and sleepovers with your cousins and friends. Those are incredible memories that last a lifetime. And now it is your turn to host the family summer activities. If you are expecting a house full of guests this summer, then this post is for you. In today's post, we are sharing inspirational ideas to decorate a room with bunk beds.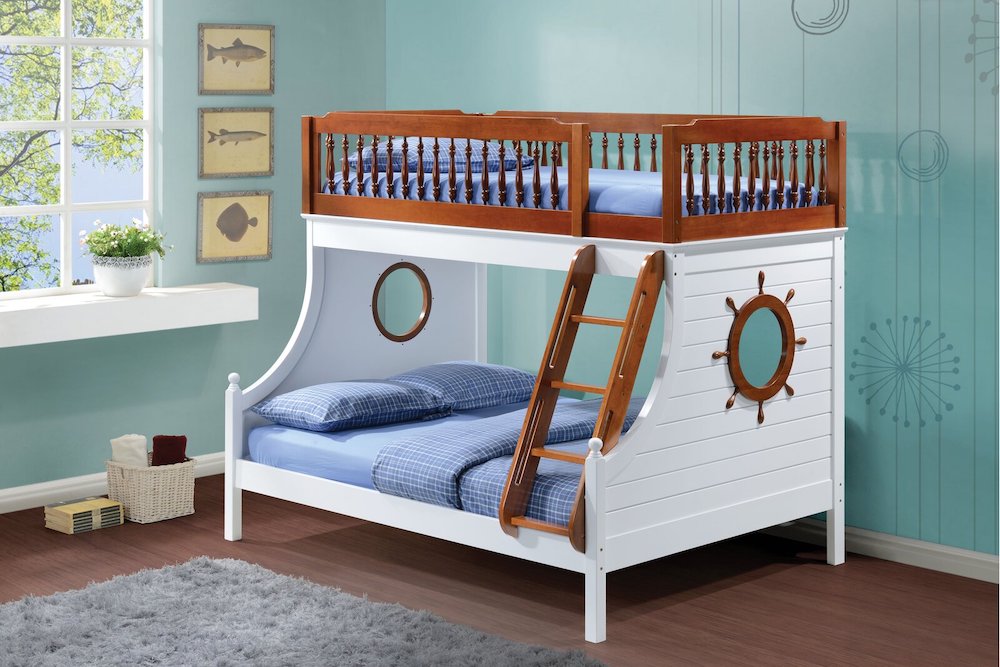 If you have built-in bunk beds in your home and want to refresh your bedroom, we have some great ideas. Squeeze more family and friends into your home with bunk beds. Bunk beds have been a way of life in many beachside communities with limited space in smaller cottages. The early beach cottages from the 1900s were smaller homes with smaller rooms. Families would crowd into these summer cottages and sleep on cots. Rather than renting multiple beach cottages for extended family members, homeowners added built-in bunk beds to accommodate their growing families. These bunk beds required less space and could accommodate extended family as well as friends.
Oceanside Homes – Nautical Bunk Bed Ideas
In recent times and in larger homes today, bunk beds have made their way into many coastal homes. What appeals to many homeowners is that bunk beds accommodate larger overnight family gatherings. And as you'll soon see, there are many ways to style a bunk bedroom. Create your own nautical-styled family bunk bed interior with these ideas.
Homeowners who grew up in homes with bunk beds remember the comradery and family fun. Perhaps you too have fond memories of sleeping summer nights on a bunk bed at the beach. Now is the best time to relive those summer days of bunking at the beach. Take a look at these popular nautical bunk bed ideas. Don't forget to let us know which you like best.
Dress it Up in Nautical Stripes – Nautical Bunk Bed Ideas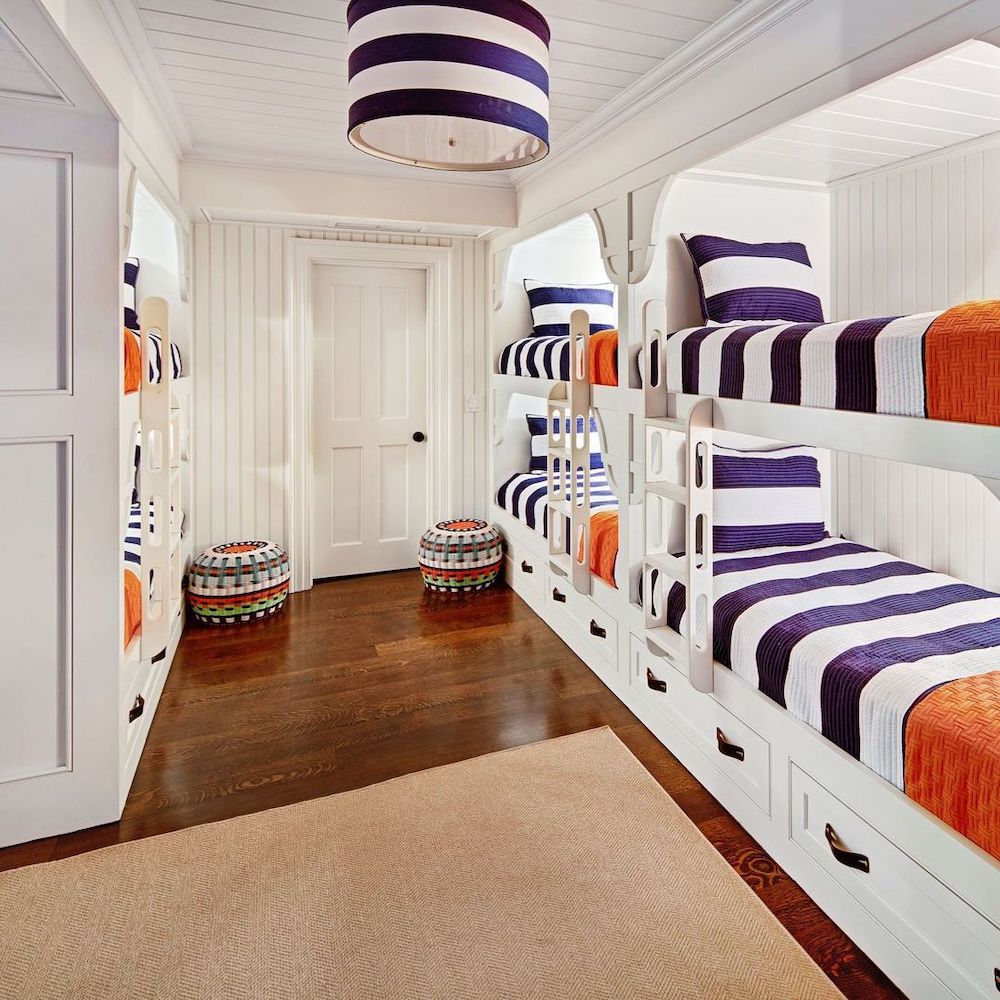 Give those mates of yours some bunk bed stripes. Navy and white stripes are always a big hit. We love the shiplap details along with the ladders for the upper bunk bed.
Style it with a Rope Strap Mirror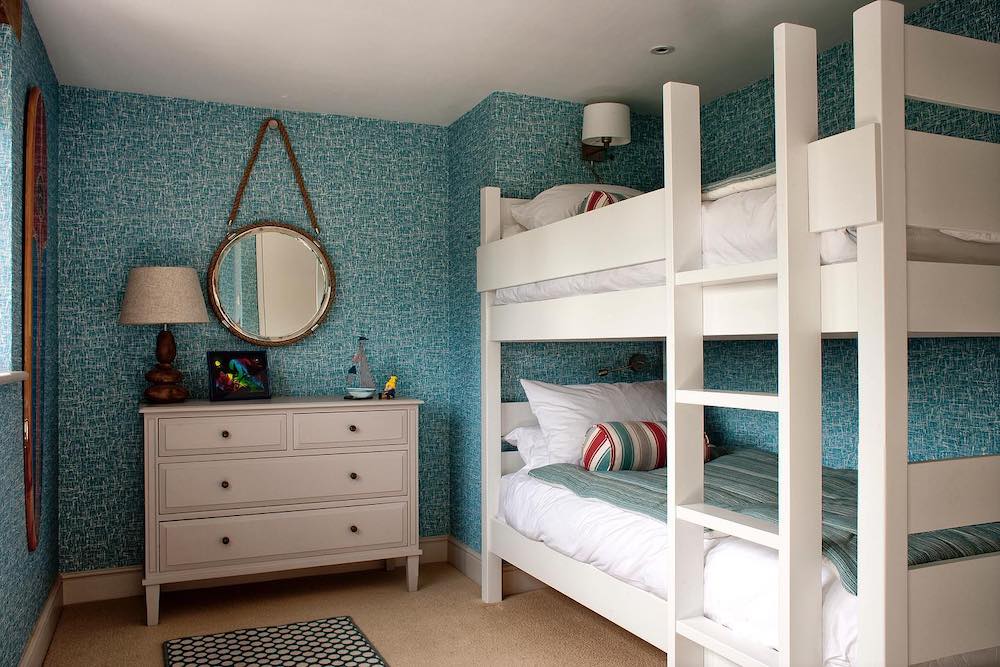 Keep the nautical theme going with a rope strap nautical mirror. And a cute miniature sailboat.
Light It Up with a Cage Light Fixture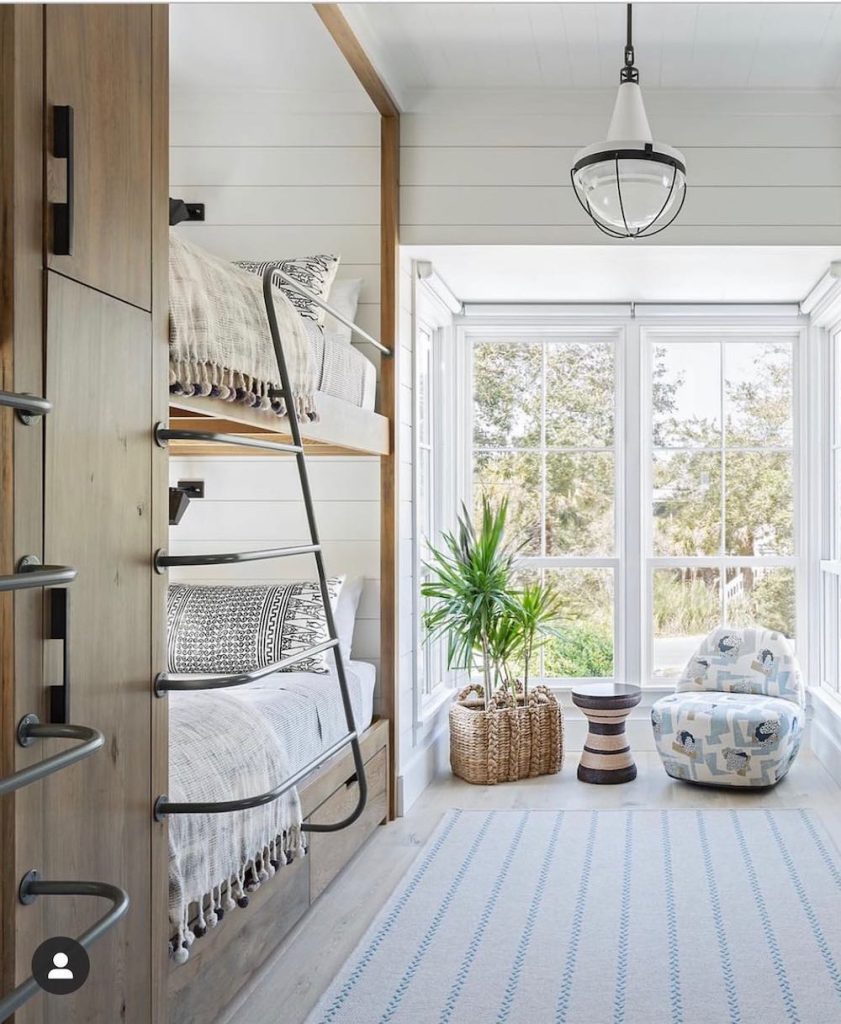 Select a cage light fixture for the bedroom. In this image, the room has plenty of natural light. We love the shiplap details and driftwood-colored bunk beds.
String Fish Nets Across the Beds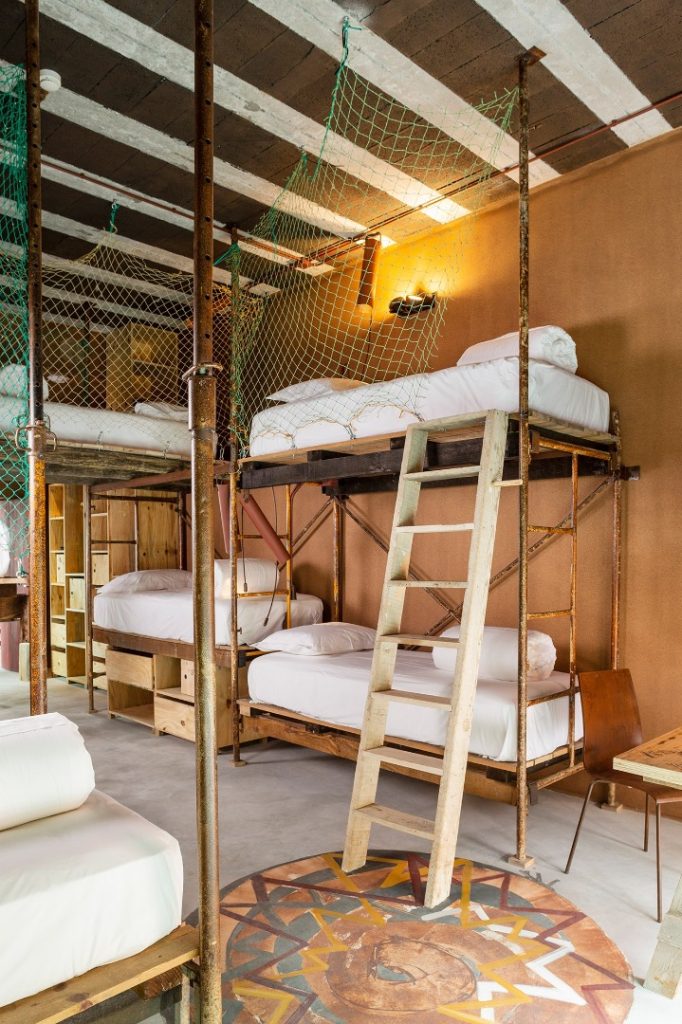 Use inexpensive fish netting across the bunk beds. At Noah Surf House in Torres Vedras, Portugal, this surfer's room has storage below the beds. Perfect for bunking at the beachside.
Attach Individual Draperies for Privacy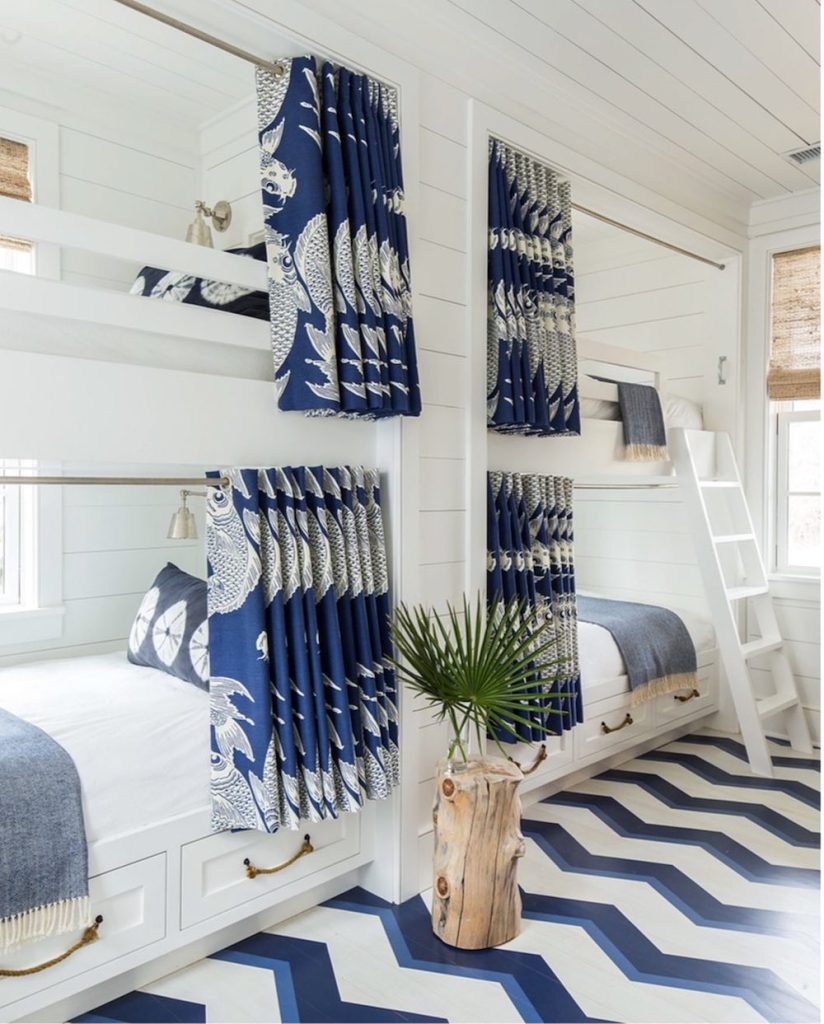 Keep it private with custom-made draperies for each bunk. Add rope details when possible.
Make it a Double – Nautical Bunk Bed Ideas
Add a set of double beds to accommodate even more house guests over the summertime.
Bring the Sealife Motif to the Bunk Beds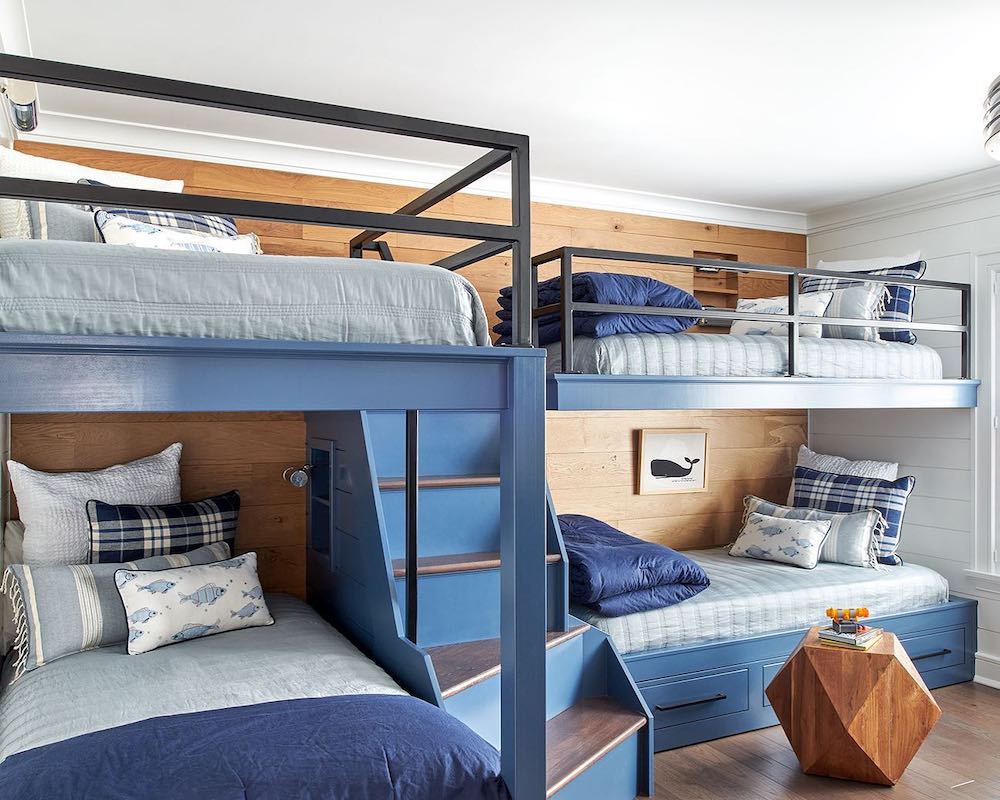 Use nature to decorate with. Keep sea life motifs on the bunk beds. In this inspirational idea, toss pillows have a fish pattern. A small whale wall art piece is added to one of the lower bunks.
Style it with Nautical Colors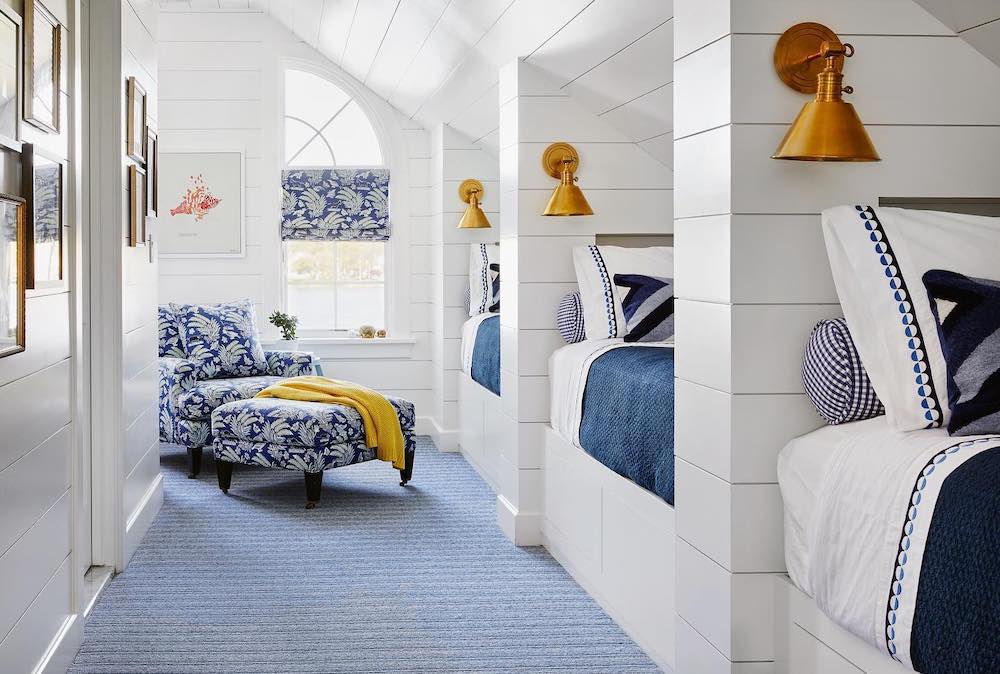 Go for a white background. Then add nautical blues to the bed linens, window treatments, accent chair, and floor rug. Nautical bunk lighting in the brass finish makes this space shine brilliantly.
Interested in bringing the nautical look home? For those of you without built-in bunk beds, consider these bunk bed options. Bunk beds with a nautical style. Take a look at these nautical-inspired beds for your home.
This ends our list of bedroom options for large family gatherings. Do you see a bunk bed that you like? Keep the look of ocean travel with these decorating ideas.
Check out our coastal decor post for additional ideas – 12 Ways to Add Coastal Decor to your Home as an additional coastal resource. Find great tips and tricks for styling a coastal home, in this important post. Hopefully, you found a light fixture that you love.
Enjoy our other coastal decor-related posts for additional ideas.
Thank you for reading our blog at Finding Sea Turtles. Reach out to us with any questions. We are always ready to help you out.
Mary
Pin this for Later: