Searching for some coastal daybed decor inspiration for your daybed? We have some ideas you'll find helpful. We'll show you 19 ways to style your daybed. Daybeds are the perfect solution for days when you need a quick break from the long workday.
In today's post, we are sharing 19 ways to style a coastal daybed in a variety of room settings. Create an alternative resting space for a nap and relaxation. The best room for a daybed is what best suits your needs. Daybeds work equally well in nurseries, home offices, guest rooms, family rooms, and of course underneath a covered porch. There are daybeds in a variety of styles and sizes available. Some have drawers for storage.

Design a Calm Daybed Space – Coastal Daybed Decor Inspiration
Plan a home area with a daybed that meets your family's lifestyle and needs. Consider the uses of your daybed. Is the daybed for napping, lounging, an extra bed, or a combination of all these? Think about these amenities, once you've settled on an area for the daybed. Start with a throw or two for warmth. Follow with some toss pillows for head support. Set up a coastal side table with a small lamp for reading and evening use. You may want to add a small plant on the side table. A plant that aids with air purifying for a better sleep experience. And don't forget to add some coastal wall art.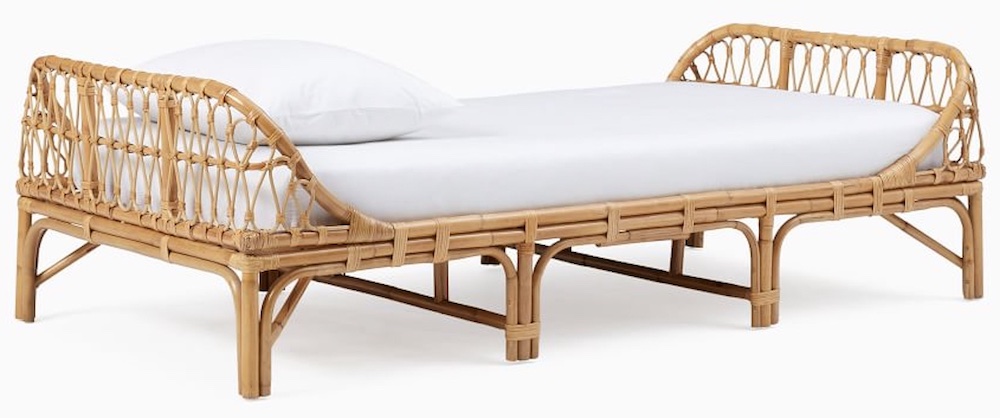 Enhance your calm space even further with amenities known to optimize a restful experience. Soft background music to help you relax. Select a calming wall color such as blue which is a non-stimulating color. Set up a handful of infused scented sticks with a fragrance that relieves stress and promotes relaxation. Finally, add any mood-lifting objects such as family photos or images of your favorite travel destinations.
So on to our list of 19 daybed ideas. Take a look at these beautiful daybeds.
Go with Blush Pink Colors – Coastal Daybed Decor Inspiration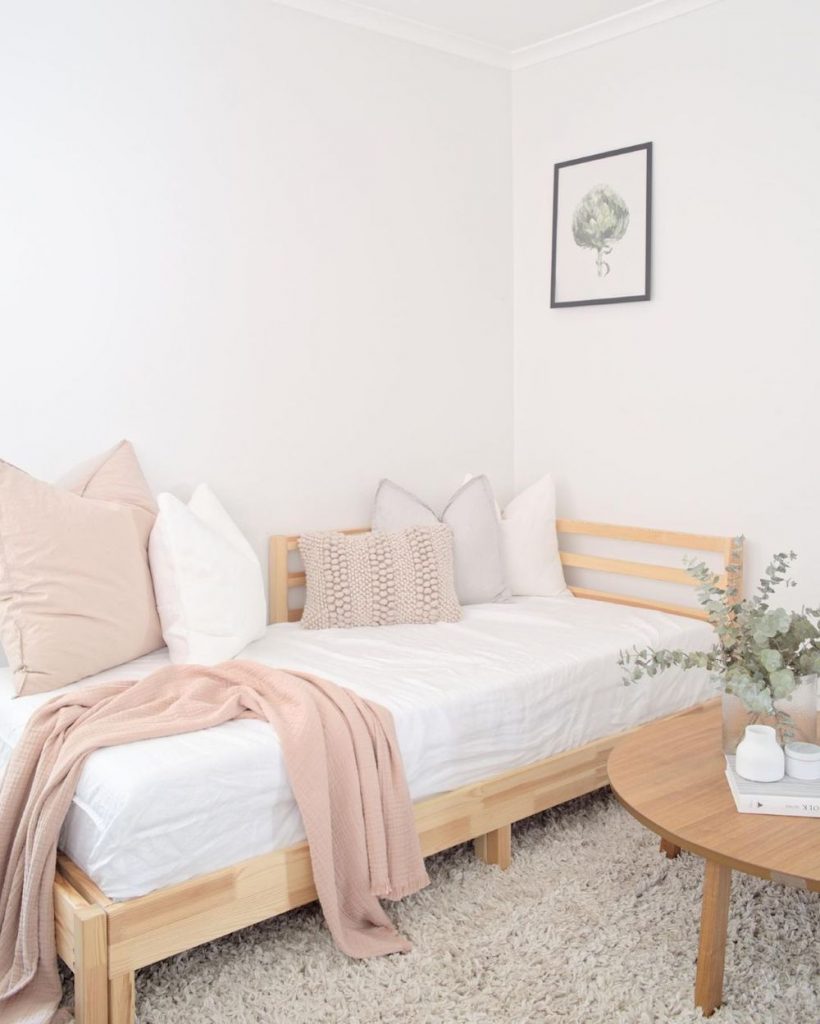 Decorate your daybed with blush pink accessories. Drape a blush pink throw across the bed. Add a few decorative blush pink pillows for a daybed.
Line Up the Babies – Coastal Daybed Decor Inspiration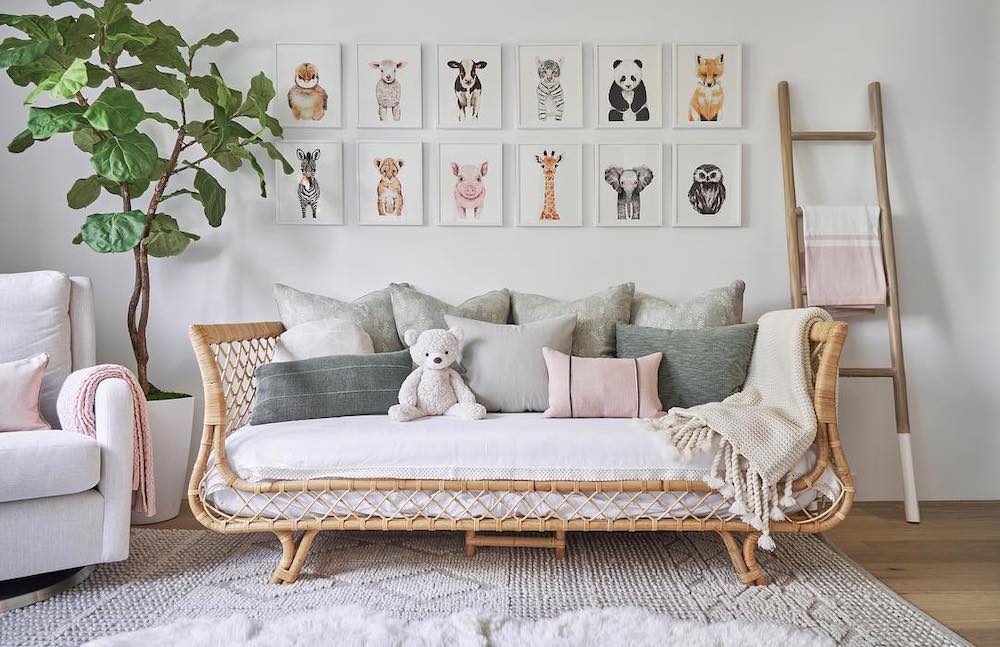 Display wall art with baby animals to continue the baby theme. Surround your daybed with pale pinks, light grays, and white. Include a throw and floor rug with strong texture designs. When the daybed is no longer needed in the nursery, transition the bed to a guest room or home office.
Make it All About the Newest Arrival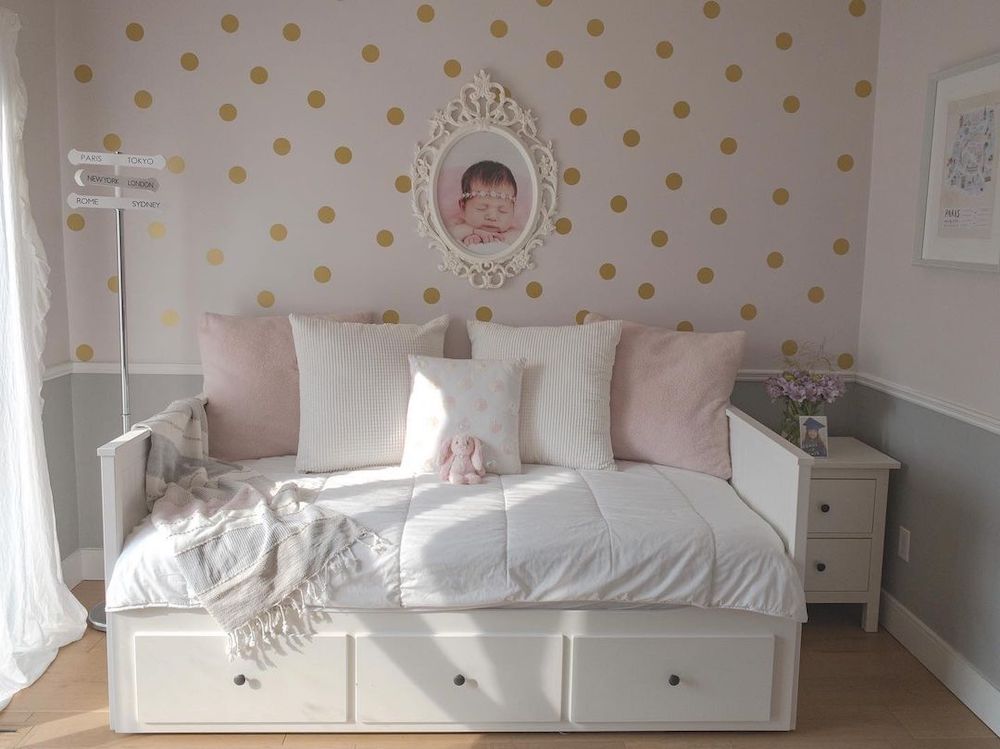 Frame a picture of the newest family member. Hang the portrait in the center of the wall. Add golden dots for an accent wall. This daybed provides extra storage below the mattress.
Make it a Japandi Style Daybed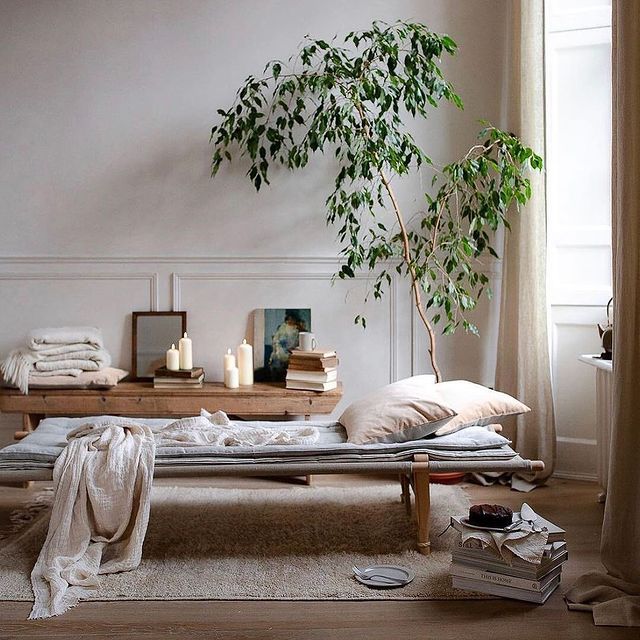 Style it Japandi. Japandi the best of two worlds. A blending of the simplistic Scandinavian design lines with the minimalist Japanese approach to furniture. An organic, natural approach to styling. Looks great. What do you think?
Give Your Daybed a Boho Coastal Look – Coastal Daybed Decor Inspiration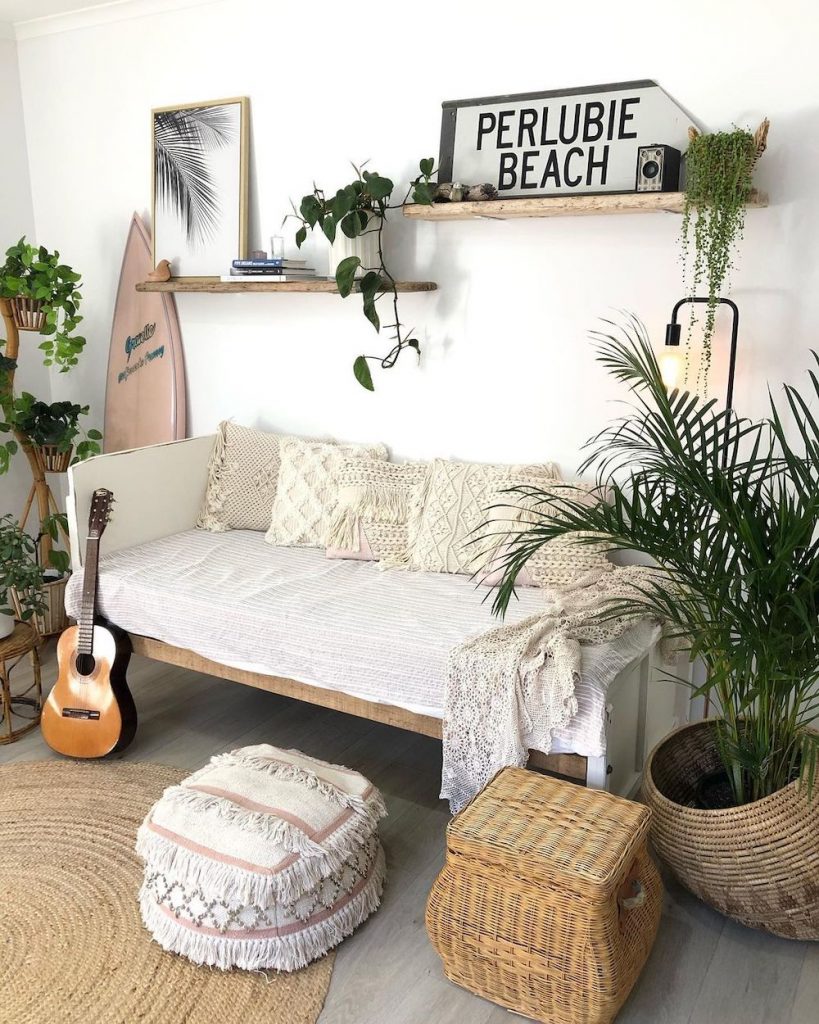 Living the surfside shack dream by the ocean? Daybeds are perfect for small space living and apartments. By day the daybed is a sofa for hanging out with your buddies. And by nightfall, the daybed is your very own bed. The best of both worlds that give the ultimate boho coastal vibes.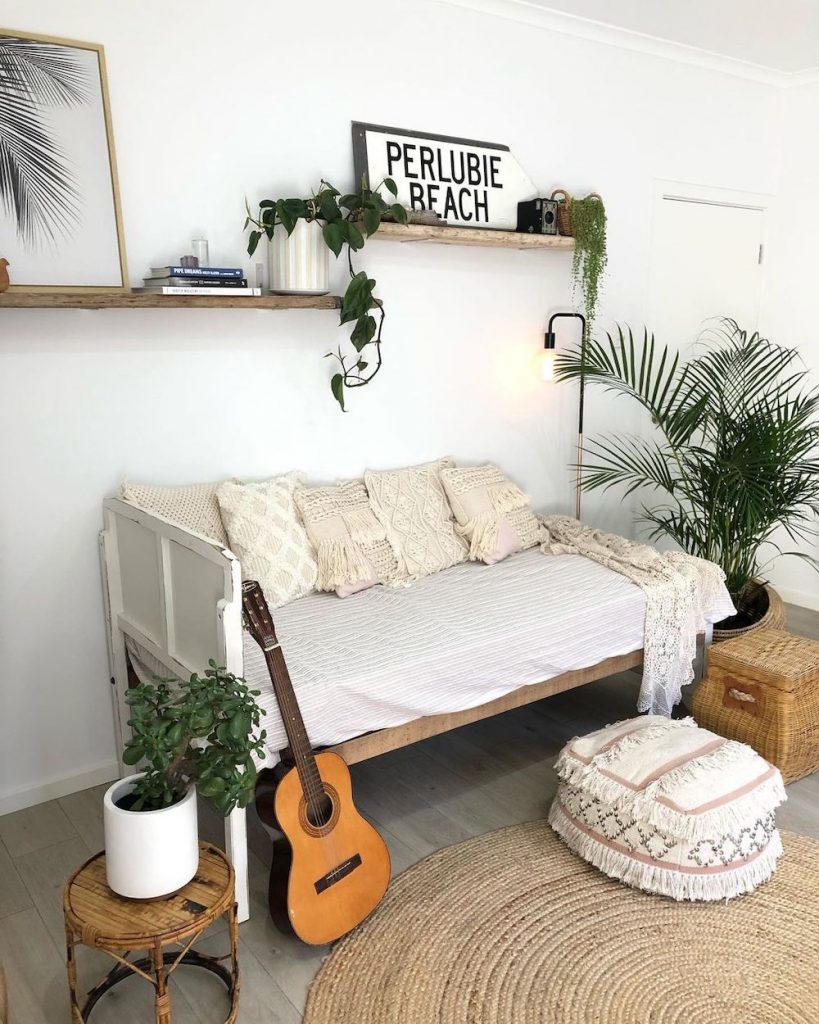 Bring the Tropics Home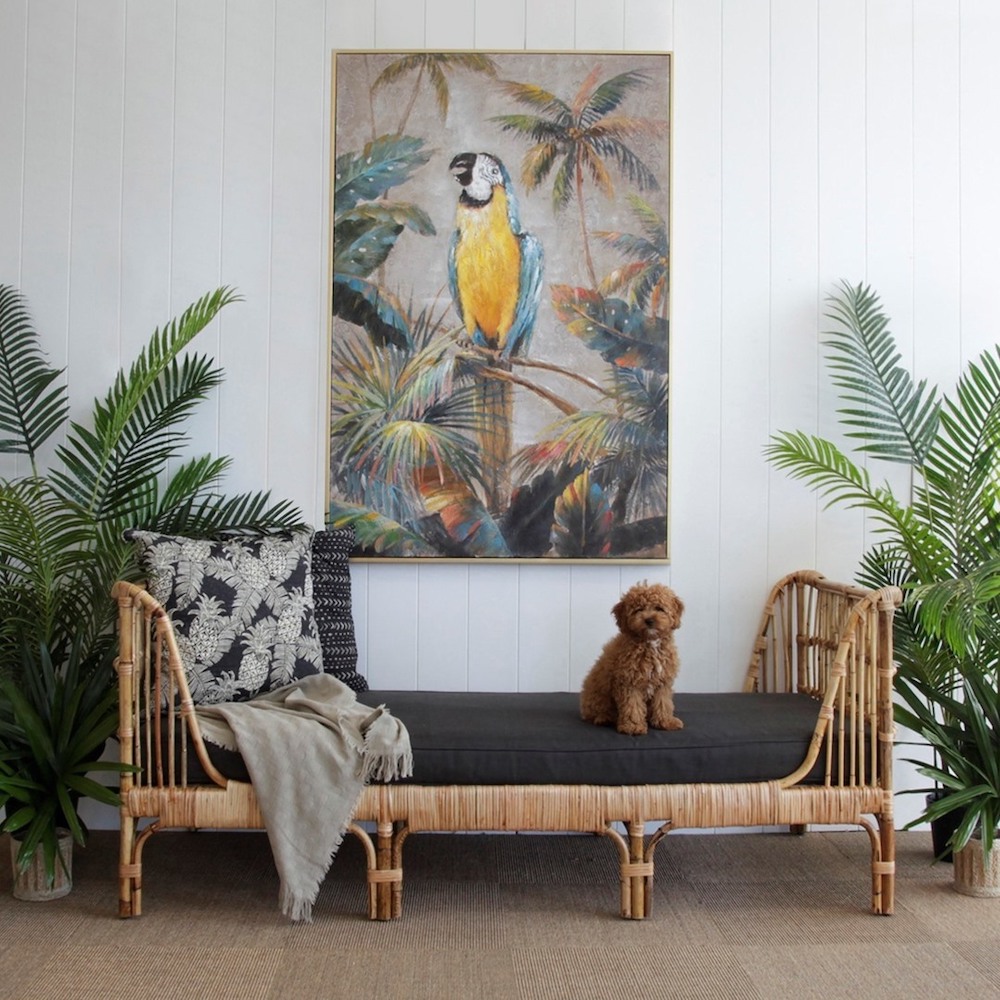 Live like the parrots do with tropical island decor. The allure of the tropics that calls on you. And this daybed design carries the frond pattern throughout the room. Using the wall art as the primary guide, repeat the frond pattern in the room. Add some greenery to your home. We love the live green palm plants and fronds with pineapples toss pillow. A good mix of organic materials goes a long way.
Immerse Yourself in the Tranquillity of the Outdoors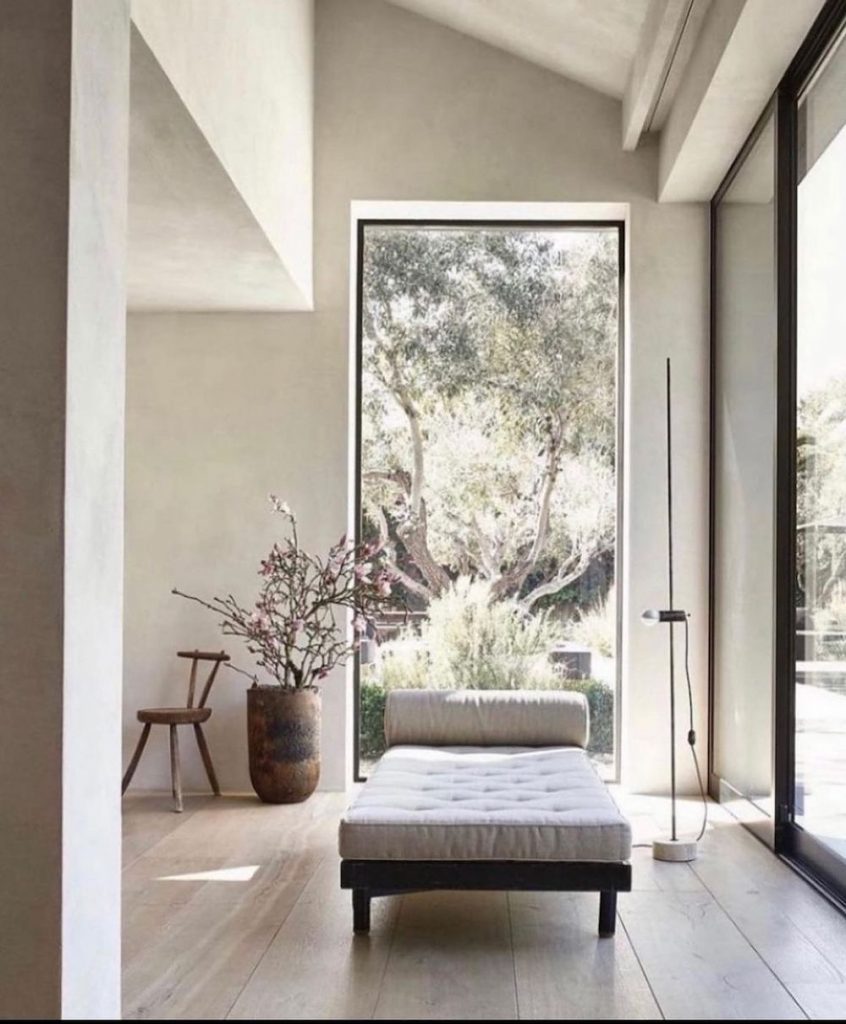 Go ahead and give yourself a daybed room with a great view. Set up your daybed in a room with ceiling to floor windows. Take in the outdoor views. Never miss an opportunity to surround yourself with nature.
Take Your Daybed Outdoors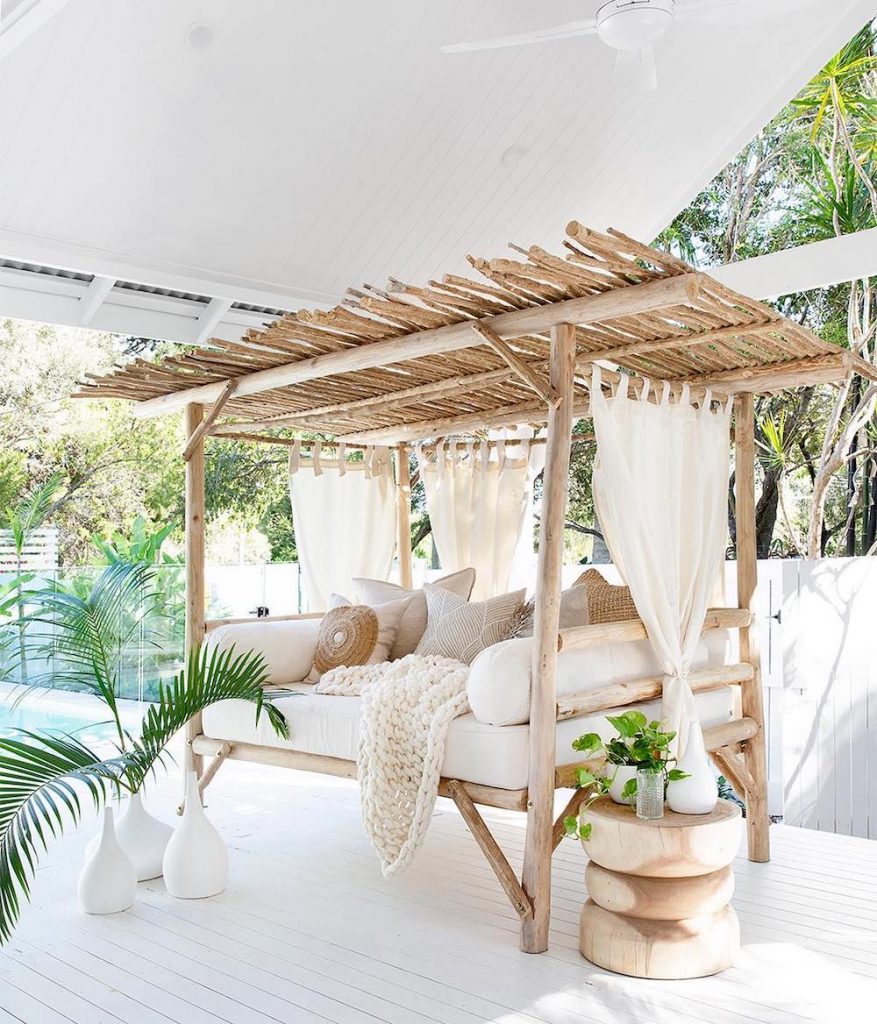 Give your daybed a taste of the outdoors. Set this up under a covered porch or patio. Add linens in cream and beige neutral colors. Gather a cluster of vases with green palm fronds to add visual interest. Then sit back and relax and take in the outdoor views.
Create a Coastal Farmhouse Style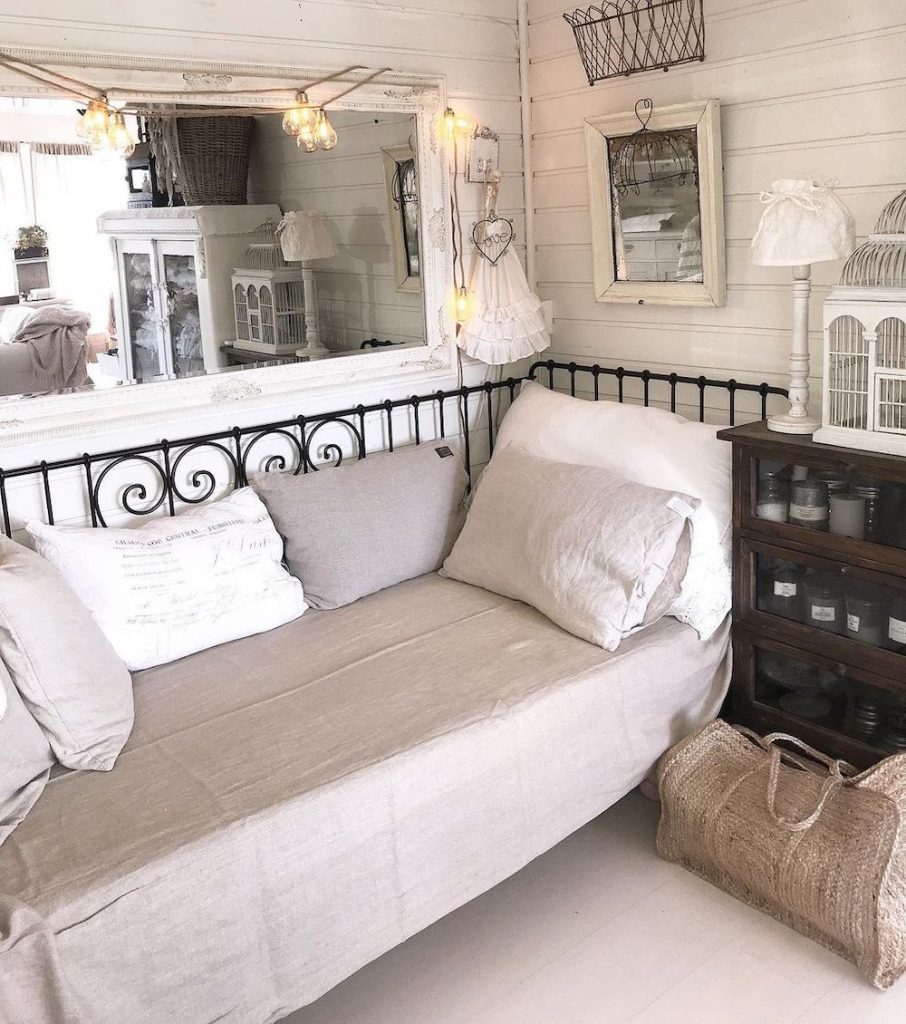 Crank up the coziness with fresh linens in cream and light beige colors. The black daybed has a vintage-style design. Hang wire baskets for extra storage.
Rock Yourself to Sleep – Coastal Daybed Decor Inspiration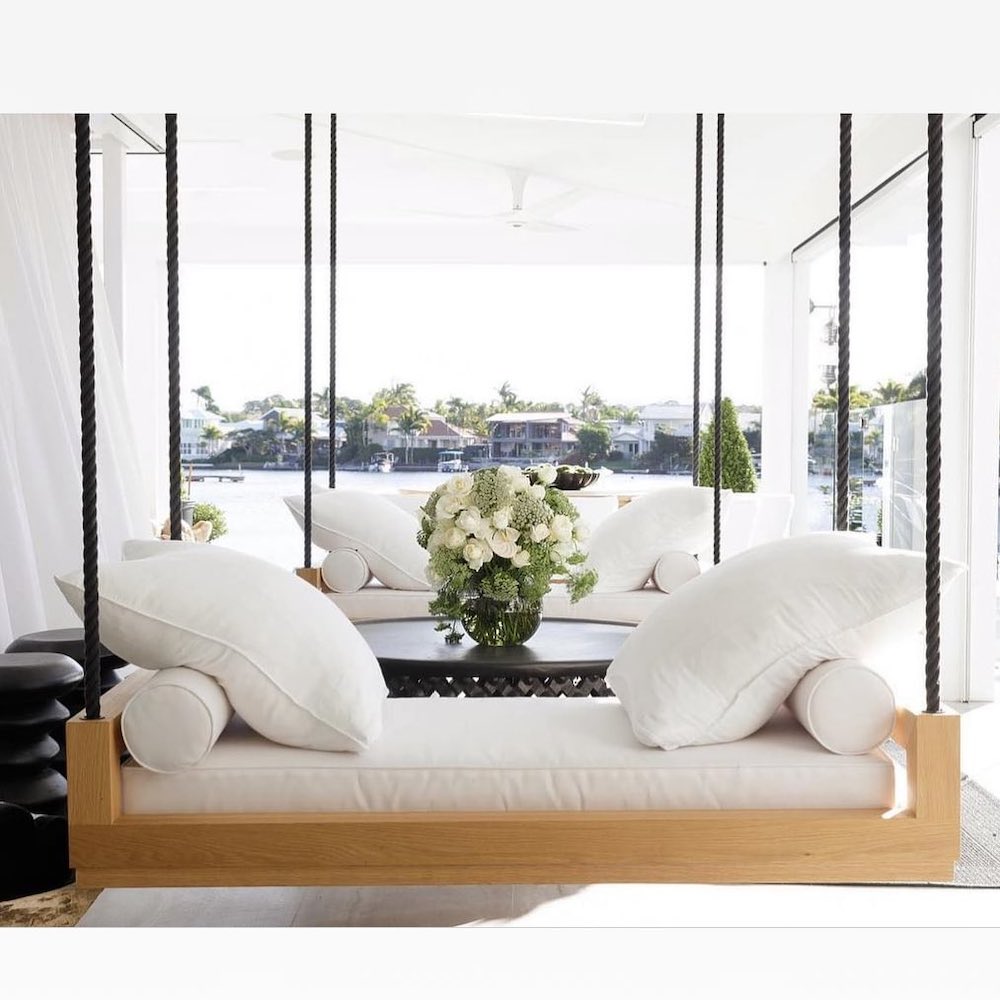 The gentle ocean breeze rocks you to sleep in this hanging daybed. Fall fast asleep with the ocean as your view.
Create a Built-in Daybed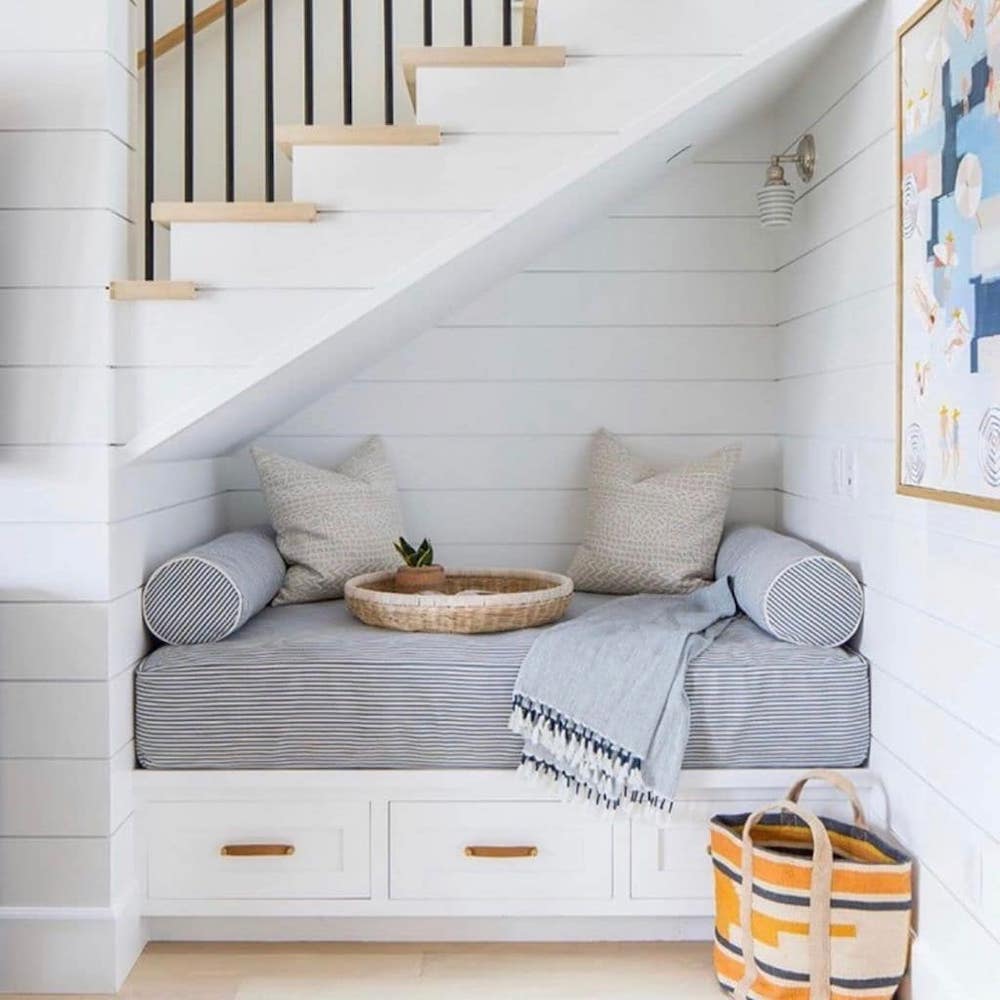 A resourceful way to add a daybed to your home. If you have an unused or underused space, think of a creative way to utilize that space. In this case, the under the stairway spot became a built-in daybed. An incredibly clever way to add a daybed to your home when you have limited square footage or a smaller home.
Swap Out Your Porch Swing for a Daybed
Exchange your porch swing for a daybed. When you have a house full of overnight guests, consider the porch for an extra bed. Accommodate your house guests with a hanging daybed such as this black beauty. A hanging daybed with a black finish, the bed frame is softened with lots of toss pillows for extra comfort. A double rug covers the floor directly below the bed. Soften the metal chains supporting the bed with rope by winding the rope around the chain. So clever! A room decorated in black and white with some greenery.
Show off your Coastal Wall Art – Coastal Daybed Decor Inspiration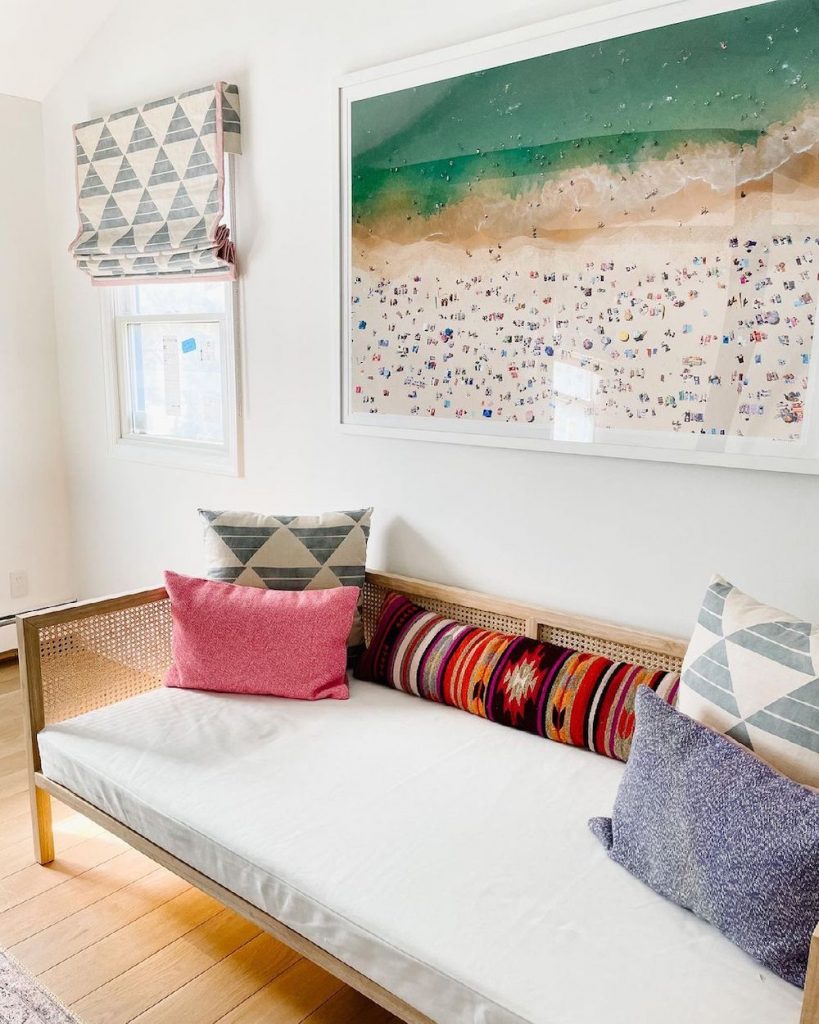 Display your coastal wall art over your daybed. Add a layer or two of toss pillows.
Design a Backyard Oasis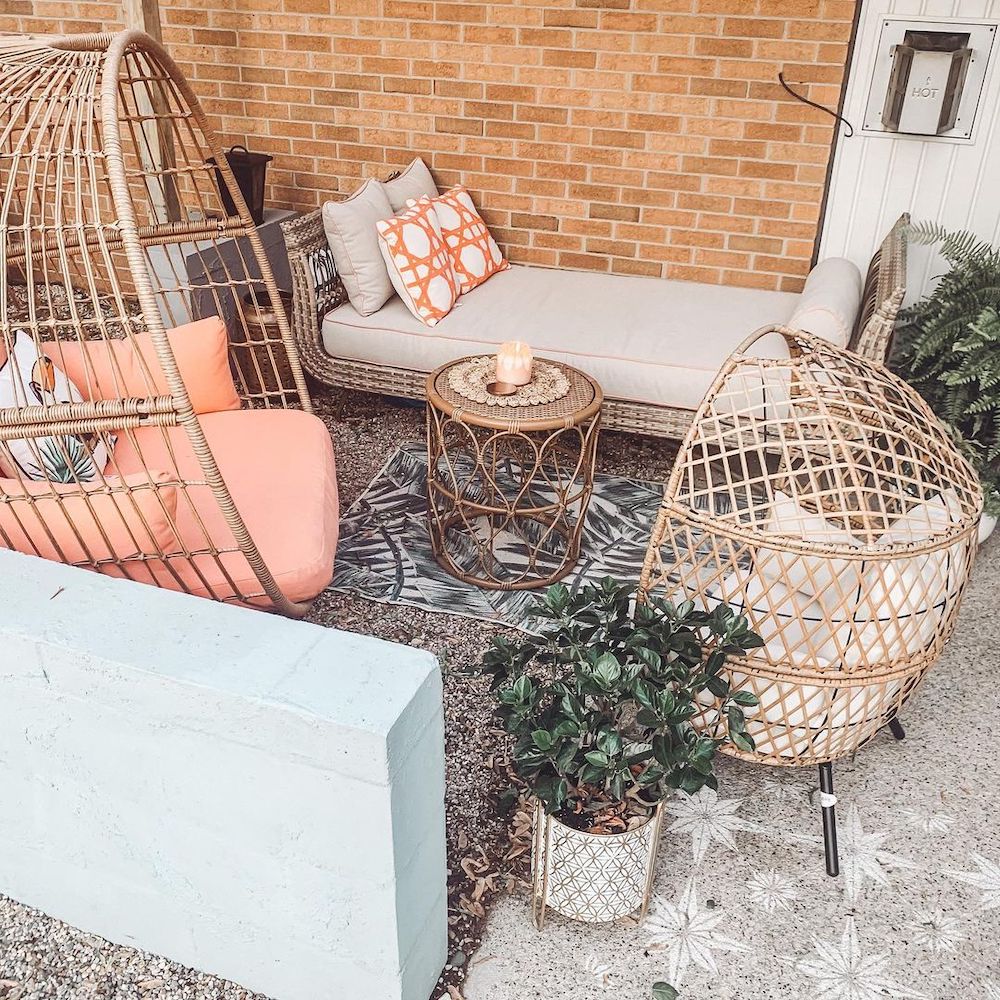 Create a backyard escape. This backyard oasis has two egg chairs and a daybed for an afternoon or evening full of lounging. Use decorative orange, peach, and tangerine accessories that are similar in color to the brick wall.
Style it Danish – Coastal Daybed Decor Inspiration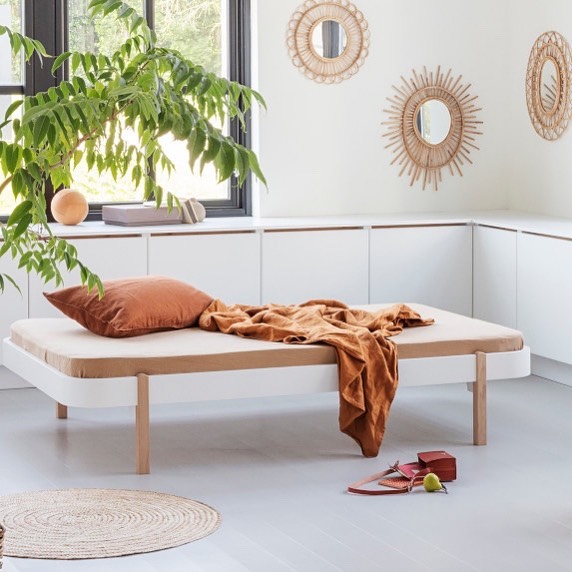 Looking for something simple? Or a minimalist style? Style it simple, organic, and Danish.
Create a Home Office Break Space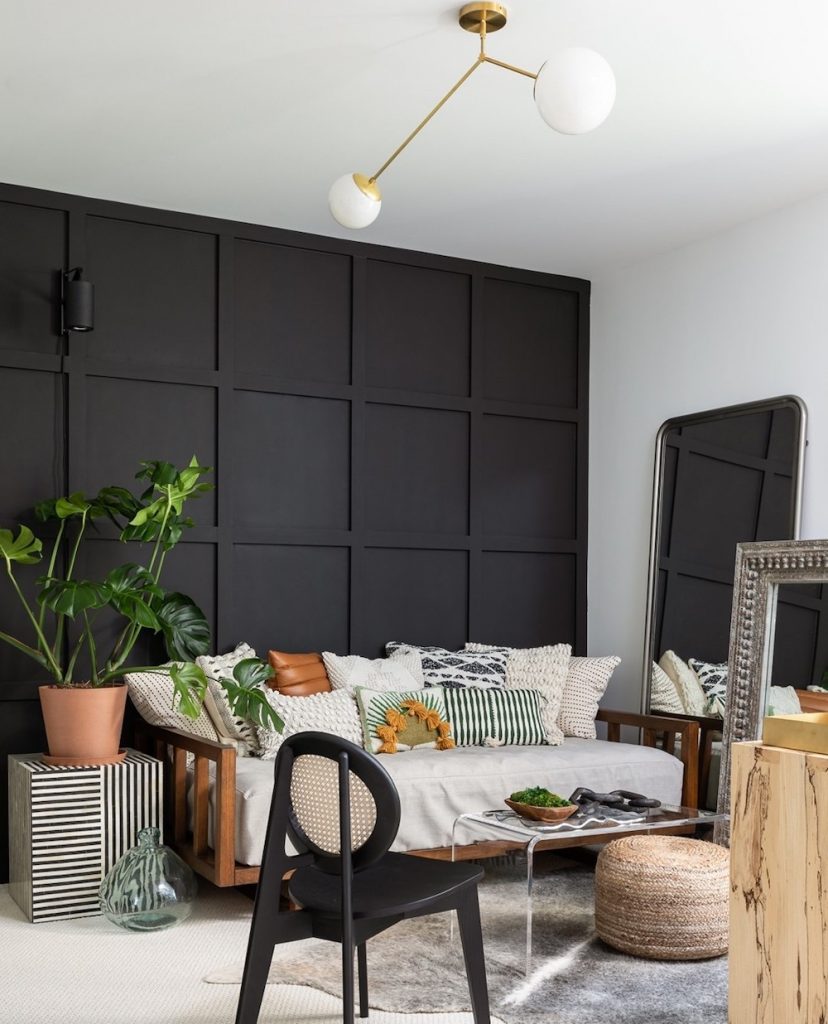 Add a daybed to your home office for much needed breaks. Paint the board and batten wall black. Add accessories of black and white. Use organic green as an accent color for pillows and live plants.
Style it Bright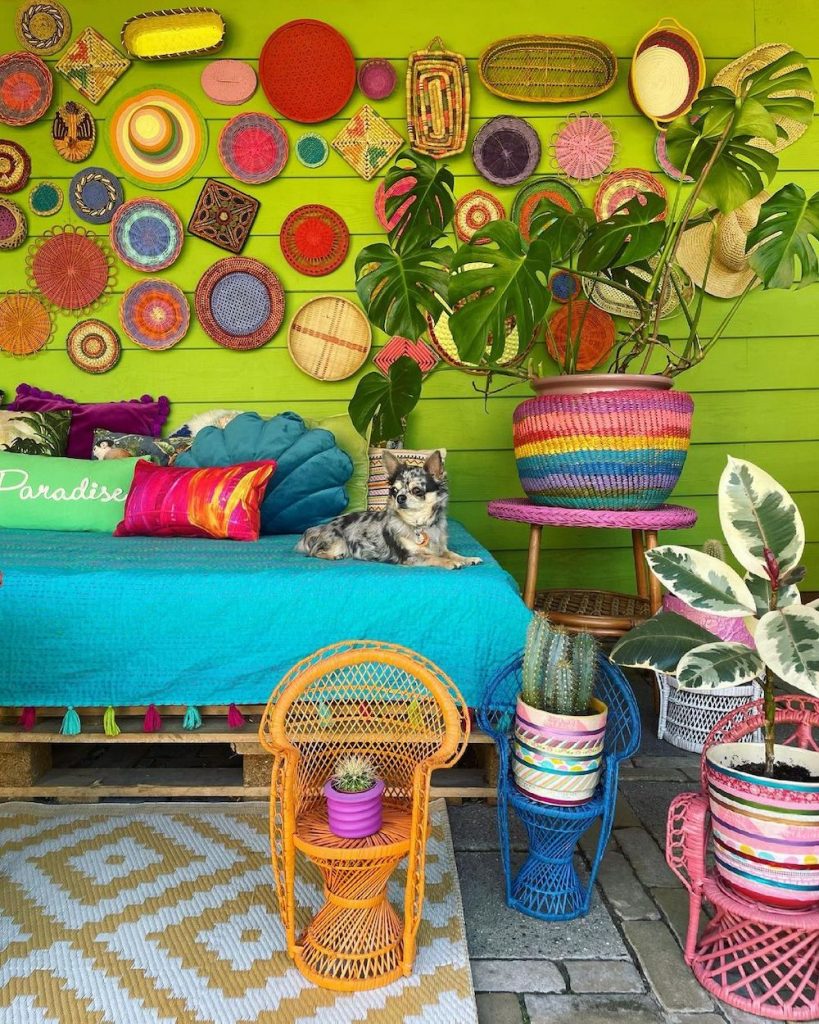 Brighten your outdoor space with jewel-tone wicker accessories. Cover the daybed with bright toss pillows. Crank up the Bohemian coastal jewel style.
Use Bed Linens with Texture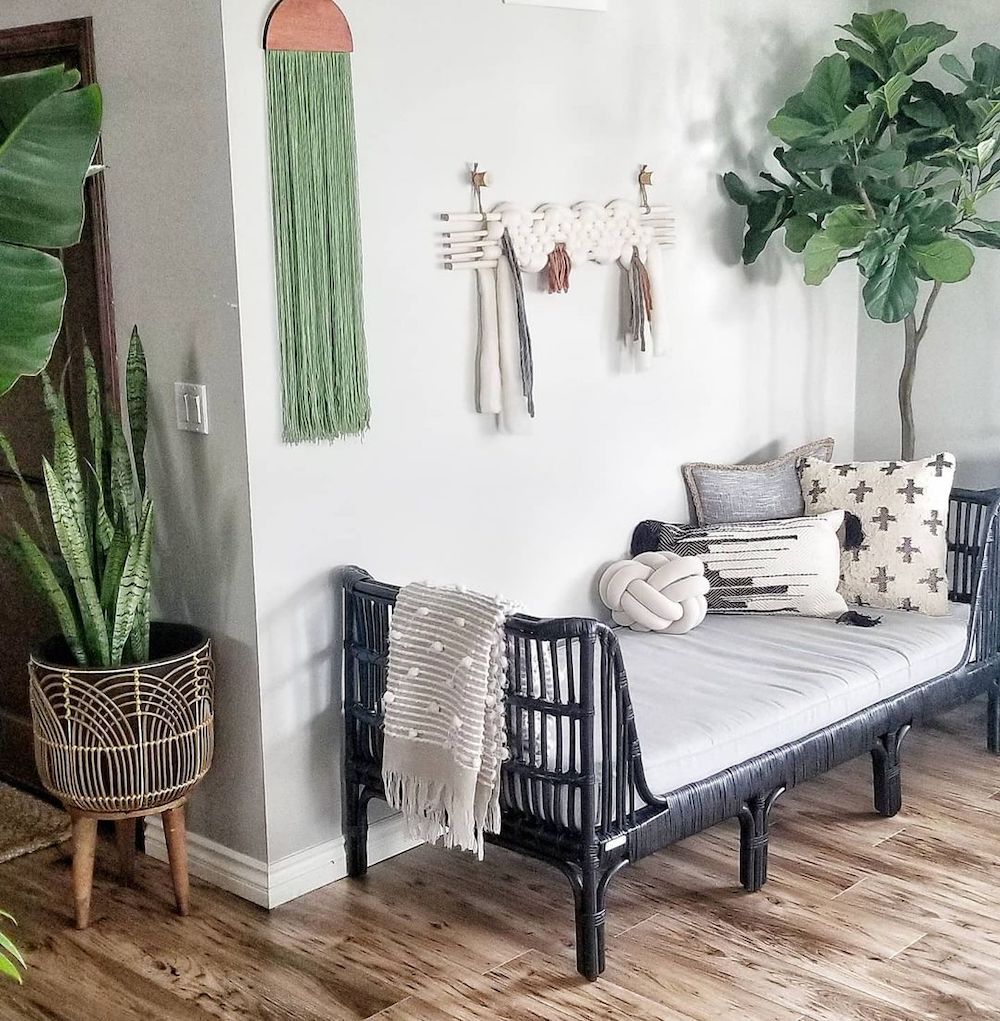 Give your daybed lots of texture accessories in grays and creams. Include a few air purifying plants for visual interest.
Make it Swing – Coastal Daybed Decor Inspiration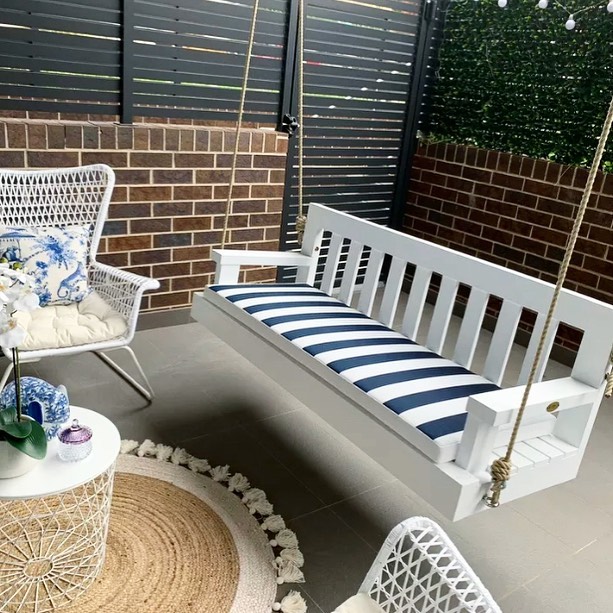 Set up a Hanging Daybed from Cartia Collective. Great for an outdoor patio, porch, or garden space. Love the rope details on the hanging daybed below, great idea for a coastal daybed!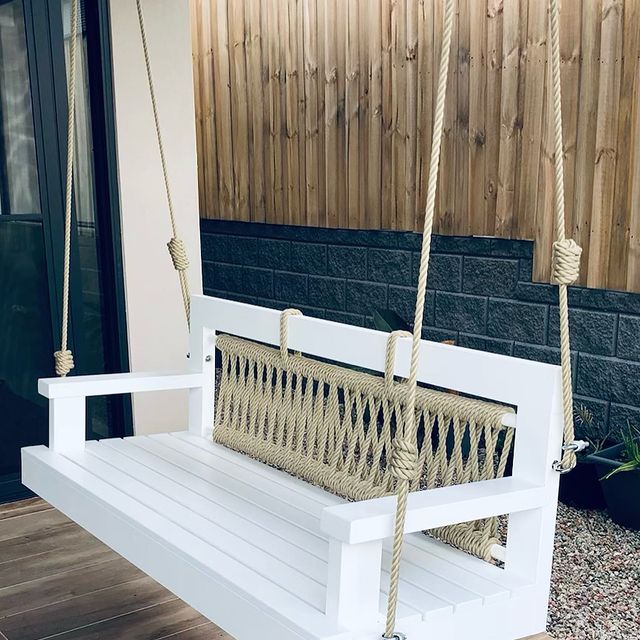 Create a daybed place that mirrors your lifestyle and home life. Select a daybed then set it up indoors. Think about the amount of outdoor lighting you would like. For example, bright sunny outdoor light or low light. Begin decorating the daybed and surrounding area. Start with a throw or two for warmth. Follow with a few toss pillows for softness. Set up a side table with a small lamp for evening use. Add a small plant with air-purifying qualities for a better sleep experience.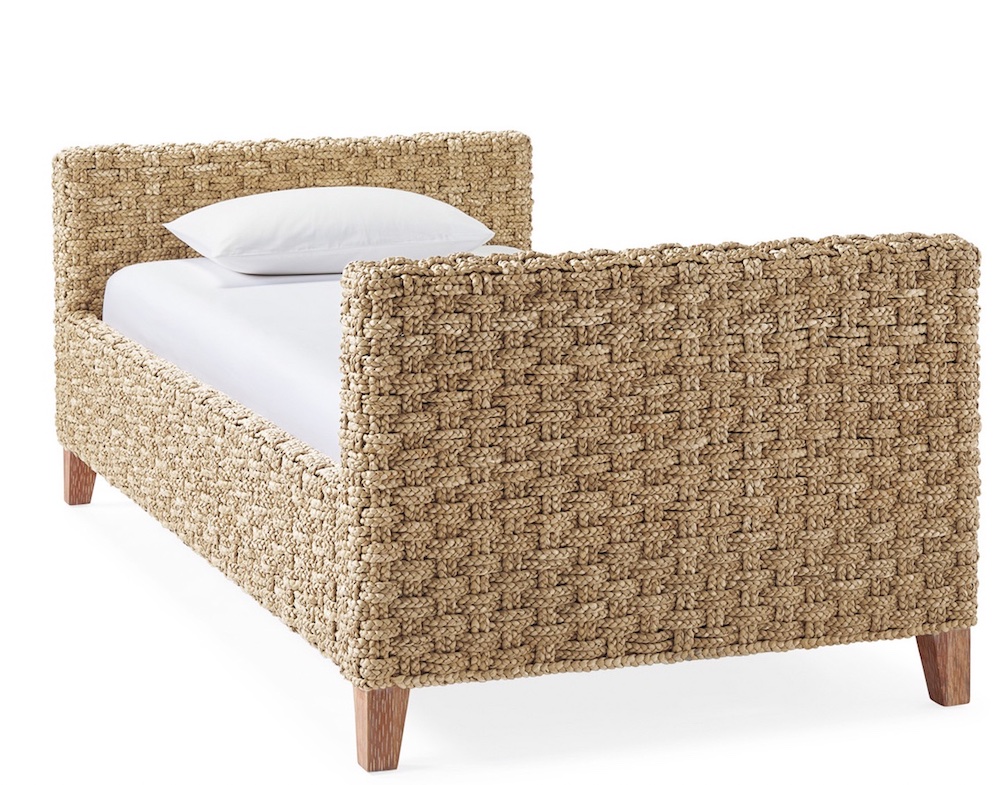 In closing – Coastal Daybed Decor Inspiration
This is the end of our list of coastal daybed decor inspiration ideas for decorating your home. Whether you create a daybed space for rest and relaxation or a place to hang out, we're sure that you'll enjoy the benefits of a daybed.
We hope that our list was helpful for styling your daybed at home. For additional coastal decor resources, be sure to check out our coastal decor post for helpful tips. Take a look at our 12 Ways to Add Coastal Decor to your Home post. And for additional coastal inspiration, take a look at some of our other posts.
Enjoy our other coastal related posts for additional ideas.
Reach out to us with any questions. We are always ready to help you out. Thank you for stopping by our blog.
Mary
Pin this for Later: