Octopus-Inspired Coastal Home Decor Accessories
From the days we as children first learned of the sea creature because there was no better way to learn the number 8, the octopus has fascinated us.  It has bizarre alien looks, an unreal number of capable arms and surprising intelligence for an animal that barely has a physical shape out of water!  Its shape is a bit awkward and foreign in most situations, particularly inside the home.  But if you select a few interesting but tasteful accessories that bring in just enough of the intrigue of the octopus, you'll achieve that perfect balance.  Use them to accent your coastal decor design and give a nod to the fabled tentacled creature that continues to inspire deep-sea exploration.  In this post we look at ten unique accessories we've found that bring a variety of whimsical and/or tasteful ways to incorporate the Octopus into your home's coastal design.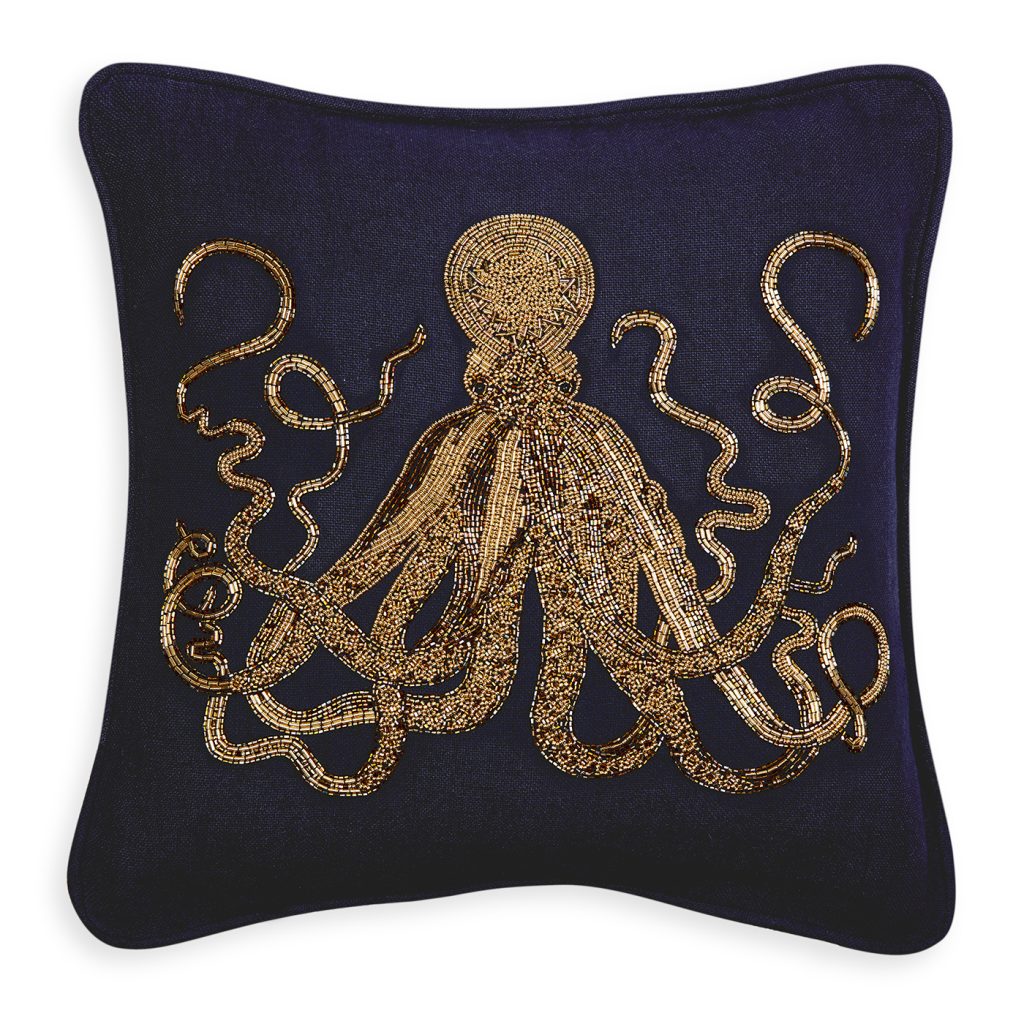 This beautiful throw pillow starts with a deep navy blue linen fabric decorated in intricate gold beadwork in the pattern of our intelligent deep sea mascot, the octopus.  Would look great against a farmhouse white or driftwood grey sofa in your coastal living space.  Measures 16″ x 16″.
Kids have always loved the octopus, from the minute they were introduced to the animal as the symbol of the number eight.  We all remember thinking about how cool it would be to have eight arms and what you might be able to do! (Every multi-tasking mom thinks about this too!)  So why not adorn their bedroom or a kid-friendly guest room with a bit of octopus whimsy in these fabric patterns. The designer (Melanie Donny-Clark) offers the pattern in 3 colors, blue, pink and plum.  Spoonflower prints the pattern on your choice of 26 different types of fabrics, everything from basic cotton to linen to faux suede to canvas to velvet and everything in between.  Grab a couple yards and make up some fun pillows or bolsters for the beds. Or how about some oversized floor pillows for the playroom? Maybe a fun kid's chair re-upholster? Or the coolest curtains EVER?  Available in Pink, Blue or Plum.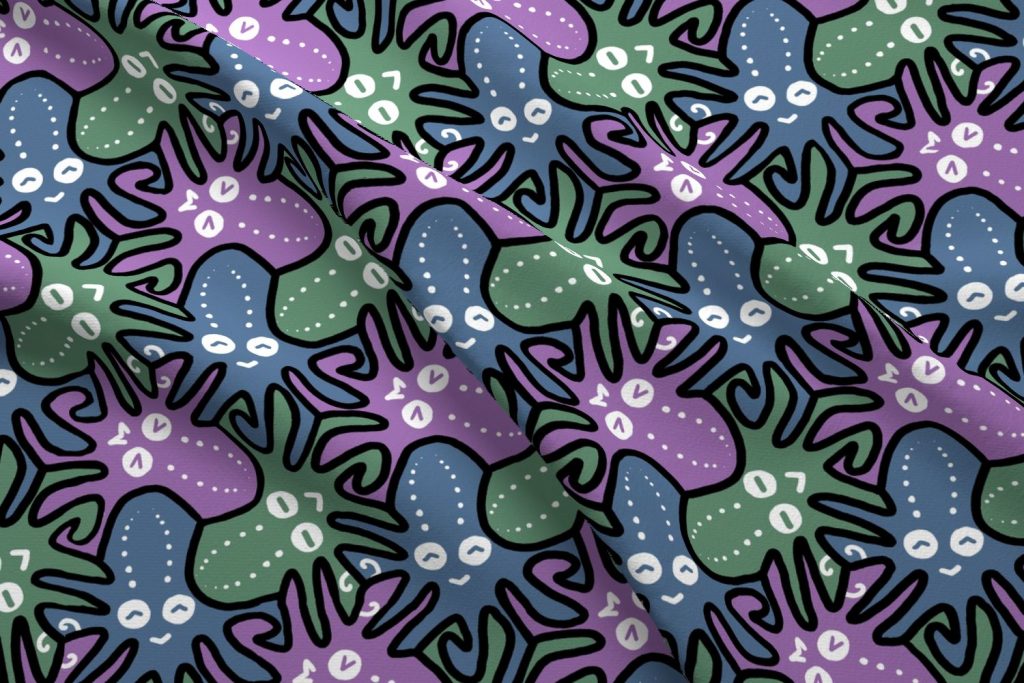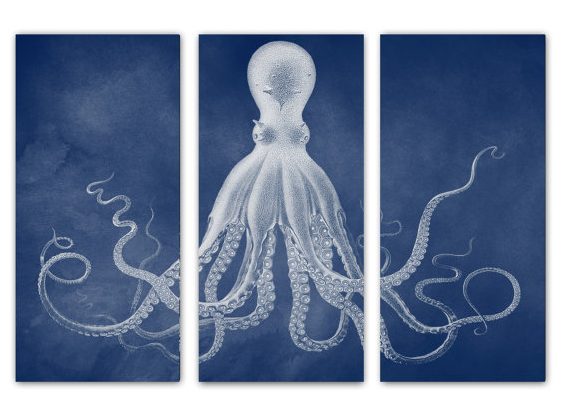 This 3-panel tryptch print features the semi-famous Lord Bodner Octopus originally made from an engraving in 1826 by scientist Lord Bodner in London as part of a series studying deep sea creatures.  Go big and order this up in large scale and you will have a commanding piece of art work that can be the focal point of any room. This would look great presiding over a bed or sofa. Coastal Print Design offers these prints in various sizes as well as many other colors (think orange and sepia).  The original print (and our color choice) is most frequently seen in an inky, deep navy tone reminiscent of the octopus' deep sea home.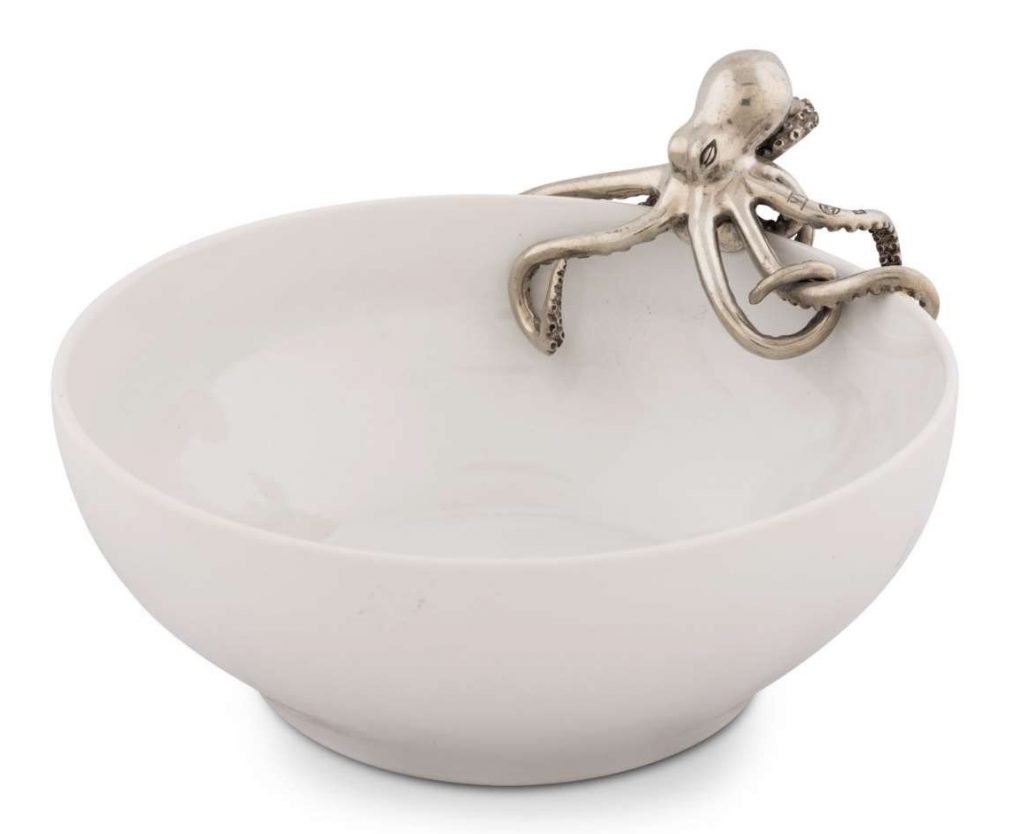 This simple white stoneware bowl is adorned with a metal (pewter?) octopus figurine – which would look absolutely intriguing on a coffee table, console table or side buffet.  Use it to keep wrapped candies or treats, or even a spot to park your keys near the entryway. Substantial in size at 13″L X 11.75″W X 6.5″H.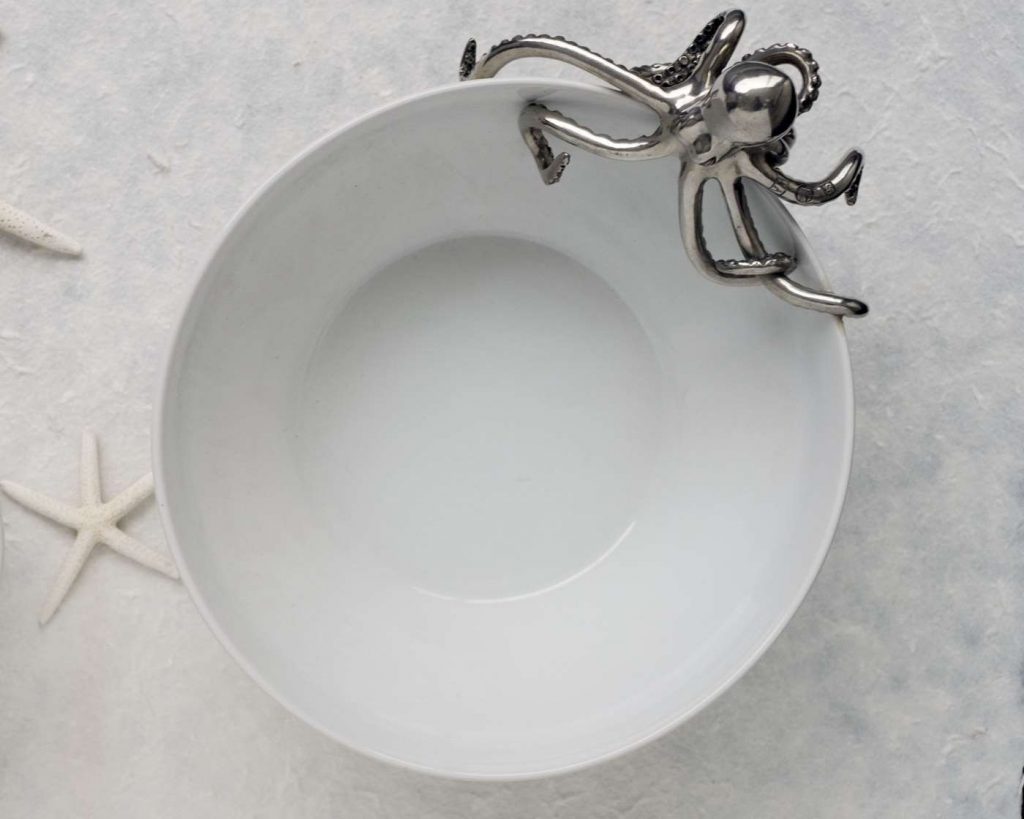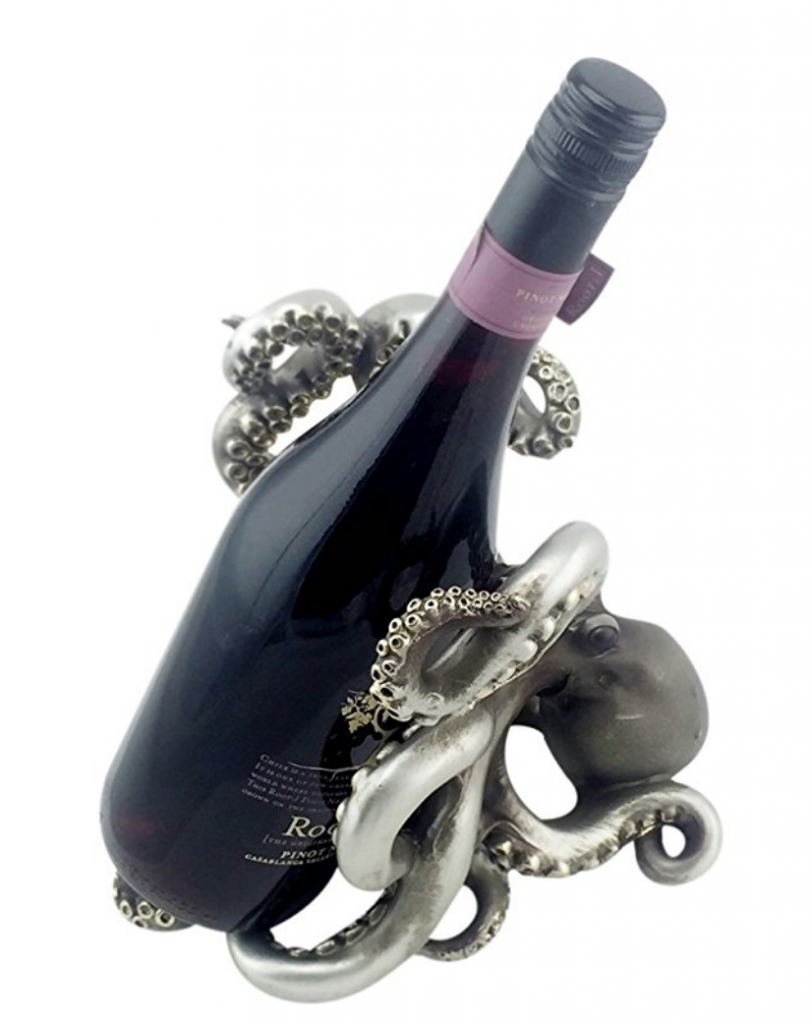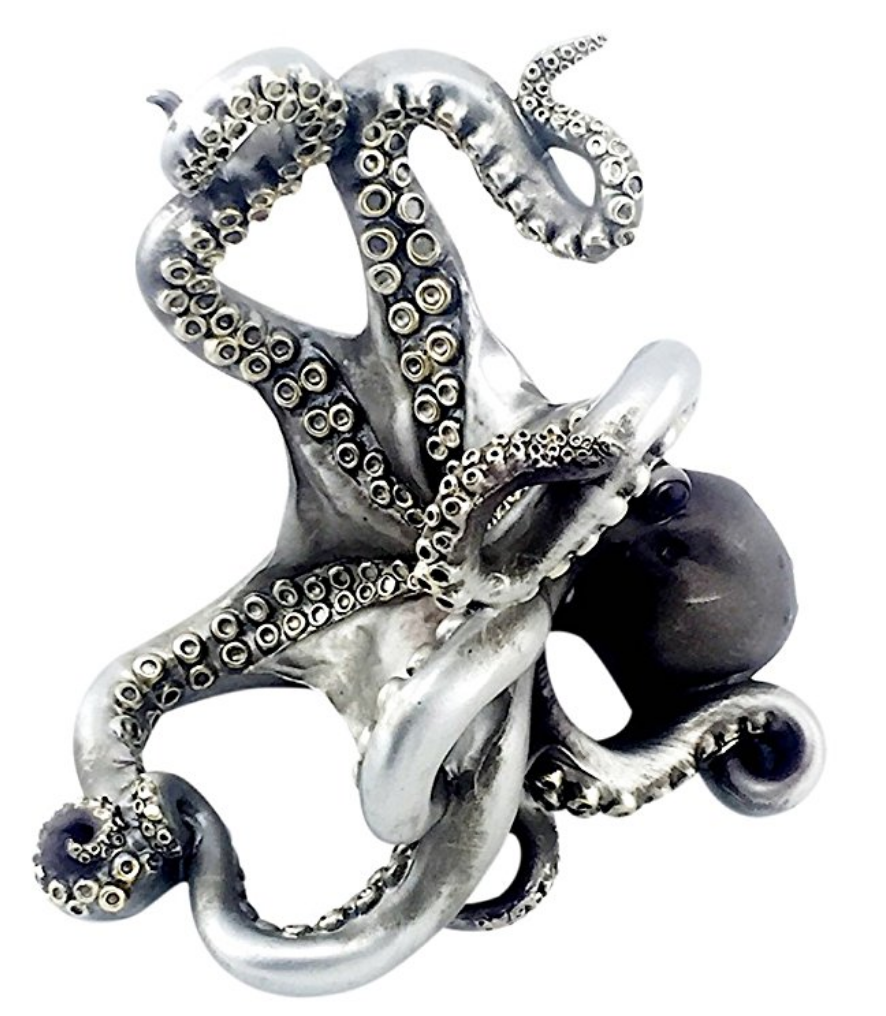 What better to hold your wine bottle than 8 arms!  This silver-colored polystone sculpture holds your wine bottle while providing some of the coastal intrigue of our friend the octopus.  Looks great by itself, holding a wine bottle, or get a bit more whimsical and drop in its clutches a 'ship in a bottle' and pretend its the Kraken!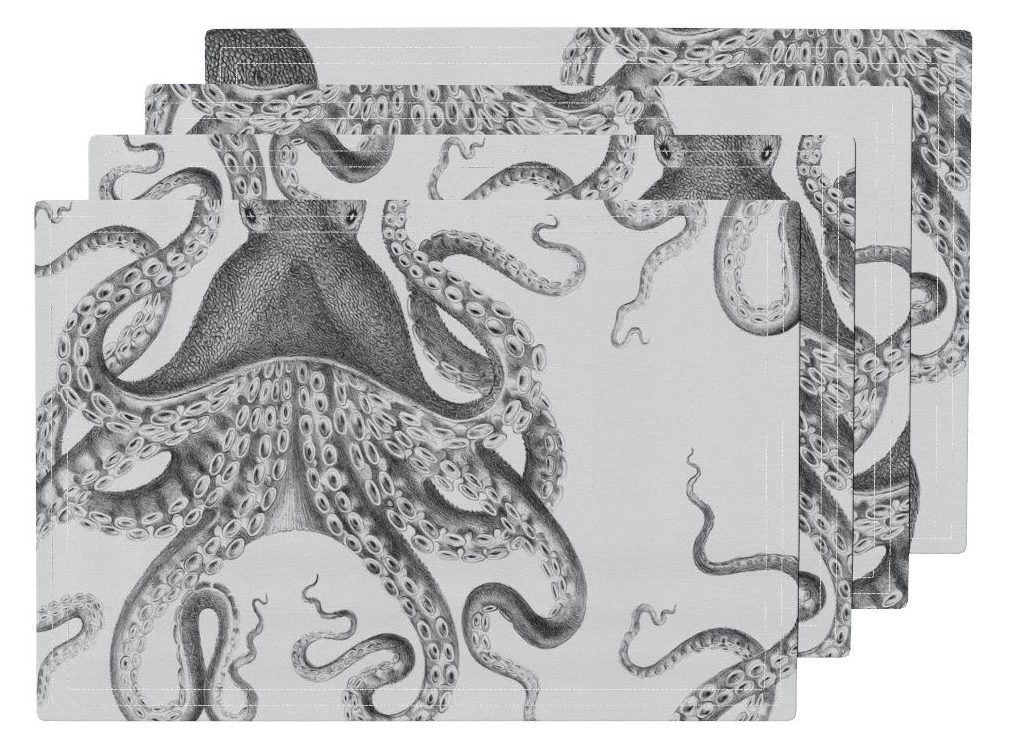 Bring some Octopus design to your coastal table setting with these cloth placemats.  These are available in several colors other than the charcoal shown here.  And they can be had in 3 different fabrics: eco canvas, organic cotton sateen and linen cotton canvas.  We're partial to the linen cotton in charcoal for that casual coastal look in a grey color that will provide a great backdrop for most coastal table scapes.  And the linen fabric will soften over time. Measures 13" x 9" and sold in sets of 4.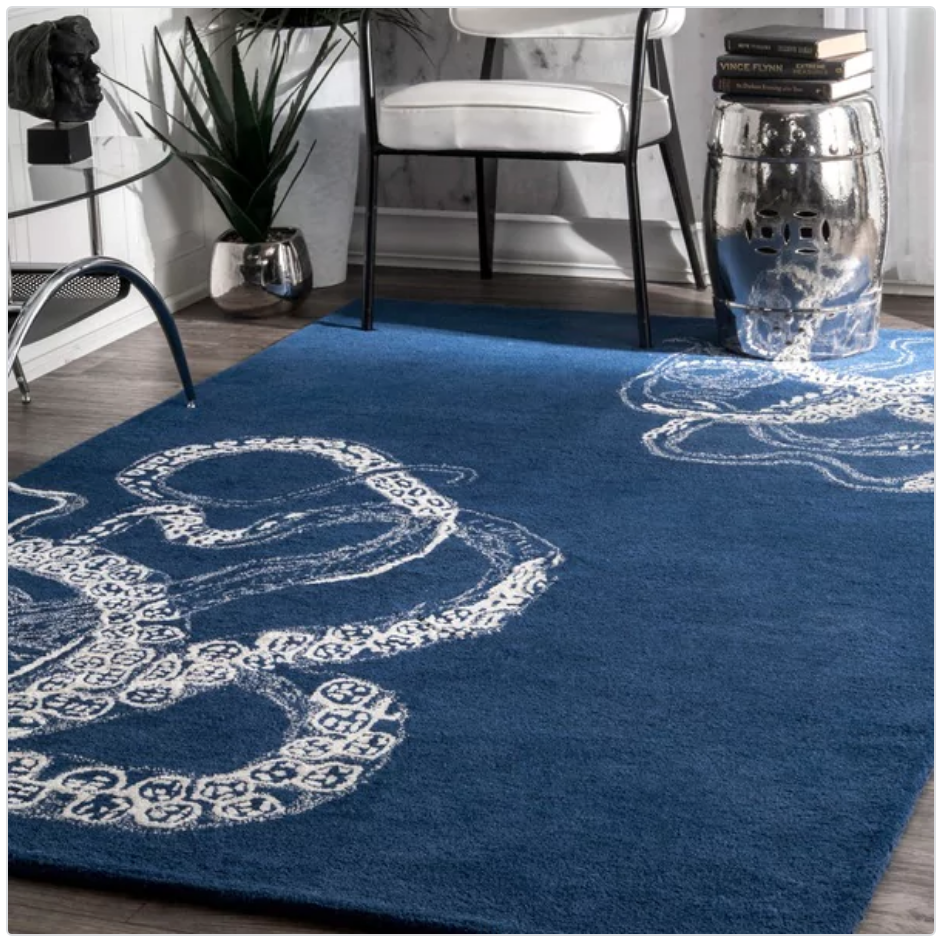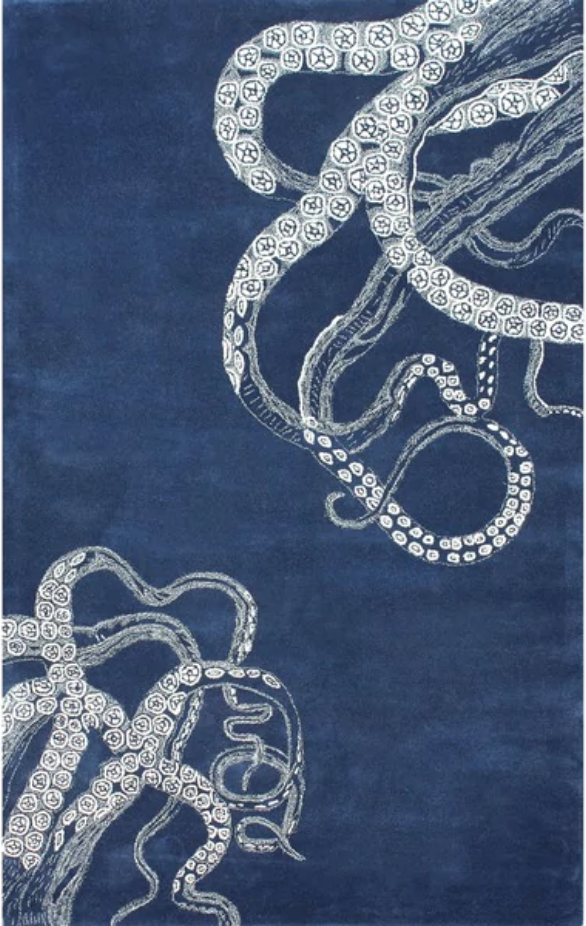 One way to bring some 8-legged excitement into your home decor is under your feet.  This rug is made of wool and faux silk and features an interesting tentacle design on the edges, just hinting at what lurks off-edge.  Available in 3 colors: Navy, Midnight (a lighter gray per the photos) and Blue Waters (turquoise) and several sizes, there should be a combination that will fit your need.  We're partial to the Navy color which really helps make this cool design pop.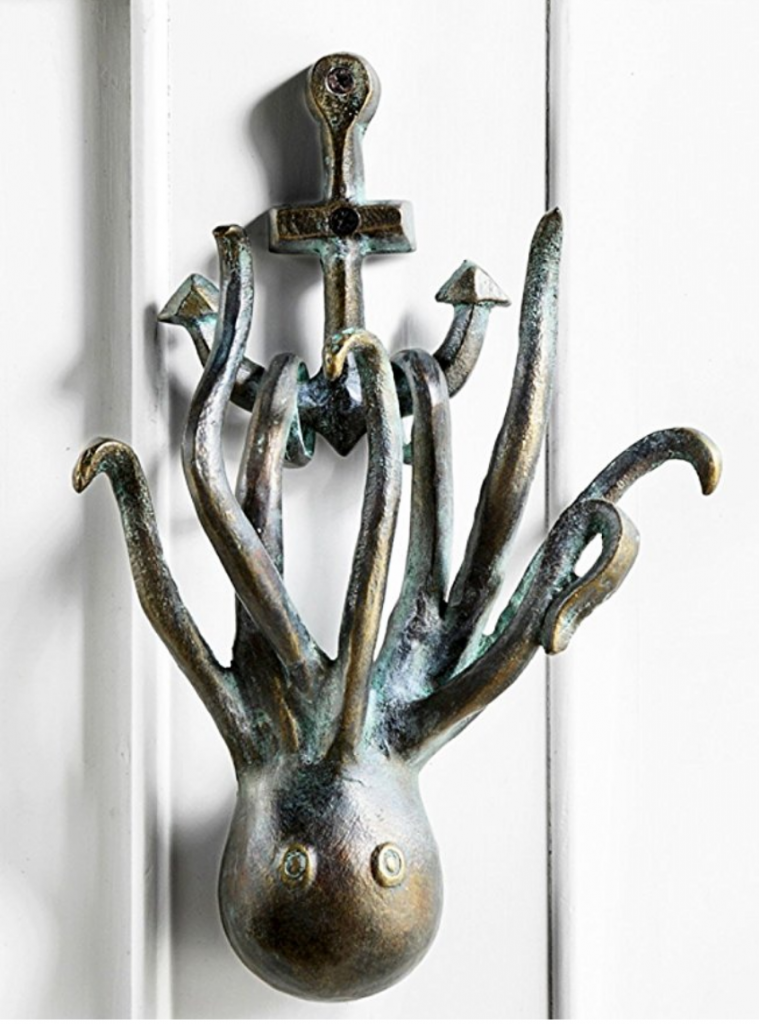 Let guests know right away they are knocking on a coastal lover's door!  This whimsical door knocker features a fun upside down octopus hanging off a ship anchor.  Casted in rust-proof aluminum and hand-finished in a weathered metal look.  Dimensions 10″ tall, 6.75″ long and 3″ deep.  Want to keep it for your own viewing pleasure indoors?  How about mounting it on the inside of your back or patio door and use it to call the dog(s) / kids?  Beats yelling!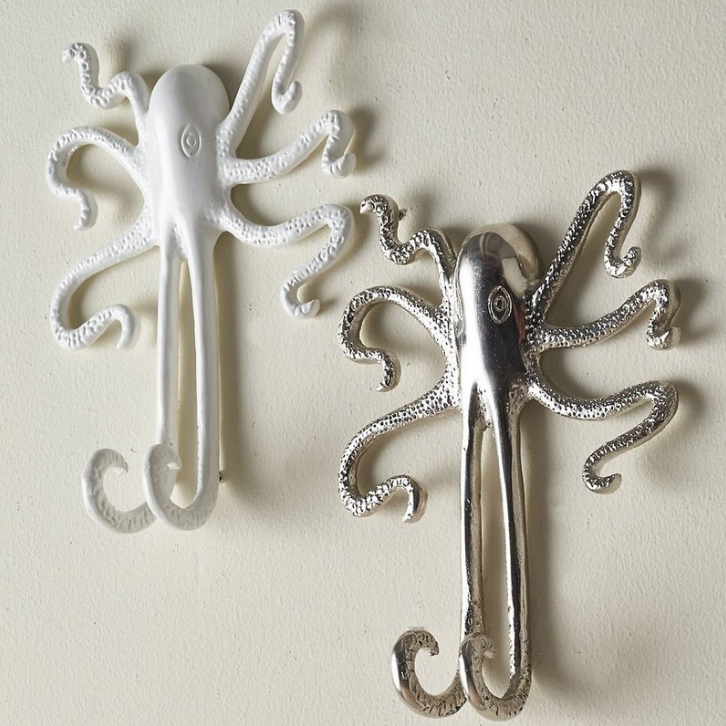 We know octopi like to hold on to things, so why not use them to hold your towels?  These towel hooks would look great hanging in a bathroom for towels, in the foyer or mudroom for coats, or by the back door for dog leashes.  The kids' room for backpacks or hats? How about a place to hang up swimsuits at the beach house? Maybe holding your garden hand tools over your potting bench? Made of solid brass and available in either a white powder coat or nickel-plated finish.  Dimensions: 6.5" x 5.5" x 1.5"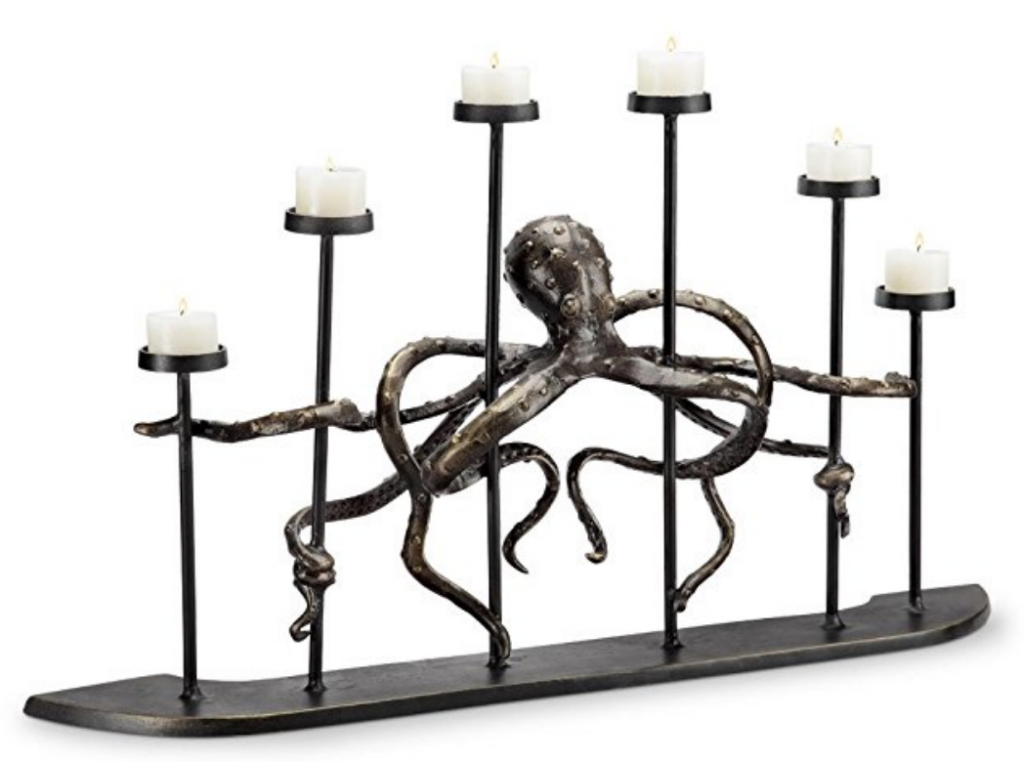 A really cool inspiration for that dark unused fireplace space or your fireplace during the warmer months.  Holds 6 candles with its hand-casted aluminum frame.  It is finished in a dark bronze finish that is sure to integrate with most decors, but definitely coastal! Measures a substantial 18″H x 32.5″W x 7″D.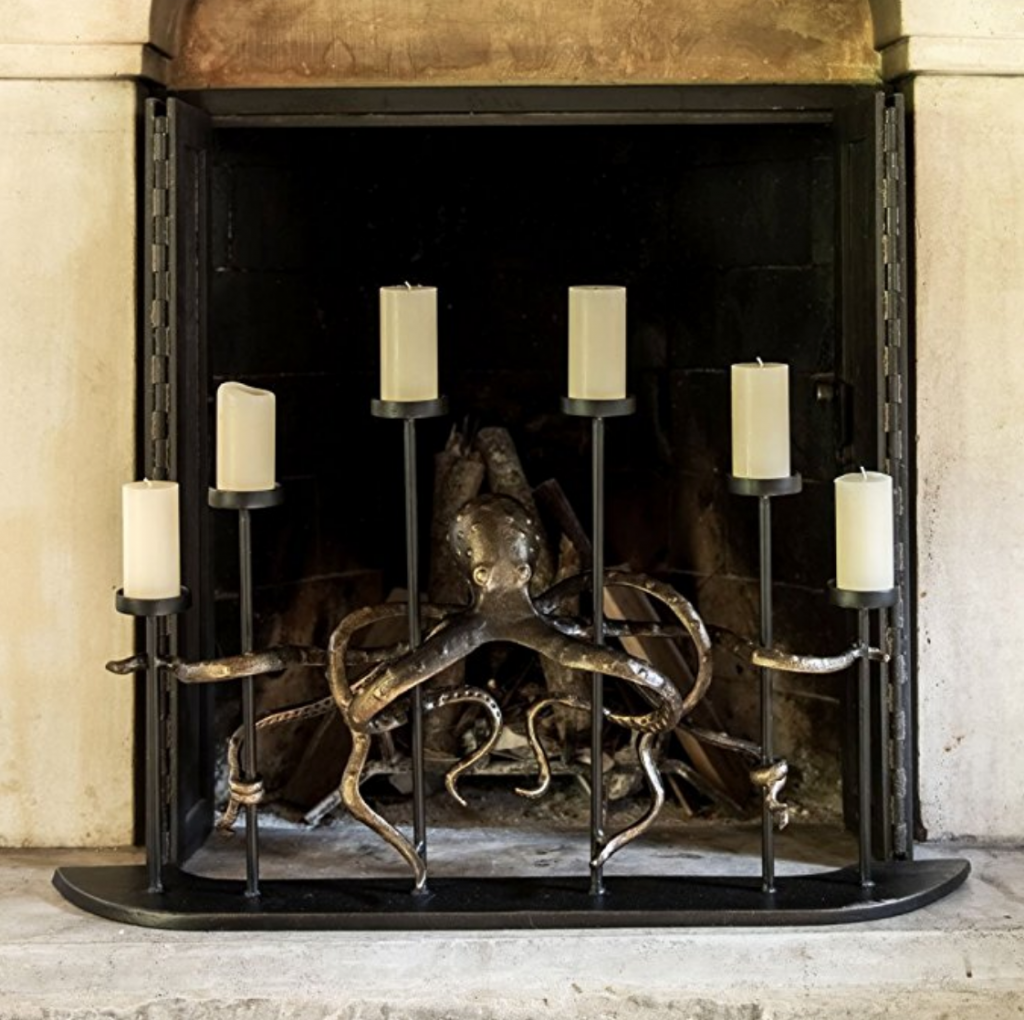 We hope you found some inspiration in this list and love the Octopus as much as we do.  Want to learn more about our friend the Octopus?  Check out our post  Sealife Spotlight: 20 Octopus Facts you Didn't Know.  Have you incorporated some of these or other octopus-inspired accessories into your home? Leave us a comment and let us know.  
Looking for other coastal animal-inspired home decor accessories?  Check out these posts in the series:
10 Cool Shark Accessories for your Coastal Home
10 Cool Dolphin Accessories for your Coastal Home
10 Cool Penguin Accessories for your Coastal Home
Thanks for reading!