The bistro table originated in France almost 400 years ago. The traditional bistro was typically in the front of the home or business so that visitors could people watch while eating. Today's bistro tables have taken a more bold approach, have become more portable, and often found indoors. They still offer great style and are compact which is perfect for small space living such as dorms, apartment living, porches, patios, or decks.
We found 8 bold bistro tables that are functional, stylish, and ideal for small space living. Take a look and let us know what you think.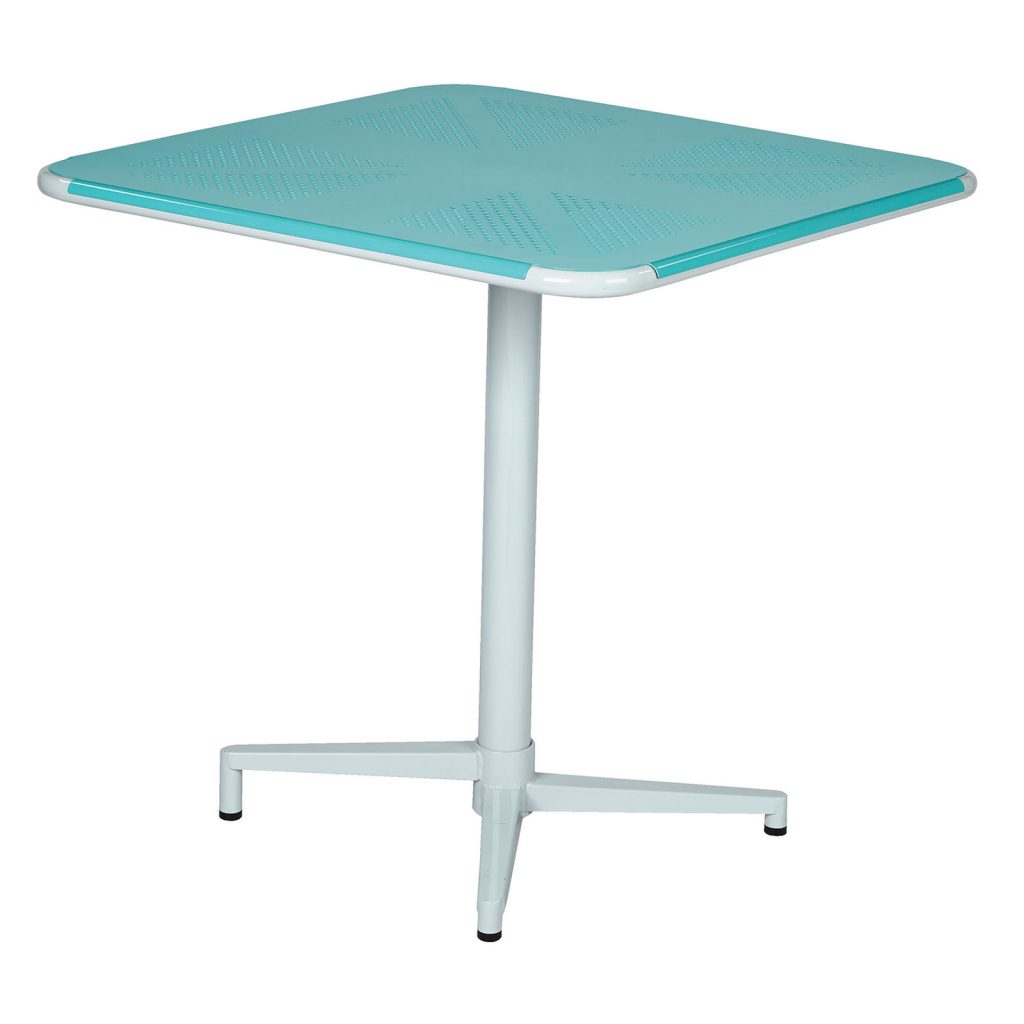 The Teal Albany Square Bistro Table is made of steel and has a 30 inch square table top. The Teal Albany can fold for quick storage or to facilitate a move to another area of your home. Nice portability option for we all can use!
2.  Peacoat Blue Cadiz Outdoor Bistro Table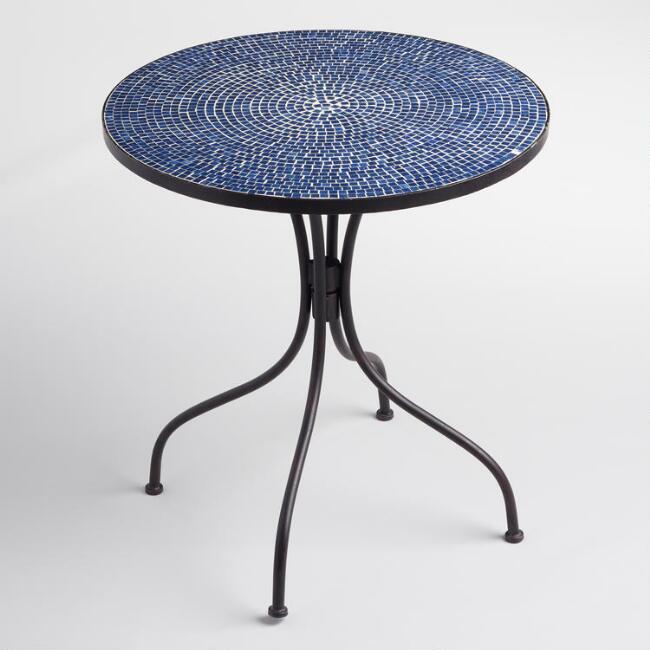 The Peacoat Blue Cadiz Outdoor Bistro Table has a striking glass tile mosaic table top. The Peacoat Blue Cadiz offers a bold, vibrant look to any balcony, patio or porch. The bistro table is 28 inches in diameter.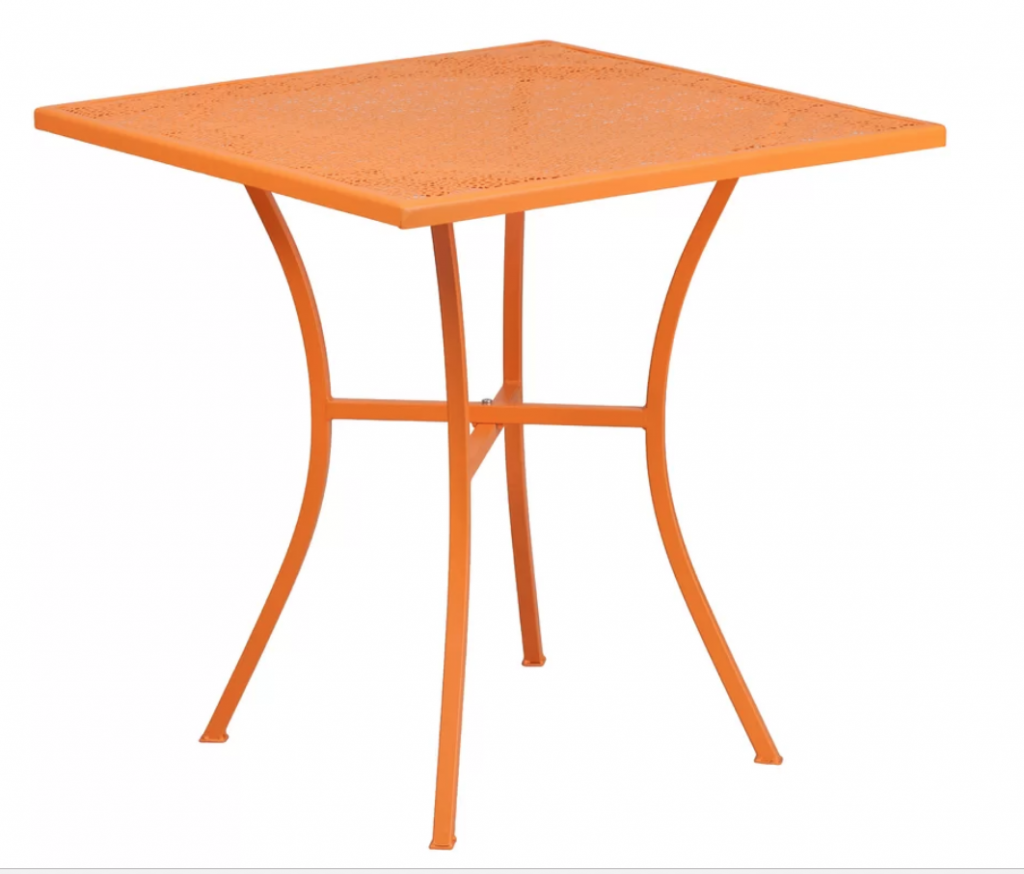 The Lilliam Bistro Table comes in a bold, bright orange with a rain flower top. The bright orange bistro table can be folded for quick storage when needed and is made from all weather materials to withstand the outdoors.
4.  Flamingo Mosaic Accent Table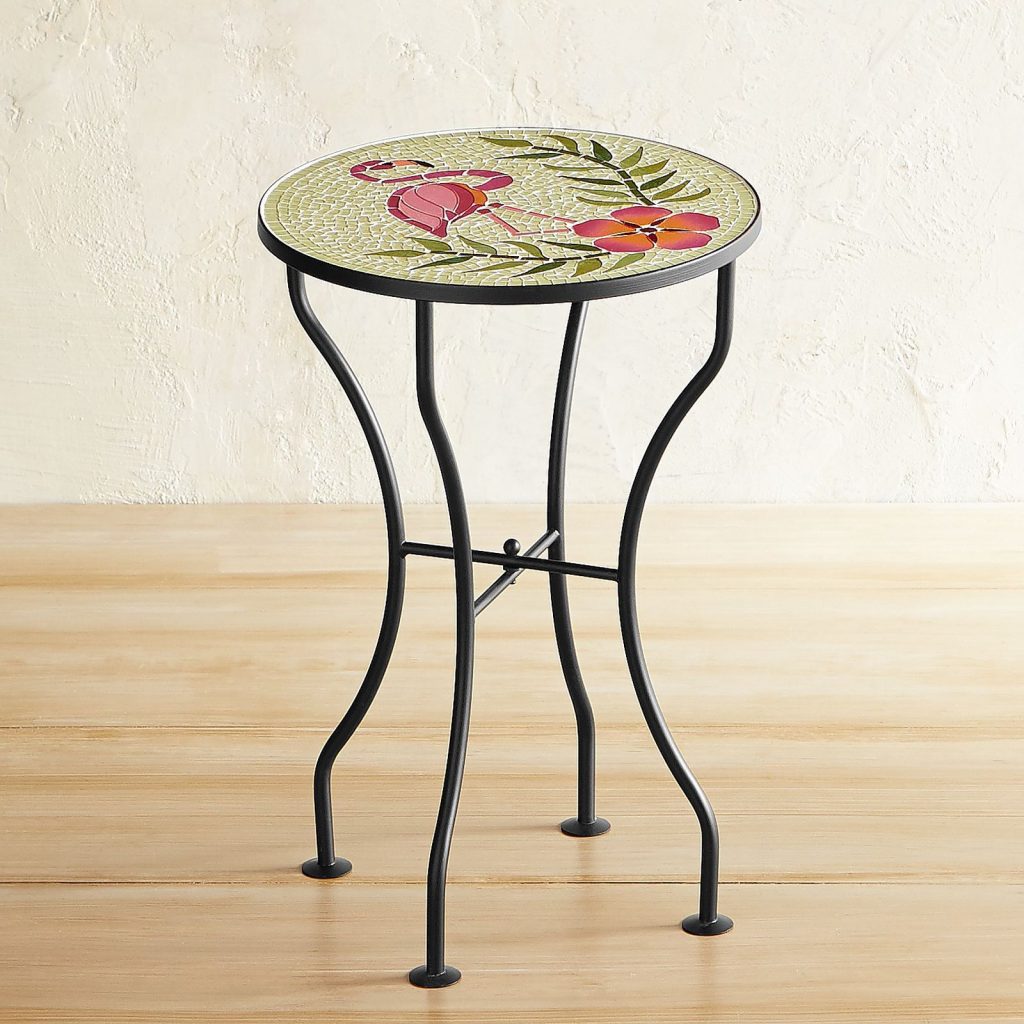 The Flamingo Mosaic Accent Table has our favorite flamingo in a mosaic tile top. The accent table has a black iron base and is 14 inches in diameter. Perfect for those who love flamingos!
5.  Clarendon Aluminum Bistro Table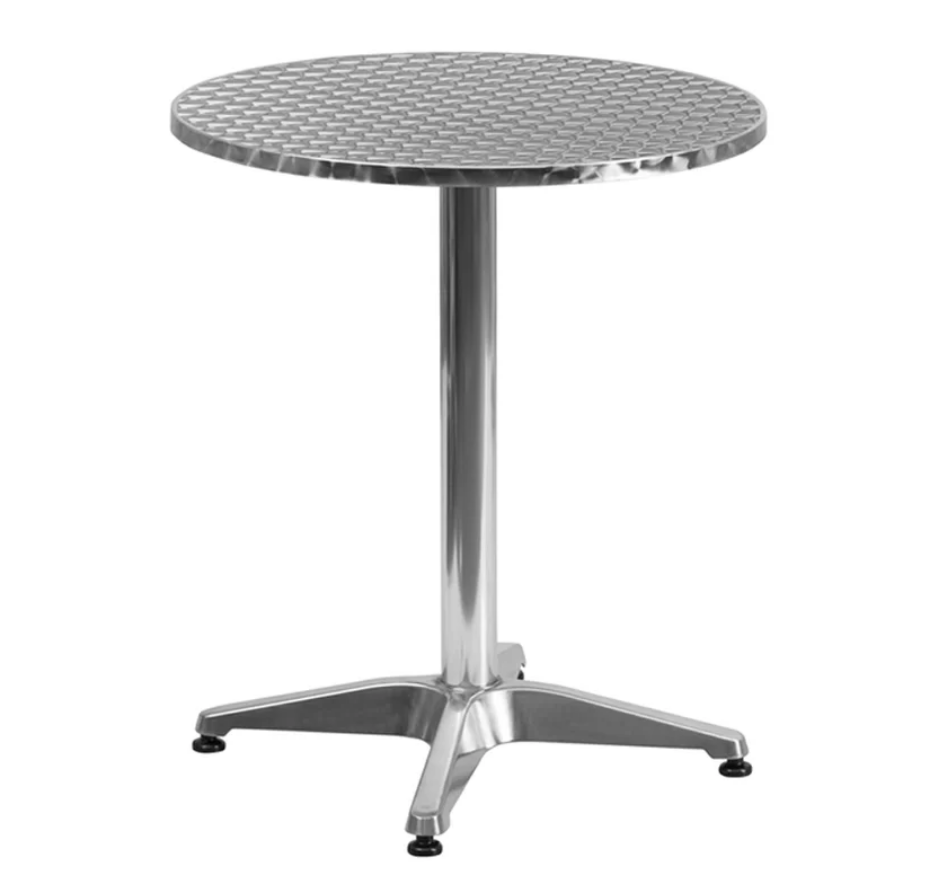 The Clarendon Aluminum Bistro Table has an aluminum column base that can be used indoors or outdoors. The Clarendon has a stainless steel round top and a lightweight design.
6.  Tangier Wicker Round Bistro Table
The Tangier Wicker Round Bistro Table is designed as an all-weather wicker bistro table. The Tangier folds for easy storage and portability. The Tangier bistro is 28 inches in diameter and can brighten any room.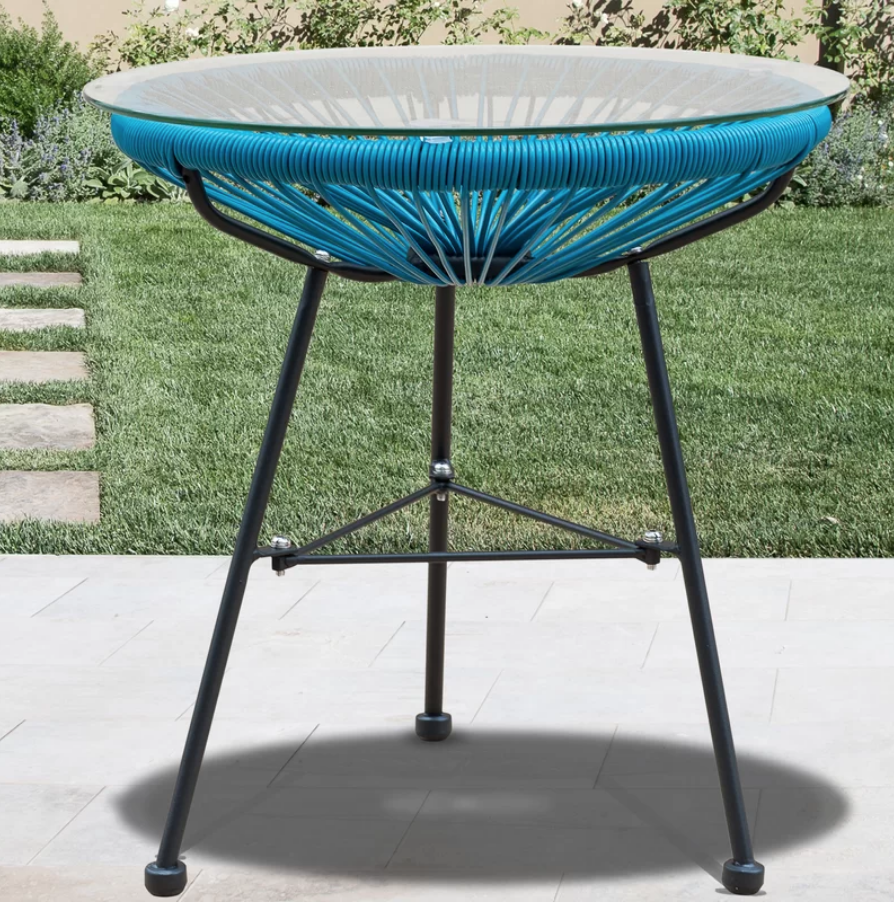 The Renz Bistro Table is a metal frame made bistro table crafted from woven PE wicker. The stylish Renz with wicker cord design and simple lines has a 3 legged tripod black metal base with a tempered glass table top.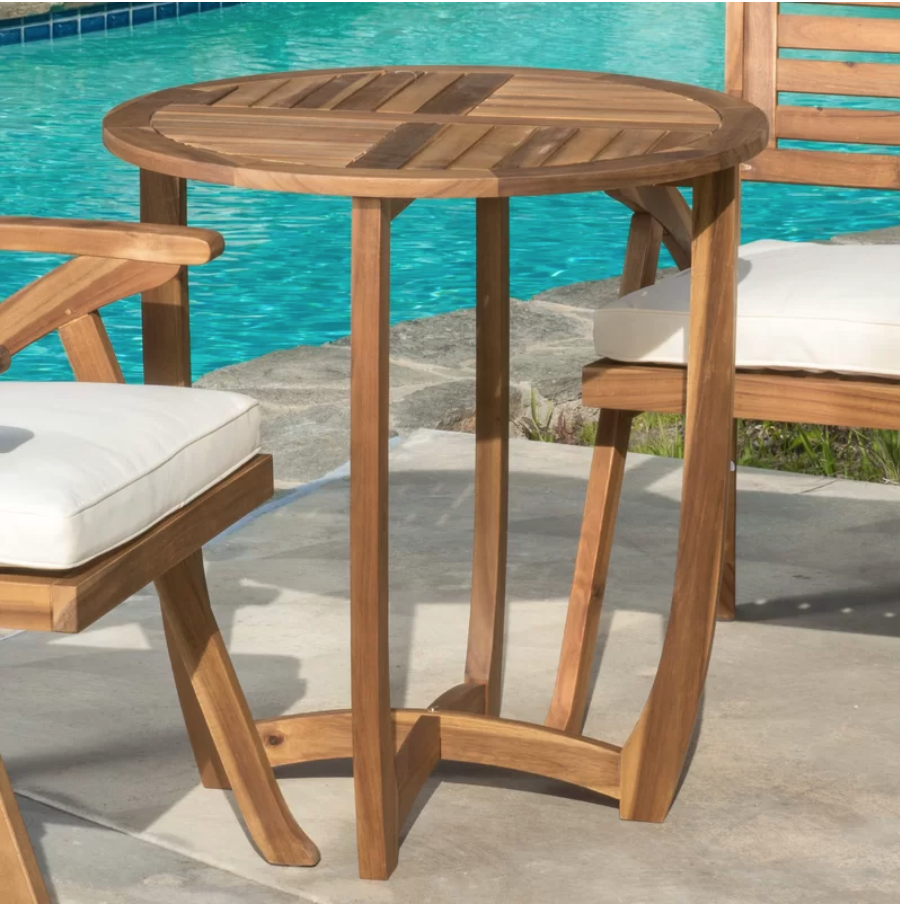 The Marvin Bistro Table is made of beautiful acacia wood. The Marvin Bistro Table offers those who love the look of wood a stylish bistro table for indoor or outdoor use. The Marvin table top has a diameter of 27.5 inches.   
Today's bistro tables are bolder and more portable than ever. Just as stylish, the bistro table is a great option for small space living indoors or outdoors on a patio, porch, balcony, deck or by a pool.  We've listed 8 Bold Bistro Tables that can meet many needs. If you try any of these 8 Bold Bistro Table ideas let us know how you make out.
For information on garden stools for small space living, check out our post 8 Gorgeous Garden Stools. And if you have any questions be sure to reach out to us in the comments below.  We are always ready to help.