The types of pumpkins available today is extensive. Pumpkins to eat. Pumpkins to decorate with. And pumpkins to display or give away. Available in a variety of colors, sizes, and shapes.  
Searching for a few pumpkins this Fall? Something a little different? There are many to select from. Available at your local farm stand, roadside stand, nursery, or garden center. The variety of pumpkins each year seems to expand. We've listed 52 different types of pumpkins. Some perfect for pie and bread baking. And some for decorating with. Carving or using in crafts. After all what Fall porch is complete without a few pumpkins, gourds, mums, and a scarecrow or two? Create a Fall harvest vignette. Use a bushel basket, bales of straw or hay. Display a spilling effect using a harvest basket or crate.   
For an easy front porch display, use any of these pumpkins. Make your display as big or small as you like. And create several festive Fall displays around your home. All in the most beautiful autumn colors in oranges, yellows, reds, and burgundy. 
Many of these pumpkins listed are great for eating, too. Pumpkins for use in pies, breads, soups, stews, and other dishes. These tasty pumpkins are an important source of Vitamins A and C. High in fiber and essential minerals. The orange flesh contains antioxidant beta-carotene.  
Another nutritional source are the pumpkin seeds. Known as "pepita" in some Spanish communities. Pumpkin seeds are high in antioxidants. High in magnesium and fiber. May improve overall health. A healthy snack. Easy to incorporate into your diet. Add to yogurt, salad, or eat as a healthy snack. 
Take a look at these beautiful pumpkins. Perfect for Fall festivals and celebrations. And be sure to let us know what you think.  
Miniature Pumpkins – Types of Pumpkins 
Mini Pumpkins are perfectly sized. Great for small hands to paint or decorate. A versatile vegetable that can be used as a tabletop decoration.   
Jack Be Little Pumpkin are small miniature orange pumpkins. Measures 3 inches across and 2 inches high. Weighs between 4 to 8 ounces. Tiny, cute miniature pumpkins. Ideal for painting and decorating with. Your children and grandchildren will love these.   
2. Pumpkin Lil' Orange Mon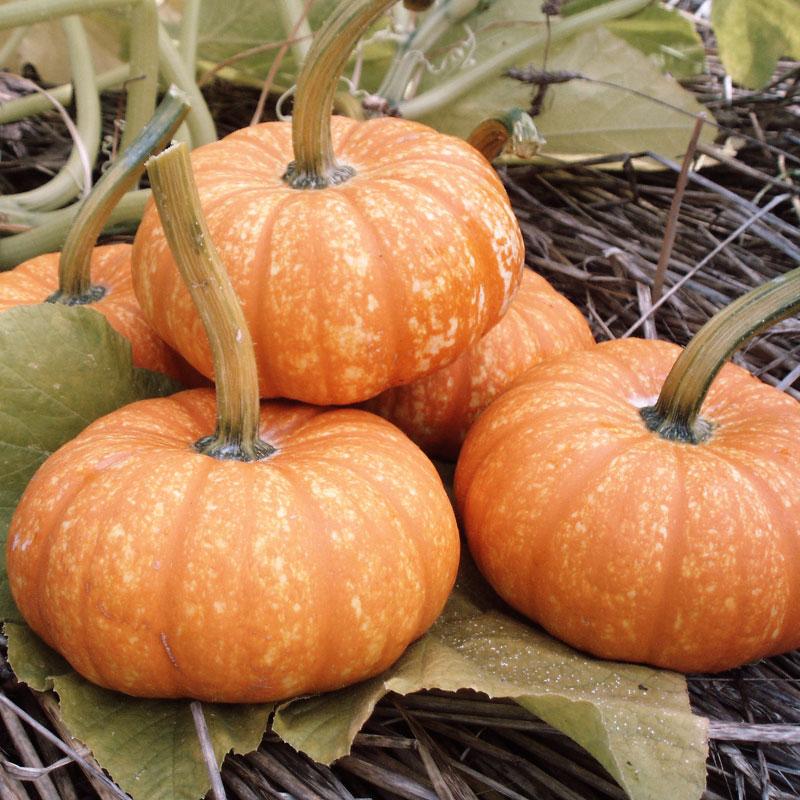 Pumpkin Lil' Orange Mon are miniature ornamental pumpkins. Measures 4 inches across and 2 inches high. Weighs between 1 to 2 pounds. Lil' Orange Mon is covered in creamy orange flecking. The fruit is a dark orange. Stem is long and thin. Pumpkin has deep ribs and is a flat-shaped. Display alongside Lil' Pump-Ke-Mon pumpkins for a stunning look. 
3. Pumpkin Hooligan 
Pumpkin Hooligan is an ornamental pumpkin. Measures 3 to 4 inches across and 2 inches high. Weighs about 12 ounces. Shares a similar color pattern as Lil' Pump-Ke-Mon. Smaller in size. Hooligan has a white, green, and orange mottled color. Deeply ribbed fruits with long, dark green handles. Flesh is orange and smooth. 
Flavor is sweet and slightly nutty. The shape of Hooligan is ideal for stuffing or as a serving piece such as a soup bowl. Mix with other miniature pumpkins for a tabletop display.     
4. Bumpkin Hybrid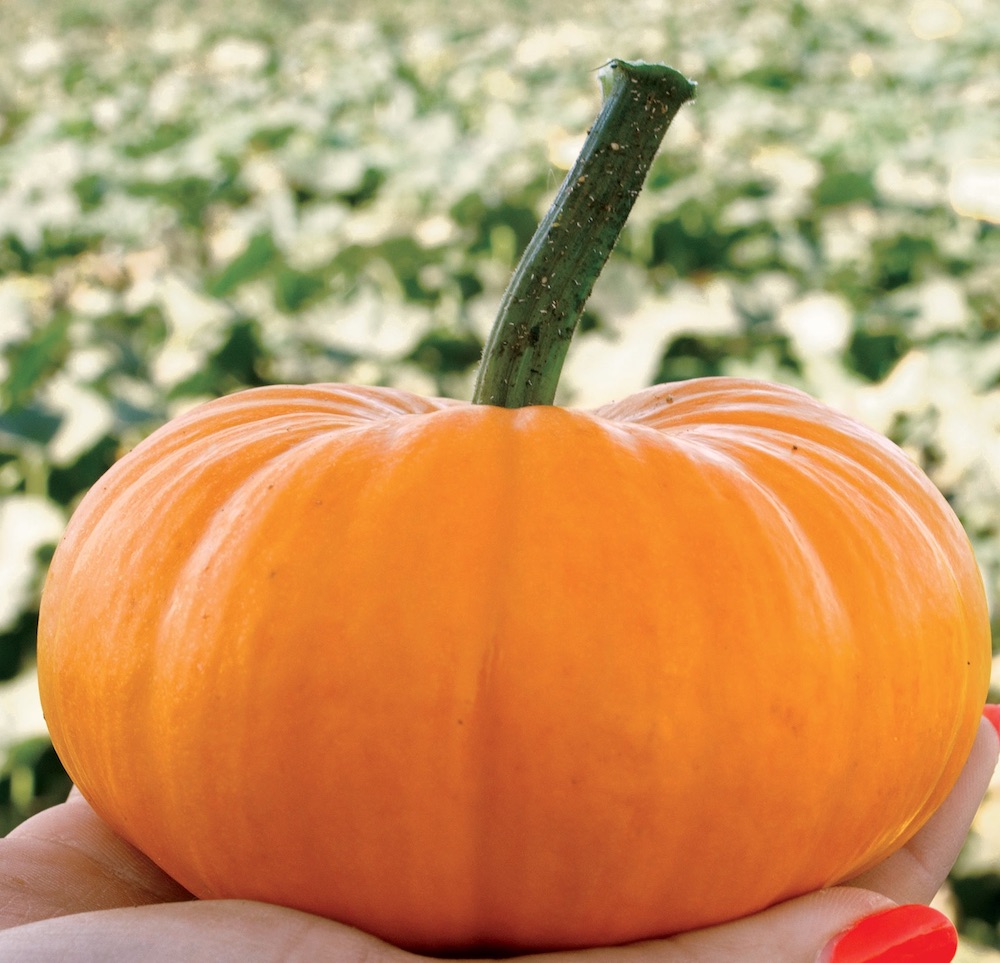 Bumpkin Hybrid is a novelty baby pumpkin. Measures about 3 inches wide and 2 inches tall. Weighs about 4 ounces. The ornamental pumpkin has a dark, orange color that contrasts against a strong, dark green handle. Perfect for decorating or use in crafts. Or use for a Fall Harvest display.     
5. Pumpkin Wee Be Little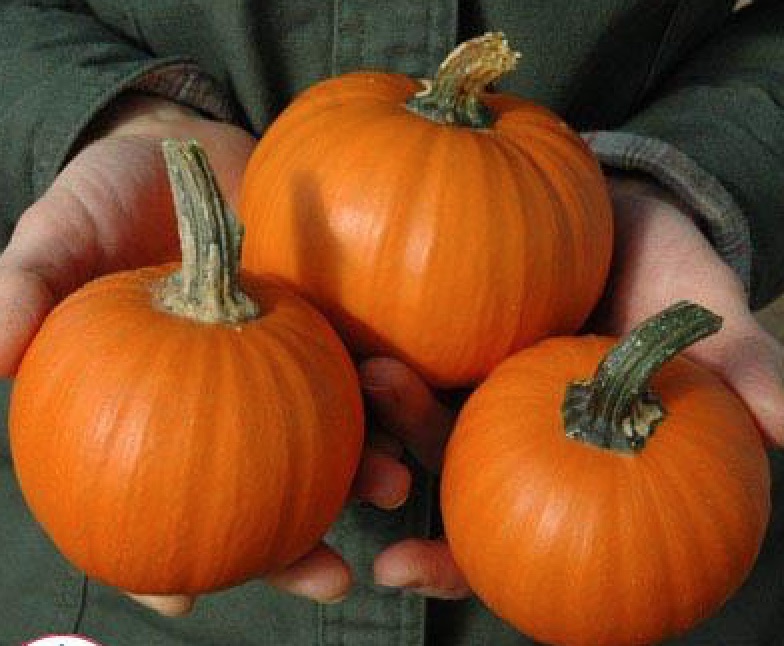 Pumpkin Wee Be Little is a true miniature pumpkin. Measures 3 to 3 ½ inches across. Weighs between 10 to 14 ounces. Wee Be Little is about the size of a baseball. Pumpkins are bright orange color with well attached thin, dark stems. Fruit has a smooth surface ideal for painting. 
A 1999 All American Selections winner. Wee Be Little pumpkins can be baked, decorated, or carved.    
6. Pumpkin Munchkin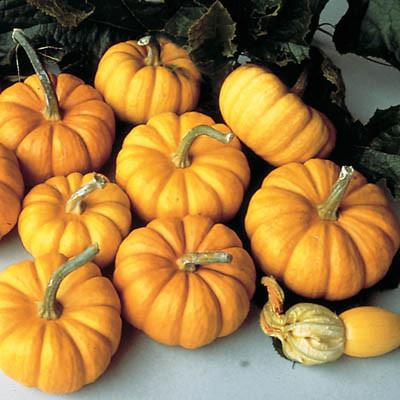 Pumpkin Munchkin is a miniature pumpkin. Measures 3 to 4 inches wide. Weighs about 8 ounces. Munchkin has a bright tangerine orange color. Has deep sutures and a flattened scalloped pumpkin shape. Firm and long lasting. Pumpkin flavor is outstanding. Prepare and cook whole or cut and roast Munchkins. Seeds can be roasted too!
Ideal for Autumn decor. Stems are thin but sturdy. Use in dried arrangements and Autumn decor. Ideal for crafts and home displays. Attractive fruits with flesh that are similar to sweet chestnut.   
7. Pumpkin Toad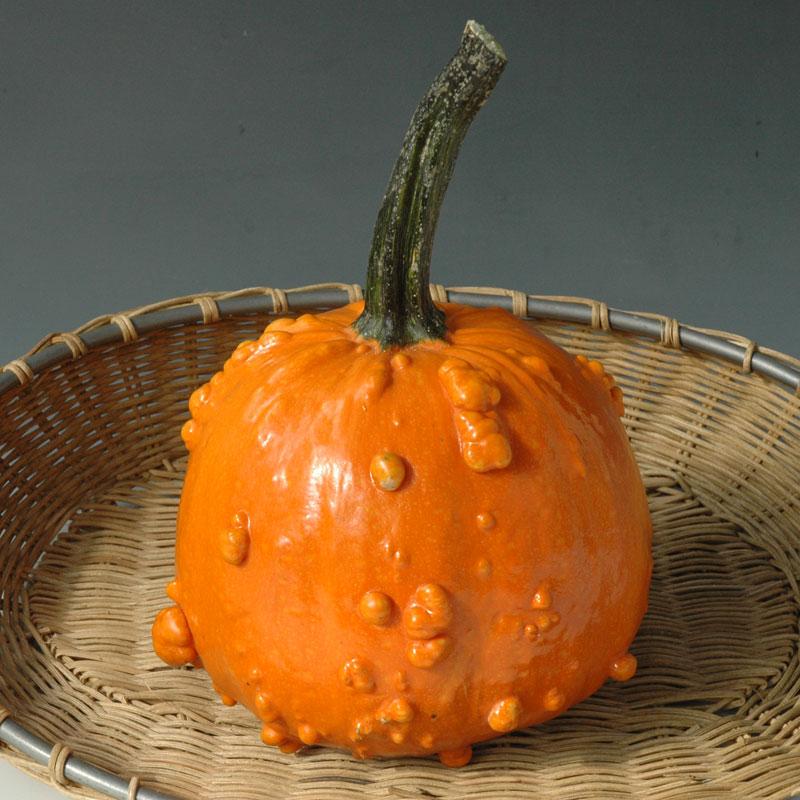 Pumpkin Toad is a semi-hard shell pumpkin. The outer shell has multiple tiny warts to give it character. Measures 4 to 5 inches wide. Weighs 1 ½ to 2 ½ pounds. Toad pumpkins are round to oval shaped fruit. Bright orange in color. Fruit's rind is smooth with bumps and warts. Have a sturdy embedded handles. Add to a front porch Fall Harvest display. 
8. Pumpkin Jill Be Little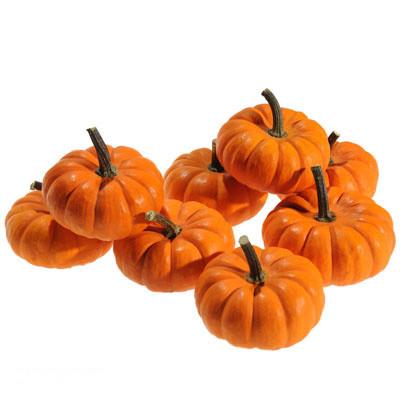 Pumpkin Jill Be Little is a miniature ornamental pumpkin. Measures 3 to 4 inches wide and 2 ½ inches tall. Weighs 8 ounces. Jill Be Little is a deep orange color. A flattened shape and wide, deep ribs. Stems are dark with a flat shape and concave top. Display with other miniatures for a tabletop display.   
9.  Lil' Pumpkemon Pumpkin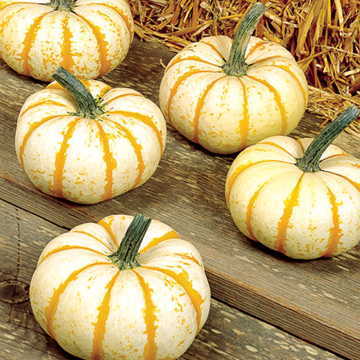 Lil' Pumpkemon Pumpkin is also known as Pumpkin Lil' Pump-Ke-Mon. Lil' Pumpkemon is a dwarf pumpkin. Weighs 1 to 2 pounds. A baby variety with small, highly decorative fruit. Ribbed and slightly flattish shaped. Thin bright orange stripes over a golden-yellow color. Sized perfectly for Autumn centerpieces on a mantel or console table. Pair with other miniature pumpkin varieties.   
Use as a jack-o-lantern. Prepare as a serving piece for soup or your favorite dip. Add your favorite filling and bake the entire pumpkin. Ideal for single serving sizes for deserts, side dishes, or soup.  
10.  Pumpkin Baby Boo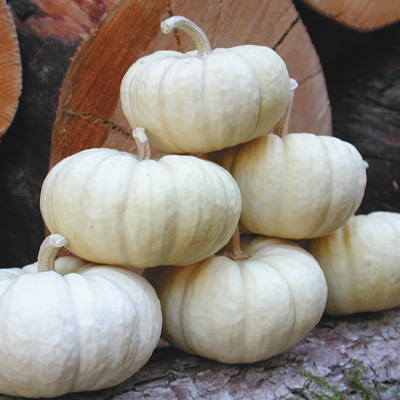 Pumpkin Baby Boo is a miniature white pumpkin. Baby Boo is a creamy white color. Similar to the Pumpkin Munchkin except in white. Measures about 2 to 3 inches in diameter. And 2 inches in height. Weighs about 4 ounces. A cute bone white mini pumpkin. Palm size fruit has white flesh that is edible. Can be carved for Halloween.      
11.  Pumpkin Orangita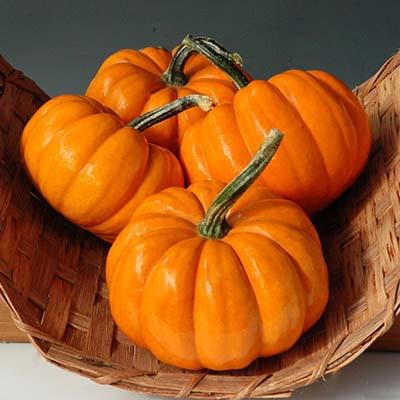 Pumpkin Orangita is a miniature pumpkin. Measures 5 inches wide and 3 inches tall. Weighs 1 to 1 ½ pounds. Orangita has a deep orange color with deep ribs. Stems are long and thin. Strong stems stay hard. Striking when displayed with white and muddled miniature pumpkins.    
12.  Pumpkin Spark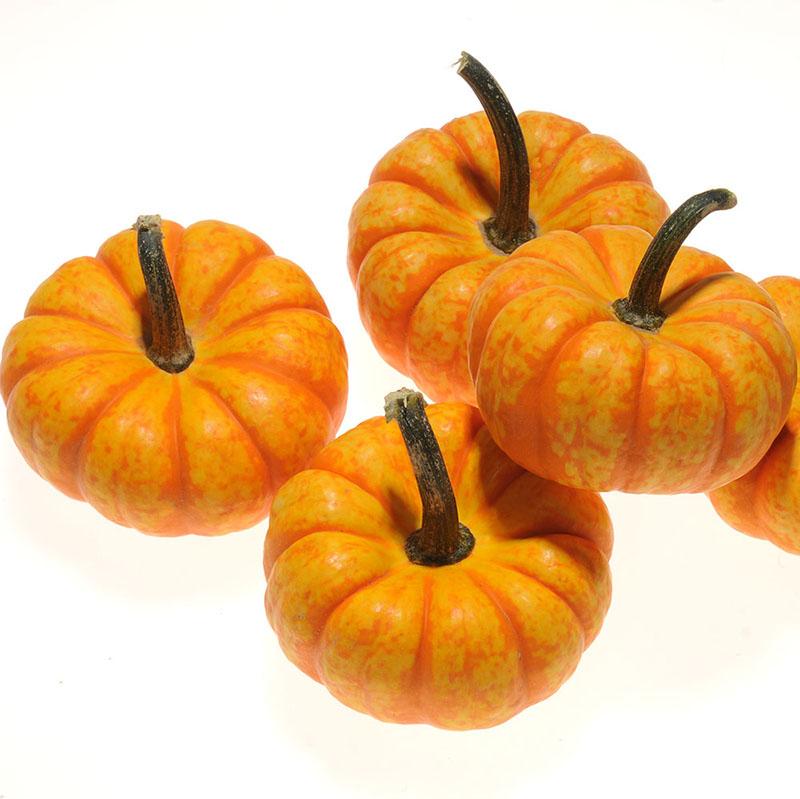 Pumpkin Spark is a mini pumpkin. Measures 3 ½ inches wide by 2 inches in height. Weighs 8 ounces (½ pound). A highly uniform mini pumpkin with yellow and orange stripes. Handle is strongly attached and dark green. Perfect for tabletop Fall harvest displays.   
13. Pumpkin Batwing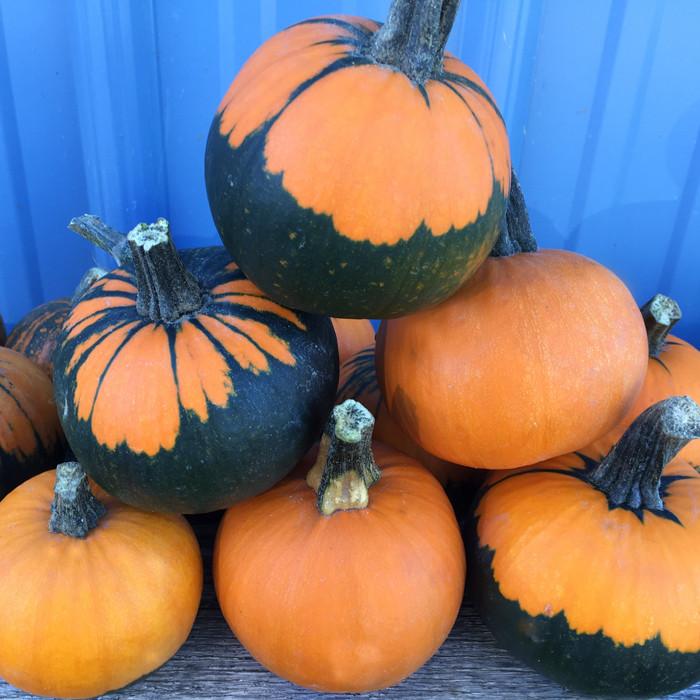 Pumpkin Batwing is a bi-color ornamental pumpkin. Measures about 3 inches in diameter and 3 inches in height. Weighs ½ to 1 pound. Batwing appears to be dipped in dark green paint. Fruit colors vary. Some are green and orange when they are harvested early. If they remain on the vine until maturity, the Batwing becomes fully orange. Spooky ornamental! A perfect fit for Halloween and Fall tabletop displays.    
Small Pumpkins – Types of Pumpkins 
Small Pumpkins are perfect for painting. Easy to decorate. Used as a tabletop decoration.   
14. Little Giant Pumpkin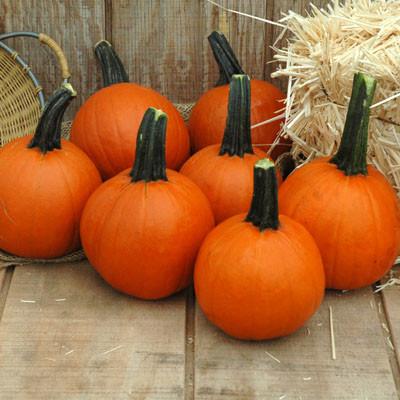 Little Giant Pumpkin is a little pie pumpkin. Weighs 2 to 4 pounds. Little Giant has rich, dark-orange color. Handles are dark and firmly attached. Pumpkins have light ribbing, so the fruit is smooth enough for painting. A perfect Little Giant for Fall Holidays and Celebrations.   
15. Black Futsu Squash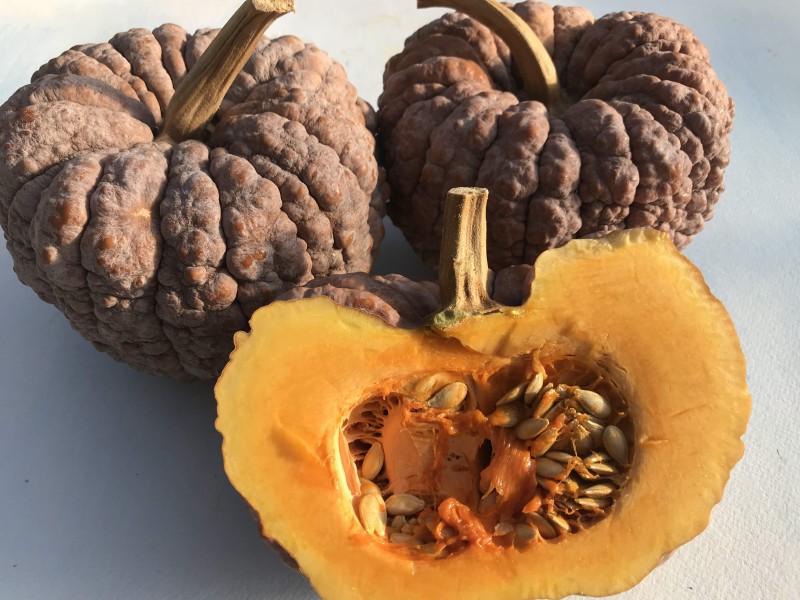 Black Futsu Squash is an heirloom Japanese pumpkin. Weighs about 3 pounds. The Black Futsu has deeply ribbed, bumpy skin. Pumpkins cure from a deep black-green color to a warm orange buff color. Skin is edible. Flesh is fine with a nutty flavor. Roast the fruit. Or puree the flesh for pies and soups. Can be pickled too. A truly magnificent pumpkin.  
16. Pumpkin Miniwarts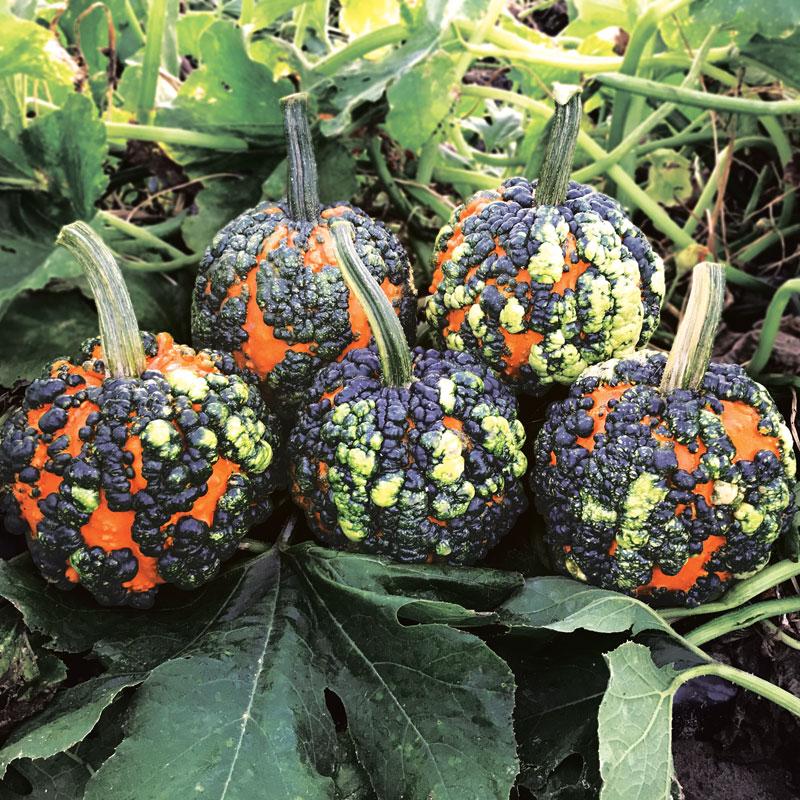 Pumpkin Miniwarts is small pumpkin with warts. Weighs 3 ½ pounds. Miniwarts are round pumpkins with an orange shell and striking green warts. A strong handle adds to the dramatic effect of the pumpkins. Look for the Pumpkin Miniwarts at your local farm stand and roadside stands. A great spooky Halloween pumpkin.            
17. Buttercup Pumpkin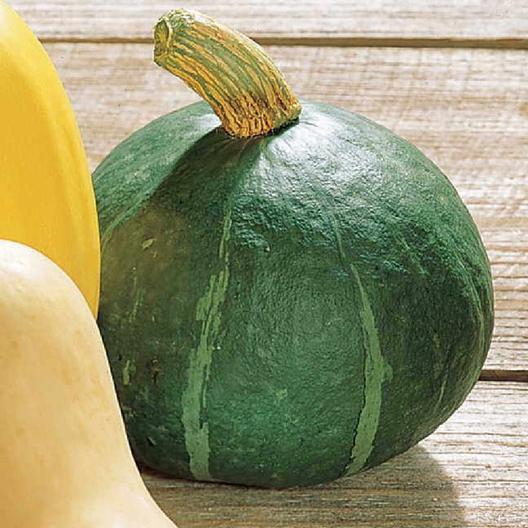 Buttercup Pumpkin is a small pumpkin. Weighs between 3 to 5 pounds. Flesh is sweet, flavorful, and orange in color. Pumpkins are small, round, and green. So cute! Great size for a single meal. Flesh is dense and buttery. Pumpkin skin is dark green with silver. Very decorative and a nice addition to a Fall Harvest display.   
18. Pumpkin Sanchez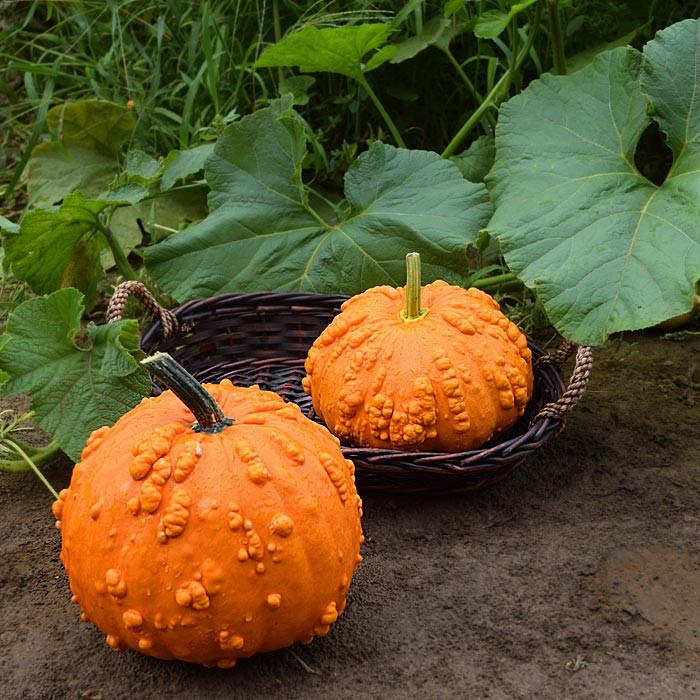 Pumpkin Sanchez is a smaller pumpkin. Measures 6 to 7 inches wide and 4 to 5 inches tall. Weighs 3 to 6 pounds. Sanchez is a squatty shape with warts. A bright orange color with moderate to heavy warts. Stems are thin and brown. Incredibly cute! 
 19. Pumpkin Warty Gnome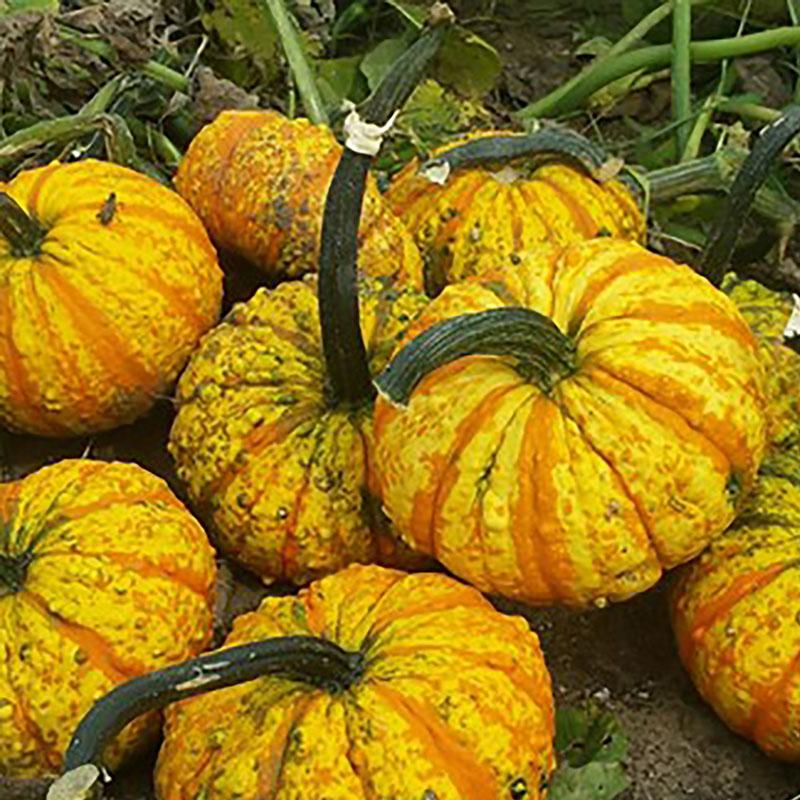 Pumpkin Warty Gnome is a warted novelty pumpkin. Measures 7 inches in diameter. Reaches about 4 inches high. Weighs between 4 to 6 pounds. Warty Gnome is a small and flat rounded fruit. Outer shell of the Warty Gnome is orange and yellow stripes with warts. Stem is a long, dark green handle. Clearly a stand out among the other Fall pumpkins.    
20. Lady Godiva Squash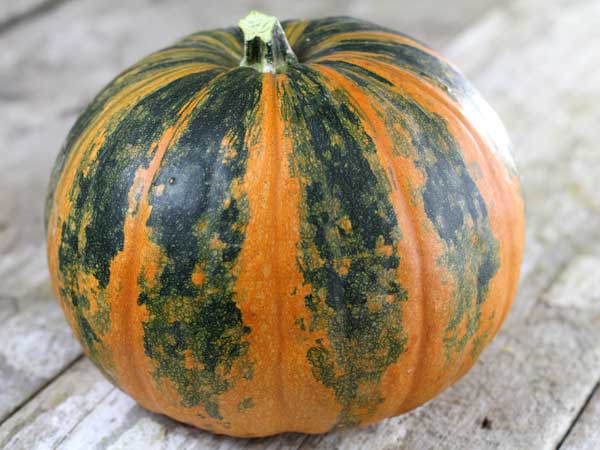 Lady Godiva Squash is a small round or oblong sized pumpkin. Measures about 8 inches wide and tall. Weighs 4 to 6 pounds. Rinds are yellow-orange and striped with mottled green color. A naked-seeded pumpkin that develops seeds with a thin seed coat or testa rather than a hard seed coat (hull less). Attractive and makes a great addition to a Fall pumpkin display. 
Great for pies. Each pumpkin produces up to one pound of green seeds. Roast or dry seeds. Add to salads or use as a snack. Add olive oil and sea salt to the seeds then roast. Flavor is nutty in taste. Developed by Allan K. Stoner of the United States Department of Agriculture (USDA). One of the first hull less seed pumpkins introduced in 1972 in America.  
Medium Pumpkins – Types of Pumpkins 
These pumpkins grow up to 8 pounds. Great to decorate. Use as a tabletop decoration. Or an outdoor Fall display.   
 21. Moranga Squash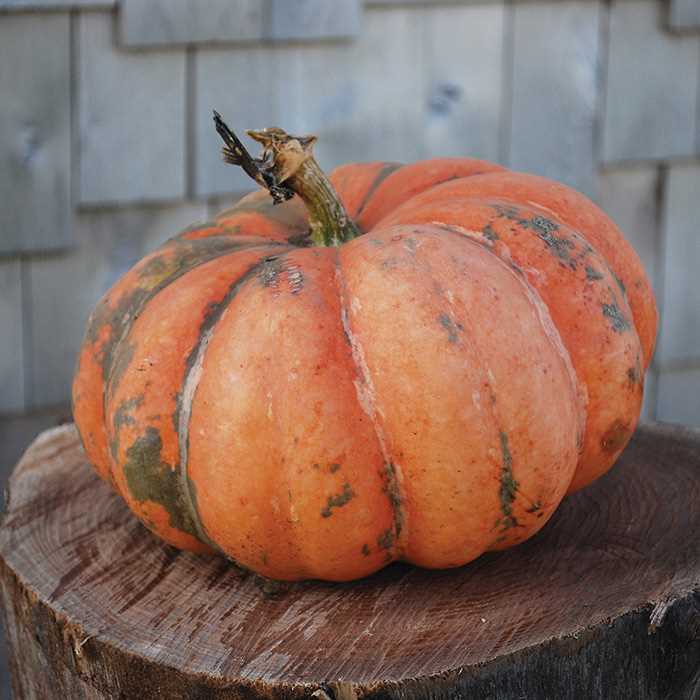 Moranga Squash is also known as the Pink Pumpkin. Weighs between 4 to 8 pounds. Fruit is ribbed. Color of the Moranga is a light pink to a salmon. Traditional Brazilian squash. Typically used to prepare Brazilian dish. Called 'shrimps in a squash' or in Portuguese called 'Camarão na Moranga'.  
22. Kakai Squash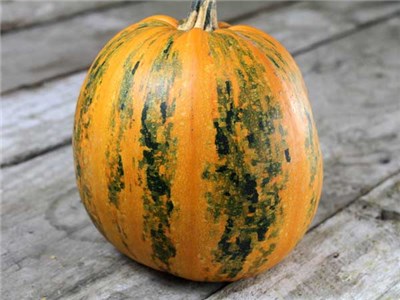 Kakai Squash is a slightly oblate ribbed fruit. Weighs 5 to 8 pounds. The Kakai is a hull-less seeded pumpkin. Attractive dark green to black striped fruit. Slight ribbed fruit with a shade of yellow orange color. Great choice for Fall Harvest displays.   
Excellent seeds for roasting. Scoop seeds from the Kakai pumpkin squash. Rinse seeds and add salt. Roast seeds until lightly browned.      
23.  Thai Kang Kob Pumpkin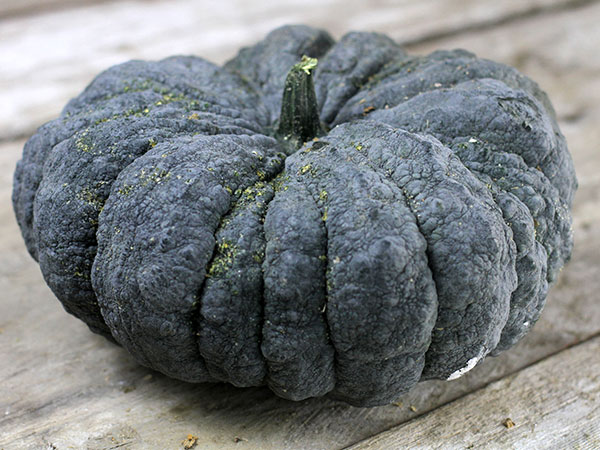 Thai Kang Kob Pumpkin is a pumpkin shaped fruit. Originally from Thailand. Introduced by Andrew Kaiser in 2006 when he returned from Thailand. Weighs between 6 to 8 pounds. A gorgeous sea green color that transitions to a chestnut color in storage. Very ribbed and warted. Flesh is orange and richly flavored, sweet and fragrant. Excellent for preparing curries, soups, stir-fries and other dishes. A dramatic addition to a Fall Harvest display. A must have!   
24.  Long Island Cheese Pumpkin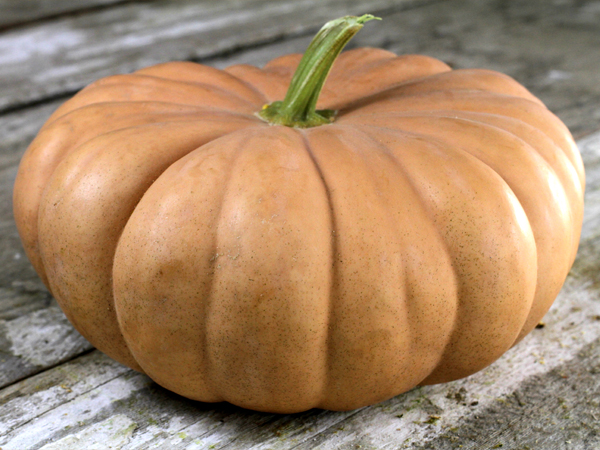 Long Island Cheese Pumpkin is a flatten, lightly ribbed fruit. Resembles a wheel of cheese. Weighs 6 to 10 pounds. Medium to large buff colored pumpkin. Sweet flesh of deep orange. Smooth pumpkin with a slender woody stem. A Long Island favorite and popular for pies. Quality heirloom variety that stores well.   
25.  Jarrahdale Pumpkin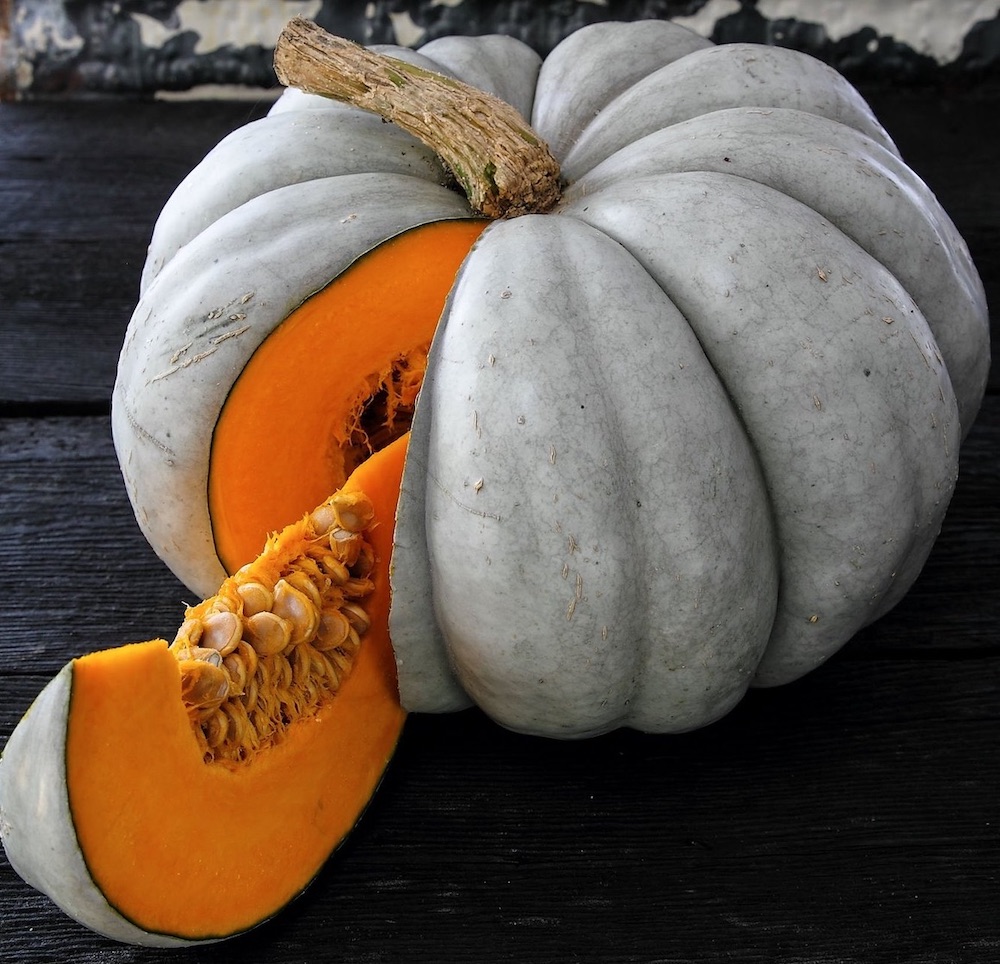 Jarrahdale Pumpkin is a flat, heavy rounded ribbed exterior pumpkin. Drum-shaped. Measures between 10 to 14 inches across. Weighs 6 to 10 pounds. Jarrahdale is a slate, blue grey color. Flesh is sweet, thick, and golden orange. A New Zealand heirloom. Popular in Australia. Stores well and many times over 12 months. 
Flesh is very tasty. Perfect for Autumn pies. Prepare in soups and stews for warm Fall meals. Incredibly attractive squash for Fall and Autumn displays. Showy pumpkin. Especially spectacular when displayed along orange pumpkins.   
26. Porcelain Princess Hybrid Pumpkin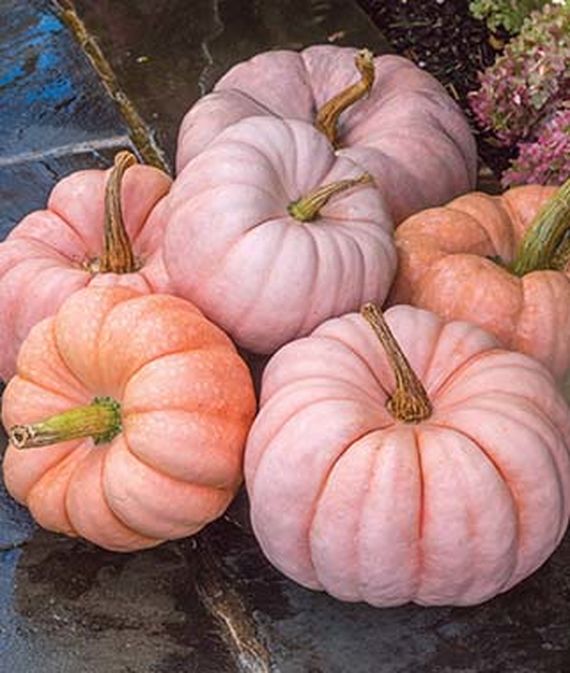 Porcelain Princess Hybrid Pumpkin is a new variety for 2019. Measures 7 to 8 inches wide. Weighs between 7 to 10 pounds. Fruit is deeply-ribbed. Exterior is a pretty petite pink. Flesh is bright orange. Used to prepare side dishes with the Porcelain Princess. Display with other pumpkins for a striking Autumn harvest scene.    
27. Squash American Tondo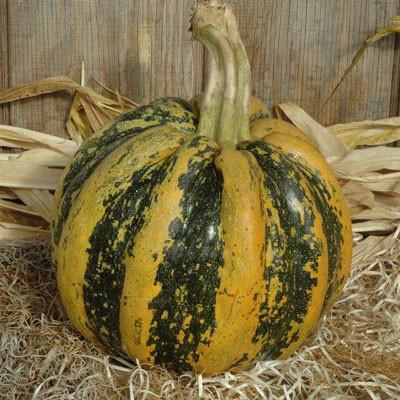 Squash American Tondo is an ornamental squash pumpkin. Weighs 6 to 14 pounds. American Tondo has deep orange exterior. Mottled green stripes appear between the thick orange ribs. Striking and creates interest. As a young fruit, the American Tondo is a two tone speckled green fruit. Can be eaten as other fruits are.   
28. Thai Rai Kaw Tok Pumpkin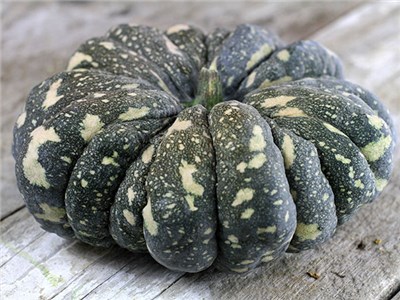 Thai Rai Kaw Tok Pumpkin is from Thailand. Weighs 8 pounds. A green pumpkin with tan spots on the rind. Flesh is yellow-orange and sweet. A tasty, flavorful and smooth textured fruit. An attractive pumpkin with a rock hard rind. Long lasting pumpkin.   
29.   Marina Di Chioggia Pumpkin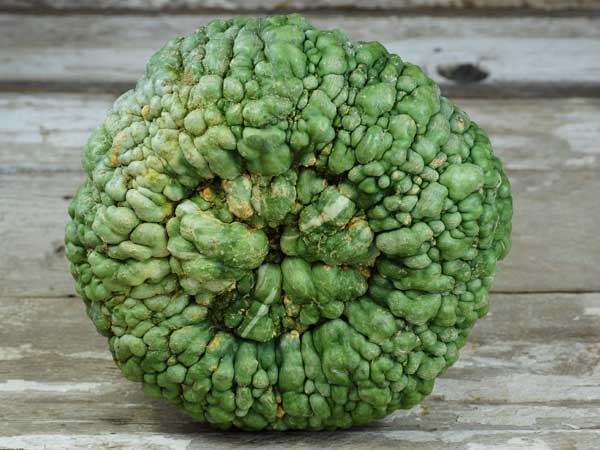 Marina Di Chioggia Pumpkin is a large turban shaped fruit. Weighs about 10 pounds. Marina is an heirloom sea pumpkin of Chioggia, Italy. Fruit is a deep blue-green color with blistered skin. Beautiful and a one-of-a-kind squash. Flesh is rich, sweet deep, dark yellow-orange and good quality. The Marina squash makes for an interesting Fall harvest display.  
Originally from South America. The pumpkin was transported to Spain and then on to Italy. Introduced to Venice in the late 1600s. Extremely popular in Italy. Can be stored for up to six months. Grilled with olive oil. Bake the Marina Pumpkin or prepare for pies. Frequently used as a filling for ravioli and gnocchi.   
30. Galeux D' Eysines Squash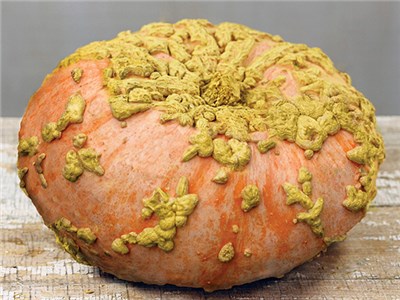 Galeux D' Eysines Squash is a flattened, round heirloom ornamental pumpkin. Also known as the Peanut Pumpkin. It is called Peanut Pumpkin because of the blistered skin pattern that resembles peanut shells. Weighs 10 to 15 pounds. Skin is salmon peach colored skin and covered with large warts. Flavorful flesh is deep orange, smooth, and sweet. Excellent for baking. French cooks make soup with the Galeux D'Eysines squash. A tasty flattened globe shaped treat. The longer the Galeux stays on the vine, the greater the coverage of a blistering skin develops.  
The Peanut Pumpkin can be baked and eaten. Or use in soups and stews.     
 31. Kentucky Field Pumpkin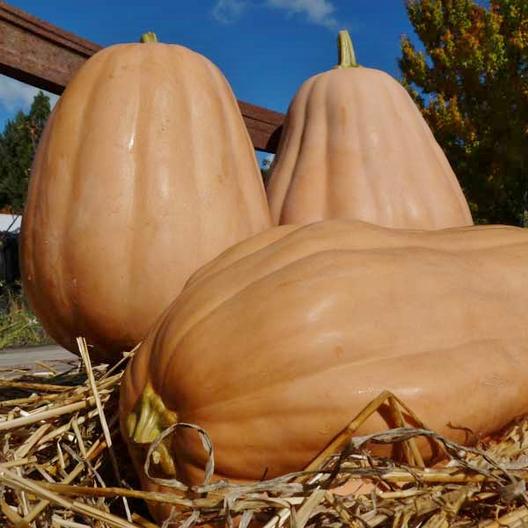 Kentucky Field Pumpkin is a traditional heirloom variety. Weighs between 10 to 15 pounds. The fruit varies in shape. They tend to be longer and less wide. Color is a dull but beautiful orange. A warm color that stands out among other tradition colored pumpkins. Does well in storage. Ideal pumpkin for canning.    
 32. Pumpkin Secretariat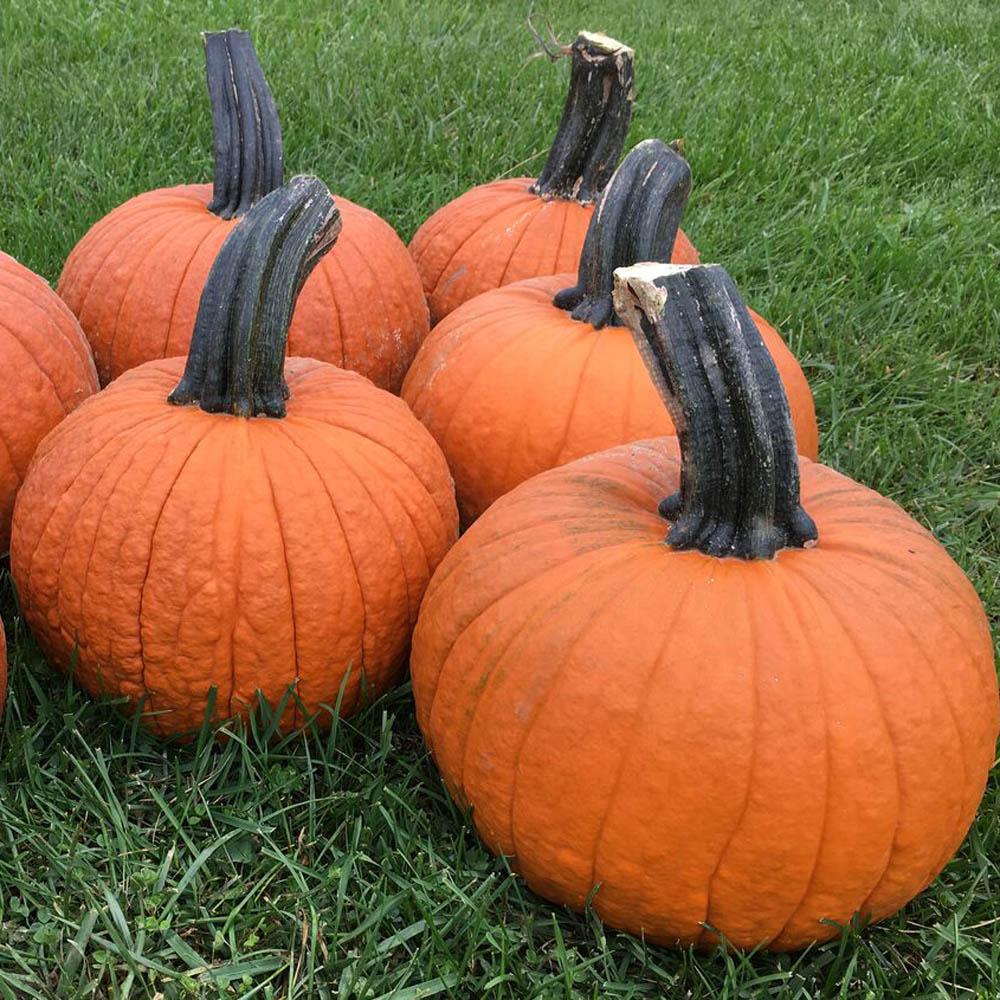 Pumpkin Secretariat is a slightly flattened fruit. Measures 12 inches wide and 9 inches tall. Weighs 15 pounds. Skin is a dark orange color. Handles are exceptionally large and thick. Striking and beautiful. Perfect for Fall Harvest decor and displays.  
33.  Casper Pumpkin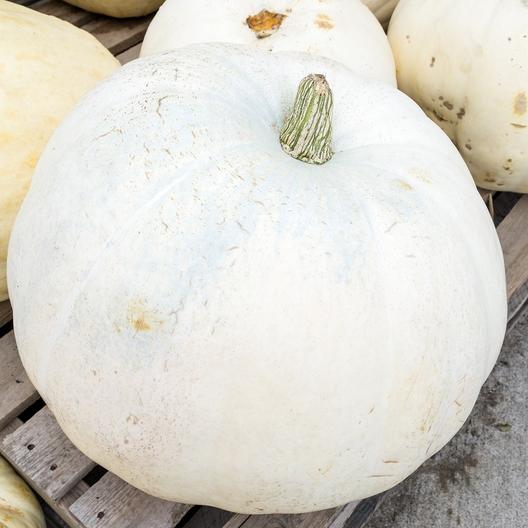 Casper Pumpkin is a ghostly white ornamental heirloom pumpkin. Measures 9 to 12 inches in diameter. Weighs 10 to 16 pounds. A white skinned and mostly smooth pumpkin. Casper has less bluing than many other white pumpkin varieties. Flesh is thick and orange. Handle is a corky textured tan color. Excellent for eating. Bake pies with this sweet pumpkin. Perfect for carving or painting.  
Outstanding when displayed among other traditional colored pumpkins.  
 34. Shishigatani or Toonas Makino Pumpkin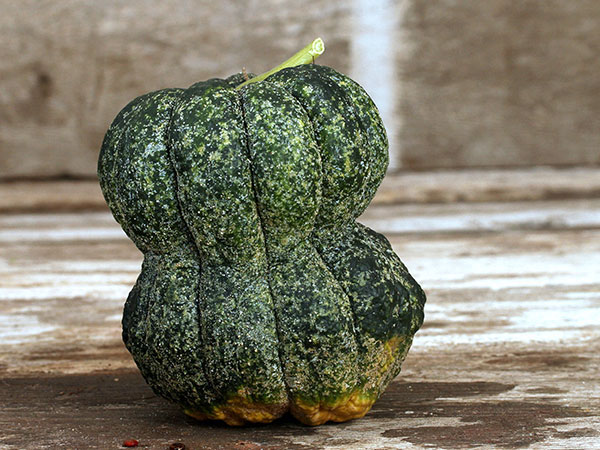 Shishigatani Pumpkin is also known as a Toonas Makino Pumpkin. A unique and rare Japanese pumpkin. Weighs between 5 to 19 pounds. The fruit is shaped like a bottle gourd. Exterior is ribbed and very warty. Fruit is green turning tan as it matures. Flesh is a fine-grained and nutty flavored. Flavorful pumpkin. Great addition to a Fall harvest display.  
Developed during the Bunka era of the Edo period (1804 to 1818) in Japan. Popular in Kyoto Japanese cuisine.  
35. Pumpkin Specter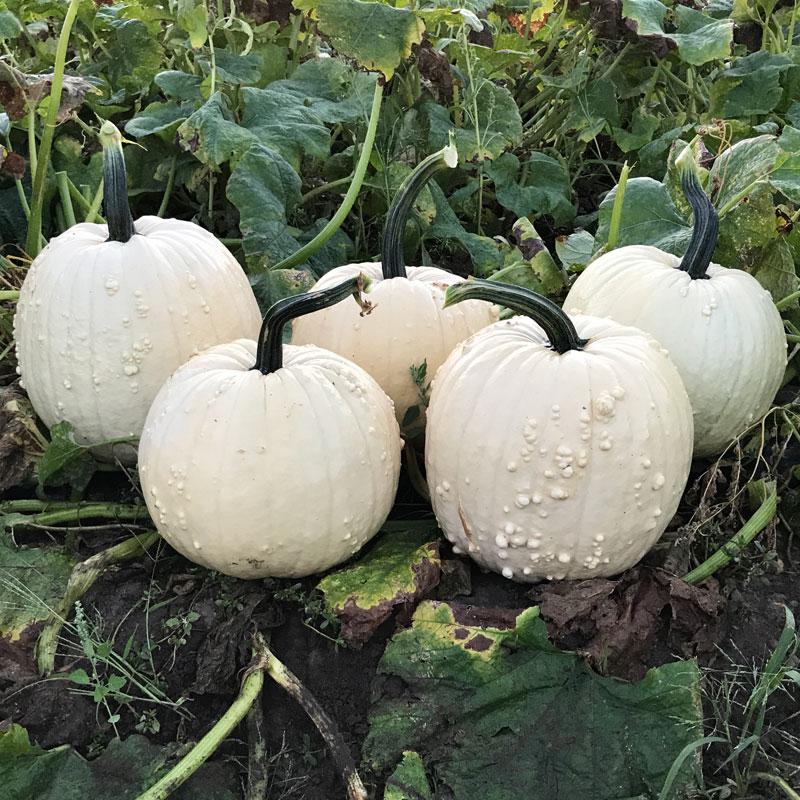 Pumpkin Specter is an early maturing white pumpkin. Measures 9 to 12 inches wide. And tops out between 9 and 12 inches tall. Weighs up to 20 pounds. The Specter has a semi-hard, light warted shell. A medium round fruit. Large firm handles. 
36. Pumpkin Mellow Yellow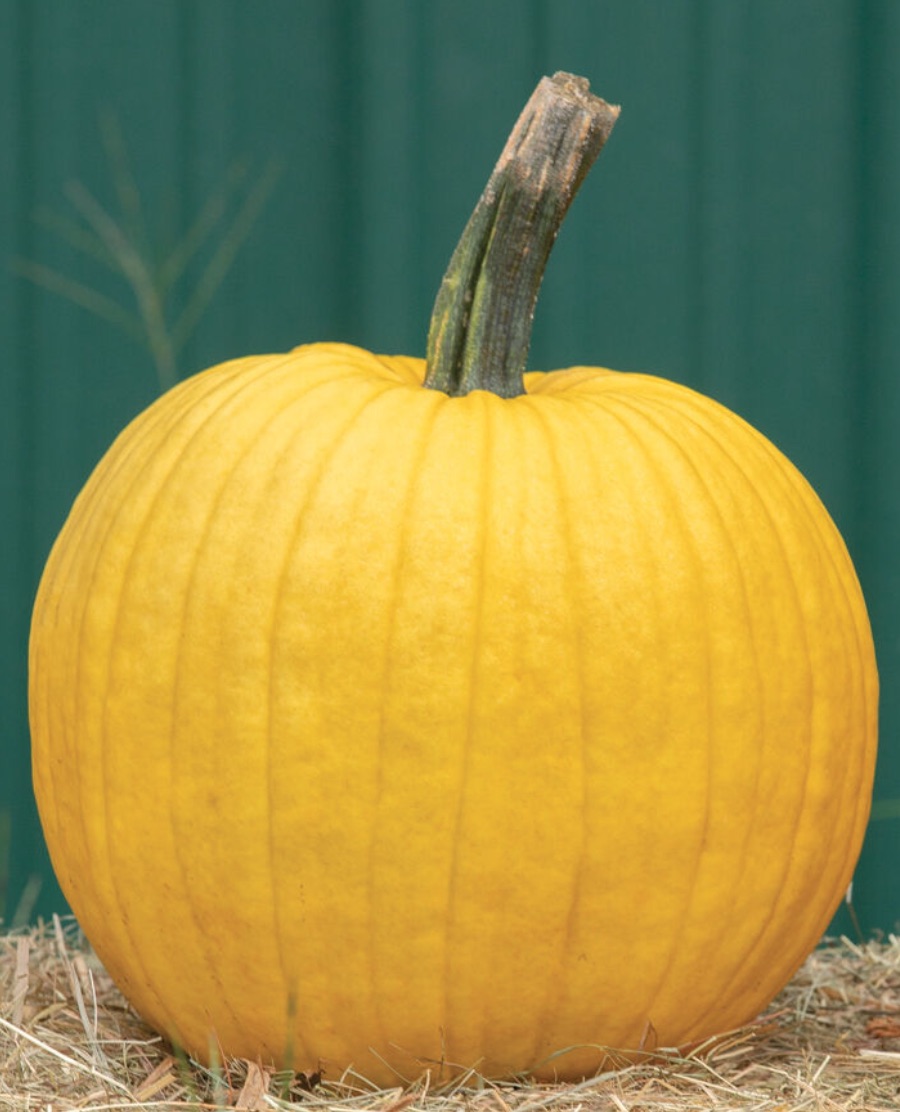 Pumpkin Mellow Yellow is a blocky-round pumpkin. Measures about 10 inches in diameter and 12 inches tall. Weighs between 18 and 22 pounds. Color of Mellow Yellow is a beautiful yellow. Nice ribs. Strong straight, green handle. New for 2019. Looks stunning when paired with orange and white pumpkins.  
37. Musquee De Provence Pumpkin
Musquee De Provence Pumpkin is an heirloom pumpkin from the South of France. Tops out between 24 to 30 inches tall. Weighs up to 20 pounds. A beautiful flatten and heavily ribbed pumpkin. Young pumpkins are green. Then turn a lovely deep brown as the fruit ripens. The shape resembles a large wheel of cheese. Flesh is deep orange, thick, and flavorful. A favorite of chefs for the fine Musquee flavor. Stores well. In the US, Musquee De Provence is known as a Fairytale Pumpkin.   
38. Connecticut Field Pumpkin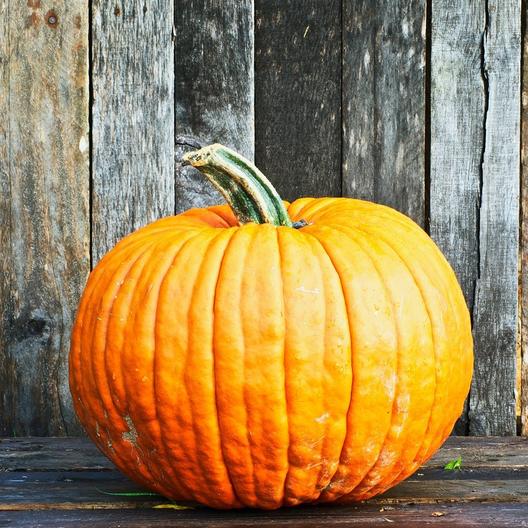 Connecticut Field Pumpkin is a larger carving pumpkin. Weighs between 15 to 25 pounds. An orange, heirloom and native pumpkin. Origins can be traced back to prior to the 1700s. Pumpkins are large bright, orange round fruits. Ends of the pumpkin are flattened. A perfect Halloween Jack O' Lantern.   
39. Cushaw Green-Striped Pumpkin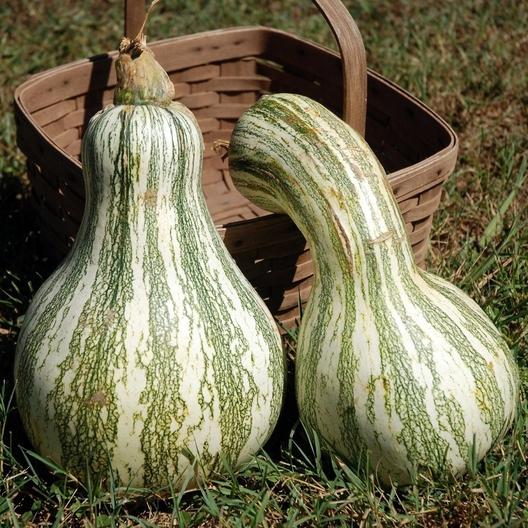 Cushaw Green-Striped Pumpkin is a large, edible ornamental pumpkin. Measures up to 20 inches. Weighs 7 to 25 pounds. The Cushaw pumpkin is a striking green and white striped fruit. Has a large, round bottom with a tapered neck. The curved neck is highly decorative. Perfect for Autumn displays. A premium pumpkin for Autumn pies.   
40. Howden Field Pumpkin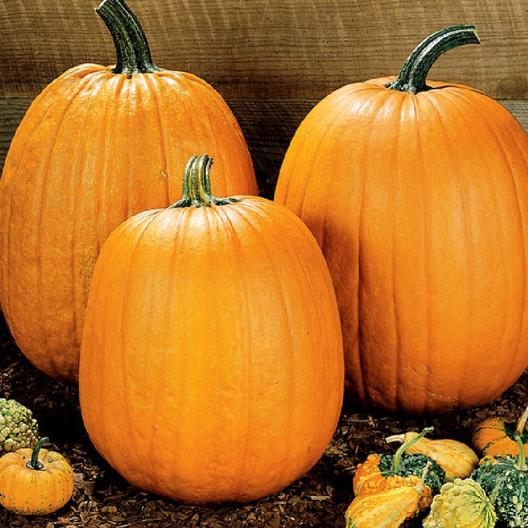 Howden Field Pumpkin is a uniformly round shaped pumpkin. Weighs up to 25 pounds. The orange pumpkin has a sweet, solid flesh. Perfect for baking pies. It is an excellent choice for carving due to its globe like shape. Stores well. Make for great Jack o' Lanterns.  
Developed by John Howden on his Sheffield farm sometime after the 1940s. The Howden Farm is located at 303 Rannapo Rd, Sheffield, MA 01257.    
 41. Gladiator Pumpkin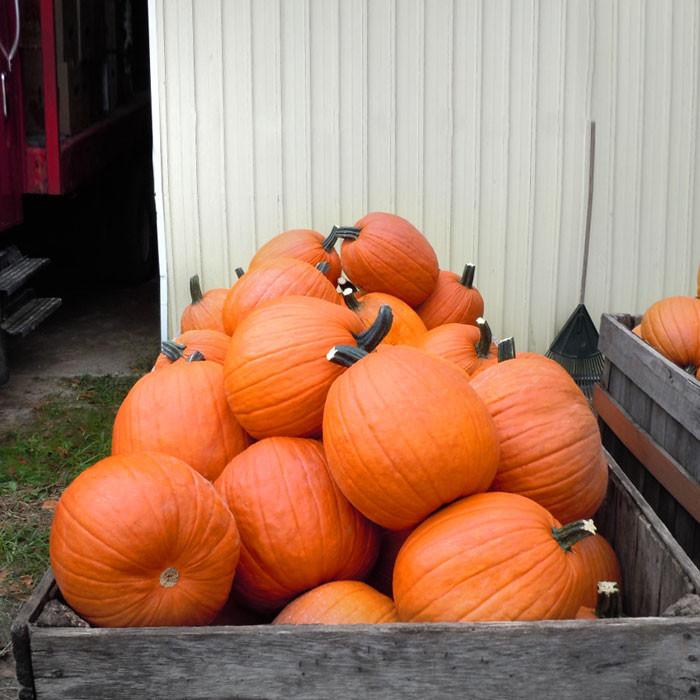 Gladiator Pumpkin is a solid, round, deep orange fruit. Measures at 13 inches wide. And 12 inches high. Weighs between 20 to 25 pounds. The moderate ribbed pumpkin is a classic pumpkin. Uniform in size and shape. The long handles are thick and firmly rooted. Perfect for Autumn displays. 
42. Pumpkins Ares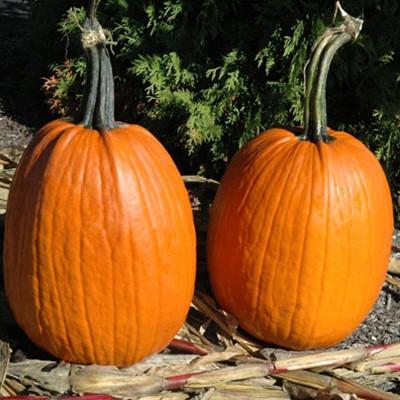 Pumpkins Ares is a tall pumpkin. Measures 16 inches wide. And 18 inches high. Weighs 22 to 28 pounds. Ares has a medium dark orange fruit. Uniform in size and shape. Strong ribbing with an extra-long, thick, firmly attached stem. A tall, strong performer. And great addition to any Fall harvest decor setting. 
 43. Pumpkin Kratos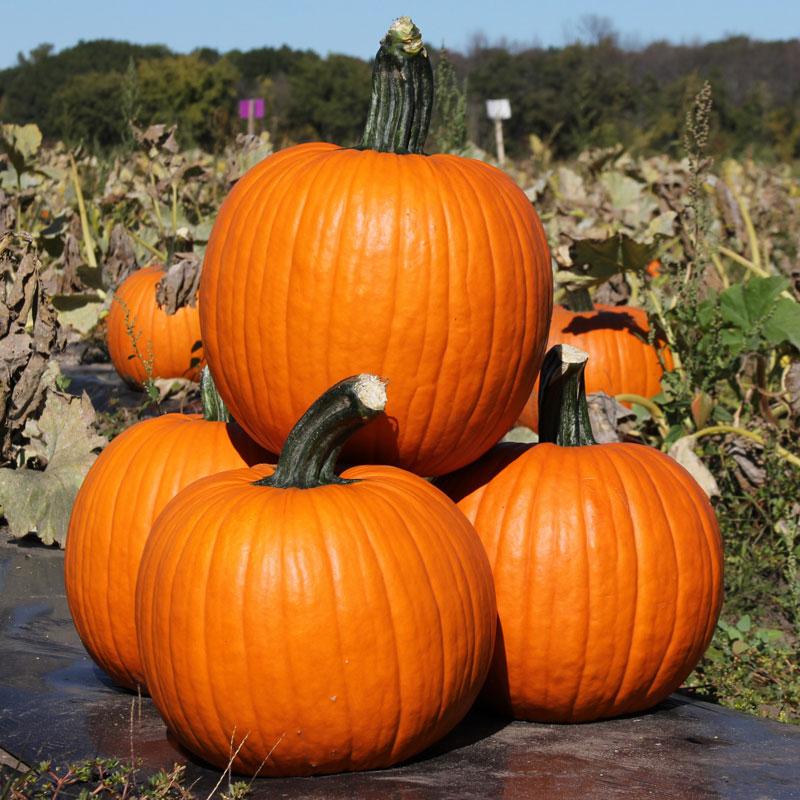 Pumpkin Kratos is large handled pumpkin. Measures 14 inches in diameter. Weighs between 25 to 30 pounds. A medium rounded dark orange, ridged pumpkin. The well attached handles are a thick dark, green color.      
 44. Red Etampes Pumpkin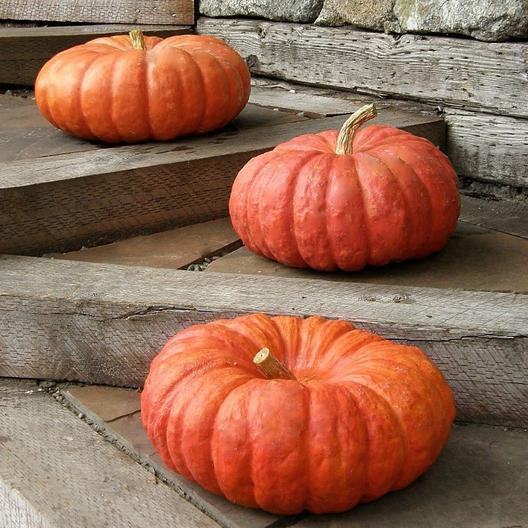 Red Etampes Pumpkin is a French heirloom pumpkin. Also known as Rouge Vif d'Etampes. Weighs 10 to 15 pounds. Known for its beautiful vivid color. The Etampes is more flatter than round. Has deep ridges with reddish orange skin color. Ideal flavor for pies, soups, baking, or roasting.  
Perfectly colored for Autumn front porch displays. Simply gorgeous! 
 45. Cinderella Pumpkin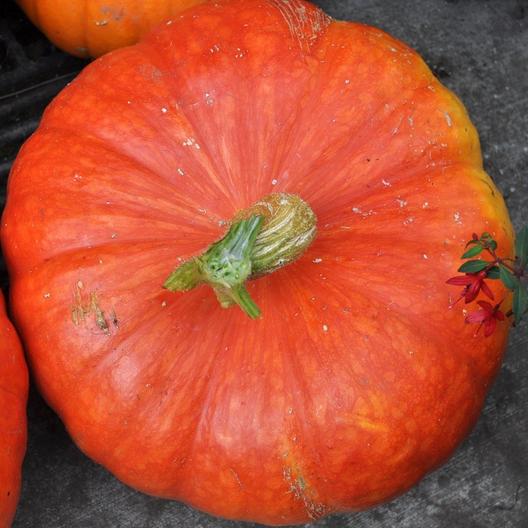 Cinderella Pumpkin is a classic heirloom pumpkin. Also known as the Rouge vif d'Etampes or Red Etampes pumpkin. Measures 15 inches across. Weighs between 25 to 35 pounds. The Cinderella Pumpkin has smooth orange skin. A flattened old fashioned pumpkin shape. Glowing orange color adds to the decor value of this gorgeous pumpkin.  
A century old French heirloom resembles a coach from the Cinderella fairytale. Rouge Vif D'Etampes is French for "vivid red" in English. Delicious pies and dishes can be made from the vivid red pumpkin.  
46. Flat White Boer Pumpkin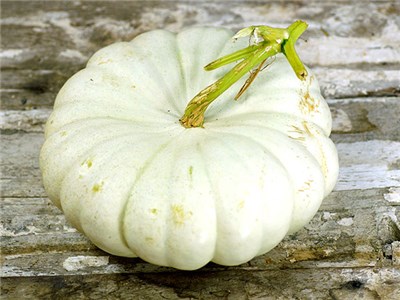 Flat White Boer Pumpkin is named after the Dutch Boers in South Africa. Weighs up to 30 pounds. An attractive flat, pure white pumpkin. Flesh is a sweet, orange tasty color. Ideal pumpkin flavor for baking and especially pies. The Flat White Boer stands out when placed near other traditional pumpkins. Stackable variety. A must have for every Autumn harvest decor display! 
47. Dickinson Pumpkin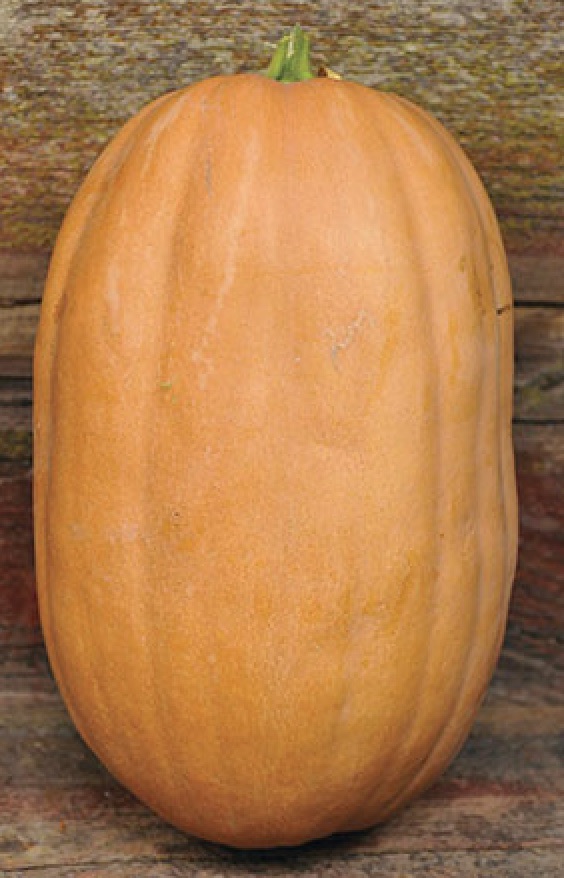 Dickinson Pumpkin is medium to large tan heirloom squash. Measures 14 inches in diameter. And 18 inches high. Some weigh up to 40 pounds. The shape of the Dickson pumpkin is between round and elongated. Slight furrowed lines and smooth buff-colored rind. Flesh is sweet and thick orange. Stores well, for 5 months and longer.  
Large Pumpkins – Types of Pumpkins 
Large pumpkins are sized for impact. Great to carve, paint or decorate. Use for front porch displays.  
48.  Cronus Pumpkin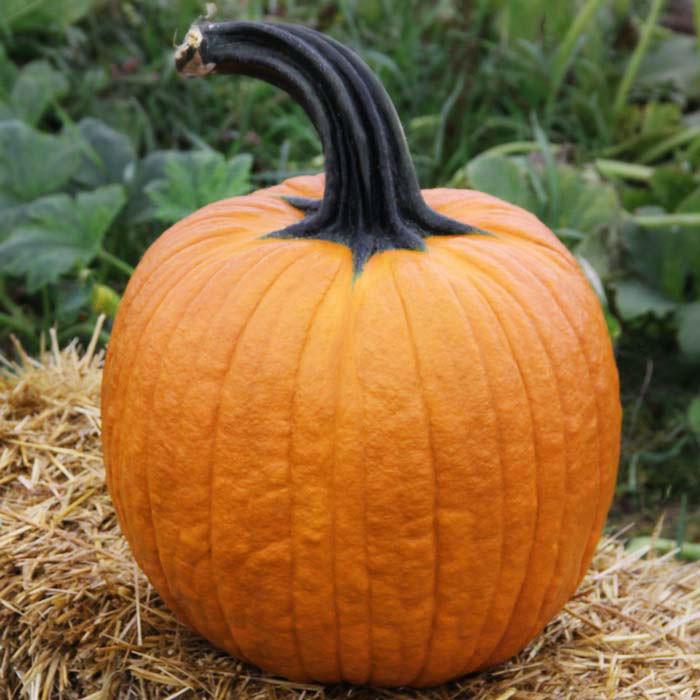 Cronus Pumpkin is a blocky, round shape pumpkin. Weighs between 25 to 60 pounds. Cronus has an attractive dark orange color with well defined ribs. Handle is long, dark colored and well rooted. Stem shrinkage is reduced due to its high dry matter.  
49. Mammoth Gold Pumpkin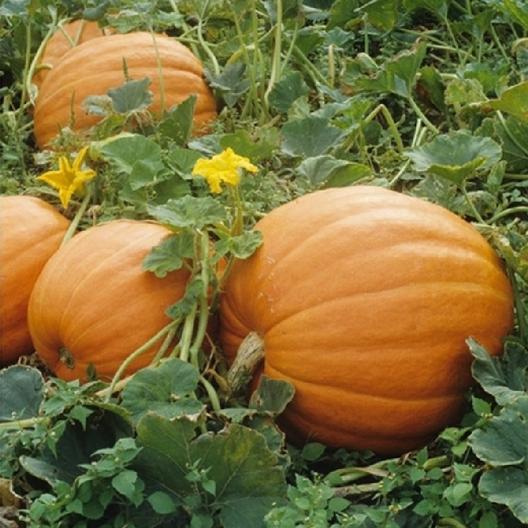 Mammoth Gold Pumpkin is an heirloom pumpkin. Weighs up to 60 pounds and sometimes even more. Mammoth Gold is a golden yellow-orange color. Although Mammoth Gold has gold in its name, the pumpkin is more orange than gold color. 
Grown since the late 1800s. Mammoth Gold is a good keeper. 
 50. Jaune de Paris Pumpkin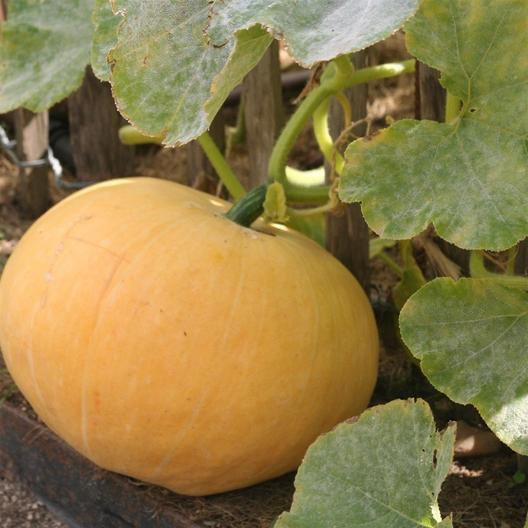 Jaune de Paris Pumpkin is a French heirloom. Also known as Jaune Gros De Paris, Yellow of Paris, and Big Yellow of Paris. Weighs over 100 pounds. Outer skin is a lovely pinkish-orange-yellow color. Pumpkin is large, round and flattened shape. Ribs are shallow. Flesh is sugary and tasty. A great baking pumpkin.   
51.  Big Max Pumpkin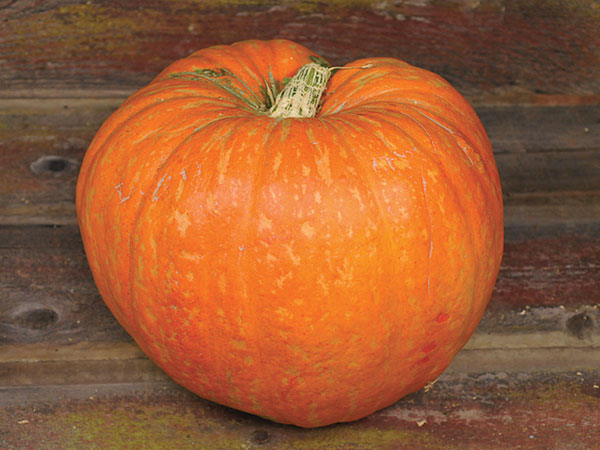 Big Max Pumpkin is a nearly round orange pumpkin. Weighs well over 100 pounds. Fruit is a bright orange color. Flesh is very thick and orange. Big Max is great for canning and pies. Lovely pumpkin for Autumn Harvest displays.
 52. "Premium" Atlantic Giant Pumpkin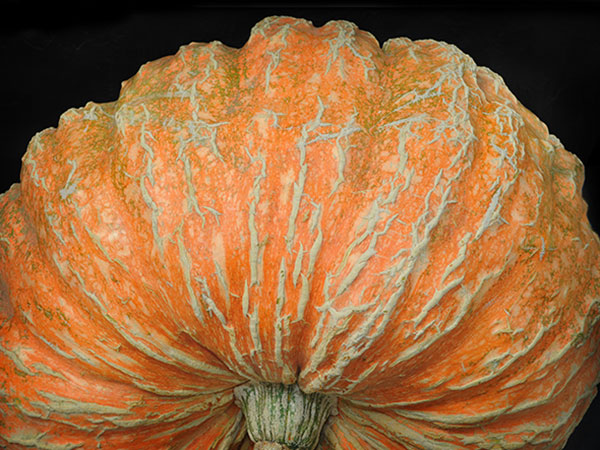 Atlantic Giant Pumpkin is a giant pumpkin. Weighs between 500 and 1000 pounds and even more. The giant pumpkin is a pale pink to deep orange color. Introduced by the late Howard Dill of Nova Scotia. Producing record breaking pumpkins since 1978.  
This is our list of 52 types of pumpkins. Perfect for Fall Harvest decorations. And for Fall baking and cooking. Easy to display either as tabletop decor or front porch displays. Every one a heartwarming display of Autumn colors. Pumpkins in all colors, sizes, and shapes. An easy update for the Fall season. Mix in some Chrysanthemums, gourds, and corn stalks. And you are good to go. 
Transition your Summer home and lawn to Autumn with any of these pumpkins. An easy and quick festive Fall update. 
Interested in Fall decor? If you found this helpful . . .
You may also enjoy some of our other decorating related posts.  
8 Fantastic Fall Annuals to Plant this Fall 
18 Hardy Chrysanthemums to Plant Now for Fabulous Fall Color 
17 Farmhouse Crates for an Orderly Home 
30 Farmhouse Storage Bins, Canisters, and Baskets 
If you try any of these pumpkins let us know how you make out. And if you have any questions, feel free to reach out to us. We always are ready to help you out. Thank you for stopping by.
Mary