Rattan bar carts to usher in the cocktail hour. The bar carts in use today reemerged in the 1950s and 1960s—the era of cocktail parties and the cocktail hour. Bar carts became popular among families because of their mobility throughout the home. Best of all, these bar carts could be transported from room to room or even outdoors. We share bar carts made from rattan materials in today's post.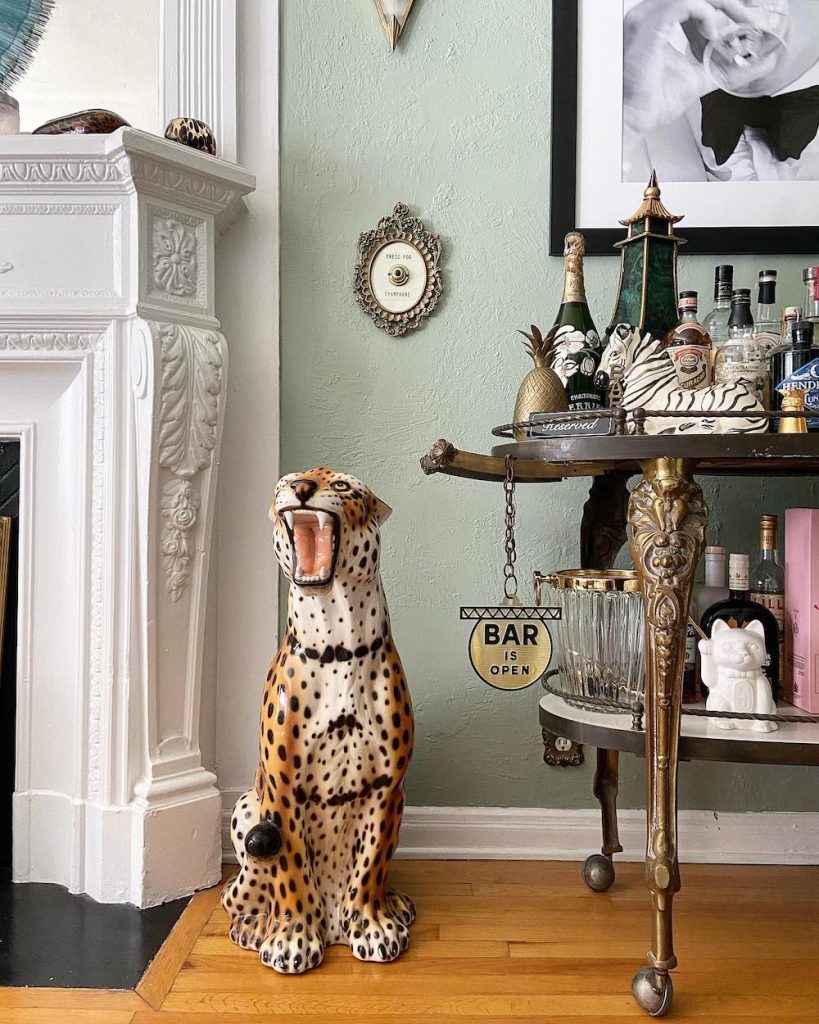 Before the days of the bar cart, there was a drink trolley. A drinks or tea trolley was a stylish way to serve guests tea during the Victorian period. The portable trolley is also called a bar cart or serving cart. It is a functional, moving cart used to serve visiting guests drinks or food. The portable small table on wheels was perfect for affluent households to use during teatime.
Bar Cart Essentials – Rattan Bar Carts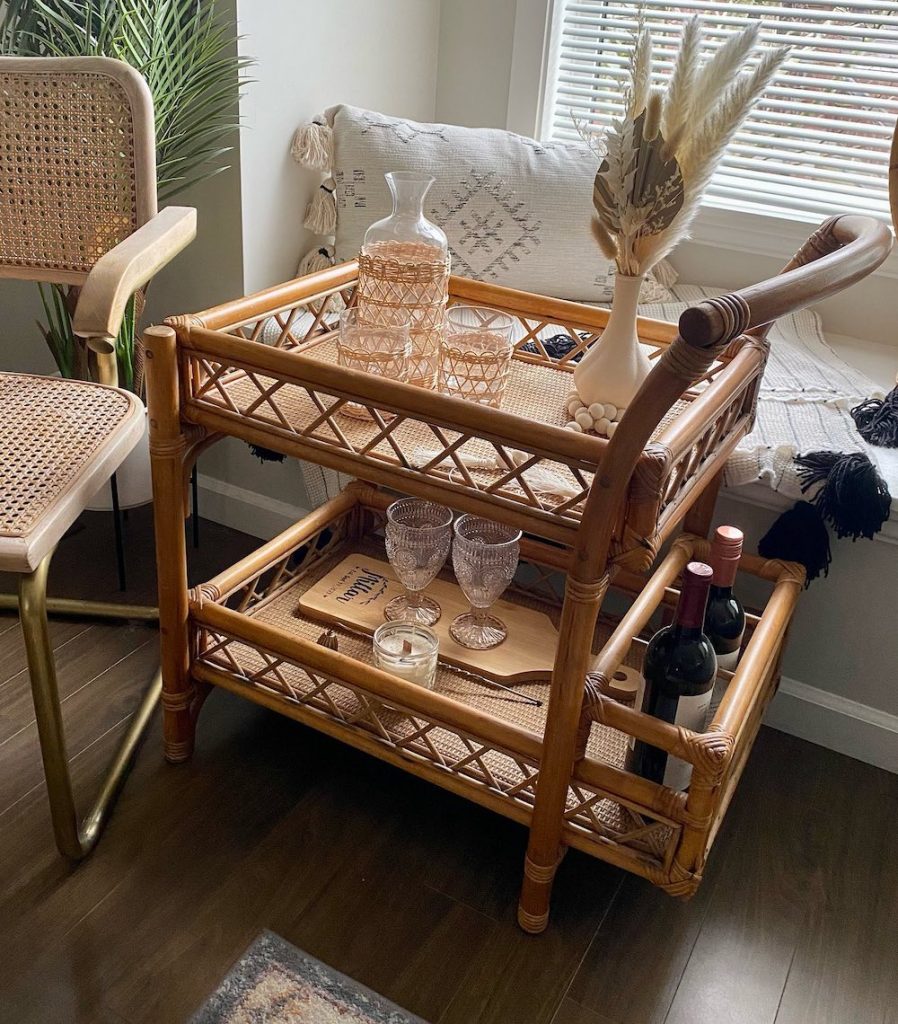 Include essential items needed to serve house guests during the cocktail hour. Below is a list of things to stock your bar cart with.
Bar tools such as a Boston shaker, jigger, muddler, bar spoon, bar knife, ice bucket, and strainer
Glassware – low ball and high ball
Spirits such as vodka, gin, rum, whiskey, tequila, vermouth
Simple sugar, bitters, and citrus fruit for garnishes
Mineral water, tonic water
Bar napkins, small plates of nuts, olives, & small bites
Swizzle sticks or straws
Trays for keeping Spirits together and for an area to mix drinks
Optional:
Cocktail recipe books
Display a vase of fresh flowers or a potted plant for some greenery
Hang a piece of wall art or mirror above the cart
Give your cocktail space some lighting with candles or a small light source
Organize that Cart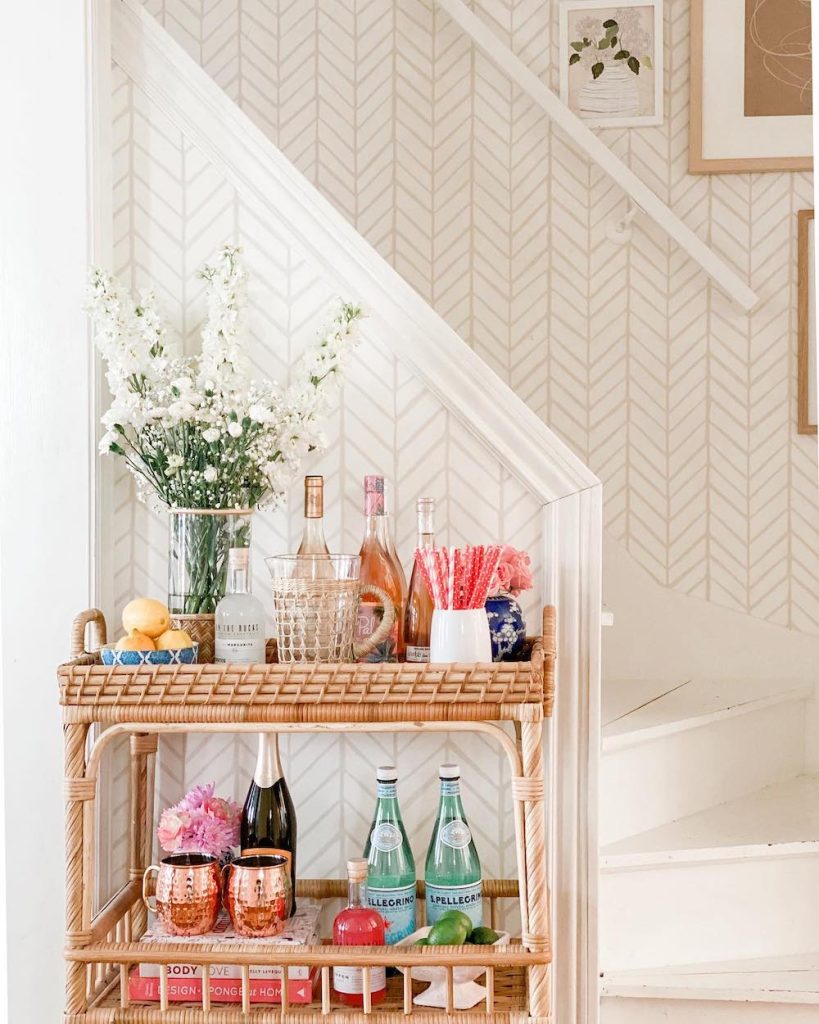 Keep the bar tools you use most frequently in the front of the cart or the side. The idea is to make them accessible in a short amount of time. 
Arrange spirits in one tray with the smaller bottles in the front. The larger bottles are in the back, so you can quickly retrieve the bottle you are looking for. Select trays that complement the bar cart you are using. Corral mineral water on another tray to keep the bar cart looking tidy and its best.
If you are a non-alcoholic drinker, other options exist for decorating your beverage cart. Decorate the cart as mentioned above but omit the bar tools, spirits, and garnishes. Replace with sodas, flavored water, and other refreshments.
Alternatively, you can use a bar cart as a plant stand. Or use it as a side table next to a sofa or bed. Keep the bar cart in the dining room. This placement allows for additional workspace for serving meals, wine bottles, and beverages. Place the cart where it is most accessible to your guests and family. Bar carts were designed with portability in mind. Take it outdoors to the patio or porch for great entertaining.
Style it Classy – Rattan Bar Carts
Make a bar cart look classy by adding a few accessories. Use a champagne bucket with champagne for a refined look. Add a few jiggers or shot glasses to your cart. Keep fancy cocktail napkins on the cart. Use accessories in gold or bronze for extra bling.
Bar Cart Sizes
Sizes of bar carts vary. They can be 3 to 4 feet tall with a width of 38 to 48 inches wide. Consider the space you have at home and the cart's uses. Consider how much space you'll need to prepare drinks when shopping for a bar cart. View a larger cart with storage if you celebrate with more family members. Select a portable cart if you entertain indoors and outdoors. It is nice to mix drinks in several areas of your home. Pick two bar carts if you have a large house rather than wheeling the cart from one room to another.  
Replace cups and plates with nonbreakable ones when preparing food and drinks outdoors, especially when entertaining by a pool.
And now on to our list. We begin our picks of rattan bar carts for the cocktail hour. Look at our selection of the best cocktail bar carts. Perfect for the cocktail hour at your home.
Take a look at our other posts for home decor inspiration. Drop us a line below in the comment section. Let us know all about your favorite home decor projects for your house.
Enjoy our other home decor-related posts for additional ideas.
Decorate your home with these great ideas. Check out our other posts for the interior of your home. Try these posts for additional decorating ideas this season.
Acrylic Console Tables
Martini tables
Neutral curved sofas
Bamboo mirrors
Blue curved sofas
Stone End Tables
Tulip Tables
Parsons Tables
Reach out to us with any questions. We love hearing from our readers. Thank you for dropping by and taking a look at our blog.
Mary
Pin this for Later: