White tulip tables are timeless, mid-century modern-styled tables. The sleek appearance makes this table as popular today as when it was introduced in the mid-1950s. Save space and have a gorgeous room with a tulip table. Find these lovely tables with either a round or oval tabletop surface. With a tulip table, you get a timeless aesthetic look that is just as appealing today as it will be years from now.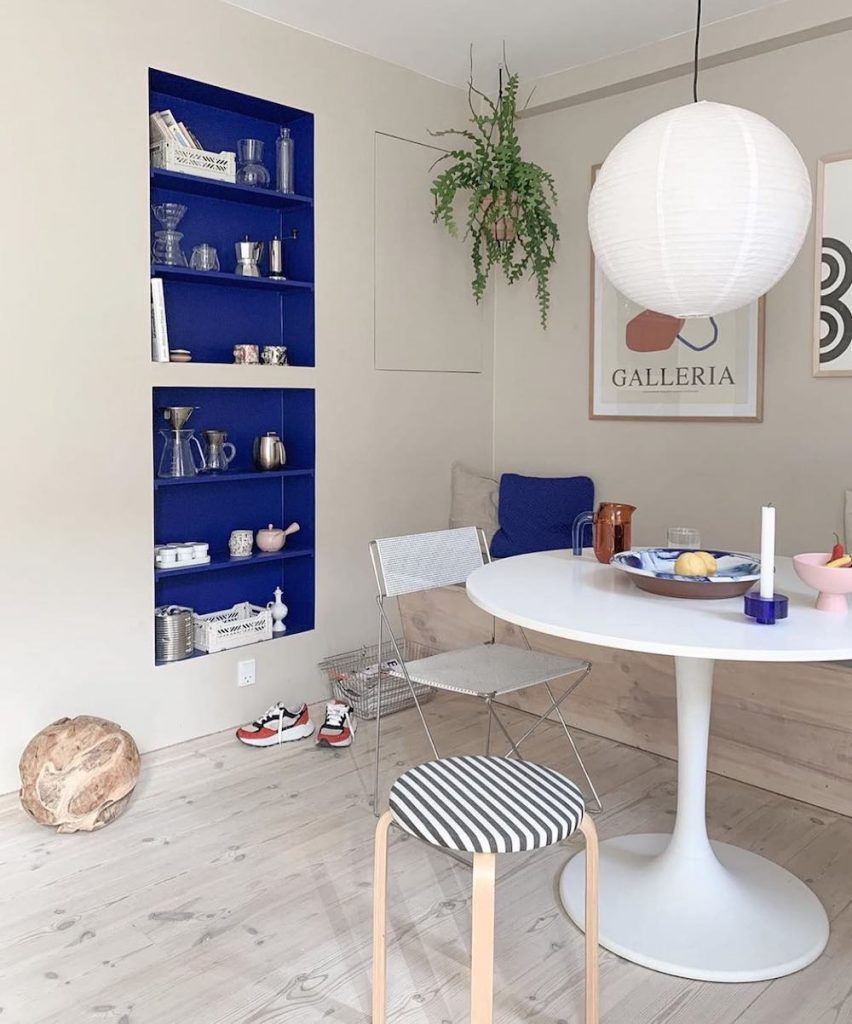 Still, in demand, this classic pedestal table has a sleek style that fits a mid-century home decor style.
The History – White Tulip Tables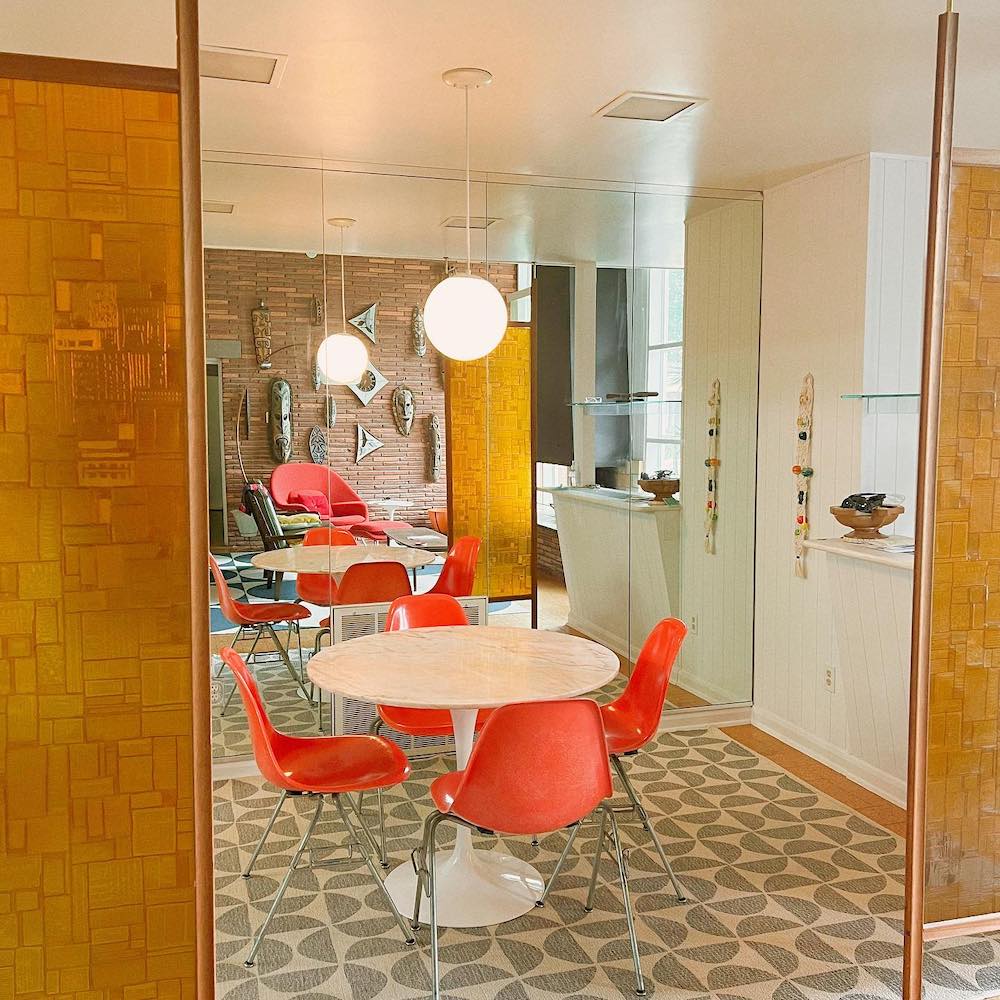 The original tulip table was made by the Knoll Company. The Knoll Company was owned by Hans and Florence Knoll. However, both the Tulip table and chair were originally designed by Eero Saarinen, a Finnish-American architect, and industrial designer. Florence Knoll of Knoll Company and Eero Saarinen initially met at the Cranbrook Academy of Art in Bloomfield Hills, Michigan. Florence and Eero became lifelong friends.
The Tulip Table was part of the Pedestal Collection that debuted in 1958 by Eero Saarinen for the Knoll Company. The era at the time was that of the Modernist period. Eero Saarinen also designed the Tulip Chair. It was included in the Pedestal Collection of 1958.
Identify an Authentic Saarinen Tulip Table
If you have an authentic Saarinen Tulip Table then your table has a chrome plaque identifying it as such. The chrome plaque is underneath the table and inscribed with the Knoll Studio and includes Eero Saarinen's signature as well as the year 1956. Another unique feature is that the table base is heavy and made from molded cast aluminum. The base of a Saarinen table is finished in black, white, or platinum. To ensure the durability of the table, the base is coated in Rilsan. Rilsan is a protective coating that enhances the protection of aluminum. It can withstand high impact, resistance to abrasions, and everyday use. The Saarinen tabletop surface is available in marble, wood veneers, and white laminate in round or oval shapes. A true Saarinen table base is never made from plastic, wood, or other material that is inferior.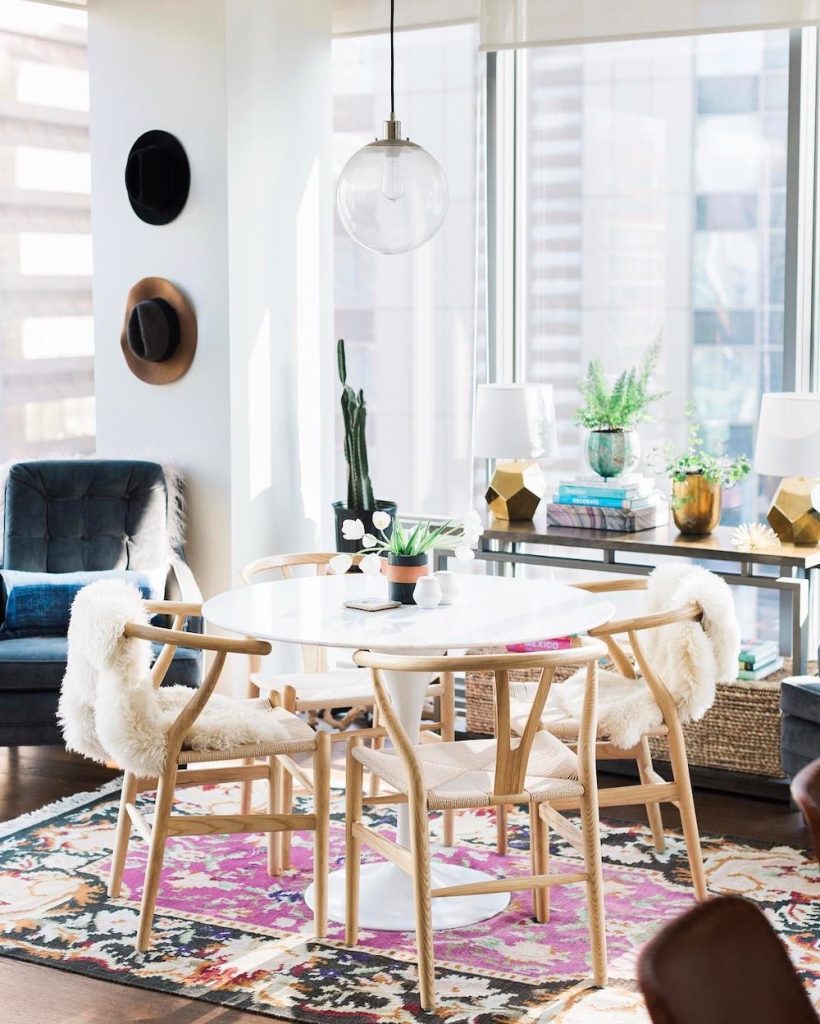 Without the chrome plaque, the table is a copy. A true Knoll marble tulip table has a polyester coating. The coating has a polished mirror-like look or satin finish – a matte look. The Knoll constructed table is given four separate coats of the polyester layer that prevents staining and provides long-lasting surface protection. And most important of all, a true Saarinen tulip table is not tippy or wobbly. It is stable and sturdy.
Who Makes the Best Tulip Table?
Most designers would say that the Knoll Company makes the best Saarinen Tulip Table. As beautiful as the tables are, they are pricey. And if your budget doesn't allow for a true Saarinen Tulip Table then you can search for similarly styled tables. Consider tables with a cast aluminum base that provides a sturdiness like that of the Saarinen Tulip Table. Tulip tables made from other materials will not be as sturdy as ones made from cast aluminum.
Style it Modernist – White Tulip Tables
If you are wondering if the classic tulip table is a modern-styled furniture piece, the answer is yes! Even today, it is considered an iconic mid-century modern design. This contemporary design is highly valued for its sleek profile and amazing finishes.
Style the Tulip Chair as Contemporary?
Designed by Eero Saarinen in 1955 and 1956 for the Knoll company of New York City, the tulip chair is a modern icon. Authentic Tulip Chairs are handmade in Italy and manufactured by Knoll International. Just as the table has a unique chrome plaque, each chair is stamped with the Knoll logo. And each chair has Eero Saarinen's signature engraved on the chair's underside. Copies of tulip chairs will not have these two identifiers underneath the chair's seat. The tulip chair copy will have a plain underside without any Knoll identifying plaque.
An important aspect of the true Saarinen Tulip chair is that it provides unparalleled comfort due to the tulip-shaped design. This sleek design makes this chair extremely desirable and highly in demand by today's designers.
Best Tables for a Dining Room or Breakfast Nook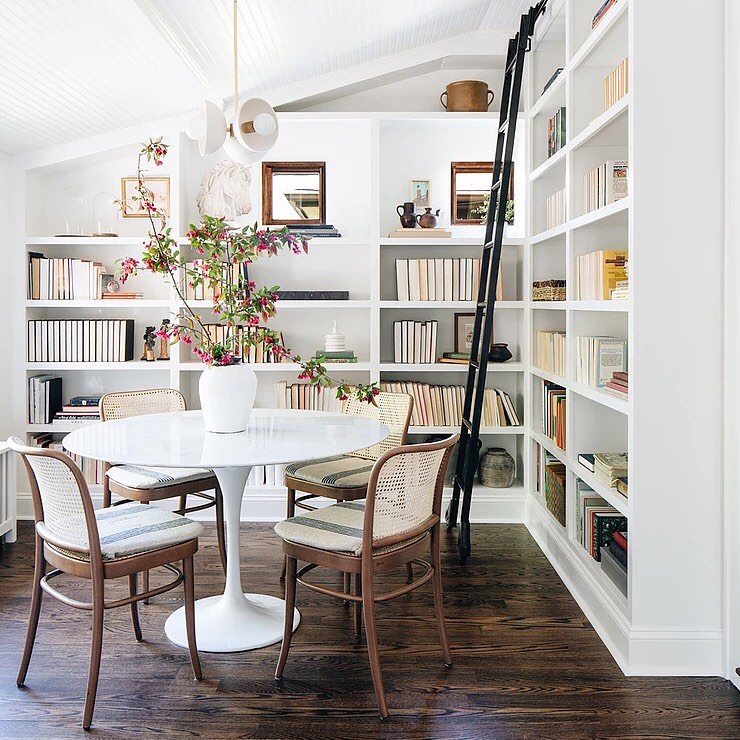 Select a tulip table for your dining room or breakfast nook. A tulip table is perfect for either a dining room or breakfast nook. You'll find this circular, stem-like table type is a great choice for entryways and reading nooks as well.
If you are wondering which shape is best for a dining table, well the answer depends on your needs. For larger gatherings, a rectangular-shaped table is more common and useful. A rectangular table accommodates more people at a table. So if you have the space then a rectangular table will fit larger groups of people.
Consider a round table for a small space or apartment living. Although round tables have less capacity, they easily fit into a smaller space. A round table also provides a more intimate dining experience since family and guests are sitting closer together. So when entertaining larger crowds use a rectangular table. Use a round table for entertaining smaller intimate groups.
If space is not an issue then you may wonder which shape of dining room table is best? That depends on your personal preference.
Round tables save more space and fit easily into breakfast nooks or a reading nook. The most common table shapes are rectangles and round shapes. With oval shape being third and requiring a bit more room than a round table. Ultimately, the selection of your dining room table is dependent on your room space and personal needs.
The White Tulip Tables – Sturdy, Stable, and Solid?
In case you are wondering whether the tulip table is solid for a dining table. Well, the answer is yes. The tulip table is not only sturdy but stable too. The solid base made from molded cast aluminum ensures this table is a solid choice for a dinner table. You'll find that the tulip table is not wobbly at all. However, be aware that some tulip-shaped tables made by other companies than the Knoll Company may use lower-quality materials. Low-cost materials such as lower-grade fiberglass may not be as stable and could lead to a wobbly table. Be sure to check the quality of the table. And always be aware of what the return policy is if you are not satisfied with the table you purchased.
Make the Most of a Small Dining Room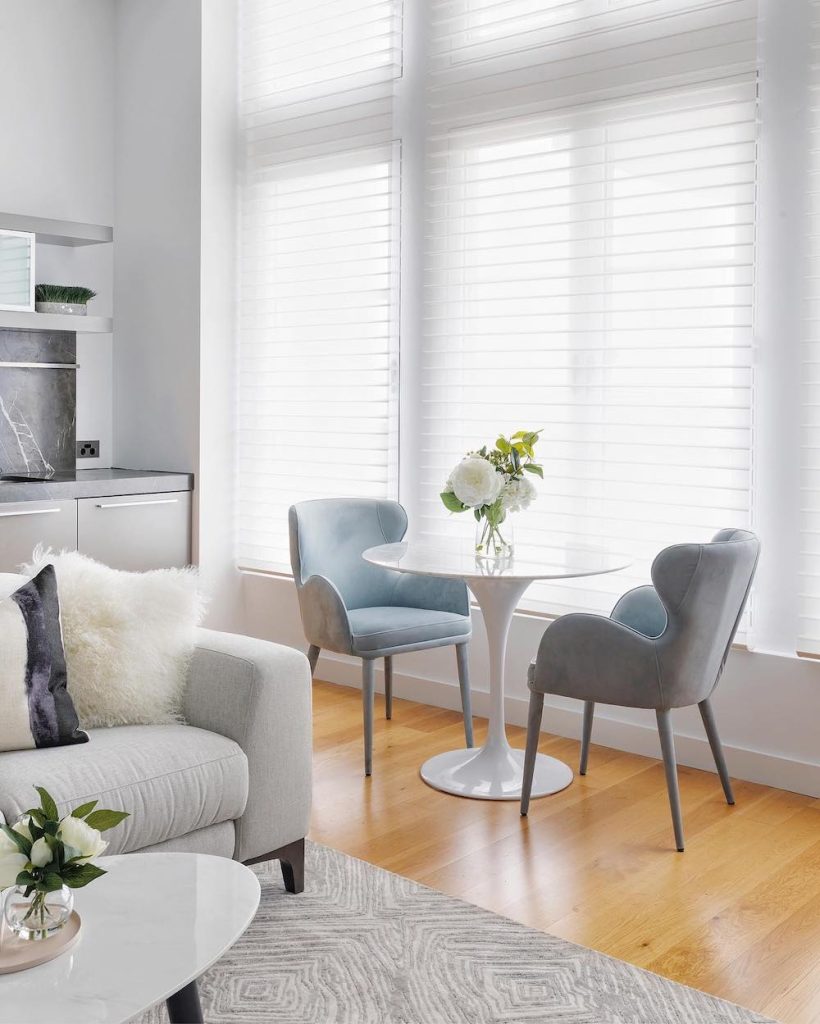 Style your small space dining room by using a round table. Consider a banquette of built-in seats against a wall. This is in place of using individual chairs. A banquette creates a more intimate dining atmosphere. Another option to consider is using a bench rather than individual chairs that require more space.
Hang mirrors to give your dining room the appearance of open space. Mirrors bring in natural light from outdoors if placed near a window. Use lighting that will brighten your dining room so that it'll appear as open space. The tulip table brings big style to a small space.
Keep in Modern – Tulip Tables
In today's post, we are sharing the best tulip tables in white for your breakfast nook or dining room. Tables with a sleek, modern style that has become a symbol of modernism over the last 60 years.
In our effort to select the best tulip tables in white from online sources, we searched numerous resources for the most stylish tables. We found some incredible dining tables that we are certain you are going to love. Below is our list of gorgeous tulip tables in white that will bring a sleek and stylish look to your home. Take a look. Drop us a comment below in the comment section. Let us know about your favorite dining table.

This ends our list of white tulip tables for your home. Style your home with a tulip table for a timeless and modern style. Take a look at our other posts for home decor inspiration. Be sure to tell us about your home decor projects in the comments below. We always love hearing from our readers.
Enjoy our other home decor posts for additional ideas.
Are you interested in a different type of home decor for your home? Try these posts for additional decoration ideas.
Coastal Dining Tables
Wishbone dining chairs
Coastal dining chairs
Reach out to us with any questions. We are always ready to help you out. Thank you for dropping by and taking a look at our blog.
Mary
Pin this for Later: