Mid-century modern loveseats with sleek, clean lines are why this design remains popular to this day. Sofas covered in solid colors in shades of brown, tan, grey, or neutrals are much sought after to recreate the mid-century decor style. Along with the sleek look of mid-century modern, the furniture construction has a squarish, retro design. This design style was initially introduced in the 1950s and 1960s. Without a doubt, it is still very much in demand today.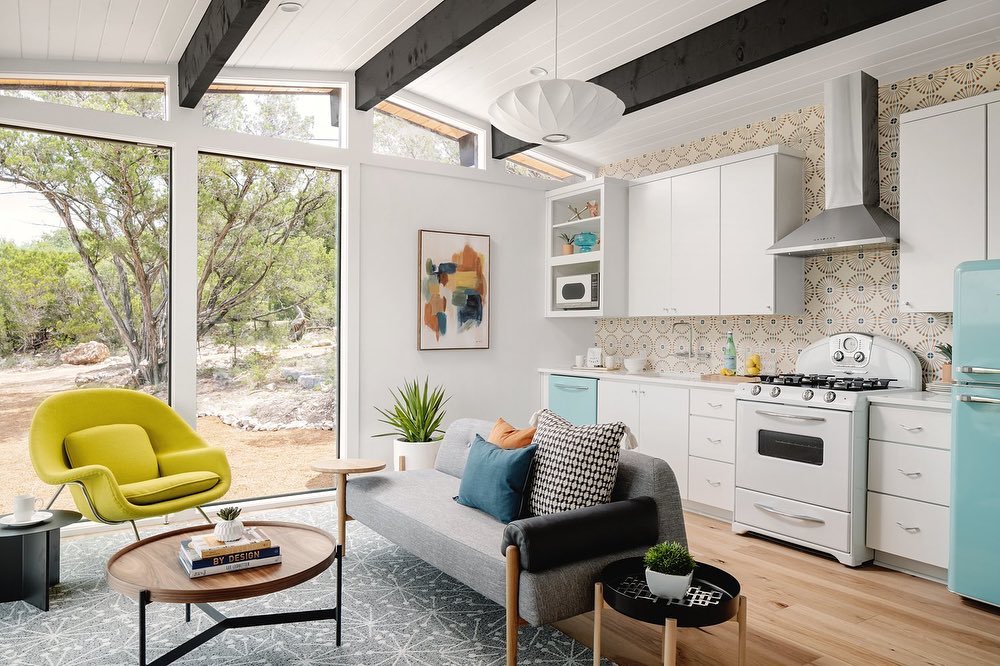 In today's post, we are sharing mid-century modern loveseat sofas. These loveseat sofa designs step back in time to the days of Mad Men. One of the things you notice about many of these sofa loveseats is the sofa legs. Tapered leg supports were popular with this look. Made from natural wood finishes as well as metal finishes. Gone are the traditional and sometimes highly ornate sofa leg supports. This modern style is sleek, simple, and clean.
Give it Clean Lines – Mid-Century Modern Loveseats
Over the years, there have been many names for a loveseat. Some of these include tete-a-tete, vis-a-vis, love seat, courting chair, or mini-sofa. The two-person couch was originally designed to hold two people. Included was an upholstered frame with two side arms and a backside.
Initially, there were two styles of these loveseats. First, a British two-seater with two upholstered seats. Second, was known as a tete-a-tete, courting bench, kissing bench, gossip's chair, or conversation bench. This second style allowed the sofa's occupants to speak directly facing each other. Yet they remained within reach of one another.
Select From a Range of Sizes – Mid-Century Modern Loveseats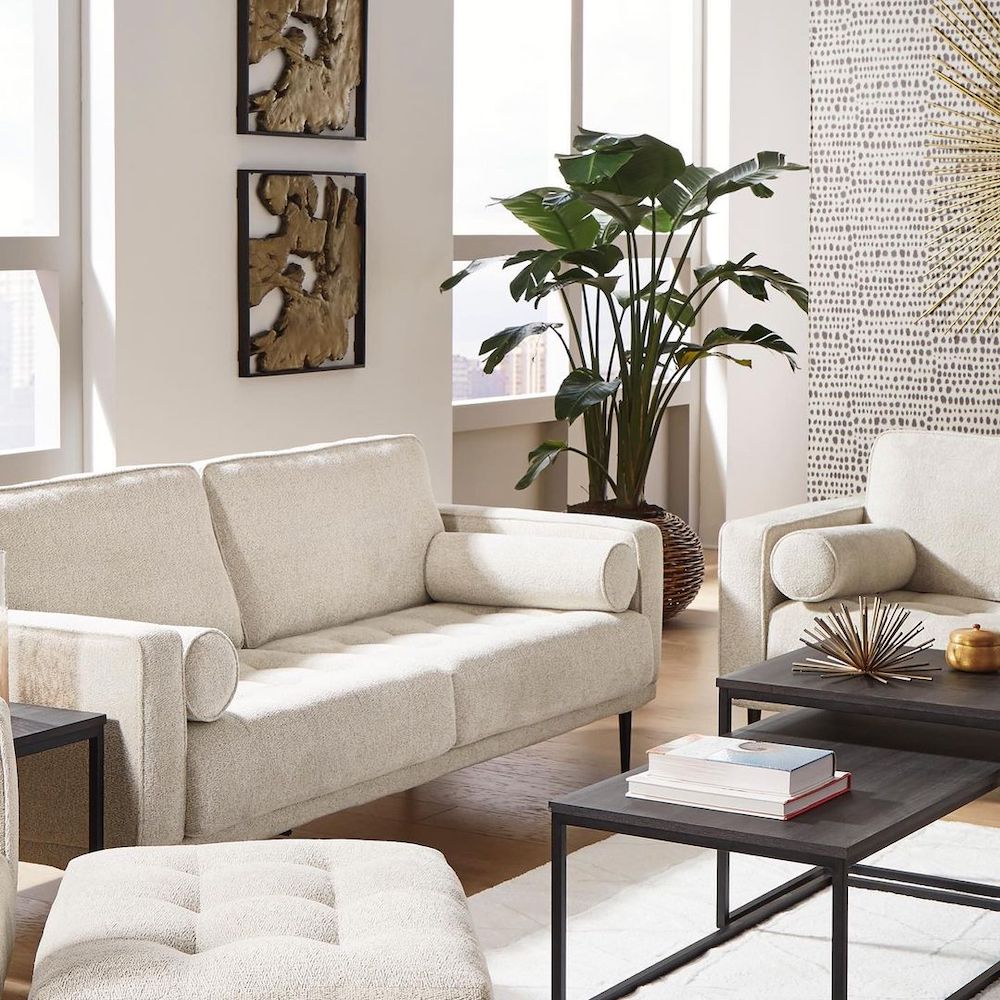 The beginnings of the loveseat or mini-sofa began as a place for a couple. Through the years, this smaller-scaled sofa has been made in a wide range of sizes. A small love seat is called a settee or a small sofa with two side arms and a backside. The settee is more slender than a loveseat. The beginnings of a settee were an upholstered frame but today, settees are found with finished wooden armrests and backsides. One big difference between a settee and a love seat is that a loveseat can have a lower back or a backless seat. A settee will always have a backside and can seat up to 3 people.
Select a loveseat that ranges from 52 to over 71 inches wide or long. Pick a shorter small loveseat that is about 52 inches wide. Or a medium loveseat that is around 58 inches wide. Choose a larger loveseat from ranges between 64 and up to 71 inches long. Seating with narrower widths of 45 to 51 inches is single seating. Remember these are loveseat average width sizes.
If you are searching for the smallest loveseat size, it can be as small as 48 inches wide with a seat depth of about 36 inches. Pick a loveseat with a seat depth of 28 inches in various widths for small space living. This includes apartments, smaller houses, and older homes that can have non-standard size rooms.
Comparisons Between a Sofa and a Loveseat
When comparing sofas and a loveseat, you'll notice size differences immediately. The width, height, and depth of the seating are different for sofas and loveseats. Loveseats tend to be shorter in length or width but the same height and depth as a sofa. Simply stated, a regular-sized sofa can seat four or more people. On a loveseat, you can seat two people comfortably.
Size for Small Space Living – Mid-Century Modern Loveseats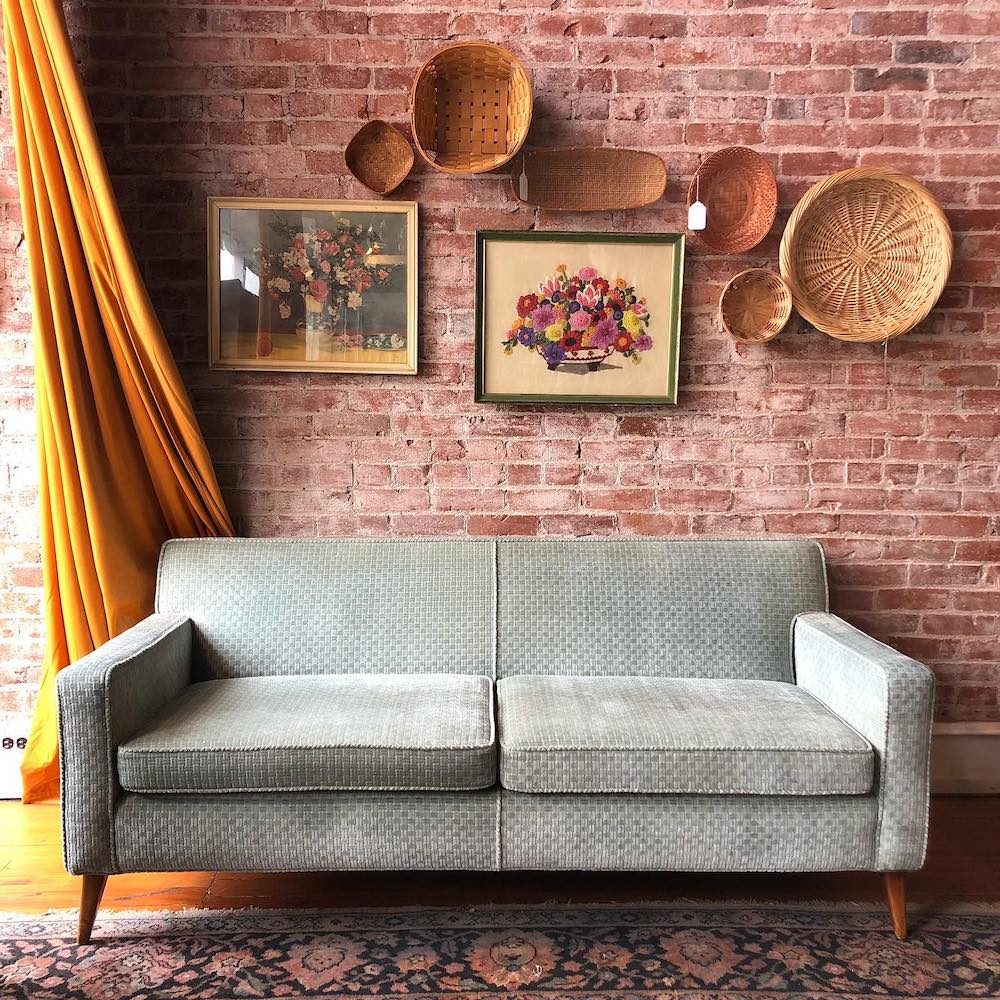 Select the best sofa for a small living room with these tips. Consider a loveseat as the right solution for small spaces and smaller living rooms. Loveseats fit into smaller spaces since a loveseat tends to be not as long. Squeeze a loveseat into smaller areas and spaces that are non-standard in size. Substitute a loveseat for a sofa when space is limited in places such as an apartment. Likewise in a bedroom where seating is limited, swap a chaise lounge or side chair with a loveseat. Drop a loveseat in a reading nook or corner space for some curl-up comfort and downtime. Make a small space just as stylish as the rest of your home. And remember there are numerous ways to use a loveseat.
Trade a loveseat with a full-size sofa in a living room. Create a more intimate setting in a living room by using loveseats. Place two loveseats facing each other or perpendicular to one another in the same room. Find these mini-sofas online in sizes that range from 52 to 71 inches long or wide.
Think about a sleeper sofa for overnight houseguests when you have fewer bedrooms. Include a space-saving sleeper sofa in your home as an alternative to pricey and expensive hotel stays.
Make it Full Size or Mini Size
Designed for large rooms and homes in mind, the full-size sofa fits four guests or more. Made for large group gatherings sofas are perfect for entertaining. Whereas a loveseat comfortably seats two people at most. The purpose of a loveseat was to provide a special place for a couple to meet. Remember the room layout before ordering a loveseat. Maintain a safe distance between furniture.
Always allow between 30 to 36 inches between the sofa and other seating. Encourage conversation at this distance while at the same time allowing enough space to walk between seating. Keep a distance of 14 to 18 inches between the sofa and coffee table for ease in reaching drinks.
Style it Sleek – Mid-Century Modern Loveseats
In our quest to bring you the best, we searched numerous online resources for loveseats with mid-century modern vibes. And as luck would have it, we found some gorgeous loveseats. Here is our list of loveseats with classic mid-century neutral shades. So perfect for hosting houseguests throughout the year. Take a look. Drop us a comment below in the comment section. Let us know about your home decor projects.
This ends our list of loveseats for your home. Offer your houseguests a comfy, stylish loveseat sofa with mid-century modern style. Be sure to take a look at our other posts for home decor inspiration. Tell us about your home decor projects in the comments below. We always love hearing from our readers.
Enjoy our other sofa home decor posts for additional ideas.
Are you interested in a different type of sofa or loveseat for your home? Try these posts for additional sofa ideas.
Coastal White sofas
Blue and White striped sofas
Coastal Loveseats
Rolled Arm Loveseats
Wicker Patio Sofas
Sofa beds
Coastal sofas with chaise lounge
Classic white sofas
Reach out to us with any questions. We are always ready to help you out. Thank you for dropping by and taking a look at our blog.
Mary
Pin this for Later: