Searching for blue and white striped sofas for a coastal home? Even though there are several popular fabric colors of coastal sofas, the striped sofa in blue and white is distinctive. A striped sofa in blue and white transforms a room into a casual yet stylish home. In today's post, we are sharing coastal sofas with blue and white stripes. And without a doubt, you'll agree that these sofas look amazing for a beach or summer home.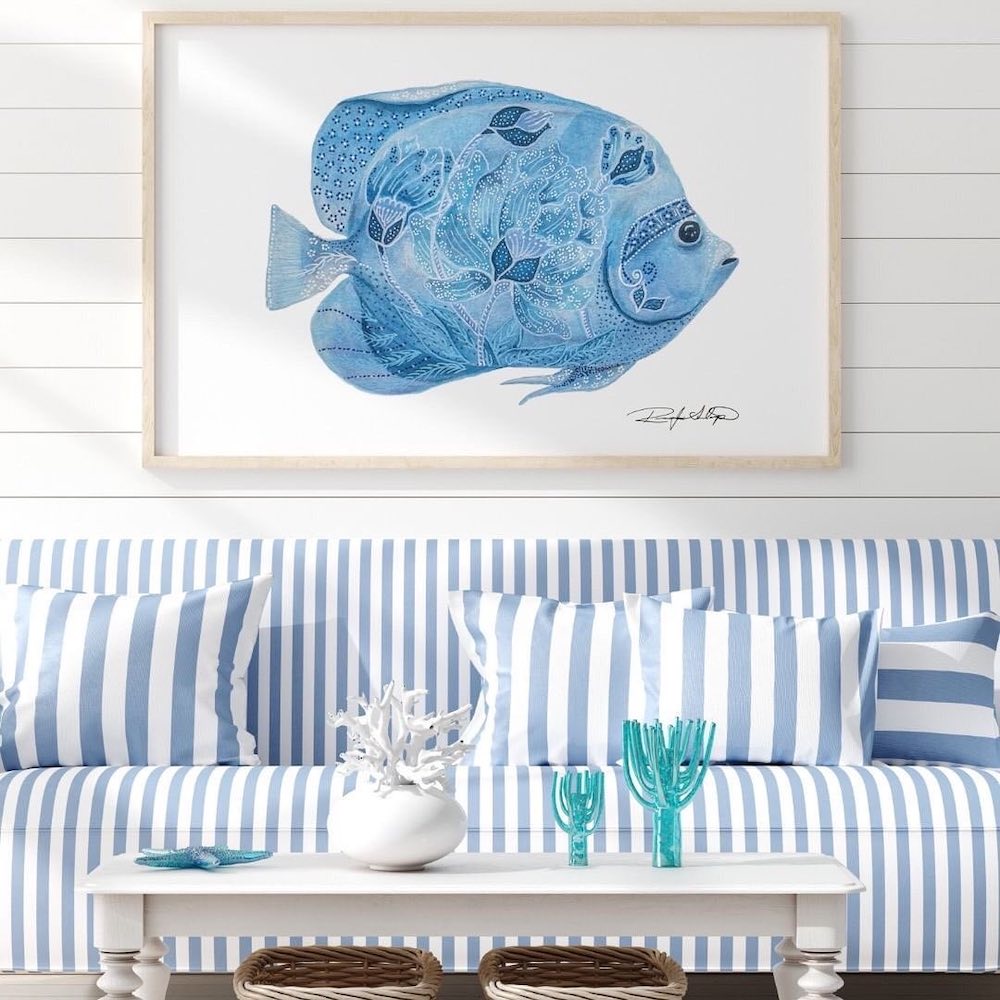 Striped sofas with the colors of blue and white can be found in every stripe size. From bold, wider stripes to pinstripes and every stripe width in between. And as you would expect, these sofas are available in a variety of blue shades. Select from the palest of blues to navy blue striped sofas. Many of these fabrics are made from performance materials that can withstand a family's daily mishaps.   
Select the Right Sofa Size – Blue and White Striped Sofas
Our coastal sofas list includes 16 sofas in a variety of styles. And each of our favorite sofa picks have blue and white stripes. Included in our list are full-size sofas and loveseats. Loveseats are a great option for those who live in either apartments or small spaces. You'll also find certified nontoxic sofas made from materials that are not harmful to indoor air quality. In fact, the certified nontoxic sofa materials contribute to healthier indoor air quality. We are all for good indoor air quality.
Now onto our favorite sofa picks. Below are our favorite coastal sofa picks with blue and white stripes. And all are perfect for a living, family, or guest room. Take a look and find the sofa of your dreams!

Design a living room for family and friends to gather for family events and celebrations. A room that you love. Create a comfortable living room setting to enjoy every day. Add end tables, table lamps, and a coffee table to complete your living room. Hang wall art or a mirror to create more visual interest. The possibilities are endless.
In Closing – Coastal Striped Sofas
Our list of favorite coastal striped sofa picks in blue and white has ended. Perfect sofas for a coastal or Summer home. We hope that this list was helpful to you. And helps you with your coastal sofa selection.
As an additional resource for you, be sure to check out our coastal decor post with helpful decorating tips. Take a look at our 12 Ways to Add Coastal Decor to your Home post. And for additional coastal home decorating inspiration, check out our other coastal decor posts below.
Enjoy our other coastal related posts for additional ideas.
Reach out to us with any questions. We are always ready to help you out. Thank you for stopping by our blog.
Mary
Pin this for Later: