Modern Farmhouse Style DIY Christmas Door Decorations for a Festive Look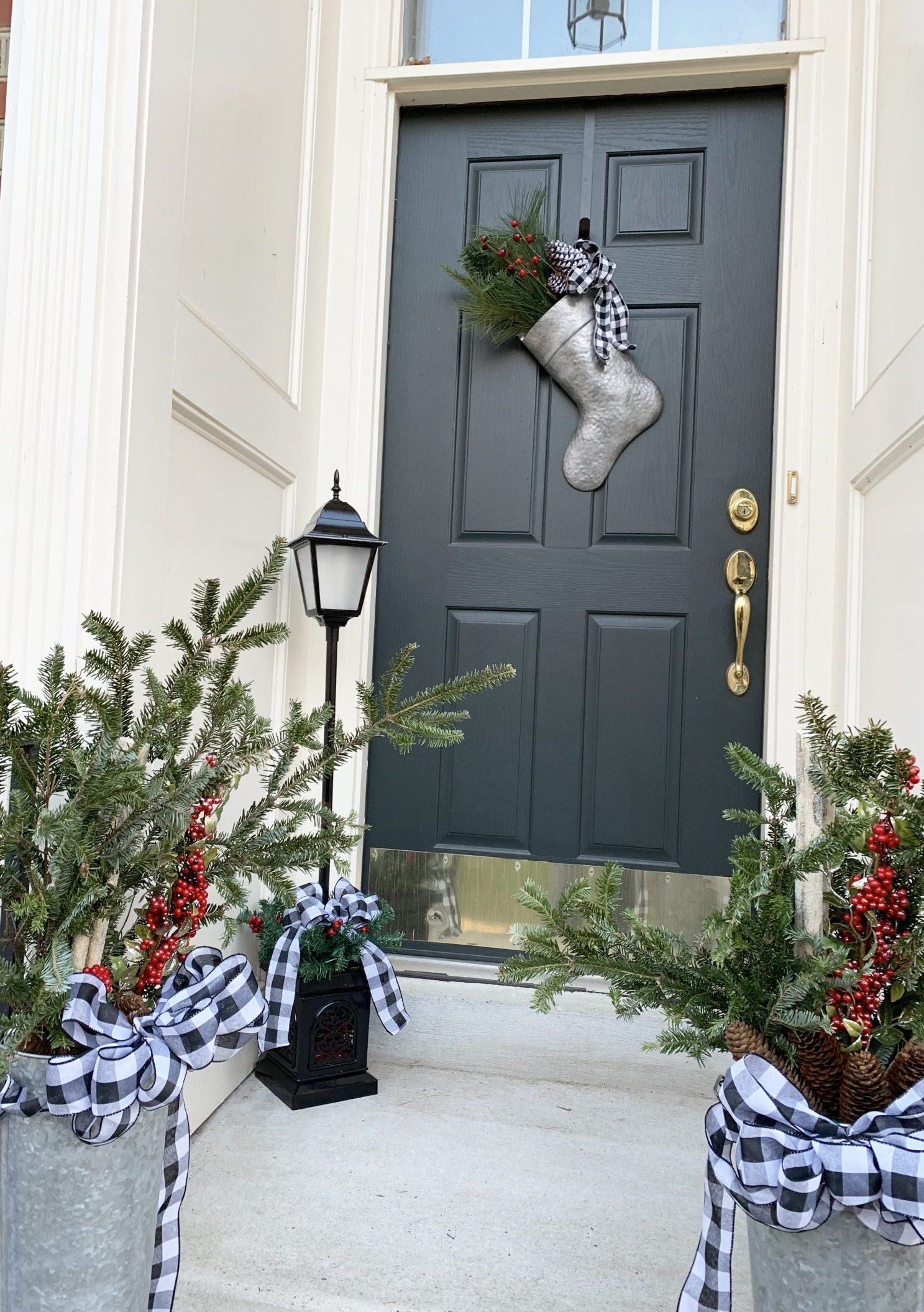 Farmhouse style DIY Christmas Door Decorations that are quick and easy, take a look at these ideas. They add a lovely modern farmhouse style to our front door decor.  
DIY Christmas Door Decorations – Galvanized Stocking Filled with Faux Greenery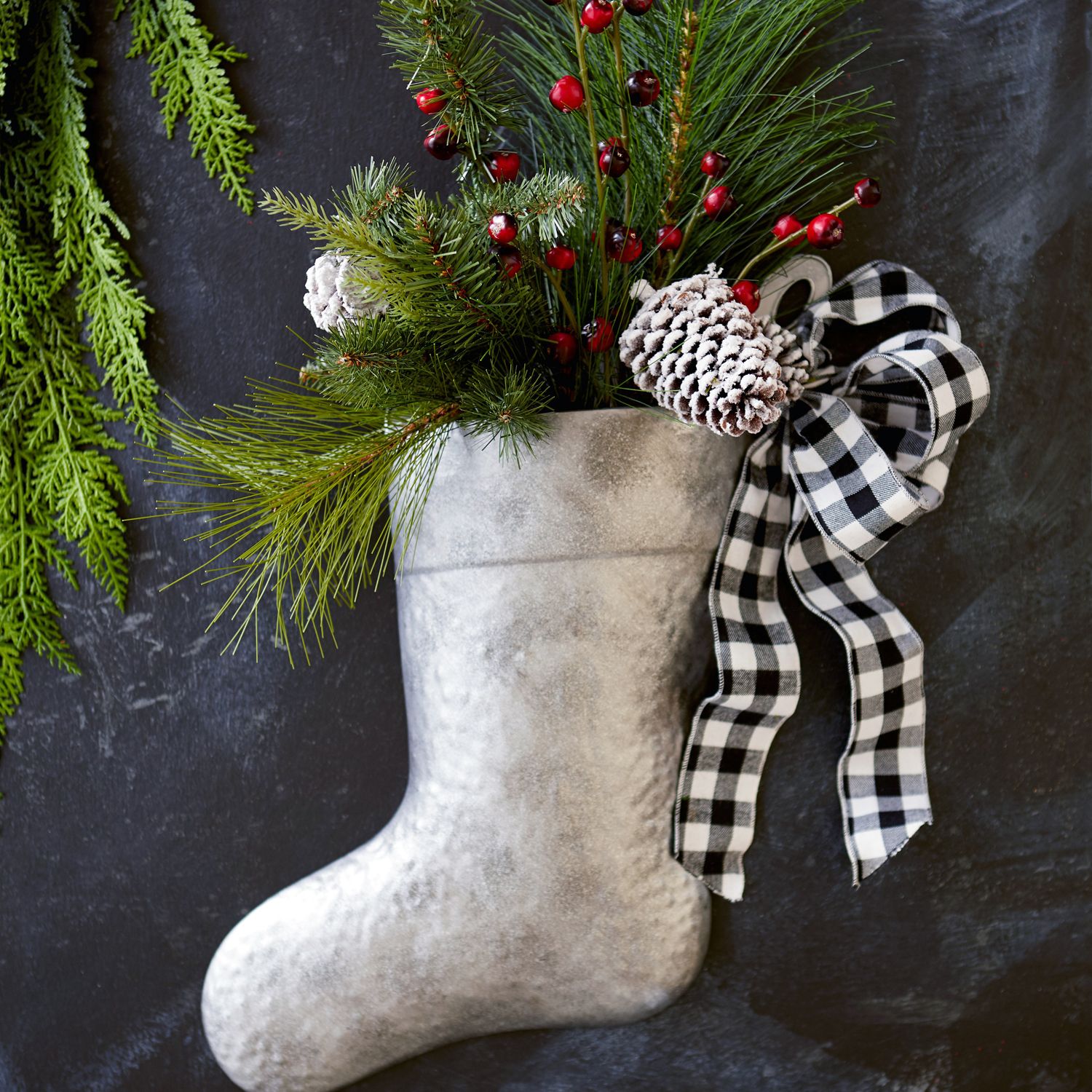 We began by adding a Galvanized Stocking filled with faux pine greenery, pine cones, and red berries. Snow covered pine cones brightens the front door. A black and white buffalo plaid bow finishes off this stocking nicely. Against our black door the galvanized metal stocking is striking. Adding the right festive look to the front door. We just might tuck a few candy canes into this stocking for our younger guests. Pretty sure our youngest guests will find these Christmas treats as they walk into our home. We love surprising and delighting our young family guests.
Although the galvanized stocking has a handcrafted door hanger, it did not fit our over the door wreath hook. We attached floral wire to the galvanized stocking. Then tied the stocking to the over the door hook. The florist wire seems to work well to support the galvanized stocking on the front door. Tucked in and sheltered from the direct elements of the weather, the stocking should be fine on the front door.
DIY Christmas Door Decorations – Christmas Lamp Post
Next, we added a Holiday Time 4 foot Christmas Lamp Post by the front door. The Christmas Lamp Post has a decorative plastic pot for the base. Filled with greenery, pine cones, and red berries the base is lighted. The lamp post is a bronze red color.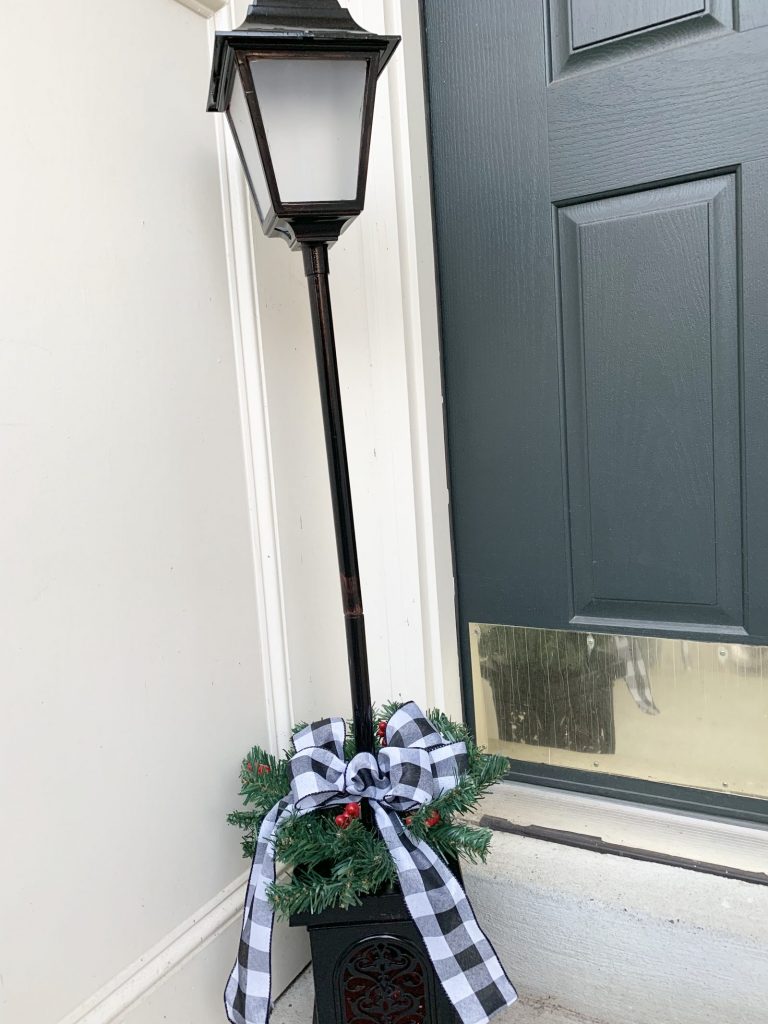 The Christmas Lamp Post was purchased the previous year at a Walmart after Christmas sale. Over the Summer months, we painted the lamp post black. The original color of bronze red didn't appeal to us. Bronze red would have been a difficult color for us to mix into our decor. A black Christmas lamp post fits in so much better with the front door decor. We added the black and white buffalo plaid ribbon to the lamp post. Found at Michaels, the bow is made from a 2 ½ wide wire edged ribbon in black and white buffalo plaid.
DIY Christmas Door Decorations – Christmas Birch Buckets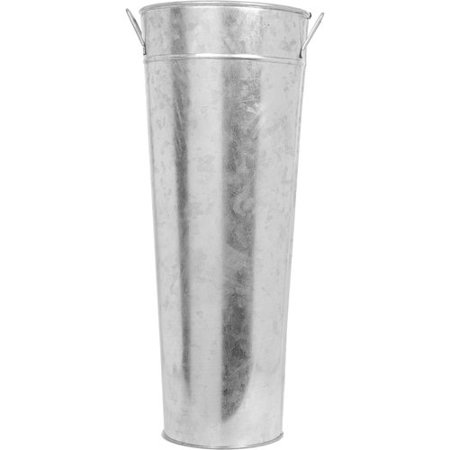 We added two Christmas Birch Buckets to the front door entryway. Instructions can be found in the 5 Minute Christmas Birch Bucket tutorial by Kim Power Style. We found two galvanized French buckets at Walmart by Elegant Expressions. The galvanized French buckets we used were taller than those in the birch bucket tutorial. Our french buckets are about 22 inches tall. The cost for each French bucket was $15.88 each.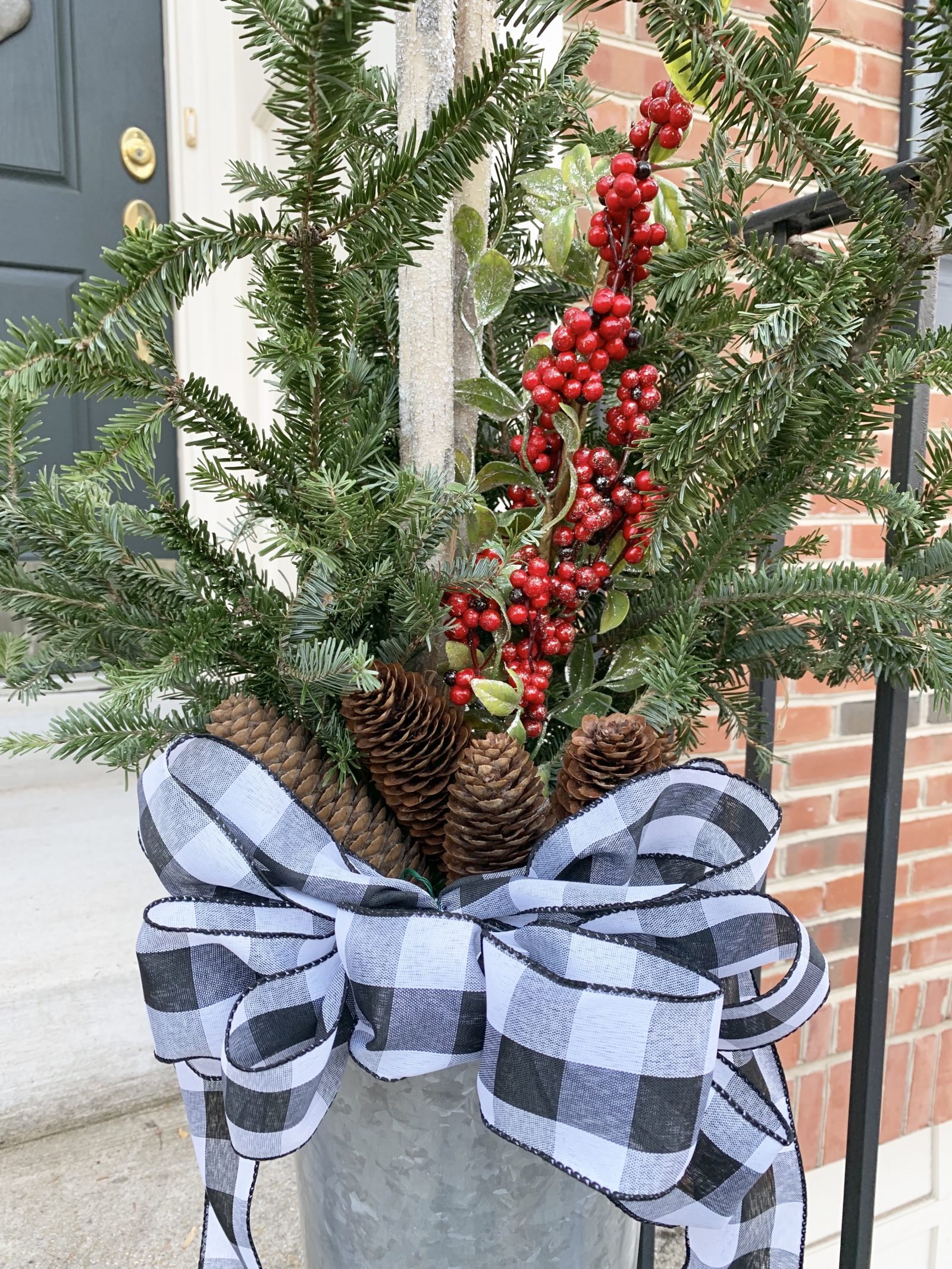 Because these French buckets were taller, we added some cardboard strips to the base. In addition, we place some packing paper above the cardboard strips. Having left over branches from our fresh Christmas tree, we divided the branches into two groups. We picked up two faux birch log sets and two holly stems with red berries from Lowe's.
Assemble the Evergreens, Birch Logs, and Holly with Red Berries
First, we grouped the fresh evergreen branches with the faux birch logs, and a holly stem. We secured wrapped the greenery with florist wire. Next, we wrapped the faux birch logs and the holly stem to the greenery. Since the birch logs were of similar lengths and widths, we arranged the birch logs at the same height. If I had full size birch logs, I would have staggered the birch logs like the tutorial did. Using the faux birch logs and holly stem, kept the cost of the Christmas birch buckets to a minimum. 
We placed the two sets of wired birch logs, holly, and evergreens in each of the two French buckets. Then wrapped tissue paper around the greenery bunches. The wrapped tissue paper helps keep the greenery bunches centered and in place. It also acts as a support for whatever items are used to fill the top of the bucket with. Items such as pine cones, ornaments, galvanized decor, or pathway markers can be added to the buckets.  
Finishing off the Birch Buckets
Since we are pine cone rich, we topped off the birch buckets with pine cones. We have a large mature pine tree that produces lots and lots of pine cones. Most of the pine cones are a good size, about 5 to 6 inches long. So, we are able to use pine cones in many projects. 
To finish the look, we added a black and white buffalo plaid bow to each birch bucket. The black and white buffalo plaid bows tie all three front door decorations together.
DIY Christmas Door Decorations – other ideas
In the 5 Minute Christmas Birch Bucket, Kim used three mercury ornaments. One red and two silver mercury ornaments on the surface of the birch bucket. I substituted the red mercury ornament with the red berries and holly stem. Since I added the buffalo plaid ribbon, we didn't use any silver mercury ornaments. Kim's Christmas Birch Bucket is a great inspiration for all of us. If we use what we have on hand or what is within our budget, we can keep costs low.  
There are many ideas that come to mind, when I envision these Christmas birch buckets. Many variations of the Christmas Birch Buckets that can be used. Here are a two ideas.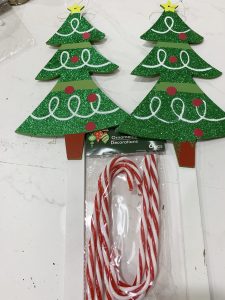 Add Christmas Trees pathway markers to a Christmas Birch Bucket. These two markers have glitter which adds some sparkle to the birch buckets. Candy Canes are another option to add to the bucket. Both of these were picked up at the Dollar Store.
You May Also Enjoy . . . .
Some of our other decor related posts.
Two Collections of Free Printable Gift Tags for Christmas  
5 Collections of Free Printable Christmas Gift Tags
9 Christmas Front Door Decorations to Greet Your Holiday Guests
28 Christmas Centerpieces to Welcome House Guests
9 Affordable Farmhouse Tiered Stands
18 Amaryllis Christmas Gifts For Giving  
DIY Christmas Door Decorations
These are a few ideas to add modern farmhouse style to DIY Christmas door decorations. Once you've gathered the DIY decor supplies, these decorations won't take much time to assemble. They are quick and easy steps for adding some festive decor to your front door for the Christmas season.
Keep your costs low by using last years' Christmas accessories when possible. The beauty of DIY is that it allows you to maintain control over your costs. DIY Christmas door decorations enables you to put your personal decorating style on your Christmas decor. This is especially helpful when you are short on time. Spend more time with family and friends this Christmas season with these quick and easy Christmas door decorations. 
If you have some favorite DIY Christmas door decorations let us know. Consider sharing your holiday front door tips with us. And if you try any of these DIY Christmas door decorations, let us know how you make out! And thanks for dropping by!  
Mary