Build bee hotels to increase the wildlife value of your home. If you are thinking about adding a habitat to support native bees in your garden, it is worth the effort. Building a bee hotel is easier than you think and affordable. With the loss of many acres of forestland including wildlife habitats, it is a worthwhile project to take on.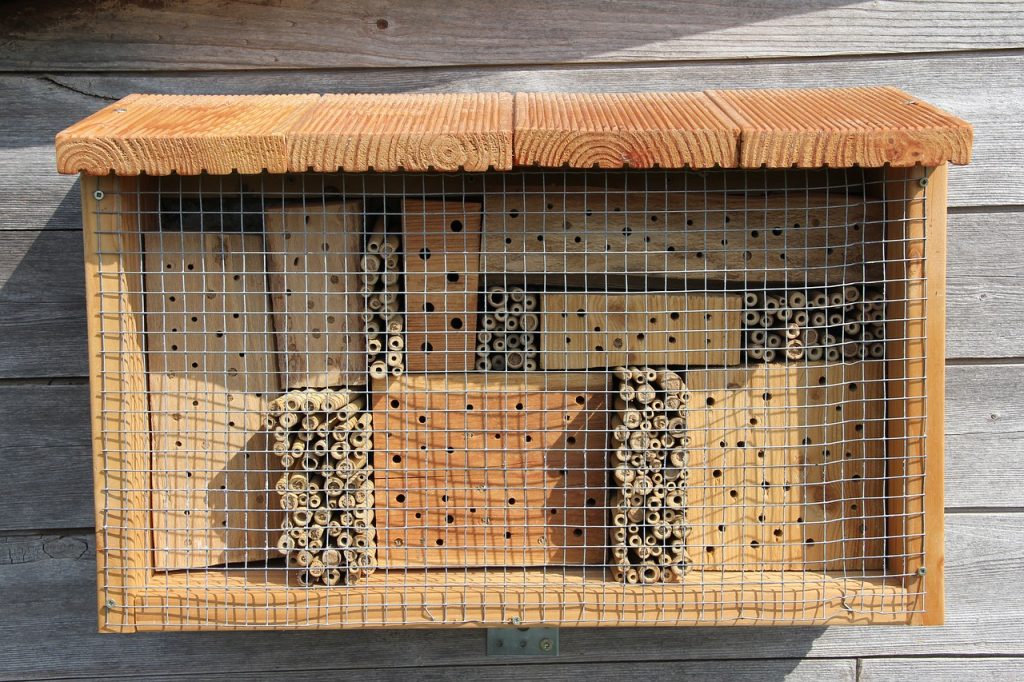 There are many ways to build bee hotels. Using supplies that you may already have on hand will save you money. A few of the supplies you'll need are wood and wood building supplies. Plus items from your garden such as reeds or bamboo stems. The size of the bee hotel is up to you. It can be as big or small or elaborate as you would like. Some communities have built large, free-standing bee hotels. Others have built bee hotels that are smaller and attached to a pole. Some have installed the hotels under the eaves of a garage or shed. Bee hotels provide shelter for bees to nest in or even take a quick break.
Build Bee Hotels – Basic Supply List
We've included a basic supply list to build bee hotels. This can give you an idea of the tools you'll need. Take a look.
Scrap Wood – Rummage through your garage. Search for leftover pieces of untreated scrap wood. The scrap wood can be used to create a frame for the bee hotel.  
Measuring tape – Measure the untreated, scrap wood. Mark the wood where it will be cut using a pencil.
Saw – Hand saw or a miter saw for cutting the wood scraps.
Drill or Drill Press – Use a drill for making holes in the wood for cavity nesting bees. A drill press will save you some time.
Nails or Screws – Nails or screws are used for assembling the frame.
Sandpaper – Sandpaper with a high grit number for hand sanding any rough edges.
Plant Material – Collect bamboo, hollow reeds, grasses, and stems from your yard. These will be used as bee nesting materials. Elderberry and Joe Pye weed have hollow stocks that can be used too. All reeds and stems should have different size hollow openings.
Yard or String – Yard or string is used to secure the stems and reeds in bundles. 
Chicken wire or poultry netting – Chicken wire is used to prevent predators from entering the bee hotel.  
Plastic soda bottle – Wash and clean the plastic soda bottle before using.
Shears or heavy duty scissors – Shears or scissors can be used to cut the chicken wire. If you use a plastic soda bottle, it will need to be cut as well.
Wire or rope – You will need wire or rope to attach to the bee hotel. The purpose is to hang the hotel from this wire or rope.
Metal or Wood Post – If you will not be attaching your bee hotel to a shed or garage, then you'll need a some type of post.
Build Bee Hotels – DIY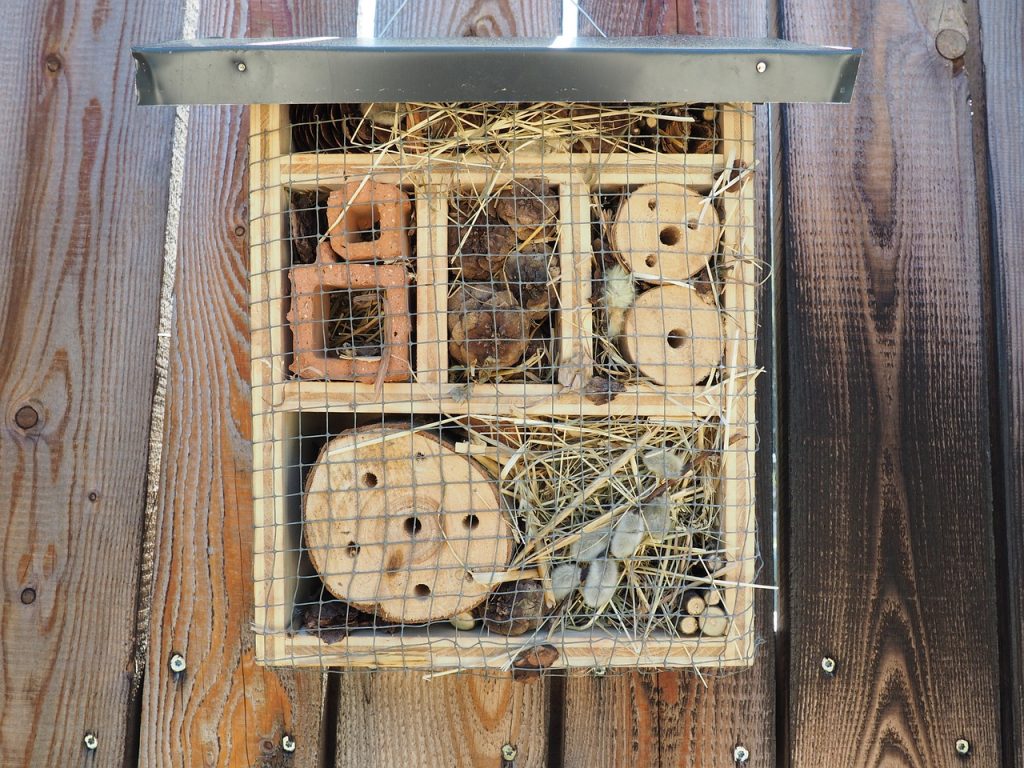 Bee Houses Instructions
Some bees burrow in the soil, some shelter in hives, or decaying trees. Some solitary bees burrow in the ground, others nest in cavities of the wood. Solitary bees that burrow in the ground are mining bees. Cavity nesting bees are bees that will nest in wood houses. To encourage cavity nesting bees to nest in your garden, build one of the caving nesting shelters below. A safe place for rest and to nest in. These are a few DIY bee nesting ideas. Maybe you'll see one you like? Take a look at these DIY nesting homes and let us know what you think.  
Simple Bee Block
Make a simple bee wood block to house bees. Use untreated scrap lumber that is between 3 to 5 inches thick. Drill holes using a drill bit between ⅛" to 5/16″ in diameter. Drilled holes should be drilled about 90 percent into the wooden block. Space holes about ½" to ¾" apart. The scrap lumber can be any length. If you use wood that is less than 12 inches long, use clamps to secure the wood before drilling holes. Having access to a drill press will make it easier to drill holes.
For orchard bees that pollinate fruit trees, select a drill bit that is 5/16″ diameter. Protect the bee block from direct Sun and rain. Hang the bee block under the eaves of your garage or garden shed. See the Build Bee Hotels – Placement of Hotels section below for tips on placing the bee block.     
Hanging Bee Shelter
Build a self-supporting hanging bee shelter. Use an old wooden post about 4" x 6" to 6" x 6" (pine is a softer wood). Use a drill with drill bits ranging in sizes from ¼" to ⅜". Cut the wooden post between 8" to 12" in length. Drill holes between 3″ to 5" deep into the post alternating with the different drill bit sizes. Distance between each hole should be about ¾" to 1" apart. See the Build Bee Hotels – Placement of Hotels section below for placement tips. 
Hanging Bundle of Sticks
Build a hanging bundle of sticks for cavity nesting bees. Use small hollow sticks like elderberry, Joe Pye weed, and bamboo. You can use dark colored paper straws if you don't have hollow sticks. Seal one end of the small hollow sticks or paper straws. Bundle the hollow sticks or paper straws together. Use either string or yard to bundle the sticks or straws. Hang in a Sun filled spot but not from a tree. The sticks or paper straws should be laid in a horizontal position so that the contents do not spill out. Protect from the rain and predators.   
Multi-level Bee Hotel
Some bee hotels are created with multiple levels or sections. The box or hotel can be any size. Bee hotels many times have multiple levels or sections. They have a sturdy roof for protection from the weather elements. The wooden frame is packed with straw, bark, leaves, pine cones, yarn, cloth fibers, or bamboo cane bits for nesting. There are groups of hollow stems bound in varying widths. Bee boxes can be installed on an existing fence or wall. These structures will be inhabited by solitary bees as shelter or over winter hibernation.    
USDA, The Forest Services – Bee Condo
An easy to make "Bee Condo" for native bees is the Home-made Sweet Home. Instructions are provided by the US Department of Agriculture, Forest Services. This example uses bamboo or reeds for cavity nesting bees.
National Geographic Society – Build Your Own Wild Bee Hotel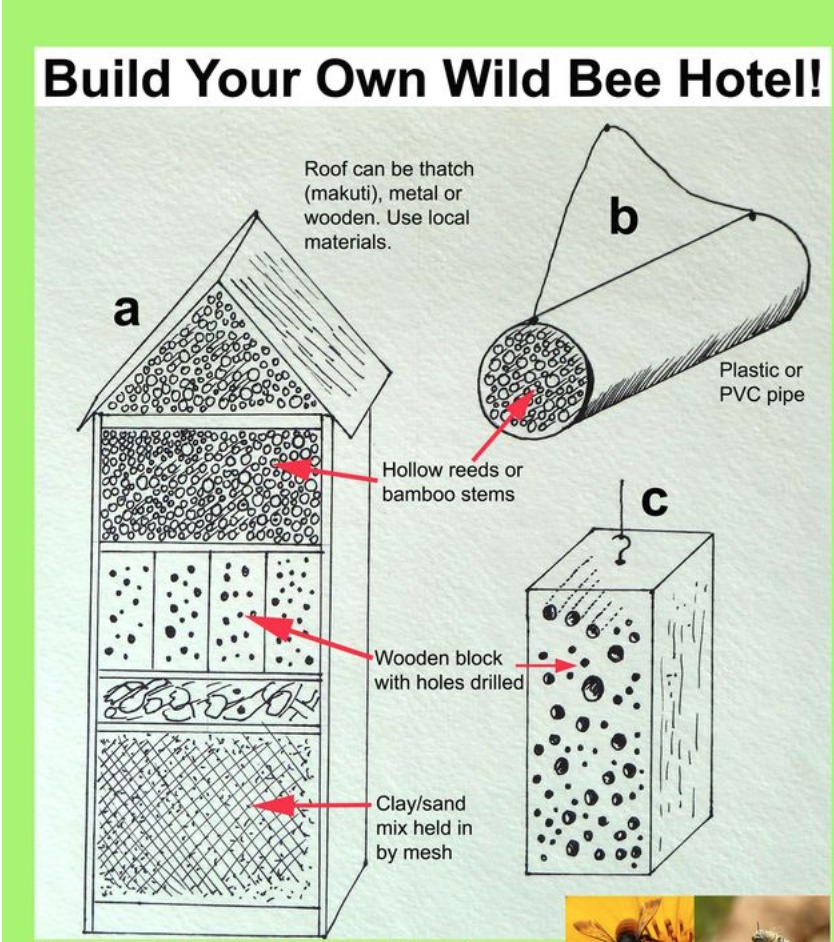 National Geographic Society provides instructions to Build Your Own Wild Bee Hotel. Three set of instructions are provided. You can make a deluxe "bee hotel", a PVC plastic pipe bee habitat, or a wooden block to use as a nesting site.
HoneyBee Conservancy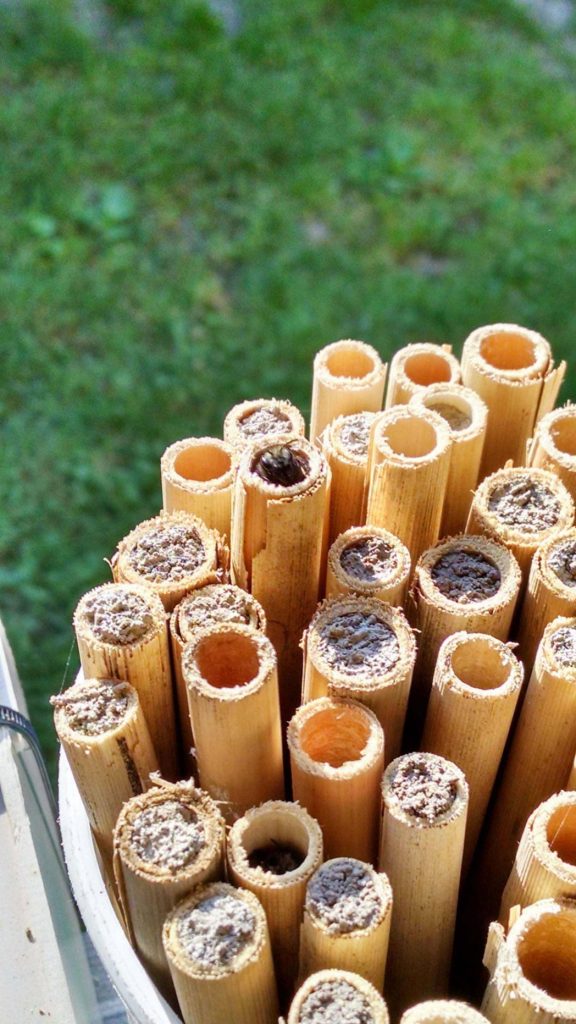 The HoneyBee Conservancy offers some insightful information about hole-nesting Bees. There is additional information available on their website. Some of the topics include Get to Know Wild Bee Hotels. Read about Tips for 5-Star Wild Bee Hotels. To Build Great Bee Hotels Get to Know Wild Hole-Nesting Bees. What's Inside a Hole-Nesting Bee's Nest. And 6 Design Tips for Successful Bee Hotels. A must read for those interested in building a bee nest.   
National Wildlife Federation – Bee House instructions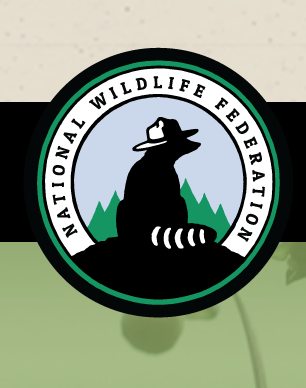 The National Wildlife Federation in Merrifield, Virginia provides information about the orchard mason bee. Bee House instructions are also included.    
Friends of the Earth – Build Bee Hotel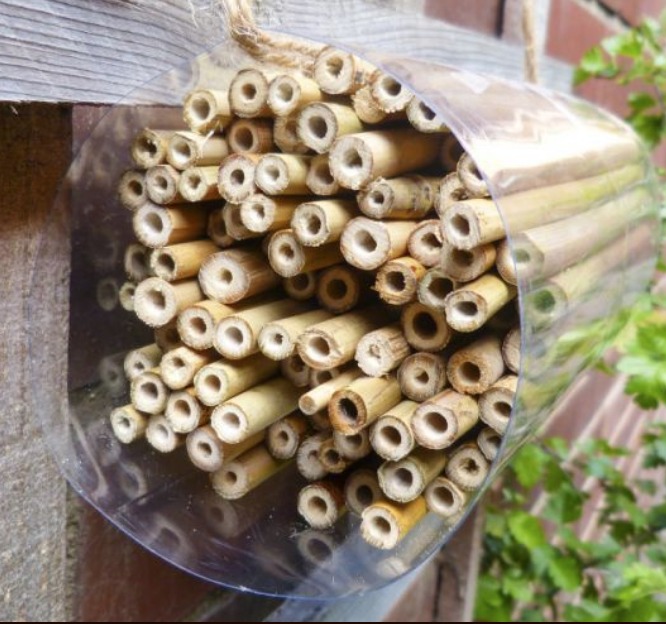 Friends of the Earth offer Build a Bee Hotel, How to Make a Bee House information. They provide instructions for building a bee hotel using a plastic bottle and twigs or stems.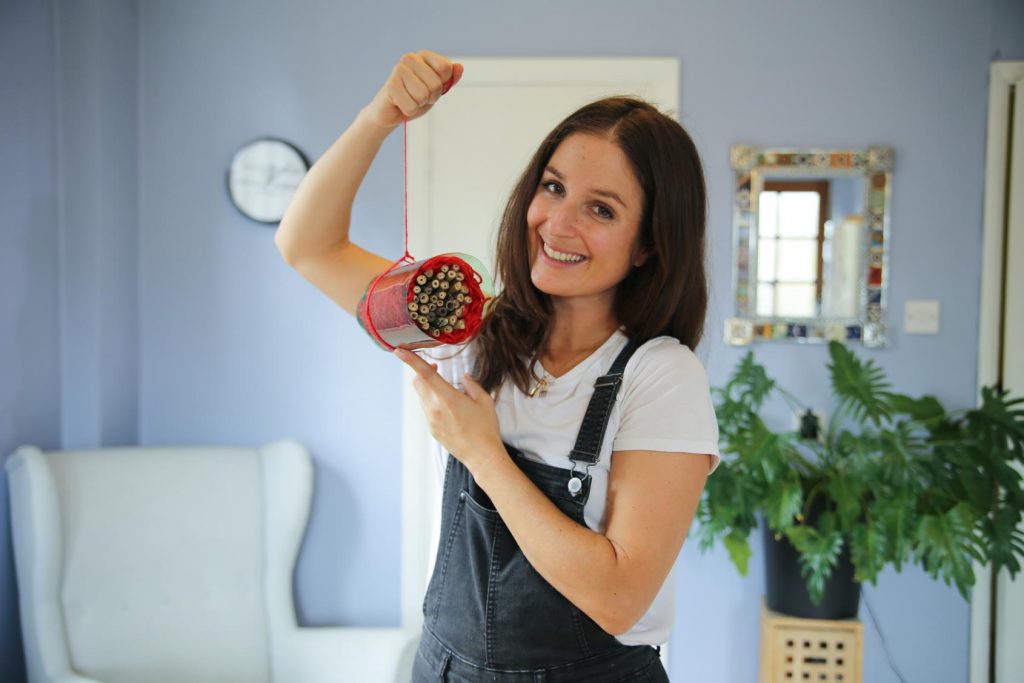 Grow Wild provides fun facts about Solitary Bees. You'll find information about the importance of Solitary Bees. A step-by-step guide with Hannah Grows is included for building a cavity nesting bee house using a Soda bottle.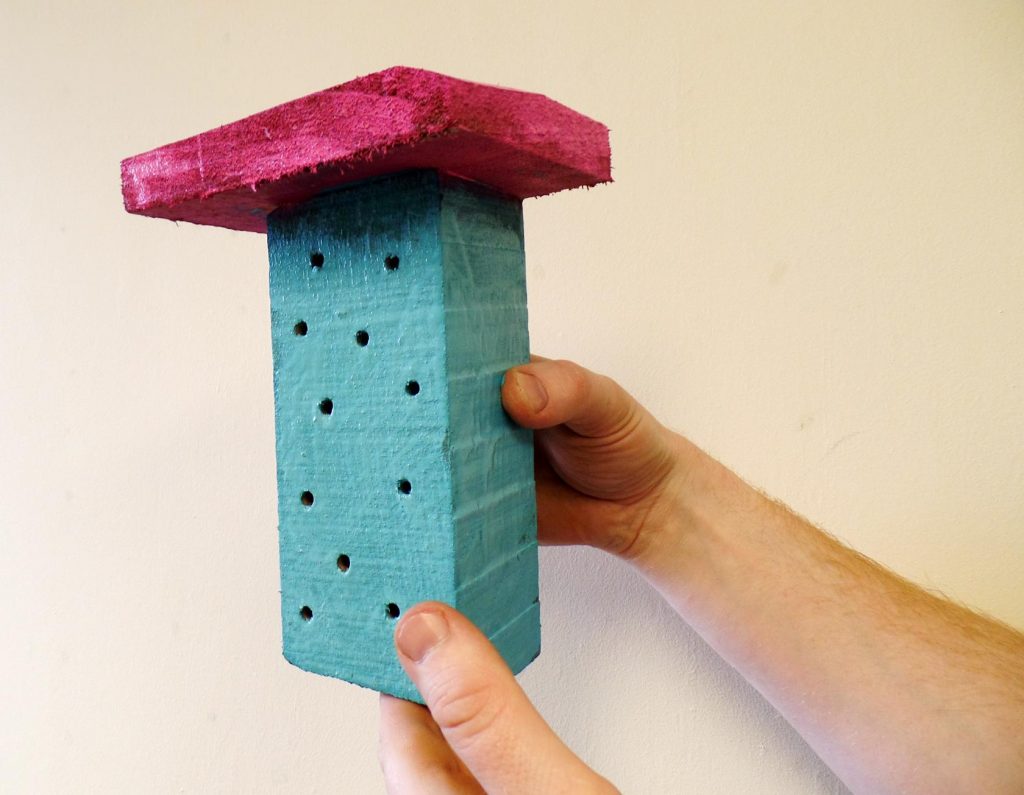 Hannah Grows of Grow Wild provides a second step-by-step set of instructions for building a bee house. For build this bee house, you will need some untreated scrap wood.
Ready to Install Bee Hotels
If you would rather purchase a ready to install bee hotel, there are many available for sale at garden centers and nurseries. We've listed two that are for sale online. Take a look for some inspiration.
Wood and Bamboo Diamondback Bee Habitat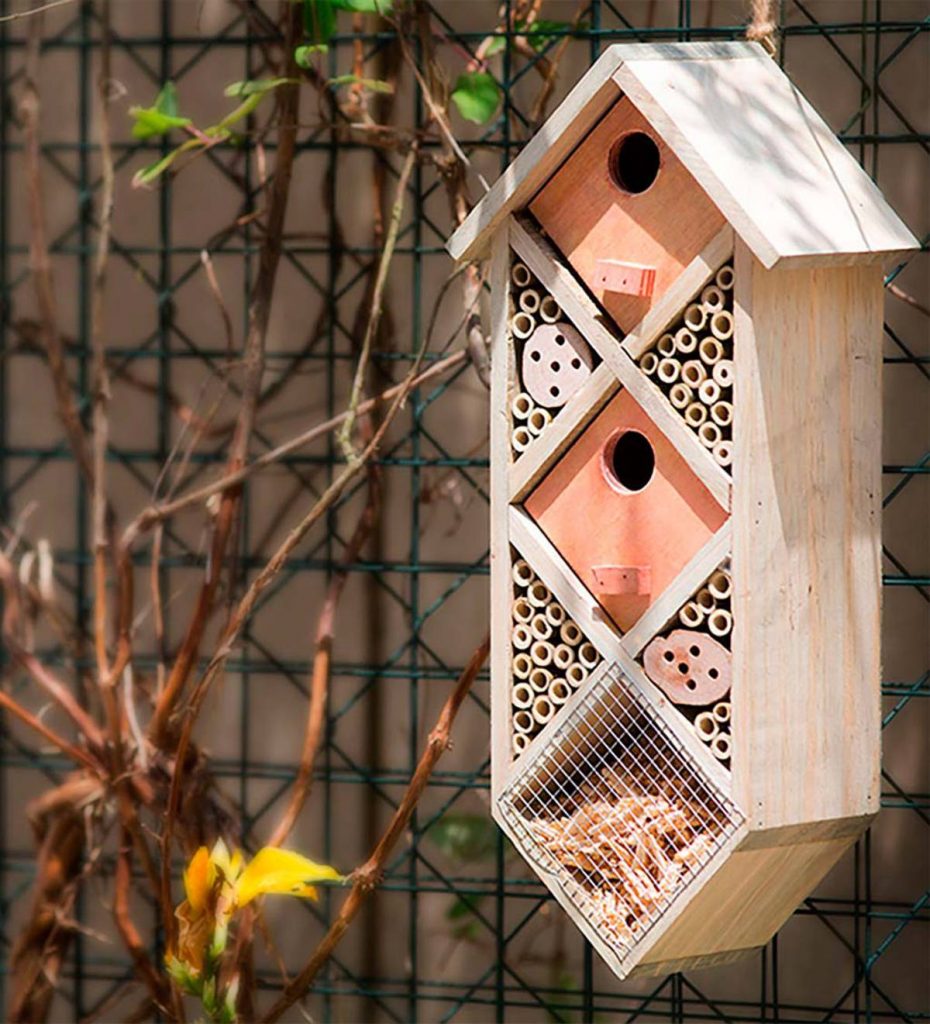 The Wood & Bamboo Diamondback Bee Habitat is handcrafted with Forest Stewardship Council wood and bamboo. A water-based finish, the bee habitat is a welcoming site to native bees. A perfect addition to a garden featuring native North American plants.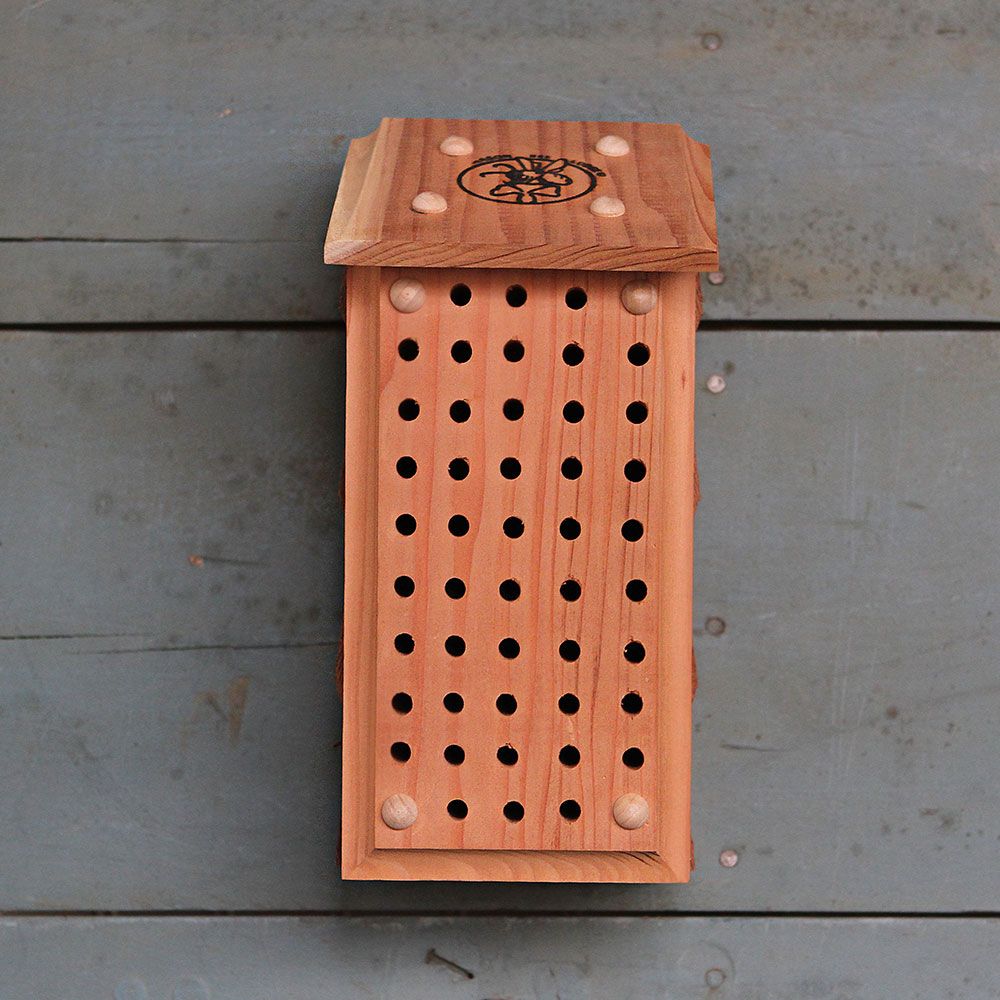 The Redwood Mason Bee Block is made from recycled Redwood. The wood block is weather resistant. It features a rear door for easy cleaning.
Build Bee Hotels – Placement of Hotels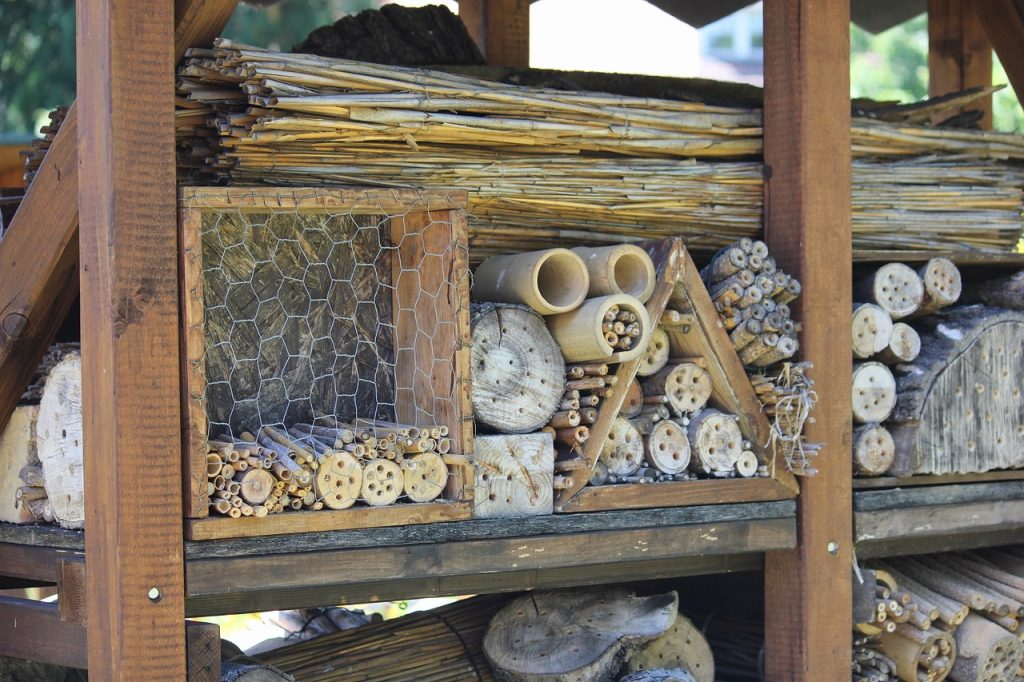 After you've built your bee hotel, you'll need to find a suitable place to install it. Below are a few things to consider before you install your bee hotel.
Place the new bee hotel in a sunny location.

Select a site away from bird feeders or bird nesting boxes.  

Ideally, the bee hotel should be close to Spring blooming flowers such as Crocuses or trees such as dogwoods.   

Install the hotel between 3 to 6 feet off the ground.

The roof top should be facing up. Slightly tilted bee hotel forward. This will prevent rainwater from entering the bee hotel. Always keep it dry.   

Make sure the hotel entryways are not blocked. Remove plants, shrubs, or tree branches away from the hotel.   

Attach to a post or pole. Use nails, screws, wire, rope, or zip ties to secure the hotel.  

Never attach bee hotel to a tree. Ants or other insects may enter the hotel and destroy the nesting bees.

Bee hotel may need to be moved during Fall and Winter seasons. If temperatures fall below zero, the hotel should be relocated. The nesting bees may need some extra protection. A spot in a garden shed that is rainproof and unheated can protect the nesting bees. Winter over in a garden shed from October until February. In March, return the hotel to its previous sunny garden spot.    
As with all wildlife habitats, provide plenty of native plants. Native plants with different blooming periods is best. Add a reliable source of fresh water. The water source can be as simple as a garden clay pot saucer filled with a little gravel and topped with fresh water. Be sure to clean your water bowl or container every few days. Your guests just might decide to make your bee hotel a permanent home.
Bee Friendly Ways to Help Save the Bees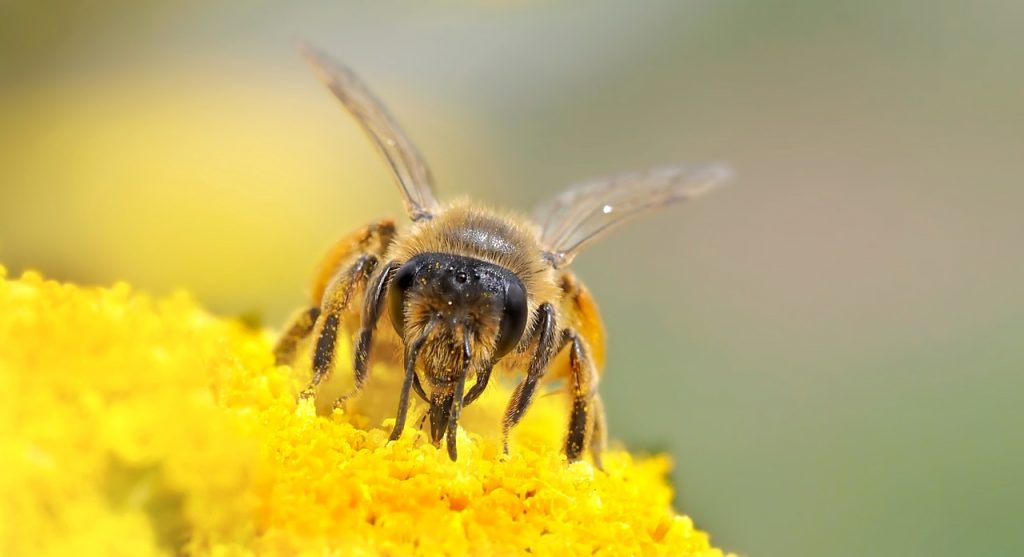 Gardeners are in the best position to help save the bees. Build bee hotels to increase your home's wildlife value. Build habitats for beneficial wildlife to replace habitats that have been lost due to home building and fires. Support our native wildlife by planting native plants. Provide clean water for your local wildlife. Play a role in this effort, no matter how small the effort is. The continued loss of forestlands, will only further strain existing wildlife habitats.
If you build bee hotels to help save the bees in your garden, let us know how you make out. We'd love to hear about your bee hotel, birdhouses, or other wildlife habitats you've created! For information on the native North American coneflower, see our post 14 Colorful Coneflowers to Brighten Your Summer Garden. For help with creating a Moonlight Garden, see our post 20 Plants to Brighten Your Garden by Moonlight. If you have any questions, feel free to reach out to us in the comments below. We always are ready to help you out.