How to grow Viola Etain for beautiful garden color from Spring until early Fall. Viola is a sentimental favorite that many remember from their grandmother's garden. A low growing perennial, commonly seen in early Spring and into the Fall season.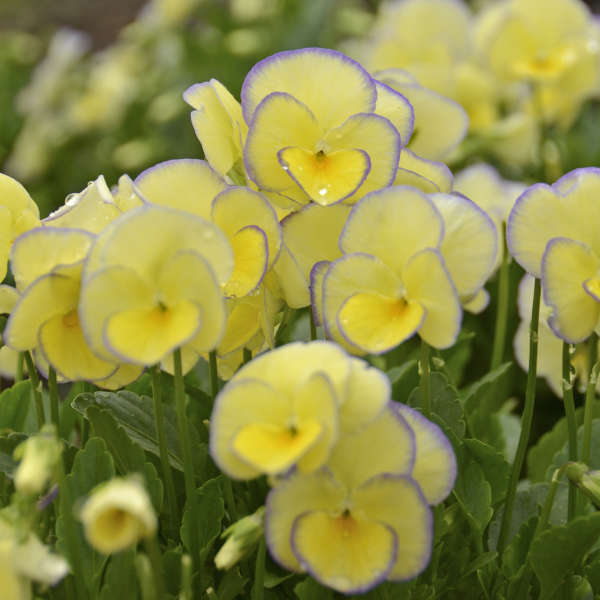 Characteristics of Viola Etain
Viola is also commonly known as Violet or Pansy. The Viola Etain has pale lemon yellow blossoms with lavender margins and a light fragrance. A cheerful color for Spring, Summer, and even Fall gardens.
How to Grow Viola – About the Viola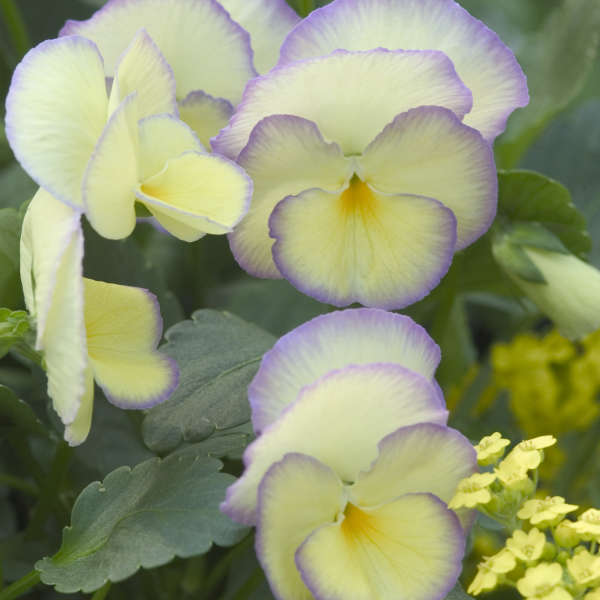 First, the Viola Etain plant features and growing conditions:
Grows in zones 5 to 8

Mostly Sunny to full shade

Reaches 6 to 8 inches tall with a spread of 6 to 8 inches

Fragrant flowers are large pale lemon Yellow with lavender edged petals and foliage are shades of green

Blooms begin in late Spring continue through Summer and into early Fall

Tolerant of normal, sandy, and acidic soil conditions

Attracts butterflies

Use in a cut floral arrangement

Tolerant of shade

Viola garden styles include patio container, cottage, rock garden, or woodland shade
Garden Site Selection
Viola Etain can be grown in many areas of the garden. It can take almost full Sun as well as full shade such as in a woodland setting. This viola can also be planted in containers.
Soil Preparation
Prepare the garden soil in a bed or container. Take a trowel and break then loosen the soil.

Etain can be grown in sandy, acidic, or normal soil conditions. We usually add sphagnum peat moss to the soil. Sphagnum peat moss is not only acidic but it provides good drainage.

Work the sphagnum peat moss and compost if you use it, into the soil.

If you have a problem with grubs, sprinkle some Milky Spore powder into the soil. Grubs eat the roots of grass and other plants. They eventually emerge from the ground as Japanese Beetles

. As grubs come across the Milky Spore in the soil, they consume it. Milky Spore is toxic to grubs.
How to Grow Viola Etain
After you've selected a garden location for the Viola Etain and the soil is prepared, you can plant the Viola.
Dig a hole the depth of the plastic container where the Viola came in. the hole should also be twice the width of the root ball or container.

Place the Viola into the hole. The plant crown is at the soil level then using the surrounding soil to cover the root ball. Pack the soil around the plant roots to eliminate any air pockets.

Water the Viola thoroughly so that the water travels down to the roots. Continue watering daily for the next few weeks until the plant settles into the garden or container.

Over the hotter season, water regularly. Water more frequent during periods of drought or excessive heat temperatures.
When to Plant Viola Etain
Plant Viola during the Spring or in early Fall. Avoid planting over the Summer when temperatures can soar to 90 degrees or more. Milder temperatures allow plants to settle in before being subjected to extreme temperatures.
Tips for How to Grow Viola Etain
Violas prefer cool, moist, shady garden areas

In Northern climates, Violas tolerate full Sun but prefer partial to full shade

Shade below deciduous trees are great for Violas because they receive full Sun in the early Spring. And provides cover from the harsh Summer Sun from the leaved trees

In Southern climates, grow Violas in partial to full shade garden areas. Keep soil mulch to retain moisture and soil cool

Periodically shear back Violas to stimulate additional flower production when flower blooming begins to decline

Shear Violas back again in early Spring to remove any Winter damaged foliage
Companion Plants for Viola Etain
Hosta 'Designer Genes'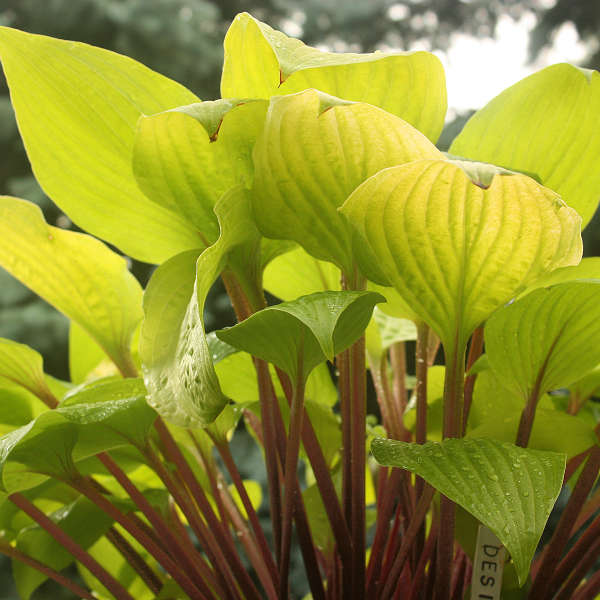 Designer Genes Hosta is one of the best yellow hosta with red petioles. Brilliant yellow leaves with contrasting deep wine red shoots appear in the Spring. The Designer Genes foliage softens to a chartreuse green later in the season. In the late Summer, purple flowers emerge on the stocks.
Grows in zones 3 to 9

Full shade to part Sun and part shade

Tops out at 18 inches with a spread of 12 inches

Blooms are purple shades with yellow foliage

Late Summer blooms
2. Iris sibirica 'Caesar's Brother'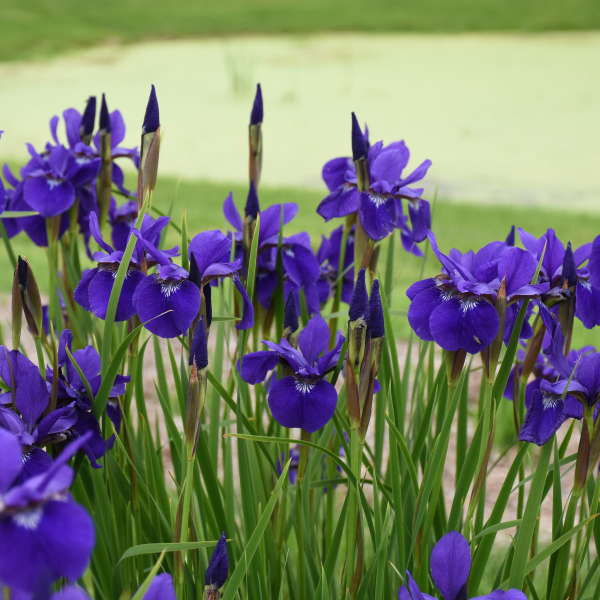 The Caesar's Brother Iris is also commonly known as Siberian Iris. Elegant and delicate flowers that are disease resistant. Early Summer blooming Iris.
Grows in zones 3 to 9

Part Sun and part shade to full Sun

Reaches 36 to 42 inches high with a spread of 18 to 24 inches wide

Flowers are deep purple shades and yellow white blaze with black veining, foliage is green shades

Blooms in the early Summer

Bee friendly and attracts hummingbirds

Resistant to both deer and rabbits

Requires regular watering throughout the season

Grow along water features

Tolerant of juglone soil conditions that Black Walnut trees release
3. Dicentra 'King of Hearts'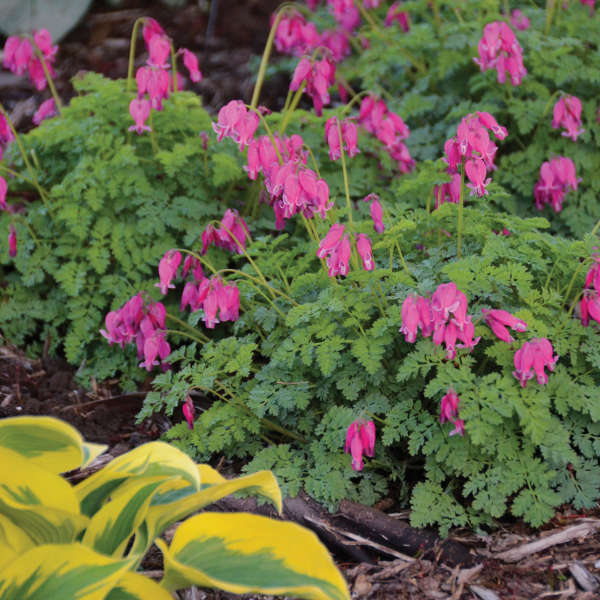 King of Hearts Dicentra is also commonly known as a Fern-leafed Bleeding Heart and Western Bleeding Heart. Long blooming perennial that pollinators love!
Grows in zones 3 to 9

Full shade to part shade and part Sun to full Sun

Reaches 8 to 10 inches tall with a spread of 12 inches wide

Blooms are bright rose heart-shaped flowers with lacy, soft blue green foliage

Blooms from late Spring through Summer and into early Fall

Bee friendly and attracts Hummingbirds

Resistant to deer

Prefers moist soil conditions

Tolerant of Sun and heat conditions
4. Ajuga reptans 'Burgundy Glow'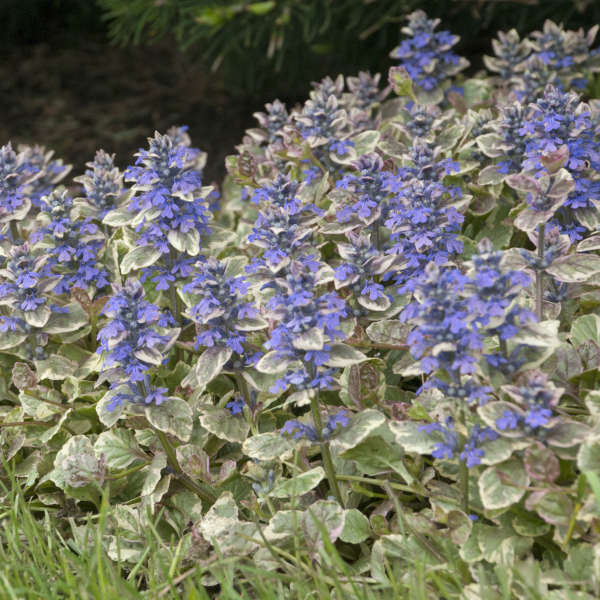 Burgundy Glow Ajuga is also commonly known as Bugleweed and Carpet Bugleweed.
Grows in zones 3 to 10

Full shade to part Sun and part shade to full Sun

Reaches 6 inches tall with a spread of 8 to 10 inches wide

Blooms are short spikes of blue upright flowers with tri colored foliage

Low spreading foliage are shades of creamy white, rose burgundy, and dark green

However, fall foliage leaves turn deep bronze with a rose tone

An evergreen ground cover

Blooms from mid to late Spring

Bee friendly and attracts butterflies and Hummingbirds

Resistant to deer

Grow in containers and rock gardens
This ends our post on how to grow Viola Etain plants. Tell us what you think about this Viola plant. Do you have a favorite Viola plant that you enjoy growing?
If you enjoyed this post . . . .
You Will Enjoy Our Other Gardening related posts.
52 Types of Pumpkins to Eat, Decorate, and Display
8 Fantastic Annuals to Plant this Fall
23 Fall Blooming Plants for Pollinators
How to Keep Deer Out of Your Garden During the Winter
And if you have any questions, feel free to reach out to us. We always are ready to help you out. Thank you for dropping by.
Mary