Grow Berry Awesome Hibiscus to attract butterflies and bees to the late Summer garden. Berry Awesome Hibiscus is a hybrid and part of the Summerific Hibiscus Collection. Developed by the talented folks at Walters Gardens.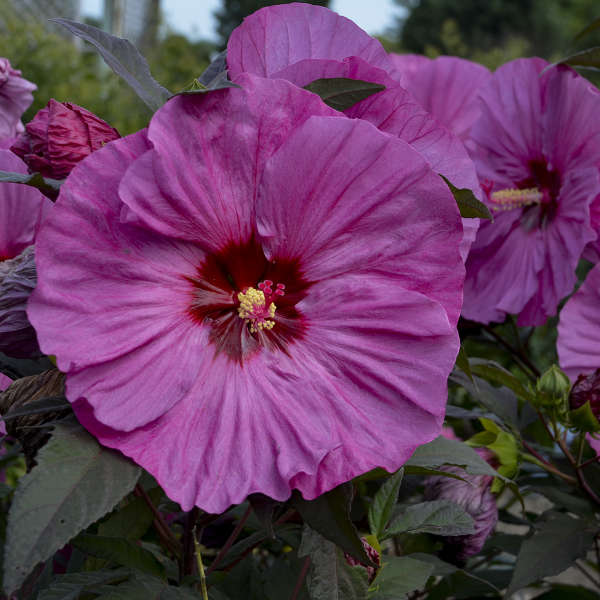 Characteristics of Hibiscus or Rose Mallow 
Berry Awesome Hibiscus is commonly known as Rose Mallow, a hardy hibiscus perennial.  
This hibiscus has an upright densely compact growth habit with large sized blooms that can reach 7 to 8 inches wide. A fast grower, Berry Awesome Hibiscus is hardy up to zone 4. The tropical-like flowers bloom later in the season and at times, into early Fall. Summerific Hibiscus has lavender pink flowers with a red eye and contrasting deep midnight green foliage. 
Unlike other cultivars, the Summerific Hibiscus produces flowers from the top to the bottom of the plant. In other words, it is an indeterminate blooming plant. During the blooming period, blooms appear from the length of the stem top to the bottom of the plant. 
The North American native is from the central and eastern regions of the United States. In 2019, Berry Awesome was named the 2019 Proven Winners National Perennial of the Year!    
This Hibiscus collection has top to bottom flower coverage as seen in the image below.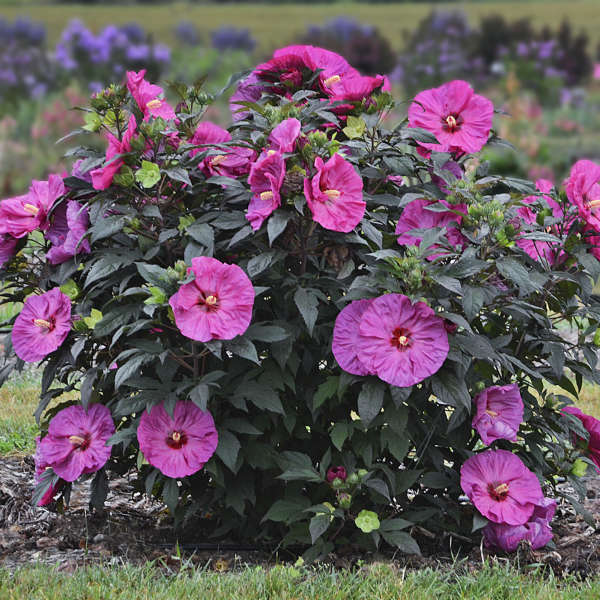 How to Grow Berry Awesome Hibiscus – About the Hibiscus 
First, the Berry Awesome Hibiscus plant features and growing conditions:
Grows in zones 4 to 9 

Part shade and part Sun to full Sun 

Reaches 4 feet high with a spread of 4 1/2 to 5 feet wide 

Flowers are 7 to 8 inch ruffled lavender pink flowers with a cherry red eye and midnight green foliage 

Blooms from Mid to late Summer

Bee friendly hibiscus that attract butterflies 

Resistant to deer 

Tolerant of fertile, average, or poor soil conditions 

Grows in slightly acidic soil 

Needs regular, consistent watering 

Rapid growth rate 

Use in a cottage garden, as a Bog plant or specimen plant 

Native to North America. 
Garden Site Selection   
Select the right garden spot for the hibiscus. Summerific Hibiscus loves the Sun, likes regular watering, and needs plenty of room for future growth. In addition to these considerations, have a nearby water source for frequent watering trips. At maturity, Berry Awesome reaches 4 ½ to 5 feet wide so no overcrowding. This ensures that Berry Awesome won't need to compete with the surrounding plants for water.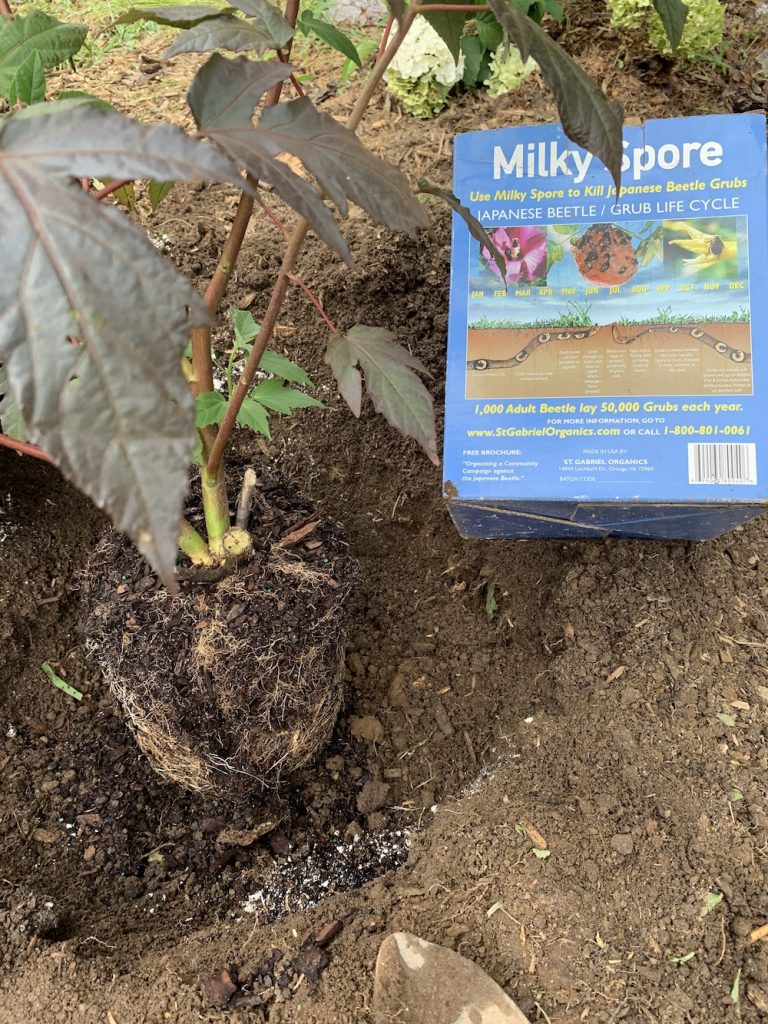 Soil Preparation 
Prepare the garden bed soil. Loosen and break the soil apart using a trowel.

    

Berry Awesome likes a slightly acidic soil. We added sphagnum peat moss to the garden bed since it is acidic and also helps water drain. Add compost if needed. 

Work sphagnum peat moss and compost into the soil.  

Japanese Beetles are attracted to perennial hibiscus.

We sprinkled Milky Spore powder in the soil. If you do not have grubs or Japanese Beetles then you don't need to mix in milky spore to the soil.

Milky Spore prevents grubs laid by the Japanese Beetles from emerging the following year.

 
How to Grow Berry Awesome Hibiscus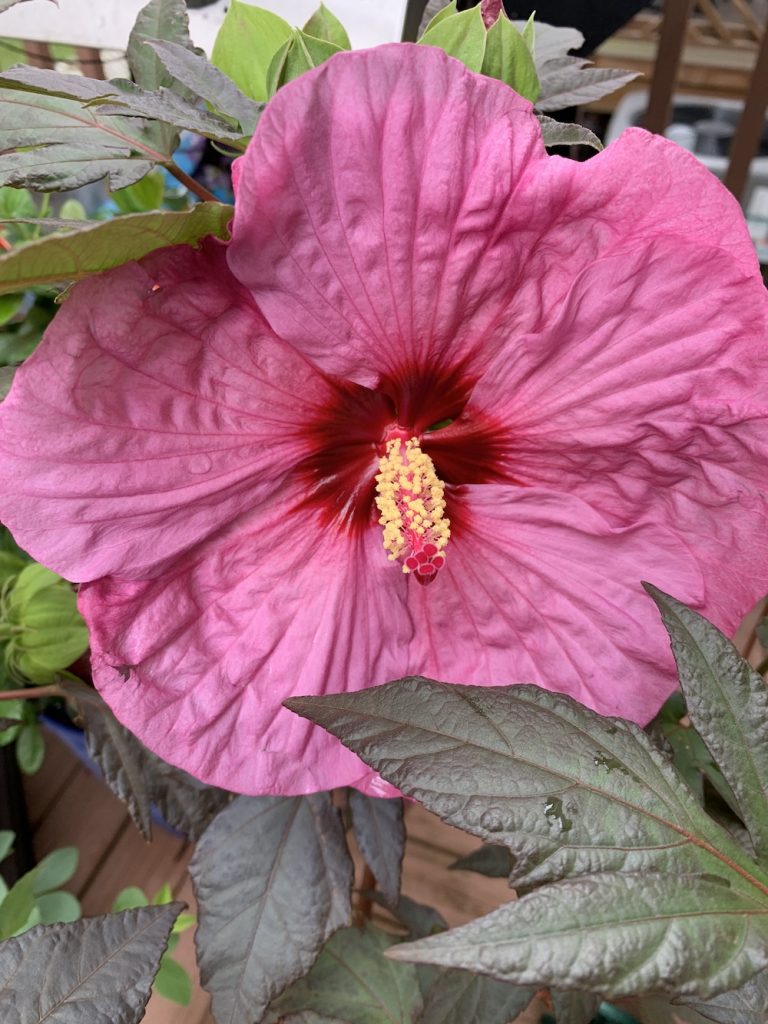 Once you have selected the right spot and have prepared the soil, you are ready to plant the hibiscus.   
Dig the whole the same depth of the Proven Winners plastic container. And twice the size of the hibiscus root ball. 

Second, drop the hibiscus with the crown at the soil level then cover with the surrounding soil. Pack the soil around the plant roots to eliminate any air pockets. 

Third, water the hibiscus thoroughly so that water sinks down to the roots. Water daily for the next few weeks until the plant has settled in.

Finally, over the warmer months water regularly. And more frequently when either day temperatures reach the 90s or days without rainfall. 
When to Plant Berry Awesome Hibiscus 
Plant hibiscus in early Summer before the dog days of Summer arrive. This will give the hibiscus time to settle in before the heat arrives in late Summer.
Tips for How to Grow Berry Awesome Hibiscus
Never allow Berry Awesome Hibiscus to dry out.

 

Mulch the hibiscus so that it is protected during the Winter season.

 

When planting several hibiscus together, space apart so there is plenty of room for growth.

  

Grow hibiscus as a specimen plant, or a focal point in a garden

North American native 
Companion Plants for Berry Awesome Hibiscus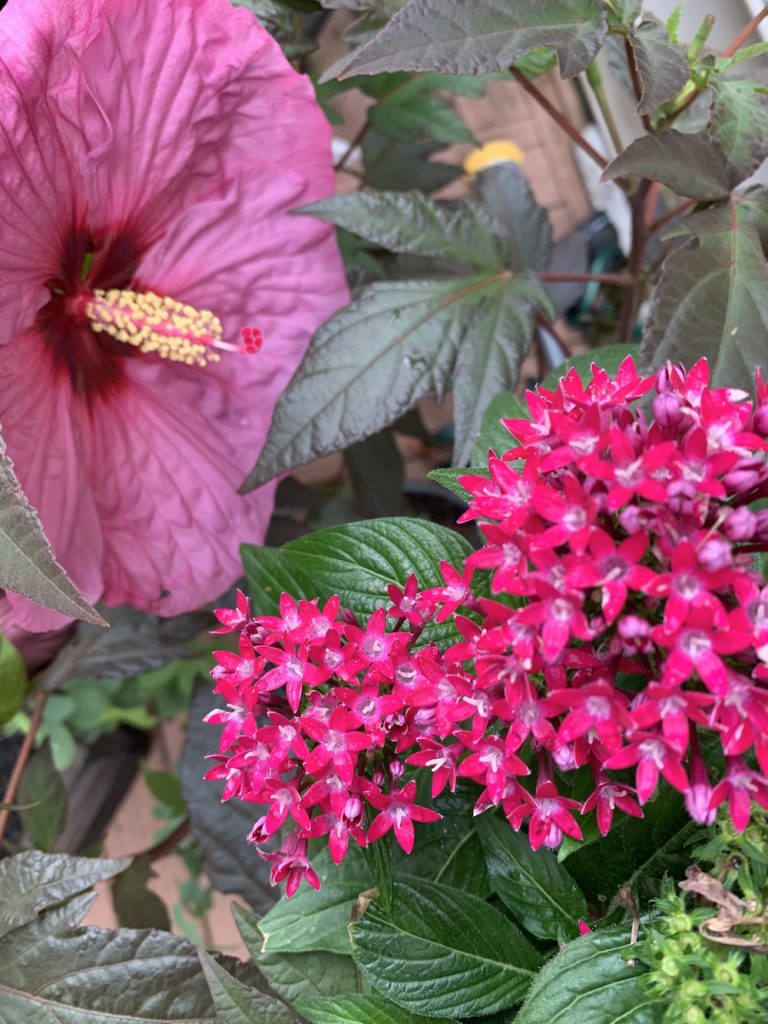 With a little planning, Berry Awesome Hibiscus is easy to grow. All that is needed is a Sunny garden area, water and more water, as well as plenty of space to grow. That's it! Then sit back, relax, and watch the flower show begin. You see tons of bees and butterflies hover over the hibiscus. 
This ends our post on How to grow Berry Awesome Hibiscus plants. Tell us what you think about this beautiful plant. Do you have a favorite Summerific Hibiscus plant?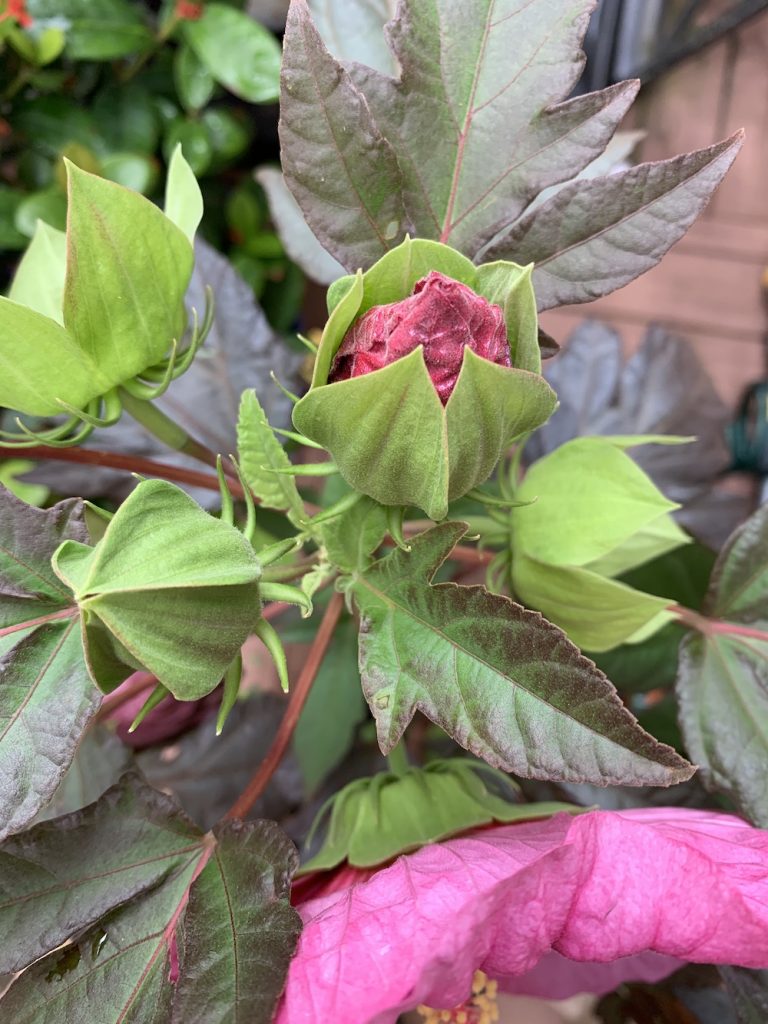 If you enjoyed this post . . . .
You Will Enjoy Our Other Gardening related posts.   
Best Companion Plants for Ballet Slippers Hibiscus 
Plants that are Drought Tolerant 
How to grow Sun loving Inkblot Mangave 
And if you have any questions, feel free to reach out to us. We always are ready to help you out. Be sure to include your hardiness zone and light requirements with any gardening questions. Thank you for dropping by.   
Mary