Today we are sharing ideas for Berry Awesome Hibiscus companion plants. As some of you may know, Berry Awesome is part of the Summerific Hibiscus collection. The Summerific Hibiscus Collection was developed by the incredibly talented team at Walters Gardens.
Are you a fan of the Summerific Hibiscus perennials? We are. The dinner plate size flowers are beautiful and loved by pollinators. So, which are the best plants that complement Berry Awesome Hibiscus. We'll show you a few plants to consider.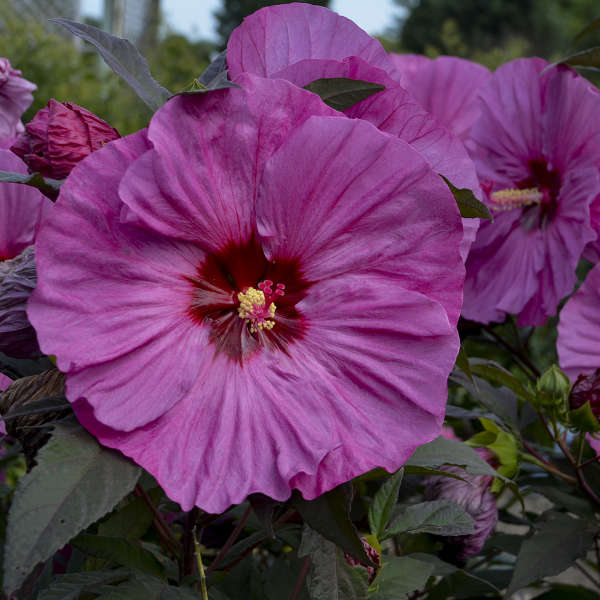 Perennial Berry Awesome Hibiscus Companion Plants
Aconitum fischeri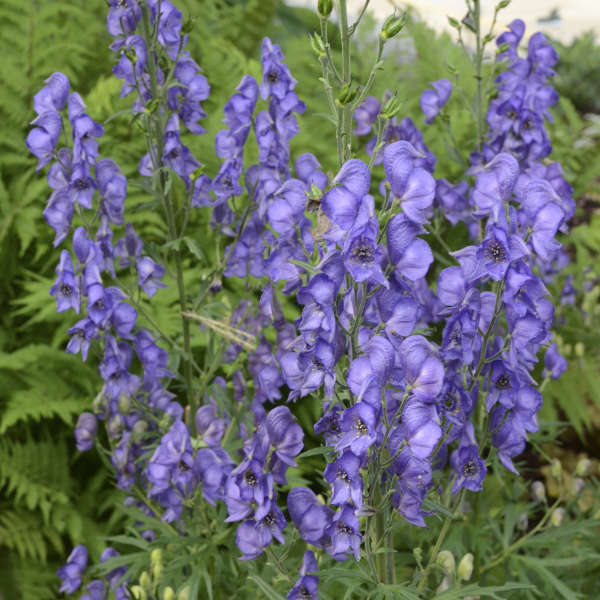 This plant is commonly known as Azure Monkshood and Wolfsbane. Aconitum fischeri blooms are upright lavender blue spikes that appear in late Summer. Each single flower is shaped like a hood or helmet. And as you guessed, that is why the plant is called Monkshood! With striking foliage that is dark green and glossy in color.
Grows in zones 4 to 8

Part shade and part Sun to full Sun

Tops out at 18 to 24 inches high with a spread of 12 to 18 inches

Blooms are purple blue shades with green foliage

Blooms late Summer to early Fall

Resistant to deer and rabbits
Tuscan Sun Heliopsis helianthoides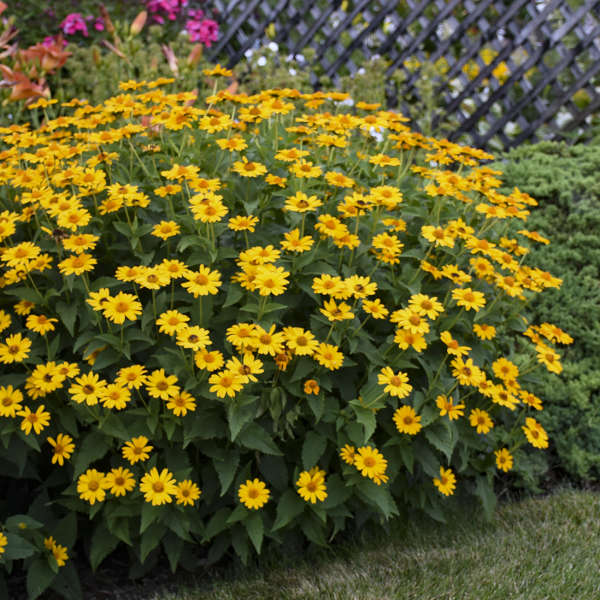 The Heliopsis helianthoides is commonly known as False Sunflower. Tuscan Sun Heliopsis has bright golden yellow, daisy-like flowers with an orange-gold button center.
Grows in zones 3 to 9

Part shade and part Sun to full Sun

Reaches 24 to 36 inches high by 20 to 24 inches wide

Blooms are gold orange shades with green foliage

Blooms mid to late Summer

Attracts bees and butterflies

North American native
Cheyenne Sky Panicum virgatum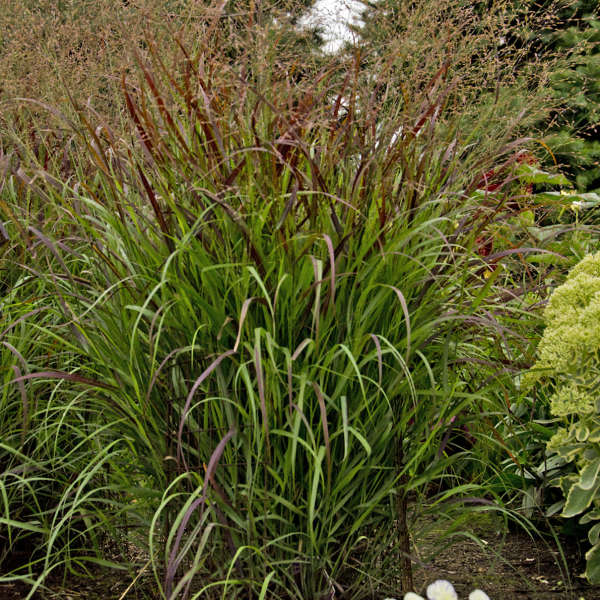 This plant, Panium virgatum is also known as Red Switch Grass or Ornamental Grass. Cheyenne Sky forms a tight, vase-shaped clump of blue-green foliage which later turns wine red in early Summer. Using a switch grass or ornamental grass provides cover for birds and other wildlife. A great option for attracting wildlife to your garden.
Grows in zones 4 to 9

Full Sun

Topping out at 3 feet high by 1½ feet wide

Flowers are purple red shades with purple foliage

Drought tolerant once established

Native to North American
Annual as Berry Awesome Hibiscus Companion Plant
Pentas a Berry Awesome Hibiscus Companion Plant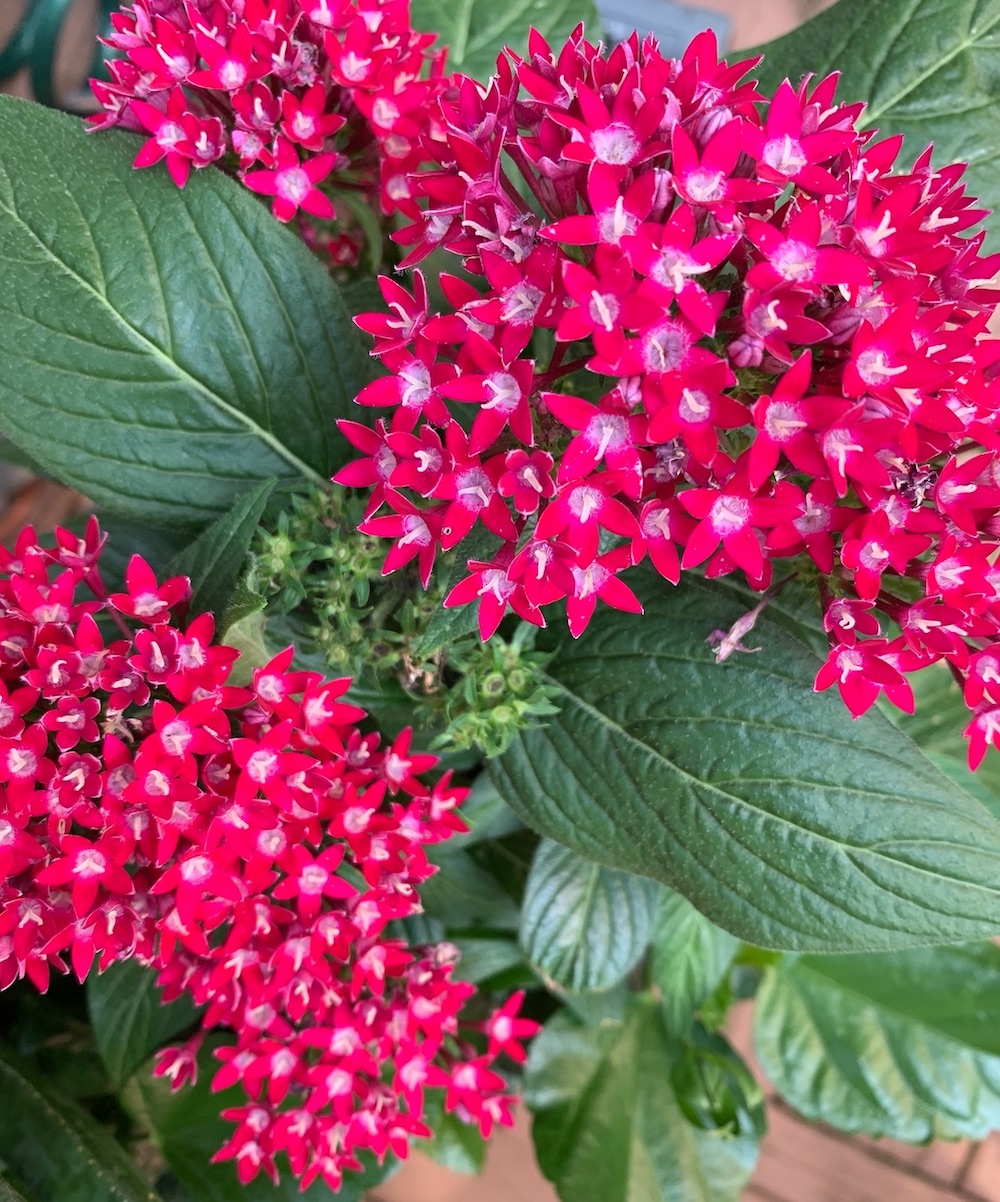 Cold hardy in zones 10 to 11 (grown as annuals in other zones)

Full Sun (minimum 6 to 8 hours a day)

Topping out at 18 to 36 inches high

Star-shaped flowers in bold hues from red, white, lavender to purple and pink

Blooms all Summer

Attracts butterflies and hummingbirds

Some-what resistant to deer and rabbit

Prefers well draining soil conditions

Grow in containers or in a garden border
These are just a few options for Berry Awesome Hibiscus Companion plants to consider. We tend to use plants that are pollinator friendly in our garden. So typically we prefer plants that are not only attractive but offer nectar or seeds for pollinators.
Which companion plants are you growing with your Summerific hibiscus? If you have plants that work well with your hibiscus, please consider sharing. We'd love to learn about your garden selections.
If you enjoyed this post . . . .
You Will Enjoy Our Other Gardening related posts.
How to Grow Berry Awesome Hibiscus
Best Companion Plants for Ballet Slippers Hibiscus
How to grow Sun loving Inkblot Mangave
And if you have any questions, feel free to reach out to us. We always are ready to help you out. Please include your hardiness growing zone and garden light requirements with any gardening questions you have.
Thank you for dropping by.
Mary