Welcome a little wildlife to your garden with these 10 blissful birdhouses to attract birds that serenade. The best way to entice neighborhood birds to your garden is to create a small bird retreat. Encourage your neighborhood birds to not only visit your garden but to stay. Create a garden sanctuary for them with a steady supply of water and food, a place to rest, and some protected shelter.
When possible, consider our feathered friends and their needs while designing or working in your garden by providing a garden stocked with bird delicacies and a constant water source. Birds need access to water for drinking and bathing. This is especially important on hot sunny Summer days or over a prolonged period without rain. A birdbath or water feature in your garden can provide a source of water for the birds. The little guys need a variety of food sources, too. Different birds feed on different types of food. Think about choosing garden plants that bear fruit, berries, nuts, seeds, or seed cones.
Shrubs, vines, and trees are important too. They provide birds with a place for rest and shelter from the weather elements and predators. The green foliage and dark bark of shrubs and trees offer protection from predators and a covert place to blend in. Thorny or prickle shrubs deter larger animals from venturing too close to birds and birdhouses. Nest boxes or birdhouses, hedges, and trees offer a safe environment for birds to nest and raise their offspring.
No matter how small a garden you have, consider plants in your garden space that attract bees, butterflies, hummingbirds, and all birds. Select a variety of plantings that produce fruit, berries, nuts, seeds, and seed cones. If possible in your garden, make available places for birds to take a quick respite or seek protected shelter. With amenities like these, birds are sure to drop by with a hearty appetite. Gardening is much more than the placement of plants in a garden, it is about the surrounding wildlife, too. It is a balance of well-placed plants and wildlife that exists simultaneously. In fact a great example of this is to look at established century old gardens. In many cultures, gardens display statues of ducks, birds, turtles, bunnies, frogs, and even fish. A reminder of a dual existence between wildlife and plant life.
There is no greater reward for a gardener than to have a butterfly or songbird visit their garden. Many of us spend countless hours a day and into the night working in our gardens. Some days, especially when starting new garden beds, are particularly exhausting. For us, the reward is a beautiful garden with the presence of wildlife such as butterflies and birds.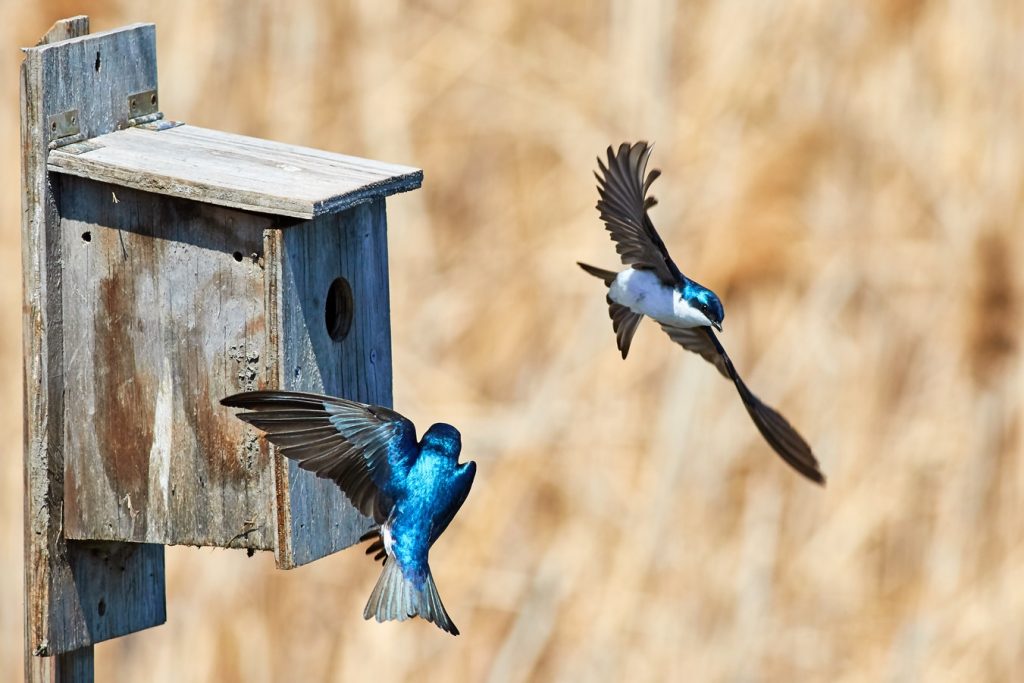 Consider using beautiful birdhouses to attract birds that will perform a dawn chorus for you in your garden. To attract neighboring wildlife to your garden, think about adding a birdhouse or two for nesting and protection. We've gathered 10 blissful birdhouses to attract birds to your gardens. Take a look and let us know what you think.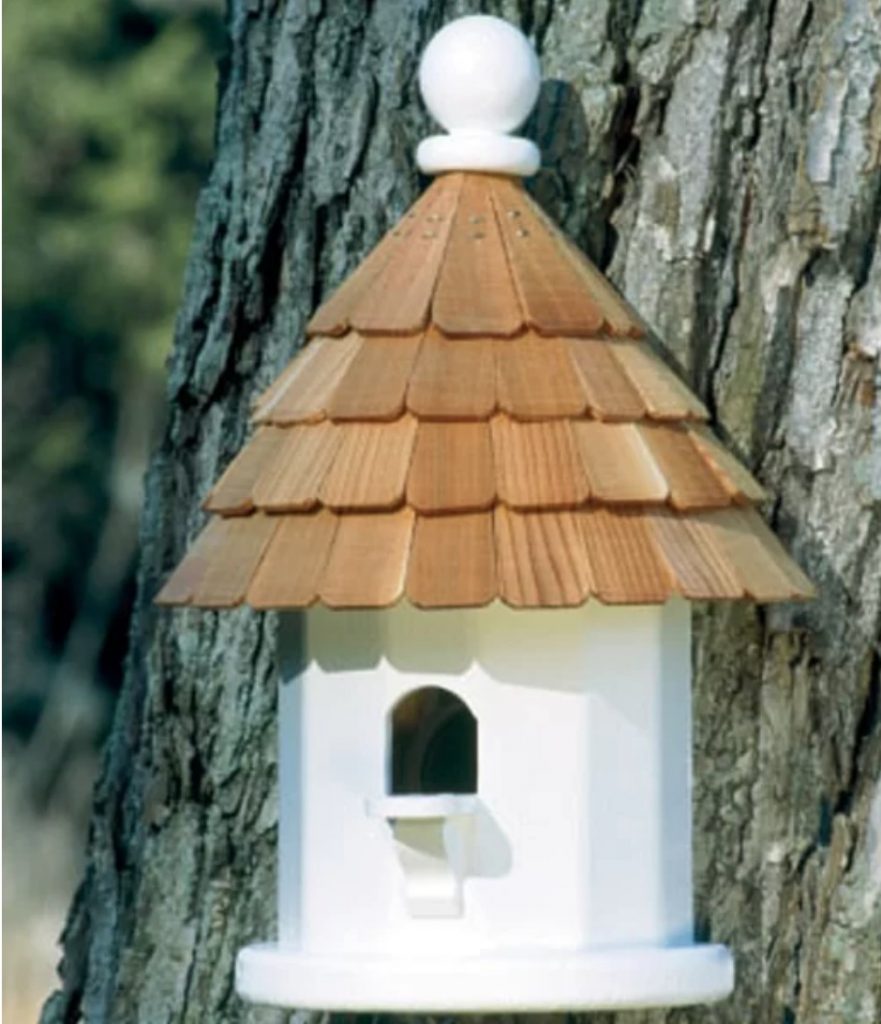 A cottage style birdhouse, the Lazy Hill Farm Wren Birdhouse has a wooden shingle cover with a classic white finial. Freestanding and made from vinyl wood, the birdhouse has stainless steel hardware for durability. The Lazy Hill Farm Birdhouse has a white weather resistant finish for protection of the wood from the elements. A bird-friendly home for our fine feathered friends to settle into your backyard.
Handmade of reclaimed materials, the rustic Chick Coop Birdhouse is an inviting place for birds to visit. But will they stay and nest? The Chick Coop Birdhouse is a nice addition to any garden or backyard. A bark-like roof and whitewash exterior blends well with any garden or woodland setting. Includes an easy access panel for cleaning the birdhouse and 1 ¼ inch front opening. Made in the USA, the Chick Coop Birdhouse will delight all its visitors.
3. Wilhemina Birdhouse by Lazy Hill Farm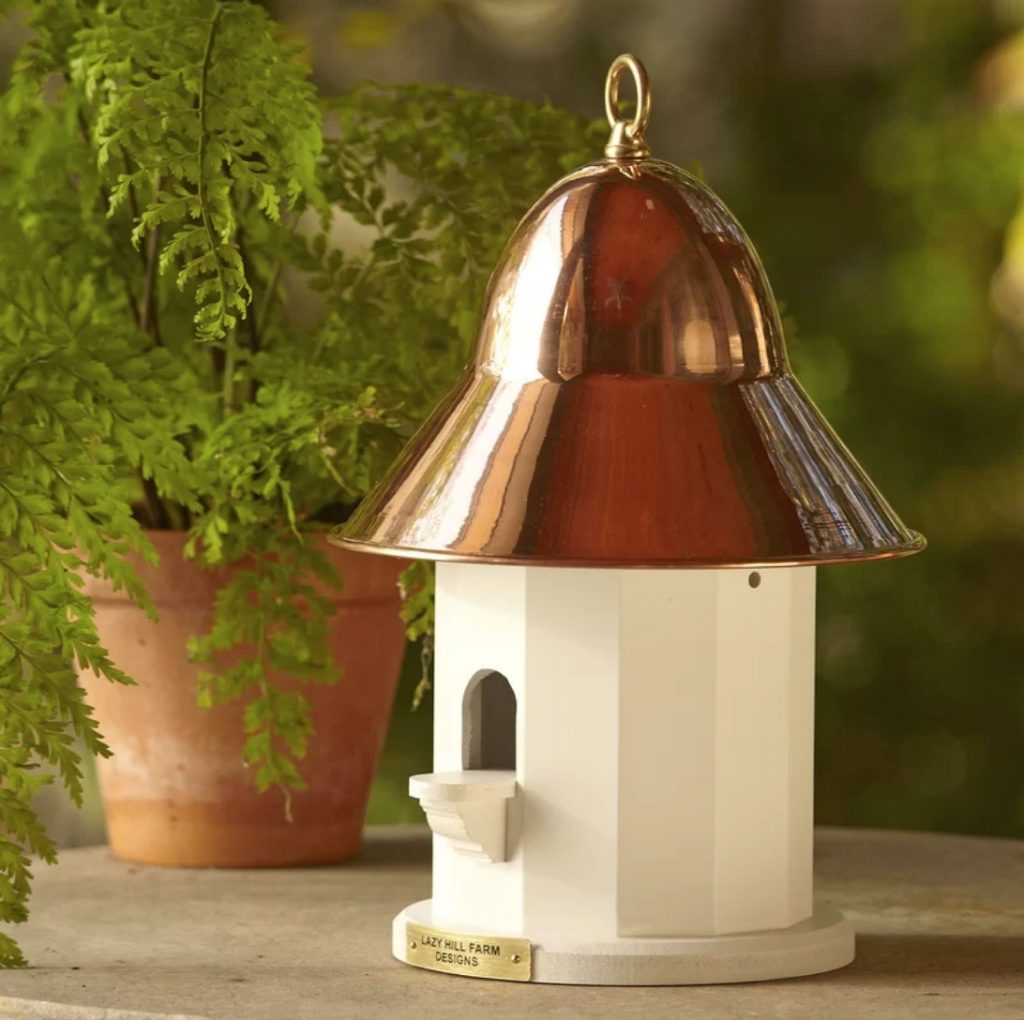 With its featured spun copper roof, the Wilhemina Birdhouse has a traditional classic look. Made in the USA of weather-resistant plastic includes a metal loop finial for hanging. The Wilhemina Birdhouse can be mounted or hung.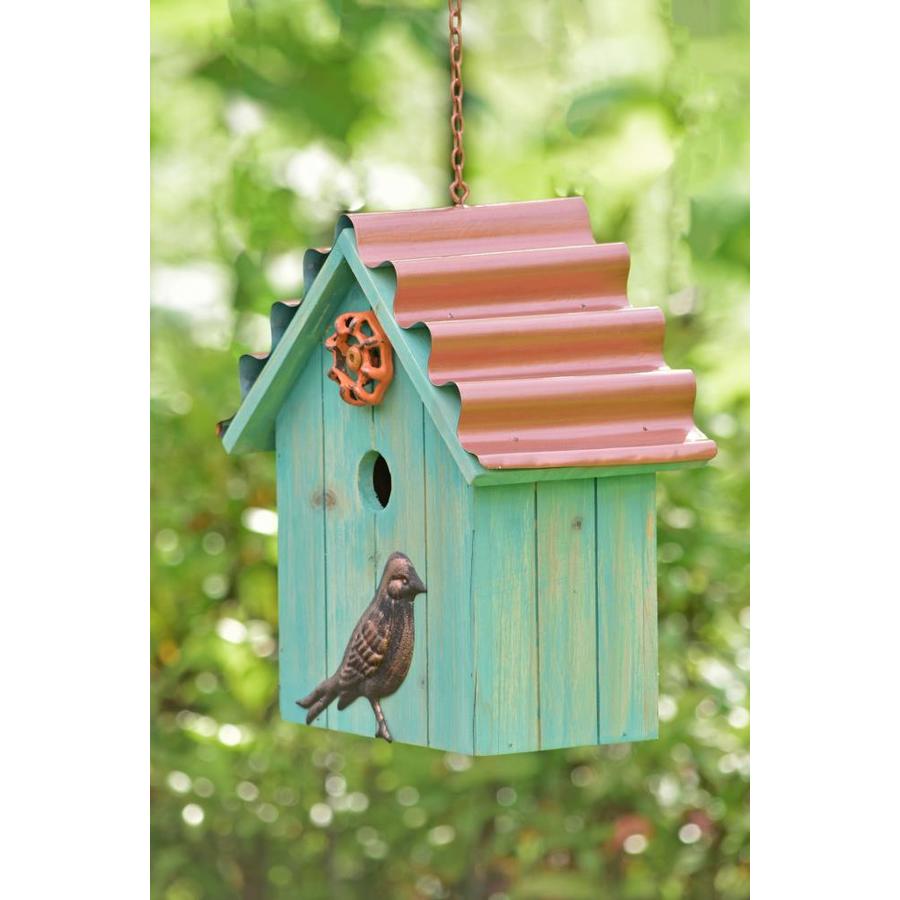 Backyard Glory Birdhouse has a hook and chain for easy installation and removal. Painted a lovely green color to blend in with its surroundings. The Backyard Glory Birdhouse has an outdoor water faucet handle as an above front door decorative detail. A copper-like rooftop, it features a hinged bottom for easy access to cleaning when needed. A charming birdhouse for the front yard, side yard, or backyard birds.
5. Jubilee A-Line Birdhouse with Copper Steeple
A copper steeple with whitewashed exterior and a rustic red front door, the Jubilee A-Line Birdhouse invites all to come. Above the front opening, a cast iron medallion is reminiscent of a cathedral rose window. The celestial birdhouse has a cedar-like shingle roof, ventilation, drainage, and a 1 ½ inch entryway. Looks like there might be a lot of rejoicing once the neighbors arrive. Get ready for a heavenly bird choir to move in!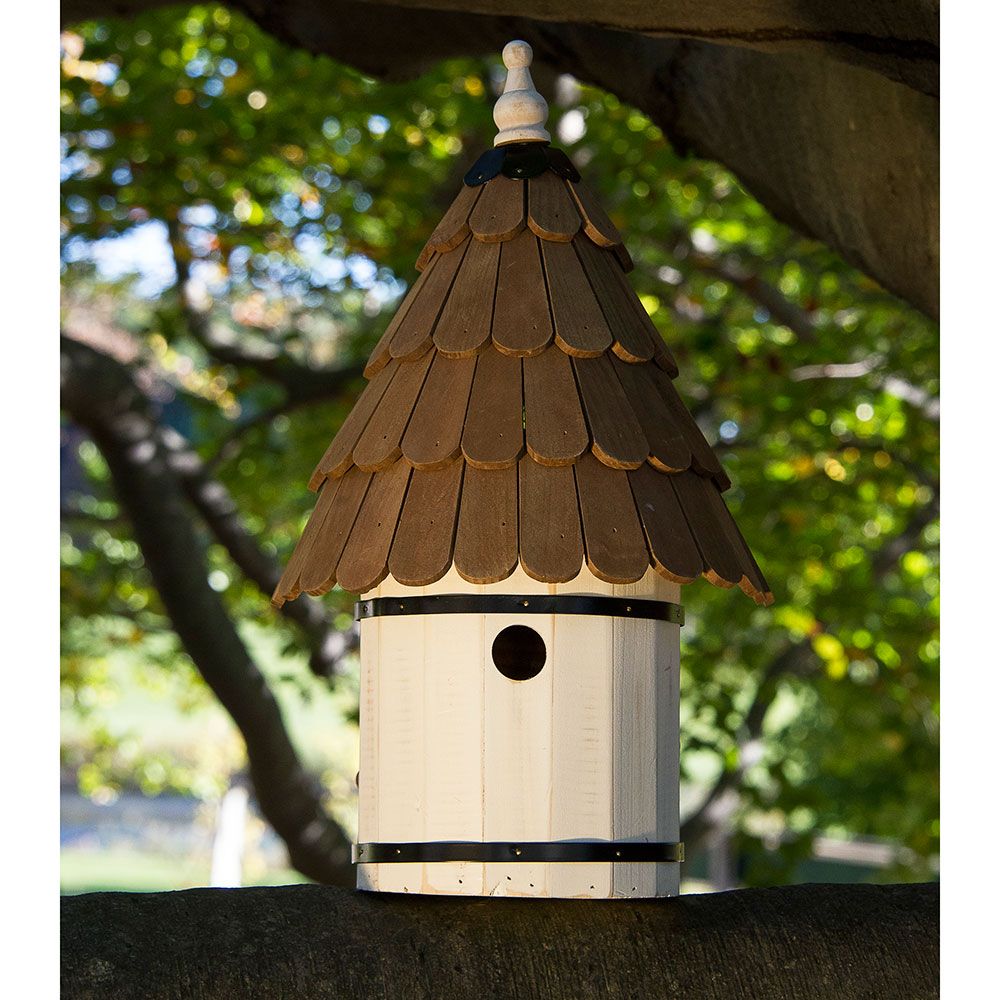 Cozy Cottage Birdhouse crafted with FSC-certified timber, is a classic birdhouse style. Painted white encircled by black steel hoops the Cozy Cottage Birdhouse has handmade roof shingles. Capped with a white decorative finial, the cottage has a back opening for easy access and cleaning between seasons.
7. Handcrafted Wood Dew Drop Birdhouse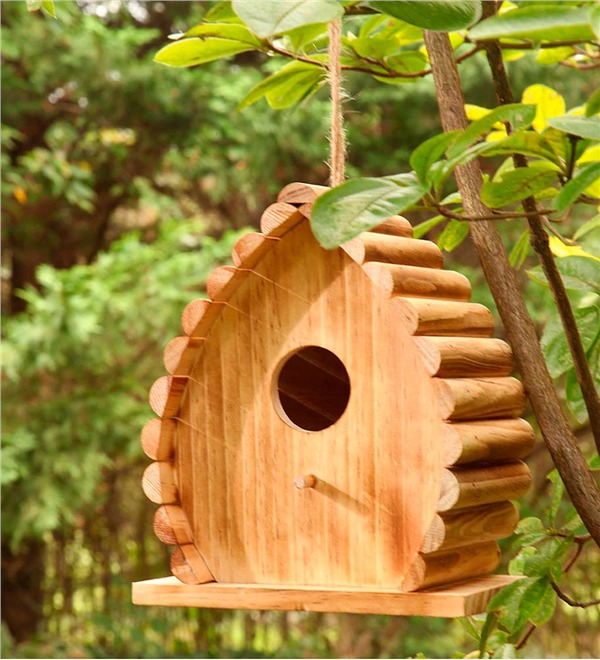 Dew Drop Birdhouse has a round opening perch and hinged roof for easy opening and cleaning. Made from FSC-certified wood and sealed with a water-based finish to maintain the natural look of the Dew Drop Birdhouse. Provides much need shelter to neighborhood birds, this birdhouse is a natural fit.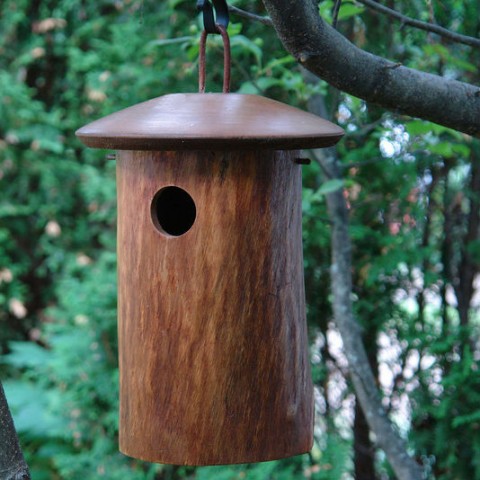 The Natural Bluebird House is handcrafted from harvested Mango Tree trunks with multiple polyurethane coats applied for durability. The roof is removable for seasonal cleaning with an entryway of 1 ½ inch hole size, ideal for bluebirds. The birdhouse has drainage holes to allow rainwater to drain properly, keeping the nest dry. From the Byer Birding people.
9. Americana Lighted Birdhouse
Celebrate Memorial Day, Fourth of July, or Veteran's Day with this Americana Lighted Birdhouse. Wrapped in red, white, and blue star-shaped LED lights, the birdhouse features Old Glory on the front door. Crafted from kiln-dried hardwood and the exterior is painted white. The roof is made of pine shake shingles to protect the interior nest. The birdhouse has a 1 ¼ inch entryway with ventilation, drainage holes, and a removable rear wall for cleaning. LED lights are battery operated. Be sure to play some patriotic music with this Americana Lighted Birdhouse.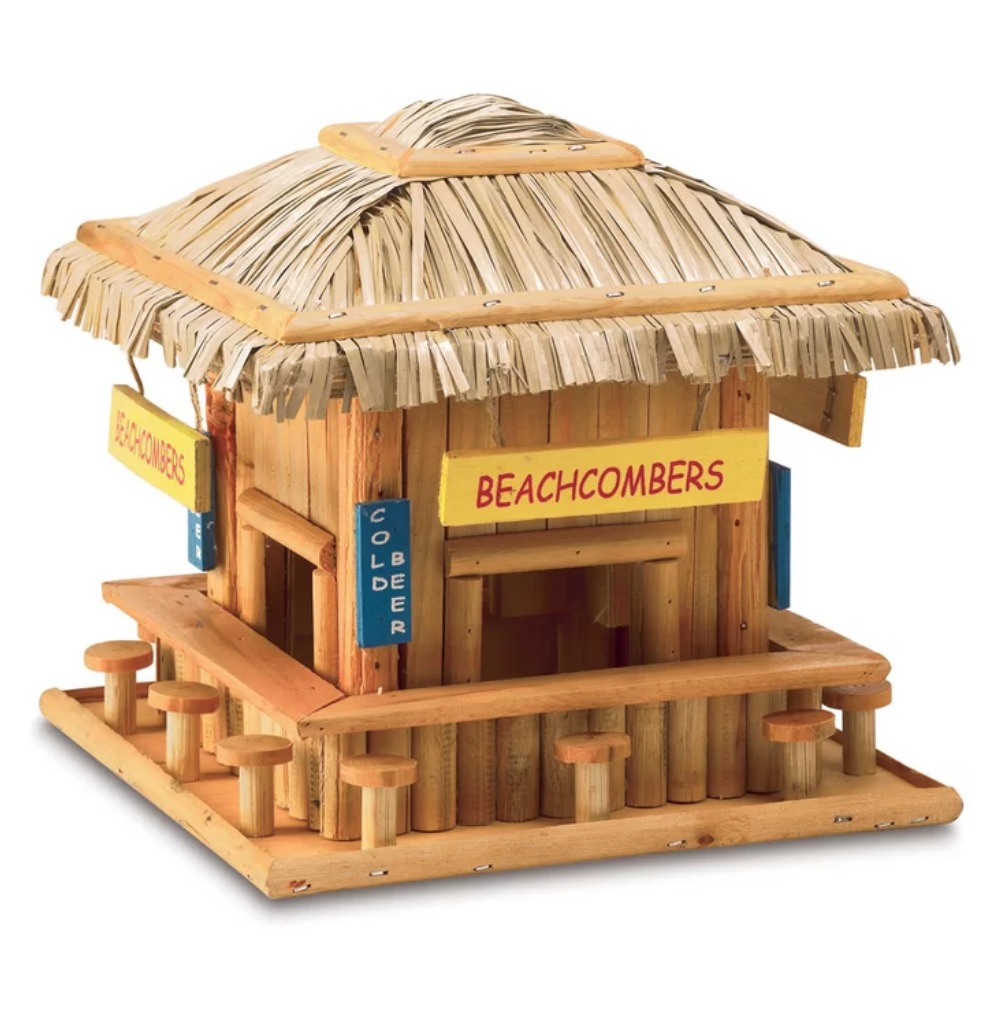 With its straw roof and bar stools, the Beachcomber Birdhouse may not be functional but what a great conversation starter! Or use as decor piece for a beach home. Made of wood, the Beachcomber Birdhouse is a freestanding mount birdhouse with an extended roof overhang and plenty of bar stools. Step right up for some cold refreshments!
Resources for DIY Birdhouses To Attract Birds
For those that prefer a DIY project, consider making your own birdhouse. There are many downloadable birdhouse project plans to select from. Wood Magazine is one resource that offers recommendations on birdhouse building. see Housing Guidelines for the Birds.
Resources for Bird Monitoring
The Cornell Lab of Ornithology is an environmental nonprofit and a proud unit of Cornell University in Ithaca, New York. The Cornell Lab of Ornithology is a leader in the study and conservation of birds. Ornithology is the scientific study of birds. A total of six Citizen Science projects are organized by The Cornell Lab of Ornithology. The six projects are eBird, Project FeederWatch, NestWatch, Celebrate Urban Birds, Great Backyard Bird Count, and Habitat Network.
Nestwatch – Birdhouses to Attract Birds
Nestwatch is a nationwide monitoring Citizen Science project program. They record the reproductive biology of birds. Volunteers report nesting bird habits including counts for eggs laid, eggs hatched, hatchling survival, type of bird, and location of the nest.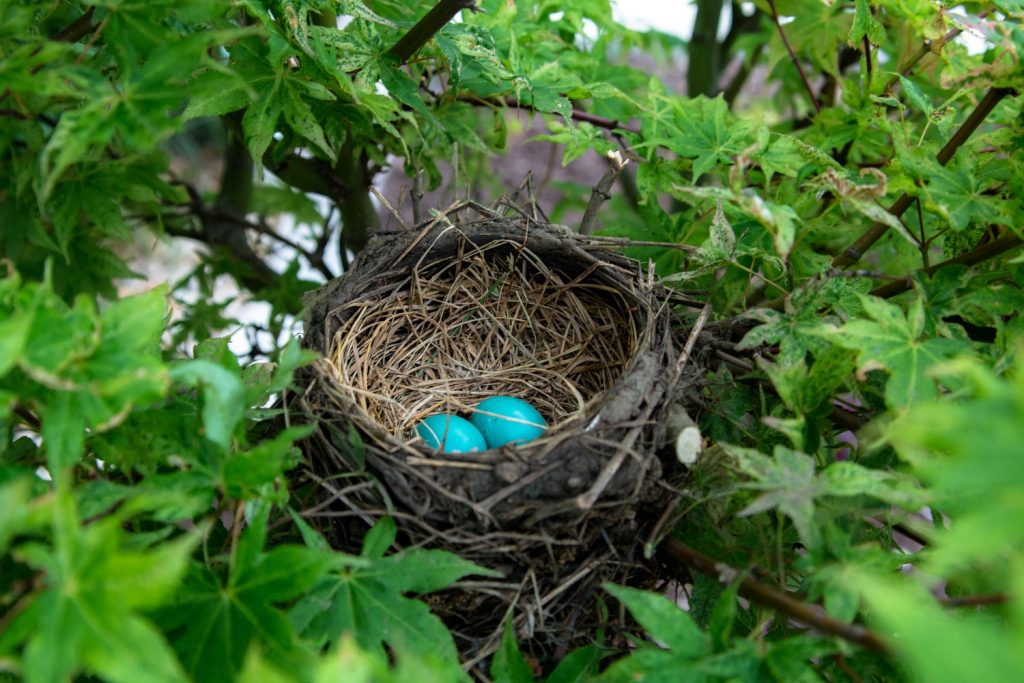 In All About Birdhouses, NestWatch gives tips on making a safe home for our feathered friends. It includes features of a good birdhouse, selecting the right type of birdhouse for the right bird, and installing a bird-cam. Nest Box and Nest Structure Plans based on the bird species are available. You can select nest box downloadable construction plans at various levels of difficulty. Downloadable construction plans vary from simple, moderate, complex, and even kid friendly birdhouses.
You can view images of a particular bird species such as the Eastern Bluebird. Images displayed include a bluebird nest, newborn babies, both female and male plumage. A third tab features an option for listening to Eastern Bluebird calls and songs. A great learning tool to introduce school age children the importance of birds in our neighborhoods.
More Sources for Birdhouses to Attract Birds Construction Plans
The Family Handyman provides instructions on How to Build a Birdhouse for less than $20. The step-by-step instructions takes about a half day to build.
The Virginia Department of Game and Inland Fisheries provide instructions to Make a Birdhouse. The instructions also provides useful tips for building birdhouses. One invaluable tip for birdhouse building is to omit the perch. Cavity nester don't need a perch. In fact, perches aid predators in their hunt for birds. Good stuff to know!
These are beautiful birdhouses to attract birds to your garden for a private dawn chorus. Whether you purchase an already built birdhouse or venture into DIY territory and build your own, let us know how you make out. We'd love to hear about your birdhouse.
For information on a DIY home address project, see our post for a street address sign. We were motivated by a notice from our wonderful local Fire Marshal. He stressed the importance of having a clearly visible address sign in the event of an emergency. The reminder mentioned that street address signs should be visible from the street day and night. See our post – Coastal DIY: Mid-Century Modern Address Sign. The best thing about this DIY home project? The street sign adds much needed curb appeal to our home!
For information on Fall annuals to plant now, see our posts 8 Fantastic Annuals to Plant This Fall or for Spring blooming bulbs see 20 Sensational Spring Blooming Bulbs to Plant This Fall! If you have any questions, feel free to reach out to us in the comments below. We always are ready to help you out.