Give the kids some fresh air with these awesome backyard toddler toys. Turn your yard into a toddler fun zone and get them out of the house! Here are some of our favorite finds to make a special playground right in your own yard.
Neighborhood Fun Center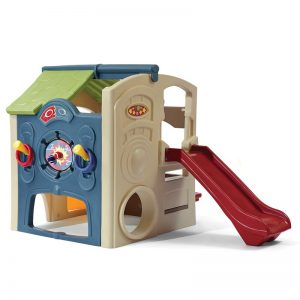 This multi-zone all-in-one play station includes a 4-foot slide and features an activity station with a 6-piece accessory kit for ring and ball toss games. On the reverse side is a complete 'snack station' so kiddies can serve their family and friends at the counter. Made primarily of weather-resistant plastic.
Measures 70 1/2″ W x 37 1/2″ L x 54″ H and weighs a substantial 60 1/2 pounds.
Pirate-themed Sand Boat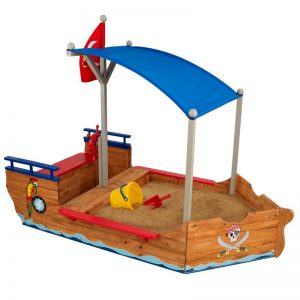 Sand boxes are one of the classic backyard toddler toys. Check out this ultimate pirate-themed sand boat shaped like a Pirate Ship. Made in the USA of solid wood, it features fun pirate-themed details, a canopy to keep the sun off the kiddies and a plastic liner to keep sand in place. Be the envy of the neighborhood with this one!
Measures 60″ D x 44″ W x 79″ L and weighs 55 pounds.
Crabbie 4′ Sandbox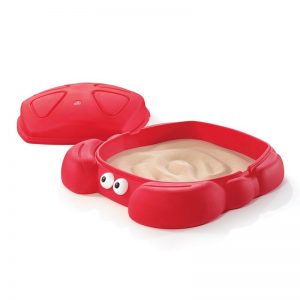 If you are looking for a sand box with a smaller footprint to tuck under a tree or in a corner, try this Crabbie Sandbox by Step2. Made of durable weather-resistant plastic and comes with a convenient cover to protect sand from weather and critters.
Measures 37 1/2″L x 37 1/4″W x 7″ H and weighs 25 pounds.
Gather and Grill
Have some play grill fun with the grilling station fun house by Step2 comes with all the details to keep up with Mom and Dad's grilling! This playhouse features a full kitchen and grill, bench seating for two, a door and two windows for serving. There is even a working electronic doorbell to alert you of hungry diners! Invite the whole gang over for some outdoor play dining. Made of durable, weather-resistant plastic.
Measures 64 1/4″ H x 55″ W x 50 1/2″ D and weighs 105 pounds.
Splash 'N Scoop Bay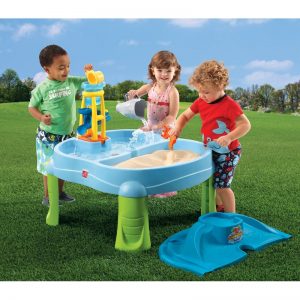 The compact Splash 'N Scoop Bay 2-sided play station features both a water splash zone as well as a scooping sand area. Holds 1 1/2″ gallons of water and 15 pounds of sand. An optional 42″ umbrella is available from Step2 that fits in the center of the station to provide shade. Made of durable, weather-resistant plastic.
Measures 29 1/2″ D x 31″ W x 28 1/2″ L and weighs 15 pounds.
Paw Patrol Water Table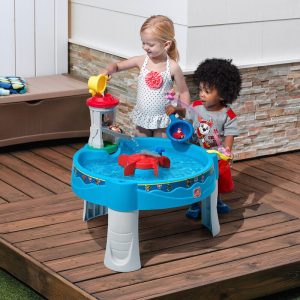 If you have little Paw Patrol fans in your household, how about this Paw Patrol themed Water table by Step2. Features a water basin with drain and multiple accessories and sensory activities to keep little ones entertained for hours. Made of durable, weather-resistant plastic.
Measures 24 1/2″ D x 31 1/2″ W x 31 1/2″ L and measures 10 pounds.
Inflatable Slide
Burn off some toddler energy with this giant inflatable water slide. Features two slides, a basketball hoop and mini climbing wall. This one is sure to be a hit and will keep everyone cool when the sun is hot out!
Comes with an electric inflation blower, water sprayer and hoses and accessories for setup. Measures 8 1/2′ H x 12′ W x 14′ D.
Inflatable Car Wash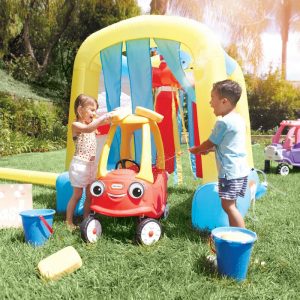 What better way to play and keep cool than this really cool inflatable car wash allows your kids to imagine operating their very own car wash! Keeps everyone cool with 2 water sprayers inside. Includes electric air inflator, hoses and extra sprayer.
Measures 5 1/2′ H x 4 1/2′ W x 4 1/2′ D.
Crocodile Rocker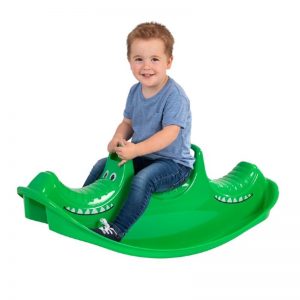 Keep the good times rocking around the clock! This fun Crocodile Rocker Teeter Totter can support 3 children and is made from durable extra-thick plastic safe for indoor and outdoor use. A fun rocker like this one makes for great backyard toddler toys. Made in the USA.
Measures 15″ H x 41″ W x 16″ D and weighs 5 1/2 lbs.
Hopefully a couple of these fun backyard toddler toys caught your eye! They are all designed to safely bring some outdoor entertainment and activity for your children. Set up your yard for hours of play time and get them outside when the weather is nice!
Have experience with a backyard toddler toy that you think is a must-have? Please leave a comment for others to share!
And if you need additional inspiration for outdoor living, take a look at our other outdoor space decor posts.
You may enjoy our other outdoor space related posts.
Pool Accessories Outfitted for Summer Fun
Bold Bistro Tables
8 Gorgeous Garden Stools
Cool Patio Chairs
Accessories for the Ultimate Grilling Setup
Thanks for reading.
Mary