Find out what you need for the ultimate grilling setup.  Summer just isn't complete without grilling outdoors.  Here are some key accessories that will set you up for the best grilling fun and experience.
If you already have a good gas grill then you can skip down to the next section.  If not, the obvious first and most important component of a great grilling setup is the grill itself.
Weber makes some of the most highly-rated grills at various price points and sizes to meet your needs.  Featured here are three examples in a 2-burner, 3-burner and portable grill depending on your needs.
For average-size family meals and small BBQ parties these grills should give you enough grilling space.
Weber Genesis II E-330 3-burner grill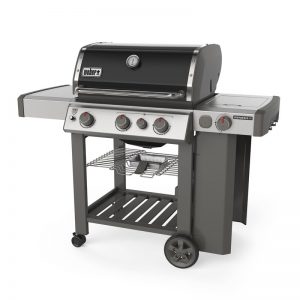 This 3-burner LP grill from Weber should meet most average-sized grilling needs.  It features 3 LP gas burners for more even heating, porcelain-enameled cast iron grates and a generous 513 square inches of cooking area.  It also adds an extra side burner for simmering sauces or side dishes.  Uses standard 20 lb. LP fuel tanks.
Weber Spirit E-210 2-burner grill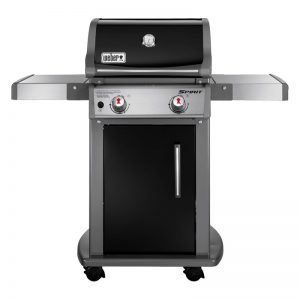 If you have less space or a just grilling for 2 to 4 people at a time, this more compact 2-burner grill from Weber might be perfect.  Features 2 LP gas burners producing 26,500 BTU and 458 square inches of cooking area.  Shelves fold down to keep the stored grill at only 29 1/2″ wide.  Uses standard 20 lb. LP fuel tanks.
Weber Q 2200 1-burner portable grill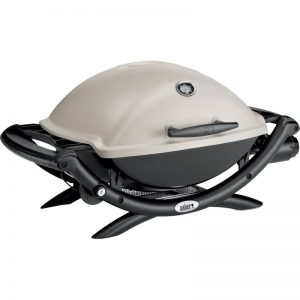 If you only have a small balcony or limited outdoor space, try this Weber Q 2200 portable grill.  Features lightweight cast aluminum construction with dual folding shelves, external temperature gauge, one 12,000 BTU propane burner and 280 square inches of porcelain-enameled cast iron grates for cooking space.  Note, this grill uses smaller 14.1 oz or 16.4 oz liquid propane (LP) disposable cylinders.
Measures  51 13/32″ L (shelves extended) x 19 1/2″ W x 15 1/2″ H and weighs 43 1/2 lbs.
Wood Skewers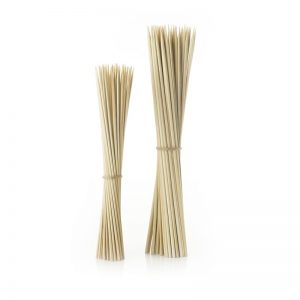 Grilling smaller foods like shrimp or cubed meat like shish kabobs are much easier with good skewers.  If you want to minimize clean up for larger meals or parties, try this 100-pack of bamboo skewers by Natural Home.  The pack comes with 2 sizes, 8″ and 10″ skewers.  A tip to minimize burning wood skewers:  soak them in water for 30 minutes before skewering food and grilling to keep them from falling apart before food is cooked through.
Metal Skewers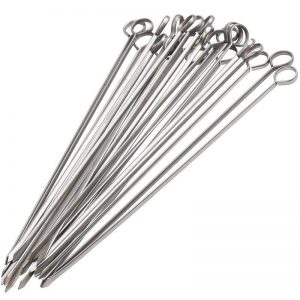 If you prefer to minimize waste and don't mind washing and reusing skewers for everyday grilling at home, try this set of 24 Metal skewers.  These 12″ long metal skewers feature a flat blade design to keep foods from rotating and a ring end for easy flipping or hanging.  Made from stainless steel and are dishwasher-safe.
Grill Cleaning brush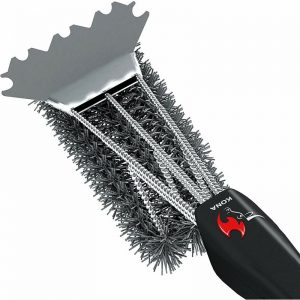 Most grill brushes are made from rough stainless bristle that is great for scraping grill grates.  However, cheap brushes can leave metal pieces embedded in your grate and transfer to your food. Also, stainless bristles can scratch and damage your grill grate if they are coated or enameled.
This Safe Grill brush by Kona features safer ceramic-coated nylon bristles to avoid these problems.  Clean after every grilling session and you'll avoid needing to use anything more abrasive.
Giant Tongs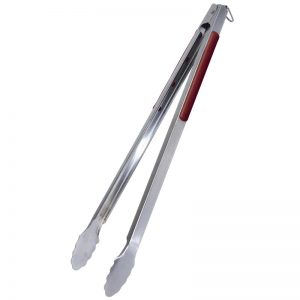 A sturdy pair of long tongs is one the most important tools for a good grilling setup.  These Giant Tongs by GrillPro are 20″ in length and reinforced with wood panels.  It is a good idea to keep several on hand so you can keep marinated proteins separate from veggies or seafood.  A pair of tongs are a critical accessory for the ultimate grilling setup.
Wide Grill Spatula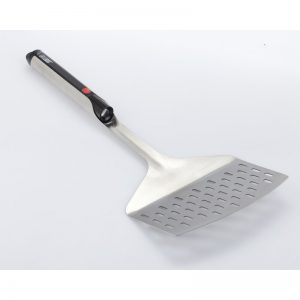 A good spatula is important to flip and remove certain items like burgers and fish.  While a heat-safe spatula from the kitchen might work in a pinch, invest in a wider spatula to avoid balancing acts and dropped food accidents.  While this Fish Grill Spatula may be named for its effectiveness at flipping fish, its extra-wide head makes flipping everything easier.
Basting Brush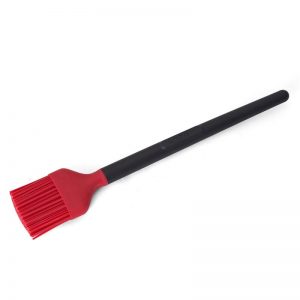 Keeping food from drying out is much easier if you keep items basted in marinate or oil while grilling.  This professional silicone basting brush by Farberware makes this task much easier. A long handle and heat-resistant silicone construction make it ideal for grilling.
Wireless Grill Thermometer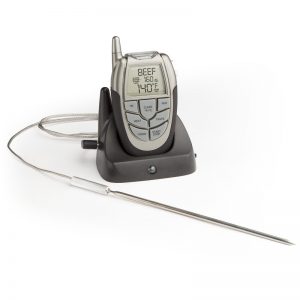 Most grills come with a basic temperature gauge but they are usually not very accurate.  They are good enough to tell you when the grill is hot.  If you want to cook your meats to a specific internal temperature, try this handy Cuisinart wireless grill digital thermometer.
Insert the probe into your item and clip the wireless probe to your belt and take it with you.  The meat probe is rated to 800 degrees fahrenheit.  The monitor has built in temperature settings for 6 different proteins.  It has a 100ft range and uses 4 AAA batteries.  A wireless thermometer prevents unnecessary checking in on the grill and is a must for the ultimate grilling setup!
Flexible BBQ Grill Light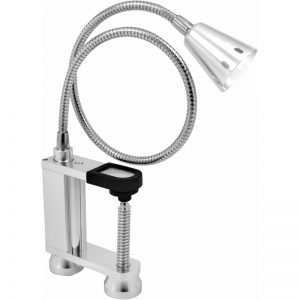 Light up your grilling area with this Flexible BBQ Grill Light that features an extra long 22″ flexible goose neck.  The light uses 12 LED bulbs for efficient lighting powered by 3 AAA batteries.
Clamps securely to any surface for flexible positioning and is weather-resistant.
Napoleon Grill Mat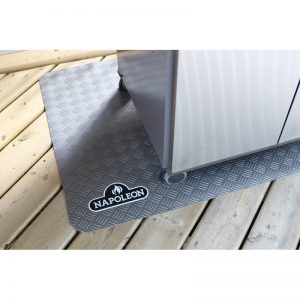 This Napoleon grill mat will keep your deck or patio clean from stains and residue.  It also will make it easier to move your grill if it is on wheels.  The mat measures 47″ x 32″ and is flame-resistant.
Hopefully you found some items from this list that will help you create or enhance your own ultimate grilling setup!  If you have other ideas for must-have accessories, please share with us in the comments.
Interested in Outdoor Living Spaces? If you found this helpful . . .
You may enjoy our other outdoor space related posts.   
Pool Accessories Outfitted for Summer Fun 
8 Garden Benches for a Restful Break
Bold Bistro Tables
8 Gorgeous Garden Stools 
We hope this post gave you lots of ideas for staying warm during the chilly evenings on your patio! If you have ideas for fire pits that you recommend, leave a comment below!
Thanks for reading.
Mary