Basket storage for the home. Searching for storage solutions to tidy the home before guests arrive? For a quick and easy way to manage out of control household items and clothing, make the most out of storage baskets. Storage baskets bring order to accessories, clothing, as well as personal items. Choose from the many baskets available in a variety of sizes, shapes, strengths, and materials. Baskets not only handle just about every storage job, they bring amazing style to your shelves and closets. 
The ever popular storage basket transforms any home area into a tidy, organized space. Enlist these tough workhorses to tidy clothes, your partner's tech gadgets, or the kids' toys. Baskets can tackle just about any storage job. In fact, there is an ever-growing selection of baskets to organize just about anything. 
Here is our list of basket storage to eliminate the clutter. 
Storage Fabric Bin – Basket Storage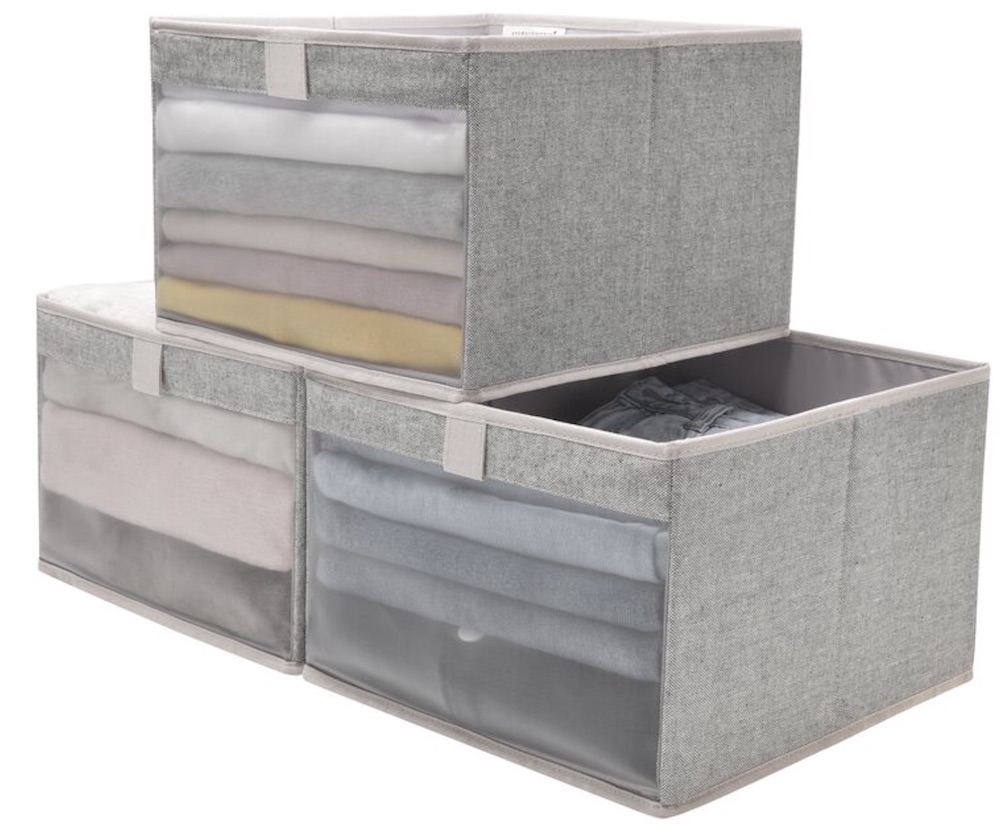 A set of three Storage Fabric bins that are foldable. The collapsible, foldable bins are a valuable space-saving feature. This is especially important in smaller living spaces with limited closet space. Another important feature, they are constructed from heavy-duty cardboard surrounded by polyester fabric. The transparent PVC window allows a quick view of the interior contents. Select this set for any seasonal closet storage needs. 
Kelli Cotton Nesting Basket Set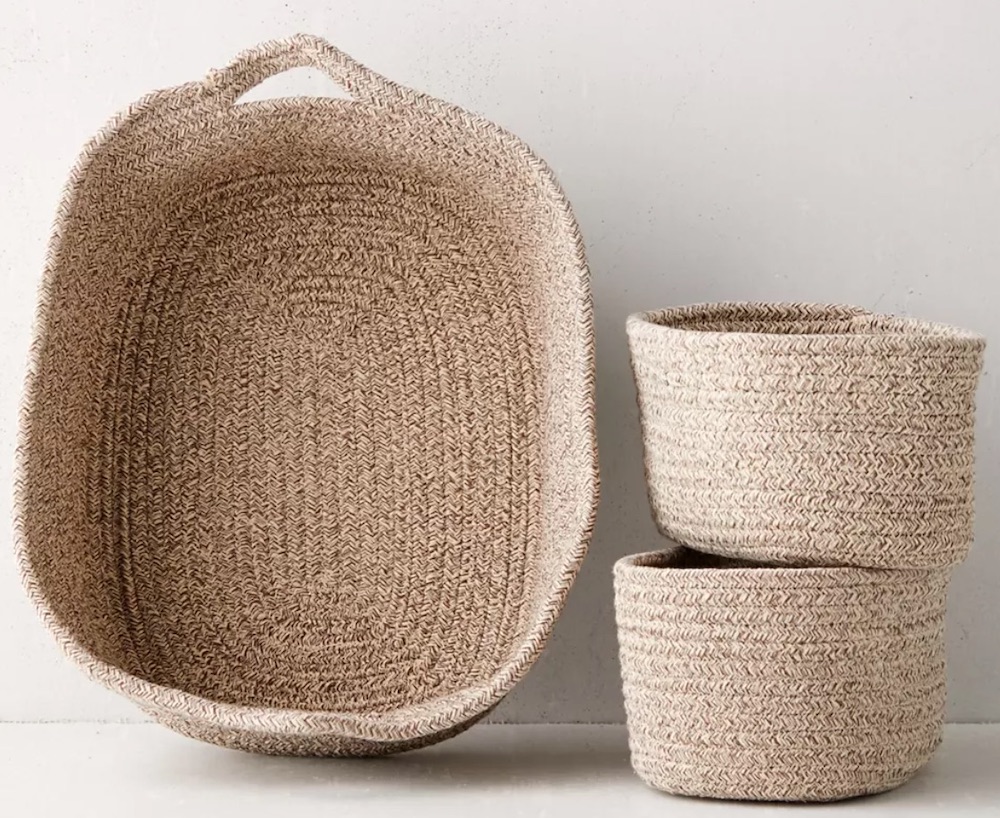 A nesting basket set, the Kelli Cotton Nesting Baskets are made of braided cotton. The handles woven as side handles allow for ease in transporting the basket. The set includes one large basket with two equally smaller baskets. Utilize this basket set for light-weight storage needs.  
Savannah Handwoven Seagrass Utility Baskets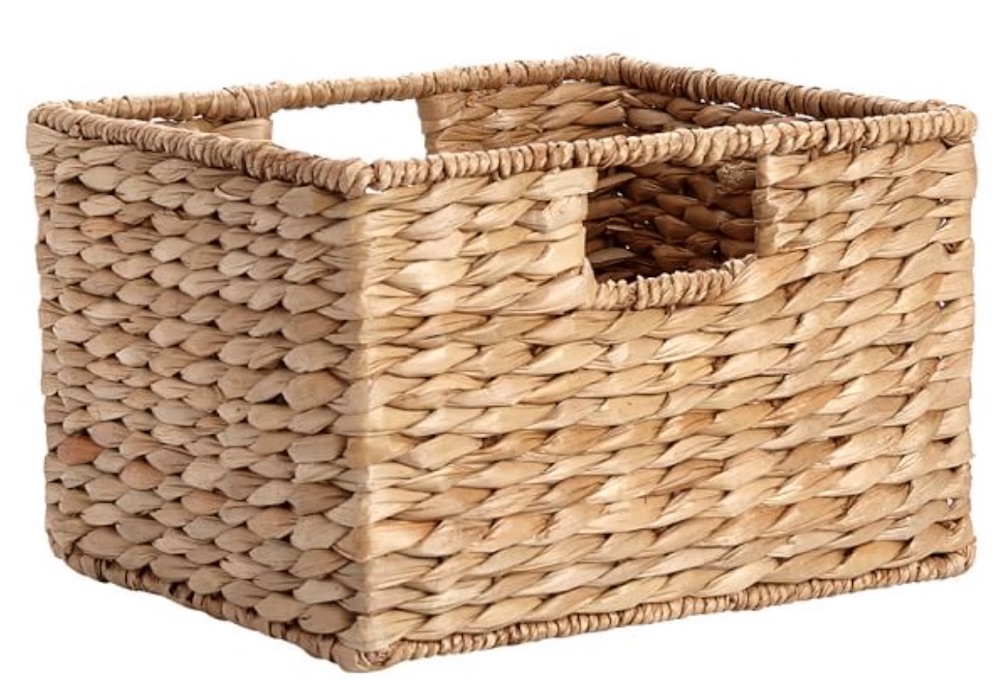 The Savannah Handwoven Seagrass Utility Basket is woven from natural seagrass. Followed by a clear lacquer to protect and highlight the natural color variance. However, the most notable feature are the cut out handles. Since the handles serve a dual purpose. First, the basket is easier to handle. And second, the openings allow for bin clip labels that identify the basket contents without handling the basket.   
Gold Metallic Woven Baskets – Basket Storage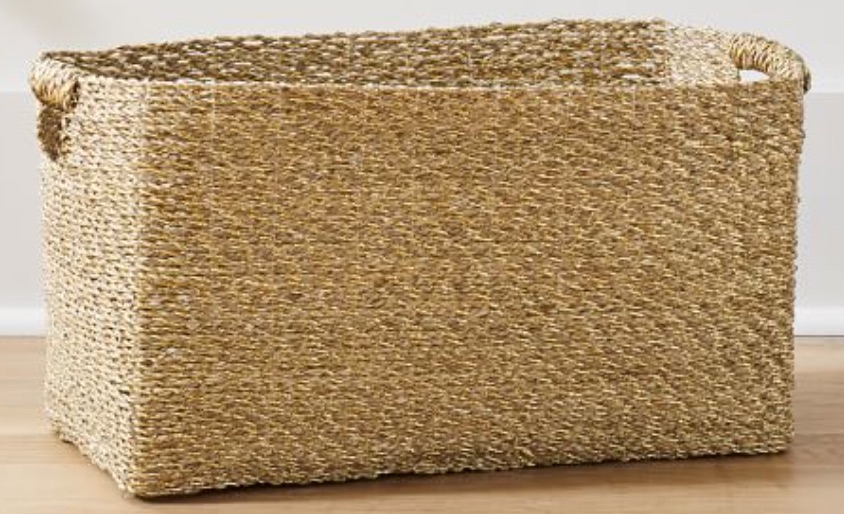 For a glam look, the Gold Metallic Woven basket has a shimmering material. A console size basket made from seagrass and aluminum foil. In this particular case, store lighter, fragile items in this pretty basket.  
Water Hyacinth Bin Natural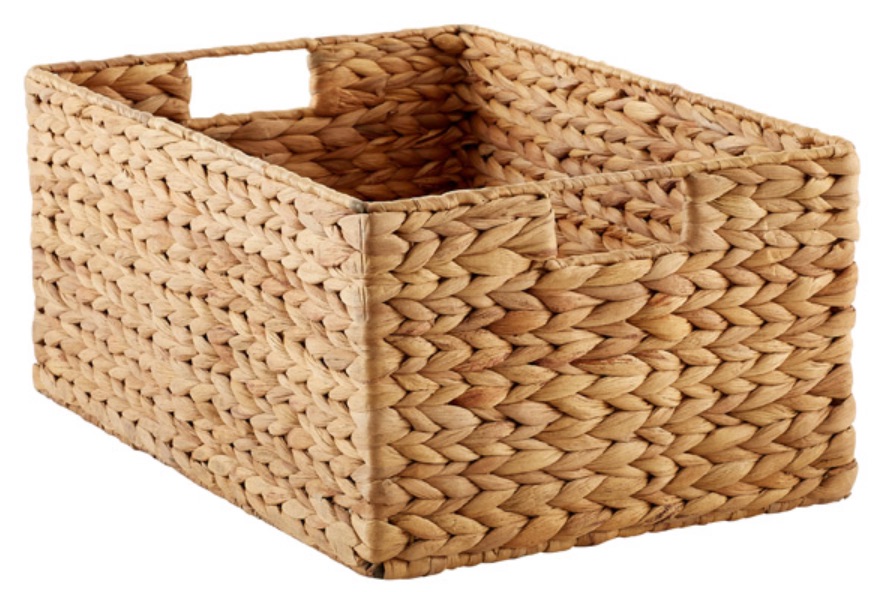 The large Water Hyacinth Bin in natural is made from water hyacinth as the name implies. Basket is woven over a metal frame for added support and strength. In this case, store heavier items in this sturdy basket. 
Lennox Rattan Baskets – Basket Storage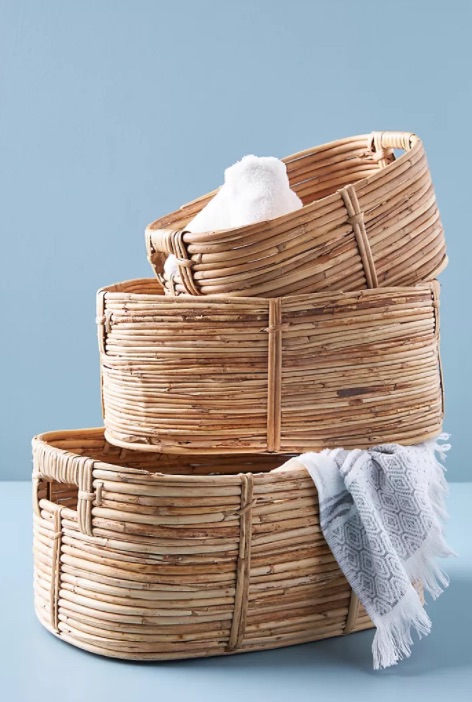 The Lennox Rattan baskets are a set of 3 baskets in different sizes. Baskets are made from rattan and bamboo for extra strength. As you may already know, although bamboo is light weight it is known to be stronger than lumber.      
White Nordic Storage Baskets with Handles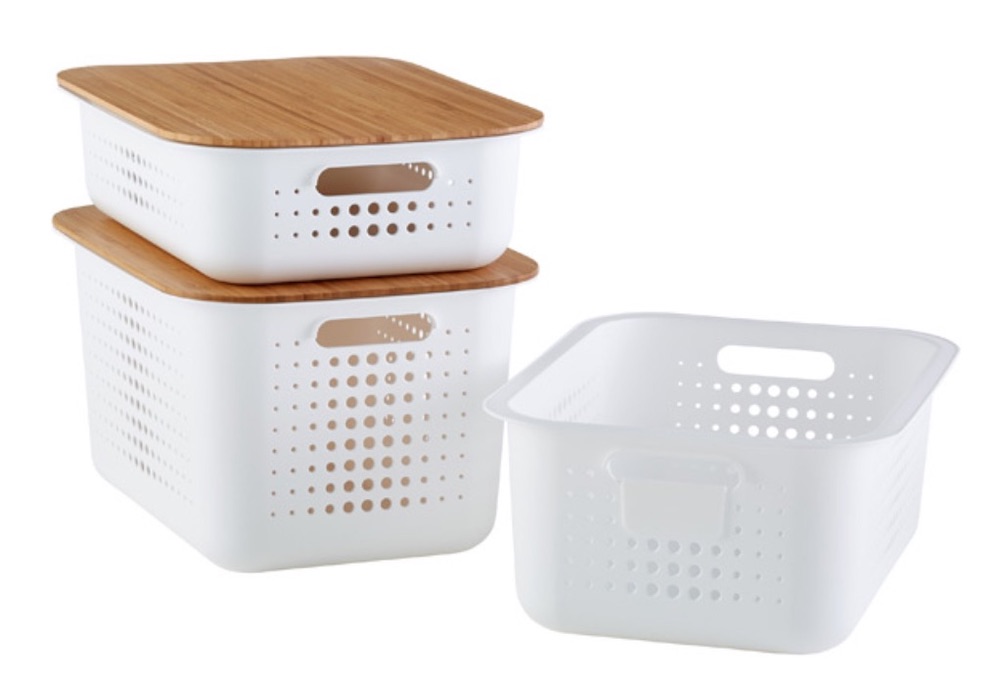 Nordic Storage Baskets are made of white plastic material. Basket handles are cut out for easy handling. Ventilation holes allow basket contents to be visible without removing the contents. The lids are optional and made from bamboo. Select these baskets for clothing items that require ventilation and not air tight conditions.   
Golden Beige Wicker Oval Baskets – Basket Storage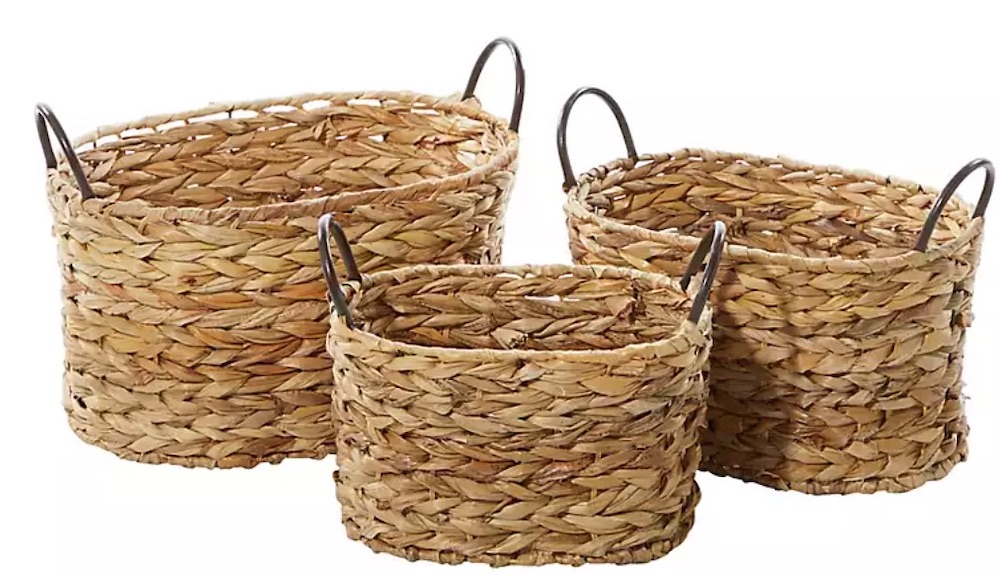 The Golden Beige Wicker oval baskets are a set of three baskets. These oval baskets are made from a braided weave design of natural materials. The golden beige finished basket has handles made of iron which add to the contrast. An open design basket for easy reach. Select an open design basket for storing larger, oversized, or bulky items. 
Aubrey Handwoven Basket Gray
The Aubrey Handwoven Basket is handwoven from rattan and wicker. The gray finish basket brings a warmth feel to the home. Select the Aubrey basket for storing medium to heavy weight items.  
Wide Weave Leather Basket – Basket Storage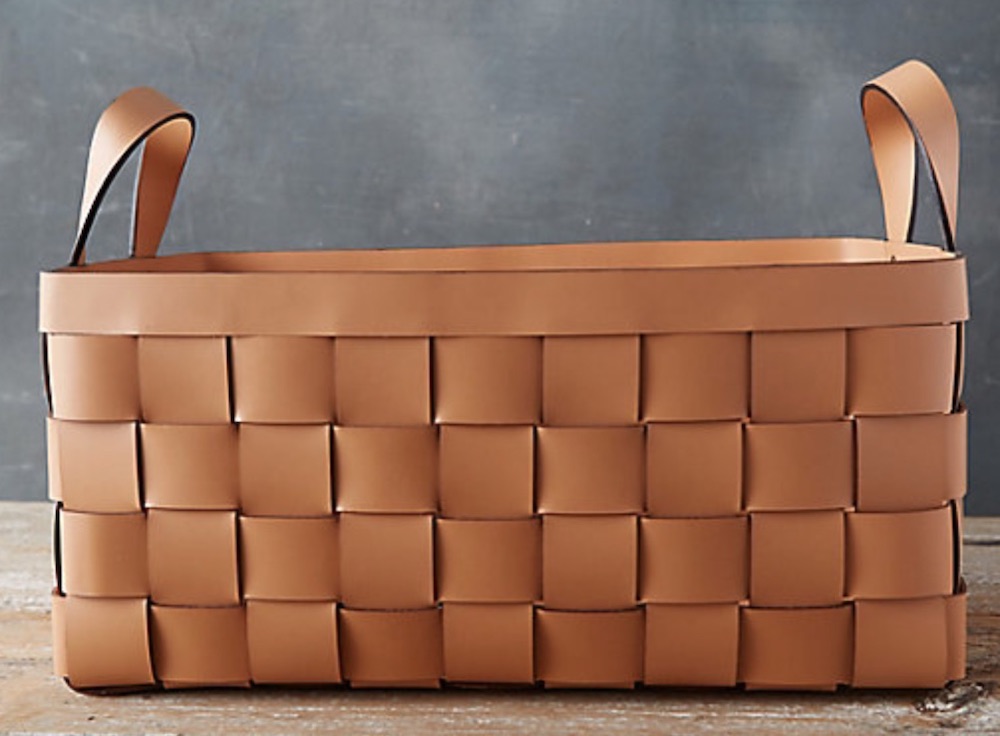 The Wide Weave Leather Basket is hand-crafted from leather. Large handles allow easy transport as needed. Store linens, shoes, clothing, and more in this leather basket. As well as handle tough jobs around the house.
Modern Weave Large Lidded Storage Baskets – Whitewash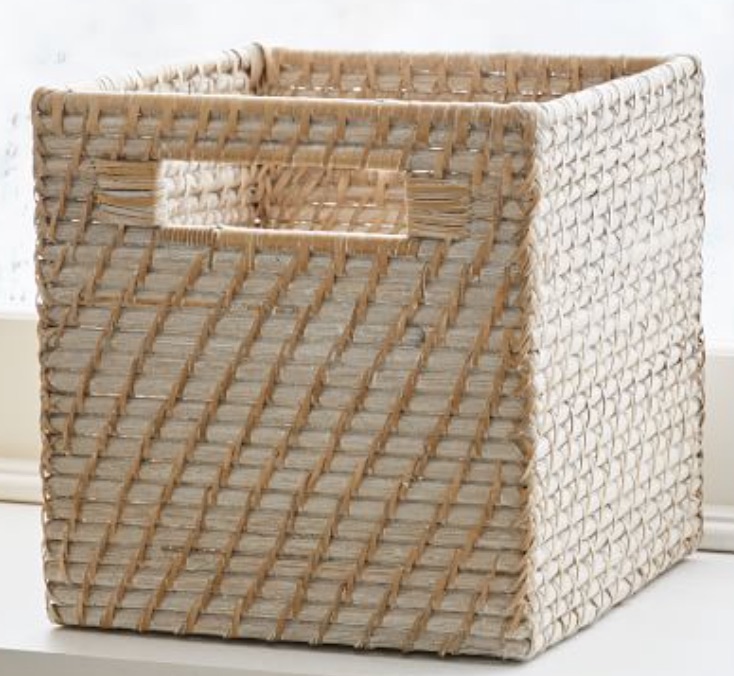 The Modern Weave Lidded Storage Basket covered in a tightly handwoven rattan peel. Then finished with a whitewash. These baskets bring a polished, finished look to your home. 
Woven Nesting Baskets with Handles – Basket Storage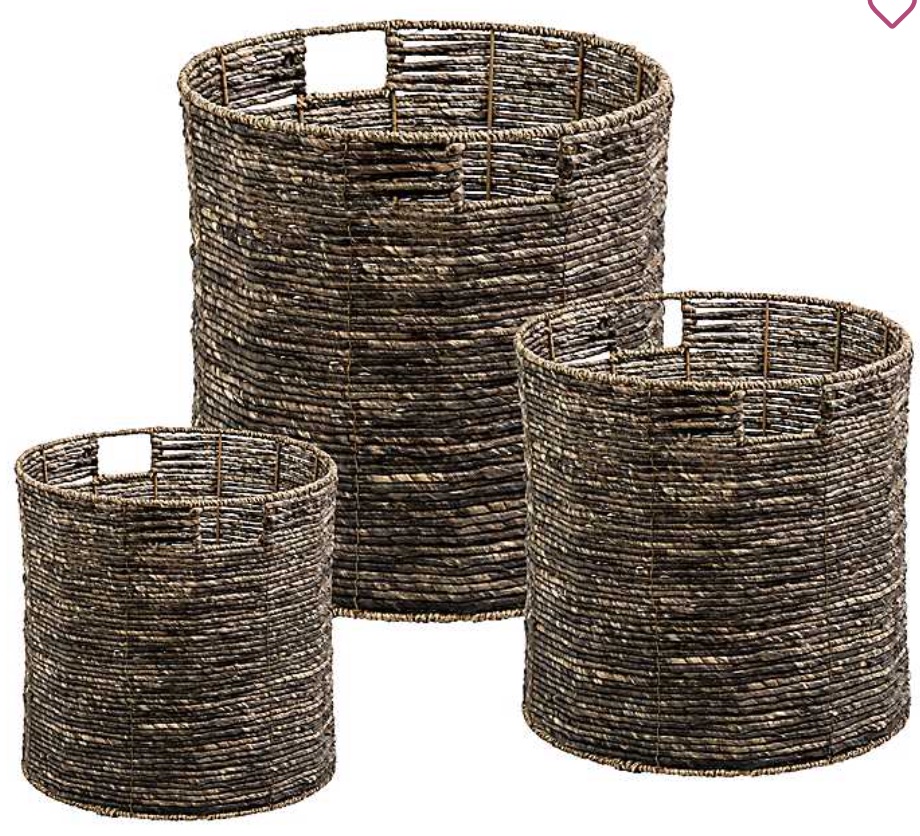 The Woven Nesting Baskets are made from natural materials. Side handles allow easy toting. The woven nesting basket set has a brown hue stain finish. 
White Bin Clip Labels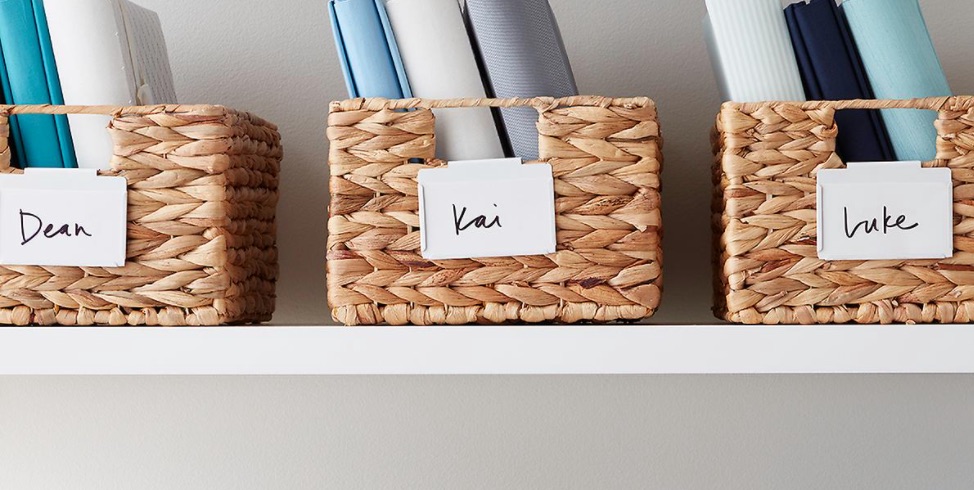 Place basket labels on each basket to quickly identify the basket's contents. Labels are an important step to maintaining an organized home. Bin labels are attractive and include the following:
white bin clip labels identify basket contents for quick access to stored items 

use with bins, baskets, crates, and boxes up to ½ inch thickness 

remove clip label or easily reposition on basket  

set of three reusable clip labels    

use a chalk marker or dry erase marker (see below) to write the label name on the clip label     
Classic Chisel Tip Chalk Markers – Basket Storage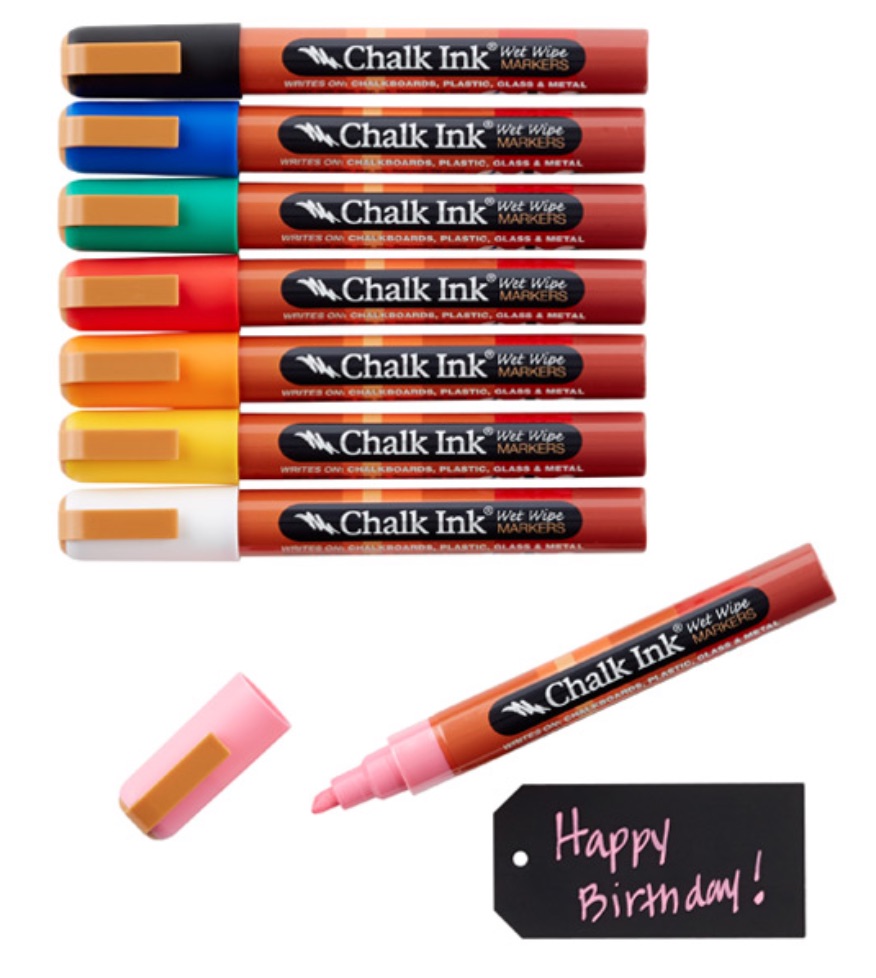 Benefits of markers are as follows:
apply marker that dries to a matte-like chalk finish  

writes in two styles – a chisel or bullet font   

writes on any non-porous surface including chalkboards, mirrors, plastic, ceramics and windows 

chalk Markers wipe off with water 

100% non-toxic 

package of 8 
Final Ideas for Basket Storage
This ends our basket storage list. There are numerous baskets to select from as you can see. Baskets that fit into any room and decor style in your home. Bring instant order to your home office, living area, and bedroom with these basket storage solutions.
Utilize baskets as a substitute for furnishing when needed in smaller living spaces. As a matter of fact, collapsible and foldable baskets work exceptionally well in small living spaces. Baskets that are not in use, can simply be folded into its smallest size. Store away in a dry area. A collapsed basket needs less space. Whereas, the expanded basket needs more space. For this reason, foldable baskets are a great choice for smaller living spaces.       
Basket storage is a quick and easy method to manage your home organizational needs. Select storage baskets for every room and style in your home.  
Read our other posts for more organizing inspiration. 
Enjoy our other organizational related posts for ideas   
Simple Farmhouse Storage Solutions 
Storage Bins, Canisters, and Baskets
10 Affordable Solutions for a Super Organized Dresser 
Reach out to us with any questions. We are always ready to help you out. Thank you for stopping by our blog. 
Mary