Does your laundry room lack storage? Are you spending too much time searching for the laundry stain remover? With the never ending work of clothes washing, it is important to have laundry supplies organized.
Some days do you spend too much time searching for laundry supplies? Does your laundry station seem disorderly? Are you storing dog food and household cleaning supplies next to your laundry supplies?
If your laundry products are scattered in different places, maybe it time to organize them. Keep laundry supplies separated from other cleaning supplies. Disorganized laundry supplies. Or dirty bottles often sticky from drips running down the side can slow you down. To make matters worse, there are times when you need laundry done right away. Especially when everyone is running low on clean clothes.
With mountains of dirty clothes needing to be washed, you need solutions. You don't need to spend extra time searching for a stain stick or stain spray if they are all in one place.
We've rounded up 9 ingenious gadgets to keep laundry supplies organized. And keep supplies handy. Take a look. And let us know what you think.
Rolling Laundry Cart White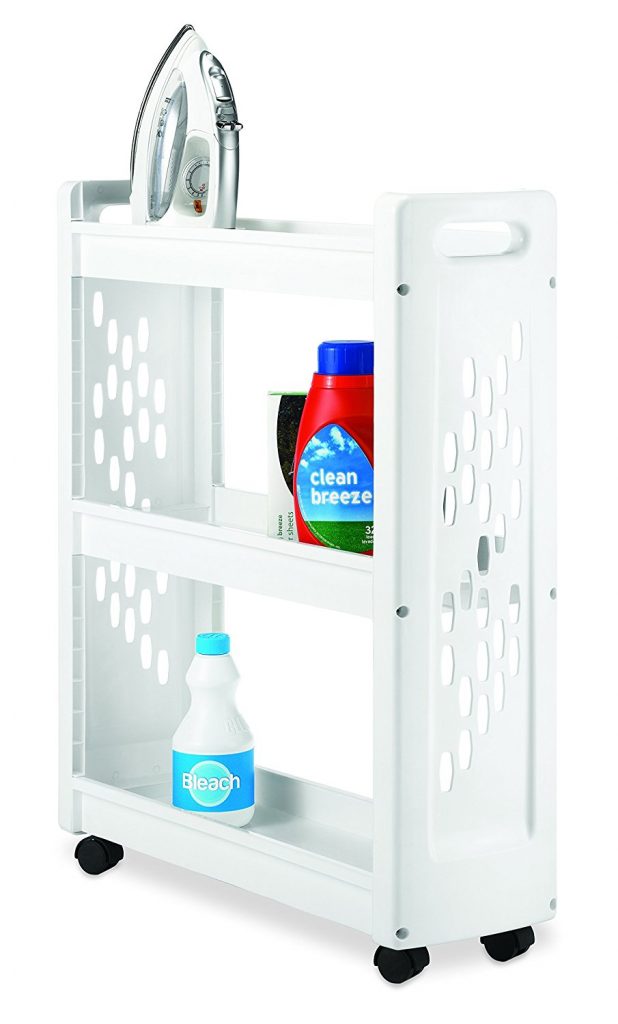 The WHITMOR 3-Tier Rolling Laundry Cart has glide casters. The narrow compact design fits easily between the washer and dryer. The space saving laundry cart provides easy access to your laundry supplies. A 3 tier cart provides plenty of room to store stain sticks, stain spray, dryer sheets and detergents. No more reaching for products on high shelves. No more dragging out the utility ladder to access laundry supplies. Laundry products are handy and only a step away!
Home Wool Dryer Balls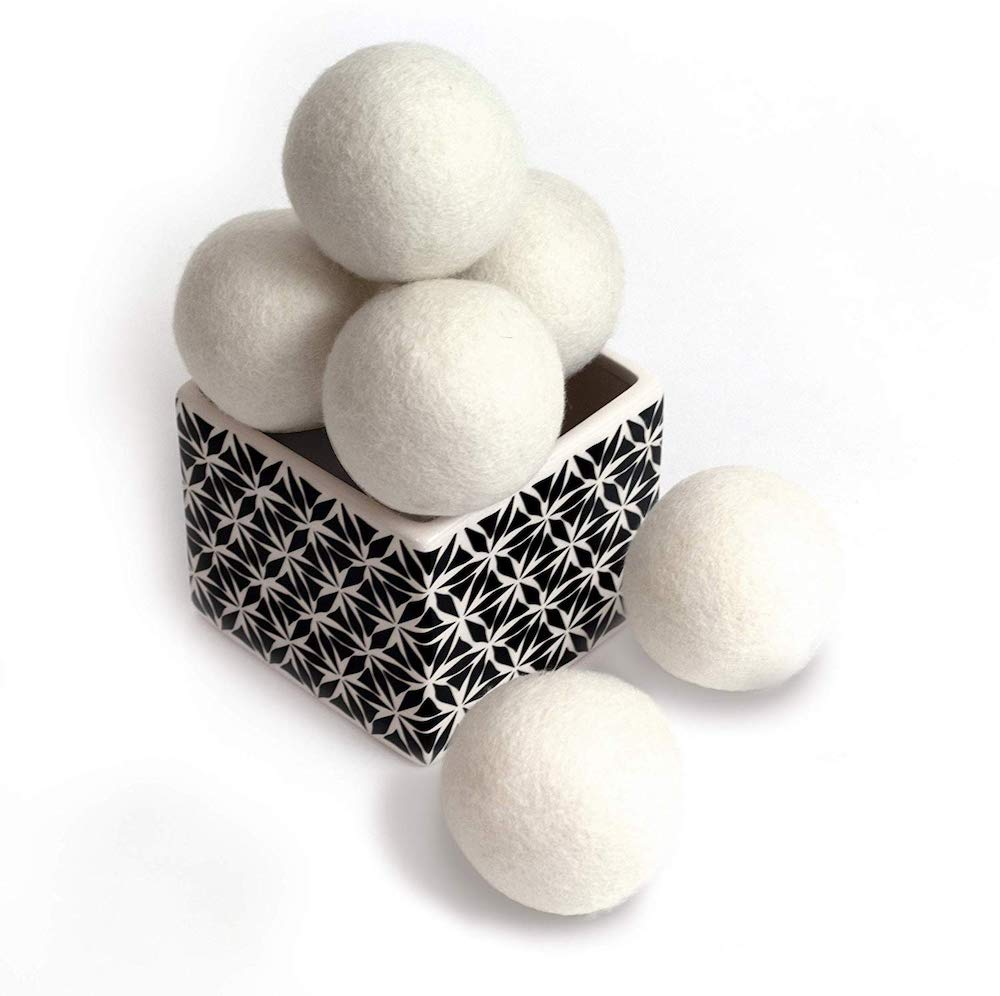 Home wool dryer balls are all natural and organic. A chemical free alternative to dryer sheets and single use products. Wool dryer balls reduces wrinkles in clothes therefore you can skip the ironing. Anti-static drying and minimizes clothing lint. Reusable and lasts for many drying loads. Wool dryer balls saves money. Skip the costly single use dryer sheets and fabric softeners.
Laundry Detergent Powder Storage Tin Box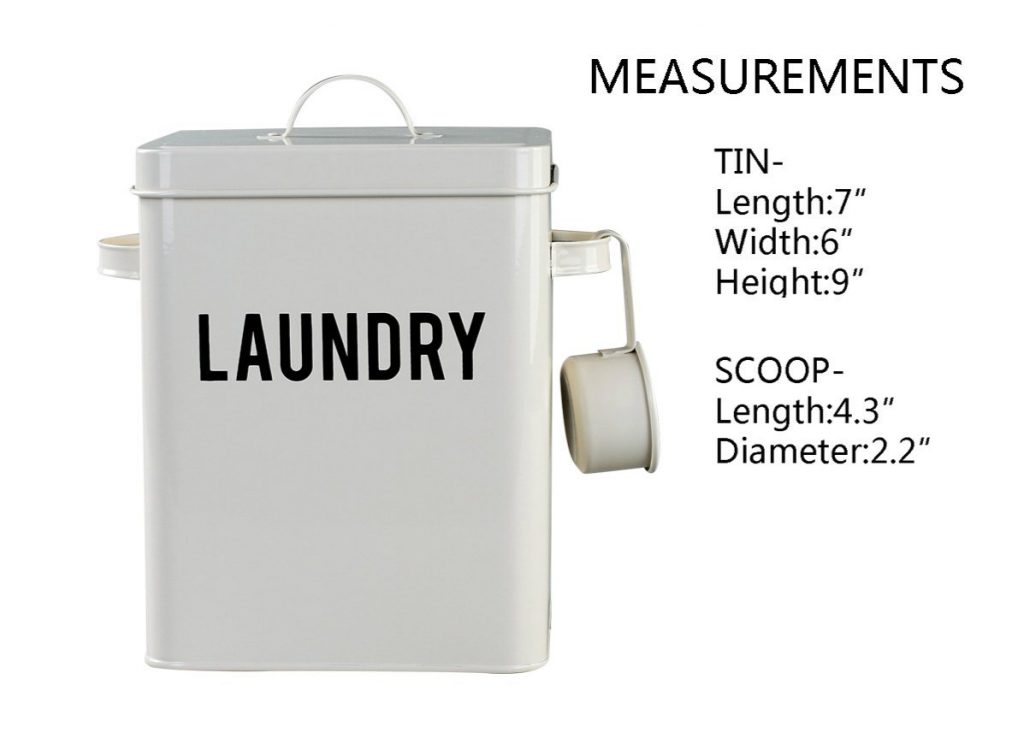 Beautiful Farmhouse Decor! The Laundry detergent tin storage box can hold powder, tablets, capsules, pods, or washing soda. A great storage solution with its convenient side handles and matching tin scoop. Stylish storage option that'll make your laundry room sparkle!
White Hanger Holder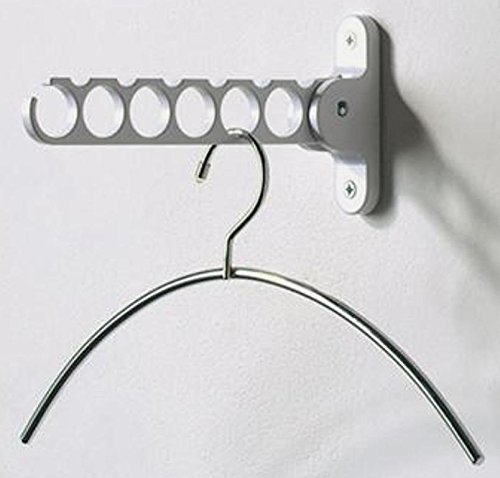 The Hanger Holder makes handing shirts, pants, and dresses easy. Reduce wrinkles by hanging clothes right after laundering them. A collapsible arm allows you to tuck away when the hanger holder is not in use. A two pack set. Hanging wet or dry clothes is a cinch. Maintain freshness and wrinkle free clothes. Save time. Save money.
Laundry Utility Hanger Shelf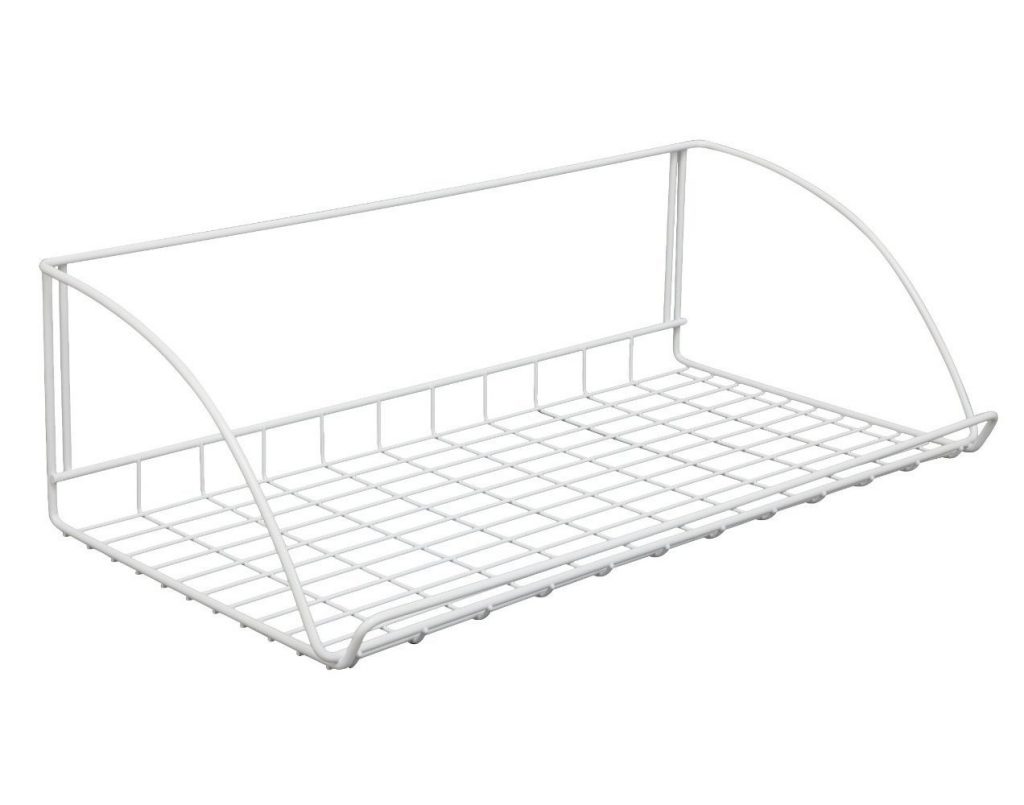 Laundry Utility Hanger Shelf can be used facing up or down. A facing up ventilated wire shelf neatly holds up laundry supplies. A rod with a facing down shelf acts as a clothes hanging station. Keep laundry supplies within reach on this shelf system. No more laundry supplies on the floor!
Laundry Storage Jar Containers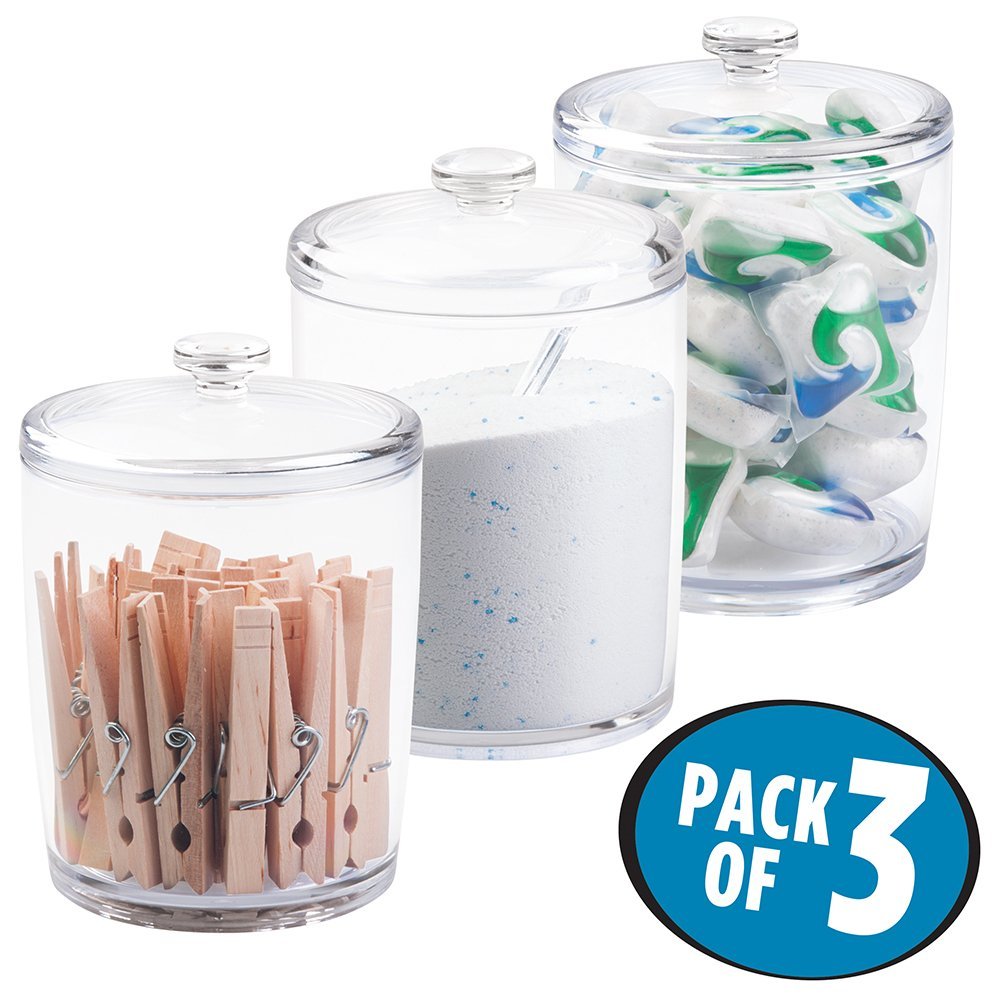 Set of 3 identical size jars for laundry storage. Perfect for containing laundry supplies. Canister style jars hold laundry essentials such as clothes pins, pods, or loose buttons. Sturdy clear plastic containers with easily removable lids. No need to worry about breakage with plastic. Nice for identifying contents of containers.
Moisture Absorber & Odor Eliminator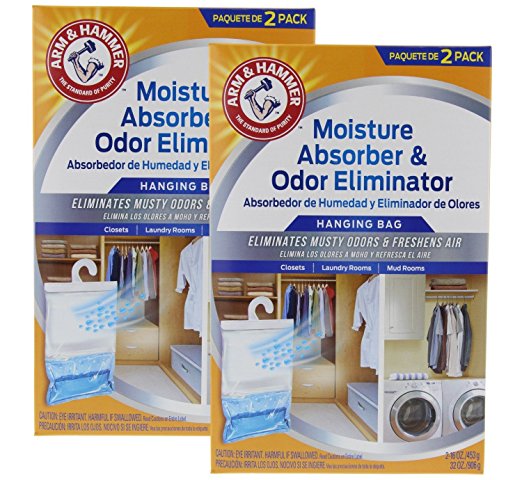 The Arm & Hammer Moisture Absorber and Odor Eliminator prevents dampness and eliminates odors. Leaves a fresh smell. Any excess moisture is removed to eliminate nasty musty odors. Great for laundry stations in basements or near garages. Helps keep your laundry area smelling fresher.
Tidy Cup Laundry Detergent & Fabric Softener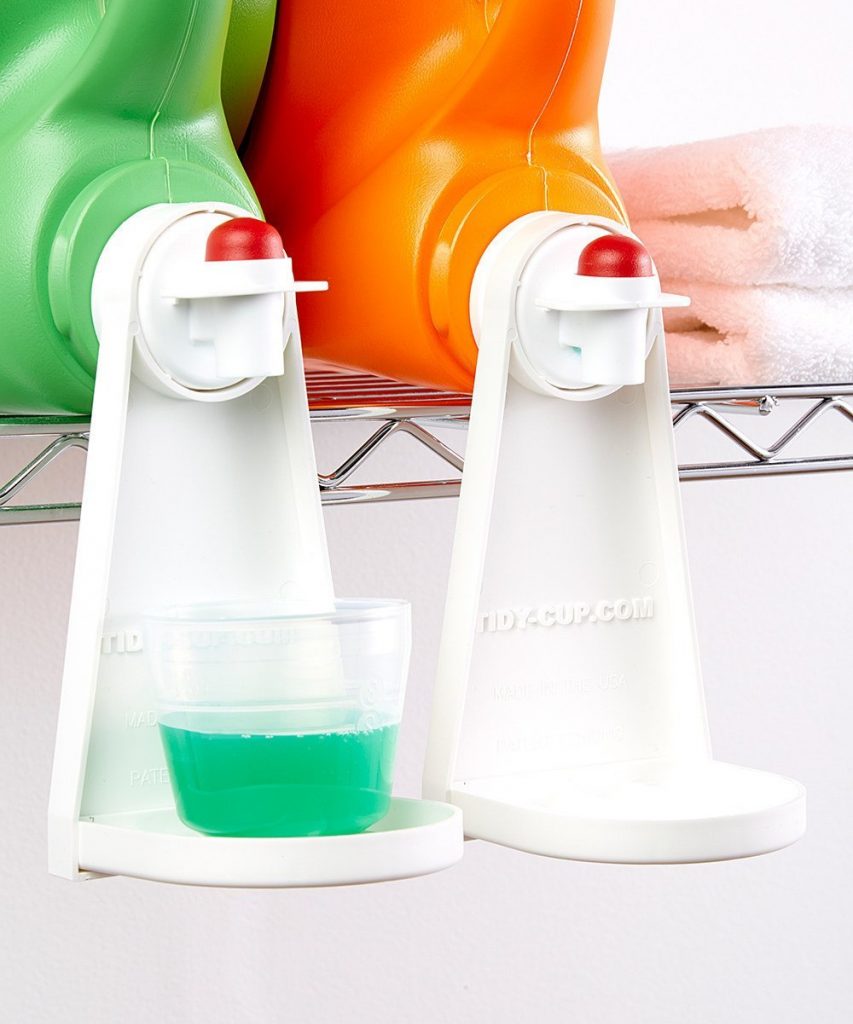 A 2 pack solution! Tidy Cup Laundry set fits right over your large and heavy detergent container. Stops the mess. Prevents detergent and softener drips to prevent spillage and product waste. The tidy cup holds the dispenser cup until filled. Any spilling allows for quick clean up. A true helper with laundry chores.
Paper Towel Holder with Shelf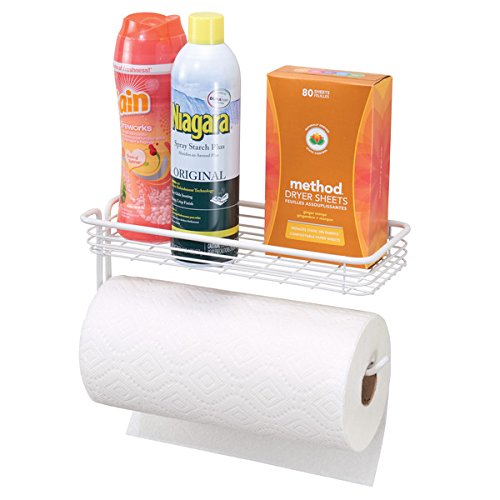 Wall mount Paper Towel Holder with Shelf provides extra storage. A shelf above the holder allows for storing supplies. Install the towel holder next to your appliances. Ideal for quick clean ups when messes occur.
Your laundry area may sometimes be overrun with laundry and supplies. But your washer and dryer are important appliances in your home. Take regular care of your laundry station. Lessen your workload by eliminating unnecessary cleaning of detergent spills.
These are 9 ingenious gadgets to keep your laundry supplies organized. Keep your laundry station clean and organize. Keep supplies handy and within reach. So when you have mountains of laundry to do, you can spend less time searching for supplies.
Like getting organized? Found this helpful?
You May Also Enjoy . . . .
Some of our other Organization related posts.
10 Massive Space Saving Closet Tips
10 Affordable Solutions for a Super Organized Dresser
8 Mudroom Managing Tips That Really Work!
If you try these 9 ingenious gadgets to keep your laundry supplies organized, let us know how things go. And if you have any organization questions, feel free to reach out to us in the comments below. We always are ready to help you out. Thank you for stopping by.
Mary
Save