Garden shed ideas to inspire you. Whether you build your own or purchase a ready-made shed we hope you find the best garden shed for your home. A shed is an important storage option. These storage structures are attractive and can be personalized according to your particular decor style. Even more importantly, they help keep your yard looking its best. Outdoor spaces such as your patio, deck, and gardens are an extension of your home. Keep your yard tidy and in order with the help of a garden shed. A garden shed is a small building or structure that is used for storage typically items for outdoor spaces. There are many uses for sheds. However, in today's post, we are sharing garden sheds for storing gardening tools, supplies, and potting or growing plants.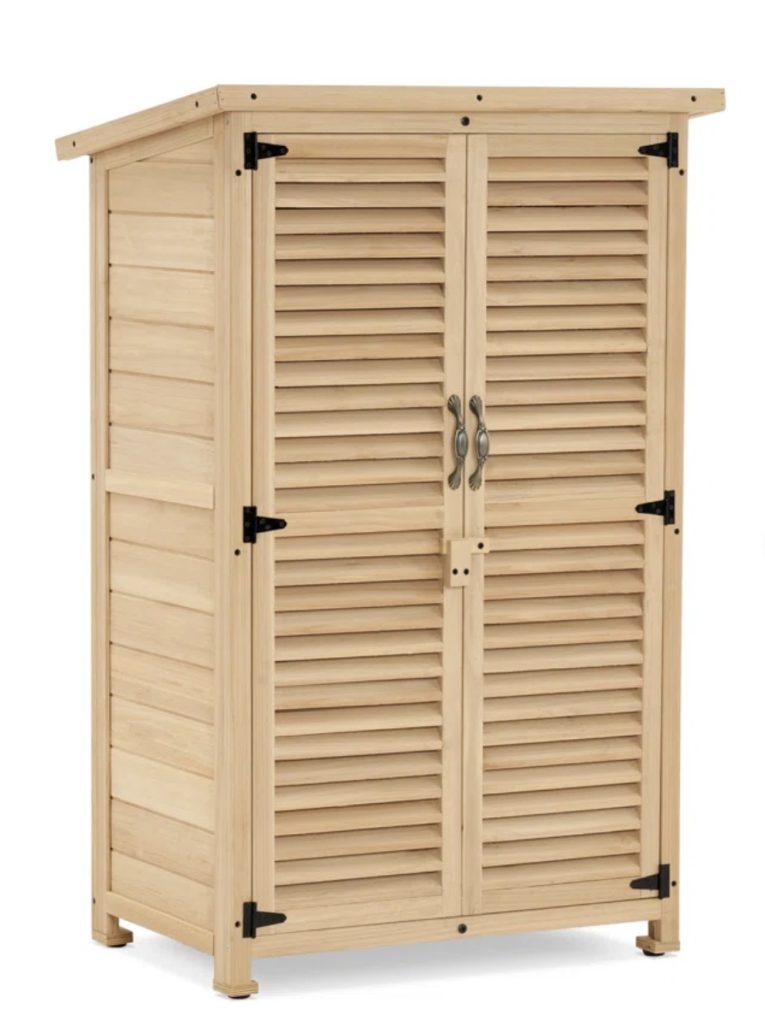 Keep all your garden supplies in an accessible outdoor shed. This simple roofed structure provides storage, shelter from an unexpected rainstorm, or a working station for planting or replanting. Having a place dedicated to storing garden supplies other than a basement or garage is a better option. Sheds tend to be placed nearer a garden which is easier than carrying supplies from inside to the outdoors. Lugging heavy bags of peat moss, or soil can be tiresome. In addition to storage, larger structures can provide an indoor sitting area for a break from garden chores.
Expand Your Outdoor Space – Garden Shed Ideas
A great way to add extra storage space to your home is with the use of a shed. A shed helps keep your garden supplies and tools out of sight. Minimize clutter in your home by storing these items inside a shed. If you use any chemicals for your lawn or yard, it is wise to store those out of the reach of children and pets. Think about safety for every part of your home.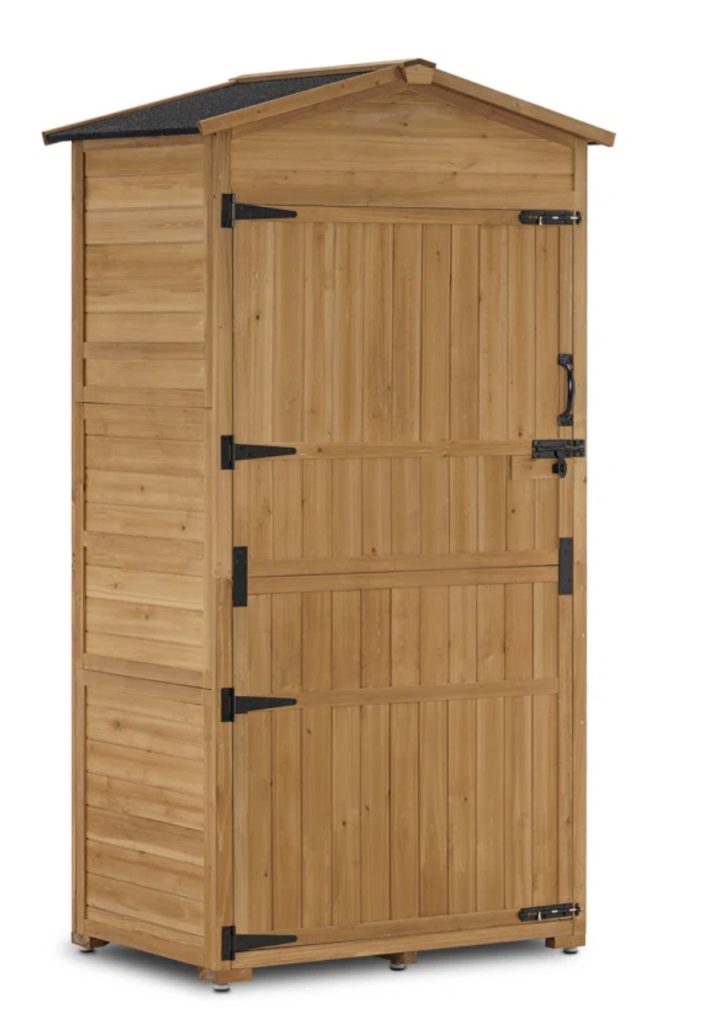 Add extra storage space for your property with a shed. Homes with additional storage are always in demand by prospective home buyers. In some cases, a shed can significantly bump your home's value. The larger the shed the more value your home could potentially see.
What to Look for in a Garden Shed?
Some considerations when buying a garden shed are storage needs, price, durability, maintenance, and assembly. If you own a handful of garden tools then a smaller shed is sufficient. If you have an extensive selection of tools, soils, mulch, and supplies you'll need a larger shed. You might have a budget in mind. If you decide to build or assemble a precut design yourself, you can save some money. Of course, you can always hire someone to build or assemble a shed for you.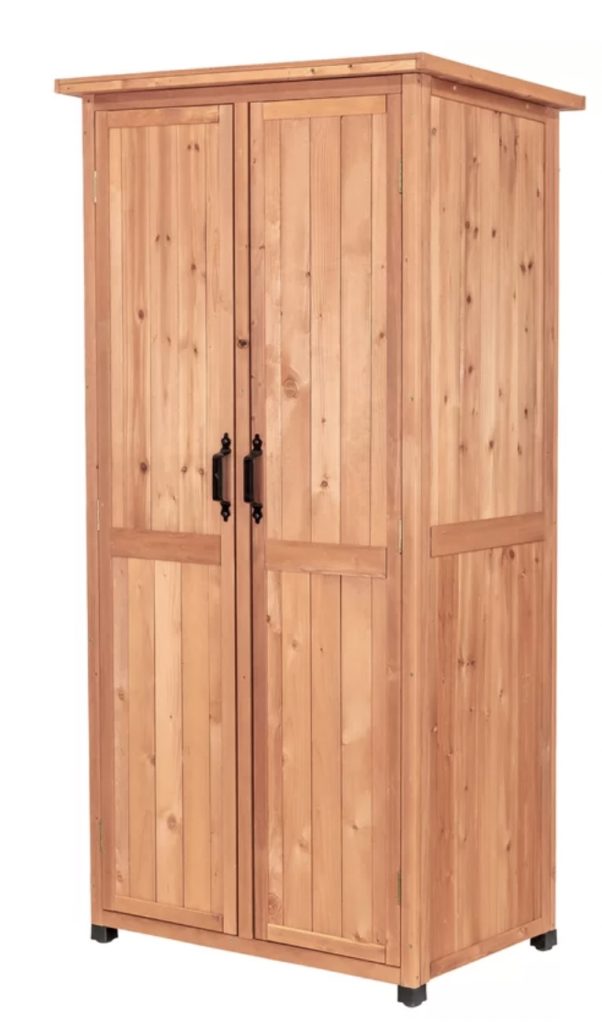 Think about durability and maintenance. A wood structure will require more maintenance especially if painted. A metal shed will need much less maintenance. And a plastic shed will need the least amount of regular maintenance unless it is damaged by high winds or storms. Plastic sheds on average last about 5 to 7 years.
You'll find numerous options and sizes if you order a shed kit that only requires assembly. And in a variety of price points.
Go Green, This Year – Garden Shed Ideas
And now we begin our list of ideas for your outdoor garden shed. Use these pro tips to make your selection of a shed the right one. Take a look.
Stand up Those Tools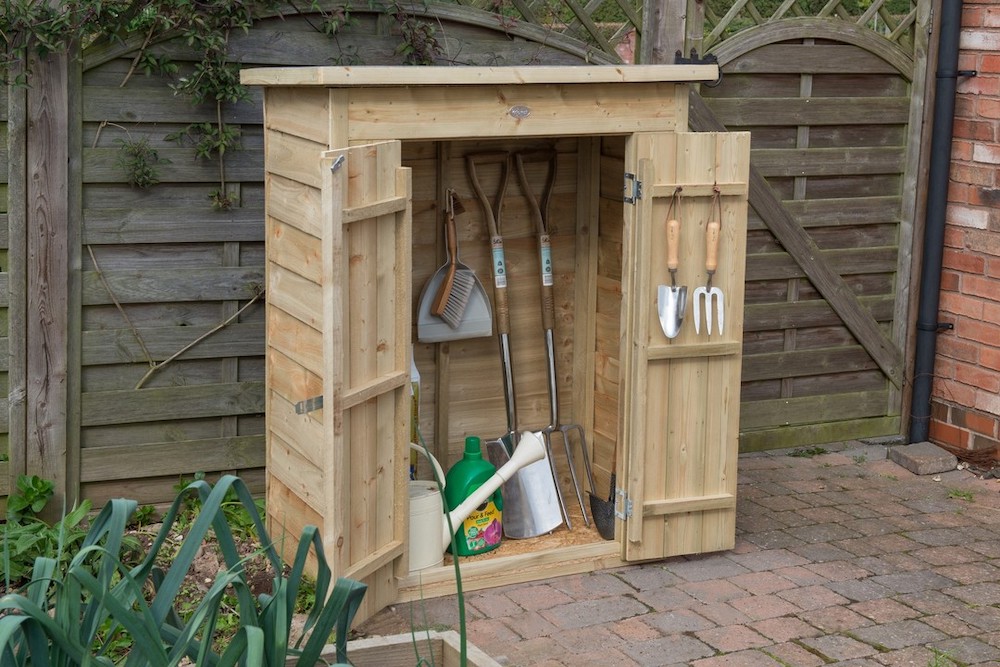 Place freshly cleaned tools standing alongside the back of the shed. Easily accessible and ready to use. Perfectly sized for someone who does light gardening.
Add a Door Stopper – Garden Shed Ideas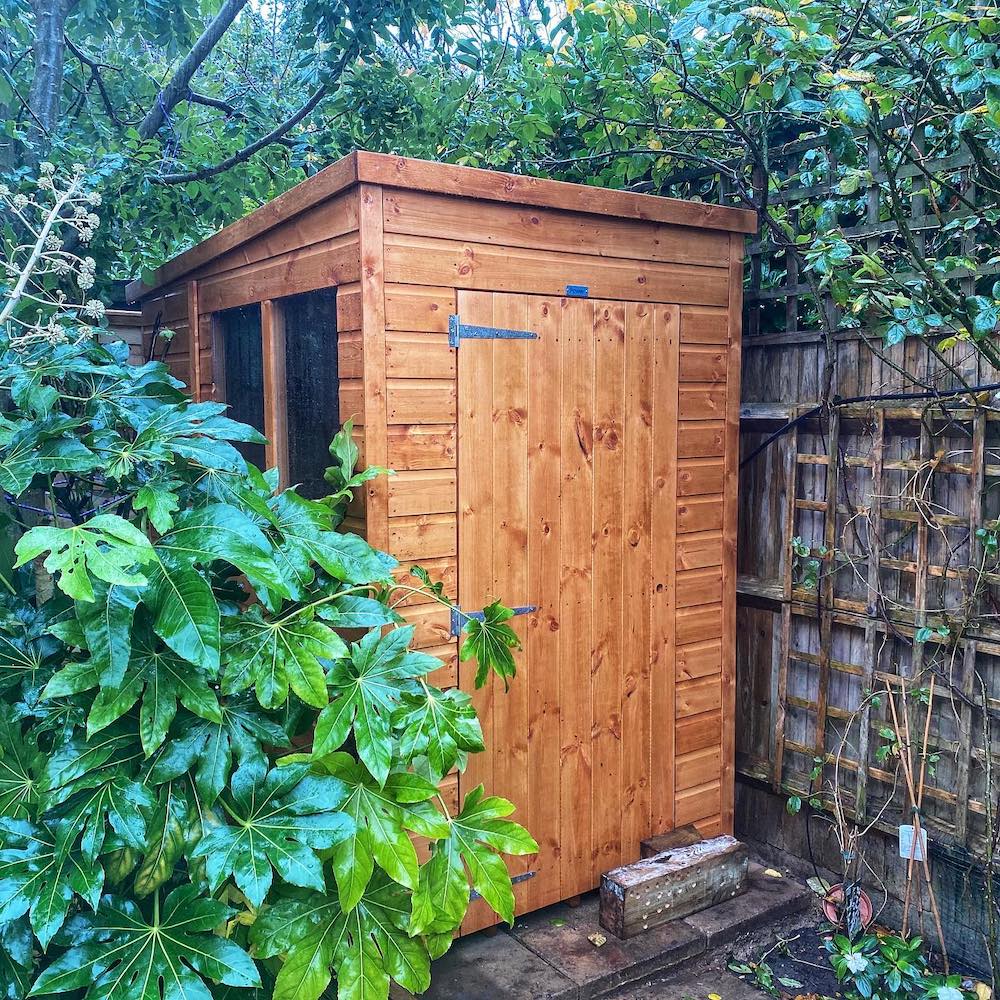 Keep a door stopper handy for keeping the shed door opened or closed.
Go with a Shed Style – Garden Shed Ideas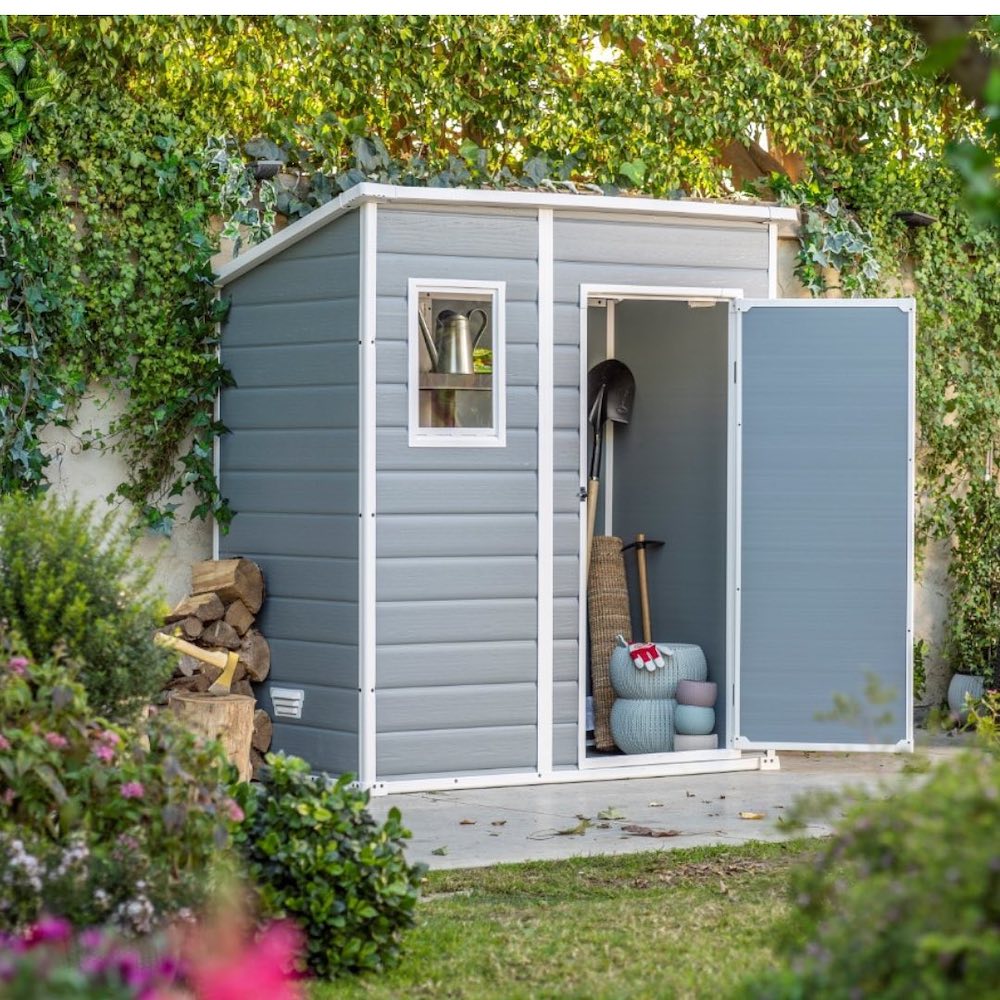 Use a shed-styled storage container to keep your gardening supplies stored in a dry place.
Lay a Door Mat in Front of the Shed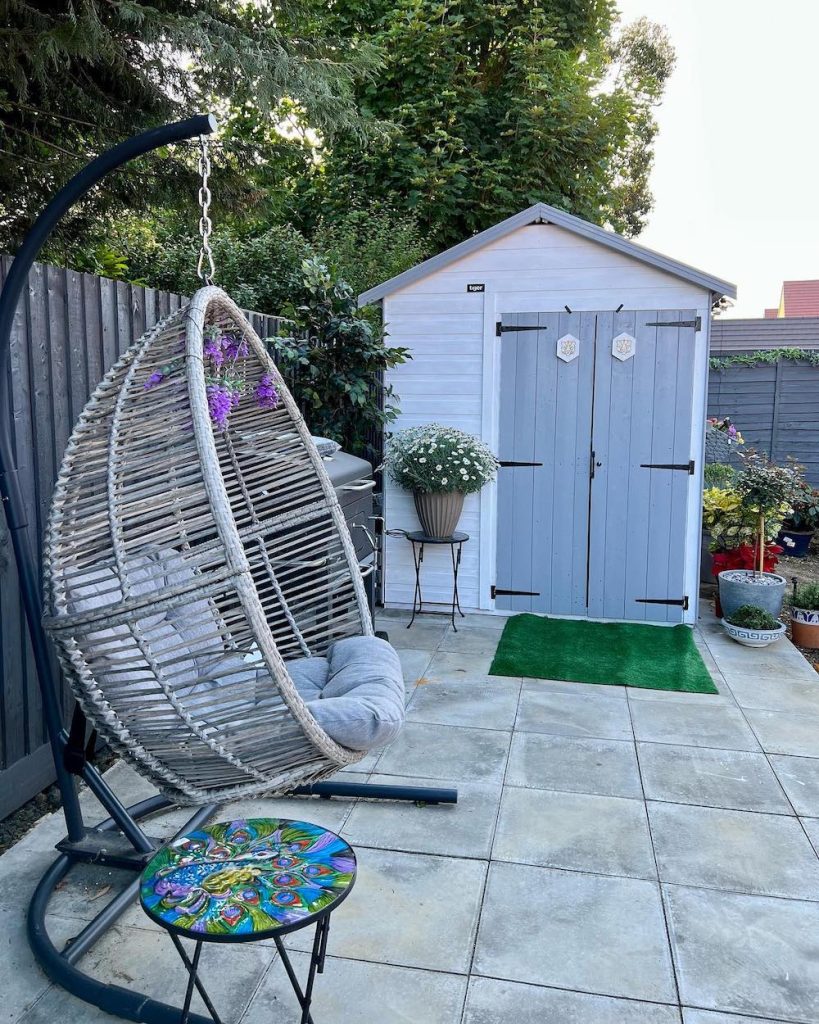 Put a door mat in front of the shed door to minimize any dirt from being tracked inside the shed.
Use a Pea Gravel as a Base for the Shed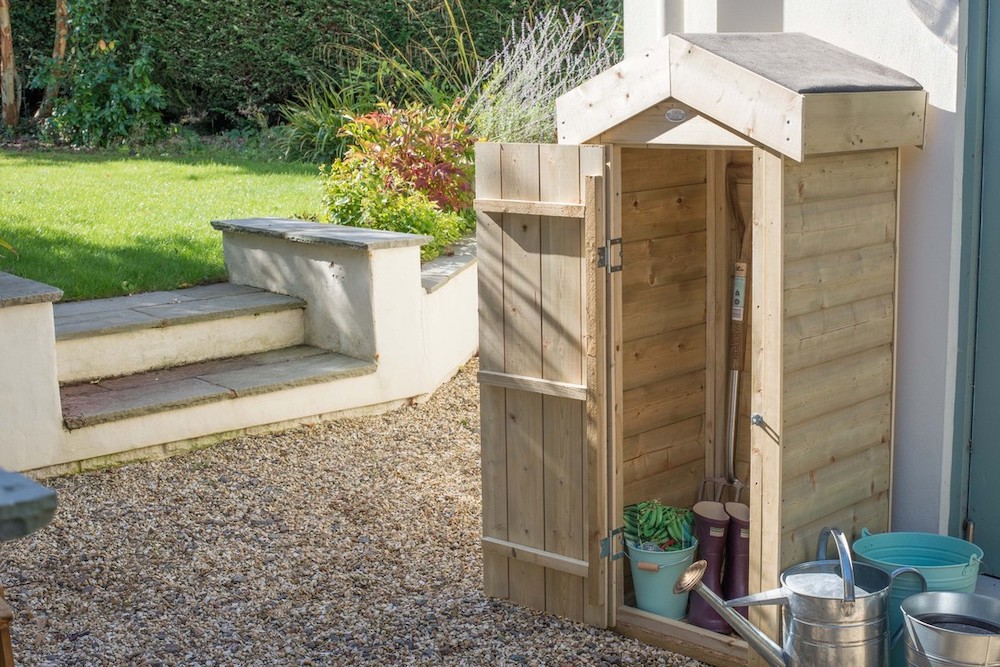 In this inspirational image, the homeowner installed a pea gravel base. The pea gravel keeps the area around the shed clean and tidy. Garden boots are tucked inside the garden shed.
Hang a Colorful Wreath Over the Front Door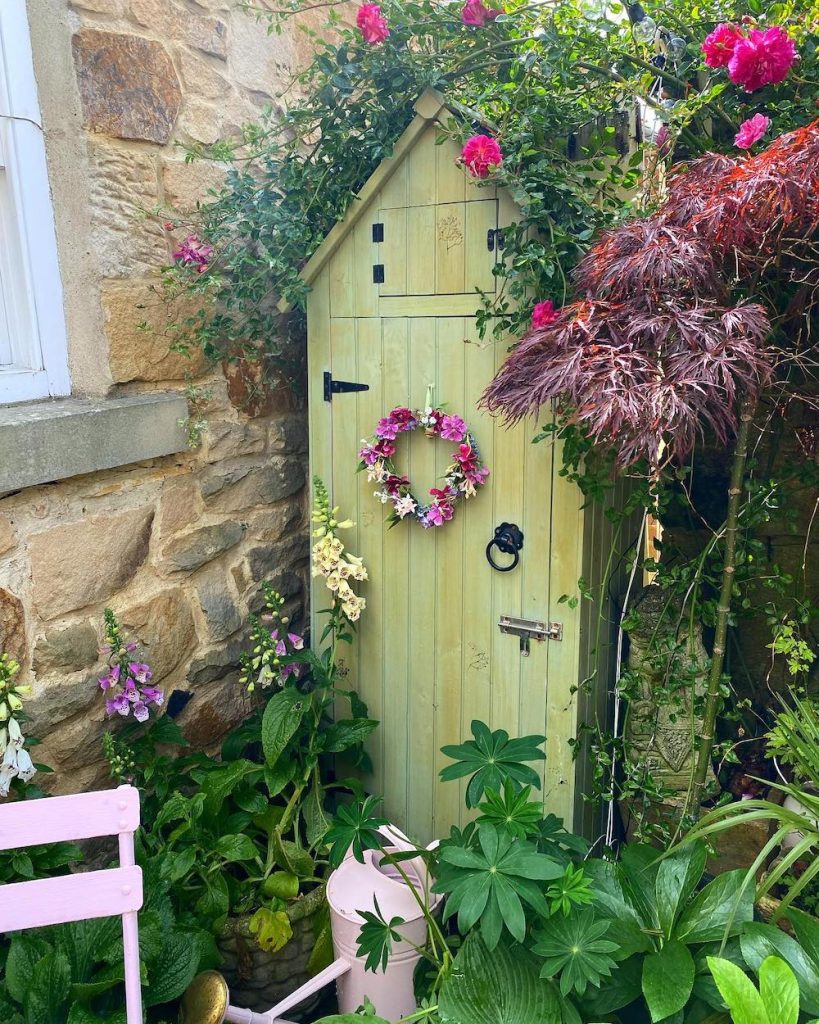 Brighten up the garden area with a colorful floral wreath. Follow up with some container flowers in front of the shed. Plant a pretty climbing rose as the background to the shed.
Light Up the Entrance to your Shed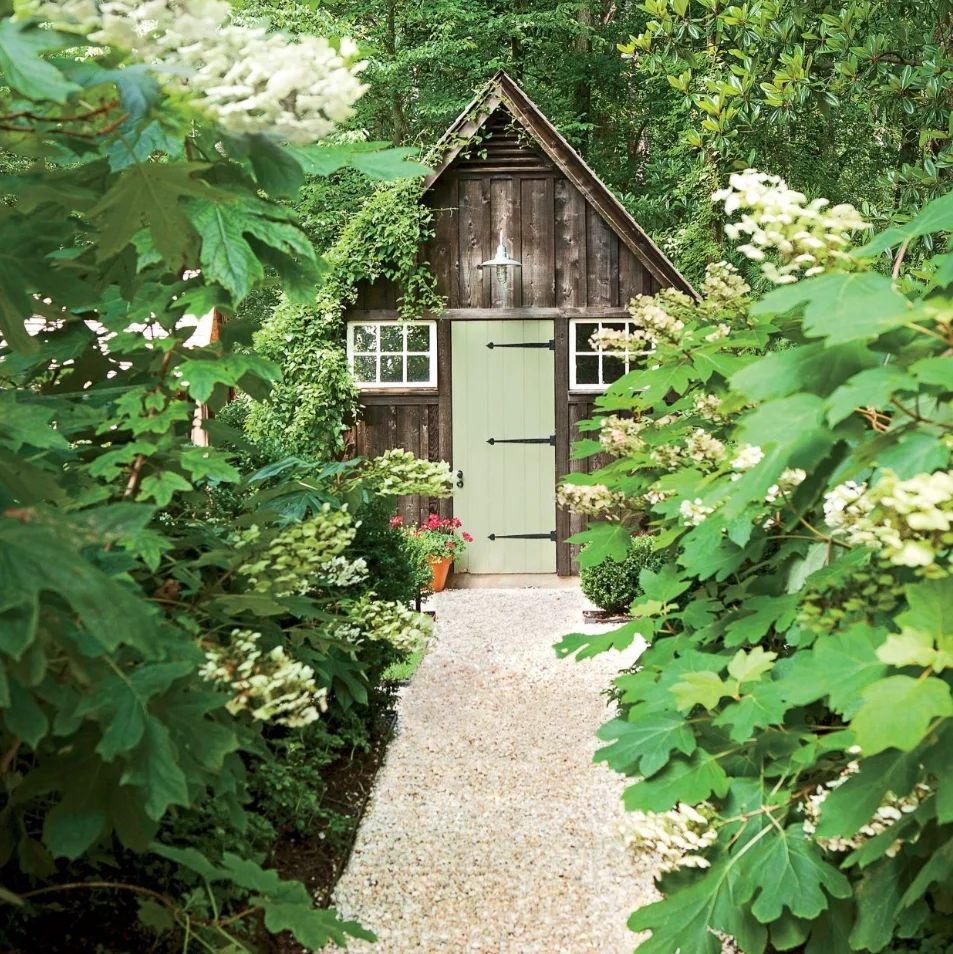 Install a light fixture. In this case, a gooseneck light with a cage-covered light bulb brightens the doorway. This helps light the way to the shed on days when you work later than usual.
Grow Ivy Over the Sides of the Shed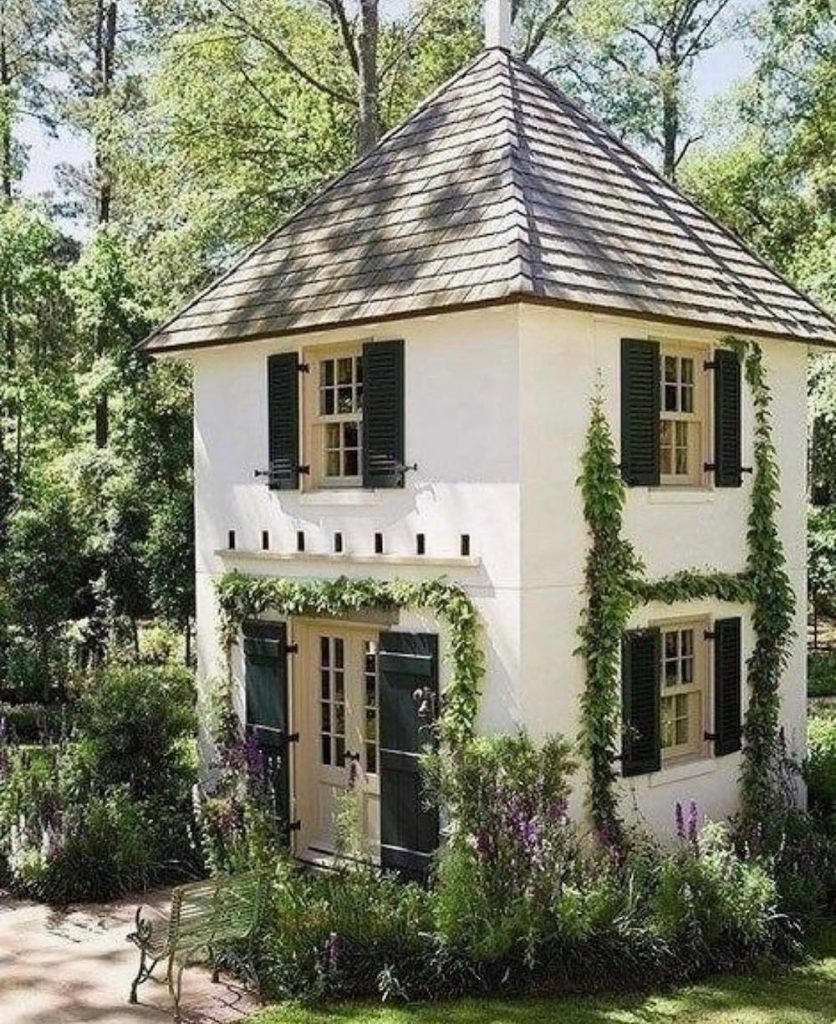 Plant English Ivy at the base of the shed. Train the ivy to creep over the shed. Outside of the shed, add some seating options such as a wicker sofa or chair with a side table.
Paint it a Warm Cream Color – Garden Shed Ideas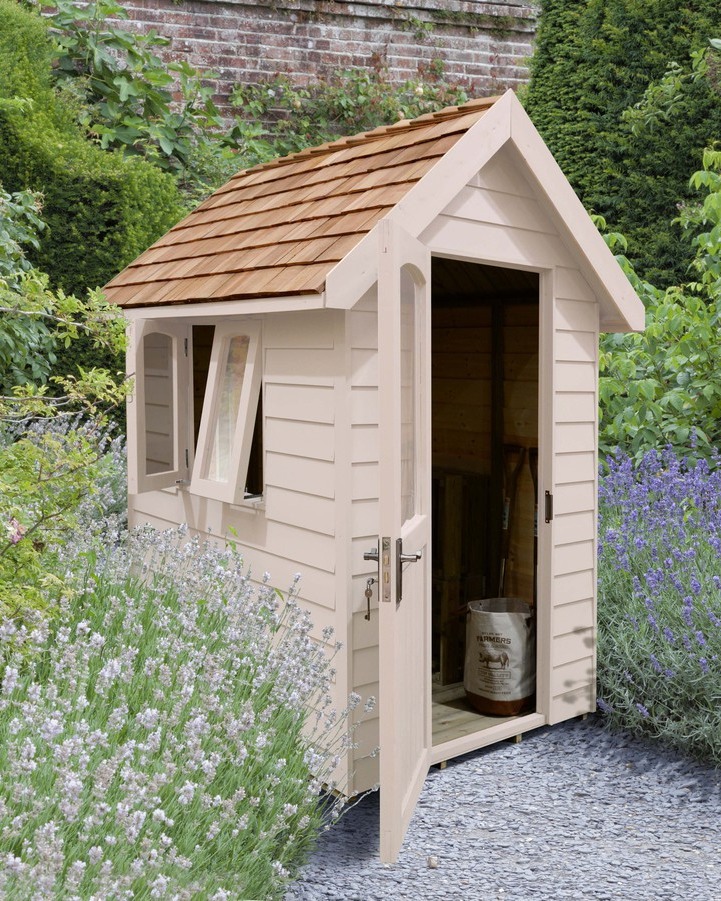 Add a coat of fresh paint to your shed. In this particular image, the homeowner opted for a creamy color shade. The color stands out against the greenery of the garden.
Give it a Weathered Appearance
For a rustic appearance, use galvanized containers as planters. Group plants around a vintage bicycle for an antique vignette.
Install Raised Beds by the Shed – Garden Shed Ideas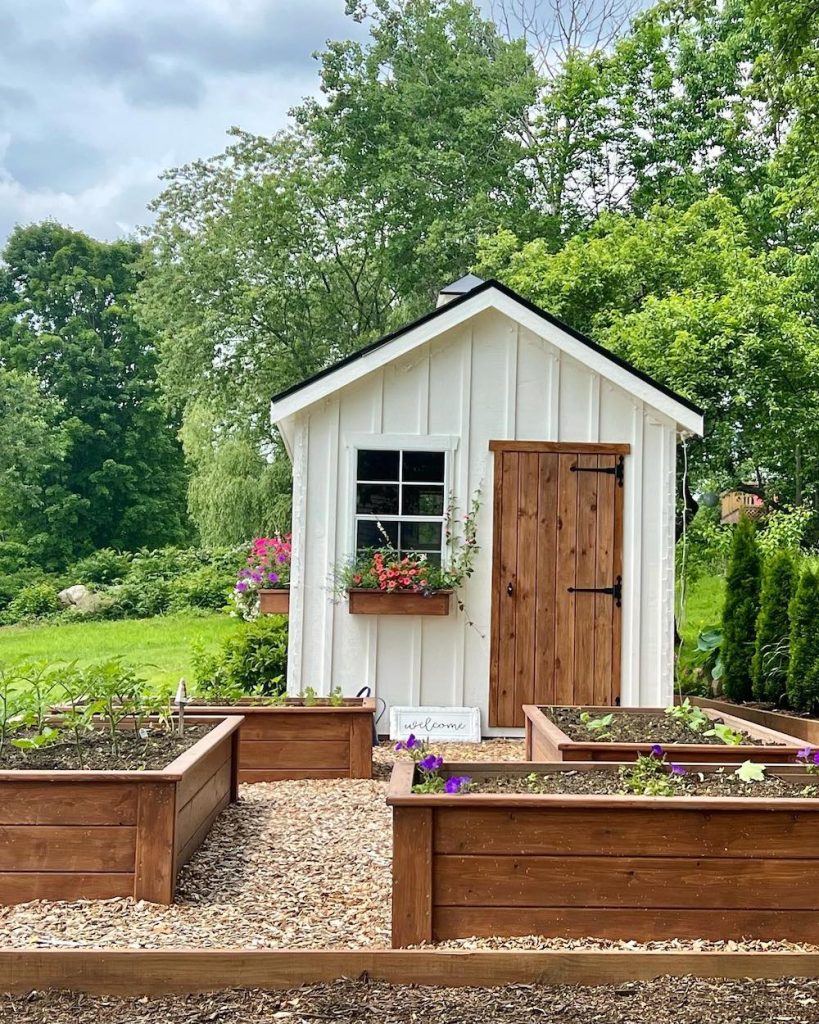 Coordinate stained raised beds with the shed's front door wood finish. The warm wood stain makes the white shed stand out. This creates a blend of a modern farmhouse look.
Reclaim an Old Abandoned Stone Structure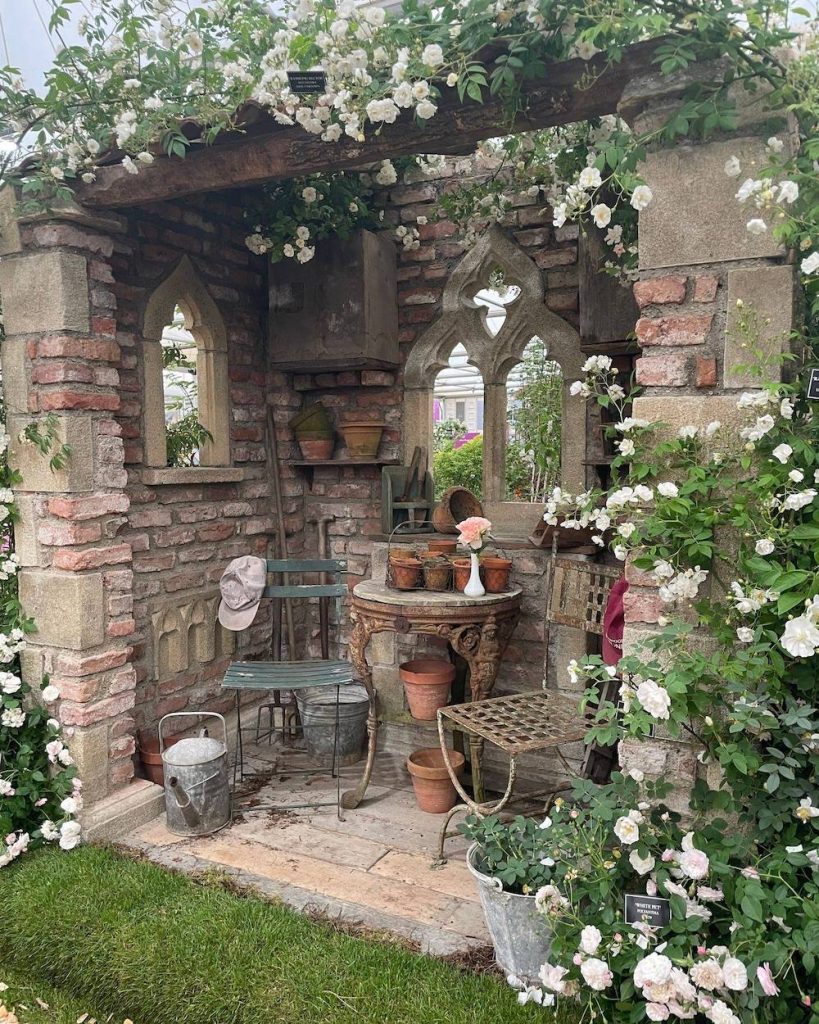 Transform an unused stone structure into a garden shed. Add a few shelves and create a sitting area. Move a bistro set or a small bench under the structure. Then personalize it. A stunning sitting area for some downtime.
Place a Weathered Sign Over the Shed's Entrance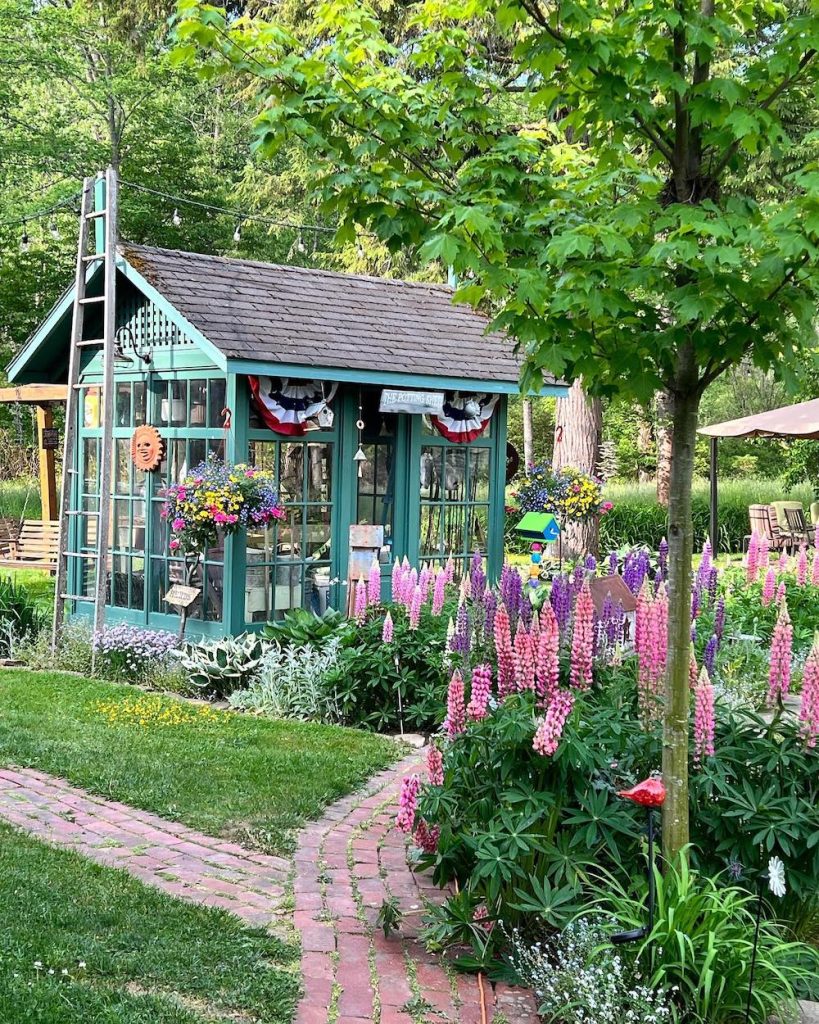 If your shed has a name, hang a sign over the front door with its name. In this case, the shed is fondly known as "The Potting Shed". Don't forget to add a couple of birdhouses to the landscape for a charming effect.
Go with a Clear Ceiling – Garden Shed Ideas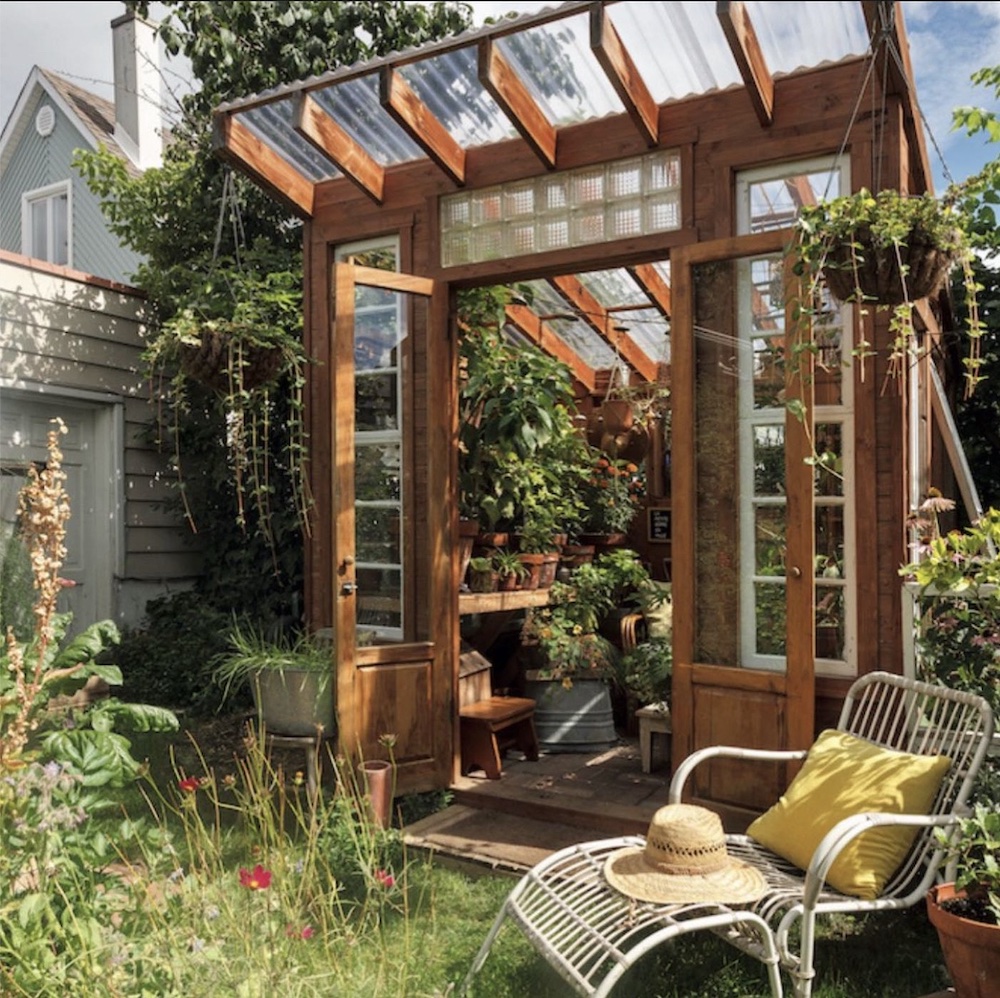 Let the sun shine through. In this clever design, the shed allows light to enter from every direction including the ceiling. A perfect greenhouse-type shed, ideal for growing seedings and nurturing plants as they grow.
Recycle the Old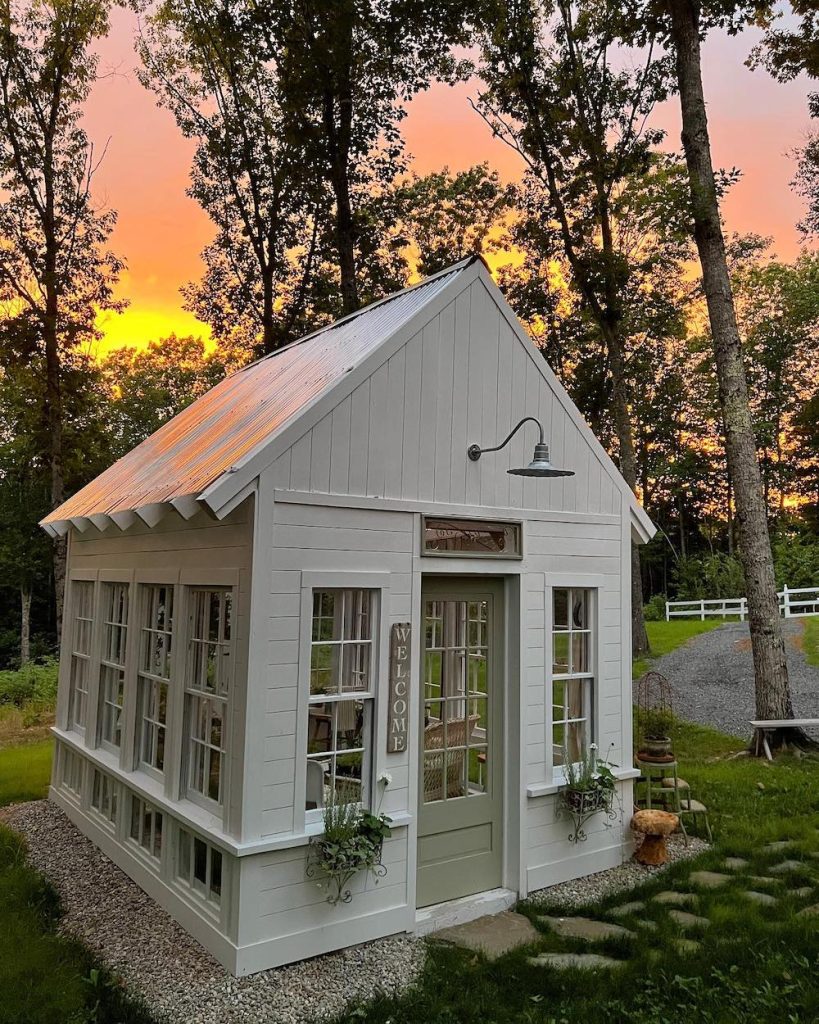 Gather old windows and doors to create a "new" garden shed. In this inspirational image, the owners reused older windows and doors they had on hand. A great way to keep costs low, since newer windows can be pricey. A pea gravel base was added around the shed. And a small stone entryway was laid in front of the shed doorway.
This ends our list of garden shed ideas for your home. Keep all your gardening supplies clean, dry, and out of sight. A garden shed will keep your garden areas looking their best. Be sure to take a look at our other posts for patio and garden inspiration. Be sure to drop us a line below in the comment section. Let us know all about your favorite outdoor garden ideas for your home.
Enjoy our other backyard-related posts for additional ideas.
Decorate your home with these great ideas for your backyard and patio this season. Try these posts for additional decorating ideas this Summer season.
Deck Boxes
Polywood Benches
Adirondack Chairs
Acapulco Chairs
Wicker Patio Sofas
Outdoor Patio Umbrellas
Outdoor Chaise Lounge
Wood-Burning Fire Pits
Reach out to us with any questions. We are always ready to help you out. Thank you for dropping by and taking a look at our blog.
Mary
Pin this for Later: