Deck Boxes are the ideal storage solution for your patio or pool area. These containers are not only attractive but help keep your patio always looking its best. Outdoor spaces such as a deck or patio are an extension of your home. Keep your outdoor living spaces tidy and orderly with the help of a deck box. Store all your outdoor supplies in an easily accessible container. Deck boxes make tidying up a breeze. In addition to storage, use your box for extra seating when you have a large gathering at your home. Larger boxes can provide seating for 2 to 3 people on their sturdy tops.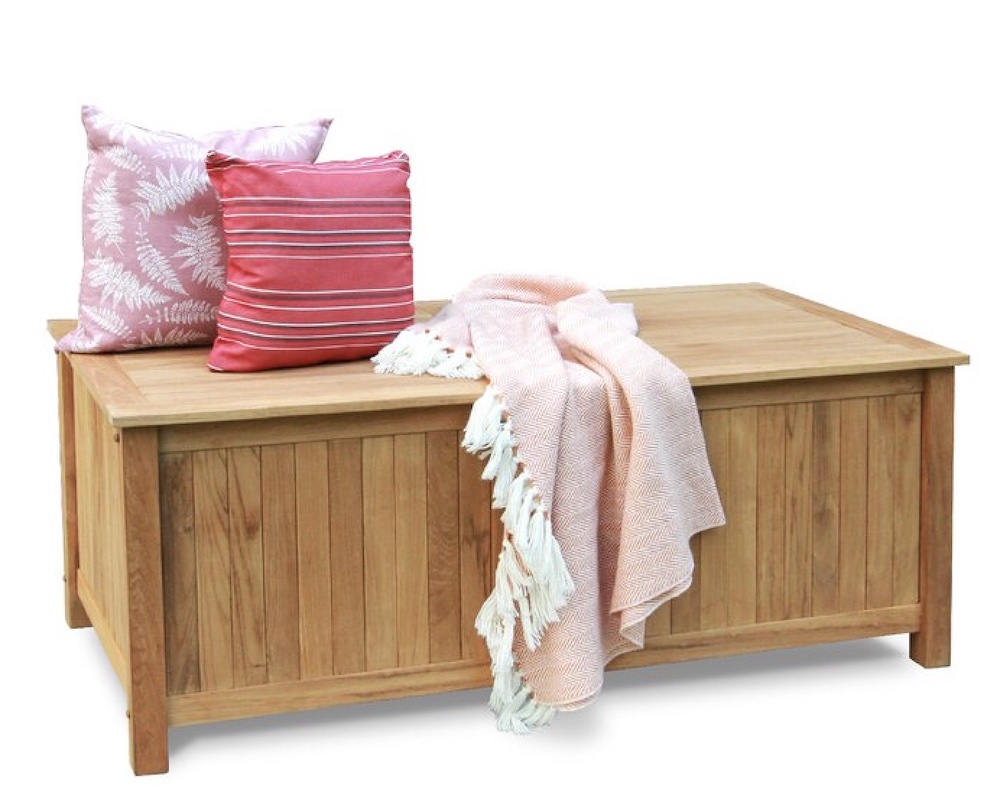 Move these boxes around as you need to accommodate your guests. Side handles allow easy transport of this storage container to another area. Deck boxes are available in a variety of finishes and sizes to suit a variety of needs. In today's post, we're sharing the best deck boxes for your pool, patio, or outdoor space.
What to Look for in a Deck Box?
Select the right deck box for your particular needs. There are numerous options and sizes available in deck boxes. Options to consider when selecting a storage container for the patio are your local climate conditions and its intended use. Climate conditions are important to consider. In warmer, dry areas with intense sun, consider a storage piece that is UV resistant. Keep your items clean and dry poolside with a waterproof lid. Leak-resistant lids keep your gear dry and ready for the next use. And when the weather deteriorates. Outdoor conditions with wetter climates should think about a water-resistant and rot-resistant container. Consider rust-resistant containers with metal hinges and closures in wetter climates prone to dampness and moisture.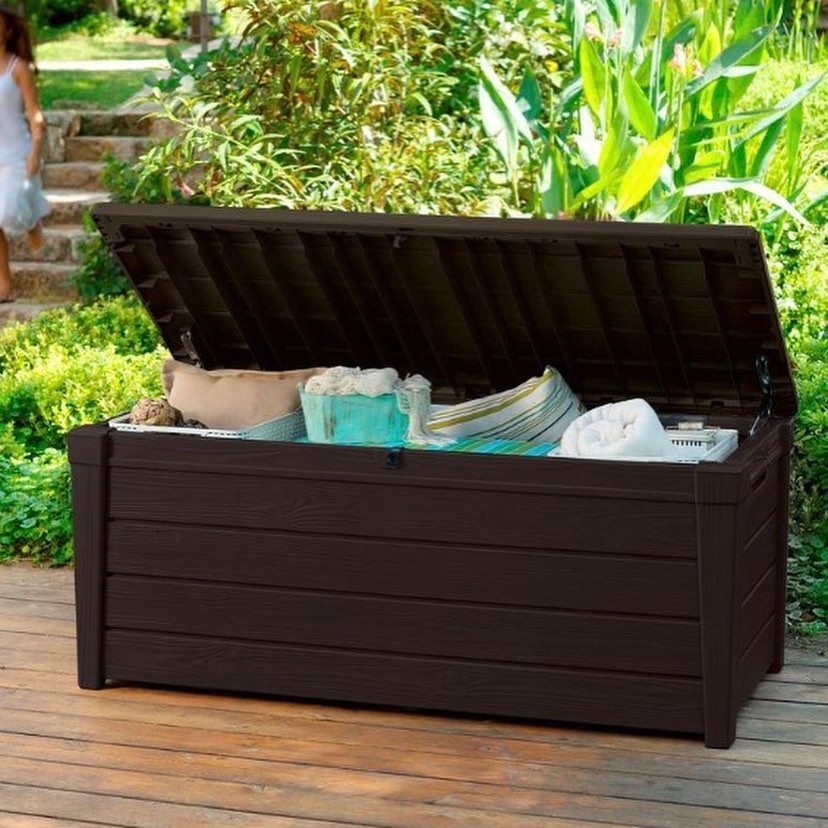 Select a storage container for your outdoor space based on the size of the area and usage. Deck boxes generally come in two sizes. A smaller size typically can store chair cushions and towels. Larger-sized containers can hold water games, pool accessories, lawn games, garden tools, furniture cushions, and more. Larger pool areas with 6 to 8 chaise lounges and sofa cushions need a larger storage box or even two.
Search for a lockable container if your outdoor space is open and fenceless. Many boxes feature a locking system design that secures your outdoor gear. Keep your patio essentials stowed inside a container and secure. Also, consider weather-resistant or leak-resistant containers. A maintenance-free box is easy to clean and fade-free under the sun and water elements of the oceanside.
Best Deck Box Materials
Outdoor deck boxes can be found made from a variety of materials. If durability is a big concern, then select a deck box made from plastic or resin. Both plastic and resin-made deck boxes are durable, lightweight, and water-resistant. Perfect for outdoor use under many outdoor weather conditions. For windy outdoor conditions, you'll want a heavier storage box.
Storage During Harsh Weather Conditions – Deck Boxes
During regular spring, summer, and fall seasons, deck boxes can remain outside. However, during extreme weight conditions, it is best to protect the deck box. Cover deck boxes during inclement weather conditions. In colder climates bring boxes indoors into a basement or garage over the harsh winter months.
Likewise, furniture cushions should be stored in a breathable deck box. Always keep cushions out of direct sunlight. Store cushions indoors unless you absolutely need to store them outdoors. Protect cushions from the harsh outdoor weather conditions, if you have no other storage options.
Easy to Transport – Deck Boxes
Most boxes feature convenient side handles for easy portability when cleaning the deck or giving your space extra room.
A deck box is the best solution to store outdoor equipment or tools. Maintain your deck in a neat, tidy, and organized way. Organize your gear with a deck box to maintain order and stay within easy reach. Here is our list of deck boxes for the patio or poolside area. Take a look. Drop us a comment below in the comment section. Let us know about your outdoor decor projects. We love hearing from our readers.
Maintain your outdoor living space tidy and always ready for guests. We hope you found the right deck box for your needs. This ends our list of deck boxes. Keep your patio clean and clutter out of sight. Stay organized with storage containers that help maintain order throughout your outdoor living spaces.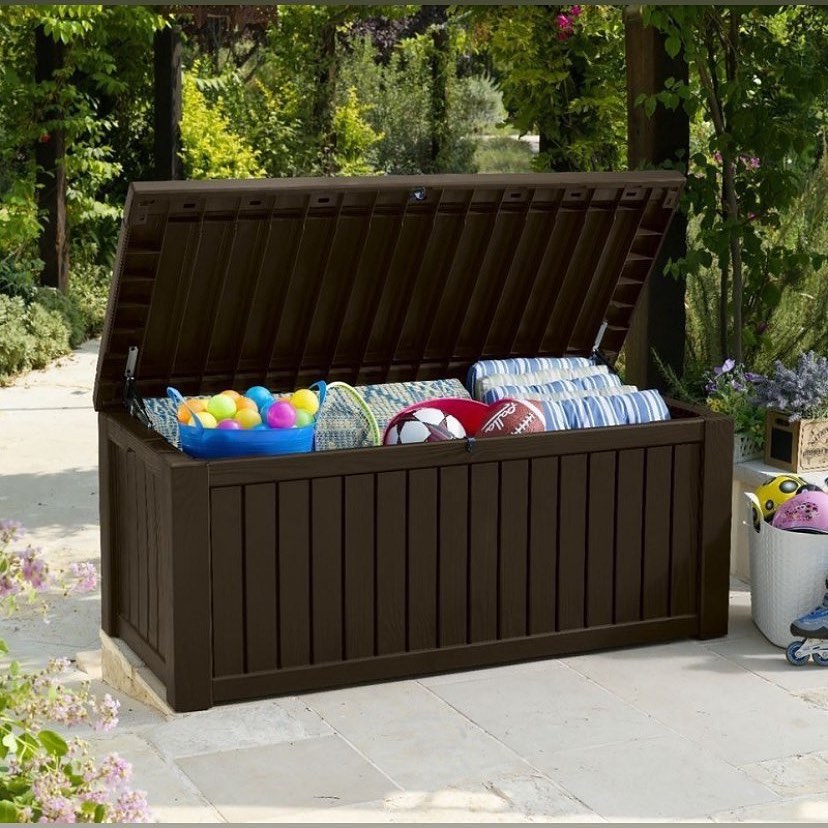 Enjoy our other Patio-related posts for additional ideas.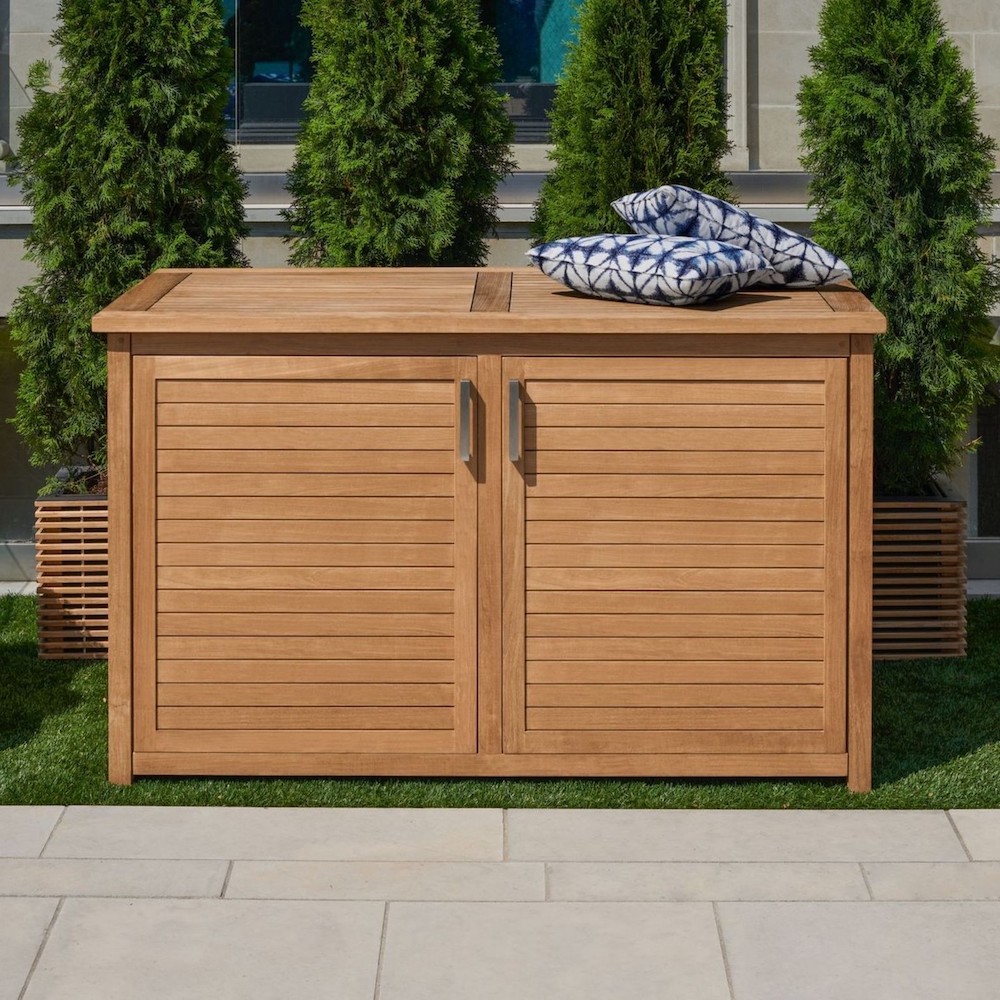 Decorate your home with these great patio ideas this season. Try these posts for additional decorating ideas this Summer season.
Polywood Benches
Adirondack Chairs
Acapulco Chairs
Wicker Patio Sofas
Outdoor Patio Umbrellas
Outdoor Chaise Lounge
Wood-Burning Fire Pits
Patio Conversation Sets
Reach out to us with any questions. We are always ready to help you out. Thank you for dropping by and taking a look at our blog.
Mary
Pin this for Later: