Polywood outdoor benches are useful for hosting guests and offer a place for a quick break. Benches are a great alternative to a chair for guests to relax. Benches can accommodate 2, 3, or even 4 people based on the bench size. They require less space than individual chairs. keep this in mind when you are hosting a large gathering. Highly durable and available in a variety of colors and styles, the Polywood outdoor benches offer exceptional stylish options. In today's post, we are sharing the best Polywood outdoor benches.
Why Polywood Outdoor Benches?
Developed over 30 years ago by Doug Rassi. Mr. Rassi today is the CEO of the company he founded. Back then, Doug Rassi realized the need to reuse and recycle plastic waste. The alternative then was to transport old, used plastic to a landfill. This motivational idea Mr. Rassi came up with was to use recycled plastics as the main material for manufacturing patio furniture. Because it resembles natural wood, the new product was called Polywood. Today, the Polywood Company manufactures several lines of outdoor patio furniture made from recycled plastics.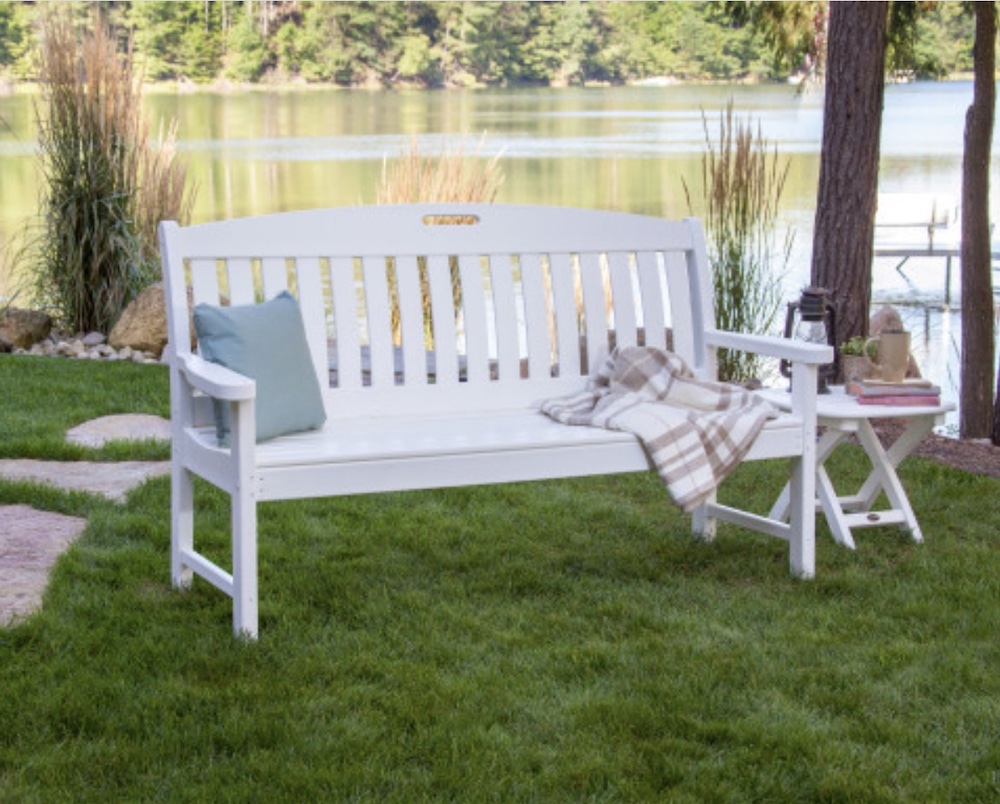 Benefits of Polywood Outdoor Benches
Made from unrefined high-density polyethylene also known as HDPE material. Manufactured from discarded recyclable plastic waste products. The HDPE lumber material is highly durable. It can endure rain, snow, as well as UV rays.
This recycled material Polywood does not absorb moisture. Nor does it attract insects or pests. As a result of this, Polywood will not rot, splinter, or crack unlike patio furniture made from wood or wood products. Favored by homeowners because of the recycled materials used to create new products such as patio furniture.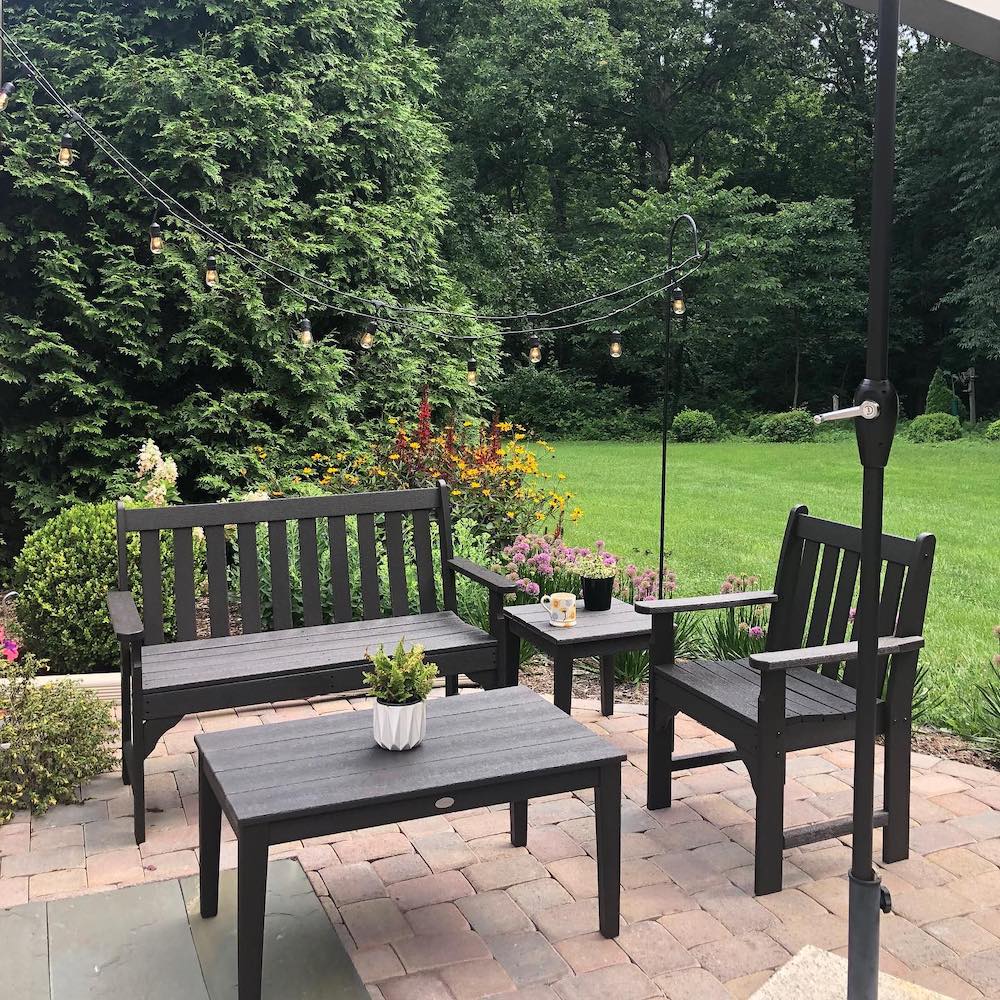 Another amazing feature is that HDPE-constructed furniture retains its color. There is limited fading over time due to the UV stabilizers that are added during the manufacturing process. Although, you may notice some fading on brighter-colored furniture such as Sunset Red or Yellow it is slight. Once warm weather ends, leave your Polywood furniture outdoors. It was designed to remain outdoors throughout all of the seasons. Wash your outdoor furniture occasionally as needed. Aside from washing occasionally, there is little maintenance required. Other types of outdoor furniture, require more maintenance. Go ahead and place these benches poolside or by the oceanfront. They can withstand saltwater, and chlorine, and resists mildew.
Polywood furniture stands up beautifully under many weather conditions. Expect these benches to last about 15 years which is the average life of a Polywood furniture piece. Built to endure many years of year-round weather conditions. It is highly resistant to mold and fading. And maintains its classic appearance throughout its lifetime.
The Downside of Polywood Furniture
As hard as it is to believe, there are a few drawbacks to Polywood furniture. The first drawback is the price. The typical Polywood cost is more than other patio furniture. Think about your budget if you are considering whether Polywood is worth the extra costs. Consider the benefits of buying Polywood furniture. All-weather furniture is designed and constructed to hold up in many weather conditions.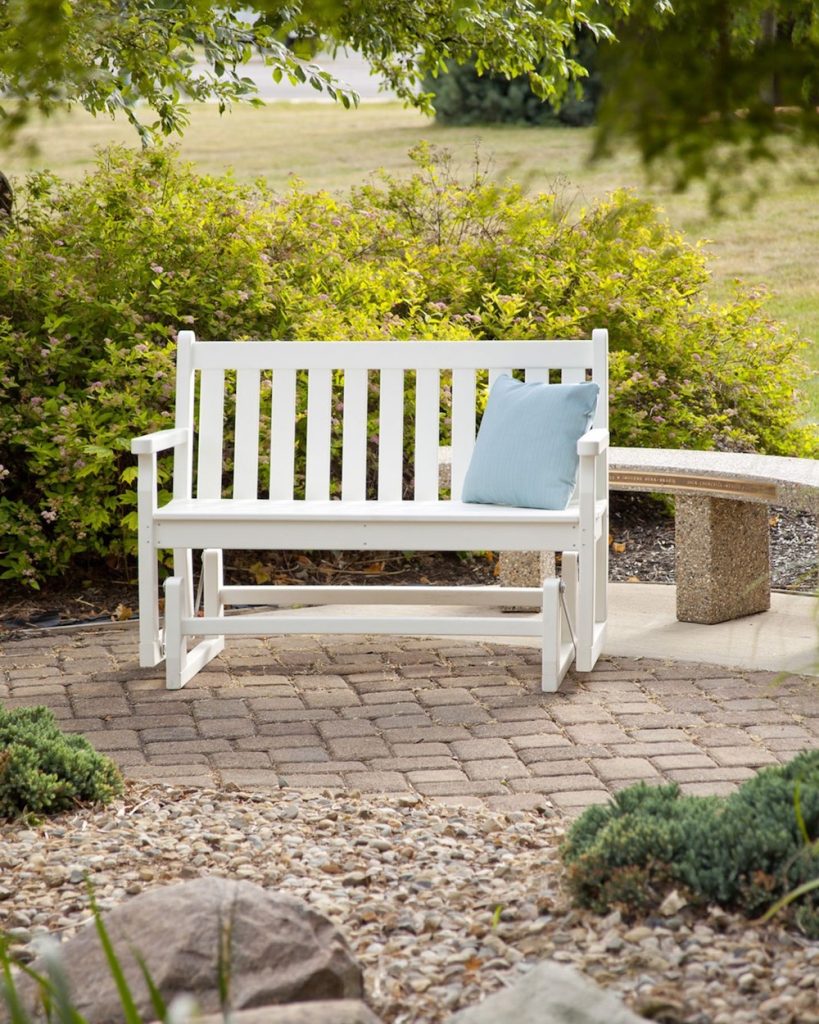 Second, Polywood is a solid furniture piece that is heavy and not easily moved from one spot to another. Never move Polywood pieces by yourself. Seek help when you need to relocate any Polywood furniture around the yard or to another location. The furniture is cumbersome to move.
Third, durable furniture made from HDPE materials will never conform to your body shape. HDPE material is rigid and solid which makes it long-lasting.
Fourth, darker-colored furniture pieces tend to become hot under the full sun. Darker colors like black or dark brown can become extremely hot on summer days. Alert your family and guests to this especially when younger childer are around. Consider placing a black or dark brown bench under a patio umbrella or tree for protection from the hot sun. Keep in mind that Polywood pieces are heavy and can not easily be moved.
Bench Cleaning Maintenance Tips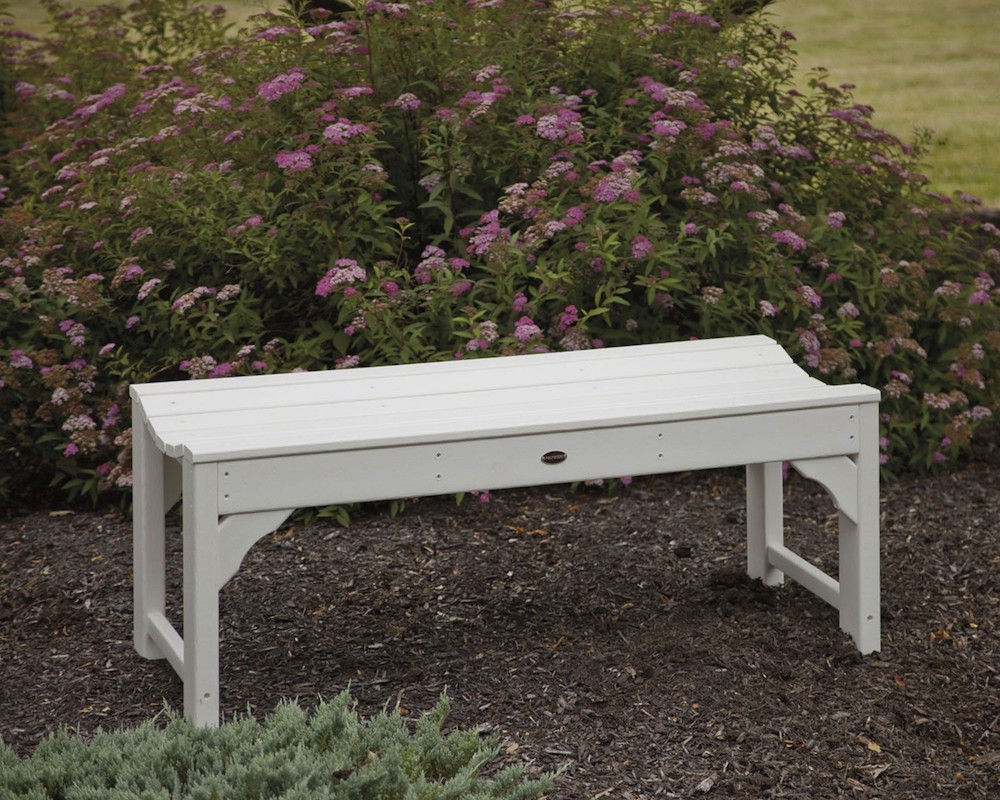 Clean all patio furniture spotless. Mix soap and water in a pail. Wash the Polywood furniture with the soapy mixture then rinse. Avoid using any harsh chemicals such as bleach. Harsh chemicals can damage your bench and are harmful to the environment.
Here is our list of Polywood outdoor benches for the home. Take a look. Drop us a comment below in the comment section. Let us know about your outdoor decor projects. We love hearing from our readers.

This ends our list of Polywood outdoor benches. Go for comfort, durability, and protection from the elements with Polywood benches.
Enjoy our other Patio-related posts for additional ideas.
Decorate your home with these ideas this season. Try these posts for additional decorating ideas this Summer season.
Adirondack Chairs
Acapulco Chairs
Wicker Patio Sofas
Outdoor Patio Umbrellas
Outdoor Chaise Lounge
Wood-Burning Fire Pits
Patio Conversation Sets
Reach out to us with any questions. We are always ready to help you out. Thank you for dropping by and taking a look at our blog.
Mary
Pin this for Later: