Garden benches provide more than a resting place in your garden or yard. Benches in the garden are a versatile place for not only rest. But for beauty, enjoyment, and entertainment.
Garden benches serve multiple purposes. A garden bench adds beauty to every garden space. It creates a place where we can enjoy and admire our garden work. They provide a place of calmness and tranquility. A place for a break from all of life's challenges.
The garden bench lends itself for a quick respite from garden chores. For a quick sip of ice tea. Or a restful spot for a nap. A cozy place for a beach read. A garden bench is a comfortable spot to keep a watchful eye on children at play. And a place to welcome friends.
The versatile, sturdy bench provides you a much needed break. Breaks from our stressful, fast-paced lifestyles. Whether a break is needed from school, work, housework, or gardening, a bench is always a welcomed sight.
There are many bench seating options available to select from. Keep in mind two things when selecting a garden bench. First, the bench location and placement. Is the area covered or exposed to the Sun and elements. Second, the size of the area will dictate how large the bench can be. These are two important considerations. We've rounded up 8 sturdy garden benches. Benches that can create a great place for a little downtime. Take a look. And be sure to let us know what you think!
Coral Coast Norwood Slat Back Garden Bench
Norwood Slat Back Garden Bench is a 4 foot bench with a horizontal slat back. Made of eco-friendly acacia wood in a natural wood grain finish. Ideal for the garden, porch, patio, or deck. Classic comfortable style setting.
2. Blankenship Steel Garden Bench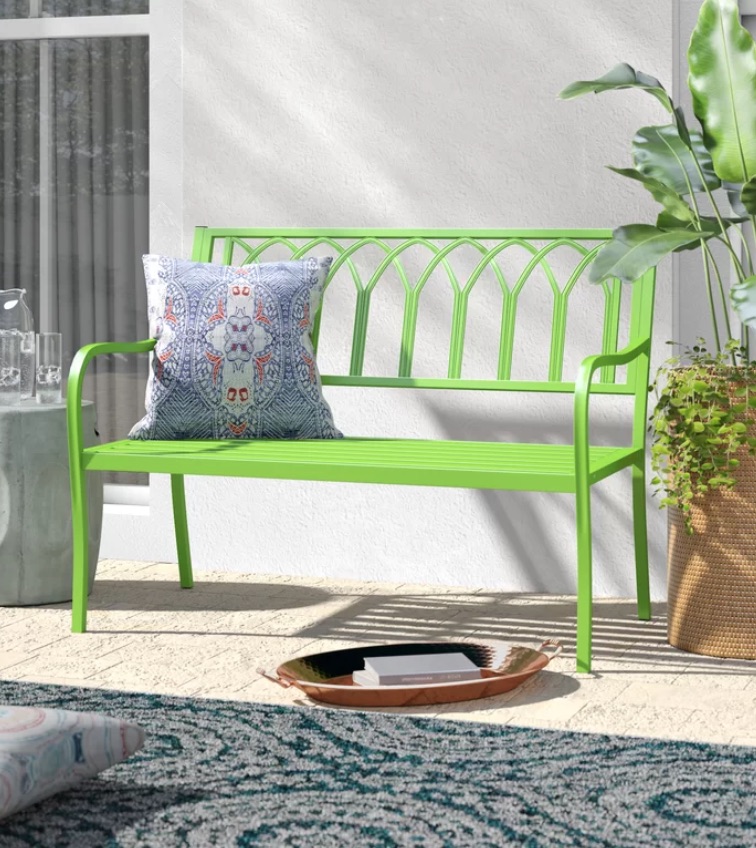 Blankenship Steel Garden Bench is a 46 inches bench. Made of steel with solid colored powder-coated finish. Arched trellis backrest design and slat-style seats with curved armrests are inspired by the Bohemian look. Adds some unexpected color, style, and comfort in the garden.
3. Pruitt Resin Wicker Outdoor Bench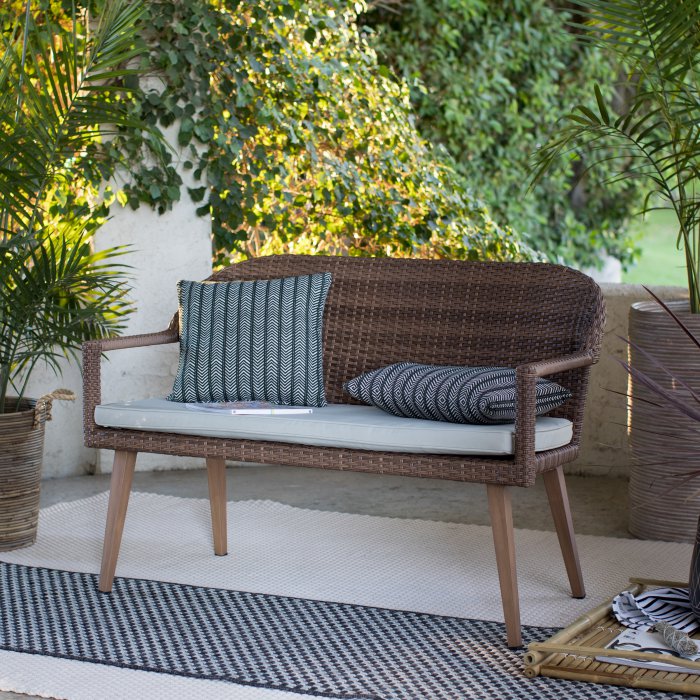 Pruitt Resin Wicker Outdoor Bench is a 4 foot long bench. Ideal for small space living. The wicker look blends well in an indoor setting or outdoor space. Compact design with an aluminum frame provides a sturdy foundation. A light brown wicker color gives this bench a natural look and feel. Neutral color scheme works well with many styles of decor.
4. Satilla Outdoor Loveseat Bench
Satilla Outdoor Loveseat Bench is a 48 inch bench. A Navajo-inspired corded weave over a black finished steel frame give this bench a stylish look. Lightweight loveseat for a quick move around the porch or patio when necessary. Beautiful southwestern hues for any sunroom or outdoor space. Made of all-weather PVC supple-corded material for comfort.
5. Farmhouse Metal Bench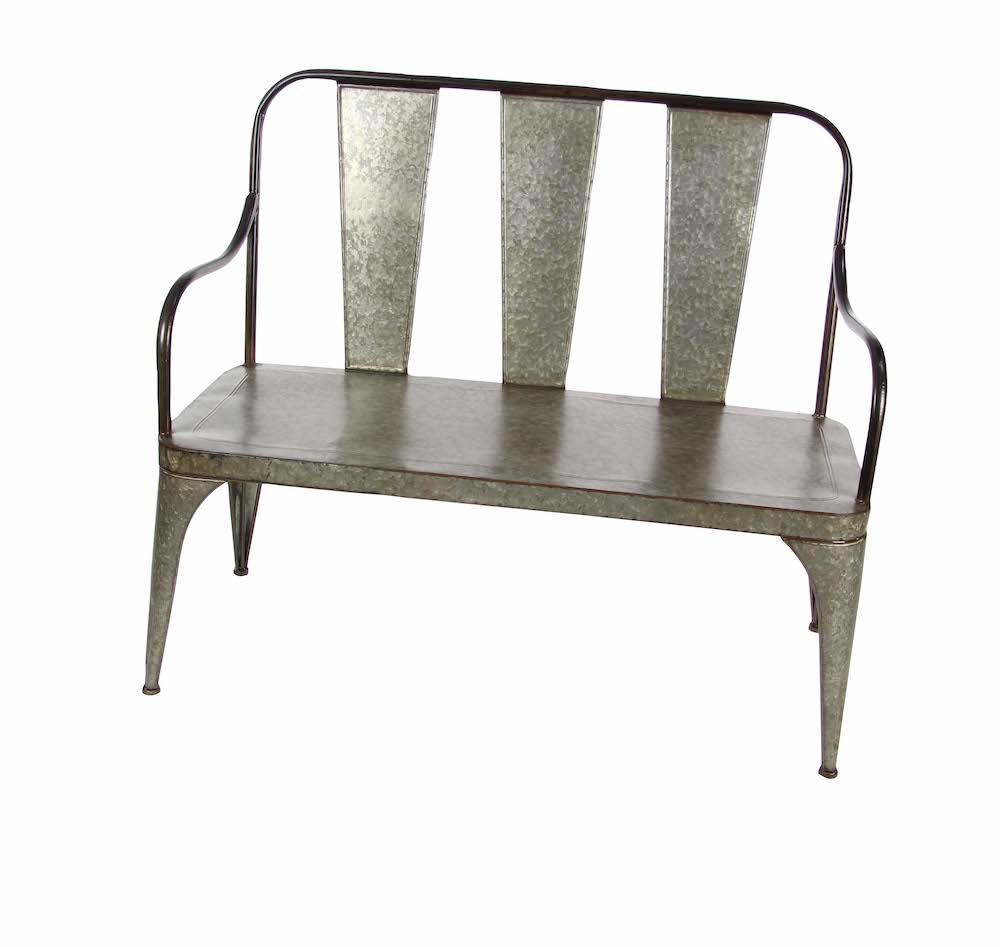 Farmhouse Metal Bench is a 45 inch bench. Bring some farmhouse decor to your porch, patio, or garden with this functional bench. A metal bench with a gray iron seat and a distressed metal finish. The gray black distressed finish gives the bench a welcomed rustic, rugged look.
6. Dandra Herringbone Rattan Settee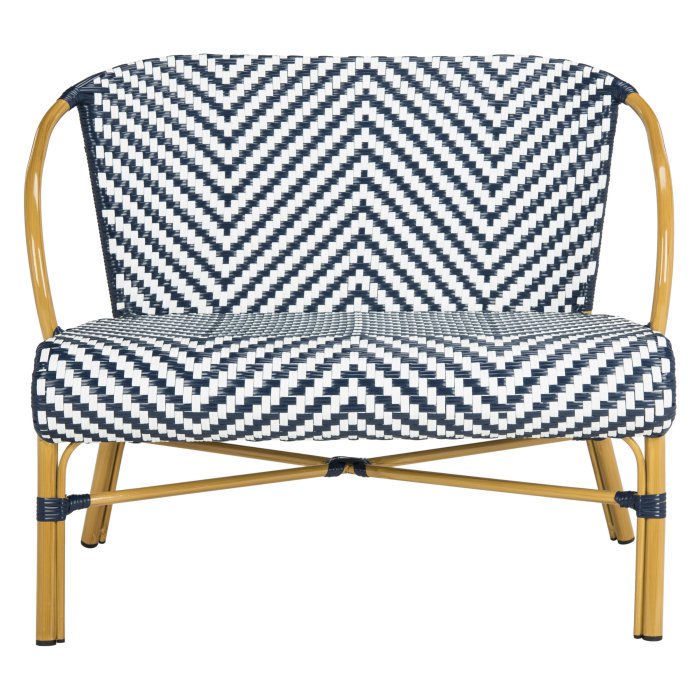 The Dandra Herringbone Rattan Settee is about 38 inches long. Made of an aluminum frame to resemble natural bamboo. Features criss crossing stretchers for added stability and curved armrests. Wrapped in breathable, weather-resistant faux wicker. The herringbone Settee has a two-tone finish. Provides convenient two person seating on a porch or patio area. Use indoors or outdoors.
7. Valencia Stackable Barrel Loveseat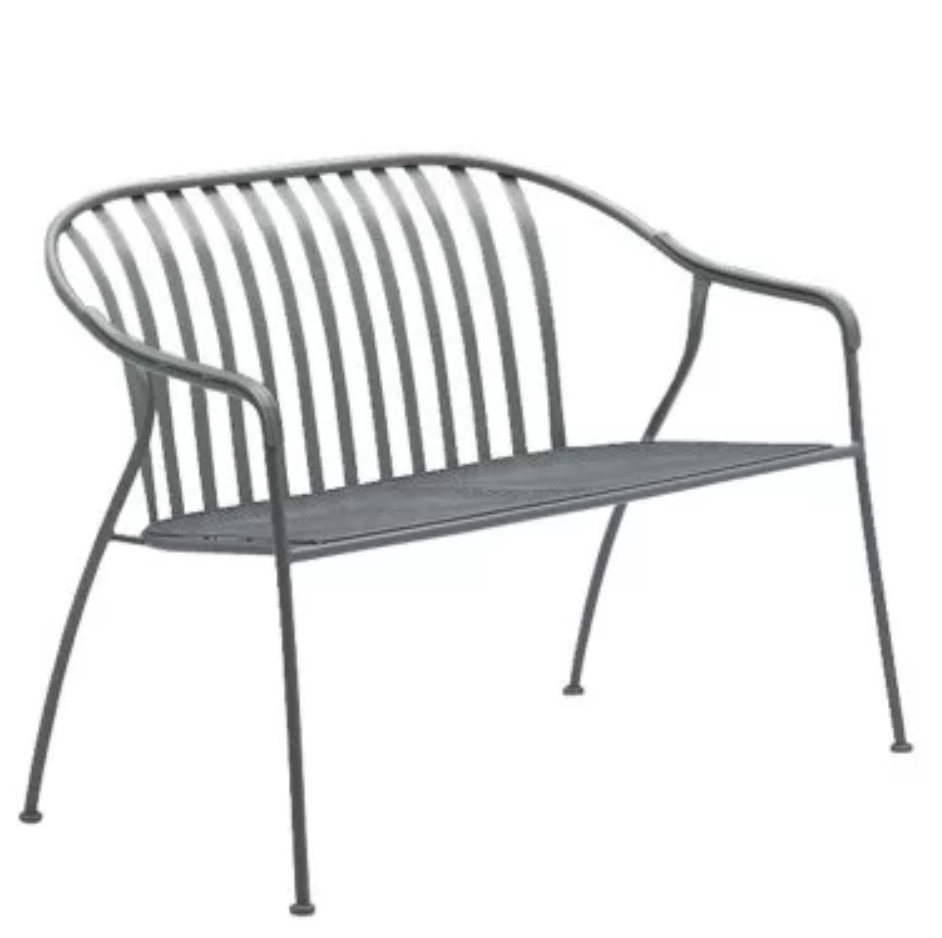 Valencia Stackable Barrel Loveseat is 43 inches long. Made of classic wrought iron metal. From the Valencia collection, displays the beauty of hand-formed metal. Elegant, durable, and comfortable. Lends a variety of styles and tastes. Perfect for creating a reading area indoors and outdoor.
8. Danya Wooden and Wicker Garden Bench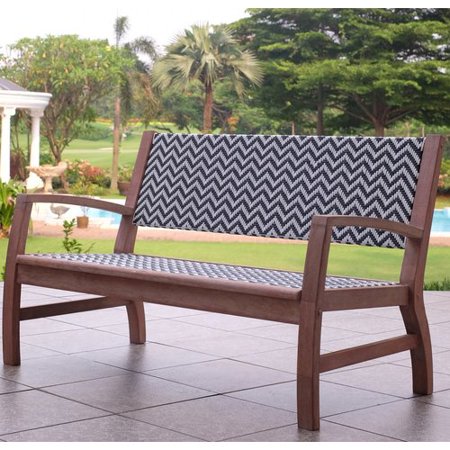 Danya Wooden and Wicker Garden Bench is 51 inches long. The sturdy, solid Danya bench features a weathered distressed white washed mahogany. The garden bench has all-weather wicker of synthetic rattan. Stylish and versatile garden furniture.
These are 8 stylish garden benches for your enjoyment. Create a stress-free sitting area on your porch or patio. A place of calmness. And a place to enjoy life. Or even a spot for a much need break from an exhausting day of gardening. No garden is complete without a spot to smell the roses.
If you create a garden bench space, be sure to let us know how you make out. We'd love to hear about your garden space.
Interested in decorating outdoor spaces? If you found this helpful . . .
You May Also Enjoy some of our other outdoor space related posts.
8 Gorgeous Garden Stools
8 Bold Bistro Tables
Patio Chairs that Keep Cool During Hot Summers!
8 Beach Worthy Lanterns to Illuminate your Coastal Home
8 Things You Need for a Perfect Dinner on the Beach
And if you have any questions, feel free to reach out to us. We always are ready to help you out. Thank you for dropping by.
Mary