Rustic Christmas Lodge accessories make great holiday decorations. Inspired by the rustic cabin and lodge decor of rural America. We love the rustic down home look! Love all the earthy tones inspired from the beauty of nature.  
The rustic Christmas lodge accessories remind us of those annual family excursions. Where family travel into the countryside, and camped in rustic cabins by the lake. All the while renewing relationships with extended family. With the cabin and lodge accommodations in mind, we got busy working on a rustic Christmas space to call our own.  
Interested in a rustic home space of your own? Then you'll discover we have a few ideas that you're gonna love.   
A few tips … while shopping for the rustic Christmas look, search for decorative elements with earthy tones. Accessories such as red plaid, black plaid, faux greenery, faux fur, and wood furniture are excellent choices for a rustic decor.    
RUSTIC CHRISTMAS LODGE ACCESSORIES LOUNGING SPACE
Today, we are sharing a favorite space of ours. An area where we come to relax and unwind from the demands of the day. A special space that inspired us. Reminiscent of those annual family getaways to the cabin by the lake and mountains. And if we peek out the windows, we can imagine the lake, snow covered mountains, and ski slopes in the background. 
Rustic holiday mountain lodges are always so full of life. Although, rustic decor tends to be dark, it makes for a perfect lounging area. Sit back and relax after an active day of snowshoeing, skiing, or snowmobiling. A perfect setting to curl up by the hearth's warm with a hot cup of cocoa, of course!   
STEP BY STEP RUSTIC CHRISTMAS LODGE DECORATING
First off, we slipped this bright and merry red plaid floor covering to add some cheeriness. The vibrant red colored rug adds a whole other dimension. The black, white, and light yellow stripes add depth to the area. Second, we added a nice comfy chair. Over the chair, we draped an ombre faux braided fur throw blanket. A blend of warm browns with cream colors. Very much resembles a cape that might be worn by Lady Sansa Stark.  Lady Sansa knows how to stay warm. 
Third, a nice rustic wood side table rests to the right of the chair. And just the right size. A spot for warm drinks, snacks, or the latest holiday read. Fourth, we included a nice faux miniature Christmas tree with snow-covered pine cones. With the tree base all so neatly covered in earthy burlap.  
Fifth, a nice hammered Moscow mule mug for sipping some hot cocoa. Finishing off the cozy cabin-inspired space, we added some home decor pieces we had on hand. In front of the cozy chair we placed an old wooden trunk. On the trunk sits a Christmas buffalo plaid gift box in red and black. Gift box is all bundled up nicely with baker's twine and topped off with pom poms!        
So proud of our rustic Christmas lodge accessories filled space. The area came together nicely.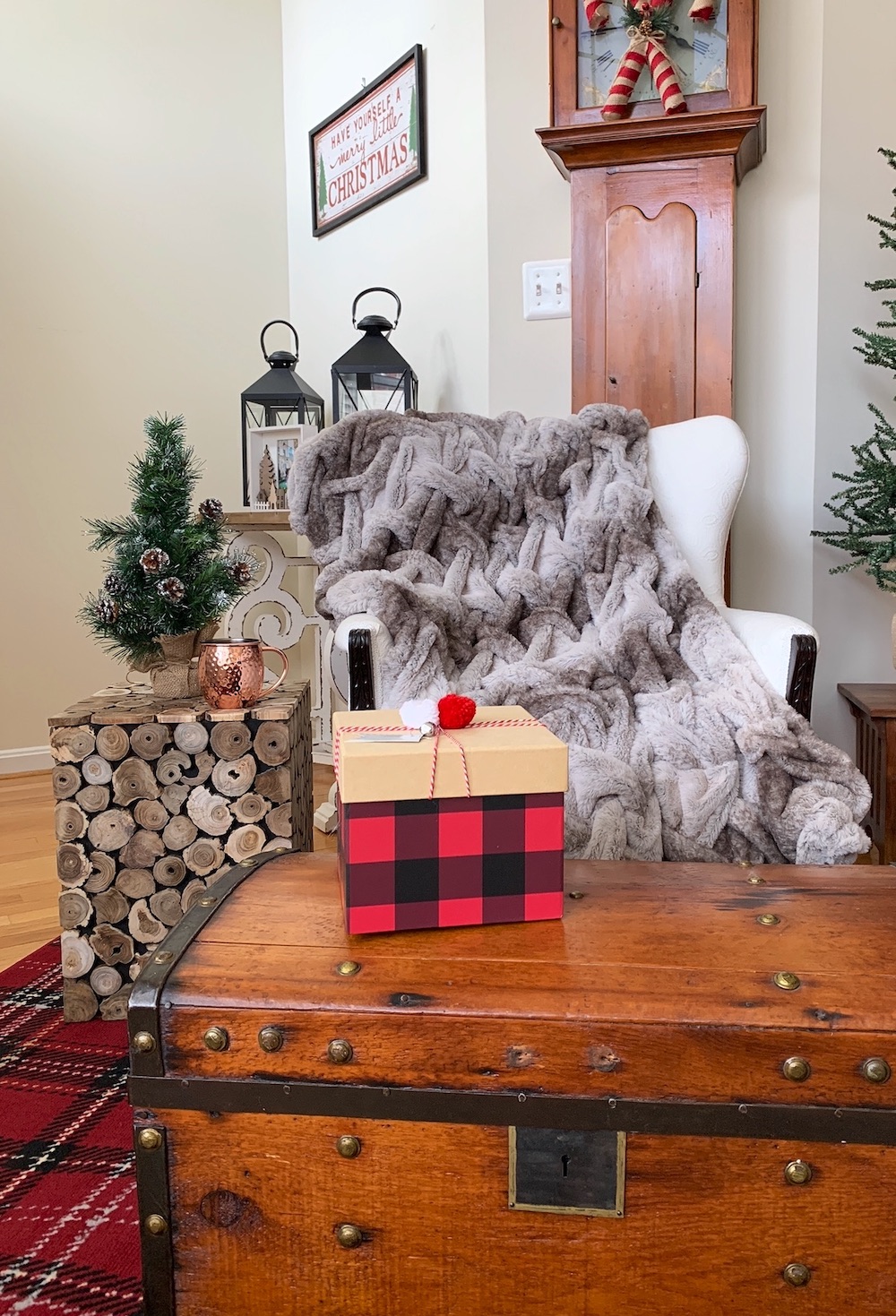 6 RUSTIC CHRISTMAS LODGE ACCESSORIES FOR HOME 
These are our favorite rustic Christmas decorations.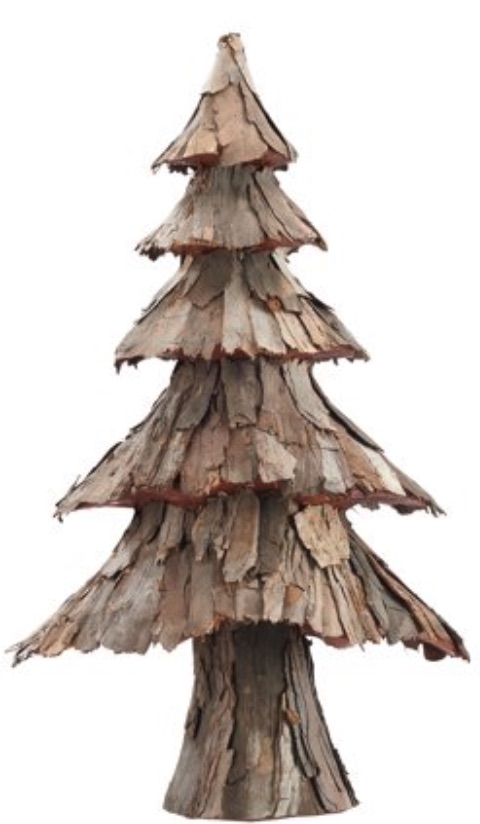 The weather might be frightening outside but ….. You'll be just fine in this small cozy space. Holiday lodge inspired decor that will keep you warm and cozy throughout the Winter. No need to crank up the heat … just settle in and huddle under the faux fur throw. 
So, what about you? Are there any favorite rustic Christmas decorations you use in your home? 
Enjoy our other Christmas decor related posts. 
37 Affordable Christmas Accents
14 Festive Farmhouse Christmas Containers 
30 Farmhouse Christmas Decorations to Celebrate the Season
31 Best Christmas Decorations for the Home 
If you have any questions, feel free to reach out to us. We always are ready to help you out. Thank you for stopping by.
Mary