Looking for a few blue and white stripes styling ideas for your coastal home? We have some great ideas to help you style your home using coastal blue and white stripes in every room in your home. We'll show you 10 inspirational ways to incorporate blue and white stripes in your decor.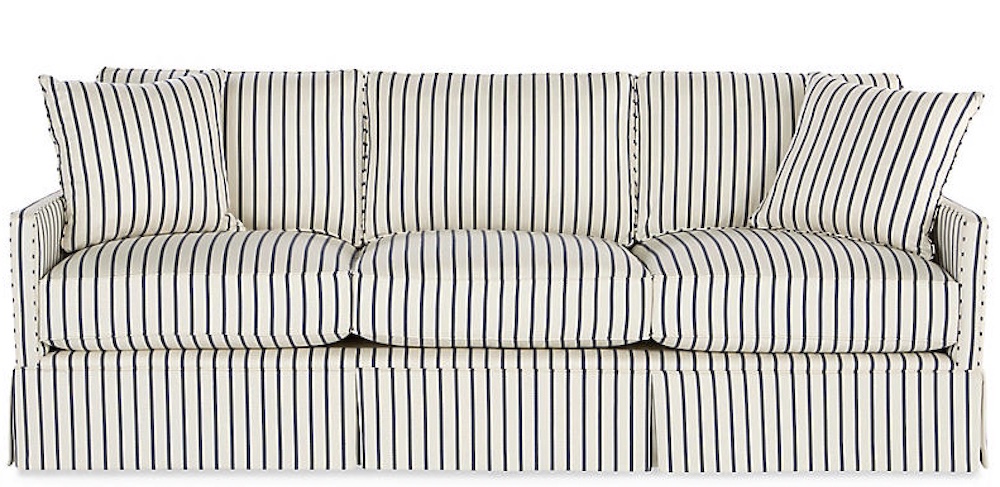 If you love the striped look of the combined coastal colors of blue and white, then this post is for you. This striped pattern can be used in most interior settings as well as many outdoor spaces. Control the pattern by using more muted or subtle colors with smaller stripes for a softer look. Likewise use bold, deep blue colors with wider stripes for a more dramatic look.

Breton Seaman Shirt
In today's post, we are sharing styling ideas for striped patterns. Specifically those patterns with the coastal colors of blue and white. The striped coastal colors have been popular for many years. And of course, the first striped coastal color that comes to my mind is the Breton blue stripes used by French seamen. These shirts originated in Brittany, also known as Bretagne in Northern France. As you can see in the image below, the striped blue pattern is still popular to this day.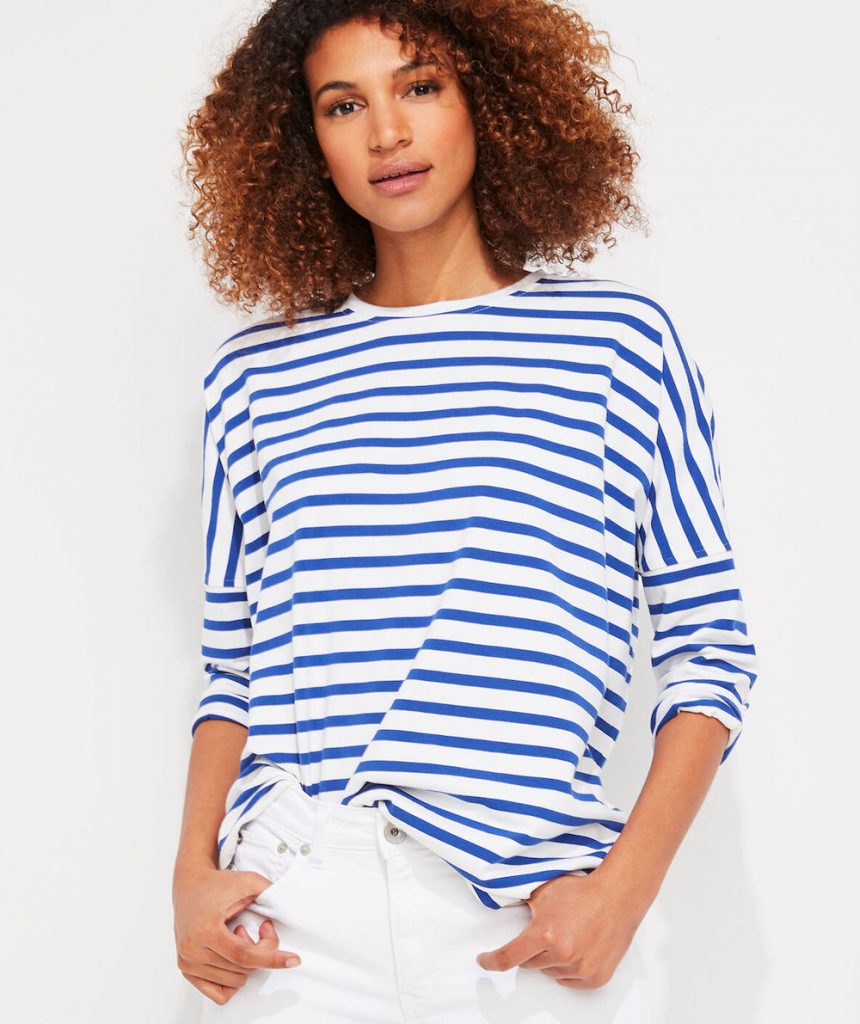 In the year of 1858, the thick cotton shirt became the uniform for French seamen. In the event of an emergency and if a seamen fell overboard, he could quickly be found in the ocean. They believed that a seaman could easily be spotted in a striped blue on a white shirt. In addition to this, the tough fabric offered protection from the ocean elements. As a result of this, the coastal blue stripes became associated with a nautical style.      
Furnish Your Space – Blue and White Stripes Styling Ideas
Interested in using a coastal striped pattern in your home? Incorporating stripes into your home decor doesn't have to be all or nothing. If you aren't quite sure that stripes are the direction you want to go in, then begin slowly. Add a couple of toss striped pillows to your room. Or a cozy striped throw. You can order a striped slipcover for an existing upholstered chair or sofa online rather than have the item reupholstered. Although slipcovers can be pricey, they cost less than reupholstering a full-size sofa that you might have second thoughts about.
And now our list of 10 blue and white stripes styling ideas. Take a look at the many ways to furnish your home using stripes.
Cover the Floor with Stripes – Blue and White Stripes Styling Ideas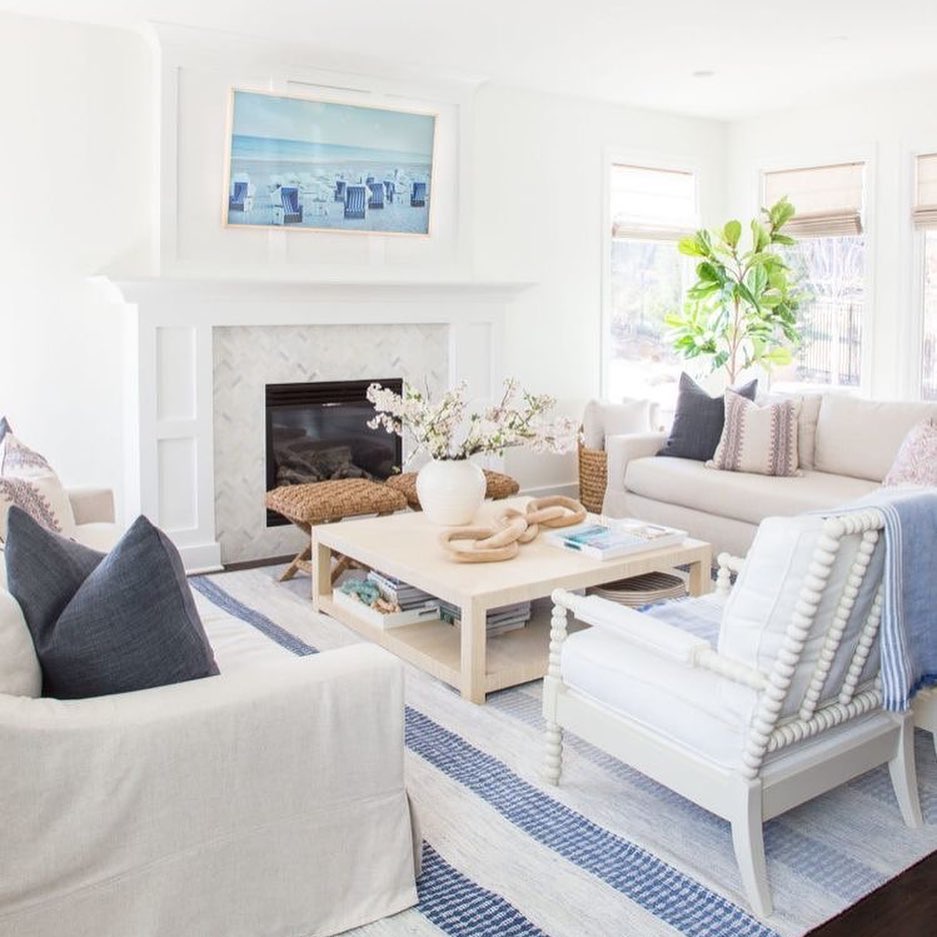 Go coastal with the floor rug. Large stripes of blues run through this rug. Balanced nicely with the surrounding furnishings. Add a striped throw and striped toss pillows to continue the striped pattern.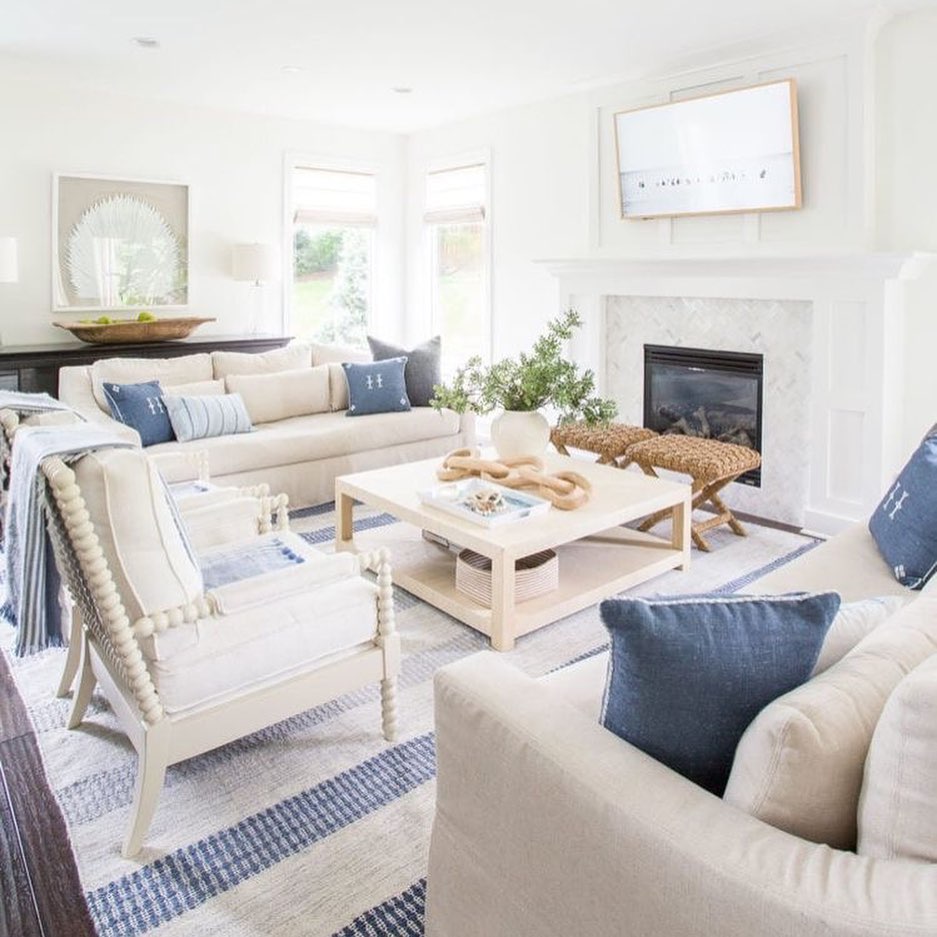 Wrap the Director's Bar Stools with Stripes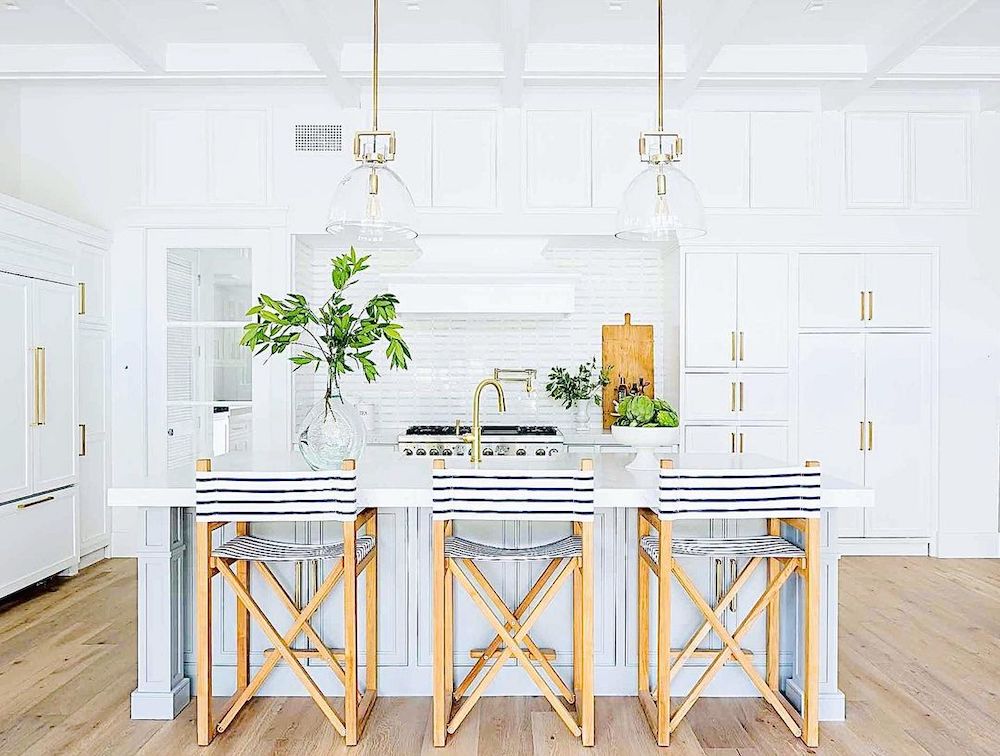 For a nautical-themed kitchen, wrap the director's chair bar stools in navy stripes. Thinner navy stripes complement the stove's tiled backsplash. Subtle touches that make a big impact. To further accentuate the nautical kitchen theme, nautical pendant lights are hung over the island kitchen counter.
Continue the Stripe Pattern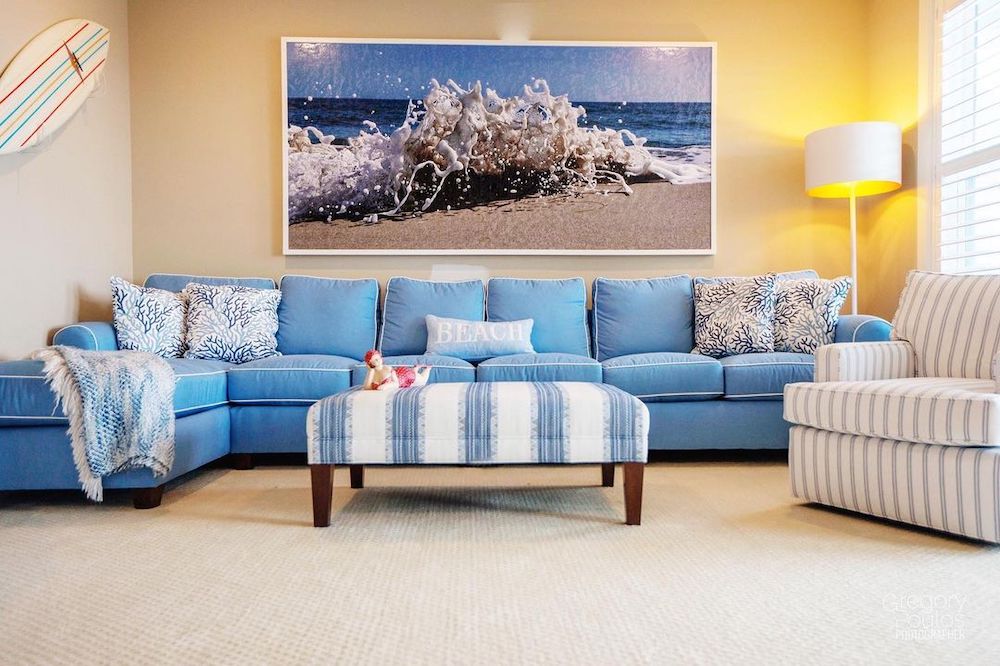 Repeat the pattern. Stripe fabrics cover the center ottoman and the accent side chair. Add stripes to an unexpected place such as the wall art. The surfboard wall art continues the stripe pattern in the room.
Reupholster the Outdoor Bench in Stripes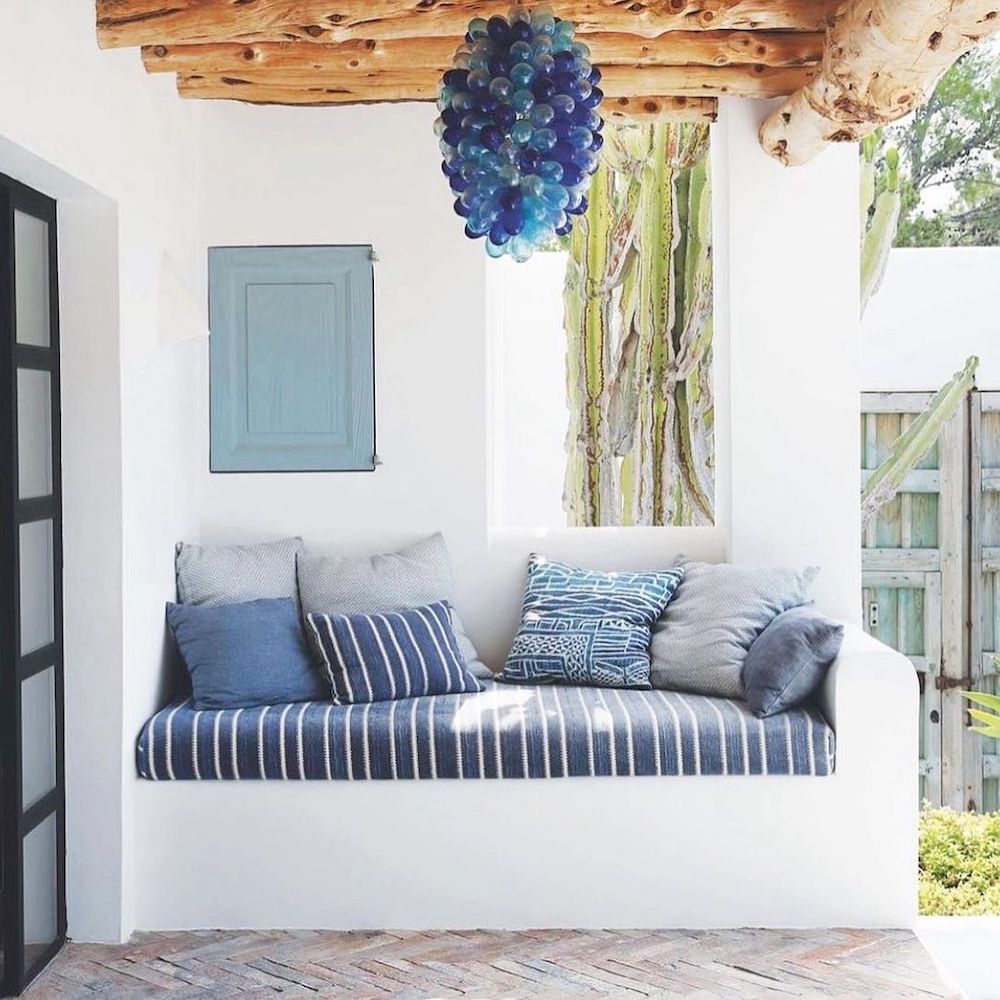 Decorate your outdoor bench with every shade of blue and especially in stripes! Hang a fun light fixture over the bench. All against the backdrop of a white exterior wall.
Get the Bungalow Effect with Striped Curtains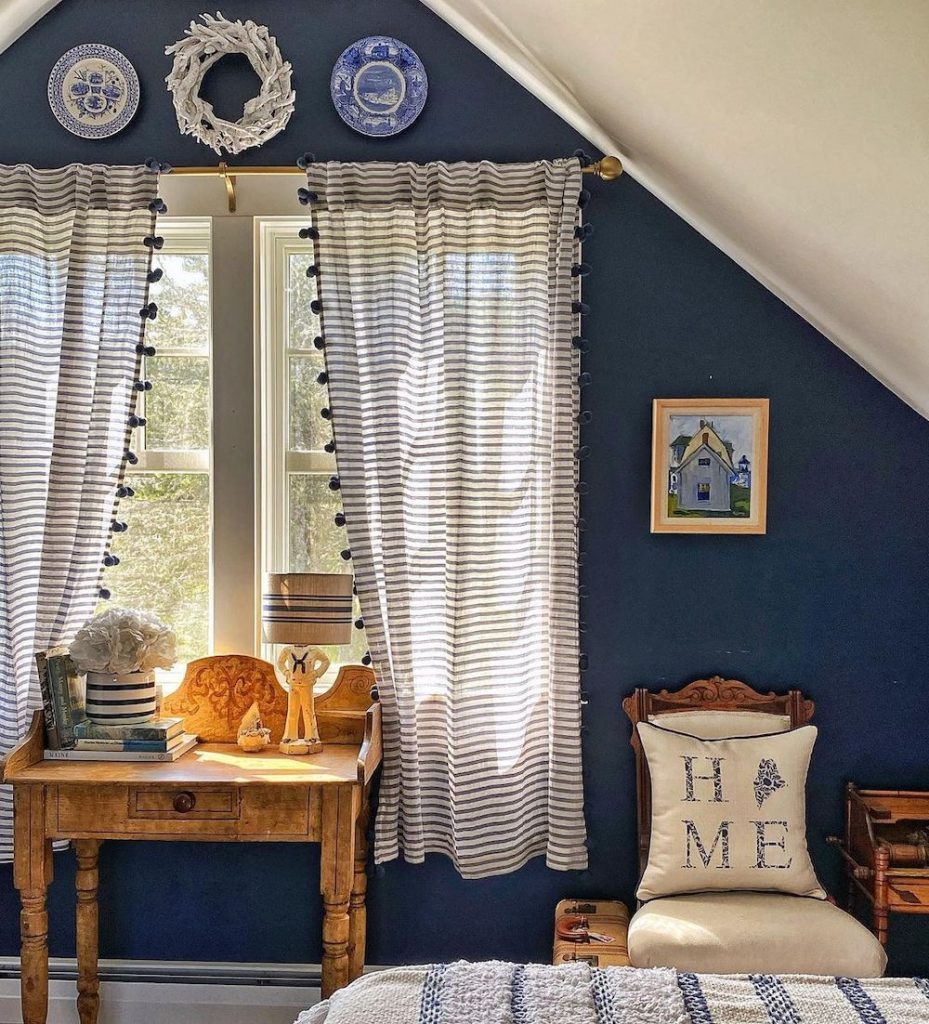 Show off your navy and white striped curtains. Add a small blue and white striped vase. Light the room up with a whimsical sailor's lamp and shade. You've gotta love the lamp!
Be Bold with Your Stripes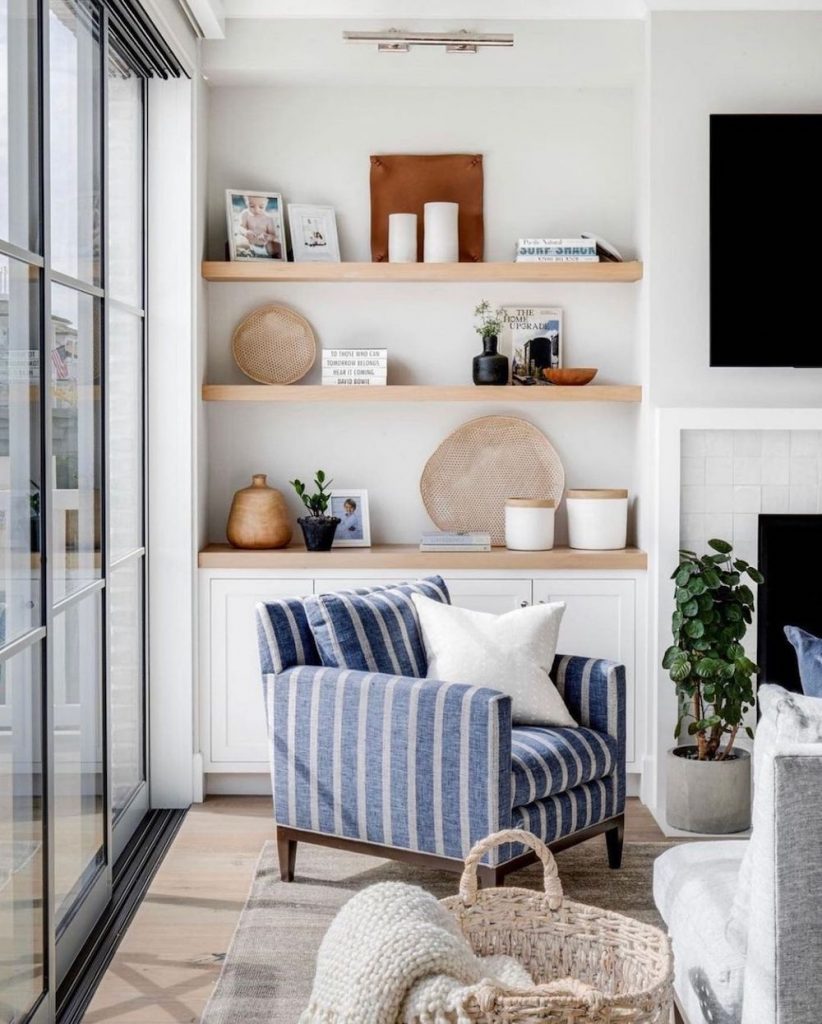 We all love a stripe. And in this case, this side accent chair stands out with its blue-colored fabric. Beautiful and smart seating.
Mix it Up – Blue and White Stripes Styling Ideas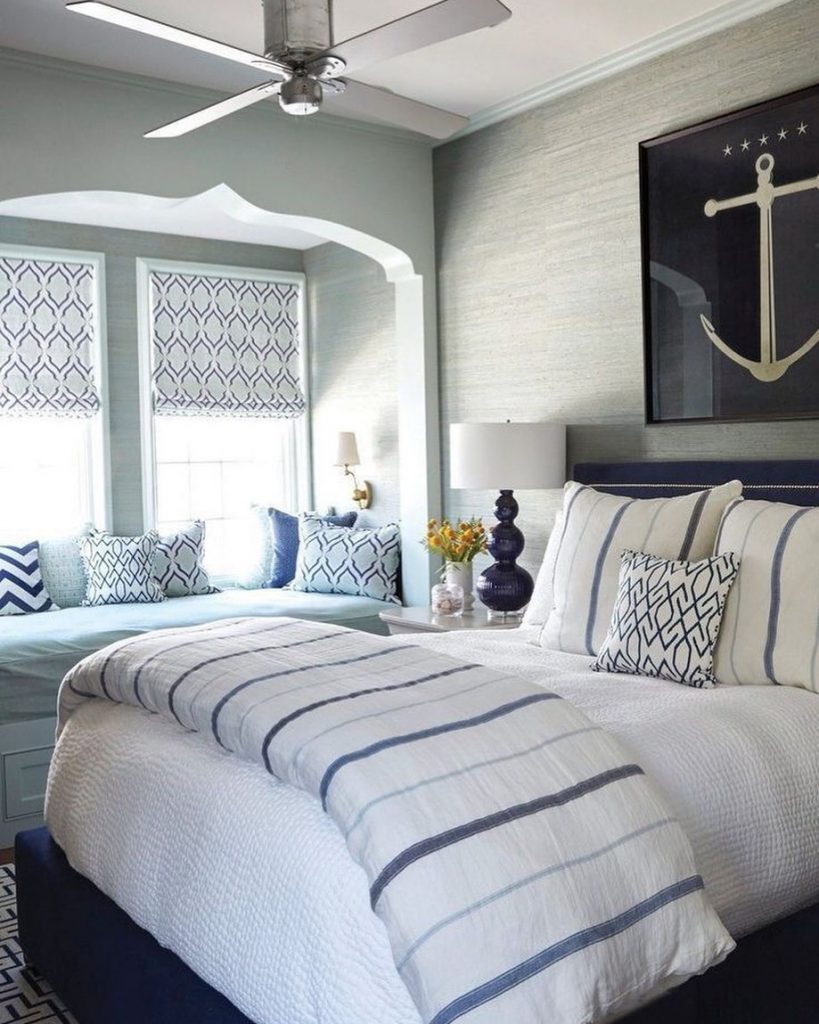 Add stripes to your bed linens. Then mix your striped linens with other design patterns such as chevron and diamond pattern designs. Patterns with white as the dominant, background color. Top it all off with the occasional pop of navy color. Love the nautical touch in this bedroom. A navy anchor wall art over the bed provides the right amount of color. Soothing and relaxing decor for a dreamy night's rest!
Pile on the Stripes – Blue and White Stripes Styling Ideas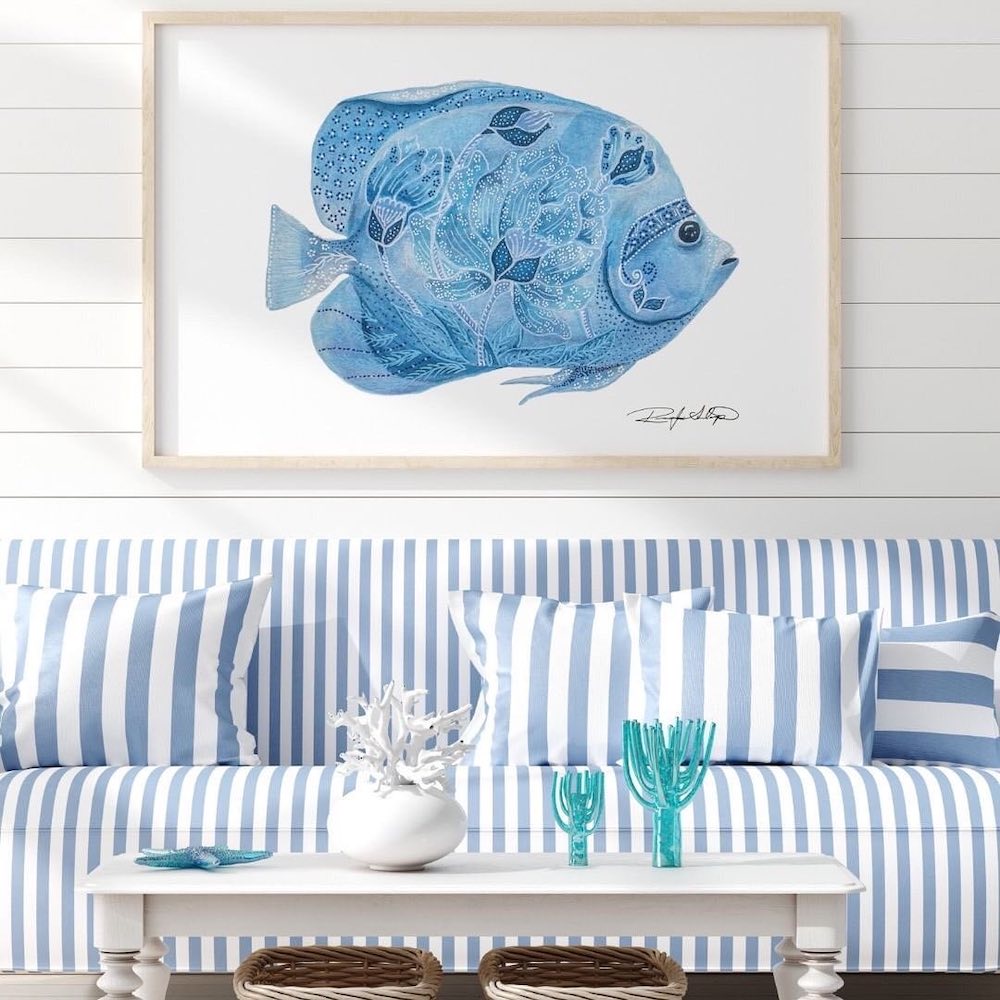 Cover your sofa with stripes. Following with a few toss striped pillows on the sofa. The sofa has a backdrop of white shiplap walls. Above the couch, hang wall art. In this case, the Lotus Batick Scribbled Angelfish is made in Indonesian batik fabric. The artist, Rena combines the scribbled angelfish with the batik fabric to create the Lotus Angelfish artwork. Framed in a neutral-colored wood frame. 
For more information on Rena's artwork, check out her website at Batik and Designs.
Go Big with Stripes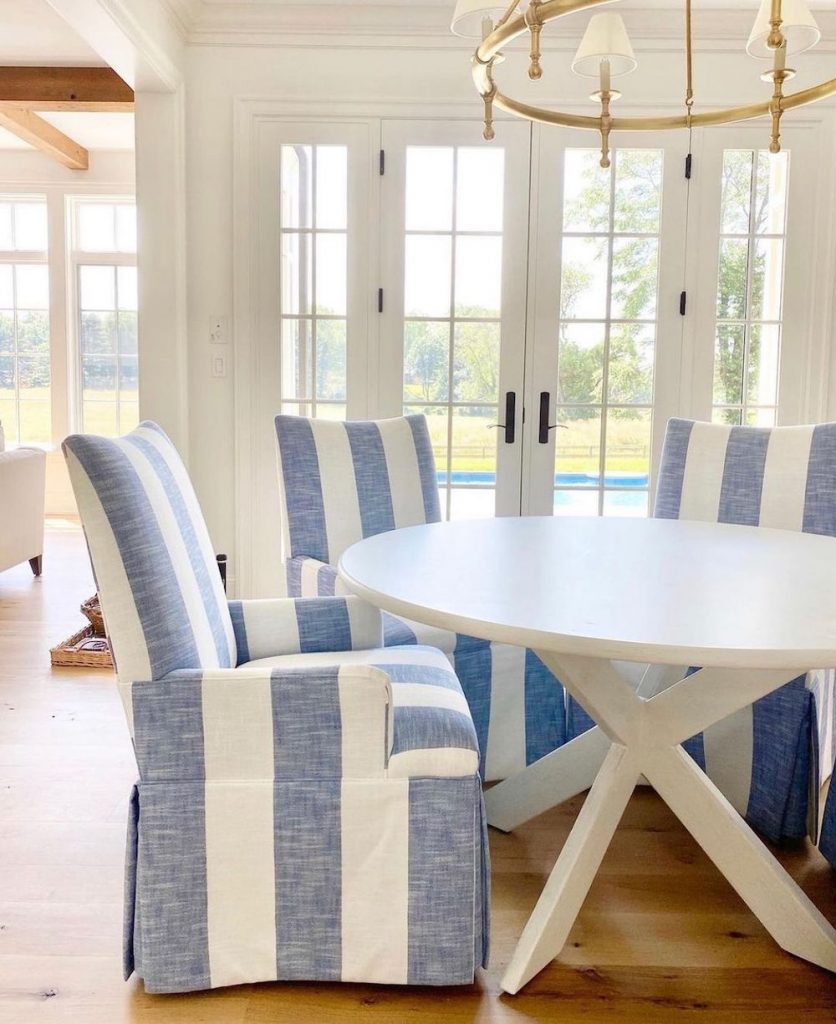 Give your dinner guests the royal treatment with these roomy armed dinner chairs. Covered in big, wide stripes, the chairs easily fit in with the solid white pedestal table. Allow a whole lot of natural outdoor light and you are ready to go!
Stay Cool in this Oasis – Blue and White Stripes Styling Ideas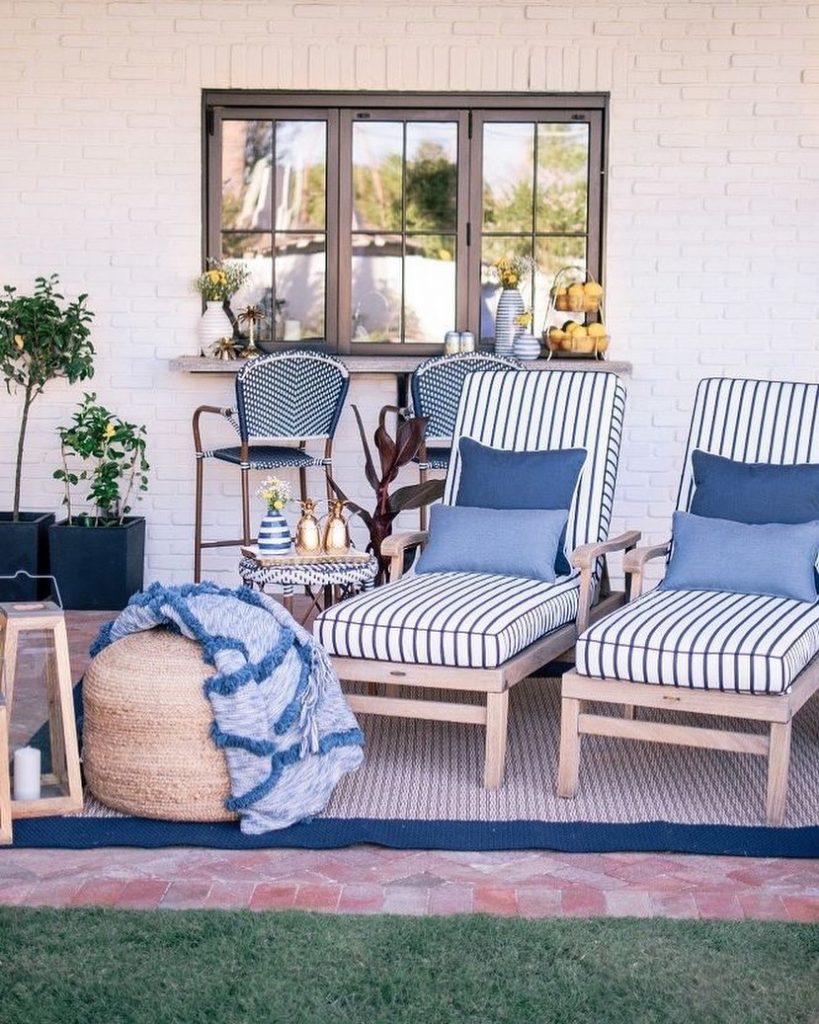 Keep the stripe theme on the outdoor porch. A set of chaise lounge chairs in our favorite striped pattern makes a stylish porch. Add a few solid-colored accent pillows. Lay a texture-covered throw over the ottoman. The throw is a quick reach when the temperatures dip low late at night. Fill a basket with lemons for fresh homemade lemonade to stay hydrated and cool during the day. As an added benefit, the yellow lemons provide a pop of color to the porch. And there you have it. Magnificent styling!
Style your home with blue and white stripes for timeless decorating. As you can see, the combination of these two colors creates a beautiful coastal aesthetic. The range of fabrics and colors is enormous. It's easy to find the right combination for your home refresh project.
In Closing – Blue and White Stripes Styling Ideas
This is the end of our styling ideas list for using stripes. As you can see, stripes can easily be used throughout the home and even into the porch or patio. Whichever room you use blue and white stripes, we know you'll love the look. It's classic, casual, and stylish that has a timeless appeal. This decor style will be a favorite of yours for many years.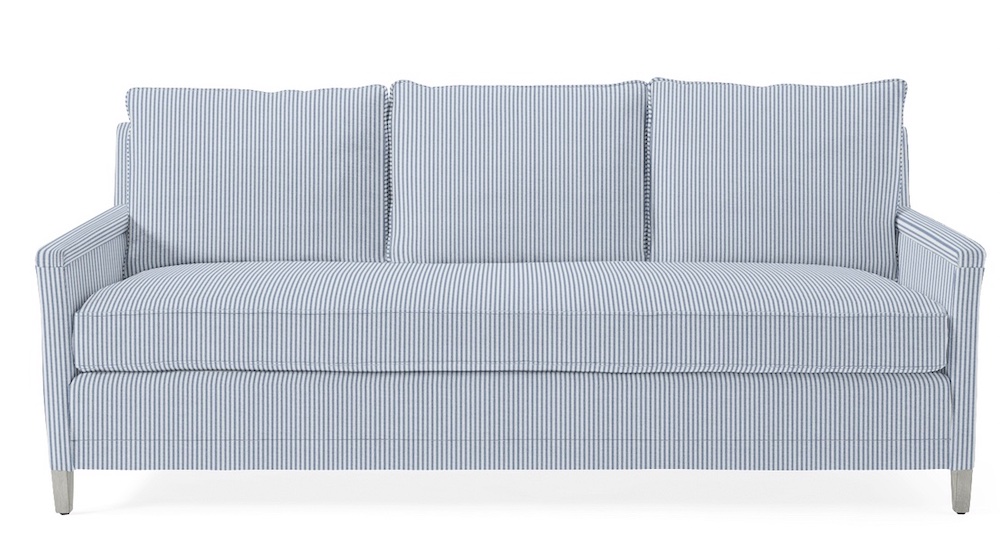 We hope that our list helps inspire you. If you try any of these styling ideas, we would love to hear from you, our readers. Let us know how you make out with your decorating projects. For additional coastal decor resources, check out our coastal decor post for helpful tips. Look at our 12 Ways to Add Coastal Decor to your Home post. And for additional coastal inspiration, take a look at some of our other posts.
Enjoy our other coastal related posts for additional ideas.
Reach out to us with any questions. We are always ready to help you out. Thank you for stopping by our blog.
Mary
Pin this for Later: