Neutral bathroom vanity ideas that you'll love and want to use at home. In today's post, we are sharing ideas for a neutral bathroom vanity refresh. If you are ready to either replace your vanity or remodel your bathroom, take a look at these inspirational ideas with neutral vanities.
Bathroom Vanity Beginnings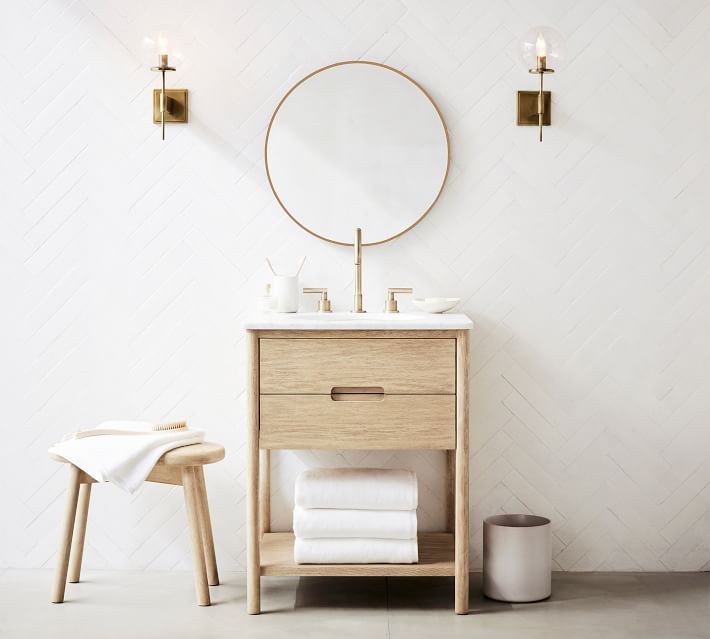 What exactly is a bathroom vanity? Well, a bathroom vanity can include four items. That is the hardware, sink, countertop, and any cabinet that houses the plumbing drain and water shutoffs. There are two costs related to a new bathroom vanity. The first cost is the actual cost of the materials such as the hardware, sink, countertop, faucet, and vanity cabinet. Secondly, the cost to install the fixtures, sink, countertop, and vanity. These replacement costs vary based on the vanity's size, material, and design. Basically, the larger and more elaborate the vanity is the more time it takes to install. And more time means more costs associated with the installation.
Vanity Costs – Neutral Bathroom Vanity Ideas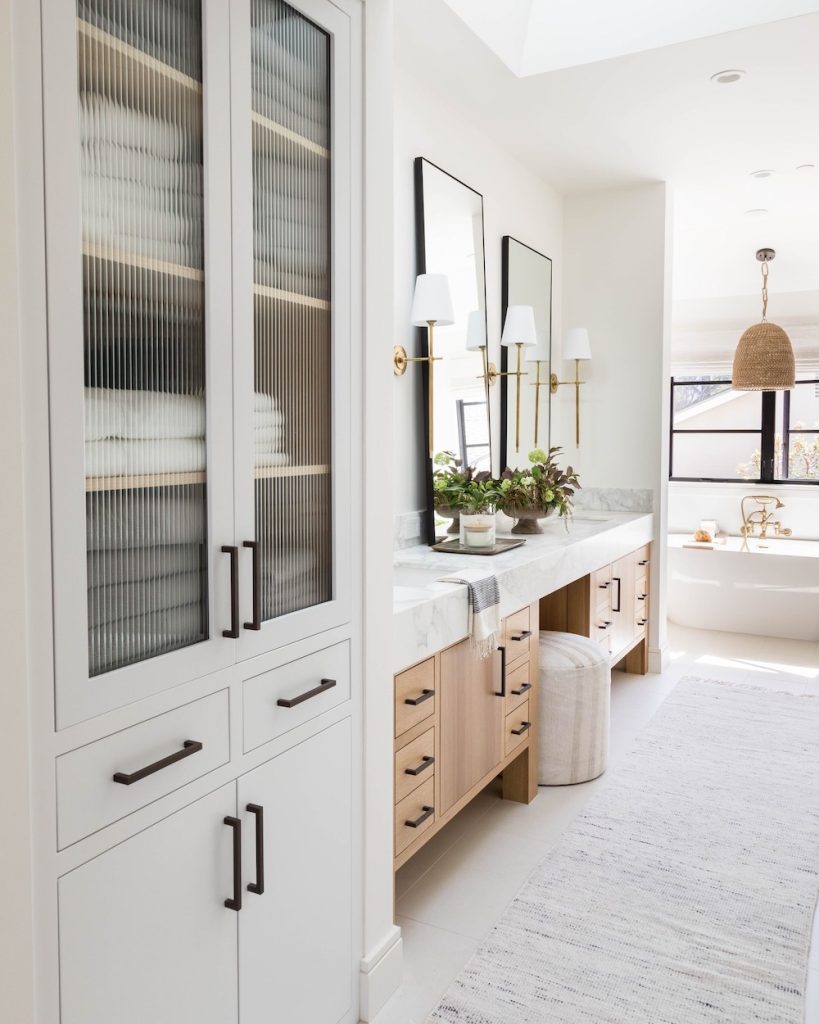 What are the costs for a new bathroom vanity? Smaller, premade vanities are the least expensive. They start at about $200. Larger vanities cost about $2,000 and more based on any added storage accessories. Semi-custom and custom vanities are even more expensive. The price of a semi-custom or custom vanity begins at around $500. And can cost upwards of $3,000 to $4,000 and in some cases considerably more. Certain finishes and wood types cost more than others. For instance, a vanity made from birchwood is less expensive than one made of oak wood. Another factor determining the price includes any built-in vanity accessories such as storage space compartments for cosmetics and bathroom toiletry essentials.
Vanity Installation Costs
In addition to the cost of the vanity, you'll want to obtain estimates to install the vanity. Be sure to let the installer know if you are replacing the vanity only or the vanity, countertop, and faucet. Labor costs to install a vanity will range between $200 and as much as $4,000. This cost is based on the size of the vanity being installed and the complexity of the installation. The installation cost can also include the cost of replacing the sink's facet and the countertop. If this is a new vanity installation and not a vanity replacement then you'll need new plumbing for the vanity which is an extra cost.
Finally, consider the disposal cost of the old vanity. Some contractors will include the removal and disposal costs in the installation cost of the vanity. However, if your contractor does not dispose of your old vanity, you will bear the cost to remove the vanity. If you are having a whole bathroom remodel then your contractor will order a dumpster to cart away any remodeling debris.
Build Your Own Bathroom Vanity
If you are thinking about building your own vanity, that can be done too. Especially if you have access to the materials needed such as wood, saws, nails, work tools, etc. If you need to purchase the wood, materials, and tools to build the vanity, there may not be much cost savings. Some wood materials are hard to obtain and tools can be very pricey. Between the wait time for delivery of materials and tools and the cost of those materials, it may be easier to order a vanity that is semi-custom made or custom made.
If you decide to build your own vanity, the costs can be $1,500 or more based on the type of wood and finishes you select. Costs will vary based on the materials, design details, and vanity accessories that you select. Building your own vanity allows you to control your material costs and save on labor costs. Be sure to have a vanity countertop in mind prior to building the vanity. Premade countertops are available in specific sizes. As a side note, be sure to check with your local building inspector to verify that your vanity design is in compliance with the town's ordinances. Lastly, premade vanities can be found for about $200.
Bathroom Vanity Countertop Costs – Neutral Bathroom Vanity Ideas
Some bathroom cabinets are sold with vanity countertops as a set. The price of the bathroom countertop in those instances is included in the cost of the vanity. If you are interested in only replacing your vanity countertop you can. Vanity countertops start at $100. Some countertops come with a sink and some are available without the sink. Countertops with attached sinks below the countertop are called under-mount sinks and hang inside the vanity. when ordering a countertop with a sink you can select the sink shape. Sinks are available in oval, round, and rectangular shapes.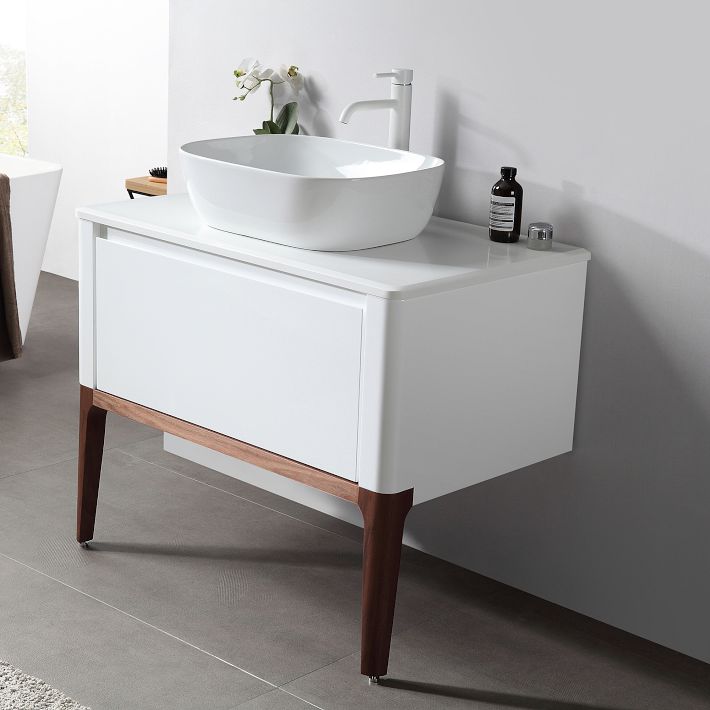 Another option is a sink that rests on the countertop. Known as vessel sinks. Vessel sinks are available in a variety of sizes, colors, and shapes. The price is based on the type of material the countertop and sink are made from. In the image above, the countertop has a single hole for a faucet which pours water into the vessel sink.
Countertop Options – Neutral Bathroom Vanity Ideas
For those with a limited budget, you can replace only the vanity countertop. This is a quick way to give your bathroom a whole new look and minimize costs. And if the faucet is still in good working order, you can reuse that as well. There are several types of countertops made with a variety of materials. You might be wondering which is the best countertop material for your bathroom. Well, it depends on the bathroom usage. Luckily, there are many material options to pick from. For a heavily used bathroom, countertop materials made from granite, marble, quartz, or acrylic are both durable and attractive.
Another material that countertops are made from is Quartzite. Quartzite is a high-quality, hard surface that is just as tough as granite. It is resistant to heat stains, scratches, etching, and UV rays. An excellent choice for bathrooms with natural light and Quartzite is resistant to fading.
Bathroom Measurements
When you order a countertop for your existing bathroom vanity, you'll need to make note of a few things. First, it is important to know the dimensions of your bathroom and the size of your existing vanity. The width of your vanity is measured by the width across. And the depth of the vanity is measured from the vanity front to the back wall. The countertops are slightly larger than the vanity itself. Ordering the right size vanity for your bathroom is important. As you'll want to make sure there is plenty of room to move around the bathroom.
Second, do you want a countertop with a sink or without a sink? The sink can be ordered separately and then attached to the countertop later. Countertops can be ordered with predrilled holes. The predrilled holes come in different sizes. There is a countertop with an 8" wide size.
Another option is a countertop with a 4" center set size.
The third option is to order a countertop with a single faucet hole for sinks with a lever above the spout. So this type of faucet requires a single predrilled hole in the countertop. Many vessel-type sinks have a single-hole faucet countertop.
Mount it on the Wall – Neutral Bathroom Vanity Ideas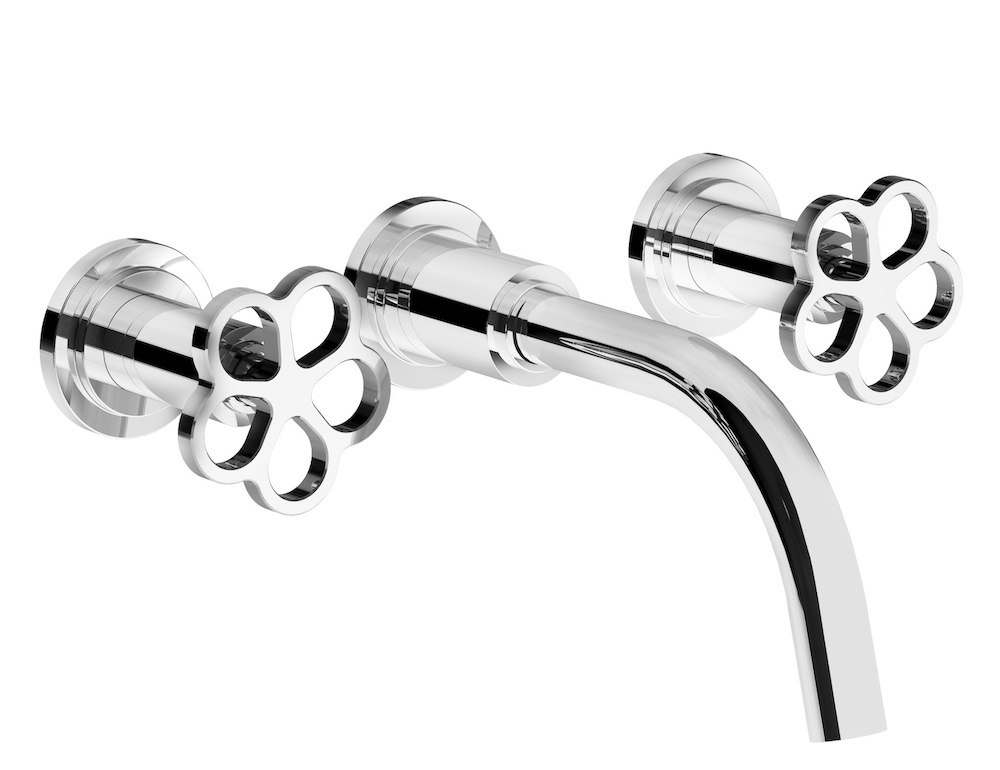 Some homeowners prefer the look of a wall-mounted faucet rather than a countertop faucet. With a wall-mounted faucet, the countertop is holeless or comes with no predrilled holes. In a vanity with a wall-mounted faucet, the plumbing for the water source is concealed behind the bathroom wall. The water shut-offs and draining plumbing are housed in the vanity itself.
Side and Backsplashes
Most countertops have a 4" bathroom backsplash to protect the wall behind the vanity from water damage. If your vanity is installed in a corner or tight area, it is wise to install side splashes as well as a backsplash. As an alternative, some homeowners opt to tile an entire wall behind a vanity when installing a wall-mounted faucet. Tiling an entire wall behind a vanity can give the bathroom a modern and clean look.
Best Durable Vanity Materials – Neutral Bathroom Vanity Ideas
Use solid wood for a durable wood cabinet vanity. Solid wood is the best material you can use for the vanity cabinet. Solid oak is a hardwood and by far the strongest. Oak wood is tough enough for everyday use. Birchwood is another material that is commonly used for a vanity cabinet. Birchwood is not as durable as solid oak and as a result, is less expensive than solid oak. Another difference is that Oakwood tends to have more prominent grains that are noticeable. Other woods such as Birchwood have fewer wood grains. Choosing wood with or without grains is a matter of personal preference.
You'll find that some vanities are constructed from plywood or MDF wood boards. In some instances, they are suitable for bathroom vanities. Before you begin any bathroom renovation and order a vanity and countertop separately, check that the vanity is strong enough to support the countertop. Certain countertop materials such as marble are quite heavy and require solid support from the cabinetry.
Most Durable Countertop Materials
Likewise, quartz is one of the best materials for a countertop vanity. It is available in many sizes, colors, and sink shapes. The costs of durable materials for vanity and countertop can run into the thousands. Something to think about before investing in a high-end bathroom vanity is how frequently you remodel your bathroom. Some homeowners remodel their bathrooms every 3 or 5 years. Others remodel their bathroom once and only once. Do you plan on selling your home after you've remodeled the bathroom?
Best Type of Vanity for a Small Bathroom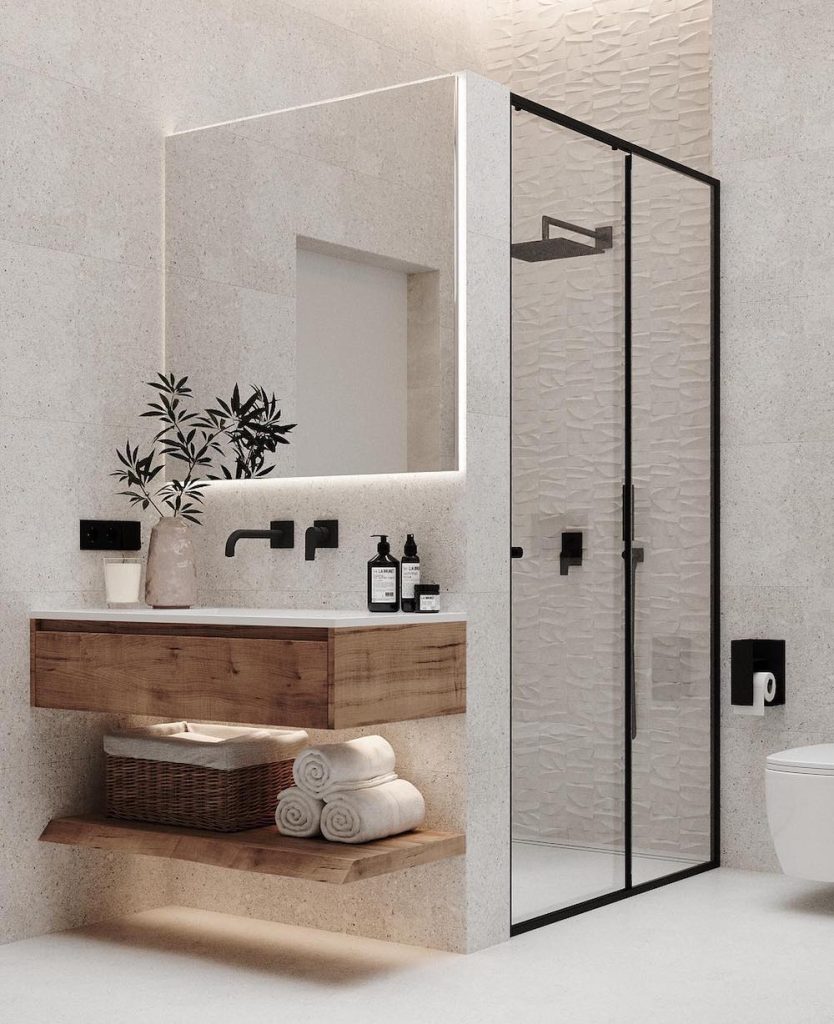 Single vanities typically range between 36 to 48 inches wide. These are good options for a kids bathroom, half baths, powder rooms, and guest bathrooms. You can also find a vanity that measures 18" and 24" wide for even smaller rooms. There are other sink options to consider for smaller bathrooms. For a modern bathroom vanity look, install a wall-mounted vanity with open shelves. This option makes the room appear more spacious and gives it a modern stylish look. In the image above, the faucet fixtures, storage shelf, and vanity are all wall mounted.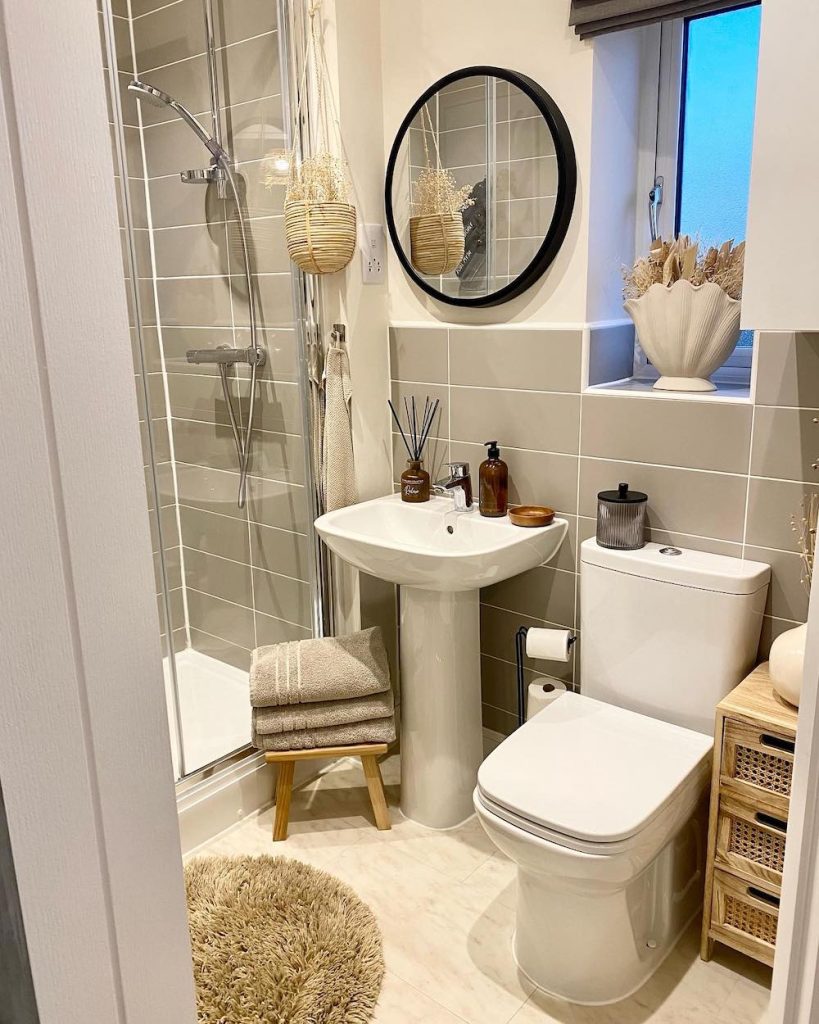 For even tighter spaces, Install a corner sink for a small bathroom. Or consider a pedestal sink for a powder room. A pedestal sink lacks storage but tucks into a half bathroom nicely. Installation costs for small bathroom vanities begin at $500 and more. In the image above, the pedestal sink is a perfect choice for this space.
Expand a Single Sink to a Double – Neutral Bathroom Vanity Ideas
If you are wondering whether a single vanity can be replaced with a double-sink vanity, if you have the space then the answer is yes. A double vanity provides more sink and counter space. As an added benefit, a double vanity will increase the value of your home. Likewise, adding a linen storage closet can also add value to your home. But more importantly, it will provide additional storage space for toiletries, linens, and other bathroom essentials.
Downsizing from a double sink to a single sink may not help your home's value. Although, replacing a double sink with a single sink and adding a linen closet tower gives the owner two advantages. First, you'll gain more storage space. Second, the tower is likely to improve your home value. As a reminder, the best alternative is the one that fits your particular family's needs.
Easy Styling – Neutral Bathroom Vanity Ideas
Now on to our list of styling ideas for your bathroom vanity. Stay inspired with these pro tips we are sure you'll find timeless. Take a look. Be sure to drop us a line below in the comment section. Let us know all about your best vanity styling ideas for your bathroom.
Maximize Your Storage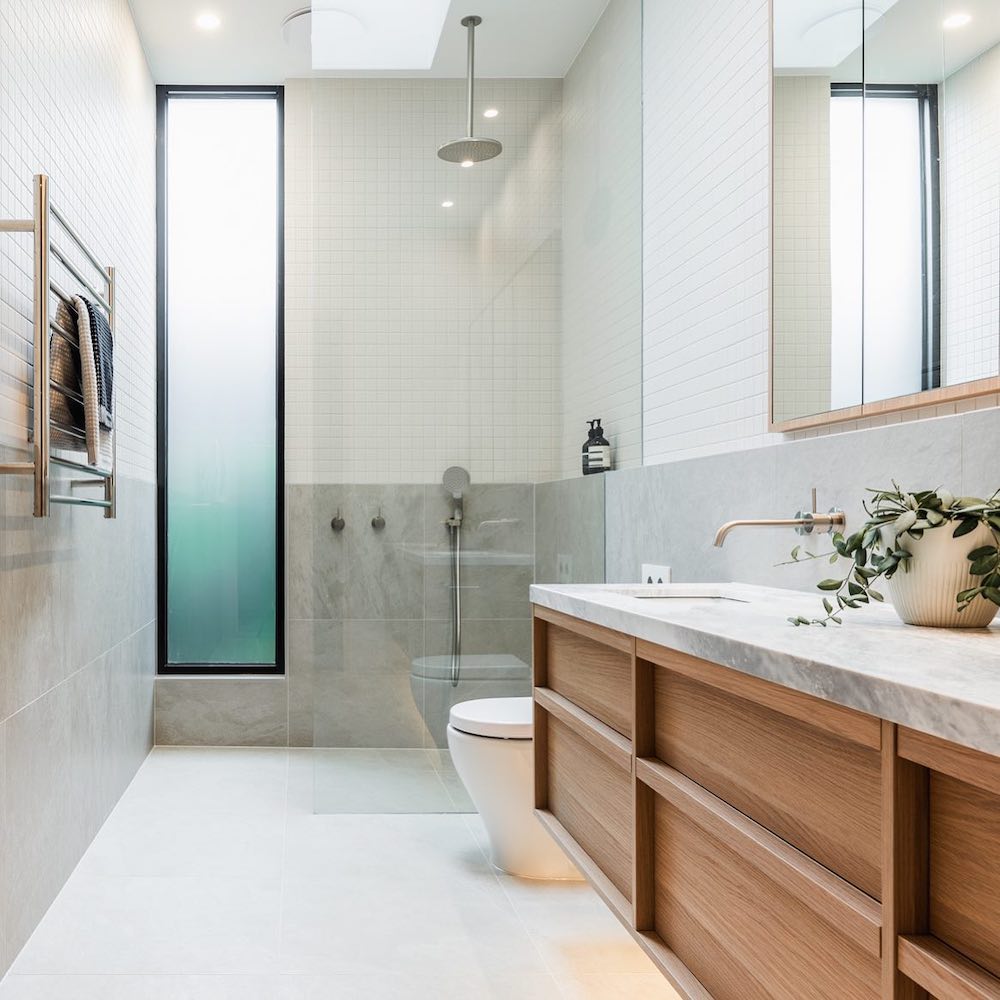 Install an extra large vanity to maximize your storage space. Skip the curb and install a shower without the curb. A great alternative making the shower feel open and larger. It is also a fantastic option for those that have mobility issues.
Stream in the Natural Light – Neutral Bathroom Vanity Ideas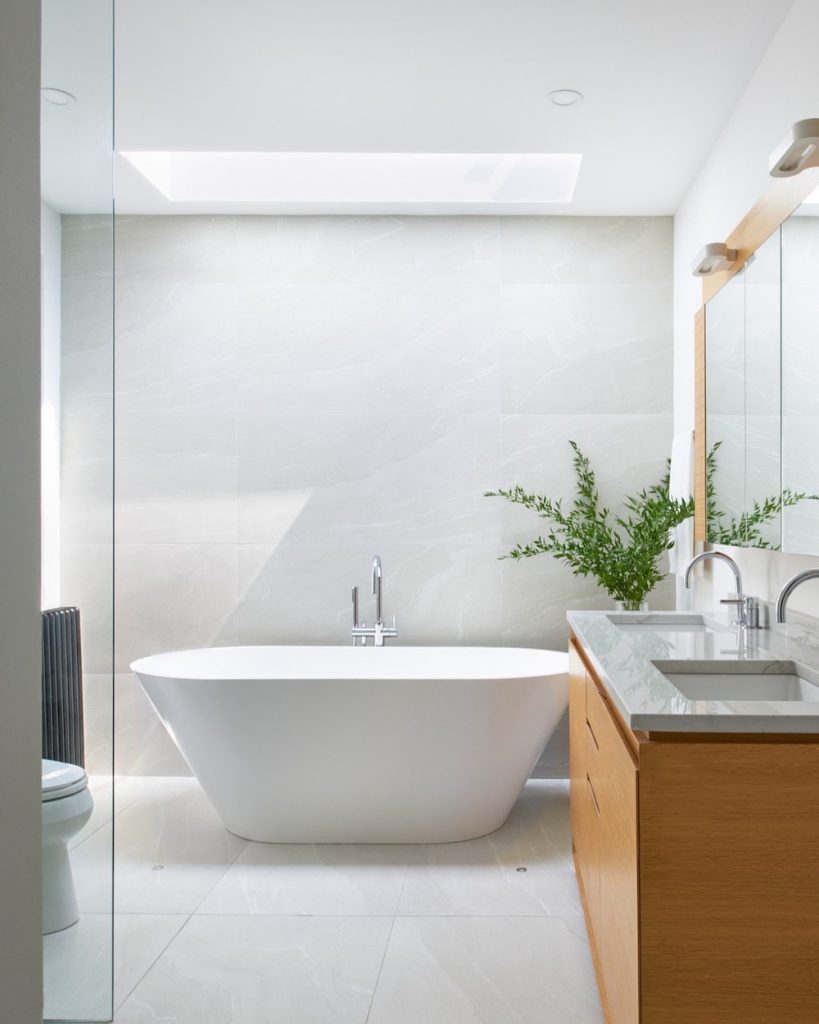 Let the natural sunlight stream into your bathroom. The beautiful vanity adds a honey-colored warmth to this space. Place your bathtub directly under a skylight to soak under the sun.
Bring the Warmth of Wood Tones
Use warm wood tones when decorating your bathroom. In this instance, beautiful wood is used in the bathroom vanity, wall mirror, side shelf, and floor. Simply gorgeous.
Make it a Vessel Sink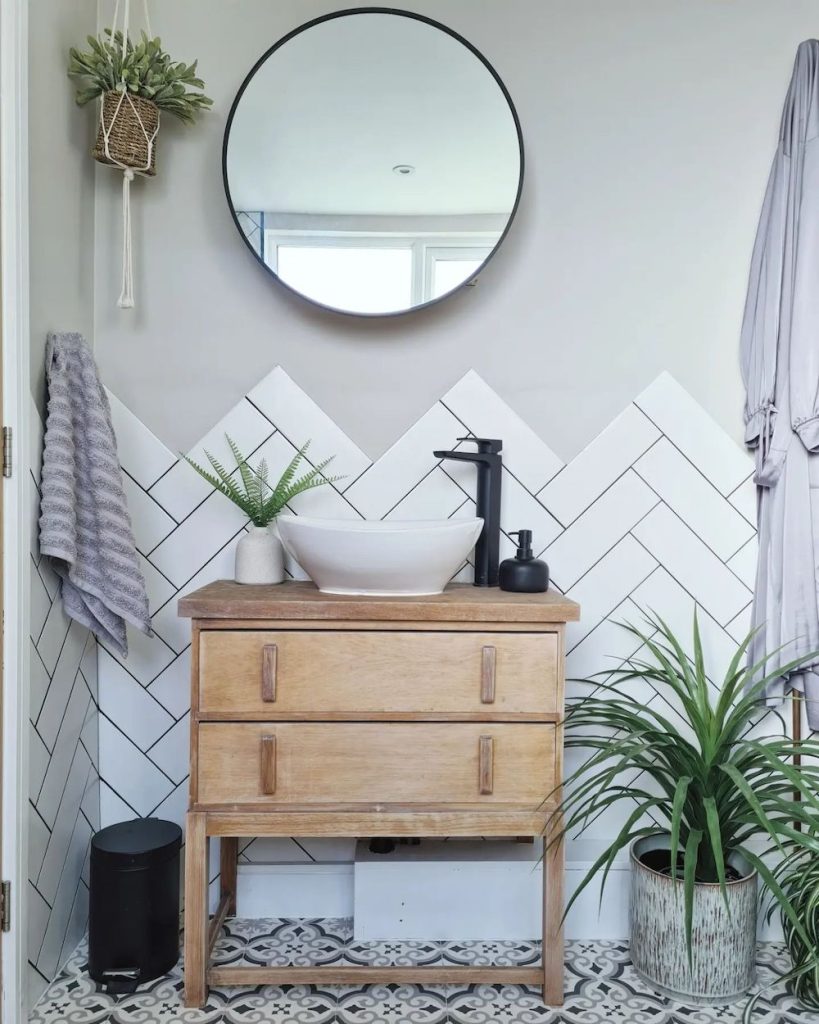 For smaller spaces, use a vessel sink with a single-hole countertop. Compact, tidy, and stylish is a winning solution for small bathrooms.
Blend Neutral Textures and Materials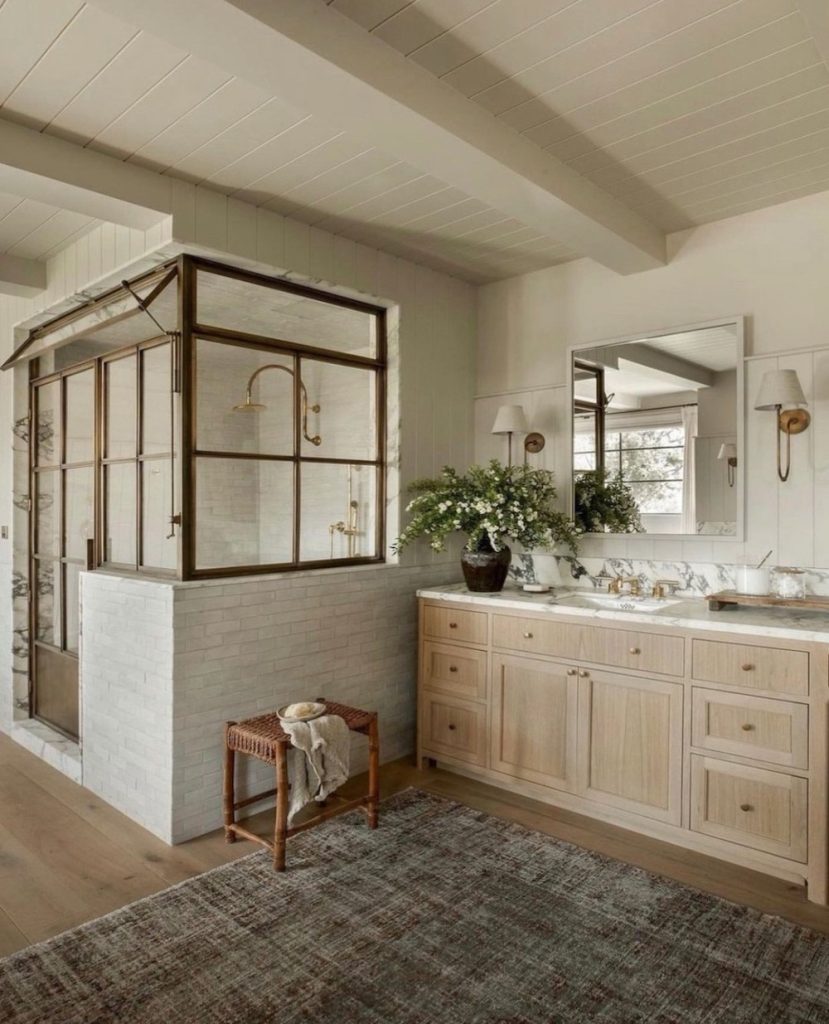 Mix it up. Use neutral colors in a variety of textures and materials for a soothing and relaxing decor style. Love that roomy vanity and countertop.
Let the Waves Roll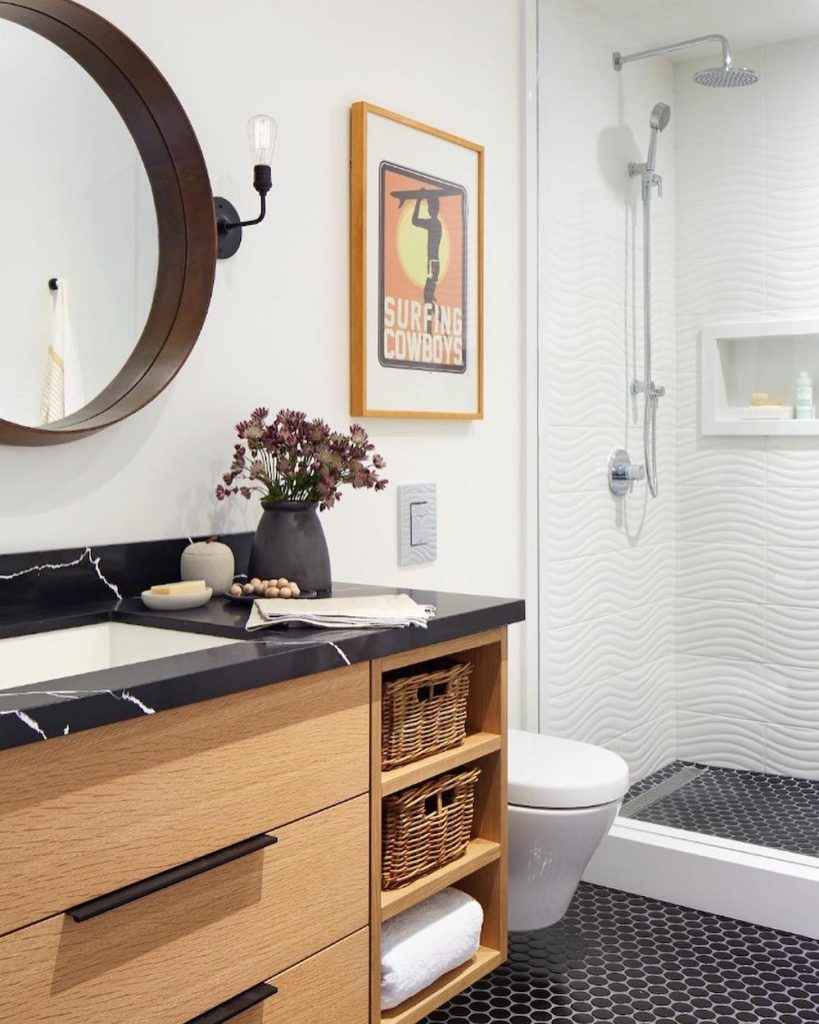 Use black and white with warm wood tones to create visual interest. Make waves with wavy shower wall tile.
Go for the Gold
Give your guest space vanity gold-colored accents. Never boring, always amazing.
Create Visual Interest with a Reed Vanity – Neutral Bathroom Vanity Ideas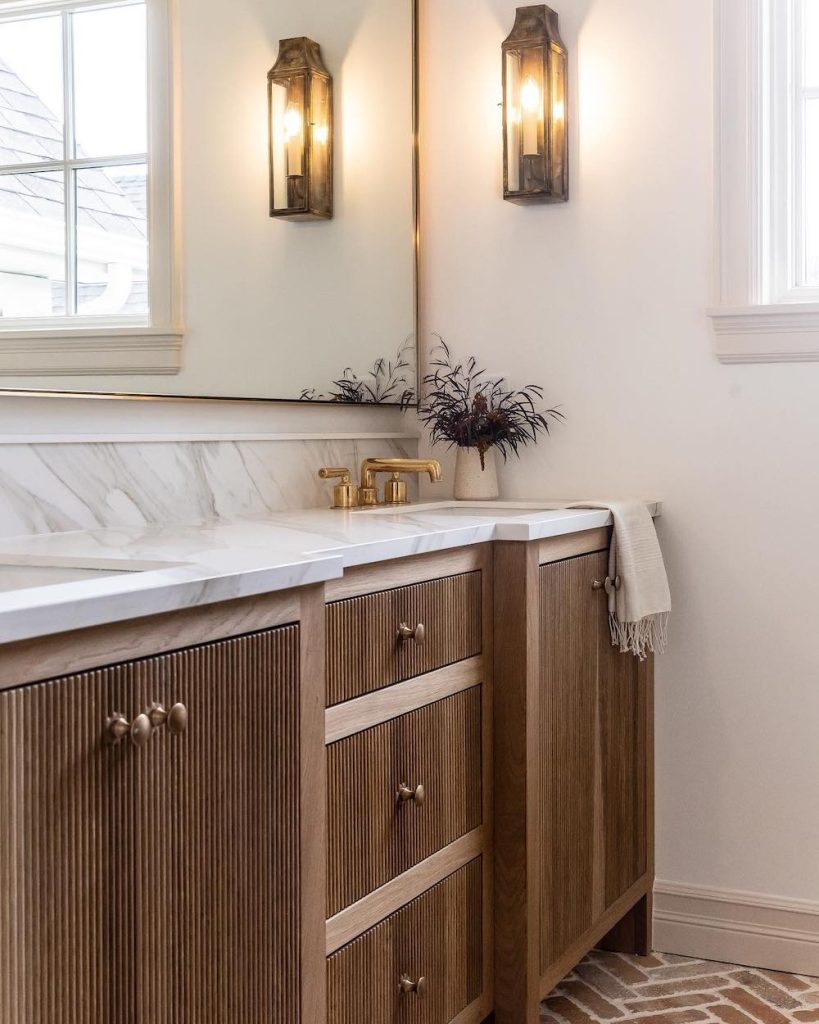 Make it visually pleasing with loads of textural interest. The warm neutral tones and bronze accents create a relaxing space.
Style it Timeless – Neutral Bathroom Vanities Ideas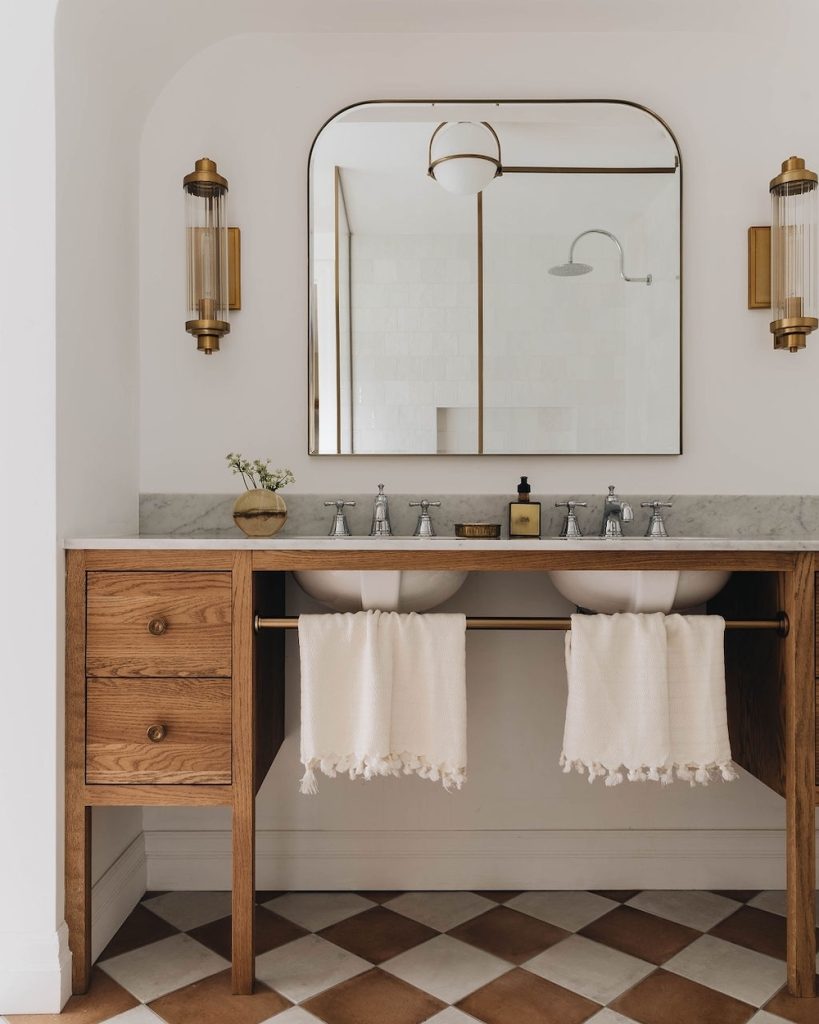 With an oak vanity and bronze checkered floor, this room exudes comfort as well as refinement.
Create a Dramatic Look with Black Accents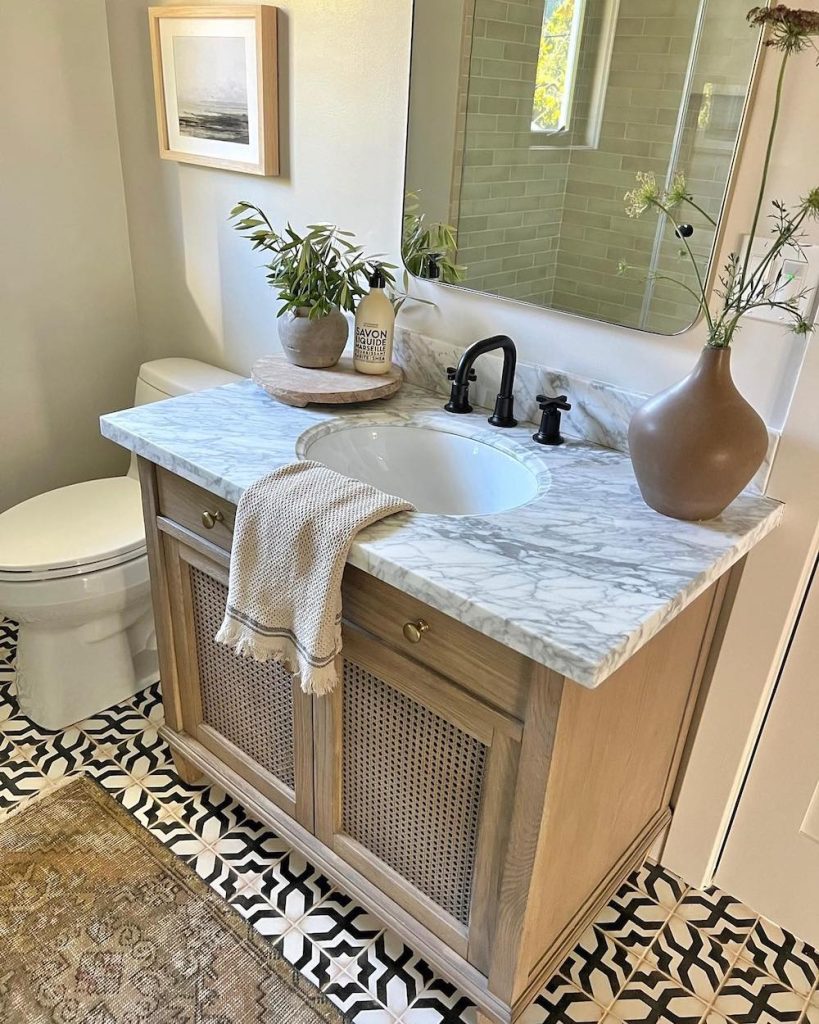 Give your space a dramatic floor and black vanity hardware. Just the right amount of black against a warm, neutral beige color. Breathtaking!
Top it Off with a Black Framed Mirror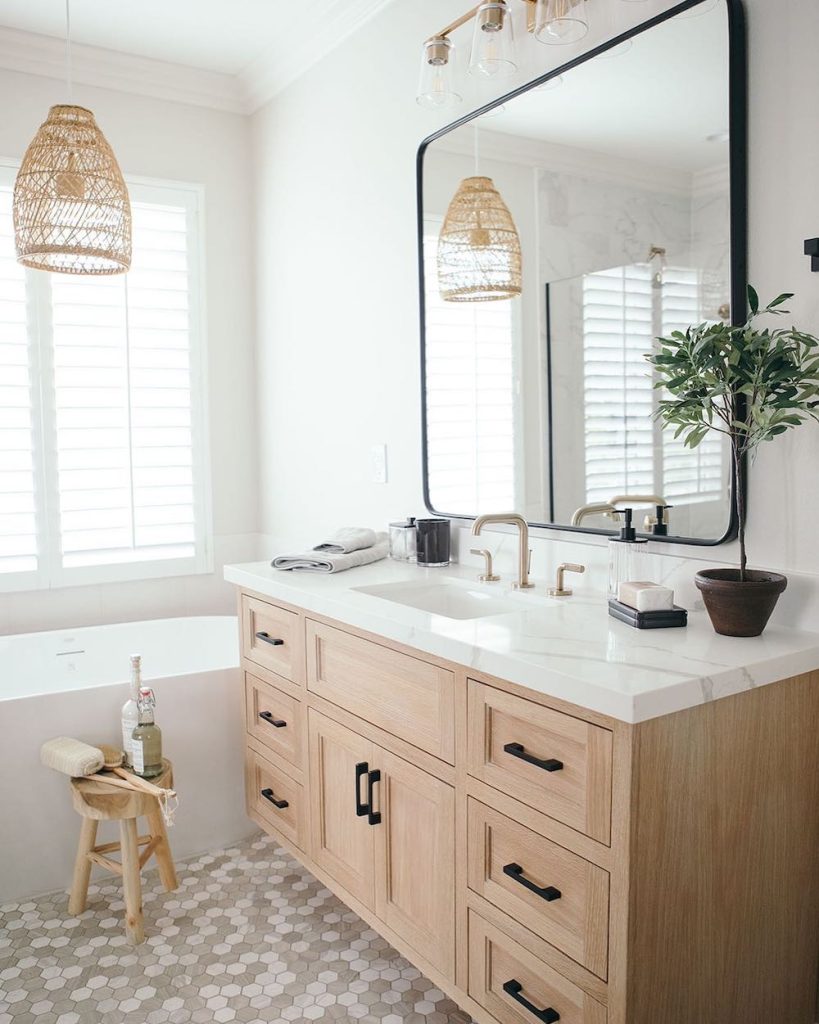 Add black decorative accents to your vanity. Include a few black accents and you are all set. The perfect balance between neutrals and eye-catching blacks. Then give your room an unexpected touch. Crown your bathtub with a natural rattan pendant.
Give Your Vanity a White and Gray Backdrop – Neutral Bathroom Vanity Ideas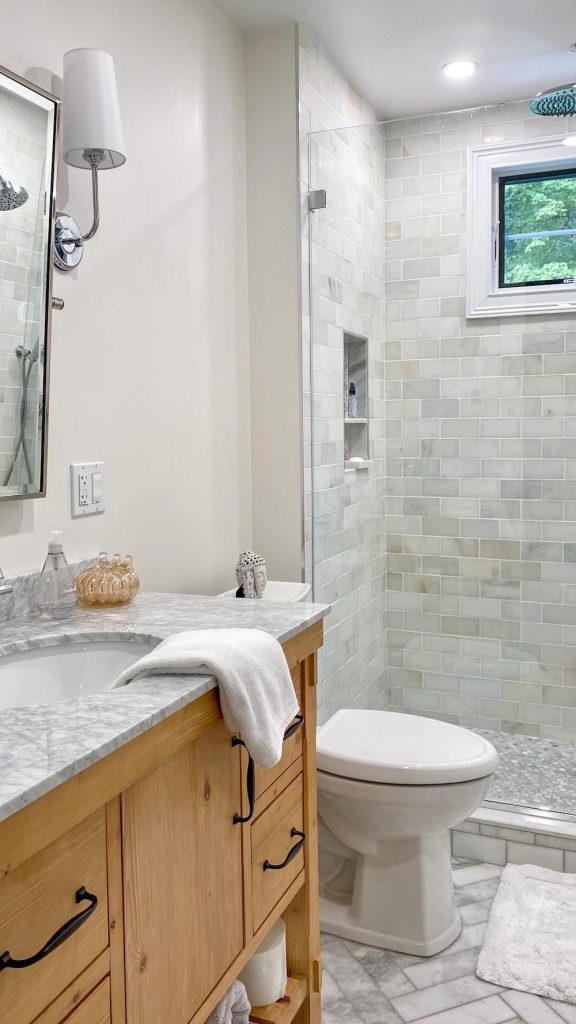 Let the warmth of your vanity pop by surrounding it with a white and gray background. Lay tiles in similar white and gray tones but in different patterns and sizes. A striking color combination for a tranquil atmosphere.
Add Some Bling to Your Vanity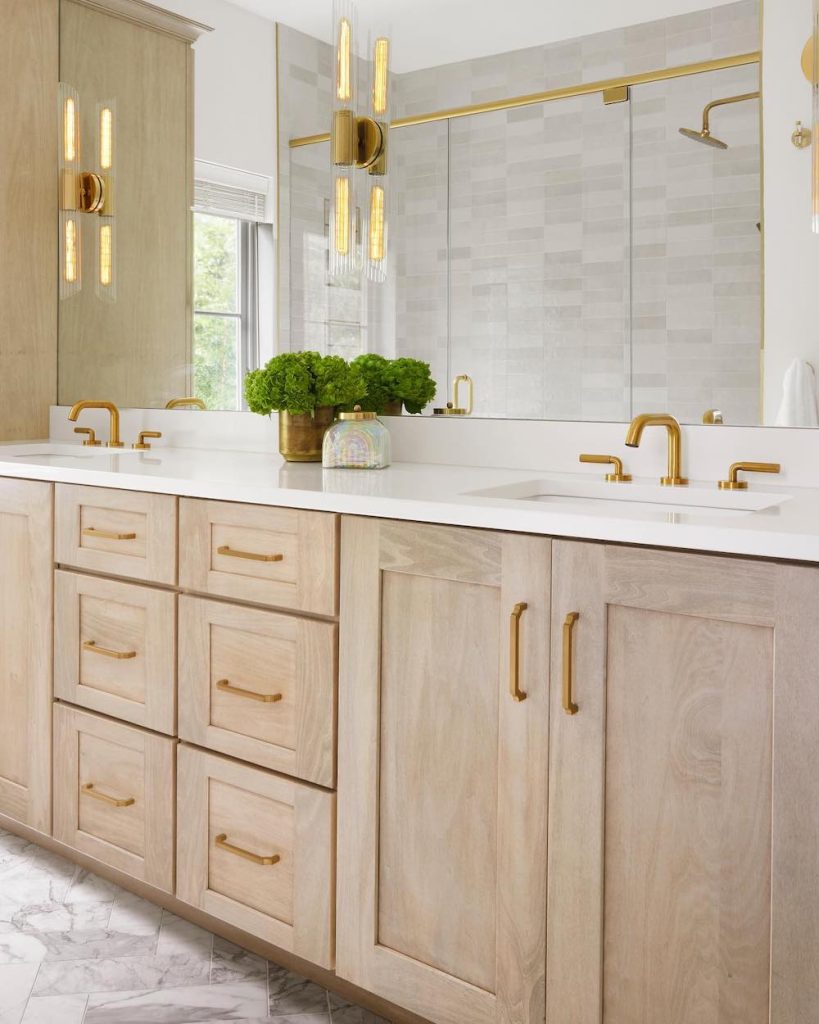 Add a large mirror that reflects the natural outdoor light for a brighter room. And for added visual interest, use gold accents on the vanity and throughout the room.
Mount it Against the Wall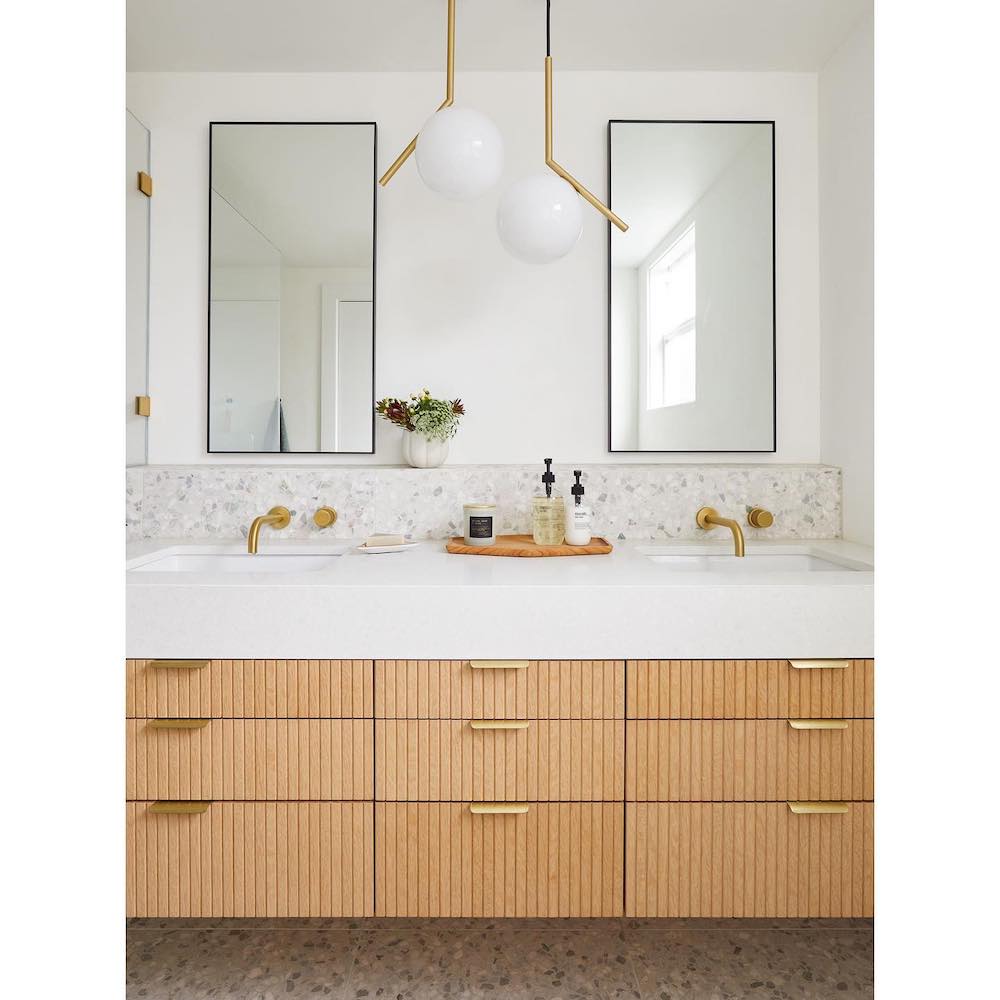 Use a wall-mounted vanity facet for easy reach. In fact, the bathroom vanity is wall-mounted as well to give the space a roomier look and feel.
Contrast Black with Warm Textures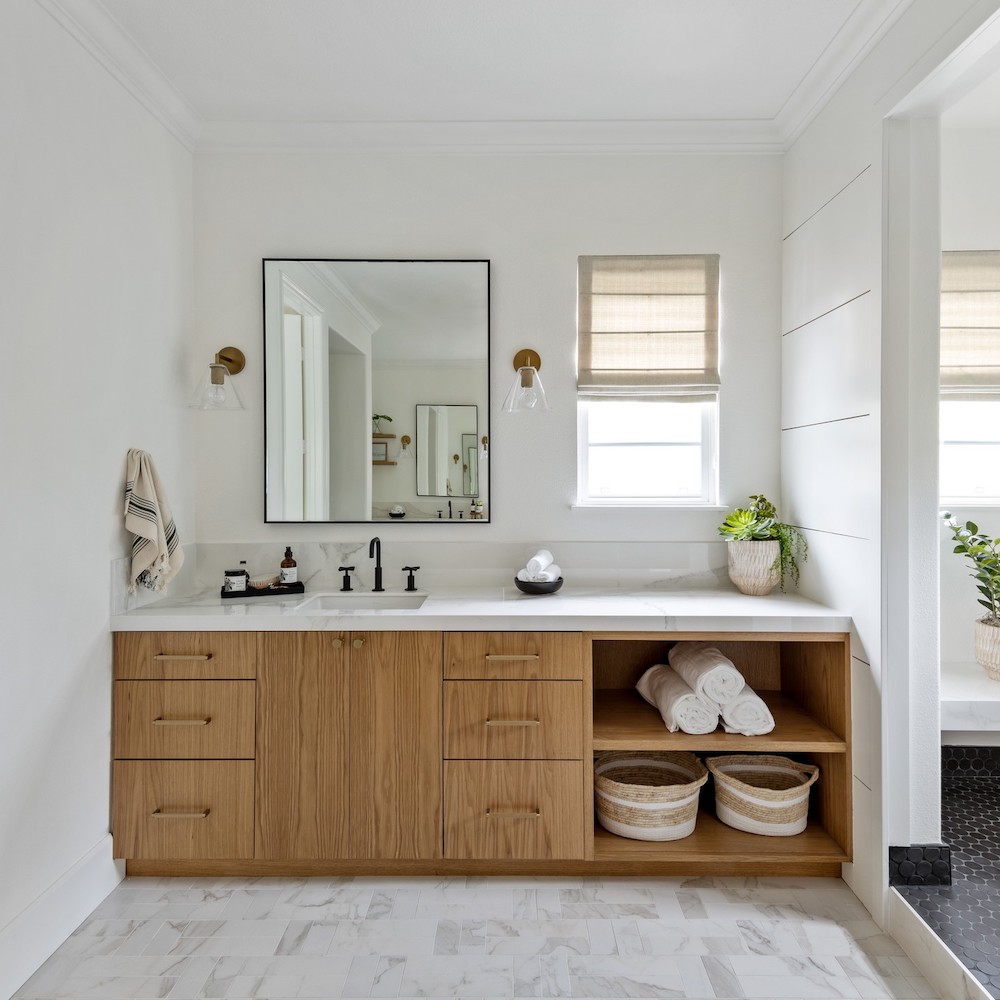 Use porcelain slabs then top it off with features in black and warm textures. Give it a spacious and airy feeling.
Keep a Lucite Bench Handy – Neutral Bathroom Vanities Ideas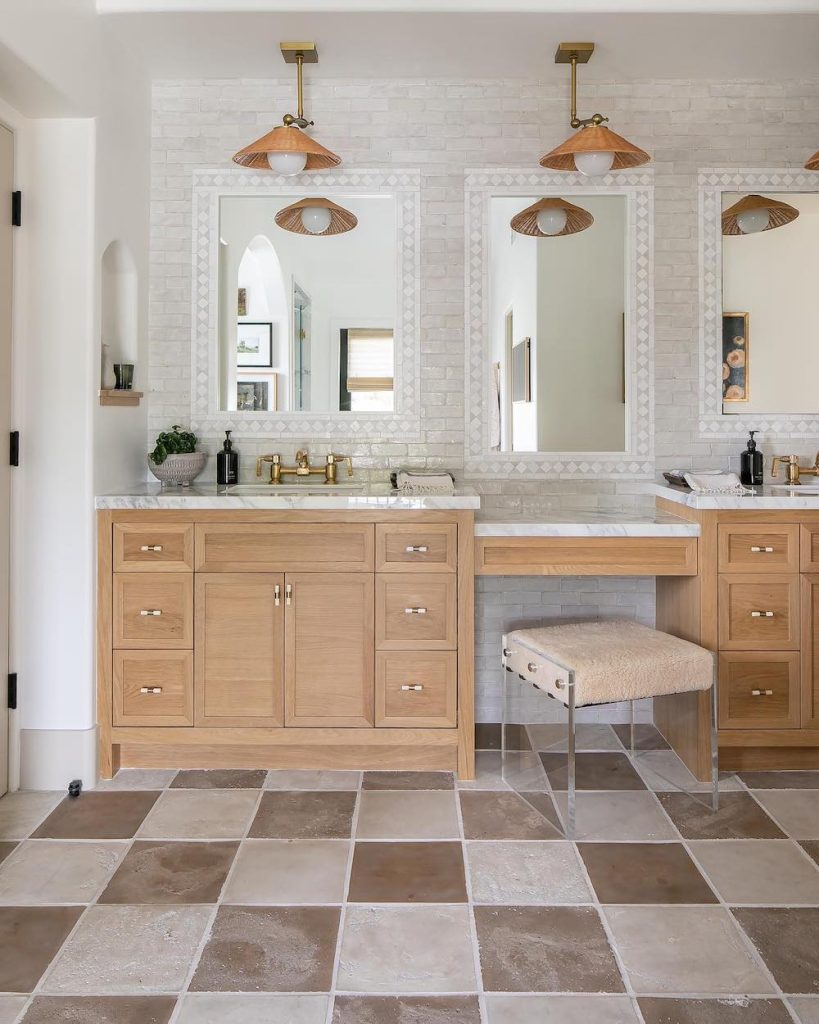 There's plenty of room for a dressing space in this beautiful double vanity bathroom. Add a small acrylic lucite bench to this dressing table area. A perfectly functional space.
Style it Classic – Neutral Bathroom Vanities Ideas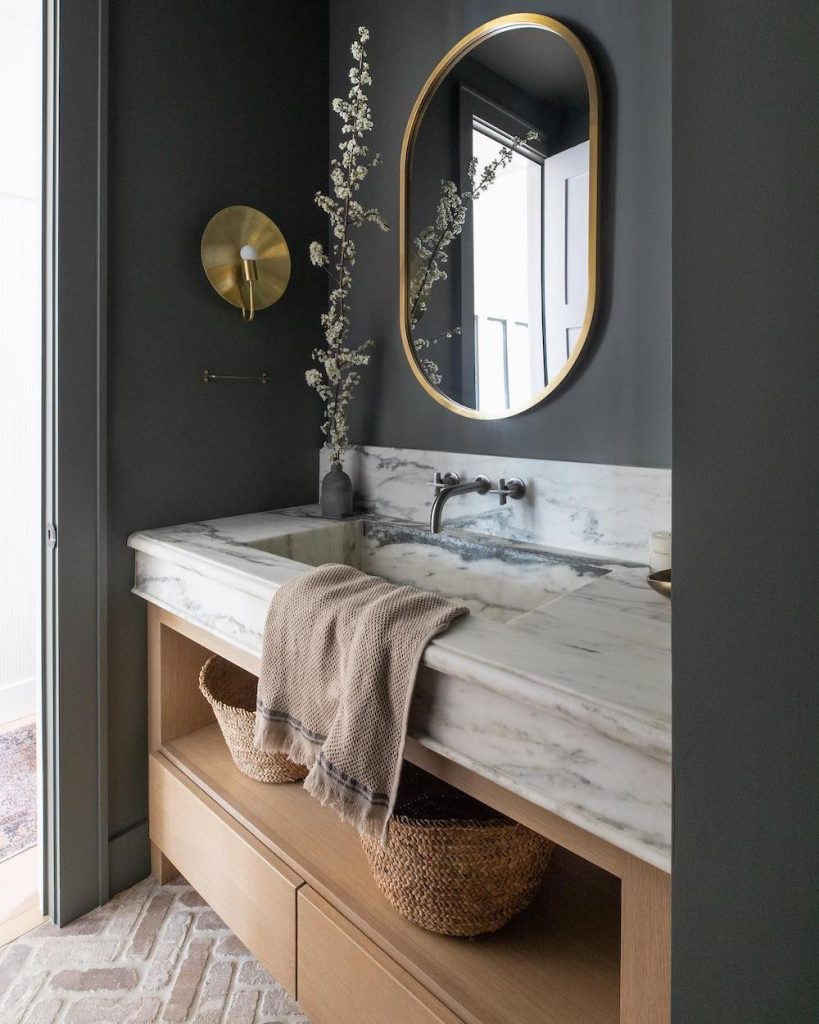 Decorate it in a timeless style. A warm vanity against a darker paint color creates a dramatic look.
Give an Unexpected Wavy Edge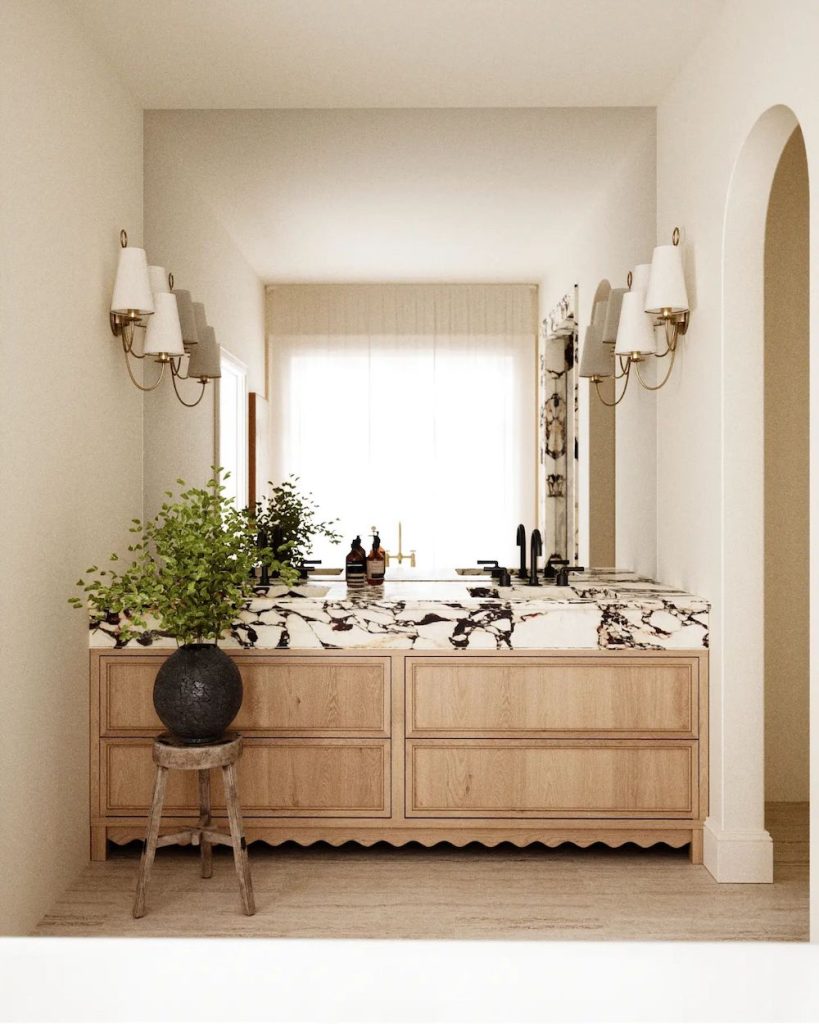 For visual interest, add a vanity with a wavy edge. Then top it off with an exceptional veining patterned countertop. Add lots of natural light with a large vanity mirror and you are done. Gorgeous bathroom vanity.
Give Yourself Lots of Storage with a Large Vanity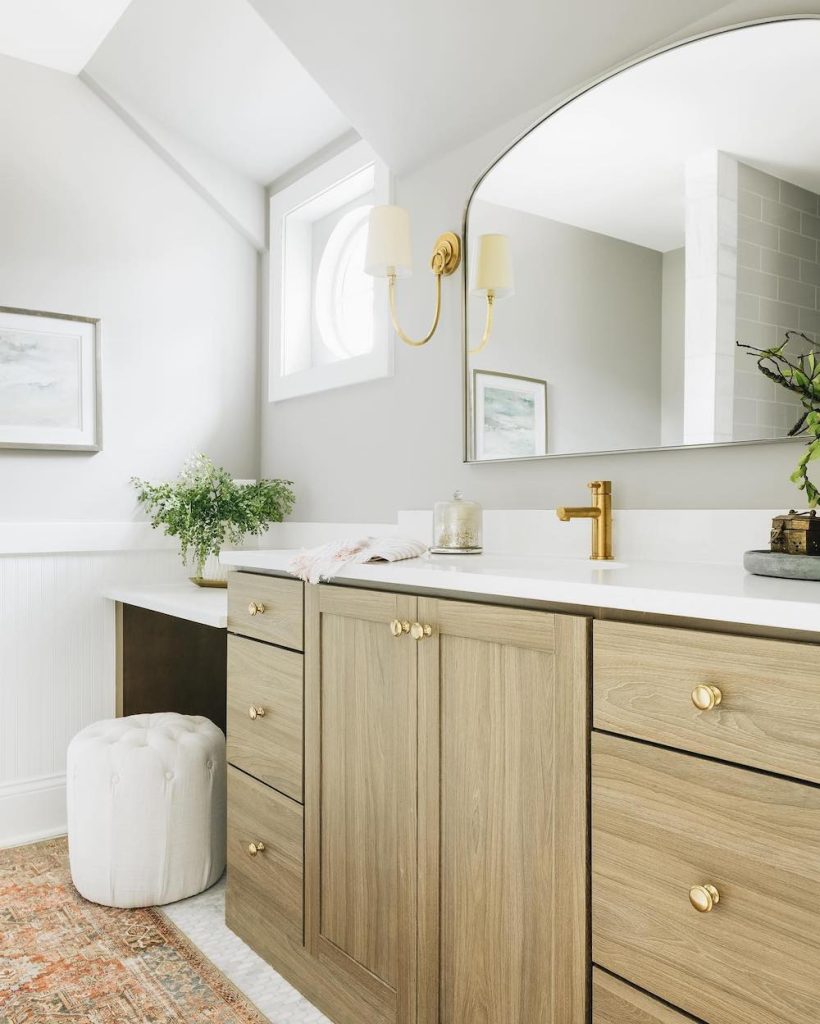 Make it roomy for those bathroom essentials with plenty of storage. Use gold hardware for a warm look. Grow a few houseplants for an organic feel.
Style it Pretty with a Little Pink – Neutral Bathroom Vanities Ideas
Give this natural-colored vanity a pale pink tiled wall. Style with a few pink accessories.
Give it a Natural Look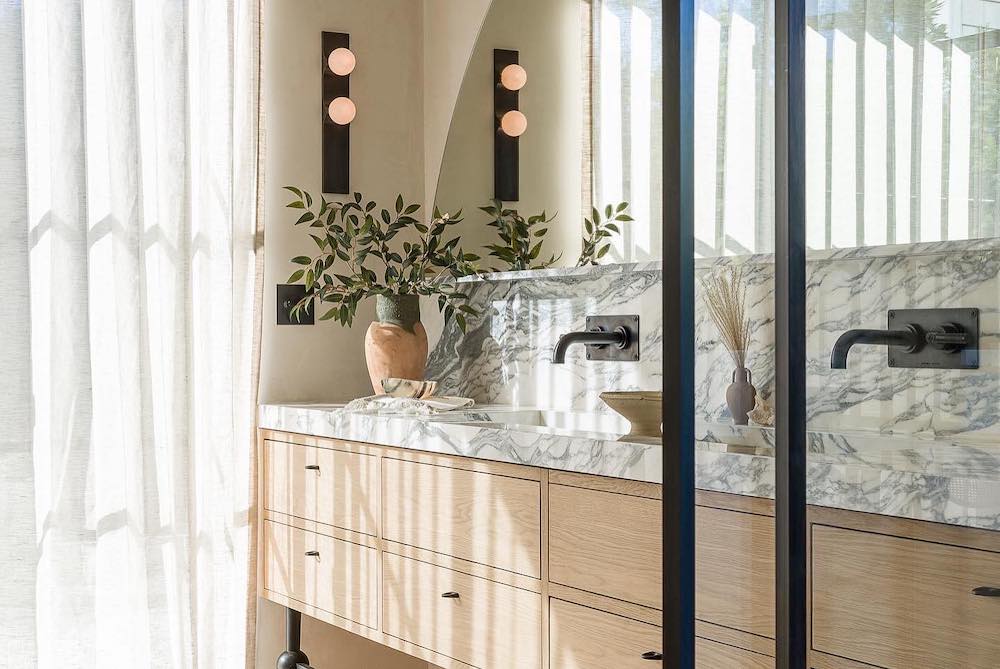 Add black accents to a white oak vanity with a marble countertop. So chic and modern.
Install a Room Length Countertop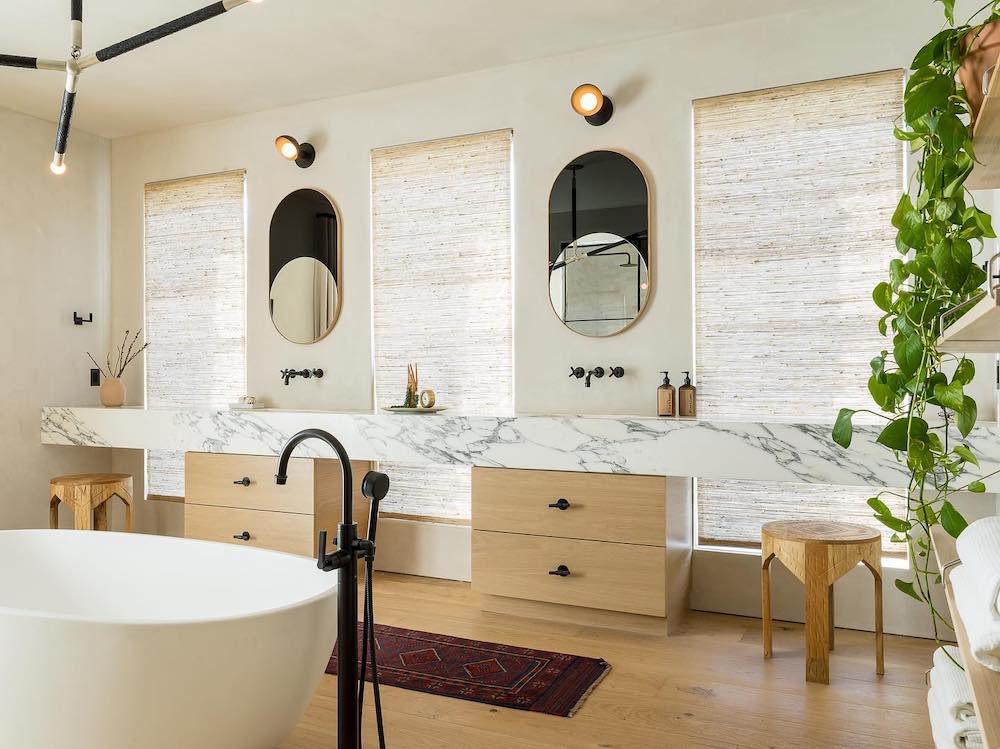 Extend your marble countertop beyond the two vanities. In fact, extend the countertop from across the wall. The three windows provide plenty of natural light in this bathroom.
Warm it Up
Place an extra big vanity with ribbed front drawers and doors. Use gold-finished hardware and black framed mirrors for added interest.
Make a Big Impact – Neutral Bathroom Vanities Ideas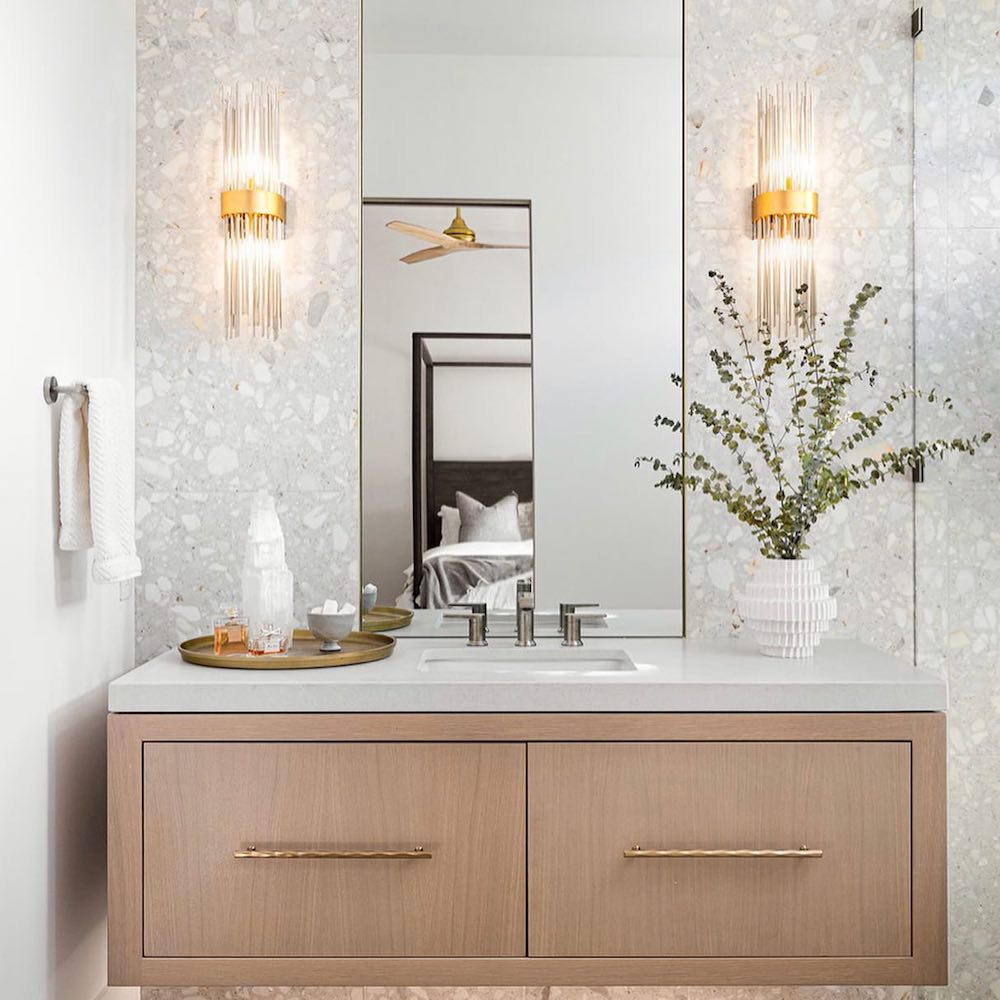 Create a space that looks bigger than it actually is. Use a wall-mounted vanity with a small white sink. Top off the vanity with a narrow mirror against a white color background.
Design a European Modern Bathroom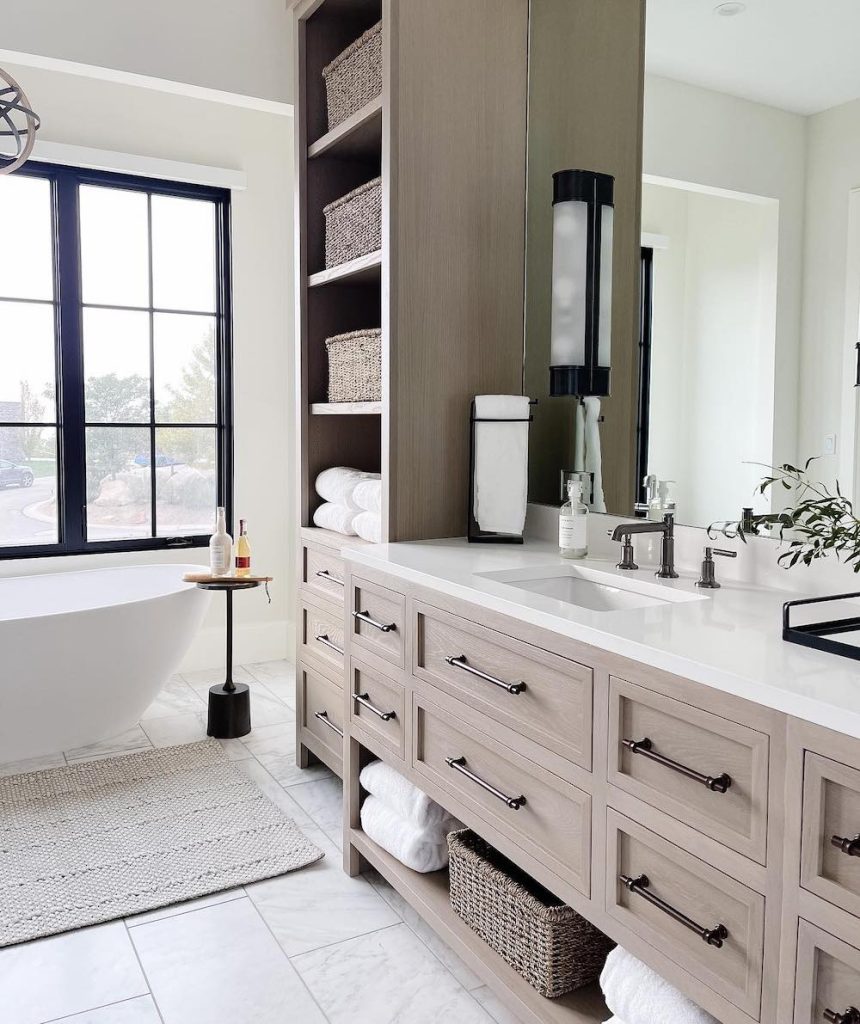 Use a white oak vanity with black hardware and accessories. Cover the floor with marble tile. Install a large black window next to the bathtub. Hang a large vanity mirror to reflect the natural outdoor light inside. Perfect for a relaxing evening.
Add a Tile Wall Behind the Vanity – Neutral Bathroom Vanities Ideas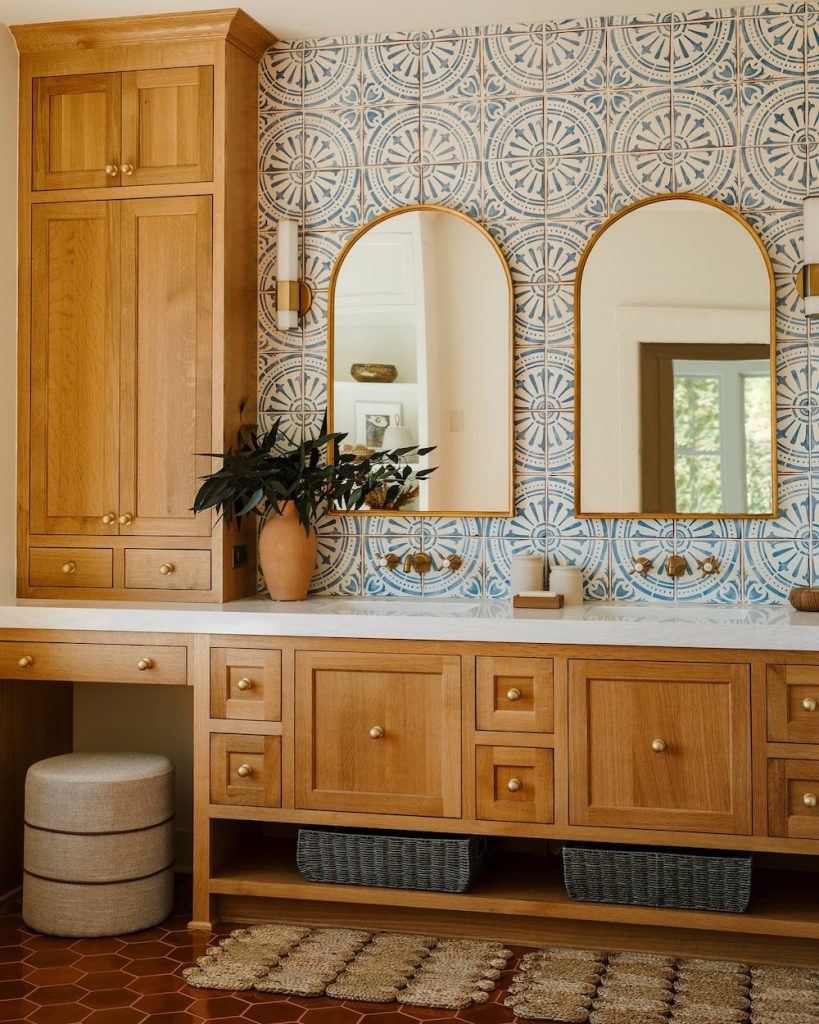 Cover the vanity wall with a light blue tile. Create a spa-like experience with this vanity.
Frame the Vanity with Marble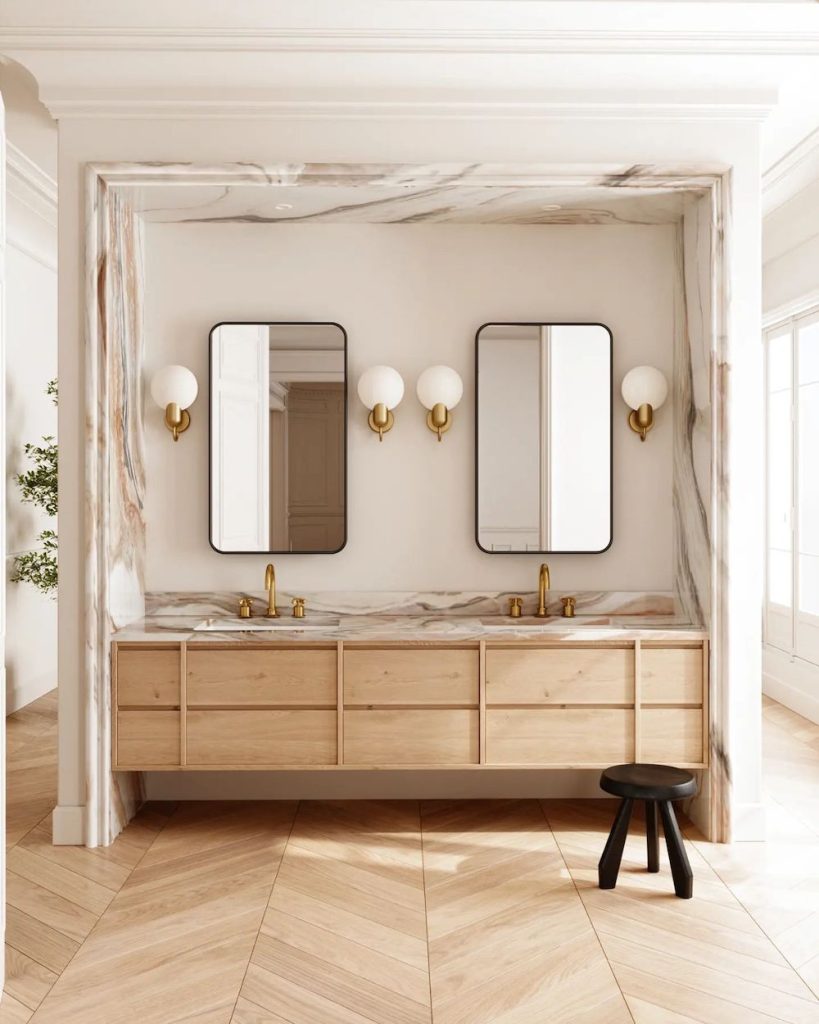 Give your wall-mounted vanity a marble frame. Add a chevron pattern tile floor for an extra layer of coziness.
This ends our list of inspirational vanity decor ideas for your bathroom. Keep your bathroom areas always looking crisp and fresh with these styling ideas. Be sure to take a look at our other posts for bathroom inspiration. Tell us about your home decor projects in the comments below. We always love hearing from our readers.
Enjoy our other bathroom-related posts for additional ideas.
Are you interested in other bathroom decorating ideas for your home? Try these posts for additional decorating ideas to refresh your bathroom this season.
Spa Bathroom Ideas
Spa Bathroom Bench Ideas
Teak Shower Benches
Reach out to us with any questions. We are always ready to help you out. Thank you for dropping by and taking a look at our blog.
Mary
Pin this for Later: