Round pedestal dining tables for a neutral dining room. A pedestal dining table is a table with a single or central structure leg that supports the table's top. Consider a pedestal table as an alternative to a dining table with four table legs for support. The central support structure is typically a column or pillar. Often, the pillar or column is highly decorated with ornate details.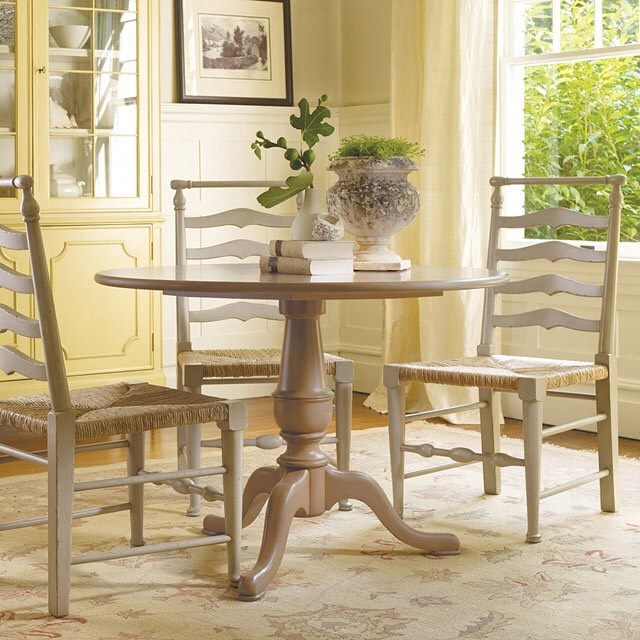 In today's post, we are sharing pedestal dining tables with a round tabletop surface. Pedestal dining tables are ideal for smaller spaces such as a breakfast nook or an eat-in kitchen area. Since round pedestal tables have only a single support structure and not four table legs, they accommodate more people at a table. A pedestal table is suitable for larger family gatherings.
Many pedestal tables have distinctly decorative pedestal support. This support is often hand carved. Due to the hand-carved details, the price of a pedestal table will cost more. Many homeowners consider a hand-carved pedestal table an artistic piece of furniture.
If you have a limited budget, then you may opt for a less decorative pedestal or a table with four legs to save money. Something else to consider is a table supported by a single pedestal has its main support in the center. Larger pedestals can support larger table surfaces up to a certain point. Remember that the edges of a larger pedestal table will not be as stable as the center of the dining table.
A smaller round dining table provides more stability than larger pedestal tables. Since the tabletop surface is smaller and requires less support. Likewise, a smaller table will not need as large of a pedestal as a large table.
Decorate in Your Style – Round Pedestal Dining Tables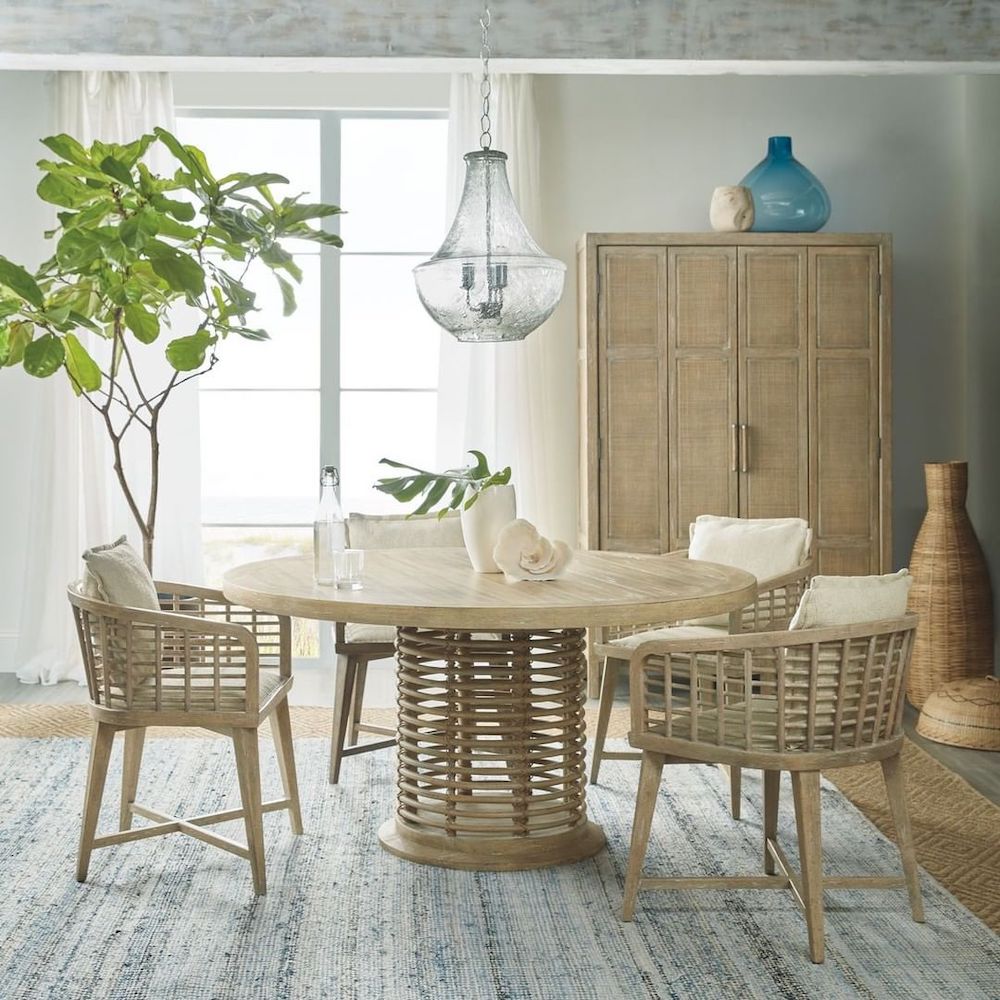 Luckily, a pedestal table can be used in many dining room decorative styles. The table with a single solid middle leg support is available in several styles. Pedestal tables can be found in a rustic farmhouse style. Or in an off-white, faded, or distressed finish for a coastal design. In the inspirational image above, the rattan wicker table and chairs have a modern coastal decor style. And finally, a traditional style will have a darker finish.
Keep it Secure – Round Pedestal Dining Table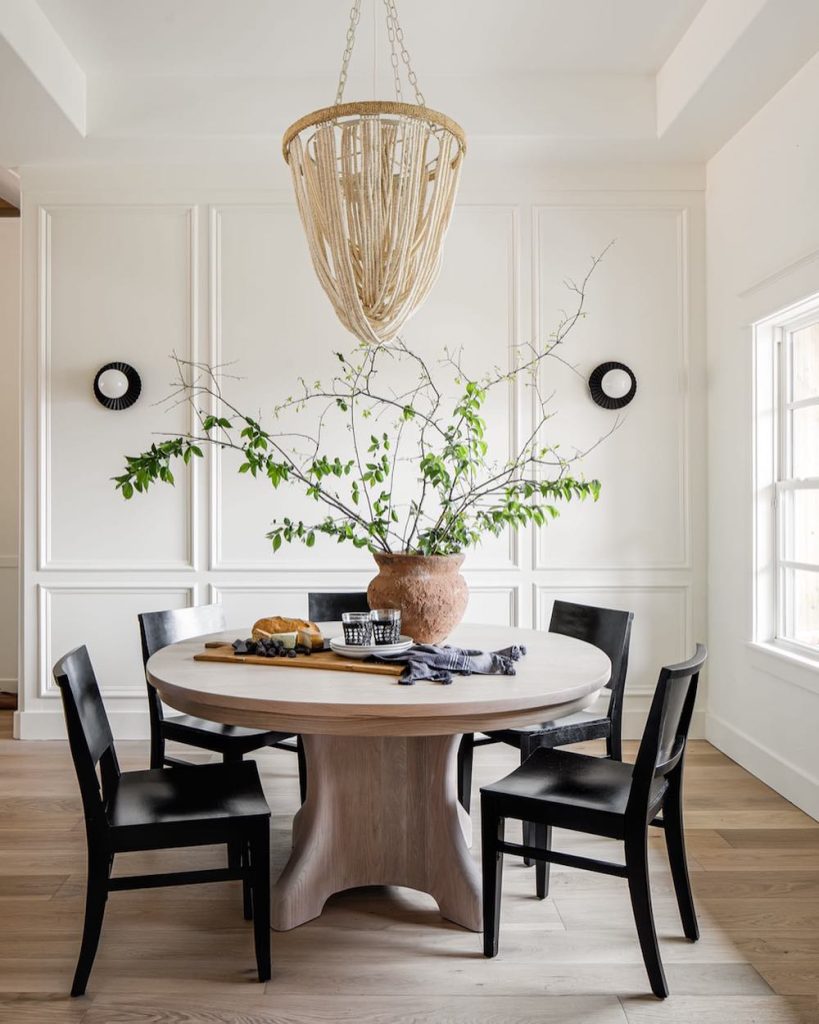 New pedestal tables are very stable with the table center having the most support. However, over time these tables can become unstable due to loosening bolts and screws attaching the pedestal to the table surface. A pedestal table can be wobbly after regular use. This happens for a variety of reasons. For instance, when a table is dragged across the floor, stress occurs on the pedestal itself. It is best to have a table moved with a minimum of two people carrying the table. The exception would be if the table is quite small.
Another instance when the table loosens from the pedestal is when the table is subjected to excessive weight or stress. The pedestal dinner table is meant for food, dinner plates, and serve ware. It is not for heavy items that weigh 200 pounds or more. To stabilize a pedestal table, simply turn the table on its top or the table surface. Check for loose screws, brackets, or plates that may have come undone. Tighten loose screws and brackets to secure the tabletop to the pedestal. If tightening the hardware fails to stabilize the table then consider adding wood glue to keep the screws in place. Wood glue will help maintain the stability of the table. The tightening with added wood glue will restore the stability of the table.
Place Your Round Table in a Dining Area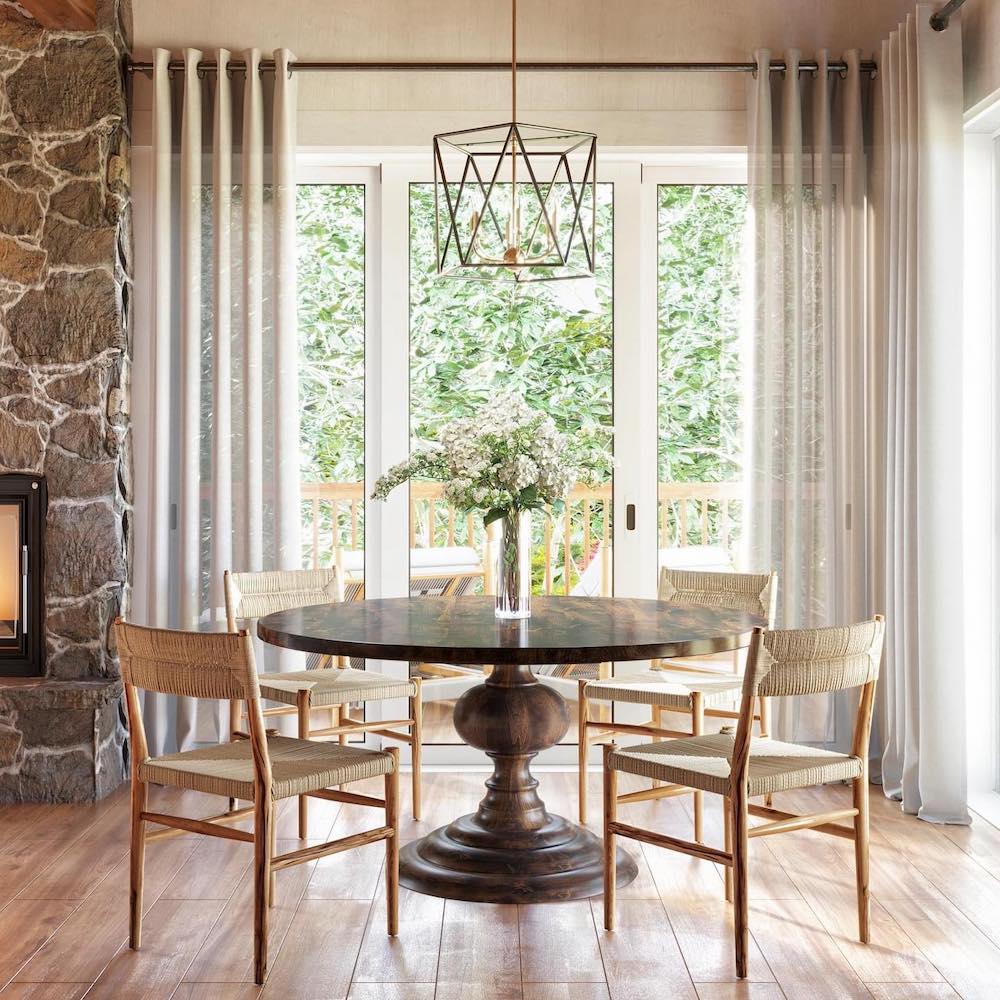 Once you've decided on a table, you'll want to know which is the best size to order. Measure your dining area or breakfast nook so you'll know the amount of space you have for the table. Allow a minimum of four feet between the pedestal table and other furniture and the walls for an average size table. For a smaller-sized table, allow three feet to get around the table. The idea is to have houseguests pull out a chair and sit in it with ease and without much effort. Another consideration is that you might want to place the table directly beneath a dining room light fixture. The light fixture should be directly below the table.

When ordering a round table for the dining area, consider these estimations. A 3-foot table that is 36 inches wide will comfortably fit between 2 to 3 people. A 4-foot table is 48 inches wide and accommodates 4 to 6 people. To comfortably seat 7 to 8 adults, you'll need a 5-foot table that is 60 inches wide. For accommodations for 8 to 9 adults order a 6-foot table that is 72 inches wide. These are estimations only. If you are hosting a group of children then you'll most likely be able to accommodate a larger group.
When decorating a pedestal table there are a variety of items you can use. This includes a wooden or basket tray, houseplant, or a fresh floral arrangement. These are but a few ideas. There are many ways to decorate the top of a pedestal table.
Keep it Good – Round Pedestal Dining Tables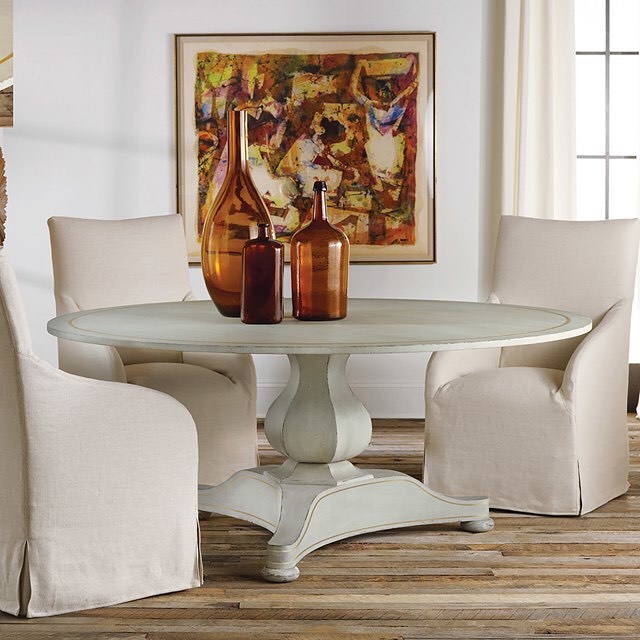 We searched numerous online resources for some amazing pedestal tables for your dining room. We found some fantastic tables. Here is our list of round tables for hosting cozy dinner parties. Take a look. Drop us a comment below in the comment section. Let us know about your home decor projects.
This ends our list of pedestal tables for the home. Give your home a cozy dining table for family gatherings with a pedestal table. Be sure to take a look at our other posts for home decor inspiration. Tell us about your home decor projects in the comments below. We always love hearing from our readers.
Enjoy our other dining home decor posts for additional ideas.
Are you interested in a different type of table for your home? Try these posts for additional dining room ideas.
Coastal dining tables
White Tulip tables
Breakfast Nook dining sets
Coastal dining room ideas
Reach out to us with any questions. We are always ready to help you out. Thank you for dropping by and taking a look at our blog.
Mary
Pin this for Later: