Neutral mirror decor ideas to brighten your room. Give your room a brighter look and more spacious feel with an accent mirror in neutral shades. The neutral decor has never been more popular than it is today.
In today's post, we are sharing styling ideas with neutral accent mirrors. This includes mirrors in round, square, arched, and rectangular shapes that can be styled throughout the home.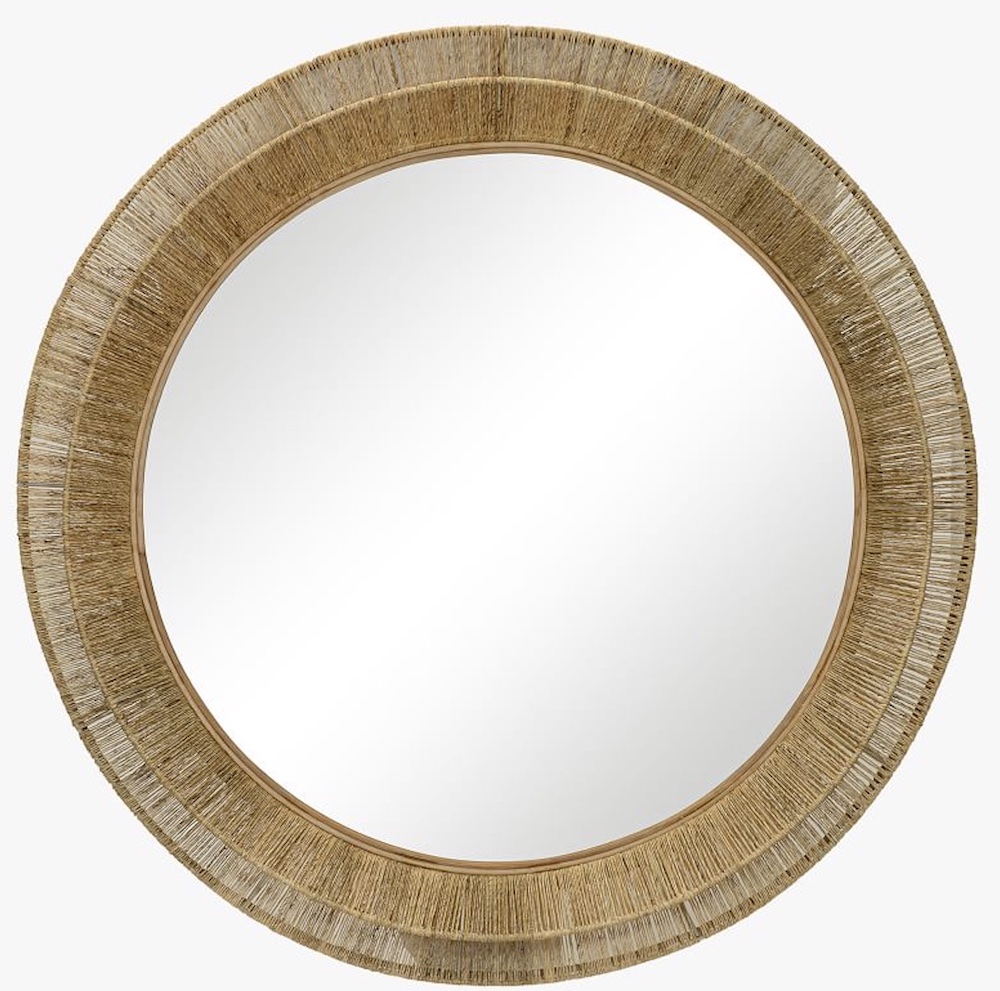 If you are undecided whether to use a round or square mirror, then consider the room you want to use the mirror in. Use a round wall mirror when you only want a single mirror for a space. Display square, rectangular, or arched mirrors when you want a group of mirrors on a wall or mantel shelf.
On Trend Mirrors – Neutral Mirror Decor Ideas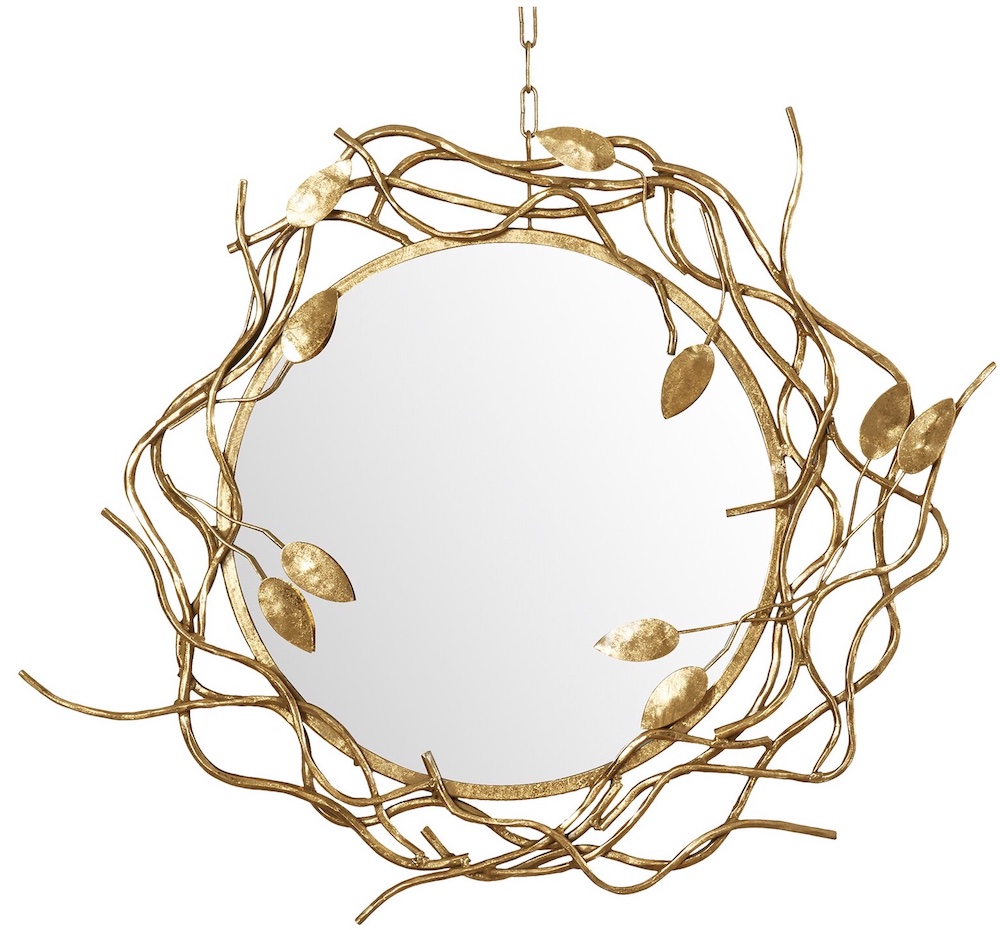 Big-sized mirrors, round mirrors, and especially hanging round mirrors with straps are popular today. Hanging mirrors using chains, beads, straps, and rope are a few of the materials used to hang mirrors on a wall. In the image above, the Aucoin Mirror is hung by a chain. Another trend in mirrors is those in the shape of a rhombus or a series of smaller mirrors in various sizes. In the image below, see the Modern Rhombus Cutout Mirror. Also popular are many other mirror designs.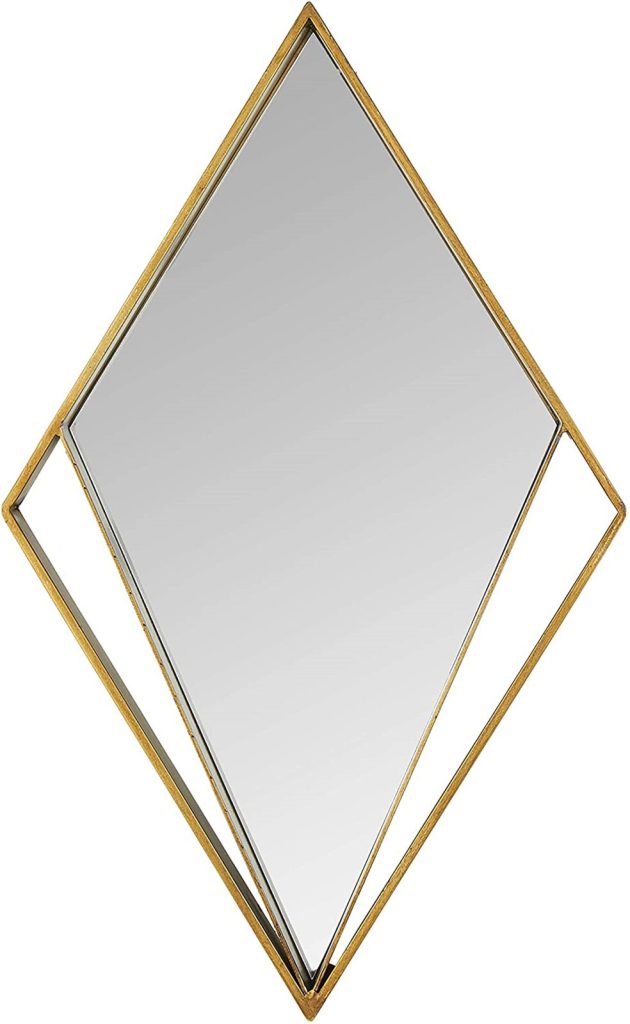 The one thing that remains constant is that round mirrors are always popular and in style. Circular mirrors lend themselves to many decor styles. These include an industrial, mid-century modern, neutral, farmhouse, glam, and more. What does change is the mirror's frame style. For instance, a coastal wall round mirror might have a rattan, rope, or distressed finished frame. A mid-century modern or industrial mirror might have a thin metal frame.
Mirrors that are shaped round act as the focal point of the room. Your eye is drawn to that space as you enter the room. A round-shaped mirror is always popular. What does change in a round mirror is the frame, based on the decor style it is intended for. And of course, round mirrors work well in an entryway, hall, bathroom, over a dressing table, or living room.
Select the Right Mirror Size – Neutral Mirror Decor Ideas
Once you've decided on the mirror for your room, you'll need to know what size to order. As a general rule, the mirror should be smaller than the furniture it is hanging over. For example, hang a 42 to 44-inch mirror over a console, vanity, or table with a length of 48-inches. When using a single mirror over a console or table, go for a narrower-sized mirror. Some recommend that a rectangular mirror size should be between one-third to one-fourth smaller than the width of the furniture piece below it.
Hang a single mirror over a mantel shelf, that is narrower than the mantel shelf itself. When either hanging or using several mirrors that are resting on the mantel shelf use smaller mirrors in different sizes. Mix the mirror shapes and sizes to create a blended effect. This will also create a visually interesting mantel space. Hang a single mirror so that the bottom is about 6 inches above the mantel shelf.
Use a round mirror that is about one-third smaller that the length of the mantel. The depth of a mantel is about 7 inches. If your mantel is about 72 inches long, then a 48-inch round mirror would look good. This is an approximation. Ultimately it is your decor style and needs that determine the right size of mirror for your mantel. Just keep in mind that it is important to have a balance between the mantel and mirror.
The range of sizes for a round mirror begins at 16 inches and goes beyond 36 inches. The more commonly used sizes of round mirrors are 24, 32, and 36 inches wide. The range of sizes for a rectangular mirror begins at 30 by 20 inches and up to 40 x 30 inches and more.
Wall Decor Around a Mirror – Neutral Mirror Decor Ideas
If you are wondering whether to use wall art around a mirror, the answer is yes. However, consider what wall art you are using. Consider the size of your wall art. Wall art should not be larger than the wall mirror. Second, to create a balanced look, hang a similar-sized artwork on each side of the mirror. Hang wall art that will complement the mirror. Don't use wall art that will compete with the wall mirror.
Use framing materials on the artwork that compliment the mirror not something that distracts from the wall mirror. Make your wall look as if the artwork and mirror were meant to be together.
For a mirrored wall, use wall art that can be attached with an adhesive material. Rather than using a nail or screw to attach the artwork to a mirrored wall, use a strong adhesive that can support the art. Select artwork that complements the mirrored wall. Stay away from any type of artwork that will distract from the mirror wall.
Style it Amazing – Neutral Mirror Decor Ideas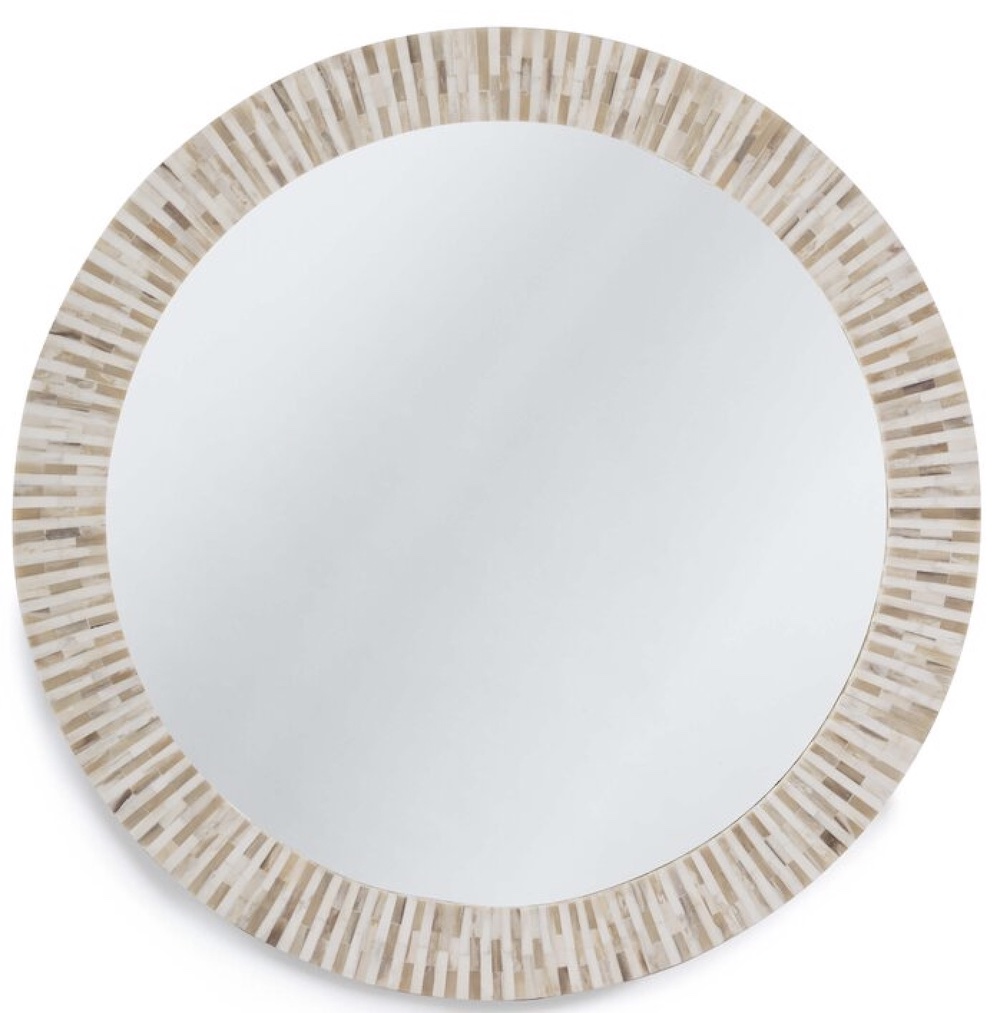 In today's post, we are sharing neutral mirror decor ideas for your home. Style your home with gorgeous neutral wall mirrors. Today, we are showing you 16 wall mirror ideas that we know you'll love.
Now on to our list of decorative ideas for styling your home with mirrors this season. Ideas that inspire you with these tips. Take a look. Be sure to drop us a line below in the comment section. Let us know all about your favorite styling ideas.
Mix the Shapes of Mirrors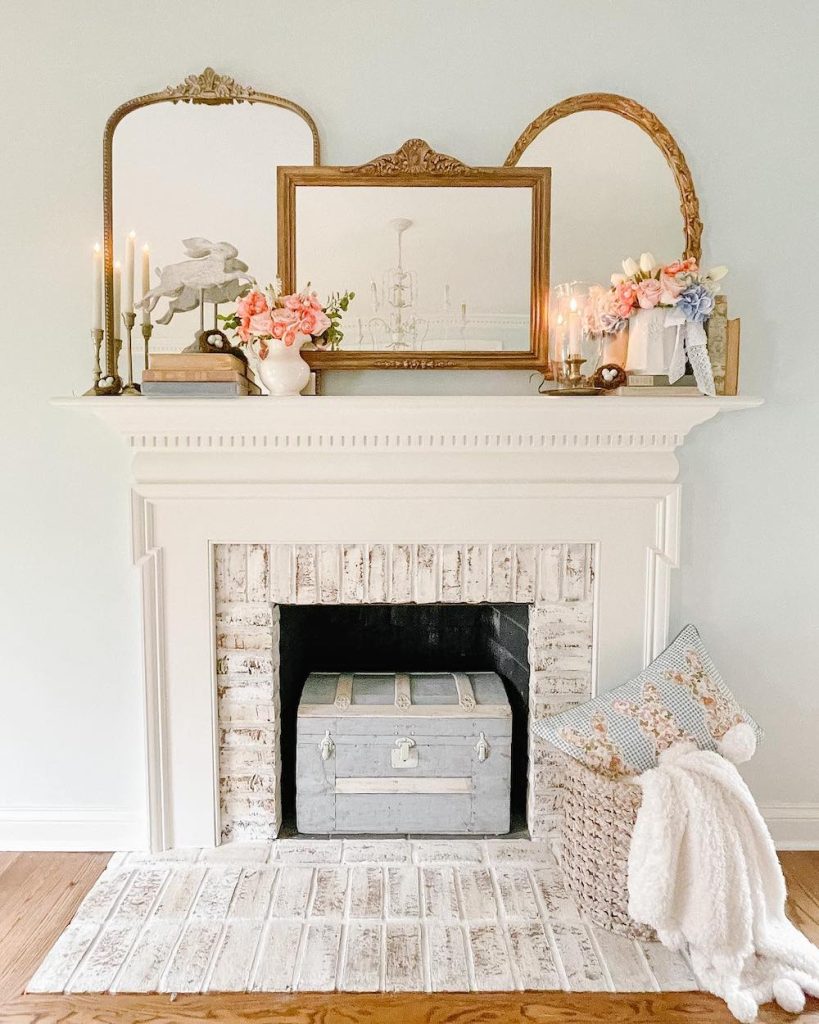 Change the shape of mirrors in the grouping. Keep the same style and use a similar shade of gold.
Style it Romantic – Neutral Mirror Decor Ideas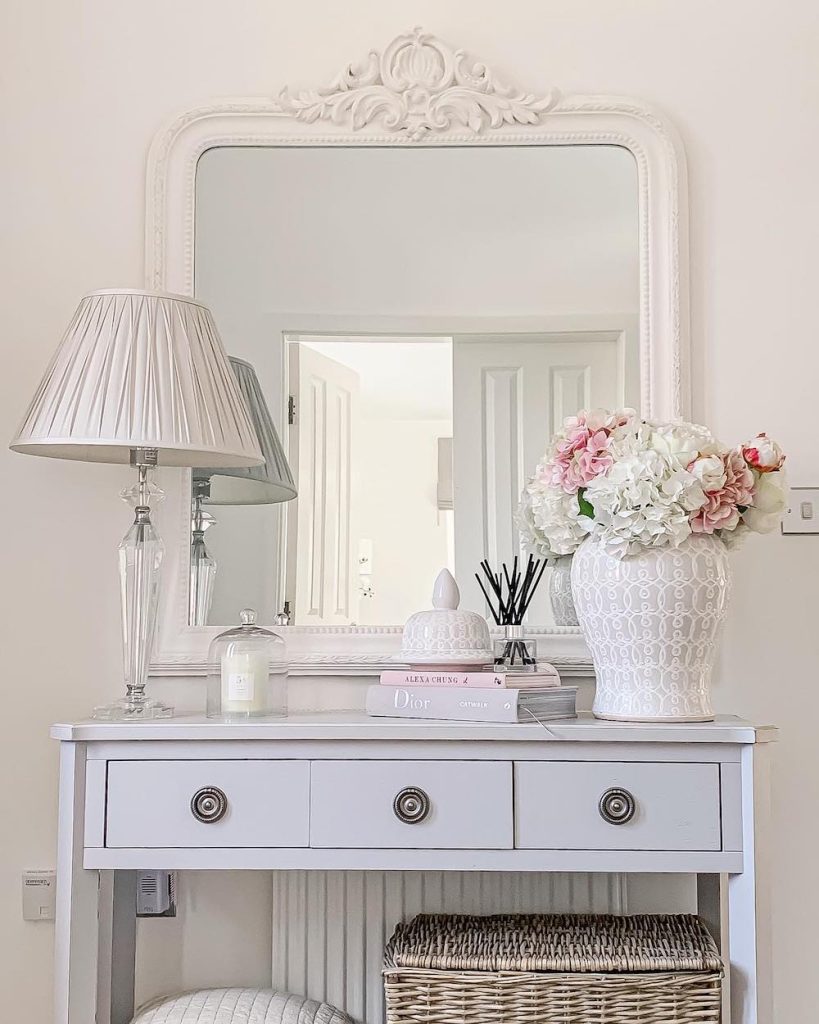 Add a little romance to your console table. Hang an ornate white mirror over a console table. Add a gorgeous ginger jar full of fresh hydrangeas and peonies.
Bring a Contemporary Look to the Hall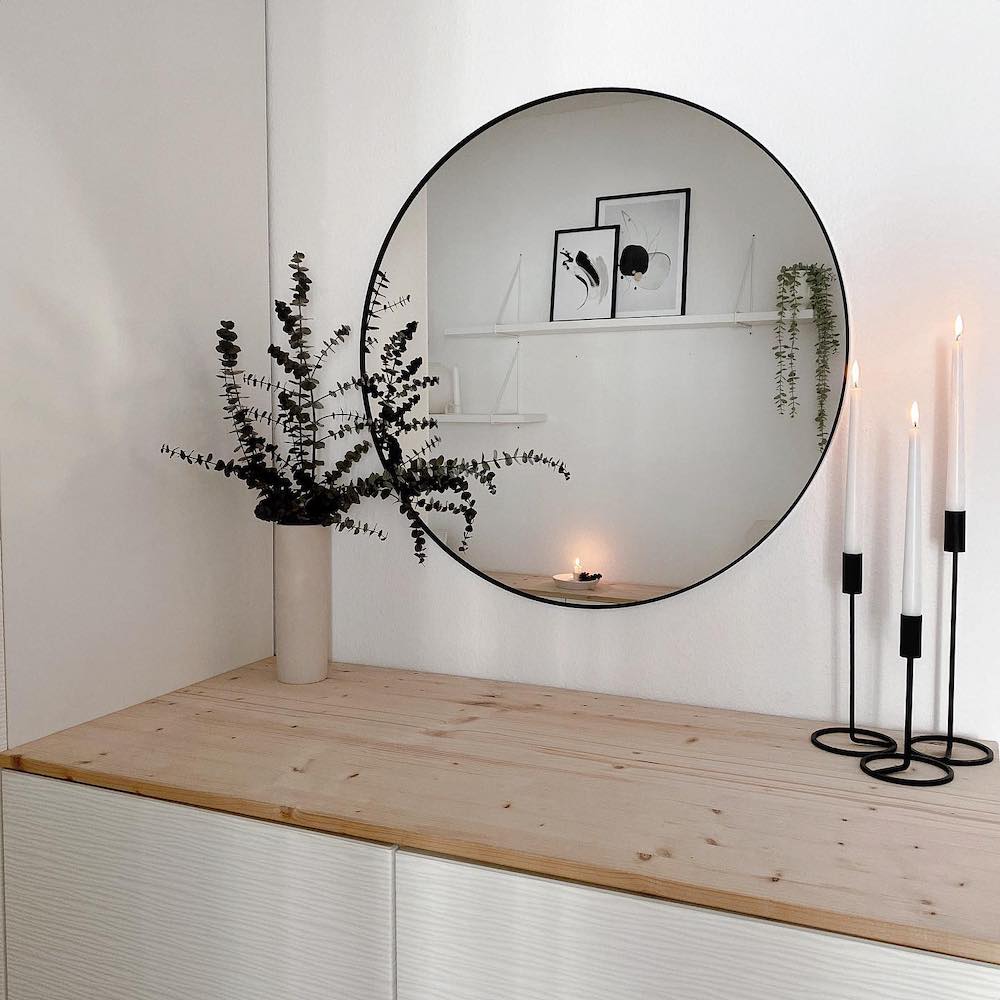 For a contemporary look, add a black metal mirror to the hallway. A trio of candlesticks are ready to light up the hall.
Take it to an Industrial Level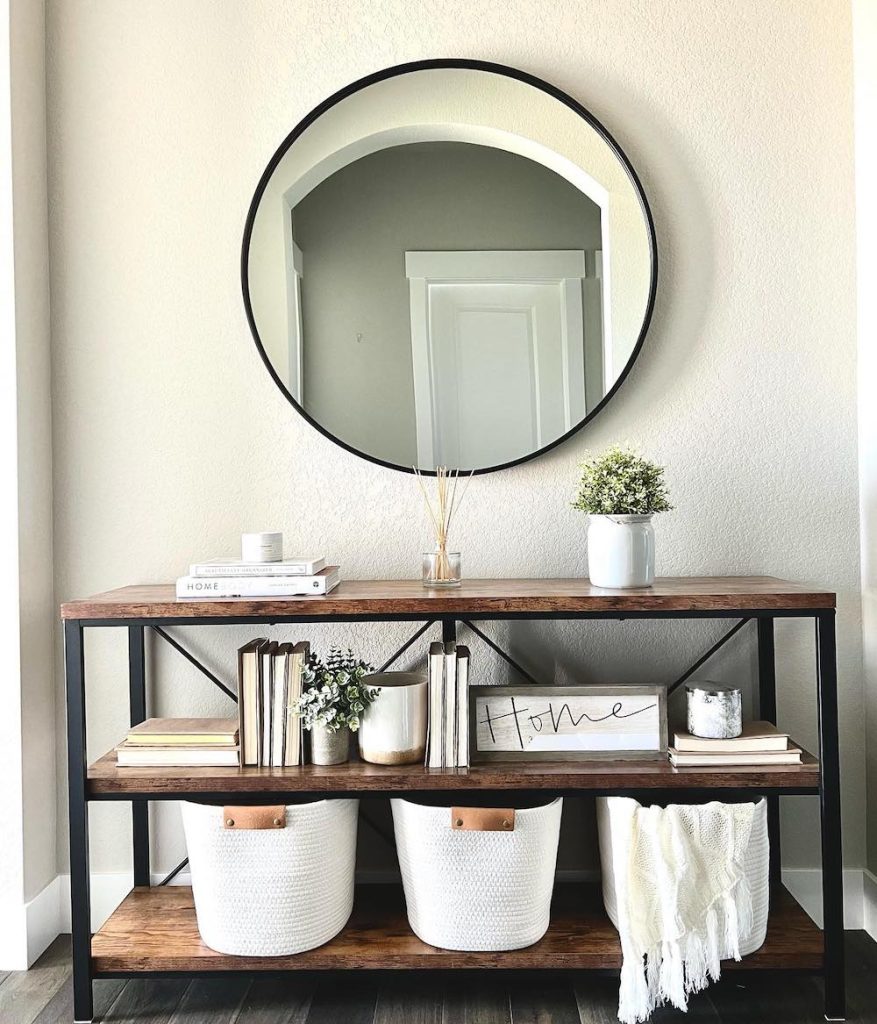 Mix the warm wood tones of this console with the cream-woven baskets. A clean and organic entryway.
Lean On It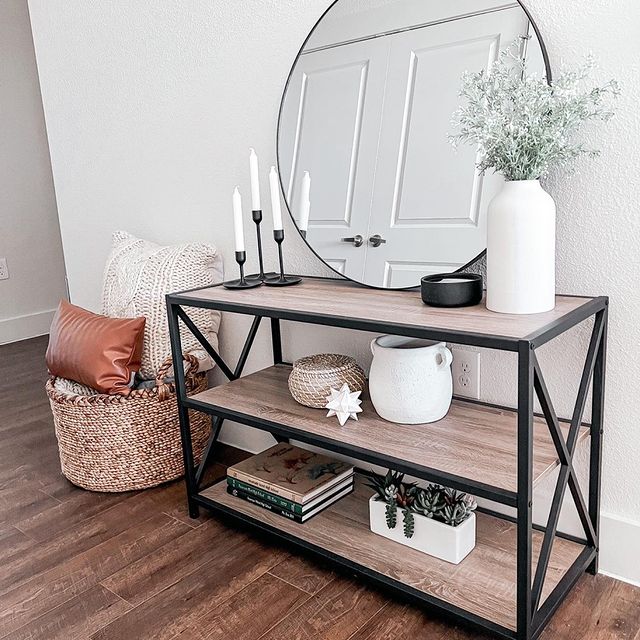 Rather than hang it, lean your mirror against the wall for a different effect.
Make Your Mantel Glow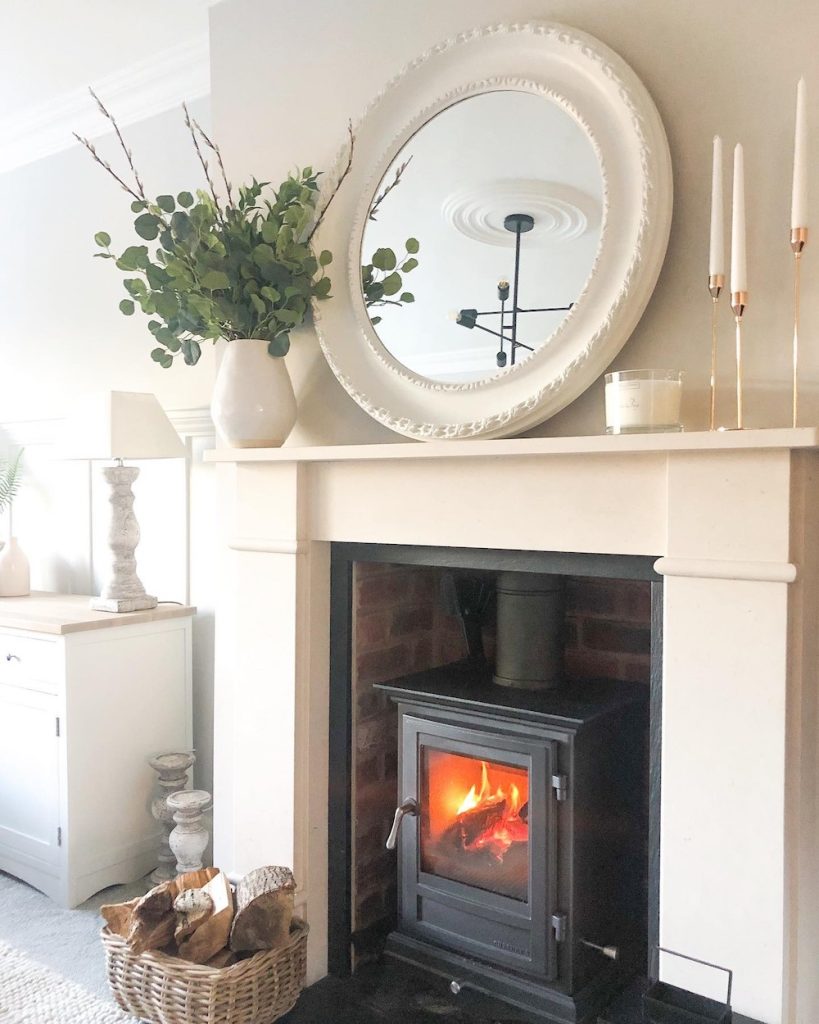 Style creamy white-colored accessories on this mantel shelf. Great contrast with the glowing black metal stove. Keep it cozy.
Squeeze it In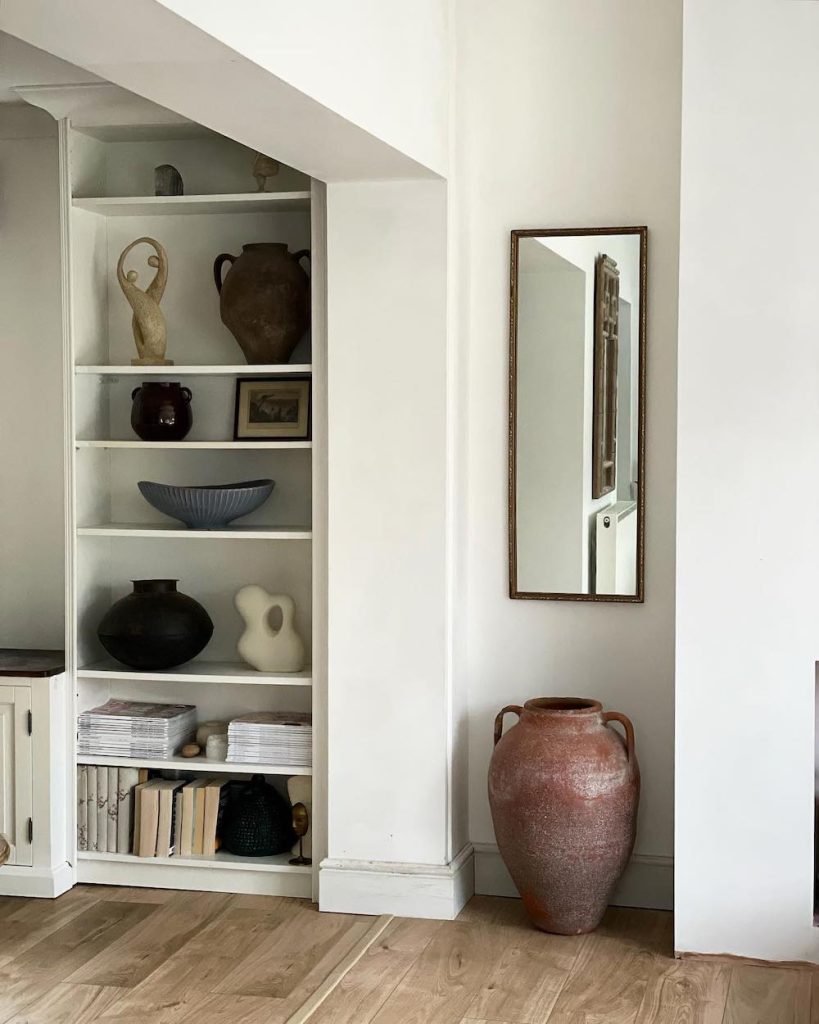 There's always room for a mirror. Hang a narrow wall mirror as the hallway transitions from one room to another.
Accent it in Black – Neutral Mirror Decor Ideas
Love the black accents in this inspirational idea. Even the kitty has a role to play. Fill a vase with organic greenery for added visual interest.
Reflect on it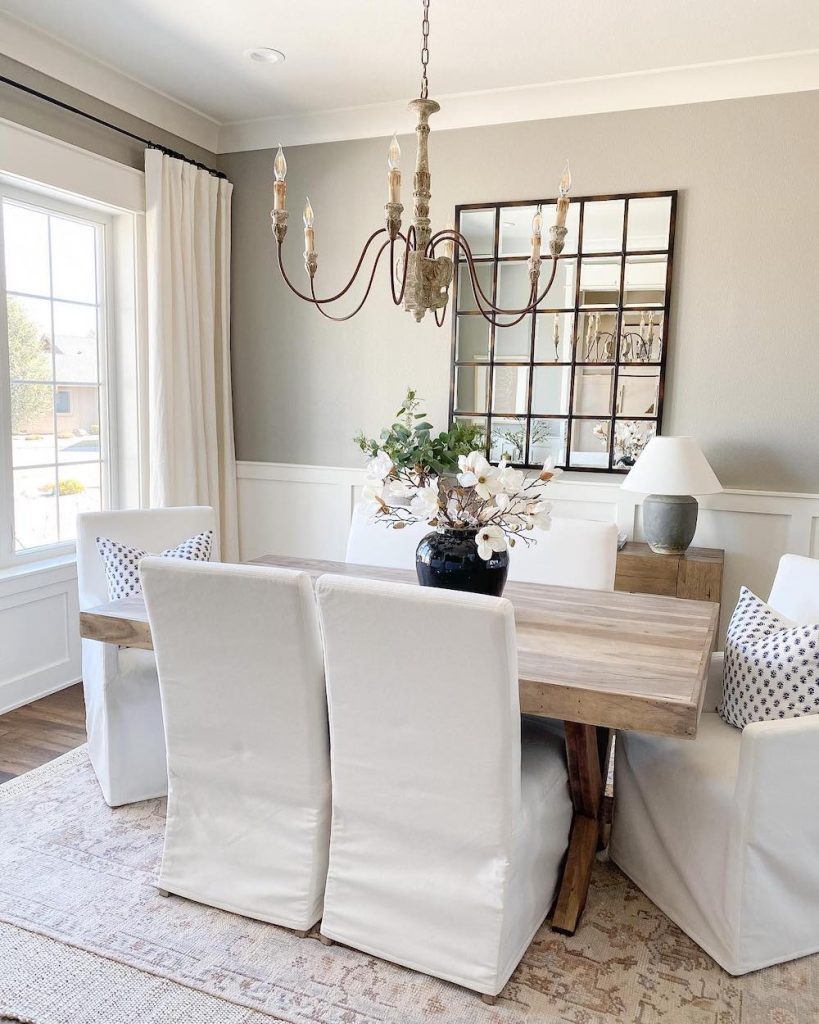 Add a window pane-like mirror near a window to reflect natural light into the room. Mirrors also have the ability to make a room appear larger.
Coordinate Your Mirror with the Console Table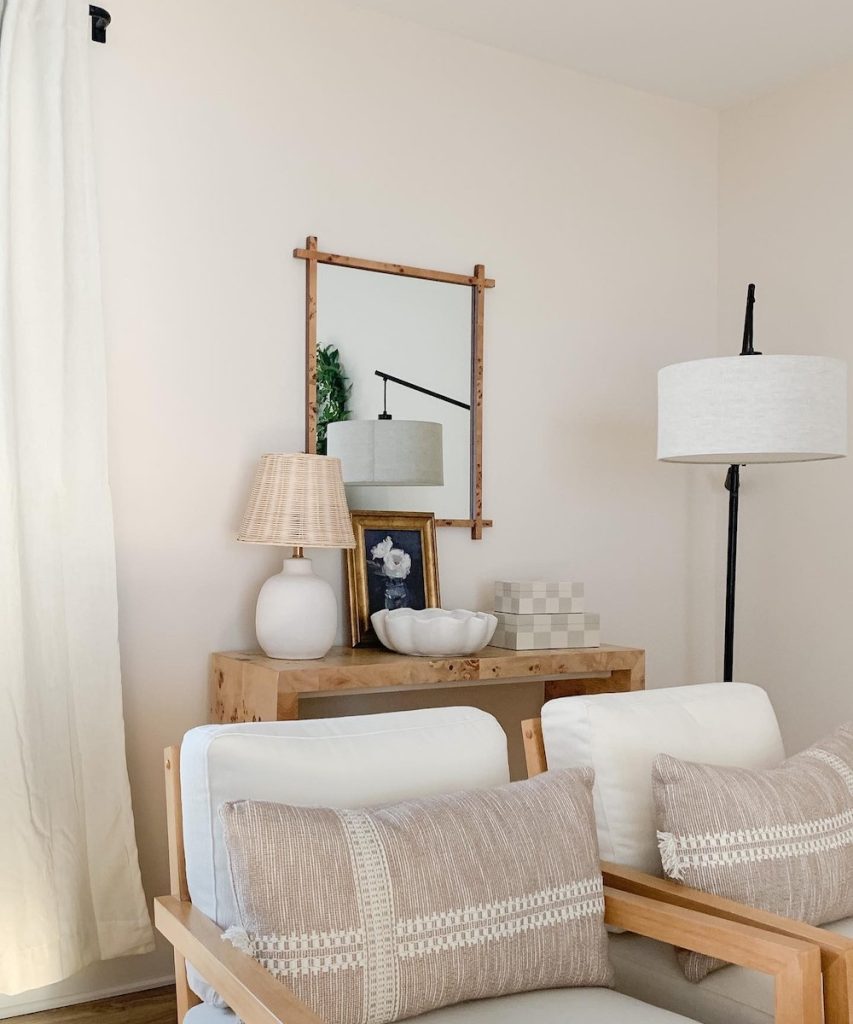 Top your console table with a mirror frame in similar frame material. Fill the room with cream and beige-colored accessories. And finish it off with highly texture toss pillows.
Make it Vain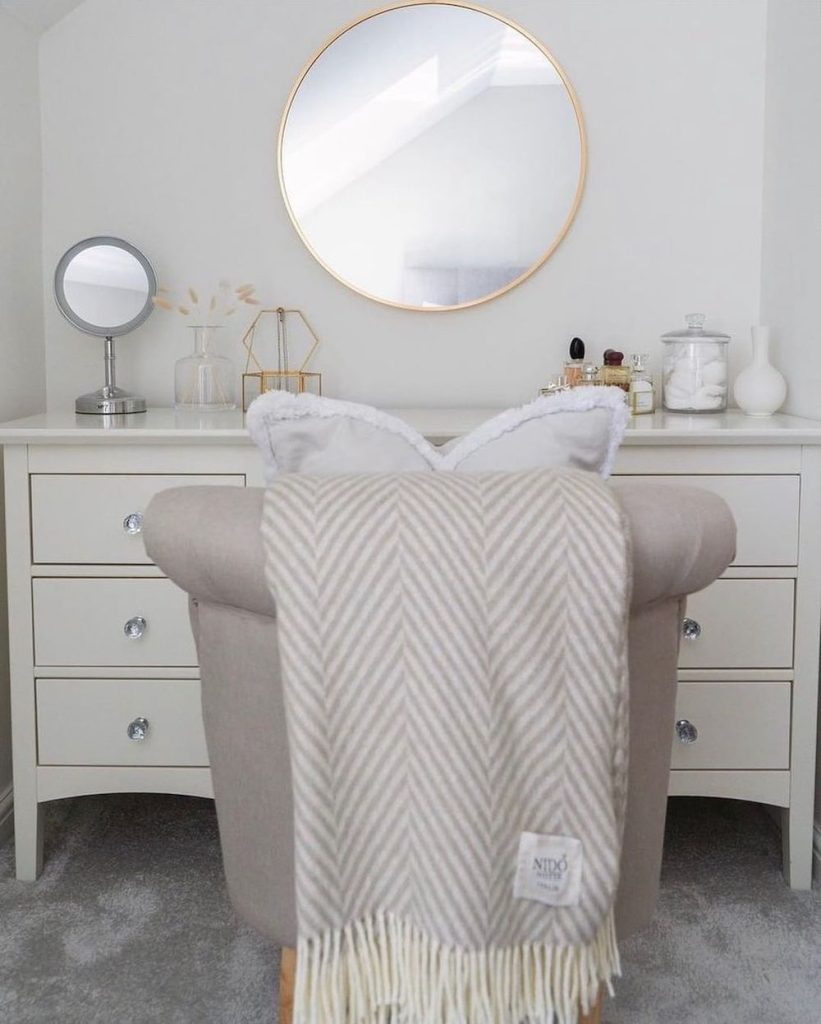 Create a neutral dressing table with touches of glam. The gold, round mirror is a perfect addition to this dressing table space.
Keep it Vintage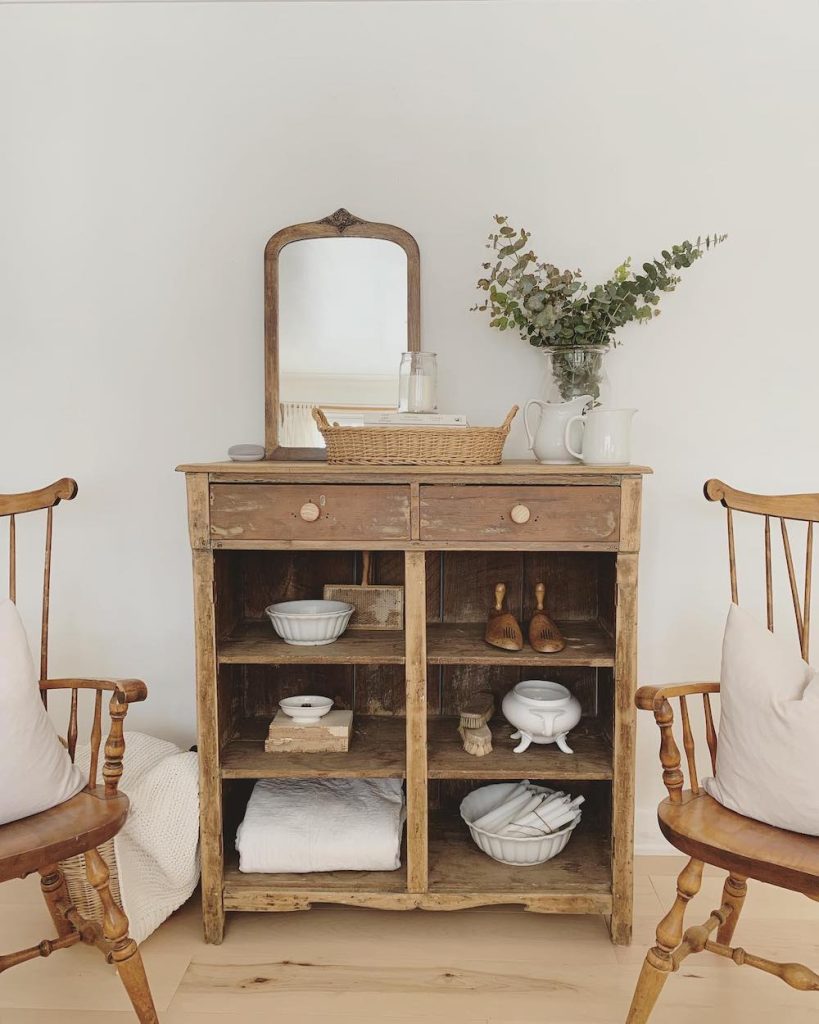 Use natural, vintage furnishings and accessories. Display white toss pillows and ceramic serving pieces for contrast. The simple curved mirror is the perfect finishing touch to this open vintage cabinet.
Make White Your Primary – Neutral Mirror Decor Ideas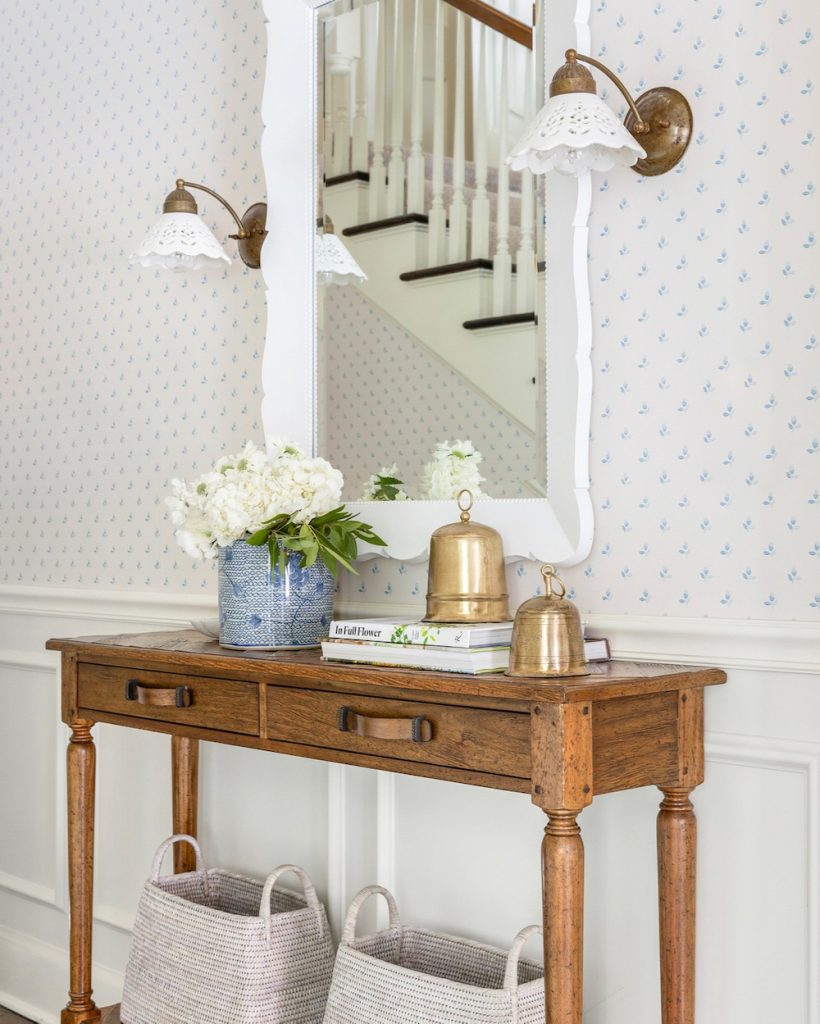 For a crisp white interior, use mostly white and off-white accessories. Add a single piece of warm wood furniture for contrast.
Use Warm Wood Tones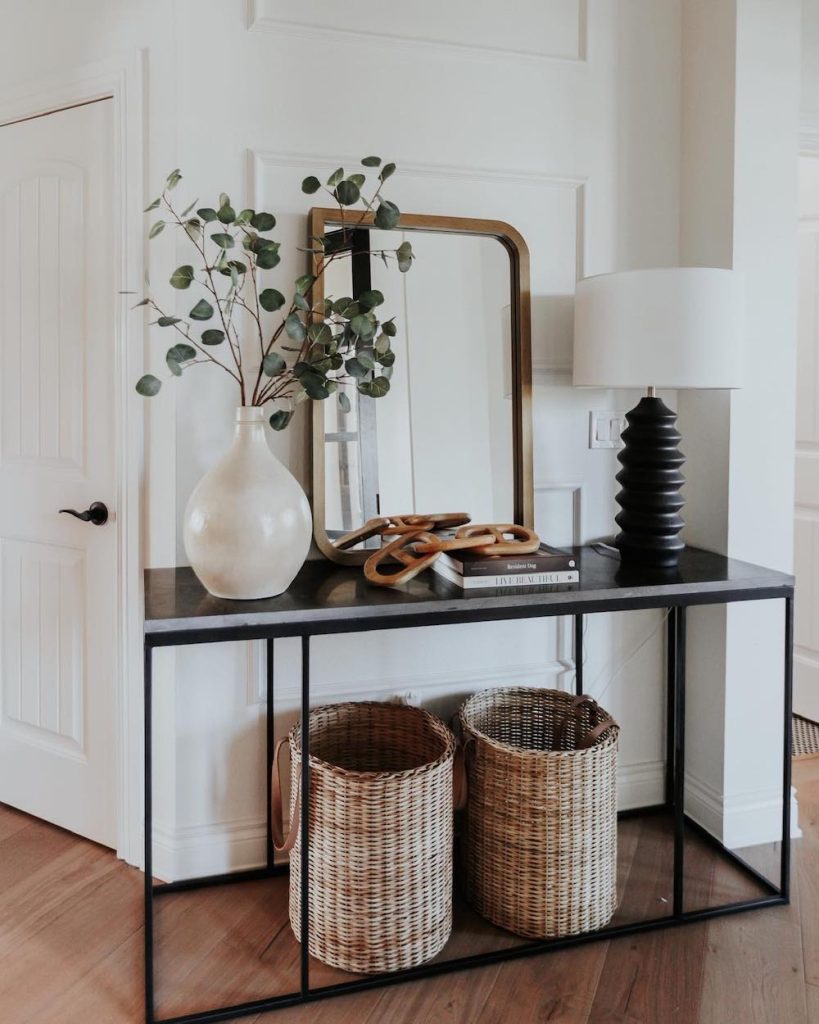 Display a mirror with warm wood tones over a dark industrial console table. Complete the look with warm wood links and woven baskets under the table.
Keep it Simple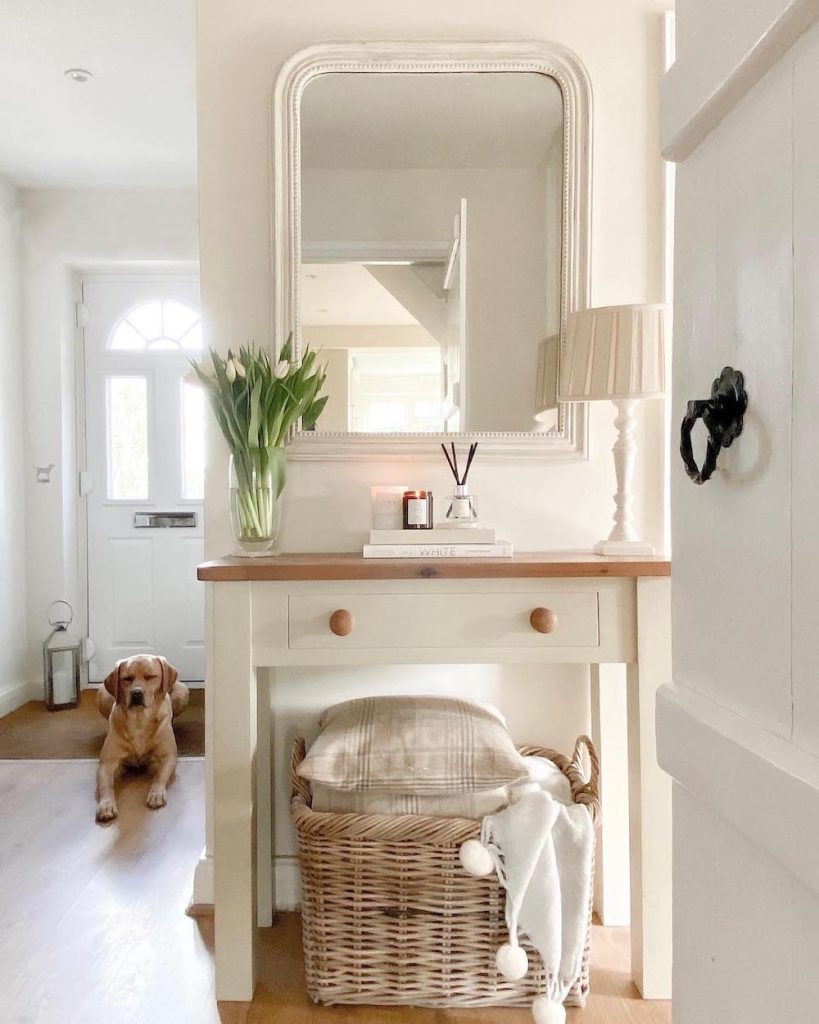 Use woven baskets to keep toss pillows and a throw organized. Easily within reach when needed.
Go for a Bold Look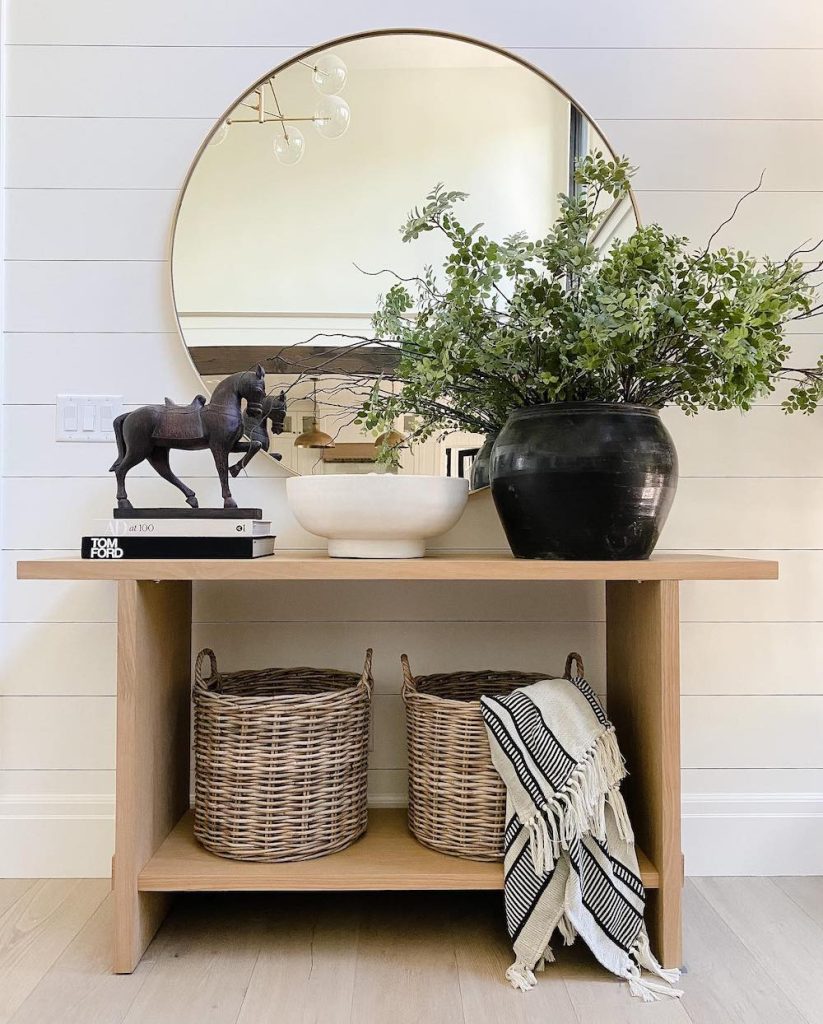 For a dramatic style, add a horse statue and large, bold pottery. Warm, inviting, and memorable.
Are you searching for neutral wall mirrors for your home? Take a look at these mirrors for your entryway, hall, or living room. We're sure you'll love these mirrors as much as we love them.

This is the end of our neutral mirror decor idea list. We hope that you found these ideas helpful. Take a look at our other posts for home decor inspiration. Be sure to tell us about your home decor projects in the comments below. We always love hearing from our readers.
Enjoy our other mirror posts for additional ideas.
Are you interested in a different type of mirror for your home? Try these posts for additional decor ideas.
Coastal Mirrors
Rattan Mirrors
Gold Round Mirrors
Mirrors with Strap
Accent Mirrors
Farmhouse Mirrors
Full-Length Mirrors
Neutral entryway decor ideas
Reach out to us with any questions. We are always ready to help you out. Thank you for dropping by and taking a look at our blog.
Mary
Pin this for Later: