Gold round mirrors that will brighten your home entrance. Transform your entryway into an inviting space. When your houseguests arrive at your home, the first place they see is the entrance. As your guests enter your home, they always appreciate a wall mirror for any last-minute appearance adjustments. Keep the front of your home looking its best. Make it functional and always add a personal touch such as family photos.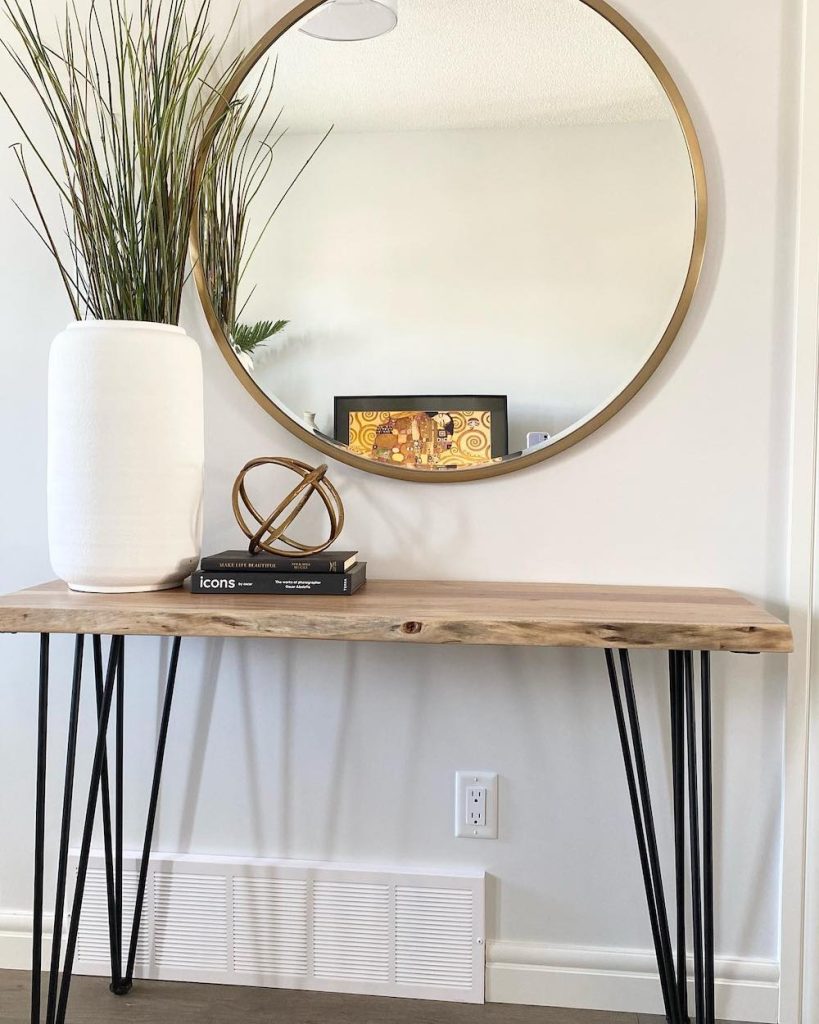 In today's post, we are sharing gold-finished, round mirrors perfect for your home's entrance. Metal finished mirrors and gold mirrors, in particular, are just as popular as ever. The curved shape of round mirrors softens the look of a wall.
We love gold mirrors for the simple reason they add refined, stylish detail to the home. Gold round mirrors are very much in demand in home decor stores. Adding a gold-finished round mirror to your entryway provides two things to your room. It gives your room a finished appearance. And second, it creates a warm inviting feel to the space.
Expand Your Room Size – Gold Round Mirrors
As you may know, there are many benefits to using mirrors in your home. One benefit is the abundance of natural light in the room. The room appears brighter and not dark or dull. The second benefit is that a mirror has the ability to make a room appear expansive. Rooms appear larger because of the brightness that the mirror reflects. Third, mirrors draw your eye to the mirror itself and its surroundings. It accentuates the surrounding furnishings by the mirror. Add a distinct decor style with a mirror since the mirror itself is a decorative accessory. For example, a rattan mirror would add to a coastal or boho style. An ornate gold mirror would add a glam decorative finish to the room. Soften any room with the gentle curves of a round mirror.
Types of Mirrors for the Home – Gold Round Mirrors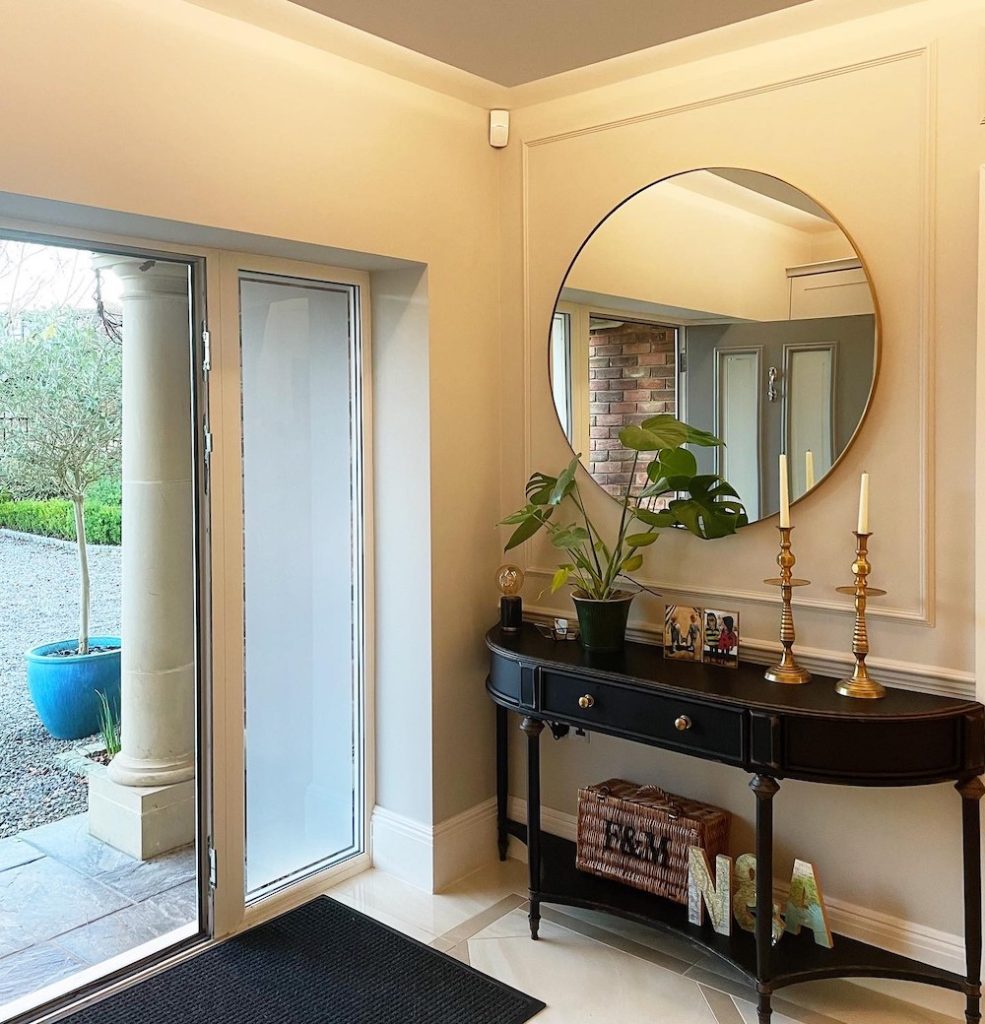 Although there are many different types of mirrors, we will be talking specifically about mirrors used inside the home. The first type of mirror is a plane mirror which is flat. A plane mirror has no inward or outward curve. It is simply flat. The next two types of mirrors are called curved mirrors. One curved mirror is called a convex mirror. In this mirror, the light is directed toward the light source. The reflective surface bulges towards the light source or outwards and away from the mirror itself.
Alternatively, the concave curved mirror reflects light inwards to a single point. A concave mirror has its center further away from the light source than its edges. It is recessed inwards. At a distance, the image in a concave mirror appears upside down. As you walk closer to the mirror, the image flips and becomes larger. Another name for a concave curved mirror is a converging mirror. It is shaped like the outside of a sphere.      
Add a Decorative Beveled Mirror – Gold Round Mirrors
A beveled mirror is a plane mirror with a decorative edge. The mirror's edge is cut at an angle to give the appearance of a framed edge around the mirror. This framed edge is decorative and gives the mirror a finished look.
Select the Right Size Mirror for Your Entrance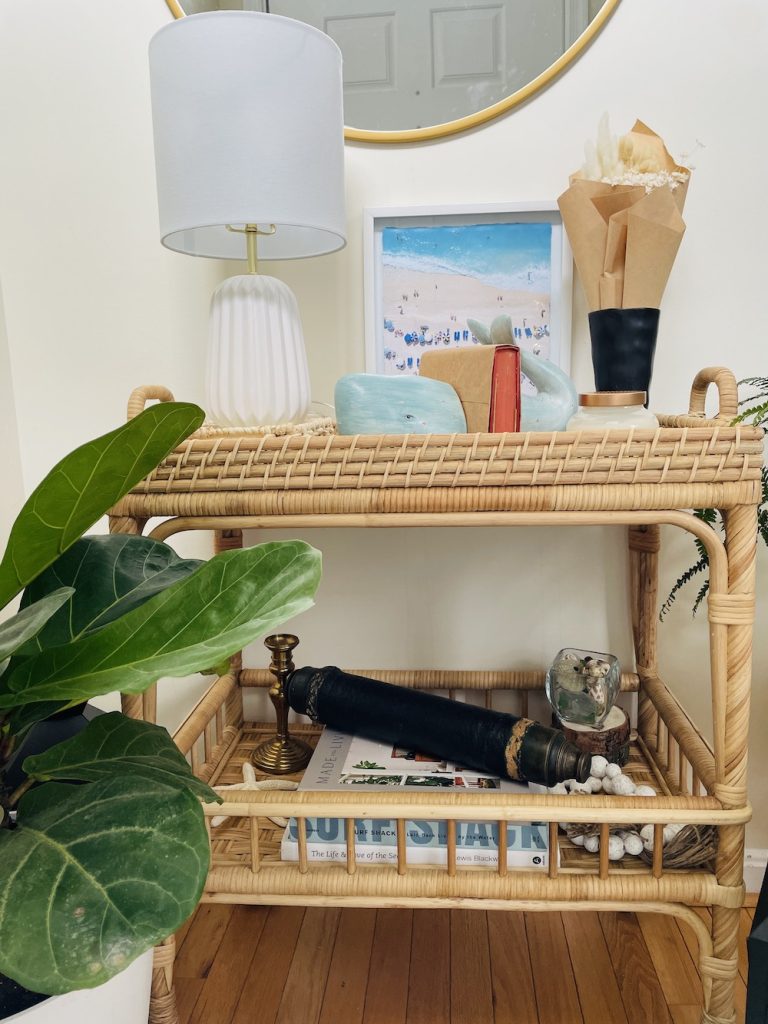 Pick a mirror that is about two-thirds of the size of your console table. For example, if your console table is 48 inches wide your mirror should be about 32 inches wide. This is about two-thirds of the width of the entryway table. However, you can select a mirror that is more narrow or wider if you prefer. Selecting a mirror that is about two-thirds the size is simply a rule of thumb or starting point.
Draw a cardboard replica of the mirror size you'd like to hang over the entryway table. Then attach it to the wall to get a sense of the overall look of the table. Go as far as decorating your entrance table with a lamp, coffee table books, and other decorative accessories. This will give you a better idea as to whether the mirror size is right for the entrance space.
Round mirrors are available in many sizes. Smaller round mirrors can be found at about 18 inches wide. While medium-sized mirrors are around 32 inches in width. And large oversized mirrors are about 48 inches wide.
Hang the Gold Round Mirror at the Right Spot
How high should you hang your mirror above a console table? Enough for a small gap. Keep a small gap between the table and the mirror. Leave between six and eight inches from the table and where the mirror ends. Add accessories to the table. Accessories such as a table lamp, coffee table books, and family photos without blocking the bottom of the mirror. Generally speaking, the mirror should hang at eye level or between 6o to 65 inches from the floor.
Make it Glow – Gold Round Mirrors
We searched numerous online resources for the best gold, round mirrors. We found some great mirrors. Here is our list of round mirrors in a gold finish that'll make your houseguests feel welcomed. Take a look. Drop us a comment below in the comment section. Let us know about your entryway.

This ends our list of gold round mirrors for the entryway. Keep your entrance looking its best with a gold mirror. Be sure to take a look at our other posts for home decor inspiration. Be sure to tell us about your home decor projects in the comments below. We always love hearing from our readers.
Enjoy our other home decor posts for additional ideas.
Best Coastal Entryway Decor Ideas
Style a Console Table with these Designer's Tips
Rattan Entryway Tables
Coastal Console Tables
Table Lamps
Reach out to us with any questions. We are always ready to help you out. Thank you for dropping by and taking a look at our blog.
Mary
Pin this for Later: