Spooky Halloween entryway decor ideas you'll want for your home this Halloween season. As the fall season is right around the corner, you'll inevitably be thinking about the Halloween season this year. And how you'll top the previous year's decorations. There are many ways to crank up the spookiness of your entryway this season. Keep your front door area as tidy as possible since it is the first place your guests see as they arrive. Style this room to always look its spookiest best.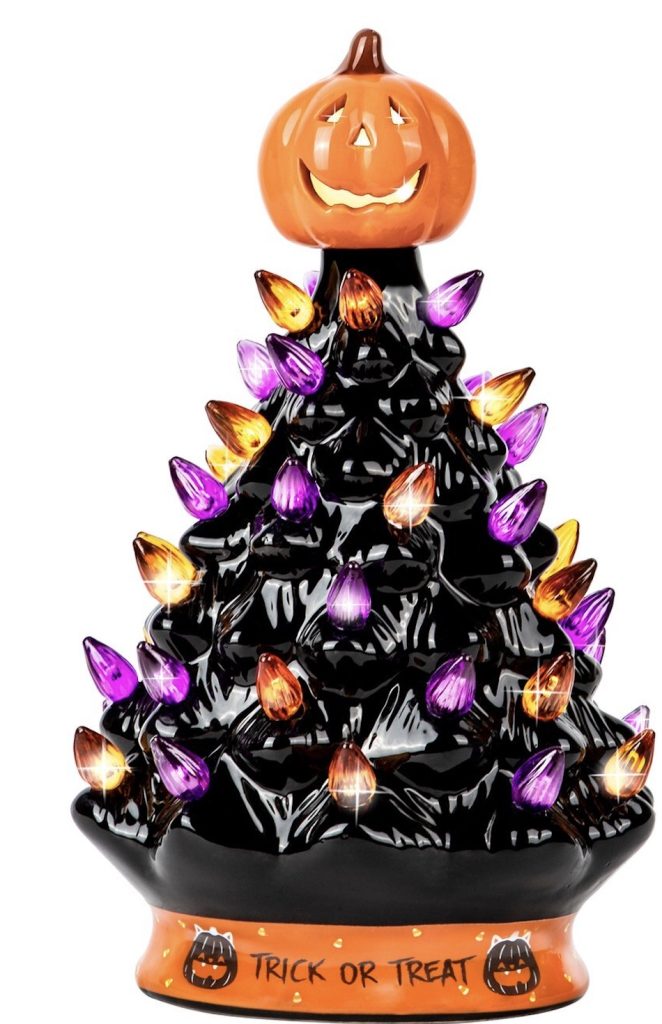 In today's post, we are sharing some amazing decor ideas for a spooky Halloween foyer or front door space. Whether your front door space has an entryway table or bench, these ideas will work just great for your foyer space.
Spooky Styling – Halloween Entryway Decor Ideas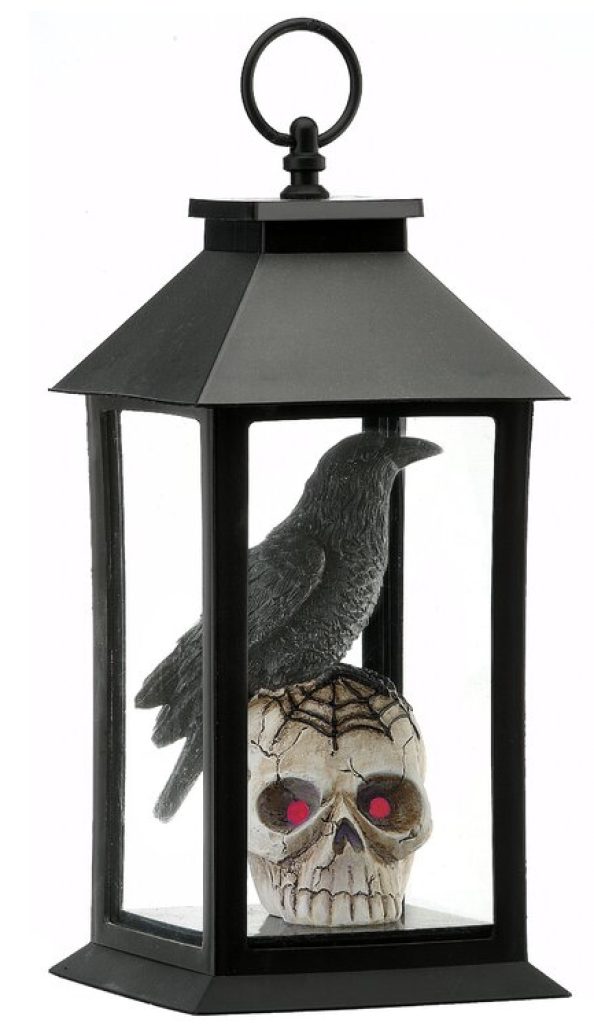 Now on to our list of styling ideas for your foyer or front door space. Keep inspired with these pro tips we are sure you'll love. Take a look. Be sure to drop us a line below in the comment section. Let us know all about your best frightful styling ideas for your front door space.
Give it a Crawling Effect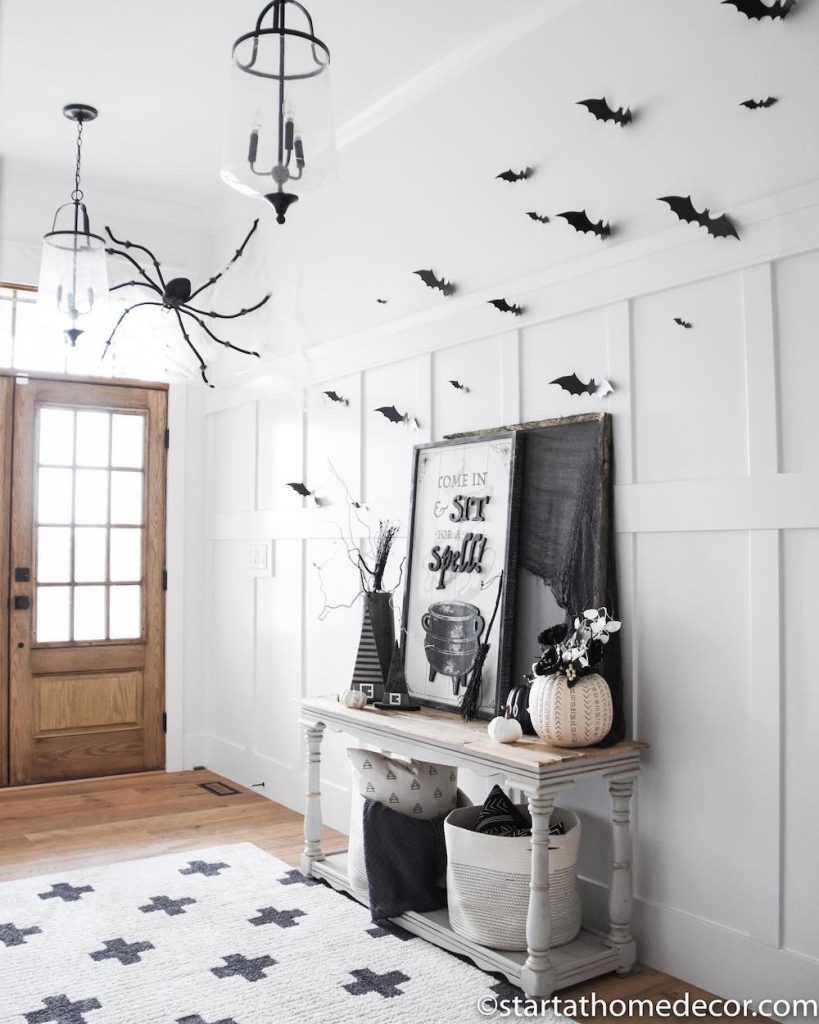 Add a gigantic creepy, crawling spider over your doorway. Nothing is creepier than having a spider drop down on your guests as they enter your home.
Stick to it – Halloween Entryway Decor Ideas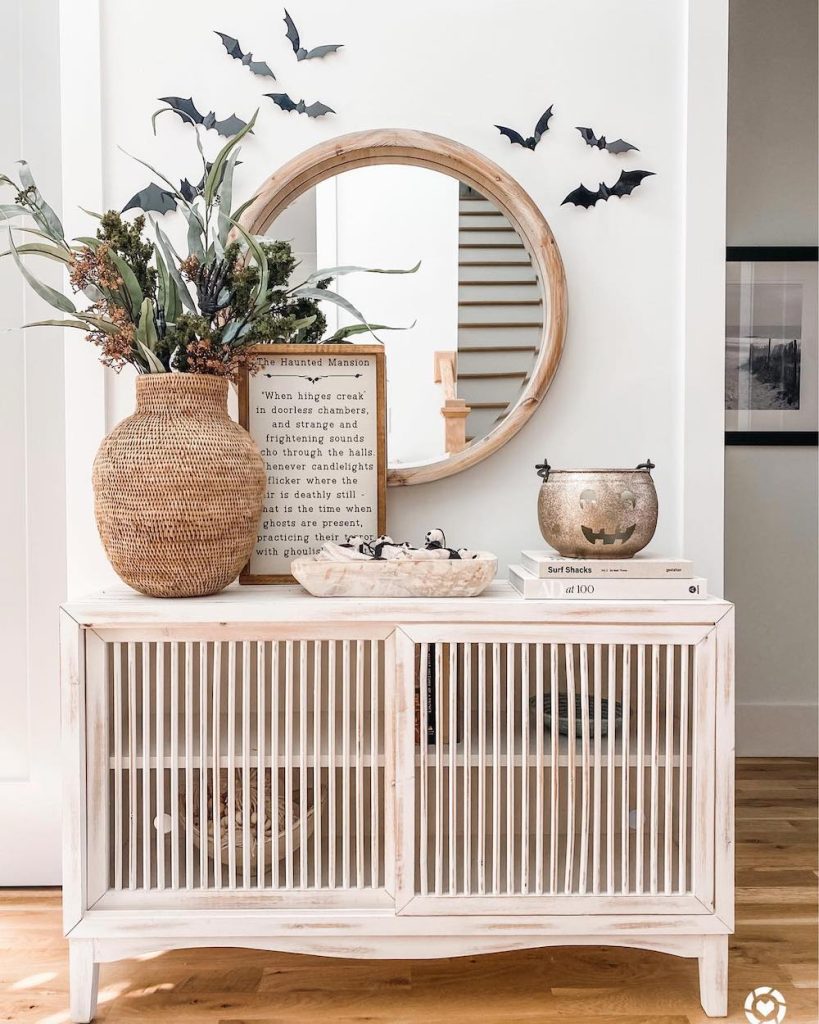 Add clusters of miniature bats to the wall for maximum impact. Fill a bowl full of not-too-friendly ghosts.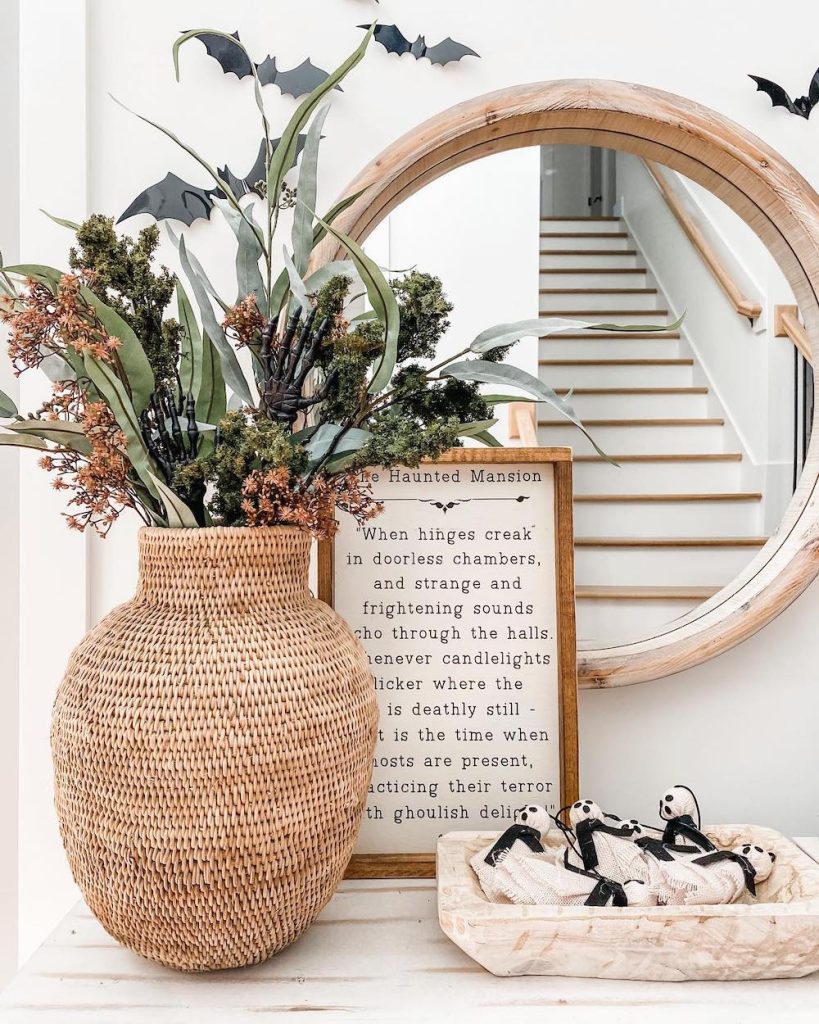 Rest a framed "Haunted Mansion" text wall art piece against the entryway mirror.
Style a Landing Spot for a Raven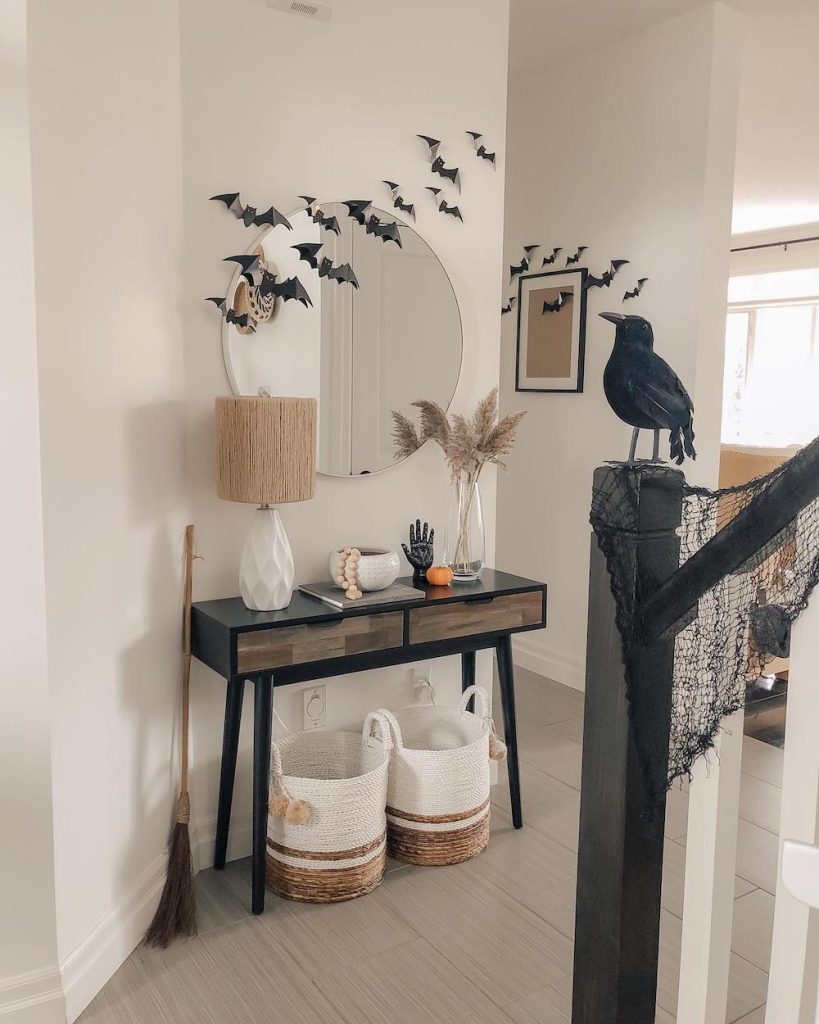 Add a raven to your foyer for an extreme spookiness look.
Hang it – Halloween Entryway Decor Ideas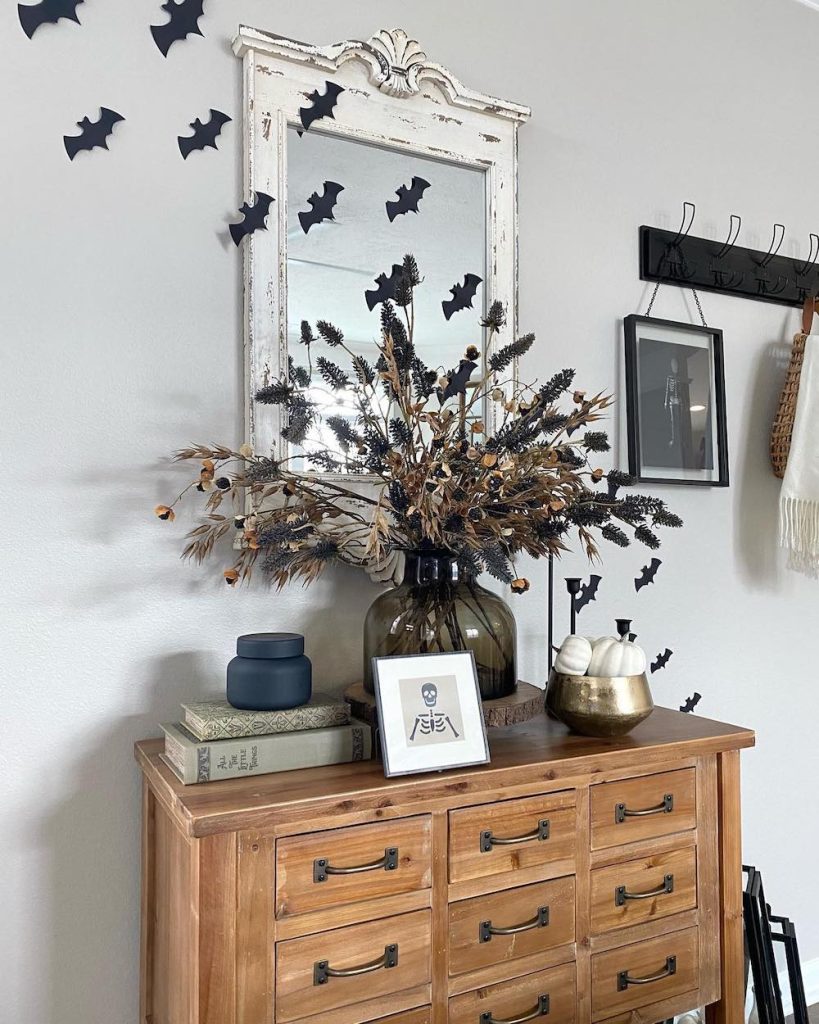 Display or hang an image of Mr. Bones or your favorite skeleton.
Hang your Favorite Witch's Accessories Nearby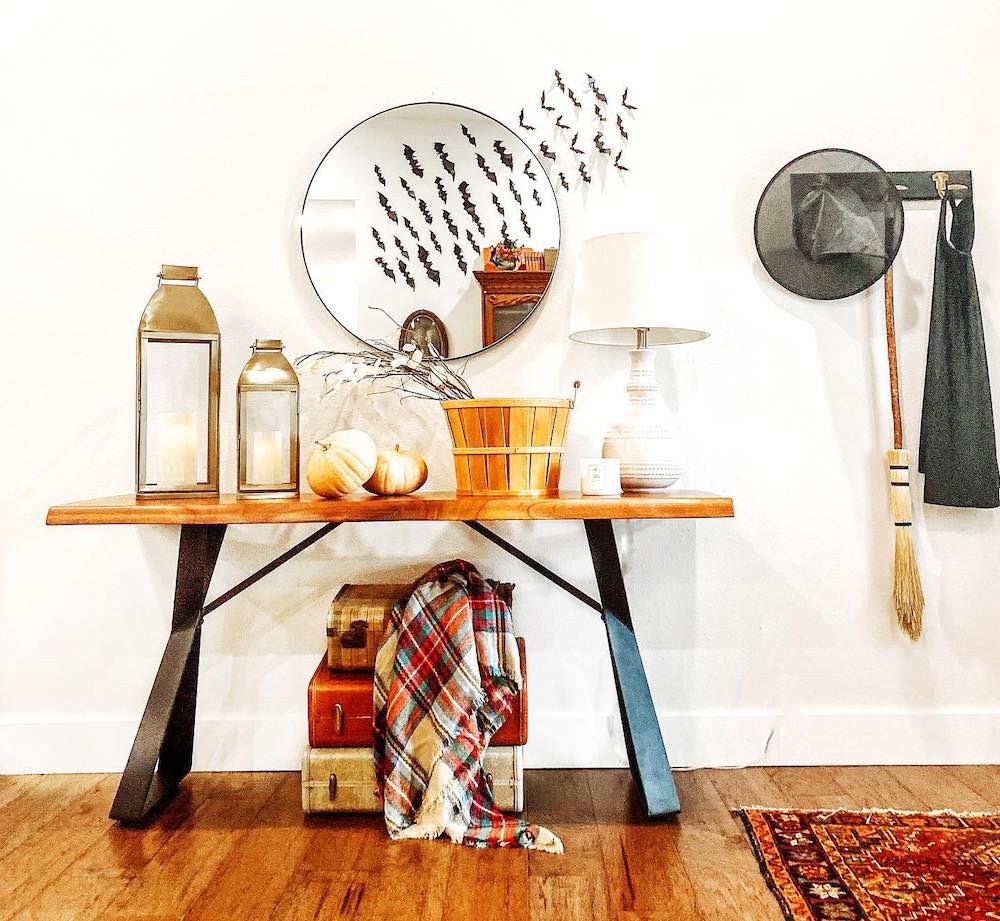 In this inspirational idea, a wooden hook holds your favorite witch's outdoor accessories. A hat for those chilly nights. A broom for a quick getaway. And a cape for concealing those tricks.
Give a Front Row Seat to a Skelton – Halloween Entryway Decor Ideas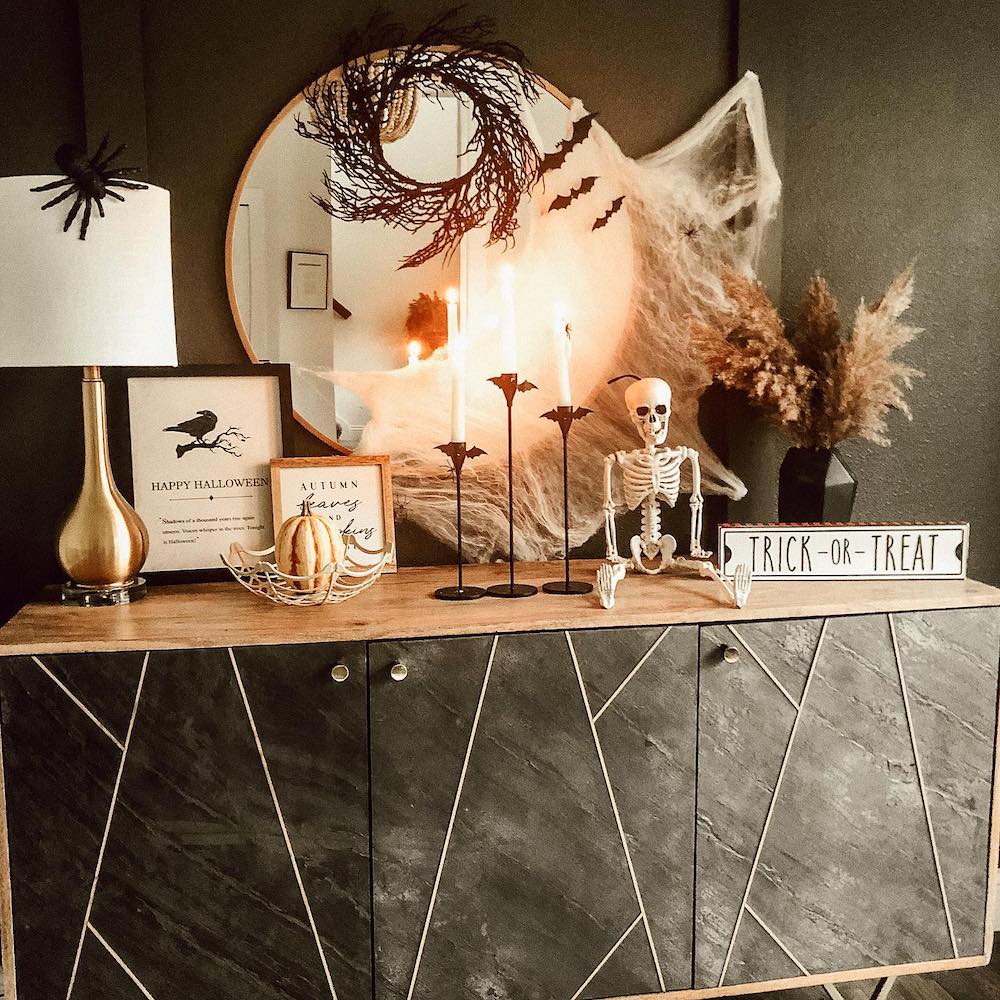 Give a skeleton the best seat in the house right by the front doorway for maximum impact on Halloween night. Super creepy for those Halloween treat-or-treaters.
Stretch a Cobweb Across your Entryway Table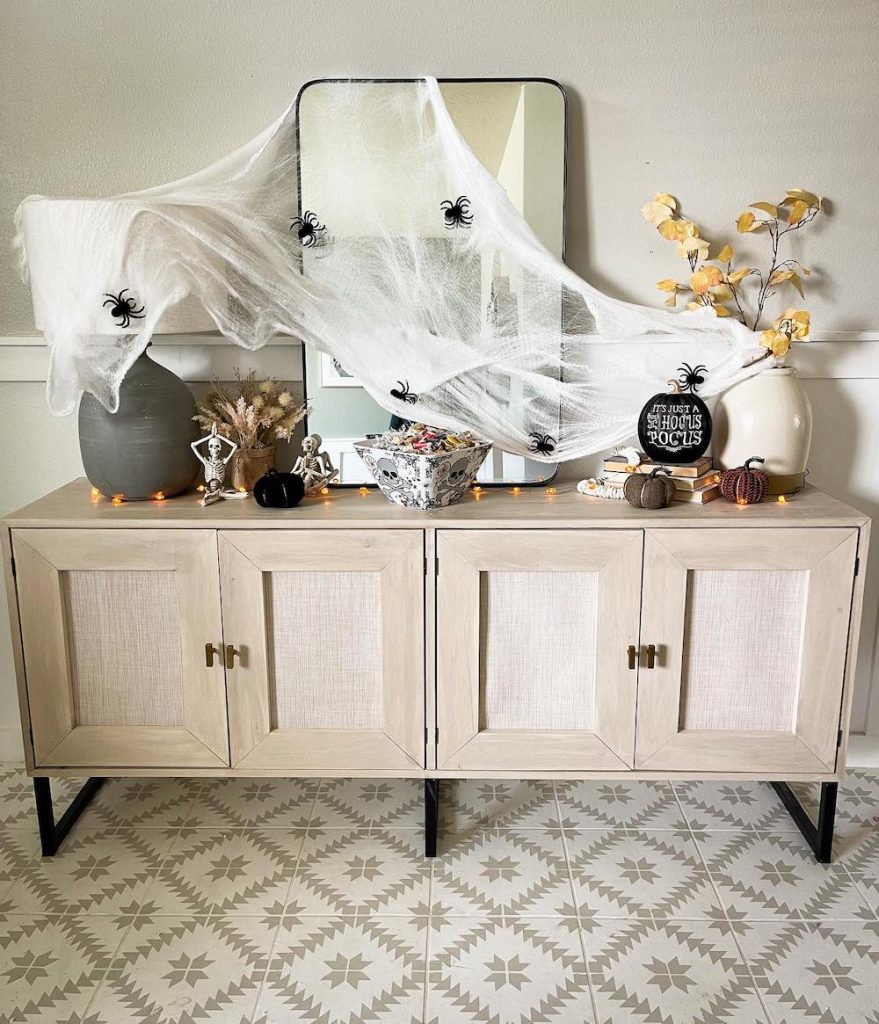 For a dramatic effect, stretch a cobweb across the foyer entryway table. Scatter a few spiders across that cobweb for added drama.
Drape Shredded Gauze on Your Entryway Table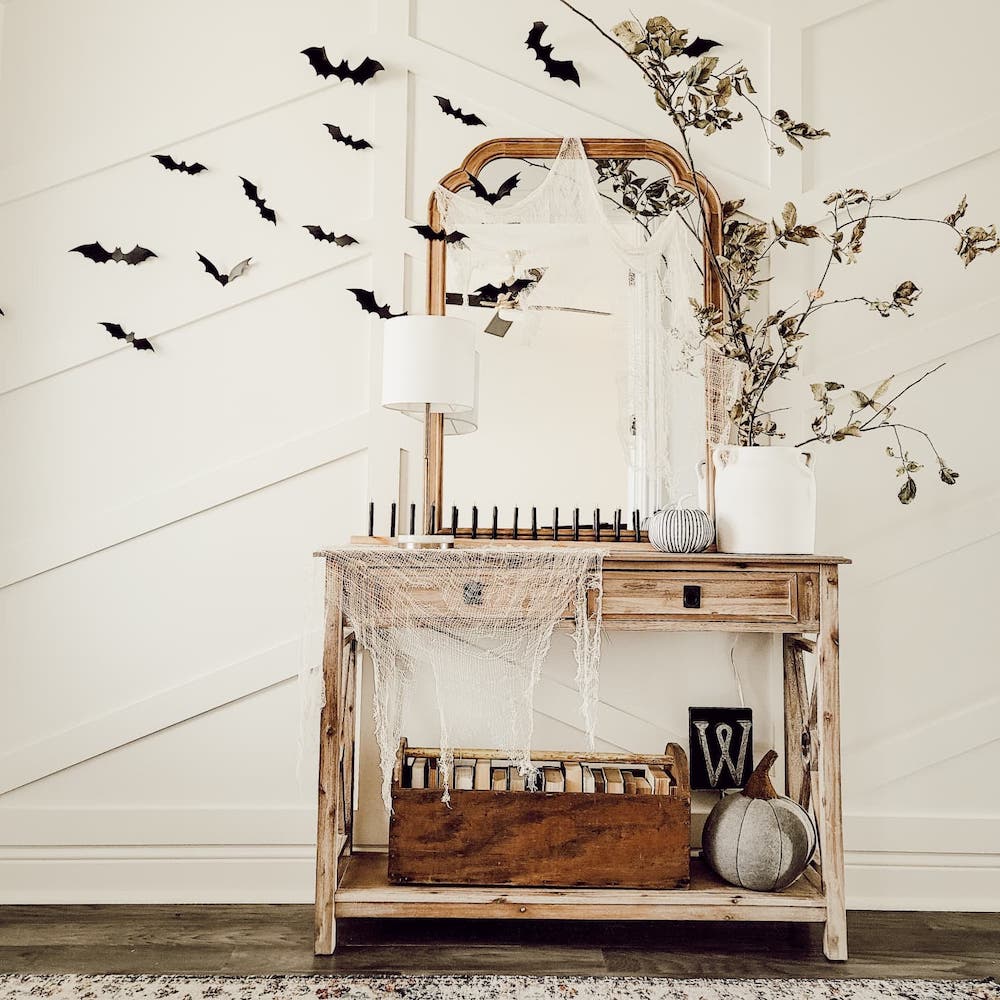 Spread a piece of shredded gauze or fabric over your entryway table or bench. Gives you a creepy feeling, doesn't it?
Style Black on White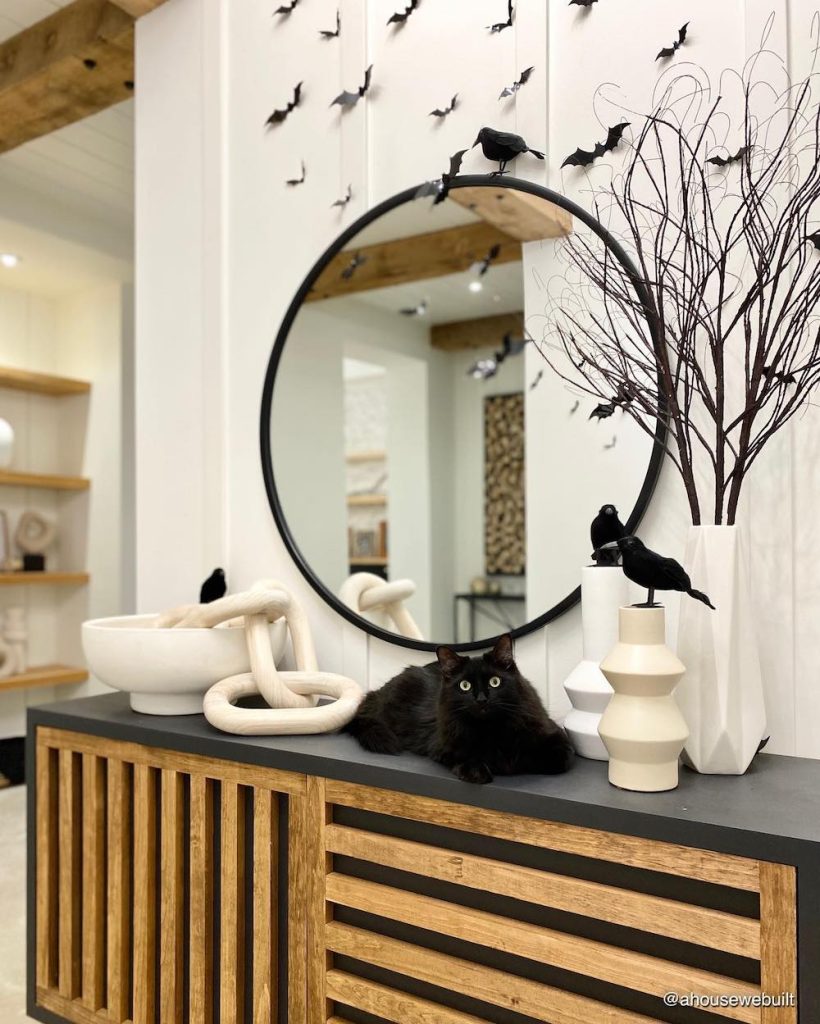 Use midnight black accessories with a white background and white accessories for a huge impact. The wooden entryway table gives this space a warm feel to the entryway.
Add Fiery Orange – Halloween Entryway Decor Ideas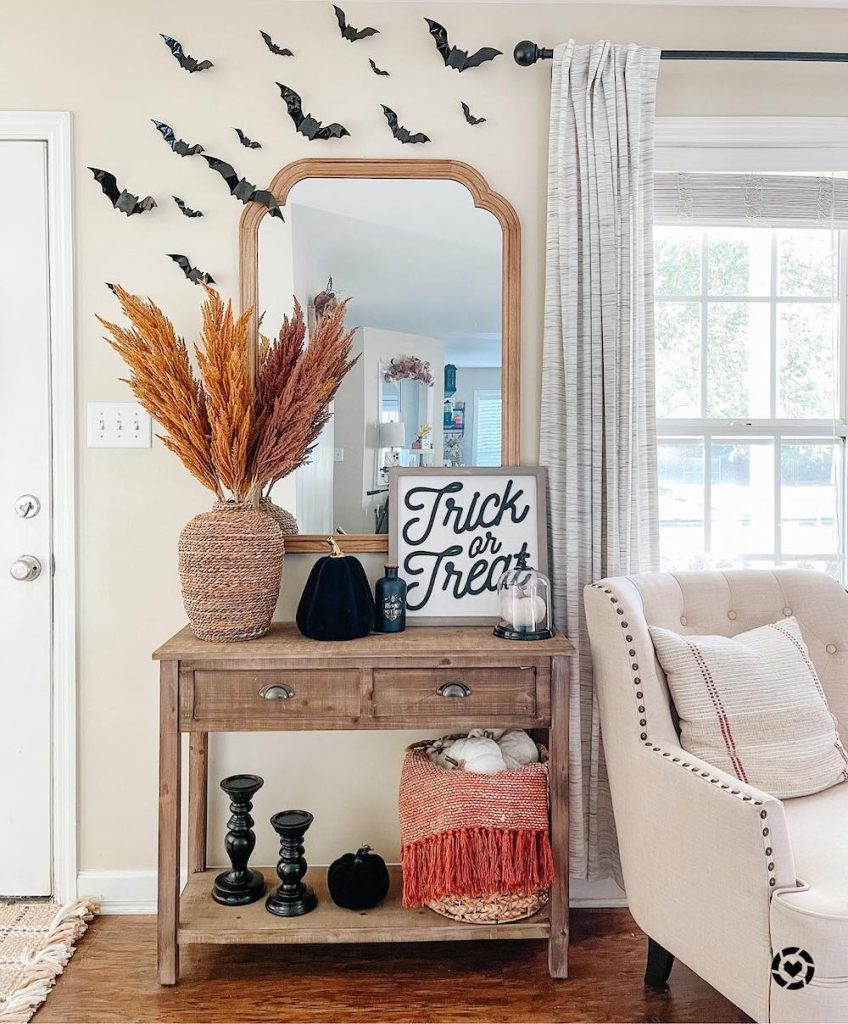 For added drama, fill a vase full of fiery orange pampas grass. The contrast of fiery orange accents with midnight black accessories provides a dramatic effect.
Transform it into a Laboratory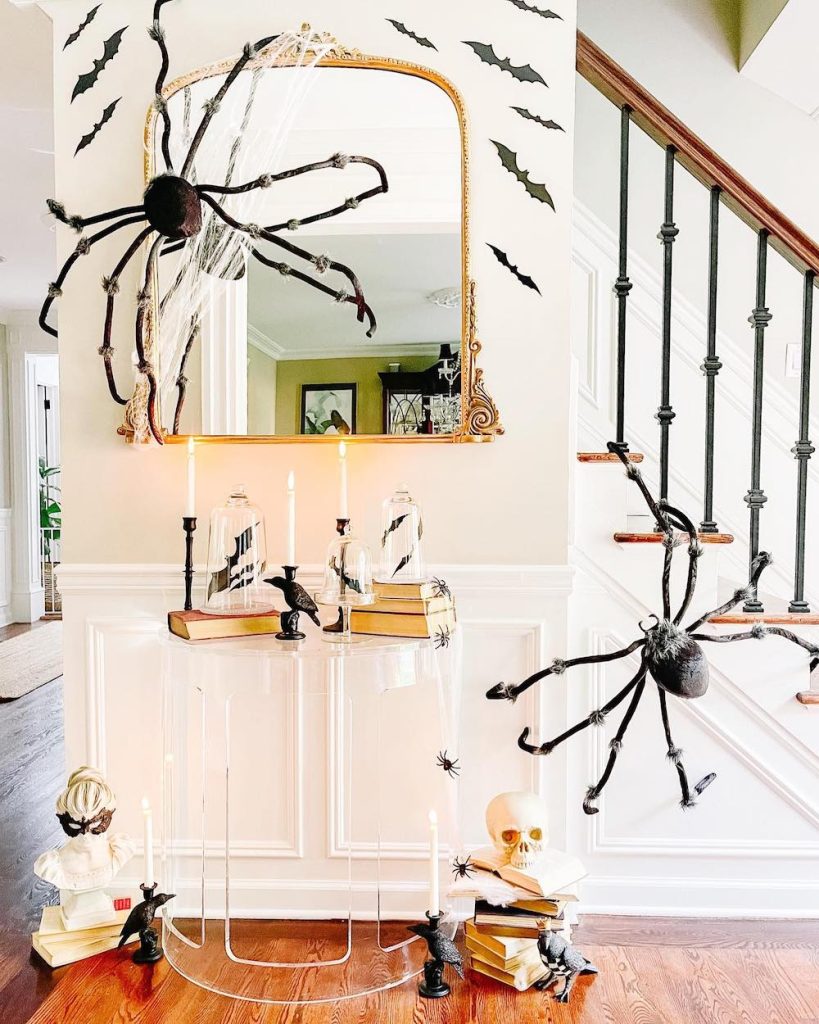 Simulate a laboratory filled with specimens, potions, and experiential reference books while spiders and bugs are creeping around.
Keep Your Potions Handy – Halloween Entryway Decor Ideas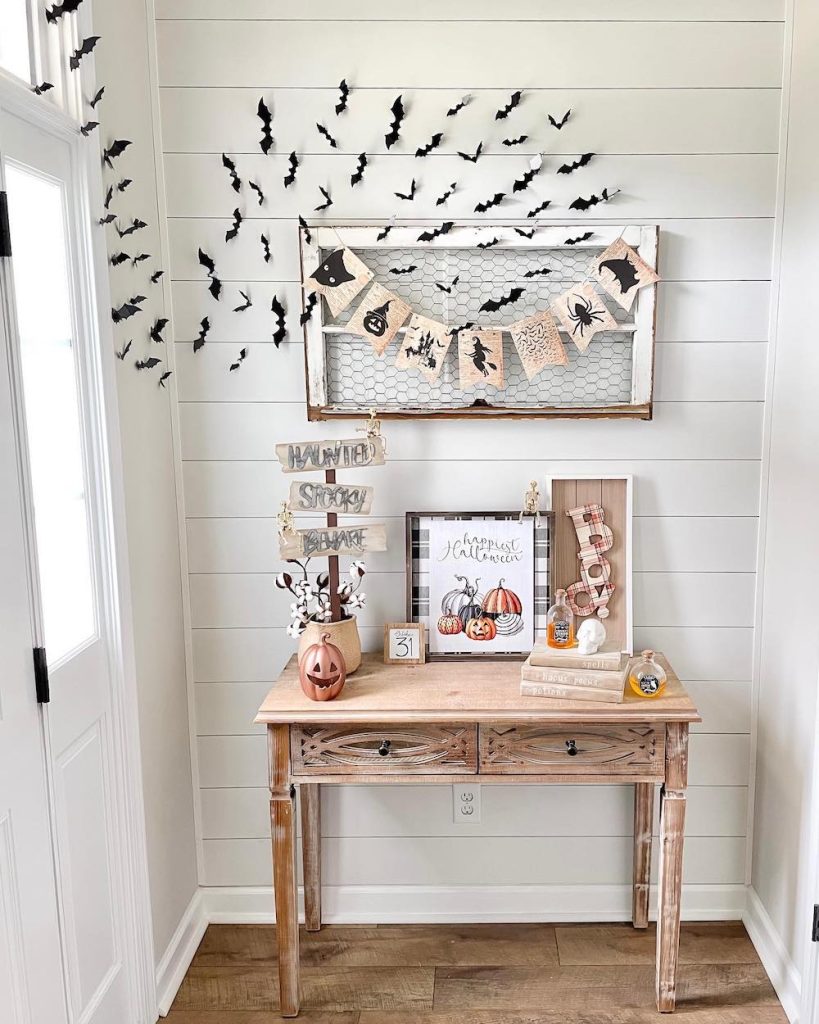 Mix up your favorite love potions for those spooky Halloween nights. For some DIY Halloween decoration ideas, take a look at our post titled – Spooky DIY Halloween Decor ideas.
Decorate a Bat Tree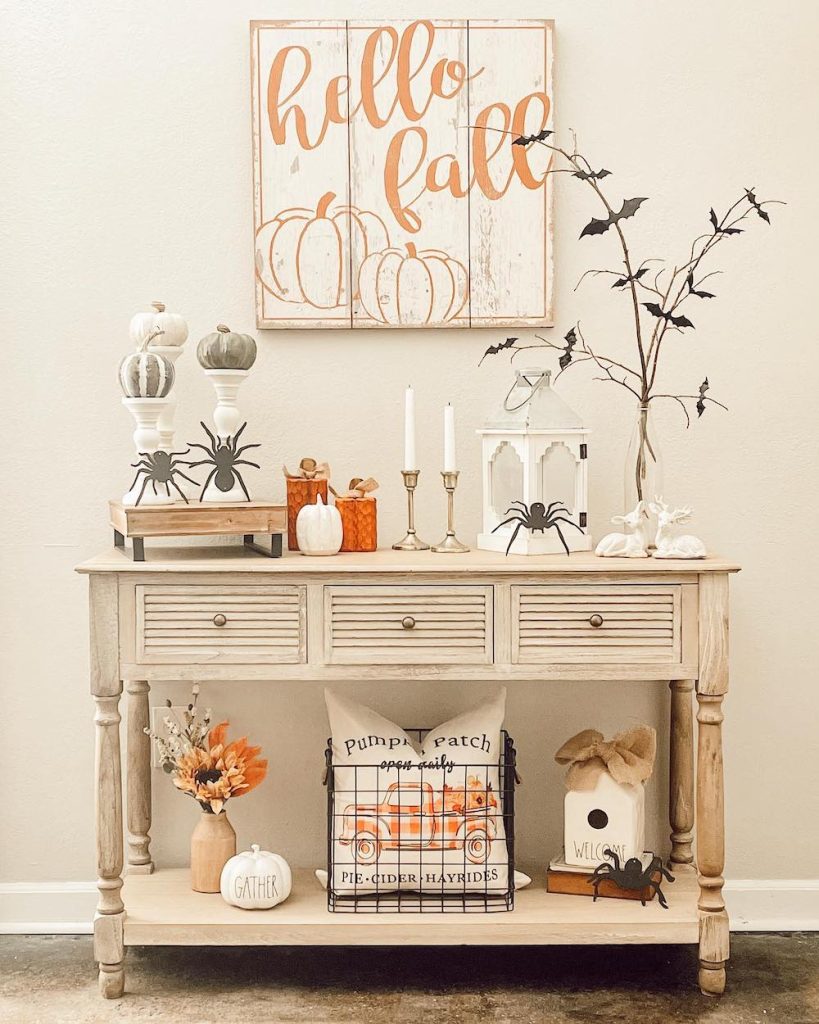 Add a bat tree using a few tree branches fresh from your backyard. Spray paint the tree branches with black paint. Attach a few bats to the branches. Then your tree comes to life!
Keep it Thorny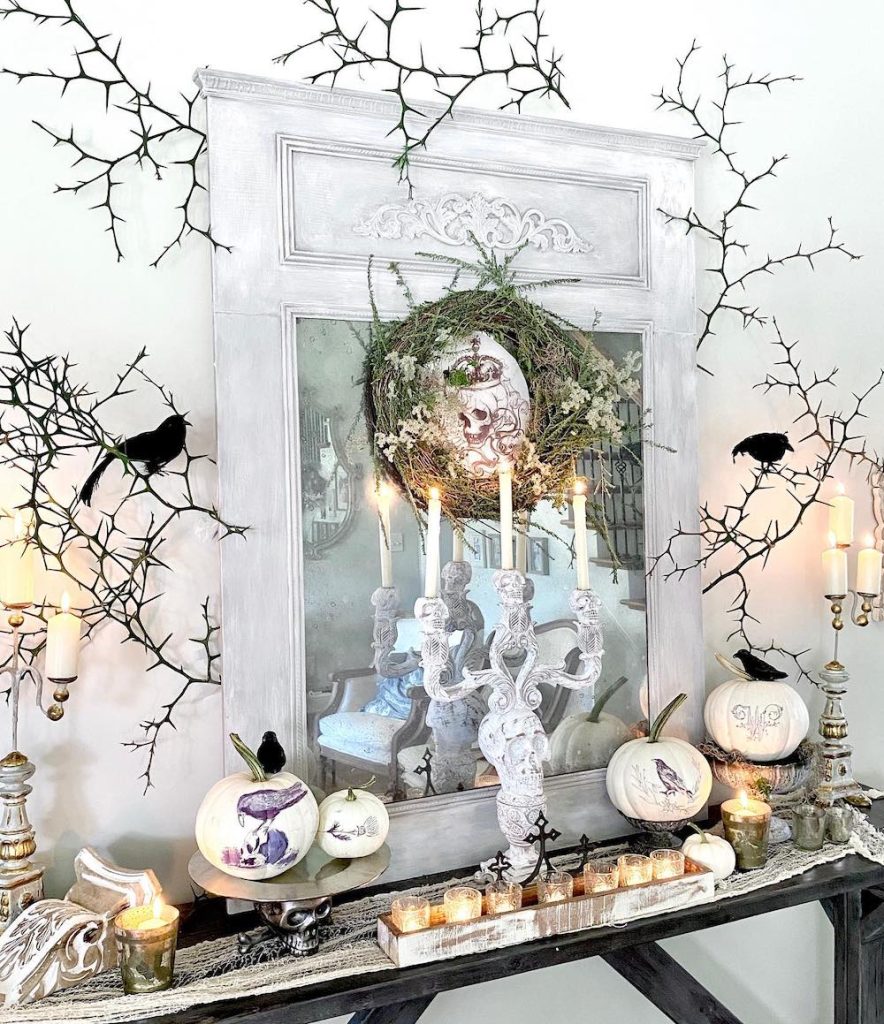 Add to your entryway a thicket of briar pieces covered with prickly stems and thorns. Display your decorative white pumpkins. Serve those pumpkins up on a skeleton head platter.
Style it with Gold Accents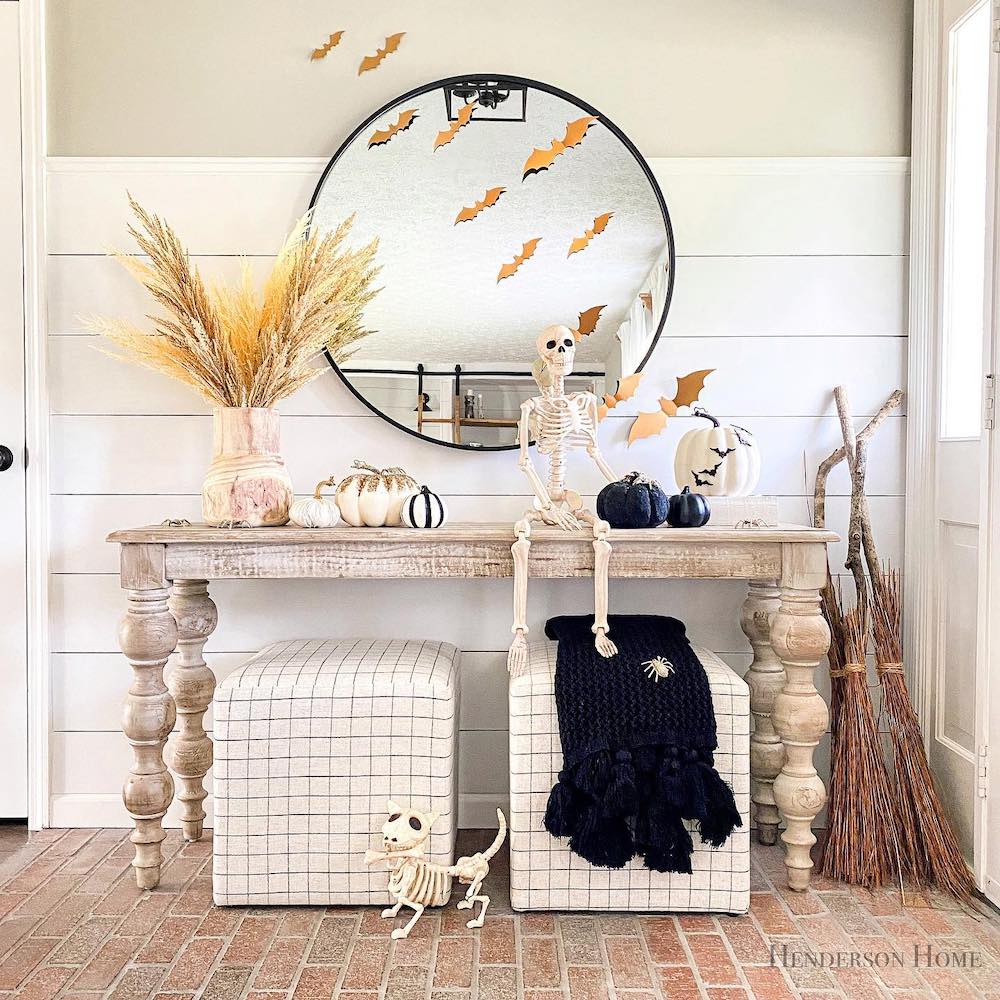 Use gold-colored accents such as the pampas grass-filled vase and miniature bats strung across the round mirror. Rest to one side of the table a group of brooms ready for departure.
Suspend Candles Over the Entryway – Halloween Entryway Decor Ideas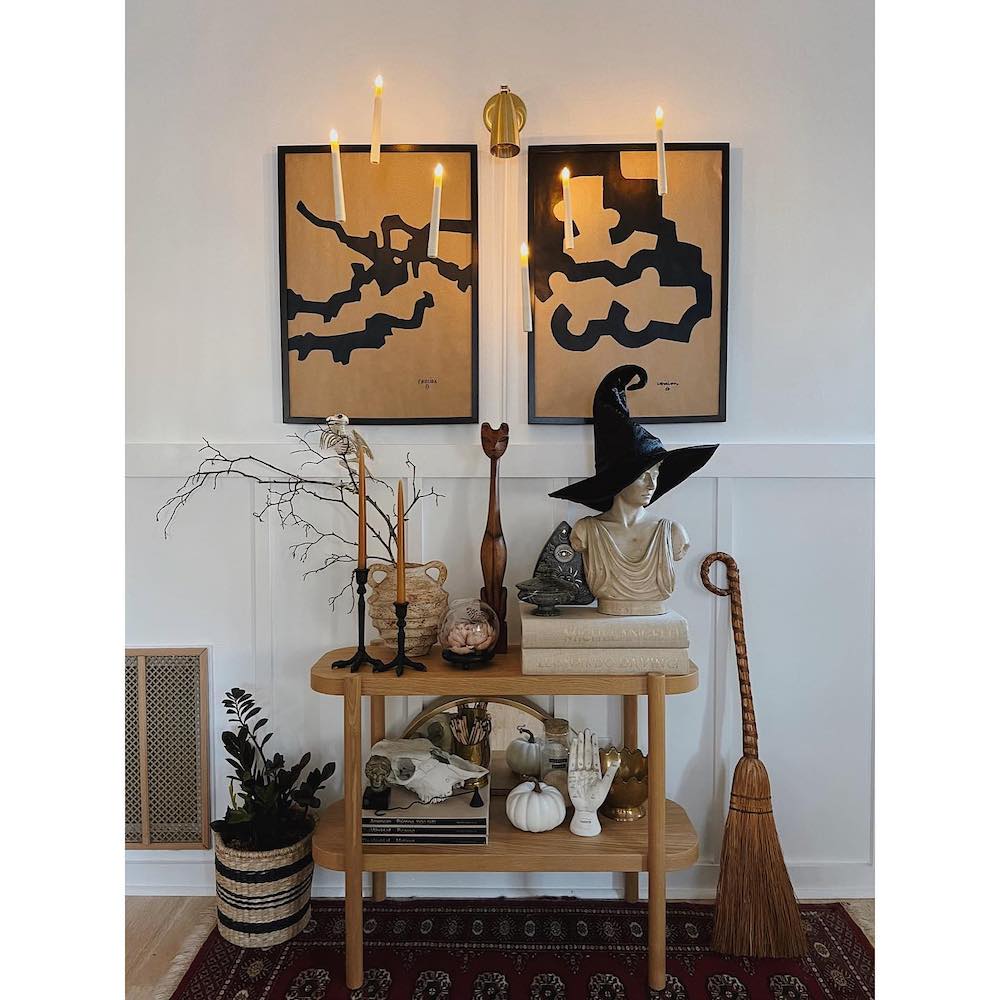 When the lights go out, you still have those candles hanging over the entryway. Keep it inviting for those evening trick-or-treaters!
This ends our list of inspirational decor ideas for your foyer and front door space. Keep your foyer or entryway always looking its best on Halloween with these ideas. Be sure to take a look at our other posts for home decor inspiration. Be sure to tell us about your home decor projects in the comments below. We always love hearing from our readers.
Enjoy our other Halloween posts for additional ideas.
Are you interested in other Halloween decorative ideas for your home? Try these posts for additional decorating ideas this Halloween season.
Halloween Home Decor Ideas
Porch Decor Ideas for Halloween
Reach out to us with any questions. We are always ready to help you out. Thank you for dropping by and taking a look at our blog.
Mary
Pin this for Later: