Welcoming fall-inspired entryway ideas that you can easily add to your entryway. In today's post, we are sharing over 30 entryway ideas. Inspirational ideas to transform your entryway into a festive Fall space. If the Fall season is a favorite of yours, then you'll love these decorating ideas. With cooler temperatures, leaves have begun turning brighter colors. Eventually, falling to the ground. Before too much longer, we'll have mountains of leaves on the ground.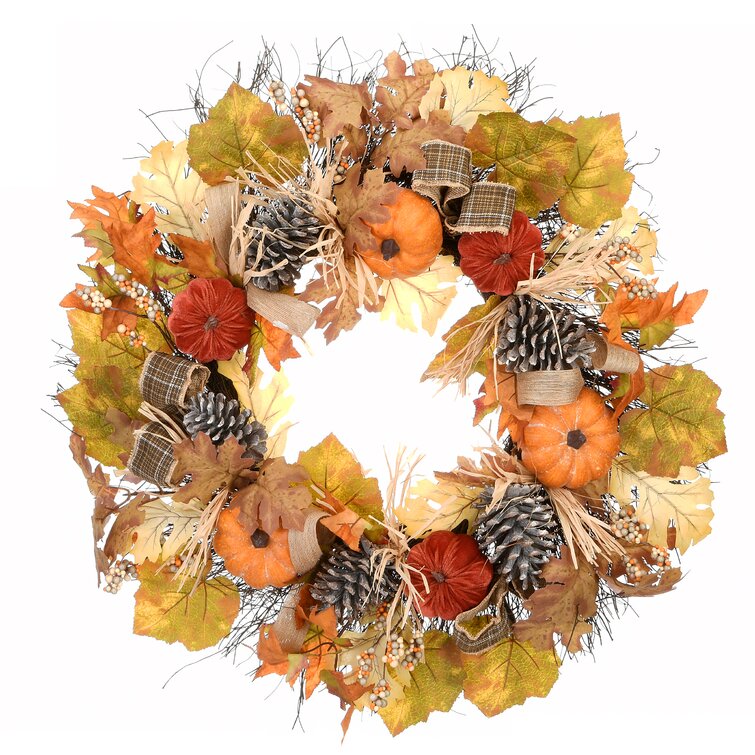 During the Fall season, pumpkins, gourds, and apples have ripened and are ready for harvest. Hayrides and warm apple cider are a big attraction at many farms. In earlier years, the harvest season was celebrated with annual fall festivals by farming communities. These are the many fall activities that inspire us to recreate these images inside the home. Bring smiles to your guests with a festive entryway. An entryway that welcomes and greets your family and friends this season.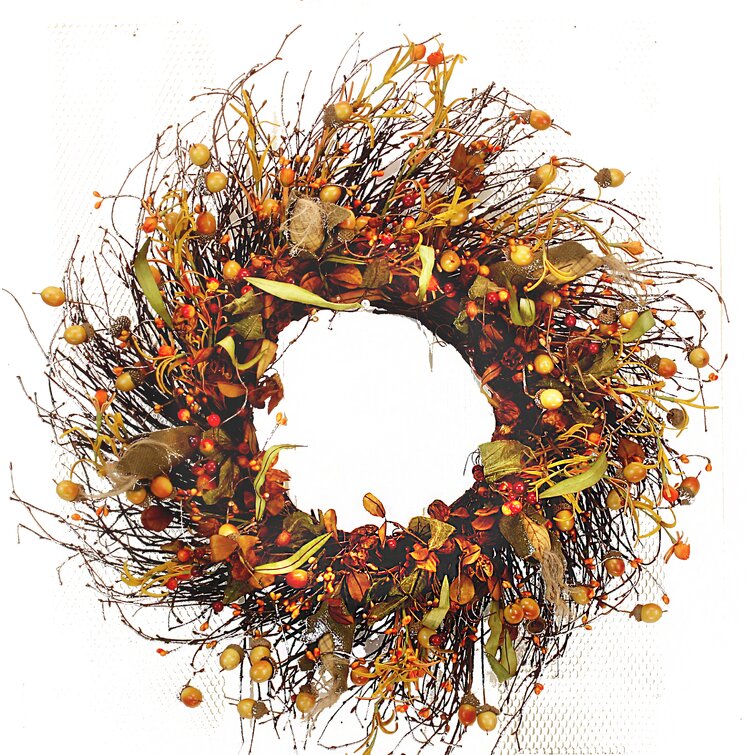 Pumpkins in the Fall entryway are one of the most used decorative accessories. You'll find fresh pumpkins as well as faux pumpkins to decorate with. Faux pumpkins are made from a variety of materials including resin, fabric, burlap, straw, and seagrass. Faux pumpkins are a good substitute for fresh pumpkins. Since fresh pumpkins must be kept in cooler temperatures to remain fresh and avoid spoiling. So using faux pumpkins especially in early September makes sense. At our home, we typically wait for cooler temperatures before putting any fresh pumpkins outdoors or even indoors.
Awesome Autumn Entryways – Welcoming Fall-Inspired Entryway Ideas
There are many great ideas for fall decorating. This is especially true for a foyer or entryway. Since the entryway is one of the first rooms houseguests see when they enter your home. Simply adding a couple of pumpkins, gourds, or mums in the entryway can make a huge difference. Fall pumpkins, gourds, and mums set the ambiance for the home's entryway.
For some great ideas for decorating your foyer, take a look at our welcoming fall-inspired images. These ideas are sure to inspire you when you decorate your entryway or foyer. Take a look.
Display Your Best Wreath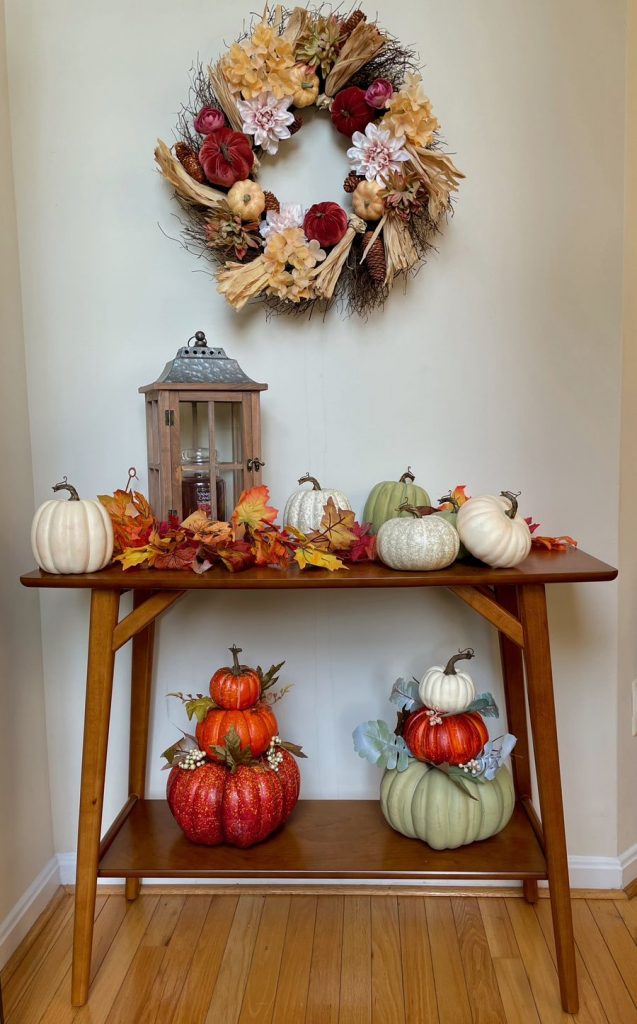 Hang your best festive wreath above your console table or bureau. A wreath is the first thing your guests notice as they are walking into your home. Make it a memorable view.
Style it Gracefully – Welcoming Fall-Inspired Entryway Ideas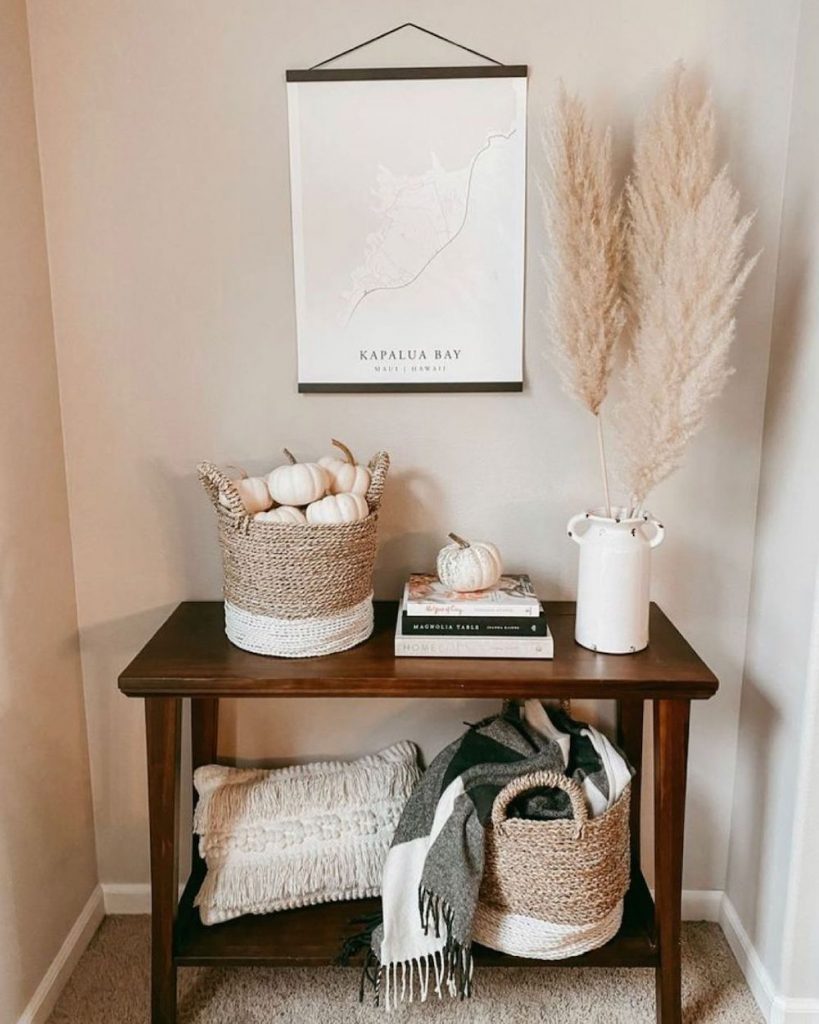 Add a grouping of creamy, feathery plumes for a neutral decor style. Un_refinedliving believes that Fall decor doesn't always have to be styled in farmhouse or orange colored. And based on their entryway design, we agree.
Decorate it in Muted Soft Shades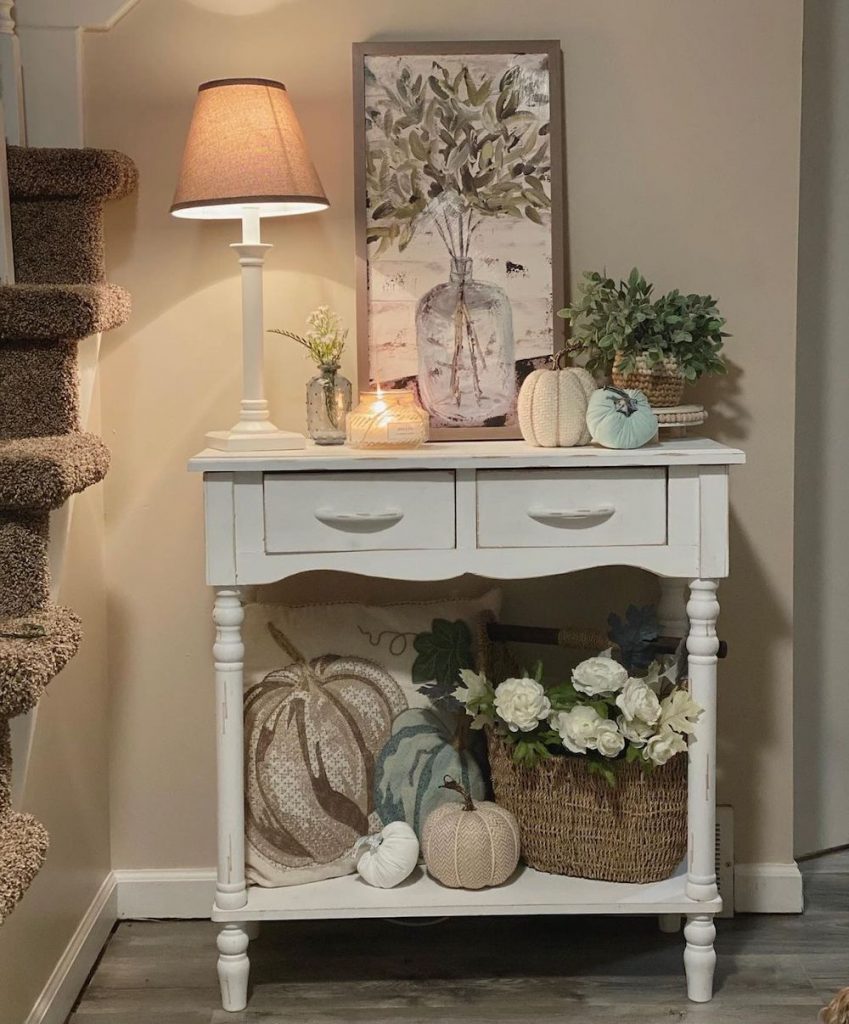 Design an entryway using muted, soft shades rather than bold colors. Add a lamp for soft lighting and wall art to the console table.
Fill a Vase with Foliage in Fiery Copper Tones
Although this entryway has more neutral tones, it never hurts to add a little bright color. Start with a natural console table. Add a vase filled with foliage in fiery copper tones that reminds us of the outdoor Autumn foliage. Gorgeous!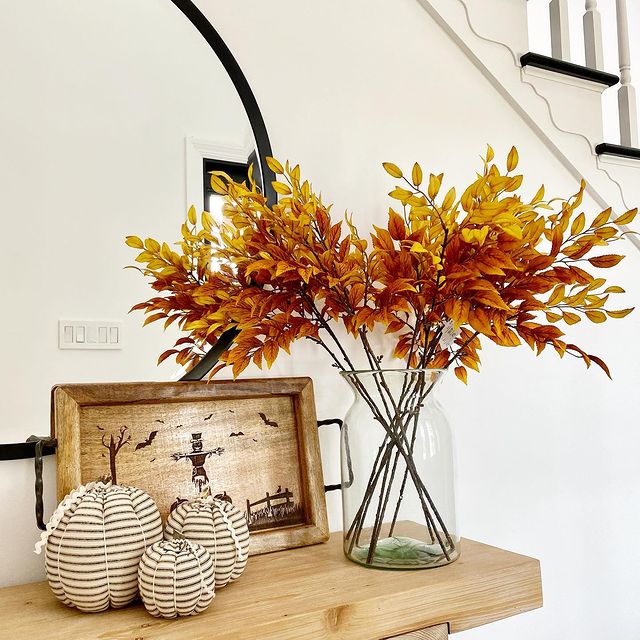 Brighten Your Entryway with a Large Mirror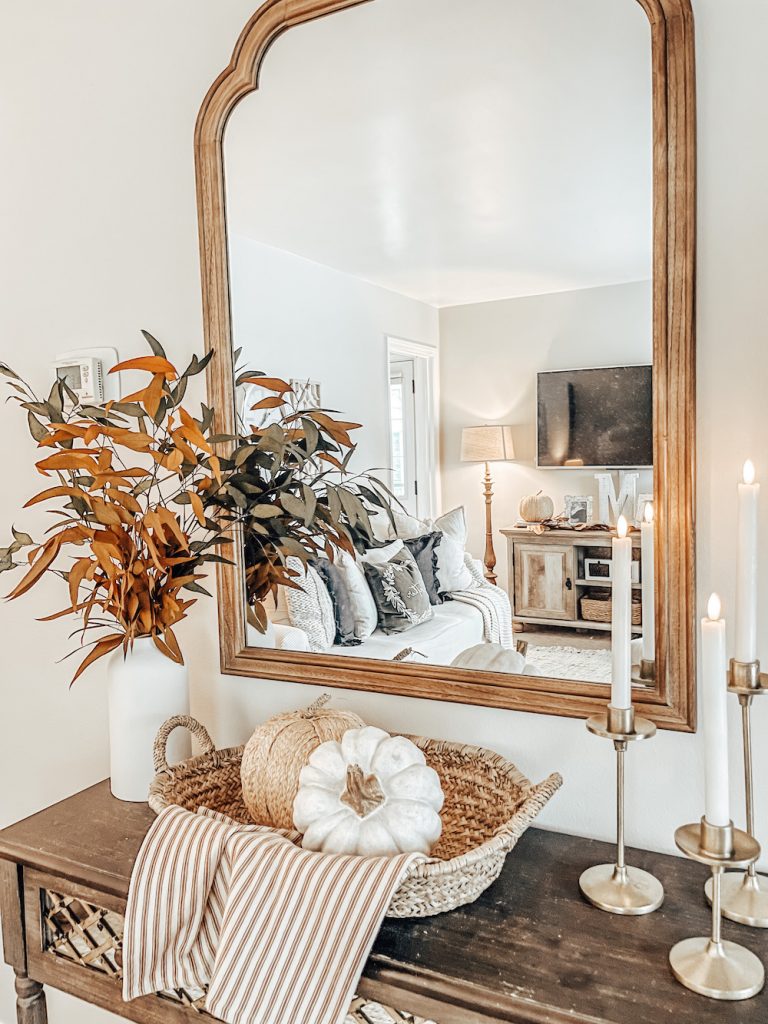 Hang a mirror to reflect natural light into your home. The mirror is framed in a natural finish which creates a nice contrast against the white walls.
Give it a Pop of Orange Color – Welcoming Fall-Inspired Entryway Ideas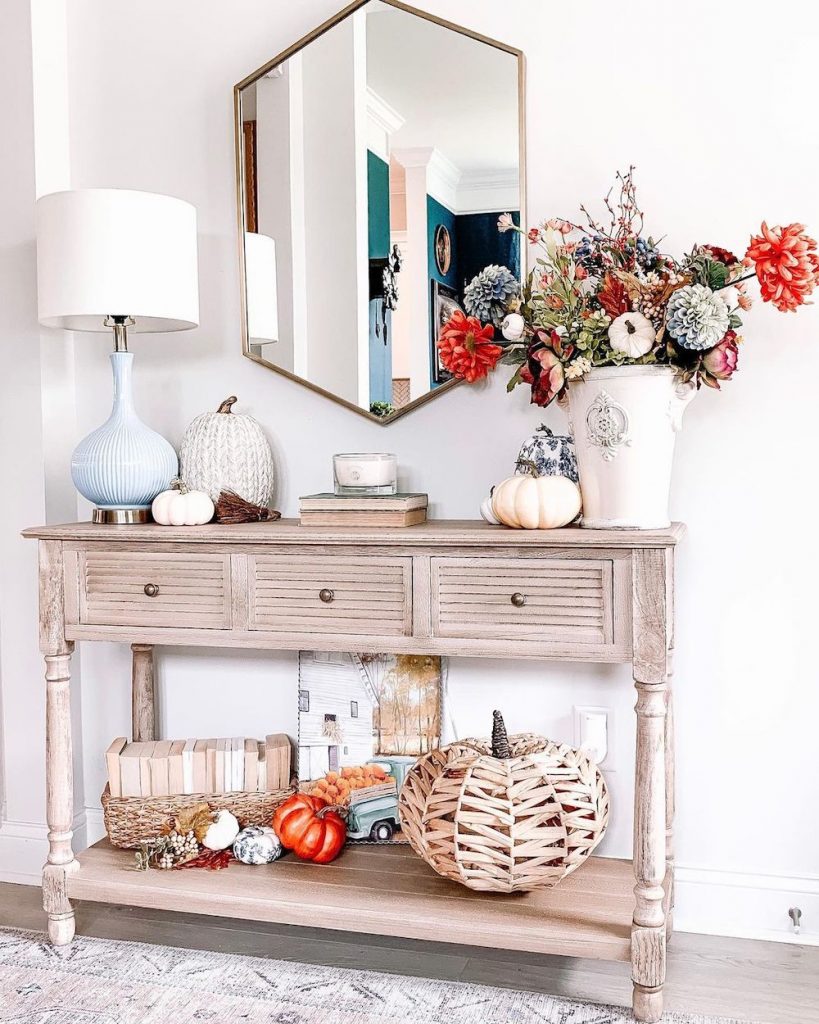 Create a neutrally decorated entryway. Then add a pop of orange-red color that is similar to the autumn leaves.
Start with a Rustic Console Table – Welcoming Fall-Inspired Entryway Ideas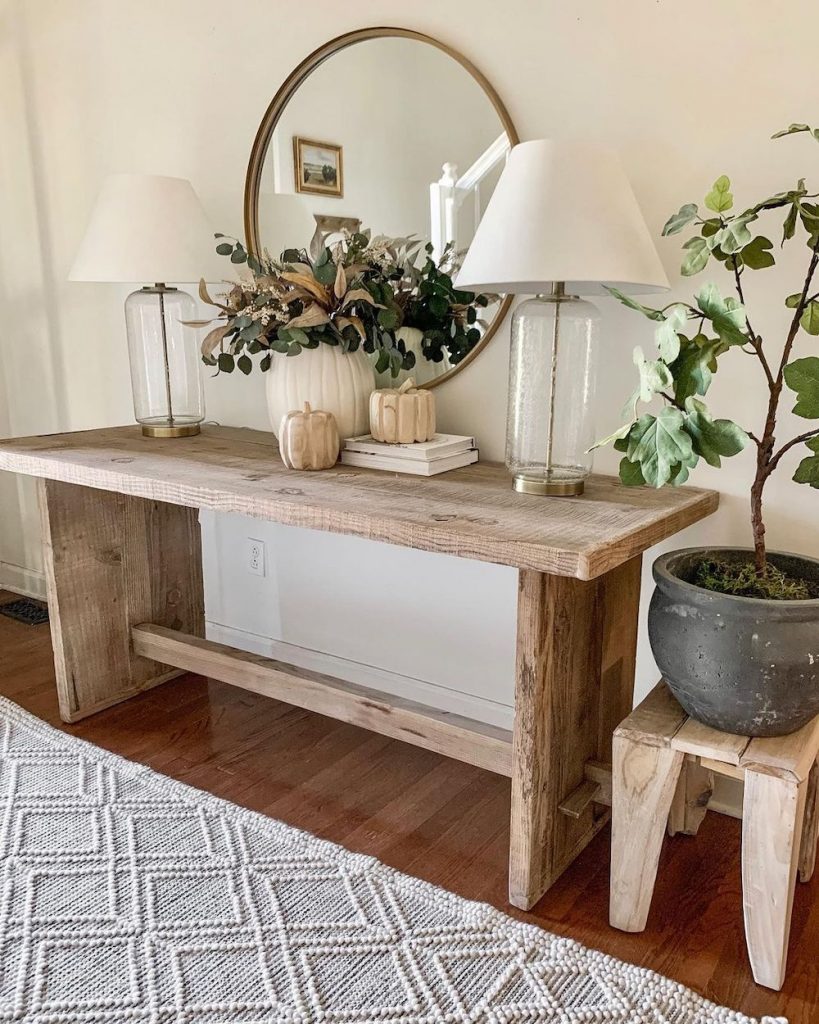 The naturally finished console table provides a nice neutral base for the two table lamps and cream-colored pumpkin-shaped vase. Neutral colors create a soothing effect on the entryway.
Work in a Little Black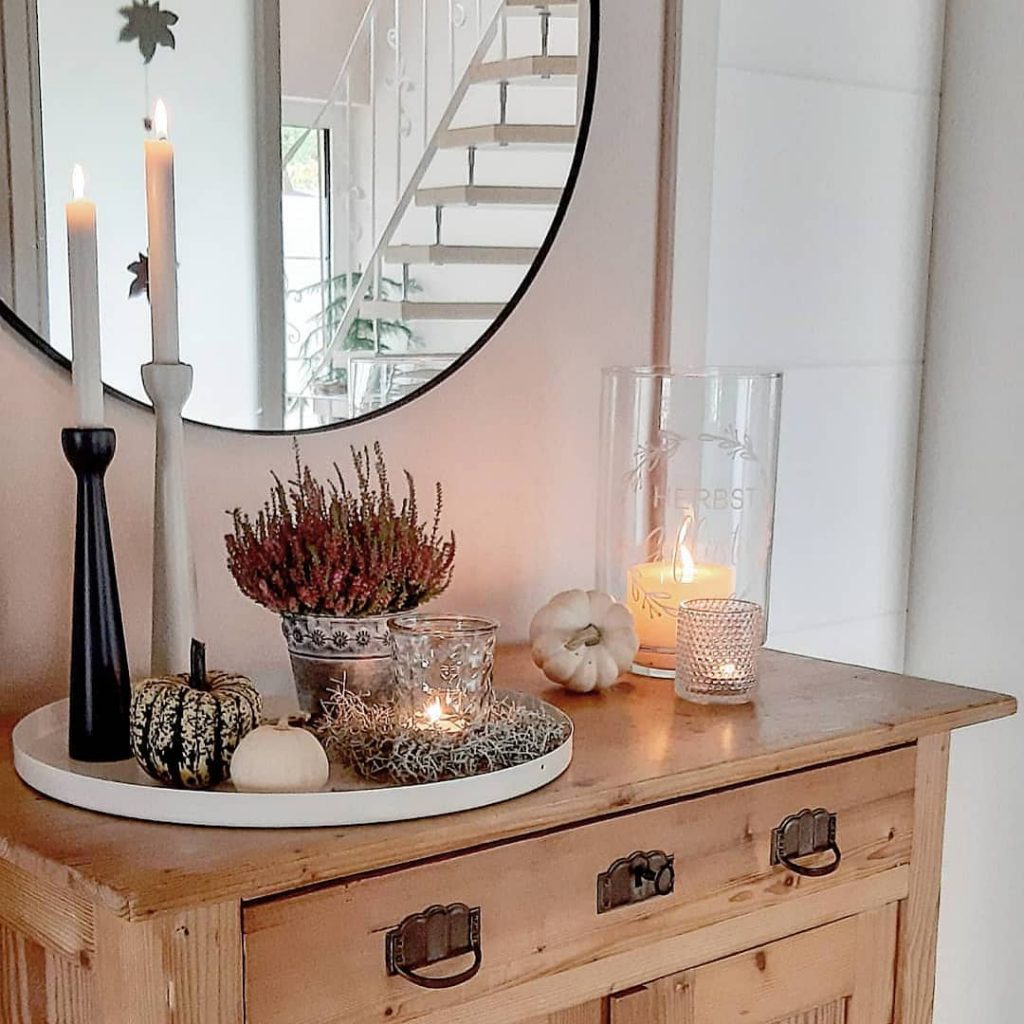 Add a few black accessories for visual interest. The accessories contrast well with the pine table in a natural finish. Light a few candles to give the space a little ambiance.
Go with an Urn Shaped Vase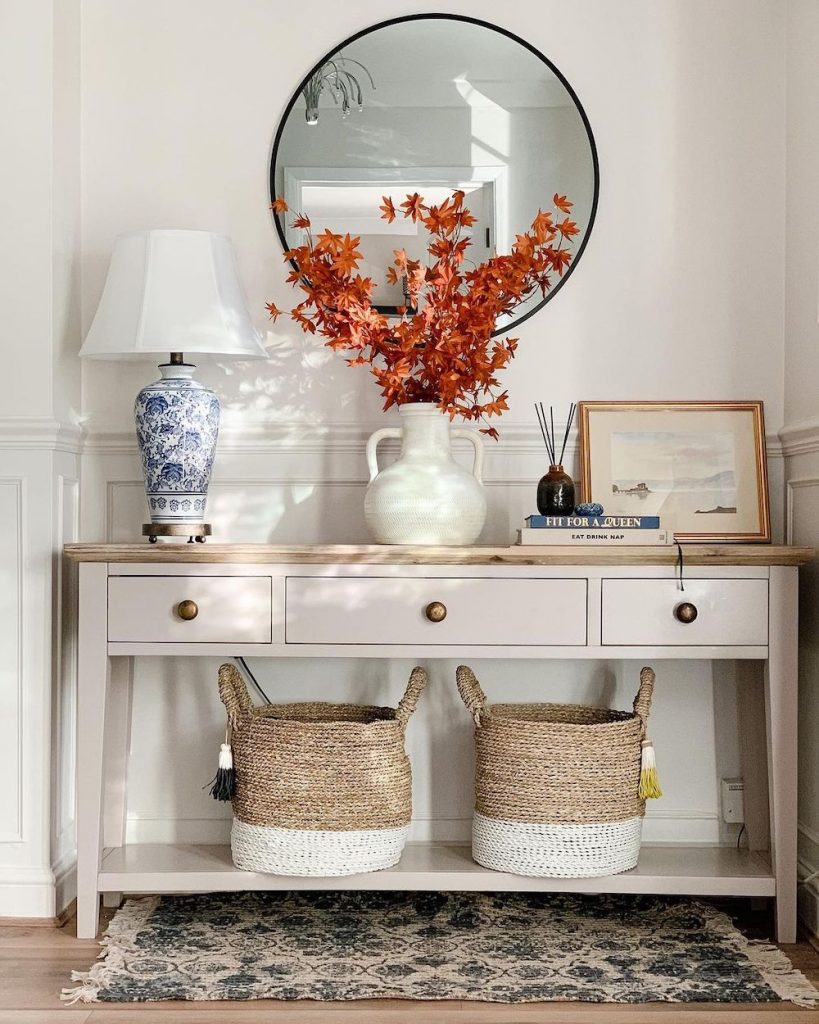 Style your entryway with an unexpected object such as the urn-shaped vase. Tuck inside the vase a few branches from a Japanese Maple tree. True fall colors of golden yellows and fiery reds cover Japanese Maple trees during the fall season. So beautiful to see.
Go Green – Welcoming Fall-Inspired Entryways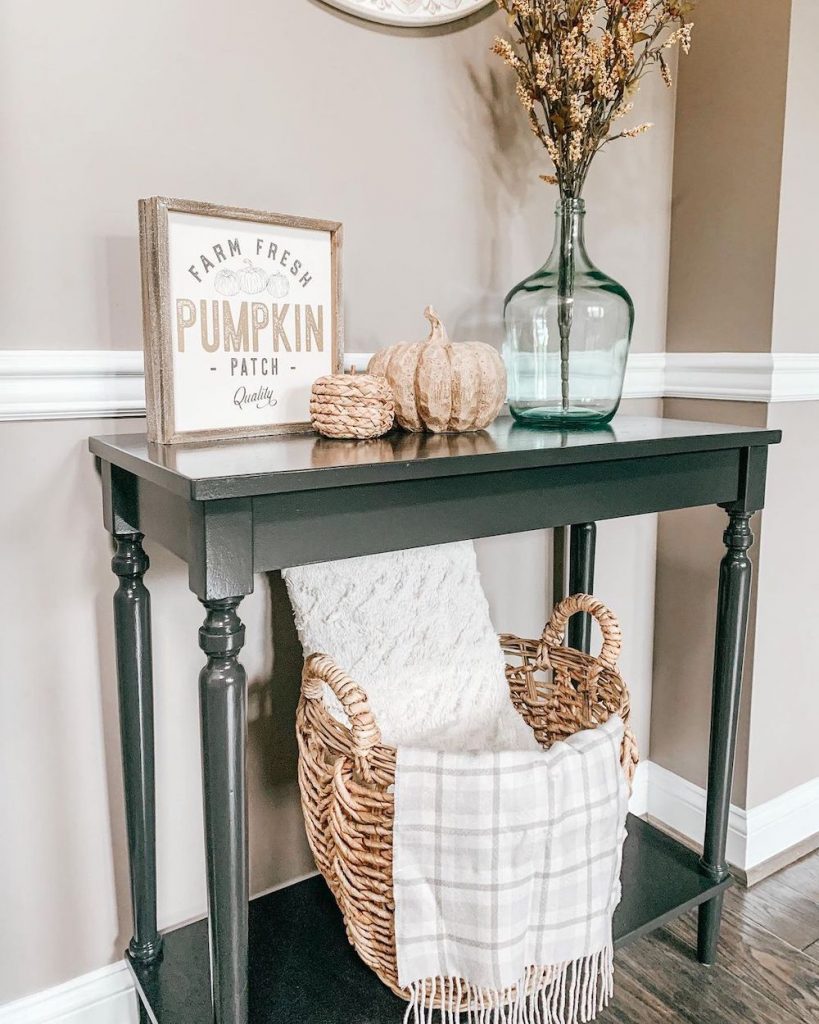 Style a console table in a terrific organic green shade. Add a couple of natural finish pumpkins and of course, a cozy little throw for warmness.
Style it with a Demilune Table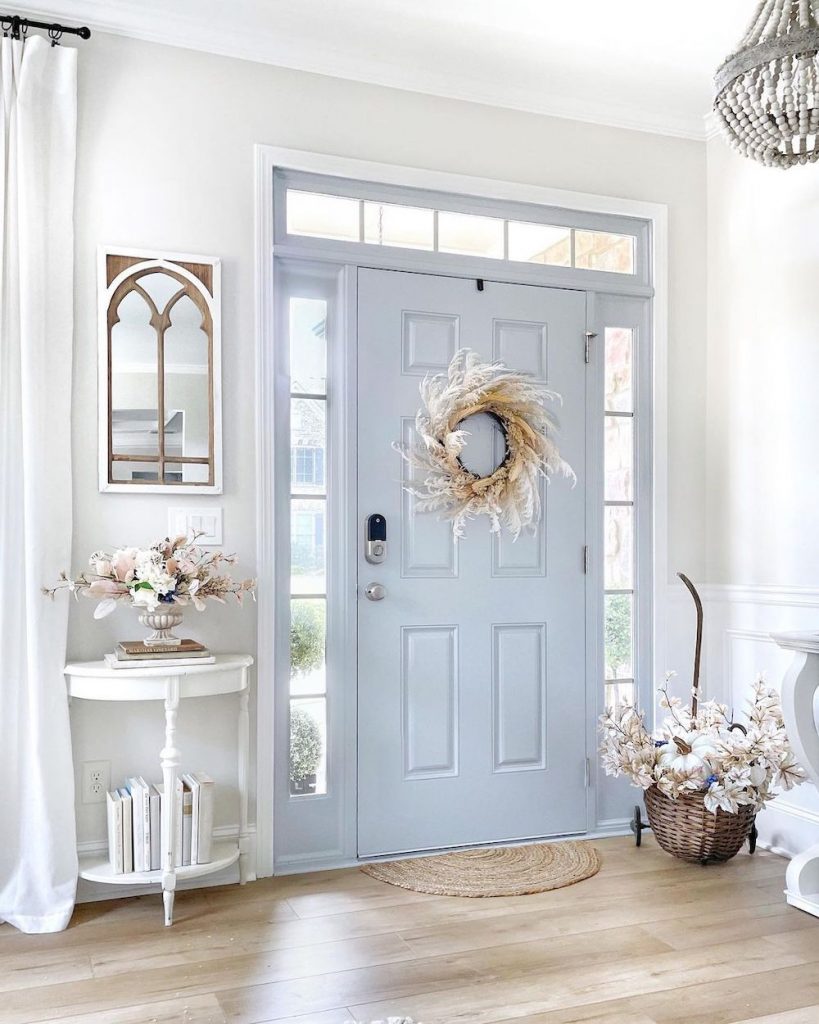 For extra tight spaces, add a small demilune table. Add a mirror that is to the scale of the demilune table. A perfect fall table for smaller spaces.
Make it so that it … Feels So Good to be Home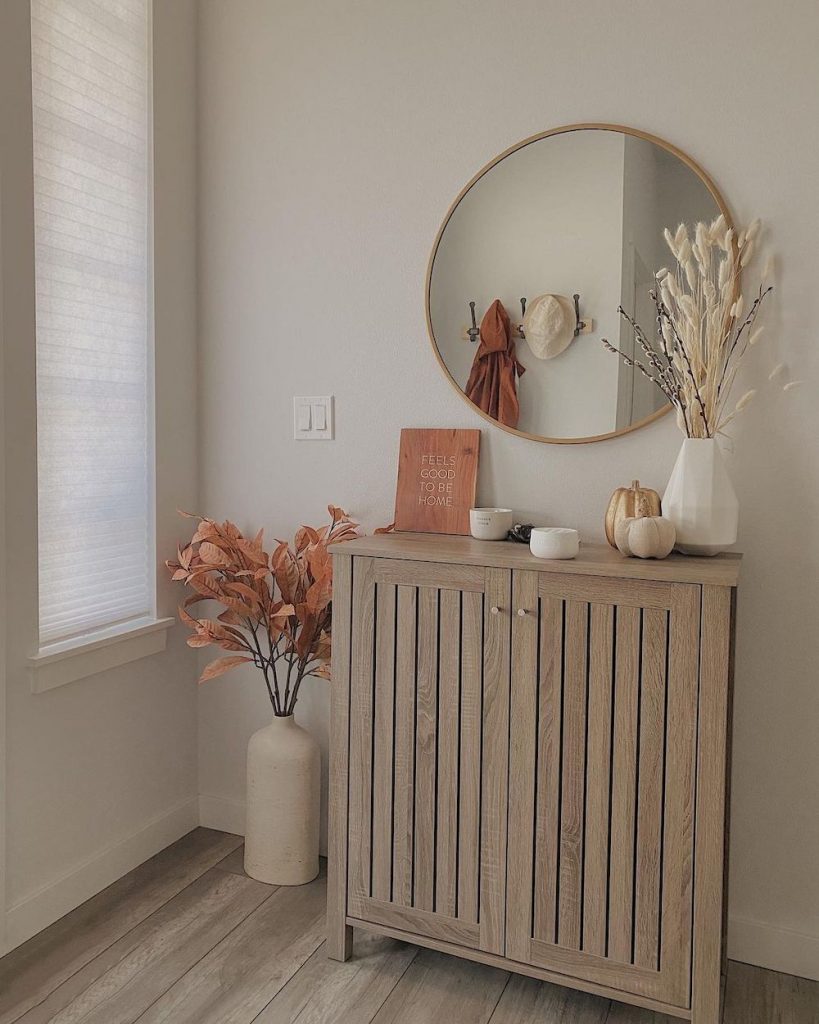 Style it so cozy that you'll never want to leave. Natural warm beiges, whites, with a tad of muted orange color, so perfectly styled for the Autumn season. This entryway sports a perfectly sized cabinet that holds a little extra storage. Nice!
Hang a Fall Buoy – Welcoming Fall-Inspired Entryway Ideas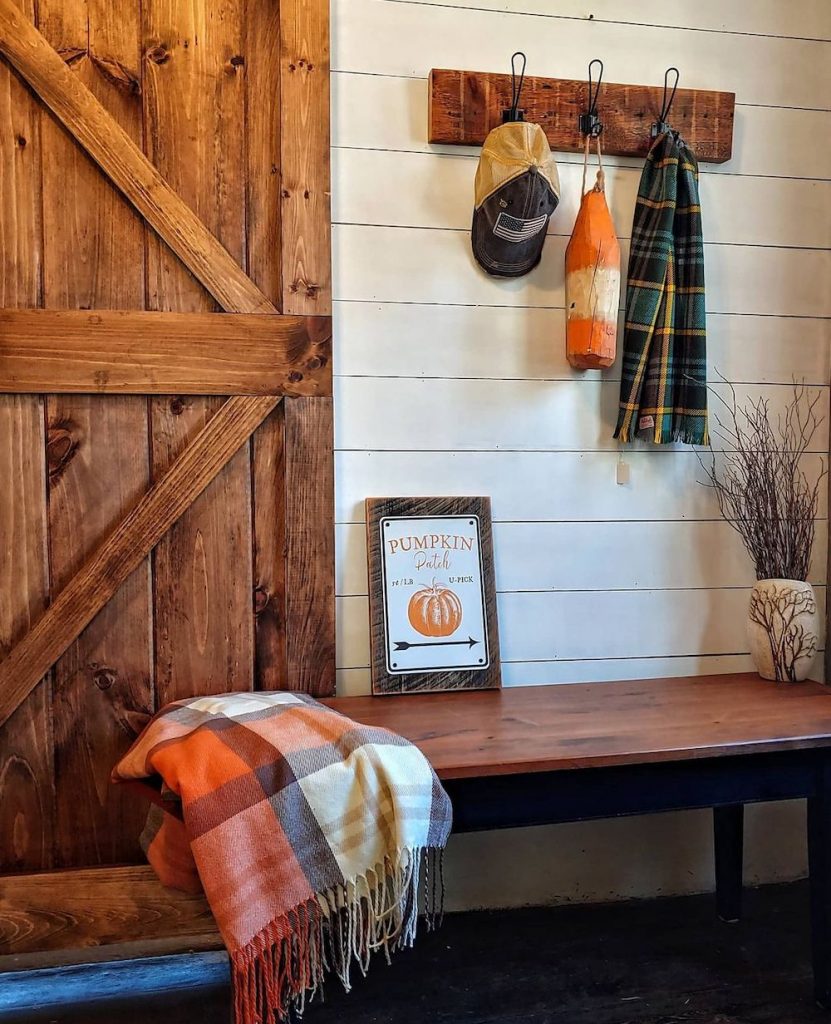 In this cozy little entryway, start with a bench for guests to rest for a minute or two. Or for placing their belongings on. Followed by a pumpkin patch sign and a Fall buoy. And a fall plaid blanket draped across the wood bench. The ultimate in coziness.
Add Extra Storage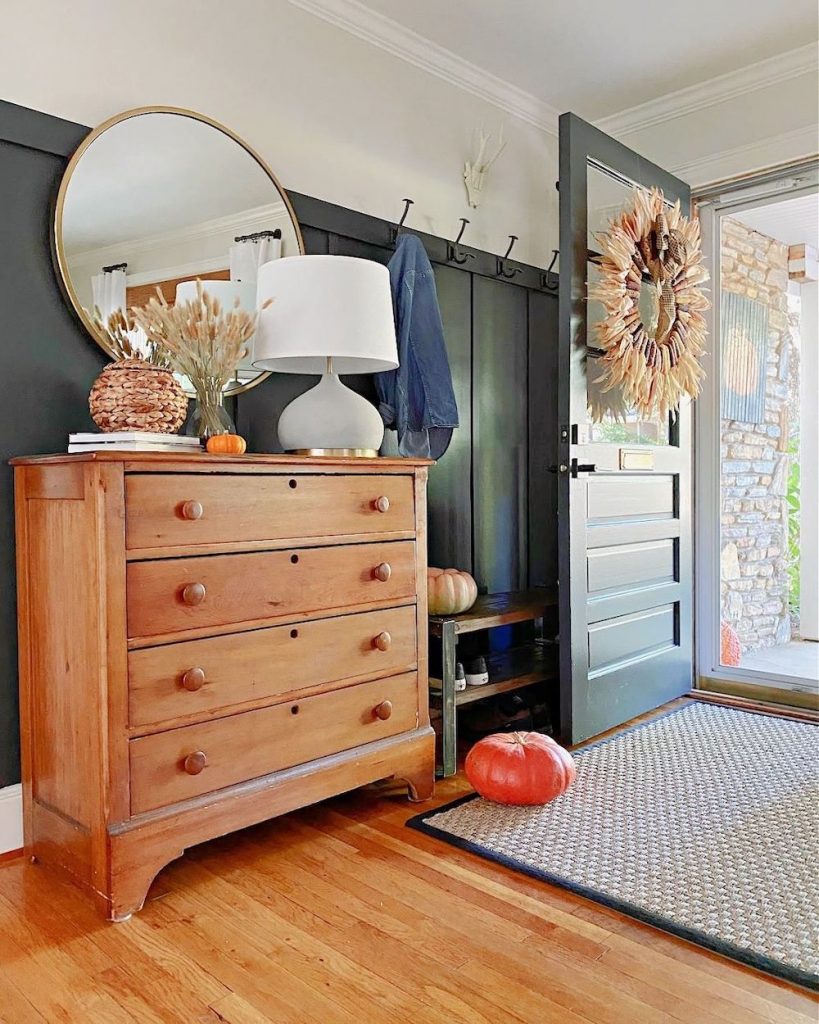 Keep a bureau near the front entryway door for organization and loads of storage. Add a few pumpkins with a vase full of bunny tails. Now you are all set!
Style it Elegant – Welcoming Fall-Inspired Entryway Ideas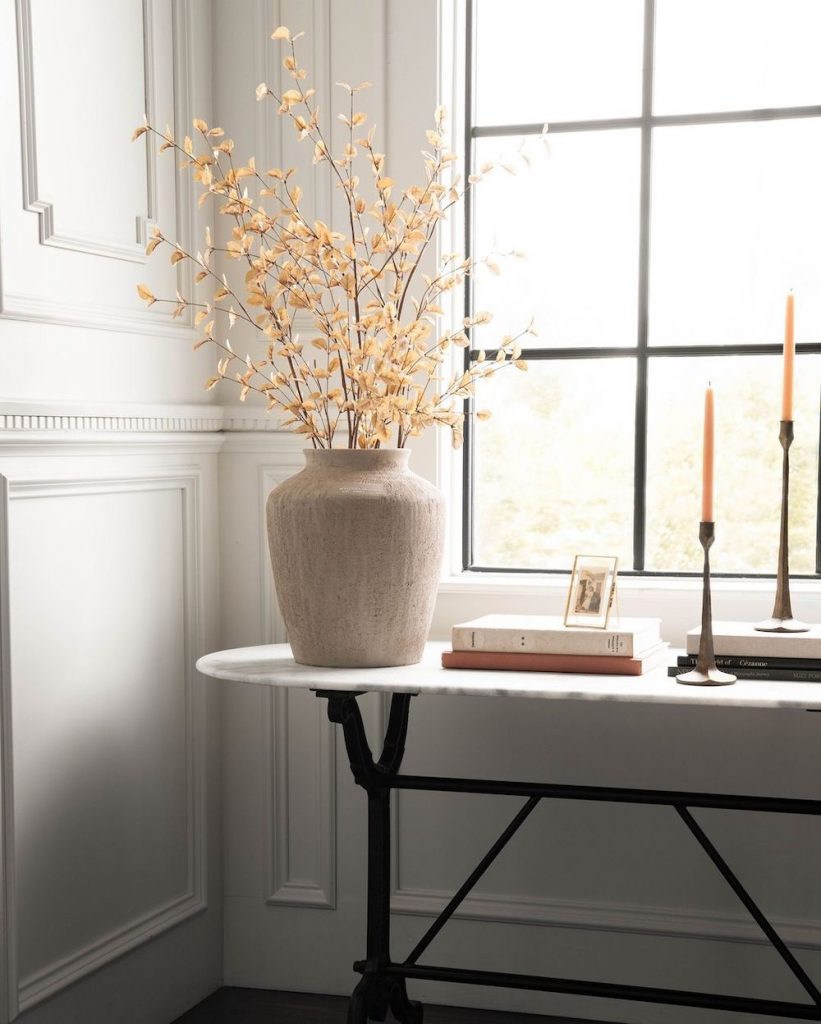 Group a set of beige eucalyptus stems inside a textured vase for a stunning neutral Autumn display.
Decorate it in Neutral Vintage Style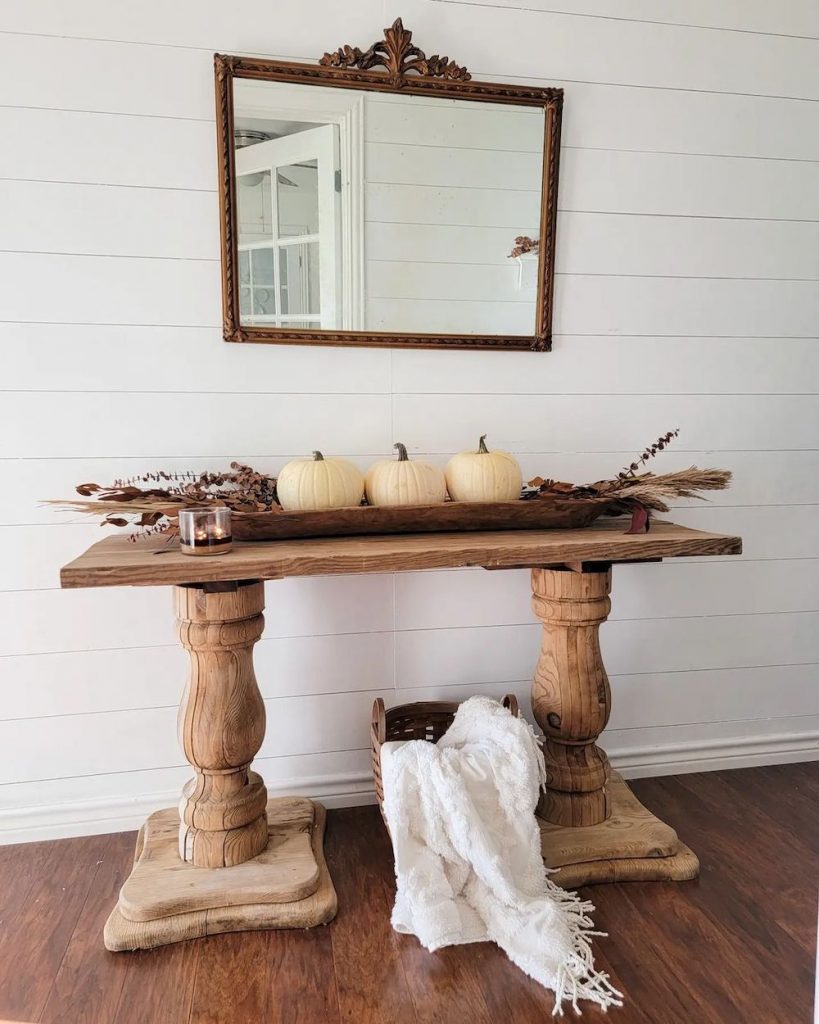 For a vintage look, start with a naturally finished console table. Hang a decorative, ornate mirror over the table. In a wooden brown tray, display a trio of Casper pumpkins over dried foliage. A polished neutral decor style, perfect for the Fall season.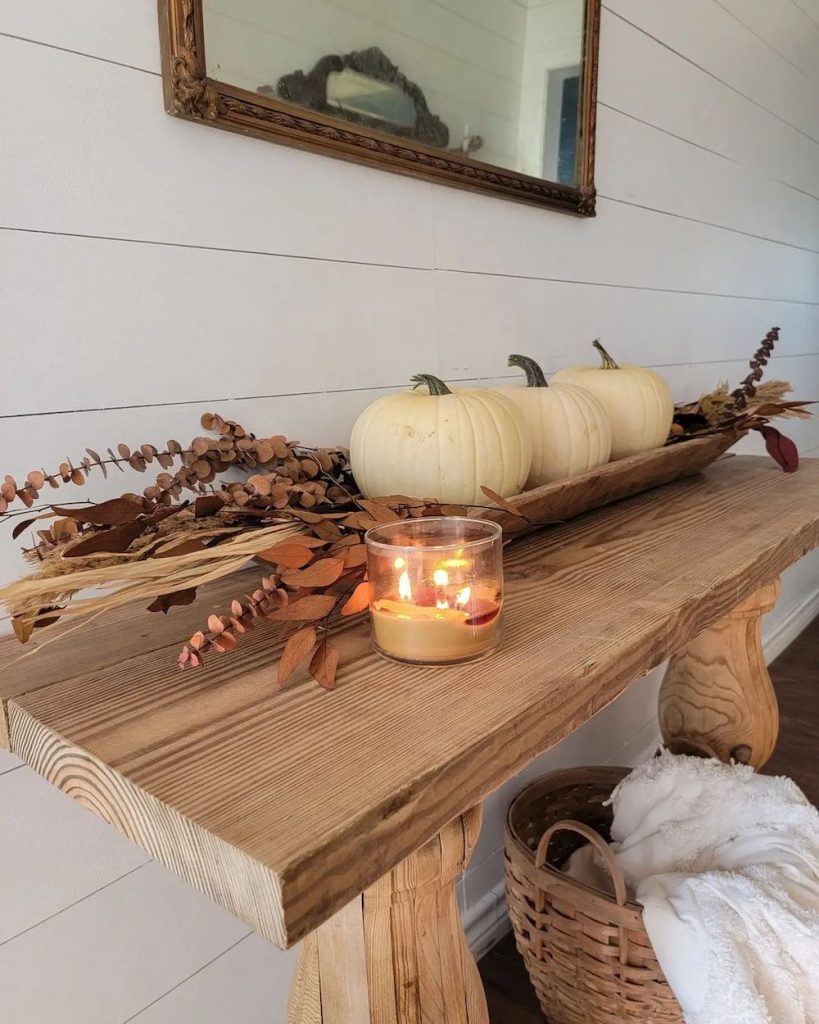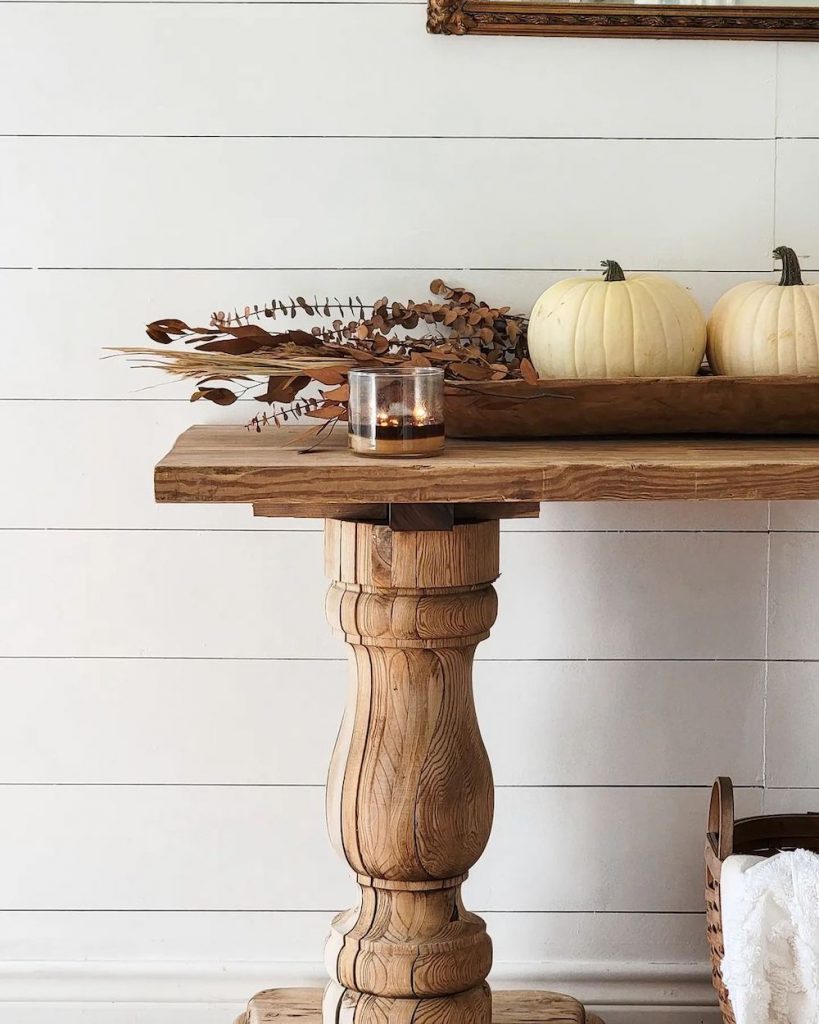 Drape a Festive Banner Across the Display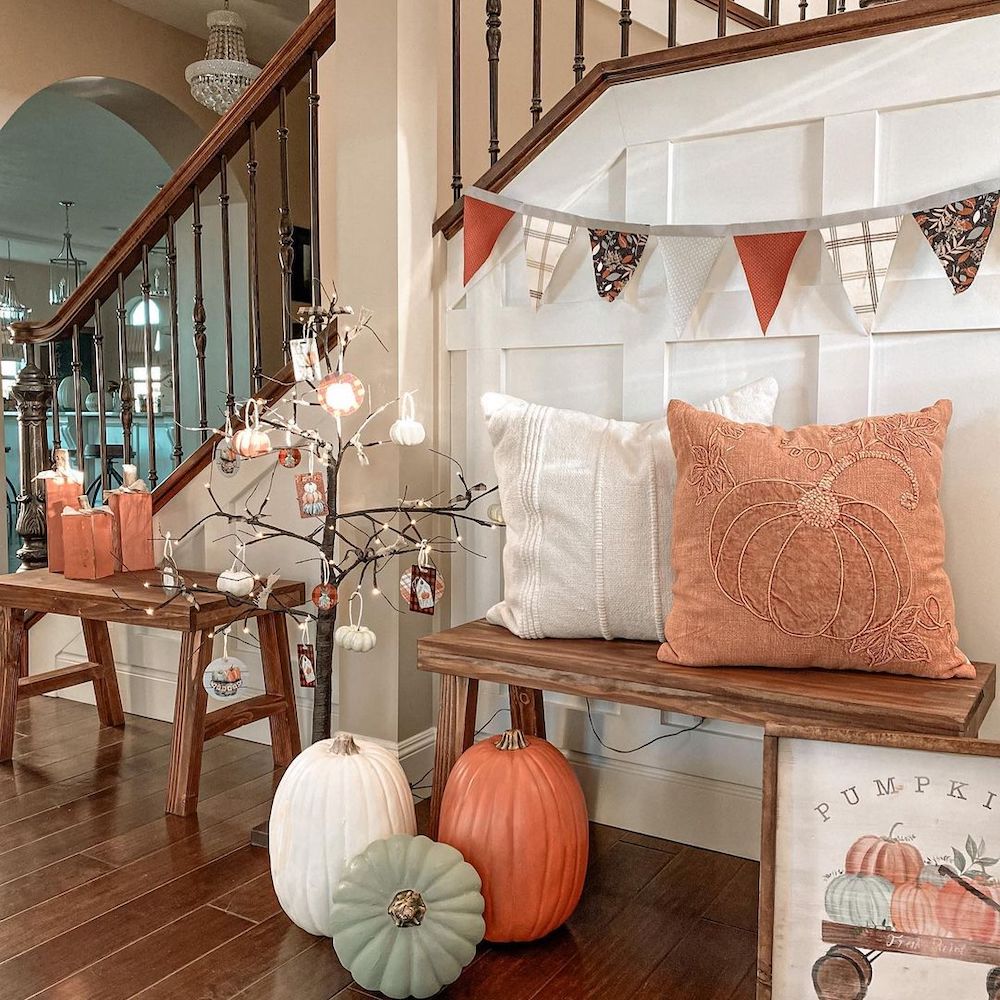 Hang pumpkin ornaments and lights on a fall leafless tree. Follow with a festive banner to celebrate the harvest season. Fall pillows, pumpkins, and benches greet your house guests this season.
Start with a Pale Blue Table – Welcoming Fall-Inspired Entryway Ideas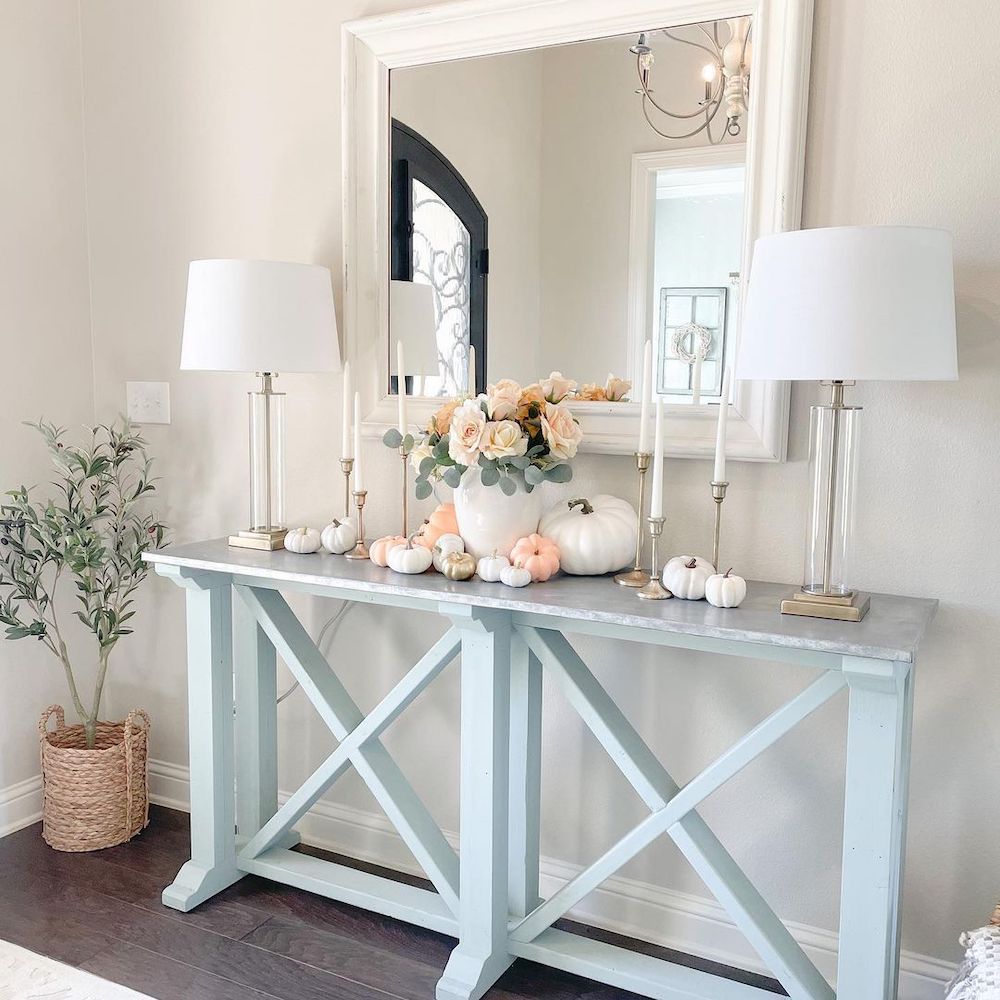 The pale blue console table sets the stage for the fall decorative accessories. Fill a white vase with light-colored peach roses over gray eucalyptus foliage. Display mini pumpkins in white and pale orange around the base of the vase and candlesticks. With a single miniature gold pumpkin placed front and center of the table vignette. Well done.
Add Signage to the Entryway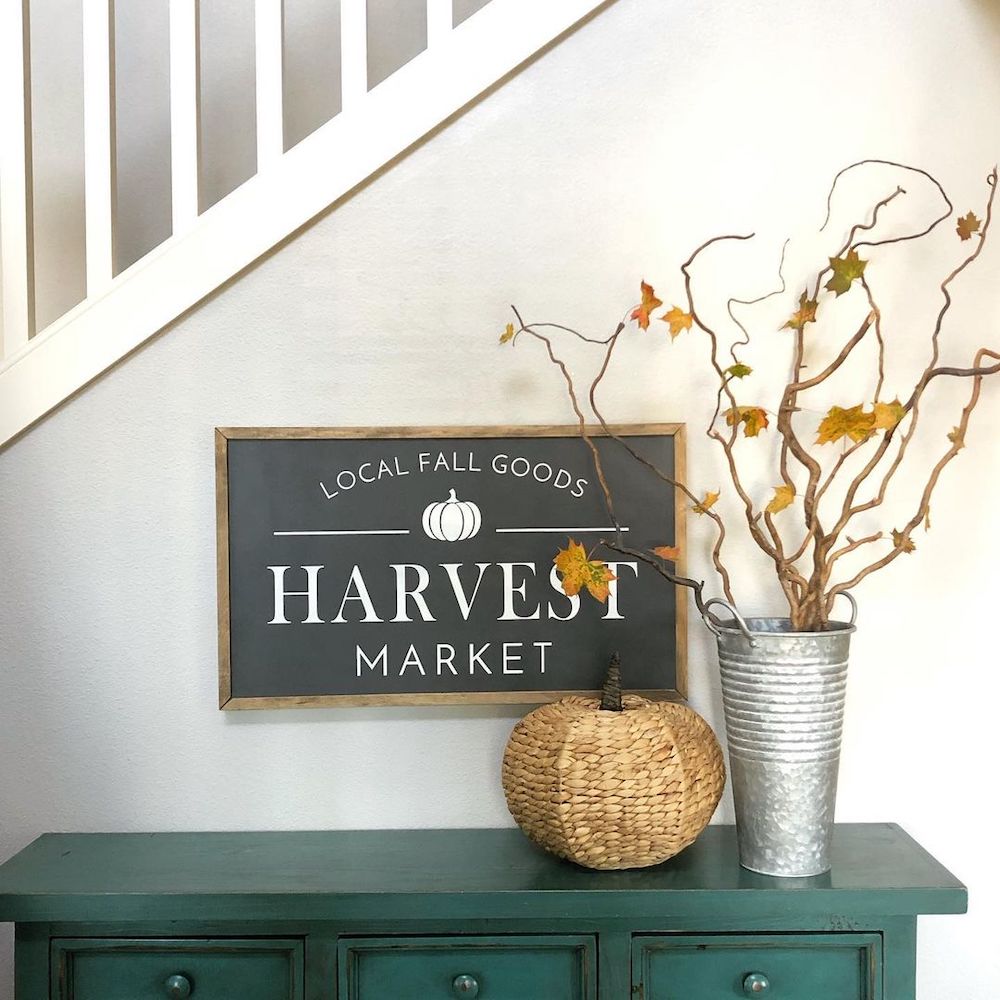 Use a cute harvest market sign on the console table. And a vase with branches of maple leaves.
Style the Entryway with a Cozy Bench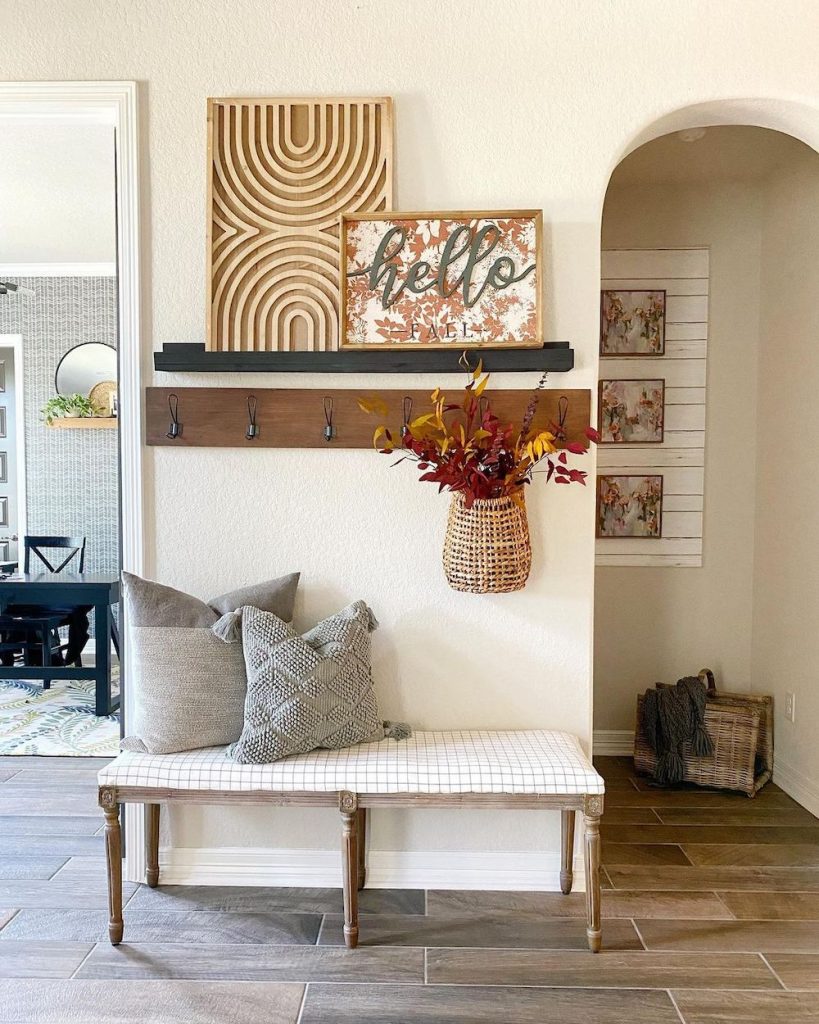 Keep a bench in the entryway for house guests. A perfect spot to rest or a place to lay your bags. And right above the bench are conveniently placed hooks for hanging a jacket or bag. A clever design that is big on style.
Pack it Full of Cuteness – Welcoming Fall-Inspired Entryway Ideas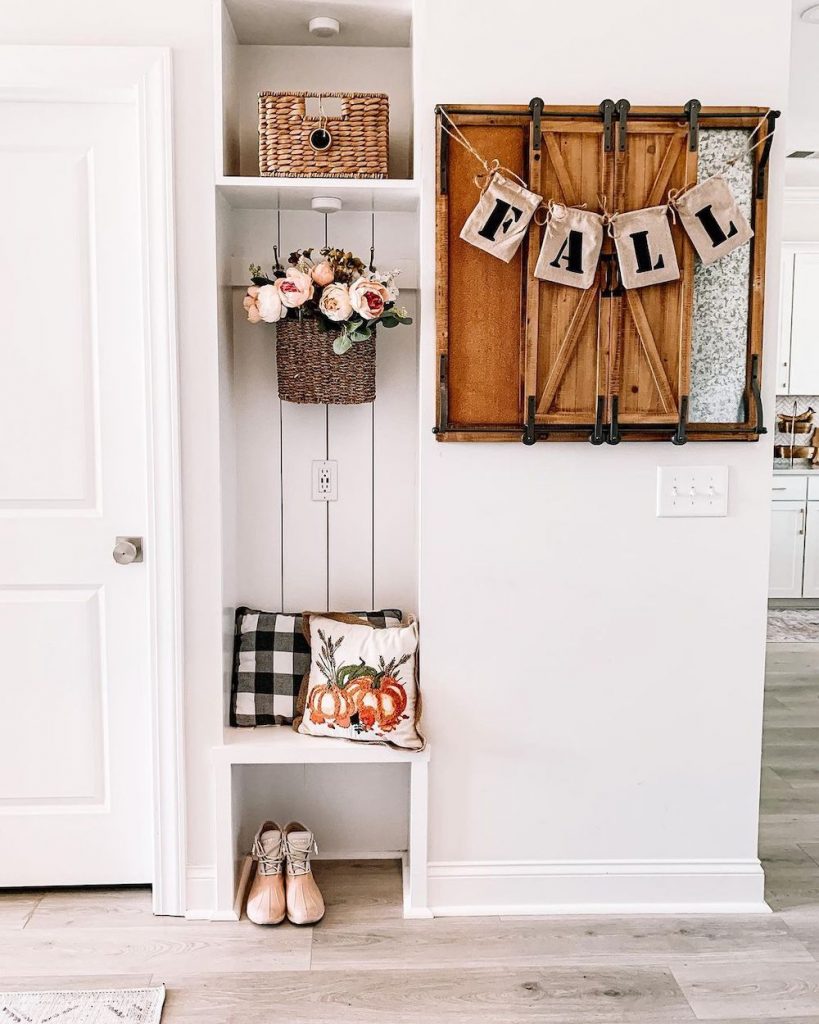 No matter how small your entryway is, pack it full of cuteness. These three cubby hole areas are the perfect places for organizing and styling. The top tier has a seagrass basket serving as a catchall for miscellaneous items. The center section features a basket of faux roses and fall pillows. While the bottom flooring section is ideal for keeping shoes out of the main walking area.
The wall art adds some farmhouse charm to the space.
Keep the Autumn Vibes Flowing
Begin with a naturally finished console table and an ivory-framed mirror. Follow with a filled vase of faux bittersweet branches. Display a grouping of miniature pumpkins, a gourd, and pine cones for a festive Fall entryway.
Wrap Your Guest in Coziness – Welcoming Fall-Inspired Entryway Ideas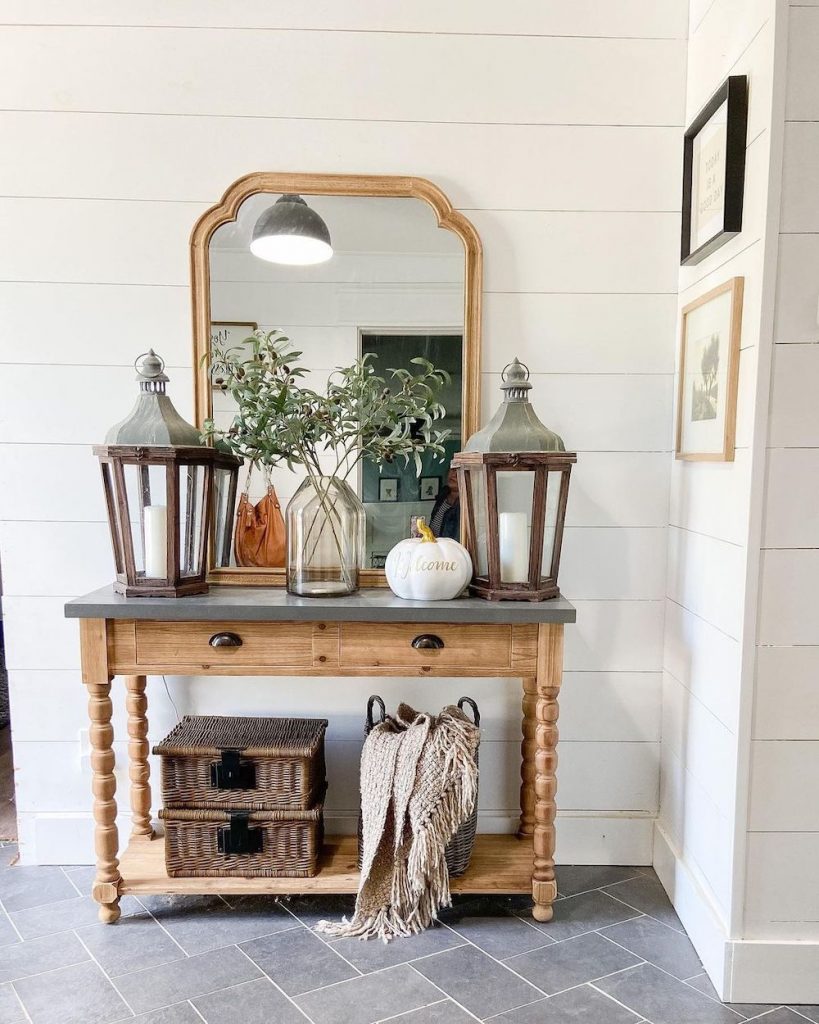 Light up your entryway with a mirror and bright lanterns. And always keep a throw handy for cooler evenings.
Display a Bountiful Harvest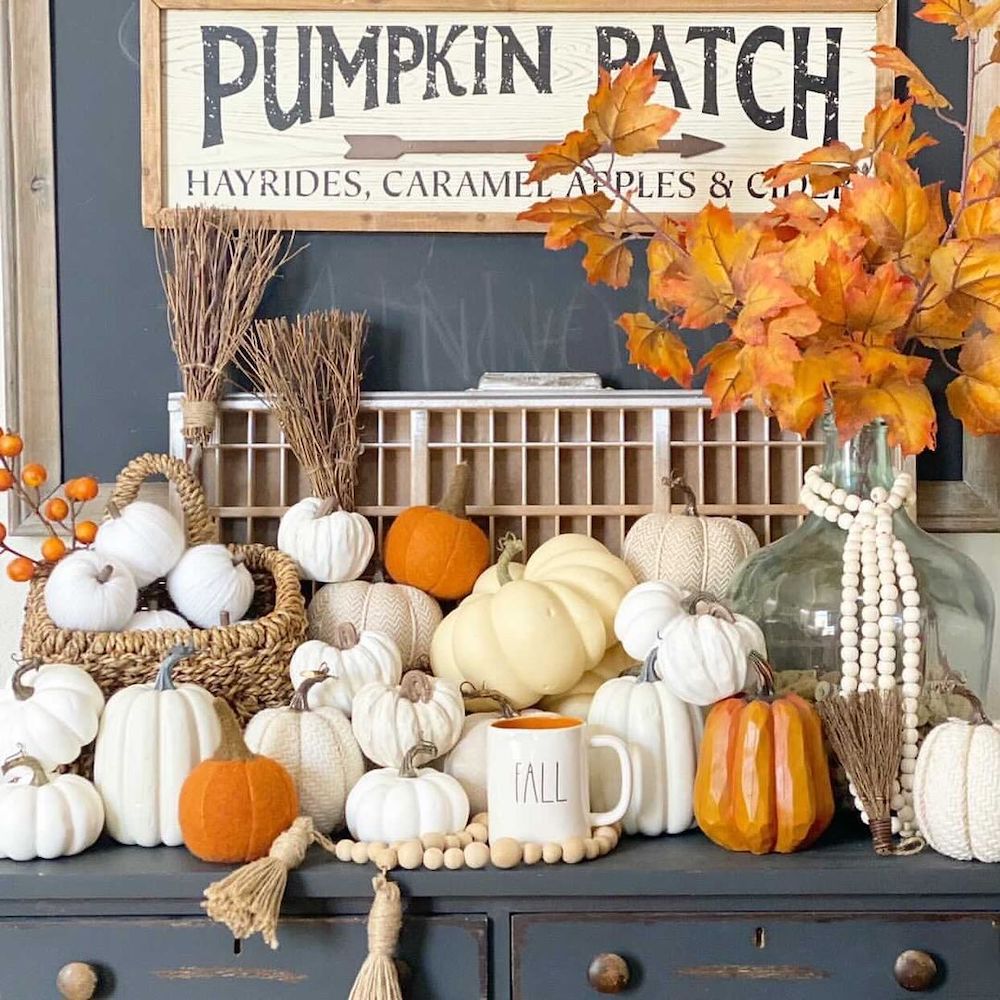 Put your pumpkins on full display over your console table. Celebrate this year's harvest season with loads of pumpkins.
Tell your Houseguests How Much You Love Fall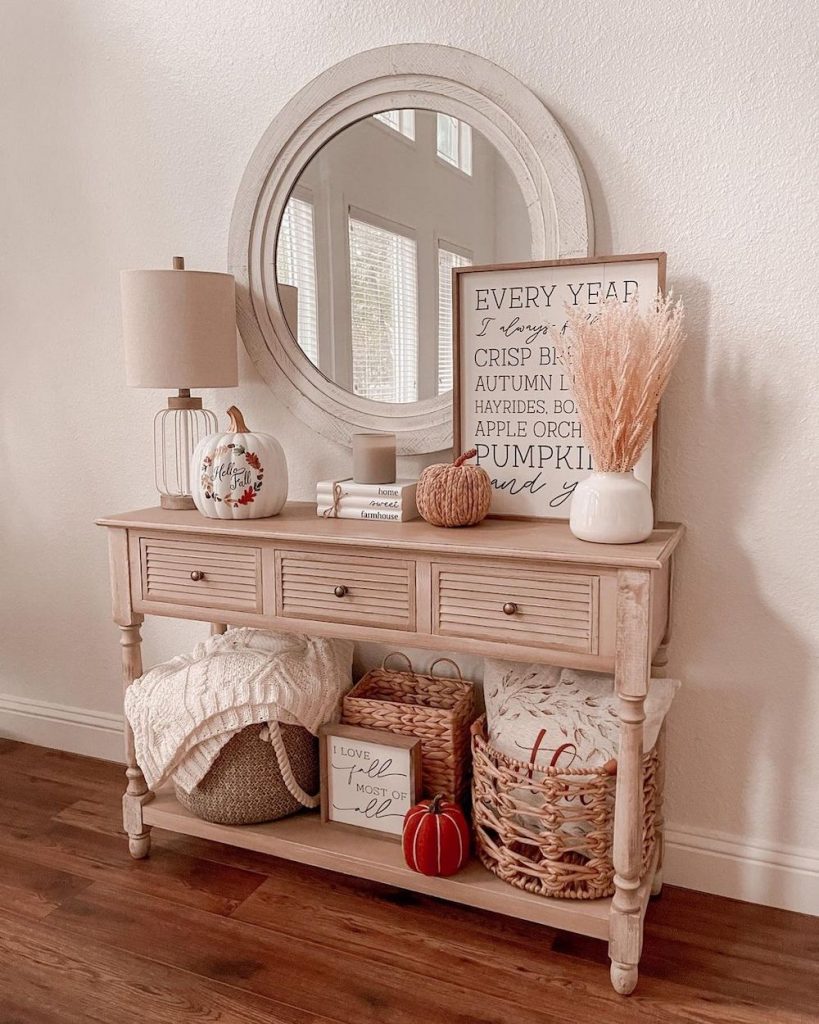 Display a list of your favorite Fall activities on your console table. All perfectly styled in a neutral decor. And always keep some cozy fall throws and pillows for cooler late nights.
Tell Your Houseguests a Little About Yourself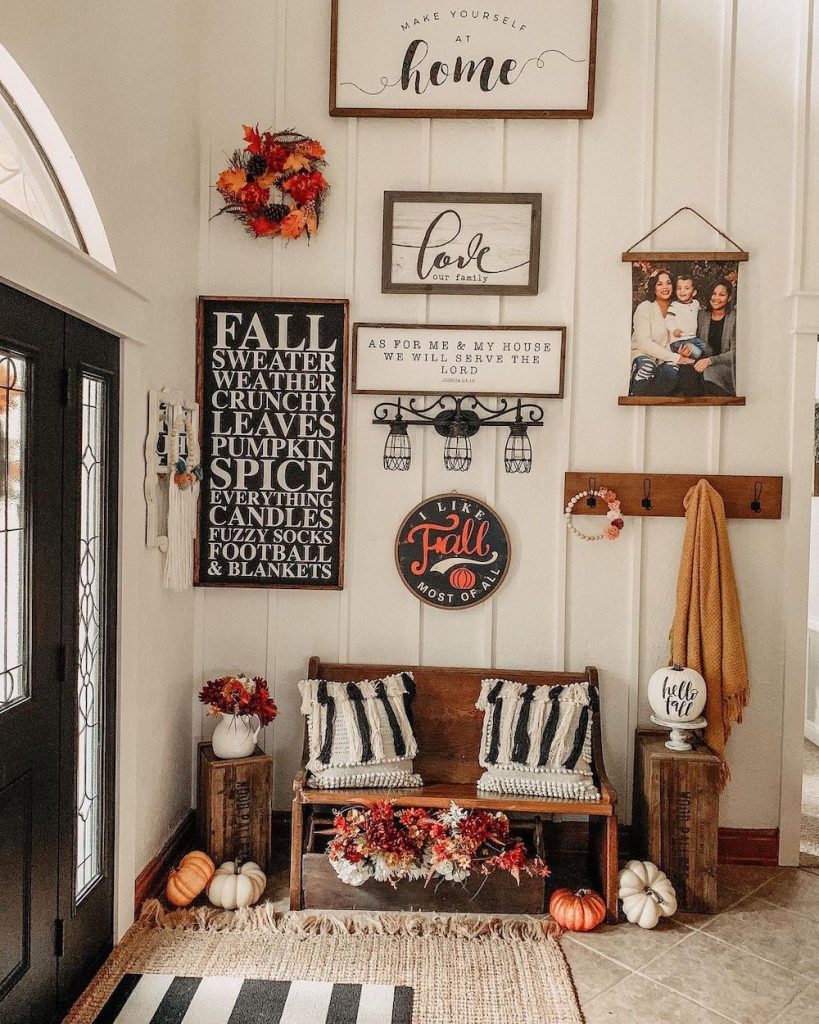 A Fall entryway is always about you, your home, and your life. In this Fall foyer, the designer tells us about her love of her family as well as the season. Full of pumpkins and mums, this entryway exudes coziness.
Keep a Contrast Theme – Welcoming Fall-Inspired Entryway Ideas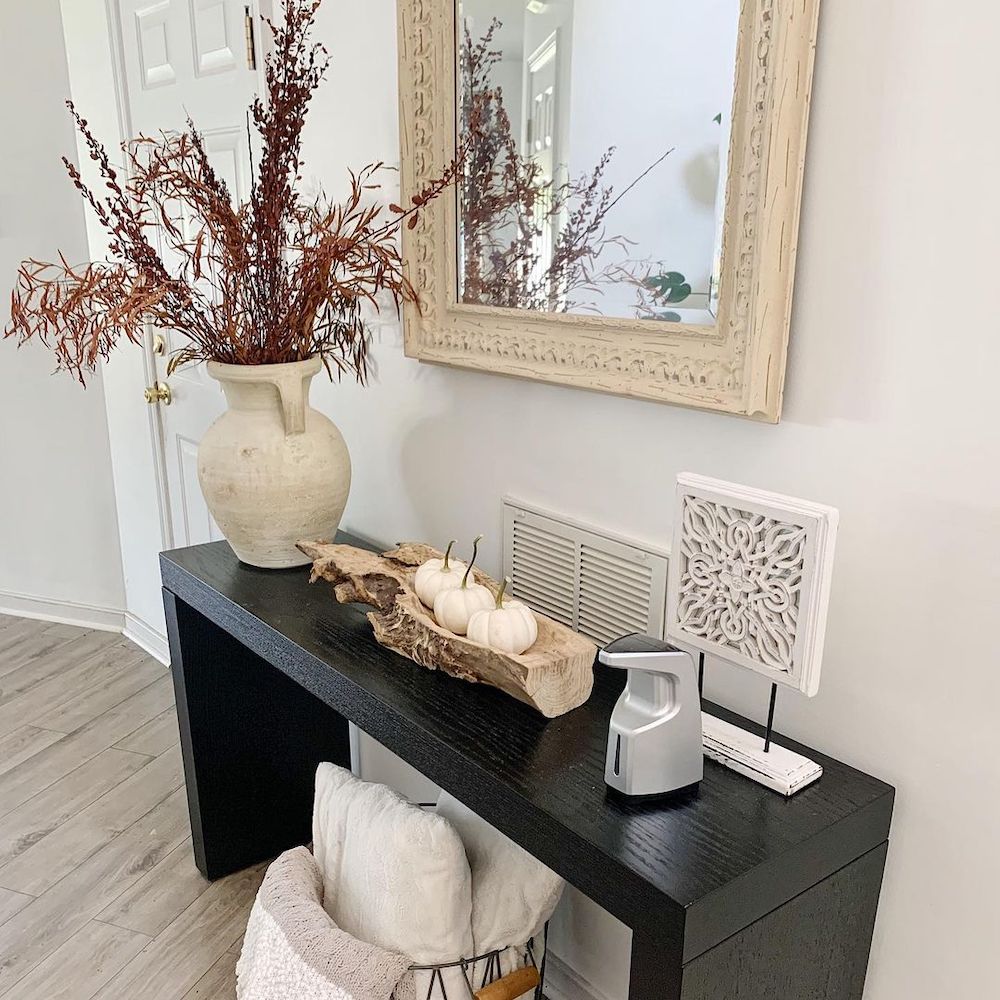 We love the contrast of the dark contemporary console table with the cream-colored urn and vintage-influenced mirror. Drop a little fall stems in the urn and a trio of pumpkins into the carved wood centerpiece. And you are done!
Bring out the Warm Wooden Tones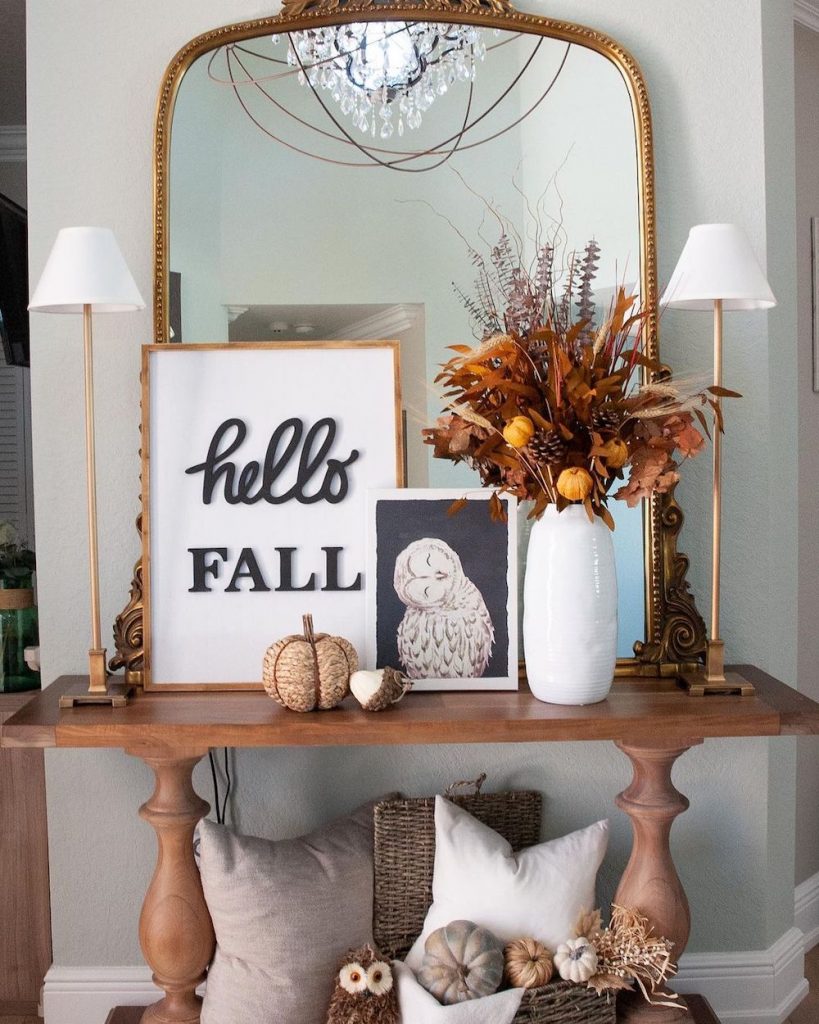 The warm wood tones of the console table set the Autumn mood. Add a large, gold Gleaming Primrose Mirror and a set of buffet lamps for a bigger impact. Then finish it off with a cute owl picture and a fall pumpkin bouquet in a white vase. An impressive Autumn display for your houseguests to envy.
Go with a Wicker and Black Frame Table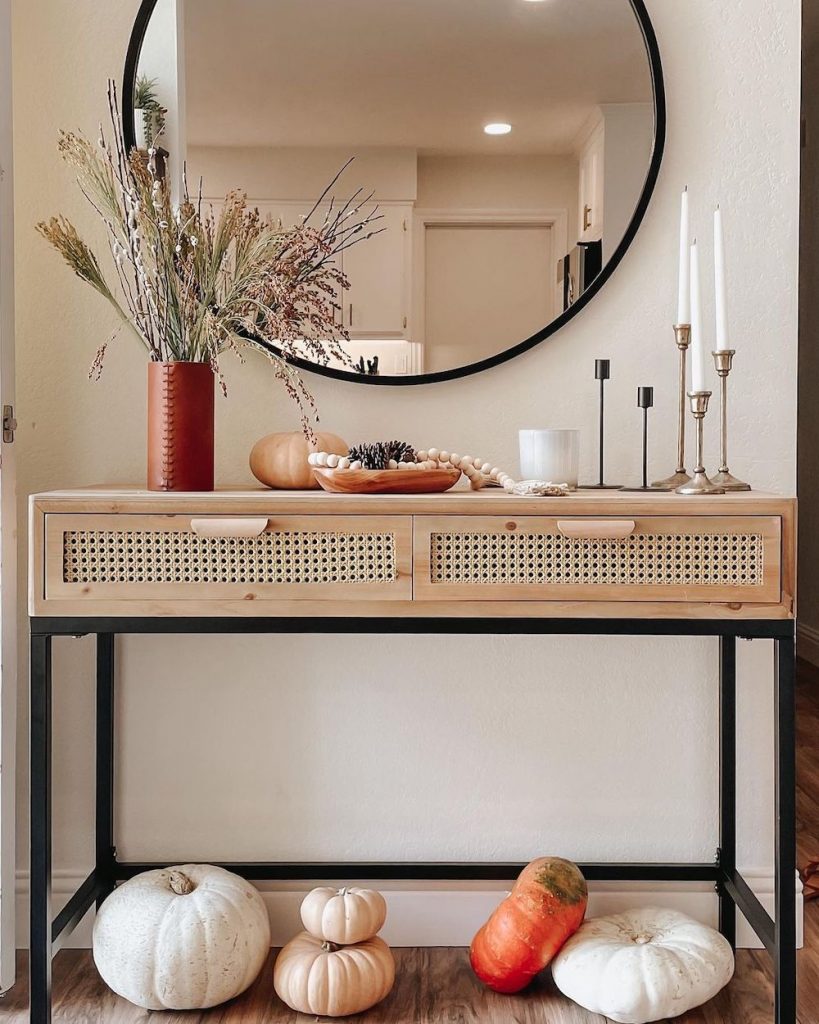 Top off your console table with a round mirror in black. Bring in some dried floral stems for a vase. Add some of your favorite candles and a mix of pumpkins.
Add Wall Art to Your Console Table – Welcoming Fall-Inspired Entryway Ideas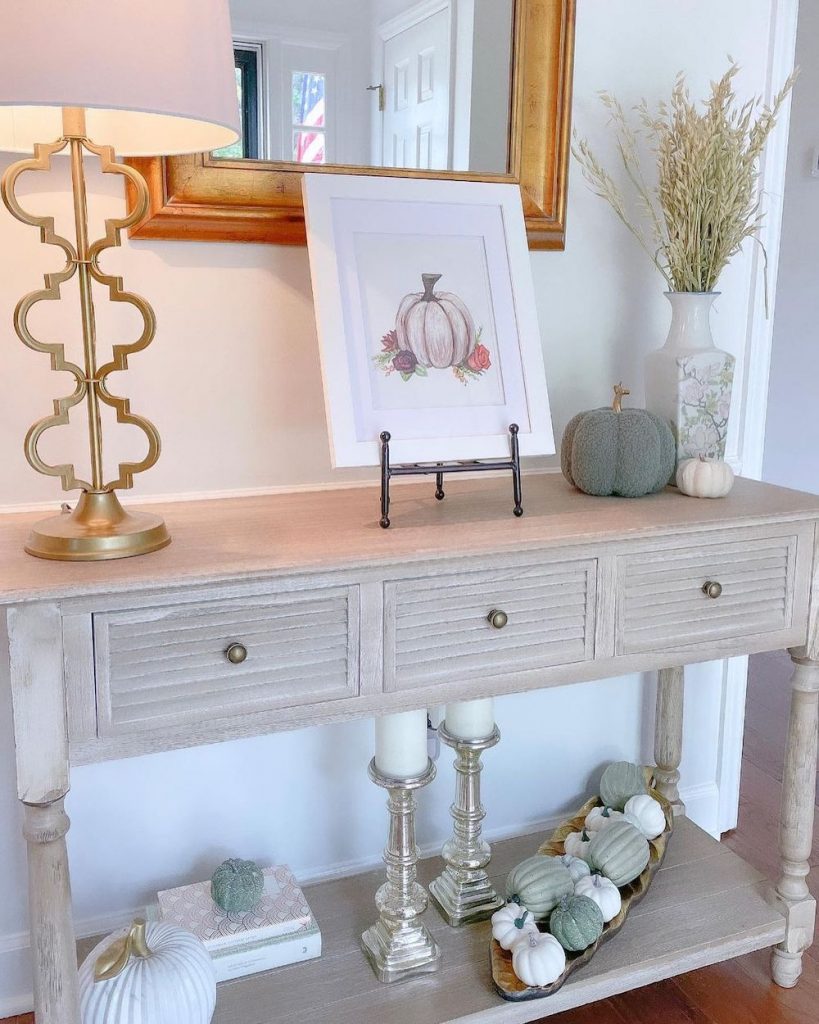 Using a console table with a lower shelf provides two benefits. First, it allows for extra storage or additional space to build a vignette. The designer here opted for an additional space to decorate. The lower space keeps an extra set of candleholders, books, and a bowl full of pumpkins in white and greyish green.
Bench It – Welcoming Fall-Inspired Entryway Ideas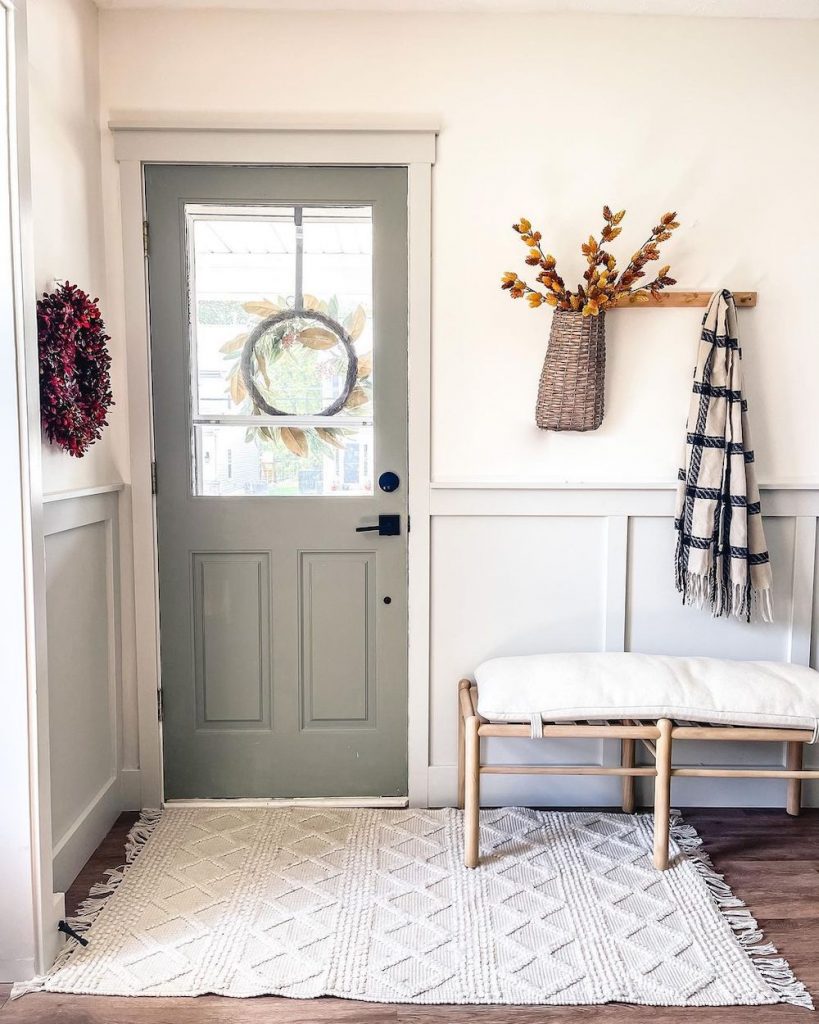 Give your entry space extra seating. In this case, a bench for stowing items or taking a quick break from the busy day. Keep an extra warm scarf near the entryway for those cooler days and nights. A sage green door makes for a nice Autumn touch.
Give it Rattan Wall Art – Welcoming Fall-Inspired Entryway Ideas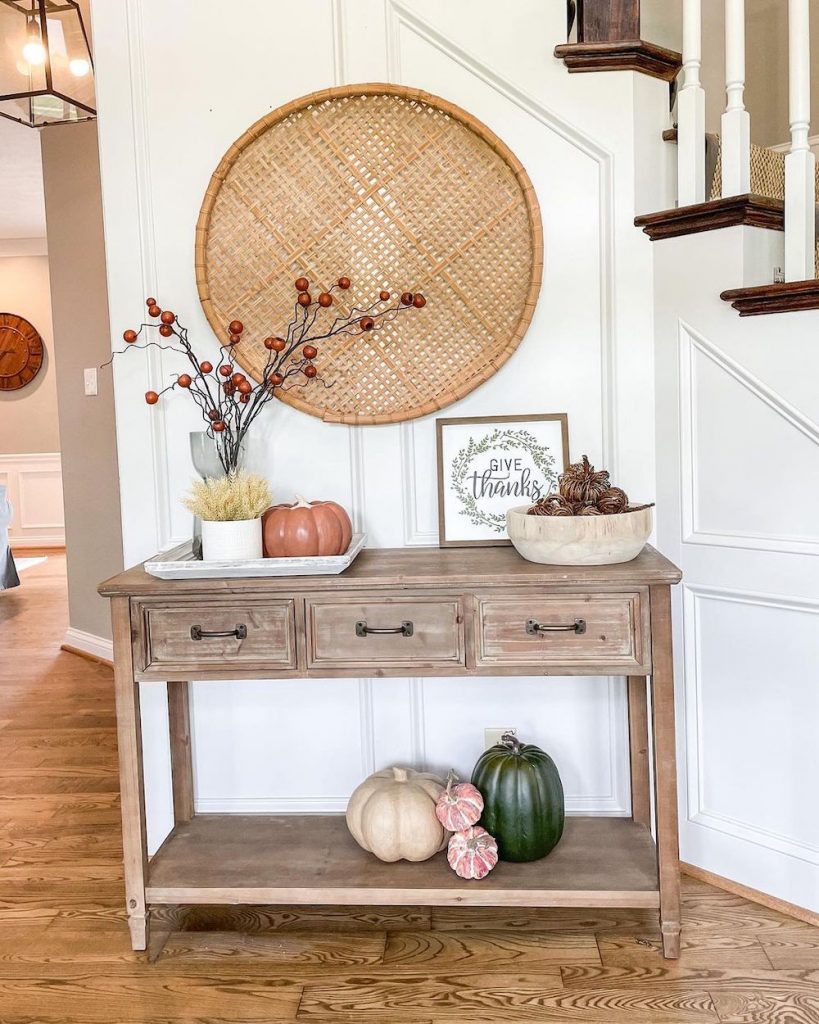 Hang a rattan tray above the console table for a different look. Incorporate a white-washed wood tray for keeping greenery and pumpkins in a group. Mix pumpkins in different textures, materials, and colors for variety.
Style it Neutral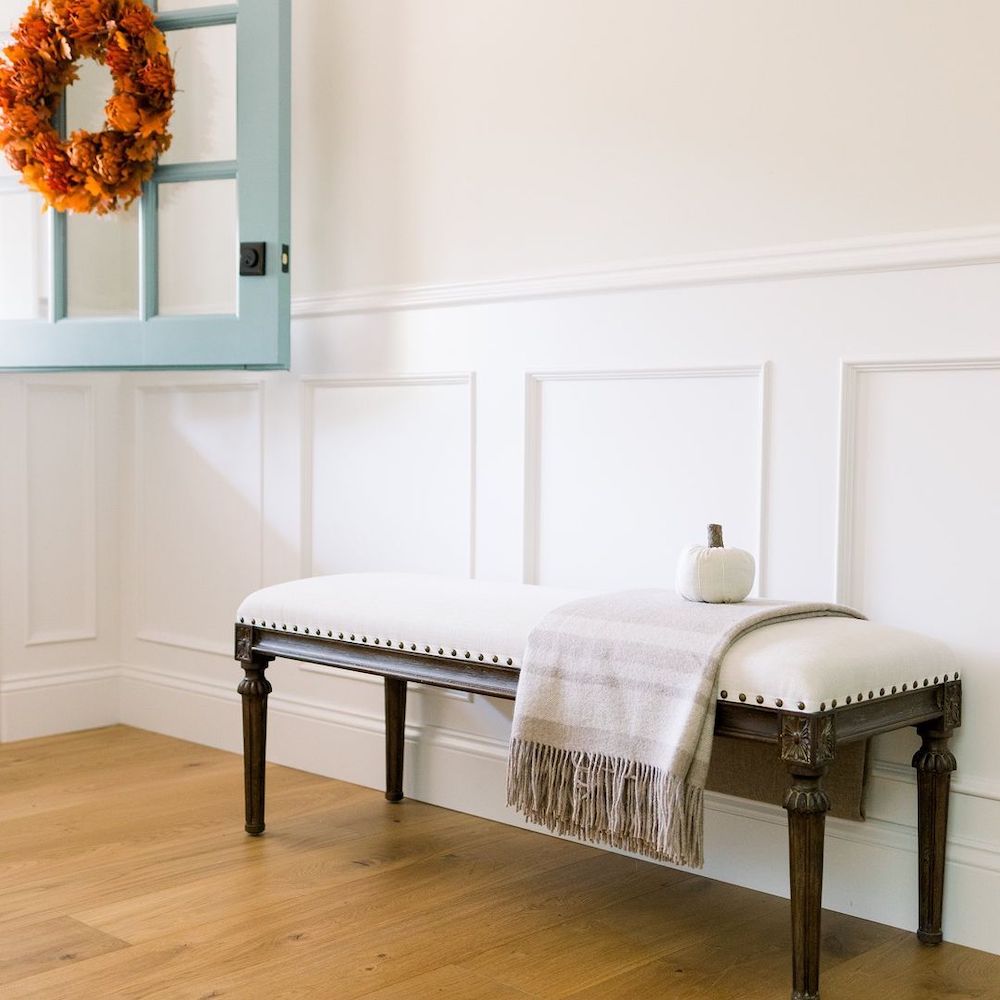 In this charming space, less is more. An espresso wood-stained, neutral-covered bench supports a single white pumpkin and plaid throw. The front dutch door is painted in a pale blue and sports a leaf-covered wreath. A simple, stylish, and powerful image that conveys just the right Autumn tones.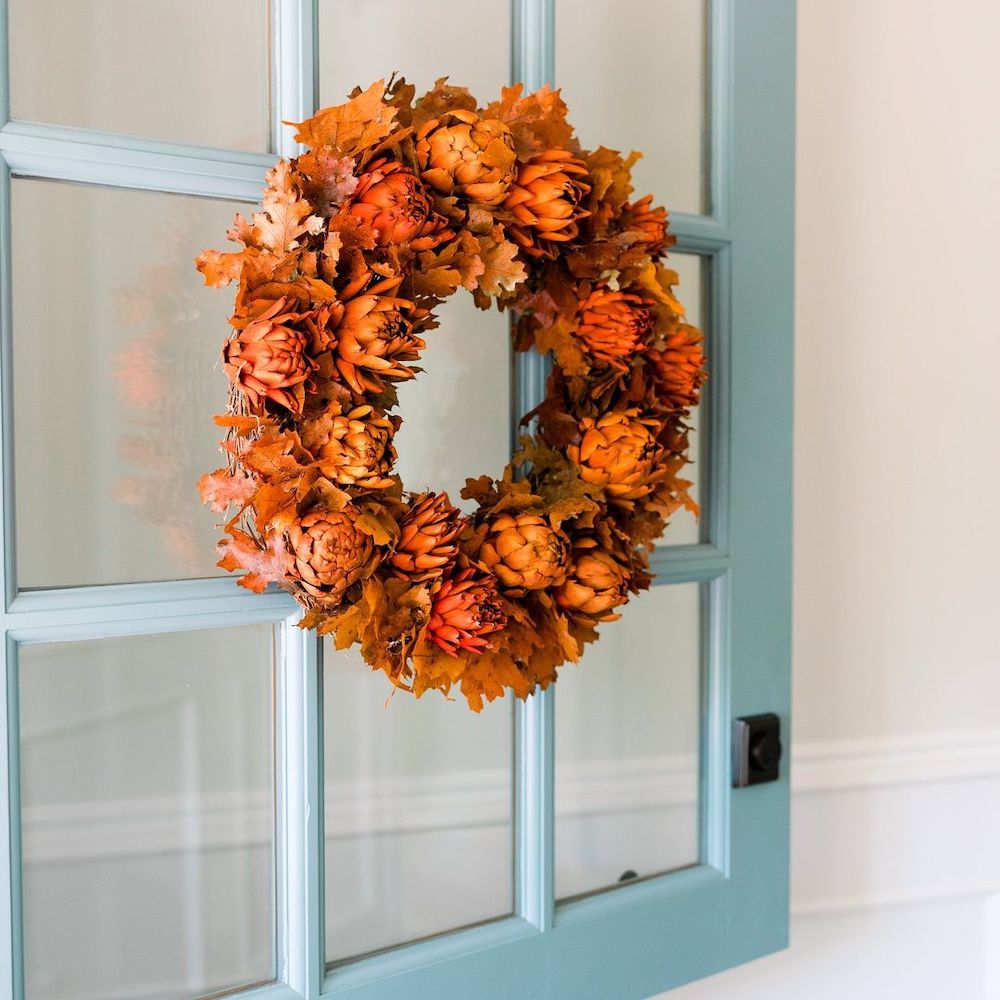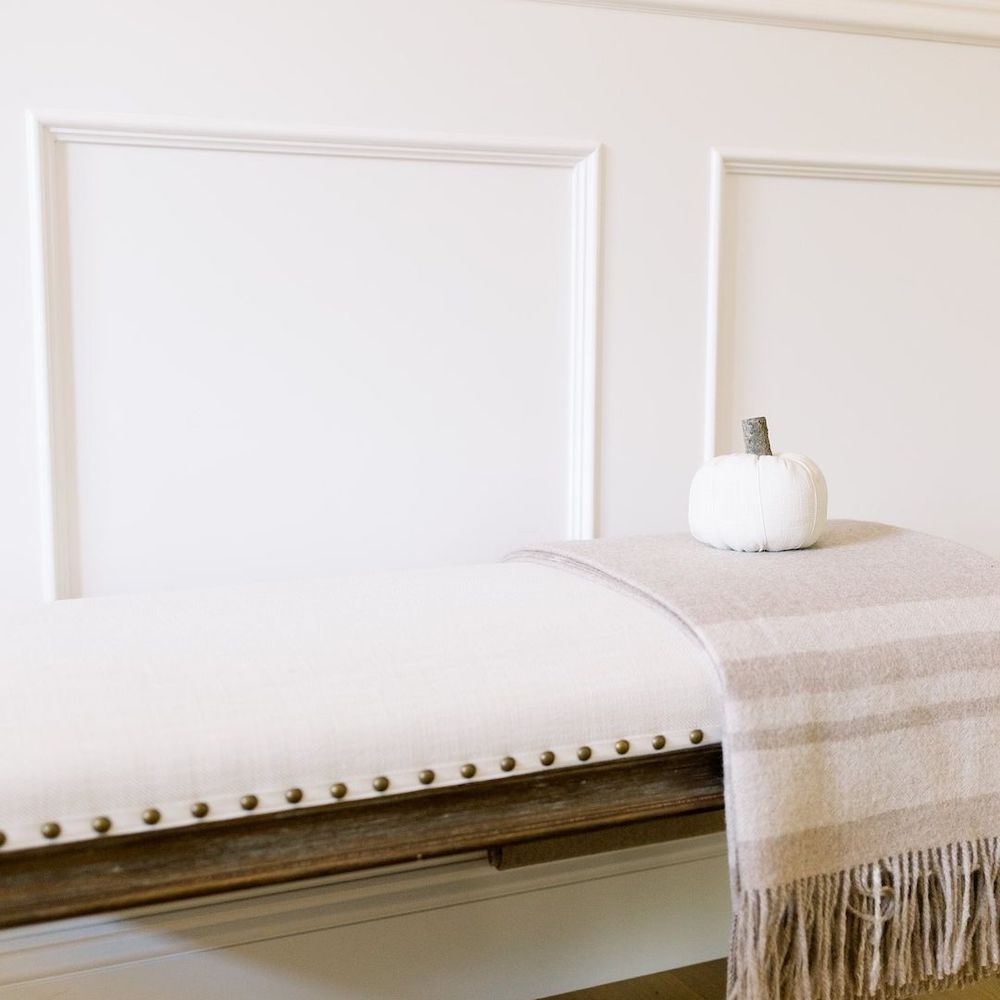 Spread a Little Burgundy Around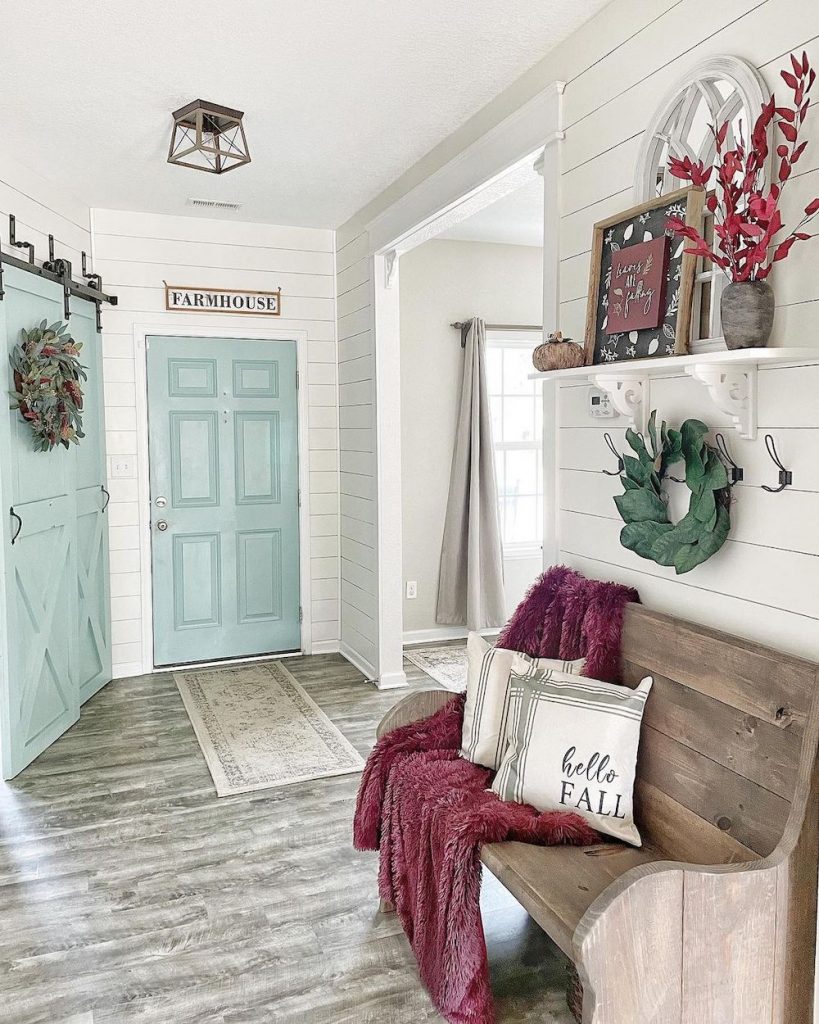 In this farmhouse entryway, you'll notice calming colors throughout the rooms. Bring a different color scheme to celebrate the upcoming season. A burgundy throw, burgundy faux foliage, wreath, and a chalkboard burgundy sign offer that opportunity. Use an unexpected color to compliment your existing color scheme. Amazing style.
Bring Some Whimsy to the Entryway – Welcoming Fall-Inspired Entryway Ideas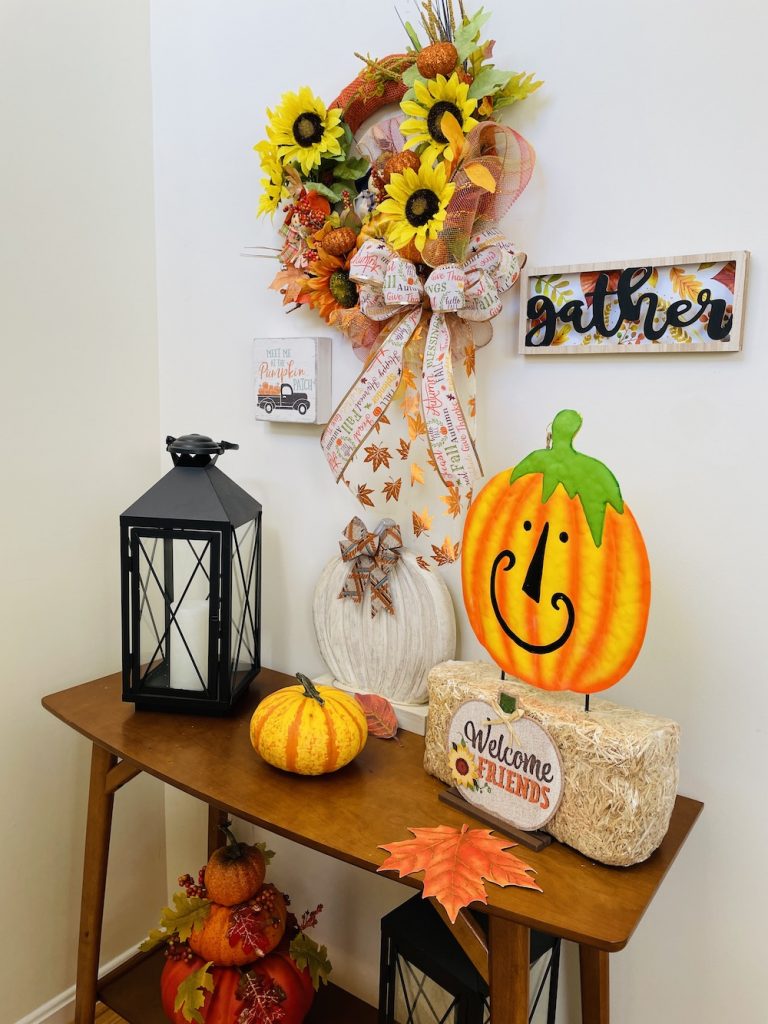 Have fun with your decor this season. Set the right tone with a smiling enamel pumpkin folk art piece. Then pile on the pumpkins. And always keep your houseguests amused over this Fall season.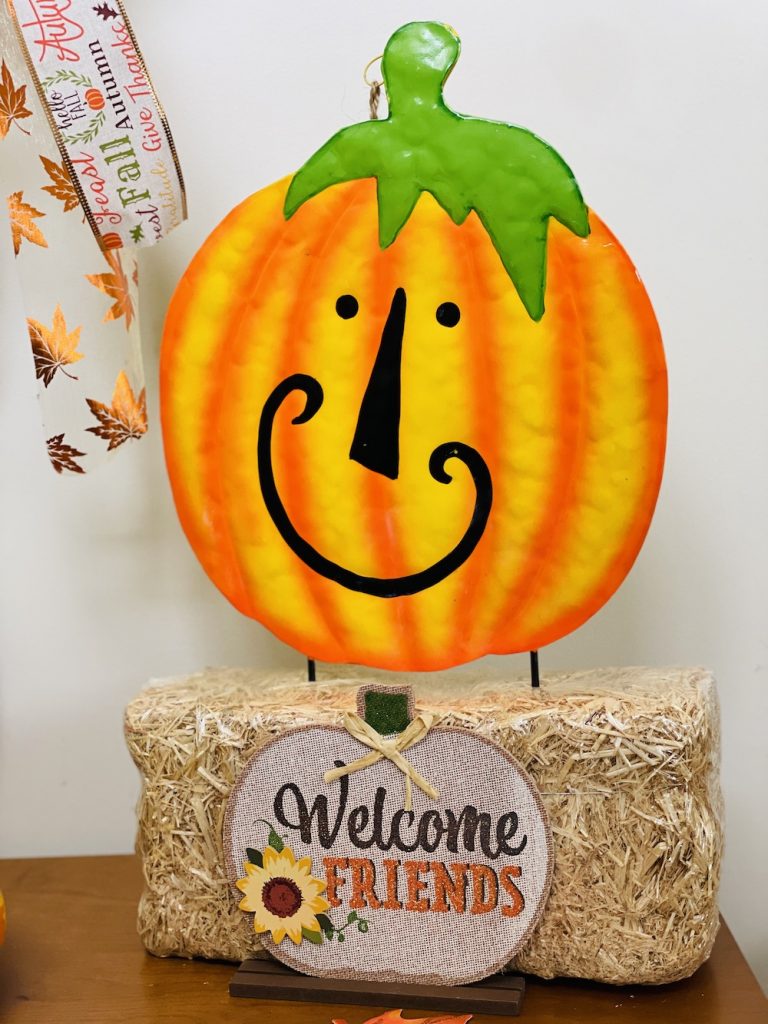 Style it with a Bushel Basket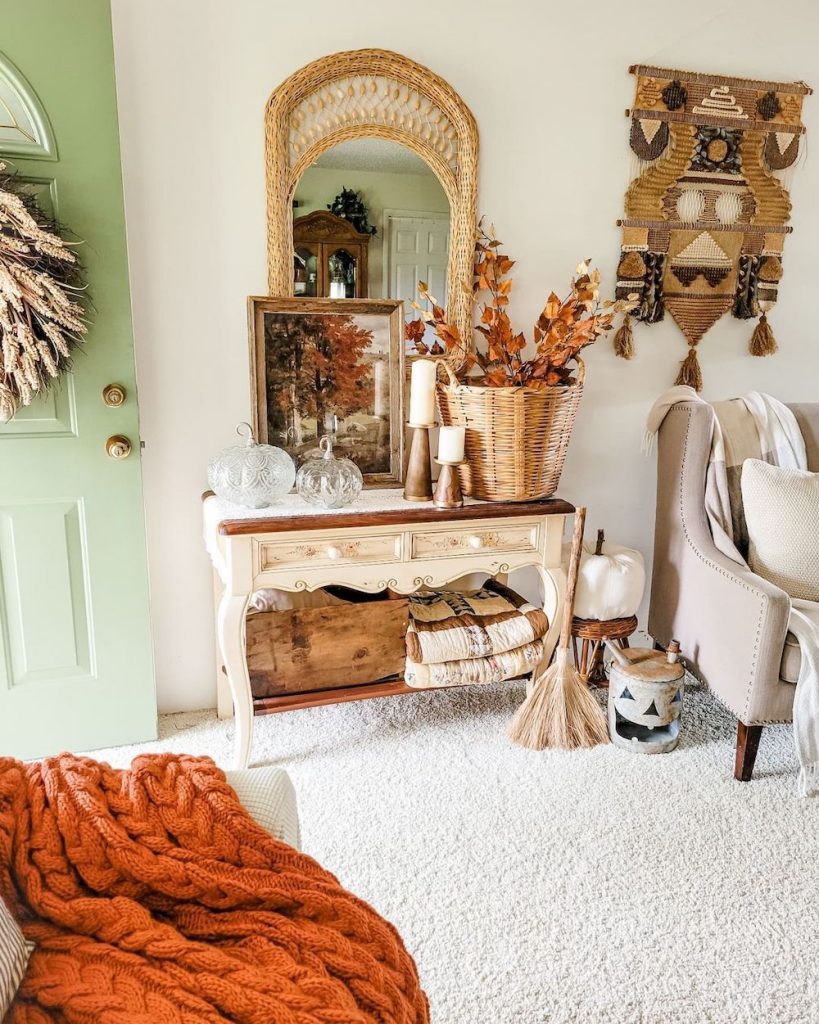 Decorate your entryway with a pretty bushel wicker basket. Bushel baskets are perfect for gathering maple leaves since they are in abundance this time of year. Leaves are readily available in my yard front and back during the autumn season. A great way to decorate and stay within your budget.
Make it Blush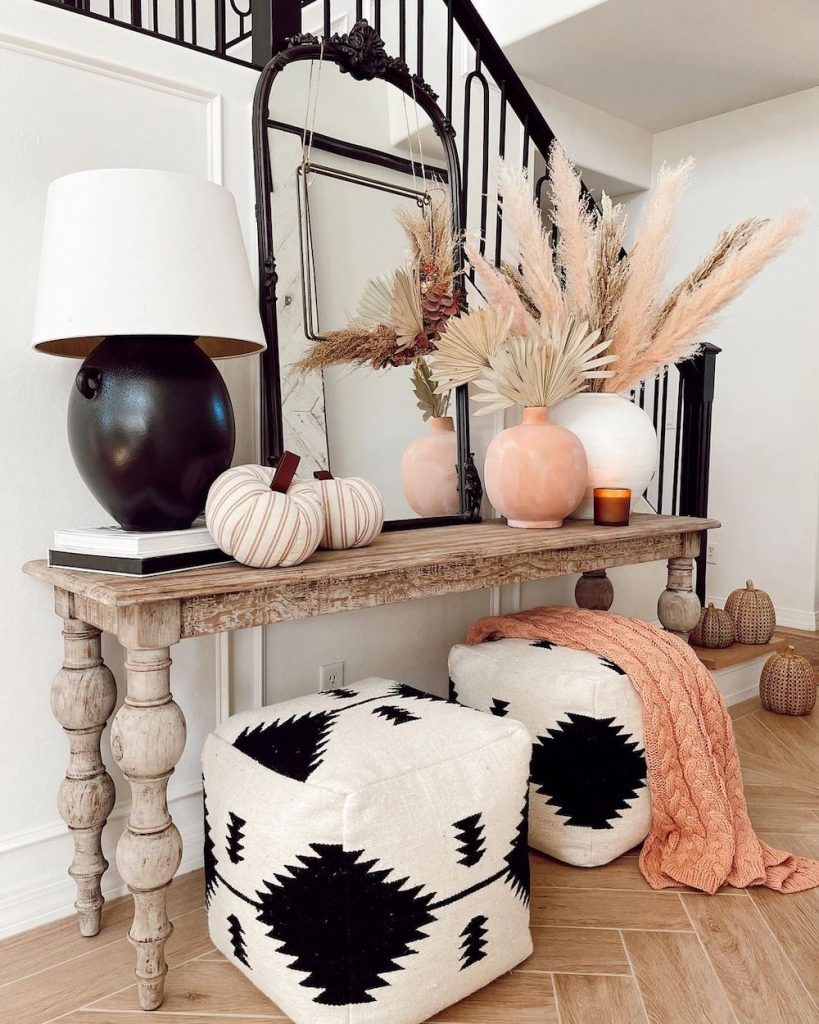 Decorate it in blush tones. Welcome your house guests indoors with blush-ticking striped pumpkins on the console table. Fill vases with dried pampas grass stems, and palm stems in a blush-colored vase. Drape a blush-colored throw over one of the ottomans for that chilly autumn evening. A stunning fall display.
This ends our list of welcoming fall-inspired entryway ideas for the autumn home. We hope that we inspired you to decorate your entryway to welcome the awesome autumn season. And more importantly, that you found a few ideas to help you decorate your entryway this year.
Enjoy our other fall decor related posts for additional ideas.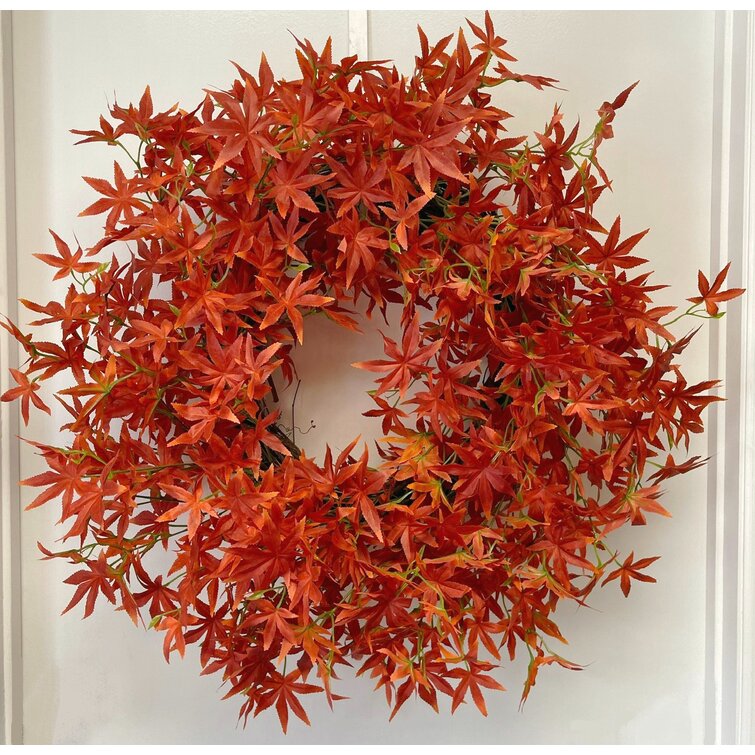 Reach out to us with any questions. We are always ready to help you out. Thank you for stopping by our blog.
Mary
Pin this for Later: