Fall entryway decorations are a great way to greet your family and friends at home this Autumn season. In today's post, we are sharing our entryway that is decorated with fall season decorations. We all love the fall season. In September the temperatures begin to transition into cooler temperatures. Then followed by changes in the garden. Soon we'll see lots and lots of leaves falling from the trees around us. In fact, before too long there will be piles of leaves across the yard.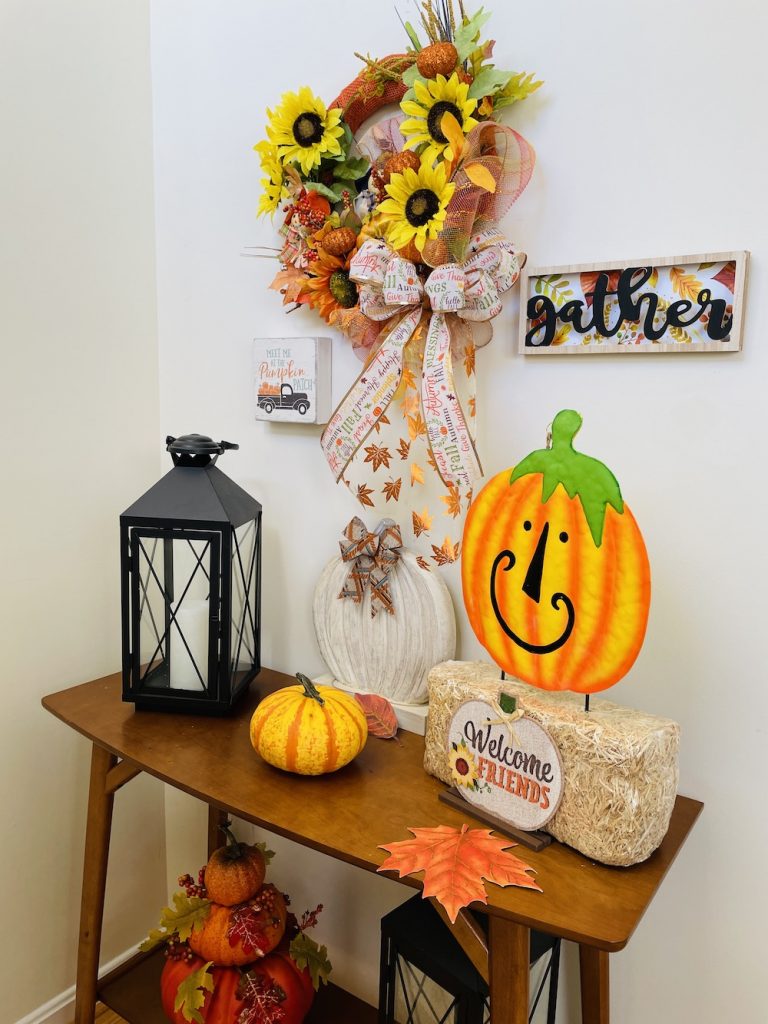 It is these images of trees losing their foliage that inspire us to decorate the interior of our homes. The harvest season is when pumpkins, gourds, and apples are ripe and ready to pick. All of these fall activities are what inspire us to recreate these images inside the home. Freshen up your entryway this fall season with some easy decor that will bring a smile to your houseguests.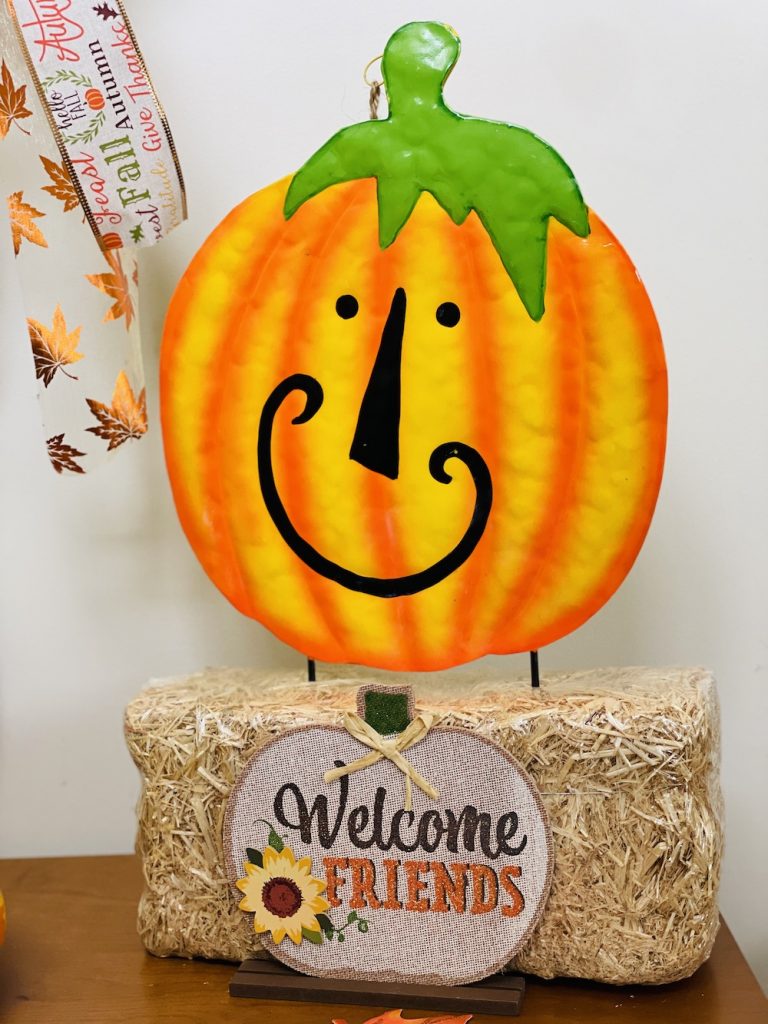 Pumpkins are one of our favorite decor items. There are so many to choose from. Available in a variety of colors and made from many materials. In our entryway, we did use a single fresh pumpkin, and the remaining pumpkins are faux pumpkins. Since it is early in the season, we like our fresh pumpkins to last until the end of October. This can be challenging if the weather is still pretty warm outside. Fresh pumpkins need cooler temperatures to maintain their freshness and not spoil under the heat of the sun.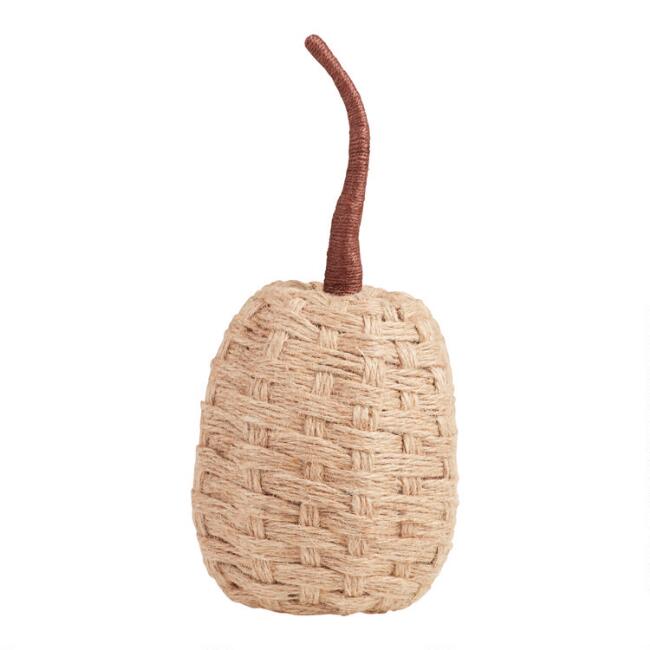 Reed Console Table – Fall Entryway Decorations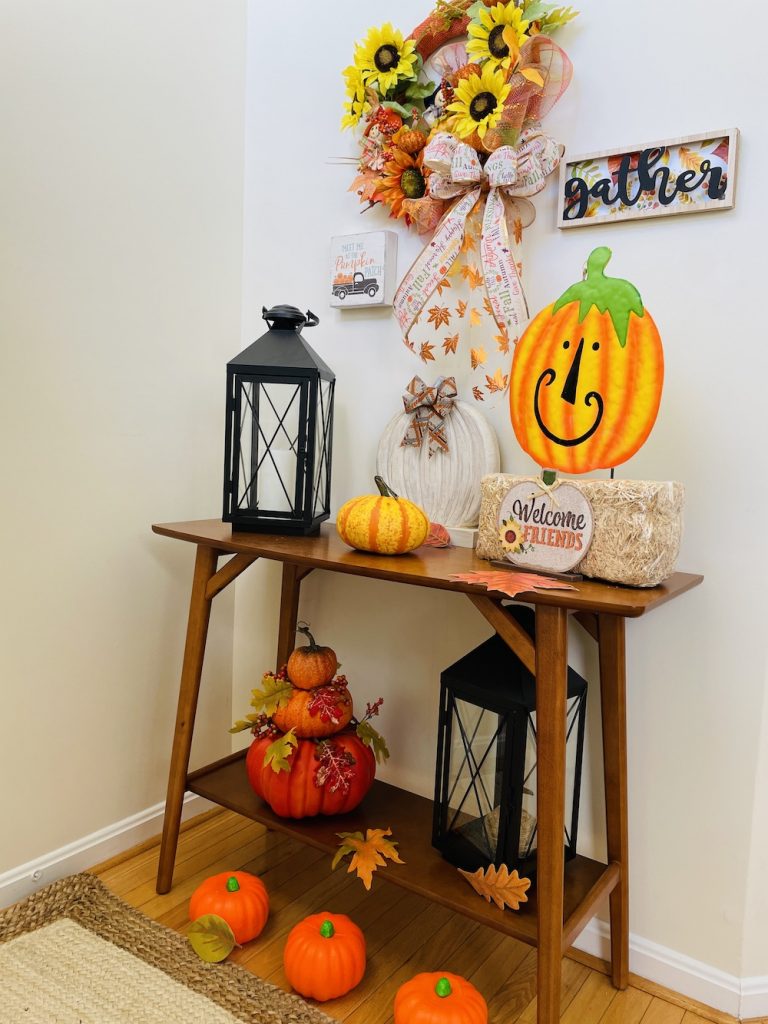 We started with our Reed Console table. The Reed table is a mid-century modern-style console table in a Pecan finish. The table has a lower shelf that can be used for storage or decorations. We decorated our lower shelf with even more pumpkins!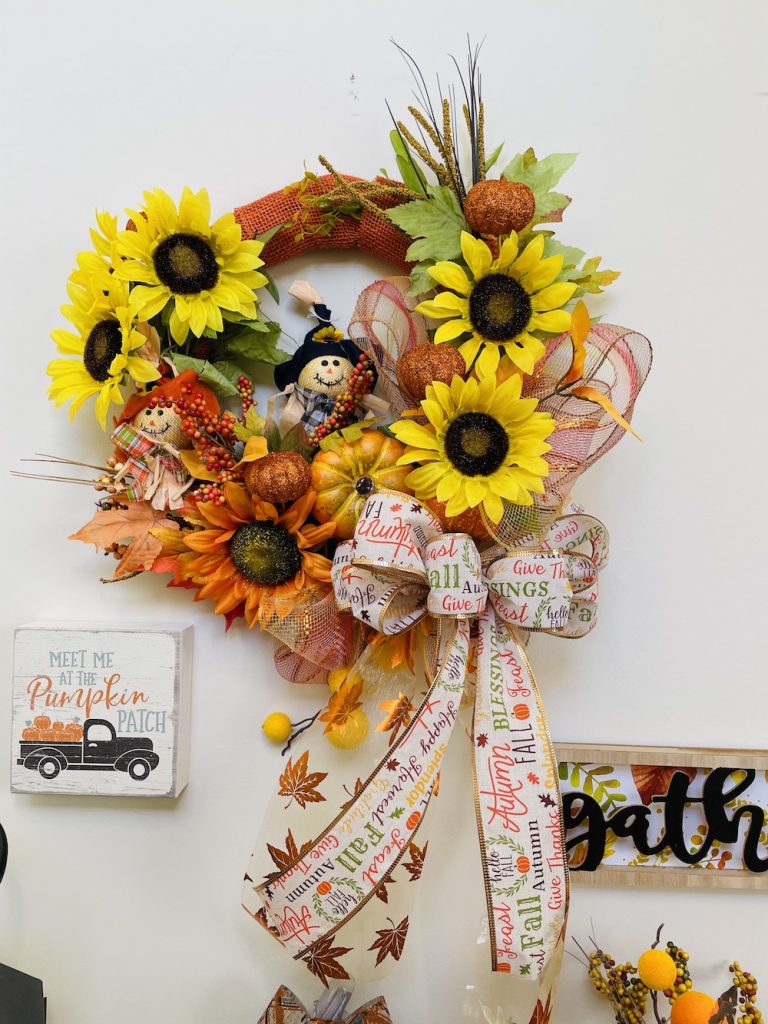 First, we made a fall-inspired wreath using a burlap-wrapped wire base. The upper half was wrapped in orange burlap and the lower half was wrapped in dark green burlap. Next, faux sunflower picks were glued to the burlap-wrapped base. We used 5 faux yellow sunflowers and one faux orange sunflower pick. Followed by greenery, two scarecrow people, faux pumpkins, and a large double bow. The double bow ribbon included a ribbon that simulated the falling leaves we see in Autumn. To add a little bling, we added three glitter-covered orange pumpkin picks.
This is a close view of the Fall wreath over the console table. To each side of the wreath, we hung a pickup truck wall art and a "Gather" wall art.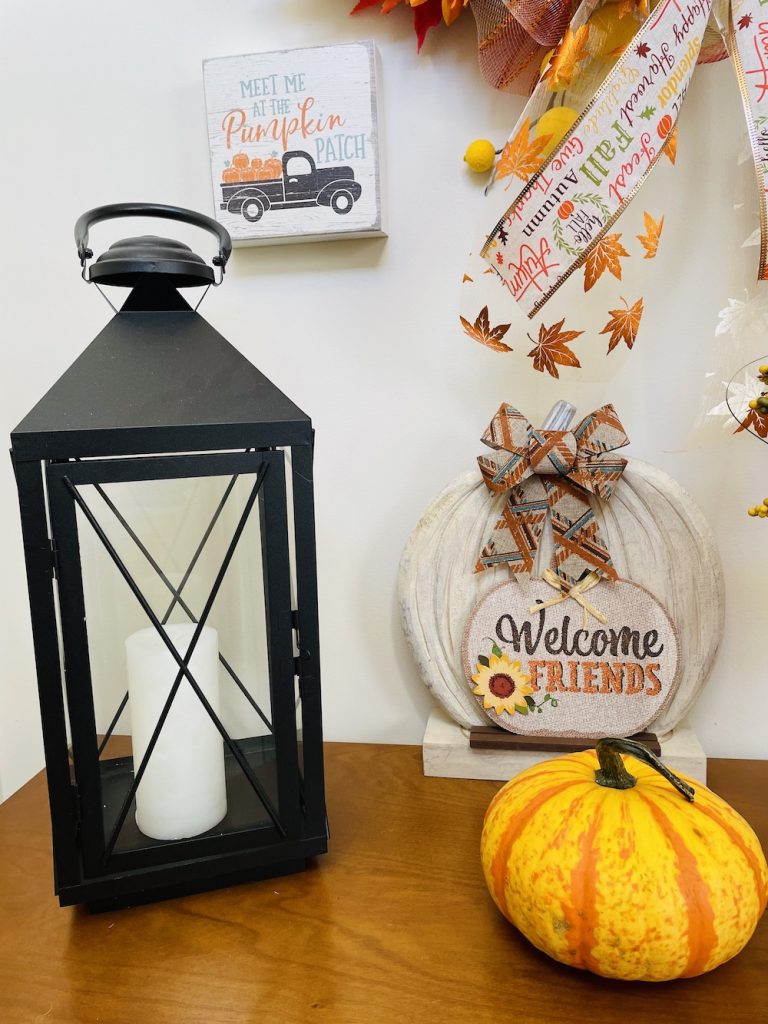 Lanterns and Pumpkins – Fall Entryway Decorations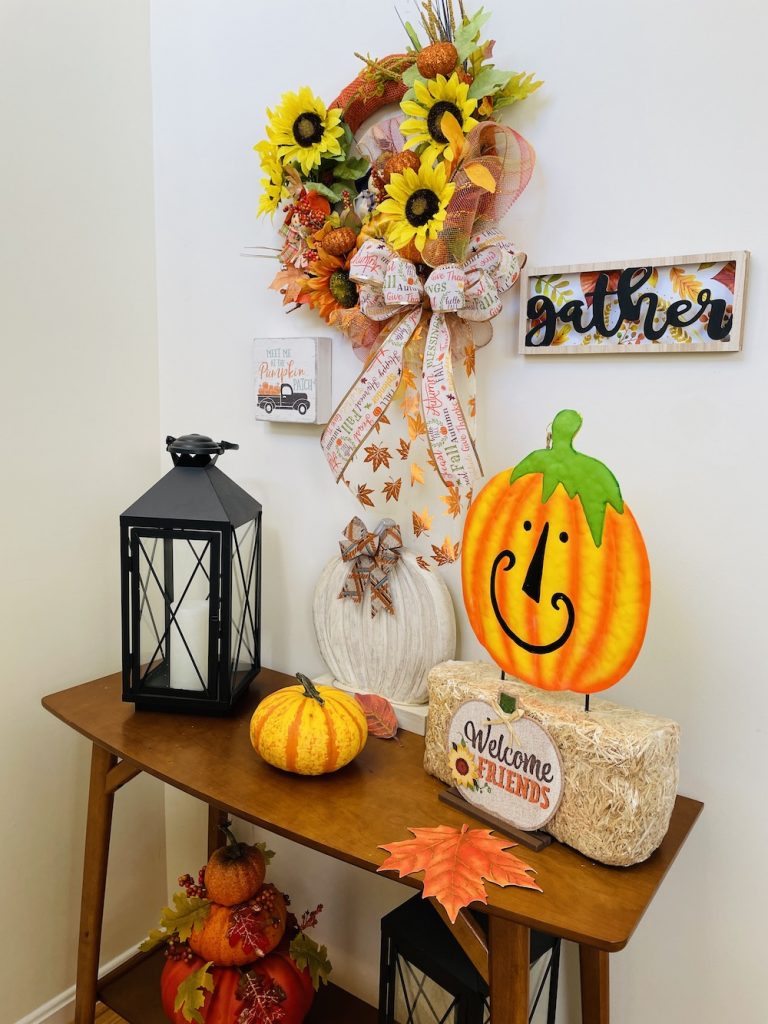 A light source such as a lantern can provide much-needed lighting in the evenings. We used a pillar candle inside the lantern. However, you can substitute a string of lights or flameless candles to illuminate the console table area.
To give the space a harvest theme, we used a small bale of faux hay as a base for the pumpkin stake. In front of the bale, we added a "Welcome Friends" sign that guests will notice as they enter the home.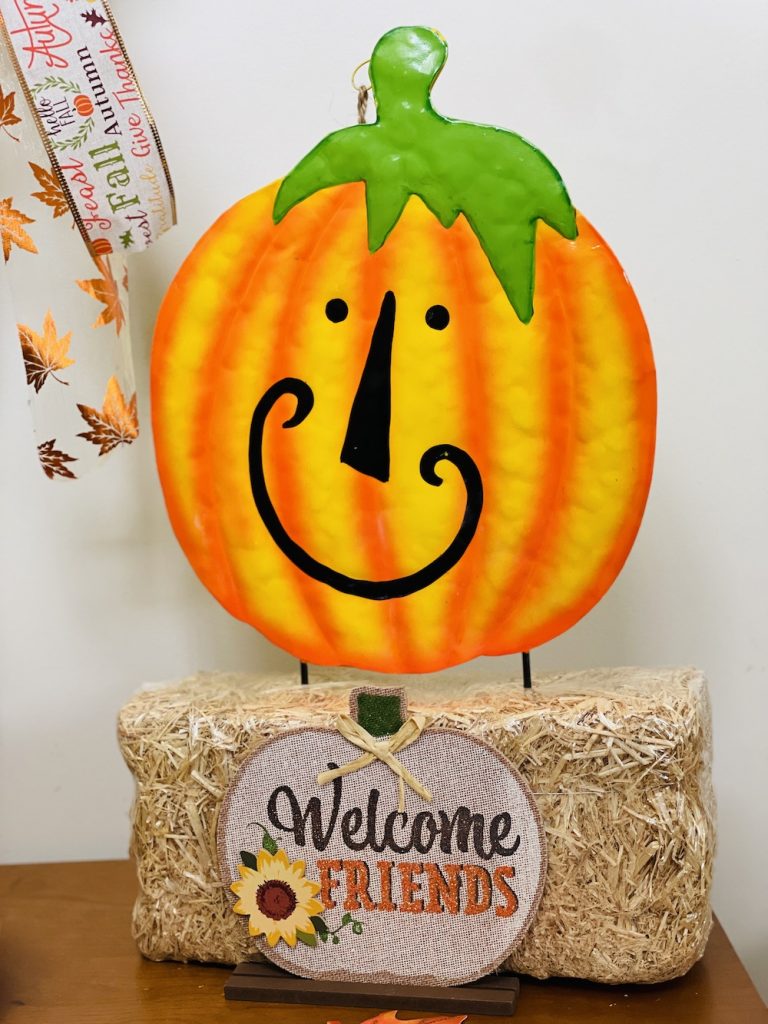 On the lower shelf, we added a stacked three-pumpkin set and used the other black lantern to the right. To finish the decorations, we place three faux orange pumpkins on the floor in front of the table. For the finishing touch, we scattered a few leaves on and around the Reed console table.
The sunflower and scarecrow wreath took about an hour to assemble. The remainder of the decorations came together pretty quickly. We love the pecan color of the console table and the bright orange and yellow colors that the decorations give us.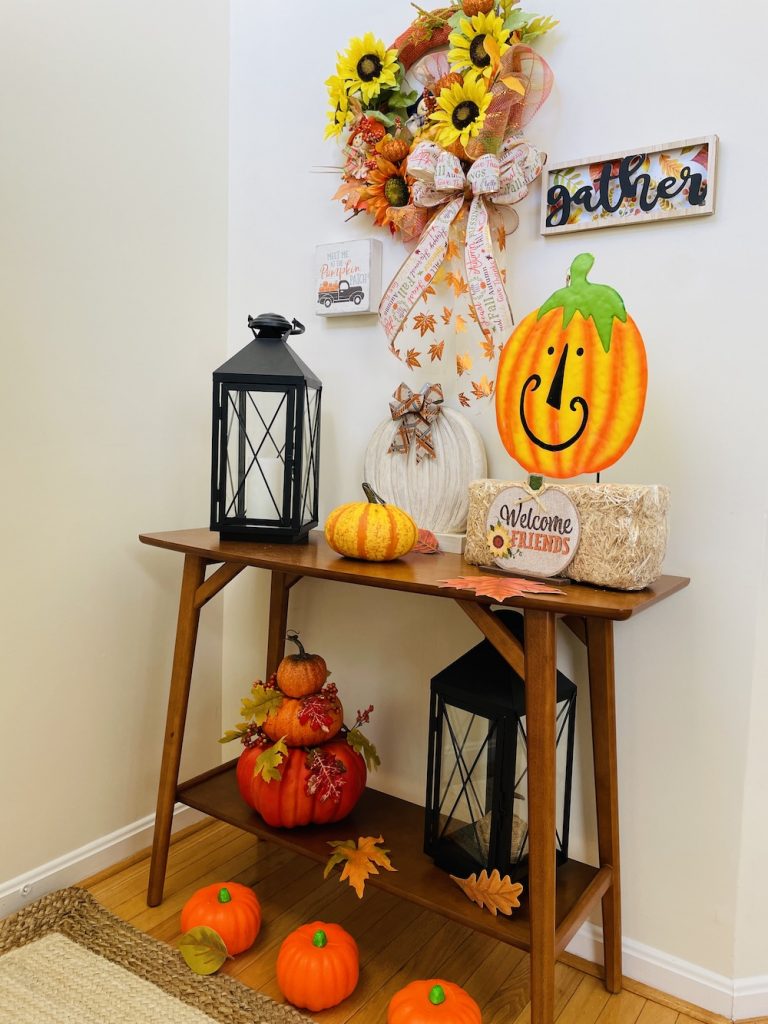 Loads of Pumpkins – Fall Entryway Decorations
For an overflowing bushel of pumpkins, we also styled the Reed console table with extra pumpkins. Take a look at our alternative decorative table.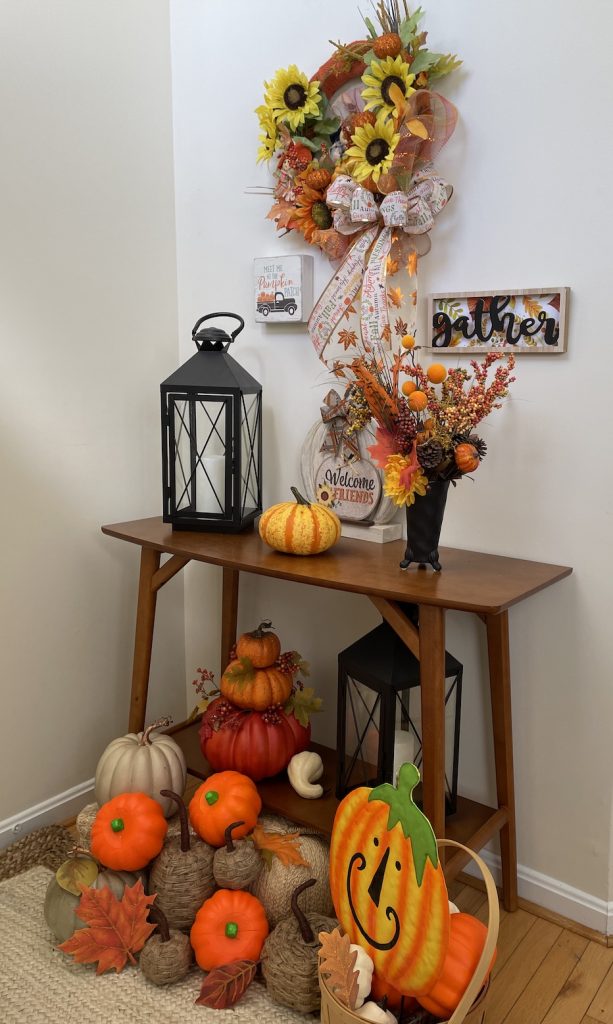 This ends our fall entryway decorations for an Autumn refresh post. It is our hope that we inspired you to decorate your home to welcome the awesome autumn season. And that you found some ideas to help you create your Fall entryway at home.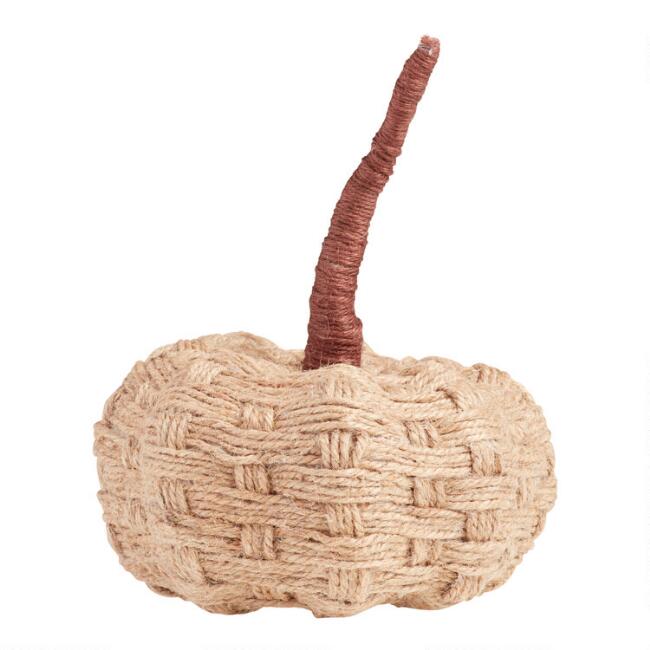 Enjoy our other fall decor related posts for additional ideas.
Reach out to us with any questions. We are always ready to help you out. Thank you for stopping by our blog.
Mary
Pin this for Later: