DIY fall centerpiece ideas are today's topic. This post is for anyone searching for a DIY centerpiece to create for your fall dinner table. If you crave the challenge of making your own decorations, this post is for you. Or perhaps, if you love creating your own home decorations then you'll love this post. And those trying to maintain a tight family budget, this post can help you too. We've put together a list of 37 DIY fall centerpiece ideas to share with you.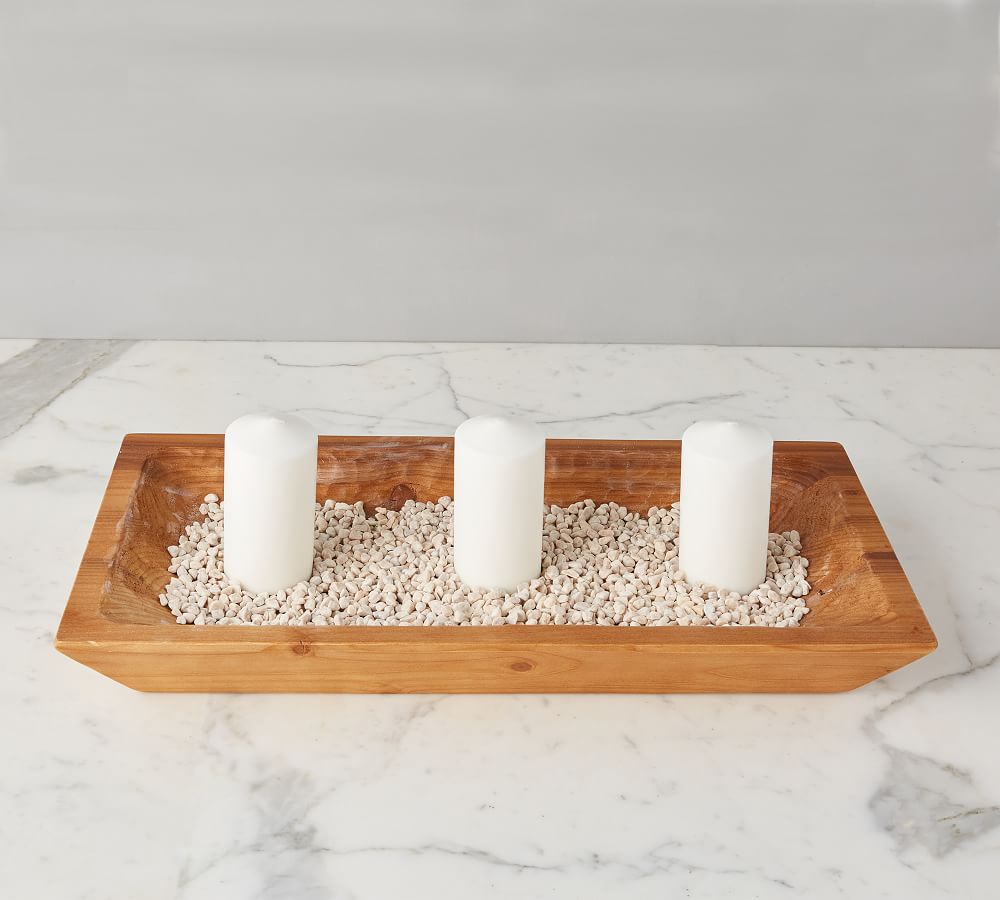 The world has no shortage of creativity. As you'll see, there are many talented DIY designers. And in today's post, we are sharing 37 of the best DIY centerpieces that you can easily create at home. These are centerpieces perfect for the fall and on your dinner table.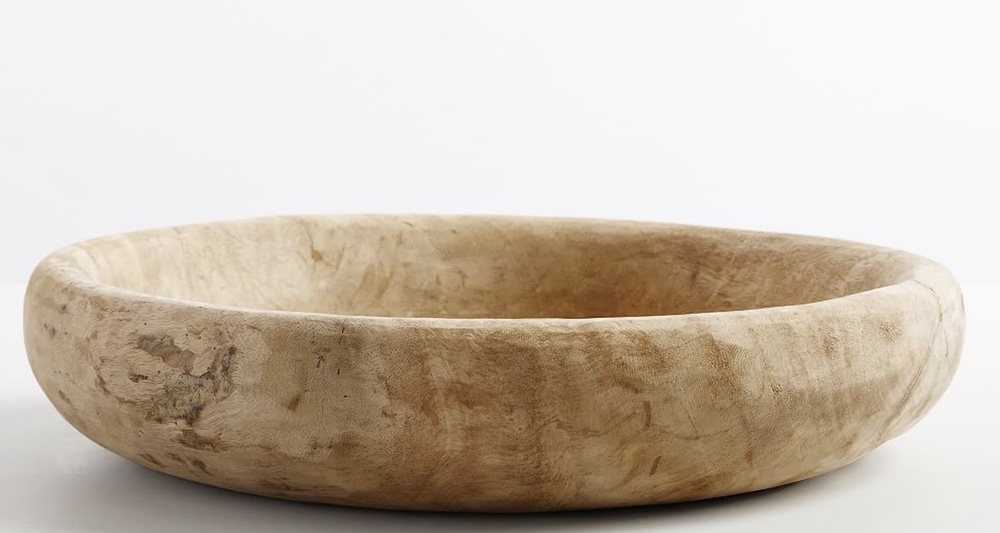 Take Your Inspiration from the Outdoors
As cooler temperatures become more common, leaves from the trees have begun to turn brighter colors. Many plants, both perennials, and annuals have slowly died back. Soon, they will become dormant for the Winter. Your outdoor surroundings are the best place to take your fall inspiration from. The glorious outdoor colors and settings are what we love to imitate and bring indoors.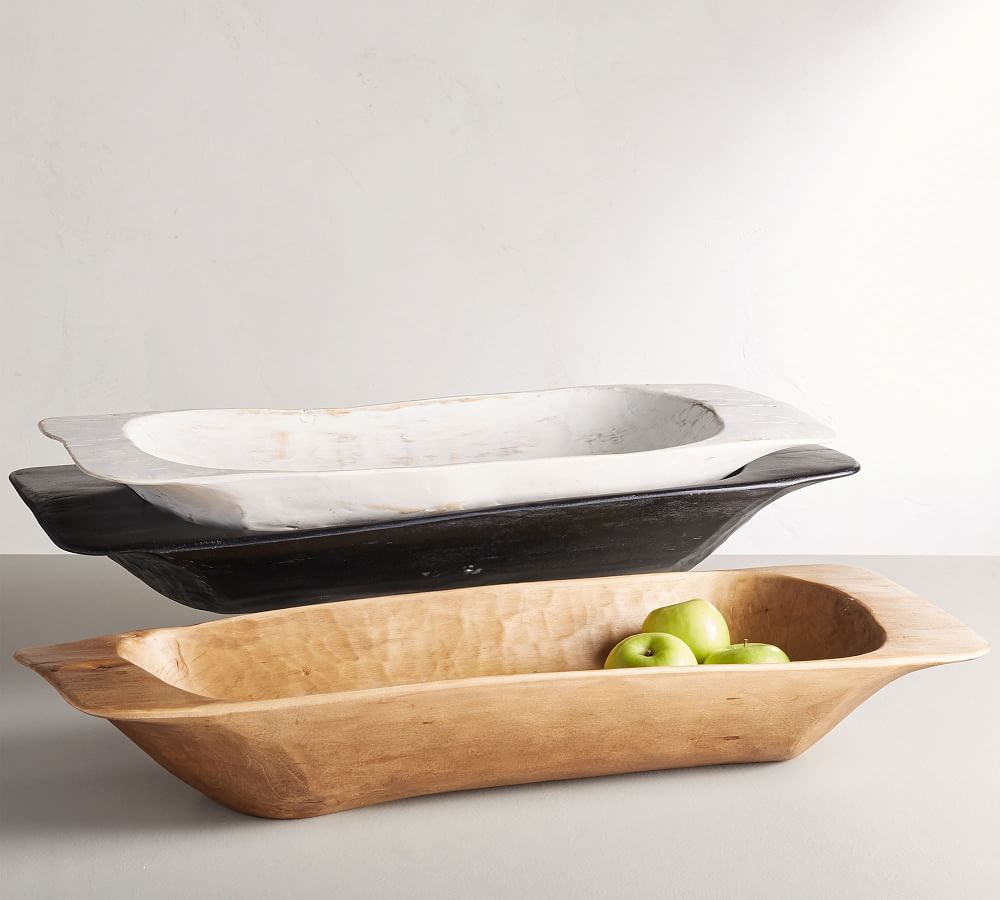 During the Fall, pumpkins, gourds, apples, and acorns have all ripened. Ready for harvesting. If you are lucky enough to live in a farming community or near one, the season brings hayrides, fresh warm apple cider, and loads of family fun. These are the many fall activities that inspire us. And it is these images, memories, and family outings that we hope to recreate inside the home. Bring smiles to your family and guests with a centerpiece that reminds us of those special moments we treasure. A centerpiece that conveys to your friends that you are grateful they dropped by.
Bring Beauty to the Table – DIY Fall Centerpiece Ideas
There are many ideas for styling a centerpiece for the table. Adorn your table using inspiration from one of the DIY centerpieces below. Bring beauty to your dining table with a centerpiece designed by you and for your family. Your dinner guests will be amazed.
For great ideas to decorate your table, take a look at our fall centerpiece ideas. Ideas that you can recreate for your table. Take a look.
Greet the Season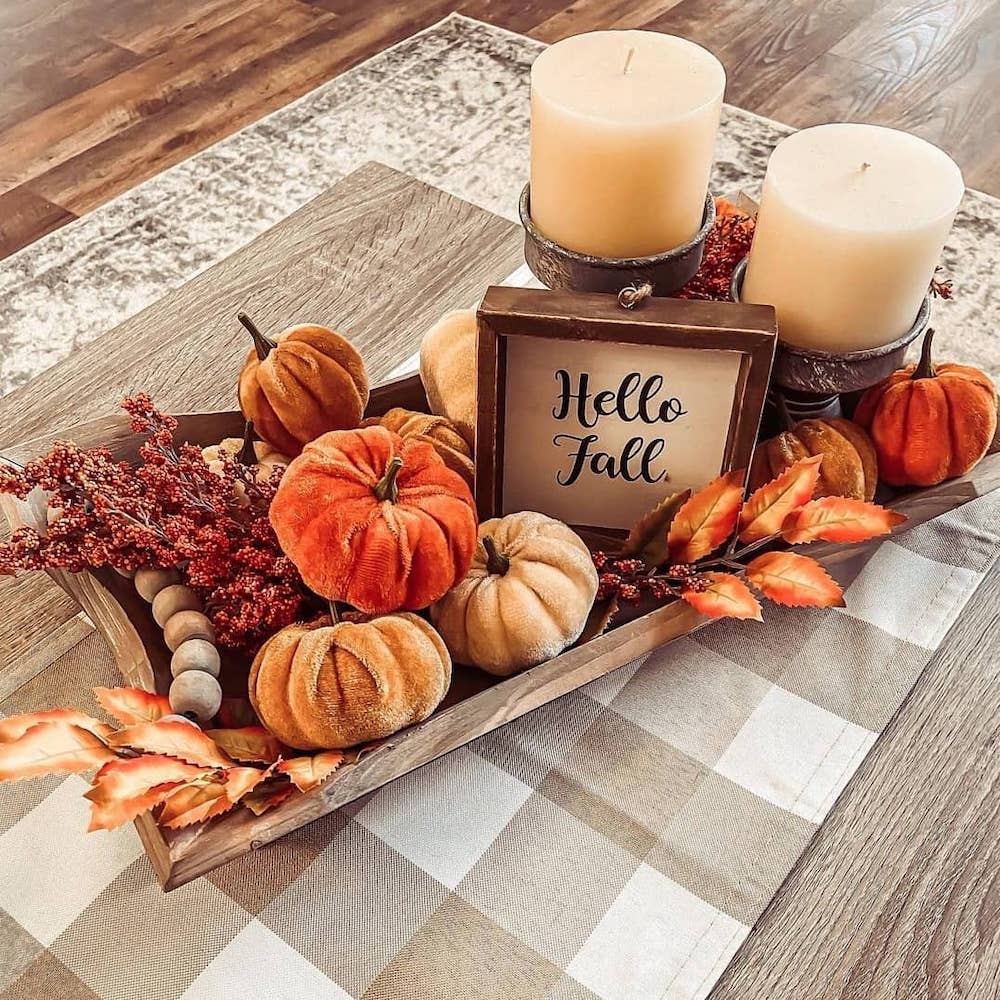 Say Hello with a small sign. Style your best pumpkins around a simple greeting sign. Display pretty vibrant fall colors in your centerpiece.
All Good Things Come in Threes – DIY Fall Centerpiece Ideas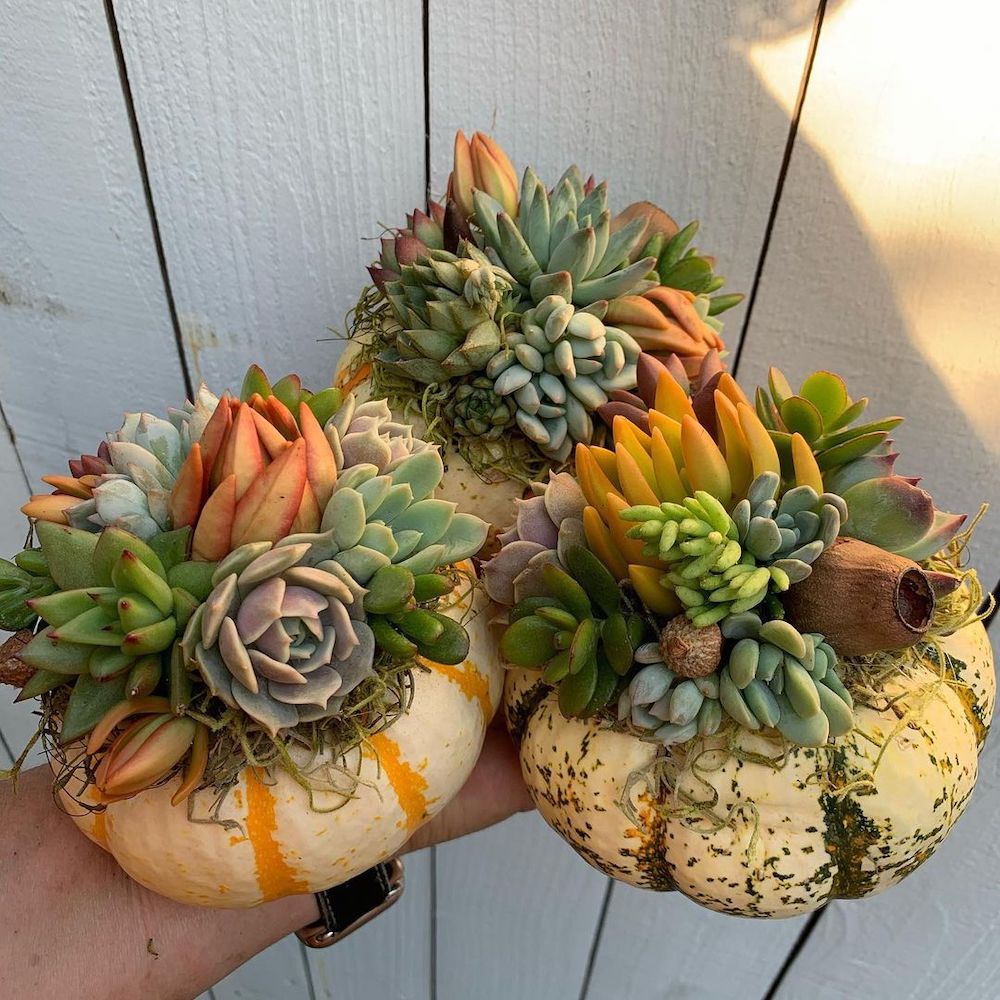 Fill three. Three Lil' Pumpkemon Pumpkins that is. Group some pretty succulents in three small pumpkins for your centerpiece. Toss in a couple of acorns for a little surprise.
Display Slate, Blue Grey Pumpkins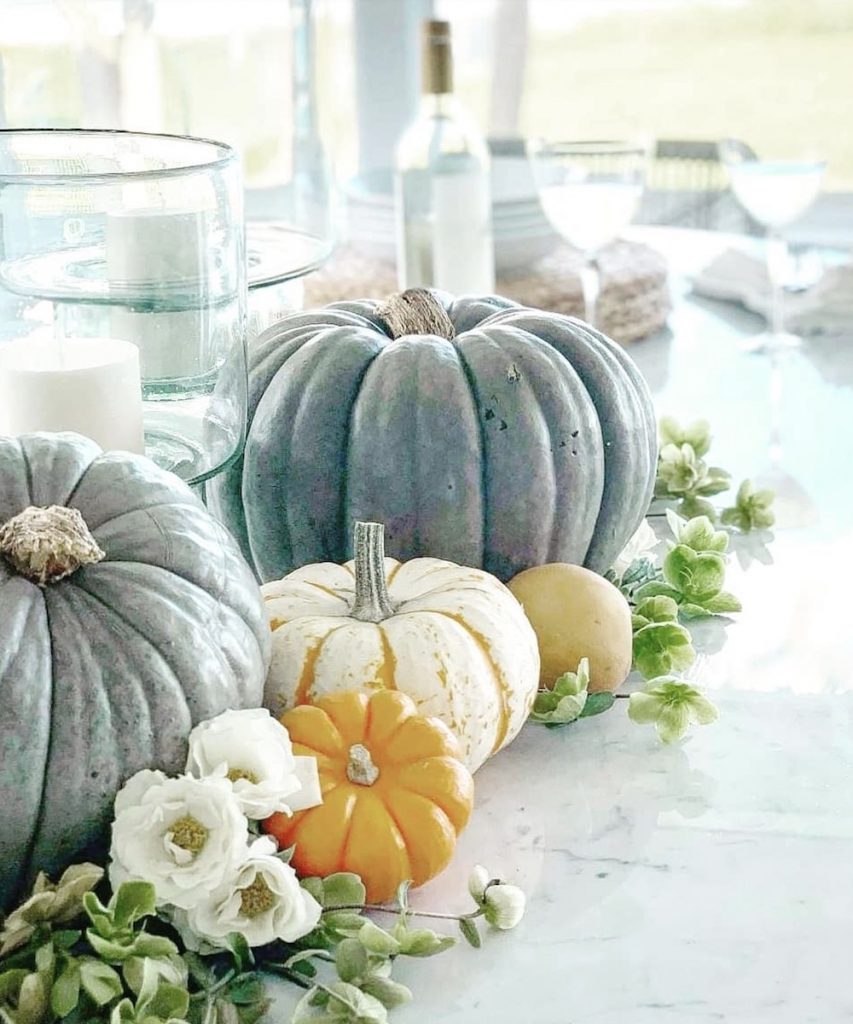 Mix in some Jarrahdale pumpkins, a New Zealand heirloom pumpkin. Add some white windflowers and smaller pumpkins.
Keep it White with Beige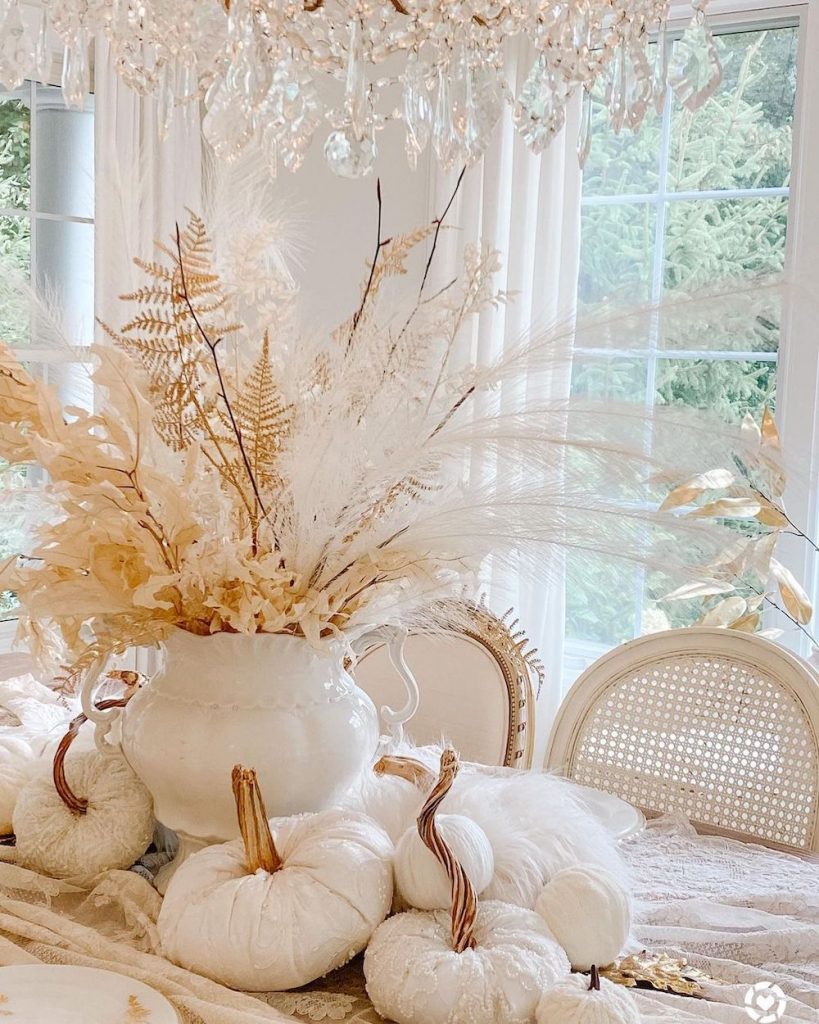 Design a white and beige centerpiece. Fill a white urn with beige ferns and white feathery stems. Then surround the base with white pumpkins.
Drop an Ornamental Cabbage in a Pumpkin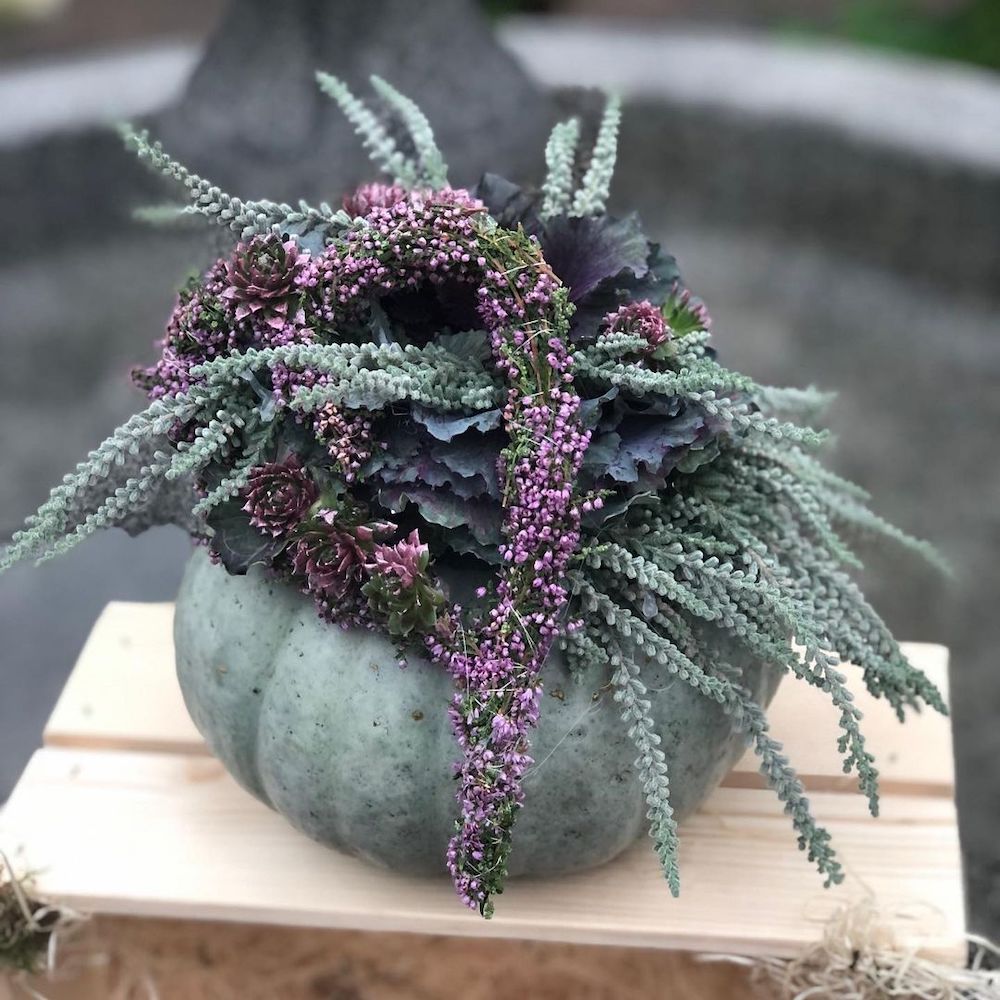 Add an ornamental cabbage to your pumpkin. Drape heather stems across the cabbage.
Give it a Touch of Blue – DIY Fall Centerpiece Ideas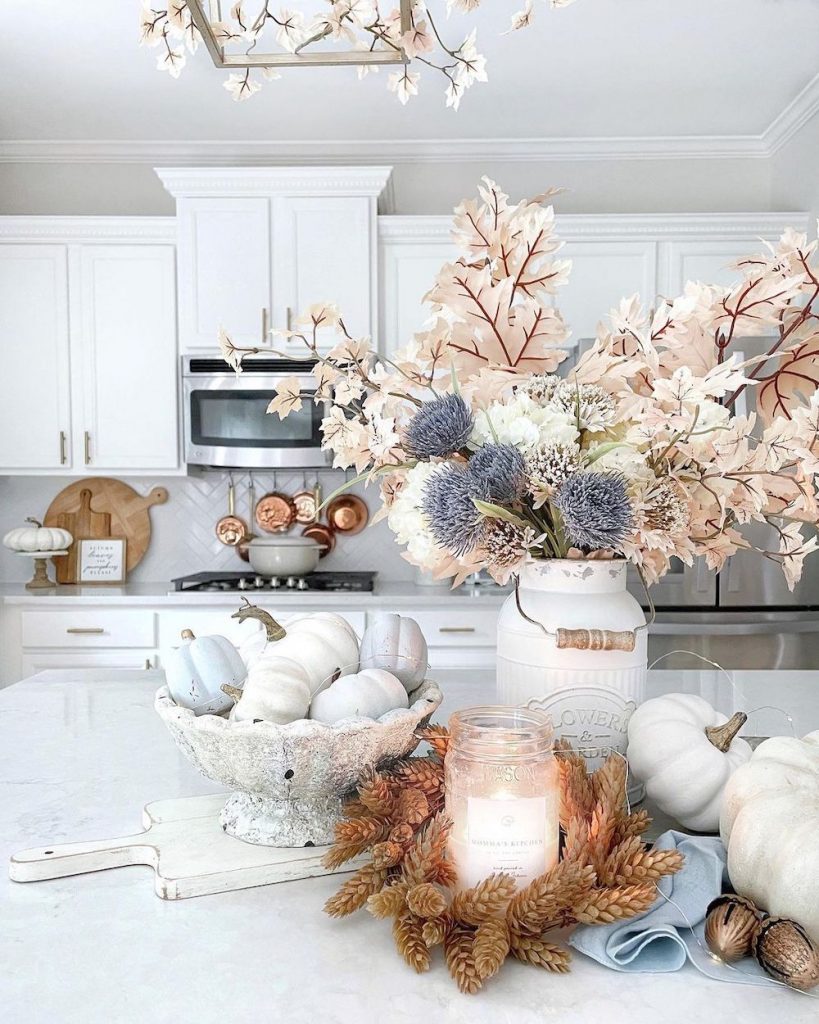 Set your best bowl out full of pumpkins. Fill a white canister with pretty neutral faux flowers.
Start Out with a White-Wash Tray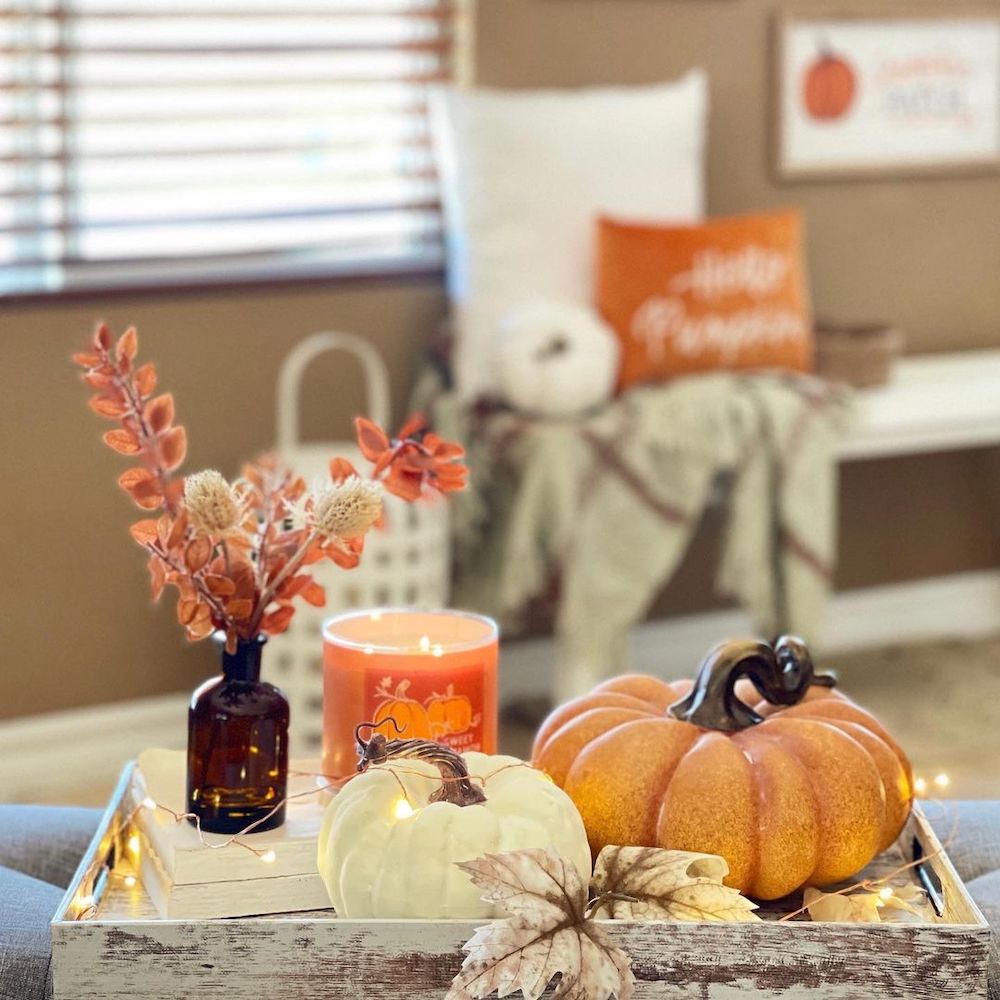 Use a white-washed tray to display your pumpkins and candles. Lay a set of micro-string lights across the pumpkins and tray.
Set Your Long Dough Bowl on the Dinner Table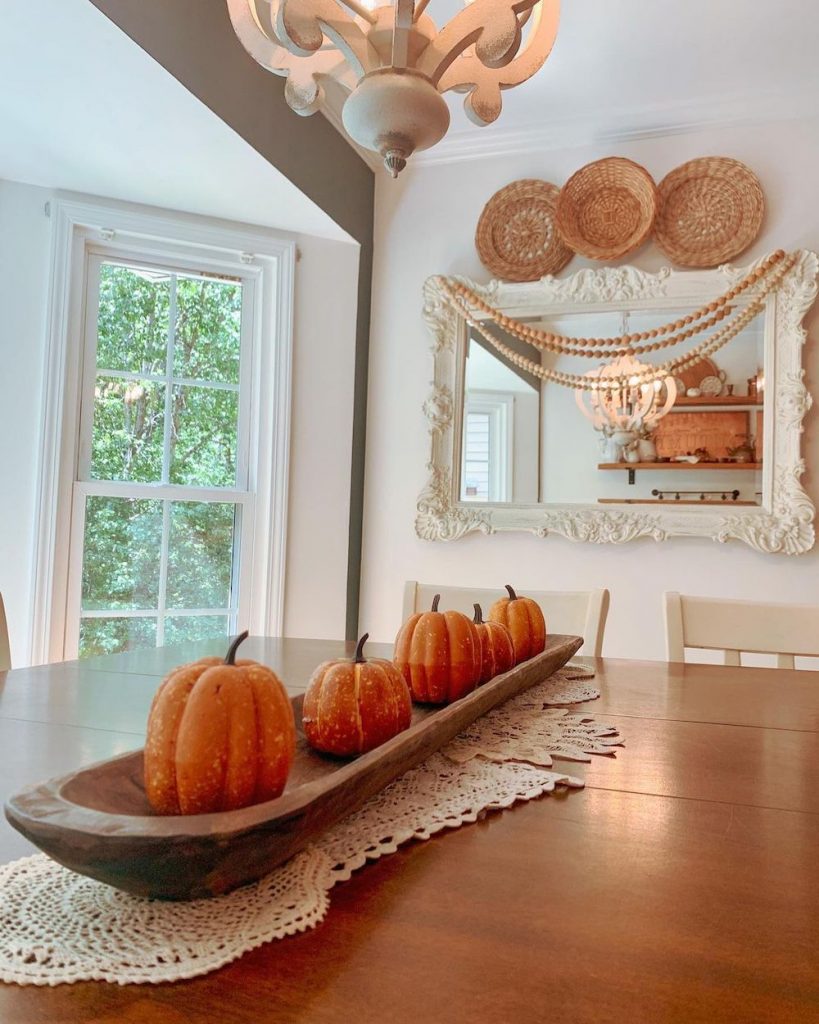 Display a set of orange pumpkins across the dough bowl.
Use a Fall Colored Hydrangea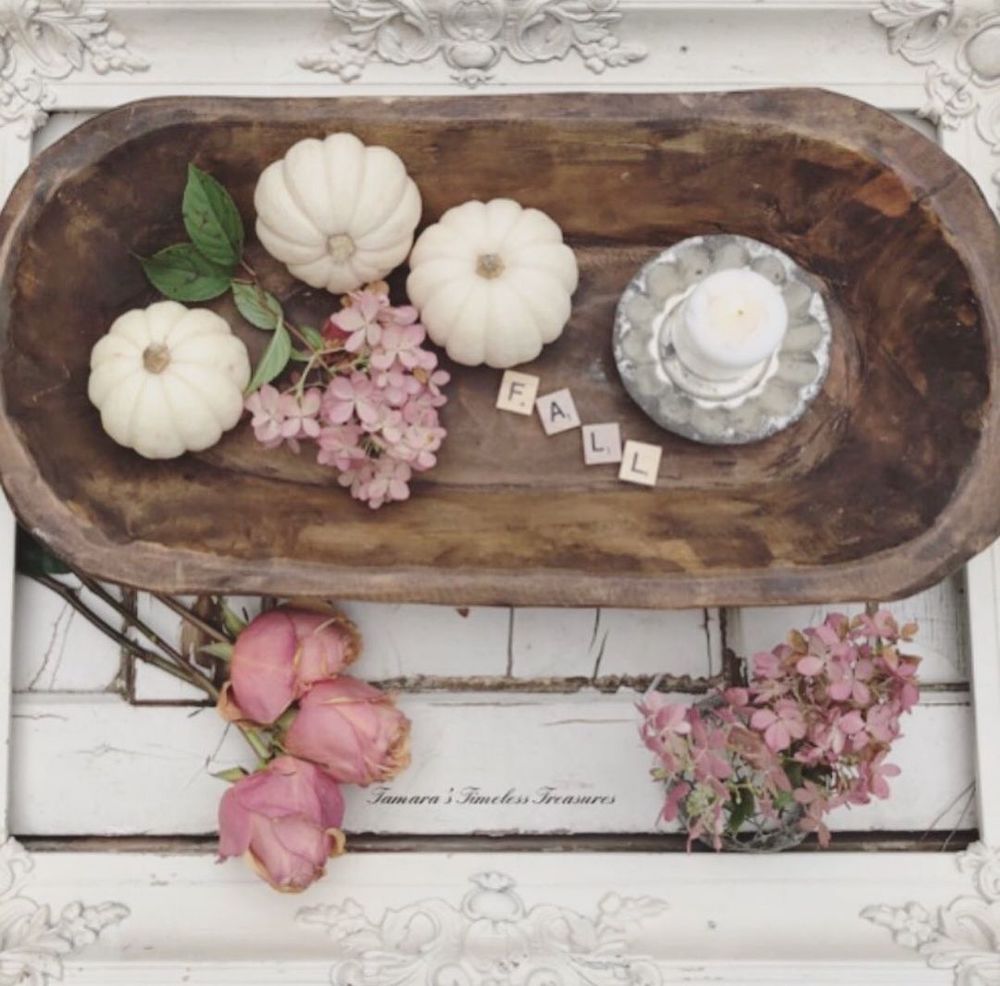 Lay a pretty hydrangea and roses near your centerpiece.
Style it Yellow and Green – DIY Fall Centerpiece Ideas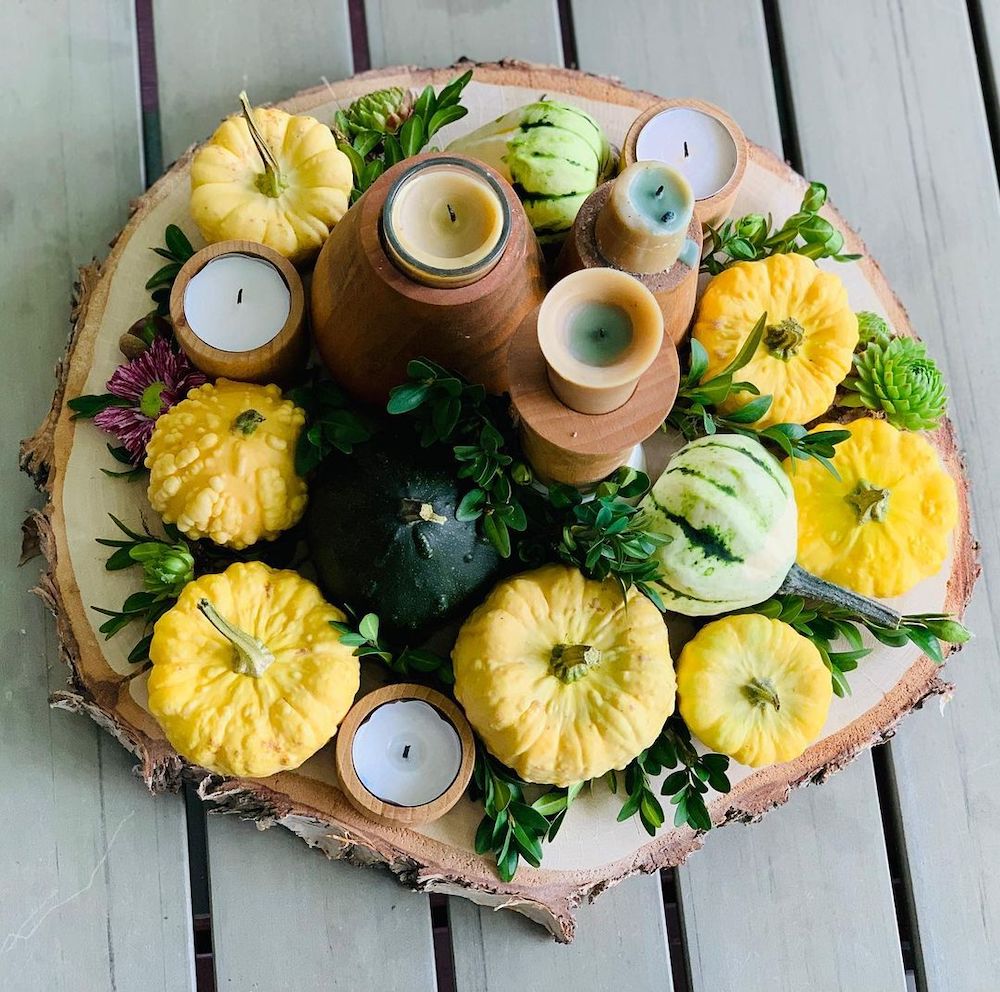 Start with a wood disc that is unfinished, natural, and with the tree bark intact. Cover the wood disc in greenery, maybe boxwood. Then proceed by adding small yellow pumpkins and gourds. Create an elevated area where you can place two votive candles.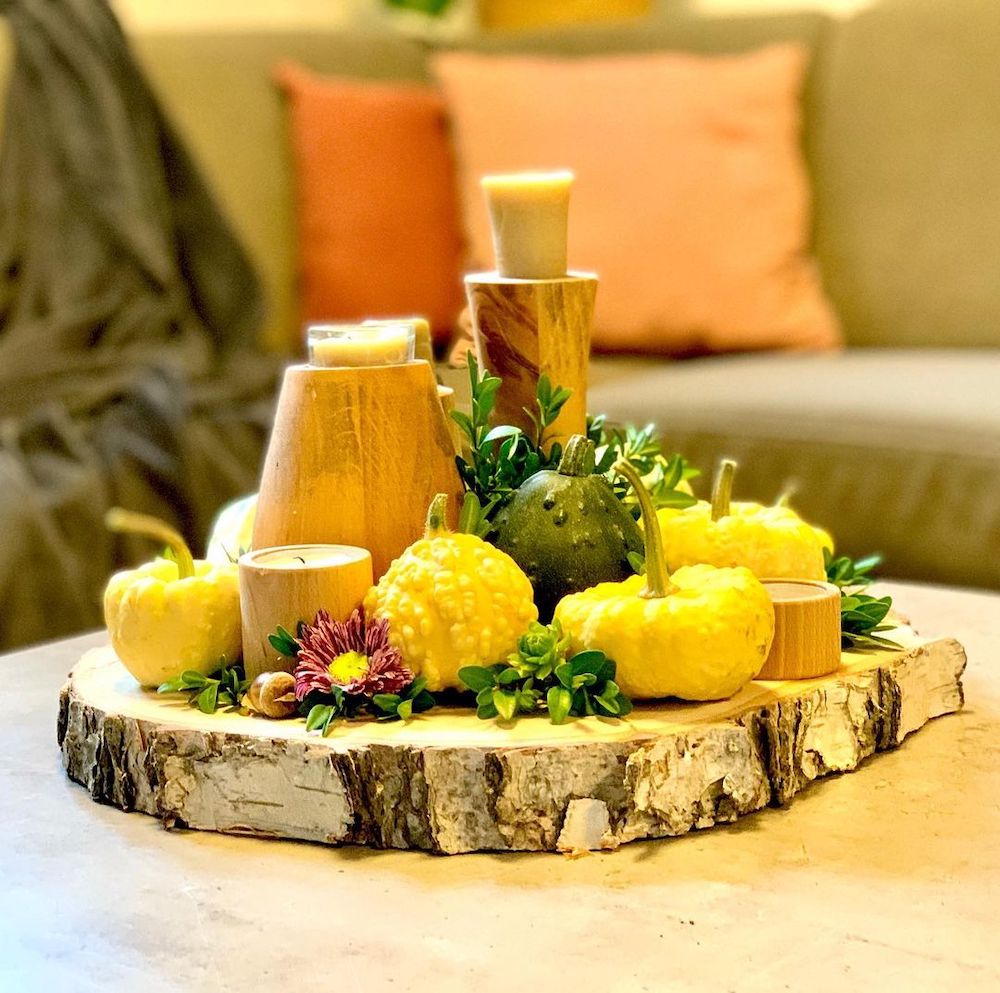 Use a Set of Spackle Covered Vases
Bring out your two spackle-covered vases in a cream color. Fill in with some neutral dried foliage. Arrange on a double wooden platform.
Pair Your Base Wood Board with Pedestals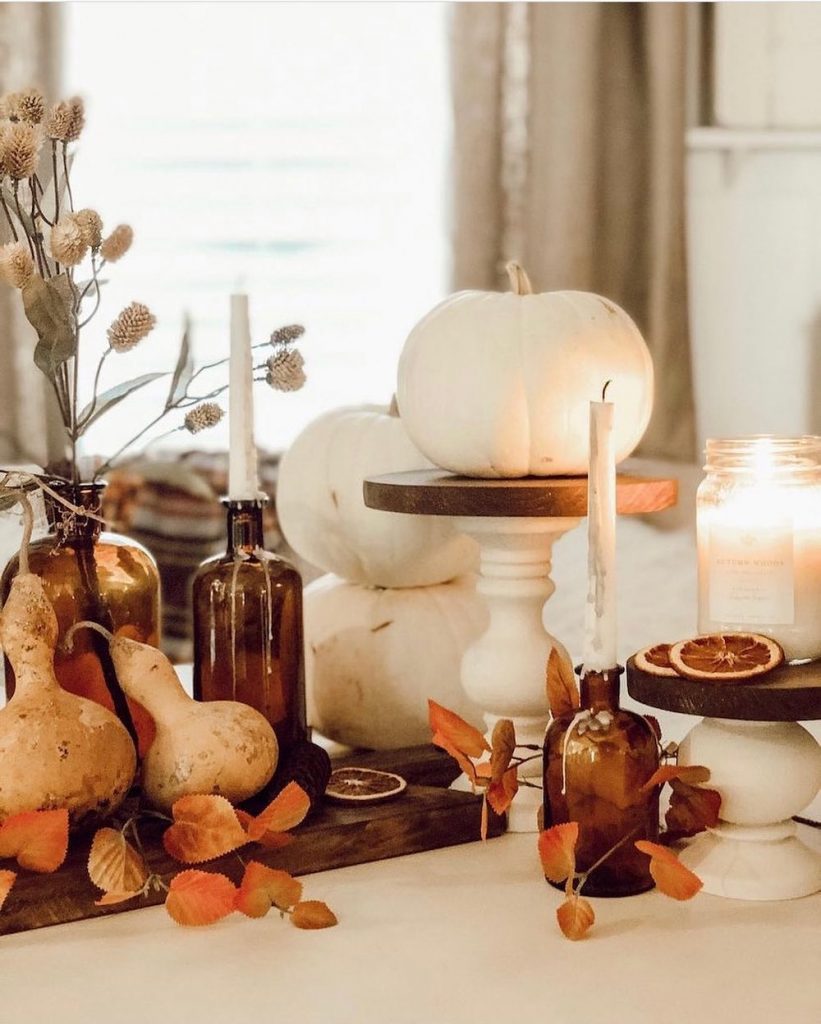 Elevate your surrounding area with pedestals. In the main centerpiece, a pear grouping, dried foliage, and candle-filled amber bottles provide dinner guests with visual interest. Adding the pedestals to the area helps expand the centerpiece. White pumpkins and citrus slices complete the fall look.
Go Neutral with a Little Bling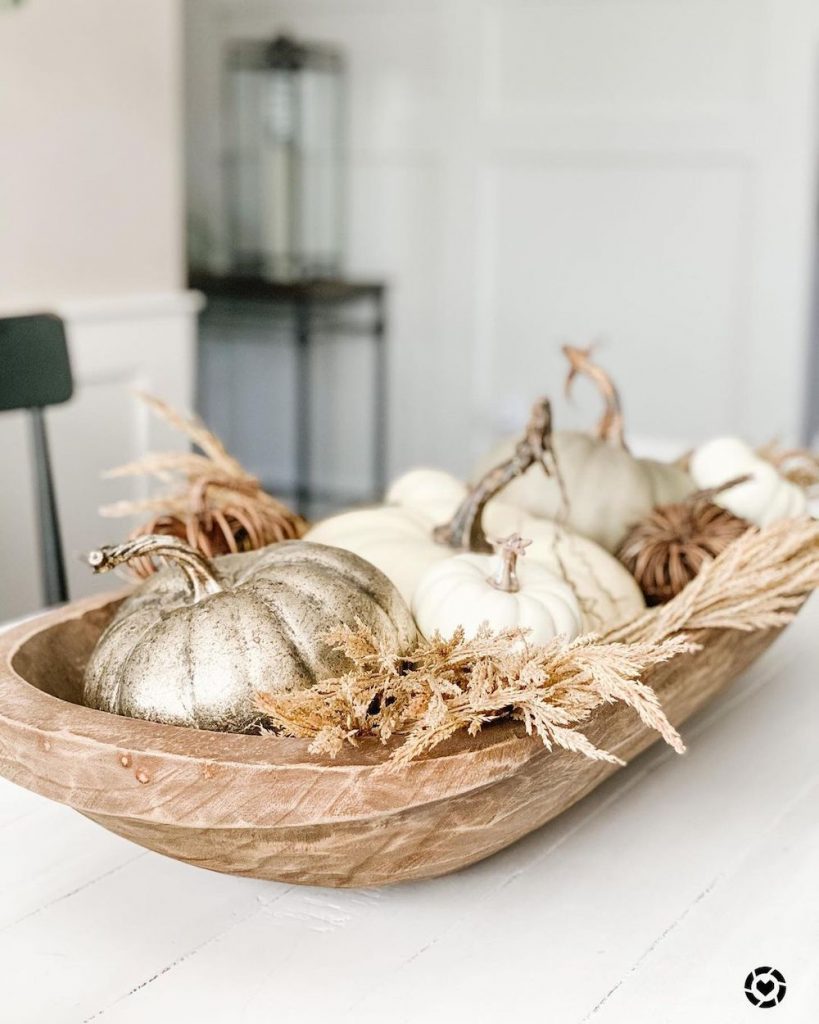 Use a natural dough bowl. Add neutral foliage at the base of the bowl. Drop a few white Casper pumpkins, a couple of woven pumpkins, and a single silver-colored pumpkin. Nice, easy styling.
Add Fall Foliage – DIY Fall Centerpiece Ideas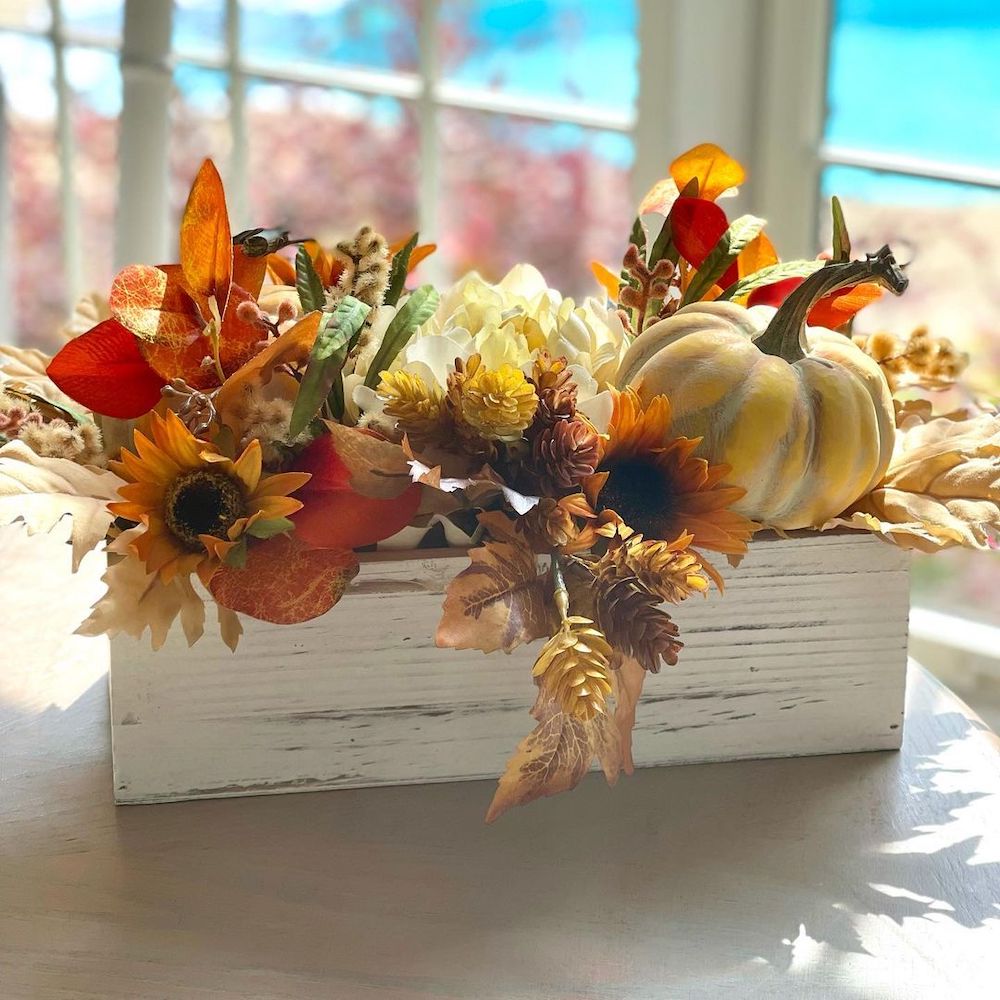 Start with a white-wash rectangular box. Add faux fall flowers such as sunflowers, chrysanthemums, maple leaves, and other fall-colored foliage. Finish off with a single pumpkin to one side of the box. Looks gorgeous.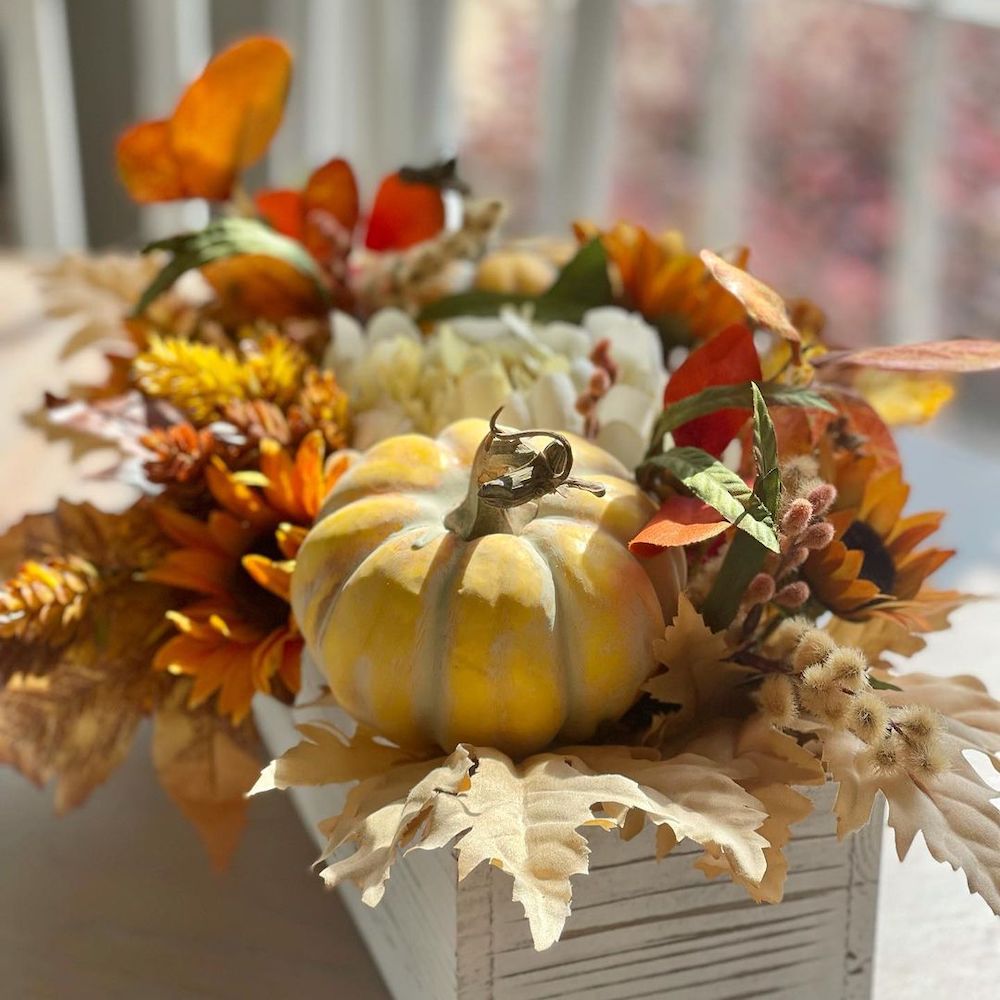 Use Wooden Risers to Elevate Your Centerpiece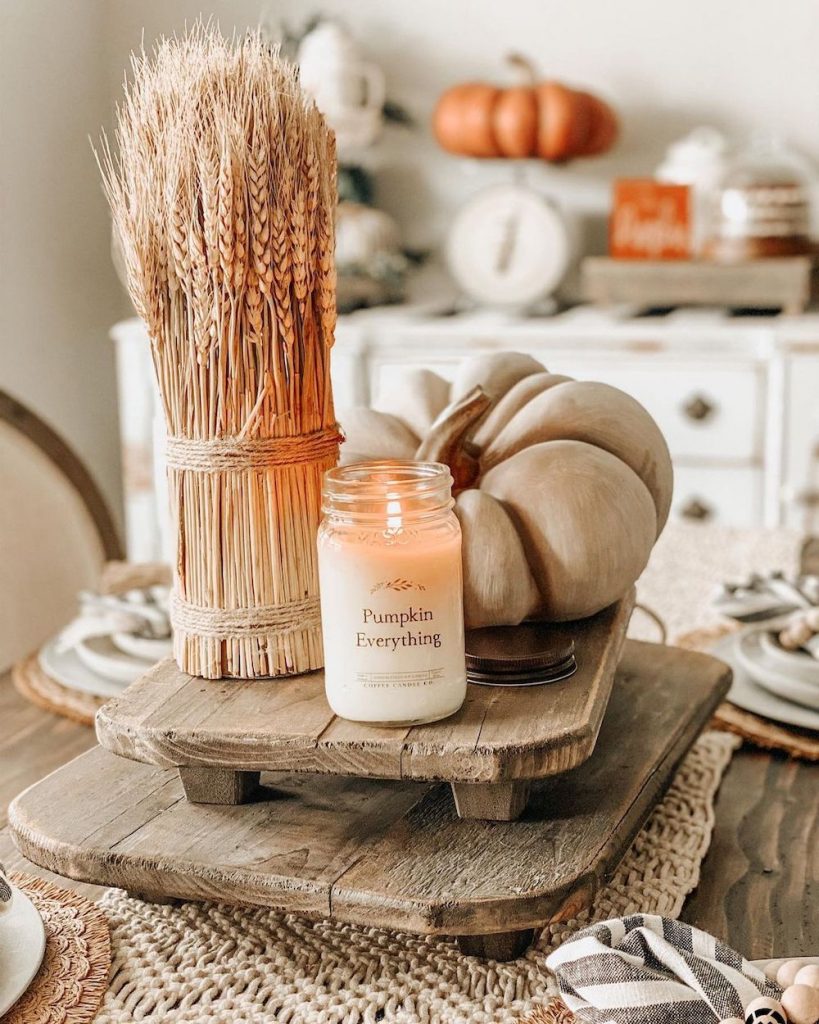 Elevate a bundle of wheat to a group of wooden risers. There are a variety of items that you can add to this. Some items to consider are faux gourds, faux pumpkins, scented candles, signage, or vintage-styled objects.
Fill a Container of Rascally White Pumpkins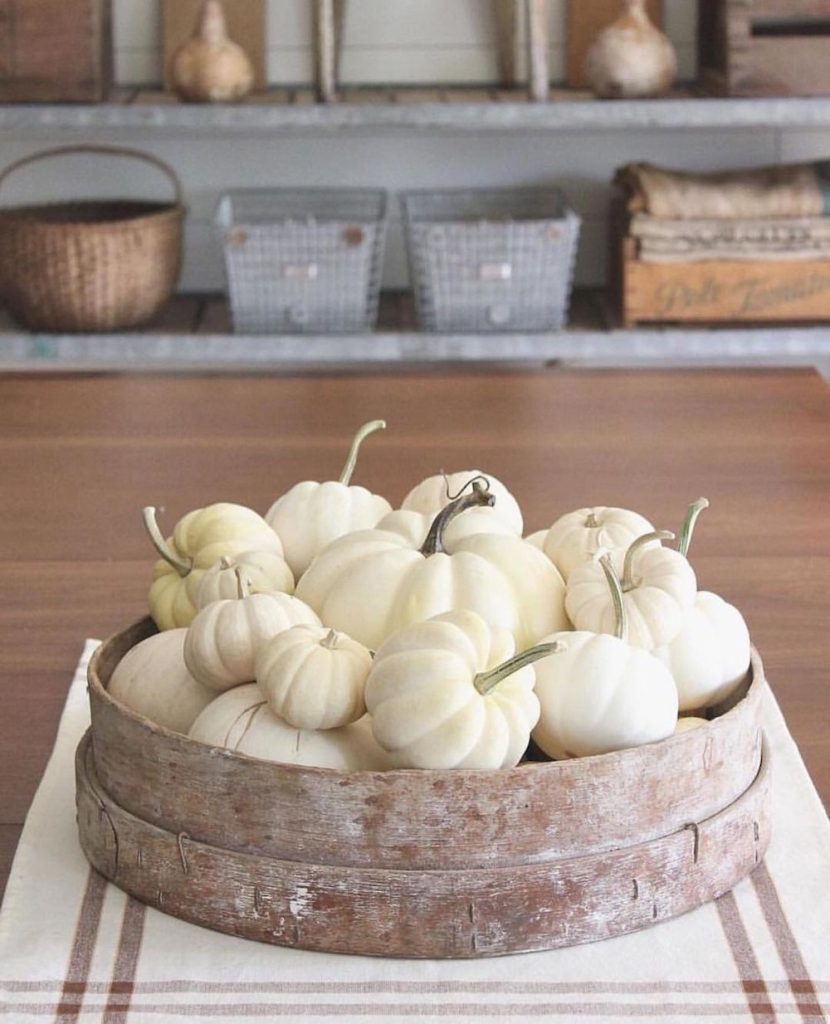 Go rustic with your style. Use a round container and fill it with "rascally white ones" as wheresistersgather did.
Elevate White Pumpkins on a Glass Stand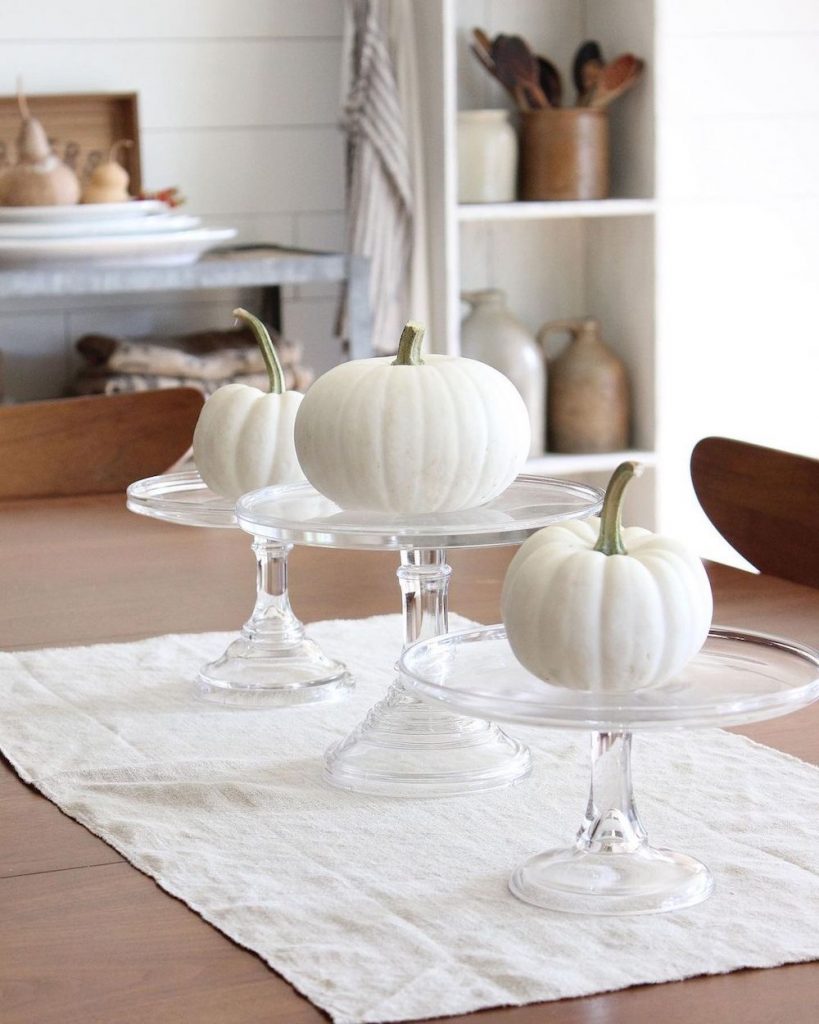 Gather three clear glass stands in two different heights. So that the center one is the highest. Drop a single medium white Casper pumpkin on each glass stand.
Style it in a Metal Round Basket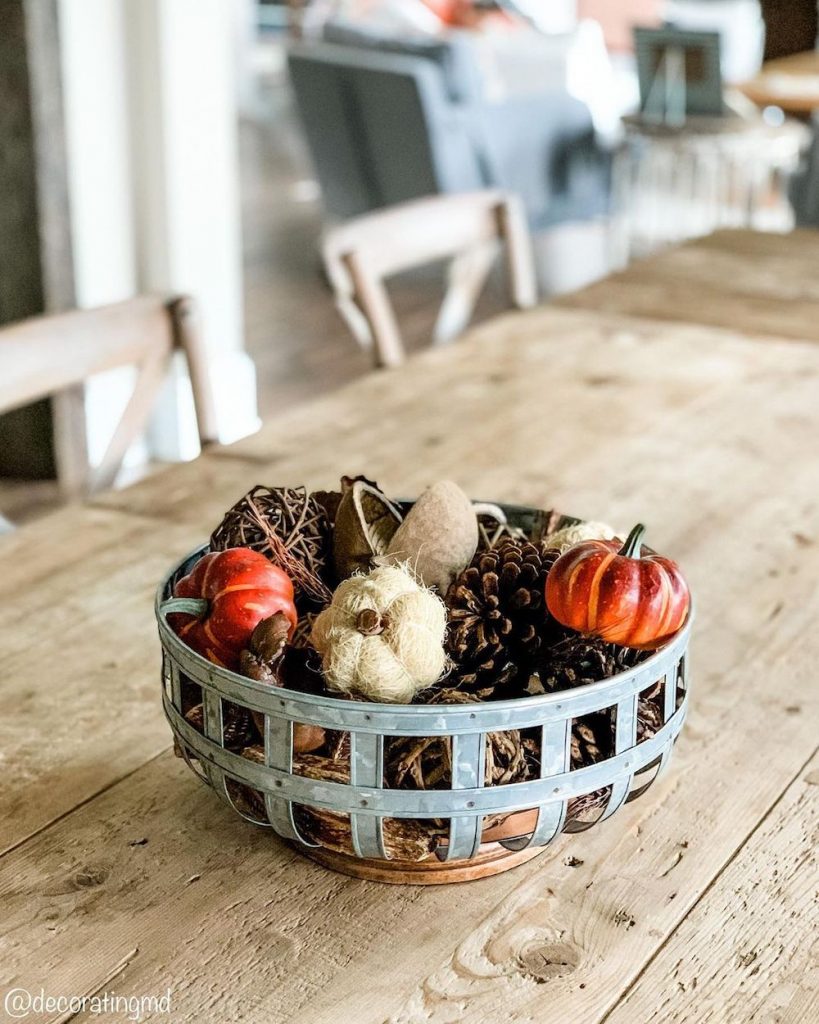 A simple solution. Style your centerpiece in a metal round basket. Drop-in a few pine cones, various pumpkins, vine balls, or willow balls. Then you are done.
Do it Short and Sweet – DIY Fall Centerpiece Ideas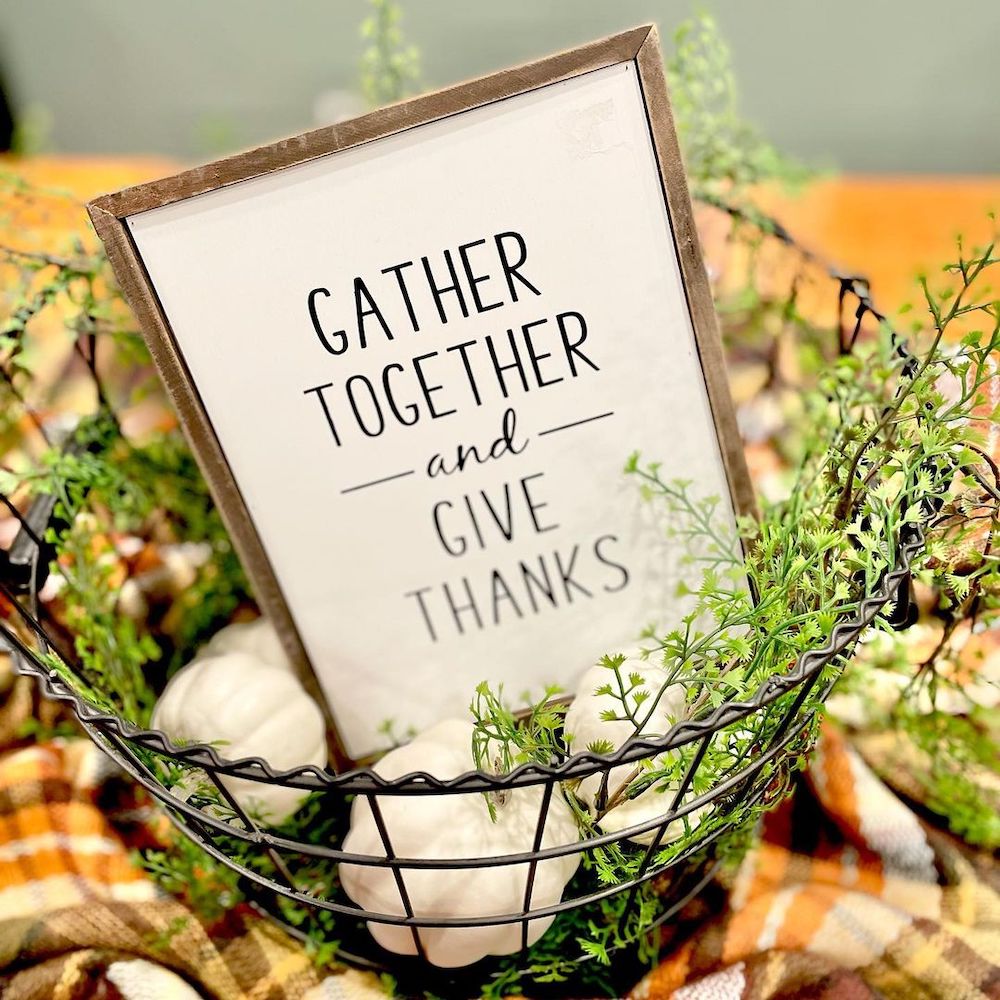 Decorate a simple wire basket. Lay a plaid scarf on the table. A scarf with fall colors is best. Followed by a handful of faux greenery, a few pumpkins, and a simple message on a sign. So Gather Together and Give Thanks!
Keep it Tidy – DIY Fall Centerpiece Ideas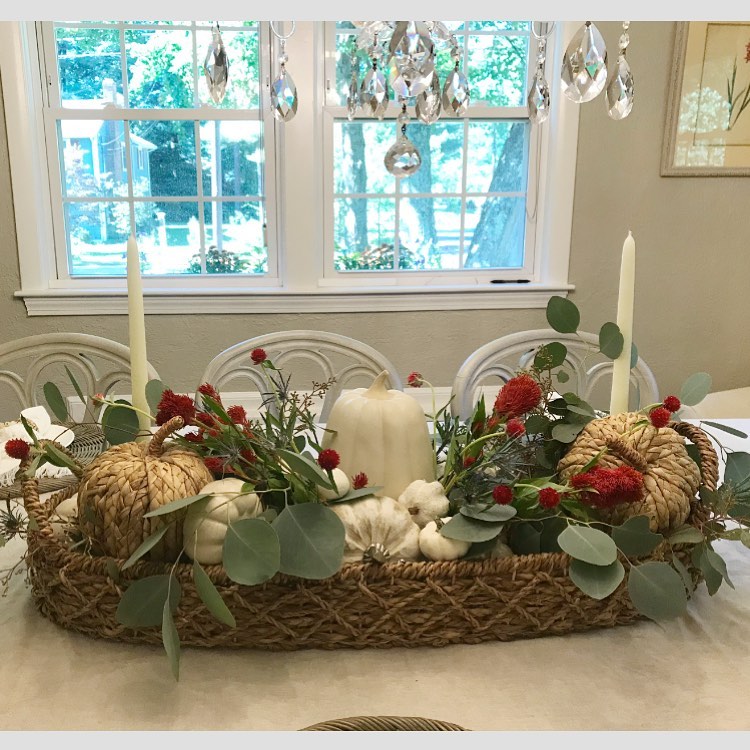 Take an elongated oval-shaped rattan basket tray and pile the goods in. Pack in the greenery at the bottom working your way up. Place a few white mini pumpkins, a Casper pumpkin, and two jute pumpkins. Add white tapers on each end of the basket tray. Drape some lovely eucalyptus and plume celosia stems to fill in the gaps. In all, Antoinette Erickson used seeded eucalyptus, dollar eucalyptus, thistle, plume celosia, and amaranth. Pretty amazing. Don't you think?
Begin with a Round Seagrass Basket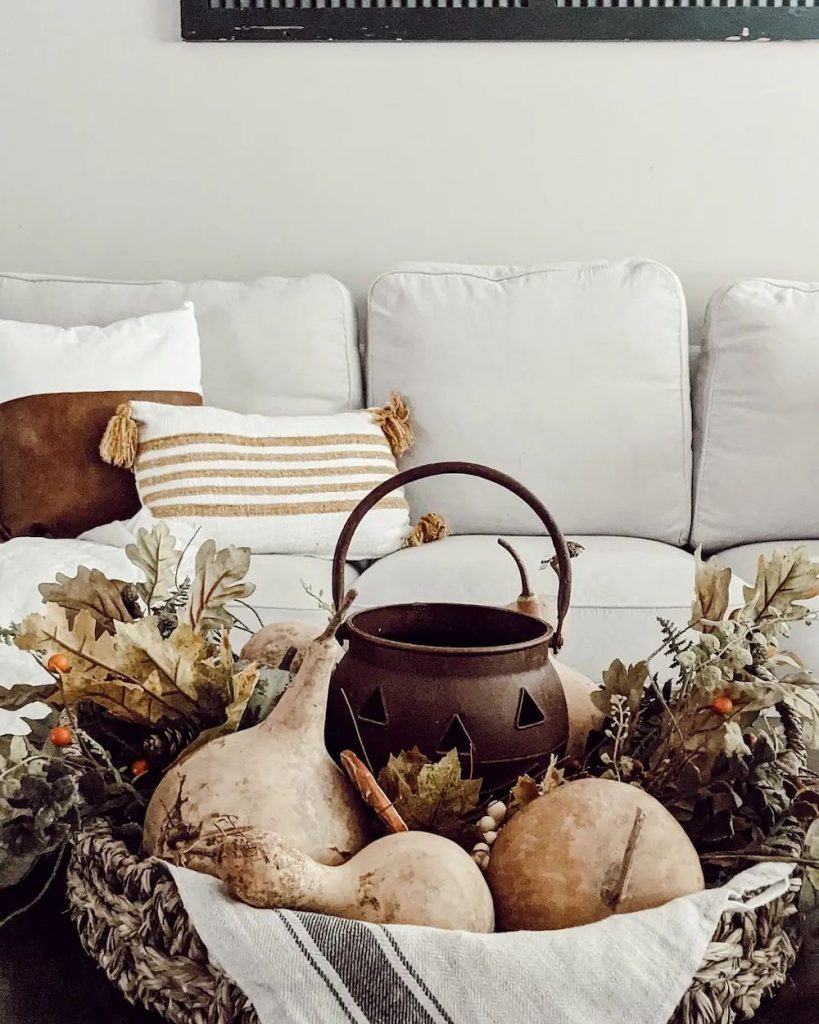 Take a linen table runner or dishcloth and lay it across the basket tray. Next, fill the round seagrass basket with faux fall stems. Insert the distressed Jack-o'-lantern in the center of the tray. Carefully place the gourds around the Jack-o'-lantern. We love the vintage look of these colors in the centerpiece. Gorgeous!
Style it with Pears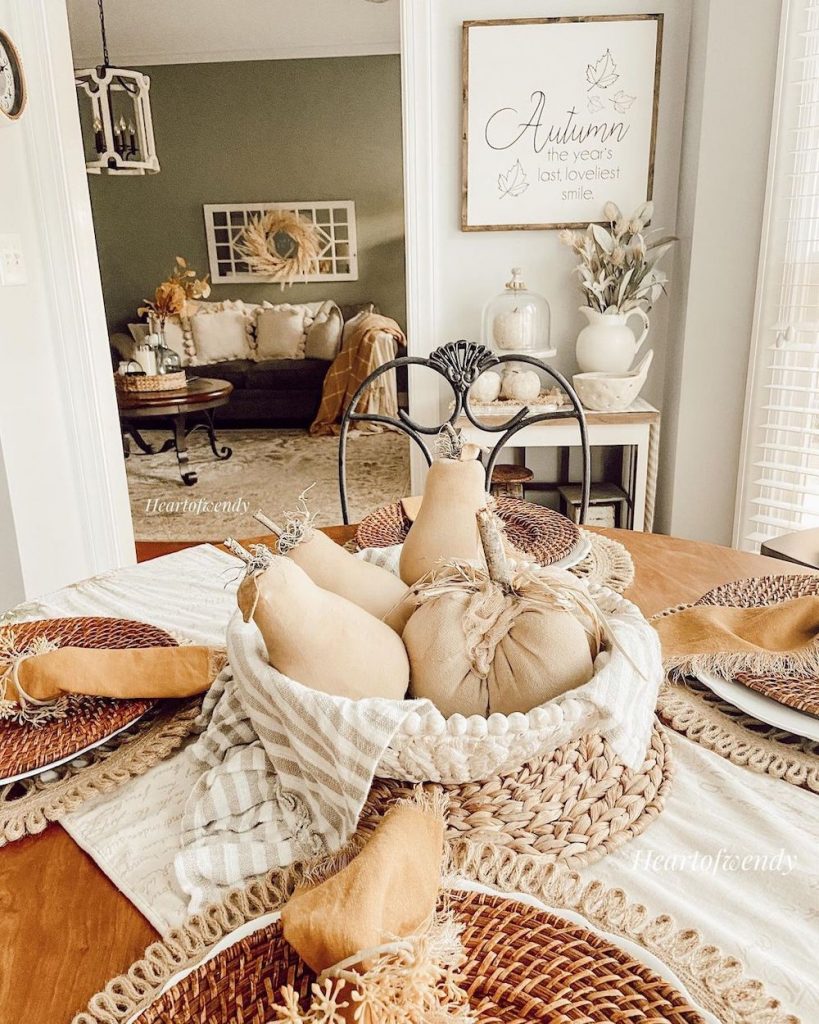 Go with neutrals and natural colors. An autumn color palette flows seamlessly throughout the home. Cover a basket with a dishcloth, in this case with beige and cream colors. Then proceed with the lovely pears and pumpkin. And then you're done! Love this! Beautiful and easy to style.
Design it on a Pedestal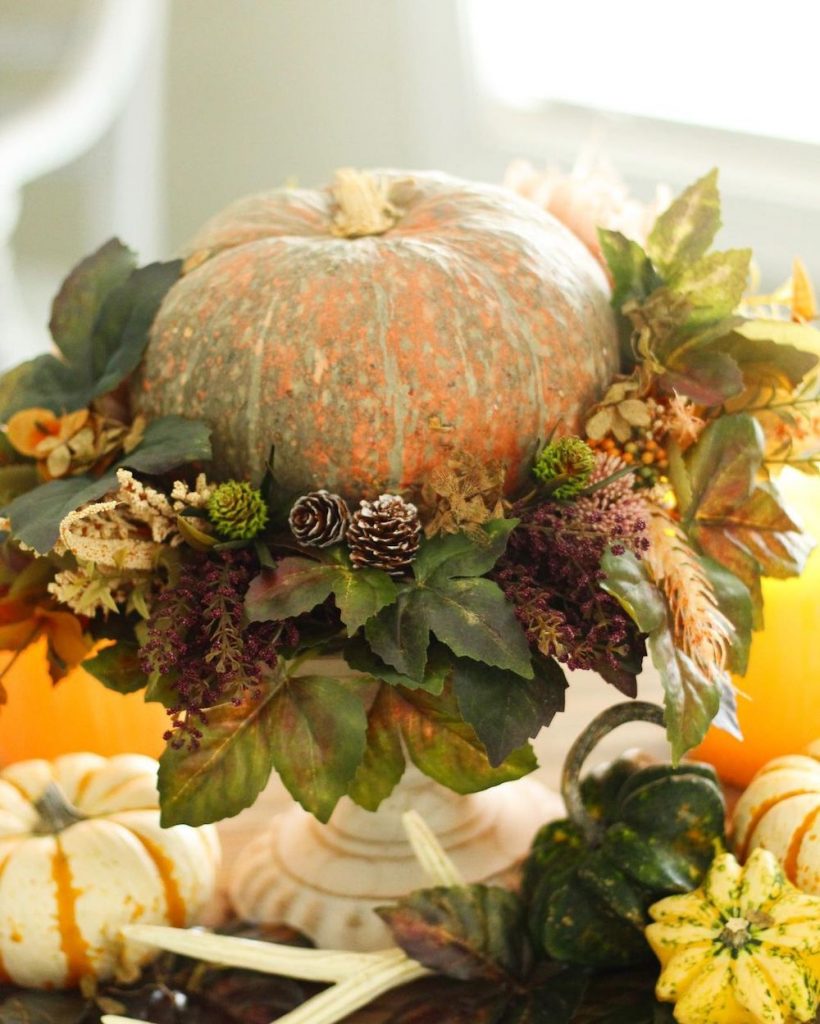 Begin with a cream pedestal. Place the assorted greenery and pine cones around the top of the pedestal. Then place the crowning jewel on top. We love the mix of the pumpkin colors that go so well with the greenery. Perfection!
Go for the Natural Feel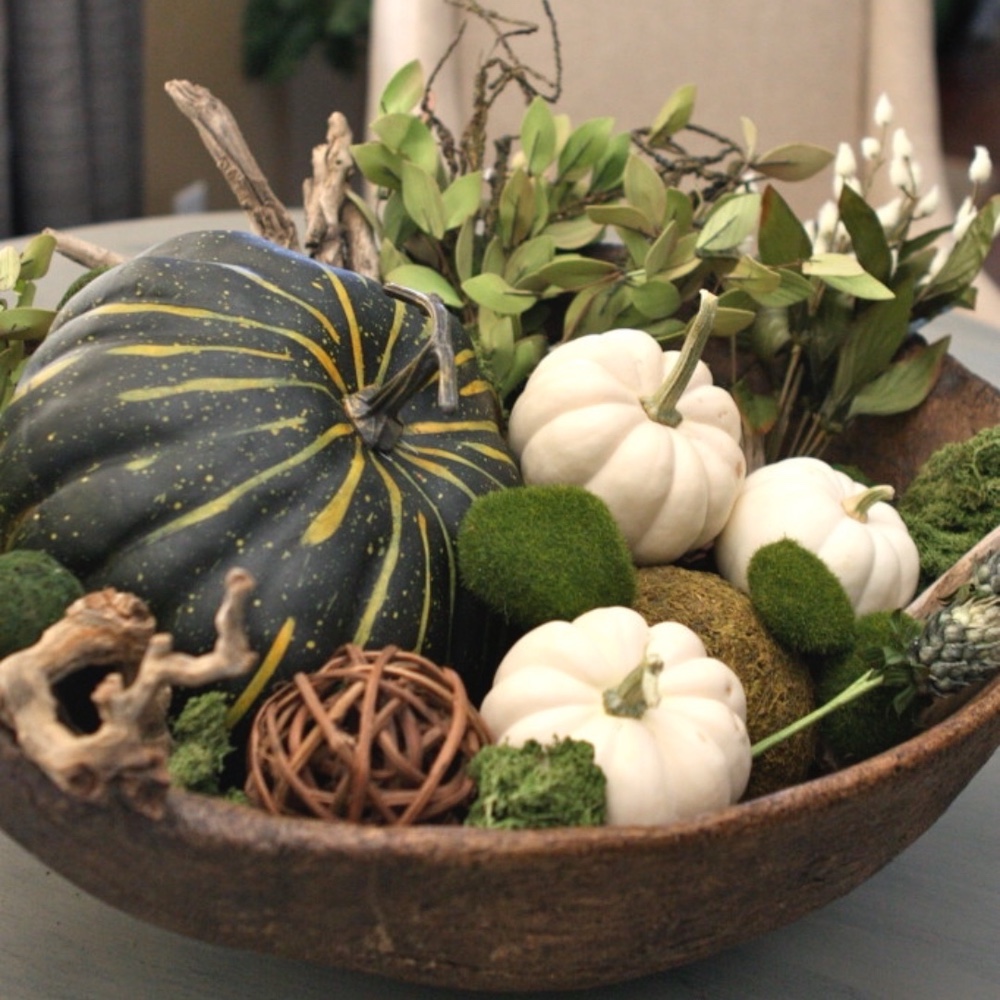 Create a scenery where pumpkins and gourds blend with the natural foliage. Add moss balls, willow balls, greenery, and white miniature pumpkins. The contrast between the greens, browns, and cream colors is mixed so easily.
Stick with the Seagrass – DIY Fall Centerpiece Ideas
Take your best wood dough bowl and lay about 6 green stems from the center. Add some dried stems and a few berries. Then place the pumpkins in the center. We love this centerpiece. Easy plus we love that each place setting has its own board with mini pumpkins! Cute, cute, cute!
Go for a Whimsied and Distressed Style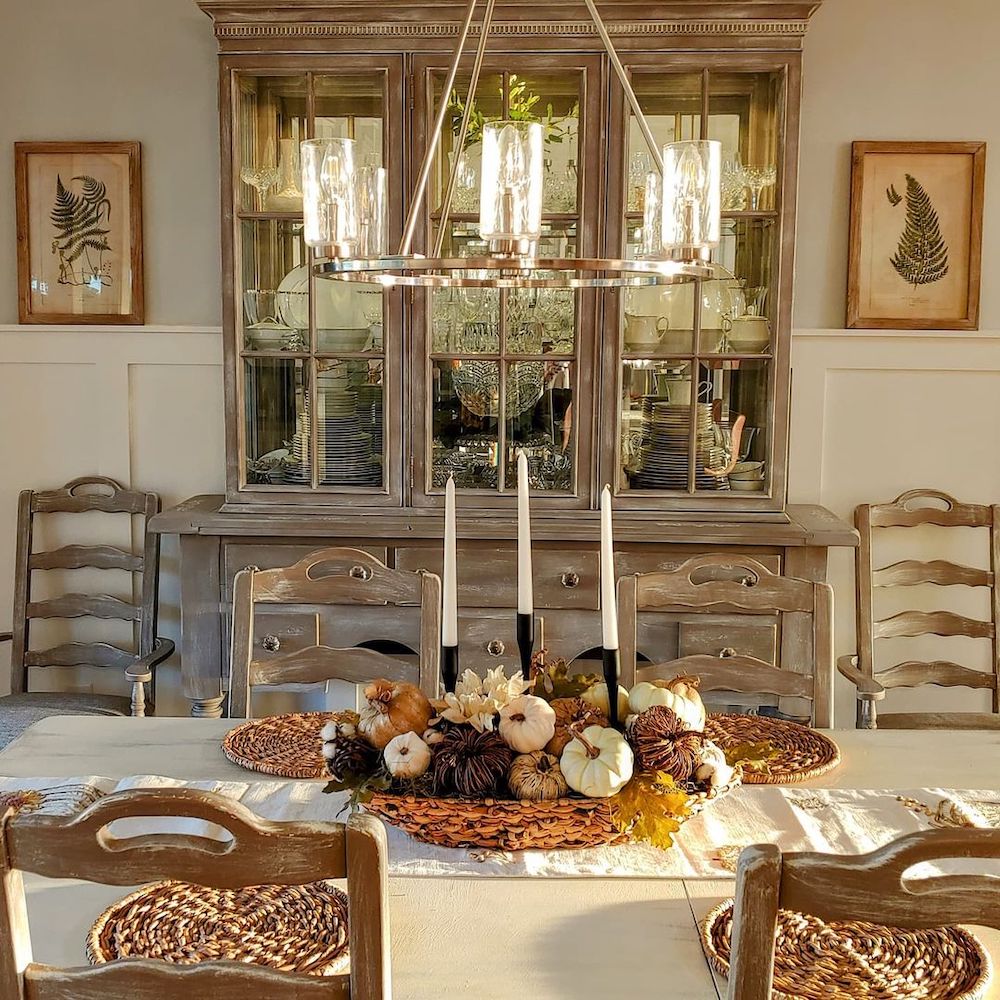 Create a centerpiece that is warm, with neutral fall colors. In this elegant, neutral setting, the designer used a linen embroidered runner beneath her centerpiece. A set of three black-tiered candlesticks stand in contrast to the surrounding warm, neutral colors. The centerpiece is a woven basket filled with an assortment of pumpkins with fall foliage tucked beneath. Well done!
Make Your Yarn White Pumpkins Standout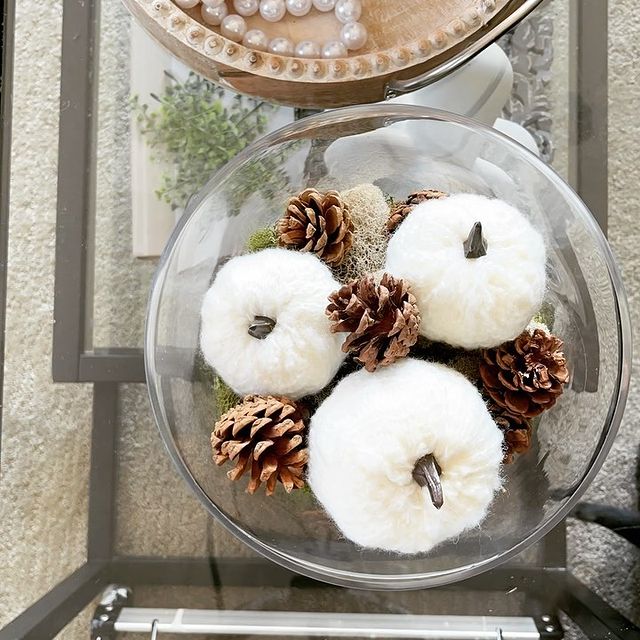 This is super quick, cheap, and oh so easy. In a larger, clear vase drop some moss and pine cones. The designer used a bell-shaped clear vase. Follow by topping off with a trio of baby yarn pumpkins. Clever idea by Erica. Don't you think so?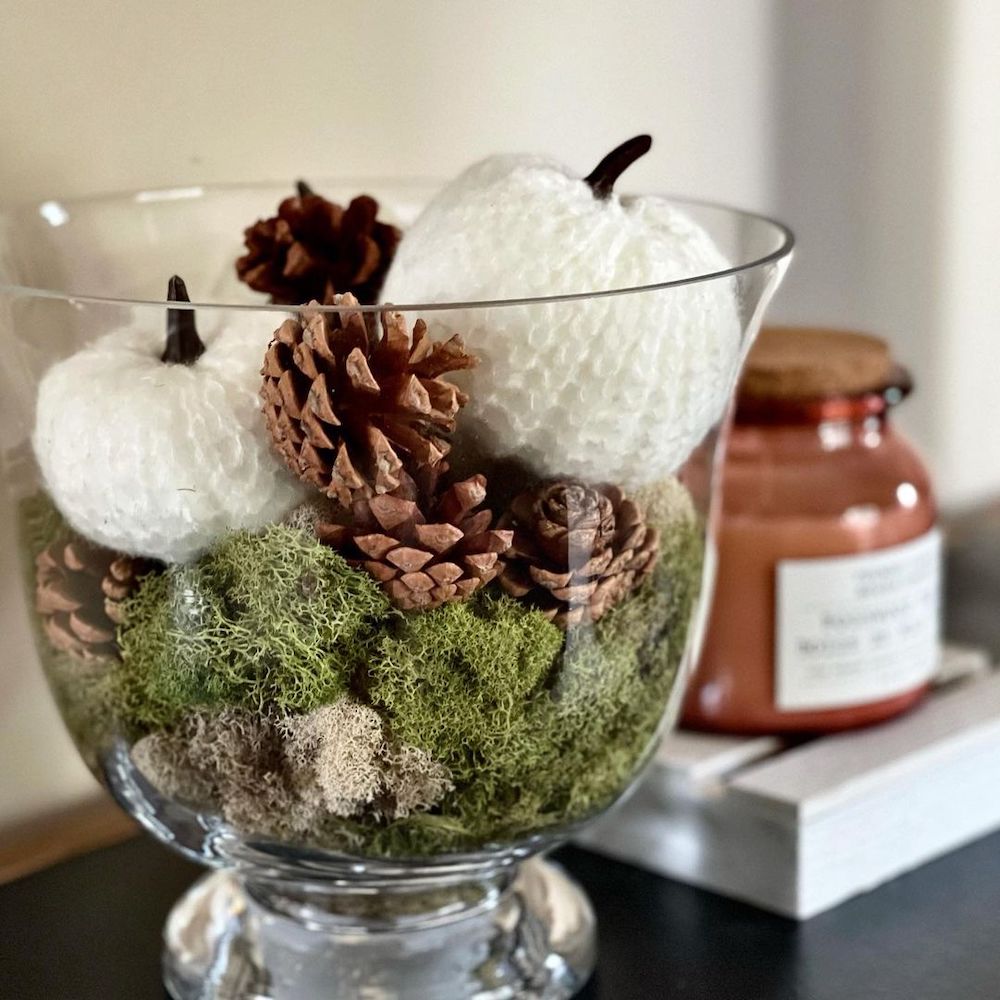 Reach for the Wooden Salad Bowl – DIY Fall Centerpiece Ideas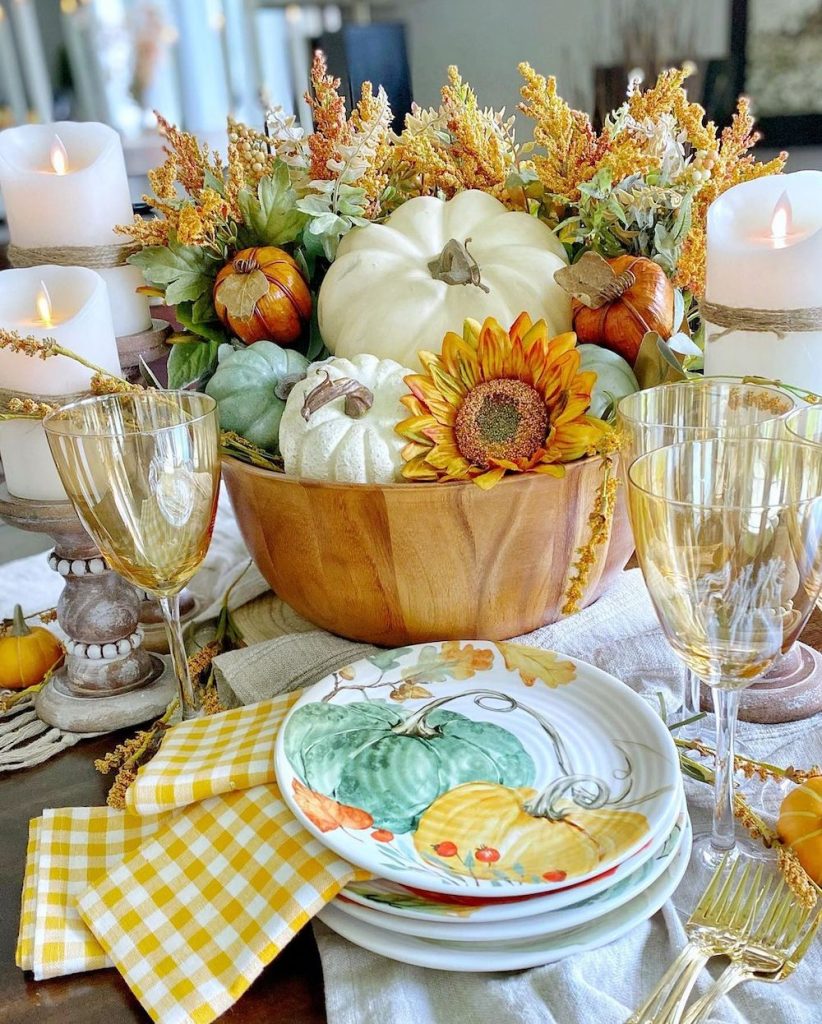 We love these color combinations of pale greens, yellows, and oranges with creamy white pumpkins. In this image, Dining Delight added coordinating stems of light yellows and greens for the background. Then followed with faux pumpkins and sunflowers to fill in the center. A centerpiece that definitely adds beauty to your table.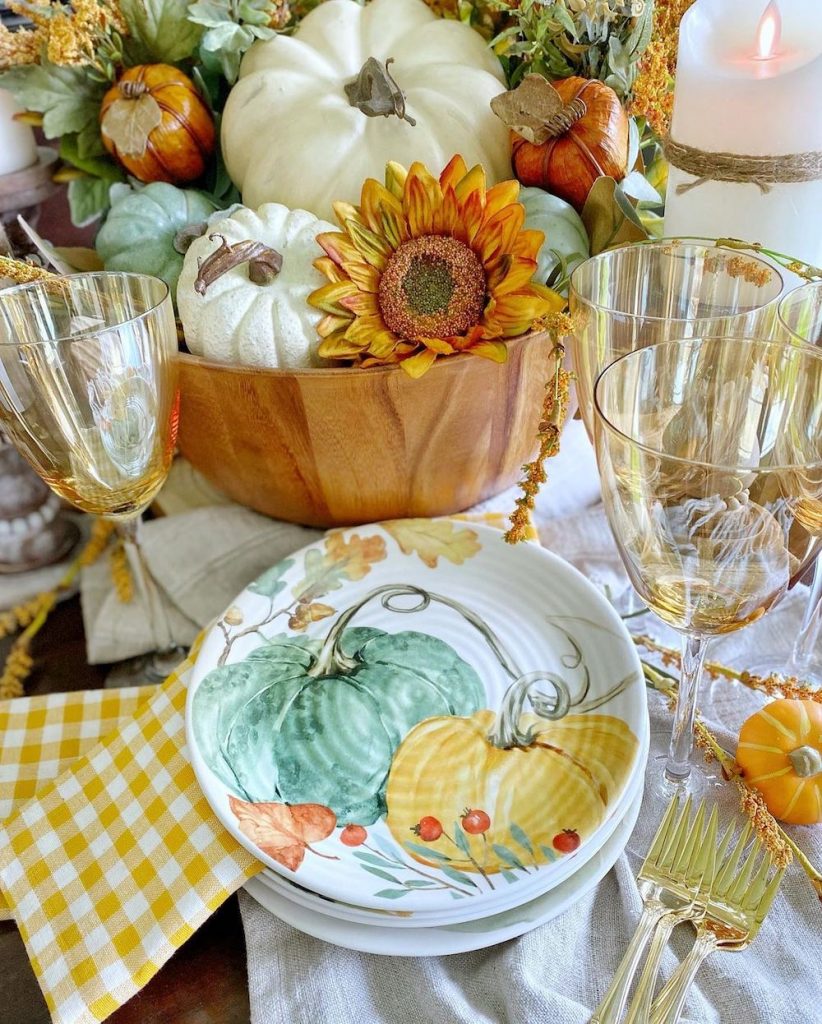 Nestle Sweet Roses with Velvety Pumpkins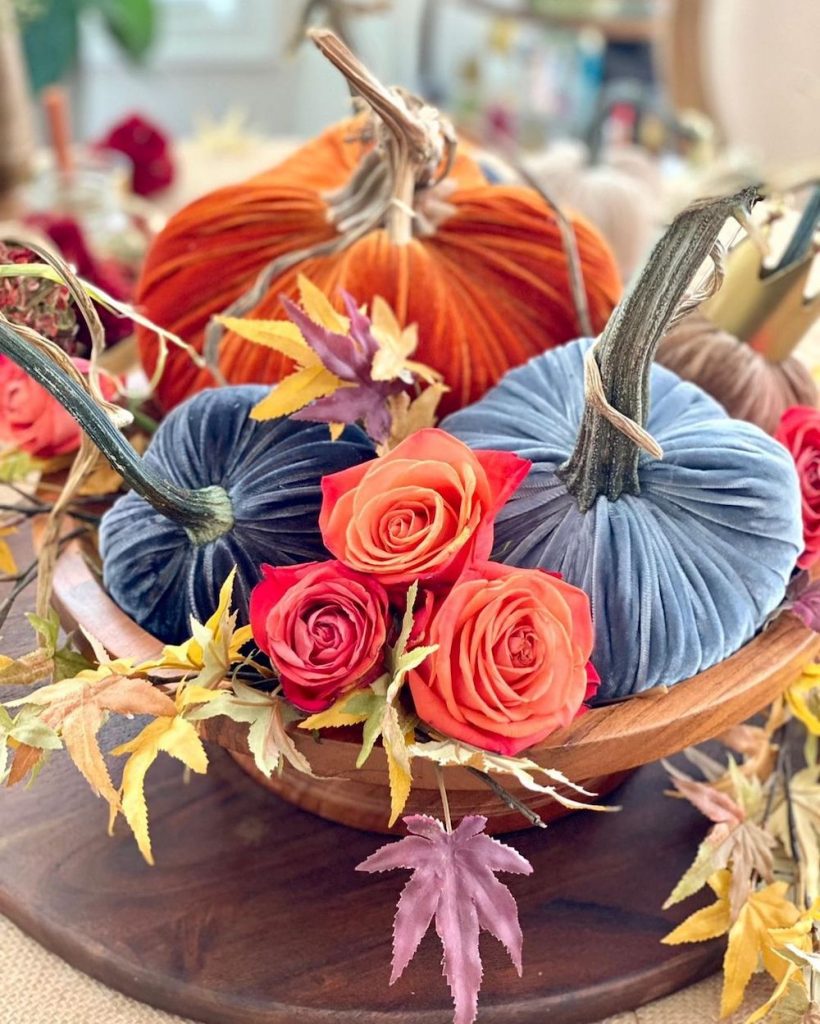 In this sweet jewel-inspired centerpiece, Heather uses a wood bowl as her base. She uses velvety-covered pumpkins over strips of maple leaf branches. Then tucks in a trio of peachy pink roses. In the right background, see if you can spot a small, gold crown over one pumpkin. A vine wraps itself around the pumpkins and their stems for a realistic look.
Display this Year's Harvest in a Firkin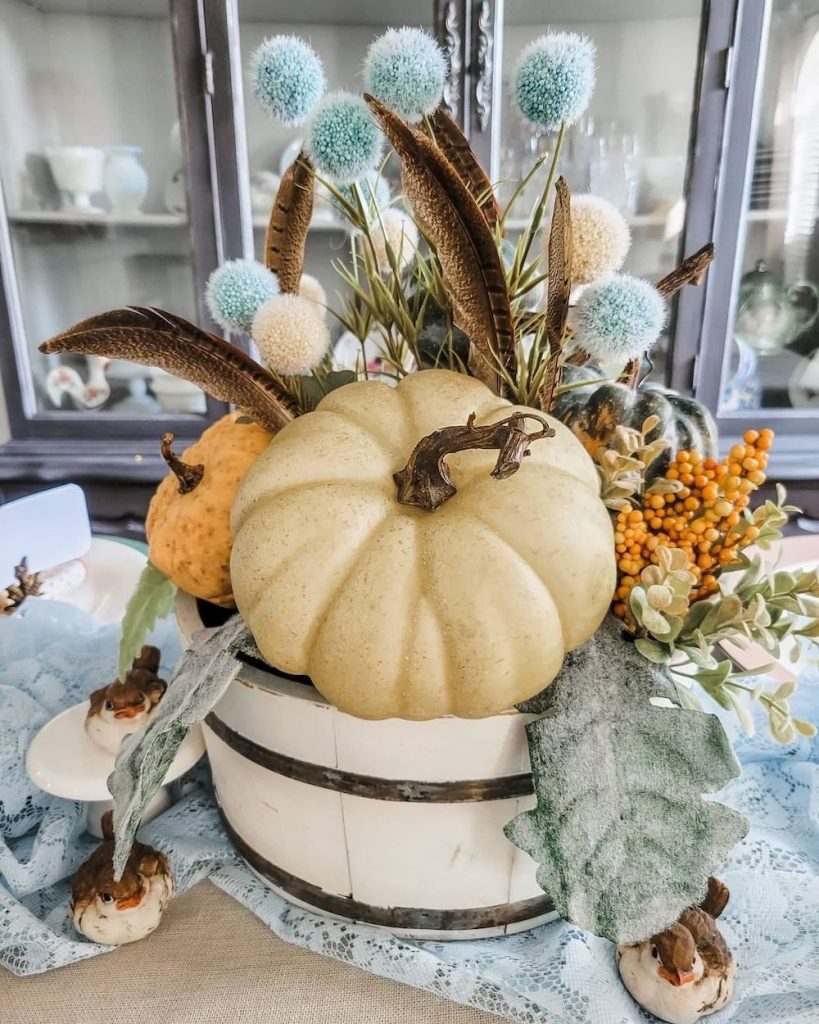 In this beauty, "the 5th sparrow no more" styles her centerpiece inside a firkin. The firkin is a wood vessel with iron banding and handles. So clever! Using pale blues and oranges along with creamy white colors, she styled a gorgeous centerpiece. Berries and incredible greenery along with feathers enhance the appearance of this centerpiece. Beautiful colors and blending of textures.
Make it Easy and Simple – DIY Fall Centerpiece Ideas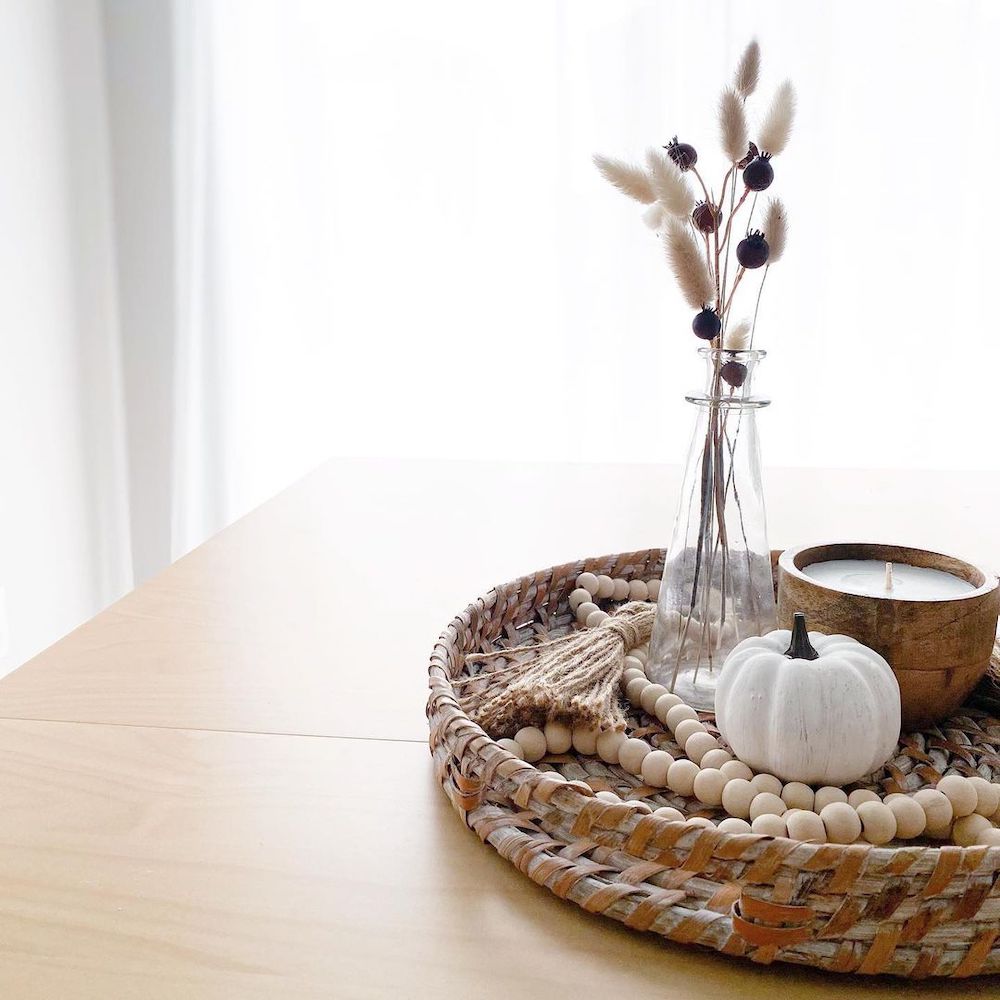 Style a centerpiece in a round, woven tray. Add a fragrant candle, white miniature pumpkin, wooden beads, and a clear vase. Drop in a few dried foliages stems in the clear glass. Then you are done. Check out teebeehome for an instructional video!
Gather Your Best Fall Colored Accessories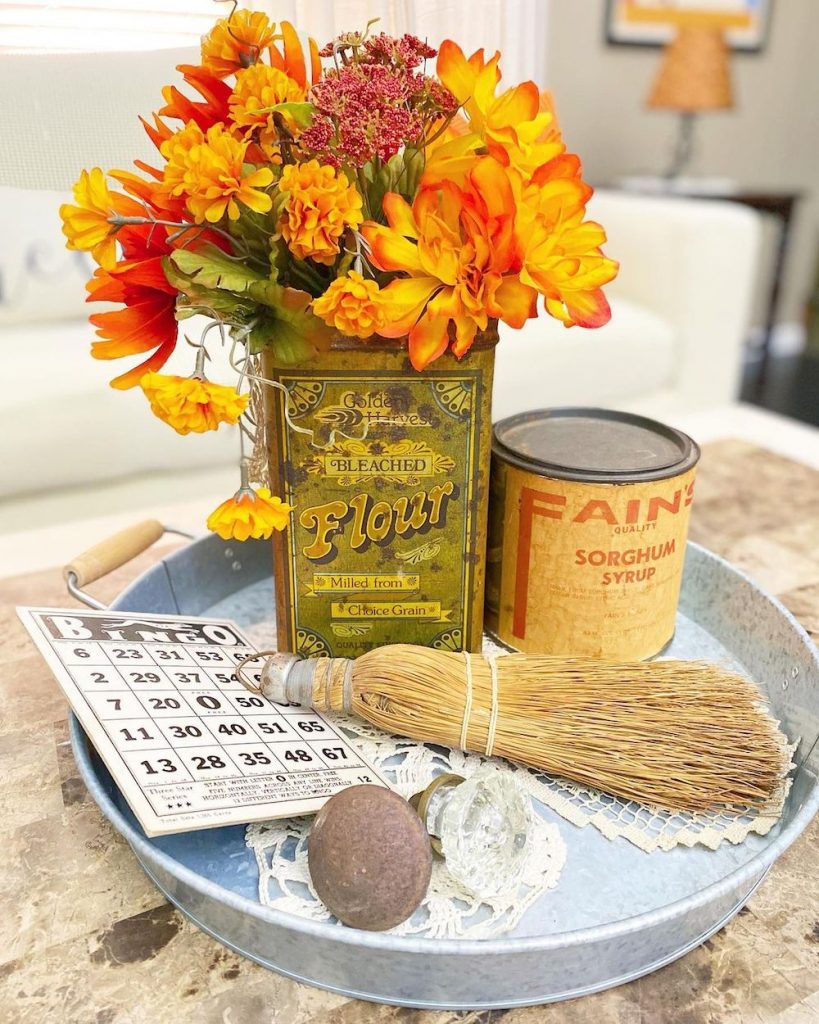 In a round galvanized handled tray, the Texas blue bungalow styles a centerpiece. Using a vintage Golden Harvest tin, drop in a handful of Marigolds and Chrysanthemums. Mostly in golden yellows and orange, the colors most associated with the fall season. Then follow with an accessory or two that are yellowish or orange in color. It all looks like Fall.
Enlist Your Blueberry Crate – DIY Fall Centerpiece Ideas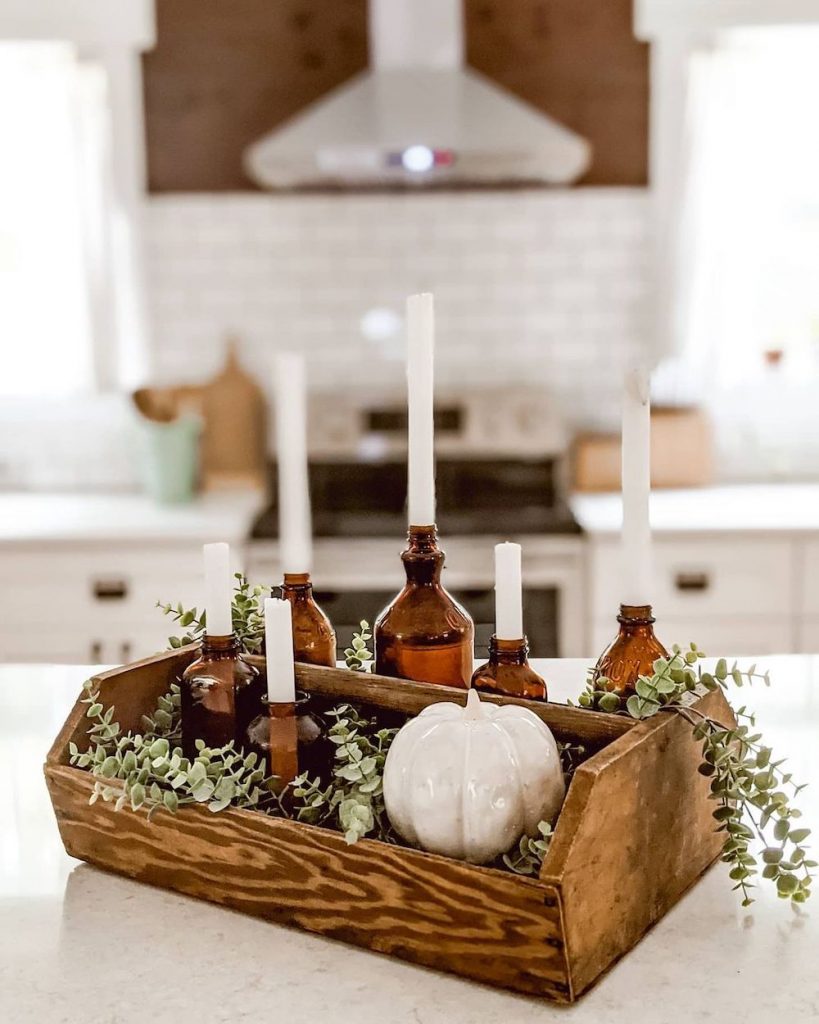 Using a vintage blueberry crate, line the crate with some pretty foliage. Add a couple of white miniature glazed pumpkins. For evening ambiance, add household candles to a collection of amber bottles. A great mix of colors.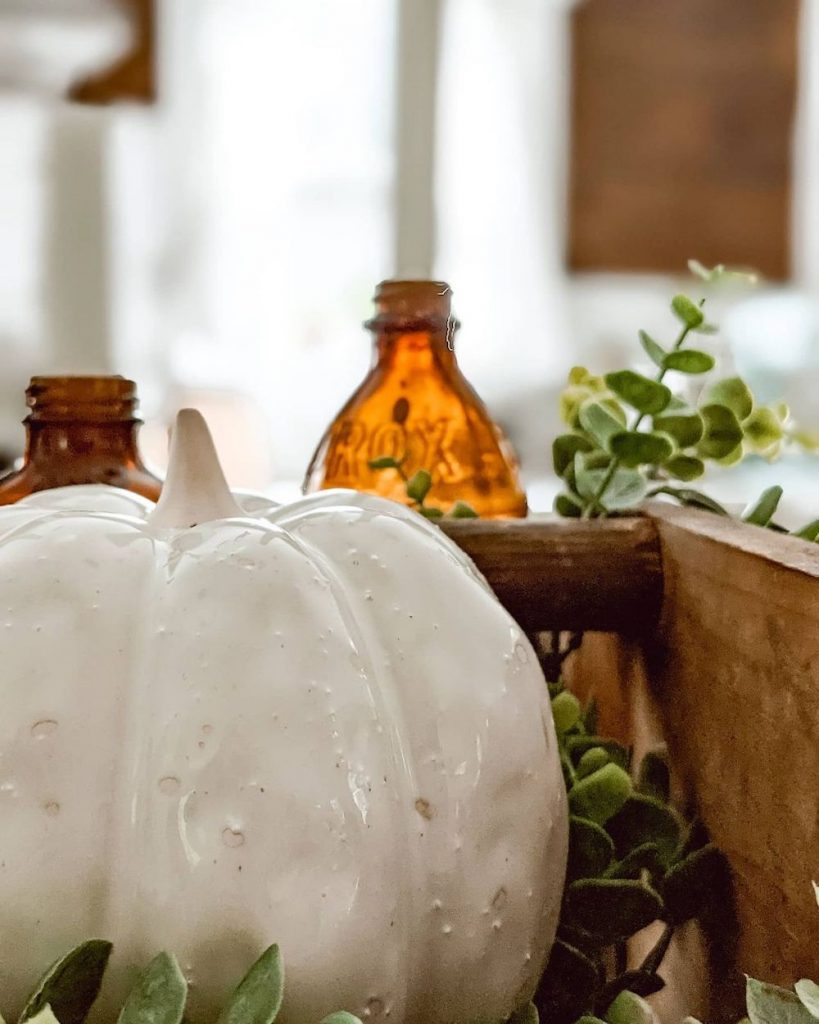 Upcycle an Open Box Container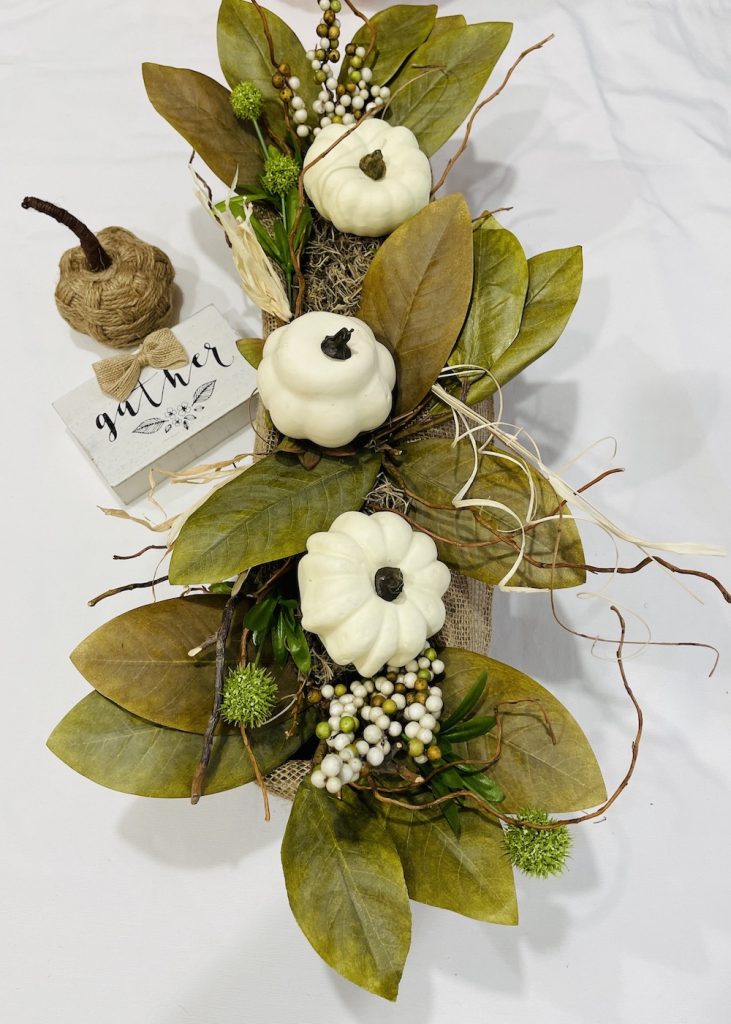 Using a dark container, add foliage and Spanish moss. Tuck in some berry stems and fillers. Drop three pumpkins evenly spaced on top.
Style it with Fresh Flowers – DIY Fall Centerpiece Ideas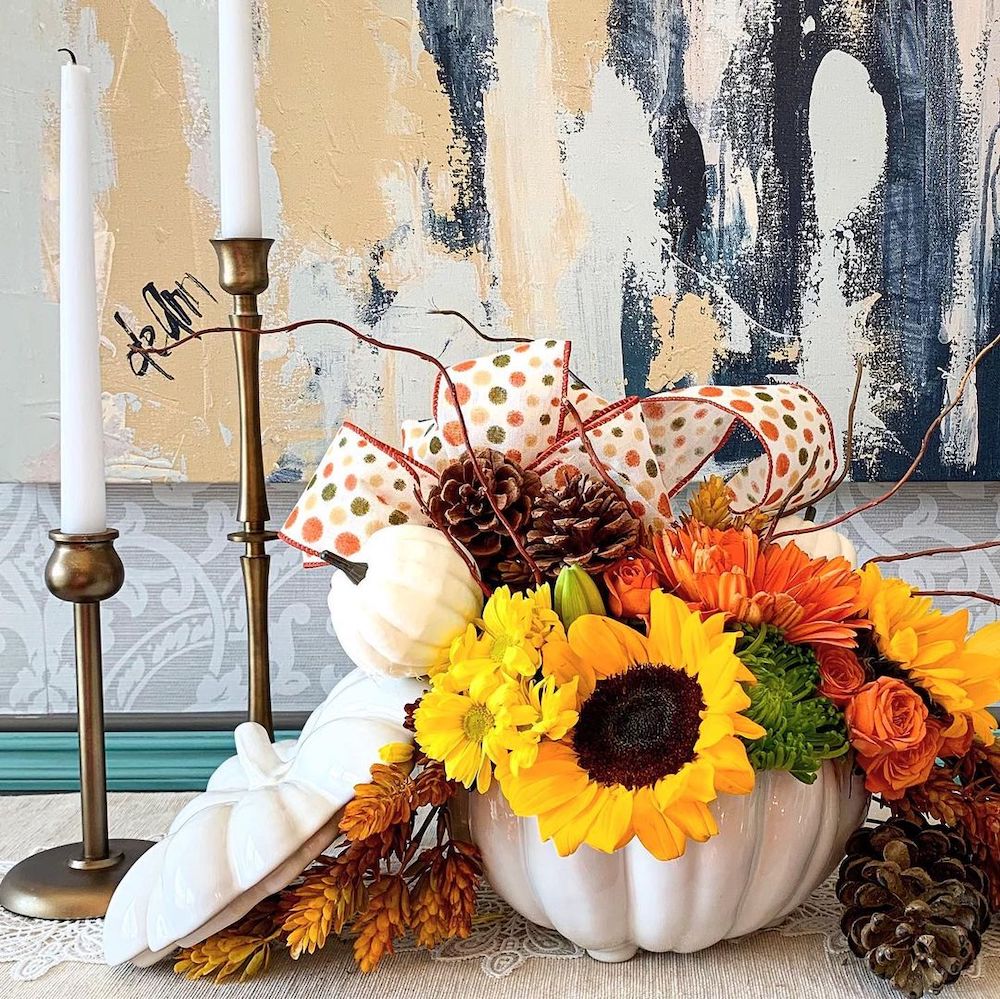 At the Holly and Ivy Home, the designer starts with a white, pumpkin-shaped serving bowl as her base. Arrange beautiful chrysanthemums, sunflowers, mini roses, and a few dried stems. Add a few willow pieces, pine cones, and a special ribbon. And now you are ready to display your masterpiece!
Bring Your Watering Can to the Table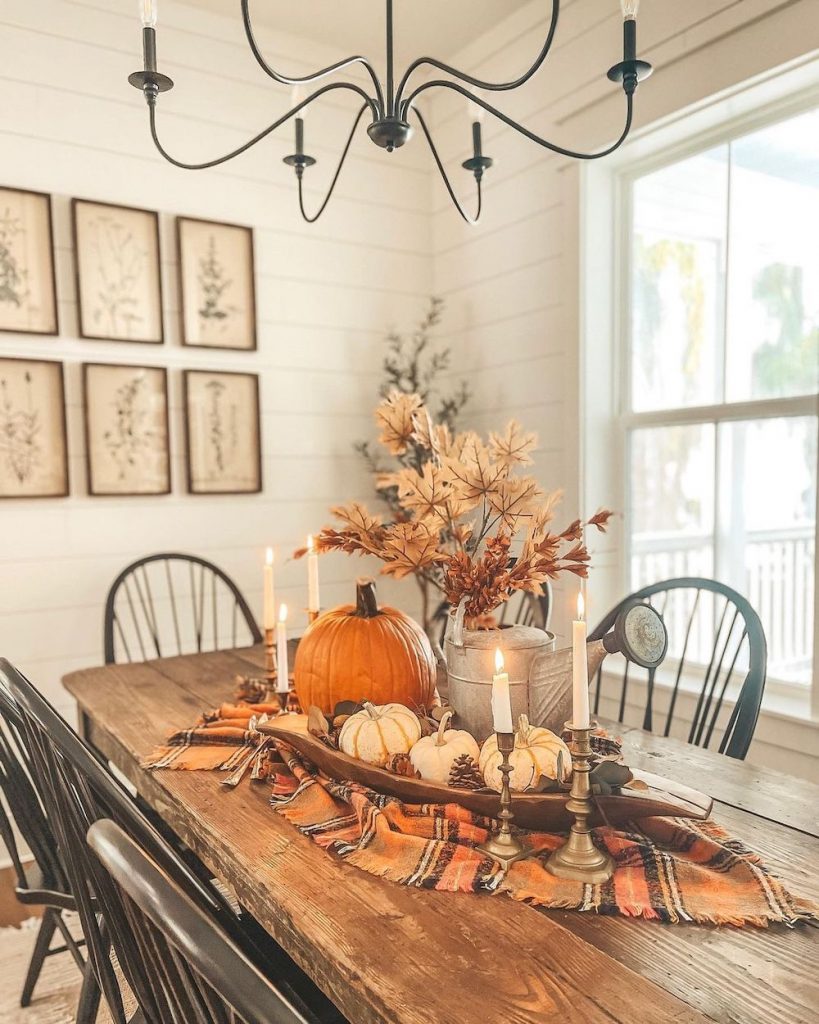 At the Lakefront Farmhouse, the styled centerpiece includes a galvanized watering can. First, lay a plaid fall-colored scarf on your table. Add a wooden dough bowl filled with pumpkins, pine cones, and extra fillings. Next to the dough bowl, add a fairly large pumpkin, and a galvanized watering can. Fill your watering can with faux branches such as maple branches. Surround this centerpiece with candlesticks.
Fill a Thrifted Handled Wood Box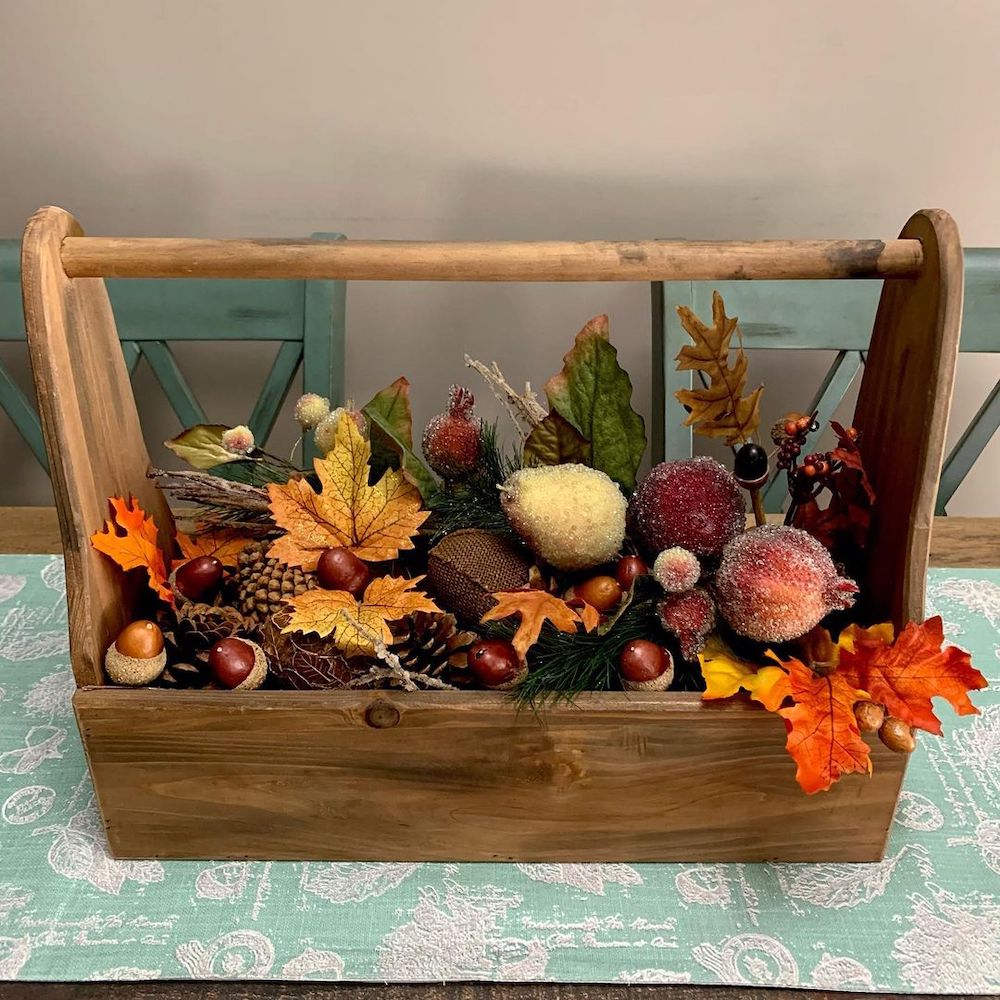 Take your favorite handled wood box. Fill it with faux foliage and fruit picks. Tuck in a few maple leaves. Sprinkle some pine cones and acorns around.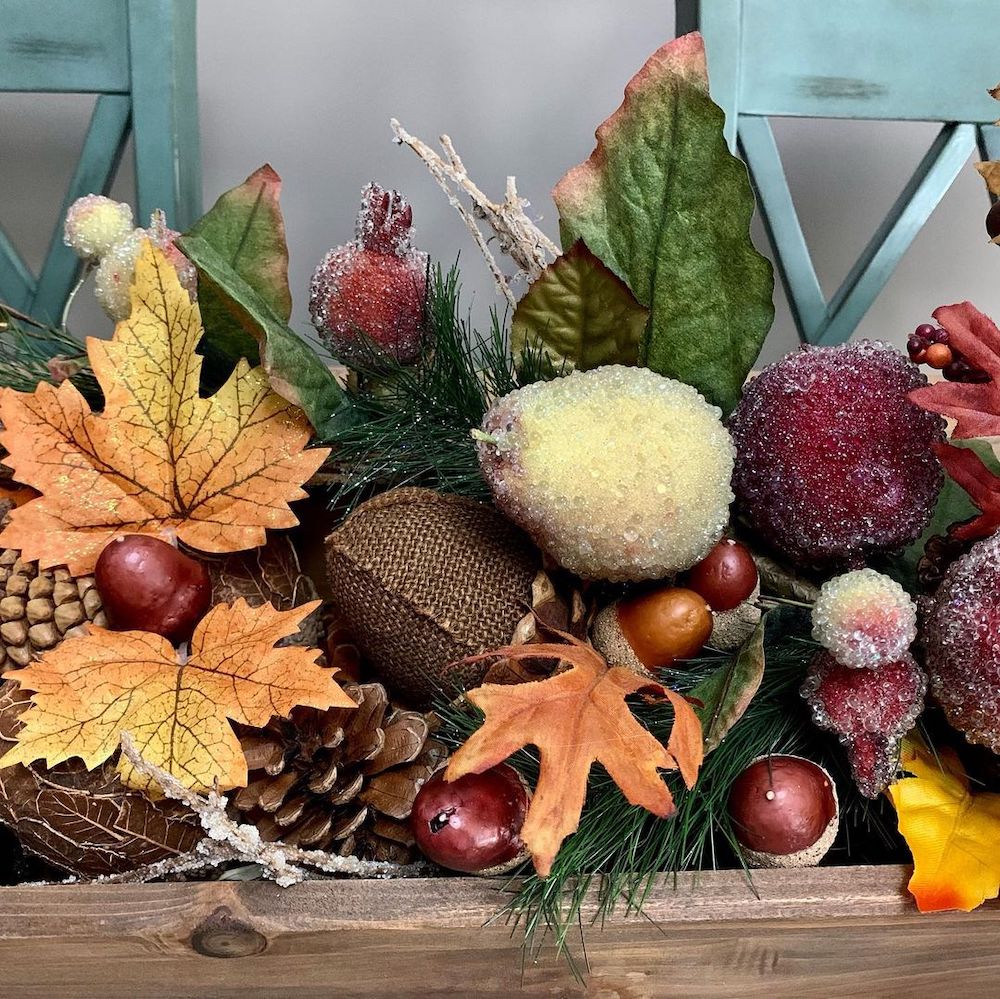 Retrieve Your White Pitcher – DIY Fall Centerpiece Ideas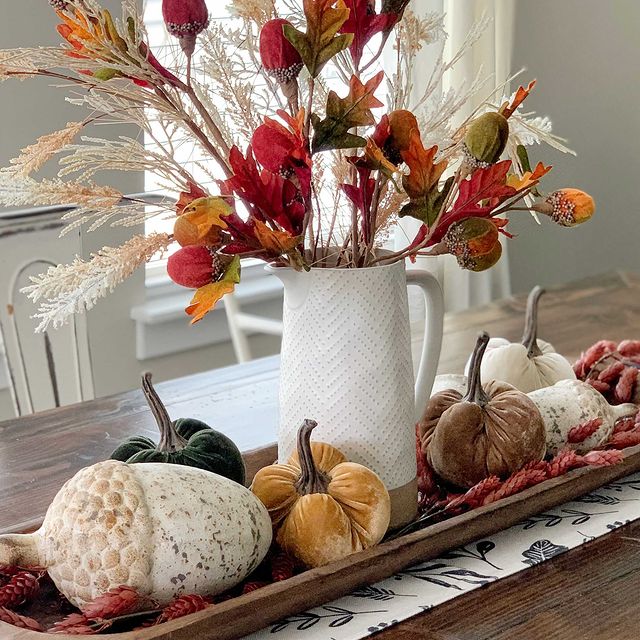 For a fall styling piece, start with a wood platter. Place the white pitcher in the center of the platter. Add velvety pumpkins and faux acorns inside. Fill the white pitcher with faux dried stems. All set now for the fall season.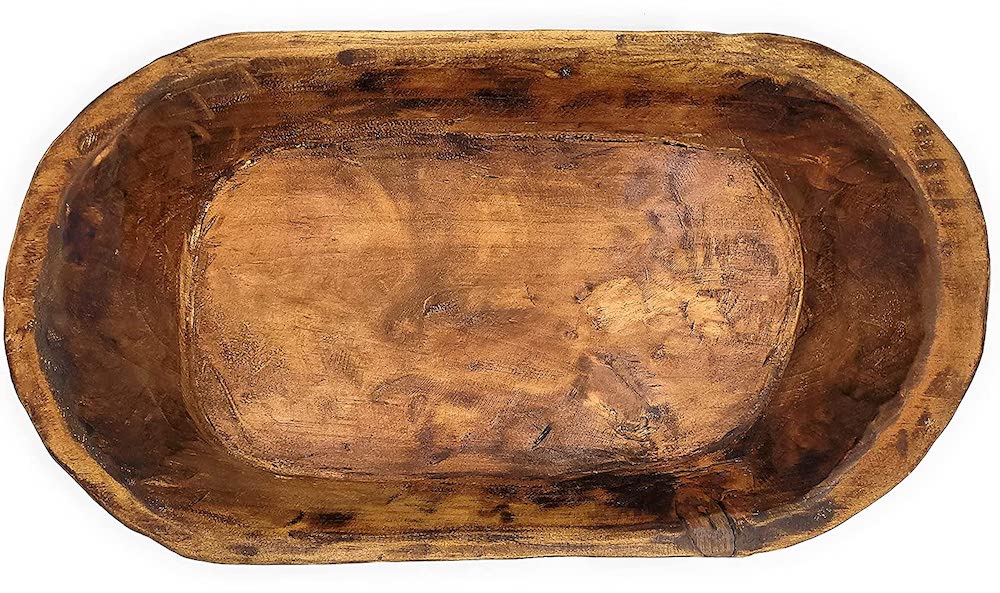 Our list of DIY fall centerpiece ideas for your dinner table has ended. Hopefully, you found several ideas that inspire you to create your own centerpiece. Make this the year that welcomes the autumn season with a DIY centerpiece styled by you.
Enjoy our other fall decor related posts for additional ideas.
Reach out to us with any questions. We are always ready to help you out. Thank you for stopping by our blog.
Mary
Pin this for Later: