Fall mantel styling ideas are a cinch with our list of stylish mantels all designed with autumn in mind. We gathered a list of the best autumn-decorated mantels for you. Celebrate the autumn season with a decorated mantel. Our list of ideas will inspire you to style your best fall mantel ever.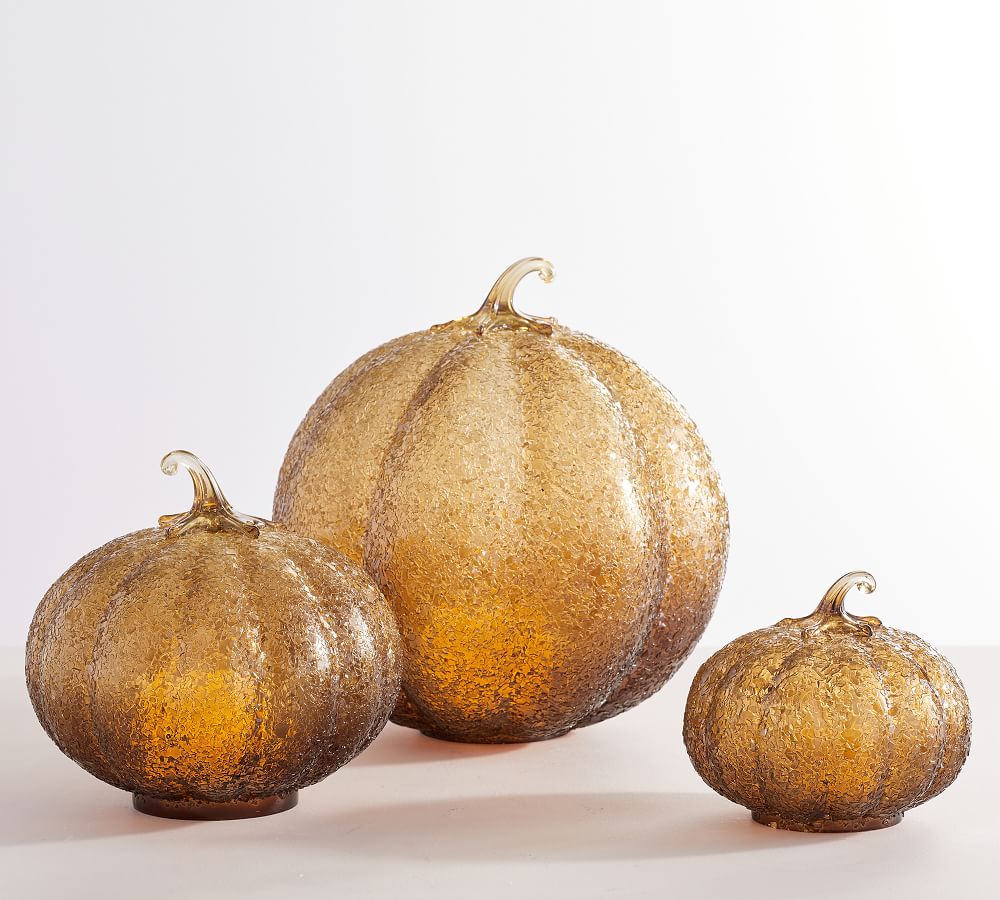 As the Summer season winds down, you might want to think about decorating your mantel. Welcome the fall season this year, with warm, cozy accents for your mantel. Check out our favorite images of mantels decorated for this fall season. We're sure you'll find some ideas you are going to love!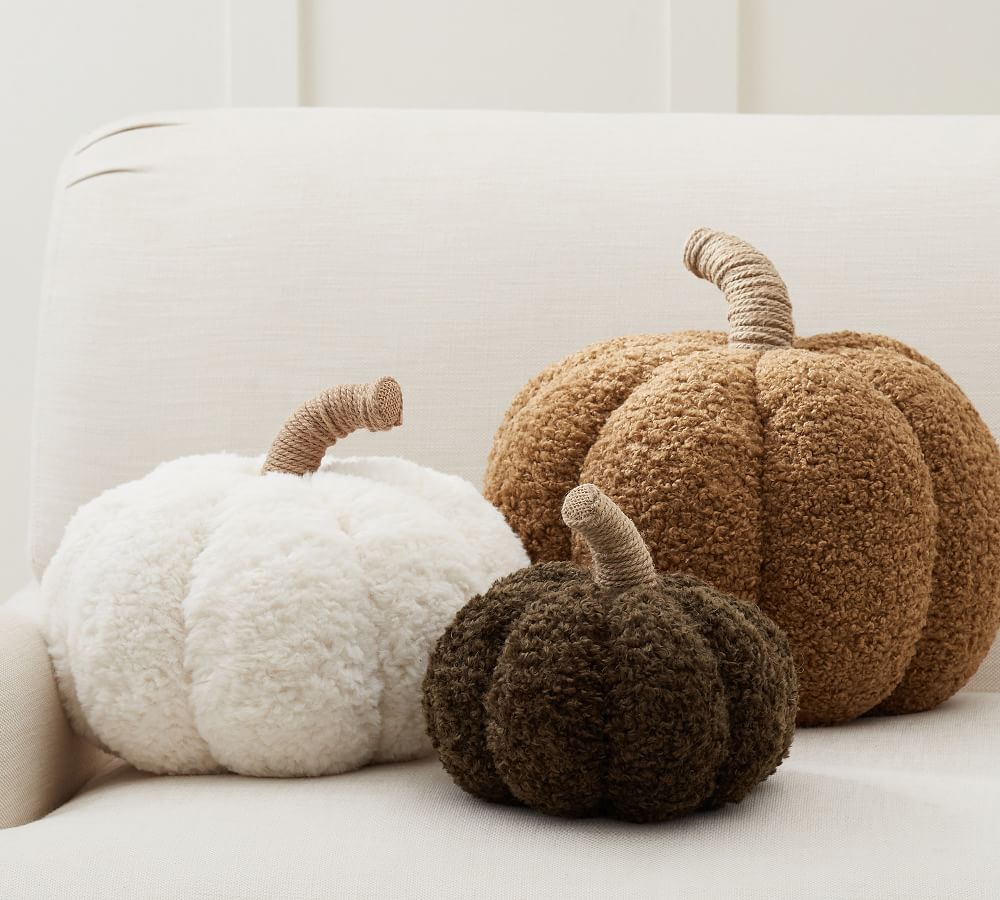 Remember the mantel is where your house guests gravitate towards, especially on chilly evenings. You'll want to put on your best mantel decorations out this autumn season. As guests sip on warm apple cider by the fireplace, you'll be glad you decorated the mantel. And of course, once your mantel is fully decorated you'll have a great spot for a few family photos.
Be Resourceful – Fall Mantel Styling Ideas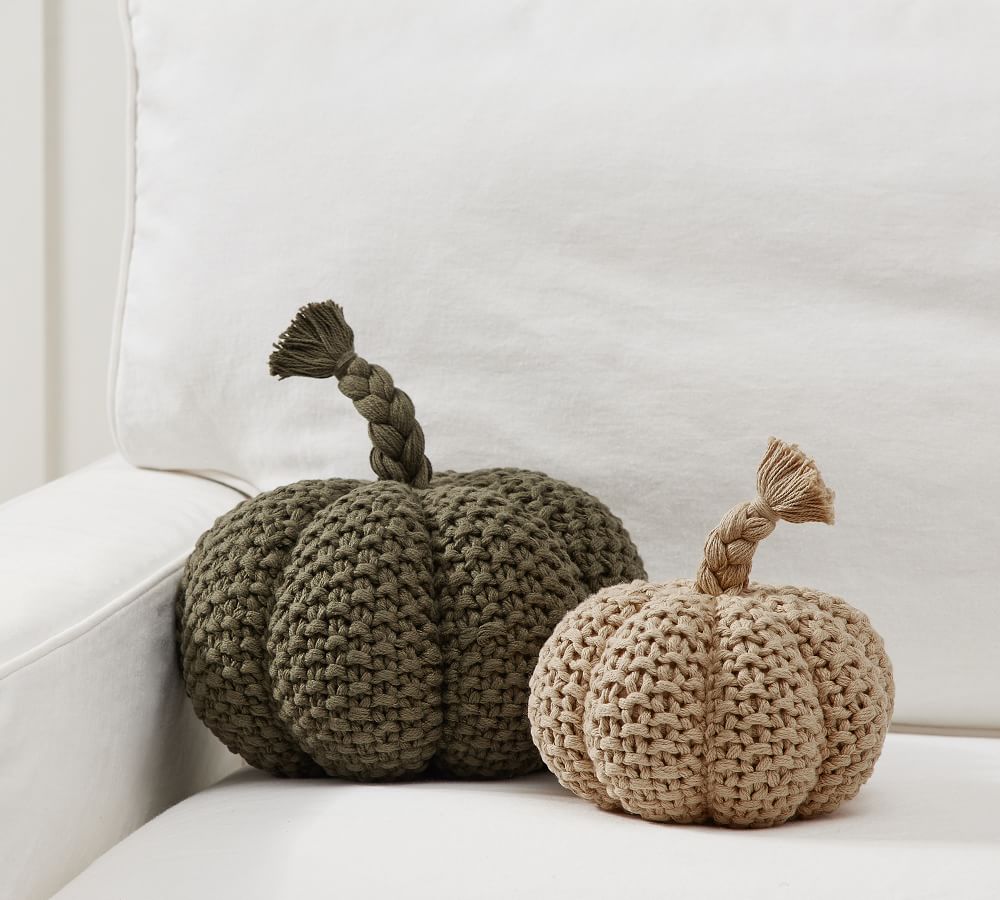 Luckily, there are many decorations to use for your mantel this fall.
Pumpkins have always been the go to decorations for the fall season. And today there are so many varieties and colors of pumpkins available to decorate with.
Gourds and apples are available in many shapes, sizes, and colors. Perfect for the fall season.
Seasonal fall wall art is a great addition to a mantel. And there are many sizes and styles of fall wall art to select from.
Smaller sizes of hay bales are perfect for elevating smaller accessories. Use bales of hay for elevating pumpkins and gourds.
Autumn flowers such as chrysanthemums and sunflowers either fresh or faux, look fantastic on or around a mantel. Foliage such as maple leaves work well displayed on a mantel. Then there are acorns and other nuts that can be used. And there is a huge selection of faux greenery items to use.
Scarecrows make lovely and whimsical decorations on a mantel. Just as miniature squirrels, rabbits, and crows do.
Candlesticks and pillar sized candle holders add to the decor style as well.
Be sure to use items that you may already have on hand. Accessories such as wall clocks, mirrors, wall art, and lamps are just a few of those accessories. It is those accessories that help form your mantel styling. And remember these suggestions are but just a few accessories available to you. There is an incredible number of items that you can find online to style your mantel with.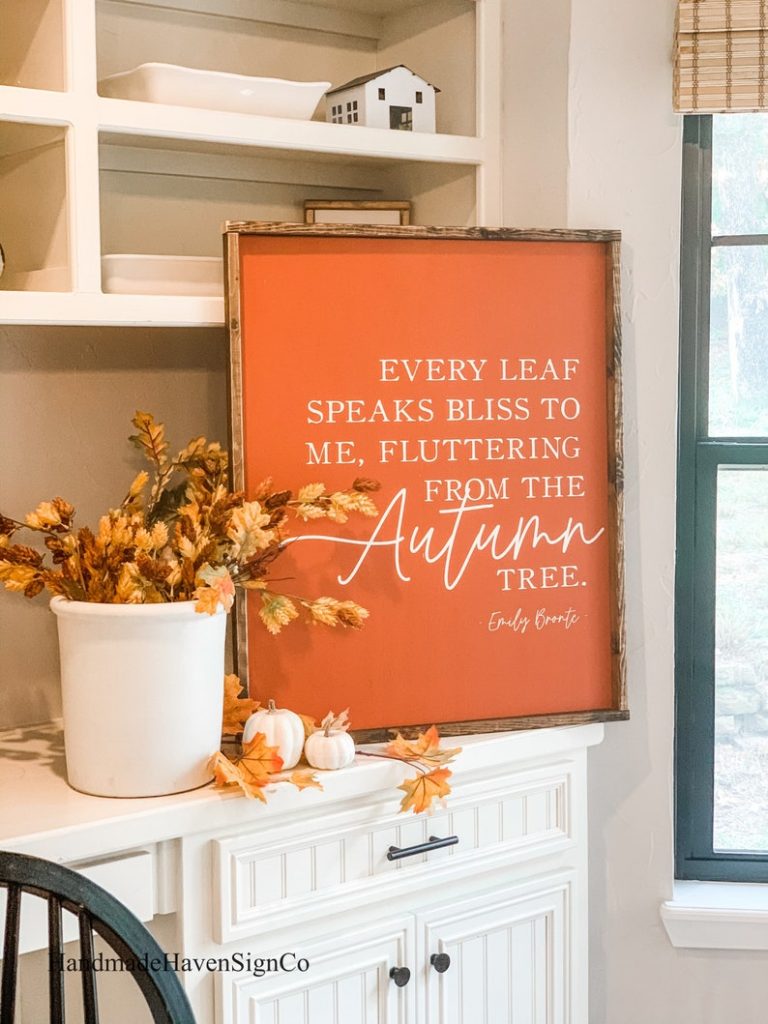 Create a mantel you'll love with inspiration from our list of favorite mantel ideas. Take a look.
Recreate a Farm Scene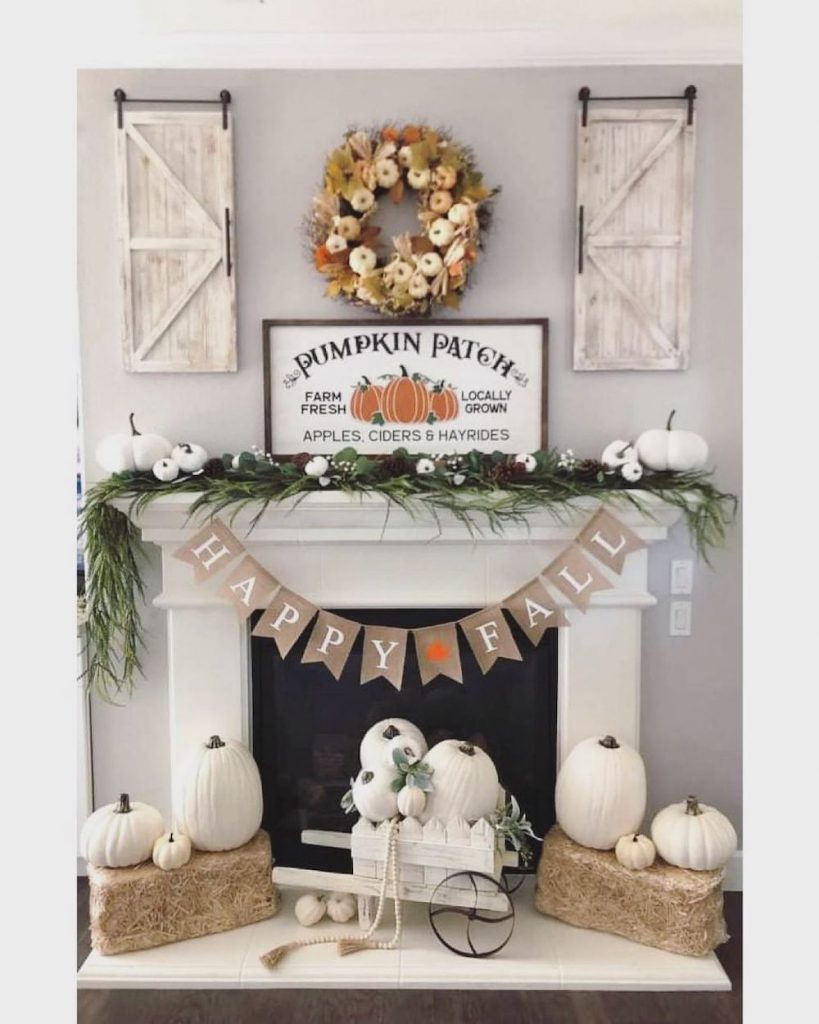 Style a farm scene on your mantel. Do this by adding barn doors, bales of hay, mini wheelbarrow, and pumpkins. Add a pumpkin patch sign, then sit back and enjoy the scene.
Give it a Bunting Garland – Fall Mantel Styling Ideas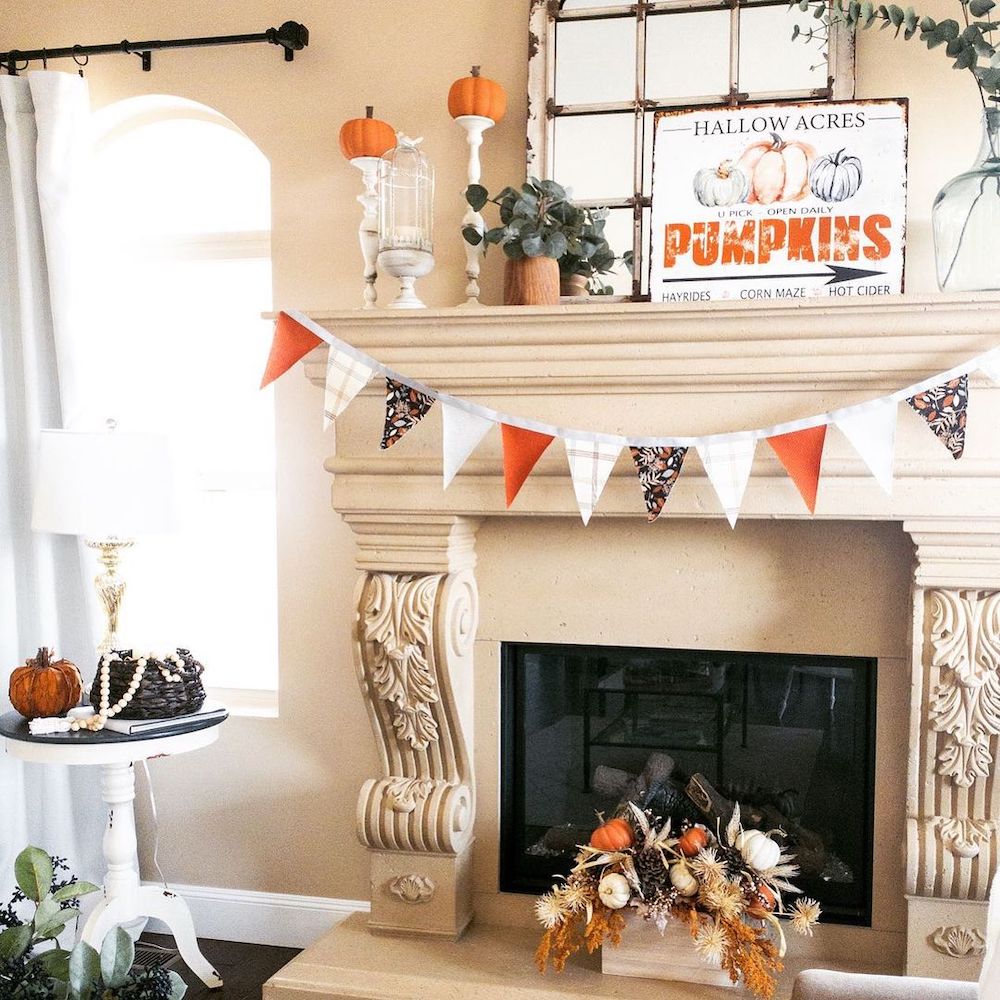 Hang a pretty fall bunting garland across the mantel. Then plop a couple of pumpkins on candle holders resting on the mantel shelf.
Display Your Favorite Wall Art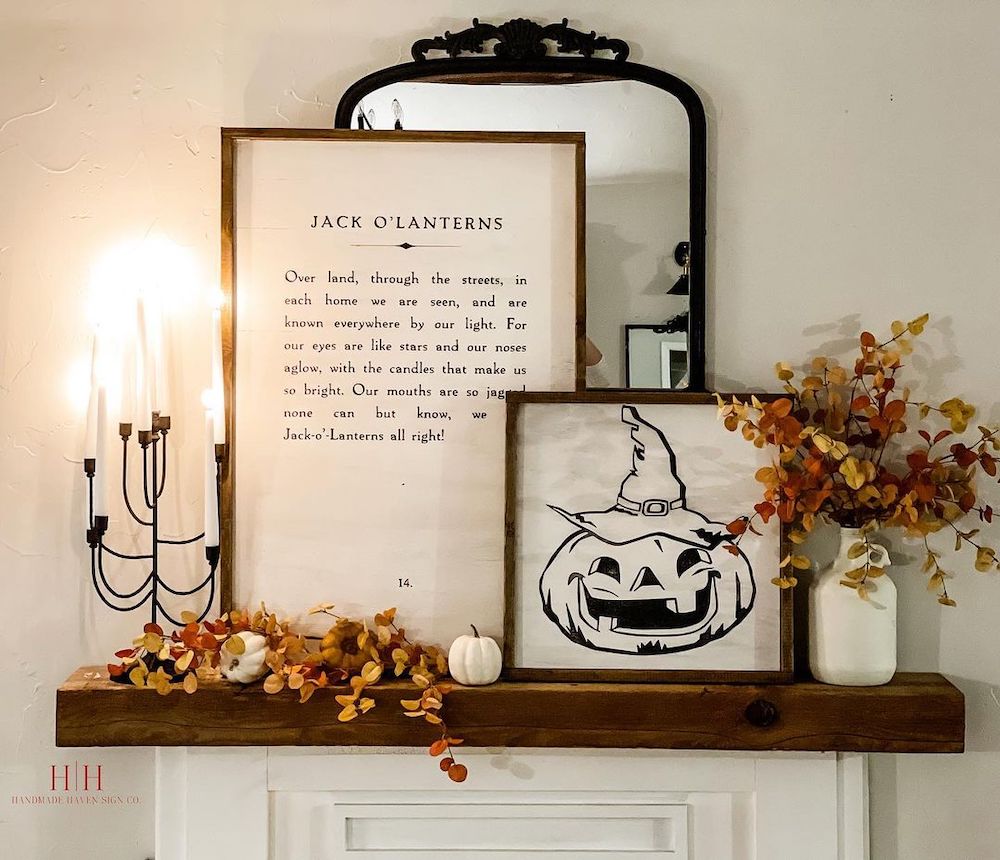 Present your fall wall art on the mantel. In this image, the designer leans two pieces of wall art against the mantel mirror. Pretty colors of warm browns, creamy whites, and black for an autumn-styled mantel.
Go with Copper Colors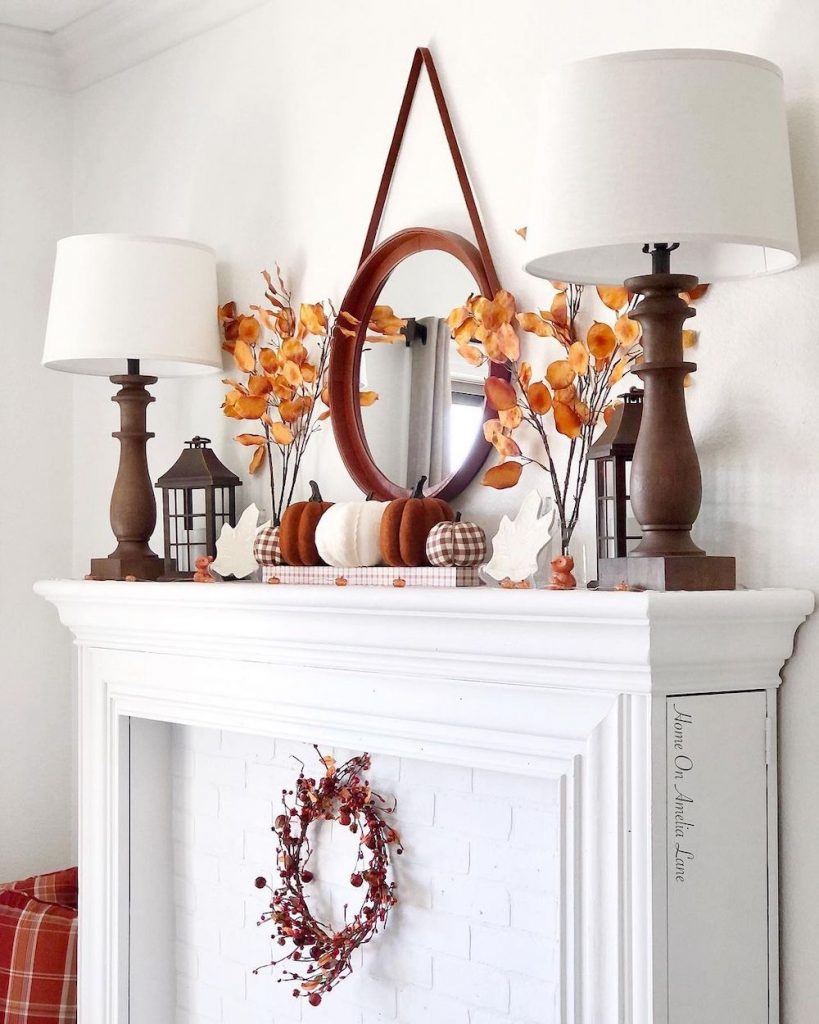 Style your mantel with beautiful copper tones. Add copper foliage, a mantel mirror with copper tones, and pumpkins with coppery colors. A beautiful blend of copper, warm browns, and white colors.
Hang a Mantel Scarf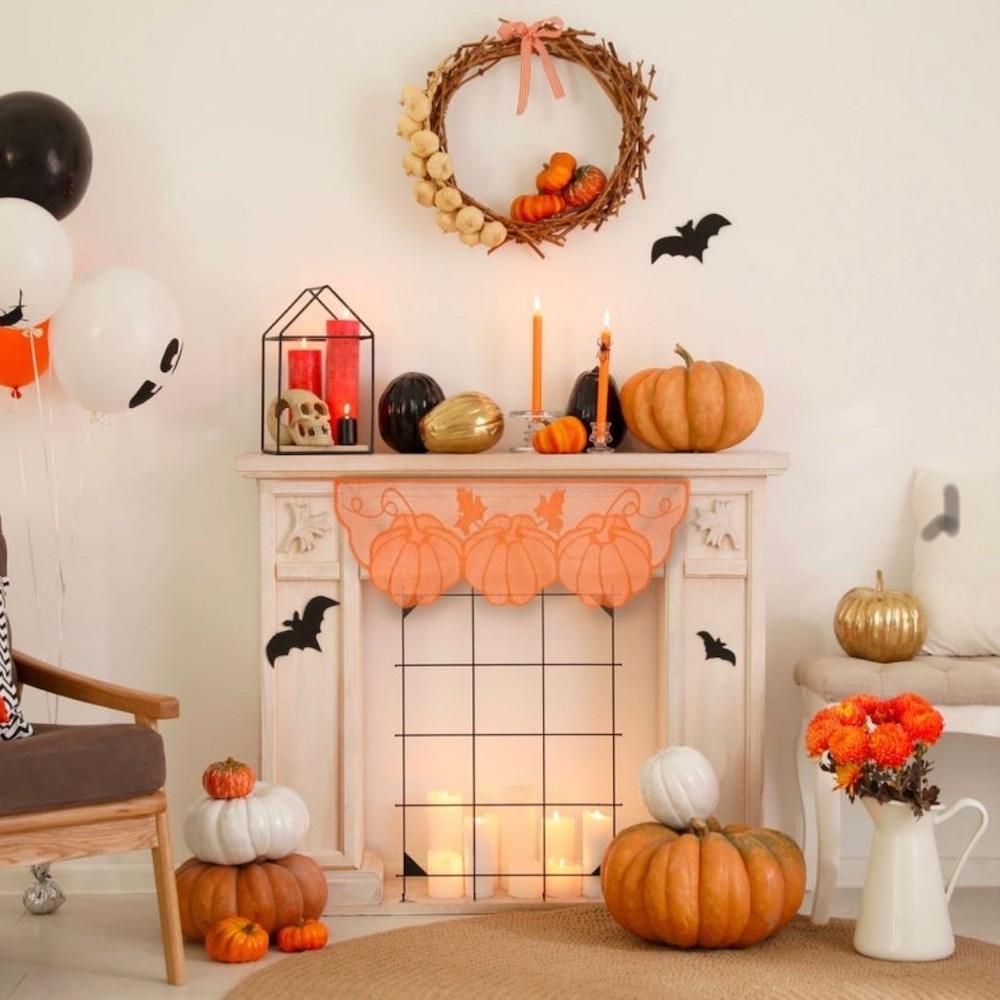 Add a mantel scarf to the mantel. On this mantel, sweet.confetti.com styled the mantel with pumpkins and a mantel scarf.
Use a Five Pillar Candle Holder – Fall Mantel Styling Ideas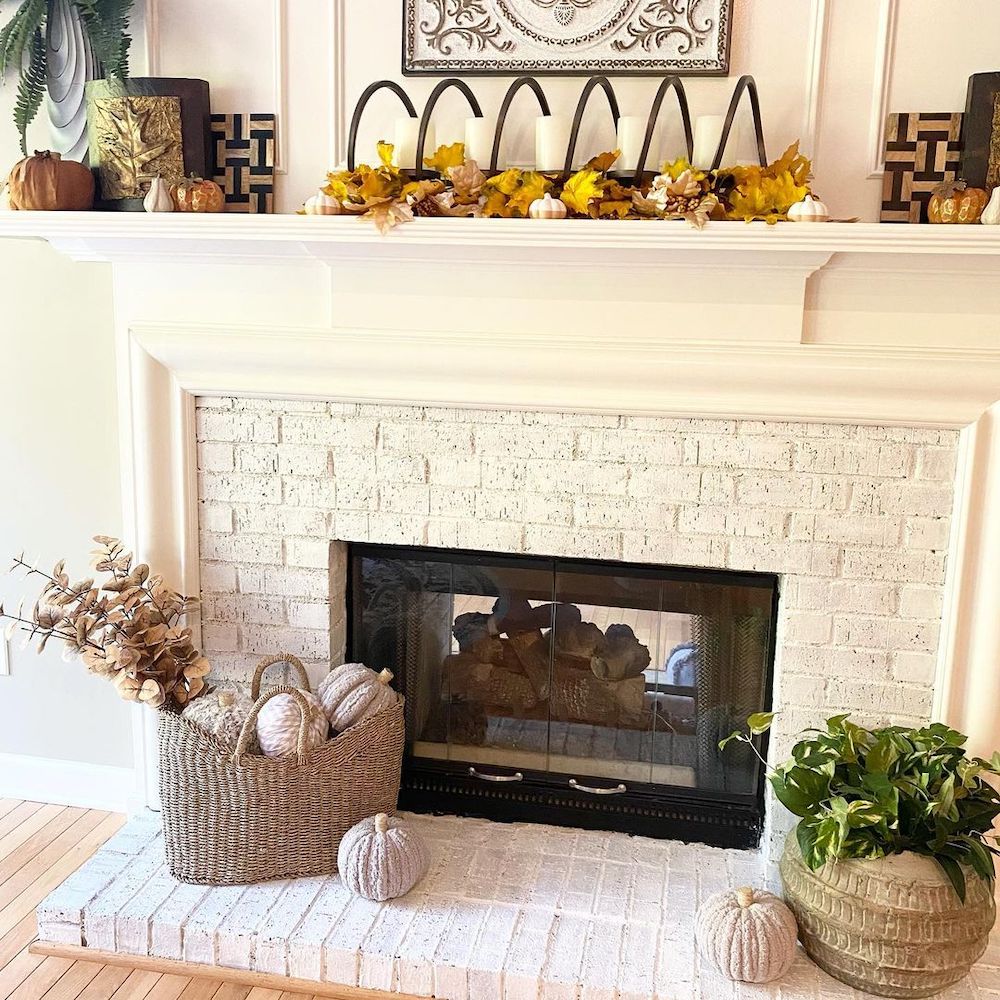 For the evening ambiance, use several candles for lighting and ambiance. Around the base of the pillar candle holders, add a strand of fall foliage. Fill in any gaps you find, with gold-dipped pumpkins.
Lean a Clock Dial Above the Mantel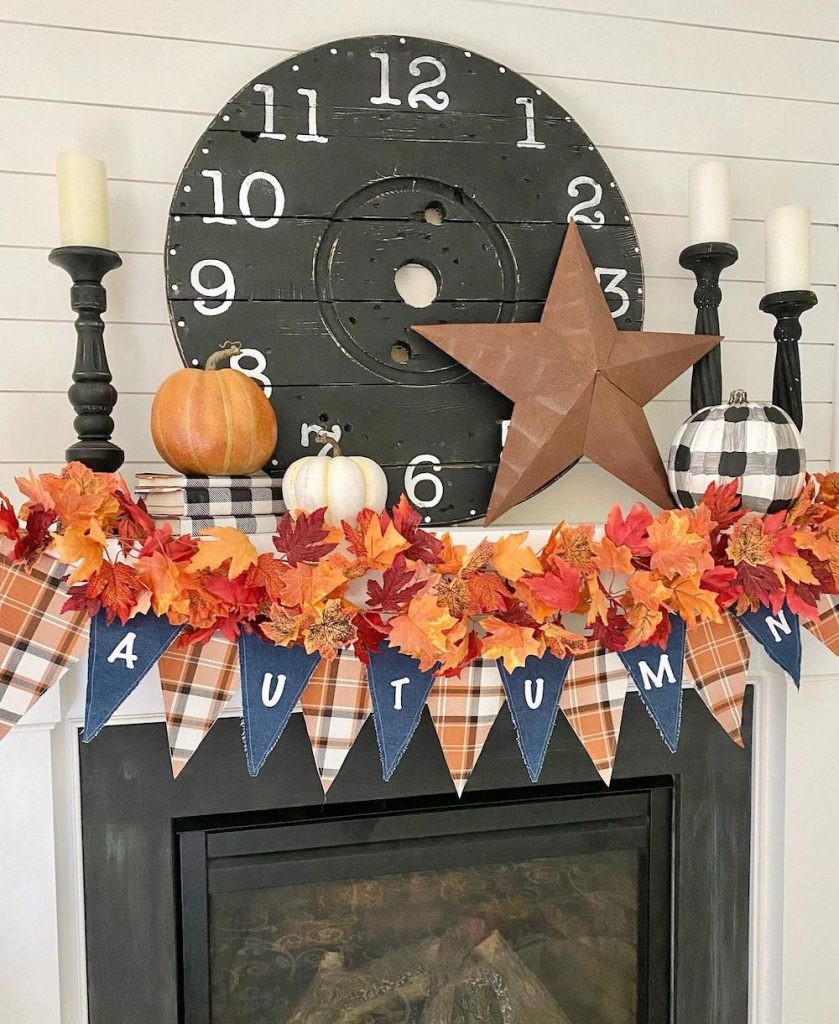 Set up the clock dial on the mantel shelf. Black and white plaid fabric covers a pumpkin and a set of decorative books.
Create a Wooden Disc Wreath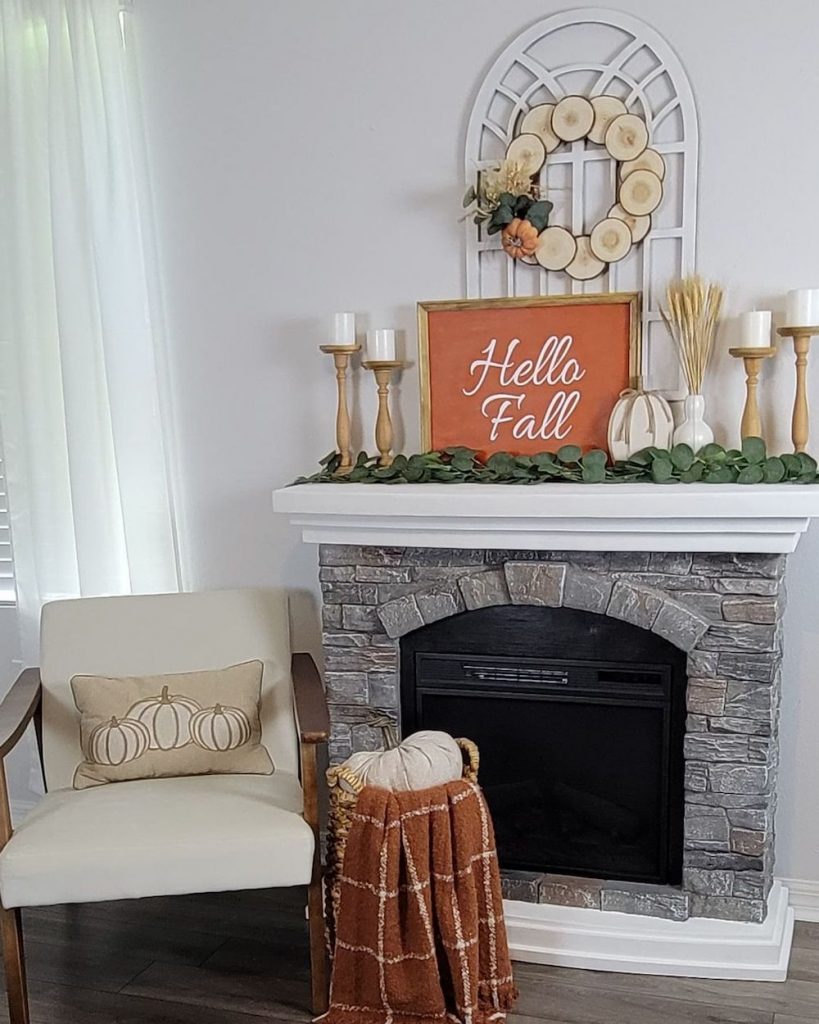 For an earthy look, hang a wreath made from wooden discs.
Style it with a Touch of Fall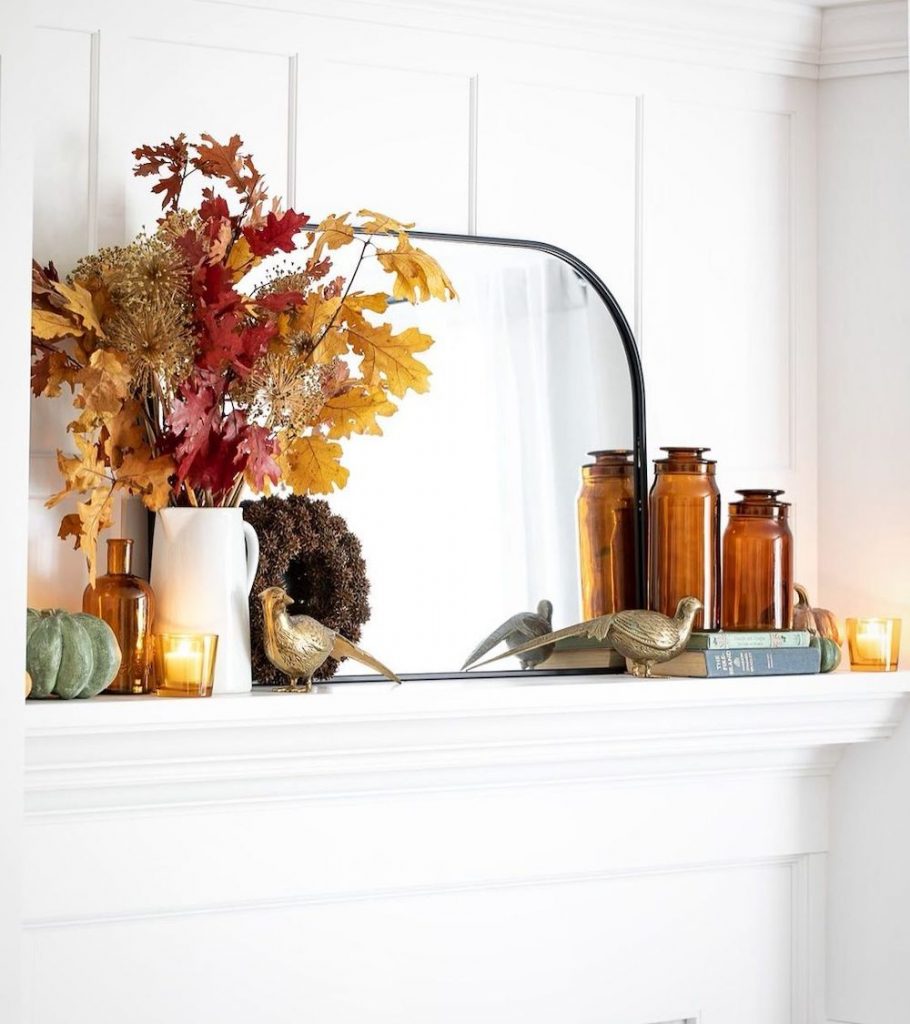 Give it a fall touch with a pine cone wreath, a set of pheasants, and amber bottles. Add a few votive candles and a pitcher full of maple leaf branches.
Celebrate the Harvest Season – Fall Mantel Styling Ideas
Start with wheat stems on the mantel. Then, spread maple leaves, mini creamy white pumpkins, and pine cones over the wheat stems. Looks lovely on the creamy, white distressed mantel.
Cover the Mantel with Pumpkins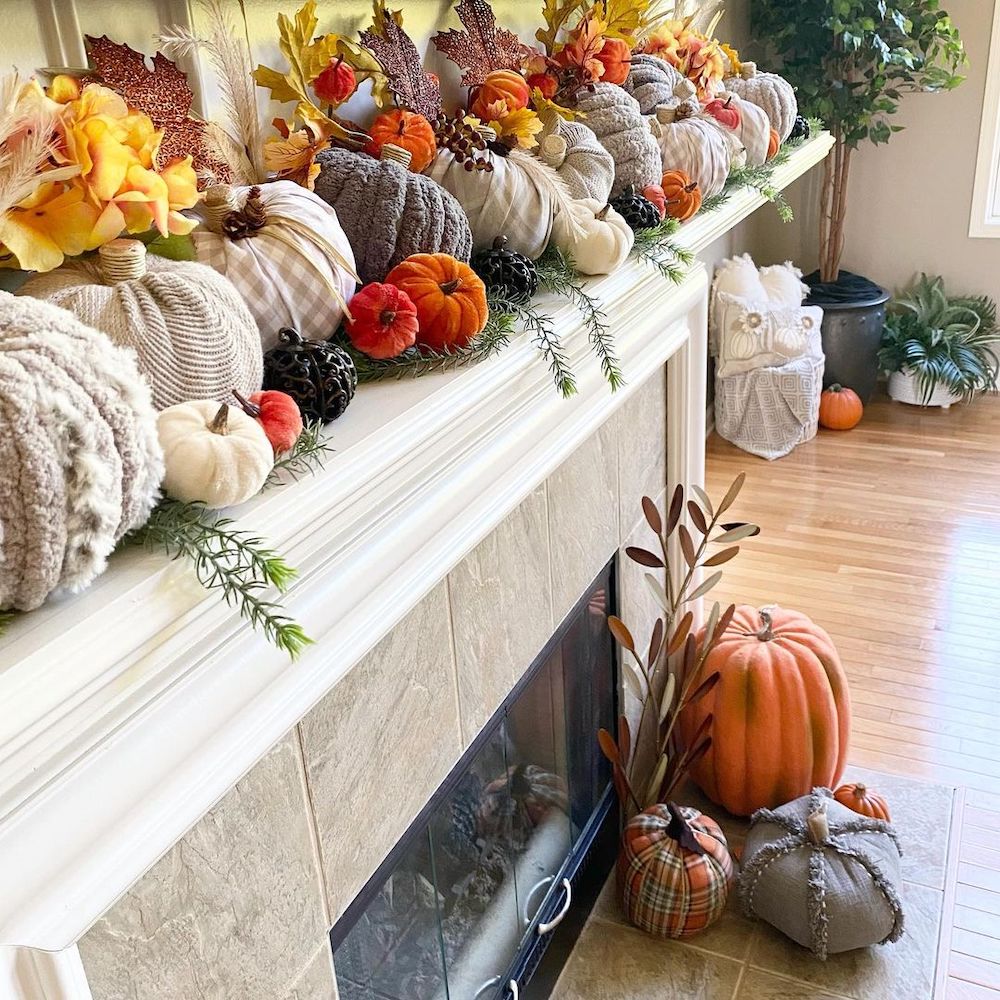 Line up your neutral pumpkins across the mantel. Some of these pumpkins are covered in fabric and others are wrapped in yarn. All in neutral colors. Tuck a little greenery in between the neutral pumpkins. Then finish off with a few velvety, mini orange pumpkins. Cute, so cute!
Stick to Black and White – Fall Mantel Styling Ideas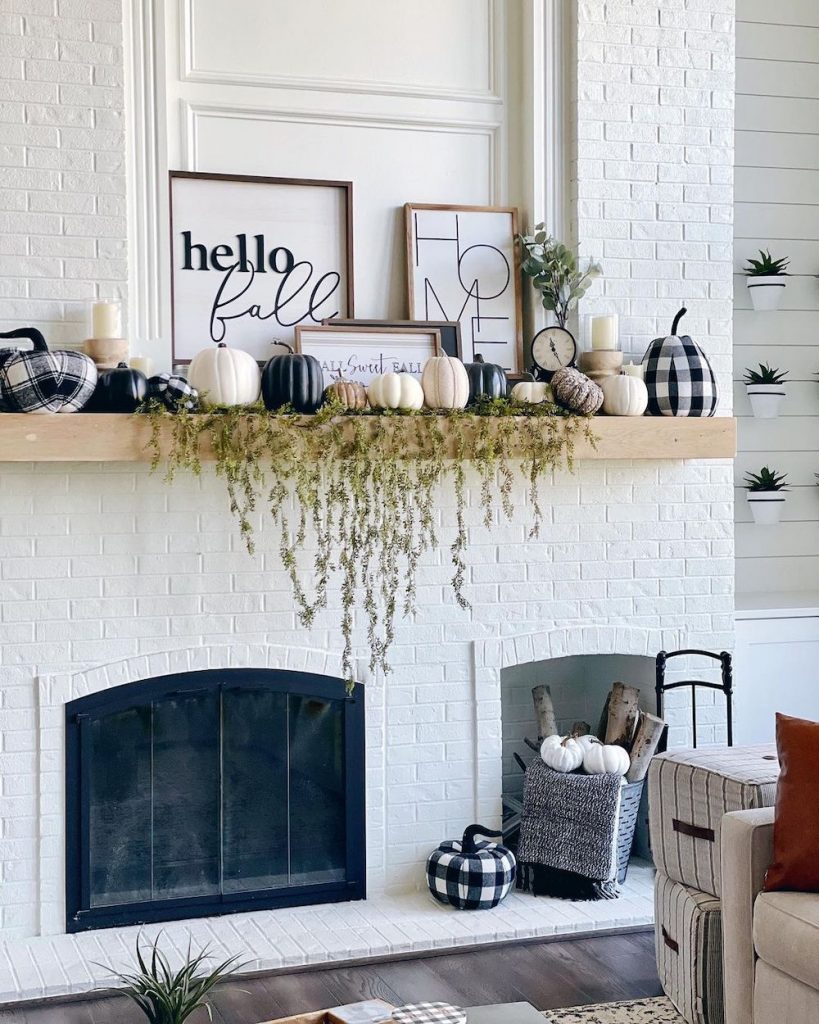 Style your mantel in black and white colors. Use a combination of solid and plaid cover pumpkins. Pumpkins are painted in either solid, creamy white, or black pumpkins. Tuck in a few pumpkins covered in black and white plaid fabric or gingham. A really nice-looking mantel.
Stay Traditional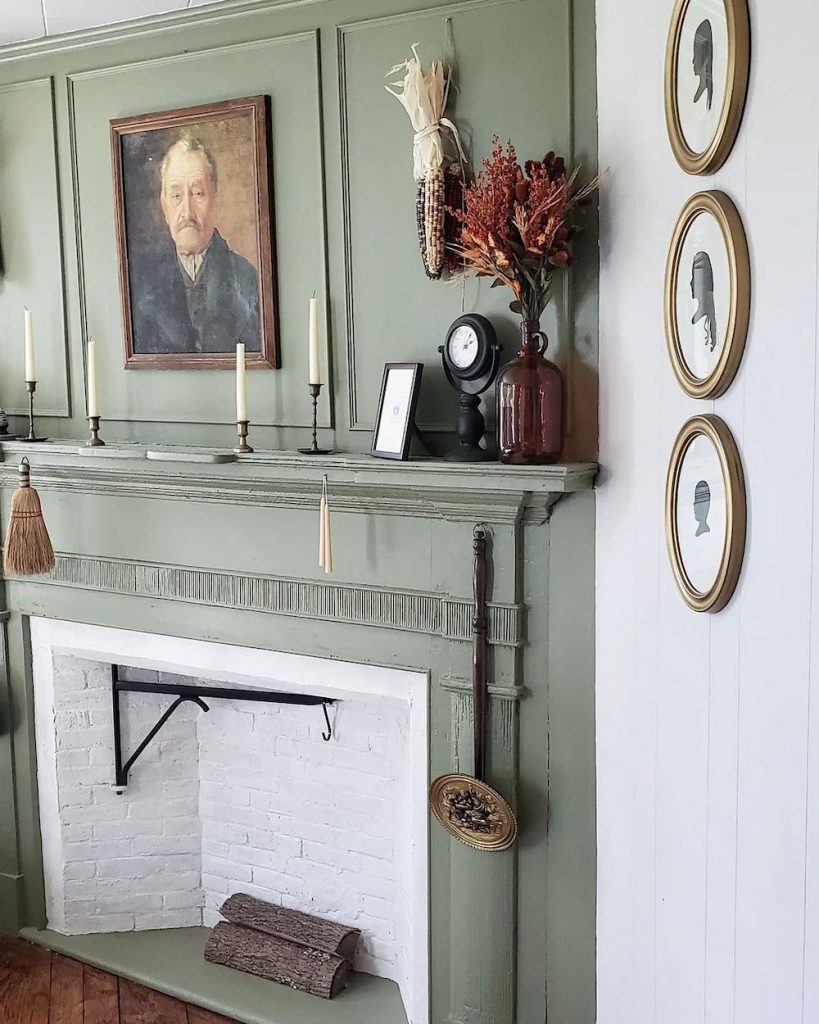 For a traditionally styled mantel, bring out the Indian Corn. Add an amber jug full of dried flowers to one side.
Go Big with Pampas Grass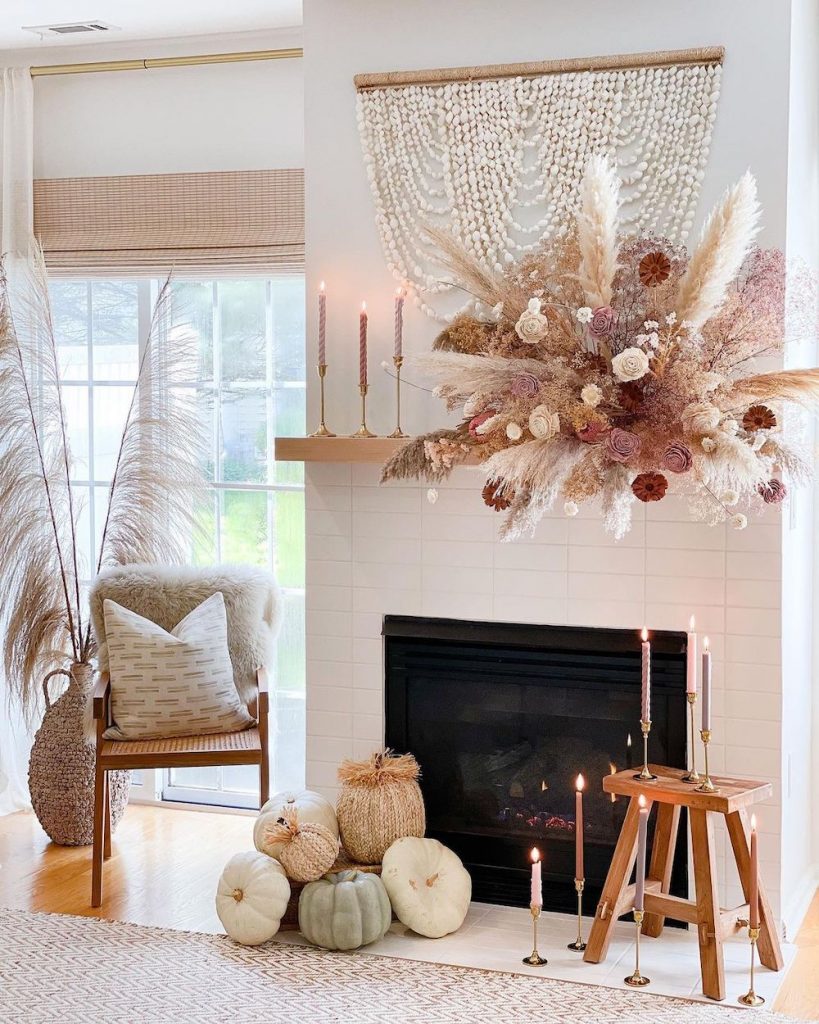 Add a pampas grass floral arrangement to the mantel. Pile a few really plump pumpkins and you are all set.
Go with Beige and White Decor – Fall Mantel Styling Ideas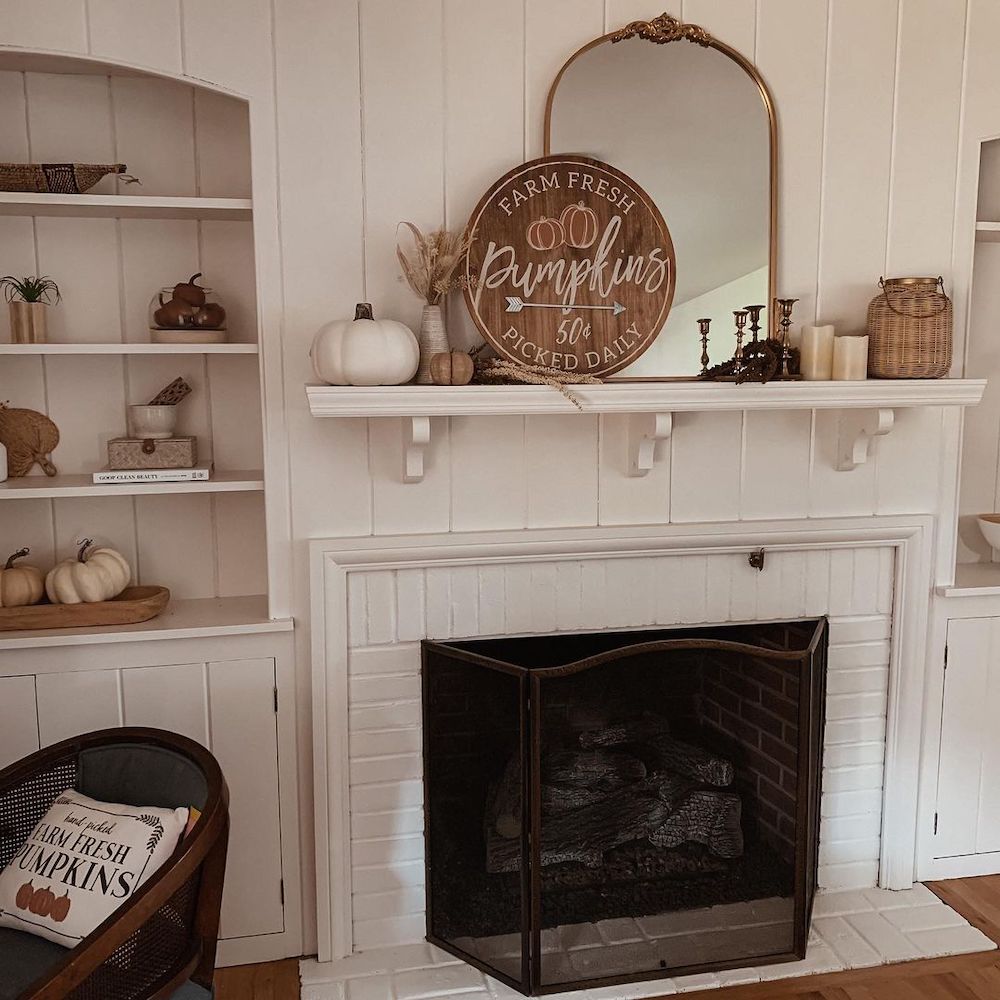 Stay with mostly beige and white decor for a neutral mantel setting. Keep it to a minimum. This mantel is styled perfectly with just the right amount of accessories.
Celebrate with a Mini Fall Bunting Garland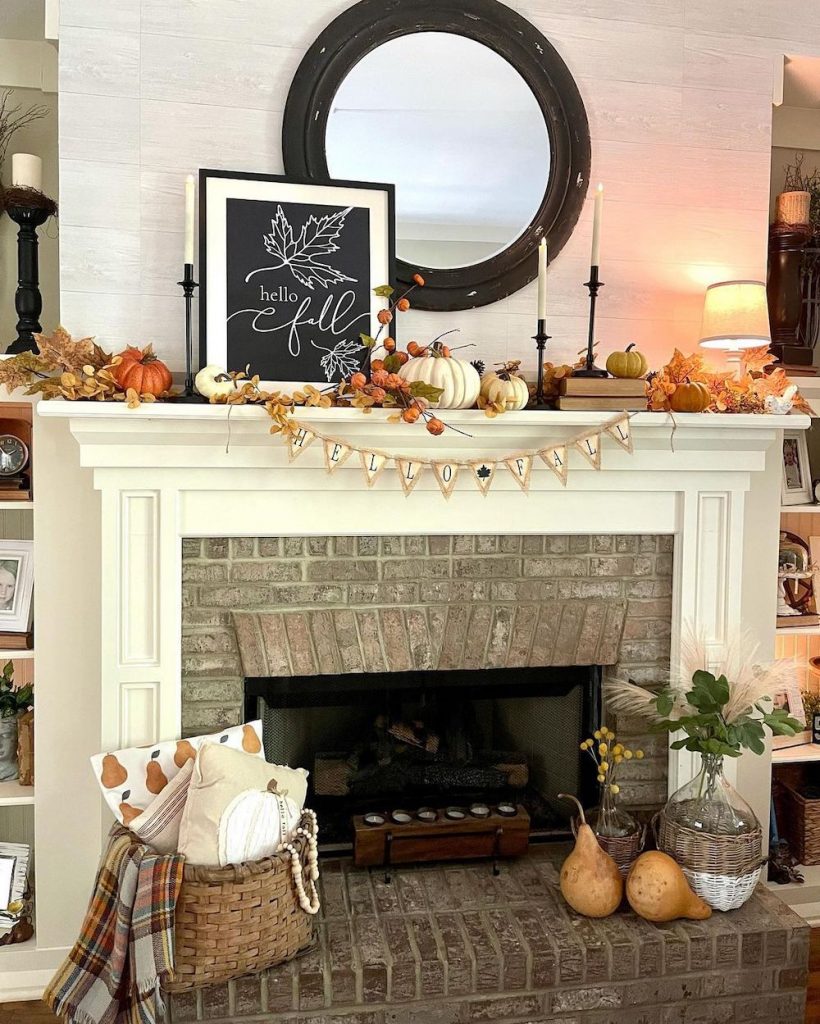 We love how this was styled in mostly cream, orange, and yellow accessories. Then adding a few black accessories such as the mirror, wall art, and candlesticks.
Perfect your Time with a Clock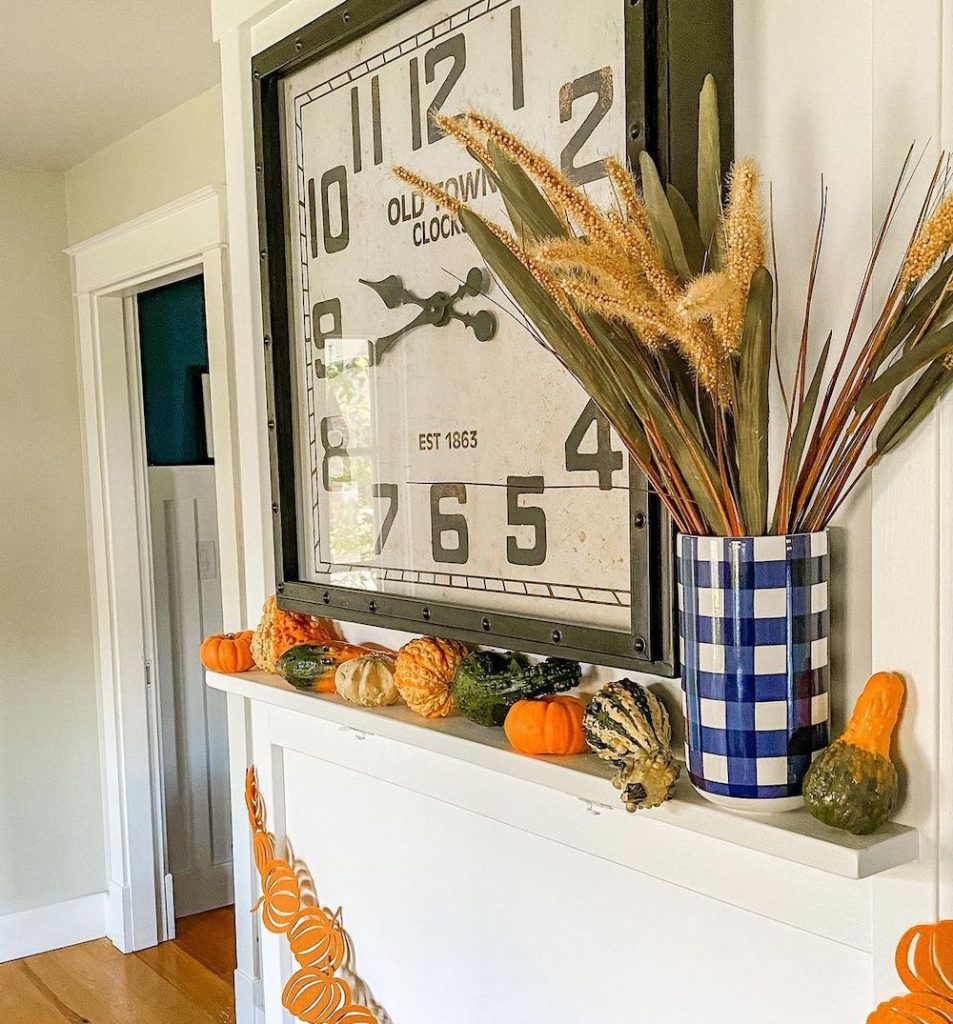 Make a wall clock the main focus of your mantel. In this design, a row of gourds and mini pumpkins were added to the mantel shelf.
Use Clear Glass Candleholders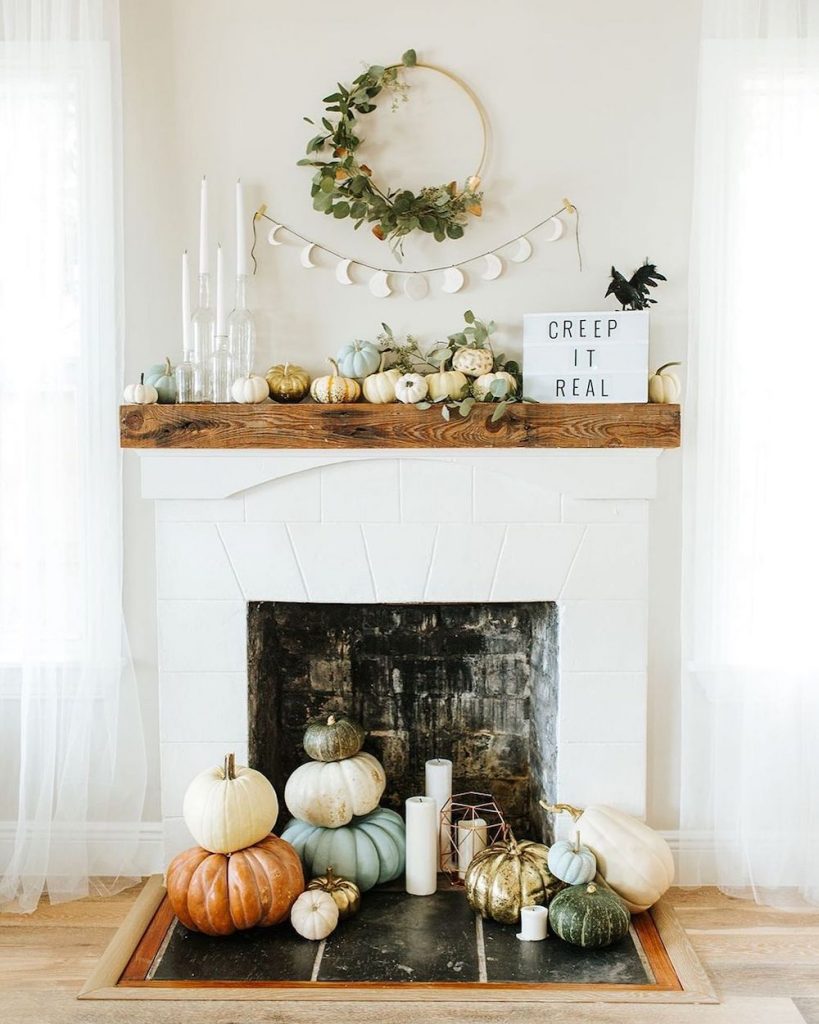 Styled in mostly neutral colors, the mantel uses clear glass candle holders to light up the fireplace.
Do it with a Vintage Mirror – Fall Mantel Styling Ideas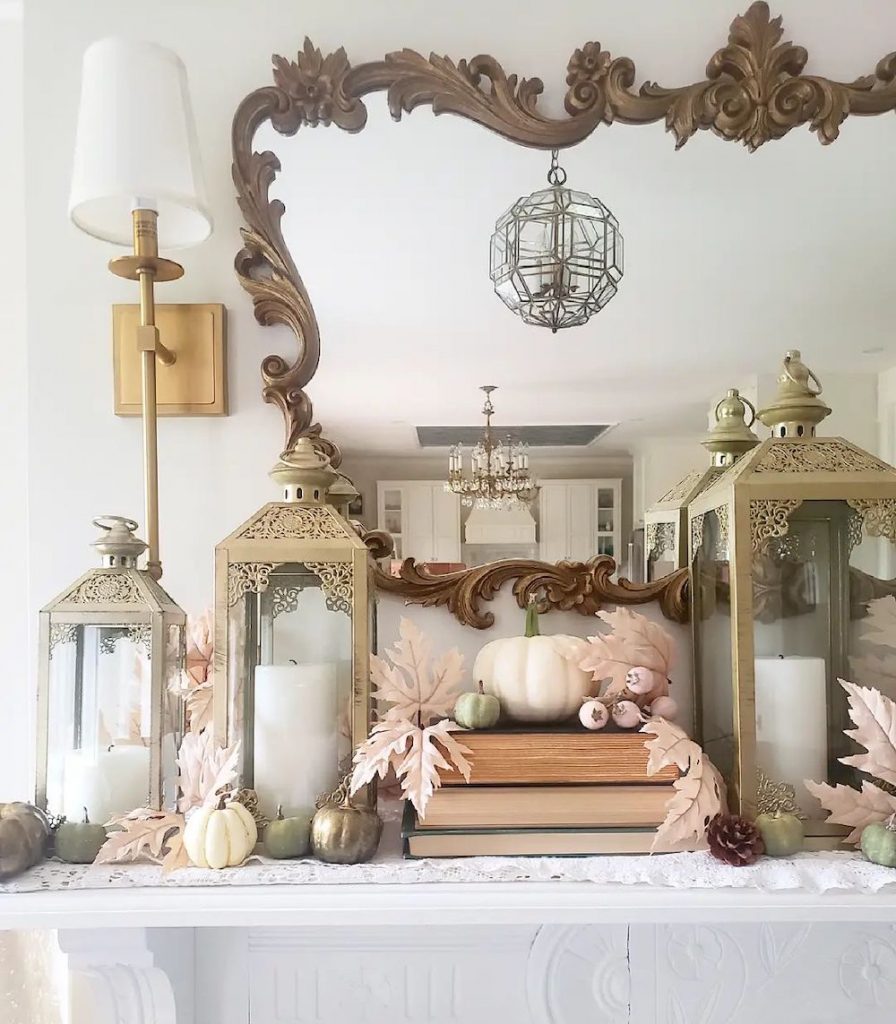 Decorate your mantel with an antique mirror and decorative lanterns. Large books always come in handy for propping up objects such as pumpkins. In this mantel, books are large enough to support pumpkins, berries, and some pretty fall leaves.
Go All in for the Vintage Look – Fall Mantel Styling Ideas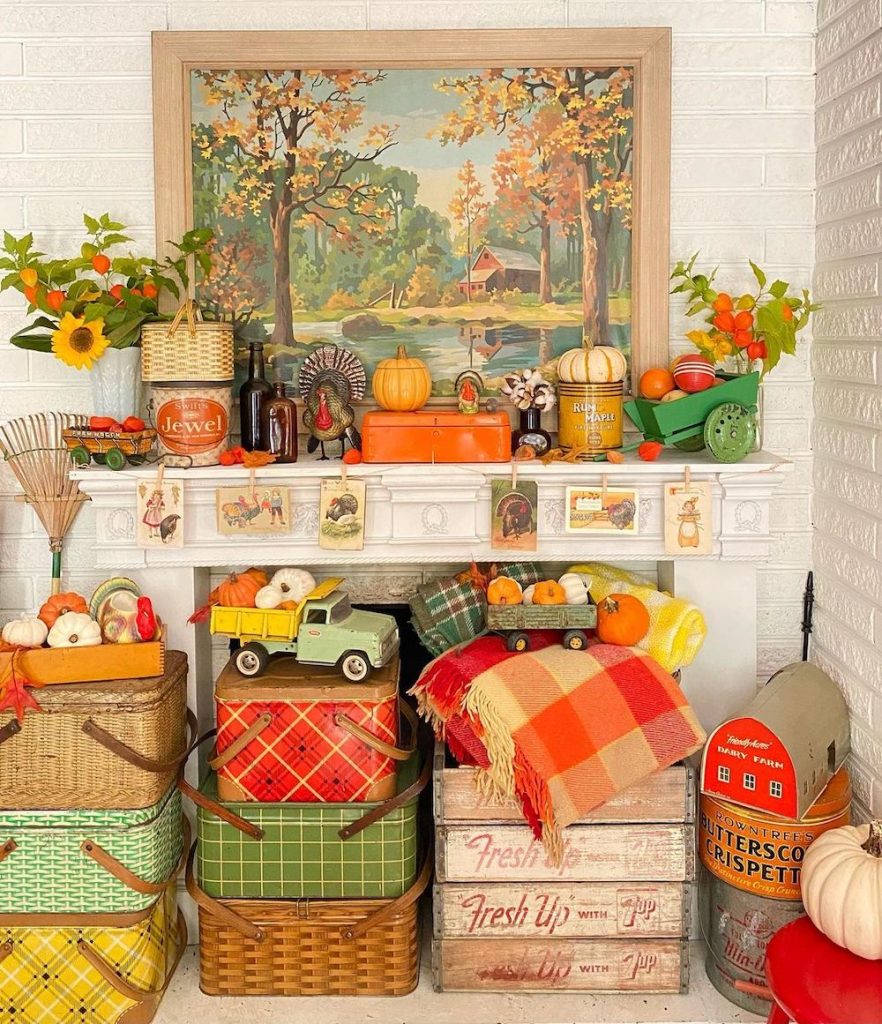 Add every shade of fall color to your mantel. Autumn vintage colors of greens, yellows, oranges, and reds take you right down memory lane. Style it with vintage tins, picnic baskets, wooden soda cases, and pumpkins! What a bright, uplifting, and cheerful Autumn display!
Give a Whimsy Look – Fall Mantel Styling Ideas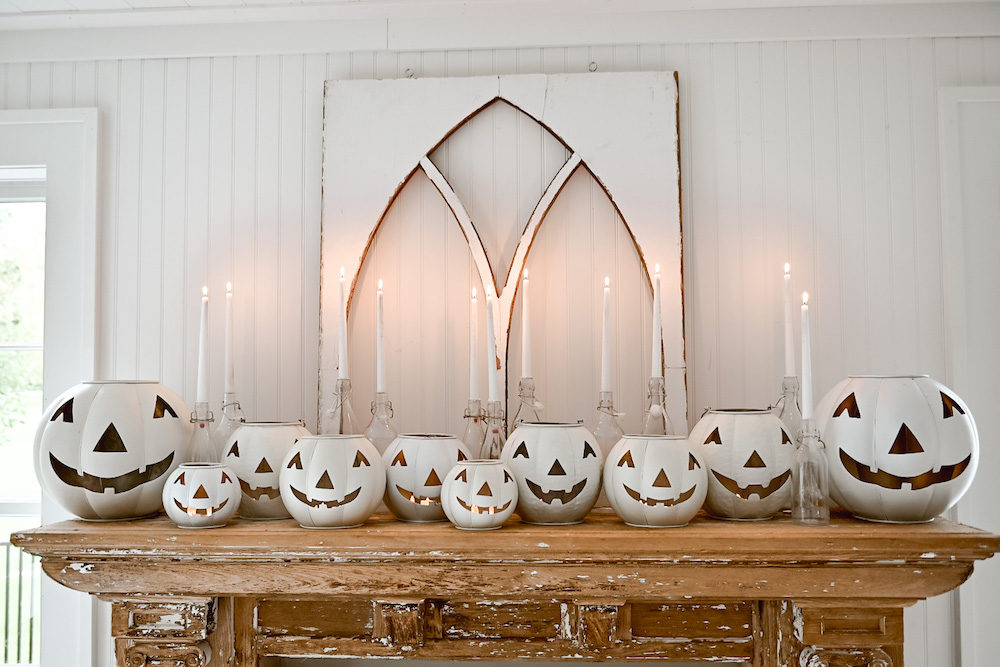 Line up your best jack-o-lanterns across your mantel. In this case, LizMarieBlog uses her collection of white jack-o-lanterns. Add a few candlesticks. Then, you're done.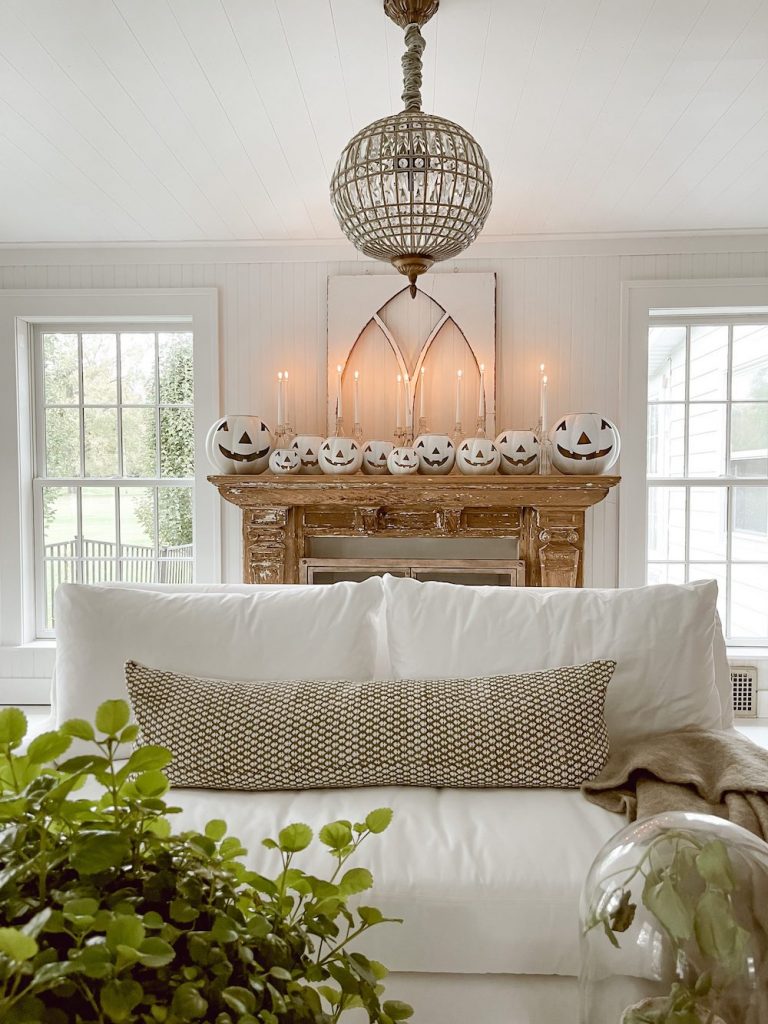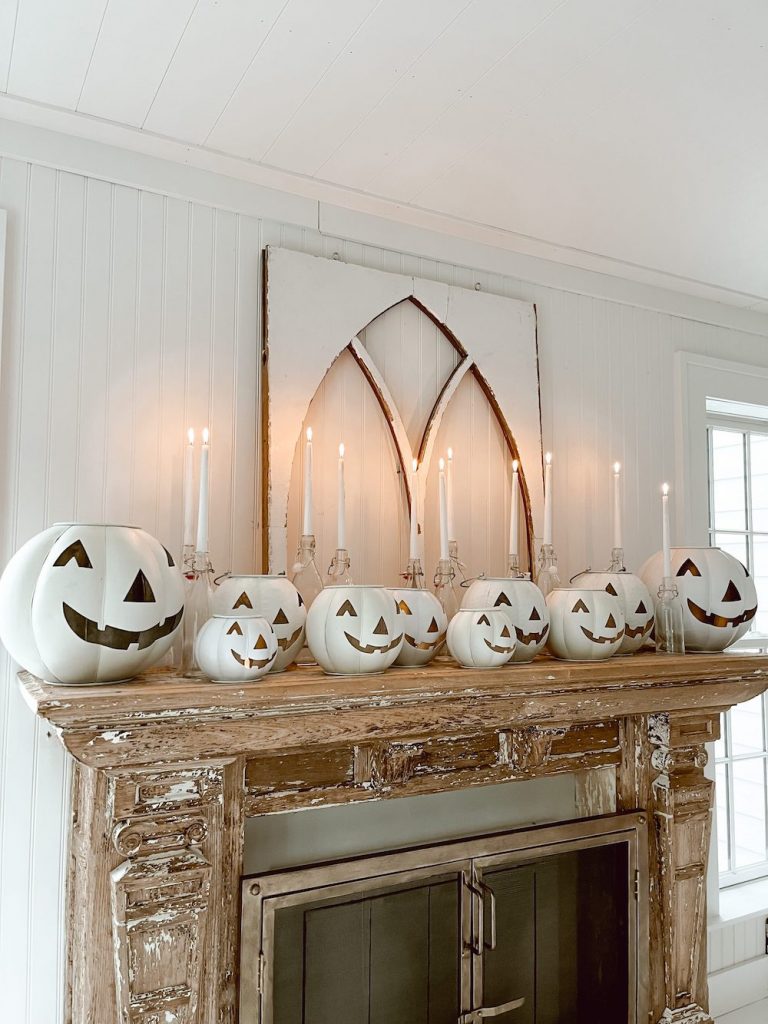 Layer it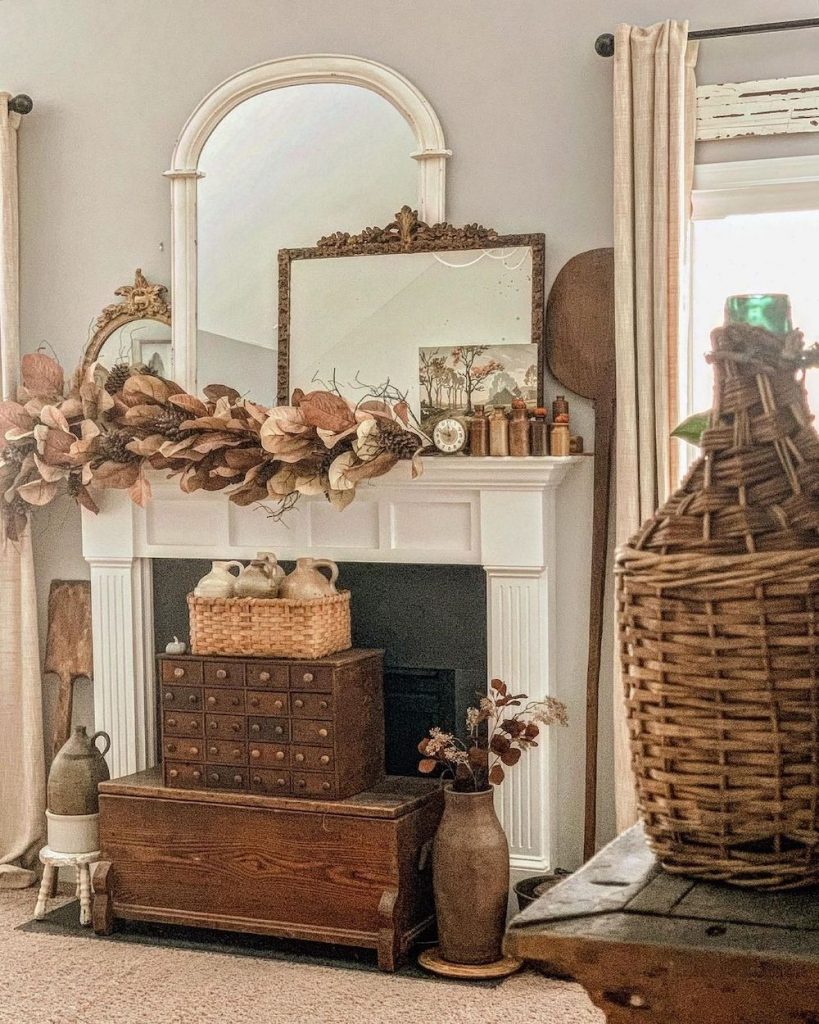 A beautifully styled mantel that creates dimension as you layer your accessories. The mirrors and wall art create visual interest on their own. Then there is the small container collection on the mantel. The trunks and wicker accessories all bring this mantel style together.
Design it with Cascading Greenery
Add some cascading greenery from the mantel shelf. Not to mention that it stands out perfectly against the white mantel background. Work into the mantel some amber vases, wall art, and candlesticks. And of course, some pumpkins for the festive season.
Style it with a Little Shimmer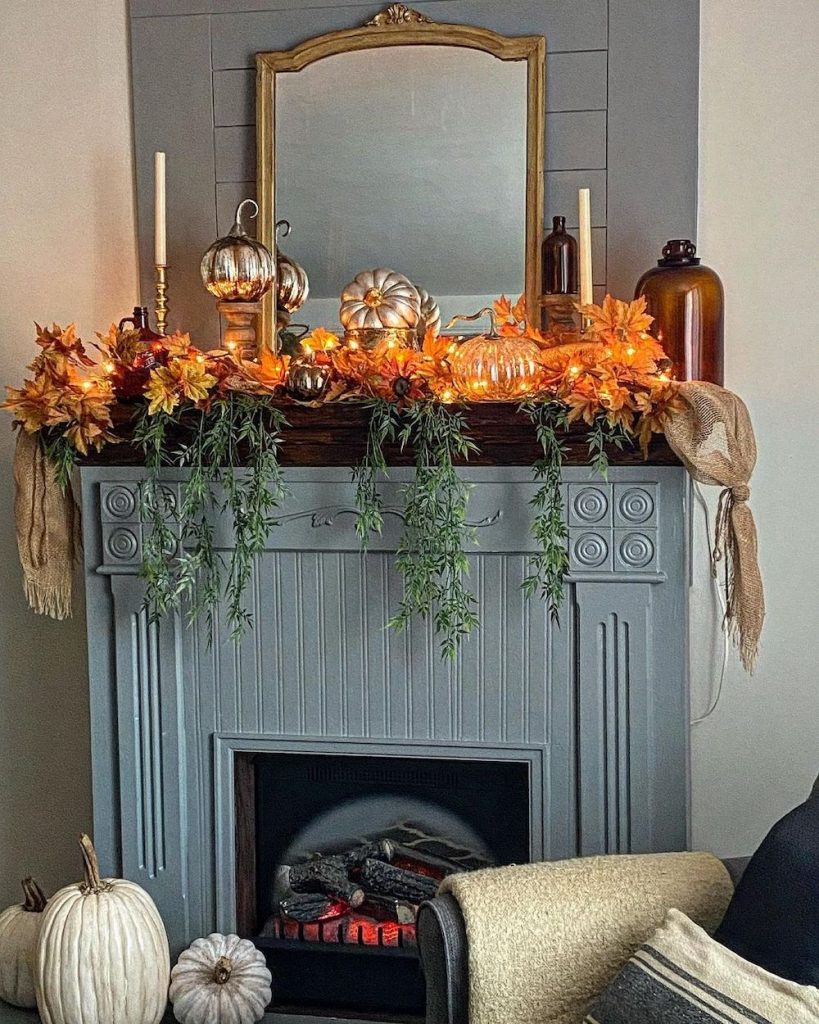 For a gray painted mantel, add some pretty orange, glass pumpkins, and shimmering, mercury pumpkins. Weave a string of mini lights in between the pumpkins and faux foliage.
Use a Recently Discovered Accessory – Fall Mantel Styling Ideas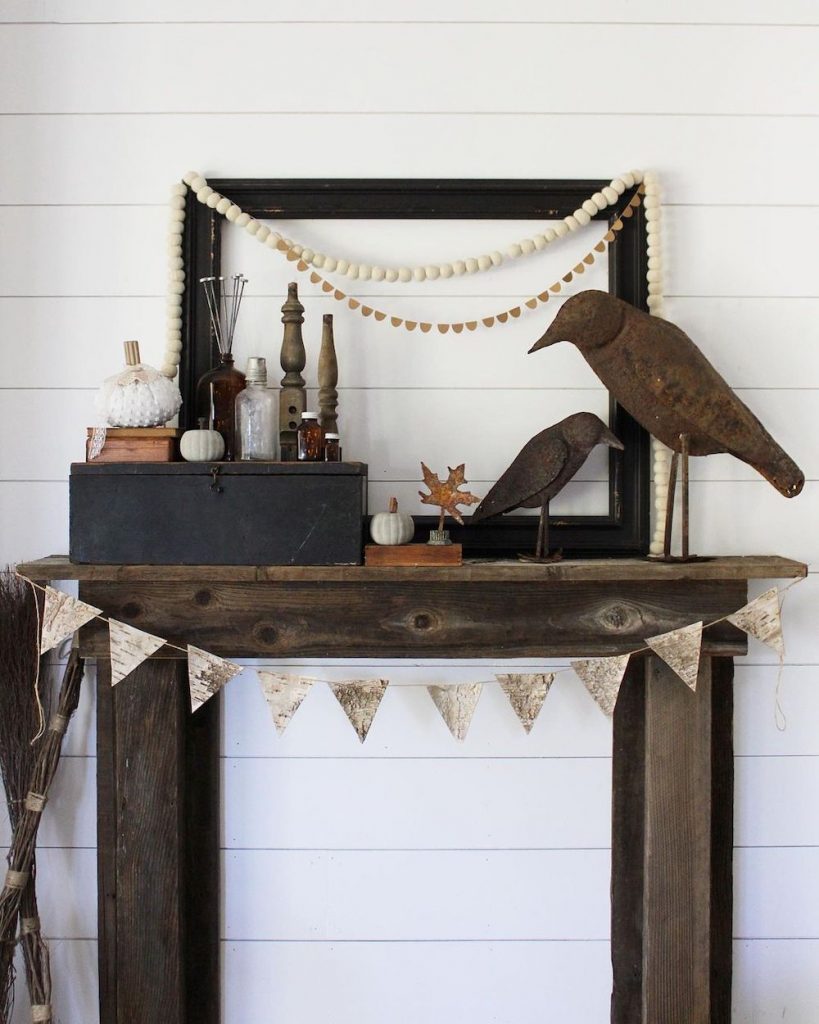 Find a spot on your mantel for a recent find such as the two ole rusty crows. Display your crows in front of an art frame. Then add a couple of pumpkins on the mantel.
Create a Space for Family Love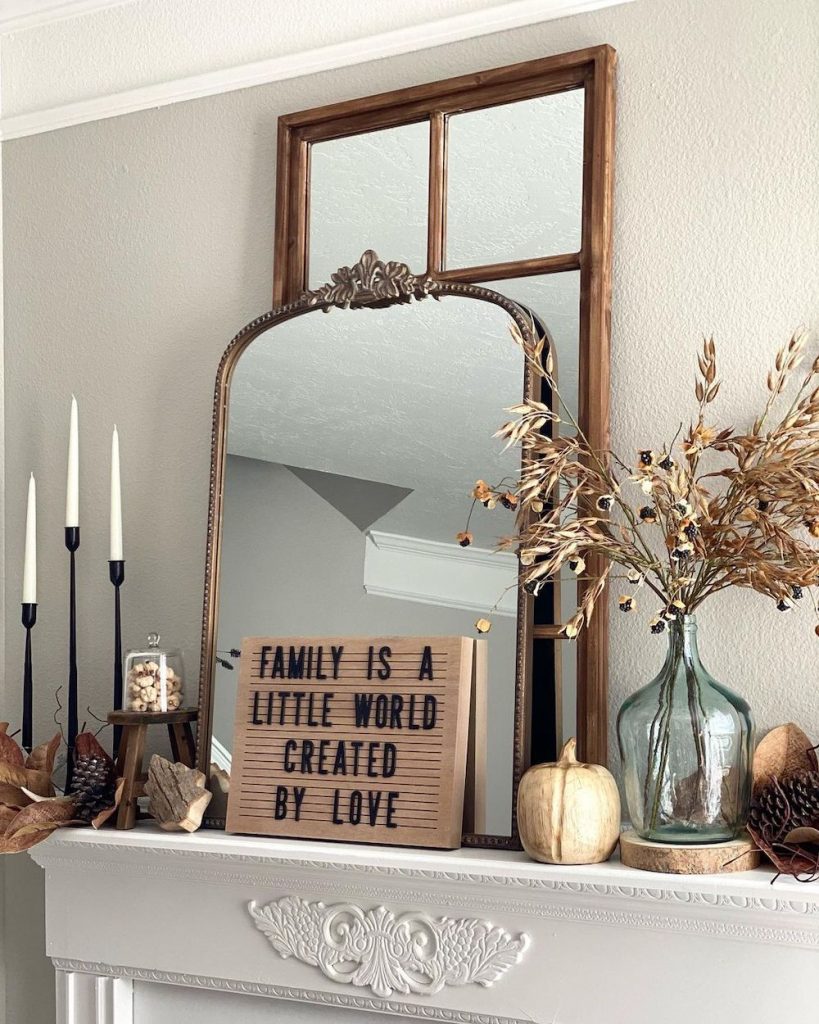 Style it with a mirror, and wall art. Add a vase with dried stems for fall decor.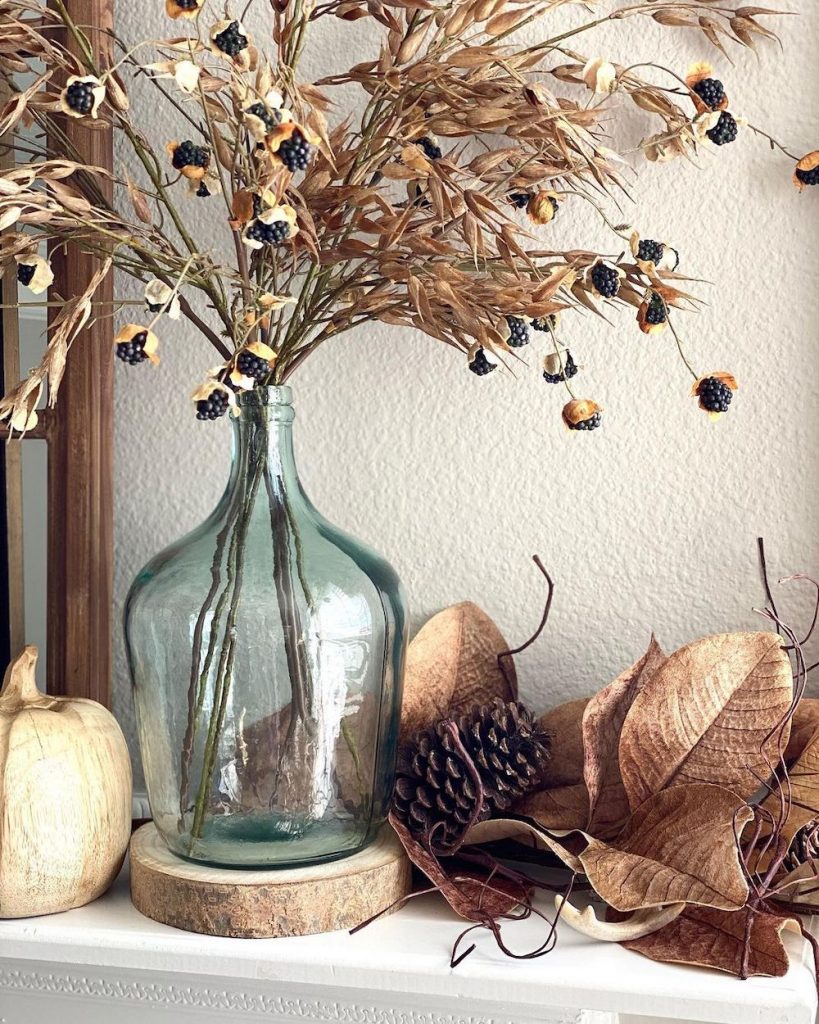 Style it Simple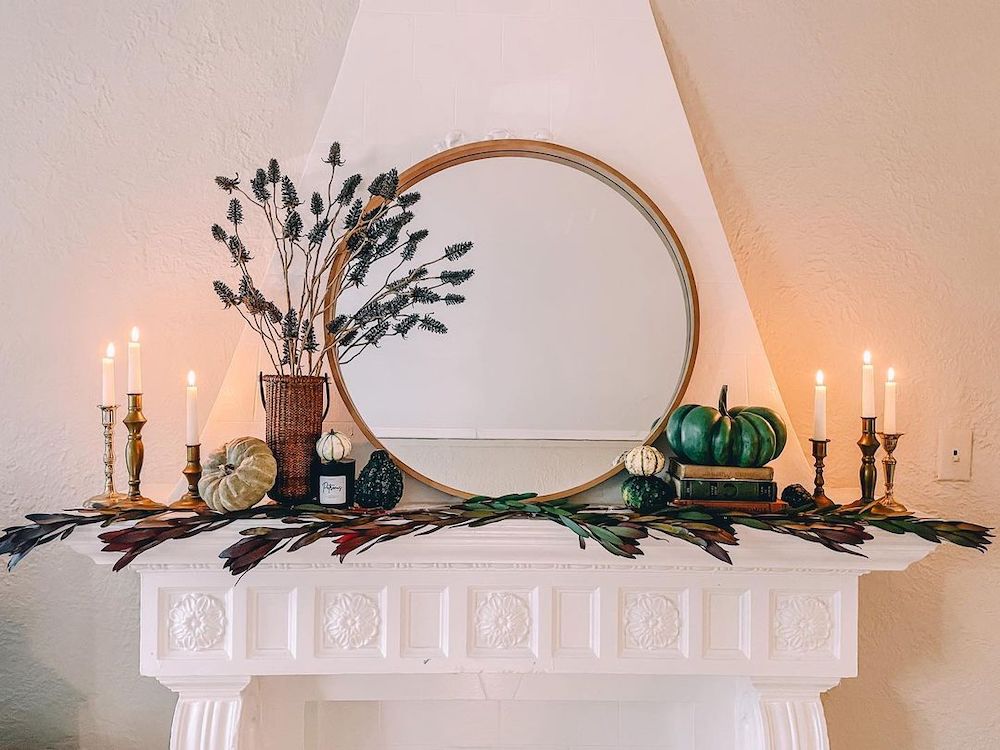 Keep it simple. In this display, emilyrapunzel33 uses vintage accessories paired with a round mirror.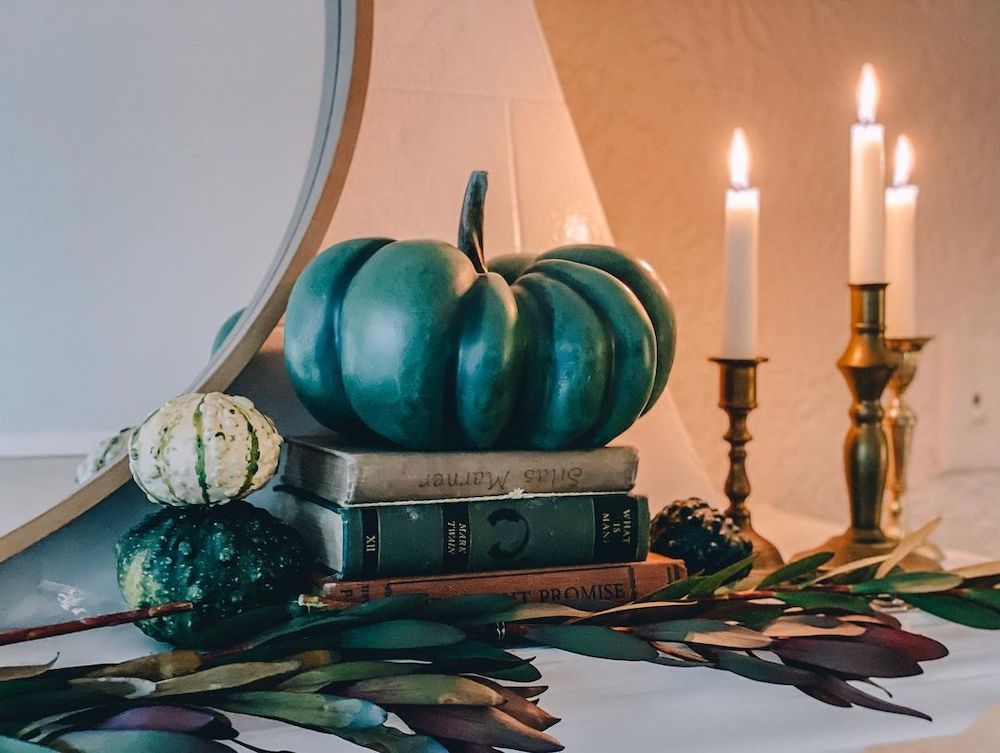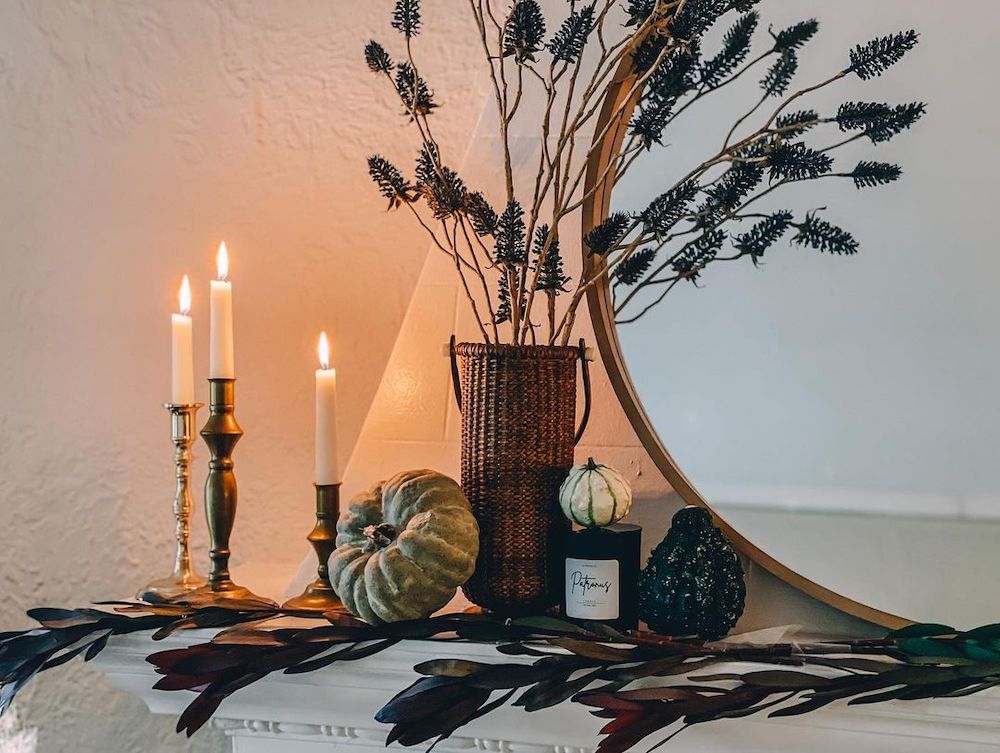 In Conclusion – Fall Mantel Styling Ideas
Our list of inspiring fall mantel styling ideas has ended. We hope you enjoyed our picks of fall mantels. It is our hope that our post inspired you to style your mantel this fall. Be sure to use accessories such as pumpkins, gourds, apples, and acorns to decorate your mantel. For greenery use, faux maple leaves, chrysanthemums, and faux berries. Fall wall art is always a good choice for the mantel. And wall art doesn't have to be hung. Rest your wall art on the mantel shelf and have it lean against the wall.
To add a little whimsy, use scarecrows or crows as decorations. As far as lighting goes, add votives, a small lantern, candle holders, or candlesticks to brighten the mantel space. Bring the autumn season to your mantel this year.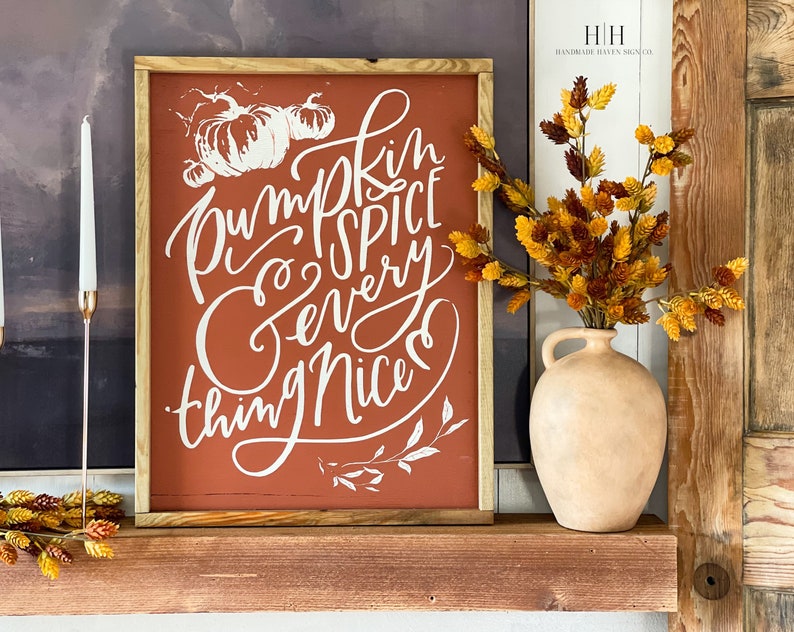 For additional fall decor inspiration, be sure to check out our other posts.
Enjoy our other fall decor related posts for additional ideas.
Reach out to us with any questions. We are always ready to help you out. Thank you for stopping by our blog.
Mary
Pin this for Later: