Fall tablescape styling ideas to help you create the best Autumn table ever. Create a fall table style that will impress your guests. If you'd like to create a memorable dining experience this fall, skip the fall centerpiece. Instead, create a fall-themed tablescape. A tablescape is more than just a centerpiece. With a tablescape, the decorating encompasses more of the center of the table.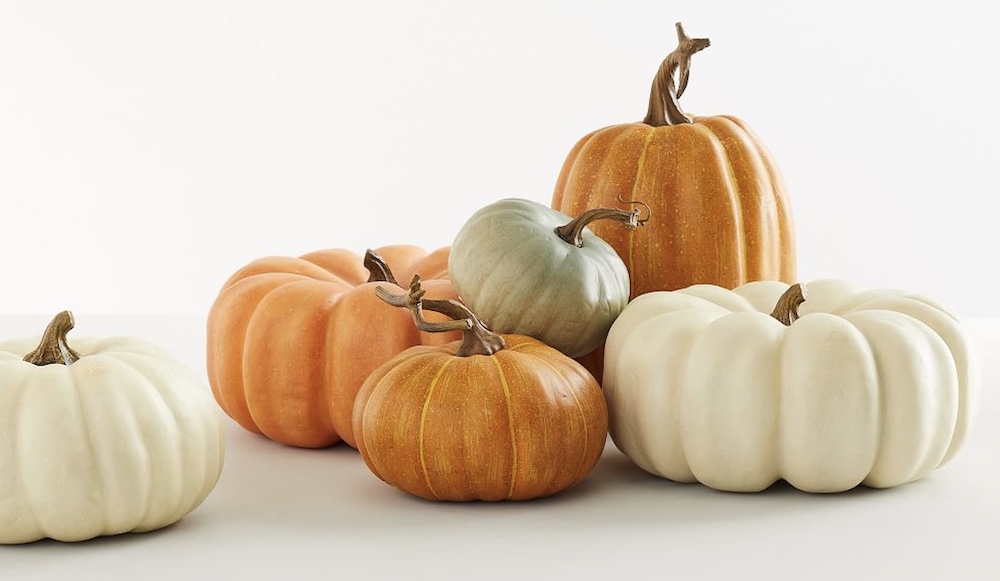 A tablescape includes dinnerware, silverware, glasses, napkins, and party chair decorations. However, in this post, we are sharing the decorations that adorn the center of the table. Remember when styling a tablescape, it is best to keep the display low. You never want to impede conversation among guests at the dinner table.
Take Your Inspiration From the Outdoors – Fall Tablescape Styling Ideas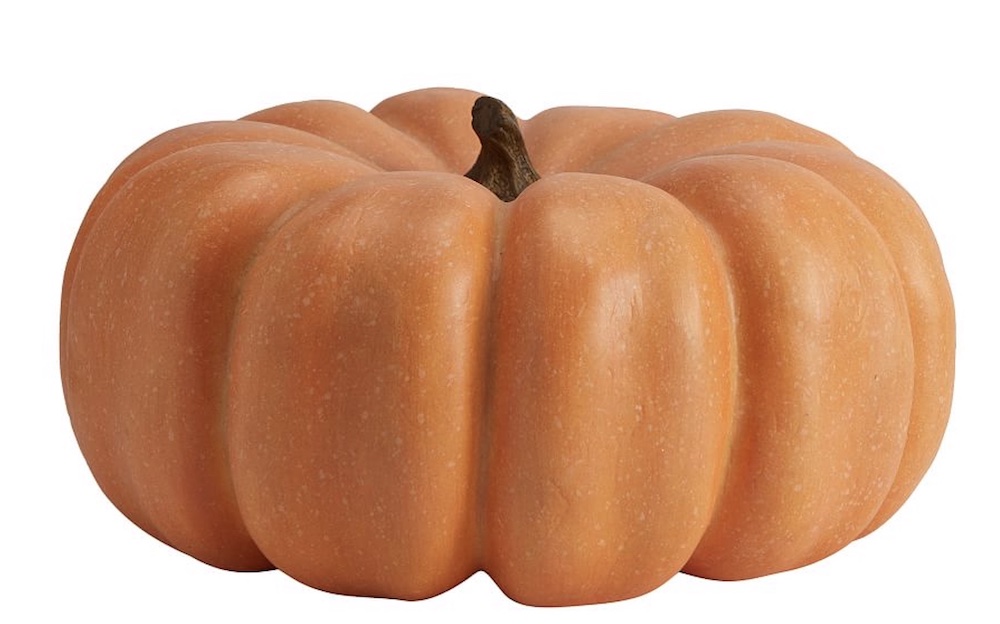 The fall season is an easy season to decorate for. Since most of our inspiration comes from the fall landscape. We gather inspiration from our backyard. From the pumpkins, gourds, apples, acorns, and fall foliage outside our window. For the fall season, pumpkins are always the go-to decorative pieces. But consider other outdoor accessories such as sunflowers, acorns, apples, and scarecrows.
Create a tablescape you'll love with inspiration from our list. Take a look.
Make it an Amber Tablescape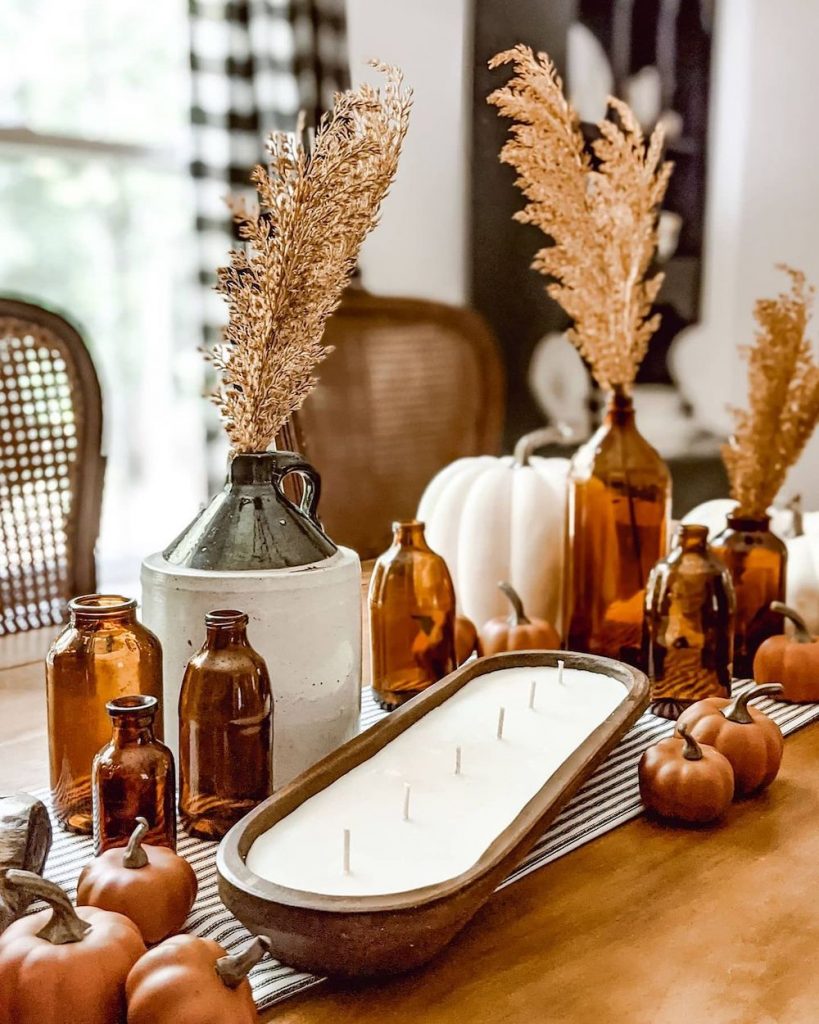 Style it with amber, creamy white, and black colors. In this tablescape, white and wood grain designed this tablescape using a striped table runner and amber bottles. All styled around a 6 wick dough bowl candle. The amber jugs have dried foliage stems for a true fall feeling.
Repurpose Pumpkins as Candle Holders – Fall Tablescape Styling Ideas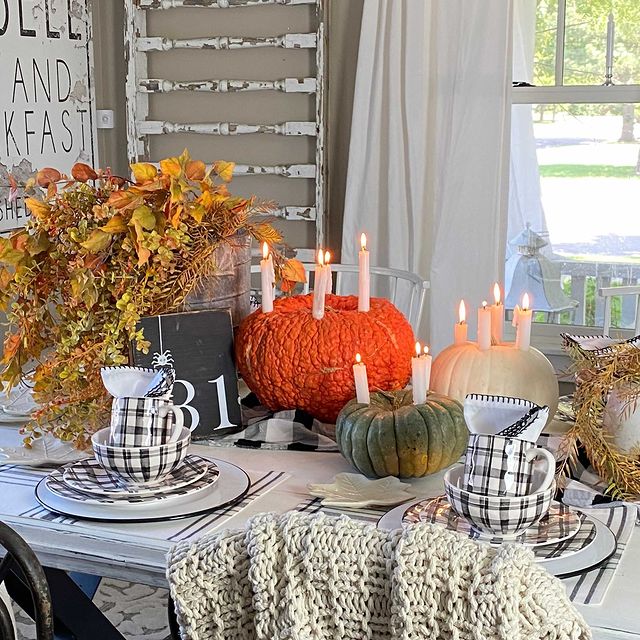 Pumpkins are a great fall accessory. So why not repurpose them as candle holders? Works great for this spooky fall tablescape. Cleave idea for a table decor style.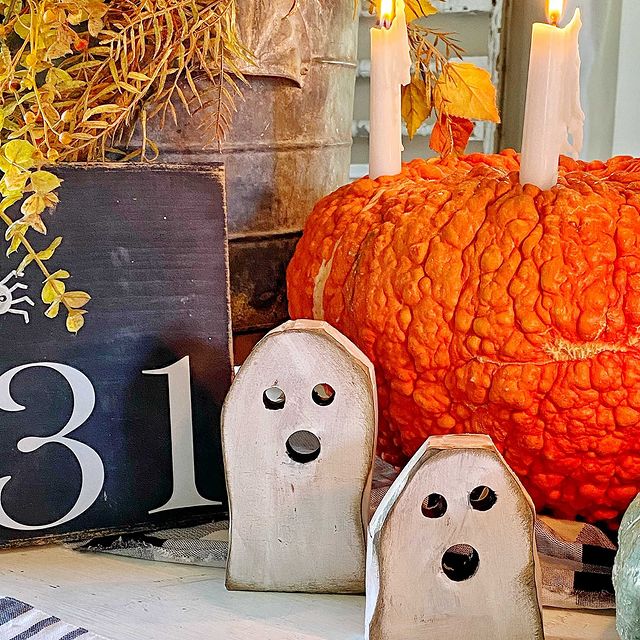 Elevate your Tablescape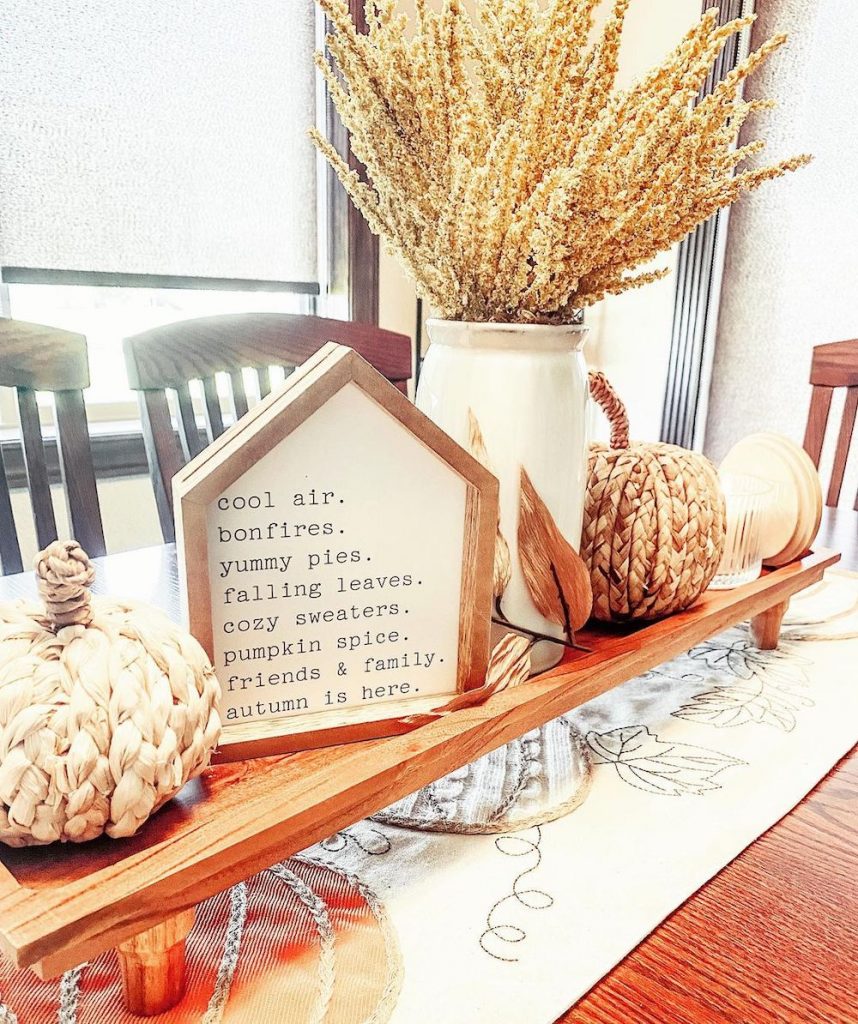 Use a riser to give your tablescape some height. Style your favorite pumpkins, gourds, and dried florals on this riser.
Roll Out the Gingham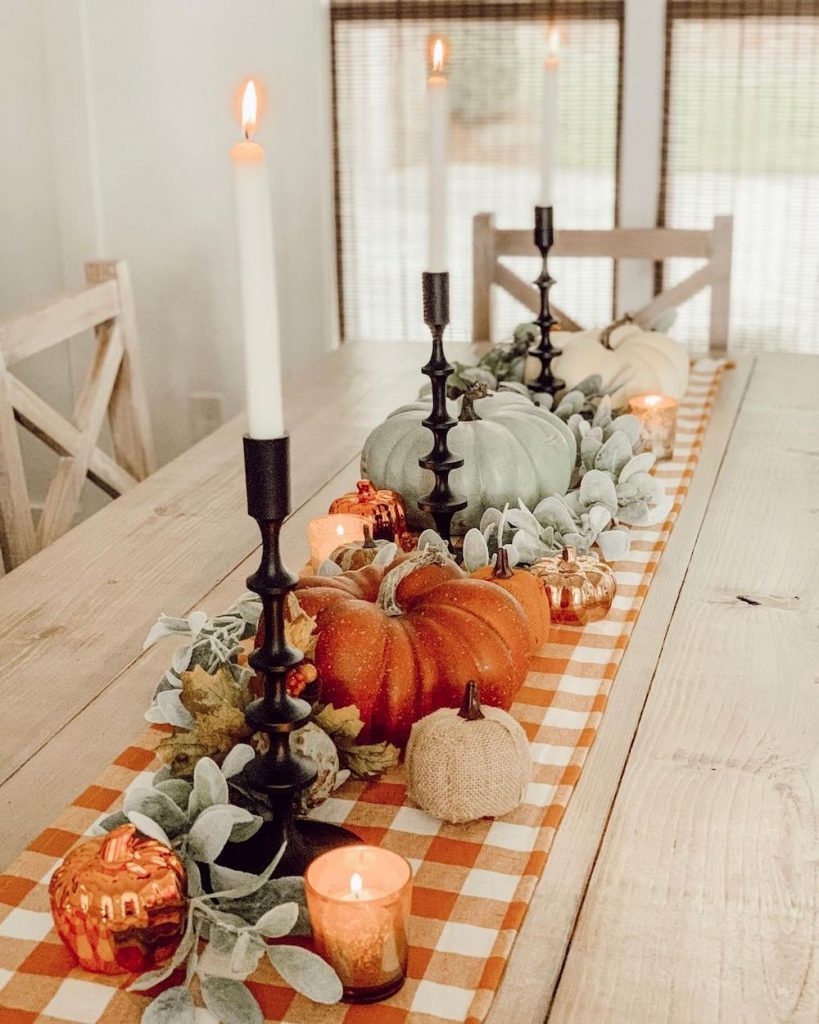 Take an orange gingham table runner and roll it out across your table. Then pile on all your goodies. Add your pumpkins, gourds, candlesticks with assorted faux greenery.
Pull out the Wicker Wrapped Jugs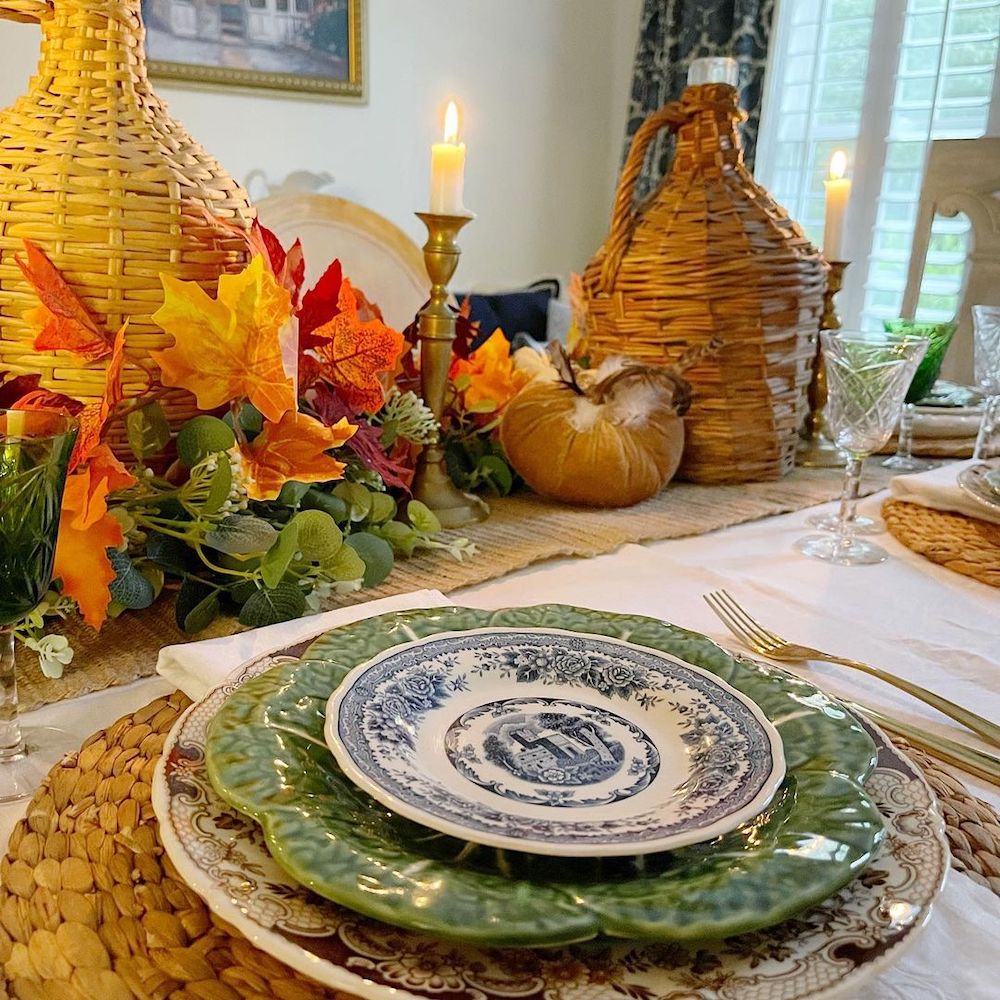 Design a warm-colored tablescape with wicker-wrapped jugs. Set up a few candlesticks, velvet pumpkins, and assorted faux greenery.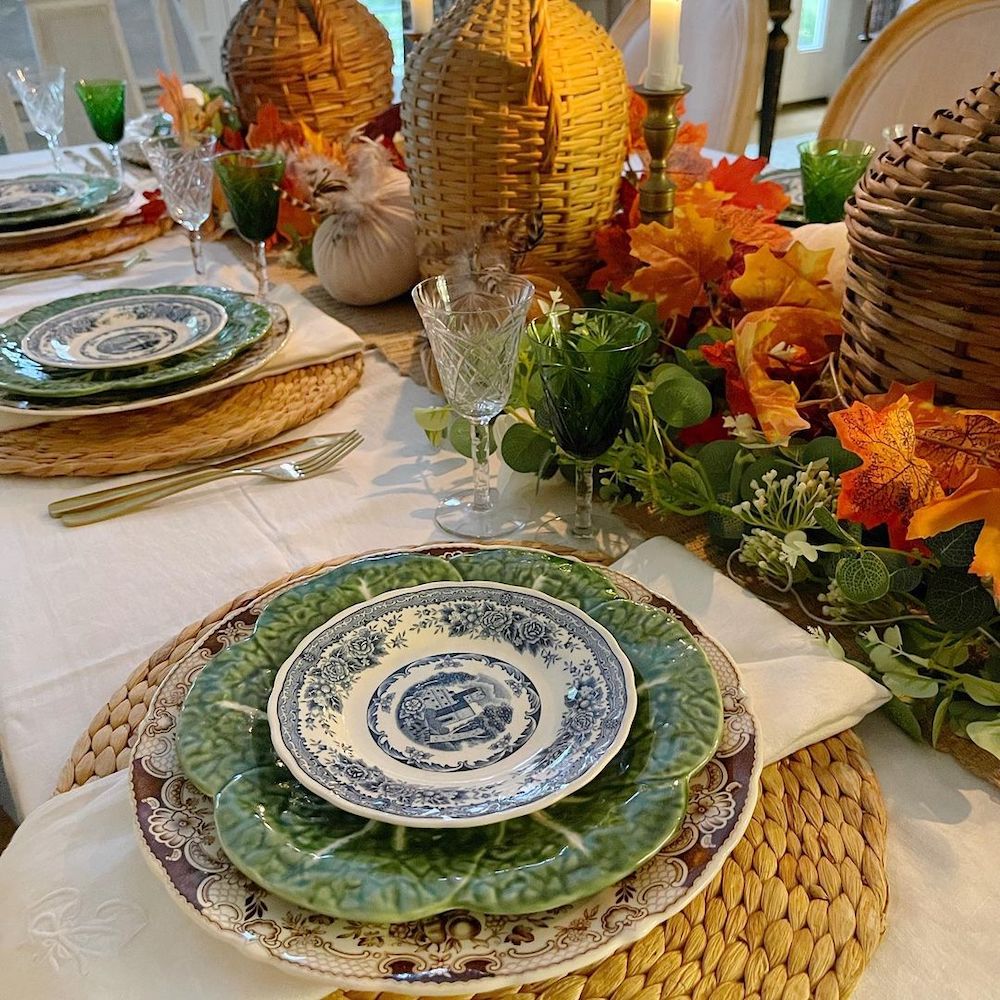 Set Up a Row of Black Candlesticks – Fall Tablescape Styling Ideas
Keep the greenery to cover the base of the black candlesticks. An easy and quick styling idea that can easily be set up.
Decorate it in Beige, Creams, and Blacks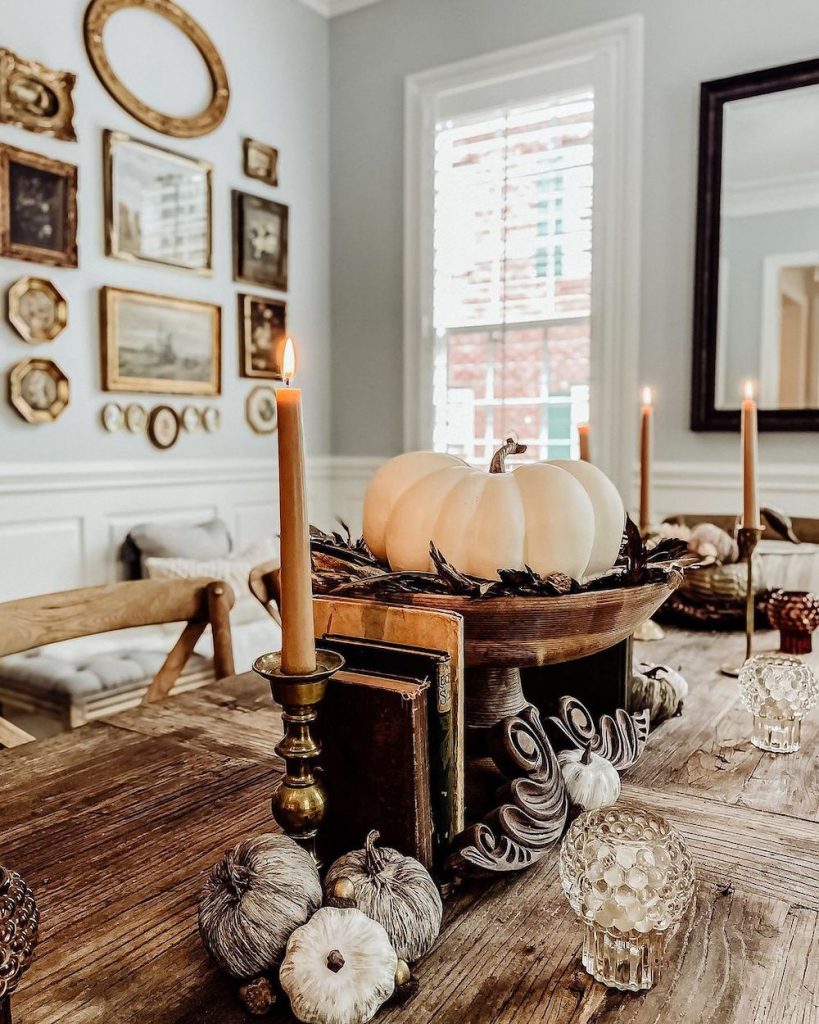 Elevate the Casper Pumpkin using a footed bowl. Spread out the miniature pumpkins and candlesticks across the table.
Spread the Neutral Colors Throughout the Table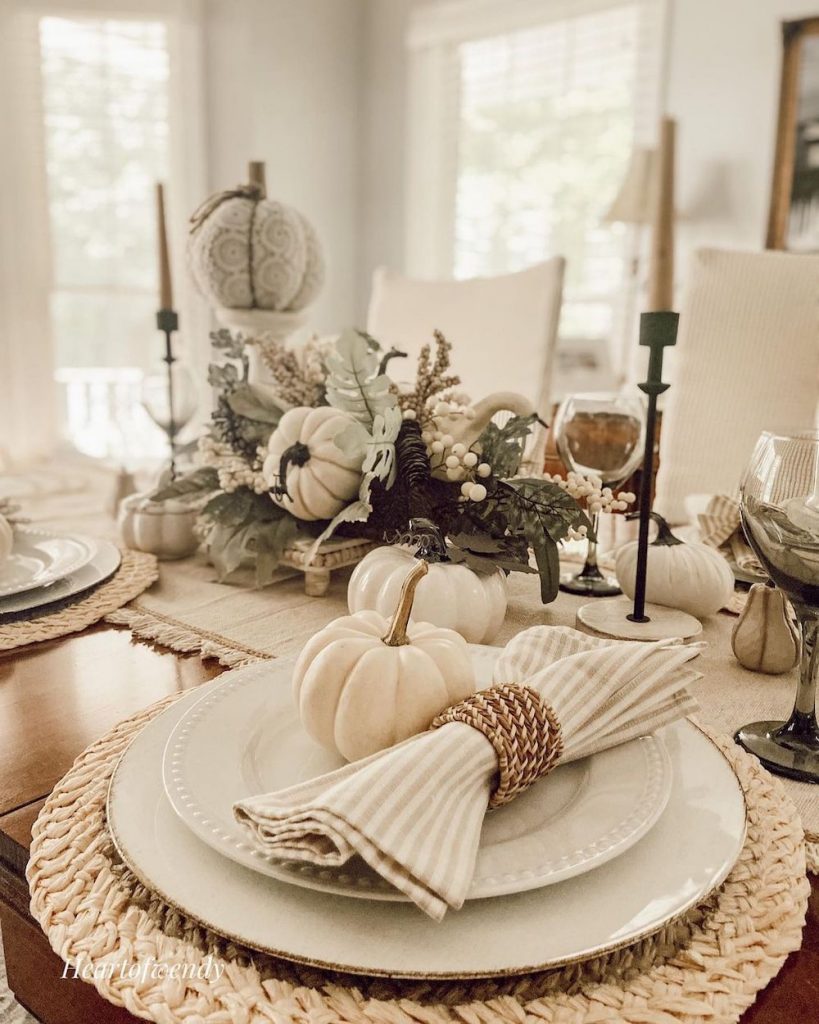 Create a relaxing, soothing mood for the dinner table. Use risers and candle holders to elevate pumpkins. This will provide height to your tablescape.
Let Candy Corn be Your Inspiration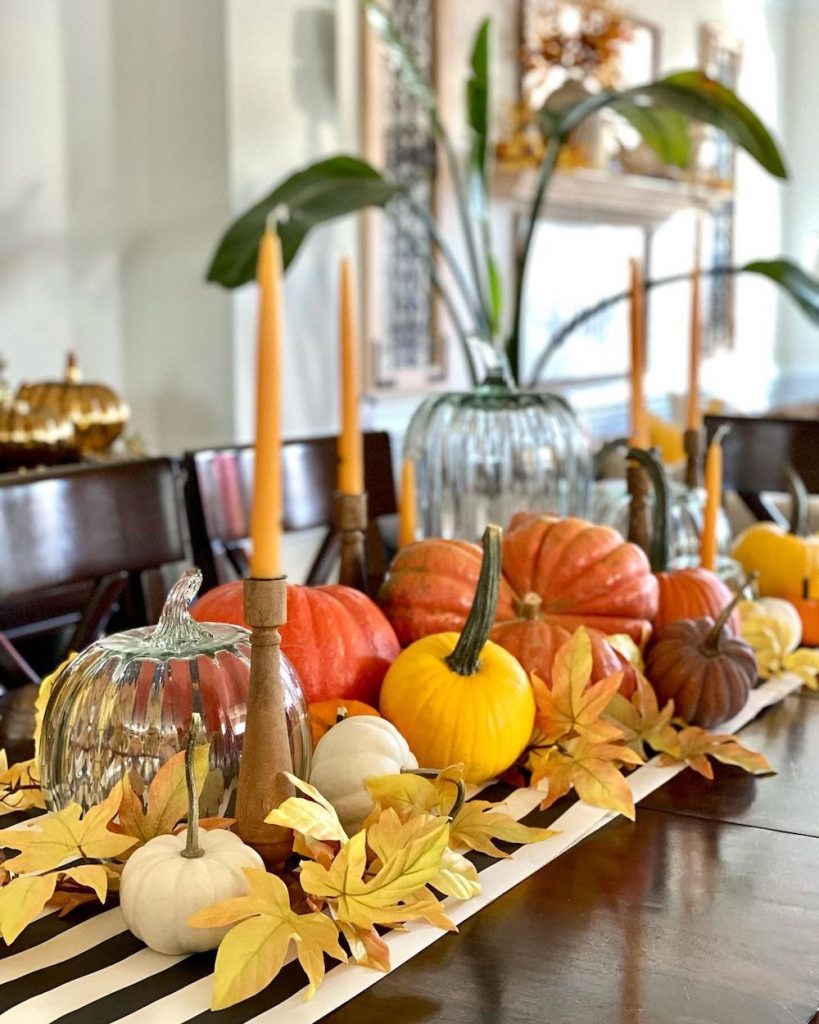 In this colorful design, phoenix pheather used candy corn as her inspiration. And it all started with the yellow pumpkin. Bright oranges, yellows, and white pumpkins on a spread of maple leaves. Pretty amazing.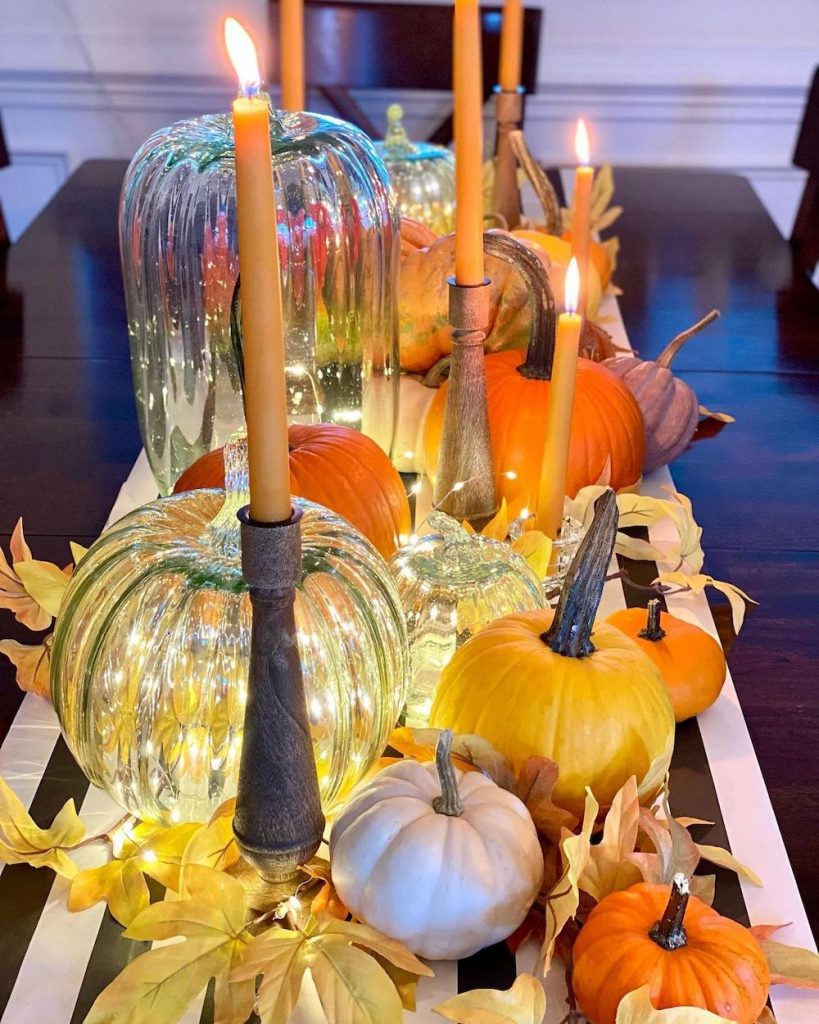 Light a Row of Taper Candles – Fall Tablescape Styling Ideas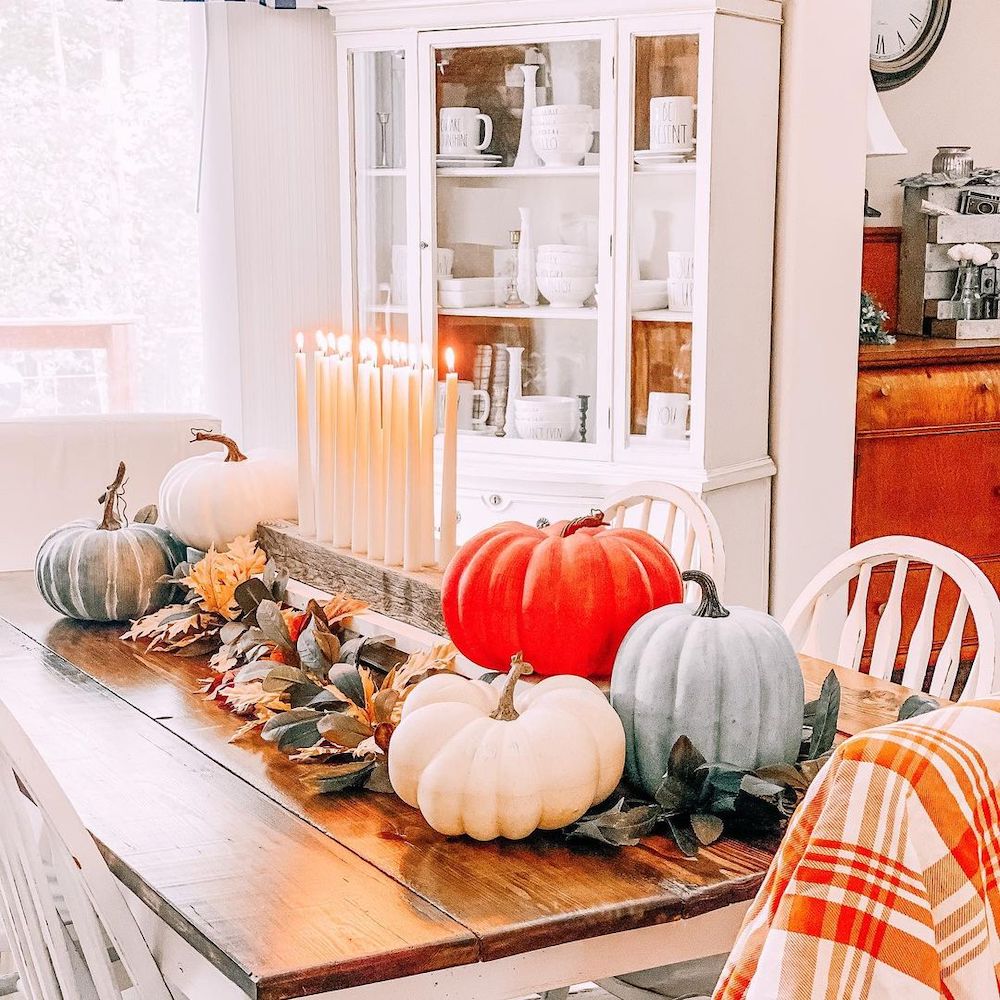 Make it memorable with this taper candle centerpiece. Add some greenery and follow up with a brilliant display of pumpkins.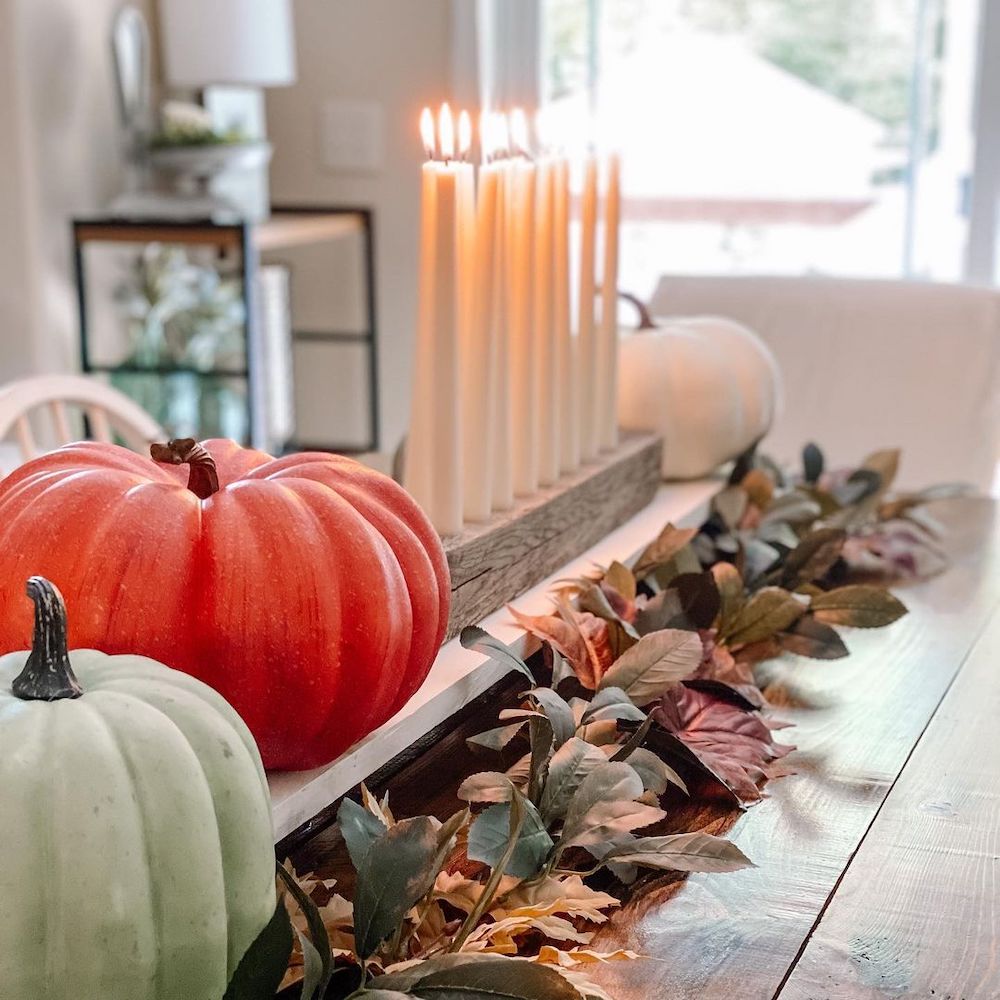 Spice it Up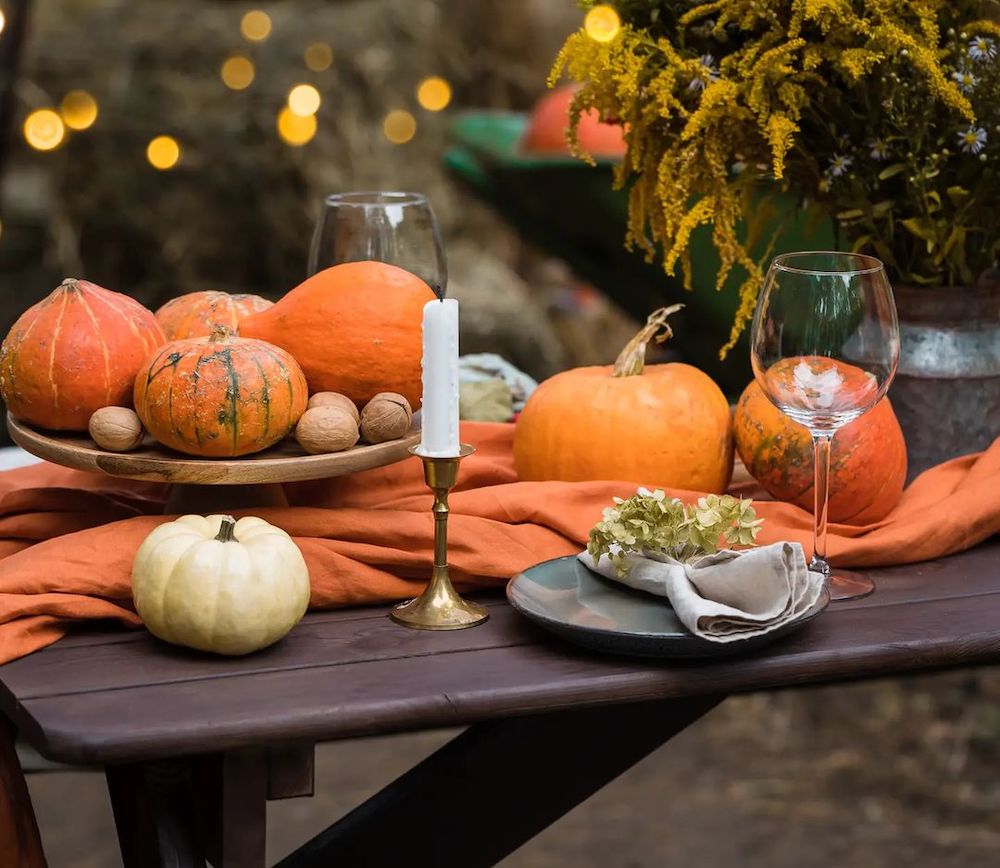 In this easy-to-style tablescape, start with an orange table cloth. Add a vase of goldenrod, use a cake stand to elevate pumpkins, gourds, and walnuts. Follow up with some wine to start the celebration.
Bring Out the Blues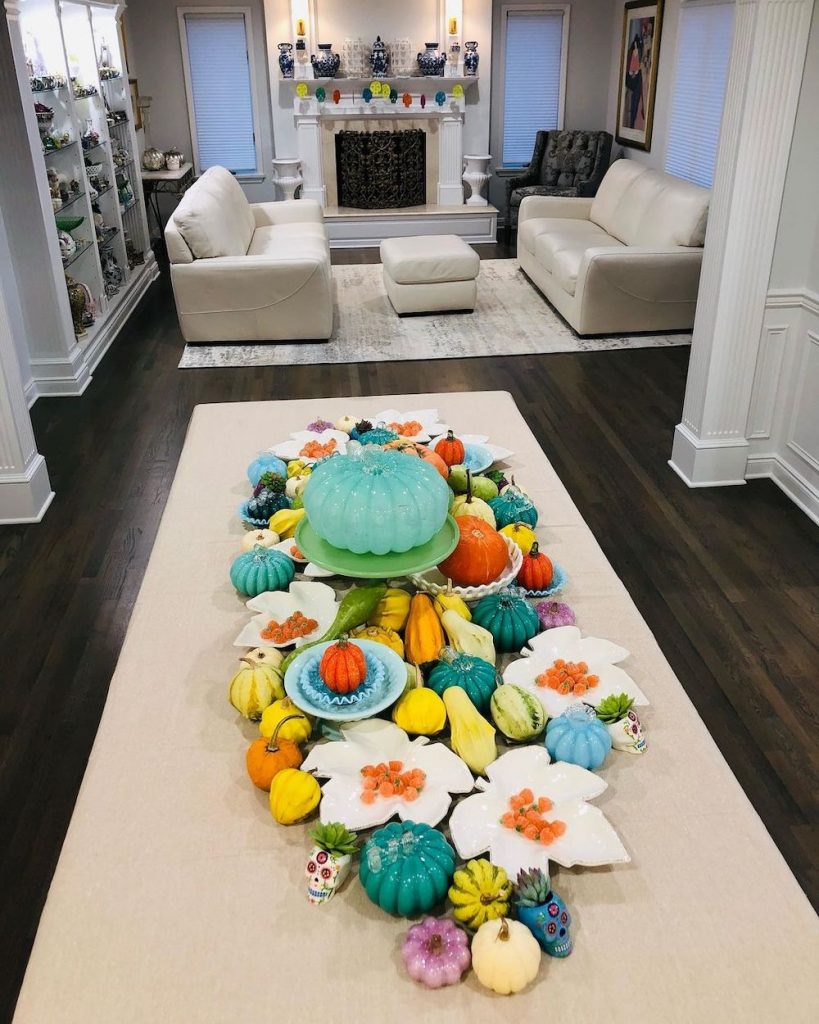 Style a tablescape with your blue glass pumpkins and white leaf plates. Spread miniature pumpkins, gourds, and the day of the dead skeletons around the centerpieces.
Circle Your Pumpkins with a Boxwood Wreath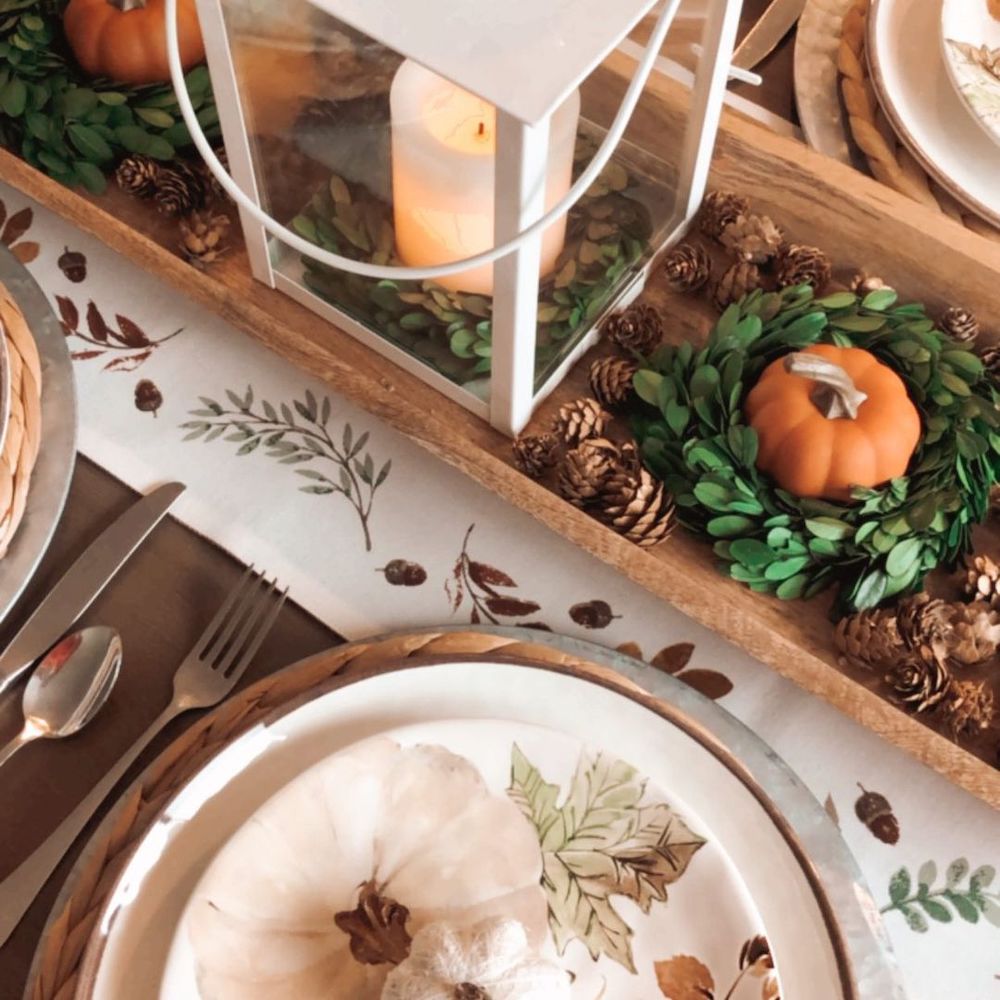 Add some faux boxwood wreaths to your lantern and mini pumpkins. Simple and easy styling. Place a white lantern in the center of the wood tray. Use a white pillar candle with a small, green boxwood wreath. Add some pumpkins with boxwood wreaths. Then carefully drizzle mini pine cones around the wreath and pumpkin pieces. We love the easy styling of this tablescape. Nicely done!
Bring Fragrance to the Table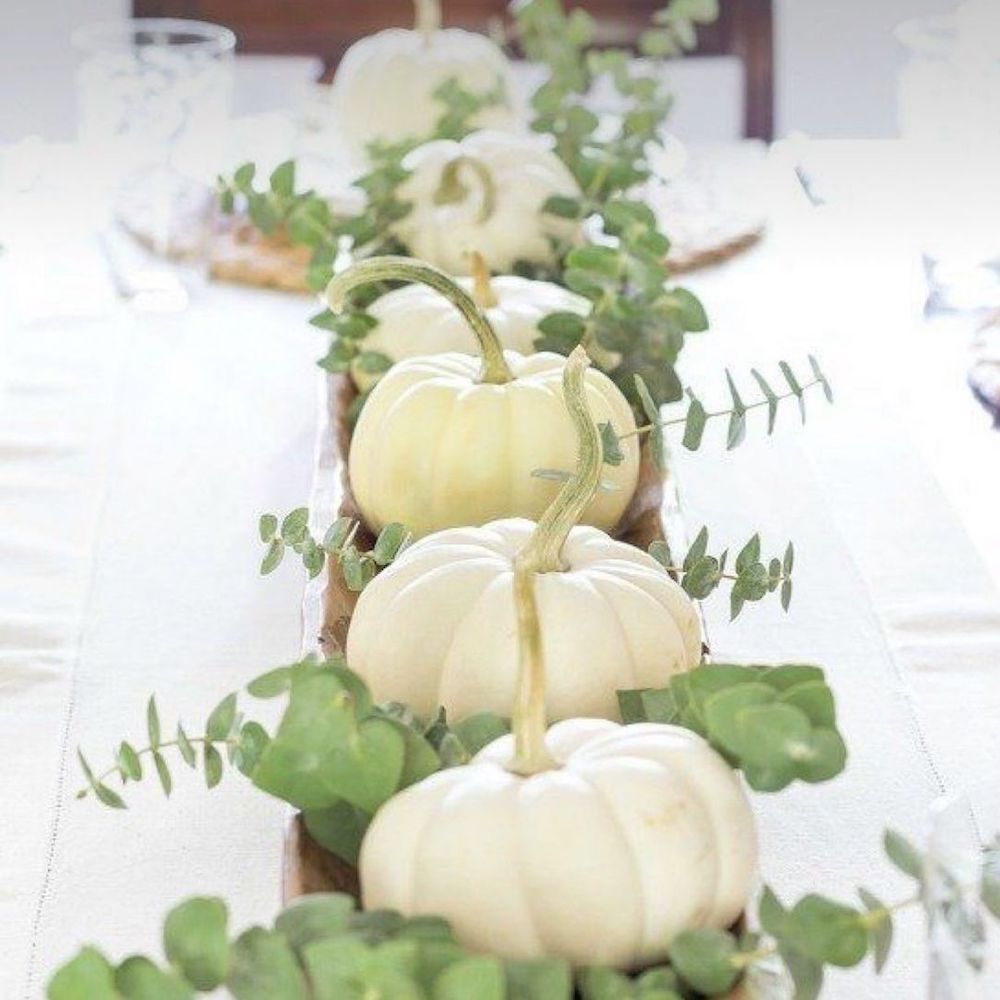 Using a dough bowl, add fragrant Eucalyptus stems to the base. Then drop a few white pumpkins with interesting stems, in the bowl. A simple yet elegant tablescape.
Style it with Orange Marigolds – Fall Tablescape Styling Ideas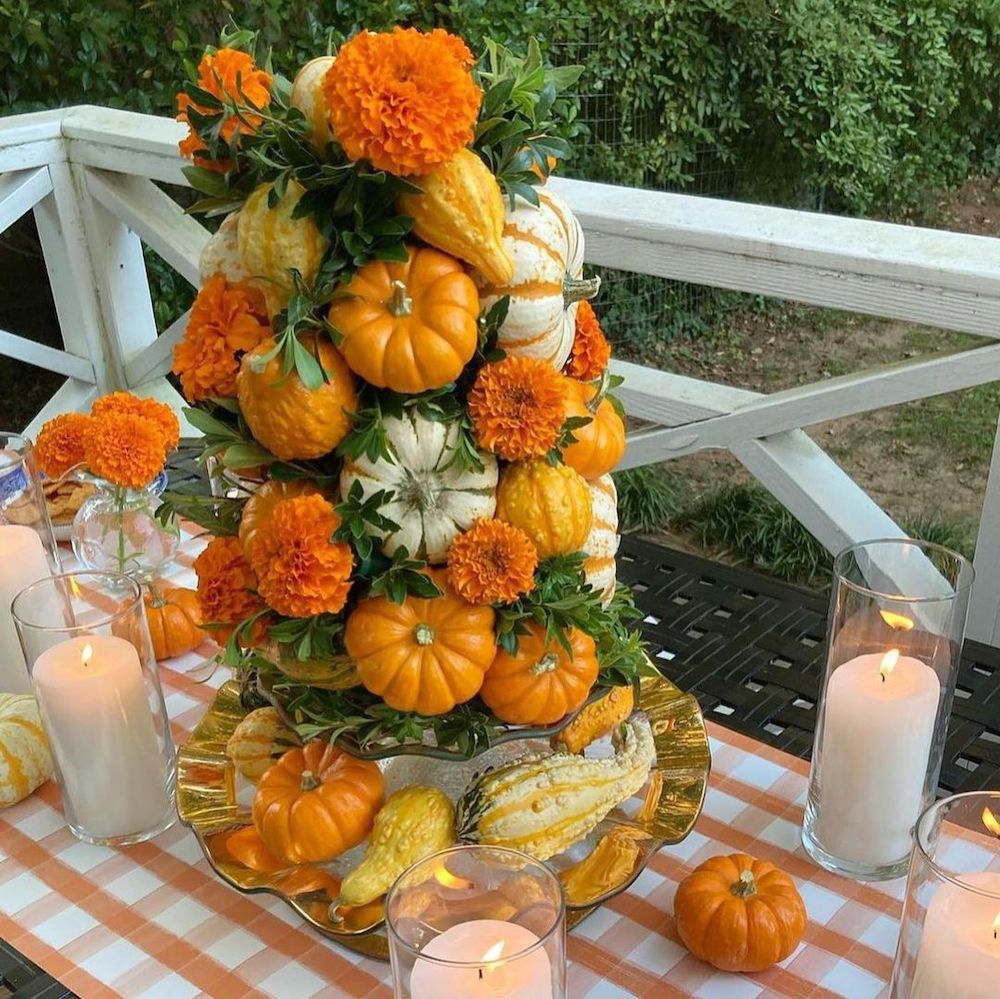 Create a pumpkin, gourd, and marigold tree. Is this cute? Mix your mini pumpkins, small gourds, and bright orange marigold flowers for this tablescape. Add a few white pillar candles in clear, glass candleholders. Scatter a few pumpkins and gourds around the table. The backdrop for this lovely styling is an orange gingham table runner.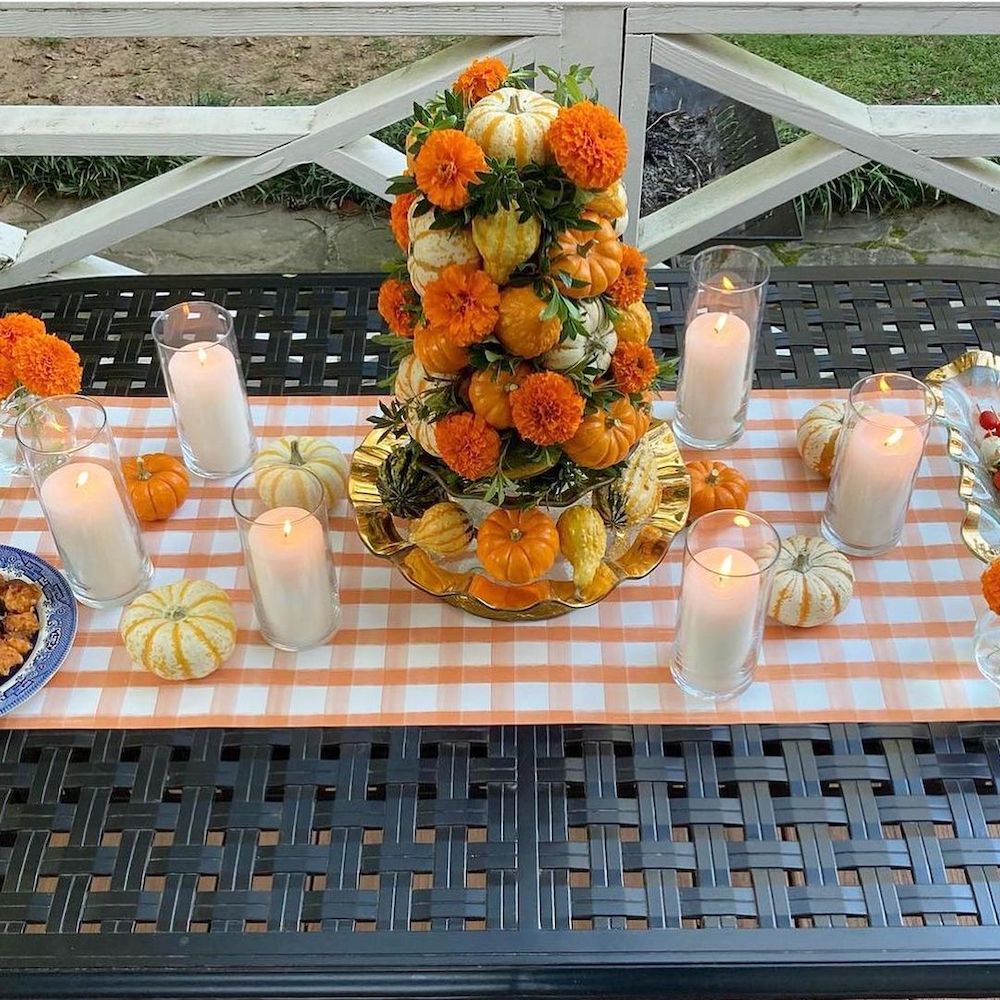 Style it with a Soft Burgundy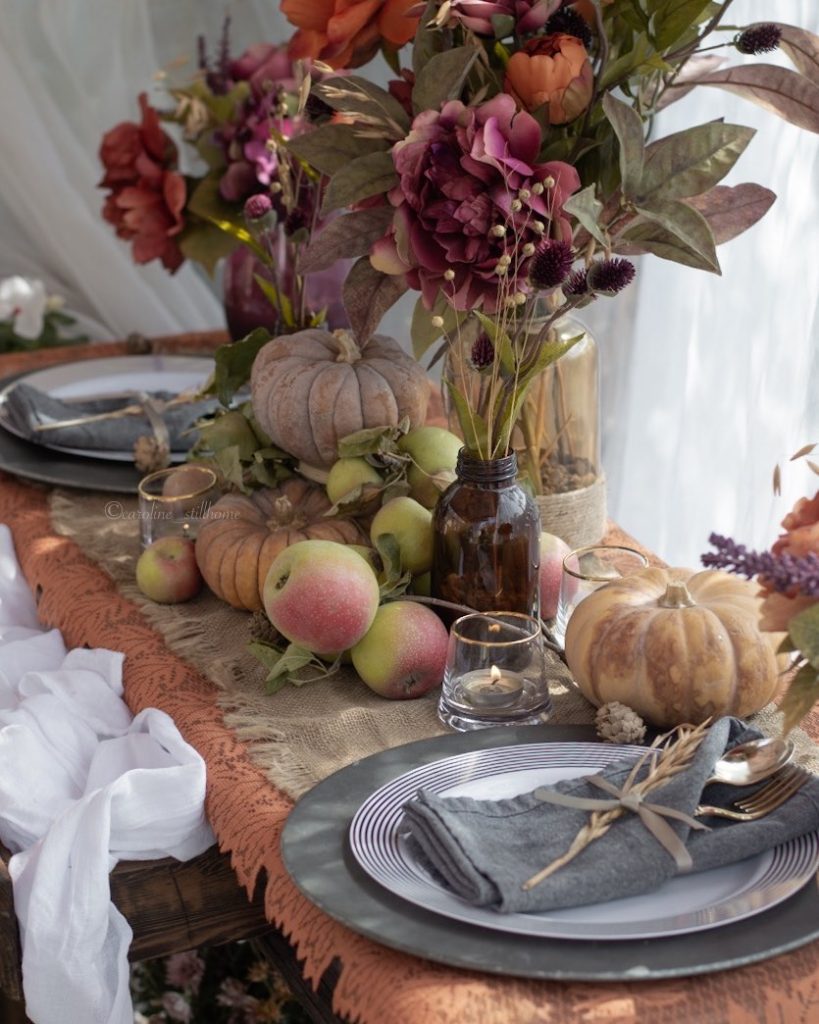 In this design by Caroline_StillHome, the table decor takes its cues from the freshly harvested apples. Soft burgundy hues. What a delight!
Go for the Glam Turquoise Look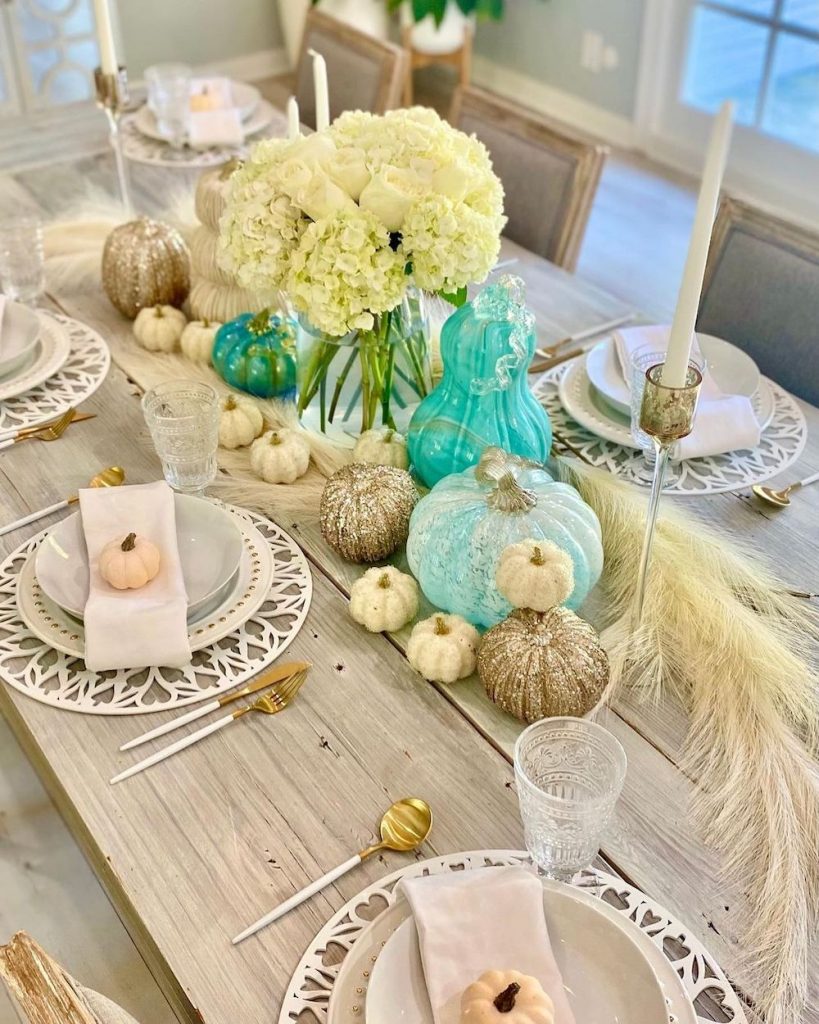 Add a bit of turquoise and silver pumpkins to this tablescape. Display some feathery, white foliage for an even bigger splash.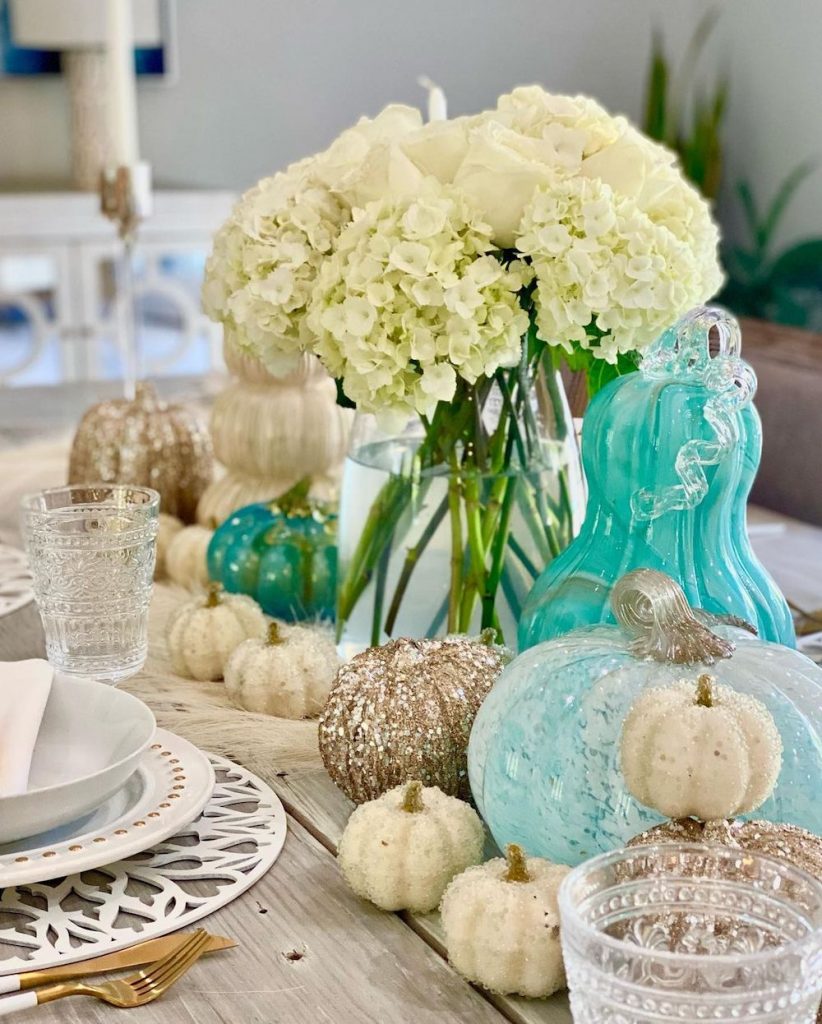 Keep Your Family Close By – Fall Tablescape Styling Ideas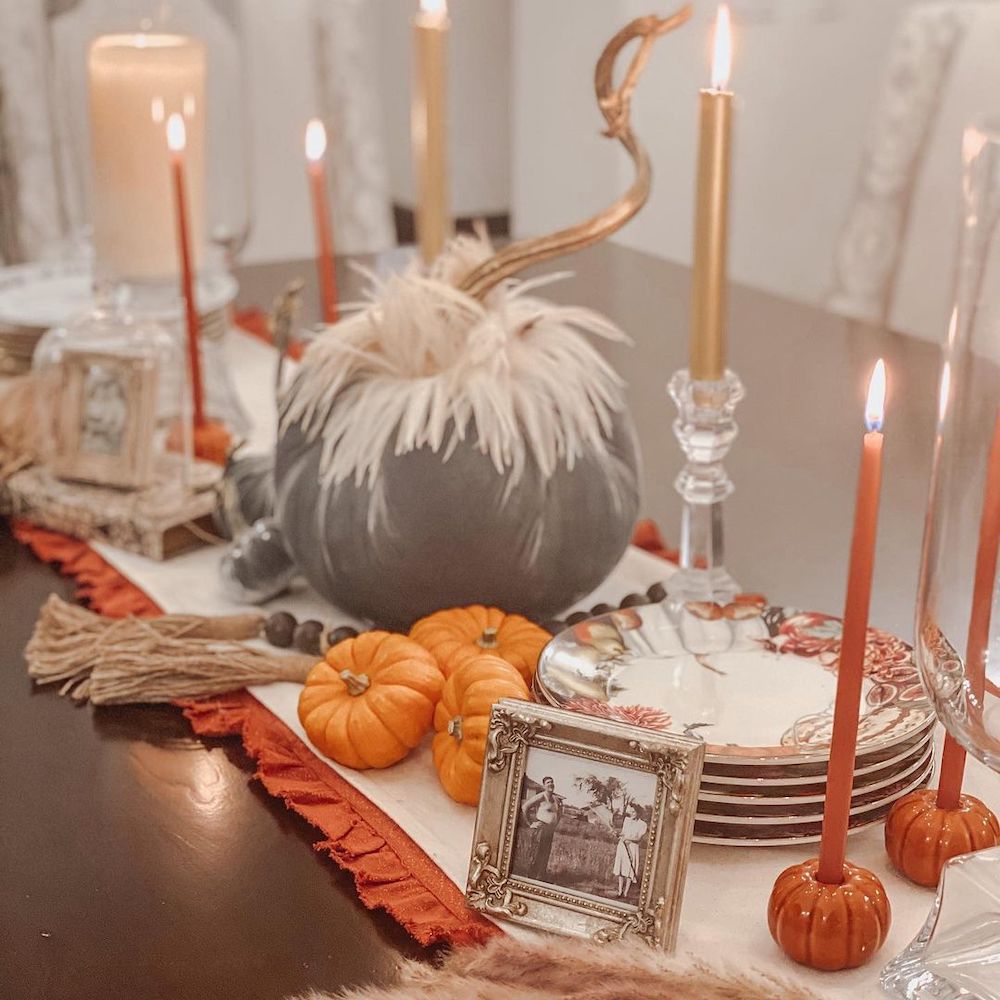 Display old family photos on your tablescape. In this design by theuncommonvirgo, she adds old photos of her grandparents. The heartwarming style is so touching.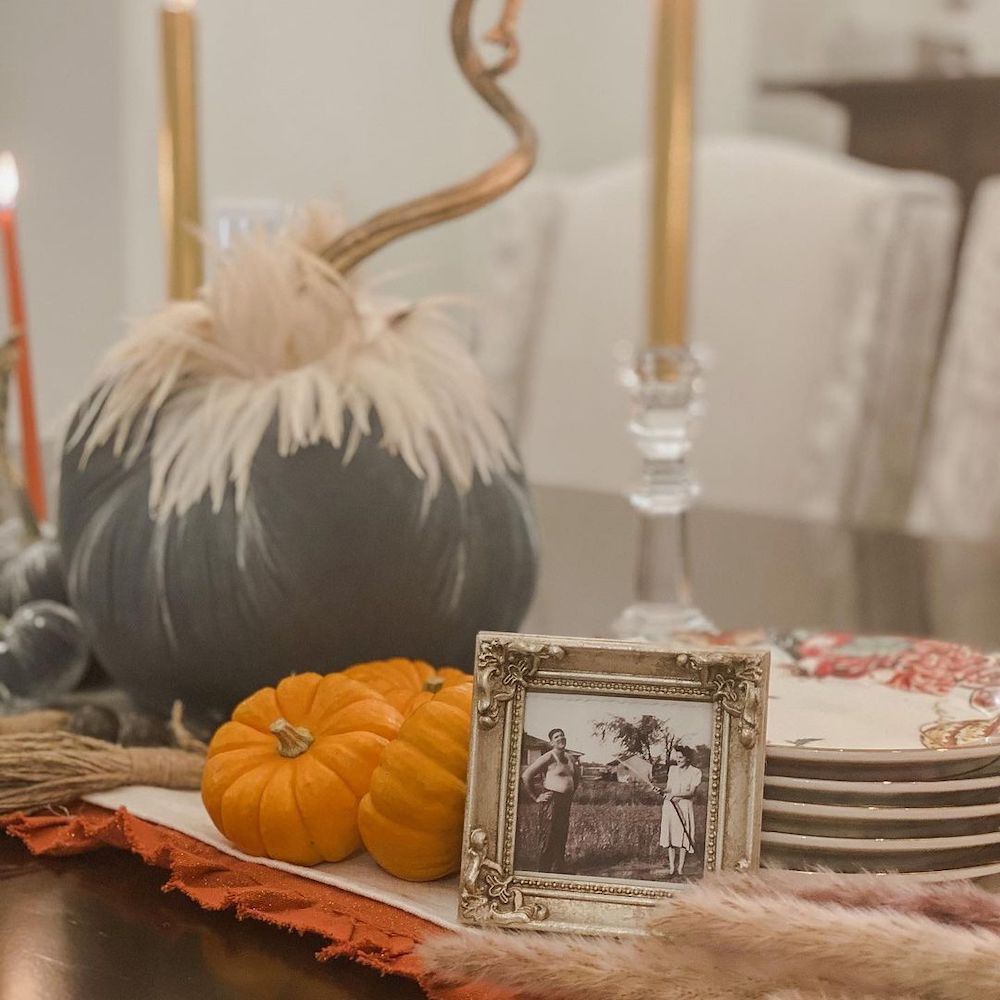 Set the Topiaries on the Table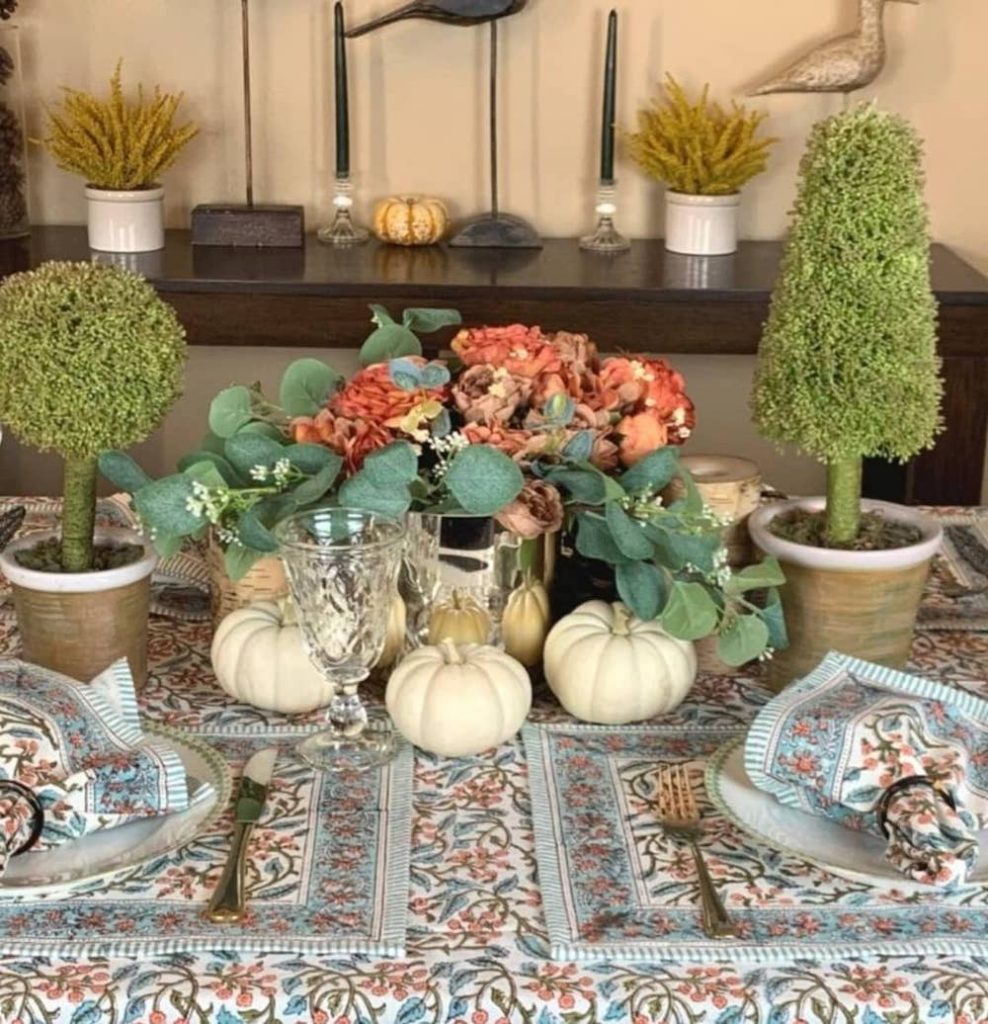 To each side of the centerpiece, add a set of topiaries to balance the tablescape. Perfectly sized for the table.
Go Blue and Gold – Fall Tablescape Styling Ideas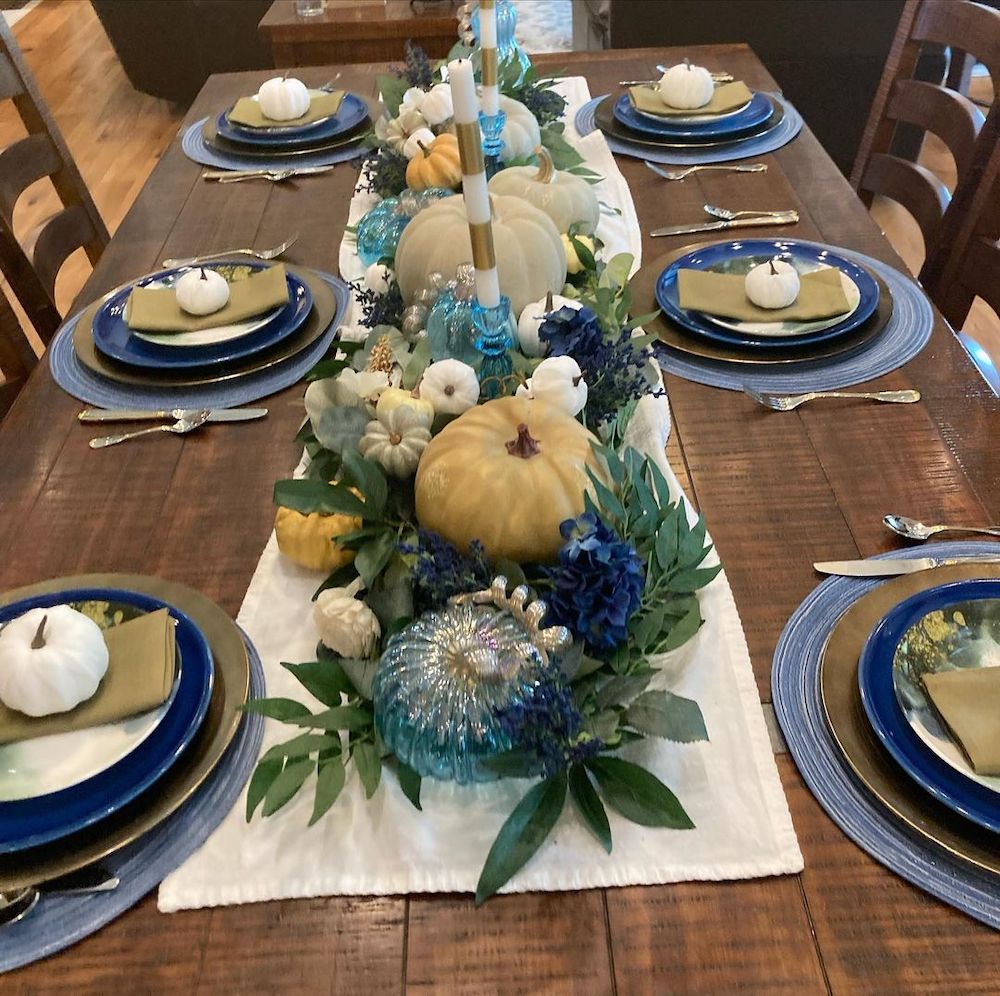 Style the tablescape in beautiful blues, creams, and gold colors. Add a set of gold and white candles to this setting.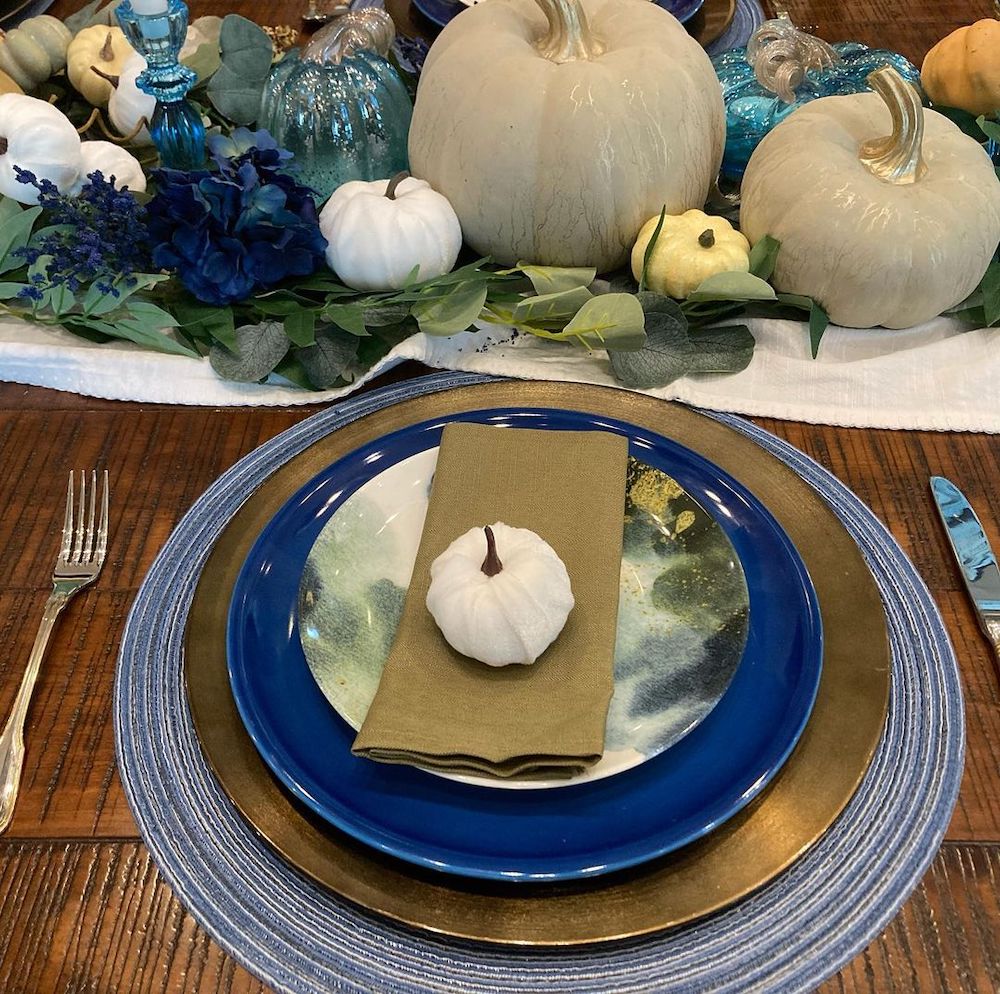 Pull the Pink Out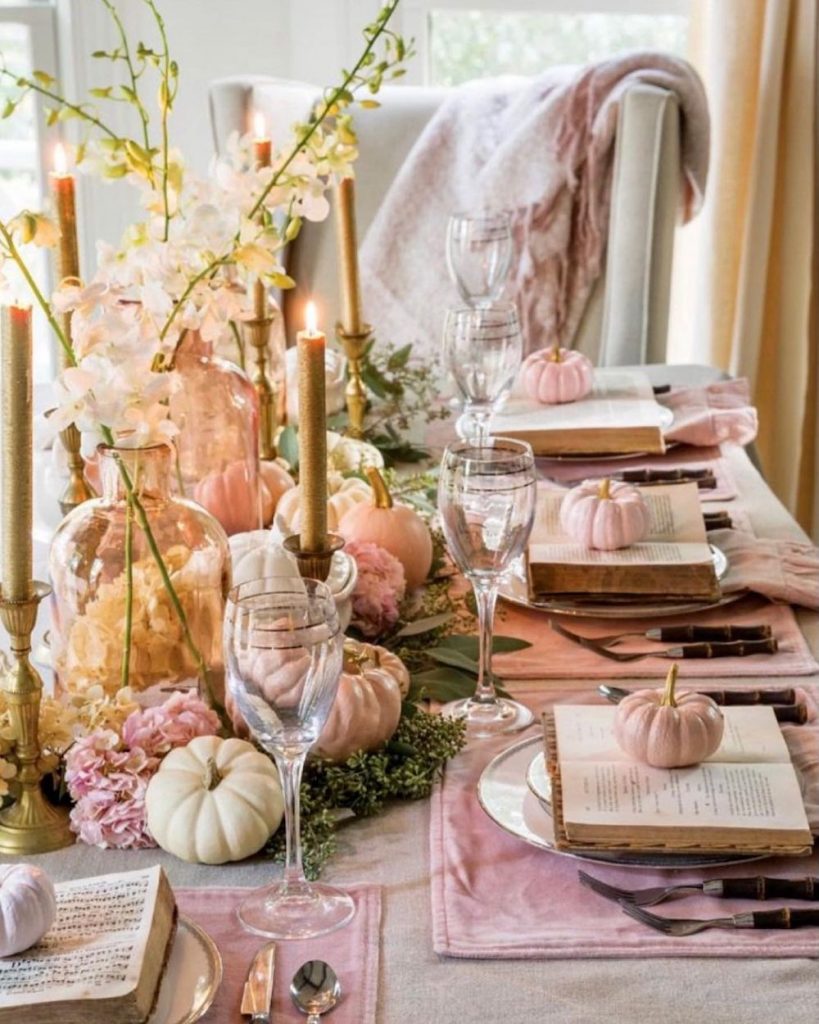 When in doubt, style it in pink. Pink vases, pink pumpkins, pink throws. Beautifully done!
Have Another in Pink – Fall Tablescape Styling Ideas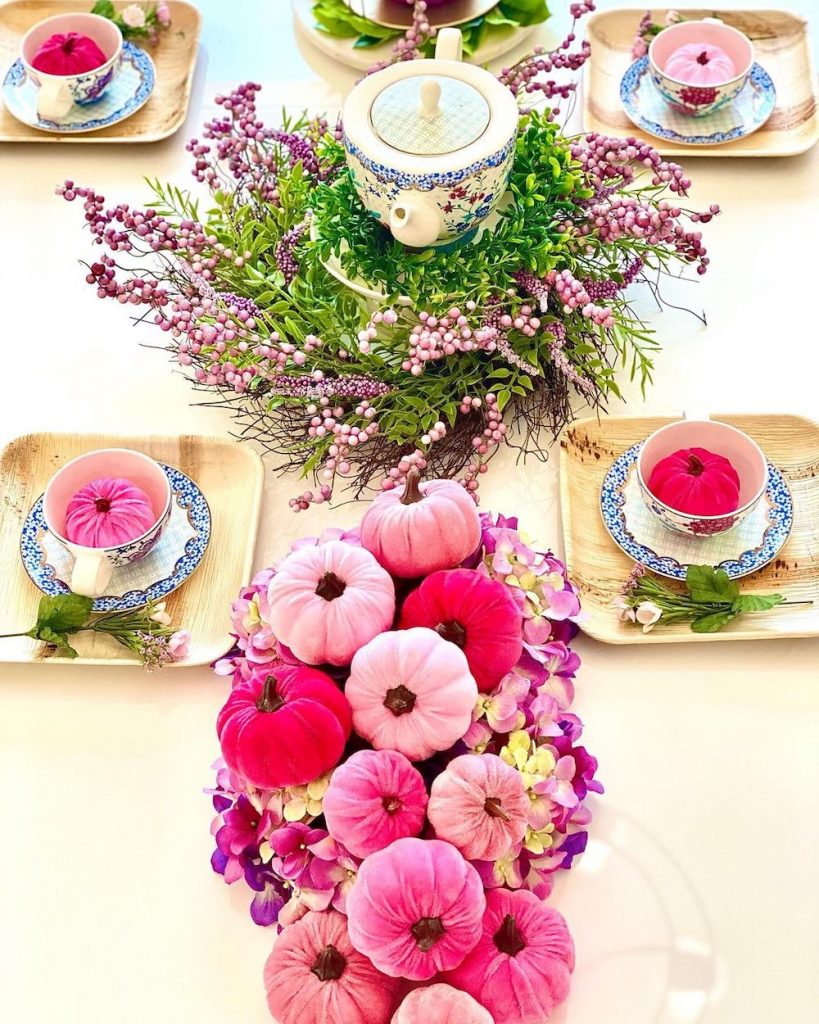 Brilliant pinks adorn this table setting. Pile these pink velvety pumpkins high for all to admire. In the image below, the teapot stands on a bed of faux pink berries. Amazing pink colors!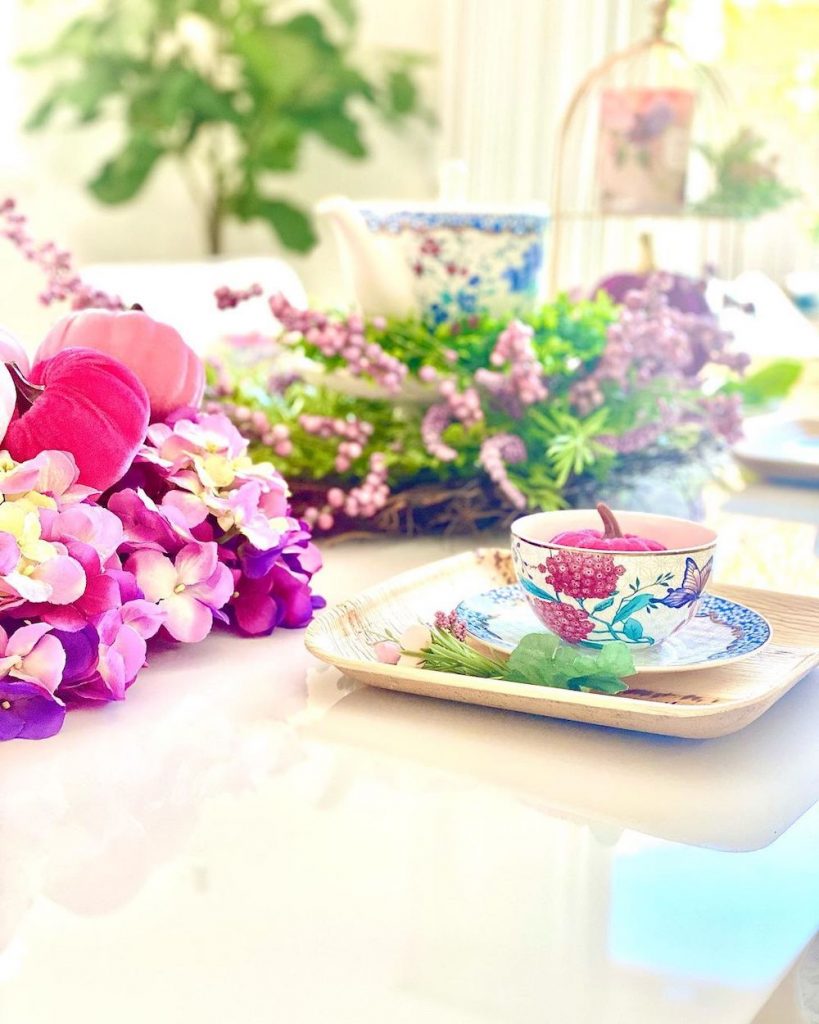 Loan Your Books Out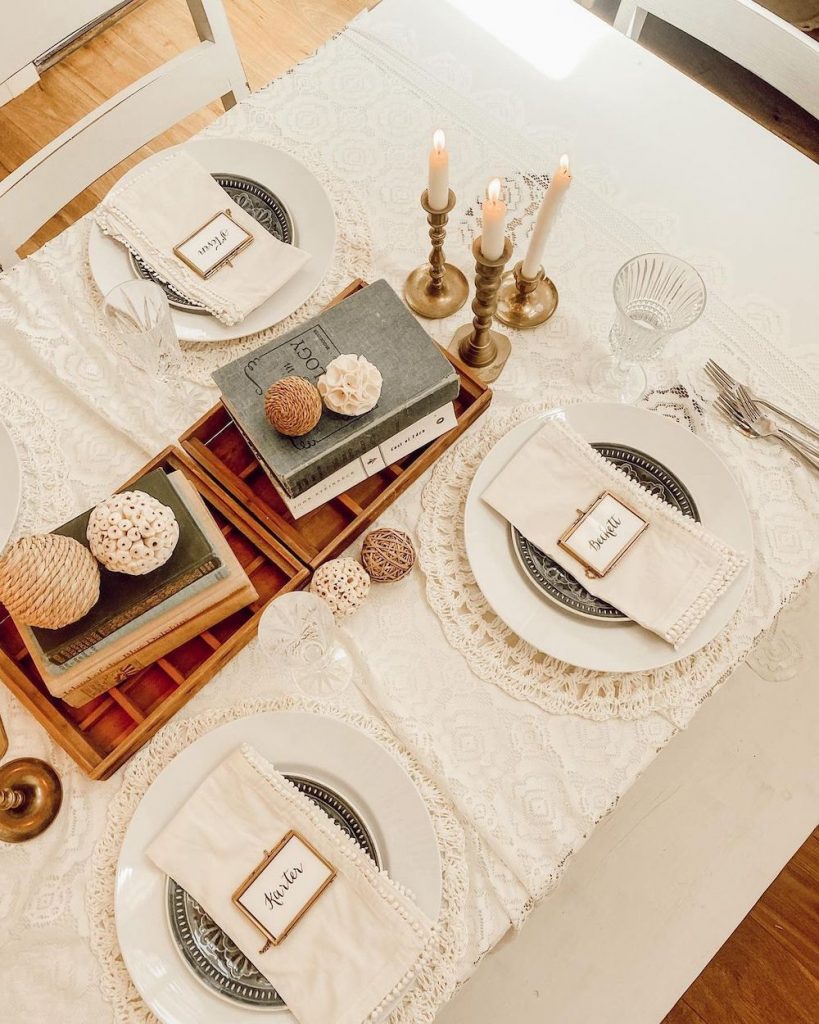 Let your books do double duty on the dining table. Enlist books as part of the tablescape. Perfect earthy and organic colors.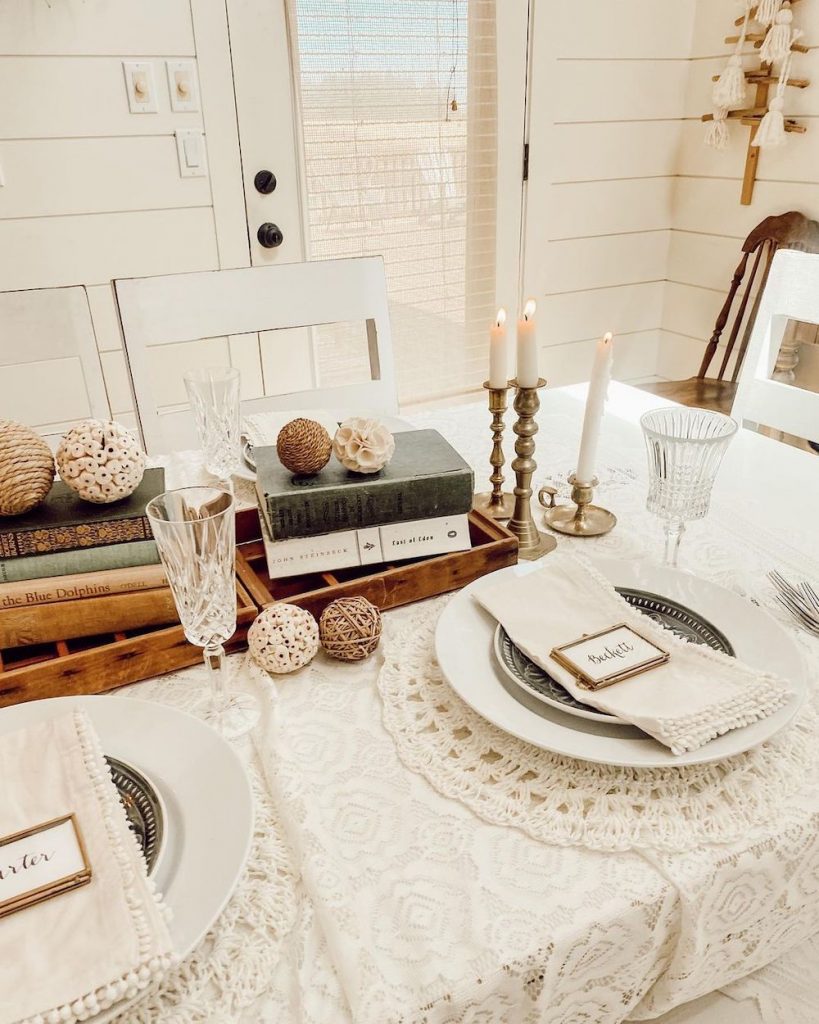 Prep Your Home with Cranberry Colors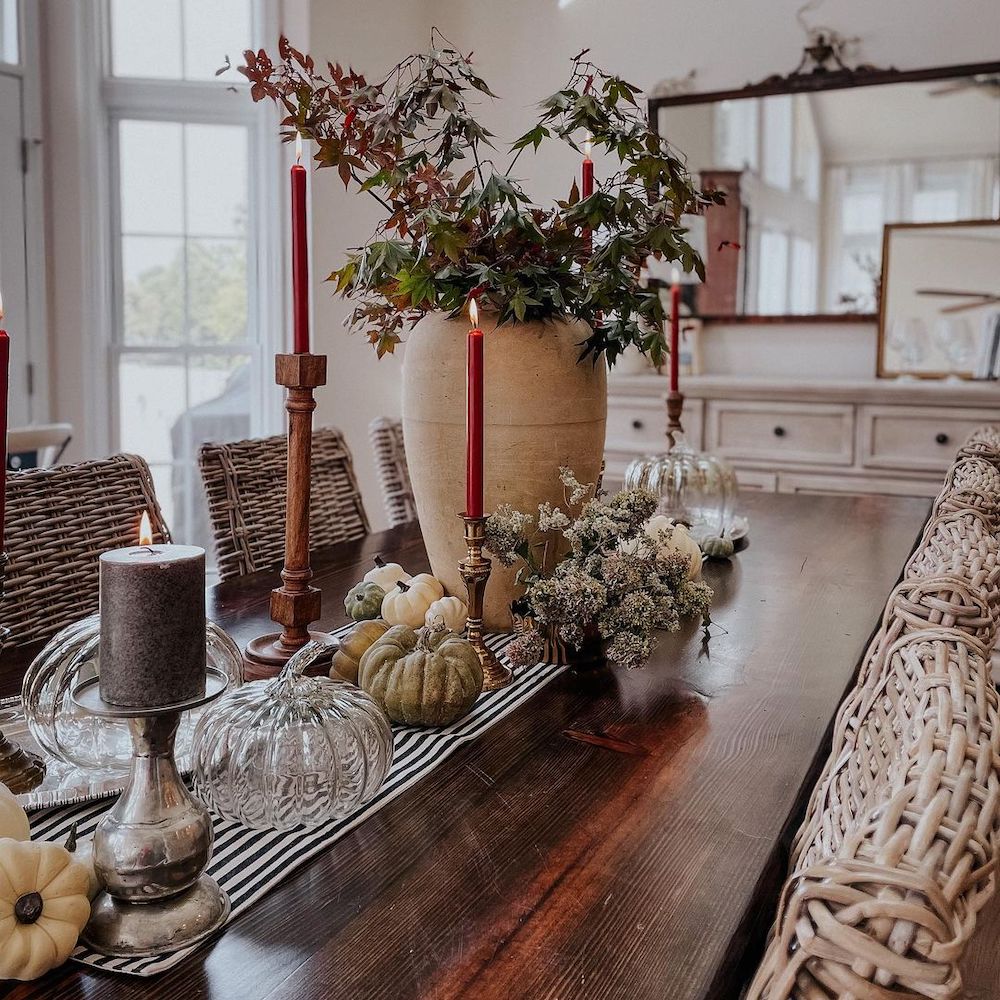 It's never too early to bring a little cranberry color into the home. In this tablescape, by the Gibson Company, it all starts with a striped table runner. Those beautiful cranberry candles bring out the reddish tones of the Japanese maple branches. Mix in a variety of candlesticks and pillar candle holders.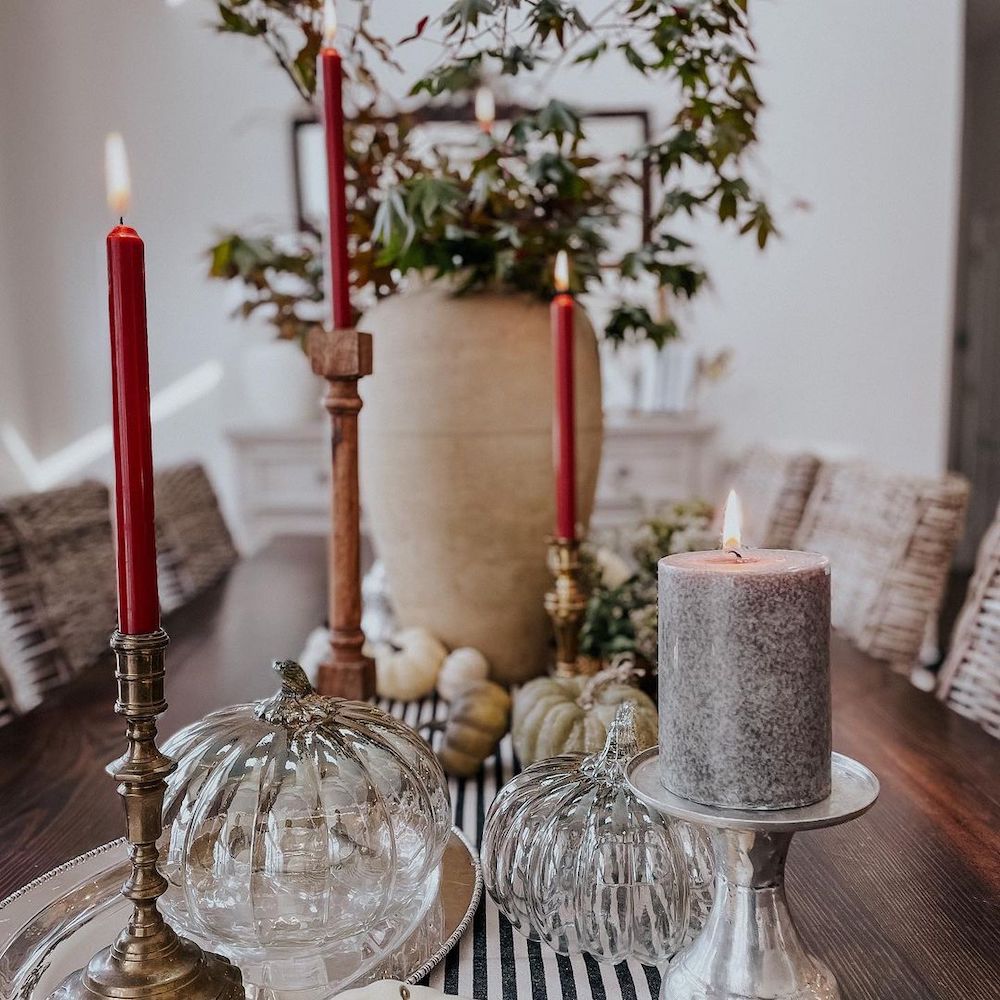 Give it a Subtle Peach Color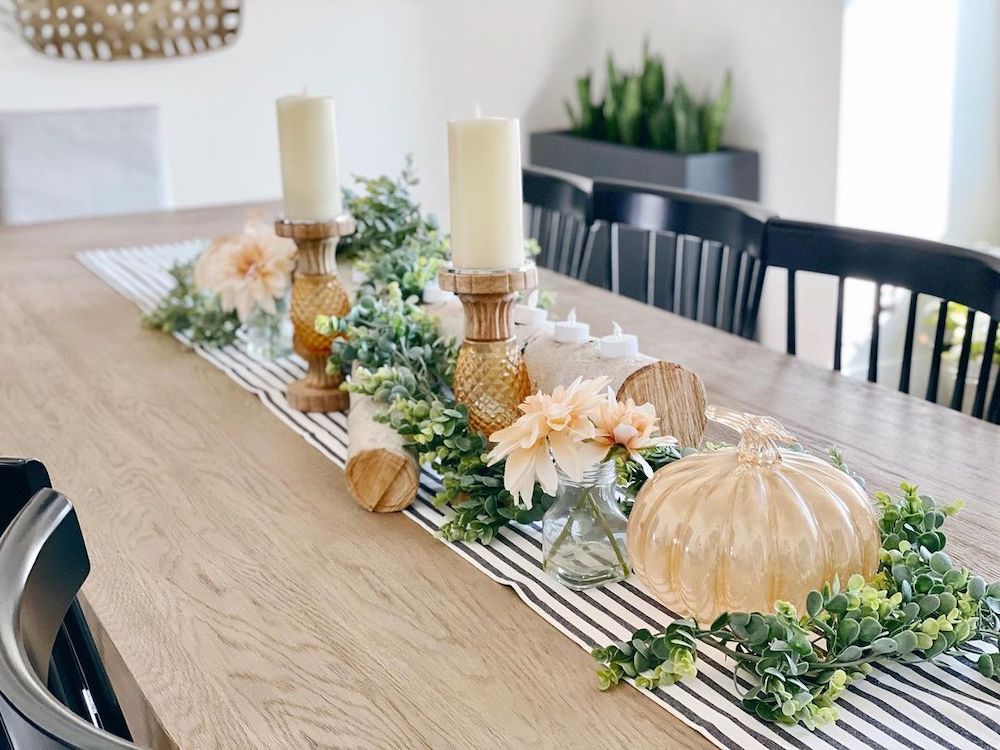 Add soft, subtle color to your tablescape. The soft, peachy colors look amazing against the greenery and striped table runner.
In Conclusion – Fall Tablescape Styling Ideas
This ends our list of the most inspiring fall tablescapes styling ideas. We hope you enjoyed looking at our list of fall tablescapes. But more importantly, we hope you find a few tablescapes that inspire you. Welcome the autumn season this year with your freshly designed tablescape.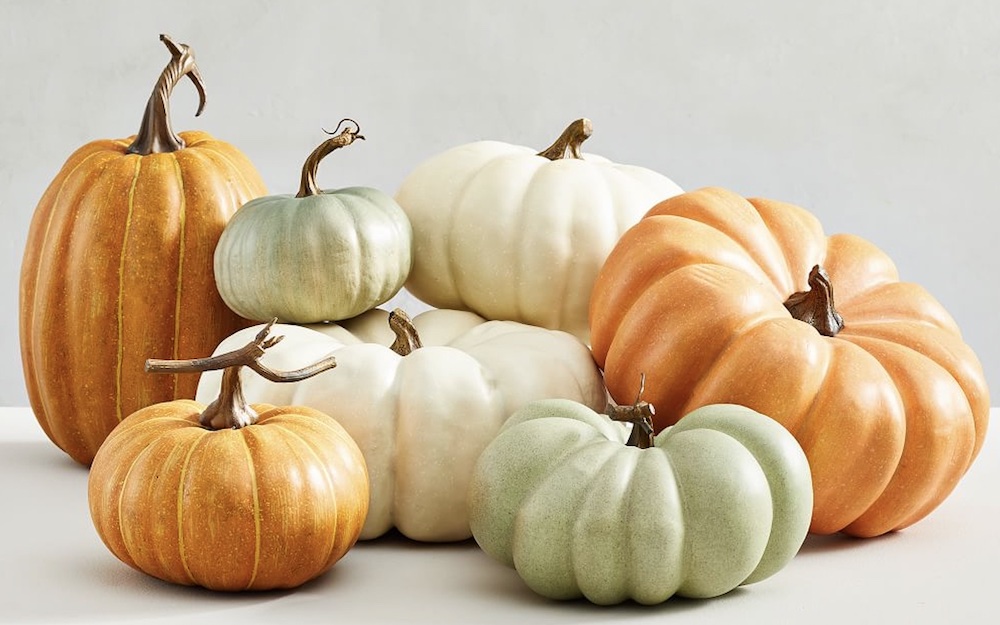 Style a fall tablescape into any type of home decor. It doesn't always have to be vintage or farmhouse. A fall tablescape can be in any style of home. And you can create a fall tablescape for an informal dinner. Tablescapes don't always have to be for formal dinners. For an informal dinner, consider using bales of hay, scarecrows, and pine cones in the tablescape. And for the greenery, use wildflowers or dried stems. As you can see, there are countless ways to style a fall tablescape.
For additional fall decor inspiration, be sure to check out our other posts.
Enjoy our other fall decor related posts for additional ideas.
Reach out to us with any questions. We are always ready to help you out. Thank you for stopping by our blog.
Mary
Pin this for Later:
Closing